27+ Sims 4 Christmas CC: Holiday Decor, Clothes & Shoes
Get ready for some holiday cheer with this Sims 4 Christmas CC collection.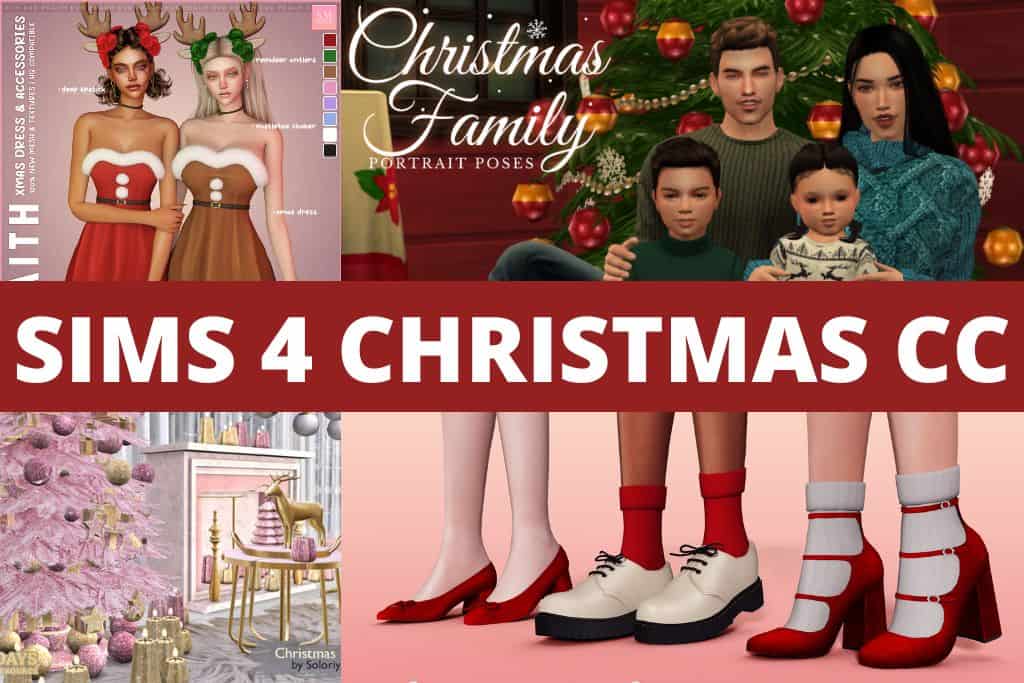 Ahh, good old Christmas; it's one of those holidays that just brings on a smile.
From decorating a beautiful Christmas and adding festive home decor pieces to dressing up for Christmas day, there's plenty to do.
With Christmas custom content, your sims can equally enjoy the holiday and celebrate with their household.
We've put together a great collection of Christmas cc clothing, shoes, and some great decorative objects.
When you're done shopping this collection, you can find more related pieces in our Sims 4 Winter CC post.
Disclaimer: The following mods are neither endorsed nor affiliated with The Sims, Maxis, or Electronic Arts. Any use of mods (custom content or game mods) should be done with caution and with the knowledge that there may be risks.
Festive Sims 4 Christmas CC
Below, you will find a mixed collection of Christmas clothing for the whole family, shoes, home decor pieces, Christmas trees, and more.
1. Sims 4 Christmas Sweaters by Madlen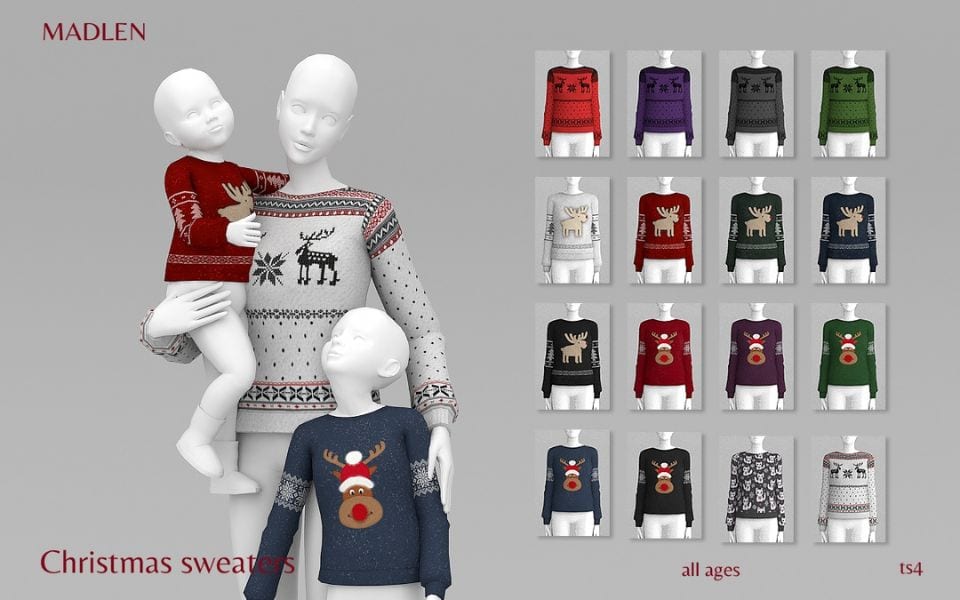 Get your sims family dressed for the holiday season with these Christmas sweaters.
The sweaters are available for your toddler, child, and female sims to enjoy and come in 16 festive swatches, including Rudolph.

2. Male BG Sweaters Cardigan by SimmieV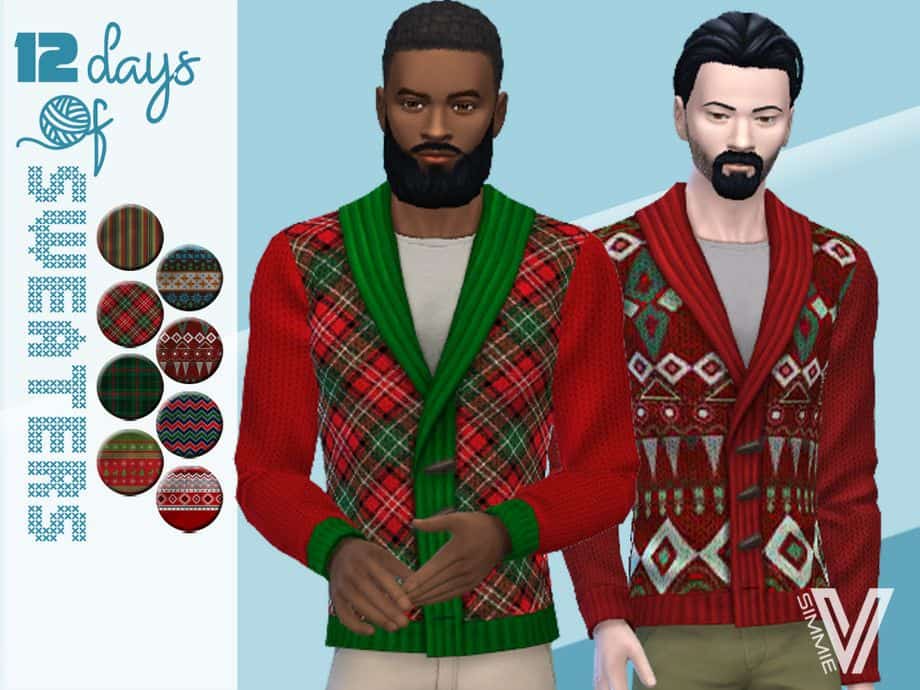 These men's sweater cardigans are perfect for Christmas; they are both stylish and festive.
The deep V-neck on the cardigan shows a casual tee shirt underneath, and I've always been a fan of those large wooden oval buttons.
There are 8 traditional festive knitted patterns for your sims to wear during different Christmas parties.

3. Rustic Xmas Furniture CC by Syboubou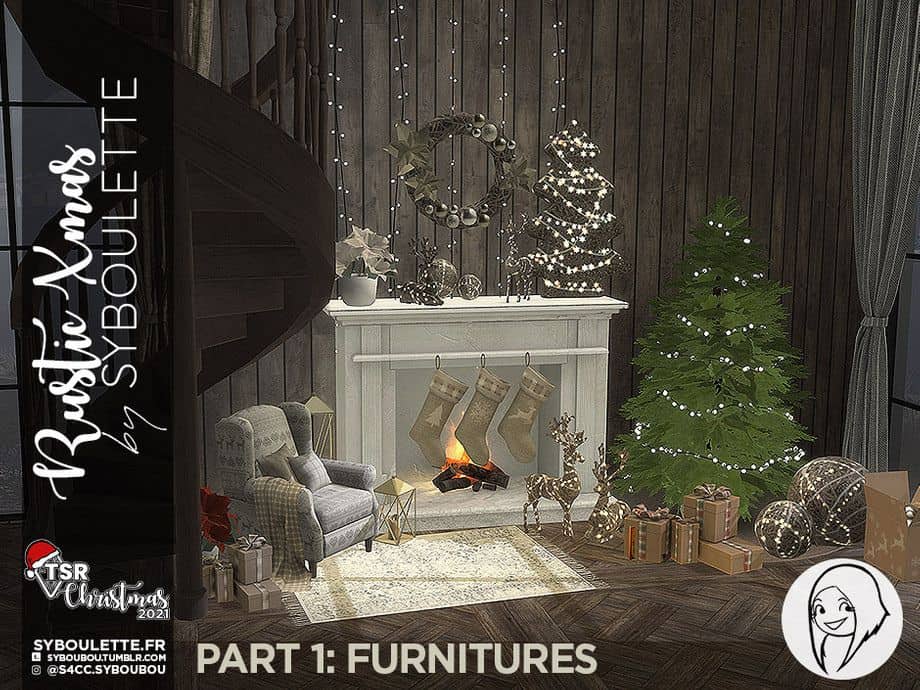 If your sims household is heading to the countryside for the holiday season, they'll want to decorate their vacation home with rustic country style.
Part 1 of Syboubou's rustic Xmas collection focuses on the furniture and decor pieces.
The set includes;
An armchair
Carpet
Front door
A rug
Fireplace
Blanket
Gift
A decorative box (requires Season EP)

4. Female Xmas Sweater Set by Elfdor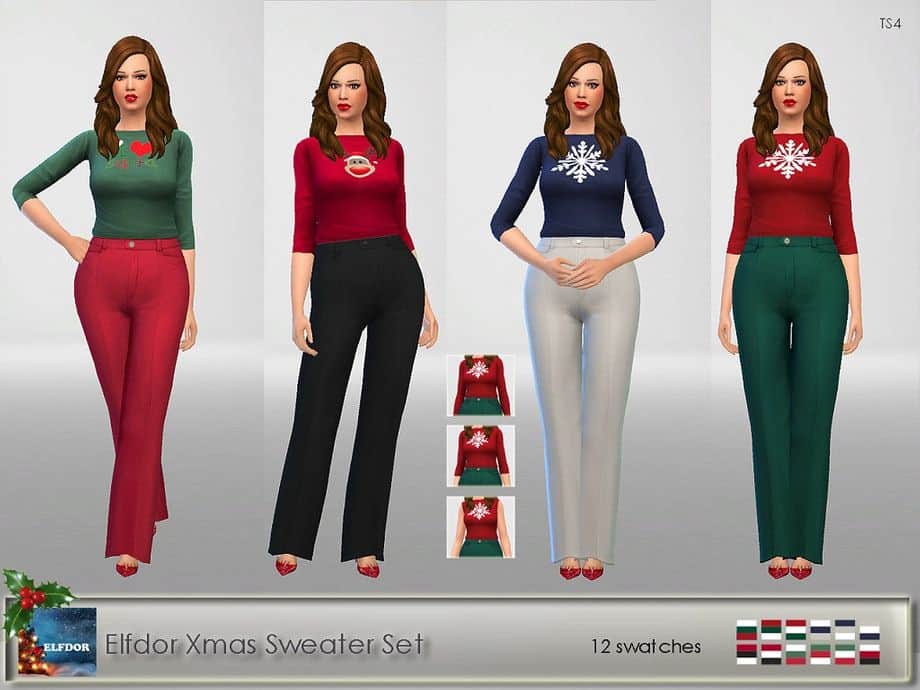 This small sweater set will have your female sims dressed for their next dinner party in no time.
These sweaters are on the thinner fabric side and come in 3 styles: full-length sleeves, three-quarter-length sleeves, and a sleeveless option.
There are 12 holiday swatches available.

5. Holiday Wonderland Desserts by Soloriya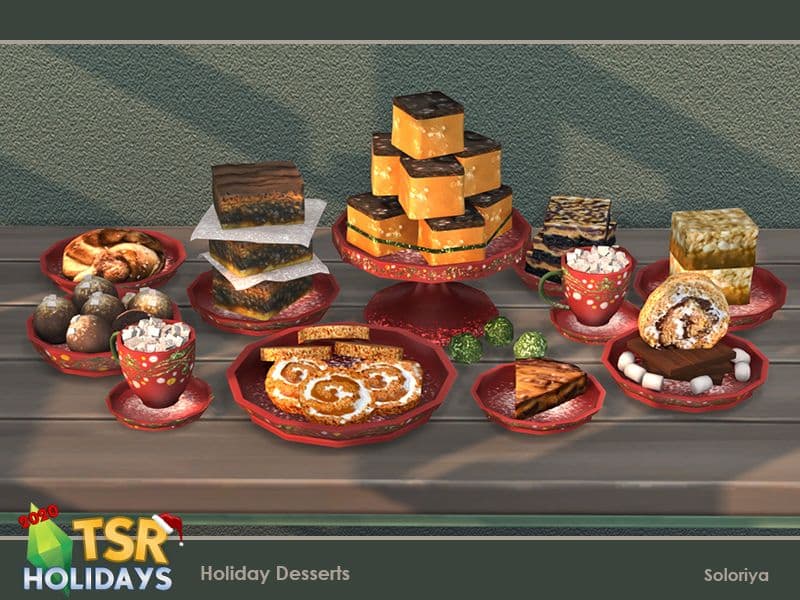 Food is a big part of the holiday season, and desserts are at the top of the list of delicious treats to enjoy.
Let your sims be the talk of the town by setting a delicious table of desserts, including;
Truffles
Salted caramel squares
Cookie bars
Pies
Pinwheels
Sticky buns
Chocolate peanut bars
Cups of tea
The set comes in 4 swatches for the plates and serving dishes (red, red, blue, and green).

6. Sims 4 Holiday Dress by Akalukery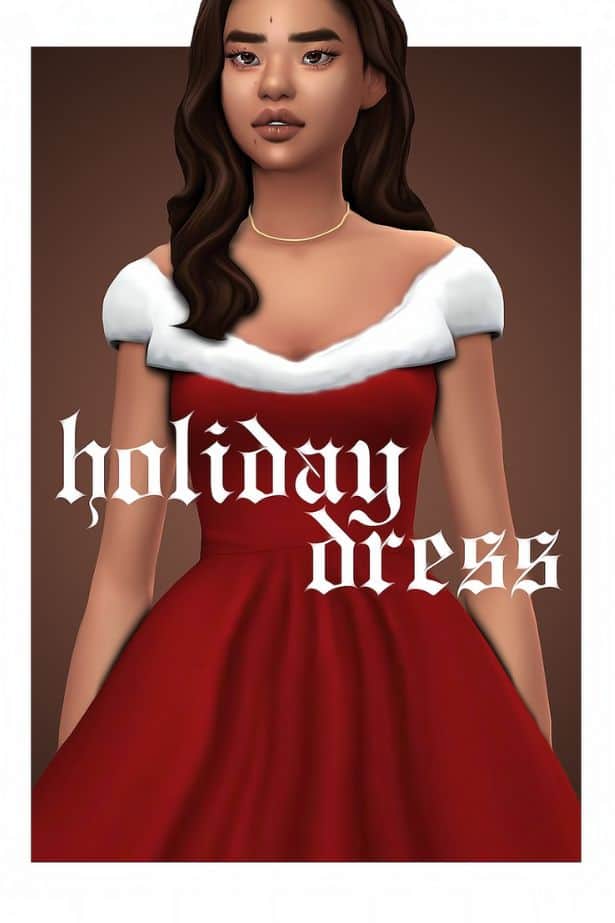 This gorgeous holiday dress is perfect for a fancy Christmas party, and the faux fur trim on the shoulders adds a special touch.
While I love this dress, the pack also includes the same dress without the faux fur, making it wearable for any season.
Your male sims might also be interested in the shirtless deep-V neck suit.

7. Grand Christmas Tree Set by MelonSloth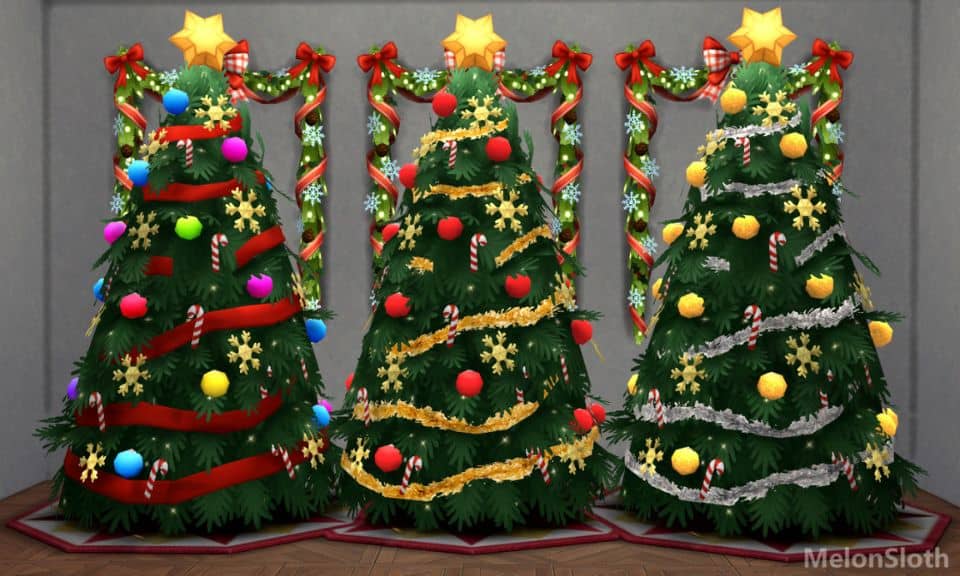 This custom content requires the Sims 4 Season EP.
You've come to the right place if you've always wanted a bigger and more stylish version of the Season's Christmas tree.
This Christmas tree is available in 3 versions (solid, multicolored, and glittery colors).
For each of these versions, you have the option between red and white ribbons. You can also choose between gold and silver tinsel.
If those customizations weren't enough, the decorations for the tree are available in 7 swatches.
MelonSloth recommends these trees for homes with medium or high walls.

8. Holiday-Themed Christmas Nails by Krystal91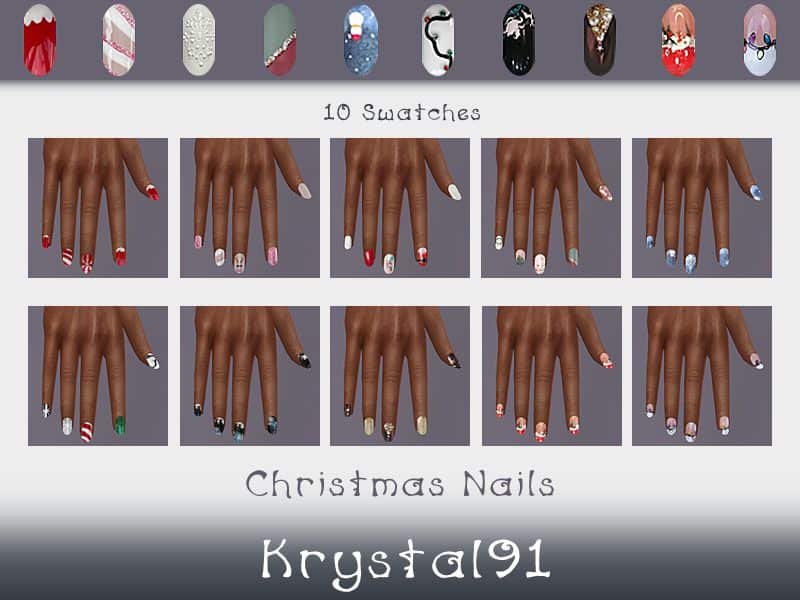 Add some sweet details to your sims hands this season with this collection of Christmas nails.
There are 10 Christmas and winter swatches to enjoy, including candy cane stripes, Christmas lights, snowflakes, and more.

9. Shimmery Vest and Tie Combo by SimmieV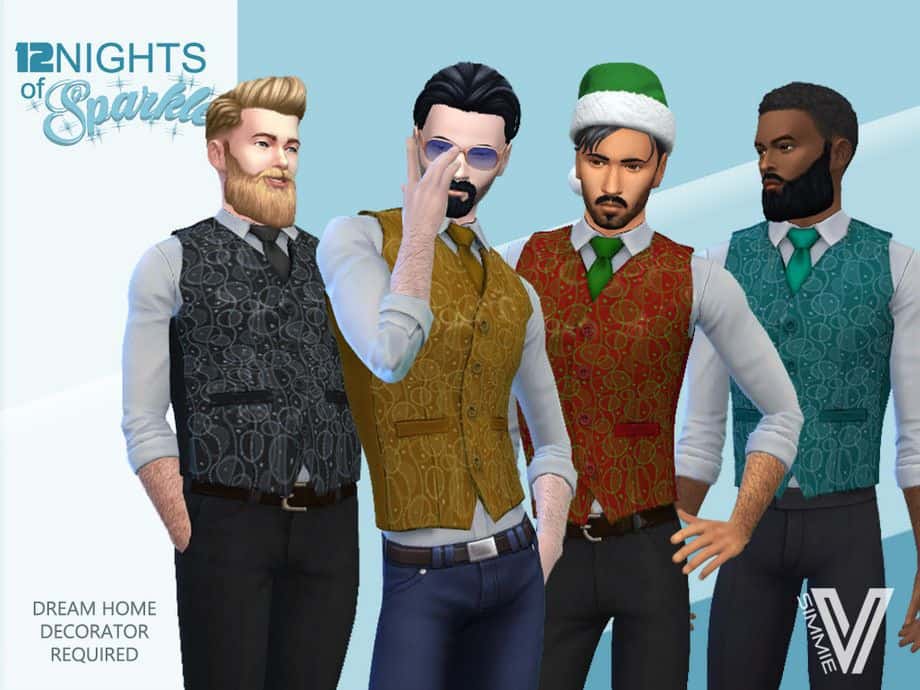 These holiday vests require the Dream Home Decorator game pack.
This shimmery vest and tie combo will get your male sims into the holiday season.
These vests can be paired casually with fitted jeans or more formally with dress pants.
There 8 color swatches, giving your sims plenty of options for each holiday gathering.

10. Christmas Shoe Collection by Jius-sims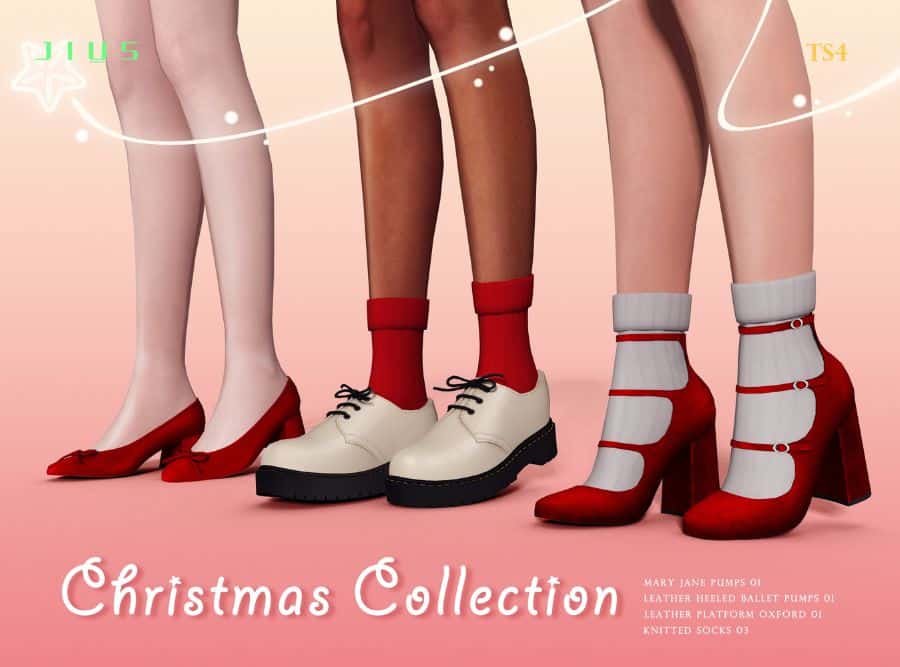 Nothing completes an outfit better than some beautiful shoes; these Christmas designs are the perfect finishing touches.
The collection includes Mary Jane pumps, leather-heeled ballet pumps, and leather platform oxford shoes.
There's also a pair of knitted socks.
While the shoes come in 15-25 swatches, that deep red is perfect for Christmas.

11. Gingerbread Pajamas for Christmas by JujuAwesomeBeans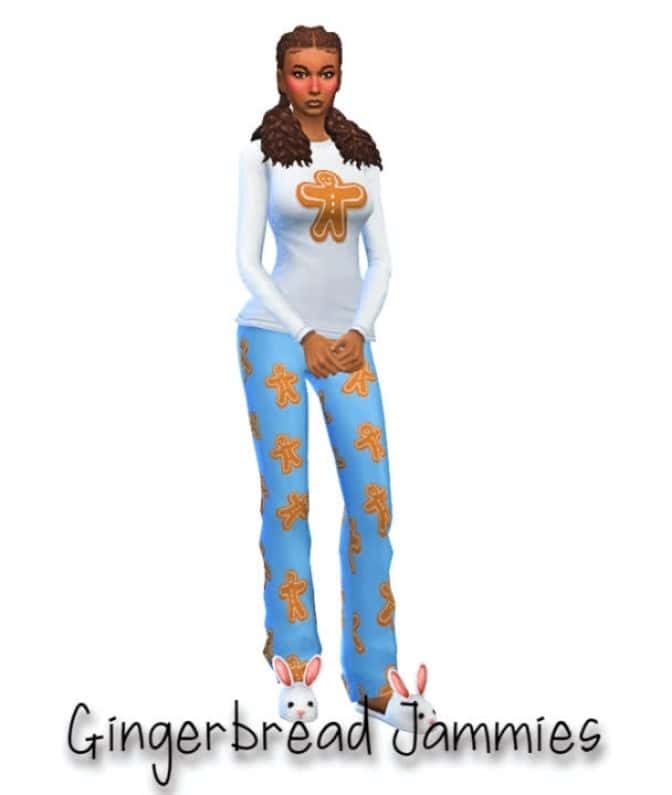 If you love gingerbread cookies, this adorable gingerbread cookie pajama set is simply delicious.
There is only one design for these jammies: the pajama bottoms are covered in large cookies, and the top has a gingerbread cookie in the center.
There are 5 color swatches for the pants, which all pair with the white pajama top.

12. Christmas CC Advent Calendar by Syboubou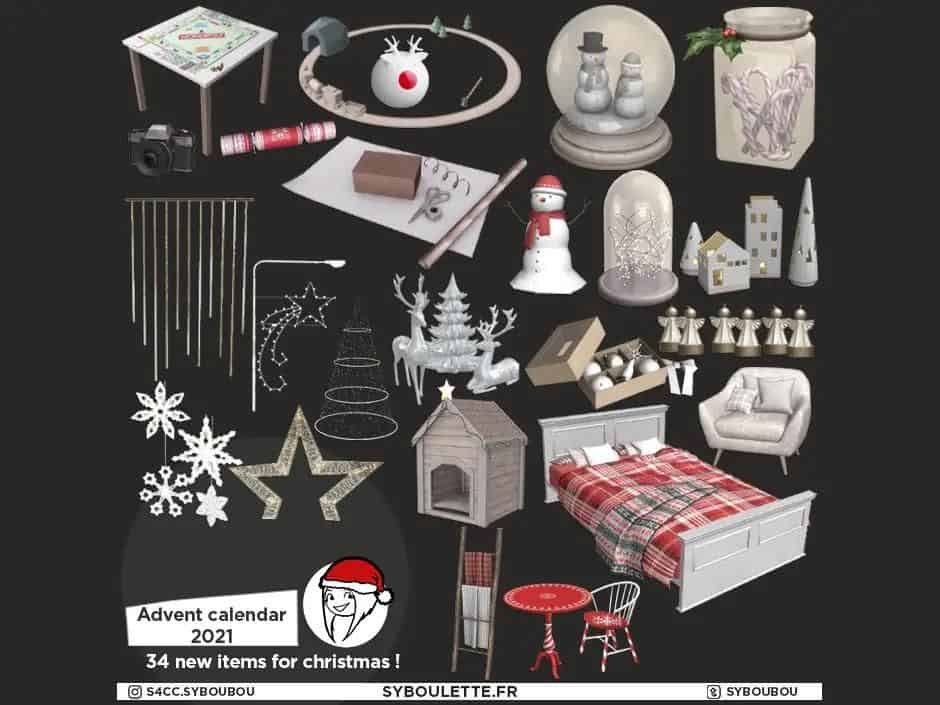 This advent calendar set has sweet holiday objects for your sims home to create a wonderfully warm, festive feel.
The pack comes with 34 pieces, including;
A snowglobe
Angel candles
An animated wooden train
A functional reindeer toy
Flickering Christmas tree
Festive table & chairs
Bed with functional animated bedding
Only the crackers require the Holiday DLC; everything else in the pack is base game.

13. X-mas Holiday Dress for Sims 4 by Jaru Sims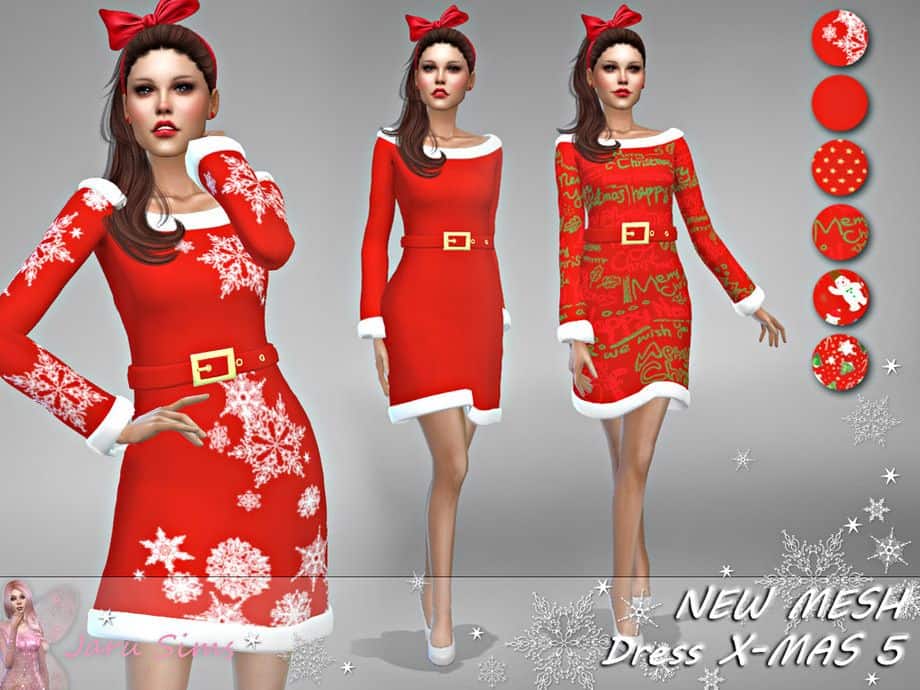 Your female sims can't get any more festive than these bright red holiday dresses.
These belted holiday dresses come in 6 swatches focused on snowflakes, snowmen, Christmas trees, and more.
The snowflakes and solid swatches are my favorites and will be the perfect statement piece outfit.

14. Christmas Welcome Mats by GeekBunny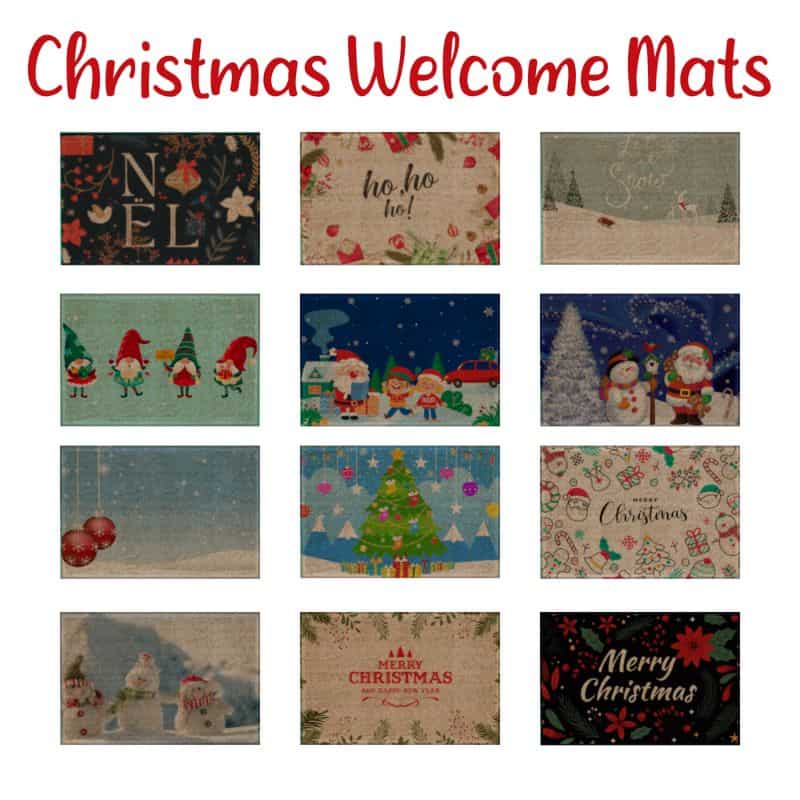 It's always nice to decorate the outside of your sims home for the different holidays or seasons; these Christmas mats are just what you need.
The set includes 12 Christmas-themed swatches from elves, Christmas trees, snowmen, and simple holiday greetings.

15. Cozy Holiday Sweaters for Sims 4 by SimmieV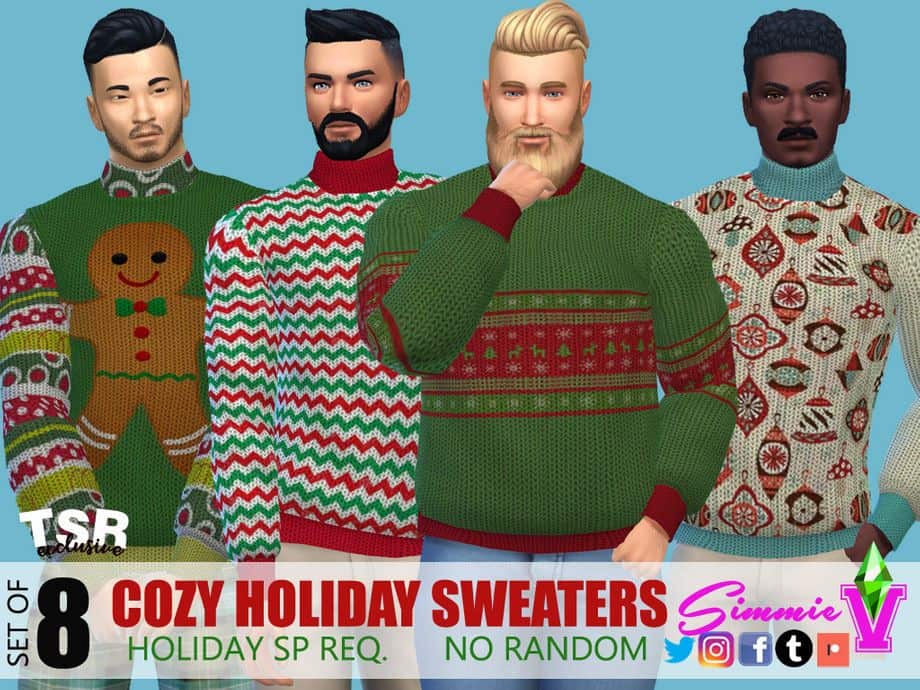 These cozy holiday turtleneck sweaters are perfectly themed for the Christmas season.
From a Christmas ornament design to a giant gingerbread cookie, these sweaters are so cute and festive that your sims must model each swatch.

16. Sims 4 Decorative Christmas Objects by Soloriya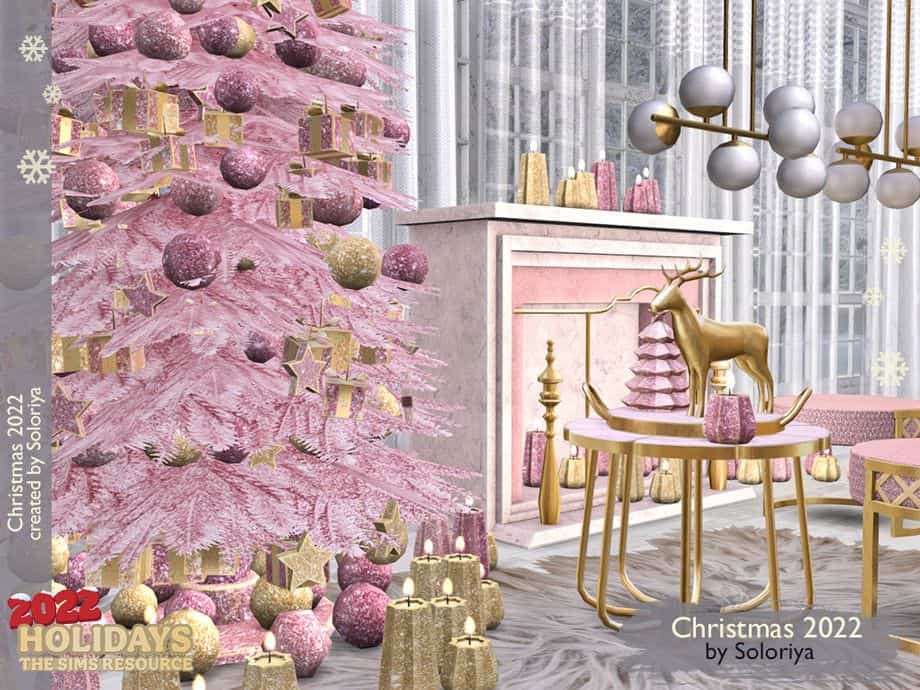 This set of decorative Christmas objects comes with 10 pieces to create a beautiful room for the upcoming holiday.
The pack includes a decorative fireplace, a Christmas tree, a skirt, and ornaments.
You will also find a coffee table, pouf, and functional candles to set the holiday mood.

17. Faith Xmas Dress & Accessories by SM Sims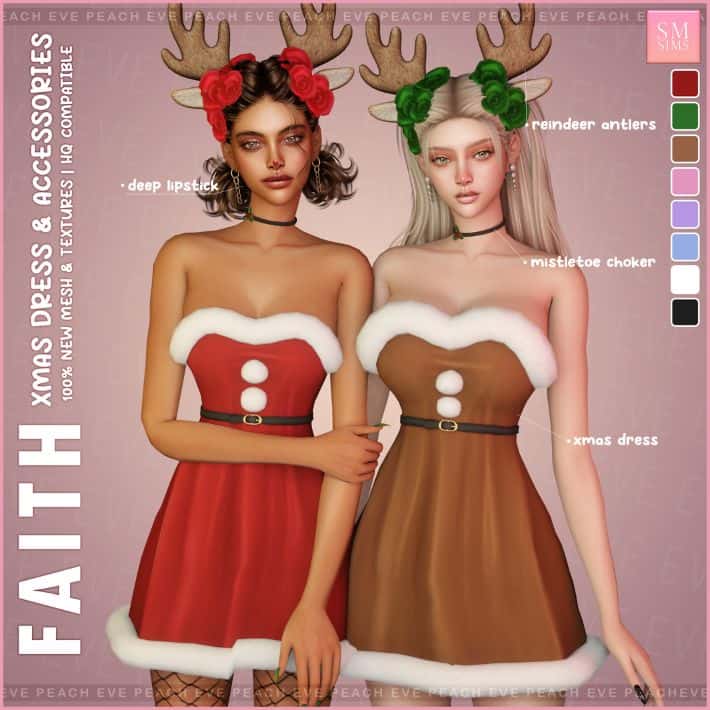 This Christmas dress reminds me of the Jingle Bell Rock dress from the Mean Girls movie.
Besides the strapless Christmas dress, this set also comes with an adorable milestone chocker necklace, deer lipstick, and reindeer antlers to complete the look.

18. Christmas Tree Decorations Set by Simbishy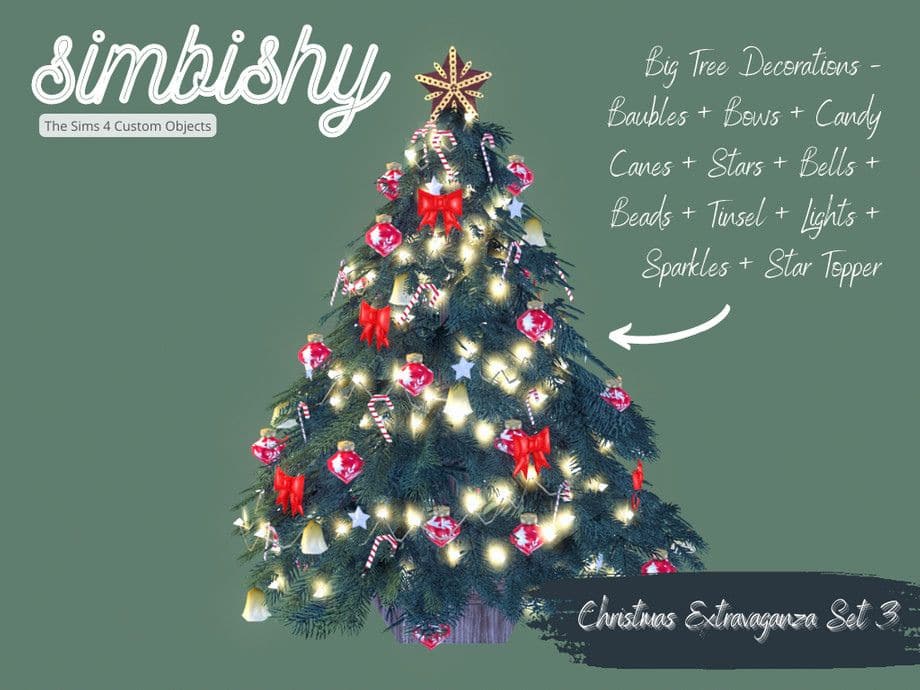 Ok, this set of Christmas tree decorations is the last part of a 3 part set.
You can get the large Christmas tree here and then decorate it with different decorations from this set.
You can choose candy canes, stars, bells, or some sparkles and a star topper, whichever aligns with your design aesthetic.
There are 10 decorative items to create the perfect Christmas tree.

19. Rustic Xmas Decroations by Syboubou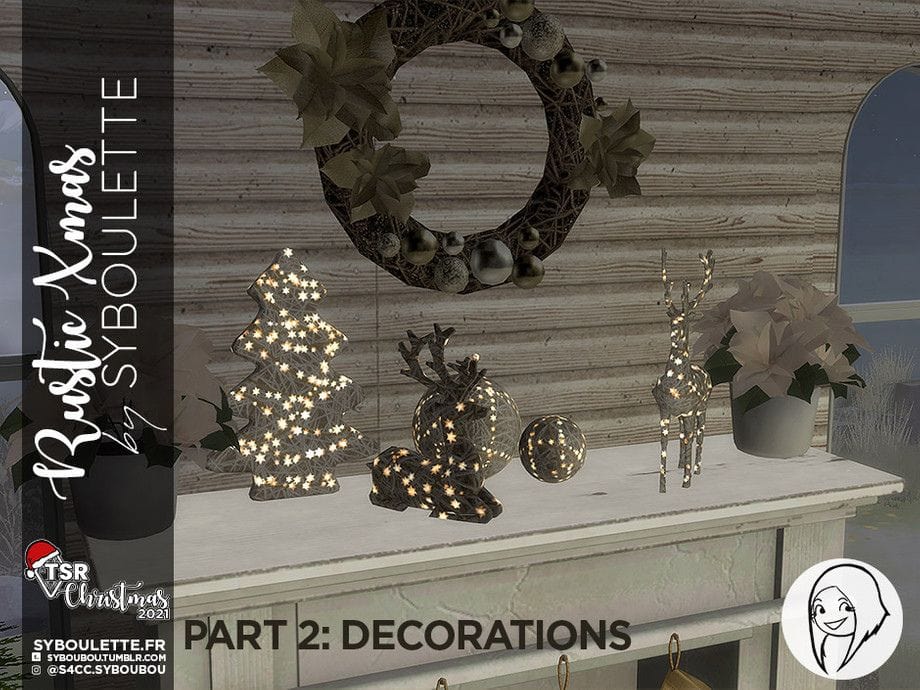 Part 2 of Syboubou's rustic Xmas set focuses on home decorations.
The pack comes with a tree light flickering garland, a classic holiday poinsettia plant, a wreath, stockings, a twig tree, balls, and two reindeer options.

20. Sims 4 Christmas Slippers by Jius-sims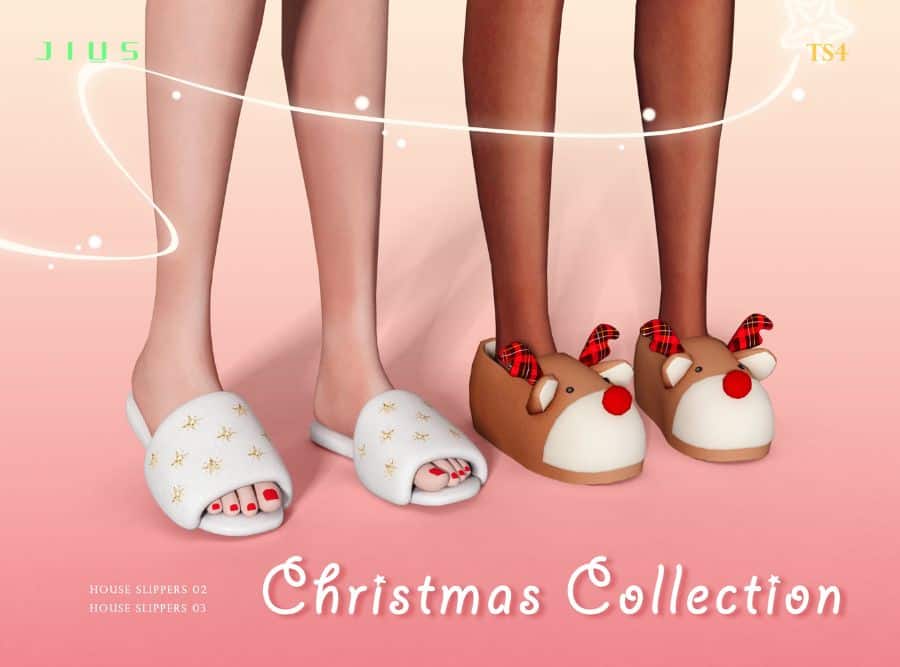 When it comes to lounging around the home during the holidays, cozy cc slippers are a must for my sims.
This sims 4 Christmas cc set comes with two festive designs: an adorable pair of reindeer slippers and sparkling Christmas stars.
The slip-on starry slippers come in 8 swatches, while the reindeer design is available in only one color but can be worn by both your male and female sims.

21. Festive Loading Screens by Baggajo
If you enjoy changing your loading screens for different events, seasons, or holidays, you'll love this pack of Christmas-themed options.
There are 8 holiday loading screens in pink and pastel tones, focused on snowflakes, Christmas gifts, ornaments, trees, and more.

22. Child & Toddler Festive Pack by Georgiaglm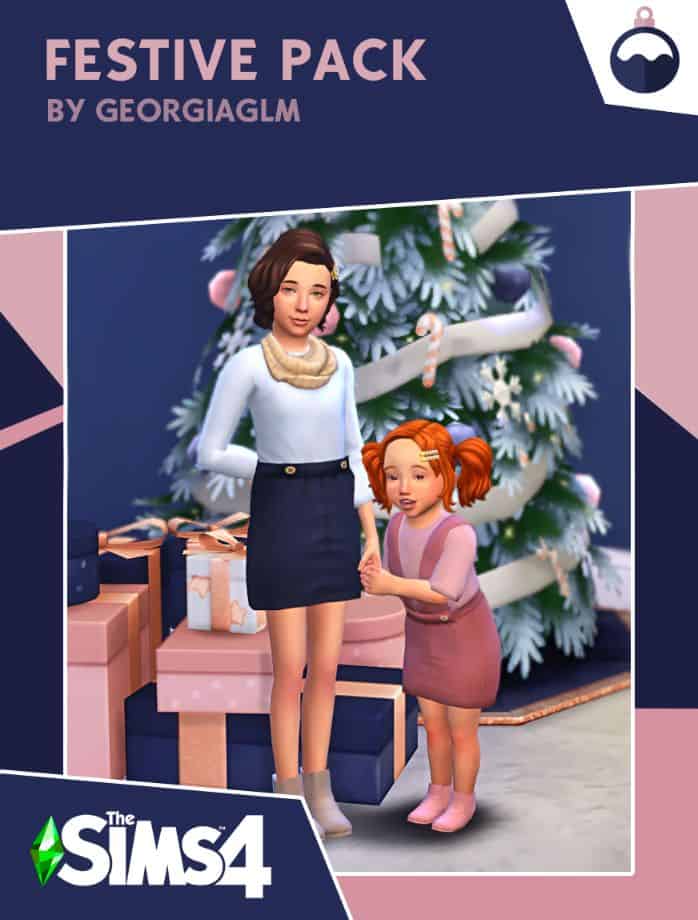 This pack of Christmas custom content comes with 15 pieces for your sim children and toddlers.
The set comes with a fun mix of pieces, including;
Boots
Hairstyles
Toddler dress
Toddler cardigan
Child's top & skirt outfit
Toddler pajamas & slippers
Christmas tree
Luxury gifts

23. Knitted Pullover Sweaters by SimmieV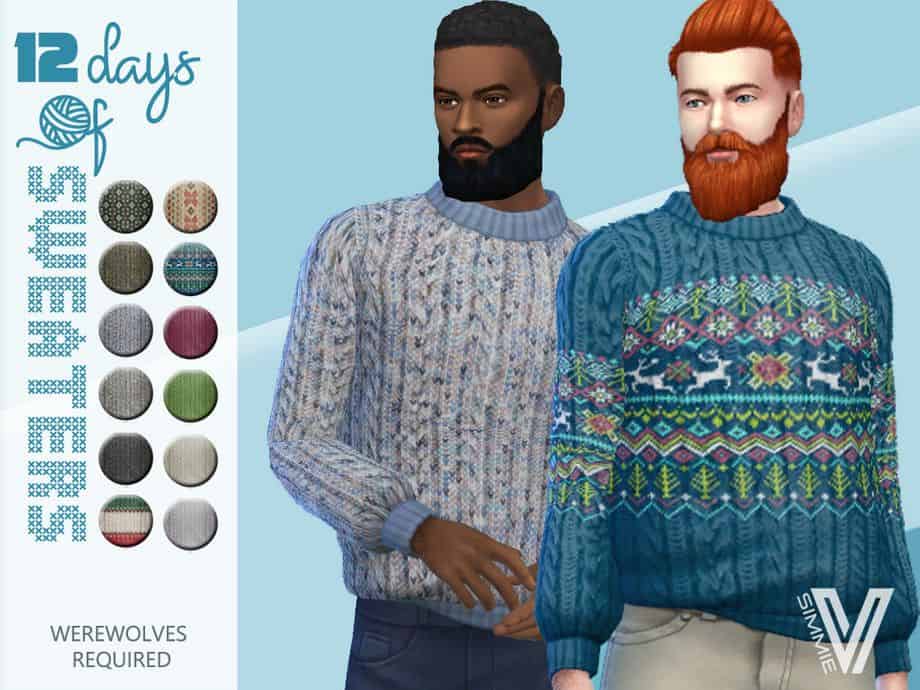 These holiday sweaters require the Werewolves game pack.
Your male sims can enter the Christmas season with a closet filled with more amazing holiday sweaters.
These knitted pullover sweaters can be worn all season long, especially if you opt for solid swatches.
There are also some traditional sweater patterns for more holiday cheer.

24. Neal Christmas Boots for Kids by Dissia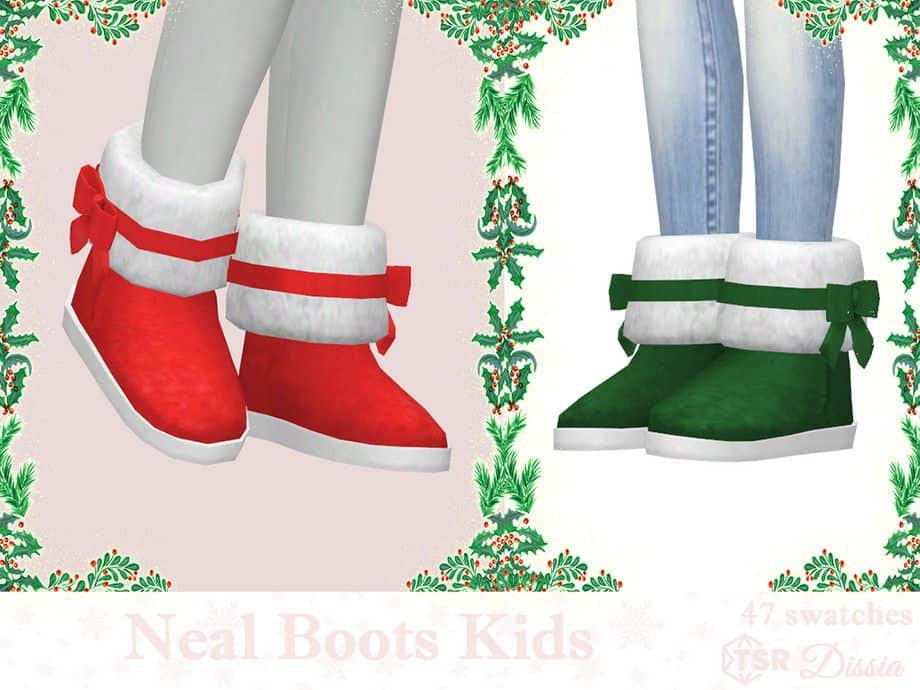 Get your sims' children's feet all nice and warm with these cozy faux fur-trimmed boots.
The boots are similar to UGG-style boots, except they come with a sweet bow on the sides.
Plus, there are 47 swatches so that you can opt for festive colors for the holidays and different colors for other events.

25. Chelonia Christmas Decorations by Wondymoon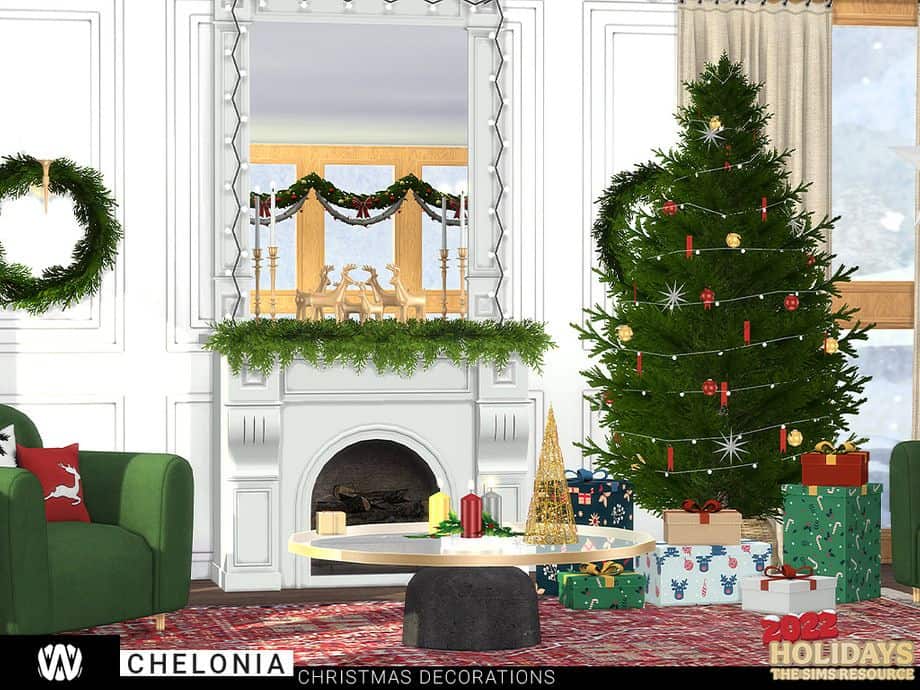 Since I love variety, I was happy to come across this Christmas decorations set, which has everything to add more holiday feels to your sims living room.
The pack includes a Christmas tree, tree ornaments and lights. There are also gift boxes, a wreath, a candlestick, and deer decor.

26. Christmas Family Poses by LutessaSims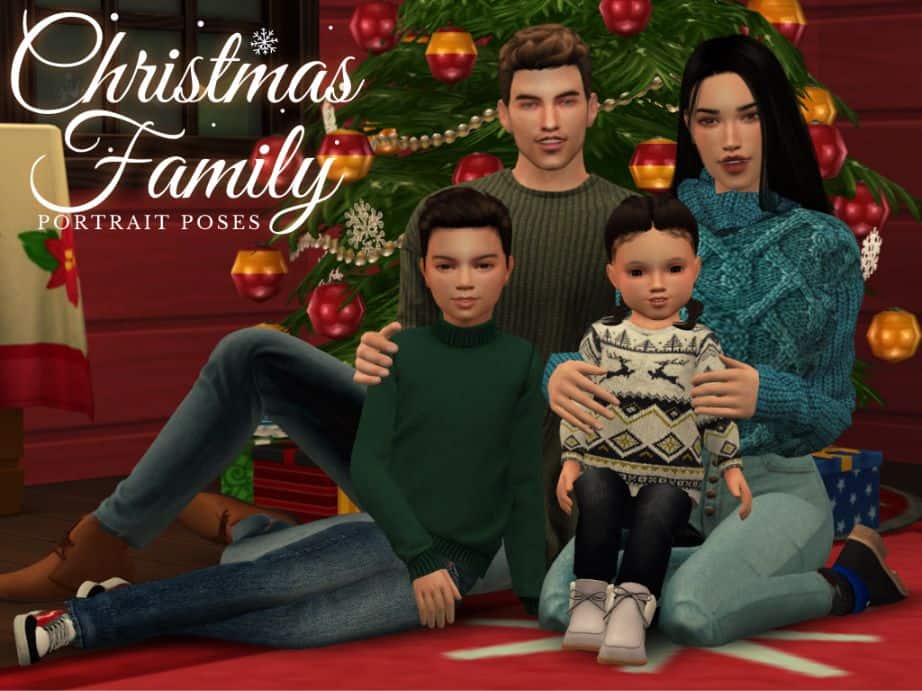 Capture some sweet holiday keepsakes with this pack of Christmas family portraits.
There are 3 poses in total, each portrait style (1 standing and 2 sitting poses); these poses require 2 adults, 1 child, and 1 toddler sim.

27. Kids Holiday Christmas Tree Sweaters by PowLuna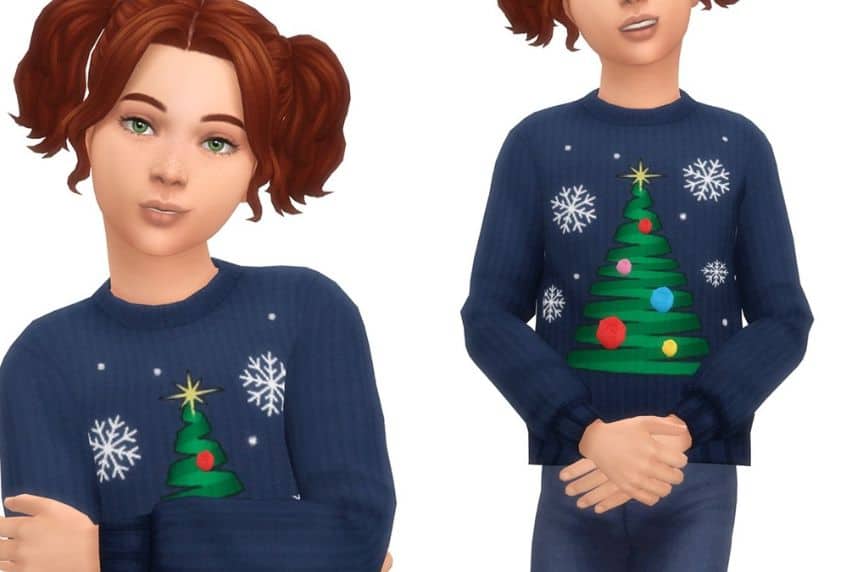 This sims 4 Christmas cc set is for your sim children and comes with a classic Christmas tree holiday sweater.
The sweater is unisex and has 21 swatches, including many fun and vibrant color options.

28. Toddler Holiday Dress by GoodChillsStudio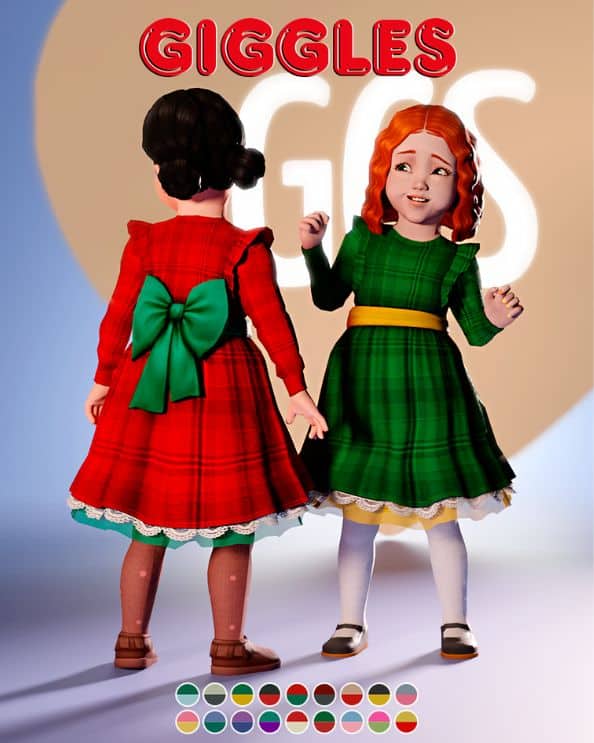 This layered toddler dress is adorable and will make the perfect Christmas day outfit.
With its sleeve ruffles, laced hem details, and oversized bow at the back, this toddler dress has some beautiful finishings.
The dress is available in 18 color swatches; each has two primary color accents.
Sims 4 Christmas CC: Final Thoughts
With this sims 4 Christmas cc collection, we hope you found some perfect pieces for the upcoming holidays.
Whether it's a new holiday dress, festive sweater, or decorative tree ornaments, there's custom content available to create a holiday wonder.
Whether you go all out or keep your decorating simple, there's cc for it all.
If you have any questions or suggestions, feel free to leave us a comment below or tag us on Tumblr.
And don't forget to share and save this pin for later!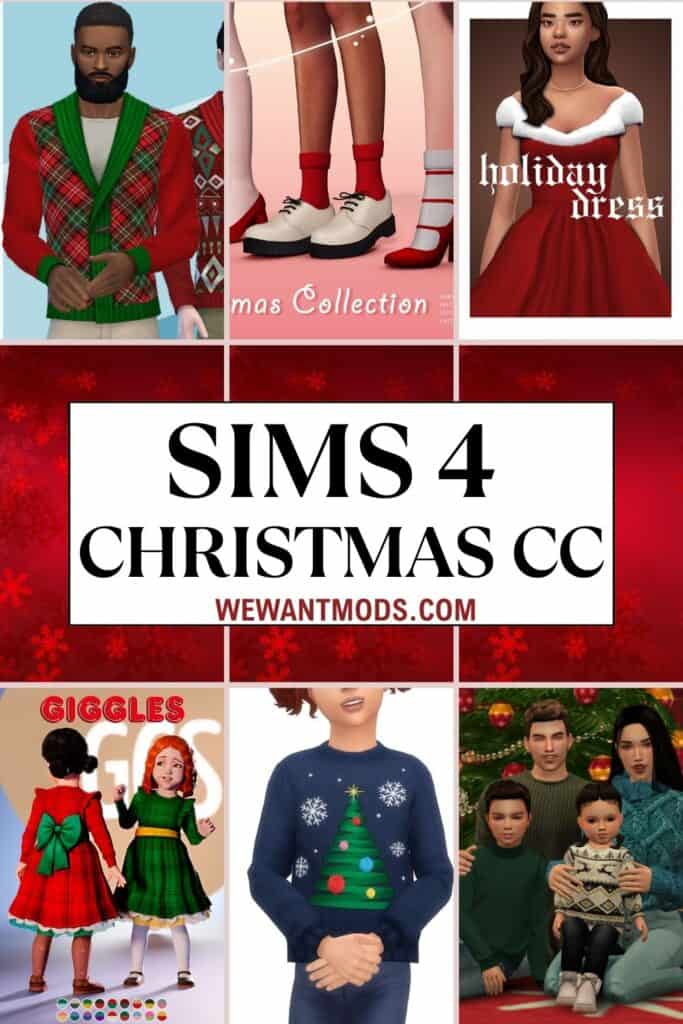 More Sims 4 CC Collections
27+ Sims 4 Christmas CC: Holiday Decor, Clothes & Shoes