17+ Sims 4 Autumn CC: Pumpkin Spice Up Your Sims
Get into pumpkin season with this cozy collection of Sims 4 Autumn CC.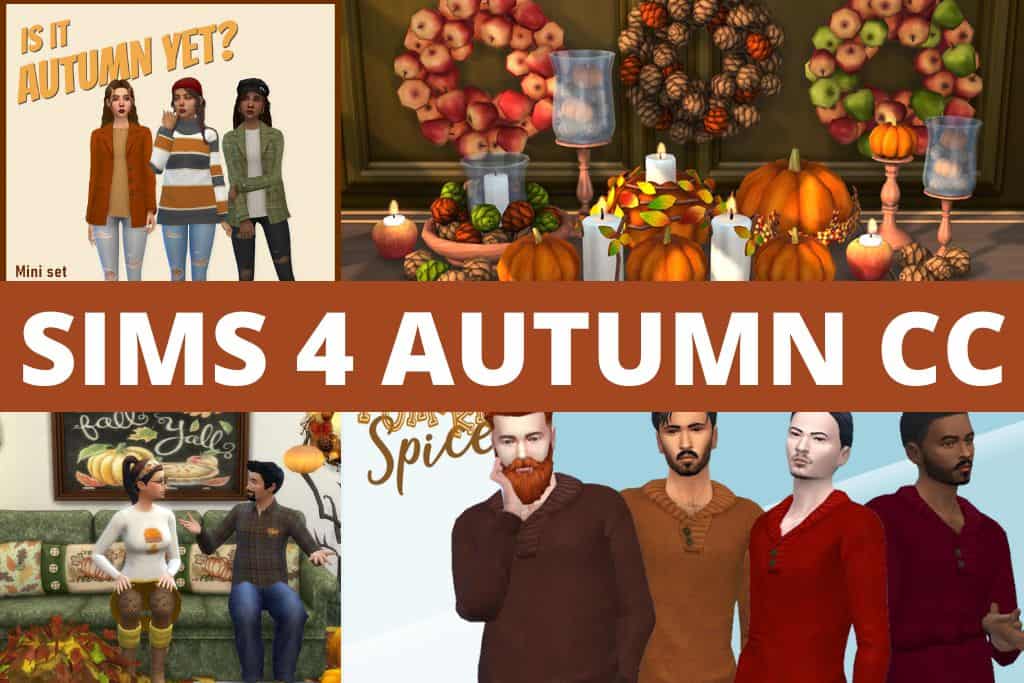 With the fall season quickly approaching, it's time to upgrade your sims wardrobe, furniture, and home decor.
Nothing brings on the coziness better than a warm sweater, a pumpkin spice candle, and autumn colors around the house.
We rounded some great finds so you can easily upgrade your sims' world to autumn perfection.
Plus,you can find more autumn pieces in our Sims 4 Halloween CC collection.
Disclaimer: The following mods are neither endorsed nor affiliated with The Sims, Maxis, or Electronic Arts. Any use of mods (custom content or game mods) should be done with caution and with the knowledge that there may be risks.
Best Sims 4 Autumn CC
Below, we've included a mix of autumn clothing cc, makeup, furniture, home decor pieces, and more.
1. Sims 4 Eveyln Autumn Decor CC by Soloriya
Nothing sets the mood for autumn better than some cozy and seasonal decor.
This set of decorative pieces includes 10 objects in 3 color palettes.
You can set the perfect table with functional and decorative candles, wreaths, cedar cones, and table sculptures.

2. Autumn CC Clothing Mini Set by Demondare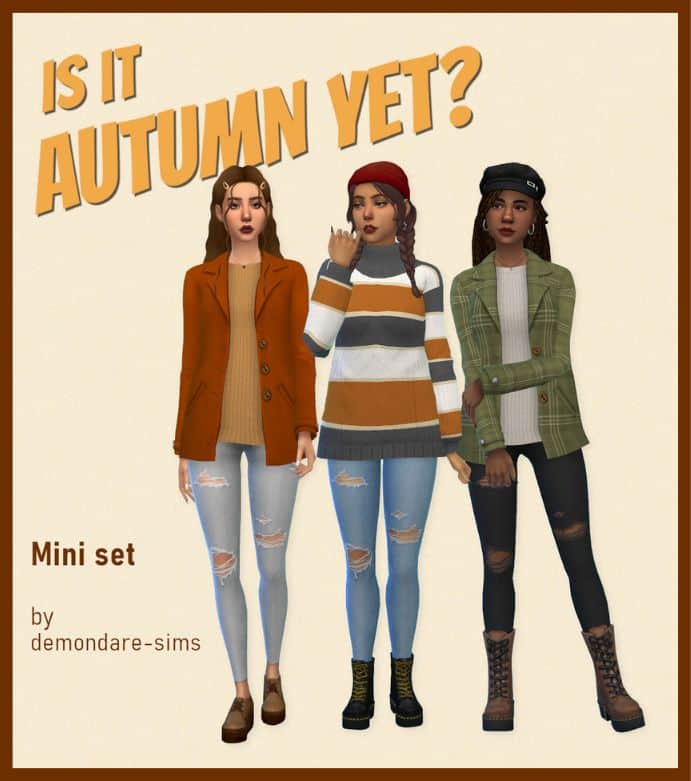 This 3-piece mini autumn set includes warm clothing for your female sims.
Grab your sims come classic ripped skinny jeans, and pair those with the long turtleneck sweater.
For the chillier fall days, your sims can grab the blazer-like jacket instead.
Plus, there are 10 swatches for the jeans, 20 for the sweater, and 23 options for the jacket, so there are plenty of choices.

3. Pumpkin Spice Cowl Neck Sweater by SimmieV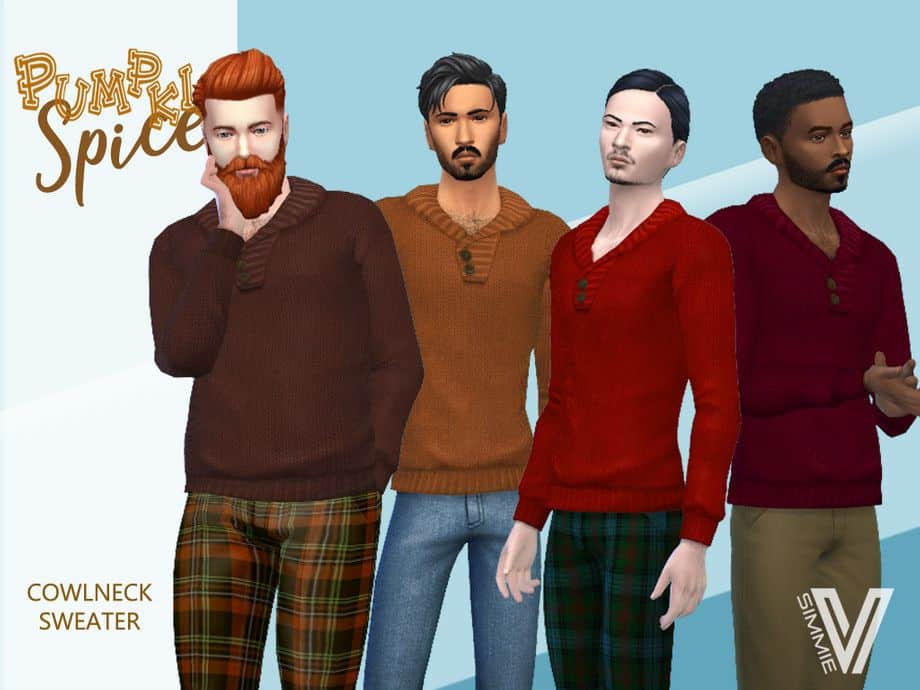 Everyone loves a comfy sweater, and your male sims are no exception.
This cowl neck sweater can work with a casual pair of jeans or stylish plaid pants.
And these knitted sweaters come in 8 different autumn-theme colors.

4. Sims 4 Fall Minka Dress by KatPurpura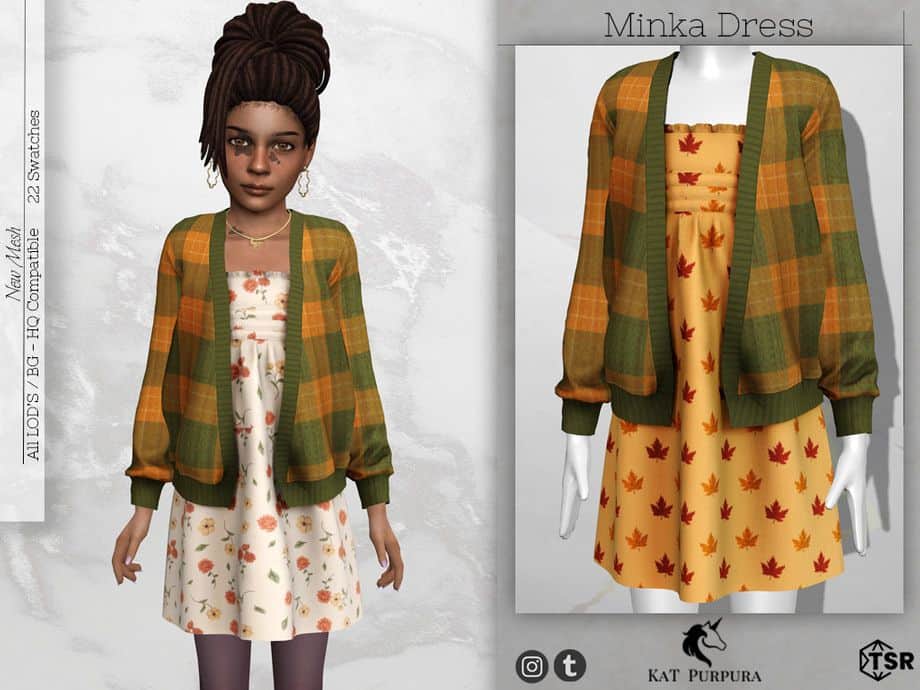 Get your female child sim all dressed up in this sweet autumn design dress and cardigan set.
This outfit comes in 22 swatches that switch up the dress pattern or cardigan.
The swatches, include pumpkins, leaves, flowers, and plenty of plaid cardigan options, all perfect for the fall.

5. Sims 4 Fall Cardigan CC by Solistair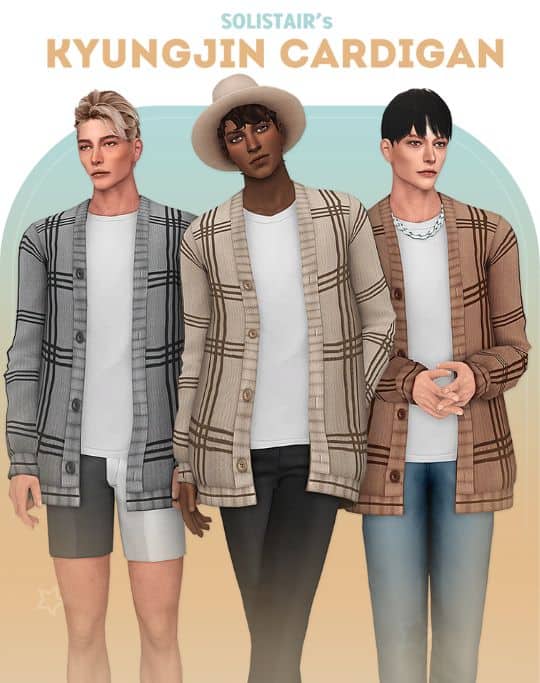 Let your sims snuggle up in this thigh-length plaid cardigan and tee shirt.
Since the fall weather can be fickle, this cardigan works perfectly with shorts for warmer days and pants or jeans.
This two-piece combo comes in 18 swatches, including 8 options with a black tee and the remaining with a white tee.

6. Fall Eyeshadow for Sims 4 by MSQSIMS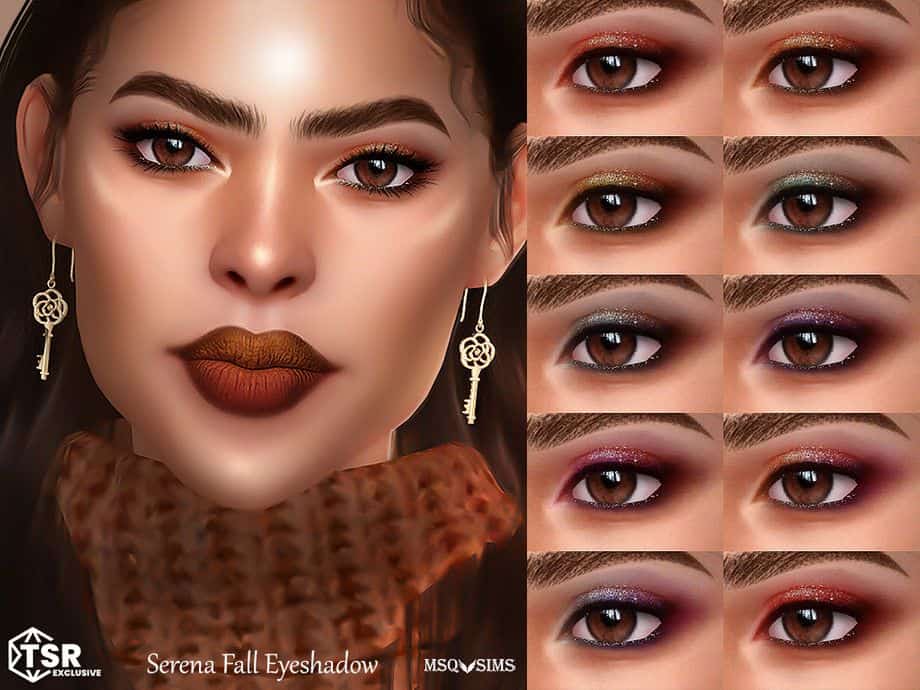 With the autumn season comes changes to almost all areas, including your sims makeup colors.
This set of eyeshadows offers warm fall-like colors and some pretty glitter.
There are 10 different swatches to try out, and these eyeshadows work for your female and male sims aged from teen to elder.

7. Mulberry Fall Sweater CC by Nolan-Sims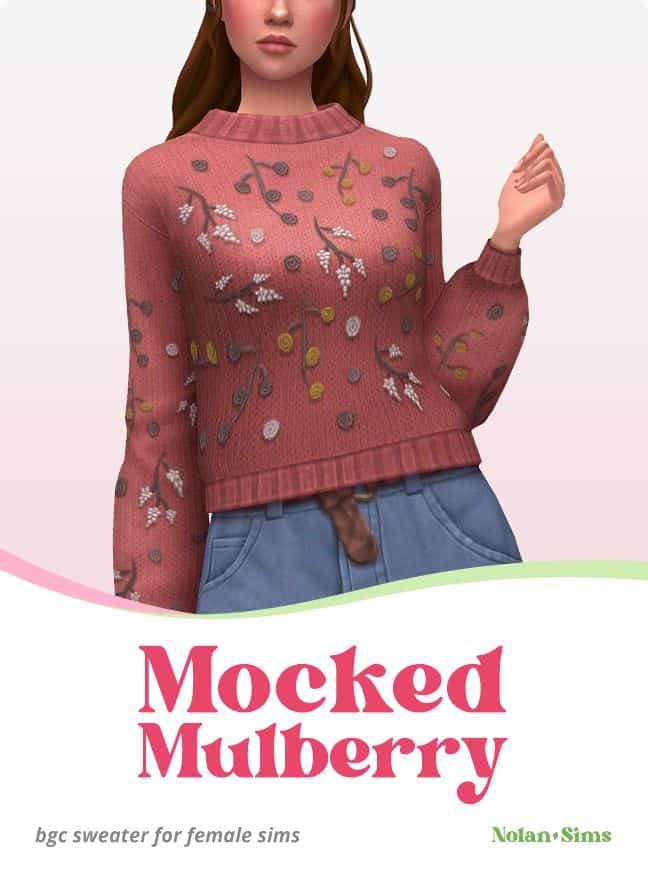 This adorable rounded collar sweater is perfect for the chilly autumn weather when your sims need an extra layer.
Plus, this mocked Mulberry sweater comes in both solid swatches and others with embroidered autumn details.
There are 13 swatches for each style.

8. Sims 4 Autumn Furniture CC by Cowbuild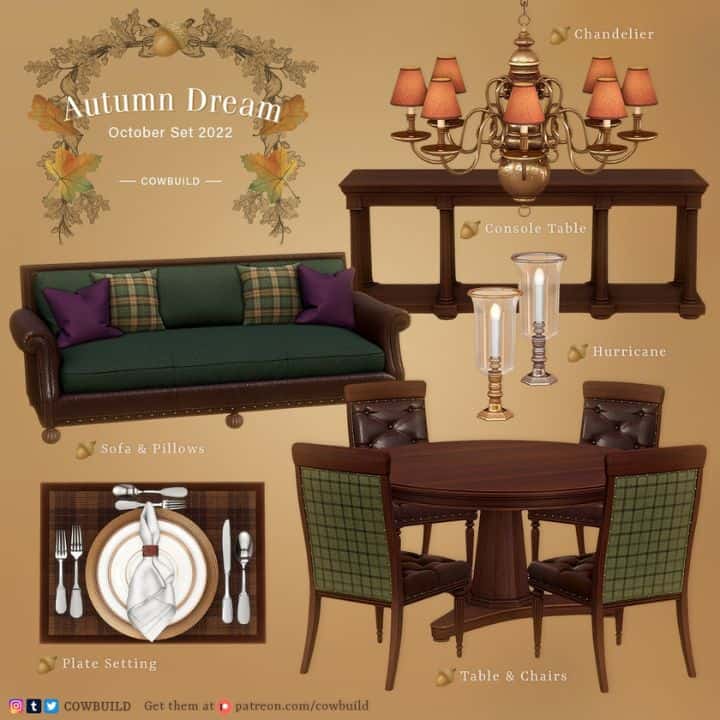 While changing our furniture with the seasons is not feasible in real life, our sims are not bound to such limitations.
With this sims 4 autumn cc furniture set, you can bring a touch of fall into your sims home with all these wonderful warm colors.
Some of the custom content pieces include;
A round table and chairs
Sofa & pillows
Plate settings
Chandelier
Console table
Hurricane-style lamps

9. Sims 4 Fall Stuff Pack by JujuAwesomeBeans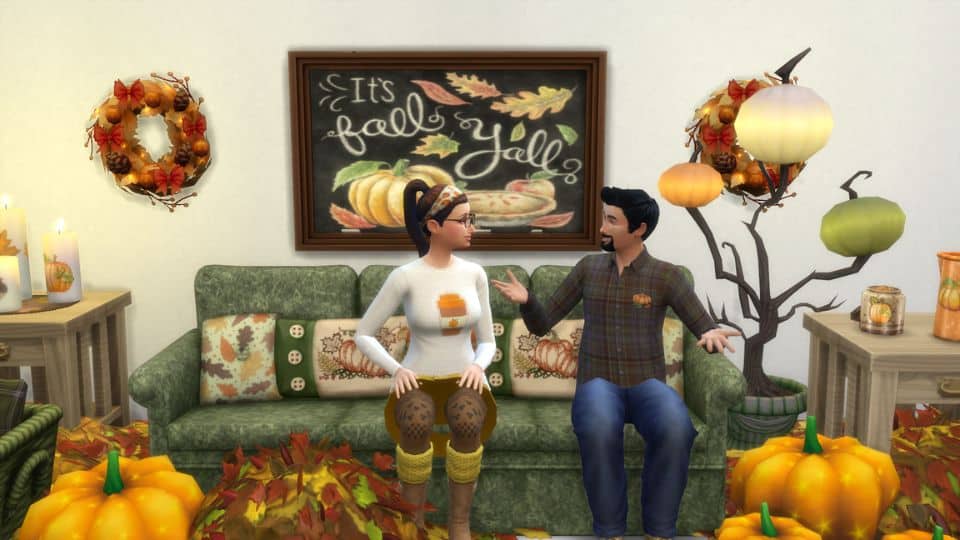 This pumpkin spice stuff pack includes 52 autumn themed clothes, objects, and a ton more.
While the majority is base game, some of the items do require expansions packs.
Some of the packs pieces include;
A coffee table
Casserole dish
Recliner
Fall flowers
Welcome mat
Pumpkin basket
Mixed fall clothing for the family
Sneakers
Fall dog scarf

10. Sims 4 Fall Sweater Set by Oakiyo & QICC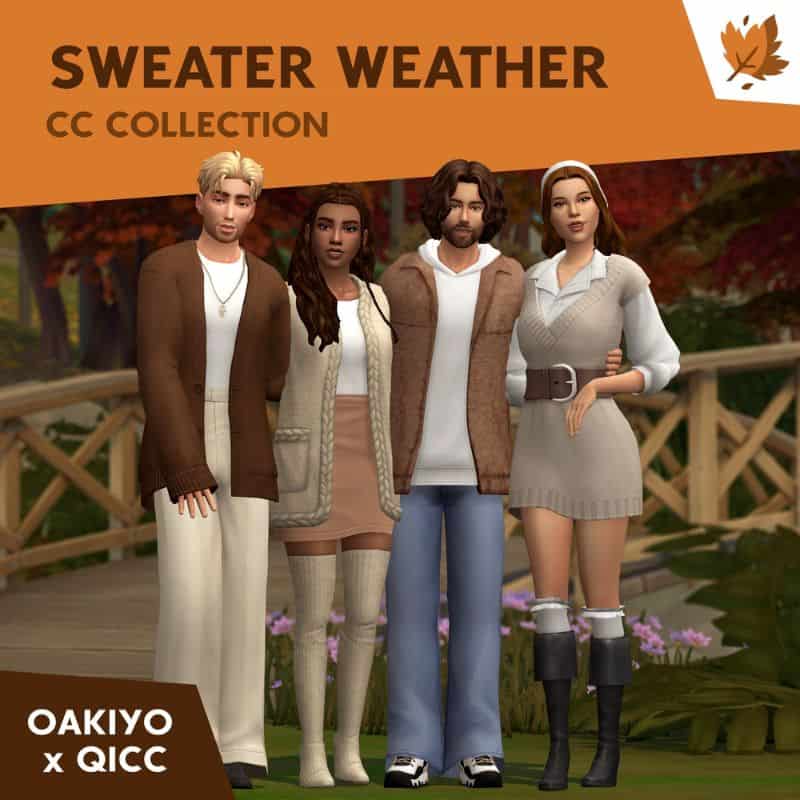 This sweater weather collaboration brings you a set of fall-time clothing, hair cc, shoes, and accessories.
Oakiyo's part includes a jacket for your male sims, jeans, and a chin-length haircut.
There's also a two hairstyles for your female sims, a long-sleeve crop top, and a sweater dress.
QICC portion has 1 pair of pants for your male sims, 2 tops, a leaf-shaped necklace, and a short haircut.
There are two long hairstyles for your female sims, a braided cardigan, a mini skirt, a sweater vest outfit, and thigh-high boots.
Plus, you will find a couple of accessory tops, too.
11. Sims 4 Autumn CC Collection by AngelHoliday17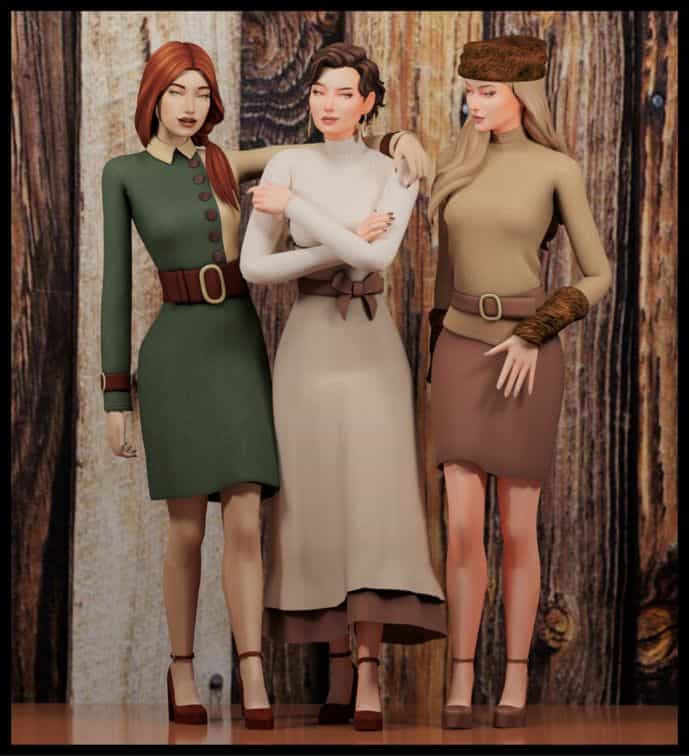 This autumn collection has custom content pieces for your male and female sims.
This set includes;
A dress coat and belt
Autumn earnings and a sweater dress
A fur hat and sweater outfit with fur sleeves
Male sweater jacket
Sweater with scarf
Men's jeans

12. Sims 4 Autumn Decoration Set by Ruby Red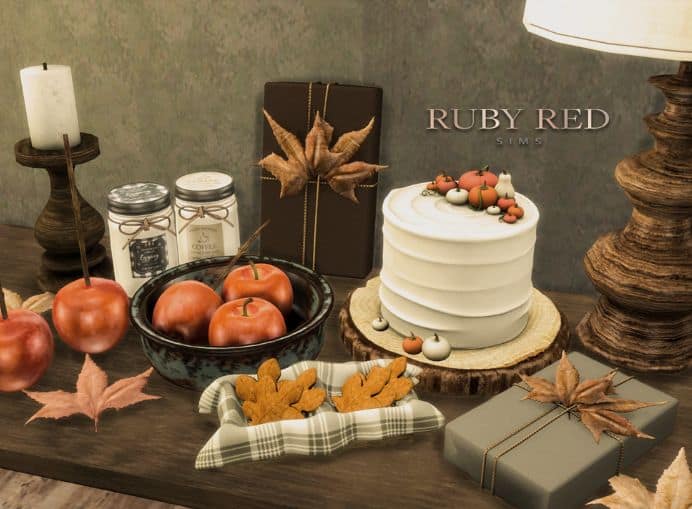 This sims 4 autumn cc set has got me jealous of my sims.
Nothing screams autumn more than pumpkin spice, and this set includes a gorgeous pumpkin spice cake.
Plus, your sims can enjoy the season with some yummy maple cream cookies, caramel apples, cute gift boxes, and pumpkin spice candles.

13. Sims 4 Fall Sweaters by DescargasSims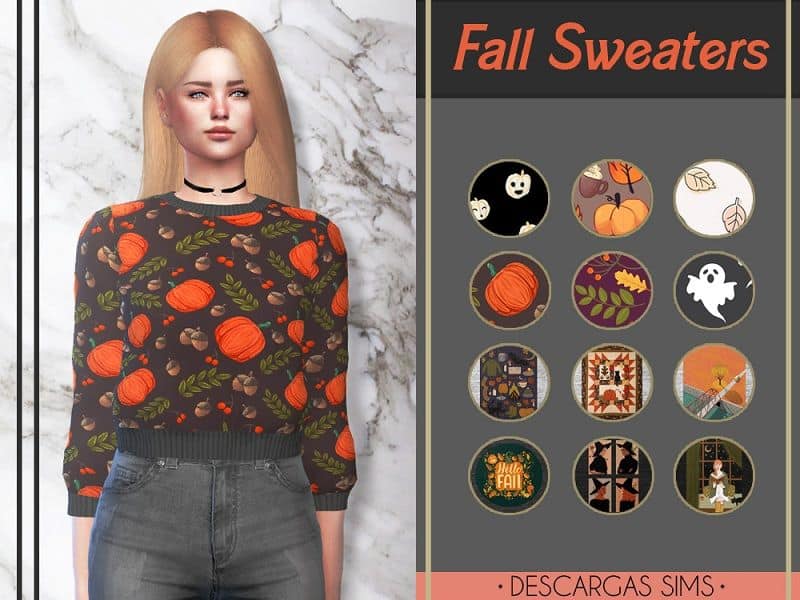 These casual sweaters pair great with jeans, and the designs are everything you need for the season.
There are 12 swatches, including pumpkins, ghosts, fall leaves, and more.

14. Pumpkin Spice Blazer CC by SimmieV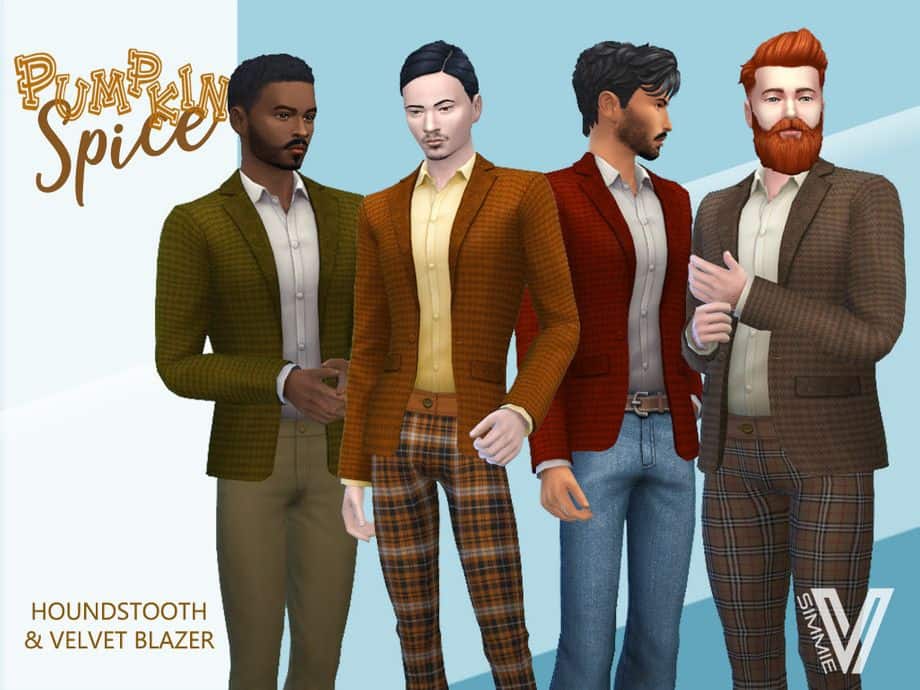 Need something a little more dressy for your male sims closet?
This houndstooth blazer with velvet trim can elevate a casual pair of jeans or pair with a dressier pair of pants.
The blazer comes in 8 fall-time color swatches.

15. Sims 4 Autumn Garden Pack by PufferSuffer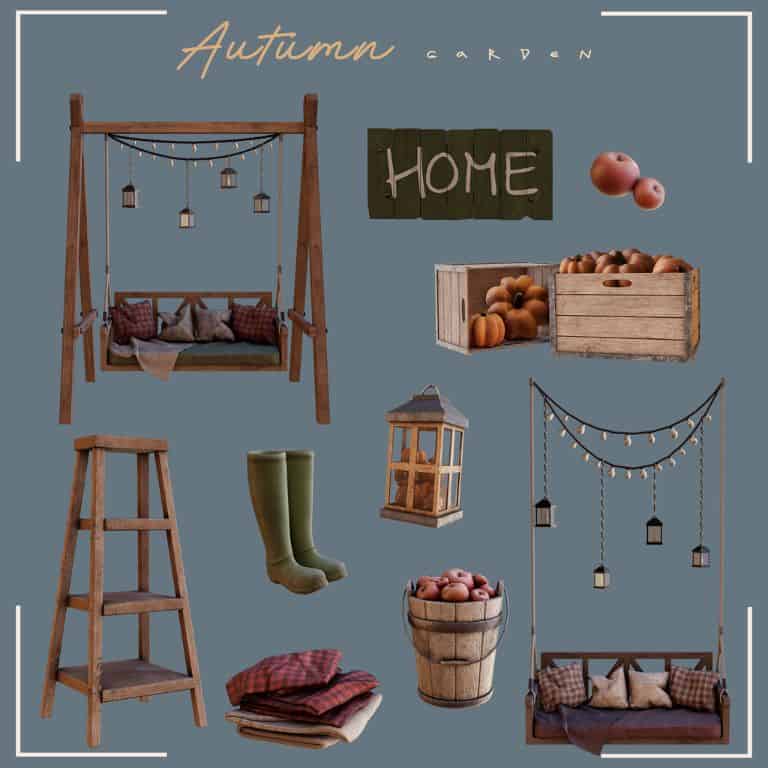 Get the exterior of your sims home ready for the season with this set of autumn outdoor decor.
The pack includes a great wooden garden swing, a HOME sign, a bucket of apples, wooden crates filled with pumpkins, a wooden ladder, hanging lights, and more.

16. Men's Fall-Time Long Coat by Solistair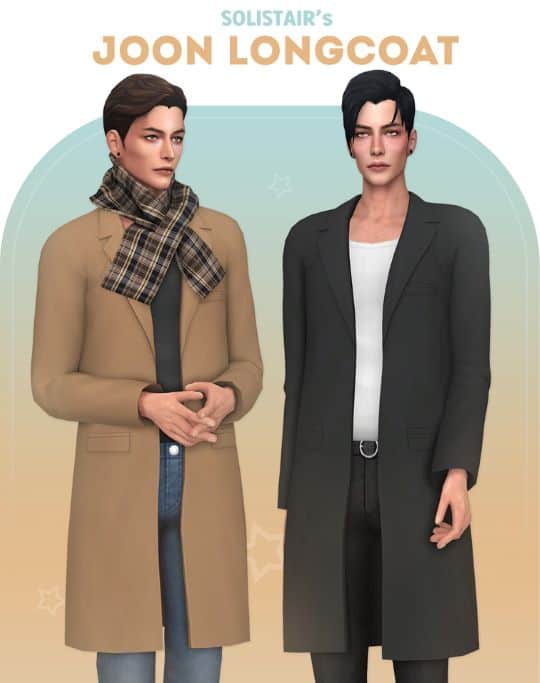 Everyone can use a long coat in their closet, and this version is made for your stylish male sims.
The coat comes in 13 earthy neutral colors, and you can pick the undershirt from 20 solid colors from the Hibiscus palette.

17. Sims 4 Fall Lipstick CC by MSQSIMS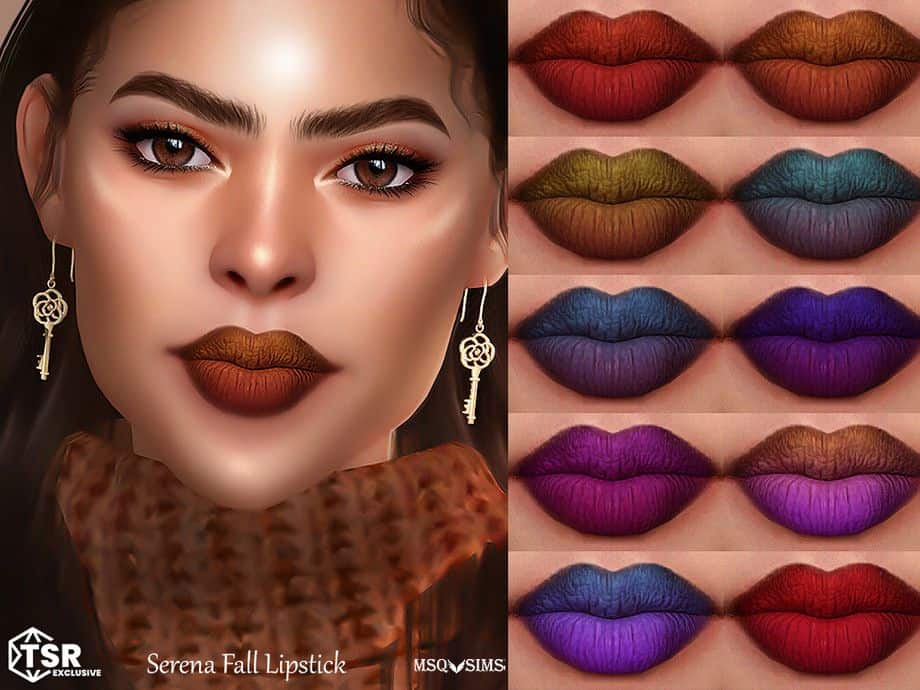 These lipsticks come in beautiful ombre colors to compliment the fall eyeshadows listed at #6 above.
The set includes 10 swatches, and the oranges and red options remind me of fall leaves colors and will look amazing on your sims.

18. Autumn Pumpkin Cottage by Moniamay72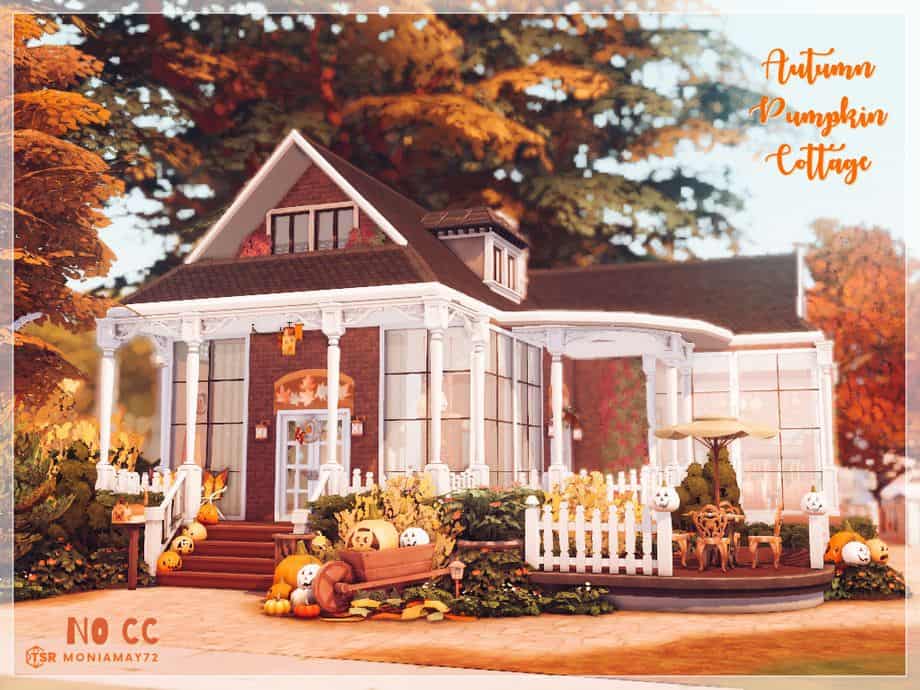 This adorable autumn cottage is ideal for a family of four.
The home is beautifully furnished with cozy fall furniture and decor in every room ,making it the perfect home for fall-season lovers.
While this cottage doesn't include any custom content, it does require many packs and kits.
Lot size: 30/20
Sims 4 Autumn CC: Final Thoughts
We hope you found some new sims 4 autumn cc pieces to fill your mods folder.
Pick a great sweater dress, a comfy sofa or add some delicious maple cream cookies to your sims home to create the perfect fall vibes.
If you have any questions or suggestions, feel free to leave us a comment below or tag us on Tumblr.

And don't forget to share and save this pin for later!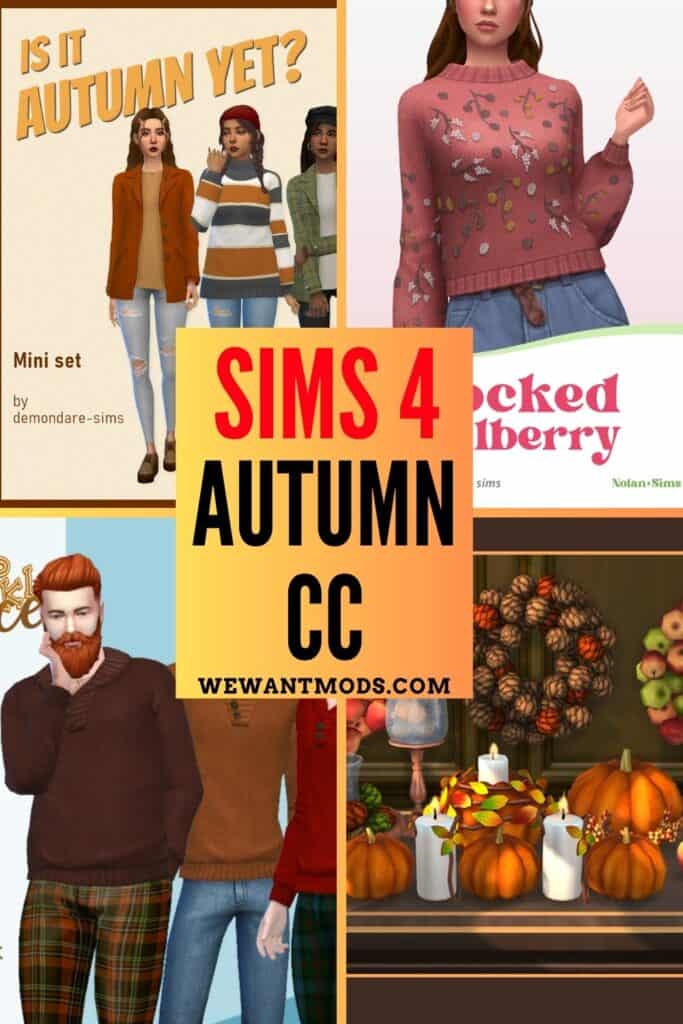 More Sims 4 CC Lists
17+ Sims 4 Autumn CC: Pumpkin Spice Up Your Sims