47+ Sims 4 CC Packs: Unleash Your Creativity
Find your new favorite sims 4 cc packs with this ultimate list of custom content!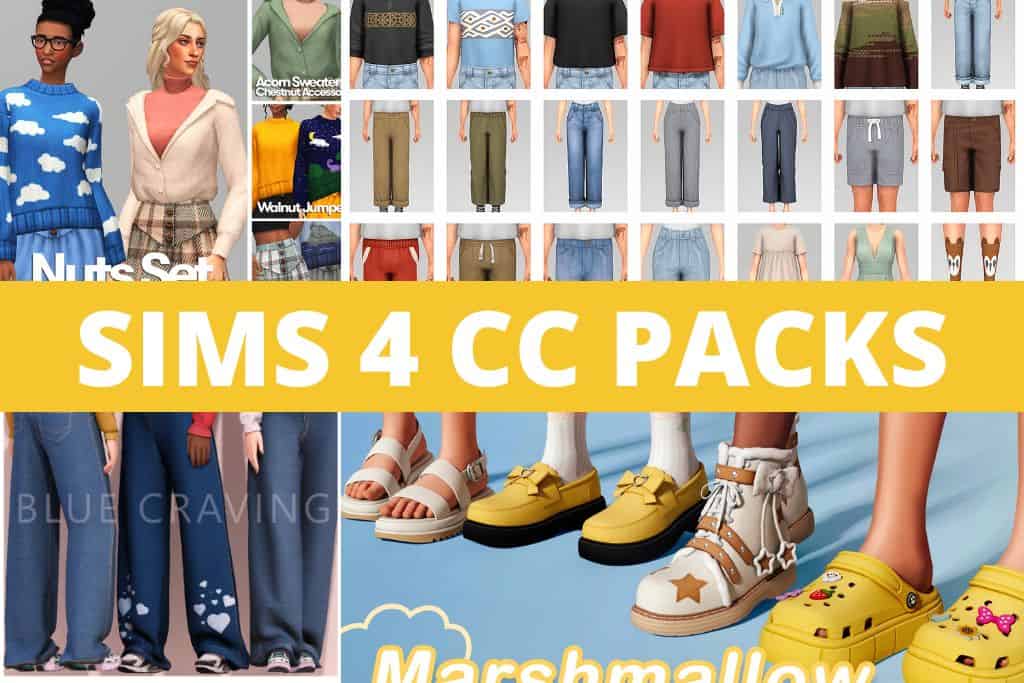 If you've found this post, you probably love custom content as much as we do.
We love finding new items for our sims homes, clothes, shoes, and accessories to complete the look and feel of our game.
With so many amazing sims 4 cc packs circulating on Tumblr, we are always saving new finds.
Now this collection of packs does focus heavily on clothing.
But we also threw in some custom content shoes, hair, nails, tattoos, makeup, accessories, and furniture cc.
And not to worry, we've included some sims 4 cc packs for your male sims too.
Sims 4 CC Packs
Below you will find a fun mix of sims 4 cc packs to create the perfect looks for your sims.
1. Sims 4 Denim CC Pack by MadameRia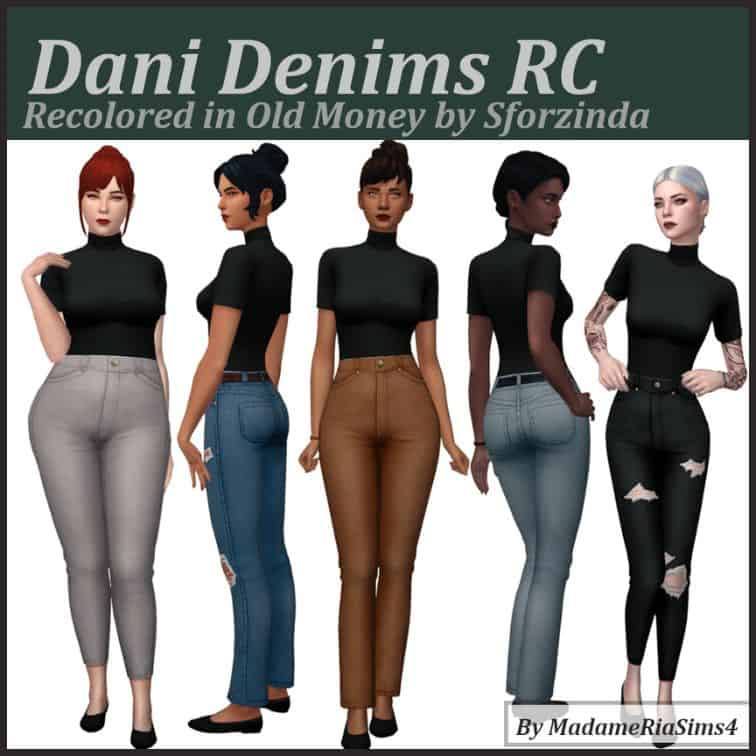 This sims 4 cc pack is all about your sims finding the perfect denim cut jeans for their wardrobe.
This set has 12 variants, including 2 waist types, 3 leg types, and ripped and unripped versions.
There are 35 swatches to mix and match with all your new favorite cc clothing pieces.

2. Serendipity Clothing Pack by Marsmerizingsims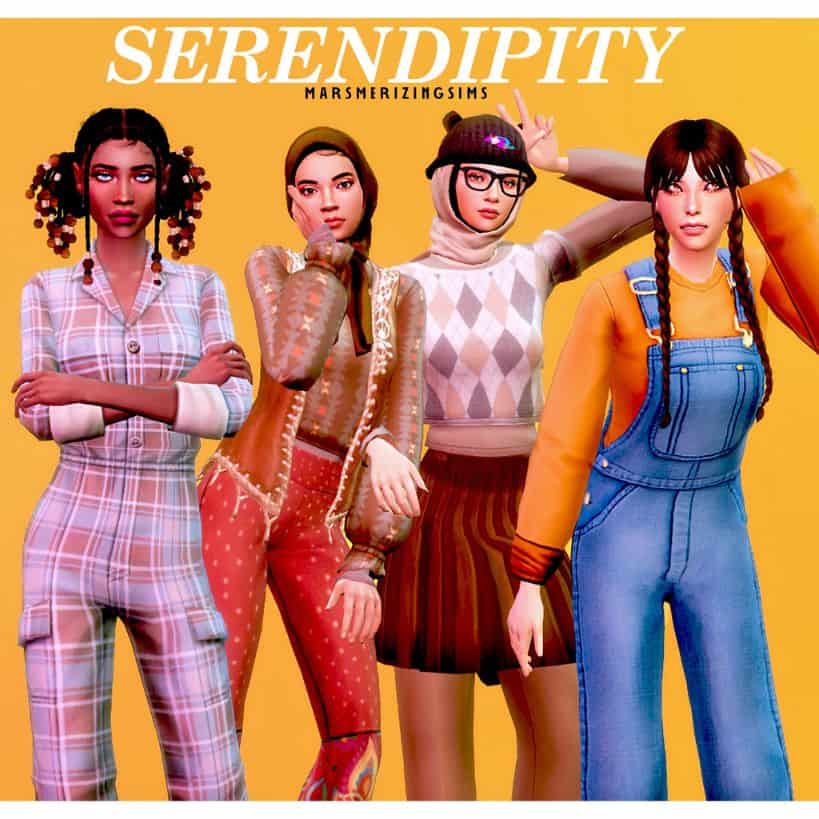 This clothing custom content pack comes with 7 pieces to try out.
You will find a crop top, tee, dress, jumpsuit, overalls, and a couple of blouses.
Style these tops with your favorite bottoms and shoes to complete the look.

3. Ethereal Cardigan Set by Nucrests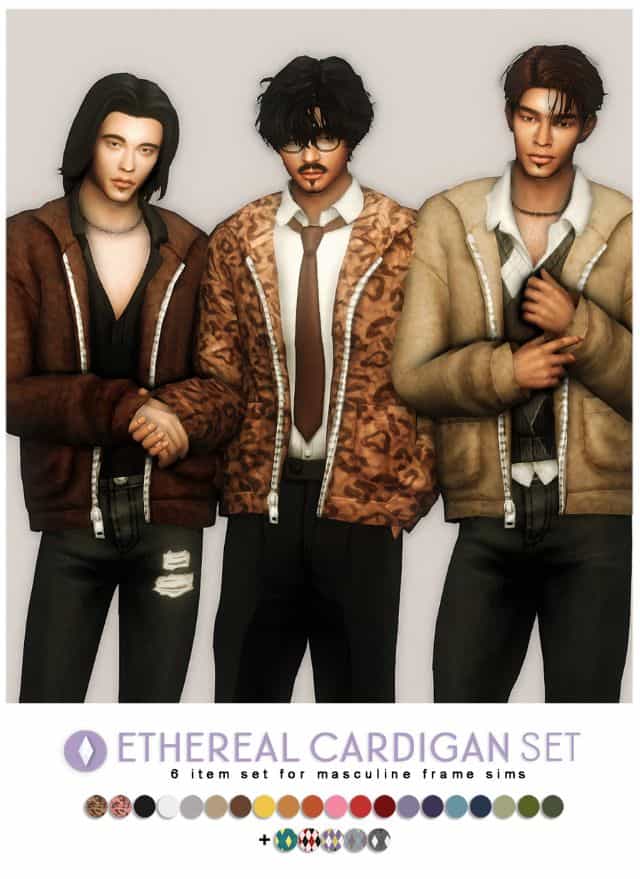 This upgraded version of the Ethereal Cardigan Set comes with 6 pieces for both male and female frames.
There are 3 tops and 4 overlay accessories; the overlays can be found in the Wrist category.

4. Cozy Sweater & Skirt CC Packs by Saurus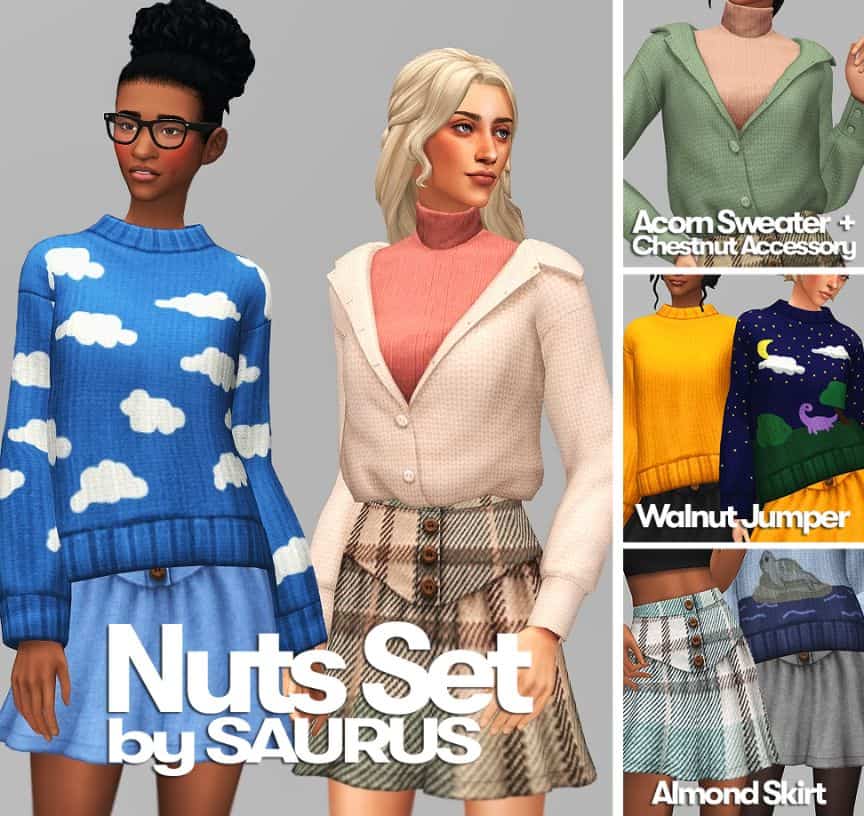 Snag some new comfy sweaters and skirts for a brisk autumn day.
There are 6 items in this set, including two versions of the Almond skirt, a jumper, an overlay, and more.

5. Sims 4 Leggings & T-shirt Pack by Euno Sims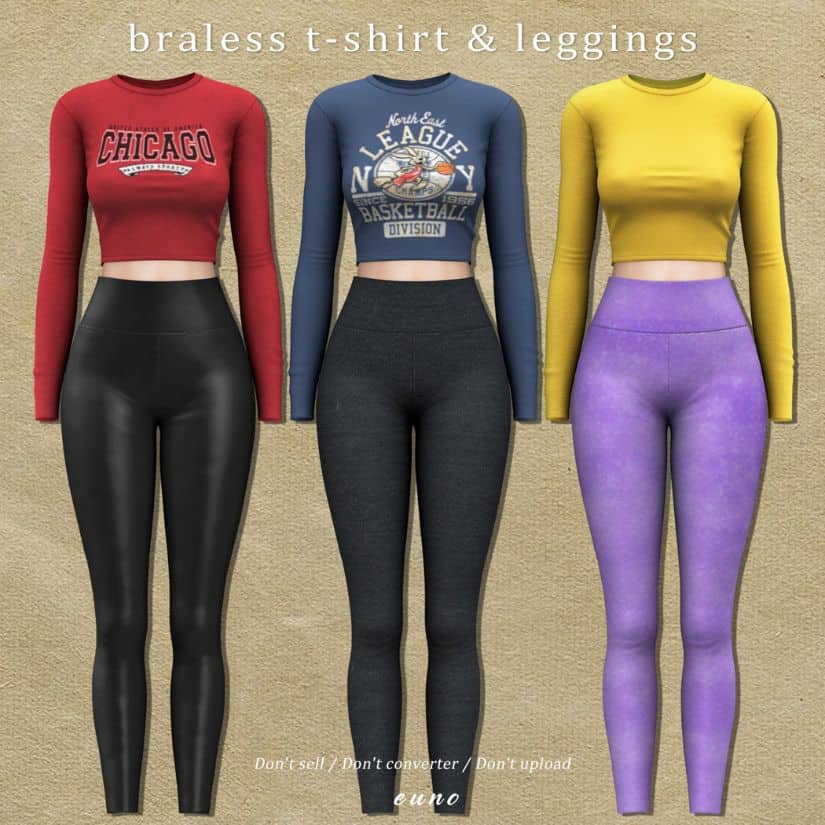 Leggings make up half of my actual wardrobe, so I always enjoy styling my sims in some cute leggings too.
Plus, this set comes with easy-to-pair long-sleeve crop tops.
There are 25 swatches for the leggings and 18 options for the top; both pieces have some interesting swatches.

6. Sims 4 Fall-Ready CC Pack by Madlen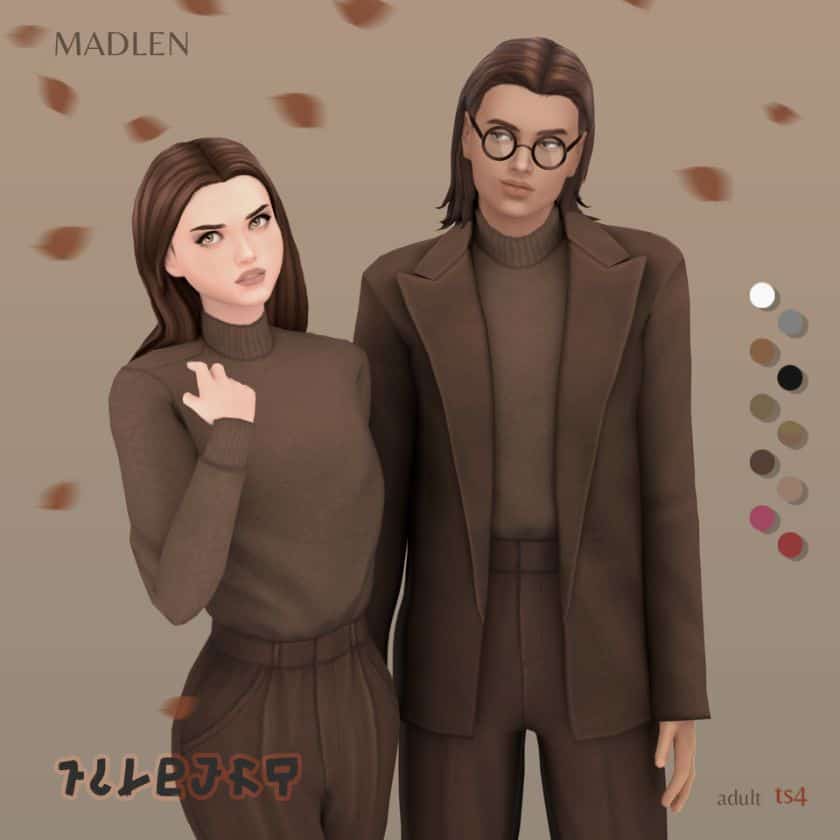 If your household is heading into the fall season, this cozy-office clothing set will prepare your sims for the cooler weather.
You can grab the male and female turtleneck and dress pants or opt for the look with the blazer.
The outfits and blazer both come in 10 color swatches.

7. Marshmallow Shoe CC Packs by Jius-sims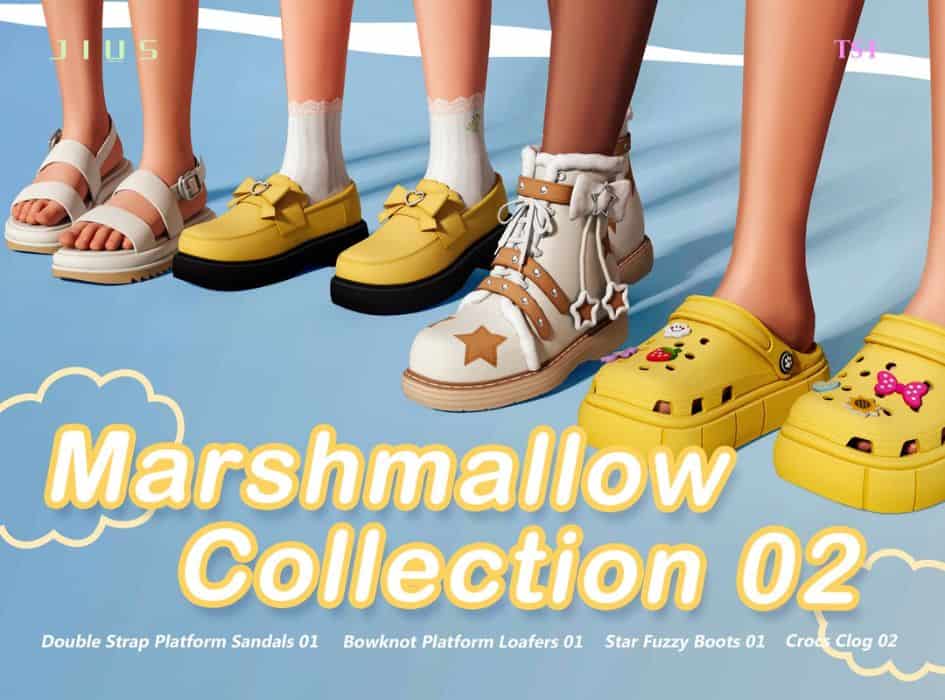 Crocs with added decorative charms are all the craze this spring, so I was so excited to see a sims 4 version in this cc pack.
This set also includes a pair of fuzzy ankle boots, bowknot platform-style loafers, and strappy platform sandals.
There are plenty of swatches to choose from except for the furry boots, which come in 2 swatches.

8. Sims 4 Male Clothing CC Pack by AdrienPastel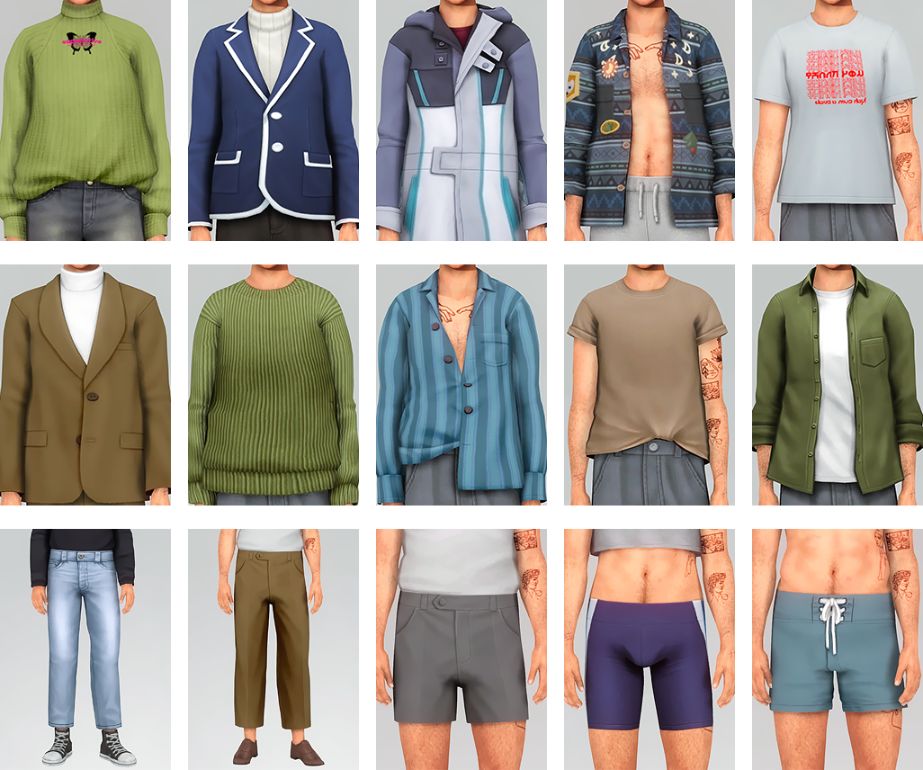 This 15-piece cc pack has a variety of more casual and dressy male clothing pieces for your sims.
You can mix these pieces from swimwear to suit jackets to create unique outfits or style them with pieces from other sims 4 cc packs.

9. Wildflower Dresses CC Pack by Aretha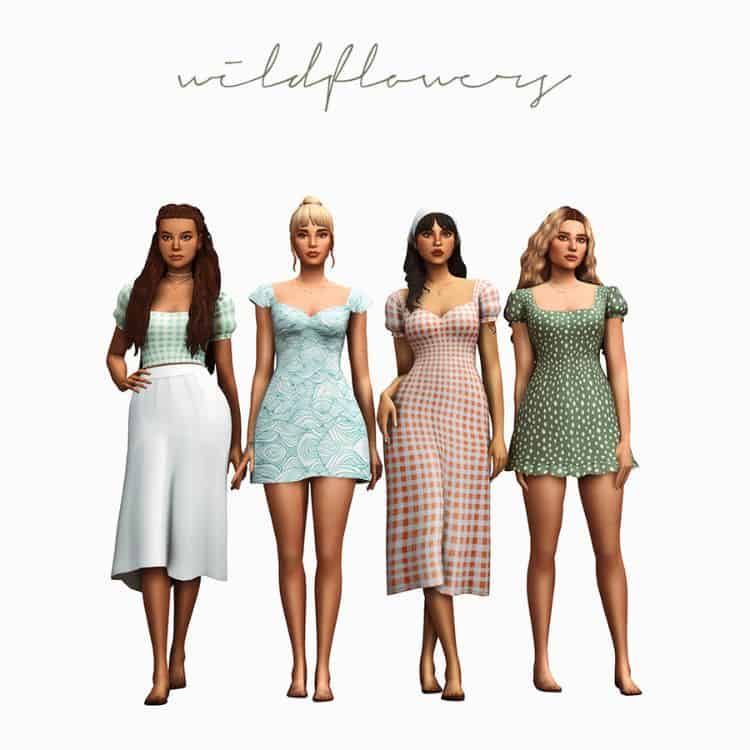 This wildflowers set is a little older but still one of my summer favorites.
With its mix of flower patterns and checkers, you get a mix of cute dresses and a top-skirt combo with fresh white boots.
These outfits are ideal for the summer season and can seamlessly work into your cottagecore collection.

10. Sims 4 Loungewear CC Packs by Caio & Serenity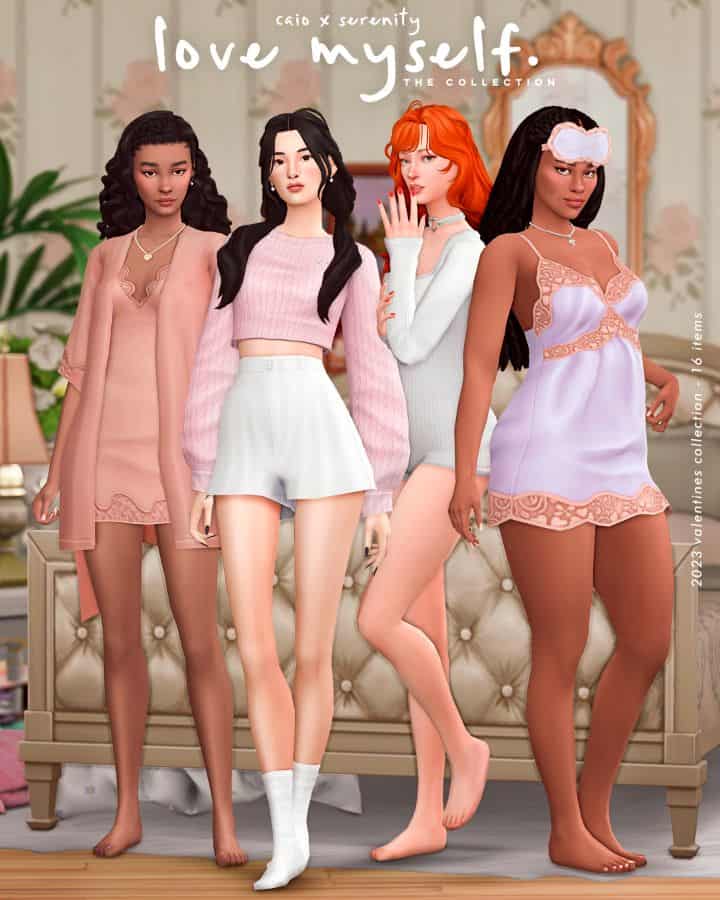 Who else is obsessed with comfy-sexy lounge and sleepwear?
This collab is split in two sims 4 cc packs, so I've linked both parts below.
The Caio set comes with 9 pieces, including classic pajamas, a cozy jumpsuit, a satin robe, and more.
The Serenity set has 7 pieces featuring a silky chemise, lace bra, panties, and a few more nighttime options.
11. Sims 4 Nail CC Pack by Jolibean
If you like the original Nail IT! set, you'll love this 2.0 version.
This set is a revamp and includes some new nail shapes to try out, including extra-long ballerinas, extra-long almonds, ovals, and a few more.
You can also choose among 40 swatches and toddlers-children get an extra 10 swatches too.

12. Sims 4 Sporty CC Packs by Blue Craving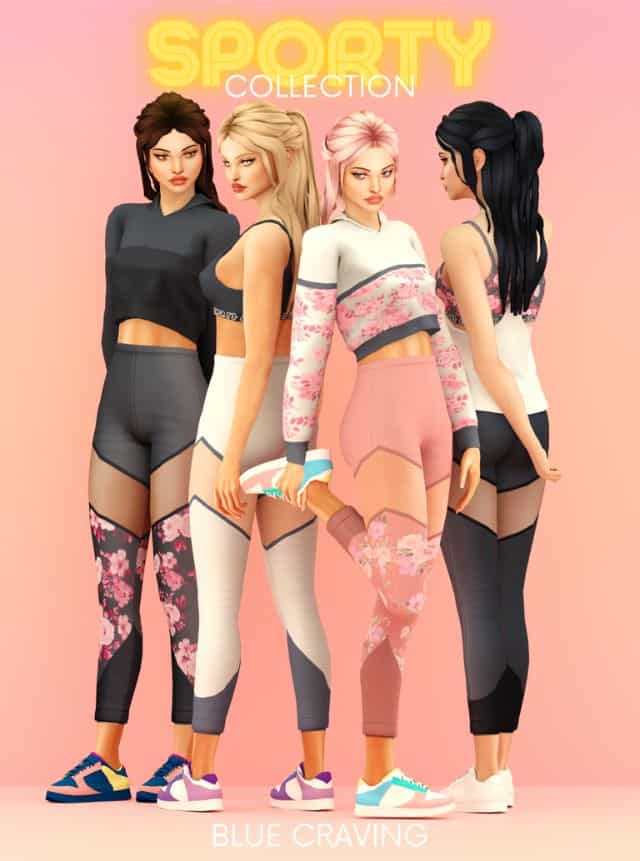 This sporty cc pack is gorgeous; I want everything for my real-life sportswear with the mesh detailing on the leggings.
You get the following pieces;
Leggings
A sports bra top
A sporty sweater
Running shoes
A few hairstyles
There are a variety of swatches to try out, including some lovely flower details.

13. Sims 4 Separated Tops CC Pack by Miiko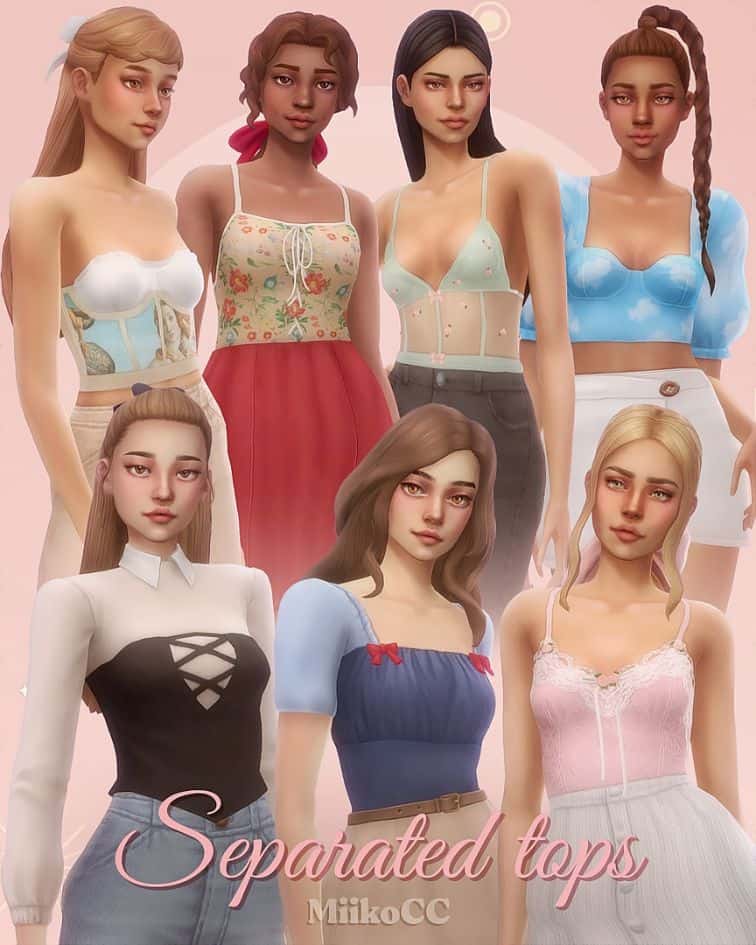 This cc pack delivers the tops from some of your favorite Miiko dresses.
You can now mix and match these tops as you like; with skirts, pants, or leggings.
There are 7 tops, and each comes with 6 to 18 swatches.

14. Mega Sims 4 Hair CC Packs by Sheabuttyr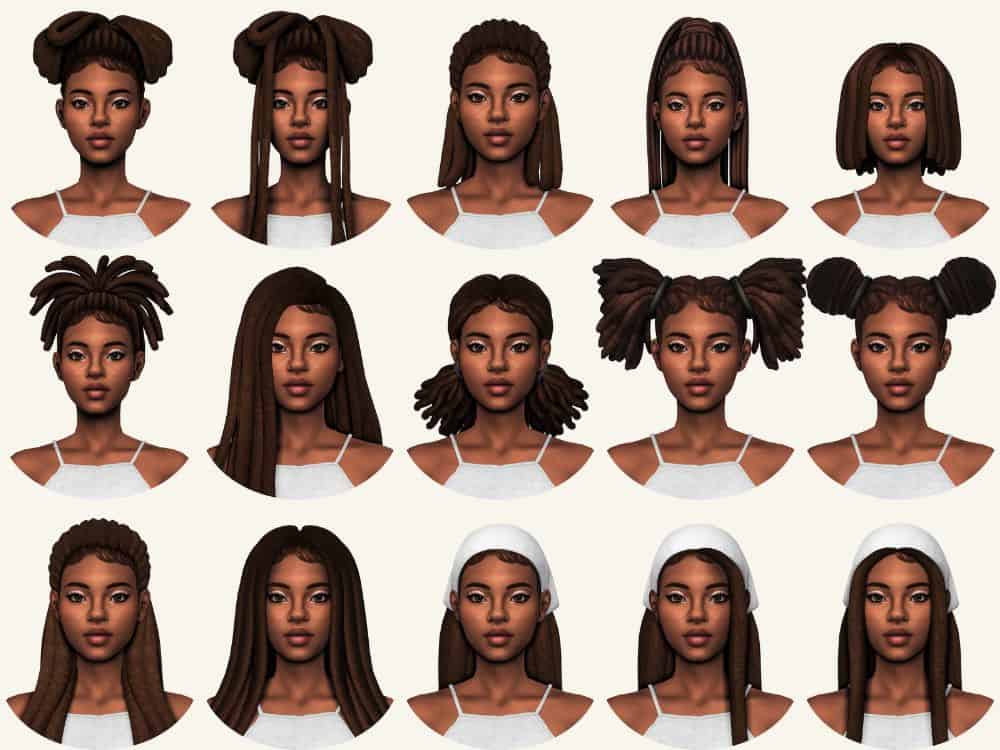 This sims 4 cc pack focuses on deadlock hairstyles and has an impressive 90 hairs.
There are hairs for your male and female sims and plenty of beautiful and unique looks to try out.

15. Old School Clothing CC Pack by HuiEn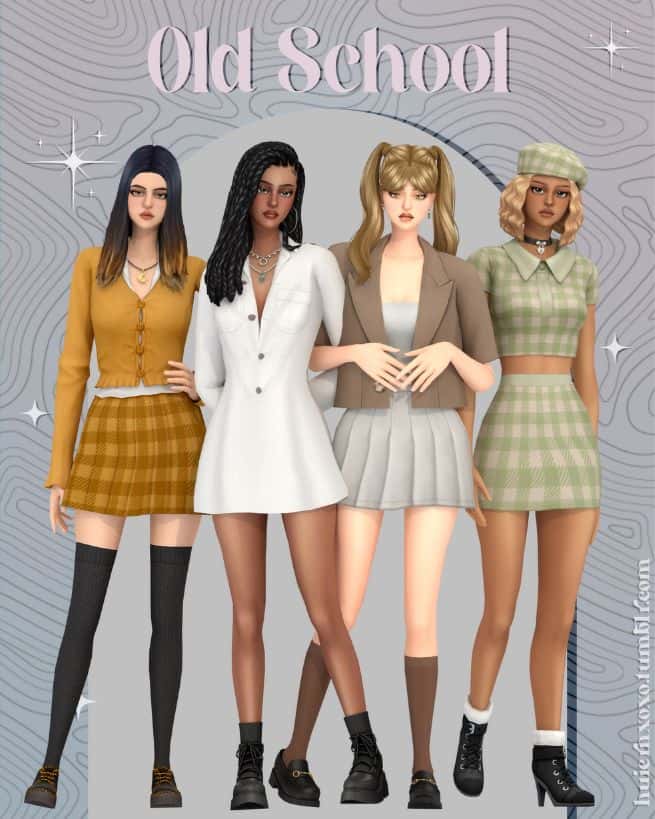 This preppy old-school set gives off Clueless vibes with cropped tops and checkered mini skirts.
This pack comes;
A silk blouse dress
Polo set
Buttoned blouse-skirt set
Jacket-skirt set
Matching beret
Each piece has between 14-25 swatches.

16. Sims 4 Skin Detail CC Pack by Peachyfaerie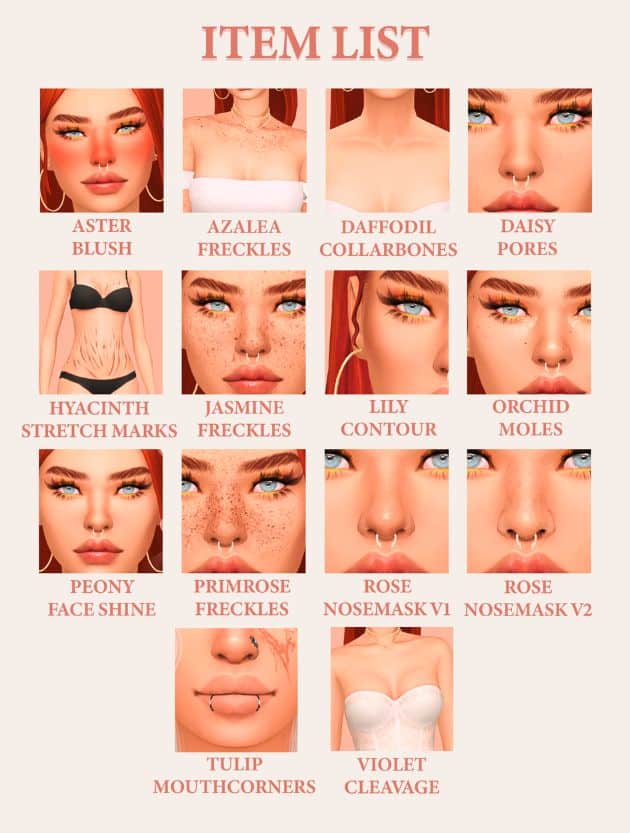 Grab this skin details cc pack to customize your sims to the smallest details.
This set has 14 pieces, including some of the following;
Freckles
Stretchmarks
Collarbones
Nosemarks
Mouth corners

17. Sims 4 Accessories CC Pack by Standardheld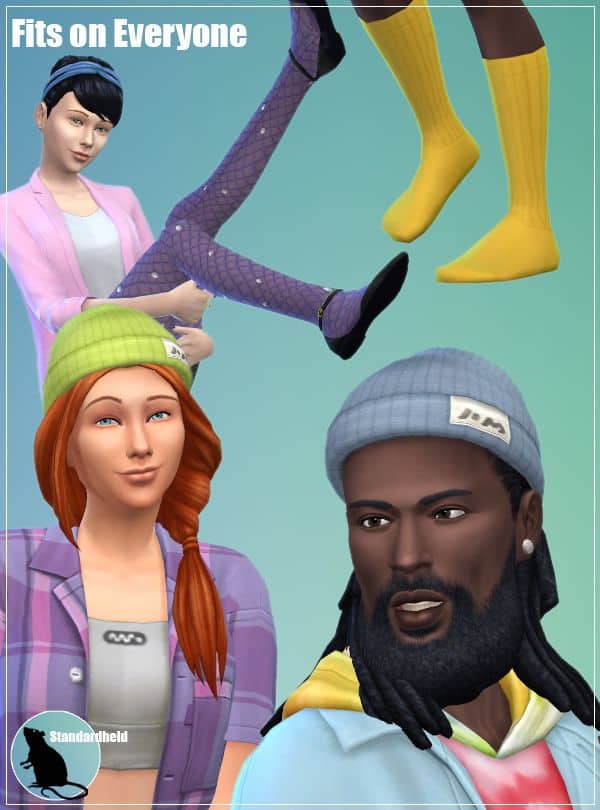 Accessories can often complete the perfect look; depending on the season, some accessories are a necessity.
This small pack includes leggings, socks, and beanies in 7-12 swatches each.

18. Sims 4 Mini CAS CC Set by Miiko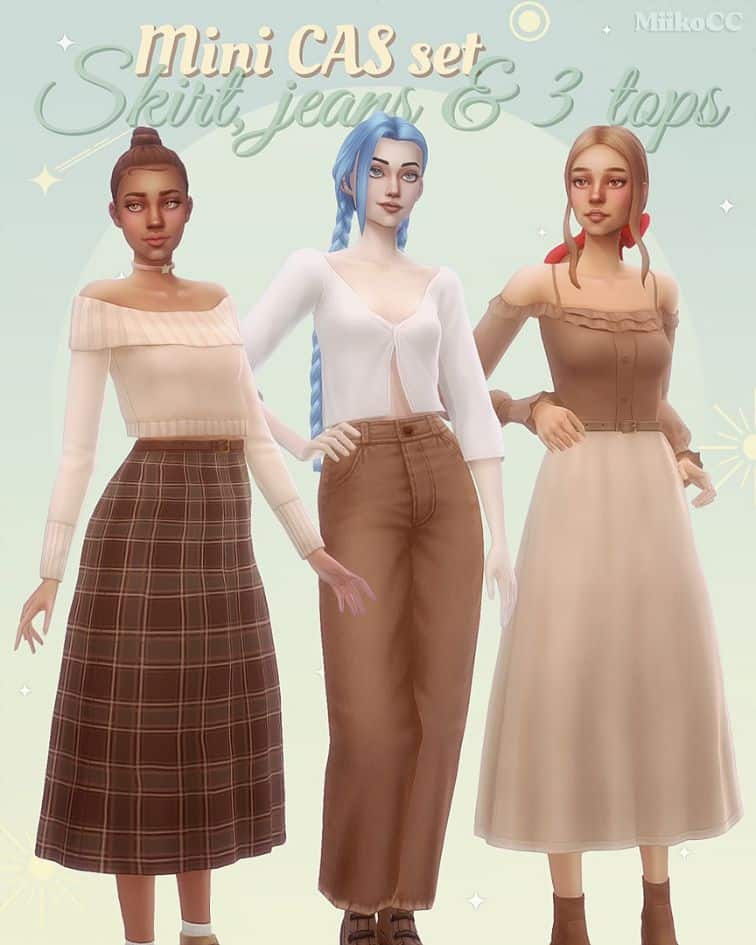 This sims 4 cc pack comes with 5 pieces; 3 tops, a loose-fitting skirt, and casual pants.
These clothing pieces are more casual but can be paired up or down and come in 12 to 20 color options.

19. Sims 4 Top Bundle Pack by Madlen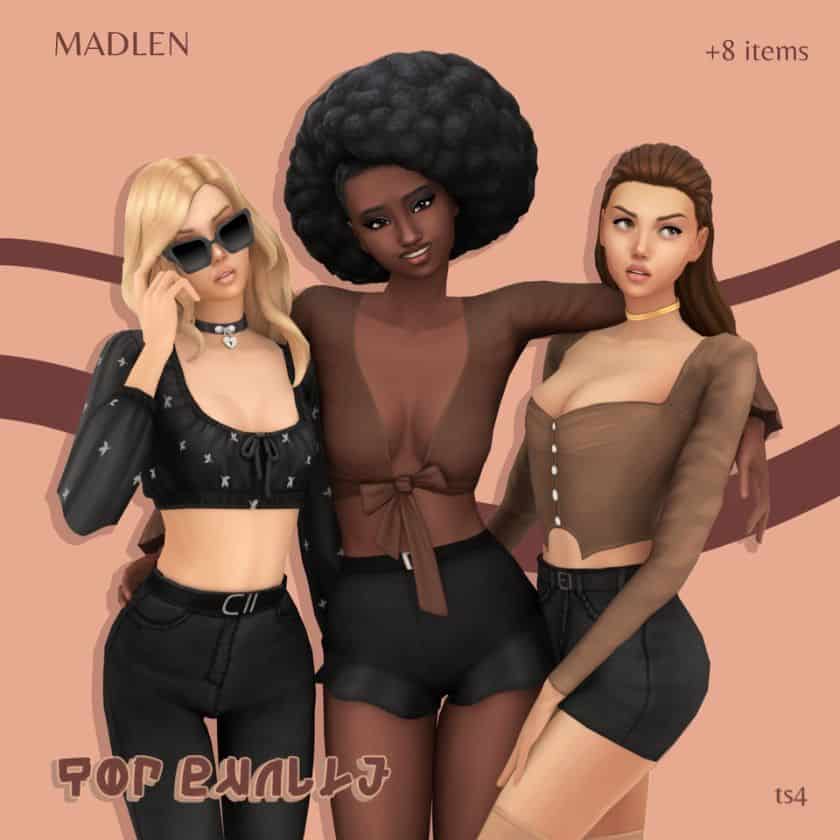 If you need a collection of new tops, this cc pack has the goods.
There are 8 tops in this set, except for one; they are all crop tops with different levels of coverage.

20. Chili Shoes CC Pack Collection by Jius-sims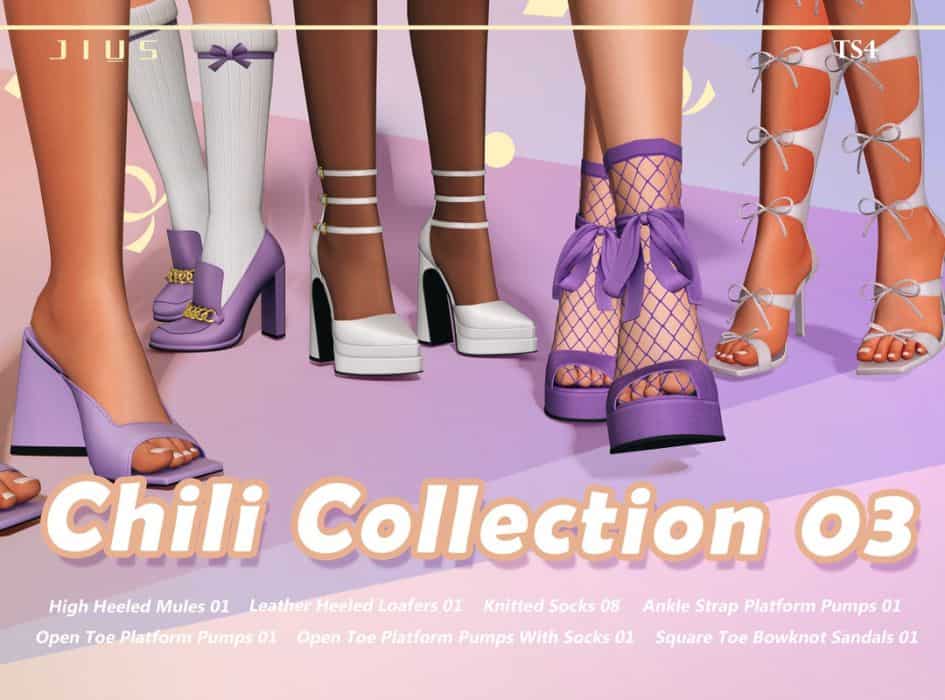 This shoe collection is one of my new favorites; I especially love the lilac-heeled leather loafers.
This set comes with 6 pairs of shoes and one pair of knitted socks with swatches ranging from 20 to 32 colors.

21. Storage Console & Misc Pack by Madlen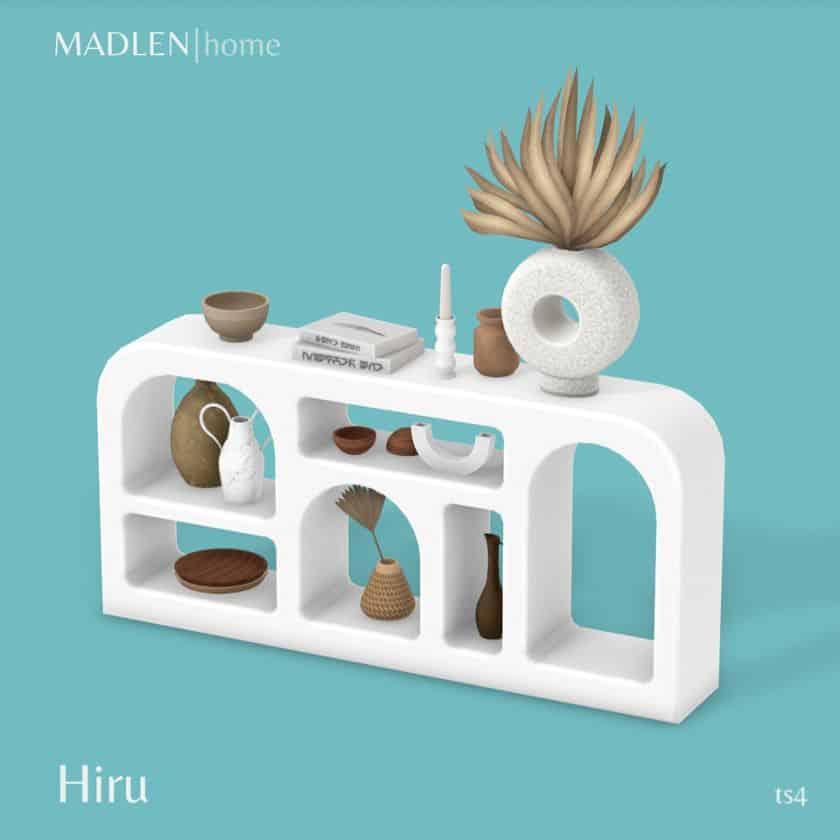 You can't go wrong with a modern storage display when styling your sims home.
And who doesn't love extra stuff?
This mixed set has decorative pieces, including books, plates, small bowls, to larger vases.

22. SOHO CC Pack for Sims 4 by Simcelebrity00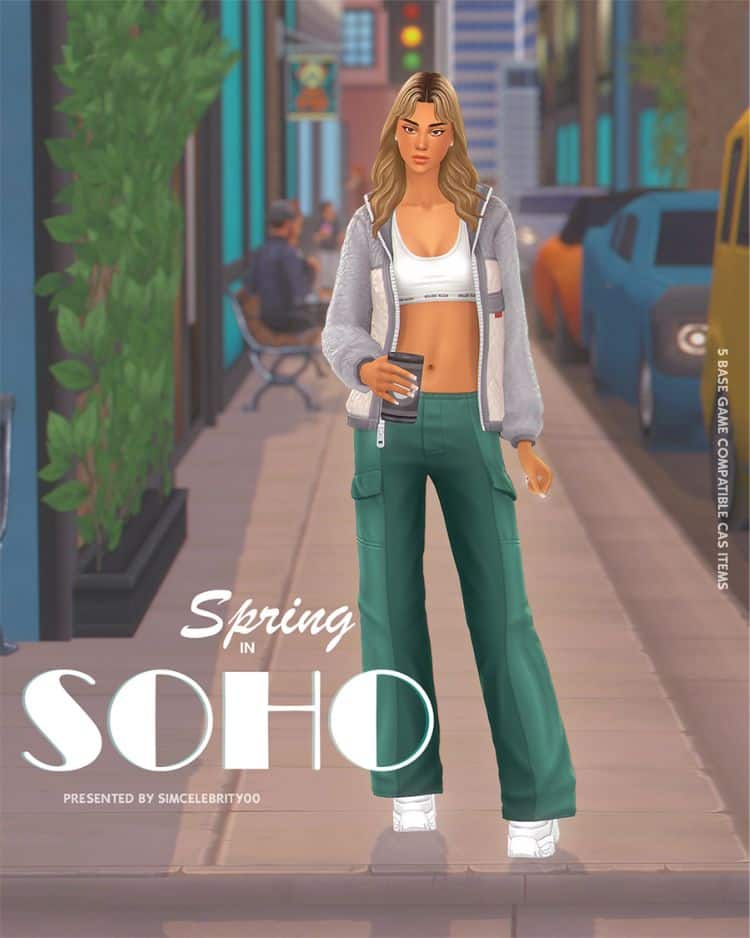 This casual sporty cc pack has a small mix of items, including cargo pants, a fleece jacket, a sports bra overlay, a hair cc, and a roots accessory.
You will find the roots accessory under Brow Rings and the sports bra overlay under the Gloves category.

23. Euphoria Male & Female CC Packs by Clumsyalien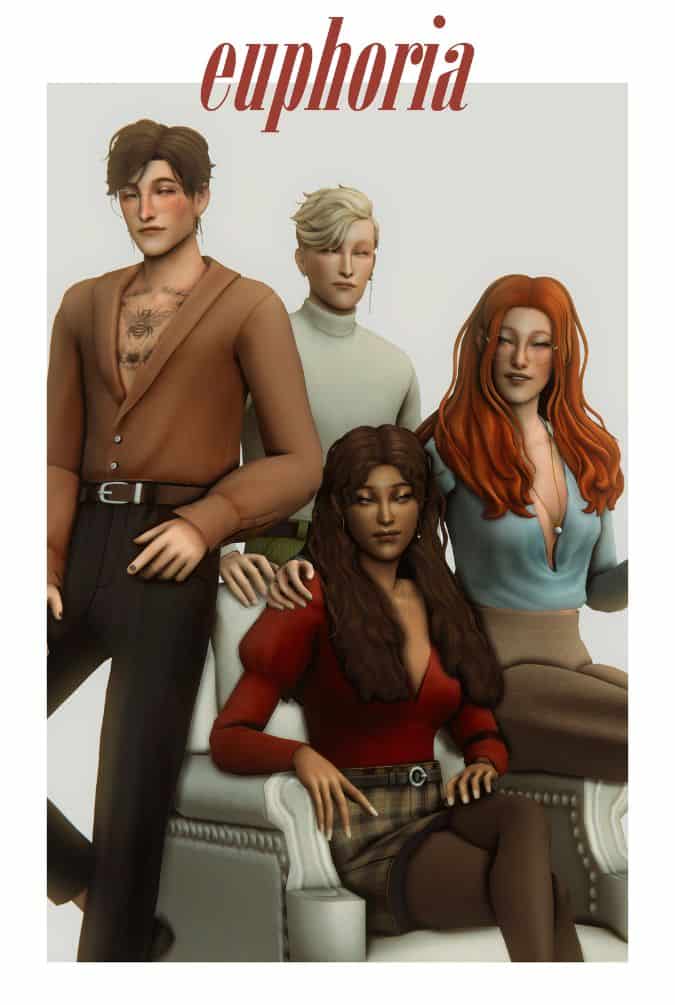 I love a mixed cc pack that I can use for the different members of my sims household.
This set comes with 4 hairstyles, blouses, a turtleneck, a skirt, jeans, and accessories.
There are between 10 to 15 swatches for the clothing pieces, and the hairs come with the standard EA palette.

24. Downtown CC Collection by Greenllamas
With a collection like this Downtown cc pack, you've got everything you need to create a hip and modern look.
There are 3 hairs, 2 bottoms, 3 tops, 2 pairs of shoes, and 4 accessories to style, including a trendy accessory jacket.

25. Etiquette Hair Set by JohnnySims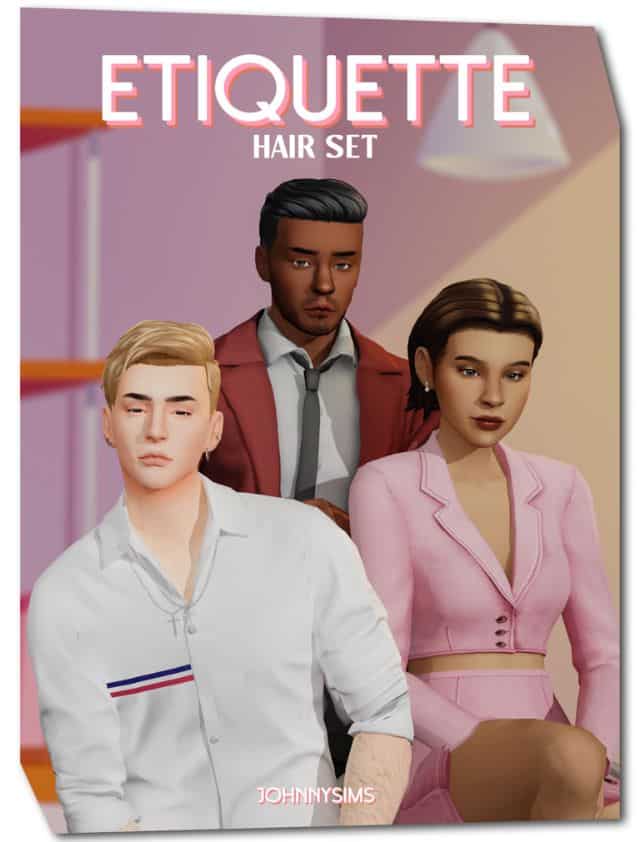 This hair cc pack has 3 different hairstyles for your male and female sims.
Each of the three hairstyles comes with separate download files for both genders.
You can also opt for the no-strands versions for the Mario and Crane hairs.

26. Sims 4 Makeup CC Pack Peachyfaerie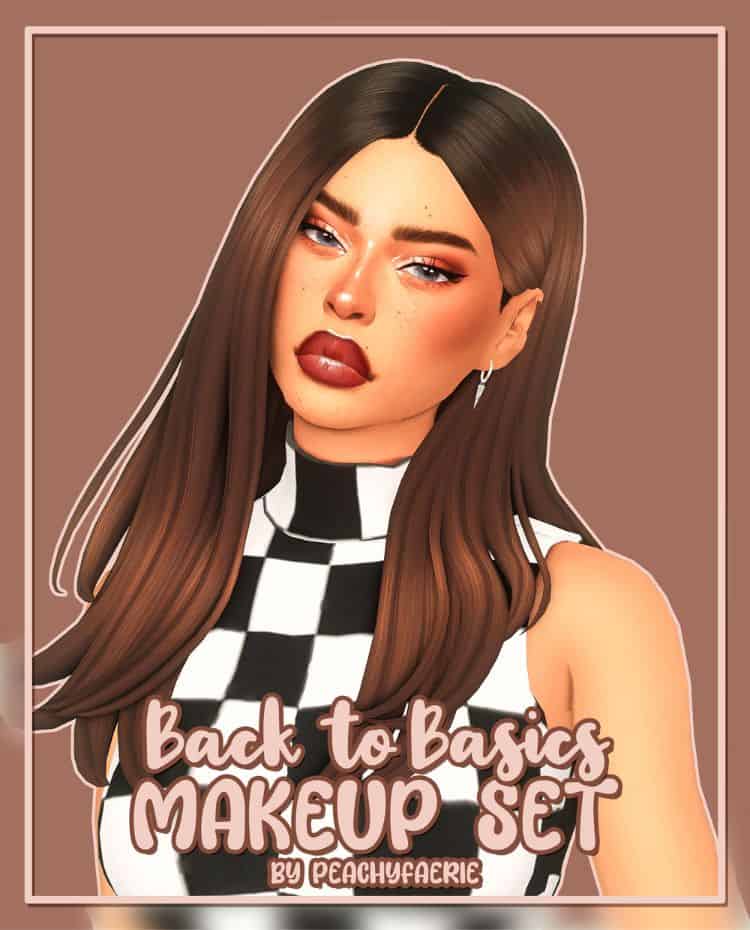 With this collection of sims 4 cc packs, we couldn't forget to include a pack focused on makeup.
This makeup set has a few eyeliners, an eyeshadow, lip gloss, and a lip liner.
You can also grab a couple of face freckles skin details.

27. Sims 4 Daisy Dress CC Pack by Miiko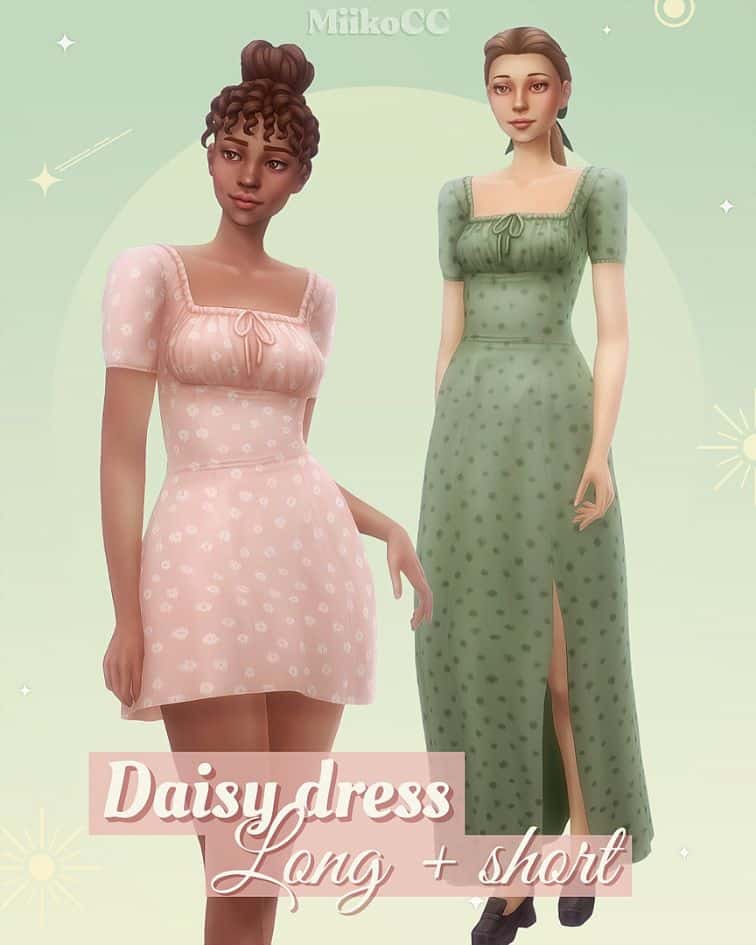 This small pack includes the same Daisy dress but the long and short versions.
There are 19 swatches, including multiple swatches with sweet floral details.
The longer version of this dress seems perfect for a casual stroll through Henford-on-Bagley.

28. Office Ready Outfit Set by Euno Sims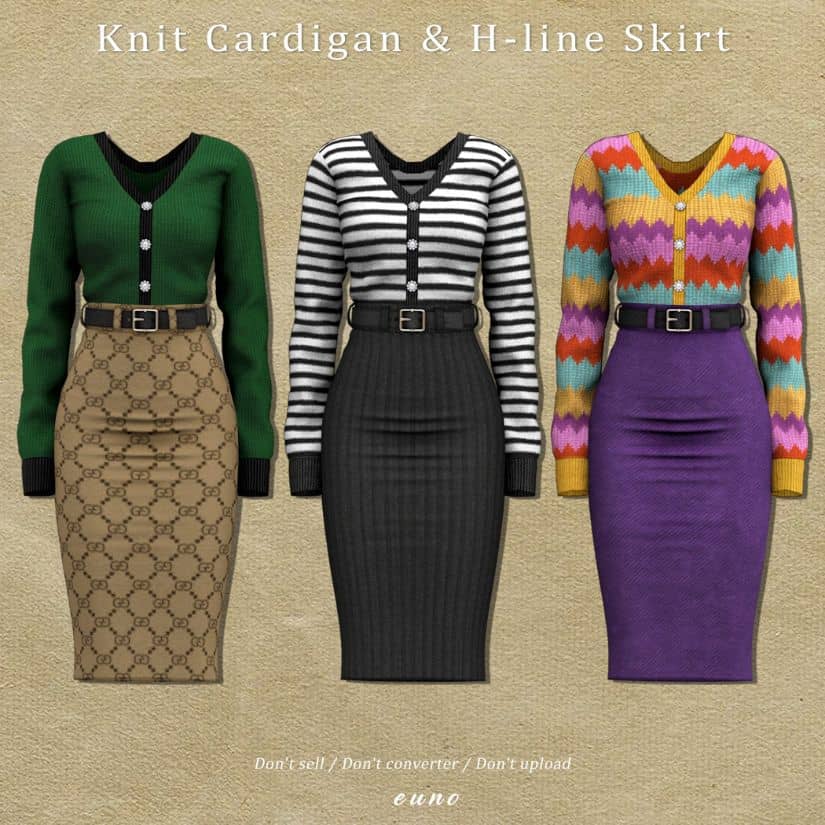 Have your female sims be the most stylish gal in the office with this V-neck sweater and pencil skirt set.
The skirt and top come in 25 swatches, including fun patterns and more solid color options.

29. Female Jeans CC Pack by Blue Craving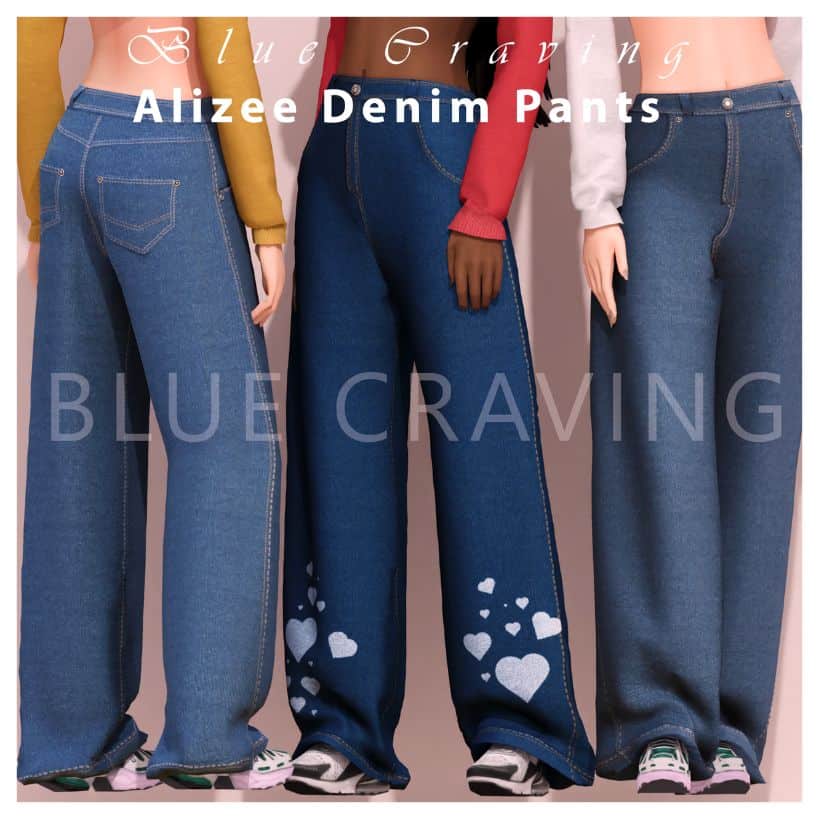 Do you love a casual pair of jeans?
This small cc pack has the perfect everyday loose-fit jeans for your sims.
There are 20 swatches, 10 of which have heart designs at the bottoms.

30. Twenty-Twenty Three Clothes Packs by HuiEn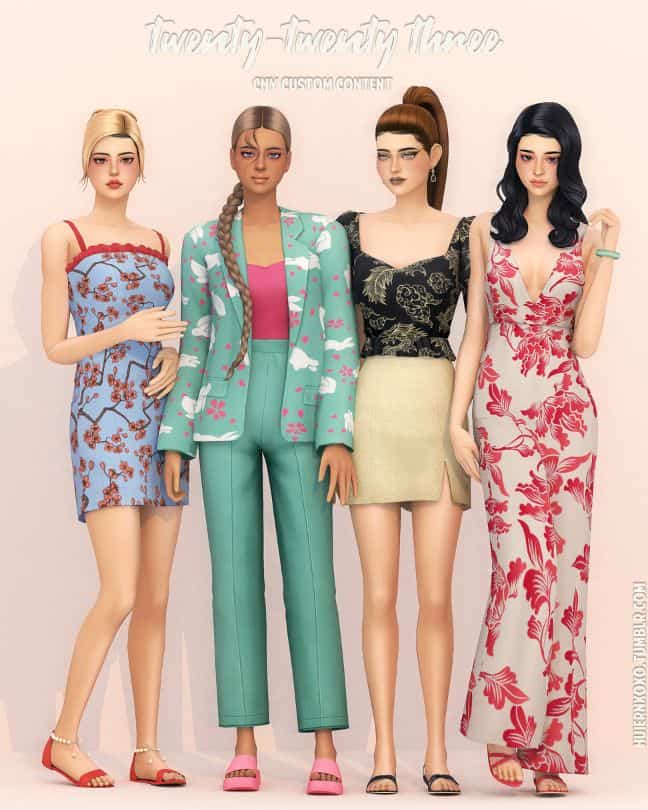 This sims 4 cc pack combines a feminine clothing set filled with Chinese New Year patterns, including some beautiful cherry blossoms.
There is an everyday casual slip dress, a stylish suit set, and a long dress with a V-neck.
If that wasn't enough, you also get a puff-sleeved top and skirt set, and an emerald bracelet.

31. Sims 4 Erla Outfit CC Pack by Madlen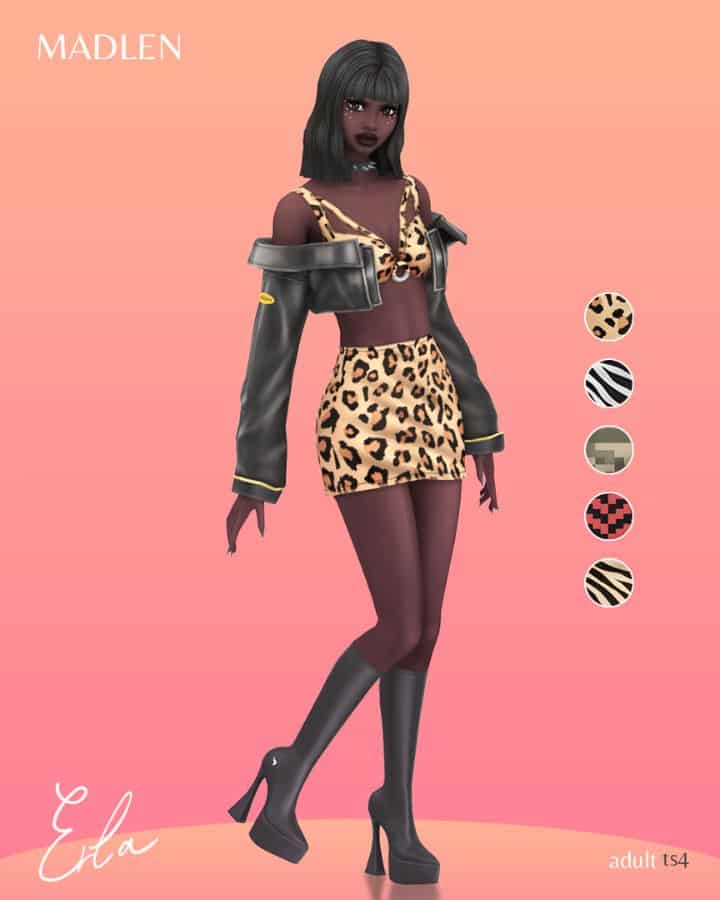 This outfit bundle has all the clothing you need to dress your sim for a night out at the bar or club.
Everything in this cc pack is on the mini side; the mini skirt, bra-like top, and mini leather jacket.

32. Lottie Bedroom CC Pack by Myshunosun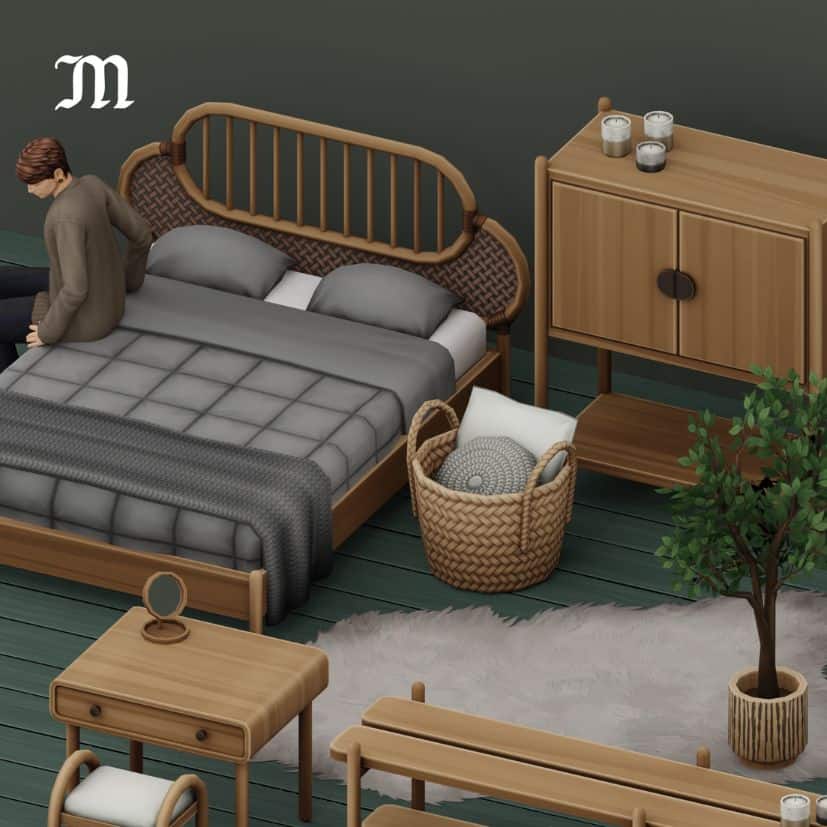 After a long night out, your sims will enjoy nothing more than getting a good night's sleep in their new bedroom set.
This cc pack includes all the furniture and decor to create the coziest bedroom, including a blanket, basket, and functional candles.

33. Growing Together Add-On CC Packs by AdrienPastel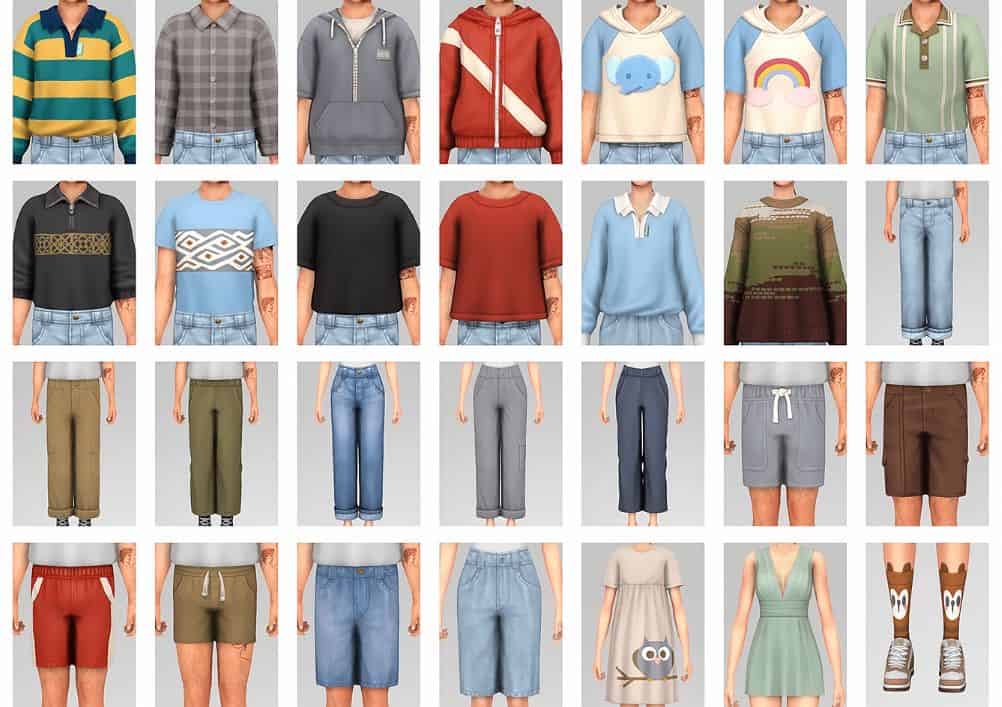 This base game compatible add-on pack comes with 28 clothing pieces for both your male and female sims.
There is a mix of dresses, shorts, pants, jeans, t-shirts, long-sleeve tops, sweatshirts, and a few other items.

34. Sims 4 Melancholy Set by Clumsyalien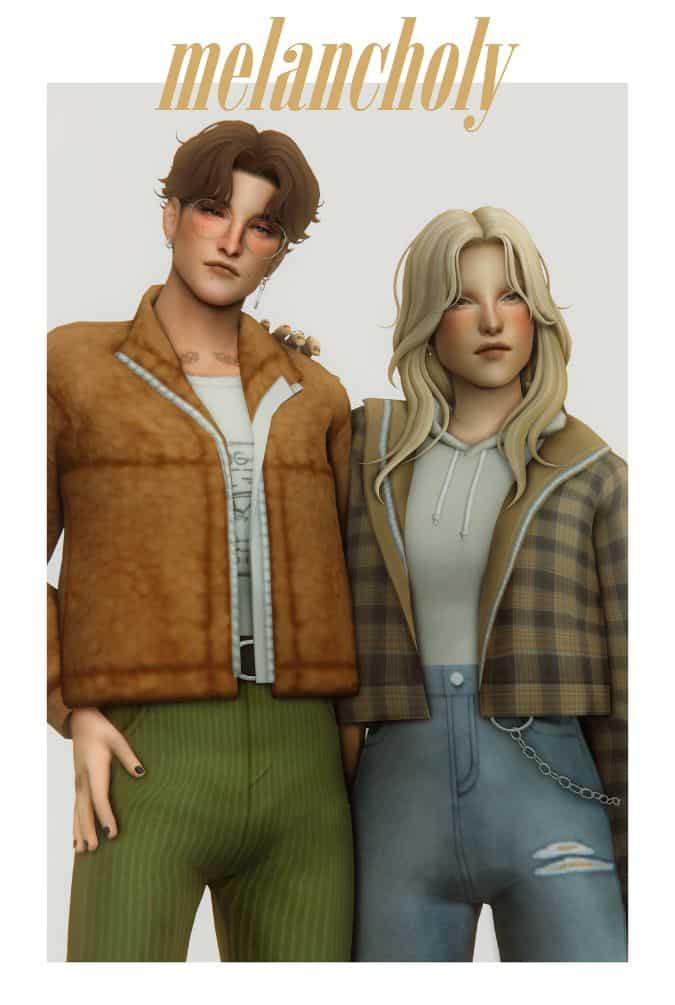 This 6-piece custom content pack has 2 hairs, 2 jackets, a pair of jeans, and another pair of pants.
One of the hairs has a download file for either your male or female sims.
The bottoms and jackets come in 10-20 swatches, and the hairs use the EA palette.

35. Sims 4 Mega Hair CC Pack by Miiko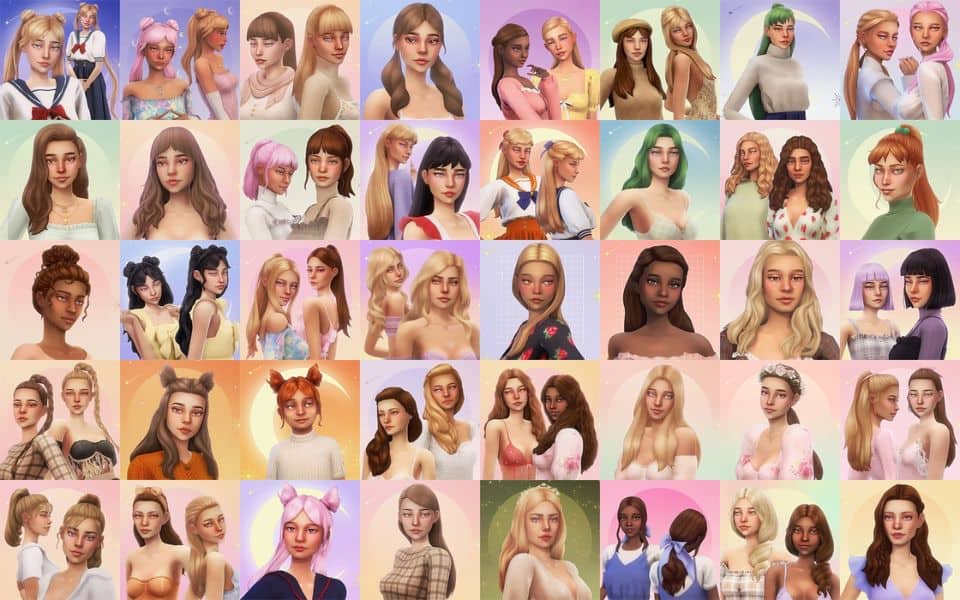 This sims 4 cc pack is just a bulk upload of all your favorite Miiko hairstyles in one spot.
All the hairs cc are from 2022 to 2022 but include some extra color swatches.

36. Sims 4 Rock CC Pack by Marsmerizingsims
If your sims are into Rock, this cc pack is made for them.
The spray paint style Ashley pants are one of my favorites and pair well with the Helen crop top.
You will also find a pair of pants, shirts, a necklace, and fingerless gloves.

37. Sims 4 Coco CC Shoe Pack by Jius sims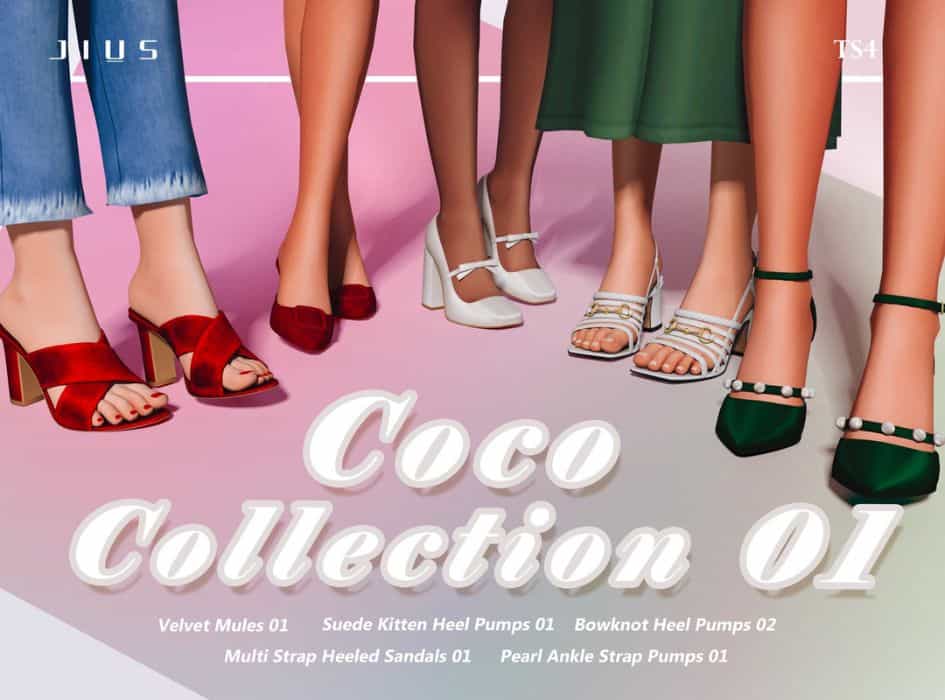 This shoe pack is one of the newest sets from Jius-sims, with some great dressy options, including suede and velvet options.
There are 5 custom content shoes; mules, heeled strappy sandals, pumps, kitten heels, and ankle strap pumps.

38. Rattan Seating CC Pack by Peacemaker-IC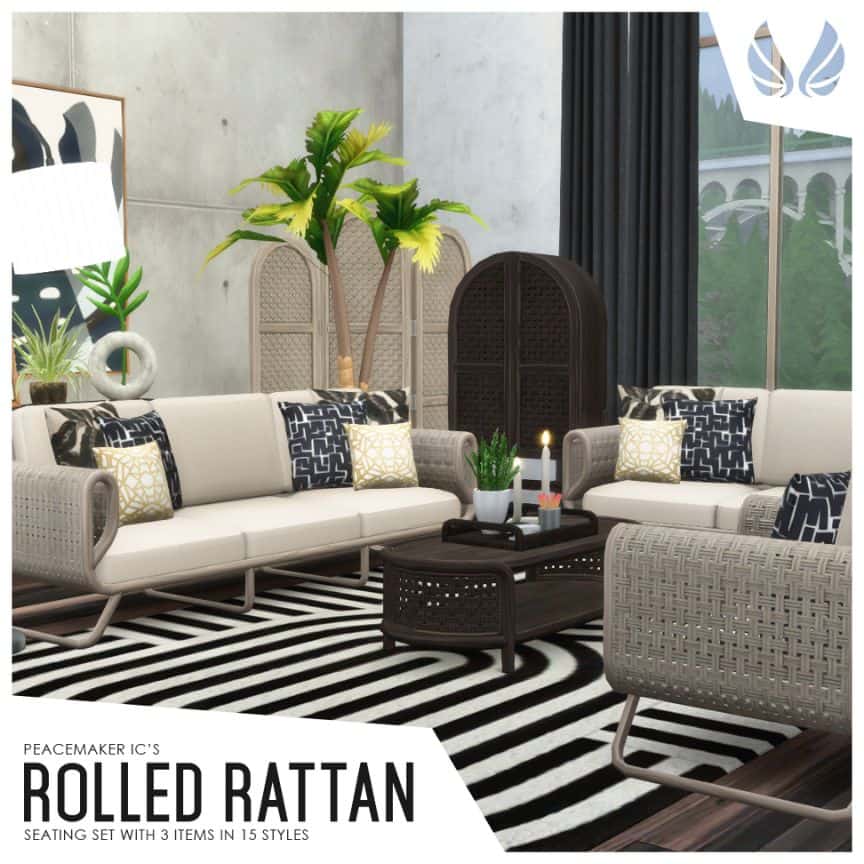 This beautiful rattan seating set has 3 pieces to style the perfect living room.
To complete the room, you can easily pair these chairs with decorative pieces from Peacemaker's Bowed Living set linked on the download page.

39. Dahlia Preppy Office Set by Serenity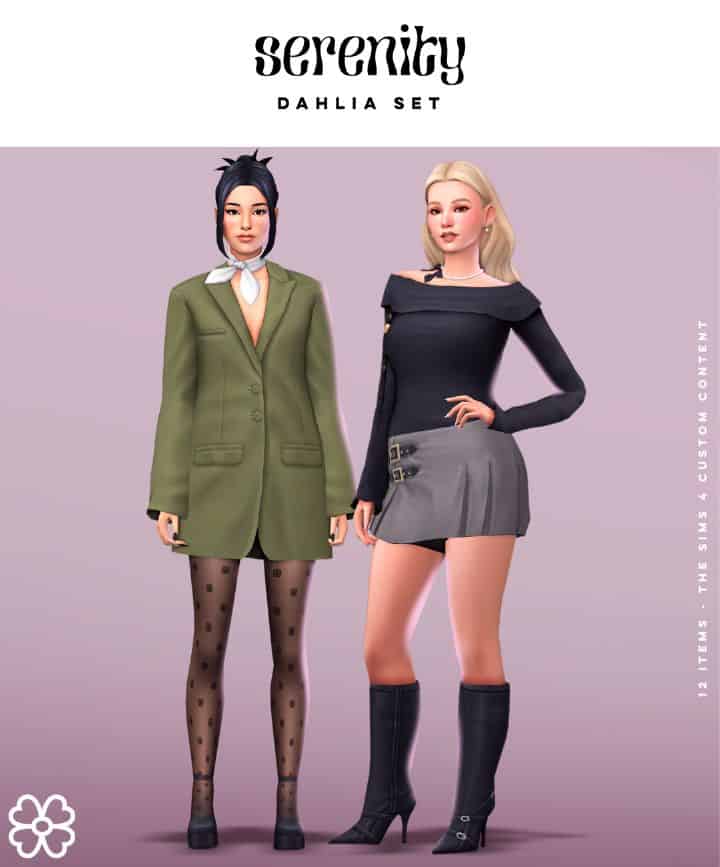 Looking for a mixed cc pack with a touch of airline hostess, office clothing, and club wear in one?
This set has many interesting pieces; the Gia hair and neck scarf gives me stewardess vibes.
I especially love the monogram tights, which pair nicely with the strappy pumps.

40. Sims 4 In Bloom CC Pack by Oydis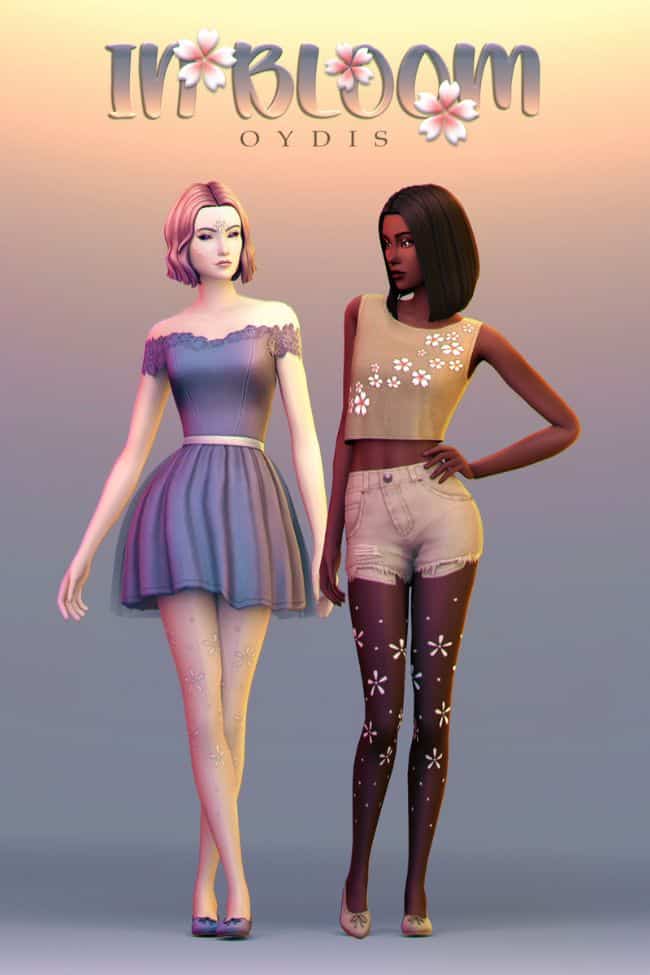 I know we've featured this In Bloom once before, but it's one of our favorites.
You can easily take your sim from daytime ready to a dinner party with one cc pack.
There are 16 pieces in this set, including custom content hair, shoes, a beautiful dress, bottoms, tights, and a bow overlay.


41. Sims 4 Tattoo CC Packs by Myshunosun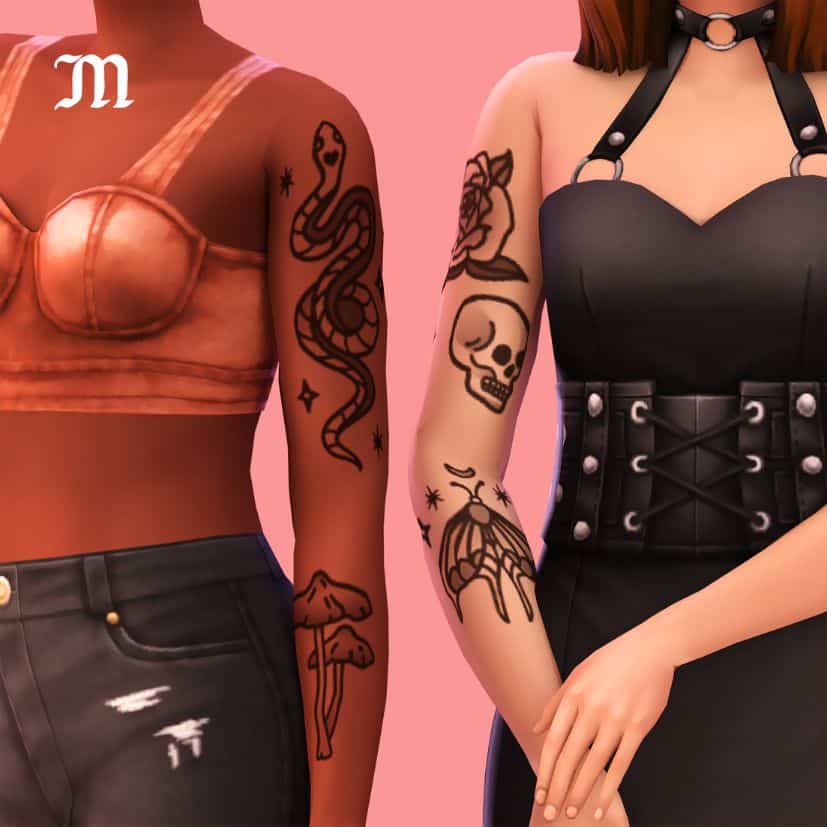 This cc pack has some creative maxis match tattoos you need for your sims.
There 2 files included, including 3 swatches for your sim's left arm and 8 options for the right.
These tattoos are eligible for teens and up and work for all genders.

42. Sims 4 Greenhouse CC Pack by Greenllamas
This Greenhouse collection is a good blend of the '60s and Y2K fashion trends.
There are 22 pieces in this cc pack, primarily for your female sims but 4 for males.
You will find a mix of hairstyles, hair clips, tops, denim bottoms (pants and skirts), and a pair of shoes.

43. Bubblegum Clothing CC Packs by Marsmerizingsims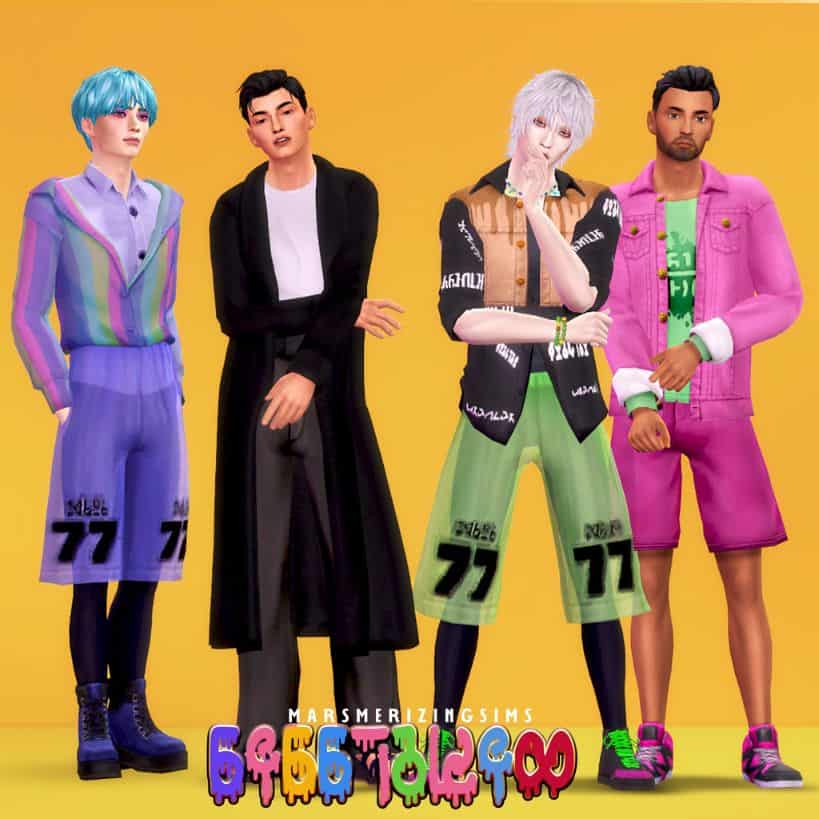 If you enjoy dressing your sims in more vibrant colors, this set includes some great bright colors and pastels.
You can also opt for the darker range of pieces like the black Ichika coat above.
There are 9 pieces in this cc pack, and be sure to check out the colorful Daigo polo shirt.

44. Sims 4 Hairstyles Pack by Simcelebrity00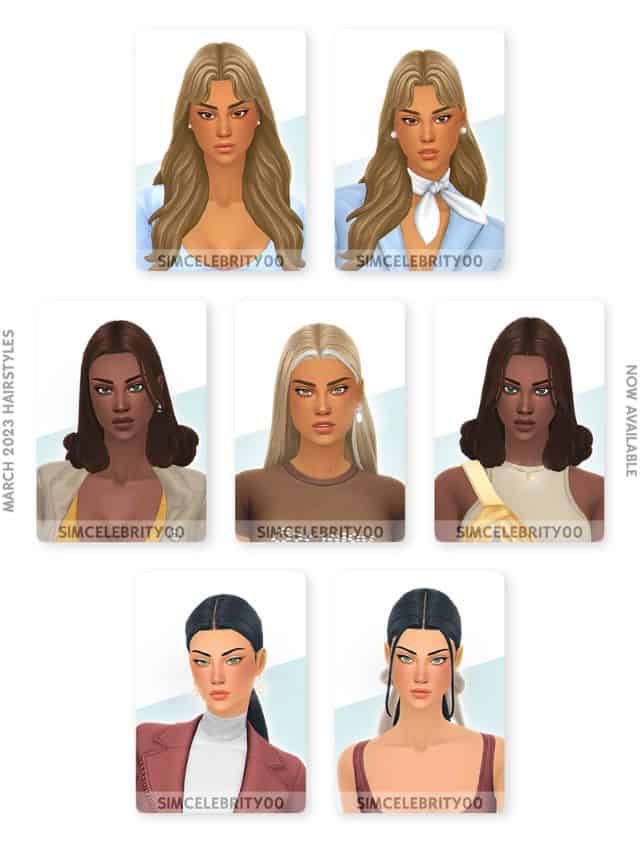 You can never have enough custom content hairs for your cc folder; this set brings your 7 office-ready hairstyles.
From a sleep ponytail to smooth shoulder-length options, these hairstyles are effortlessly chick.

45. Modern Boho CC Pack by Harrie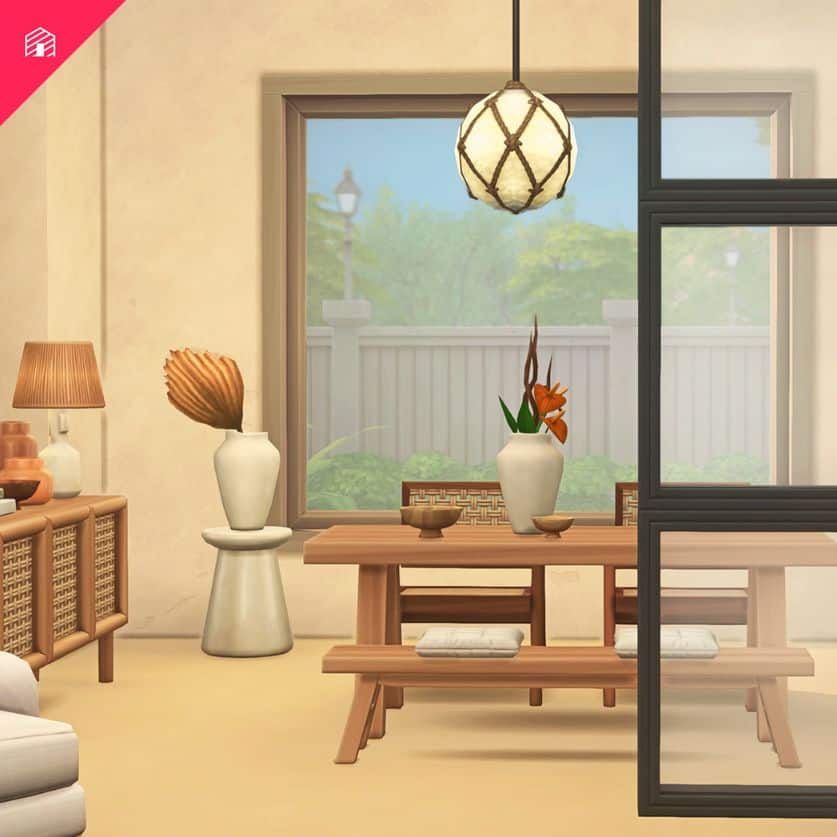 As a young child, I remember we had a picnic table as our dining table, so I am always a fan of seeing them used in homes.
This modern Boho set comes with 11 pieces;
Dining table
Rattan dining chairs
Sideboard
Glass vases, and more

46. Sims 4 Winter Ready CC Pack by Serenity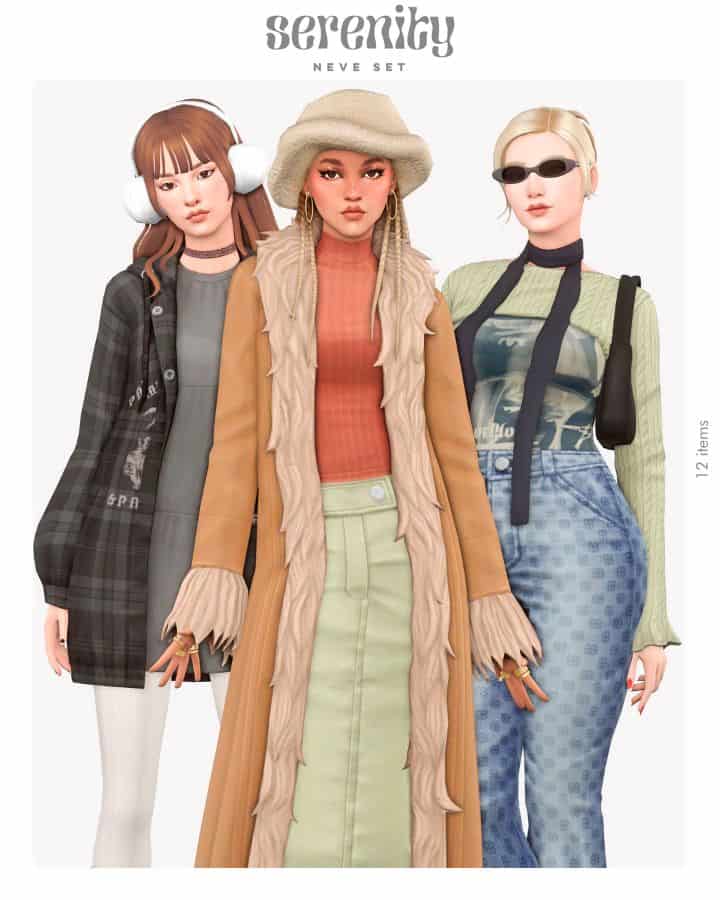 With a change in seasons, finding new winter pieces to keep warm is always a great idea.
This Neve cc pack has 12 clothing pieces, including the long Charlotte coat with fur trim.
You will also find tights, boots, pants, and more to complete your sims looks.

47. Hair & Clothing CC Packs by Clumsyalien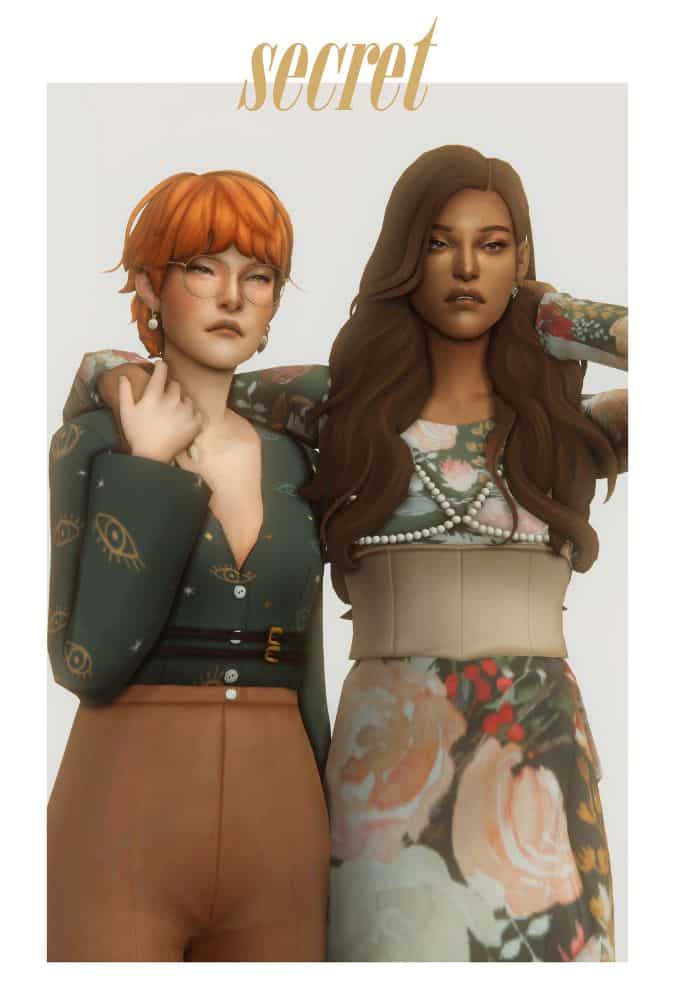 This 6-piece set has a mix of hair and clothing options for your sims.
There are 2 hairstyles, including one short and long style, plus a couple of tops and bottoms.

48. Sims 4 Casual CC Pack by Caio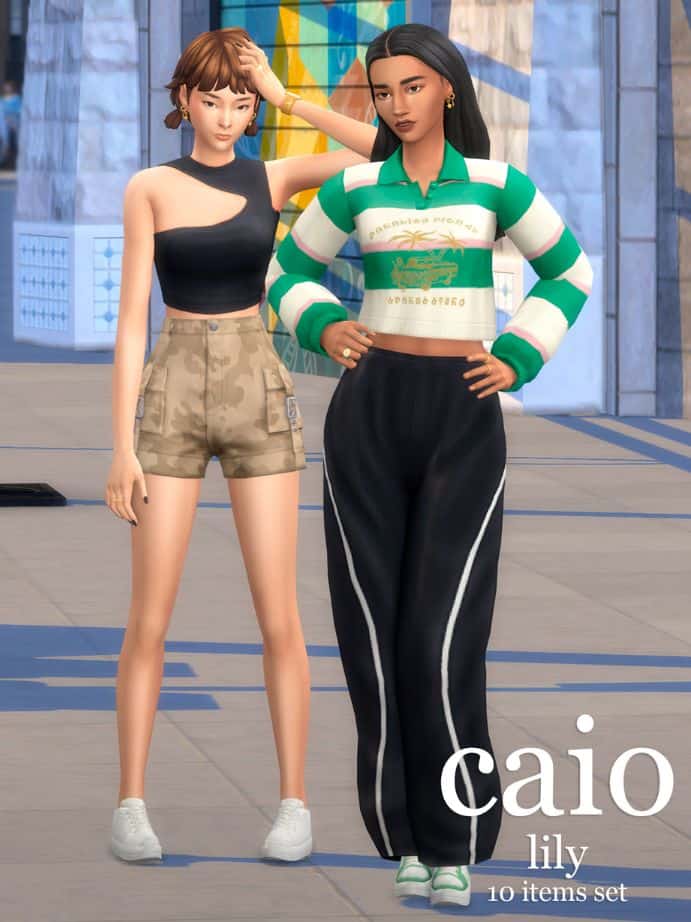 I can never get enough casual sporty clothing options, so this 10-piece set was the perfect find.
Your sims are ready to go from the cutout crop top, cargo shorts, sweatshirt, jogging pants, and platform sneakers.
You can add some extra touches with the extra jewelry included.
Sims 4 CC Packs: Final Thoughts
With so many sims 4 cc packs available, it's hard to stop; we could make an endless list of unique sets.
We hope you found a list of new custom content to fill your cc folder.
If you across any other amazing packs you'd like for us to check out, feel free to leave us a message below or tag us on our Tumblr.
More Sims 4 CC Lists

And don't forget to share and save this pin for later!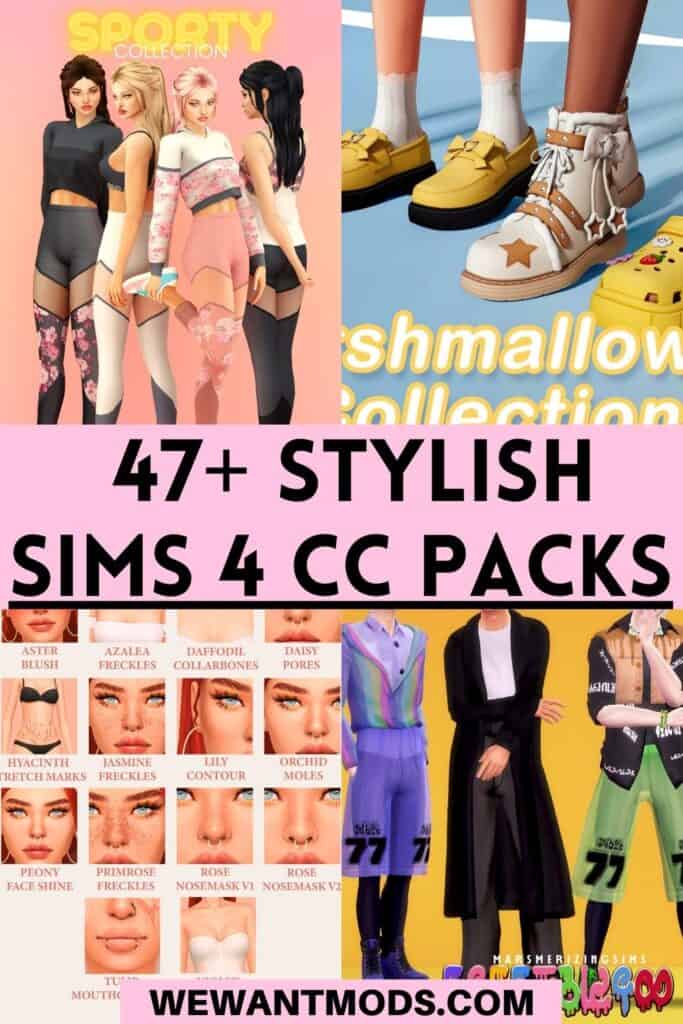 47+ Sims 4 CC Packs: Unleash Your Creativity