33+ Best Sims 4 CC Clothes Packs (2023)
Are you searching for some new sims 4 cc clothes packs to refresh your sims wardrobe?
With over 30 custom content clothing packs, you're bound to find some new favorites.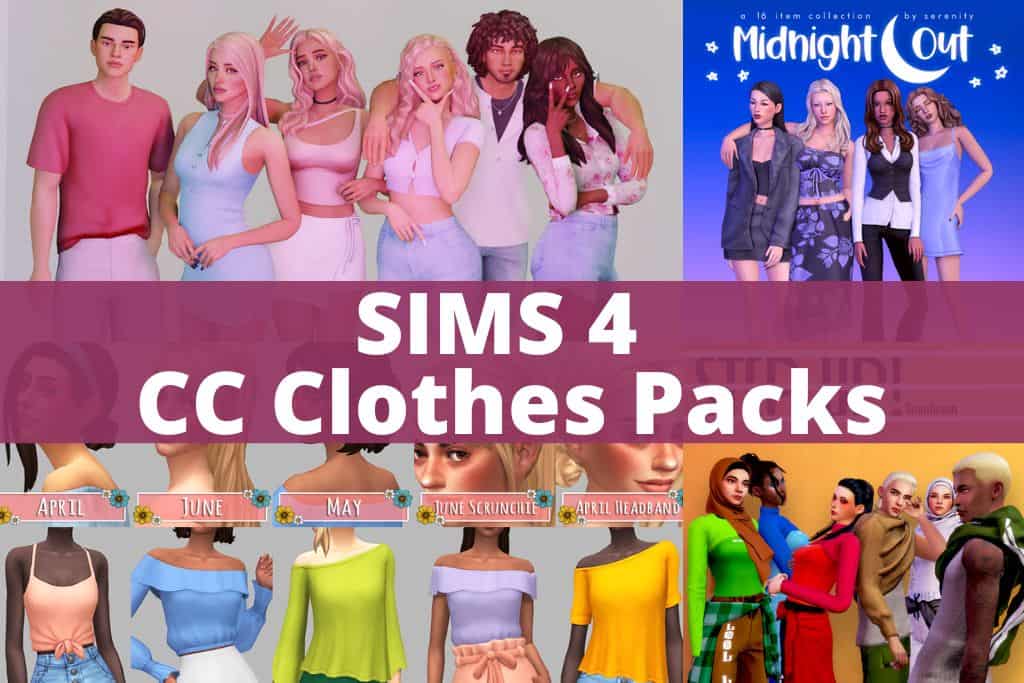 Shopping for custom content can be a little tiring, especially when you want a ton of options available at the click of a mouse.
Luckily we put together an extensive list of maxis match sims 4 cc clothes packs that are all base compatible.
Have fun shopping for clothes!
Disclaimer: The following mods are neither endorsed nor affiliated with The Sims, Maxis, or Electronic Arts. Any use of mods (custom content or game mods) should be done with caution and with the knowledge that there may be risks.
Sims 4 CC Clothes Packs
In this collection, we've put together a little bit of everything.
You'll find all types of clothing, from casual, edgier clothes to seasonal items and even the perfect date night outfits.
1. Sims 4 Physical CC Clothing Set by Caio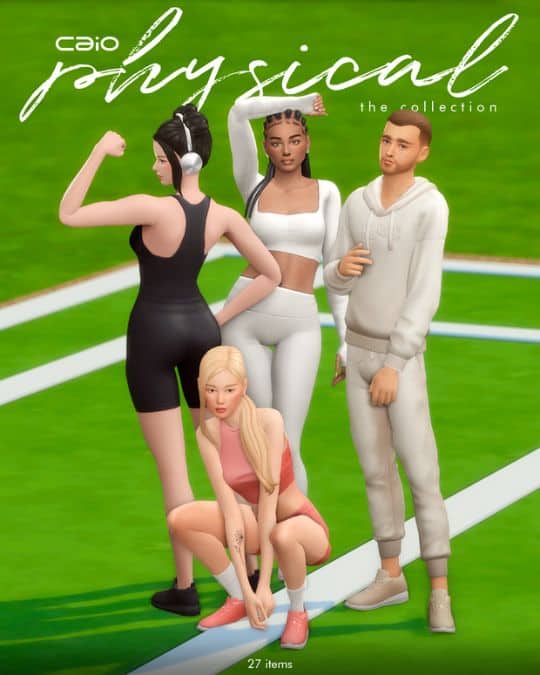 This activewear set contains a collection of 27 items. There are items for both your male and female sims.
You can find sports bras, leggings, workout shorts, sweatshirts, and even sweat bands. This sporty set is available in 25 colors.
You can download the individual pieces you want or grab the convenient .zip file for them all.

2. Sims 4 Cold Outside CC Pack by Arethabee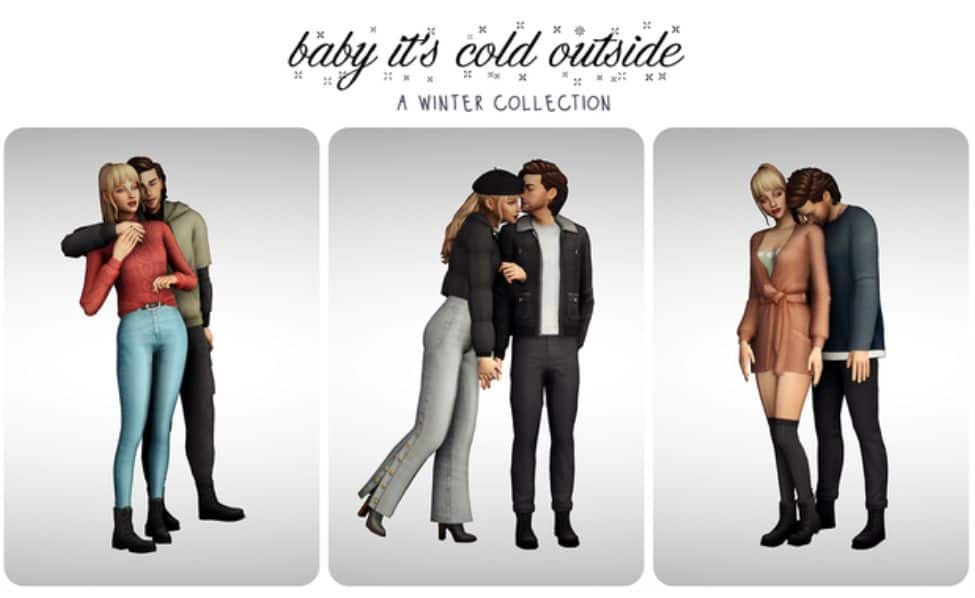 When the weather turns chilly, I subconsciously start searching for some new winter gear for my cc folder.
The baby it's cold outside cc pack comes with 12 cozy pieces to keep your sims warm.
You'll find a nice puffer jacket, sweater, sweatshirt, jeans, and boots. There are 4 cc pieces for male sims.

3. The Gossip Collection for Sims 4 by greenllamas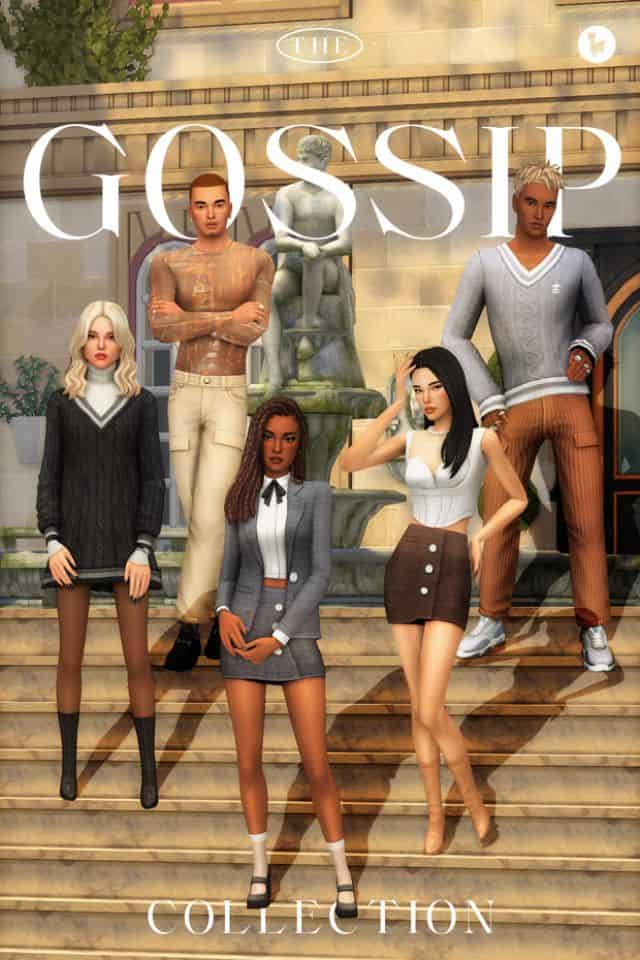 This Gossip Girl inspired clothing collection remains one of my favorites.
With this 16-piece set, you have an excellent array of preppy clothing pieces and accessories to put together some great looks.
The sims 4 cc clothes pack contains an argyle sweater, a 2 piece jacket/skirt suit, a long knit sweater dress, a structured top, pumps, hairstyles, and more.

4. Sunny Skies Sims 4 CC Clothes Pack by Daisy Pixels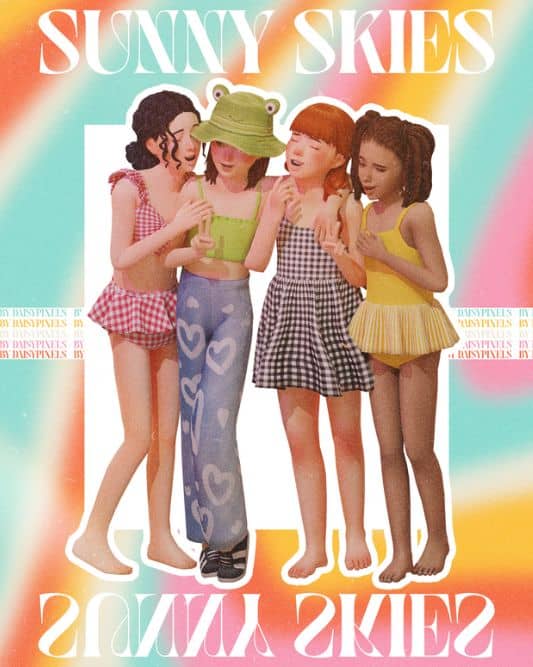 This vibrant kid's collection gives me '60s vibes with its colorful palette and clothing designs.
First off, the frog hat is absolutely adorable and one of my new favorite kid's summer hats.
The bell-bottom jeans and crop top make a great outfit.
You can also grab a flowy summer dress and 2 cute bathing suits.

5. Summer Break Sims 4 CC Pack by Joliebean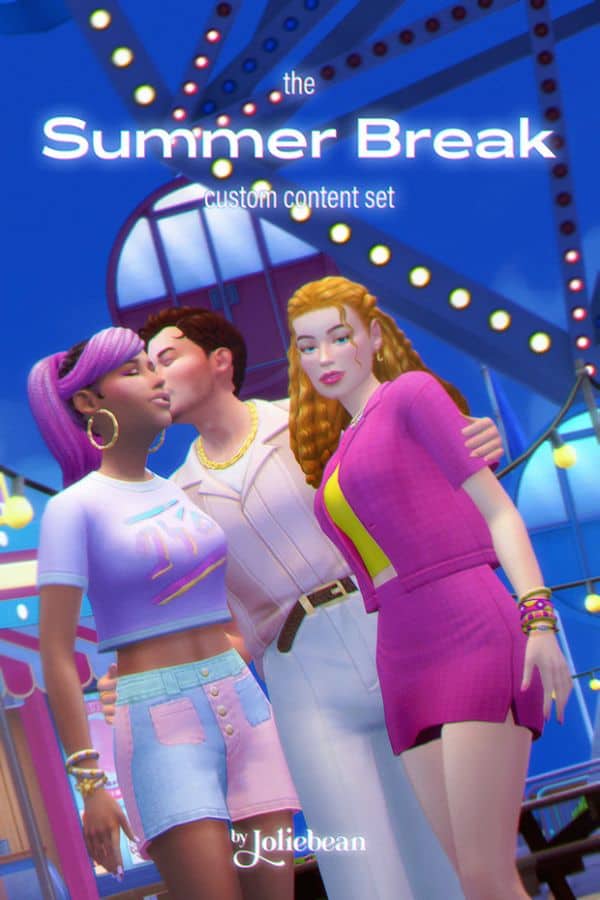 This 10-piece summer set is a nice little clothing pack to add to your custom content finds.
I really like the light purple crop top and color block shorts in the image above; the pastel colors are great for summer wear.

6. Rainbow CC Clothing Pack by Saurus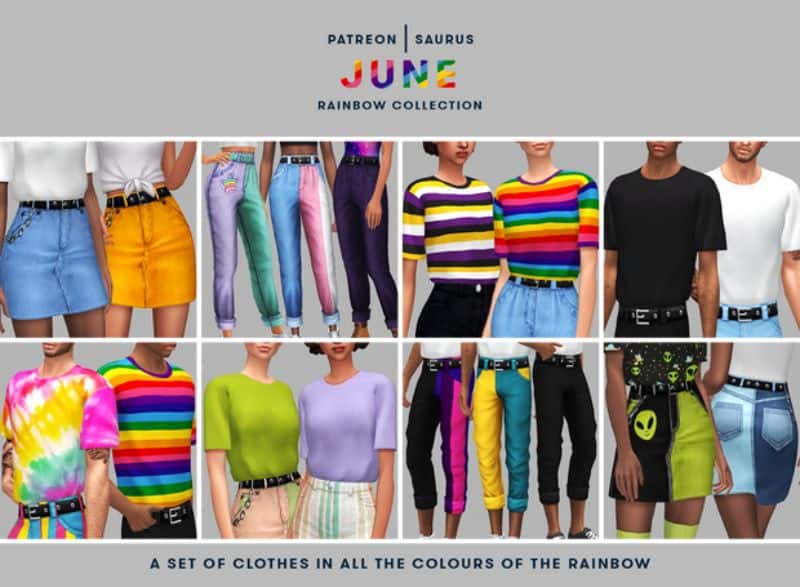 This Pride rainbow collection is fun and vibrant.
There is a little something for everyone, from vibrant colors to softer pastels and solids.
I love the color-block belted pants and skirts, and the plain tees are the perfect top to pair with vibrant-colored bottoms.
This cc clothing pack comes in 25 swatches, and you can also opt for
20 patterns.
There are a few convenient download options to grab everything you need.
7. Sims 4 CC Clothes Pack: City Adventurer by Serenity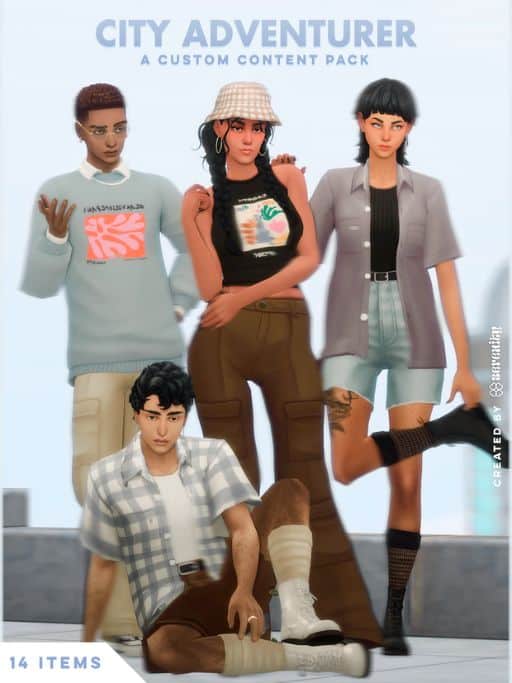 Unisex collections are some of my favorite cc clothing packs because they are so convenient.
The City Adventurer collection comes with 14 pieces to mix and match into some great casual outfits.
Except for the crop top, everything else is available for your male and female sims, including those must-have combat boots.
The swatches contain a mix of solids and interesting patterns, like the half-moons and stars swatch.

8. Ultimate Jeans Sims 4 CC Clothing Collection by Nucrests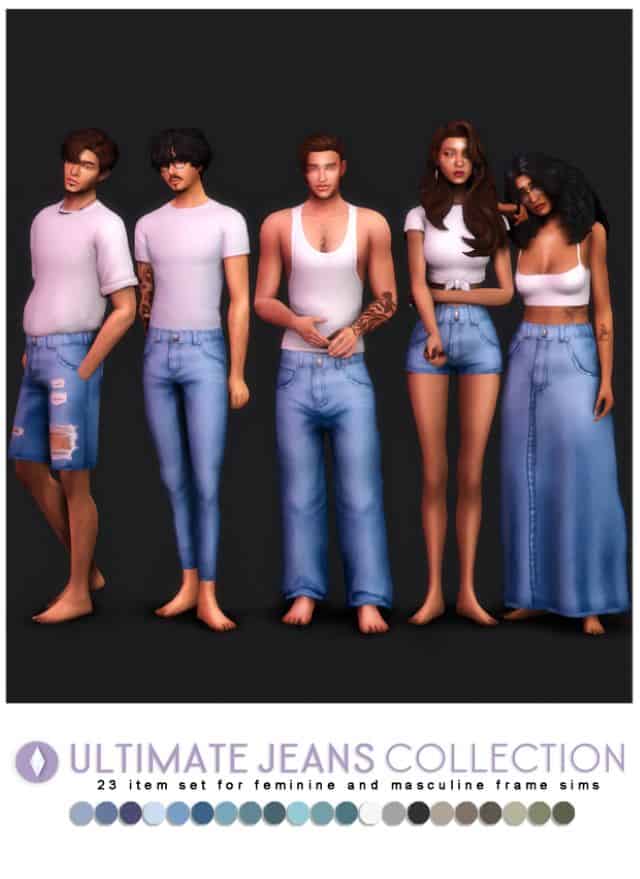 If you love jeans, this ultimate jeans collection is for you.
You get 22 bottoms to choose your favorite from and an overlay accessory to create some split-leg color options.
There is a nice variety of swatches to style your outfits.
9. Sims 4 CC Clothes Ultimate Pack by Madlen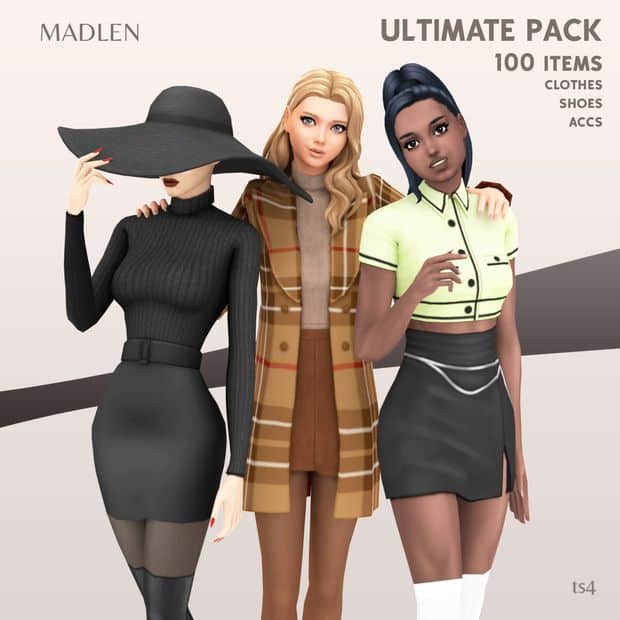 You can't really beat this ultimate pack in terms of value. There are two .zip files, each with 50 pieces of custom content clothes, shoes, and accessories.
There are items for everyone, including your kids and toddler sims too.

10. Sims 4 CC Clothes Pack for Female Sims by Caio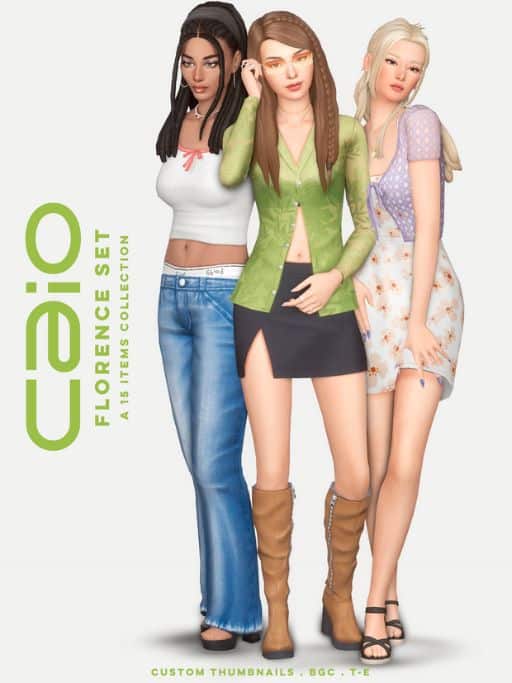 This 15-piece set gives me low-key hippie vibes.
I like the low-rise fit on the flared jeans, and those knee-high boots pair great with skirts and shorter dresses.
While I don't often download underwear, this Calvin Klein style underwear set is nice.
And the undies will peek above the low-rise jeans when paired together.
11. Sims 4 Toddler CC Clothes Set by WildlyMiniatureSandwich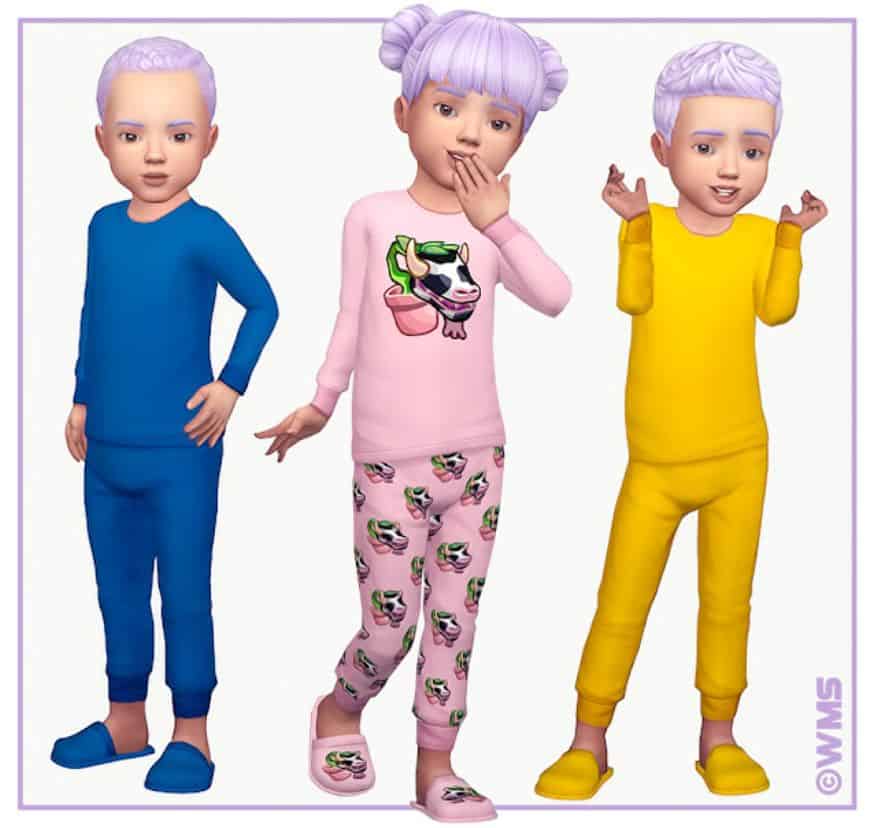 While not necessarily a pack, I just wanted to include these toddler pajamas.
This pajama set includes tops, bottoms, and slippers.
All pieces are available in 55 colors, and there are also 20 graphics options, which include aliens, crabs, dogs, and more.

12. Sims 4 Human Made CC Pack by Nucrests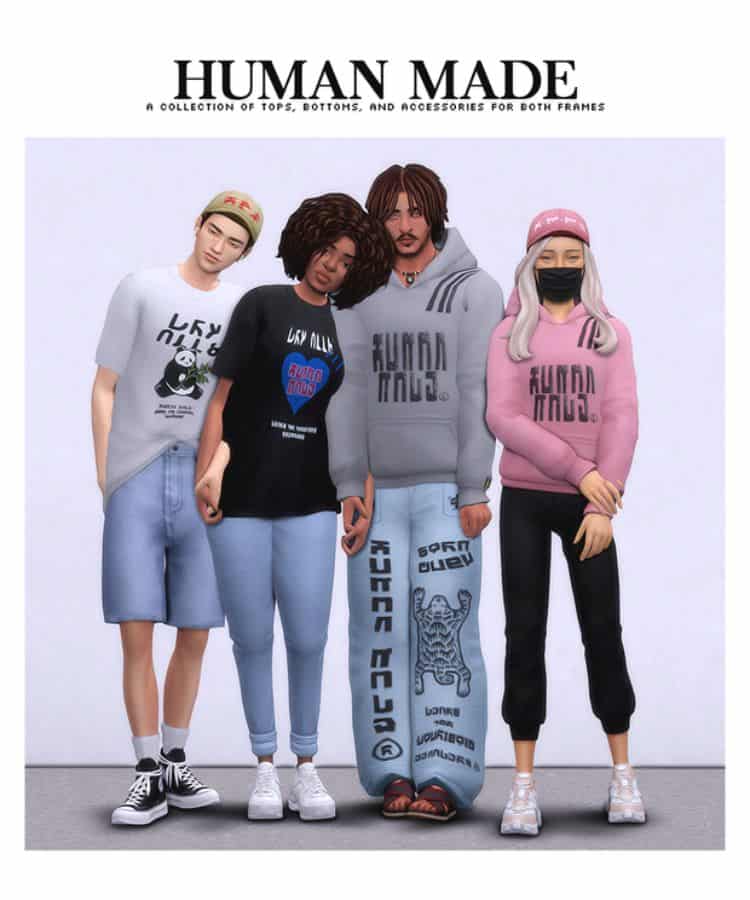 This streetwear mini pack is inspired by the Japanese fashion label Human Made.
This is a unique set of comfy casual streetwear for your sims to wear.
I particularly like the deck pants and the t-shirt with the front tuck.

13. Euphoria Sims 4 CC Clothes Pack by Serenity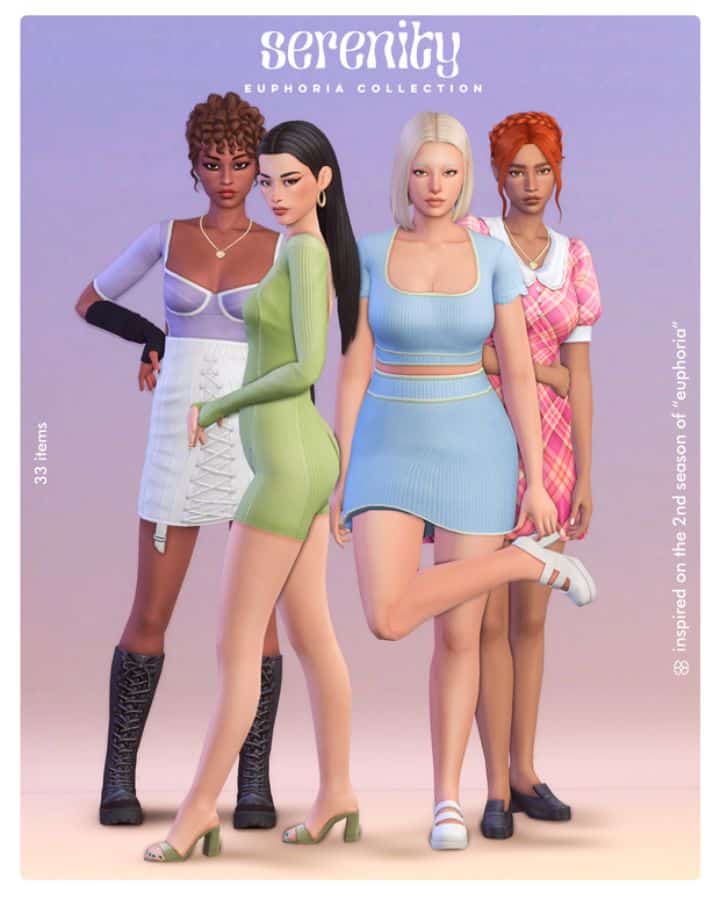 This Euphoria-inspired collection is a mix of schoolgirl meets avant-garde and sex kitten.
From puff-sleeved collared dresses to abstract pieces and a black cutout mini-dress, this pack of 33 items delivers on all levels.

14. Sims 4 BRATZ CC Pack by greenllamas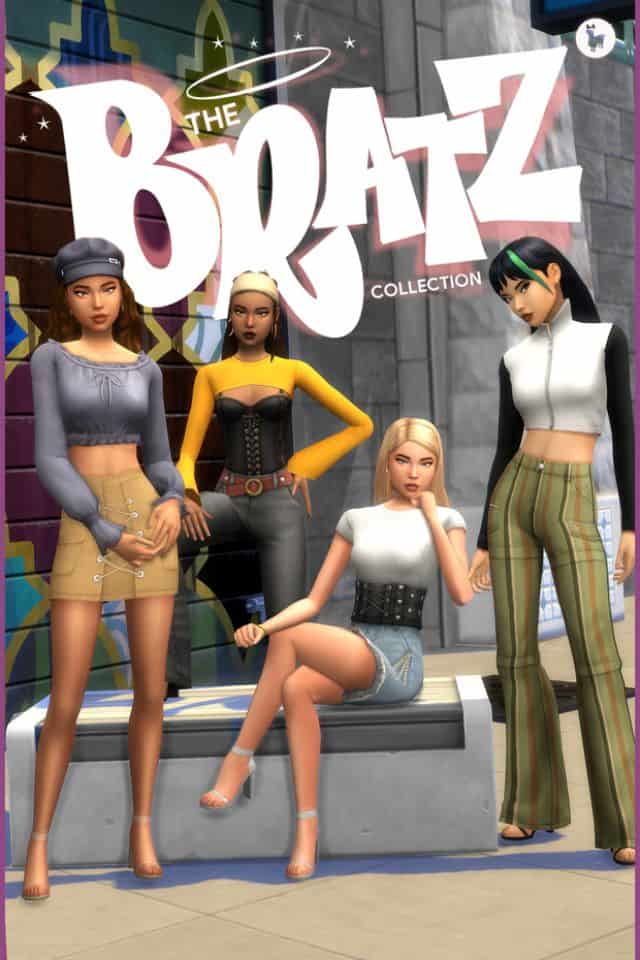 If you love crop tops, corsets, and corset belts, then this Bratz collection is for you.
There are 9 clothing items: pants, skirts, tops, a hat, and shoes.
You also get 3 hairs and 2 overlays to play around with.


Related Post: 51+ Sims 4 Kids CC Downloads

15. Summer Flow CC Clothing Pack by Joliebean & Simstrouble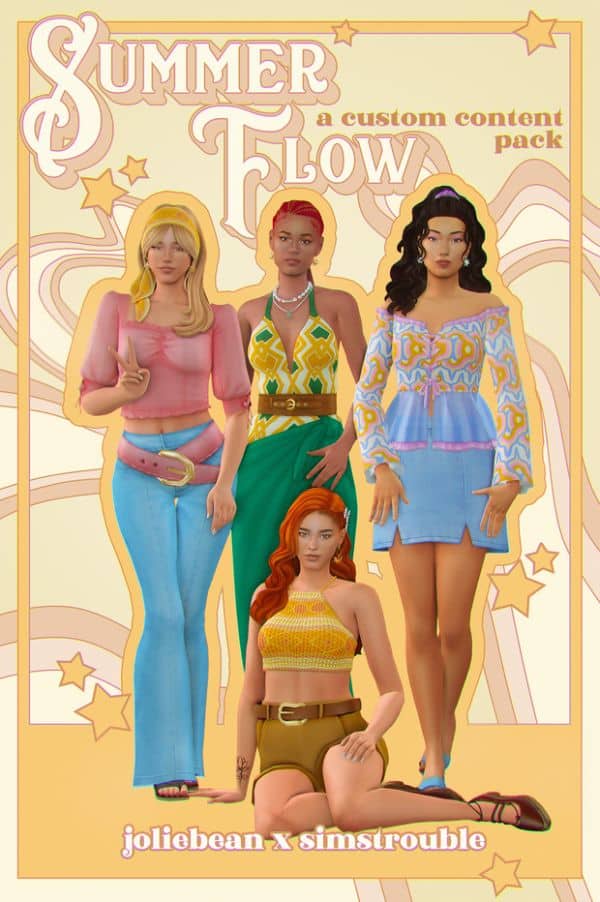 This summer set gives off flower power vibes with patterned fabrics, flare pants, and thick headbands.
The Stay Mossy shorts are a great staple piece, and there are also some fun accessories to snag.
Since this is a collab pack, check out both Patreon pages to download the cc clothing you want.
16. Sims 4 Florals Pack by Quirky Introvert CC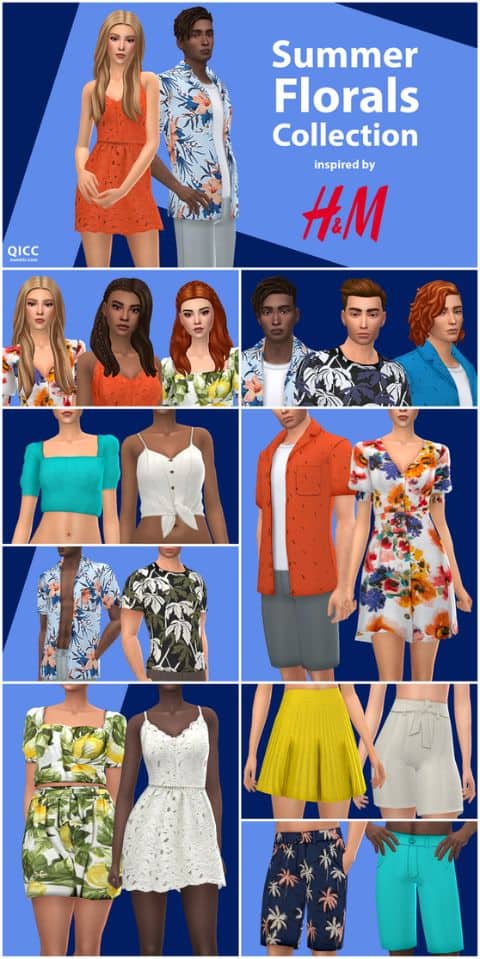 This is another summer cc clothing pack, but this time, it's inspired by H&M and includes cc for your male and female sims.
The female clothing pieces include a mix of dresses, tops, and bottoms.
For your male sims, there are 5 tops and 2 bottoms.
There are a ton of florals in this collection, hence its name.
Asides from the clothing, this pack does come with 3 hairstyles for each gender which is a nice bonus.


Related Post: 53+ Best Sims 4 Male CC Downloads

17. Casual Sims 4 CC Clothes Pack by Arethabee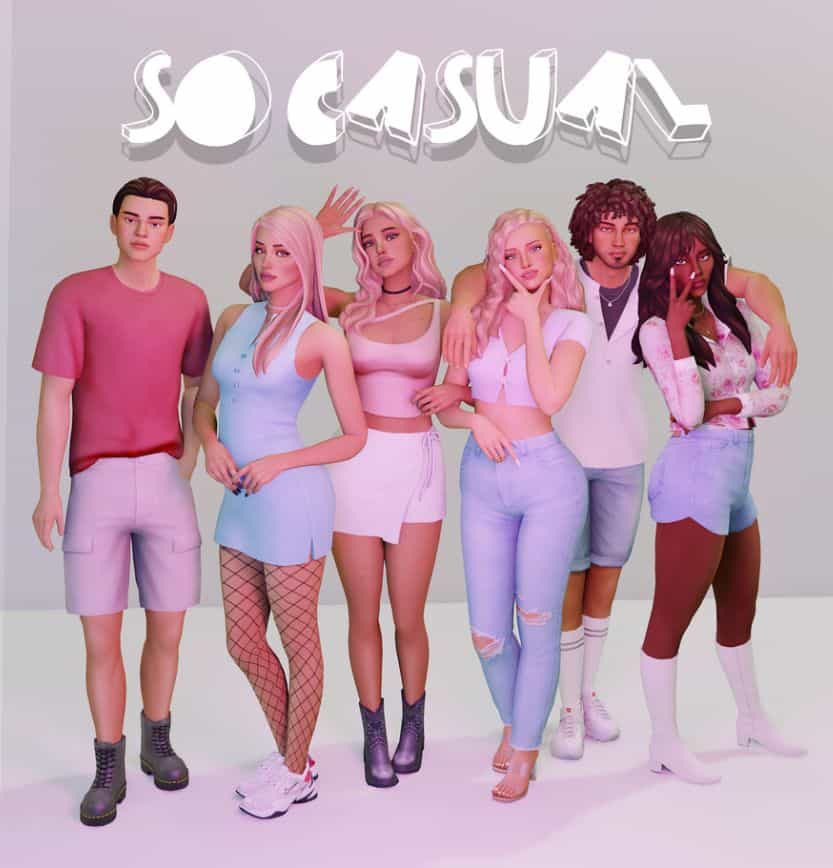 The so casual collection is a fun and modern cc clothing pack of trendy casual wear.
This pack has a mix of crop tops, mini skirts, ripped jeans, shorts, and tees.
There are 13 items to style.

18. Sims 4 CC Clothes Pack by NekoChan-Simmer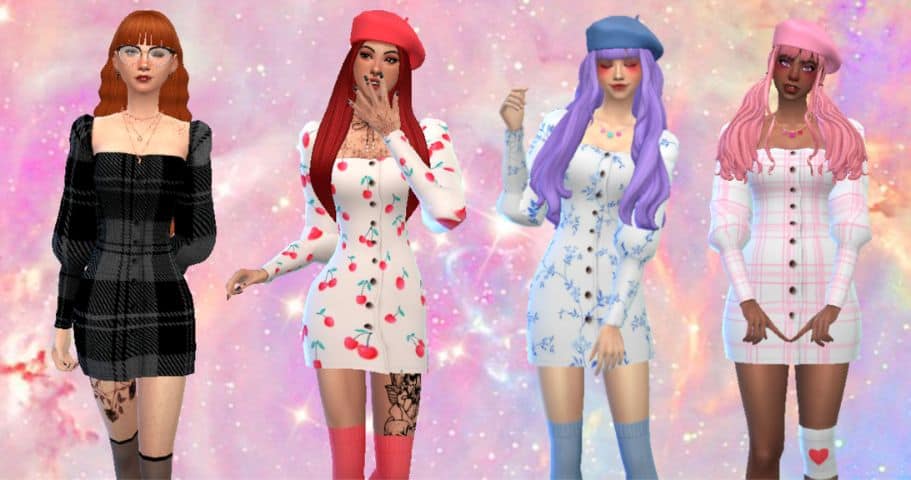 This is not technically a pack but more an upload of a bunch of custom content by NekoChan-Simmer.
I often like to fall back on the Aki dress with its plaid swatches.
The Courtney and Hanna tops are some of my favorites, too, and pair nicely with jeans or skirts.
There are also some formal dresses if your sims have a special event coming up.

19. Teenage Dream CC Clothes Set by Caio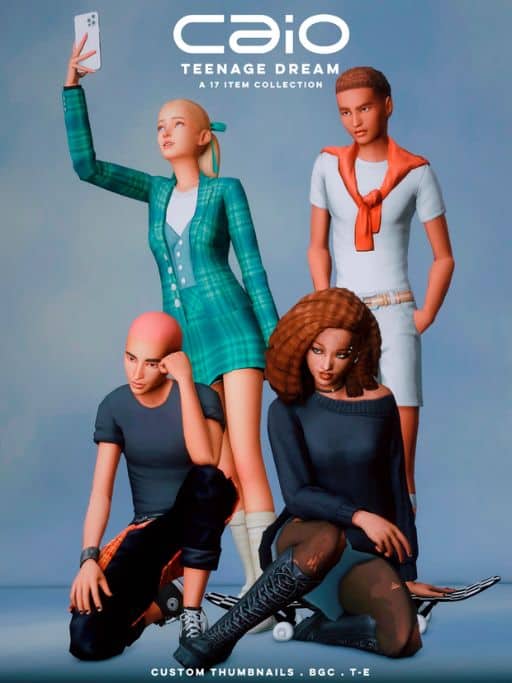 This collection is a mash-up of preppy and edgier-style clothing options.
Some of the pieces would fit perfectly in with our Sims 4 Clueless custom content post and the other half with our Grunge cc clothing list.
There are 17 items to pick from, including the oversized nerdy sweater and hip men's rebel jeans.

20. Sweater Weather CC Clothing Set by Joliebean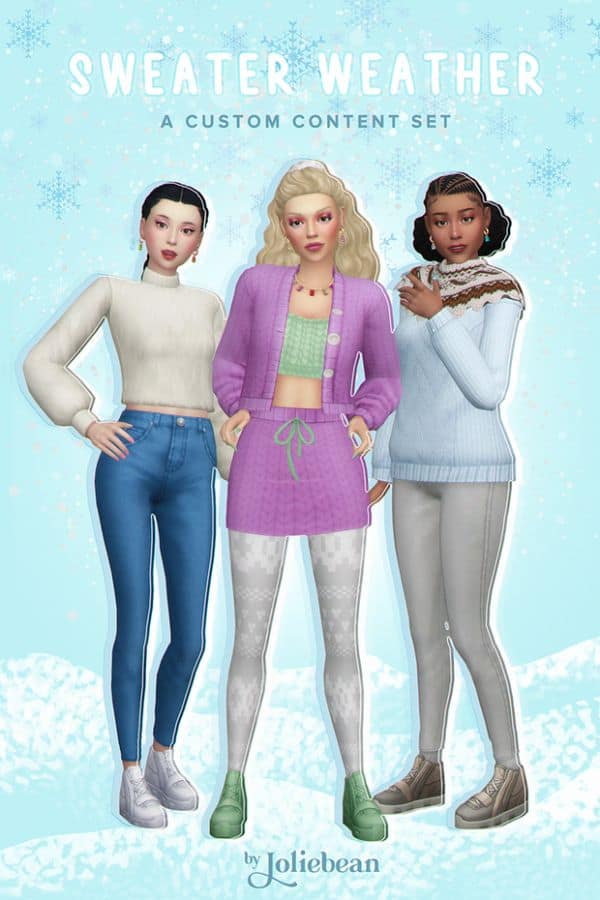 With colder weather comes the unavoidable sweater season. But that's ok when you've got cute cc to style your sims in.
This smaller set includes a couple of winter sweaters, a cardigan/skirt combat, shoes, and jeans to provide added warmth this winter season.

21. Bear Onesie Sims 4 CC Clothes Set by Bellassims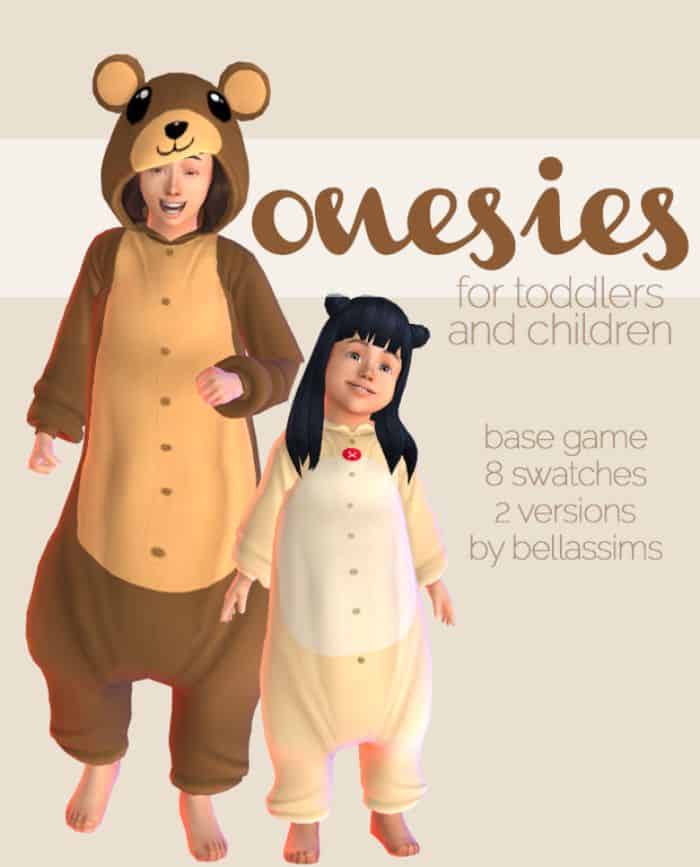 This small set of bear onesies is available for both toddlers and children.
There are two options: having the bear hood down or up.
Available in 8 swatches, this onesie is sure to please the younger members of your sims household.

22. Discover University CC Clothes by storysims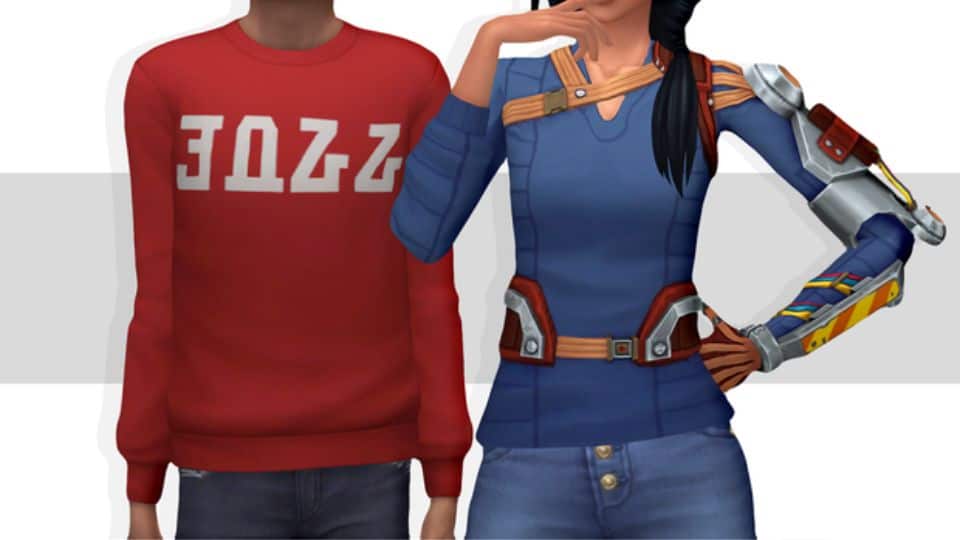 Here you can grab a bunch of unlocked branded items.
You will find a mix of casual clothing pieces, career outfits, and even a robotic arm and jumpsuit.
There is a good mix of female and male custom content clothing to browse through.

23. Aurora Sims 4 CC Clothes Pack by Elu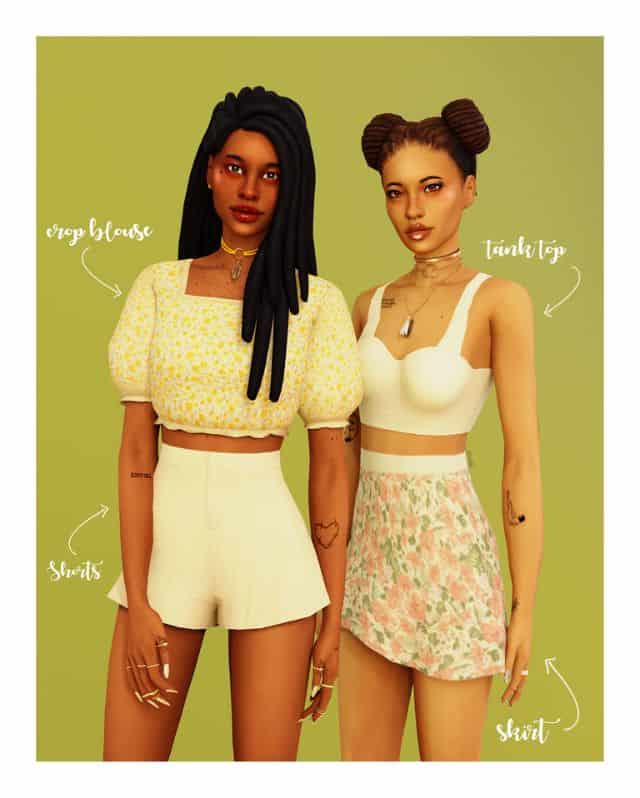 This is a small four-piece collection of summer wear.
Your female sims get a pair of shorts, a mini skirt, and two crop tops.
Each piece is available in 27 swatches, including various solid colors and some floral patterns.

24. Sims 4 Unify CC Clothes Collection by Nucrests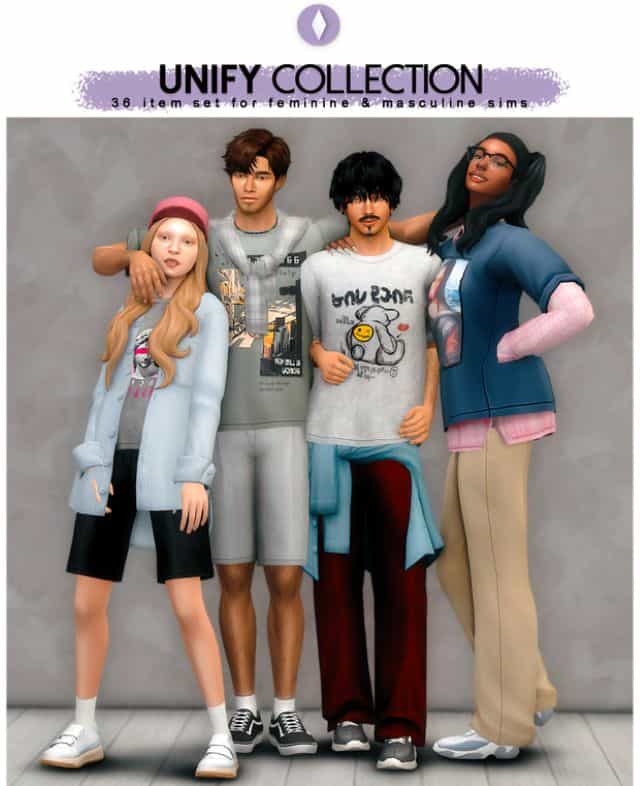 The Unify set is an excellent cc clothes collection for both your female and male sims to enjoy.
You can shop through the 16 bottoms and 16 tops. There are also 4 overlay accessories provided in this pack.
I suggest downloading the whole .rar file to browse through all the options.

25. Sims 4 Uniforms Set by marsmerizingsims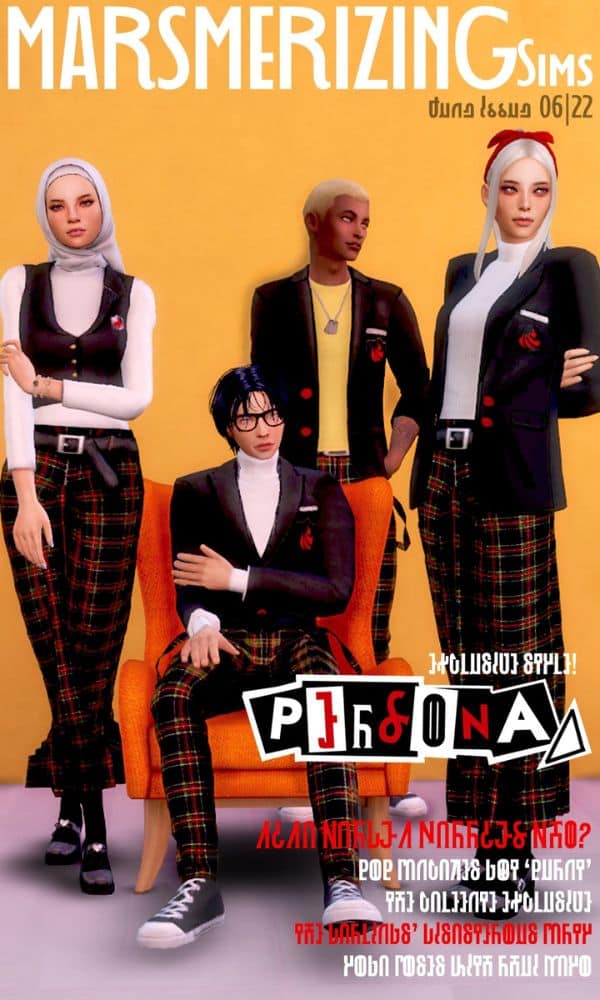 I love a good uniform, and these tweed pants are stylish and edgy.
You get two pant options: with or without suspenders. You can also opt for the skirt version.
And nothing beats a well-fitted suit, uniform, and vest.
All items come with 6 swatches except for the skirt, which has 13 swatches.

26. Sims 4 Unify Add-Ons CC Pack by Nucrests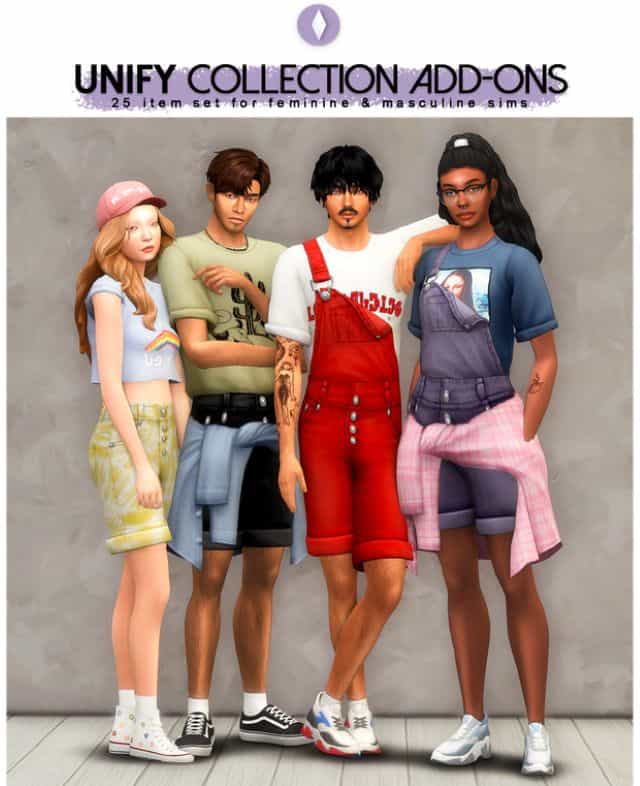 In this add-on collection to the original Unify collection seen above at #24, Nucrests decided to create even more cc clothing pieces.
There are 25 new items in this collection, including 8 tops, 8 bottom pieces, 8 full-body options, and an overlay accessory.

27. Date Night CC Clothing Pack by Joliebean, Trillyke & Oakiyo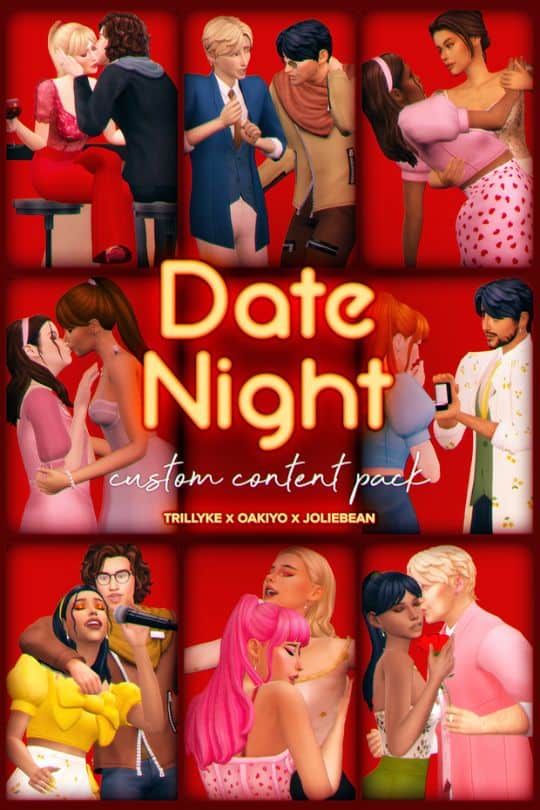 No date night is complete without the perfect outfit.
Whether your sims are heading to a concert, wedding, or fancy dinner, this collection has an option for you.
I absolutely love the delicate-looking Aina heart dress.
And Abel men's leather suit and Ezra suit are so different, yet both fantastic for different types of dates.
Since this is a 3-way collab, I've linked all 3 links below.

28. Sims 4 Solstice CC Pack by greenllamas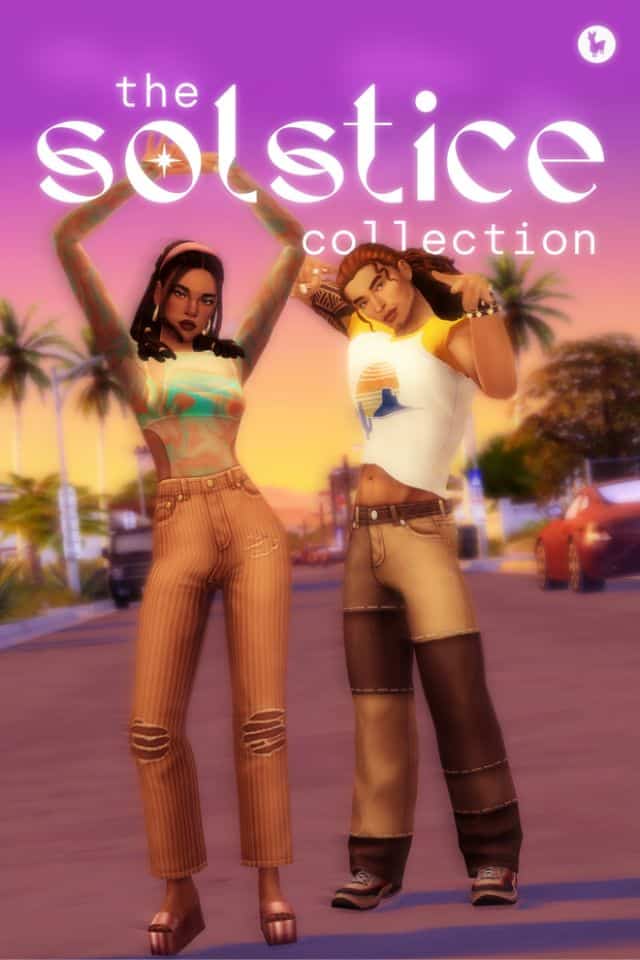 This cc clothes collection reminds me of California.
Besides the included hairstyles, you'll also find male crop tops, sheer female tops, a pair of color-block pants, and ripped pants.

29. Casual Classics Sims 4 CC Clothes Pack by Moontaart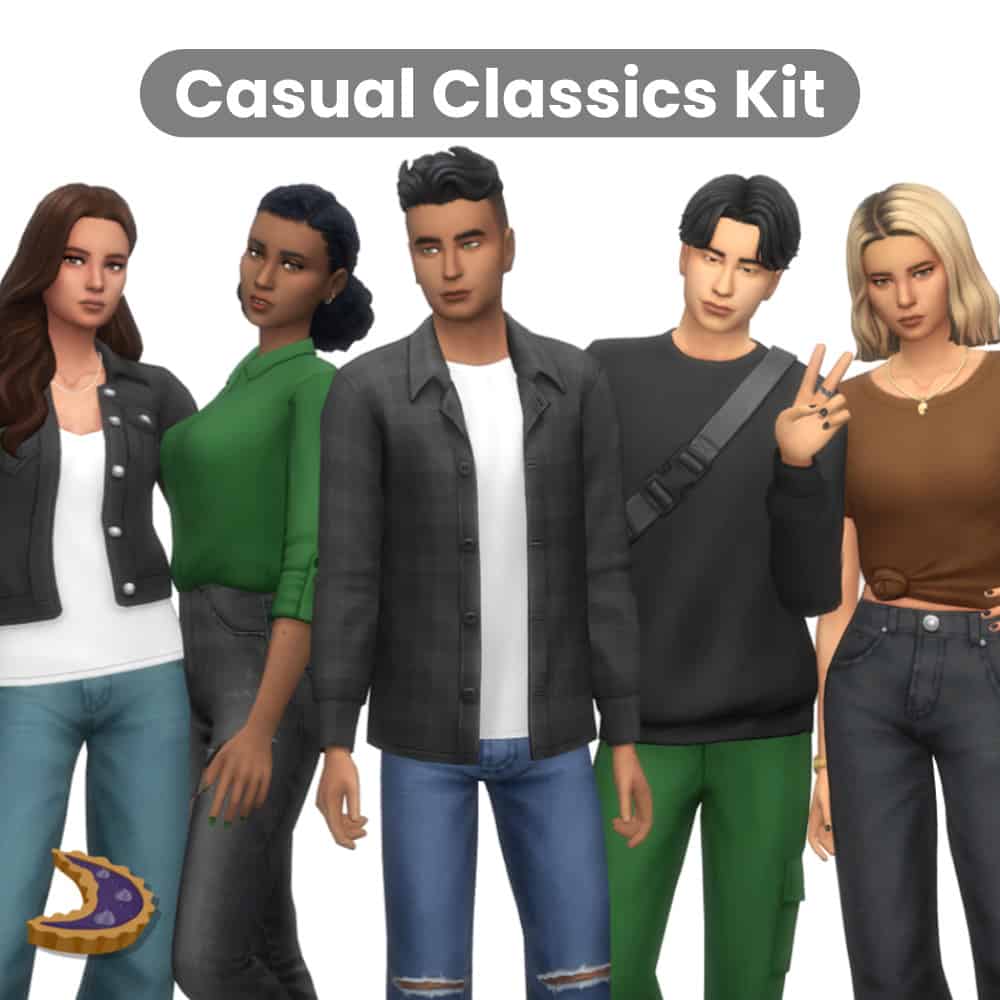 This set of casual cc clothes provides so many great staple pieces.
The men's ripped jeans are my favorite piece from this collection, and there is a great color palette of lovely blue and gray denim swatches.
The men's cargo pants and the female front-tied crop top are other great clothing items.
You can't go wrong with essentials that will blend in with your other custom content.

30. Midnight Out CC Clothing Collection by Serenity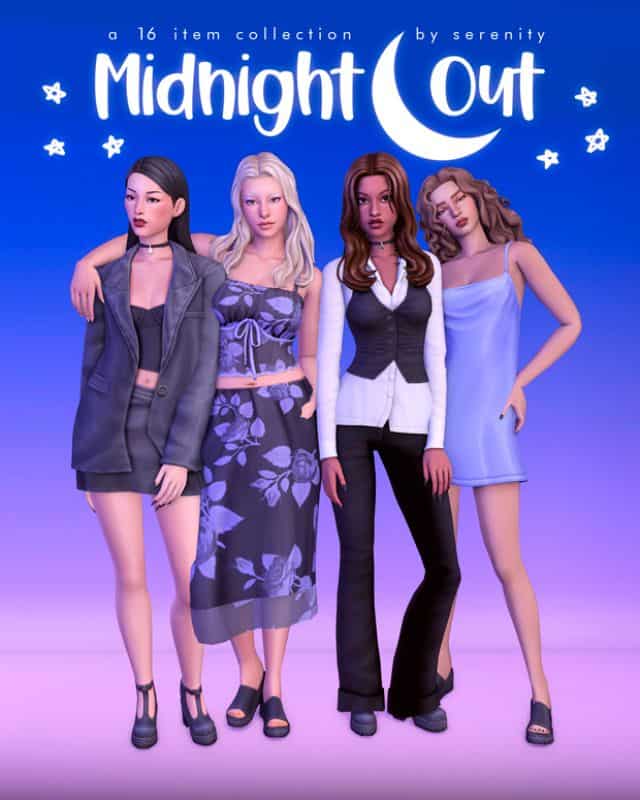 Are you heading for a sims night out?
This 16-piece collection is a mix of styles and textures.
From delicate flowy slip dresses to oversized blazers, this cc pack is perfect for that group of friends where each person has their unique style.

31. Sims 4 Kids Mini Pack by Simkoos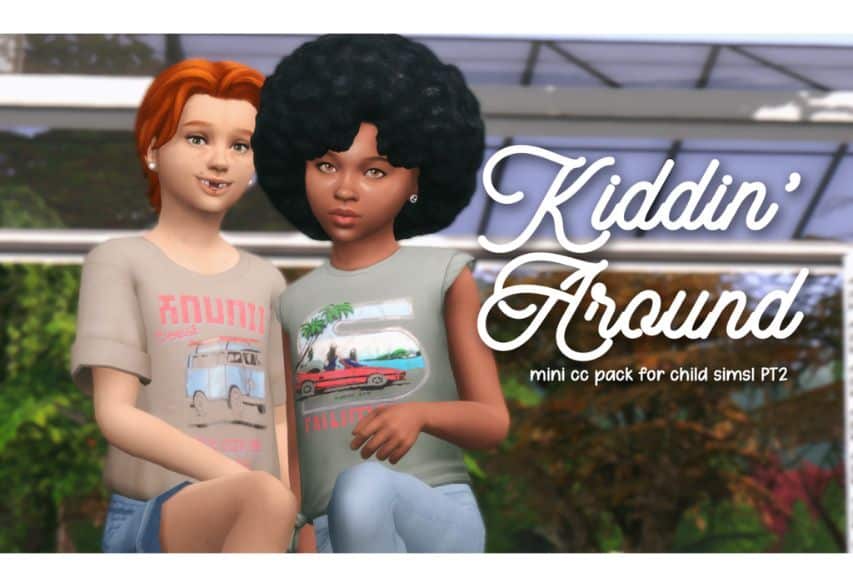 In this sims 4 kids mini pack, you'll get some everyday casual clothing pieces.
Including overalls, pants, shorts and tops, and the yujin denim jacket, this pack adds some great everyday essentials.
32. Sims 4 Equinox Collection by Saurus & Bowl of Plumbobs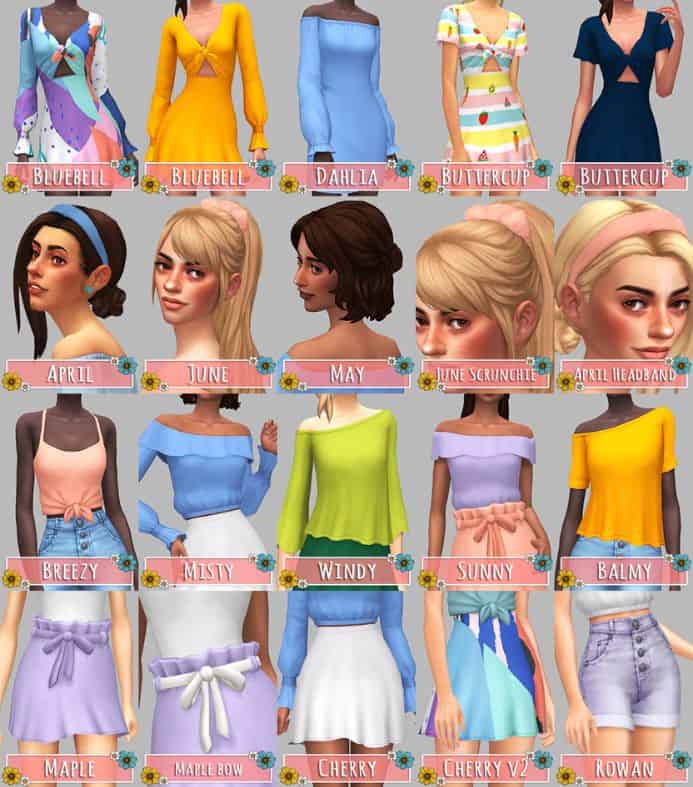 This collection of cc clothing by Saurus and Bowl of Plumbobs is all about ladies.
This set comes with 20 pieces, which is a perfect summer collection.
The buttercup dress is super cute, and I love the color-blocking on the bluebell dress too.
You can download the whole set from Saurus' Patreon page linked below.

33. Sims 4 Step Up CC Clothing Set by marsmerizingsims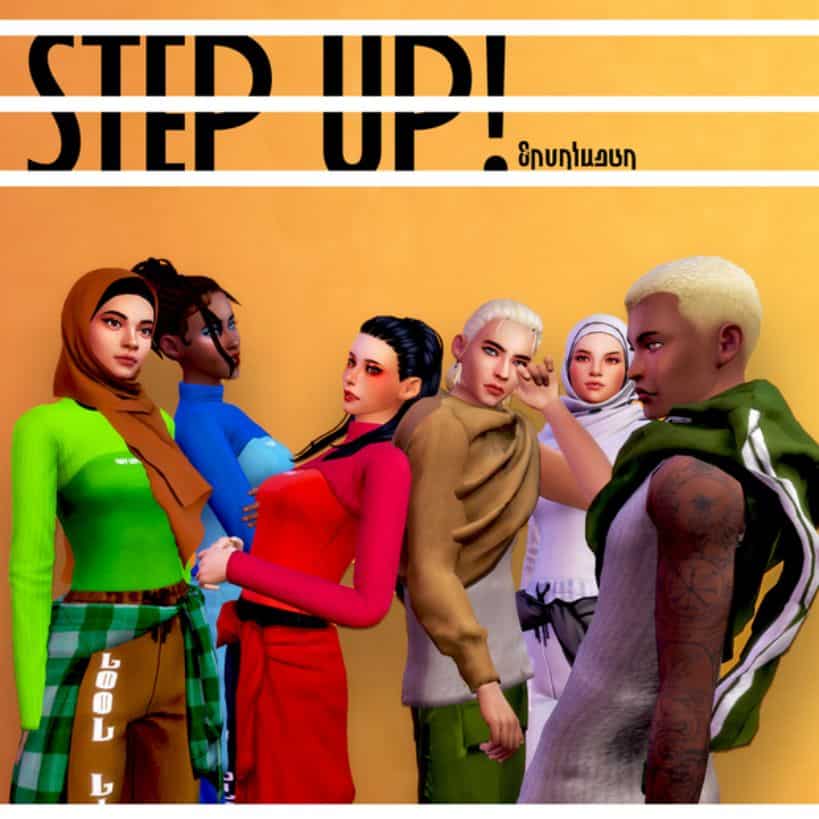 This small four-piece set includes some male and female streetwear clothes.
The Kai sweatshirt is definitely unique with its half-on look.
Remember to dress your sims for their next popping dance battle with the Street Level Jogger pants.

34. Denim & Hoodie Sims 4 CC Clothes Set by Nucrests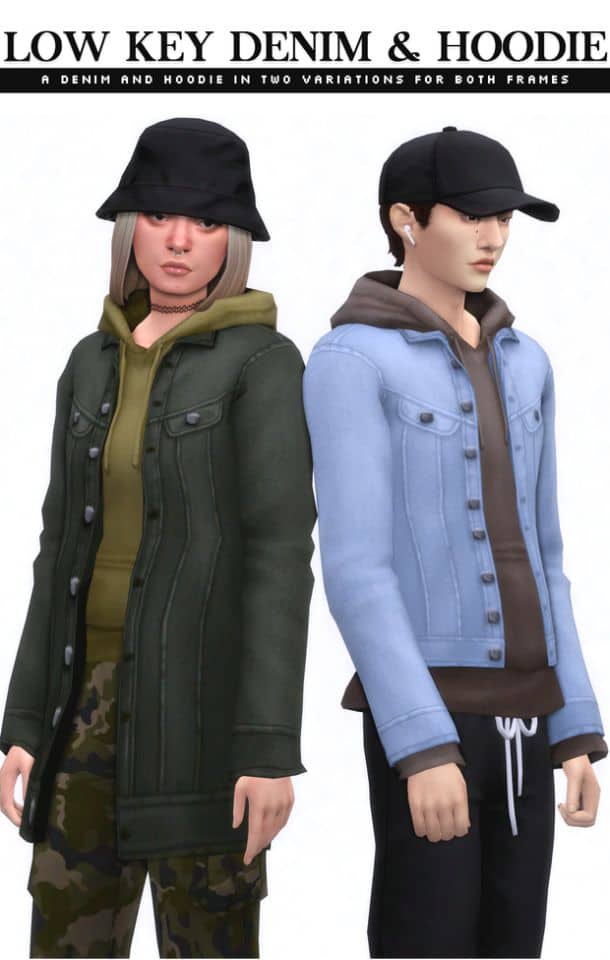 Let's finish off this list of sims 4 cc clothes packs with this small set of denim hoodies.
We all love a little denim in our wardrobes in real life and in sims 4.
This set includes a regular and a longer oversized denim jacket for your male and female sims to wear during the chilly fall season.
Pick your favorite color of denim with 21 different swatches.

Final Thoughts on Sims 4 CC Clothes Packs
With so many sims 4 cc clothes packs, we hope you found some fresh custom content to fill your folder and make styling your sims a breeze.
If you come across any other cc clothing packs for me to check out, feel free to send us a link in the comments below or tag us on Tumblr.
More Sims 4 CC Lists

And don't forget to share and pin this collection for later!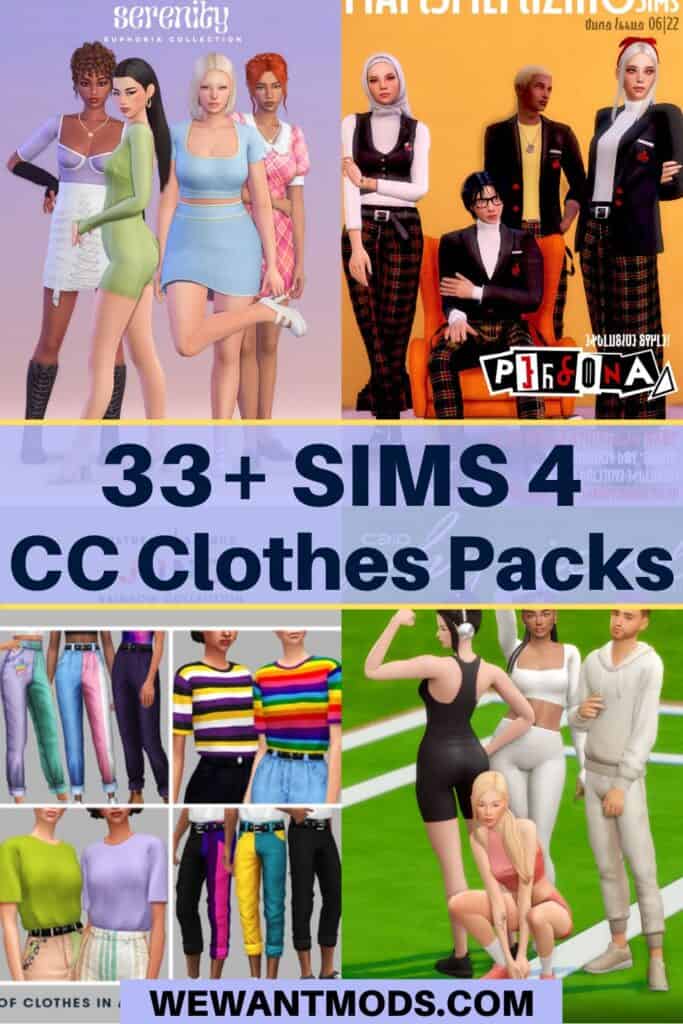 33+ Best Sims 4 CC Clothes Packs (2023)