27+ Beautiful Sims 4 Shoes CC
From casual flats to thick-heeled pumps, we've got a great list of sims 4 shoes cc for your shopping spree!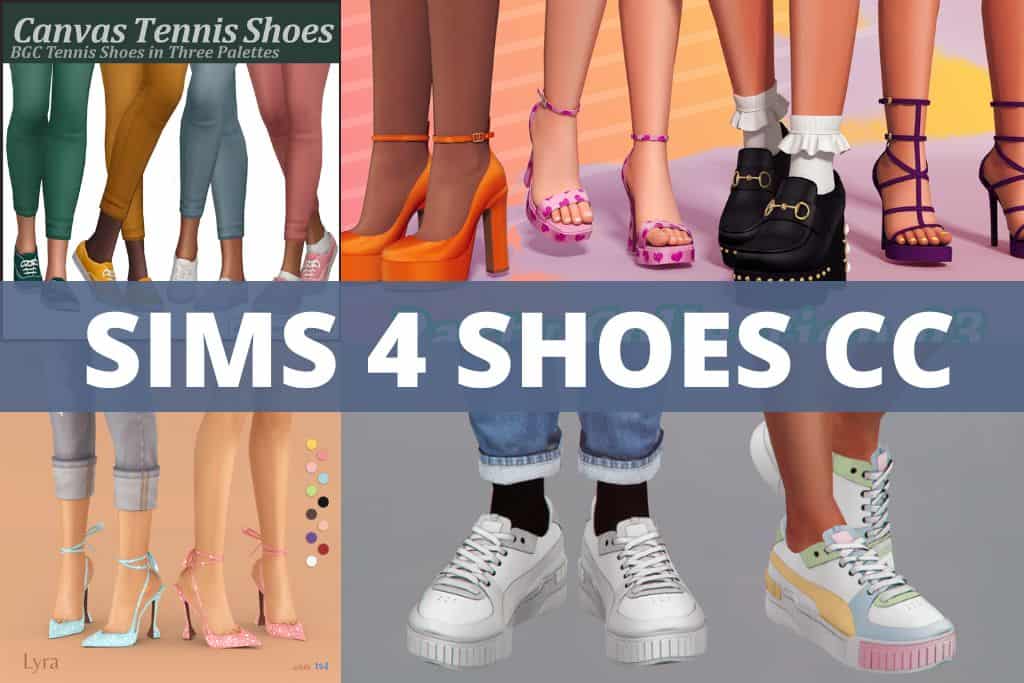 People say shoes make the outfit, and that's not different when it comes to styling your sims.
From colorful sneakers to strappy peep-toe heels, there are so many different styles of shoes to compliment any look.
I've gathered a diverse collection of casual to dressy shoes, including high-top sneakers and sexy thigh-high boots.
We've only included one set of children's shoes below, but they're more in our kid's cc collection linked at the bottom of this post.
We also have a dedicated Sims 4 Toddler Shoes post for your toddlers.
Disclaimer: The following mods are neither endorsed nor affiliated with The Sims, Maxis, or Electronic Arts. Any use of mods (custom content or game mods) should be done with caution and with the knowledge that there may be risks.
Best Sims 4 Shoes CC
Find your new favorite pair of maxis match shoes for everyday outfits and special event.
Happy shopping!
1. Sneakers Sims 4 Shoes CC by Jius-sims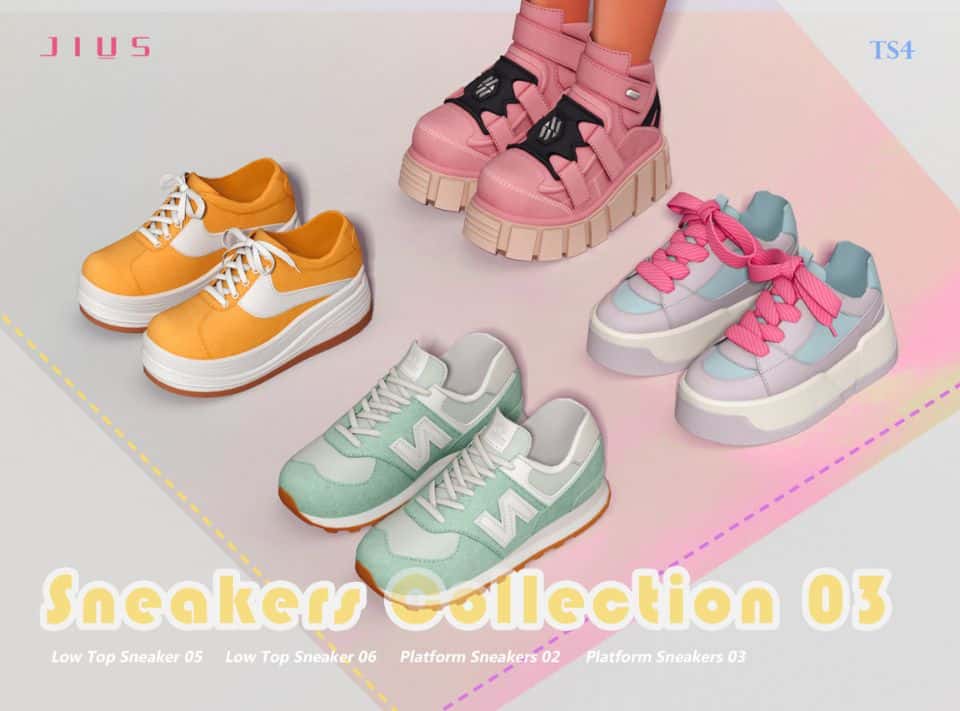 If you're looking for cute sneakers for your female sims, then be sure to check out this four-piece set of shoes.
You get two pairs of low-top sneakers and two pairs of platform sneakers.
The more chunky platform shoes come in 18 swatches, while the other three come in 25.

2. Sims 4 High Heel Boots by Madlen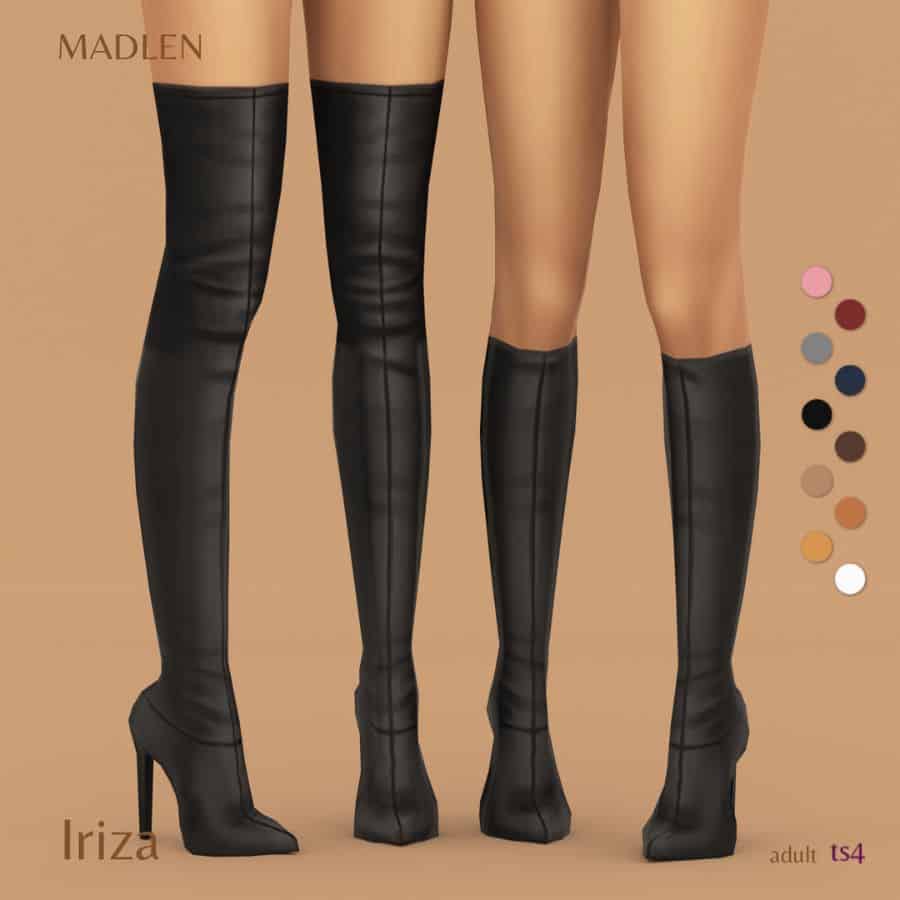 These high-heeled boots are a must-have for those who want to make their sim women look feminine and sexy.
In this set, you get two lengths: below-the-knee and thigh highs boots.
They each come in the same 10 colors and look fantastic.

3. Sims 4 Slip-on Loafers by MIRO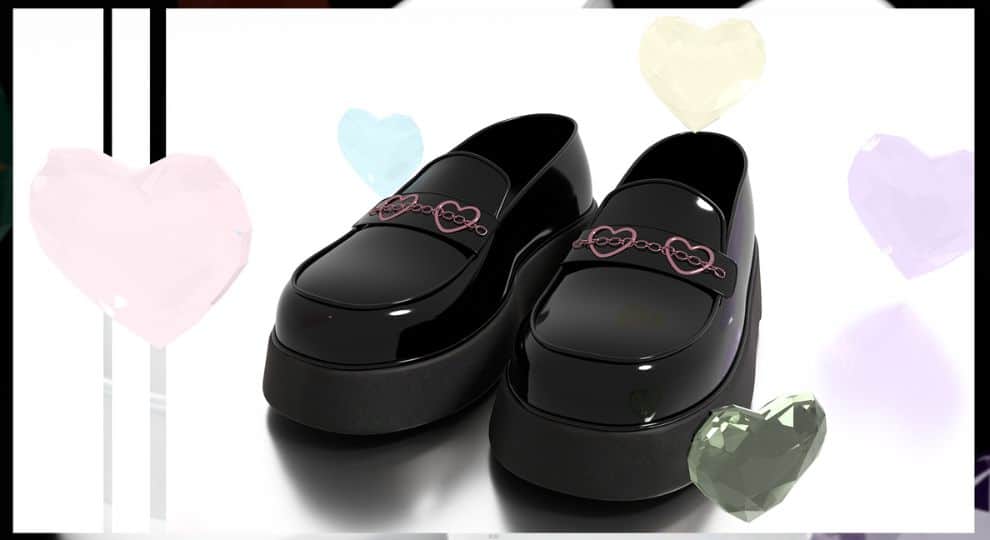 These heart-shaped chain decor slip-on loafers are what's trending this season.
If you love shiny patent shoes, you'll love this pair of adorable custom content.
Although black is my favorite color, you still get 10 swatches to find your perfect color shoes.

4. Sims 4 Male Boots CC by Darte77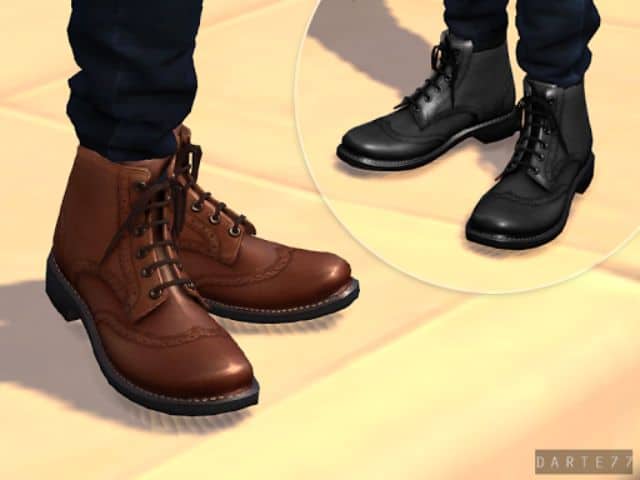 These elegant boots for men come in a variety of 10 swatches.
With their leather texture, these boots will look great on your male sims tackling the outdoors or for everyday use.
They go very well with most outfits, especially with denim pants.

5. Sims 4 Winter Boots Set by Jius-sims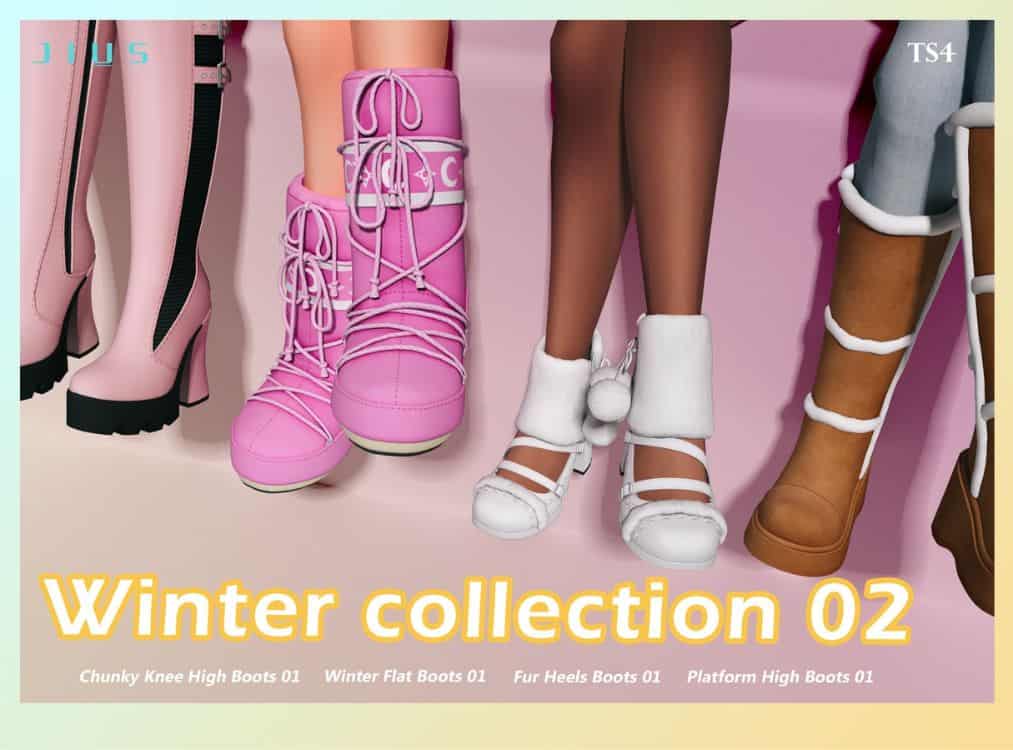 These shoes are just what your sims need on these cold winter days.
Stay warm and toasty with these fine winter boots.
In this collection of sims 4 shoes cc, you get four types of boots:
Fur heels
Winter flats
Chunky knee-high boots
Platform high boots
Each shoe has its own color palette so that you can be pretty in pink or match up with whatever works best with your sims outfit.

6. Sims 4 Boots CC By mauvemorn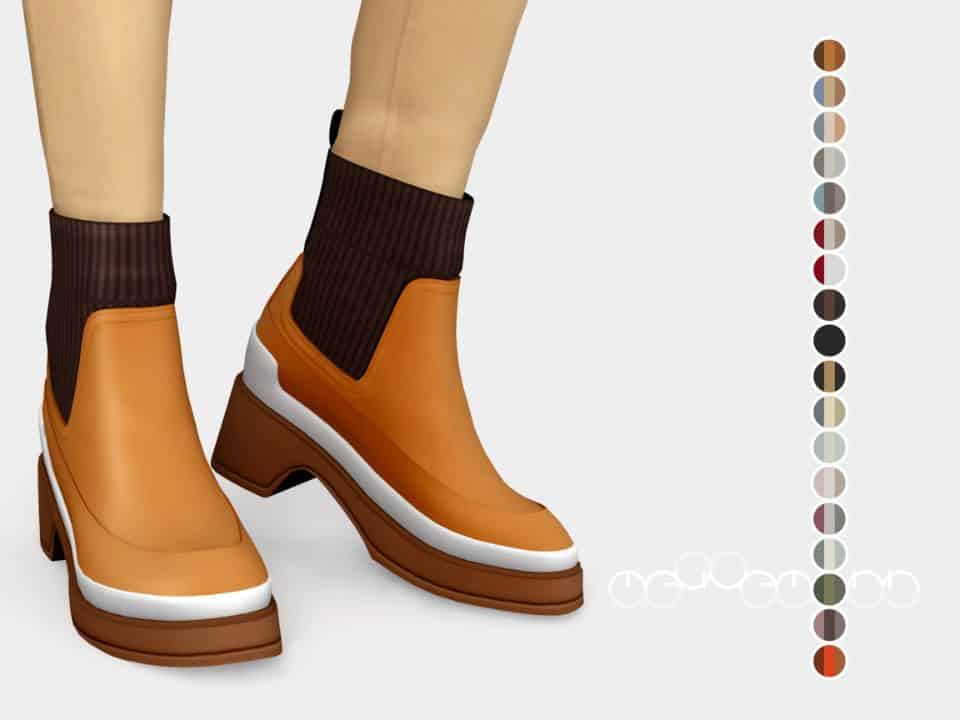 Do you want your sims men to look casual yet chic?
If so, then you need these Hermès-inspired shoes.
You get to pick if you want them polished or in suede leather.
Each version has a set of nine different colors.
And you're just in luck; sims of all ages can wear these shoes, including toddlers.

7. Sims 4 Sneakers CC by MMSIMS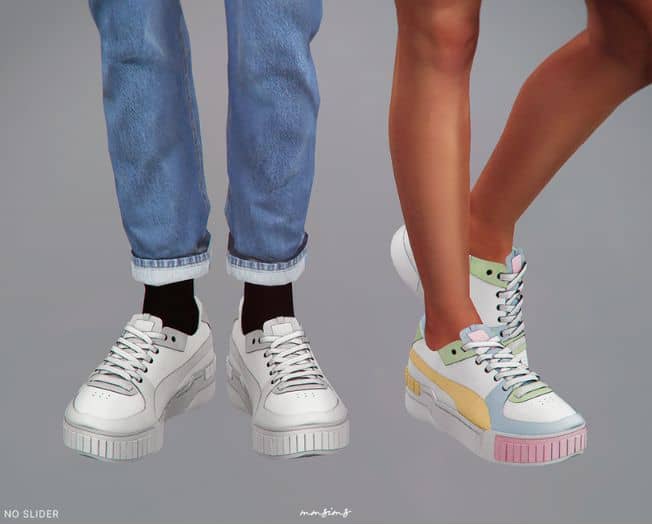 Do you want more sneakers options? These sims 4 athletic shoes will do the trick.
You can choose from 20 colors, mostly white with a colored accent color.
You also get a couple of black sneaker options.

8. Watermelon Sims 4 Shoes CC by SM Sims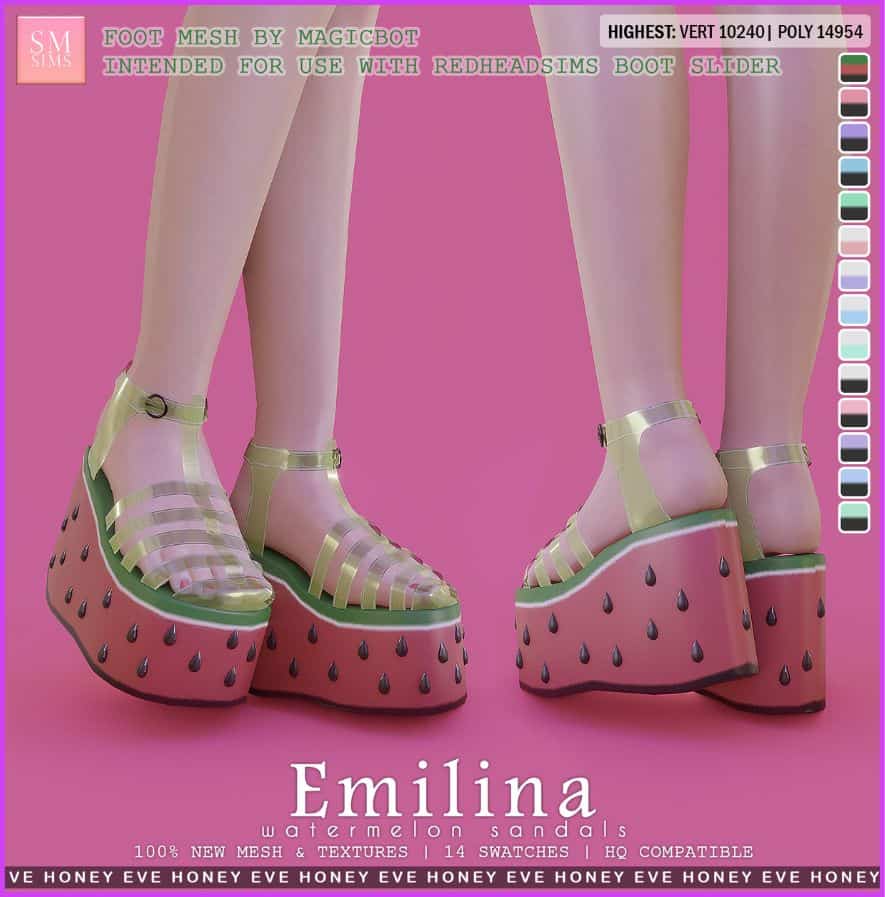 I love this pair of sims 4 shoes as they are fun and fresh, as fresh as the watermelons they portray.
These juicy platforms are intended to be used with a height slider mod.
If you don't have one, not to worry, there's one linked on the custom content's page.

9. Party Set Sims 4 Shoes CC by Jius-sims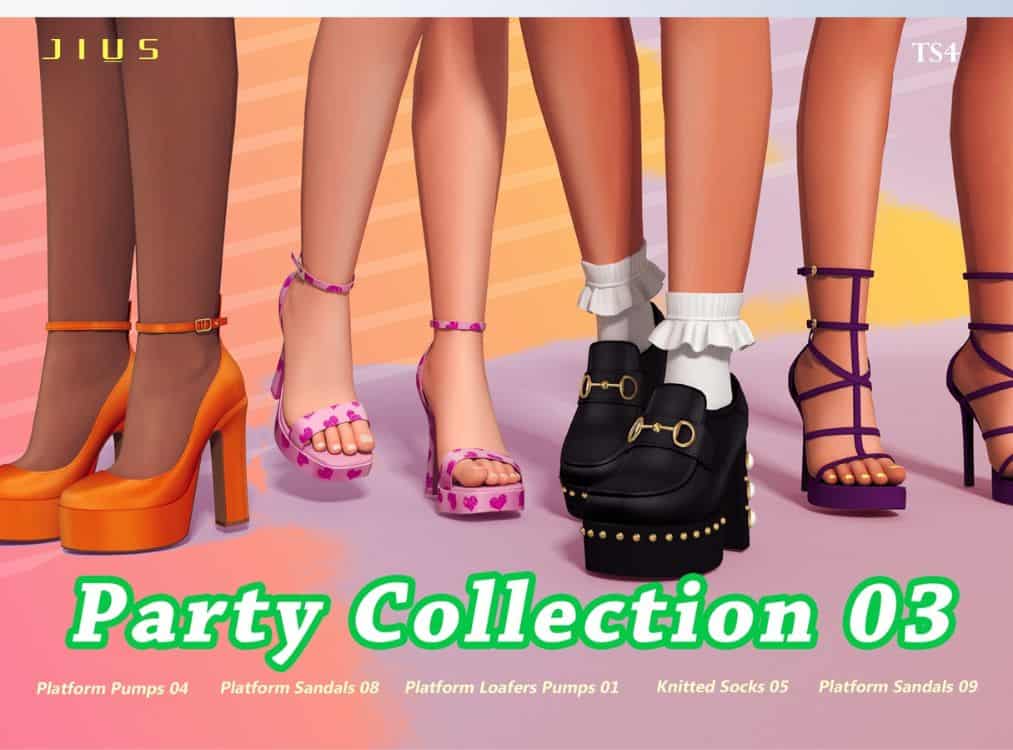 This shoe collection looks so good and is an excellent addition to your sims outfits.
This pack includes:
Two platform sandals
One platform loafer pumps
One platform pumps
They each have their number of swatches to match any of your preferences.
You also get a knitted sock that goes well with the loafer pumps.

10. Sims 4 Boat Shoes CC by Darte77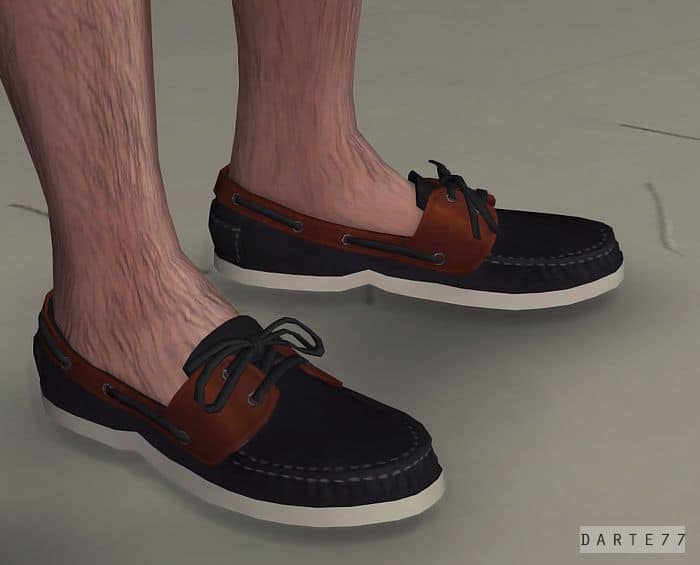 Get your summer prep on with these Hamptons-ready boat shoes.
This set of sims 4 shoes cc comes in 18 color swatches.
They make for a good pair of summer shoes for adult sims, although teens+ can wear them.

11. Sims 4 Vans Shoes CC by littledica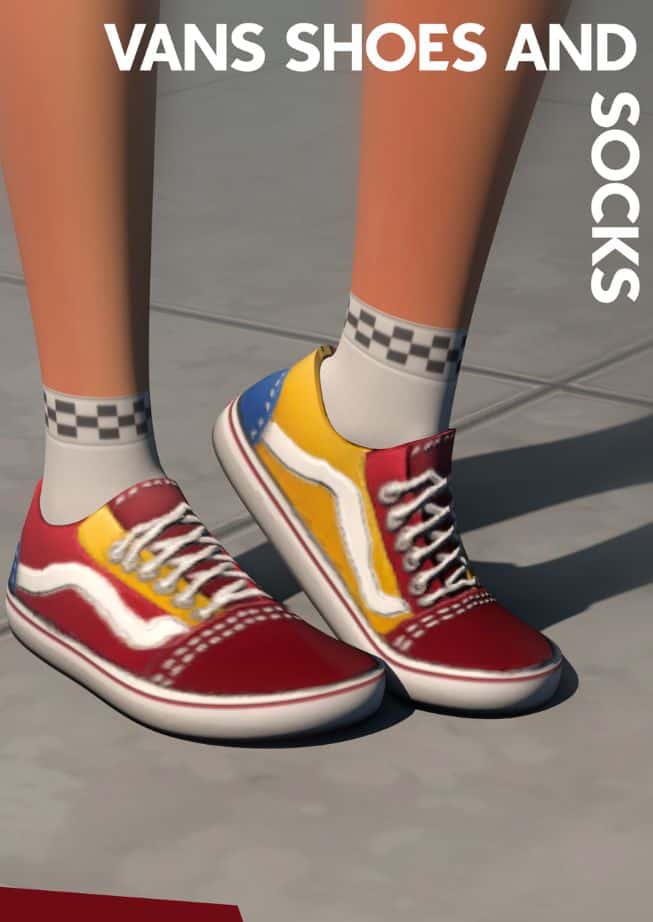 I love a good pair of casual shoes and vibrant-looking socks.
These Vans-inspired shoes can be yours in 29 colors, so there are plenty of options for everyone.
The colorful checkered socks come in 21 swatches.

12. Sims 4 Peep-Toe Heels CC by Madlen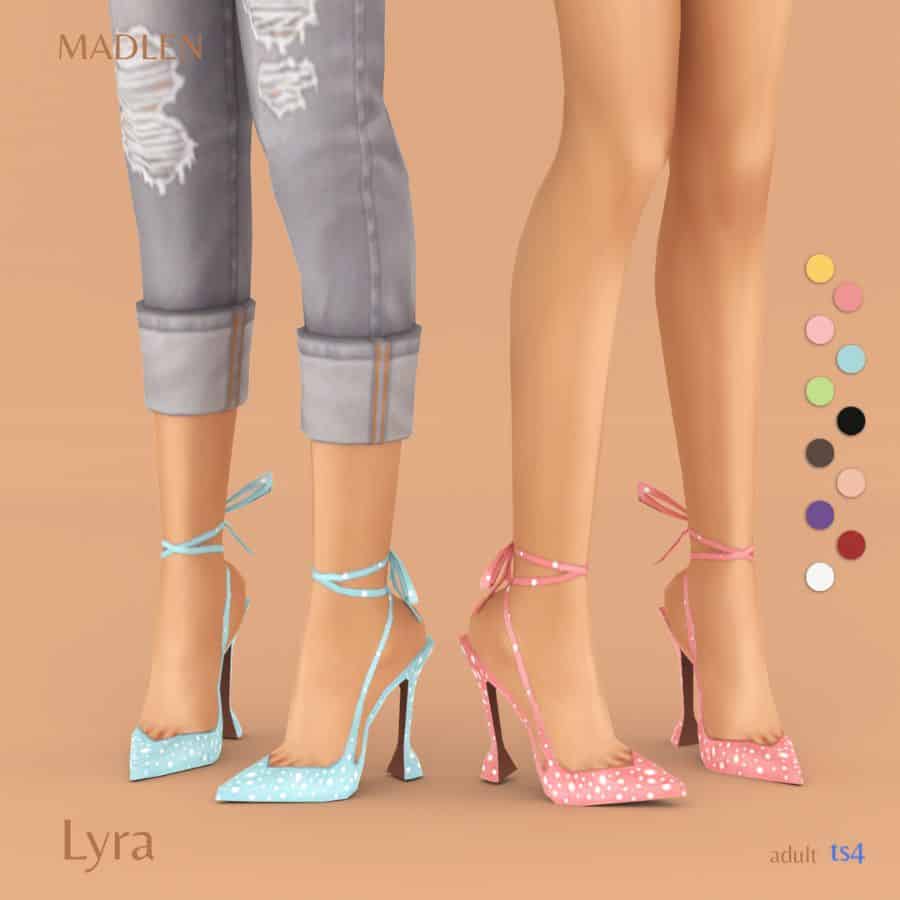 Depending on where you fall on toe cleavage, these adorable peep-toe ankle-tie heel shoes are a must in my book.
You have 11 colors to choose from, and they all come in an almost polka-dot-looking pattern.
These flirty heels will look great paired with a dress for a fun night out dancing.

13. Crocs Sims 4 Shoes CC by Jius-sims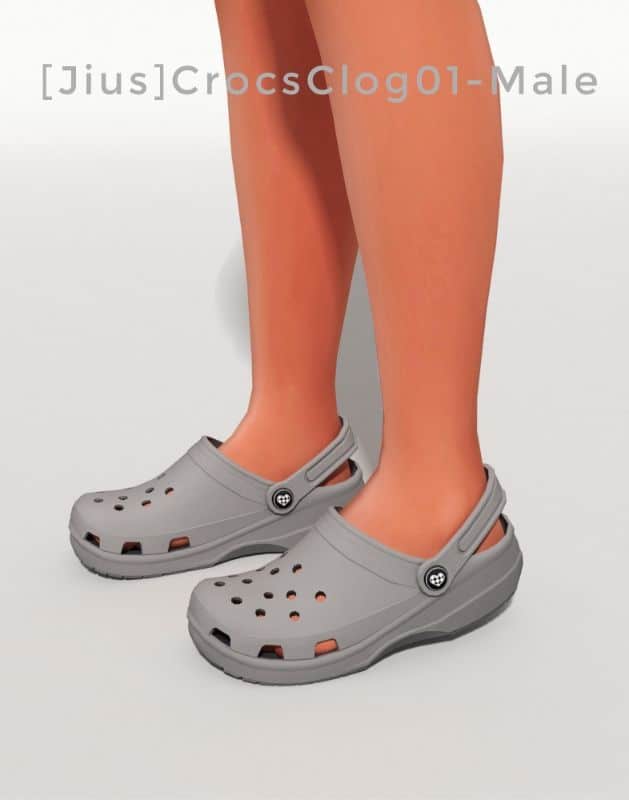 Do you like crocs? People tend to either love them or not; there doesn't seem to be an in-between.
If you like this type of shoe, snag this croc-inspired set of sims 4 shoes cc.
These are made for your male sims and come in 30 colors.

14. Female Sims 4 Mules CC by MIRO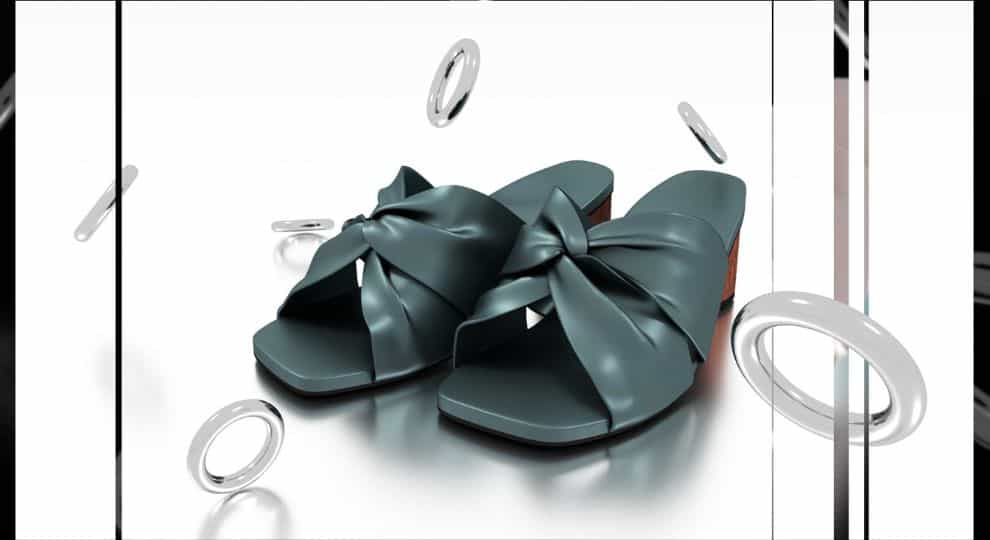 These bow-looking mules go so well with a lovely summer dress or dress up a casual pair of jeans.
They are available in 15 colors, mainly dark, which is why they'd look great with jeans.
The lighter colors work better with summer dresses.
All I know is my sims are looking good in these flare-heel sandals.

15. Sims 4 Platform Boots CC by EvellSims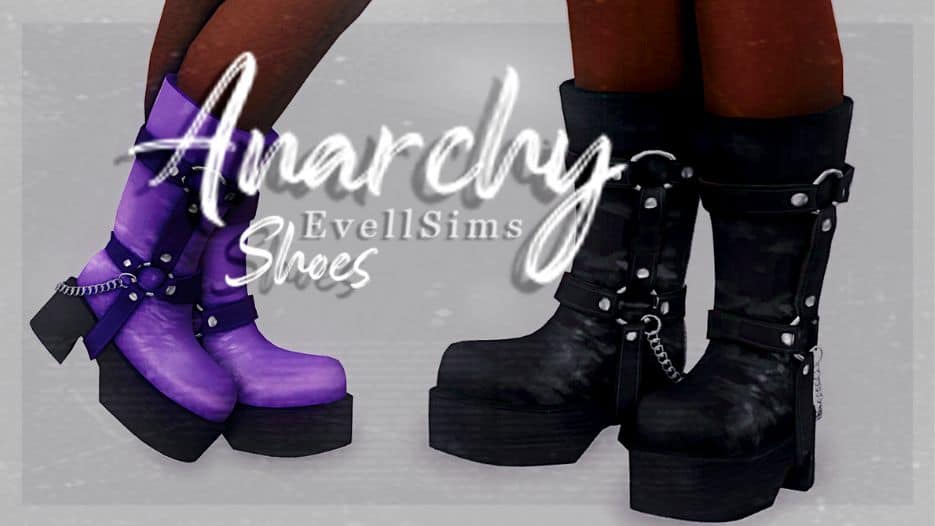 Do you have punkish or even metalhead-looking sims?
If so, you should add this pair of platform boots to their wardrobe.
These heeled boots are unisex, and you can choose from 15 swatches.

16. Sims 4 Boots CC by MMSIMS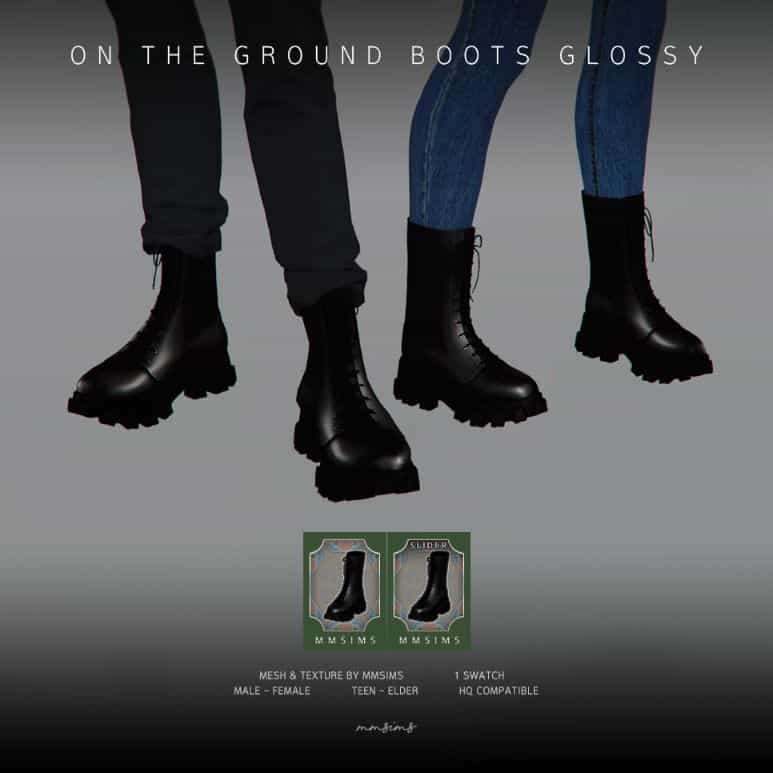 Although they're only available in one color, black, these glossy boots look stylish for both genders.
Shiny leather boots can dress up any casual look or be worn with dressier outfits.
Add a button-up shirt, rugged facial hair, or a camo outfit, and you got yourself a nice-looking sim.

Need More Men's Shoes? Check Out Our Sims 4 Male CC List!

17. Lollipop Sims 4 Shoes Set by Jius-sims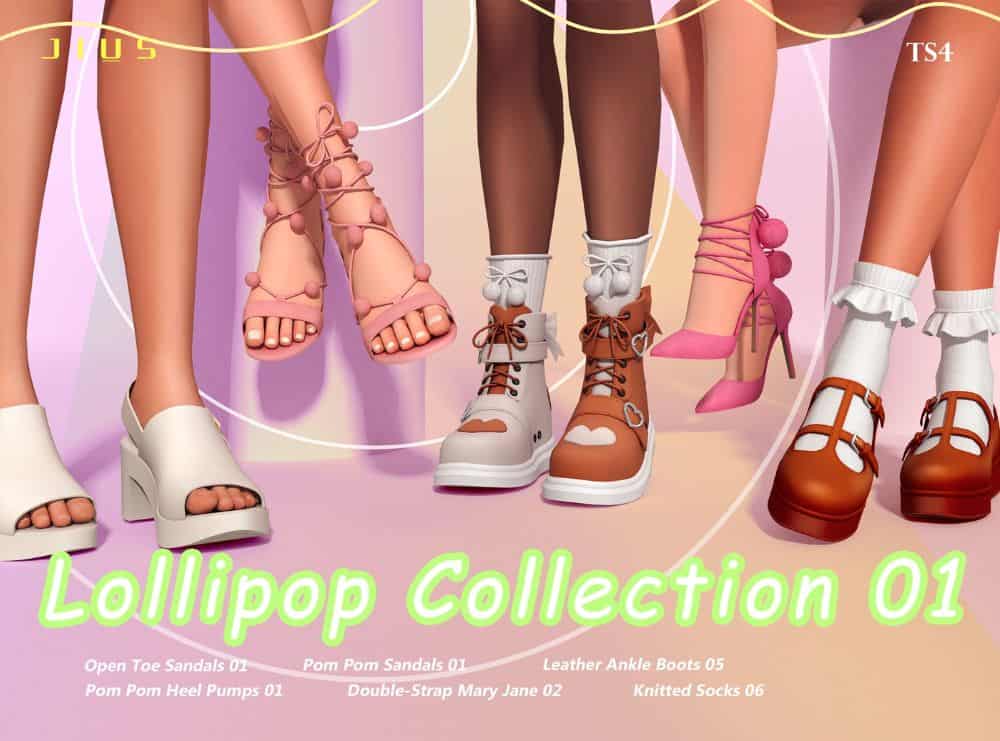 This set is a great find for your female sims.
You get five pairs of shoes for any occasion. In this collection, you get:
Open toe sandals
Pom-pom sandals
Leather ankle boots
Pom-pom heel pumps
Double-strap, Mary Jane shoes
They range from 20 to 30 color swatches, depending on the pair.
I like the ankle boots with their heart-shaped buckles; they're so adorable.
As a bonus, they've also included a nice pair of socks with pom-poms.

18. Dries Van Noten Sims 4 Shoes CC by mauvemorn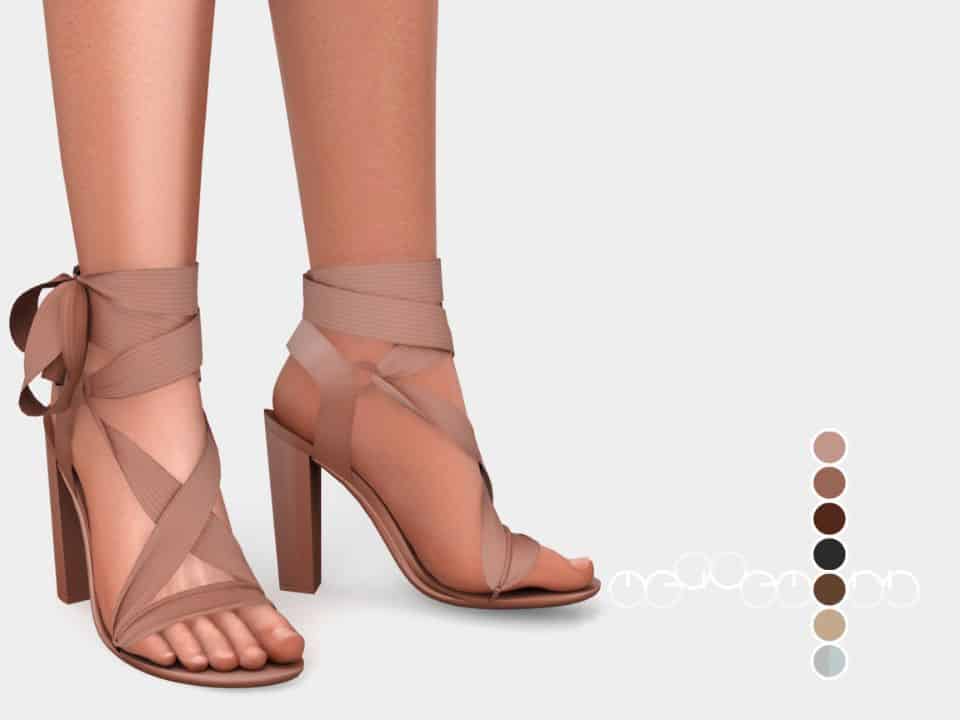 Were you searching for the perfect strappy heels?
I'm sure you'll love these Dries Van Noten-inspired heeled sandals.
With the way the sandal is laced up, it gives off a ballerina-style sandal.
Add these to a skirt and a nice top, and you got yourself a pretty little outfit.
These sims 4 sandals are available mainly in shades of brown.

19. Sims 4 Tennis Shoes CC by MadameRia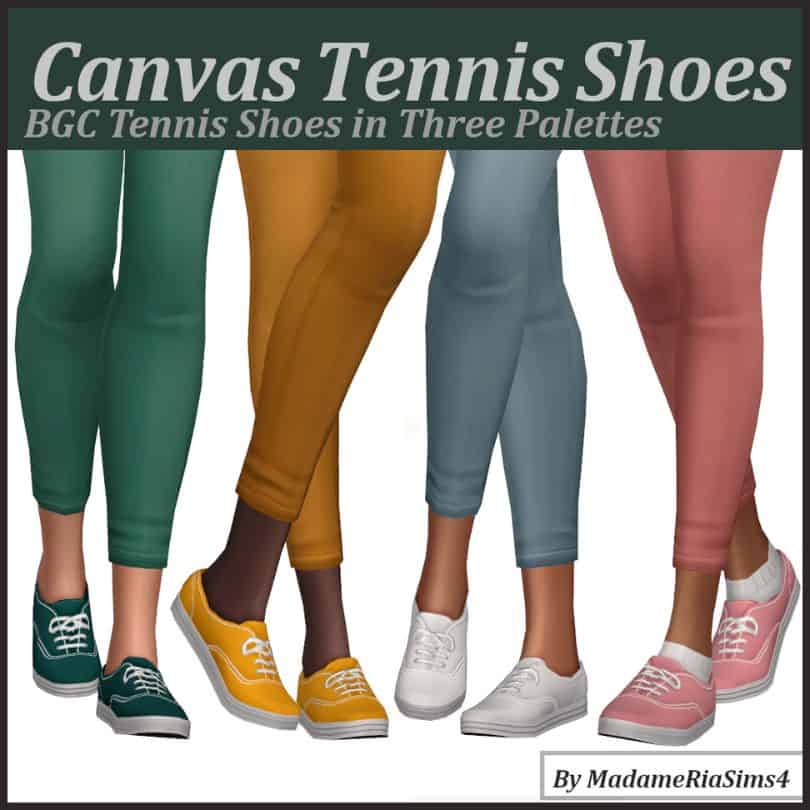 Tennis anyone? Why not add these everyday casual sporty shoes to your sims attire?
These will look great for those hot summer days while your sims are outdoors, at the park, or simply out for a walk.
Pair these flat sneakers with capris or sweats for your active sims; they'll complete the look.
You can find these shoes for both genders under Sneakers.

20. Male Sims 4 Shoes CC by Darte77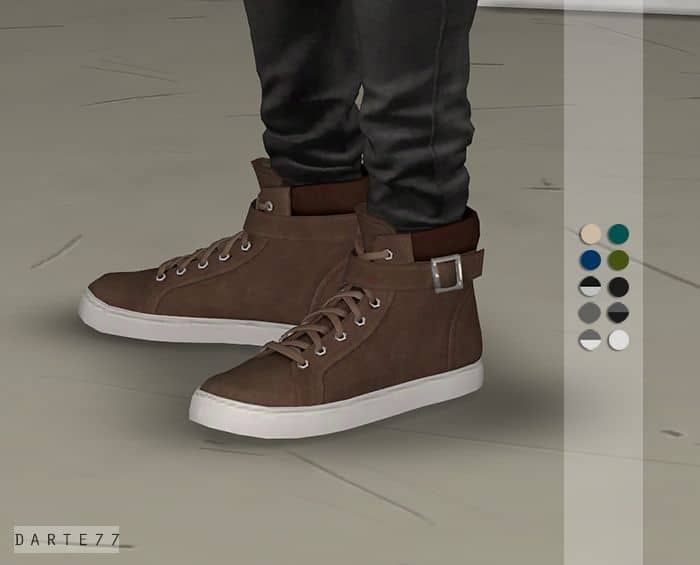 Another excellent find for sims 4 shoes cc is these high-top sneakers for male sims.
They have a skater's look, so that works if you have a sk8er sim in your household.
You get to choose among 10 swatches, where you get a couple of contrast options for blacks, grays, and whites.

21. Sims 4 Shoes CC for Children by Jius-sims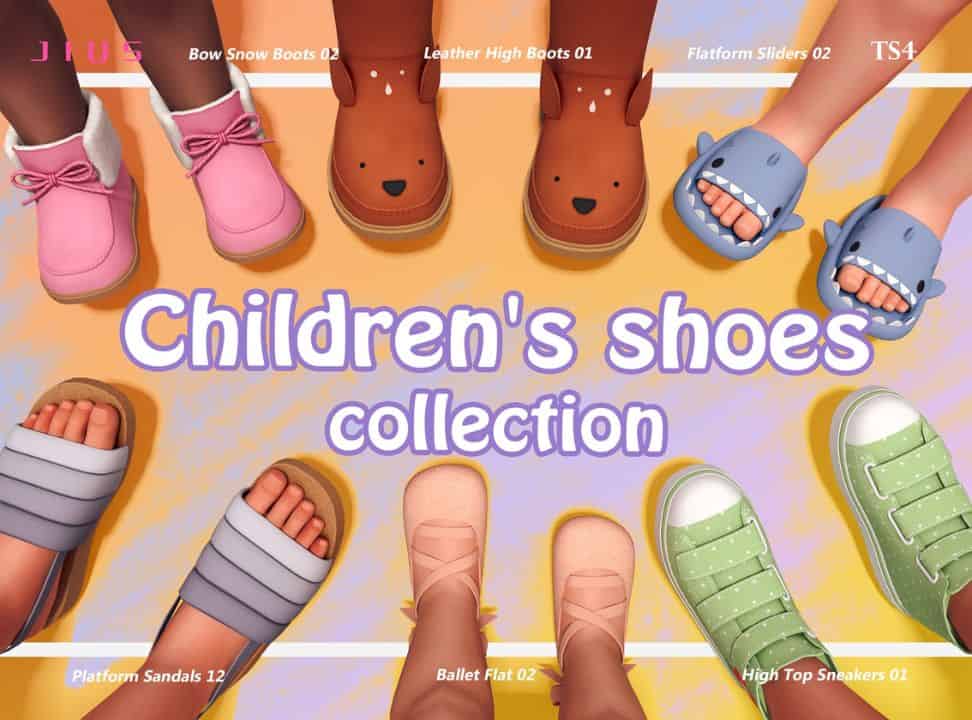 This adorable collection of sims 4 shoes cc is just what you need for the little ones.
In this set, you get the following:
Flatform sliders
High top sneakers
Leather high boots
Ballet flats
Bow snow boots
Platform sandals
These shoes are all for toddlers and children, except for the ballet flat, which is made only for toddlers.
They all come in 25 swatches except the high boots, which only have 5.

22. Sims 4 Platform Shoes CC by Madlen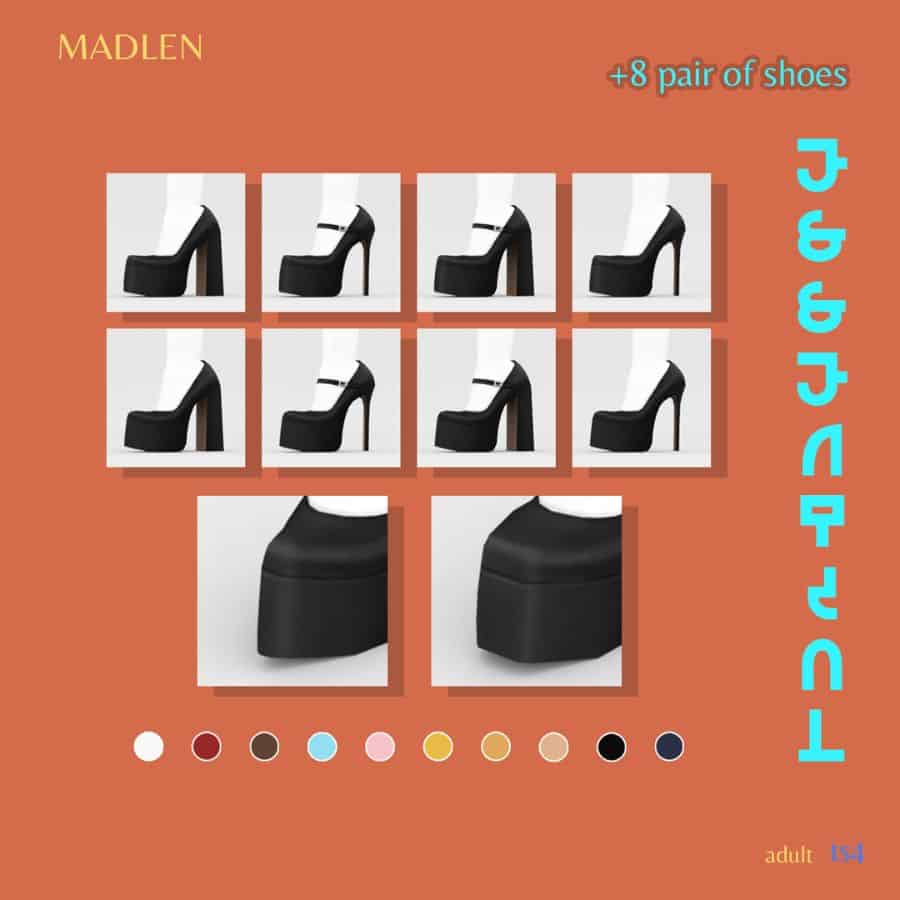 If you like platform shoes, you'll love this collection, which has a variety of styles.
You get eight pairs of shoes with different heels and strap combos, all available in ten colors.

23. Sims 4 Sandals CC by MIRO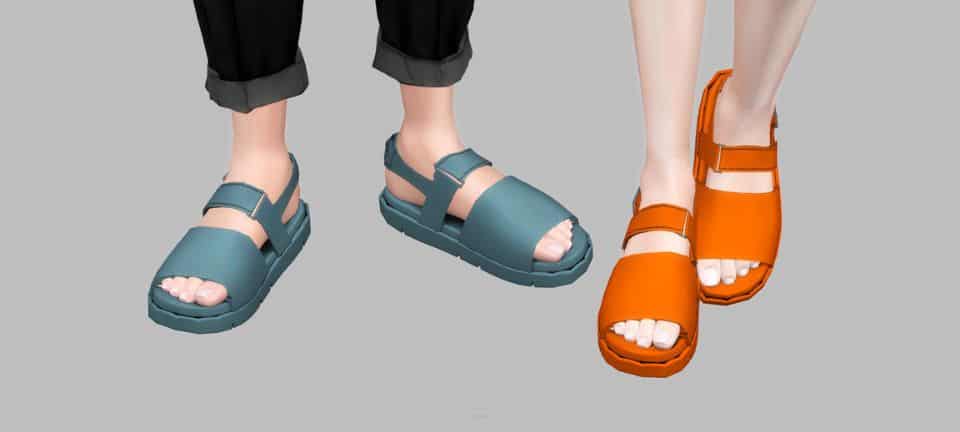 Complete your summertime collection with these sims 4 shoes cc.
These leather sandals are available in 25 colorful swatches, and you can get them for both male and female sims.
These sims 4 sandals will go well with your short-sleeved shirts and shorts during those hot summer days.

24. Sims 4 Converse Shoes CC by Caio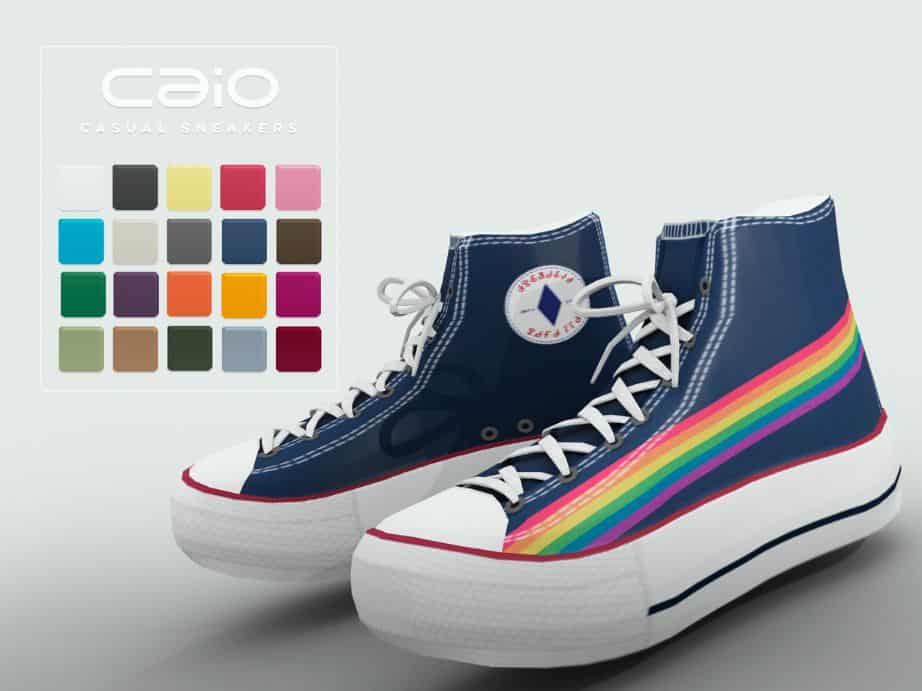 Were you looking for some converse shoes for your sims?
This set of converse-inspired shoes is the perfect piece of cc.
The shoes are available in 29 colors and designs and are made for both genders.
These shoes will end up looking great on your sims feet.

25. Glamorous Sims 4 Shoes CC by SM Sims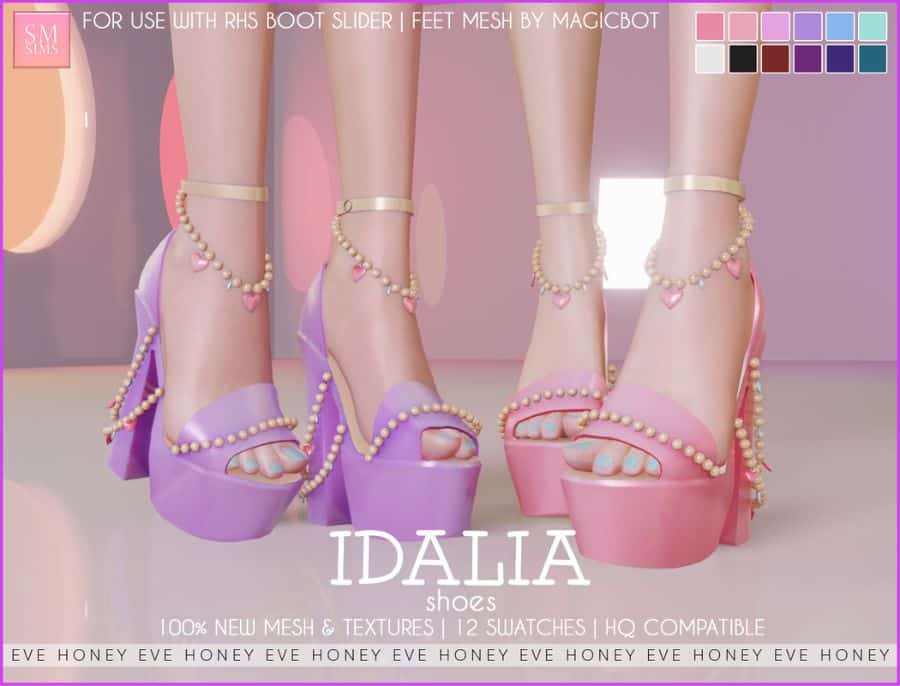 This pair is gorgeous if you like shoes with bling and a wow factor.
You get platform sandals decorated with shiny beads.
Because the shoes are platform, it is recommended that you use a height slider mod.
The creator specifies which mod to use; rest assured, a link is provided on the shoe's page.

26. Vans Sims 4 Sneakers by Darte77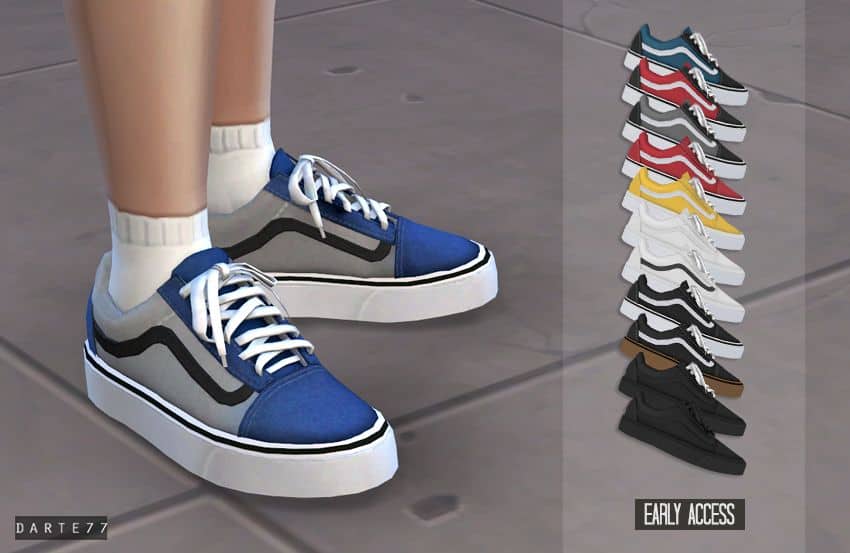 Because you can never have enough sneakers, we've included another set of Vans-inspired shoes.
This thick-soled version comes in 12 colors and goes well with any casual outfit for your male sims, perfect for everyday wear.

27. Obsidian Set Sims 4 Shoes CC by Jius-sims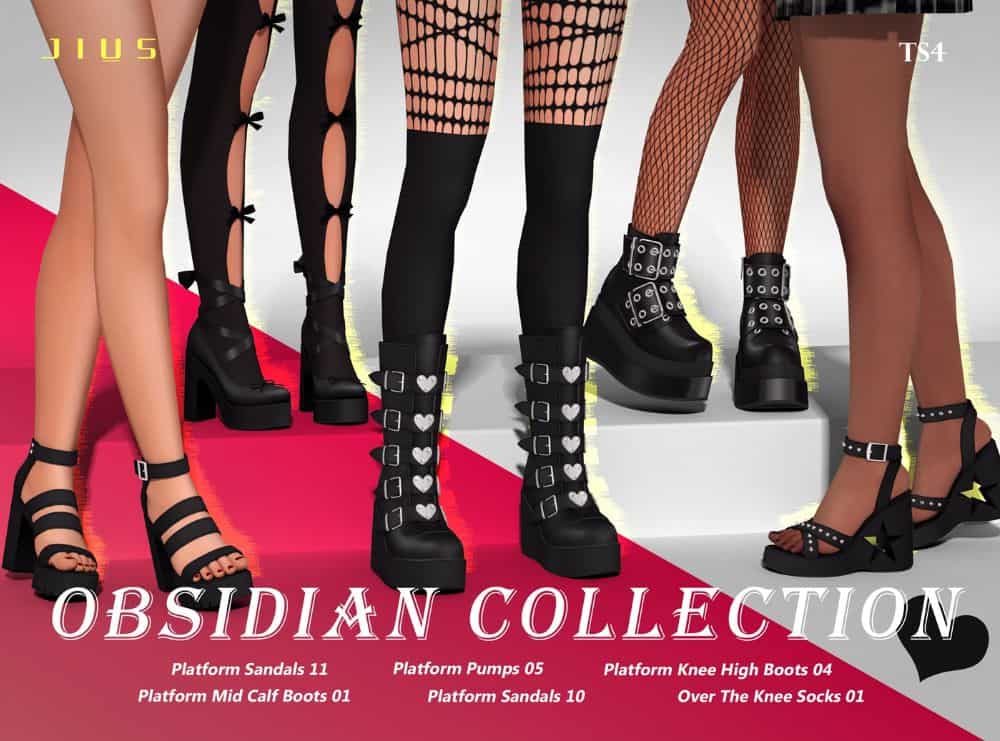 This collection is a sexy set of sims 4 shoes cc for your female sims.
In this pack, you'll get five pairs of shoes:
Two platform sandals
One platform mid-calf boots
One platform pumps
One knee-high platform boots
The chunky buckle boots would complete any rocker-style look, while they rest can be styled with a variety of outfits and styles.

28. Sims 4 Naked Wolfe Boots CC by Solistair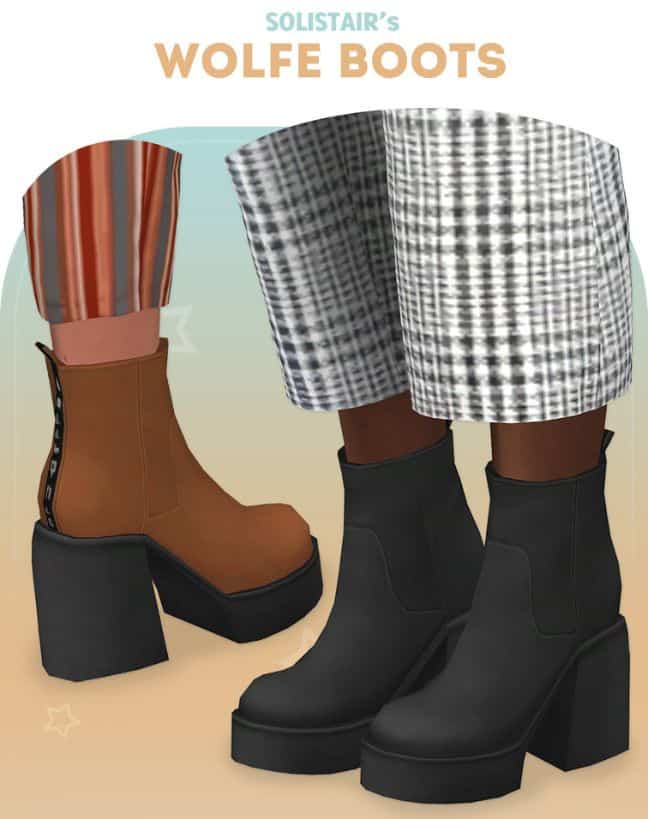 Do you like Naked Wolfe footwear?
With this set, your sims can wear these fine-looking thick-heeled boots.
This Naked Wolfe-inspired pack offers two versions of this shoe: a full-color and a black-soled version.
Each version has the same two sets of color swatches:
Hisbiscus, which has 20 colors
Natural, which has 13 of them.
So depending on what you need, you'll want to get the corresponding custom content file.
Final Thoughts on Sims 4 Shoes CC
Shoes are one thing that is sometimes overlooked.
You can have a lovely dress or hairstyle, but in the end, it all ends with a stunning pair of shoes.
Hopefully, with this list, you've found a few new favorites to complete your sims outfits.
If you have any questions or suggestions, feel free to leave us a comment below or tag us on Tumblr.
More Sims 4 Custom Content Lists
And don't forget to pin & save this post for later!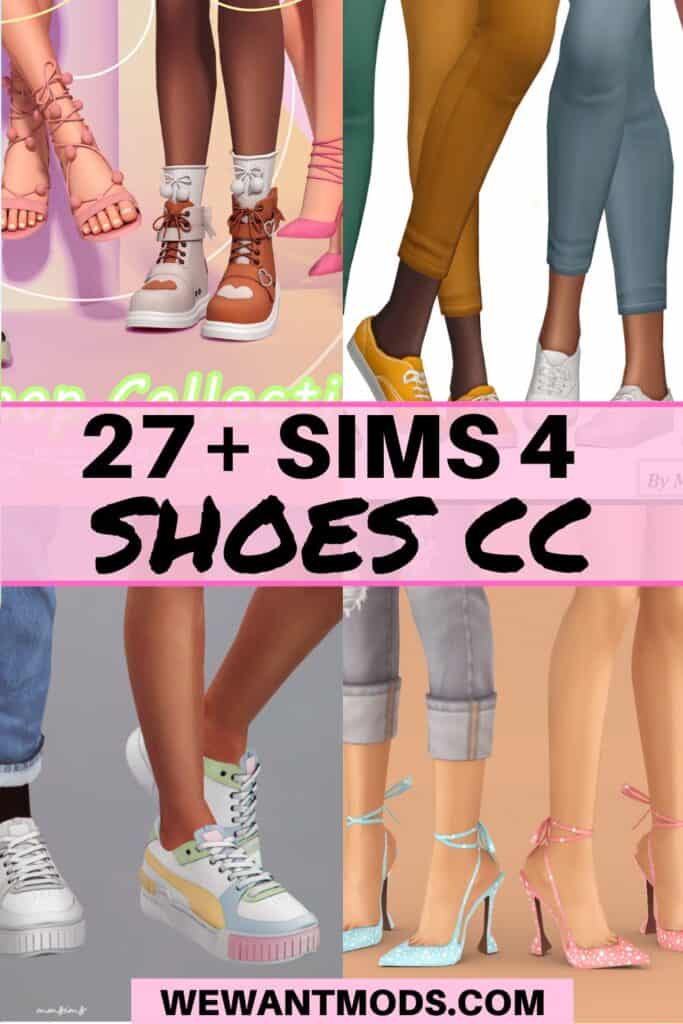 27+ Beautiful Sims 4 Shoes CC