33+ Sims 4 Halloween CC: A Spooky Event
Get ready for Allhallows Eve with this fantastic collection of Sims 4 Halloween CC.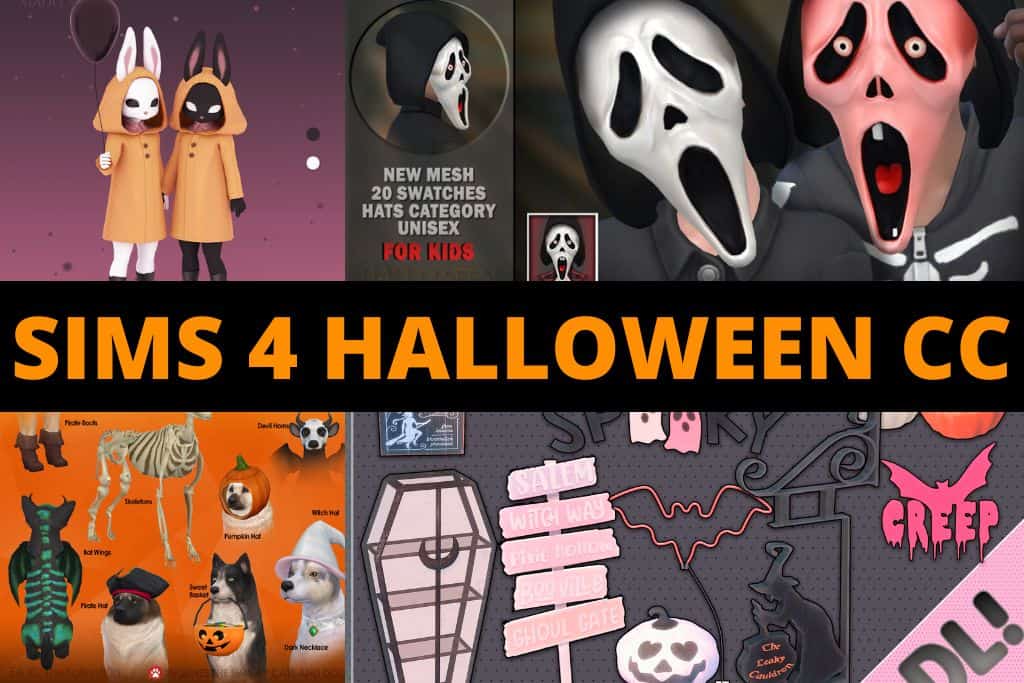 With the spooky season quickly approaching, I decided to put together a great list of Halloween custom content for your sims to enjoy.
Whether or not you're a huge Halloween holiday fan, we can all appreciate some amazing custom content.
Plus, many of the Halloween cc pieces can be used for occult gameplay, especially those focused on witches and vampires.
We've put together some classic Halloween costumes and other unique and fun pieces.
Plus, you can find more autumn-time pieces in our Sims 4 Autumn CC post.
Disclaimer: The following mods are neither endorsed nor affiliated with The Sims, Maxis, or Electronic Arts. Any use of mods (custom content or game mods) should be done with caution and with the knowledge that there may be risks.
Best Sims 4 Halloween CC
From Halloween party decor to complete costumes, we've rounded up some exciting options for the upcoming holiday.
1. Sims 4 Pumpkin Patch by StarrySimsie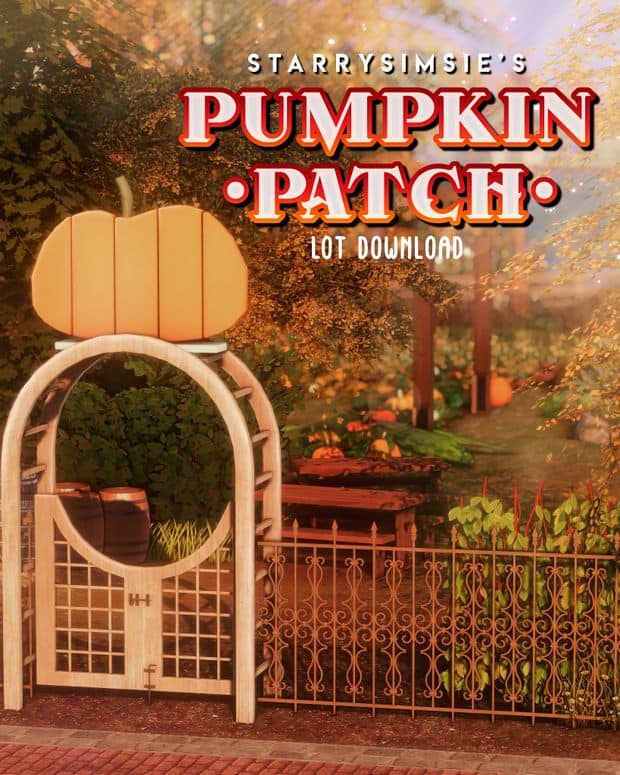 What better start the fall season than setting up an adorable pumpkin patch for your sims to enjoy?
This pumpkin patch is perfect for a family outfit or even a cute date between your newest couple.
You will need to enable bb.moveobjects before placing the lot.

2. Halloween Bunny Ears by Lilit's Creative world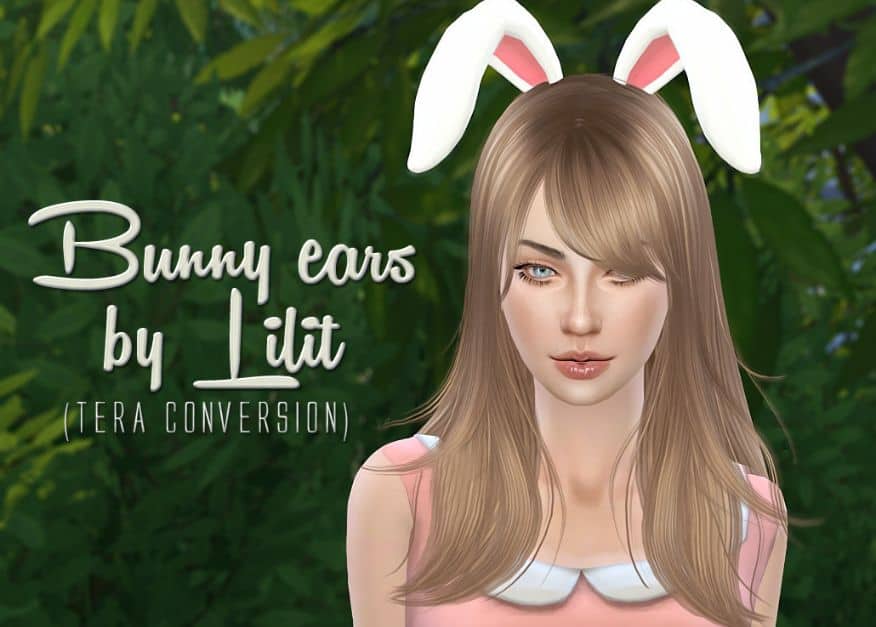 These adorable bunny ears can be a classic Halloween costume's finishing touch or a headpiece for sims that are keeping things simple this season.
These bunny ears come in 8 colors, including a cute cow print swatch, and can be used by male and female sims aged teen to elder.

3. Sims 4 Halloween Hunted Decor by Kaiso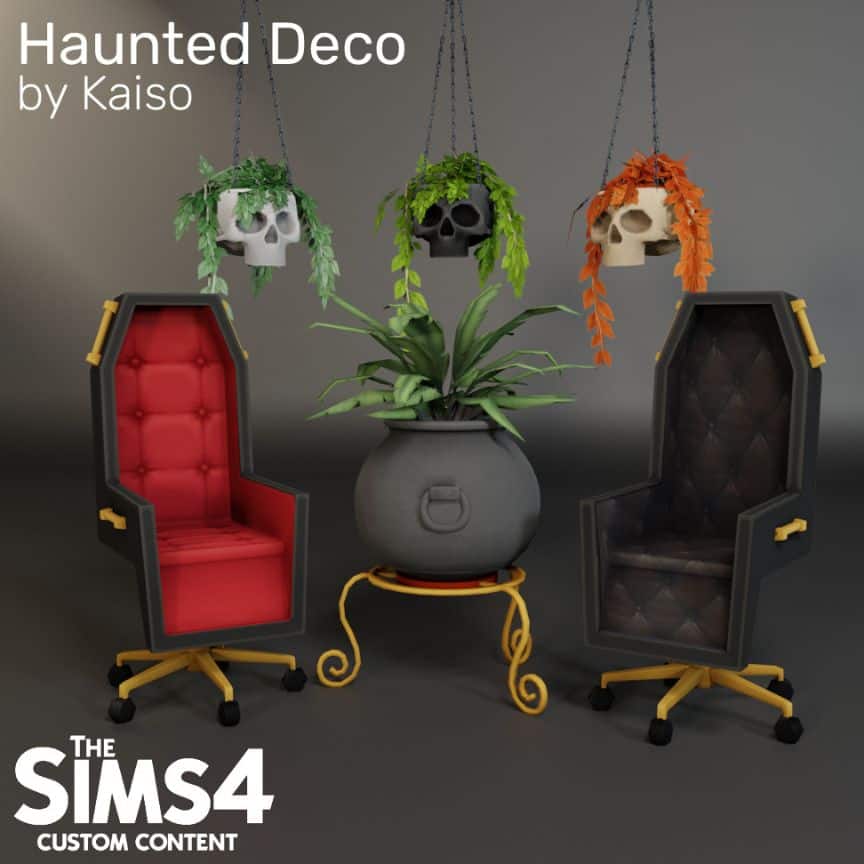 Nothing completes a home better for Halloween than festive furniture and matching decor.
This 3 piece Halloween set includes an epic coffin-shaped chair, a skull hanging planter, and a cauldron palm planter.
The coffin chair comes in 15 swatches, is also perfect for your vampire gameplay, and can be used year-round.
The skull planter comes in 8 swatches, and the cauldron has 7 options.

4. Halloween Witch Outfit for Sims 4 by Madlen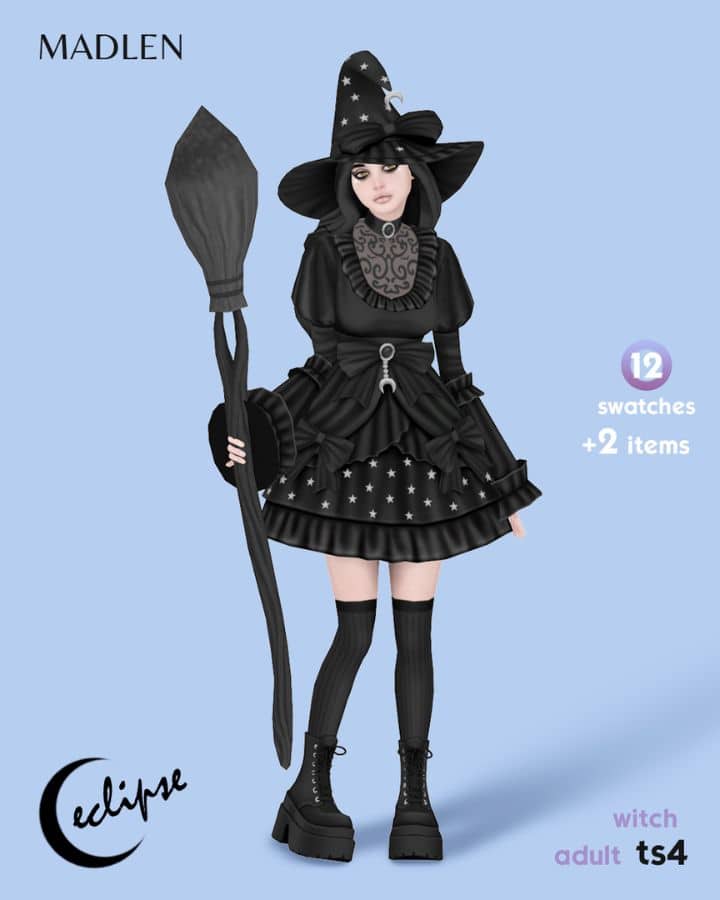 So this amazing goth-inspired witch dress and hat are great for your occults and make the perfect outfit for this Halloween.
Witch costumes are always a popular Halloween choice, and this set is so detailed it's hard to beat.
There are plenty of swatches besides black if you feel a little creative this Halloween.

5. Sims 4 Creepy Halloween Decor by Ravasheen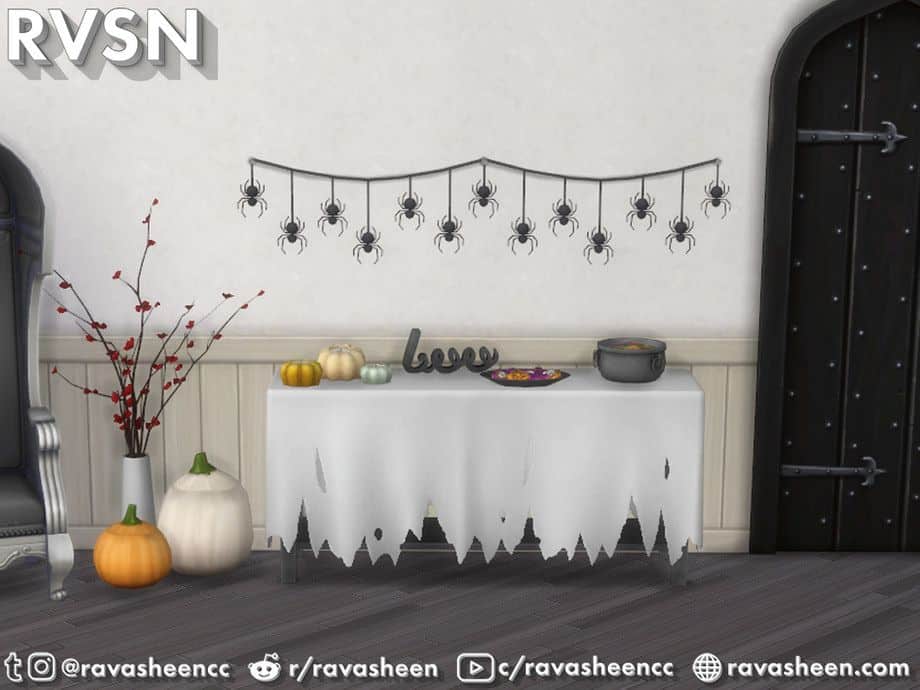 This Creep It Real Halloween decor will help your sims quickly set up their Halloween snack table.
The set includes 7 pieces;
Cookies
Candy bowl
Spider garland
Boo word table decor
Mixed-sized pumpkin candles

6. Sims 4 Scream Halloween Mask by BAkalia
What's Halloween without a classic Scream mask?
This Scream mask is for your sims kids and comes in 20 swatches that change up the eyes, tongues, and teeth details.

7. Doll Stitching Halloween CC Blush by EvilQuinzel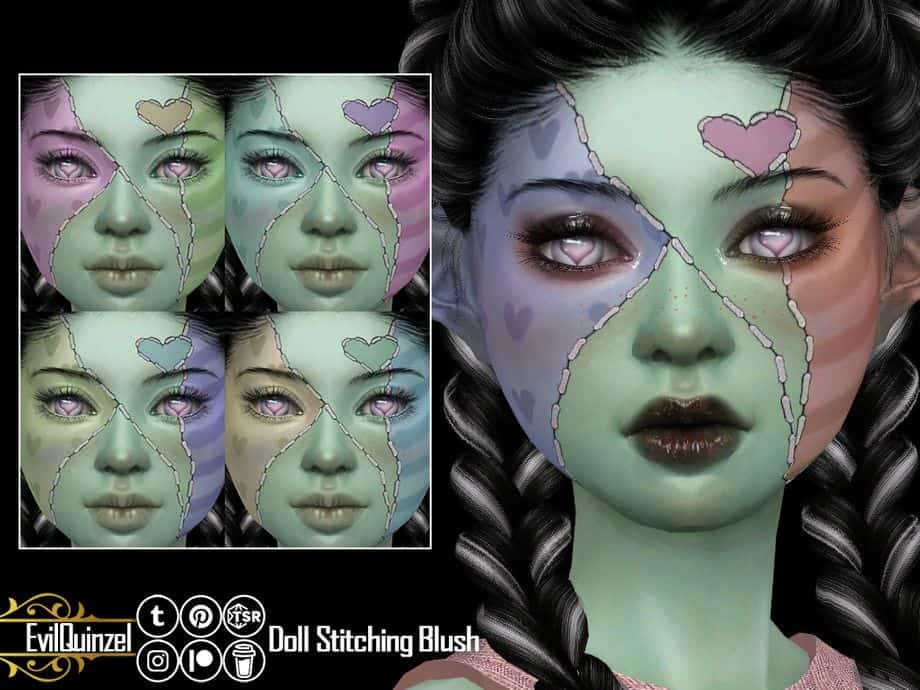 If you want something unique for your sims this Halloween season, this doll-stitching blush is definitely the thing.
This blush comes in the 5 color swatches seen above and can be found in the Blush category.
This doll blush works for female sims aged teens and up and for all species.

8. Halloween Skin Details by Sims3melancholic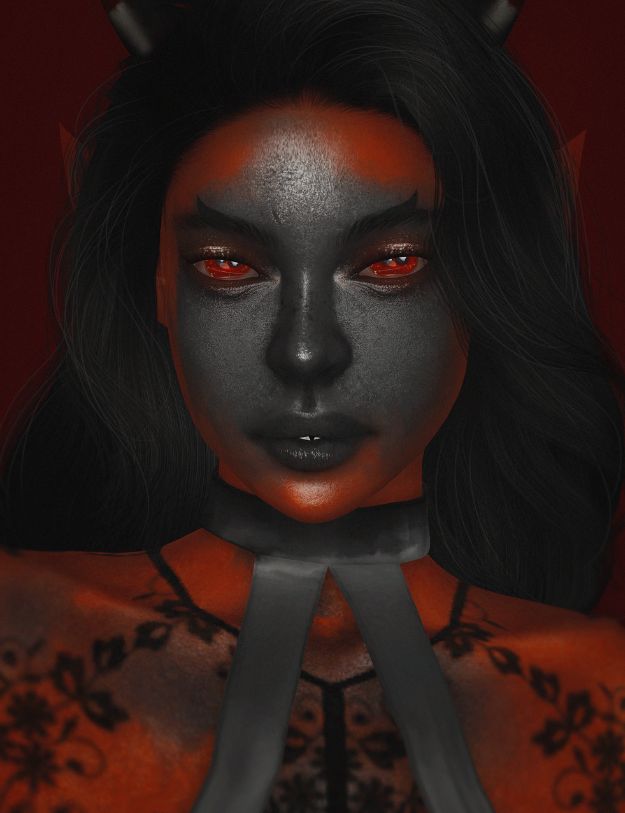 This sims 4 Halloween skin details set includes various custom content pieces to create an amazing Halloween look.
The set consists of the following cc;
Francesca skin
Contacts
Eyeshadow
Highlights
Eyebrow devil horns liner
Depending on the piece, there are between 10-120 color swatches, and the double-eye pupil contacts and devil eyebrow horns are definitely interesting.

9. Sims 4 Halloween Set by Hydrangea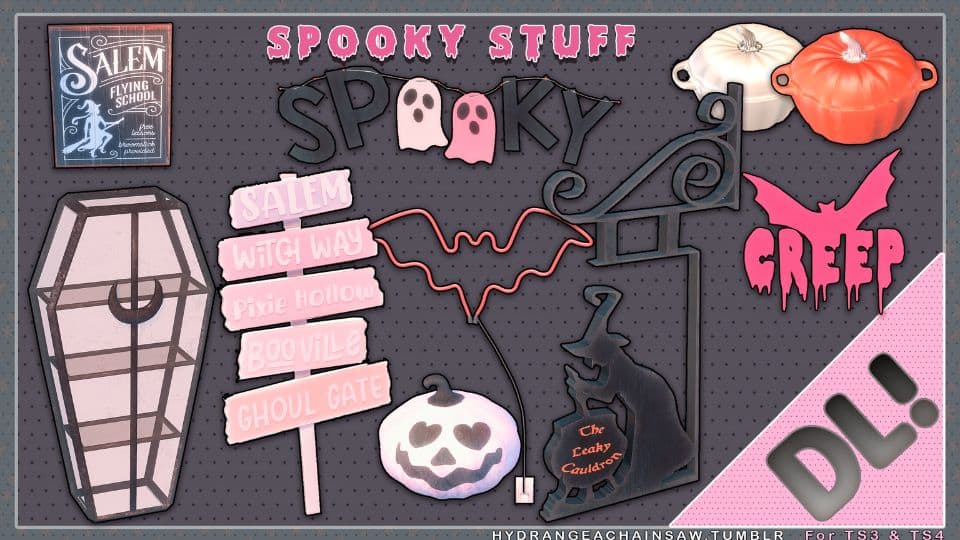 Add even more Halloween decor to your sims home with this set of 9 custom content pieces.
The Halloween collection includes;
Halloween sign
Glass coffin shelf
Salem flying frame
Cast iron pumpkin cocotte
Spooky hanging sign
And more

10. Jessica Rabbit Set by Ice-creamforbreakfast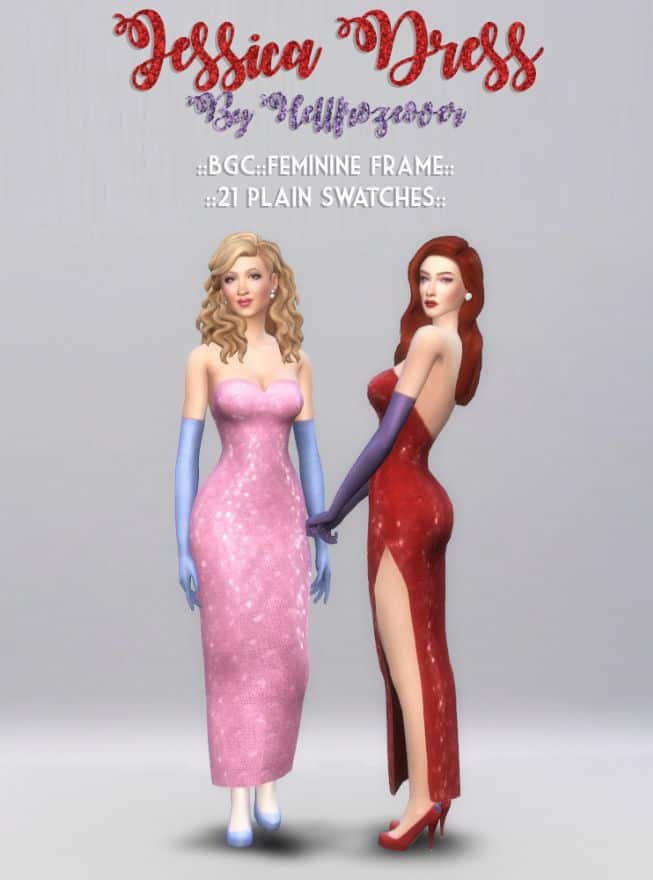 There is nothing quite like an old-school Halloween costume, and this Jessica Rabbit set delivers.
This set includes the classic red sequins full-length dress, long gloves, and a cute bow show overlay.
You can also get a sequin top or bodysuit to change things up or opt for the classic dress in another color.

11. Sims 4 Halloween Face Paint by LeaIllai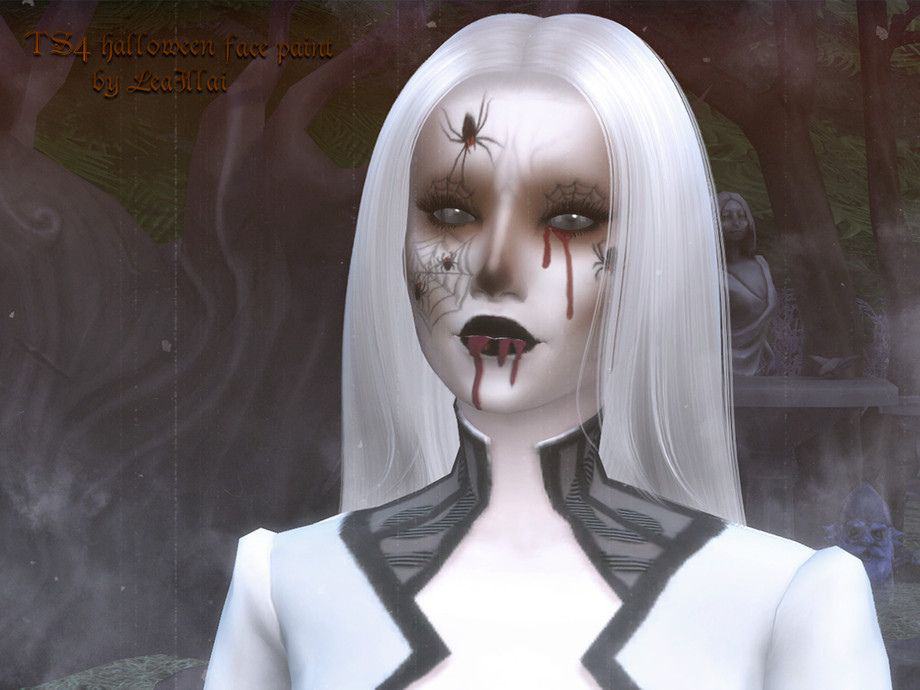 If you want a quick face of makeup, this face paint will give your sims a whole Halloween look in seconds.
The face paint swatch includes a ghost-looking complexion, spiders, cobwebs, and dripping blood from your sims eye and mouth.


More Custom Content Ideas for Halloween Costumes

12. Sims 4 Halloween Rabbit Outfit by Madlen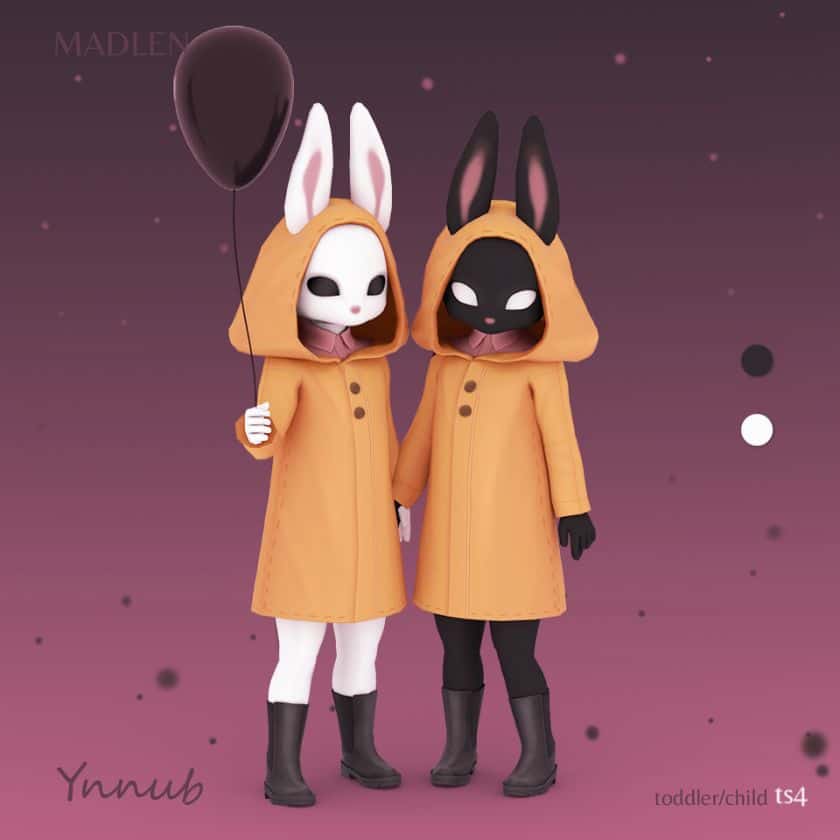 When it comes to sims 4 Halloween cc, this rabbit costume if one of my new favorites.
I love head-to-toe looks, and this costume includes everything except the black boots, which I've linked for you.
This costume comes in the two swatches above, and you can grab the child or toddler files as needed.

13. Sims 4 Halloween CC Objects by Pixel Vibes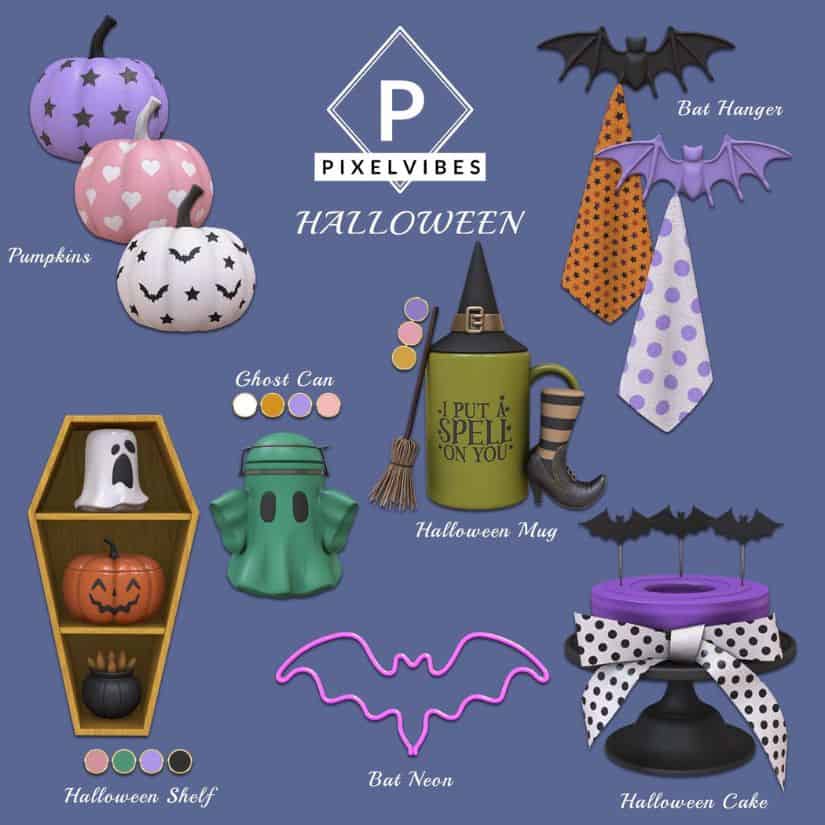 This sims 4 Halloween cc set includes a mixture of home decor pieces from adorable pumpkins, a Halloween cake, and a neon Bat.
Use these festive pieces to add extra Halloween vibes to your sims homes.

14. Sims 4 Tinkerbell Costume by SM Sims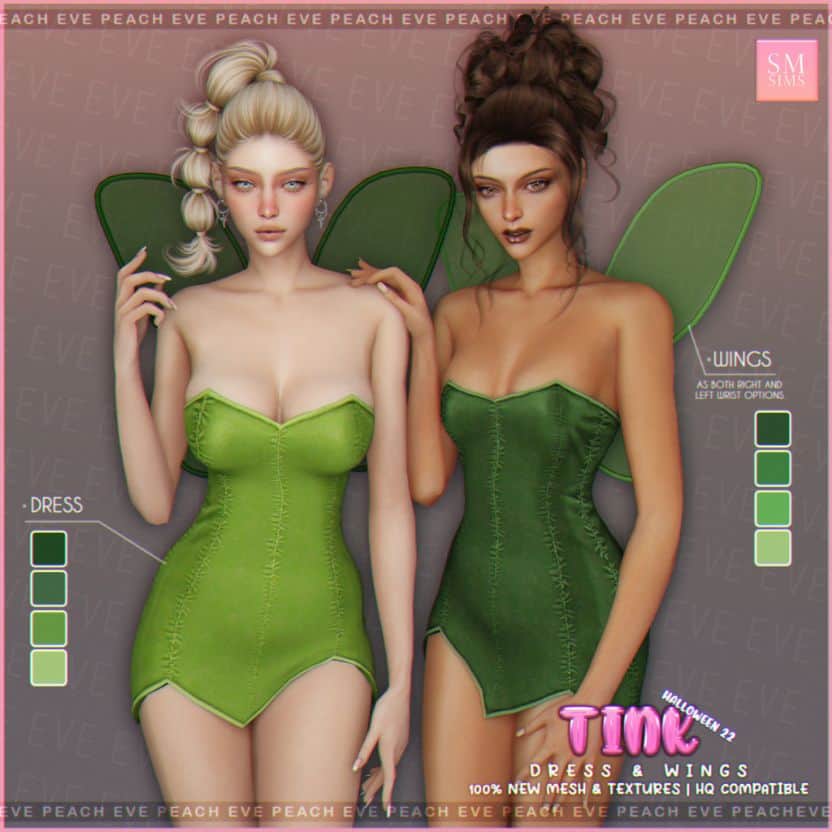 This sweet and sexy Tinkerbell outfit includes the strapless thigh-high dress and matching wings.
The set comes in 4 different green swatches and is an excellent option for an adult sims Halloween party.

15. Sims 4 Pet Halloween CC by TheKalino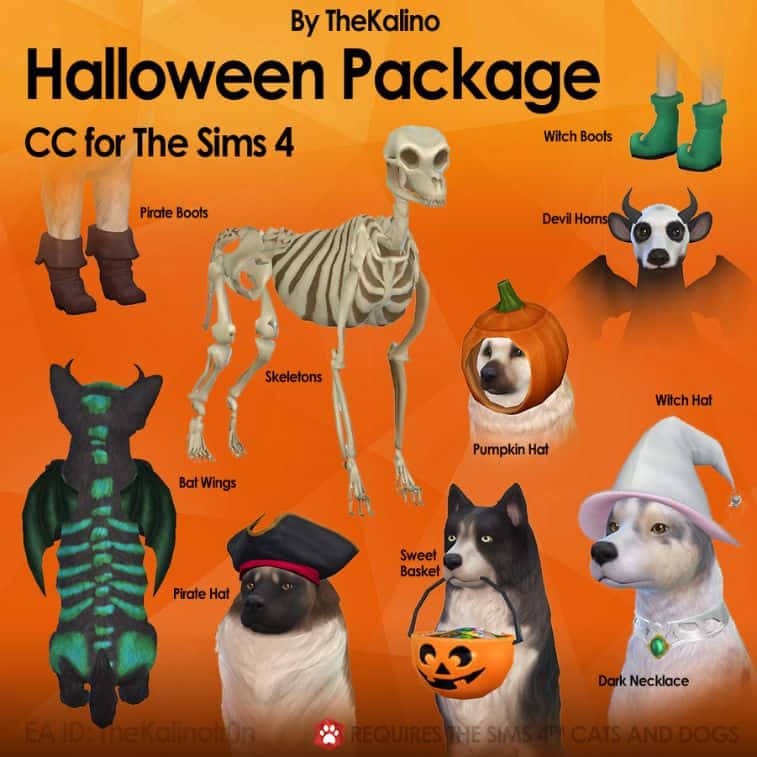 We can't forget our sims pets, and this sims 4 Halloween cc set is focused entirely on your pups.
This collection includes;
Bat wings
Devil horns
Skeletons
Dark necklace
A basket of sweets
A pumpkin hat
Witch hat & boots
Pirate hat & boots

16. Sims 4 Ghost Makeup CC by Pyxiidis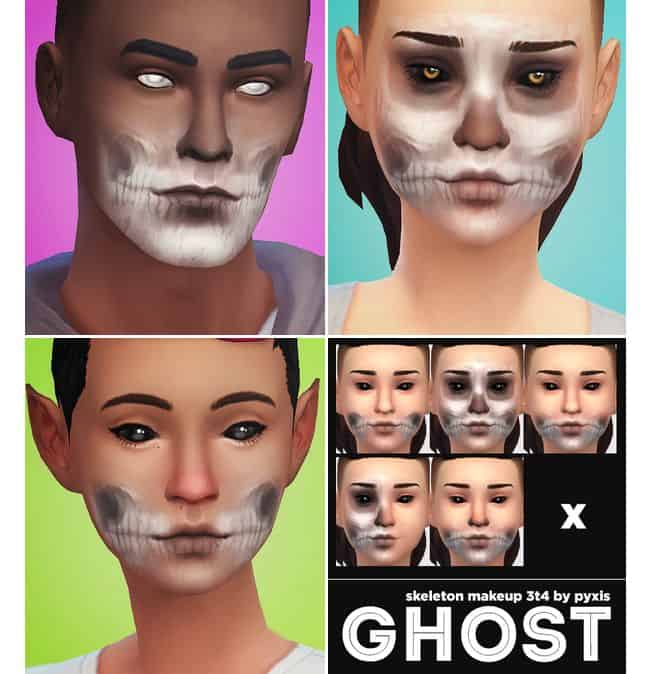 Add some freaky ghost makeup to your sims this Halloween season.
You can opt for the full face swatch or add the makeup to one side or towards the lower jaw and mouth.
You can find the ghost makeup under the categories of blush, face makeup, and skin details.

17. Sims 4 Halloween CC Clutter by SimmerKate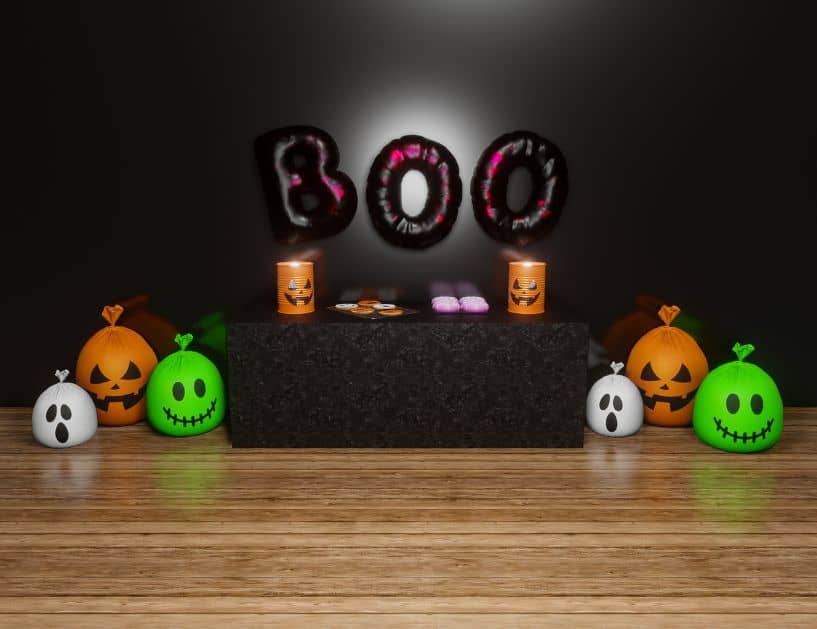 Add more clutter pieces to your collection with this set of Halloween objects.
This pack includes Boo balloons, a pumpkin tin can lamp, spooky spider web donuts, Halloween cookies, and decorated trash bag decor.

18. Sims 4 Halloween Dress by KaTPurpura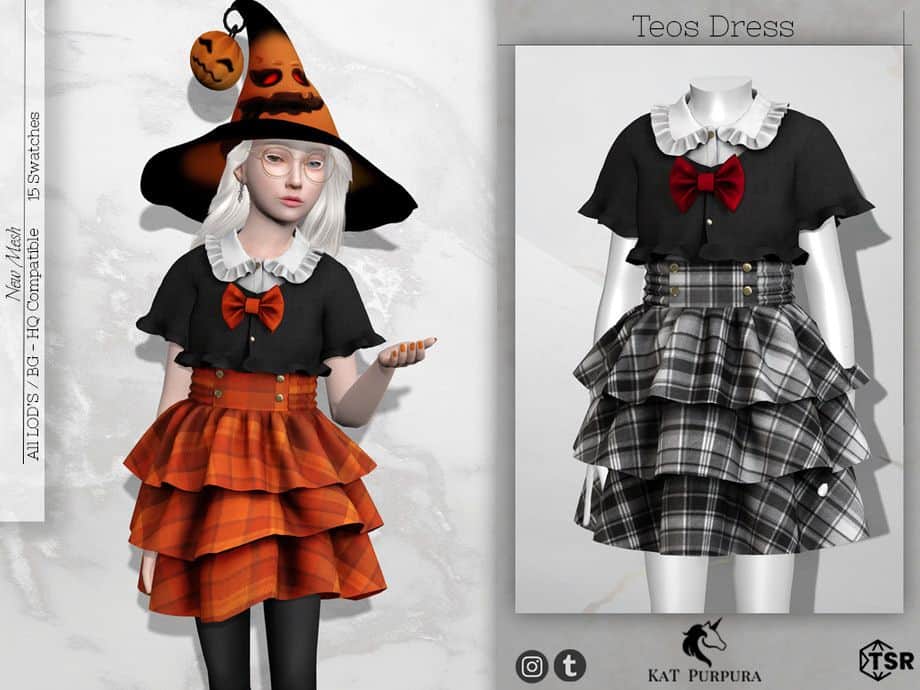 Turn this cute layered dress into the perfect base for a kids Halloween witch's costume.
You can reuse this pretty dress for the fall season, but with the adorable pumpkin witch hat, this dress is ready for Halloween.

19. Sims 4 Halloween Set by Regina Raven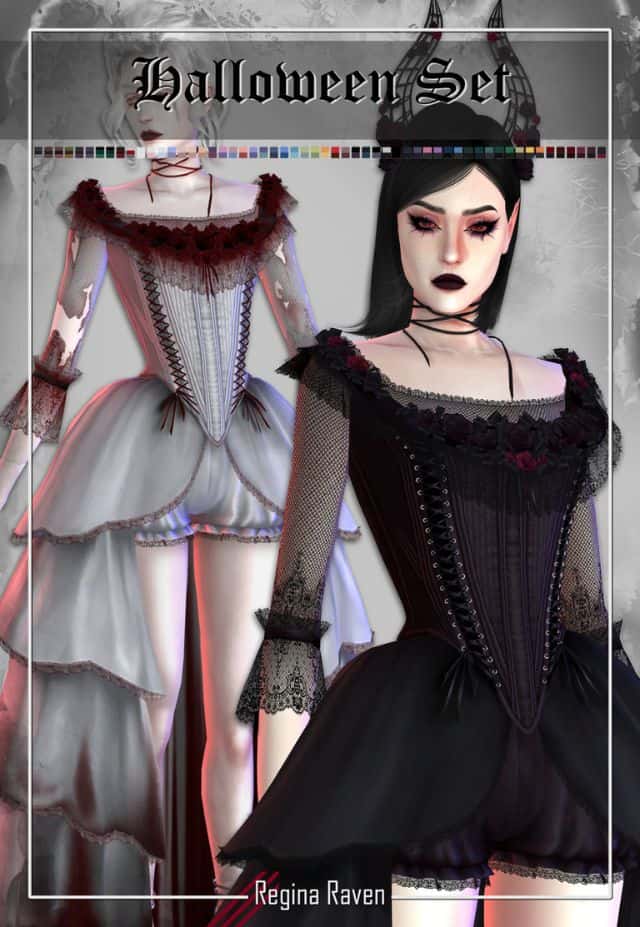 This Halloween set reminds me of a cross between Maleficent with the horns and the 1850s style with this bodice dress.
The collection includes 2 corset designs (one with and without sleeves), dresses, shorts, horns, claws, and a string lace necklace.
There are plenty of swatches for the dresses and corsets, so your sims can reuse these pieces for other events.

20. Halloween Fries Box CC by Mydarling20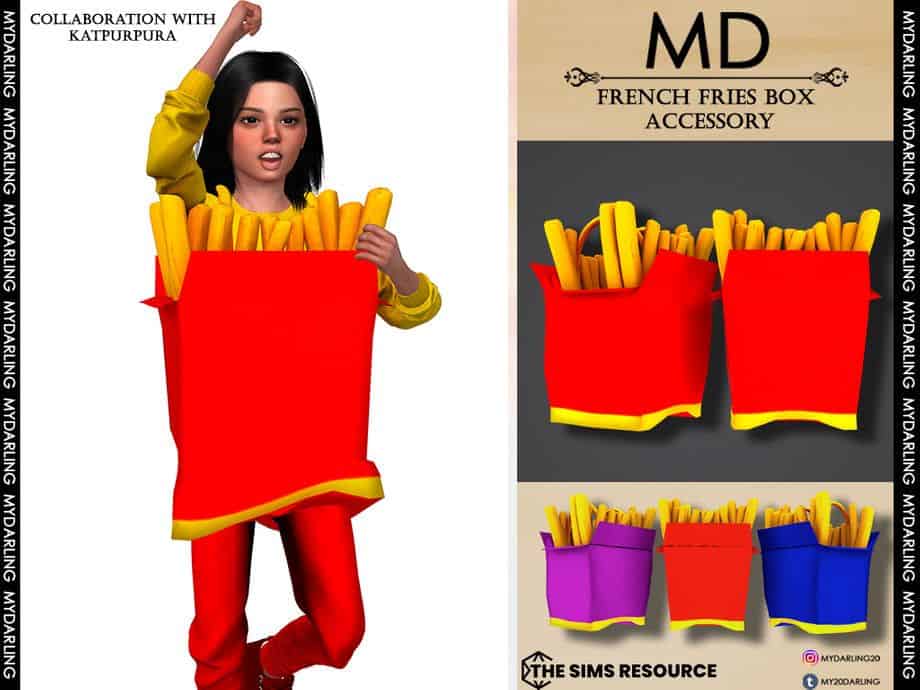 This French fries box overlay turns your sims into a delicious Halloween treat.
Not all Halloween costumes need to be spooky, and this overlay is a fun option for sims looking to keep things fun and light.
You can also grab the matching yellow sweater and red pants here.

21. Infant Halloween CC Costumes by Madlen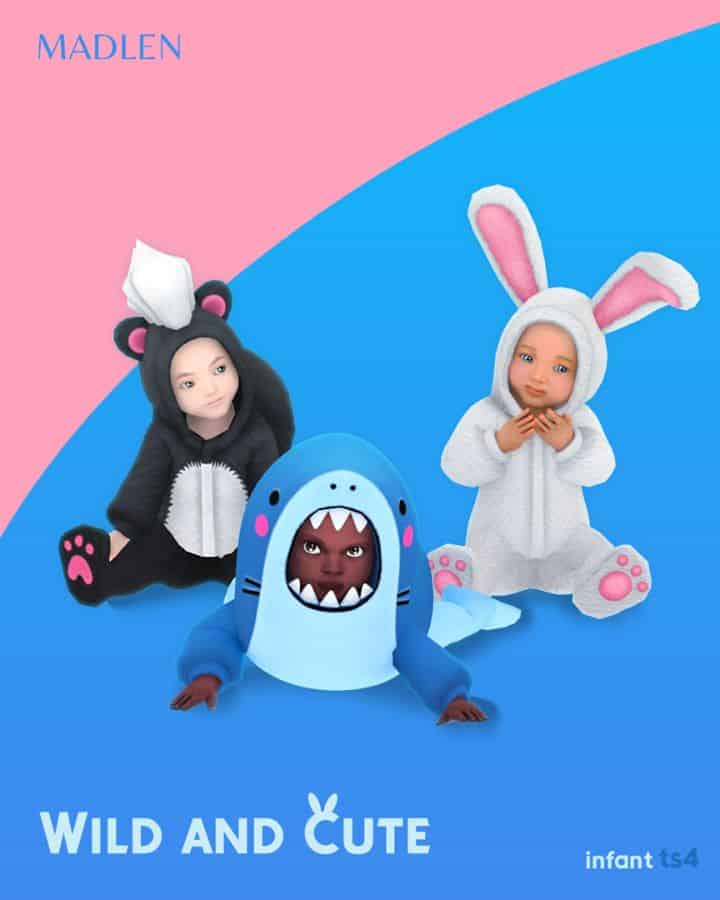 I mean, can we get anything cuter than this collection of Halloween infant costumes?
The set includes 3 adorable costumes for your tiny tots: a classic bunny, a shark, and a stinking cute skunk.

22. Sims 4 Halloween Vampire Costume by KatPurpura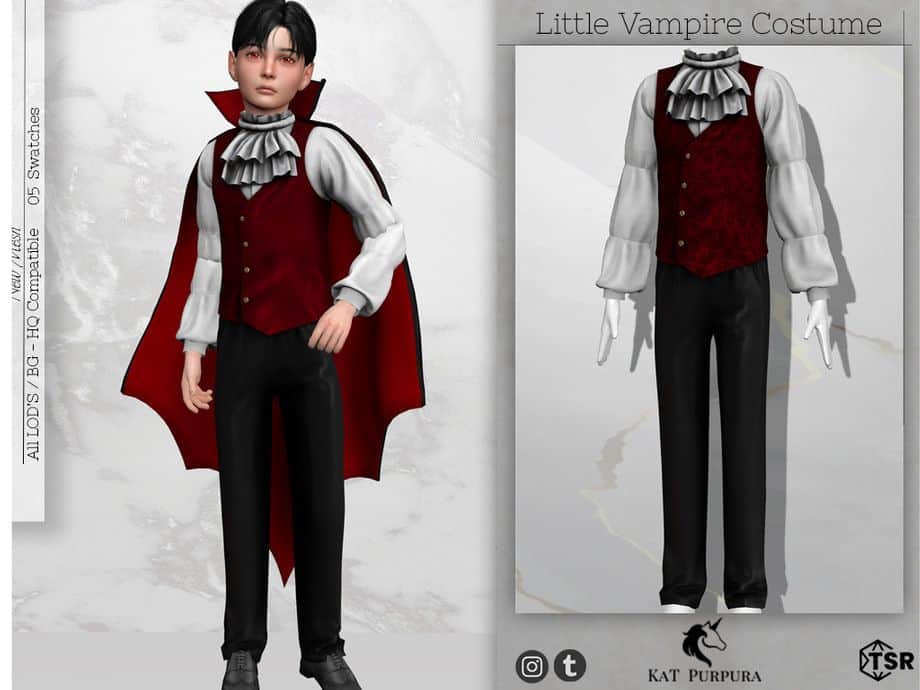 This costume is a great full-body vampire outfit for your sims children to enjoy.
While your vampire sims can easily use this outfit, this costume has a classic old-school Victorian design, perfect for a Halloween party.

23. Halloween Decorative Pieces by Soloriya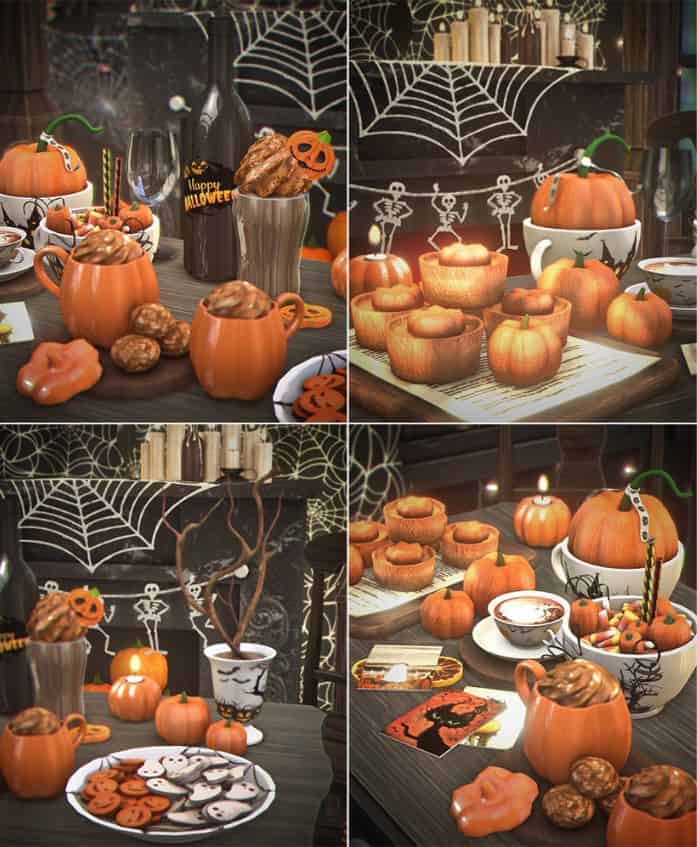 Since there can never be enough food at a sims party, I was happy to find this collection of decorative foods and drinks.
Set the table with an array of yummy Halloween-themed snacks; for a little ambiance, you can add functional pumpkin-shaped candles.

24. Sims 4 Halloween CC Costume Pack by Plazasims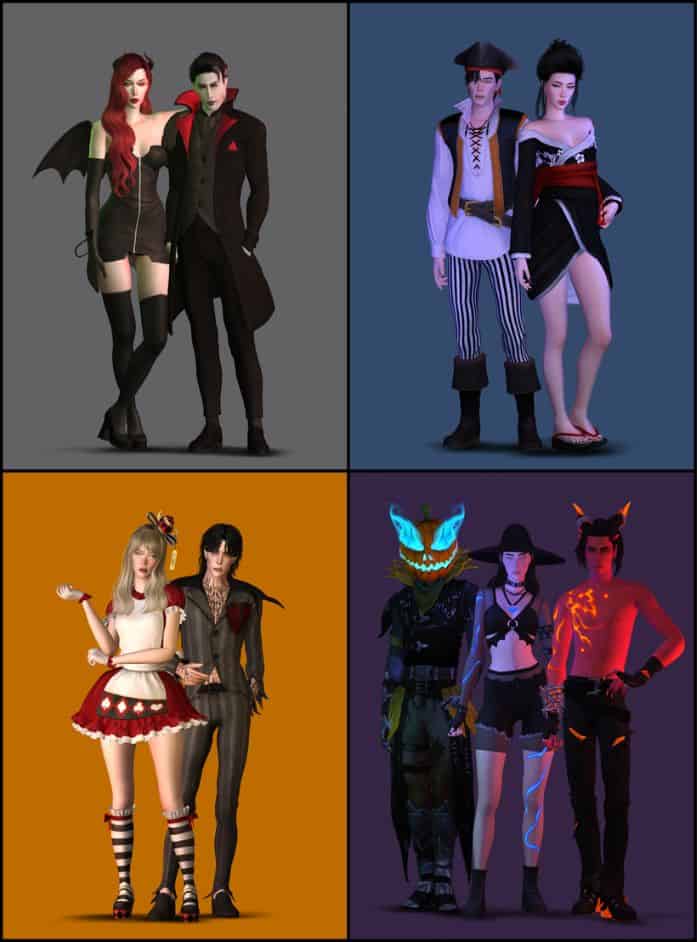 This collection of sims 4 Halloween cc contains a variety of costumes for your male and female sims.
The full-body costumes include;
Palespooky suit
Alice outfit
Pumpkin suit and hat
Witch outfit
Vampire suit
And more
The files are individually packaged, so you pick and choose the pieces you want.

25. Trick or Treat Pose Pack by Simsulani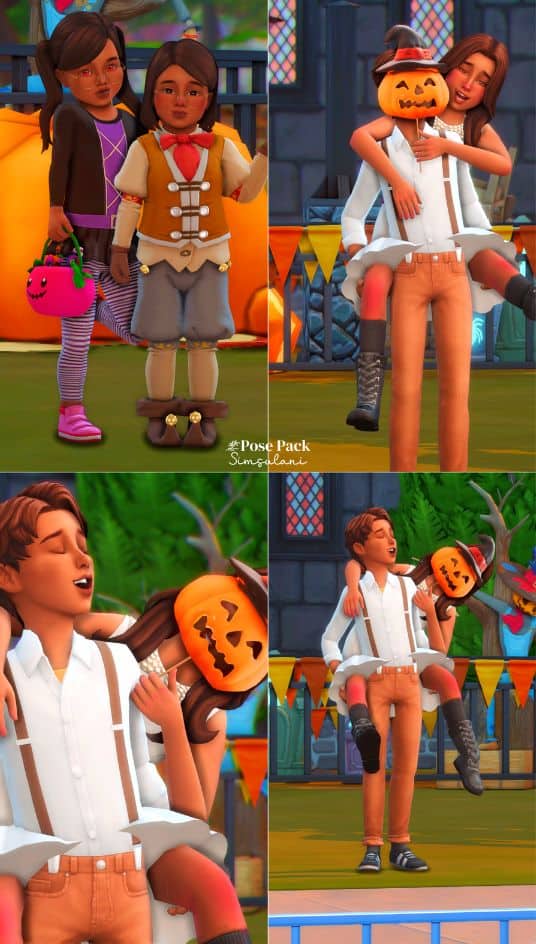 Capture the best of Allhallows Eve with this Halloween pose pack.
The pack includes 12 poses for the family, including your adult sims, child, and toddler.
You will also find the pumpkin baskets and pumpkin mask linked on the download page.

26. Sims 4 Child Ghost Earrings by Glitterberryfly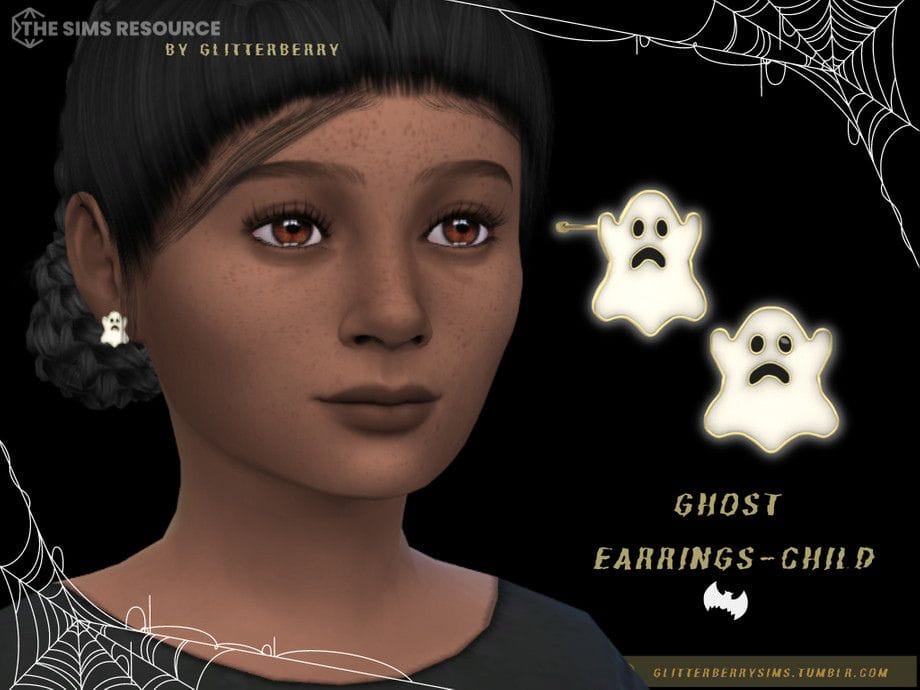 This adorable set of ghost earrings will add a spooky touch to your sim child's costume.
It's a sweet little piece of custom content to complement a Halloween party look or for a sim who prefers a minimalist costume.
You can find the adult version of these ghost earrings here.

27. Halloween CC Bedding by Pink Baddie
Do you enjoy customizing your sims home for each holiday?
You can add some Halloween charm and extra coziness to your sim's bedroom with this pumpkin blanket and pillow set.

28. Sims 4 Halloween Dress by MIRO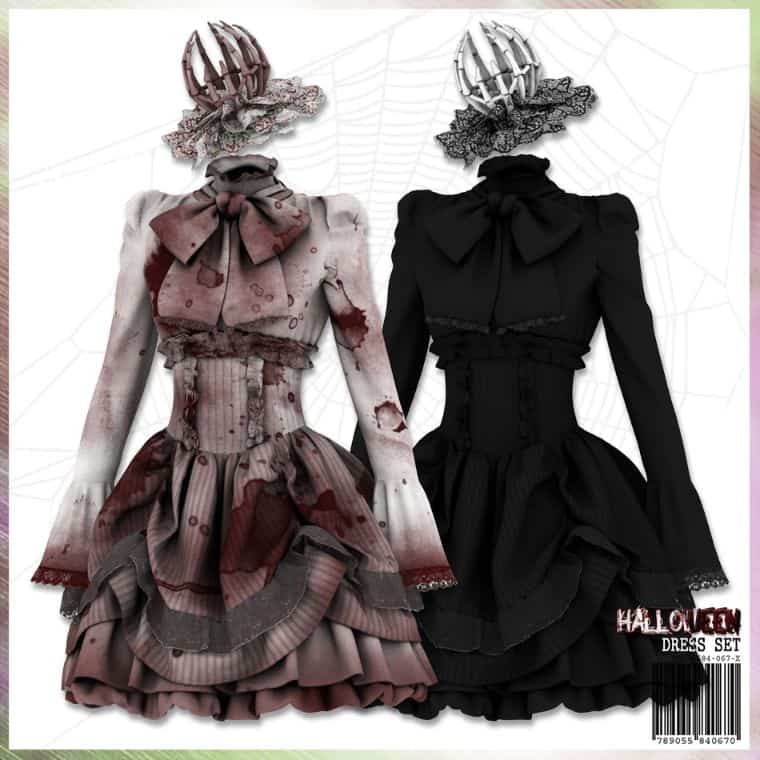 This Halloween dress is one of my favorites; I especially love the blood-stained swatch.
The dress has a great 1850s feel to it with its high collar and cinched waist.
And for the perfect final touch, the bone crown fascinator hat takes this Halloween look up a notch.

29. Halloween Figurines for Sims 4 by Simbishy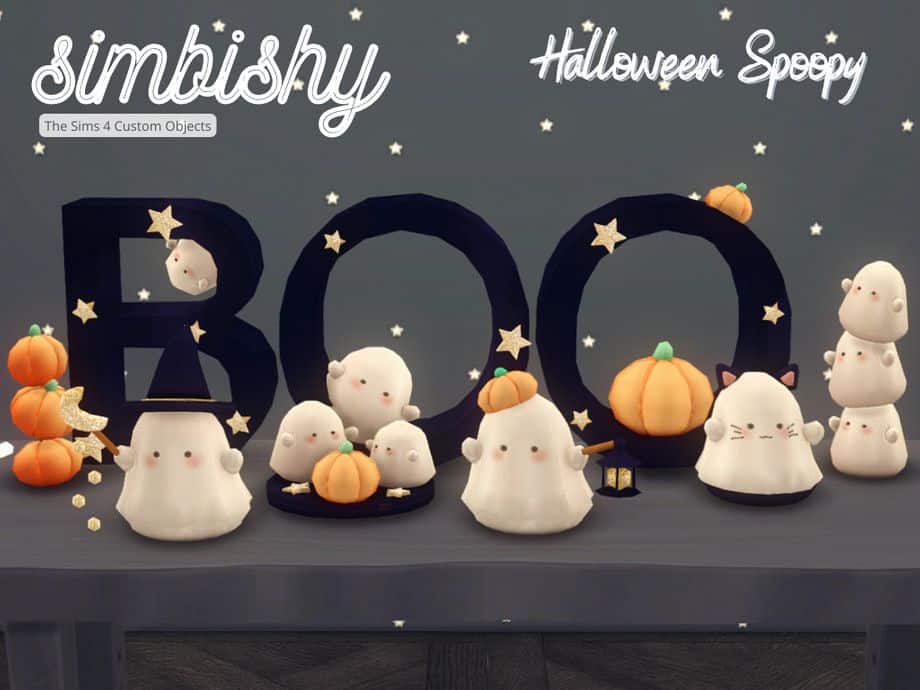 What's cuter than figurines?
This sims 4 Halloween cc set includes the sweetest pumpkin and ghost figures to decorate your sims home.
From a pumpkin magician to triple-stacked ghosts, these figurines are a delight.

30. Sims 4 Halloween Jumpsuit by Busra-tr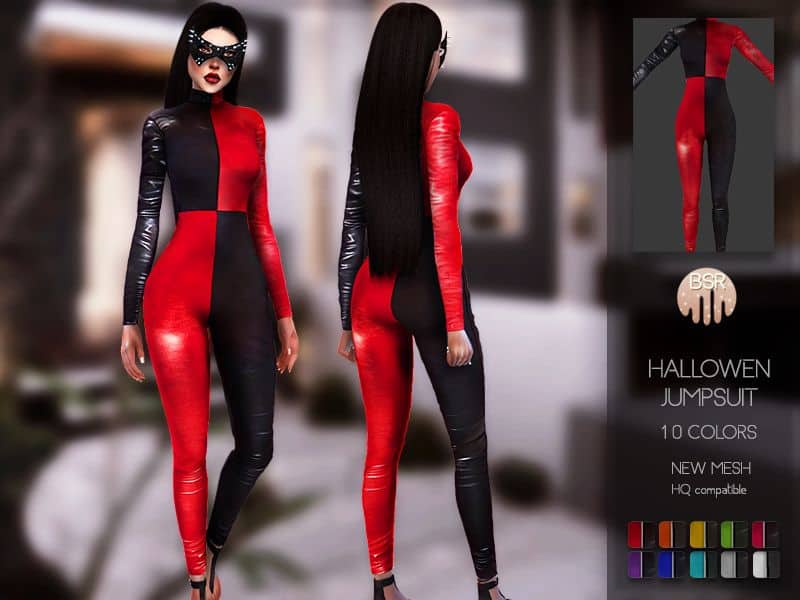 This jumpsuit is the perfect sexy Halloween costume this year.
The jumpsuit comes in 10 colors and is available from teens to elders.
You will also find the link to the eye mask in the Required tab.

31. Sims 4 Halloween Fairies by Lazy_Eyelids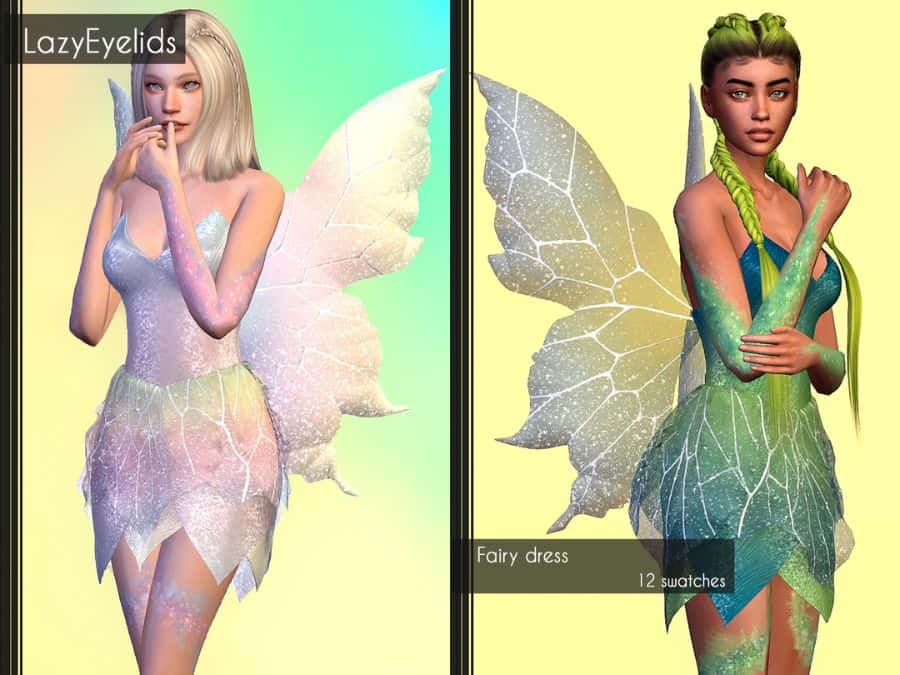 This sims 4 Halloween cc set comes with both a beautiful fairy costume and some shiny, and sparkly fairy body paint.
The fairy dress and wings come in 12 multi-color iridescent swatches and the body paint has 12 swatches, too.
The body paint will appear across your sim arms and legs.

32. Halloween Party Costumes by KaTPurpura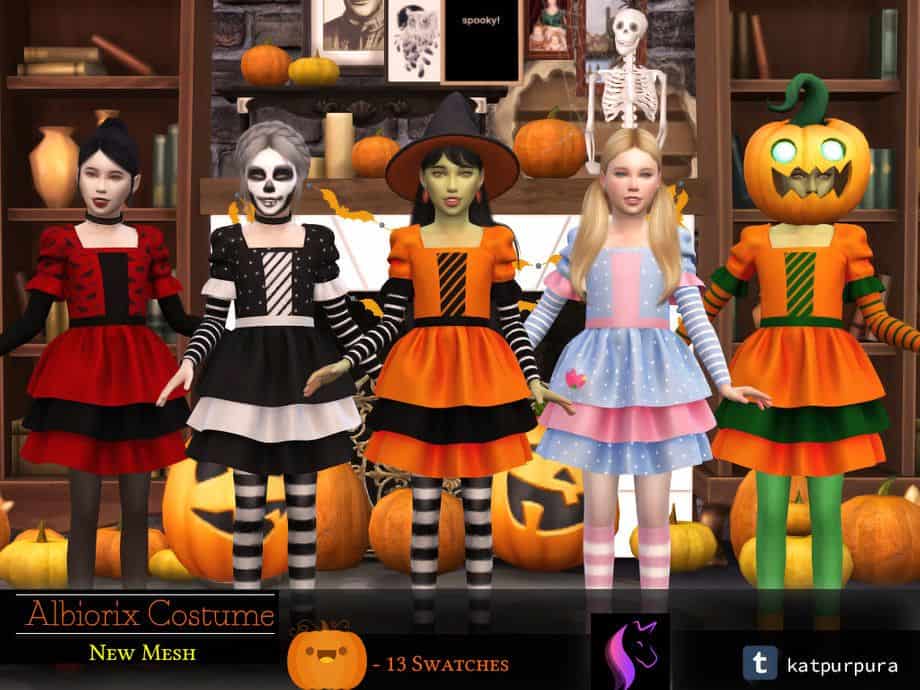 Need a great base for your sims Halloween costumes?
With the 13 Halloween dress swatches, you can easily turn your female child sims into a pumpkin, vampire, ghost, witch, or princess.

33. Sims 4 Pumpkin Necklace by Glitterberryfly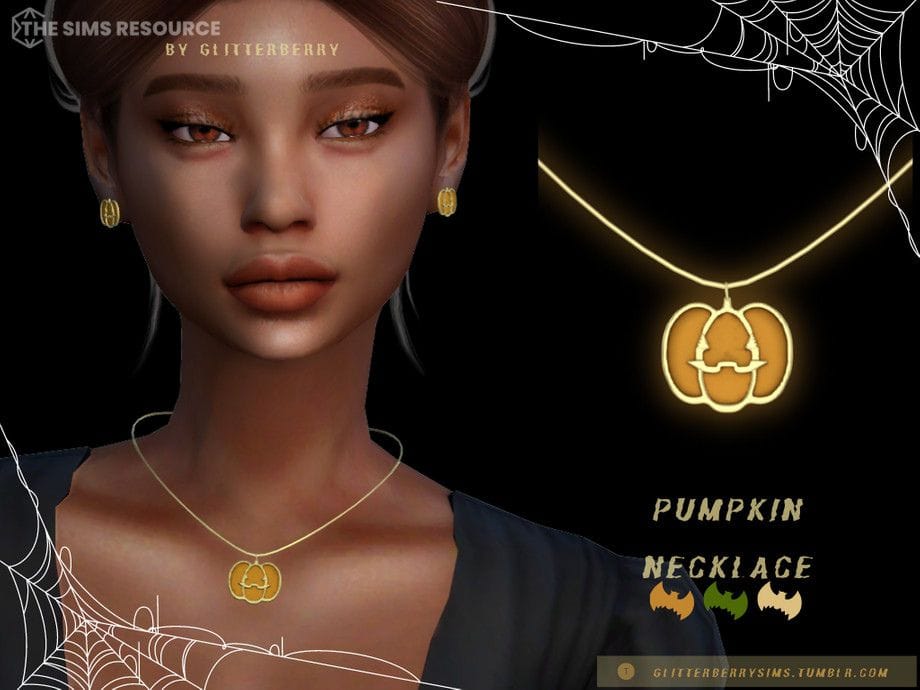 This pumpkin pendant necklace will add a sweet touch of Halloween to your sims look.
The pendant is outlined in gold, and the pumpkin itself comes in 3 color options (orange, light yellow, and green).

34. Pumpkin Friends Poses by Natalia-Auditore
This pumpkin Halloween pose pack comes with 11 poses to capture some fun moments with spooky pumpkin heads.
You can download the knife accessory and pumpkin head on the download page, and you can find the headless outfit linked there, too.

35. Halloween Treats for Sims 4 by Nordica-sims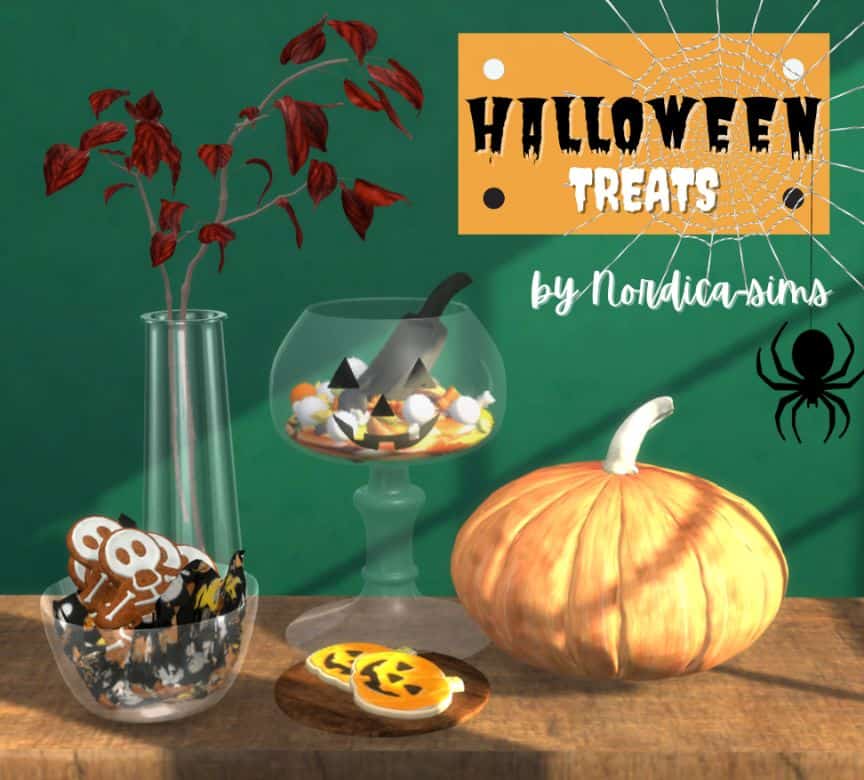 Add some more treats and decor for your sims Halloween party with this set of sweet snacks.
The set includes;
Gingerbread skeletons
Plated pumpkin cookies
A pumpkin-shaped bowl of candy
Decor vase
Fresh pumpkin
Sims 4 Halloween CC: Final Thoughts
With this collection of sims 4 Halloween cc, your sims are now ready to dress up and enjoy the upcoming holiday.
Create a household dressed up in a cohesive theme of costumes, or go rogue and let everyone pick their own fun designs.
If you have any questions or suggestions, feel free to leave us a comment below or tag us on Tumblr.
And don't forget to share and save this pin for later!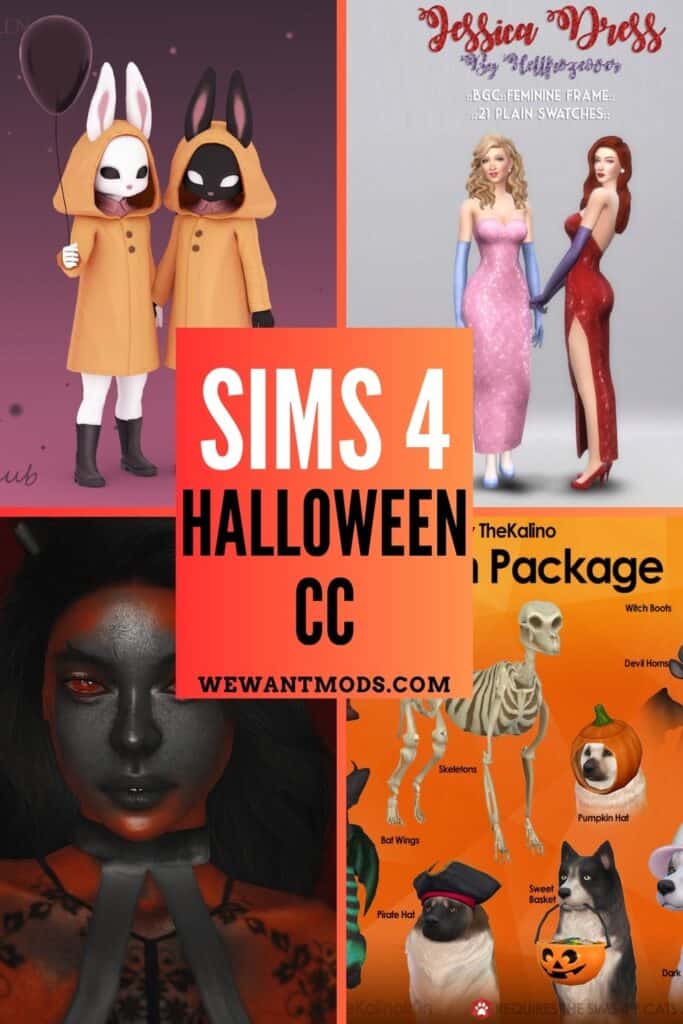 Other Sims 4 Custom Content Lists

33+ Sims 4 Halloween CC: A Spooky Event