35+ Iconic Sims 4 Barbie CC, Builds & Poses
Are you looking forward to the new Barbie movie?
Get your sims ready with this collection of sims 4 Barbie cc!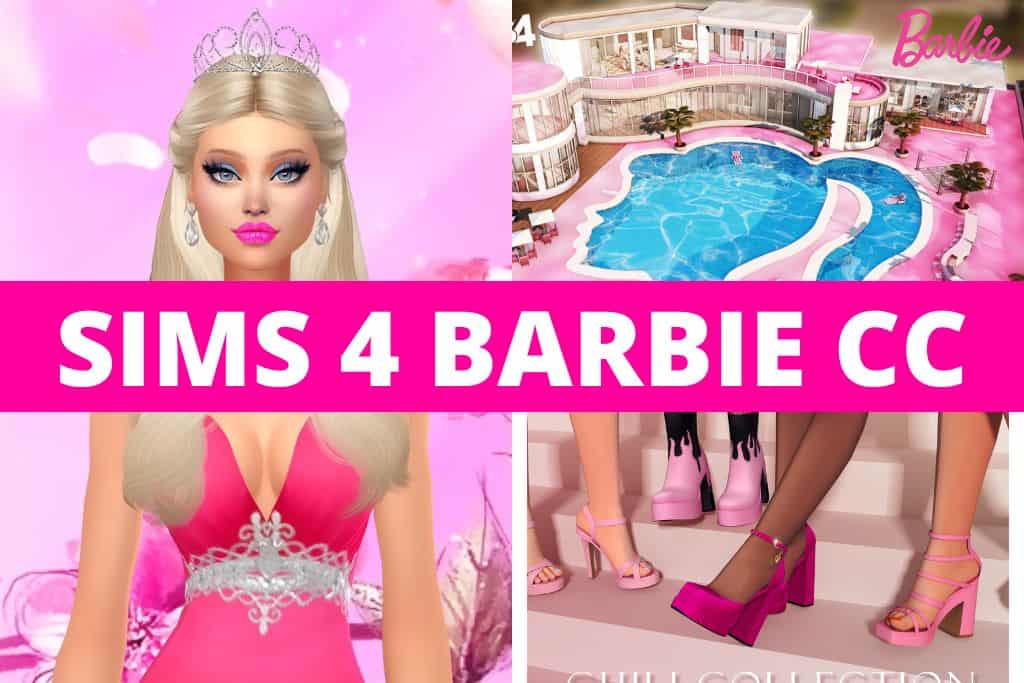 With the upcoming release of the Barbie movie, we decided to put together a quick list of Barbie cc.
From classic pink finds to more retro-style or iconic Barbie options, there is a bit of cc for it all.
I'm happy to see new sims 4 Barbie cc has started circulating, so I've updated this post with more great pieces to create some fun looks.
We also came across some gorgeous Barbie builds that we had to include.
Disclaimer: The following mods are neither endorsed nor affiliated with The Sims, Maxis, or Electronic Arts. Any use of mods (custom content or game mods) should be done with caution and with the knowledge that there may be risks.
Newest Sims 4 Barbie CC
Below you will find a mix of Barbie-style clothing, shoes, accessories, Barbie builds, and even a couple of pose packs.
1. Sims 4 Barbie by Katverse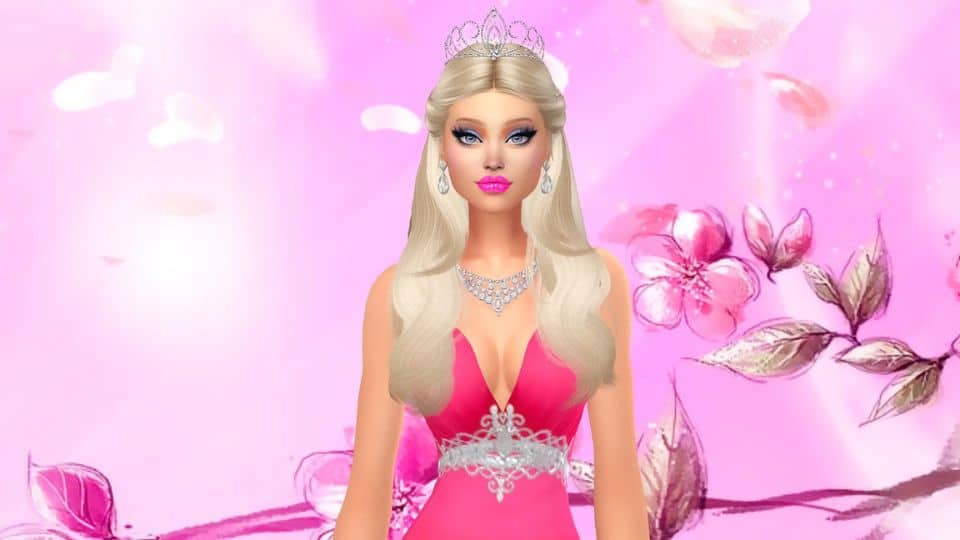 This sims 4 Barbie cc allows you to get a beautifully designed Barbie sim, ready to go.
You will need to download all the cc linked on the download page for your Barbie sim to look the same as Katverse's.

2. Sims 4 Barbie Dreamhouse by Kate Emerald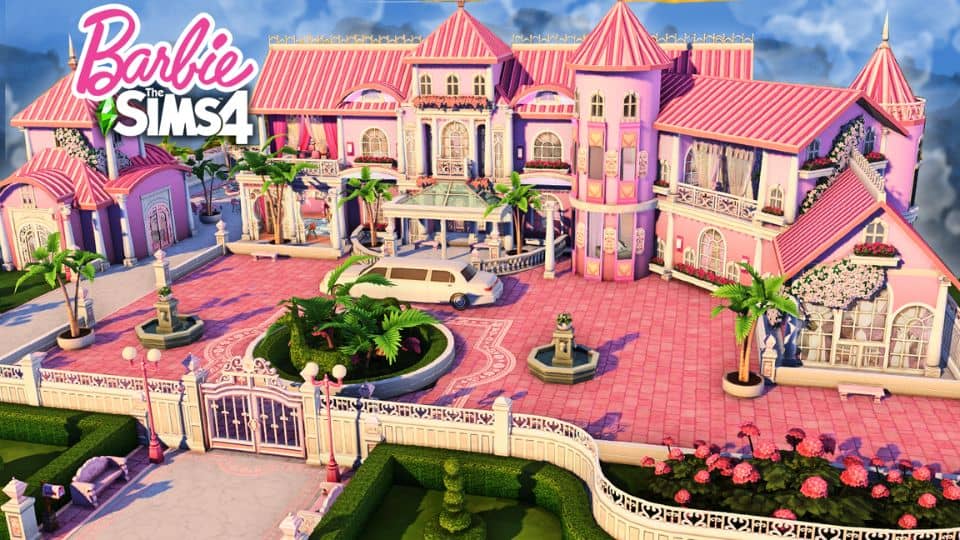 This Barbie dream house is everything I always imagined as a child.
While we have included some modern houses further down, something about this more classic-looking home fits Barbie so well.
You will find the tray files linked below, as well as a speed build video link.

3. Sims 4 Barbie Hair CC Set by Daylifesims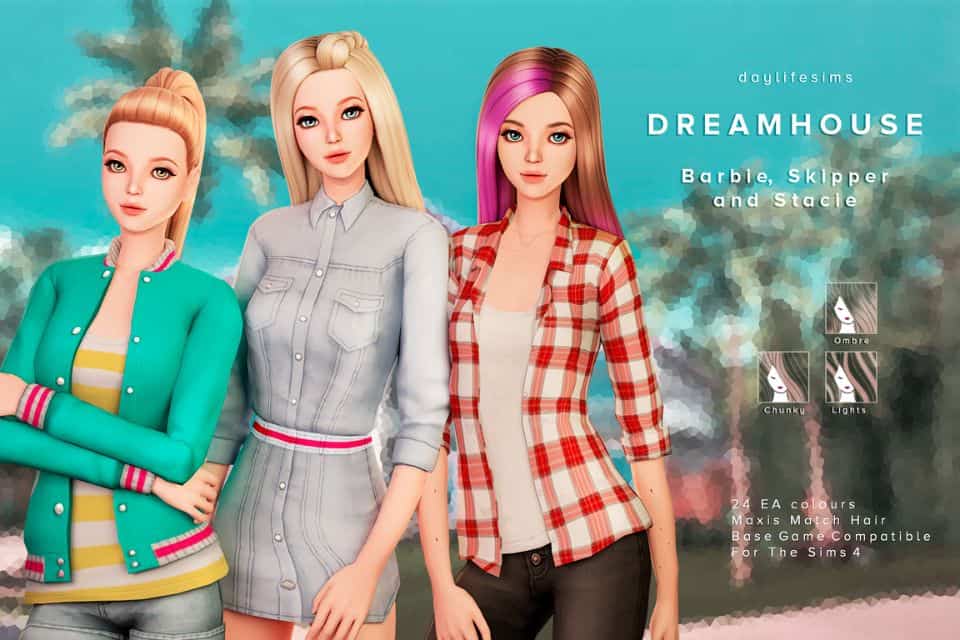 Barbie Dreamhouse Adventures inspired this hair cc pack.
There are 3 hairstyles; a classic high ponytail, relaxed hair down look, and a loose hairstyle with a thick braid off the center part.
These 3 hairs are available in both the HQ and non-HQ versions.
You can also grab the hair color accessories, which allow for highlights, ombre, and chunks of color.

4. Sims 4 CC Barbie Lipstick by KareemZiSims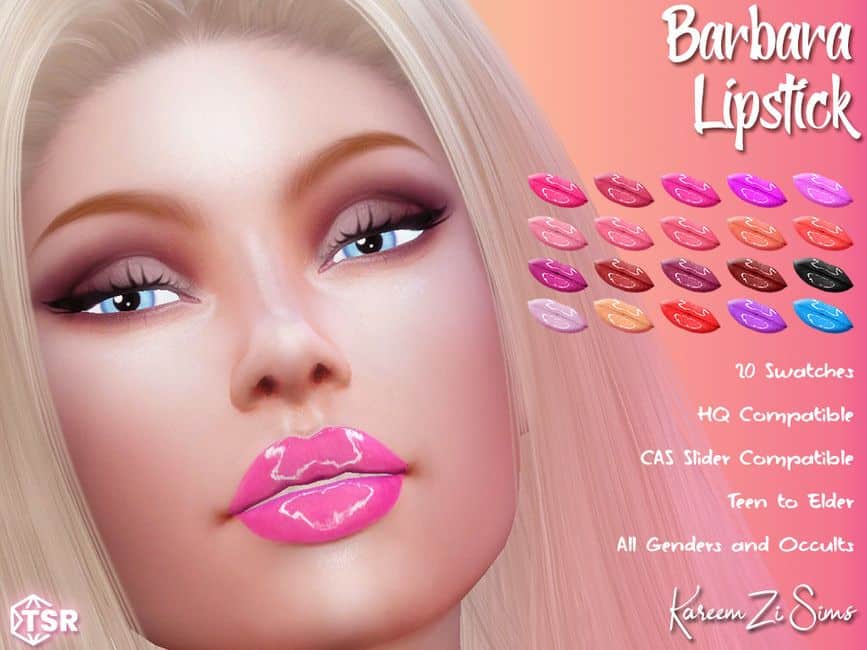 The live-action movie inspired this sims 4 Barbie cc and brings glossy lipstick to a new level.
This custom-content lipstick comes in 20 vibrant swatches with a water-like reflectiveness.

5. Sims 4 Barbie Pose Pack by Katverse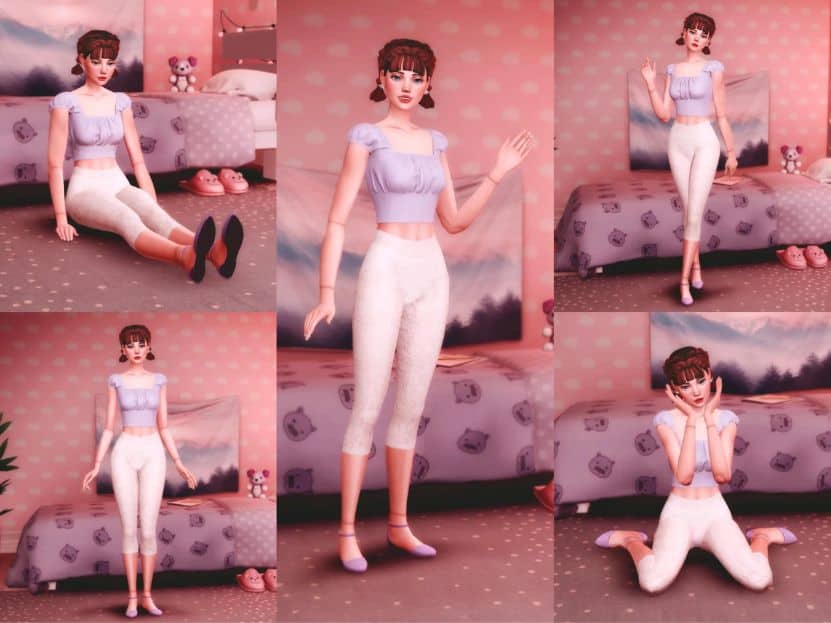 When capturing your Barbie sims, what's better than some doll-like poses?
This pose pack comes with 5 in-game and CAS poses (replaces the Cheerful trait in CAS).
These poses focus on your sims in more stiff-like positions, much like a Barbie doll.

6. Barbie Pool Mansion for Sims 4 by Kate Emerald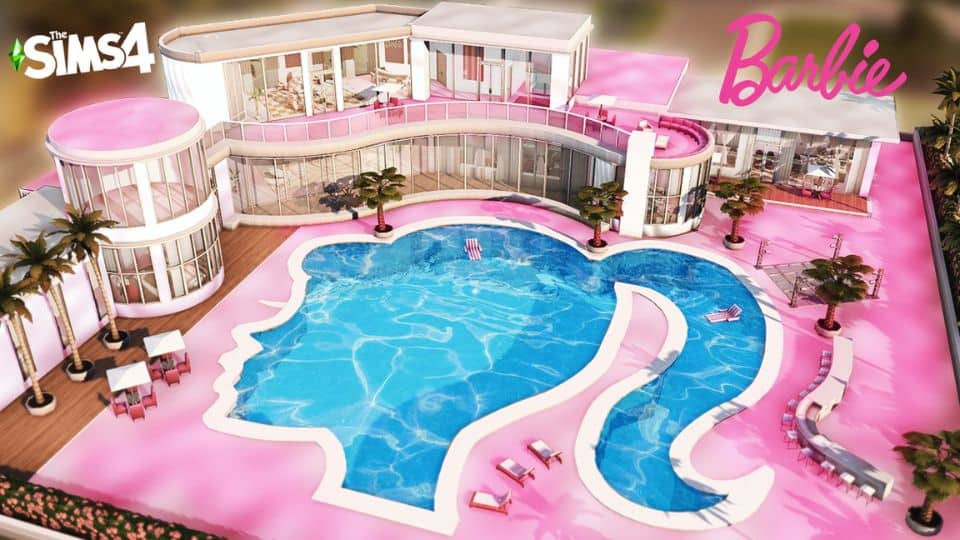 You can't get any more iconic than this mansion with a gigantic Barbie head-shaped swimming pool.
Whether your sim is a Barbie or just a neighboring fan, this beautiful mansion will be the talk of the summer season.

7. Sims 4 Barbie Doll Box CC by Euno Sims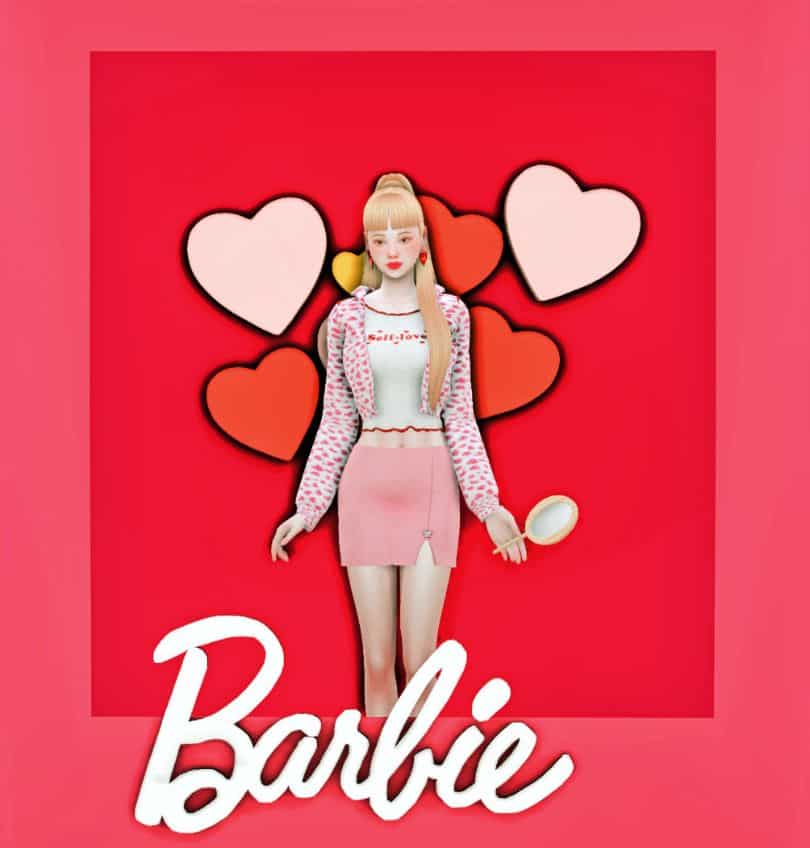 This sims 4 Barbie cc set comes with a Barbie doll box.
There are 6 color options, each changing up the heart colors and patterns on the box interior.

8. Sims 4 Barbie CC Dress by Madlen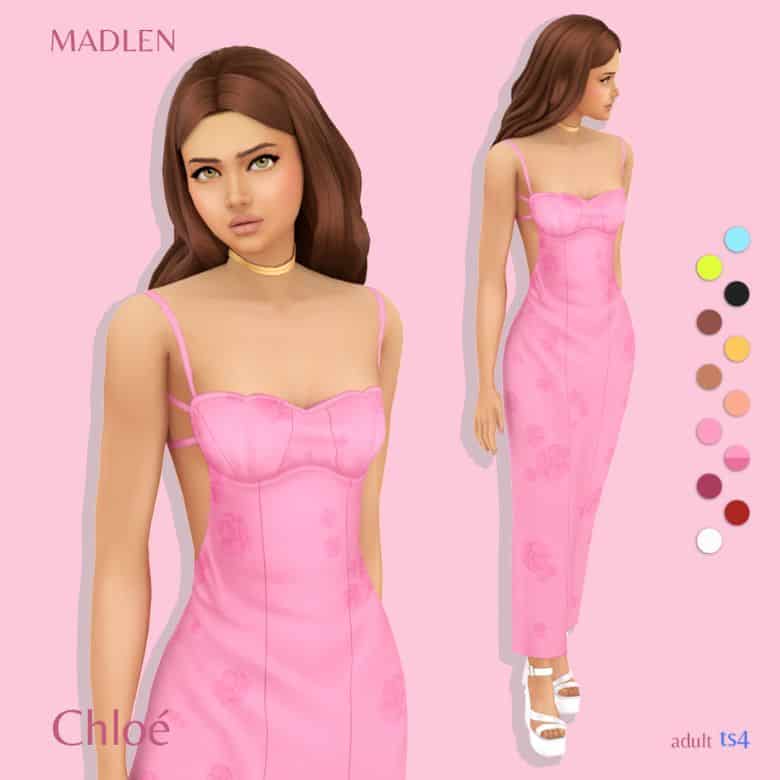 This beautiful strappy pink dress is ideal for a summertime date night between Barbie and Ken.
While I love the pink swatches, there are 12 different color options in total.
Pair with your favorite accessories and sexy shoes to complete the perfect look.

9. Pink Heels for Sims 4 Barbies by Madlen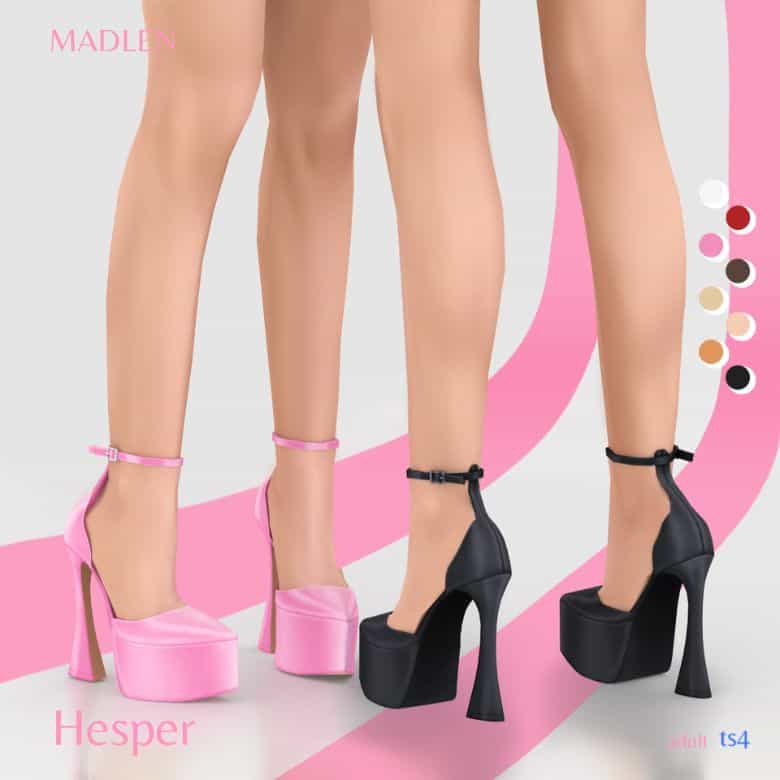 Speaking of sexy shoes, these sky-high pink pumps are just the heels you need for your Barbie closet.
Available in 8 swatches, you can easily pair these pumps with various outfits.

10. Sims 4 Barbie Yacht by Kate Emerald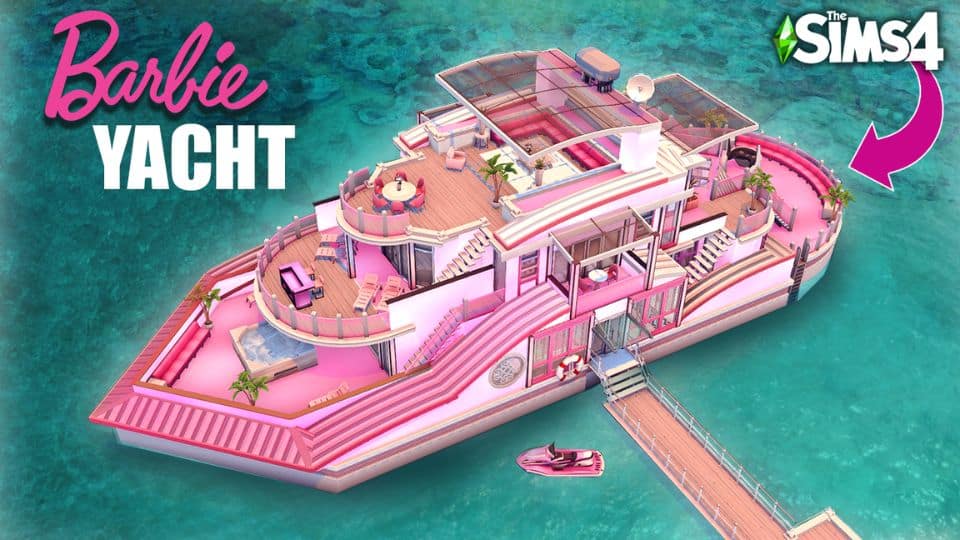 If your Barbie sim needs a change of scenery, this epic Barbie yacht is just the thing.
This triple-deck pink yacht will allow your Barbie sim to entertain in style or enjoy some alone time with Ken.
The tray files are available on the download page below.

11. Sims 4 Barbie CC Pack by Ice-Cream for Breakfast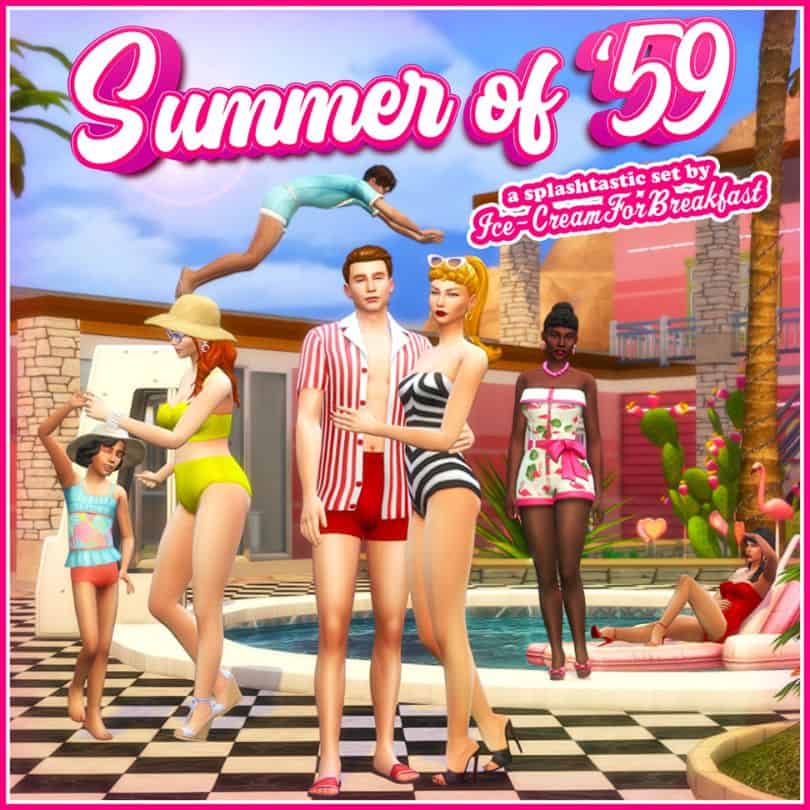 This new Simmer of '59 cc set has everything you need to style your Ken and Barbie sims, especially if they are heading to the pool.
This pack includes;
Hairs
Swimsuits
Rompers
Shirt
Accessories

12. Pink Outfit for Barbie by Madlen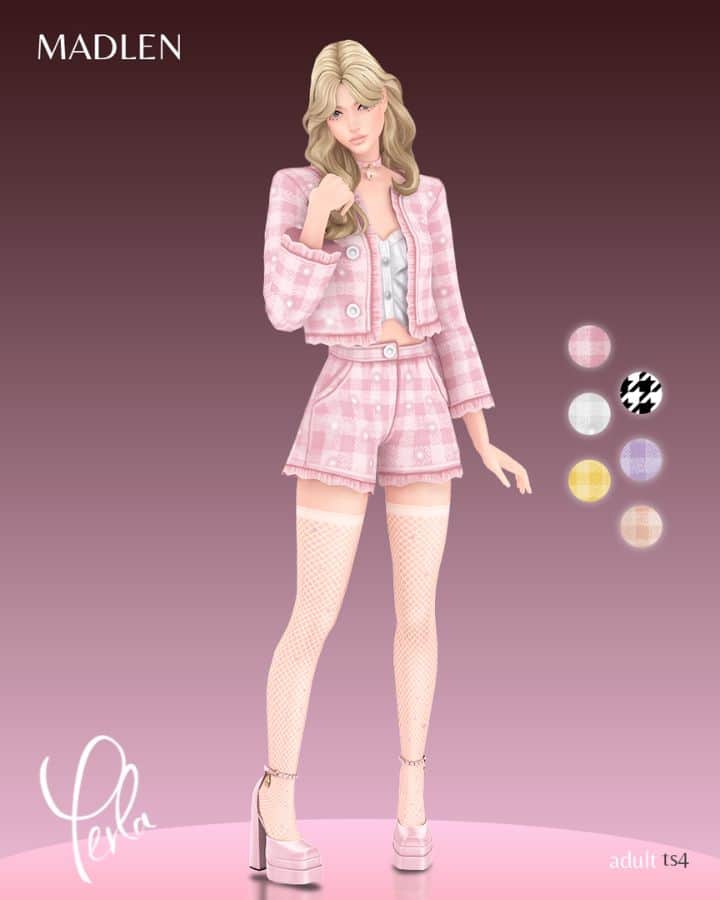 Is your Barbie sim more on the preppy side or heading to the office?
This sexy Chanel-inspired blazer and shorts combo works for both scenarios.
You get the tweed/plaid blazer, shorts, and crop top.
For the final touch, add a pair of sparkling stockings.

13. Pink Leather Heeled Loafers by Jius-sims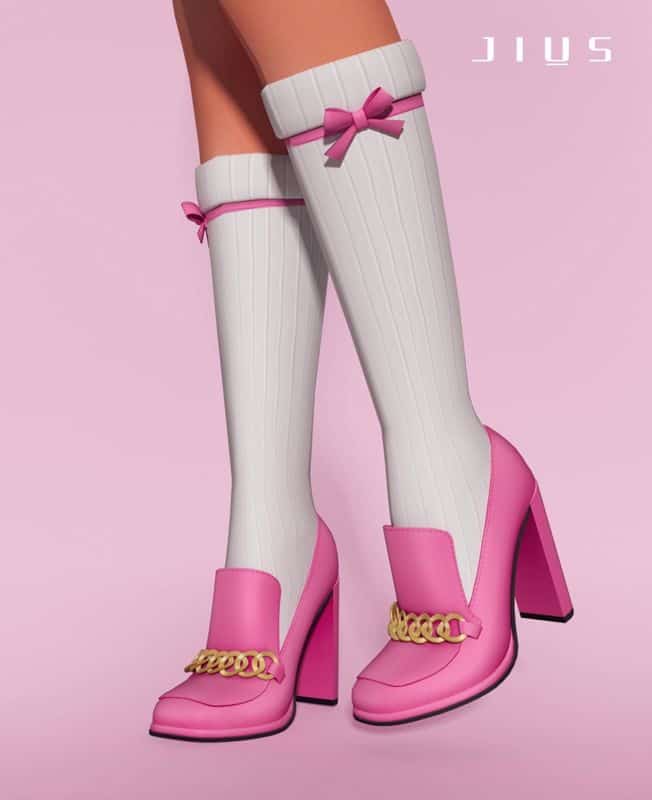 These heeled leather loafers are perfect for a business-chic Barbie busy working a 9 to 5 job.
While the deep pink swatch above is gorgeous, there are 32 swatches for this shoe model.
Plus, this shoe pack comes with 6 different styles of shoes and one pair of knitted socks.

14. Barbie Doll House by Around The Sims 4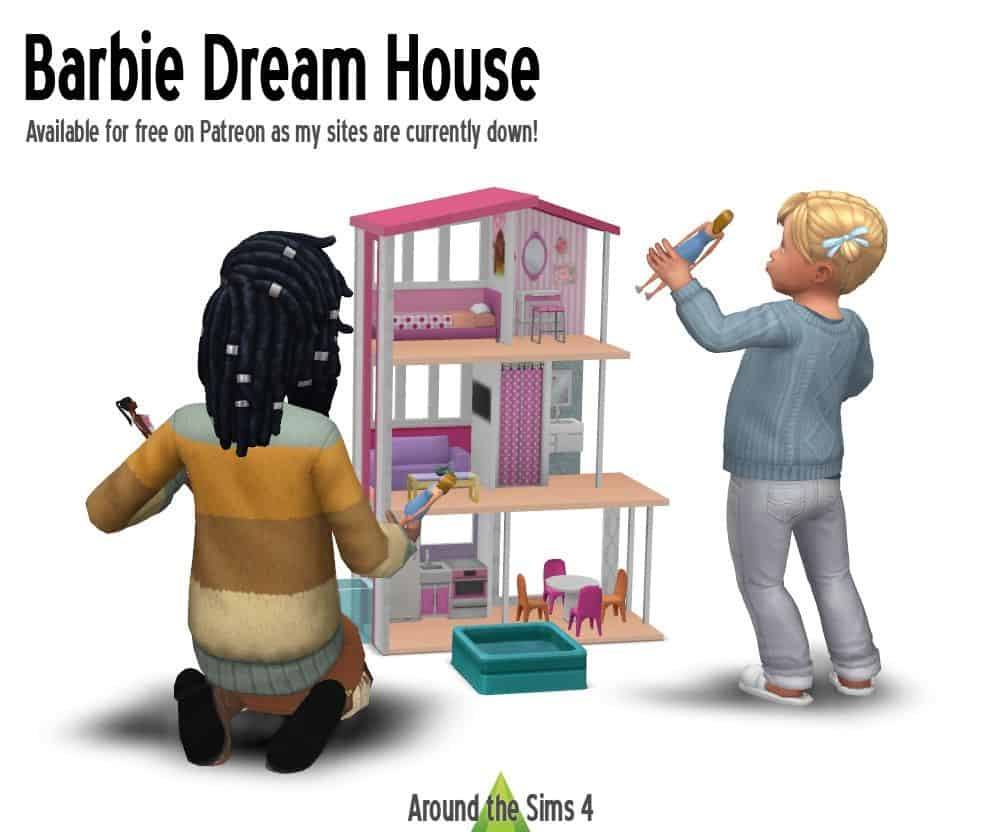 Grab this three-story Barbie dreamhouse for your sim kids to enjoy.
Having my own Barbie dreamhouse wasn't in the cards growing up, but I can now enjoy all this amazing Barbie stuff in the sims 4.
Plus, you can get some playable Barbie dolls by Around the Sims 4 here.

15. Barbie Camper for Sims 4 by Kate Emerald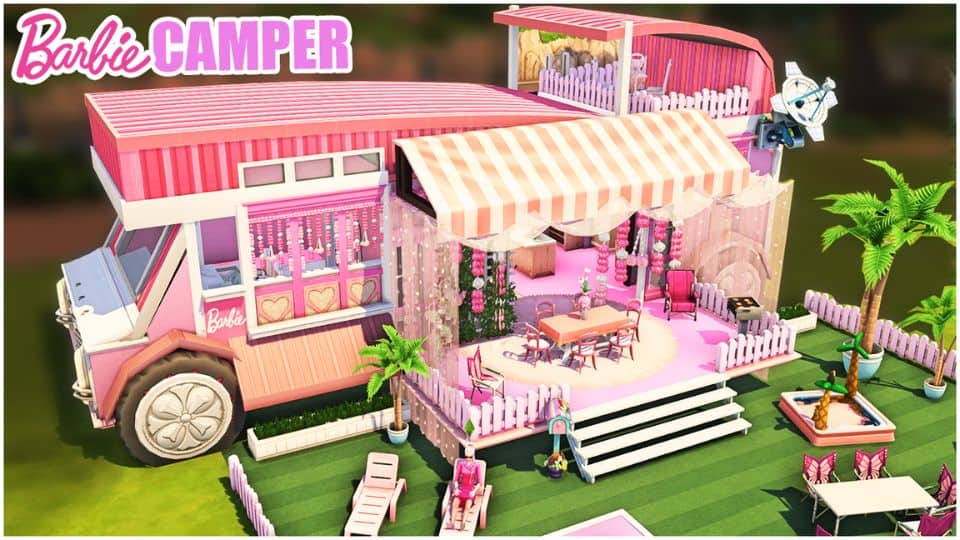 Who says your sims have to live in a classic home?
This sims 4 Barbie cc camper has got everything your sims need to turn this stunning camper into a permanent residence.
Turn an empty lot into the perfect Barbie getaway.

16. Sims 4 Barbie Catsuit by belal1997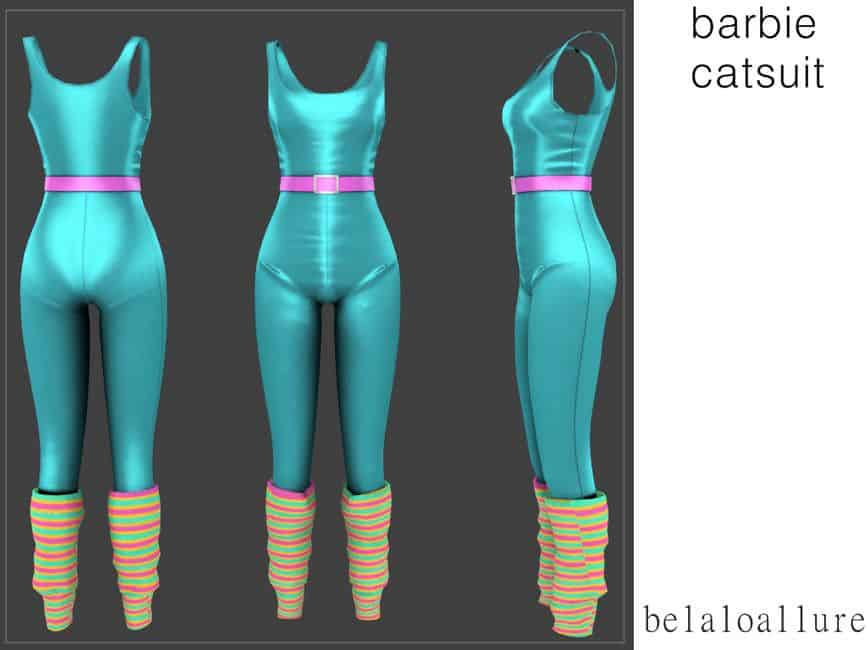 If you enjoyed Barbie's role in Toy Story 3, you'll love this sims 4 Barbie cc.
You can recreate her epic turquoise catsuit with tripped leg warmers.
Your Barbie will be ready to hit an aerobics class in no time.

17. Barbie Eyelashes Set by Queen BeeXxx21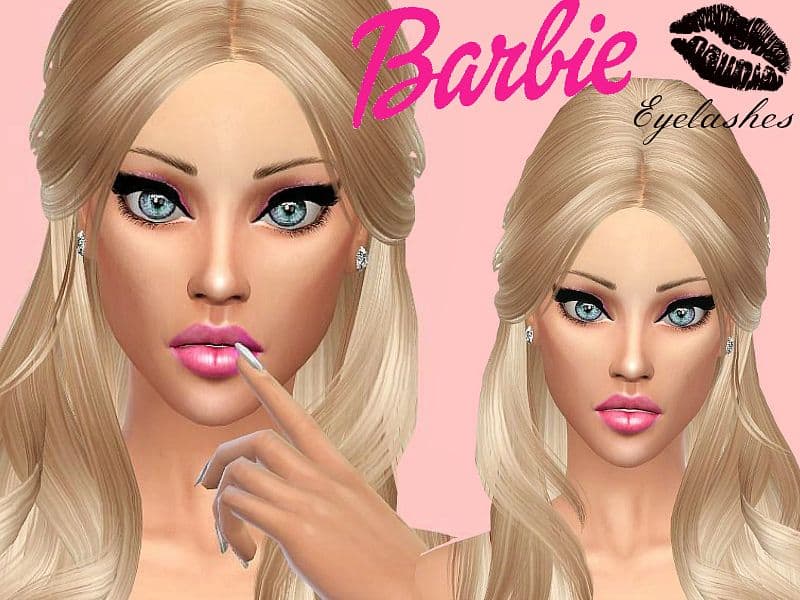 This sims 4 Barbie cc is for eyelashes and eyeliner combined.
The eyelashes will give your sim some long thick lashes, while the eyeliner has a winged effect, drawing focus toward the eyes.

18. Sims 4 Functional Barbies by Simmin My Best Life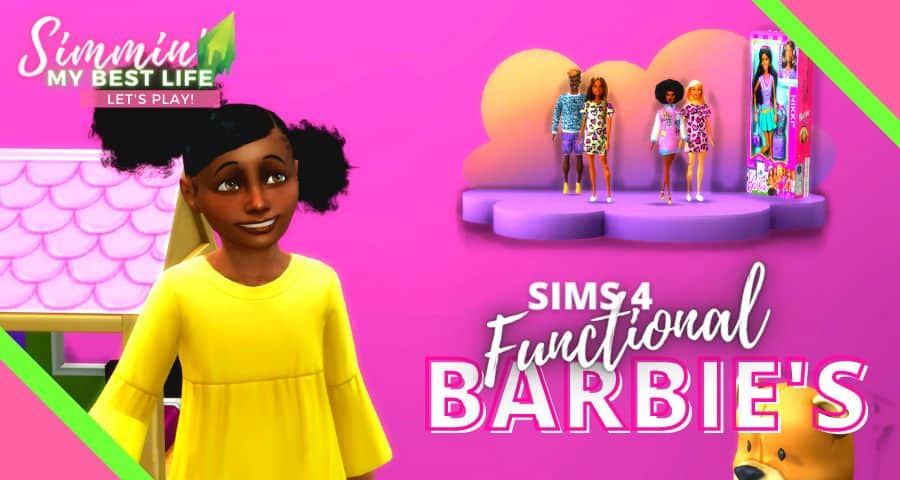 If you loved playing with Barbies growing up, you must grab some Barbie girl functional dolls for your sim kids.
This set of dolls comes with both functional and decorative Barbies.
Set up your kids room with the following cc;
Blonde & Brunette Barbies (functional)
Barbie Fashionista (functional)
Ken Fashionista (functional)
A deco-boxed Barbie
A deco Fashionista doll collection

19. Barbie & Ken Set by Reina X Hiyut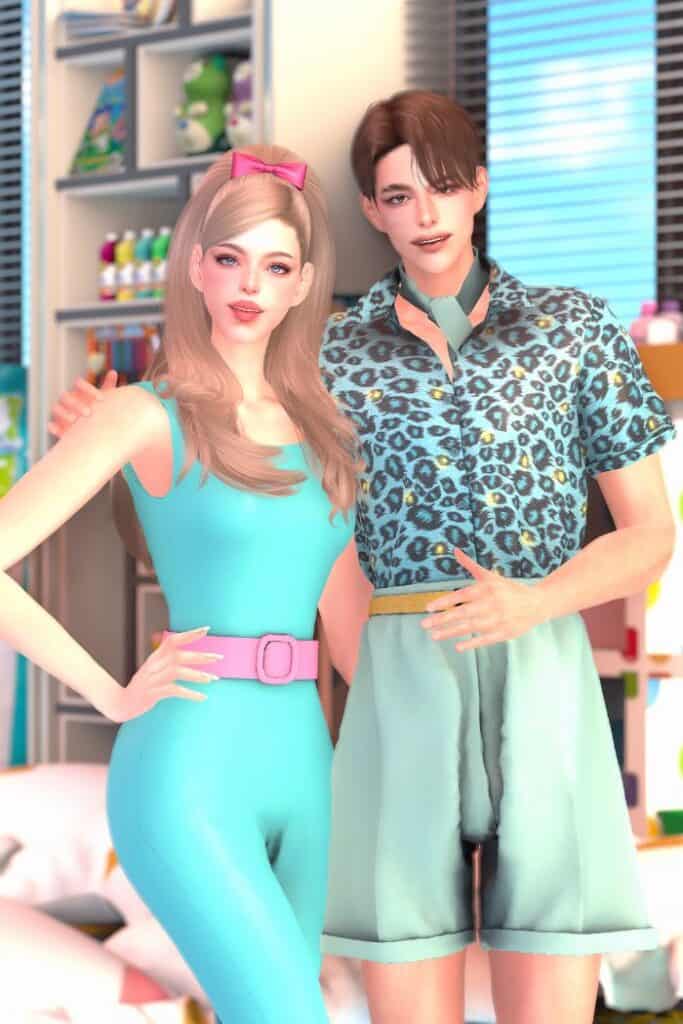 This sims 4 Barbie cc set is split into two packs for this collab.
Reina provides a bodysuit for your Barbie sim and a suit for Ken.
The bodysuit comes in 3 colors, and the shirt and shorts combo has 7 swatches.
You can also download the Barbie box as an accessory or an object.
On Hiyut's side, we get a Barbie and Ken pose pack consisting of 8 couple poses.
There are also 6 solo Barbie poses too.
20. Malibu Barbie Mansion by Kate Emerald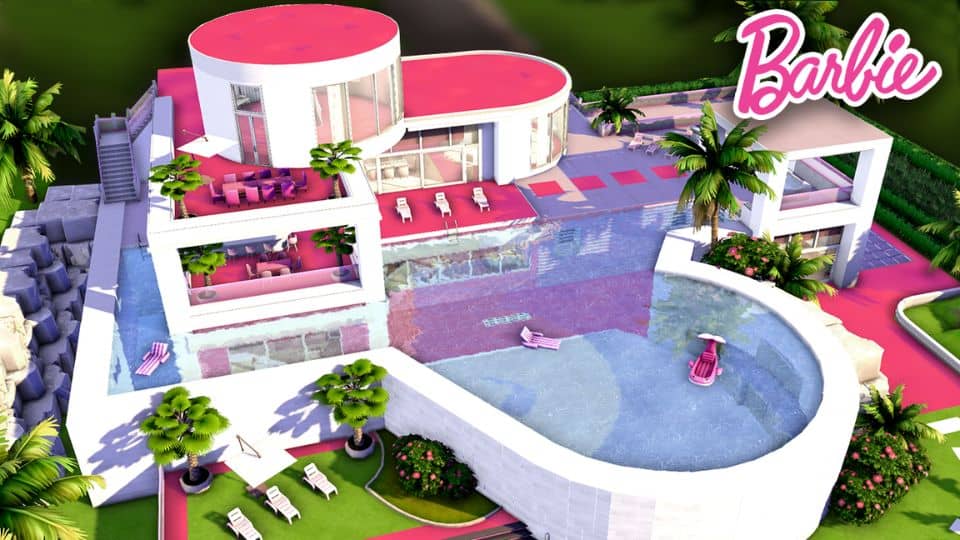 So clearly, I am obsessed with Barbie houses, and this classic Malibu Barbie house is no exception.
With its rounded details and mega pool, this house has got the perfect exterior grounds for entertaining and all the Barbie charm.

21. Sims 4 Retro Barbie CC by Talarian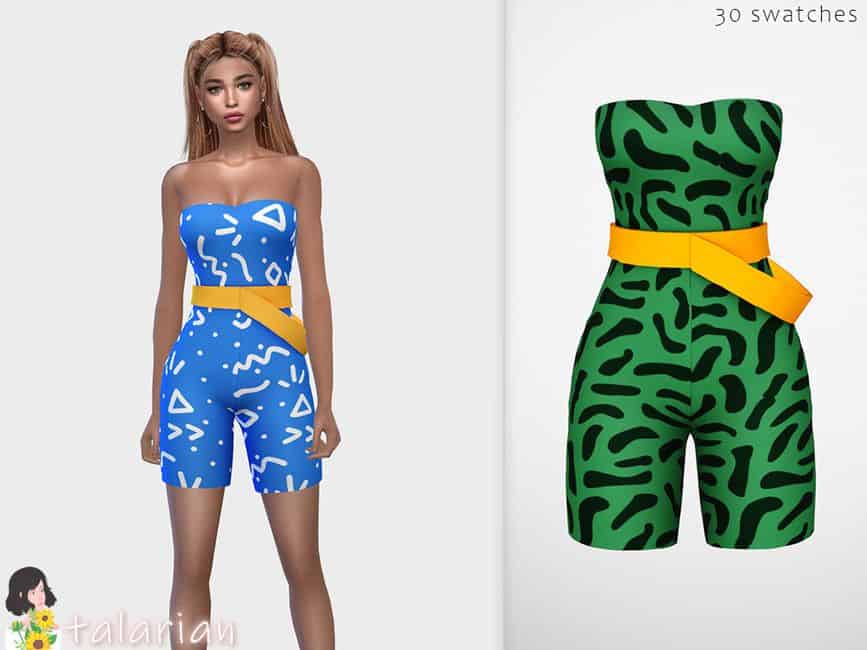 When I saw the pattern on the blue belted romper above, I knew it was the perfect outfit for my retro Barbie.
This clothing set comes with the two patterns above in a variety of color swatches (30 total) which also change up the belt color.

22. Pink Shoe Pack for Barbie by Juis-sims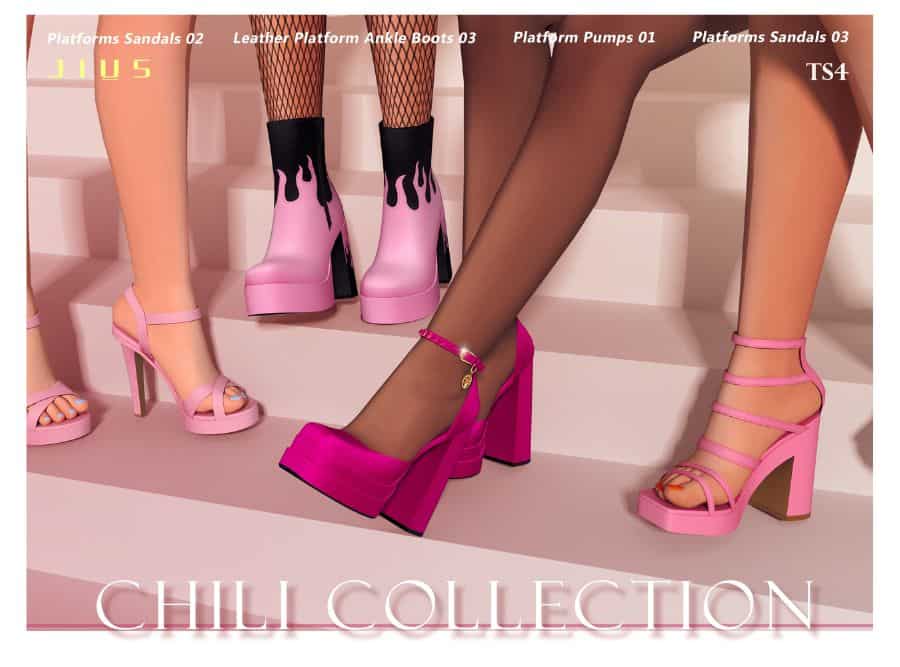 Since our sims can never have enough shoe options, this 4-piece shoe pack had the perfect strappy heels and pumps.
There are 3-18 swatches per shoe design, and I can't take my eyes off those fuchsia platform pumps.

23. Barbie 90s Outfit Set Recolor by Mickimagnum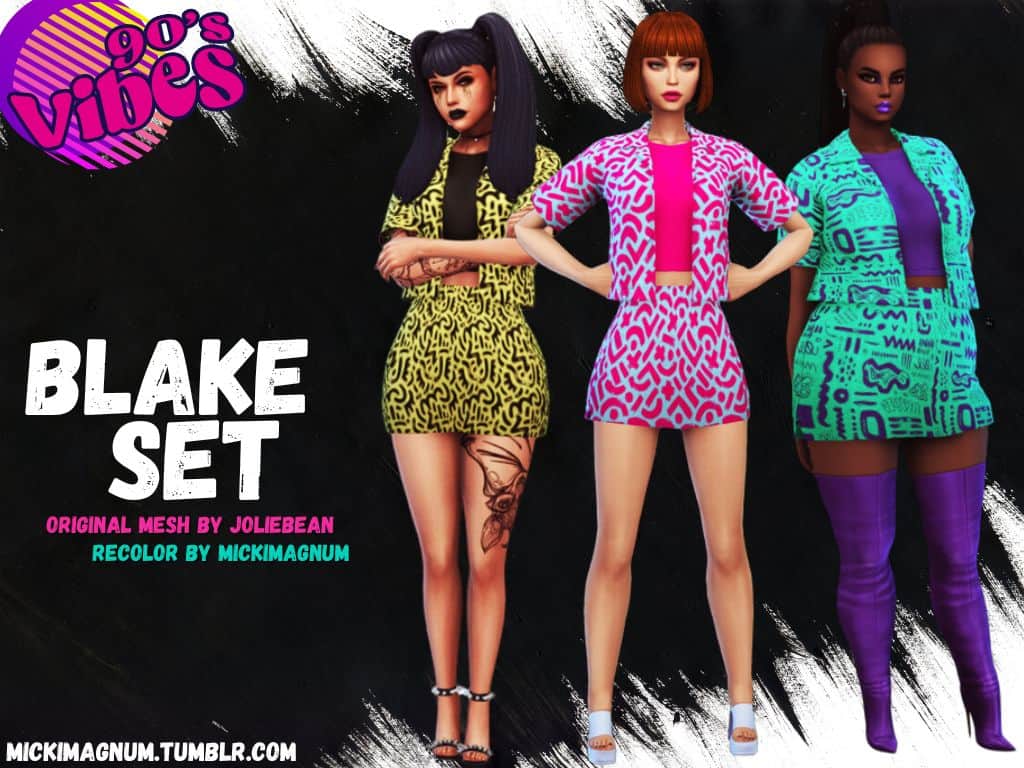 This 90s two-piece set serves retro vibes, with similar patterns to the romper seen at #21.
While I love the original version by Jolibean, these vibrant recolors are making their way into my sims summer wardrobe.
There are 11 swatches; 5 with patterns and 6 solid color options.

24. Sims 4 Barbie Cowgirl Hat by San33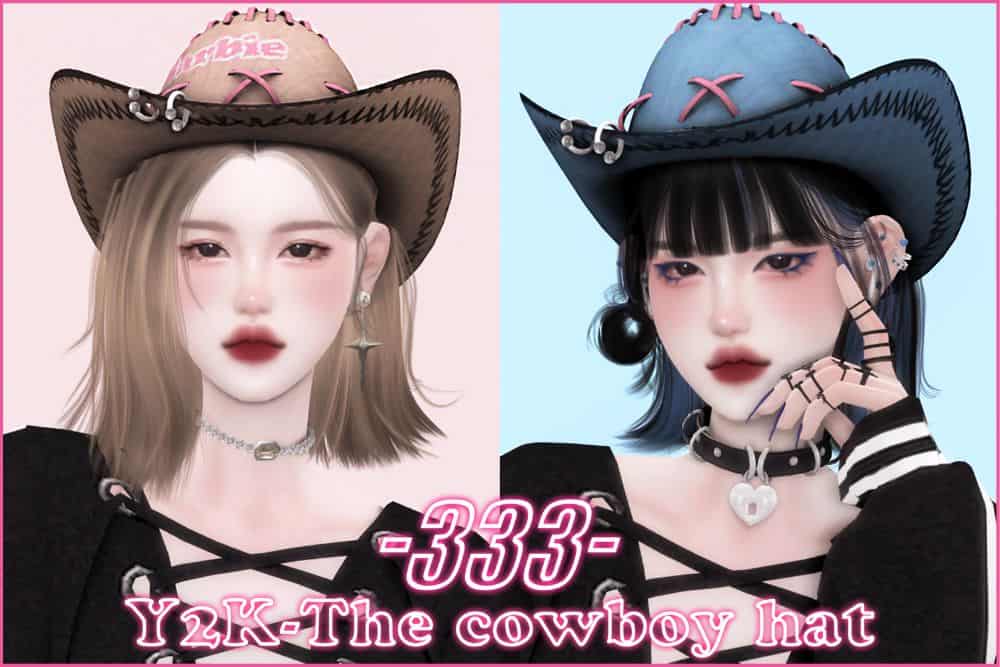 These cowgirl Barbie hats will look perfect with the country Barbie custom content outfit listed at #26.
There are 5 swatches, 4 of which have Barbie written on them.

25. Sims 4 Daisy Barbie Dress by Madlen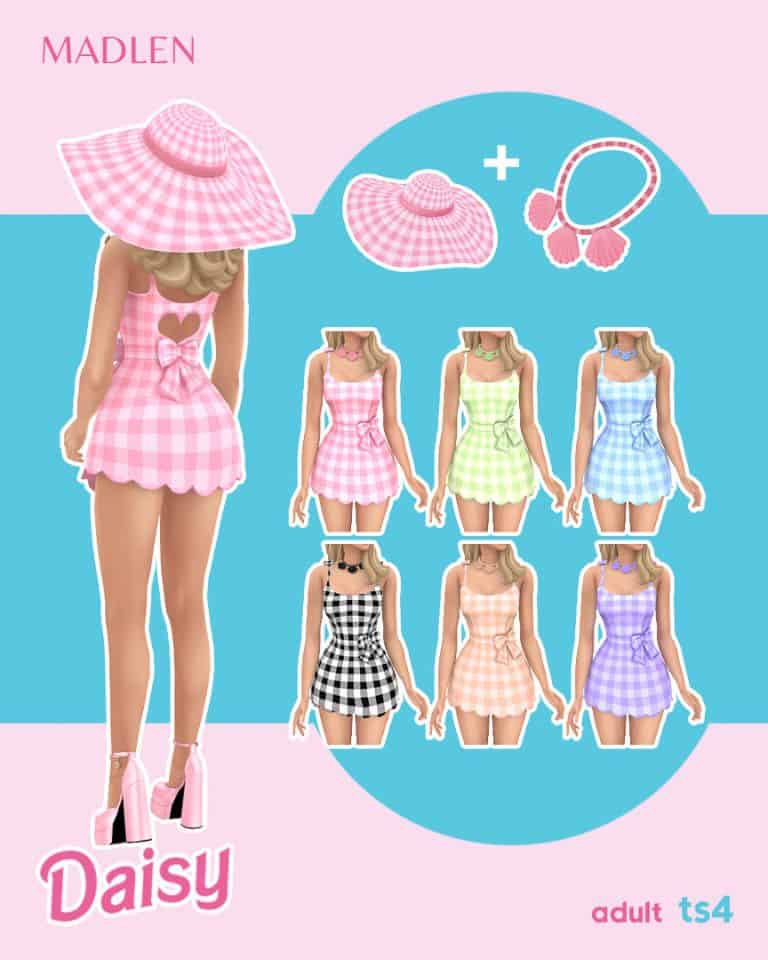 This fun and sexy plaid Daisy dress is perfect for your sim Barbie heading on a date.
The dress has a bow at the front, another at the back, and a cute heart cutout.
This small Barbie cc pack comes with 3 pieces; the plaid dress, a matching summer hat, and a seashell necklace.
There are 6 color swatches to mix things up.

26. Barbie Closet Collection by Rimings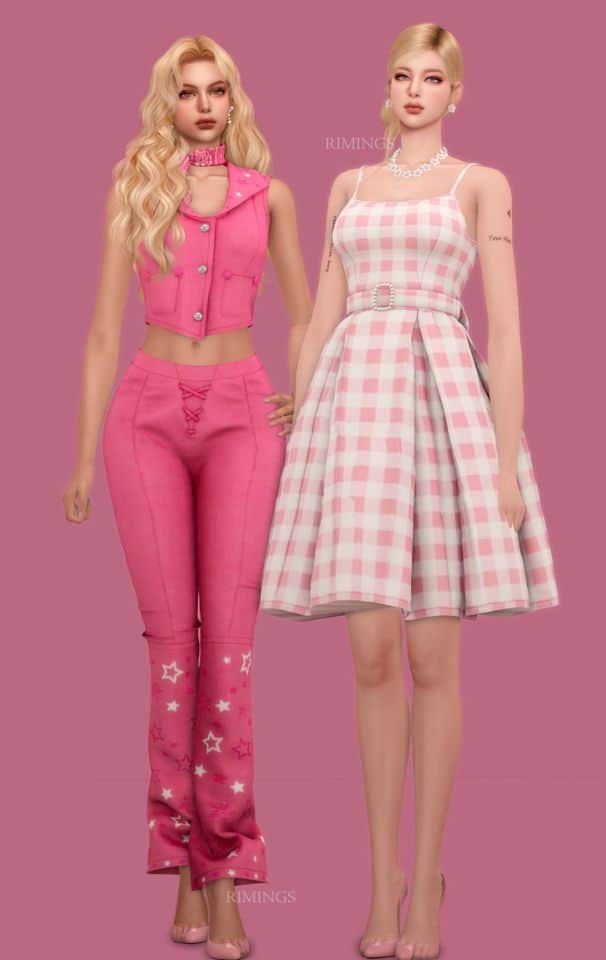 This sims 4 Barbie cc set includes two outfits from the movie; the pink cowgirl country outfit and the pink-white checkered dress.
There are plenty of swatches to try out, including checkered prints, florals, and solids for the dress.
You will also find some earrings and necklace options.

27. Barbie Hair Set by Daylifesims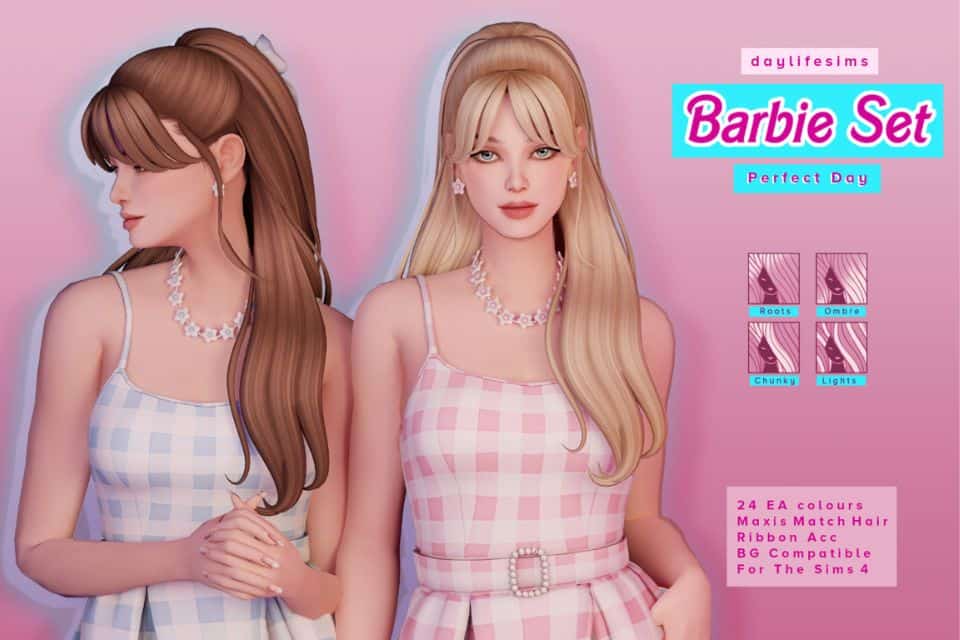 Complete your Barbie outfit with this Perfect Day hair cc.
This half-updo pony hairstyle is beautiful with its long smooth locks and eye-lenght bangs.
Plus, the ribbon accessory adds the perfect finishing touches.
This Barbie hair cc comes in 24 EA colors.

28. Barbie Gloss CC Pack by Greenllamas X Oakiyo X Simcelebrity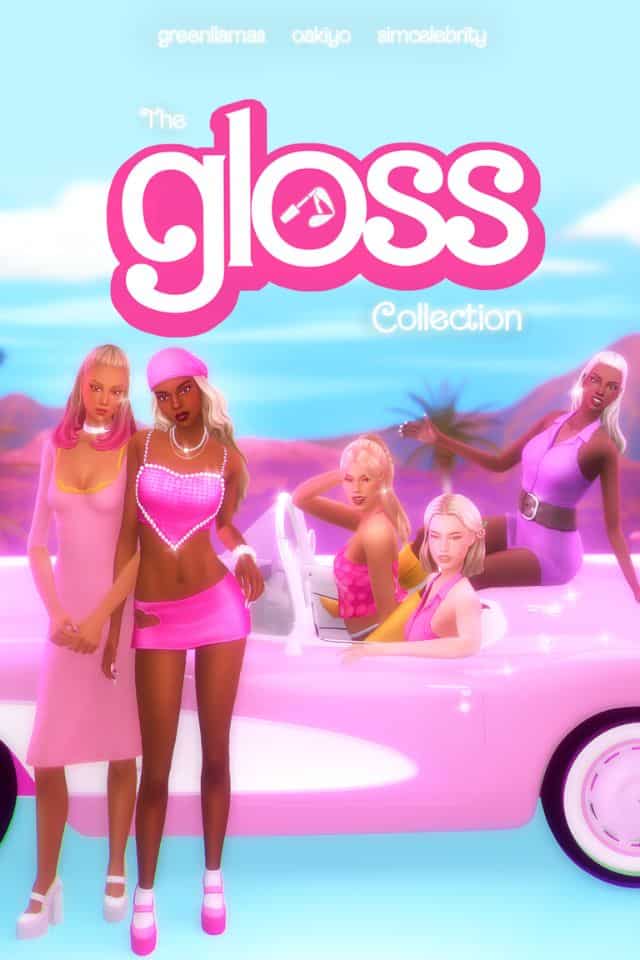 I love when cc creators collaborate on projects.
This time Greenllamas, Oakiyo, and Simcelebrity have put together a sims 4 Barbie cc pack of 20 pieces.
The pack includes a mix of clothing, shoes, and accessories, which comes in 20 swatches from a custom palette.

29. Sims 4 Ken Custom Content Set by MIMA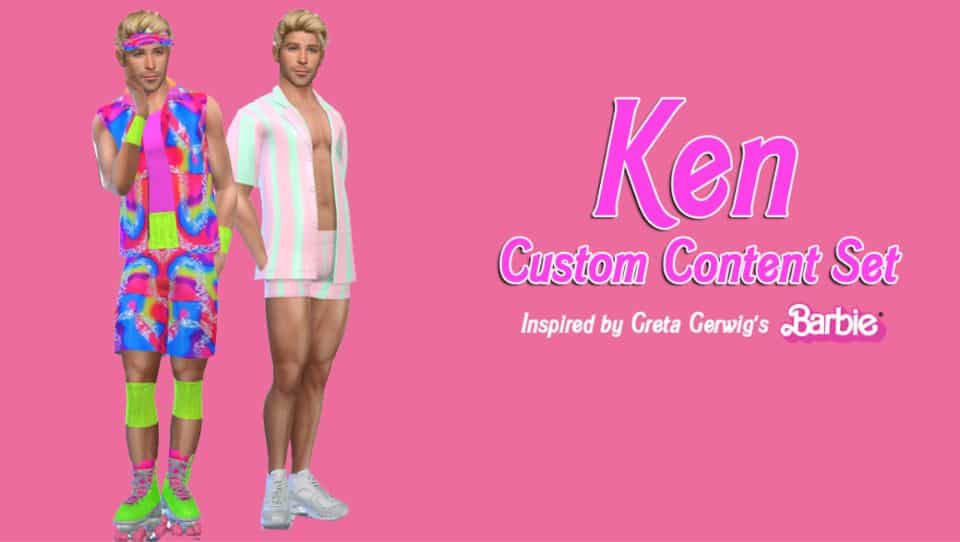 The cc set includes two outfits for your sim Ken; a sport fit and beach summer clothes.
You will get the following pieces;
Sports visor
Sports vest
Rollerskates
Sports shorts
Beach shirt
Beach shorts

30. Pretty In Pink CC Set by Blue Craving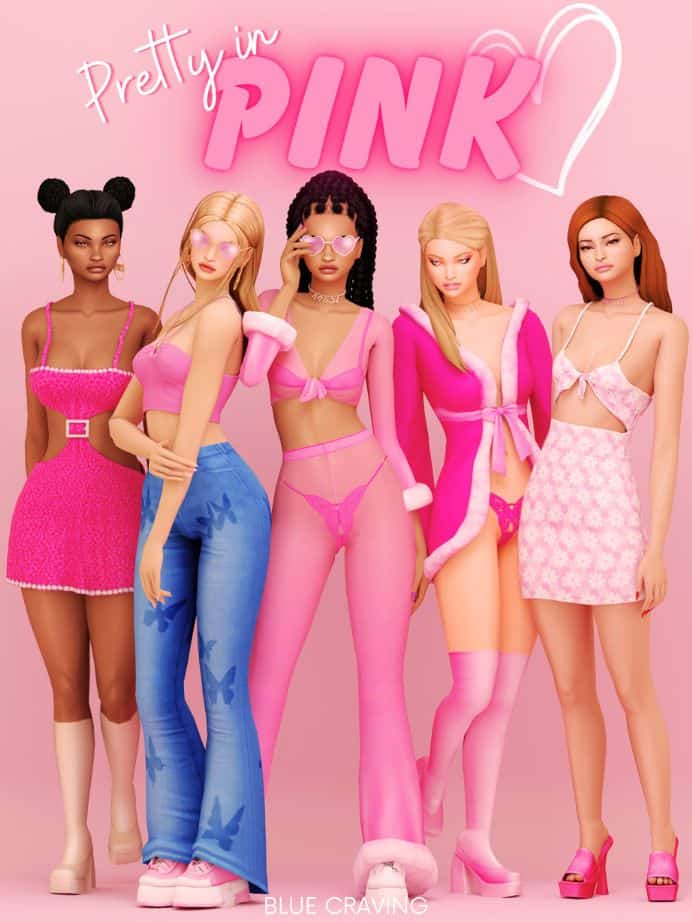 While not technically Barbie, this pink cc set had plenty of options to style on your sim Barbies.
This Blue Craving cc is currently available on Patreon early access.
This pack includes 12 custom content pieces;
Heart-shaped glasses
Knotted dress
Thigh high boots
Fur dressing down
Cut out dress
Heart halter top
Earrings
A necklace
Platform sneakers
Flare jeans
Transparent top
Transparent pants

31. Barbie's Closet Collection CC by Rimings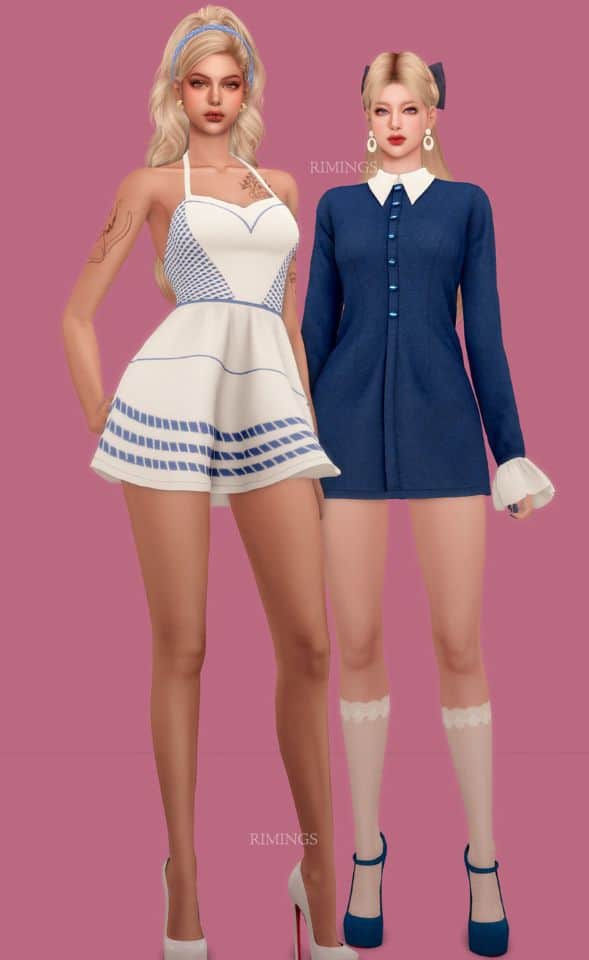 Part 2 of this Barbie closet collection includes two more movie outfits.
The short halter dress is sexy and cute and comes in light colors and jean-like swatches.
The collared, frilly sleeve dress-shirt comes in solid and floral color options.
Like in the promo image, the shirt dress paired with stockings and heels is a perfect Clueless outfit too.
The set also includes two types of earrings and a headband.

32. Sims 4 Braided Barbie Hair by Daylifesims
I love the look on this thick braided Barbie hair cc.
This hairstyle comes in 24 EA colors and is hat compatible.
You can find the color bow and hat under the hats section.
If you prefer just the color bow, you will find it under bracelets.

33. Ken Custom Content Jacket by MIMA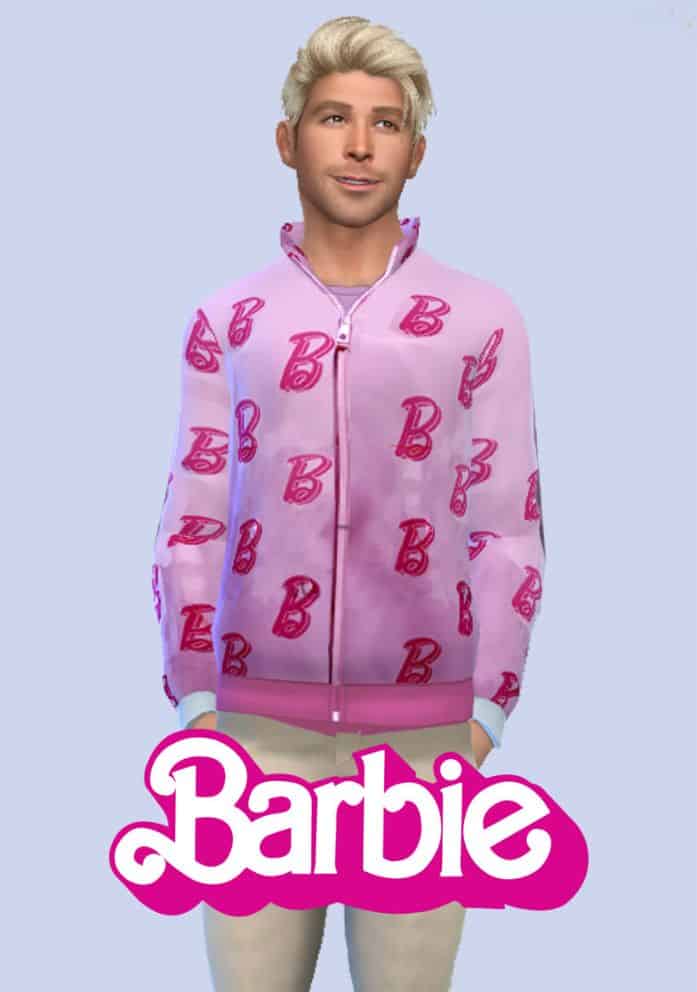 What better way for Ken to show his love for Barbie than to wear clothes with her initials?
This B jacket is the perfect date night outfit with Barbie and pairs easily with casual pants.

34. Barbie CC Dress for Sims 4 by Madlen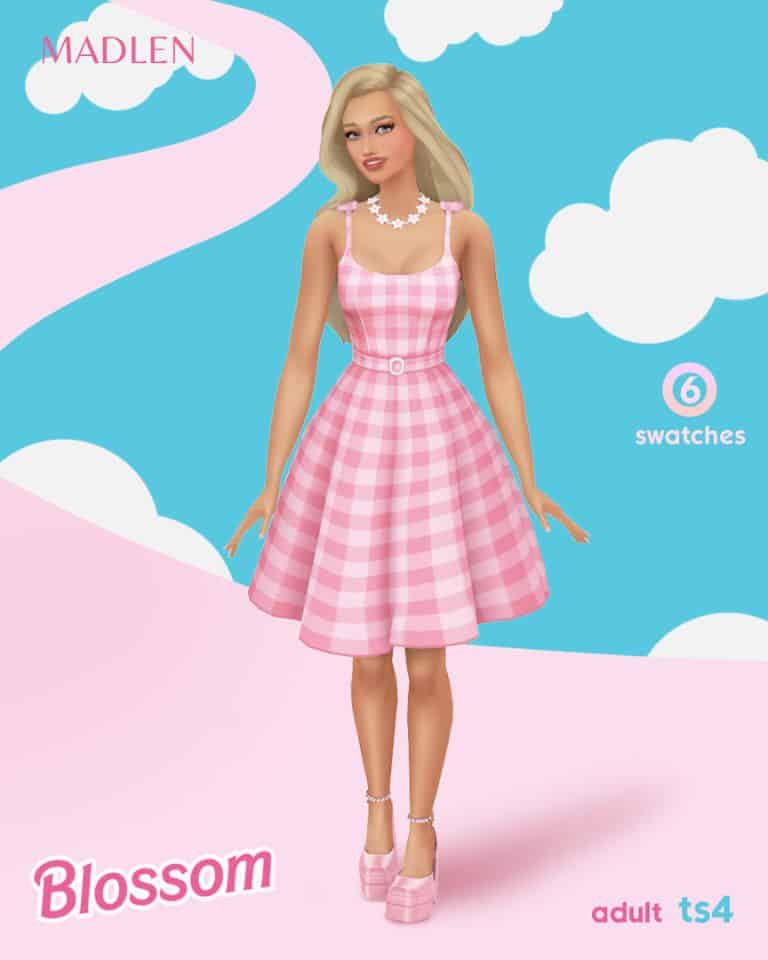 If you found the Dairy dress at #24 a little too short for your sims, this longer version will be just the thing.
This plaid Blossom dress has a belt around the waist and a fit-flare design.
The dress comes in 6 swatches and a sweet flower design necklace.

35. Nostalgic Barbie Collab by Saruin x FatalRoseCreations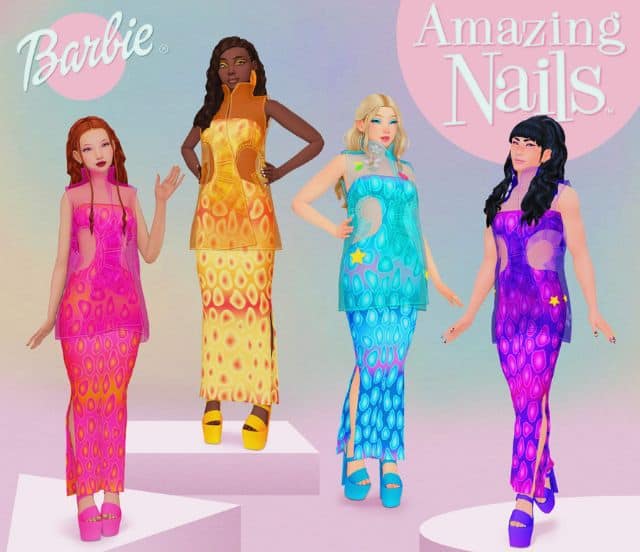 Saruin's portion of the Nostalgic Barbie collab brings you a collection of Barbie clothes the creator used to have when younger.
This set also includes nails inspired by the stickers and gems that came with old-school Barbies.
This part includes;
5 nail designs
A transparent jacket
A full-body strapless dress
Platform heels

36. Nostalgic Barbie Collab for Sims 4 by FatalRoseCreations X Saruin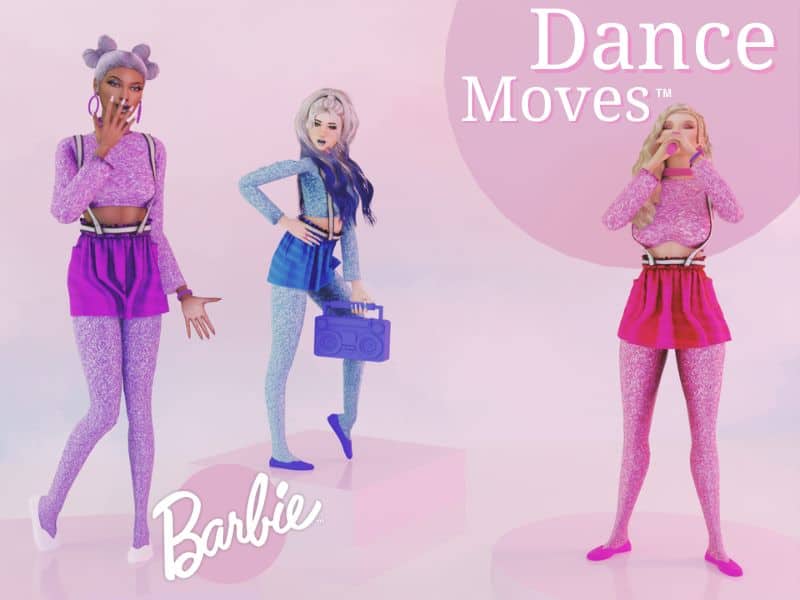 In FatalRoseCreations's part, the collection focuses on Barbie dance poses and mixed custom content pieces.
The set includes;
1 pose pack (18 poses)
Microphone
Boombox for your poses
Flats
Tights
A casual outfit
Necklace
Earnings
Bracelet
Sims 4 Barbie CC: Final Thoughts
We hope you enjoyed this collection of Sims 4 Barbie CC.
With the upcoming movie release, more Barbie custom content will likely become available, but this should get you started for now.
If you have any questions or suggestions, feel free to leave us a comment below or tag us on Tumblr.
And don't forget to share and save this pin for later!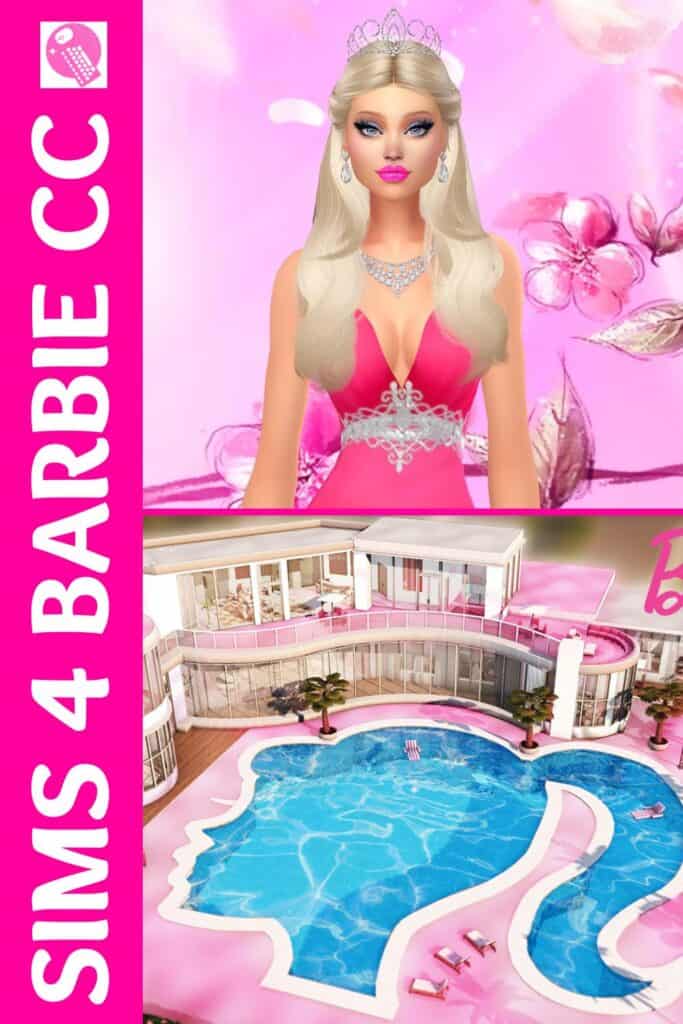 More Sims 4 CC Lists
35+ Iconic Sims 4 Barbie CC, Builds & Poses