Sims 4 Pet Mods: Unleash The Pawsibilities
Looking for more pet-related content for your Sims 4 game?
If so, this is where sims 4 pet mods come into play.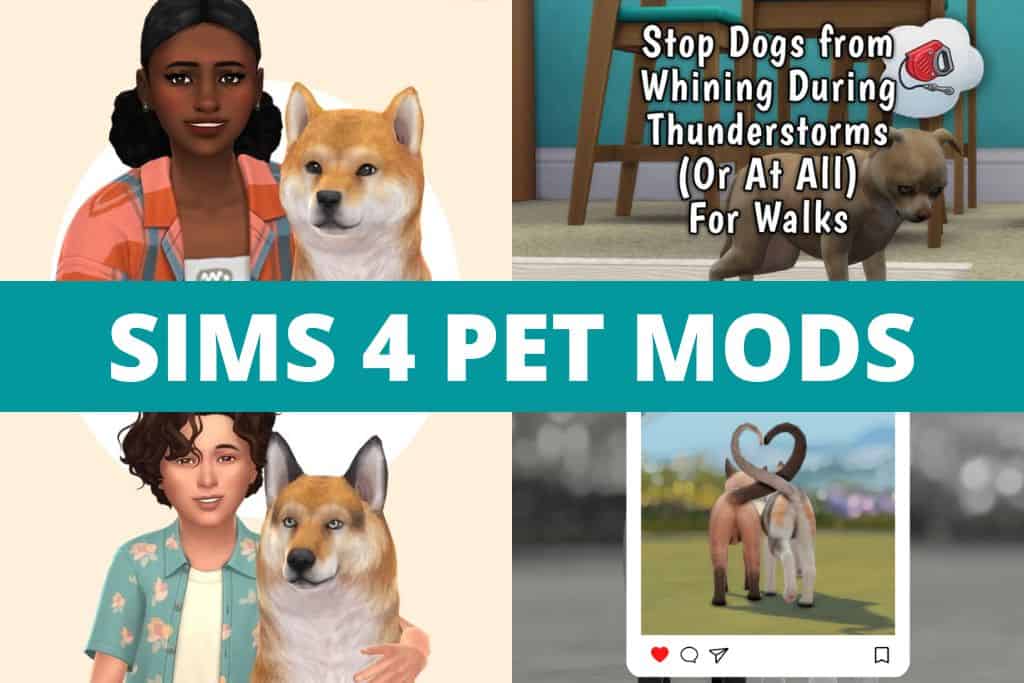 When it comes to the sims 4, the expansion packs are always a fun addition to the game.
But the novelty wears off after some time, and mods come into play.
There are a bunch of playable sims 4 pet mods to try out, made available by epic modders in the community.
But which pet mods should you pick? Let's take a look.
Oh, and if you need some amazing Sims 4 Pet CC for cute clothes, beds, and accessories, check out this post when you're done here.
Disclaimer: The following mods are neither endorsed nor affiliated with The Sims, Maxis, or Electronic Arts. Any use of mods (custom content or game mods) should be done with caution and with the knowledge that there may be risks.
Sims 4 Pet Mods
I've collected a list of some excellent mods for pets that'll add more depth to your Cats and Dogs EP.
This selection of sims 4 pet mods covers everything from adding new challenges to fun new pet poses and much more.
1. Sims 4 Pet Pose Pack by SSIAT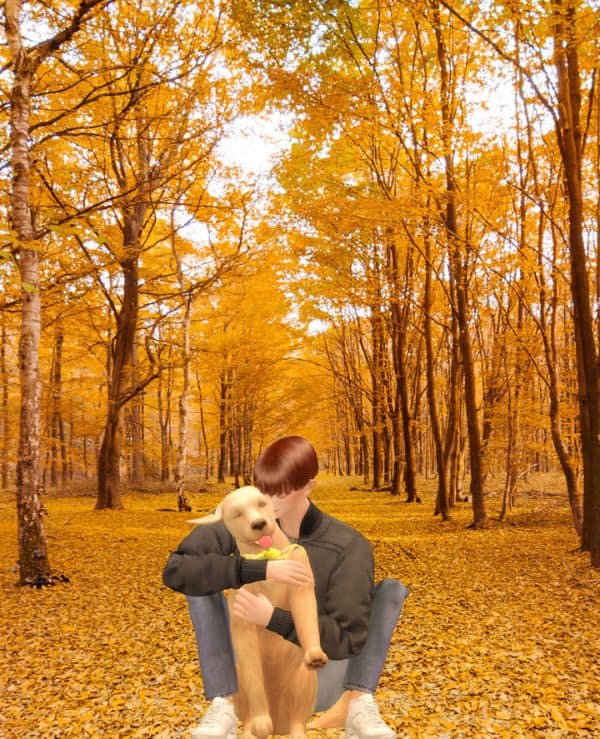 This pet mod offers seven poses to capture adorable photos of your sim with their furry friend.
Five of the poses are for sitting or crouching on the ground, while the other two are for lying down.
Position the teleporters in the center of the bed for the last two poses.
Also, grab that phone accessory from the download page for a selfie pic while lying down.

2. Sims 4 Pet Career Mod by SimplyAnjuta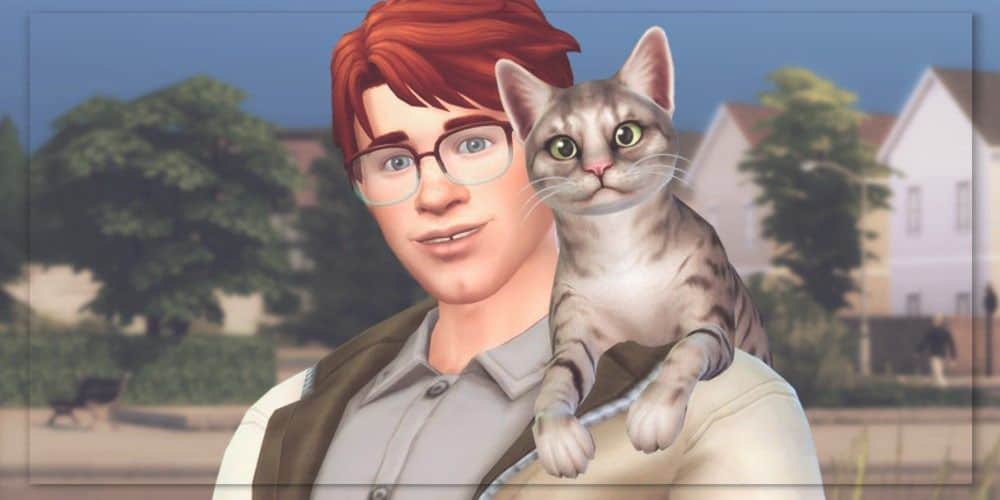 This sims 4 pet career mod requires the Cat & Dogs and Discover University EPs.
For pet-related career mods, a few sims 4 pet mods options are available, one of which is for the Cat Whisperer.
This career has eight levels to go through, with certain objectives to reach in order to level up.
Starting as a Solitary Cat Person, your sims will branch off after leveling up to a Cat Whisperer on level 5.
You can choose your sims to become a Cat Rights Activist or a Cat Film Maker.

3. Job Mods for Kids Involving Pets by Ilkavelle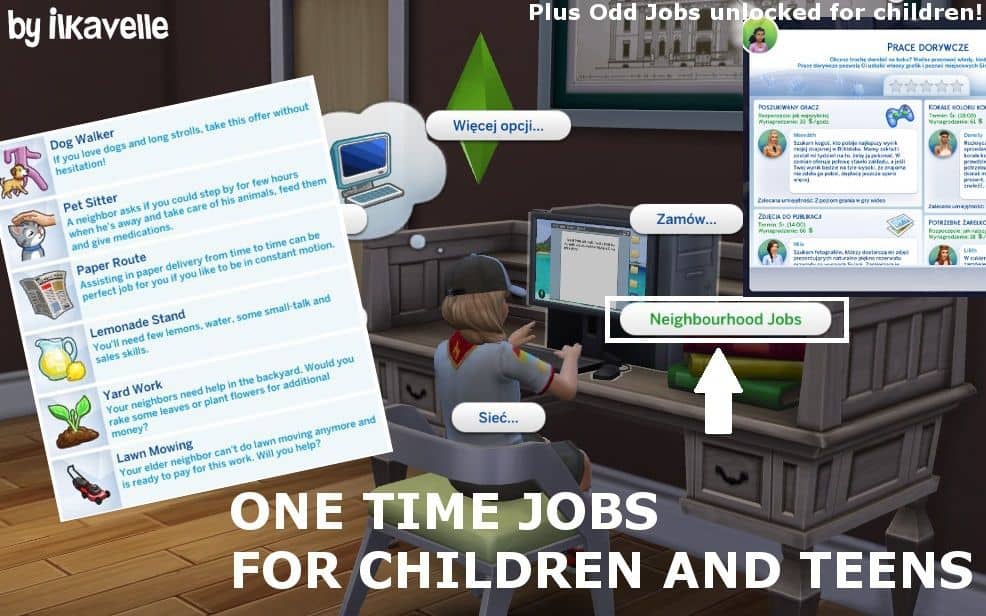 This mod is another good pet-related job, but this time for kids.
With this mod, your sim kids can do small jobs, which will improve specific skills, among other perks.
Two of the six jobs included in this pack are pet-related.
Your kid sims can either do Dog Walking or Pet Sitting.
You don't need the Sims 4 Cats & Dogs EP for this mod but because these jobs are Odd Jobs, you'll need the Island Living EP.

4. Cat Loving Pose Set by Banana Split Sims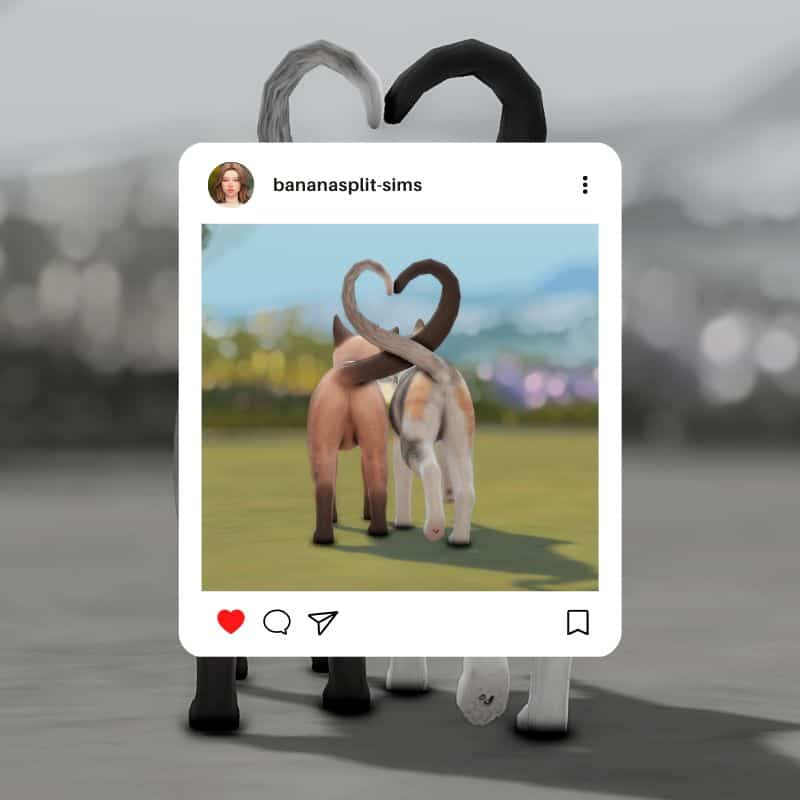 This pack of sims 4 pet mods is for cat-exclusive poses.
You get five couple cat poses, letting you capture your sim cats lounging around with their partner or bestie.
These poses are too cute and a must-have for cat lovers.

5. Pet Pose Pack with Kids by SnarkyWitch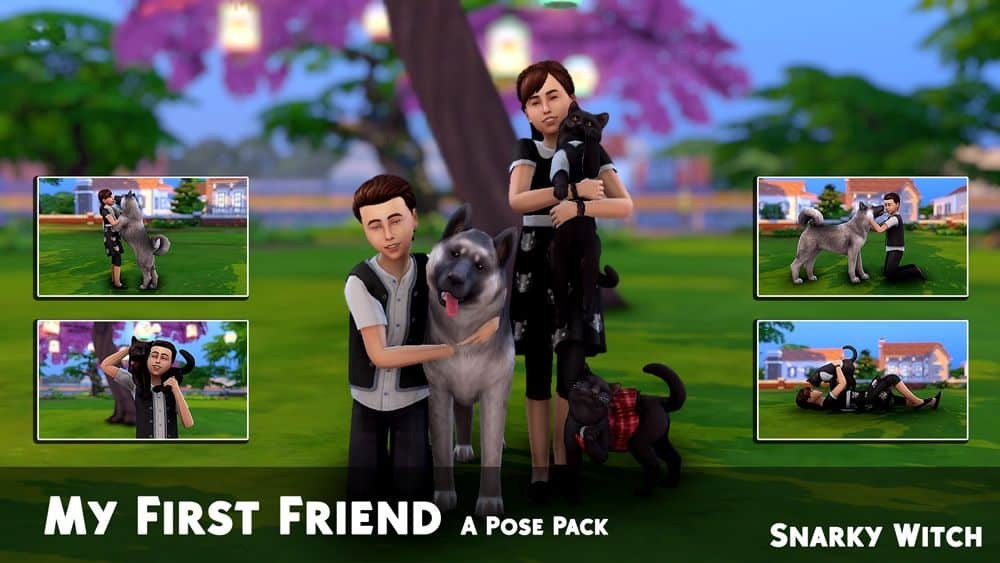 For adorable pictures of your sim kids with their first pet, this set offers four great photo ops.
There are two couple poses for a child and a large dog, while another two are for kid poses with a cat.
You also get a nice group photo that works with two kids, two cats, and a large dog.

6. Sims 4 Pet Mod for Whiny Dogs by Simularity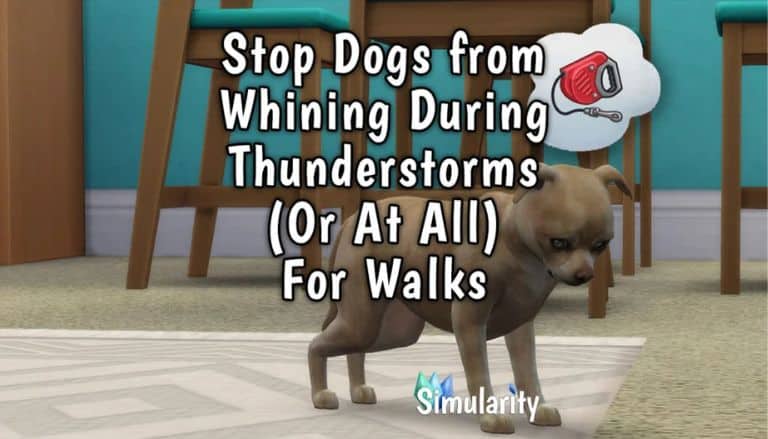 This pet career mod requires The Sims 4: Seasons & Cats & Dogs expansion packs.
The Seasons EP affects the weather in various ways, from a sunny day to a scary thunderstorm.
Those bad conditions affect not only sims but also pets.
If your dog wants to go for a walk but is too scared because of the weather, your sim pet will whine.
With the help of this sims 4 pet mod, your dog will stop whining during bad thunder or snow storms.
You also get another mod to stop your dog from complaining during walks altogether.
But remember to only install one of the two mod flavors at a time.

7. Gallery Pose with Dogs by Loulicorn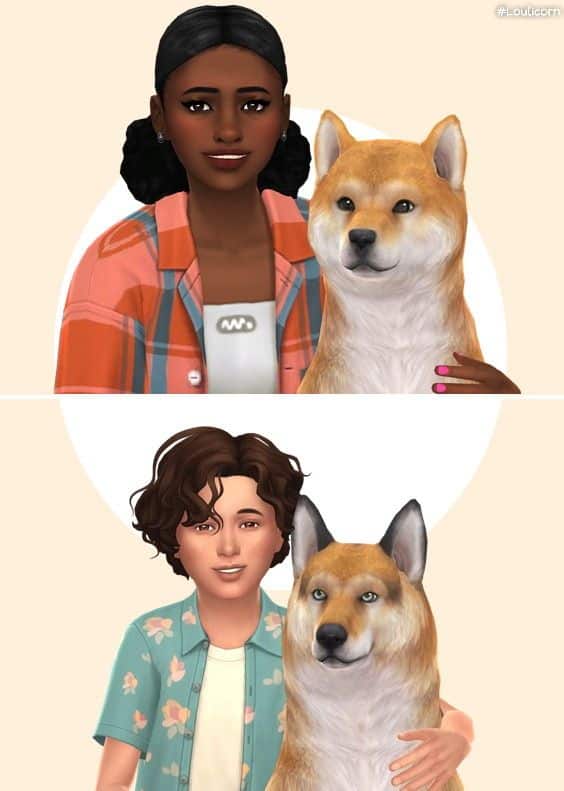 This pack is for a Gallery Pose for any sim, regardless of gender or age, with a large dog.
Now your sims can pose side by side with their best friend.
Use the No More Mirroring Mod by Simply Anjuta so it doesn't mess with the sim's order.
You'll find it linked on the download page.

8. Dog Potty Pads Mod for Sims 4 by Ravasheen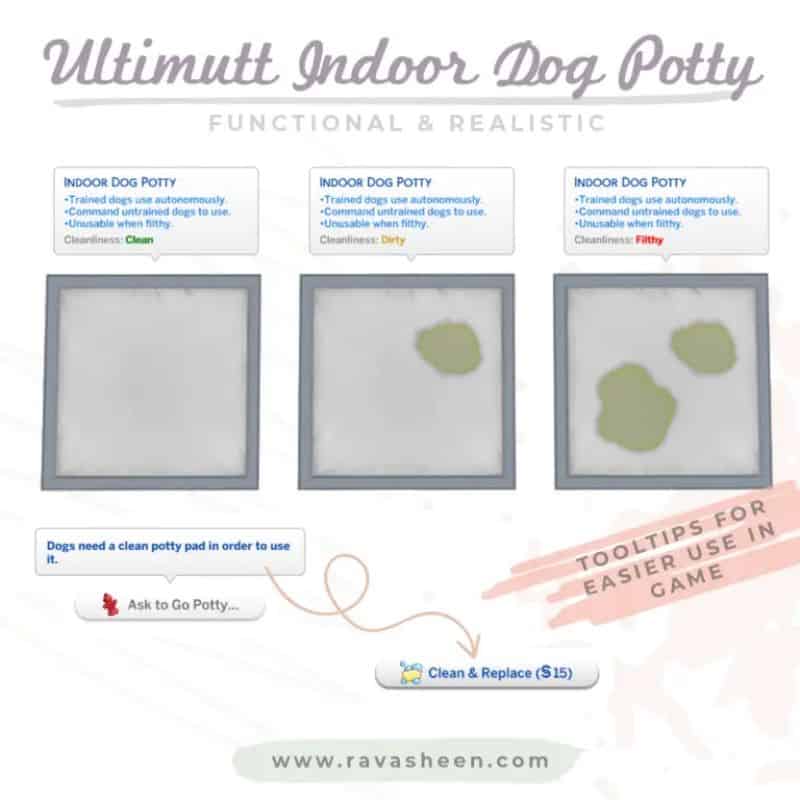 One of the most useful sims 4 pet mods is for functional dog toilet pads.
It works for dogs of all ages and comes in three styles:
Grass square
Pee pad
Laid out newspaper
You can train your pups with commands or cheat your way through by shift+click on the pee pads.
Remember to replace the pads occasionally because your pets won't use dirty ones.

9. In-the-Moment Cat Poses by HERECIRM SIMS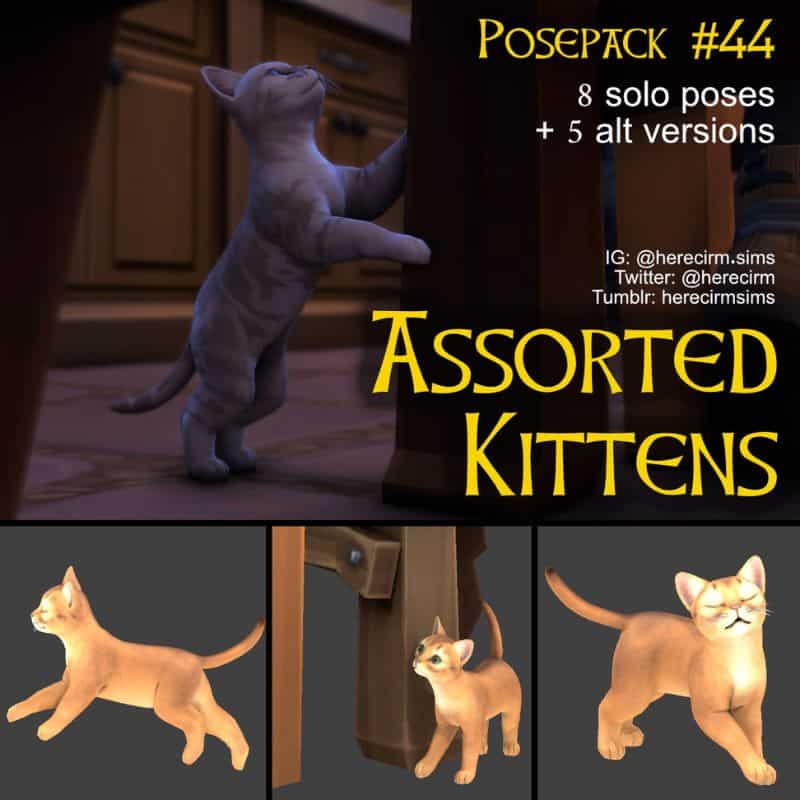 Are you looking to get candid pictures of your sims' household kitten?
This set includes 13 poses for lovely photos of that little fur ball.
For the first eight poses, you'll need to use the bb.moveobjects on cheat to place the teleport item near or on objects.
The cheat is to help position the teleporter while in Build mode.
If you need help enabling cheats, read our guide on using cheats in Sims 4.
For positioning in Live mode, the creator recommends using the TOOL mod.
You can find the link here TwistedMexi's page, as the provided link no longer works.
The last five poses work with tables or chairs.

10. Dog Breeding Mod for Sims 4 by PolarBearSims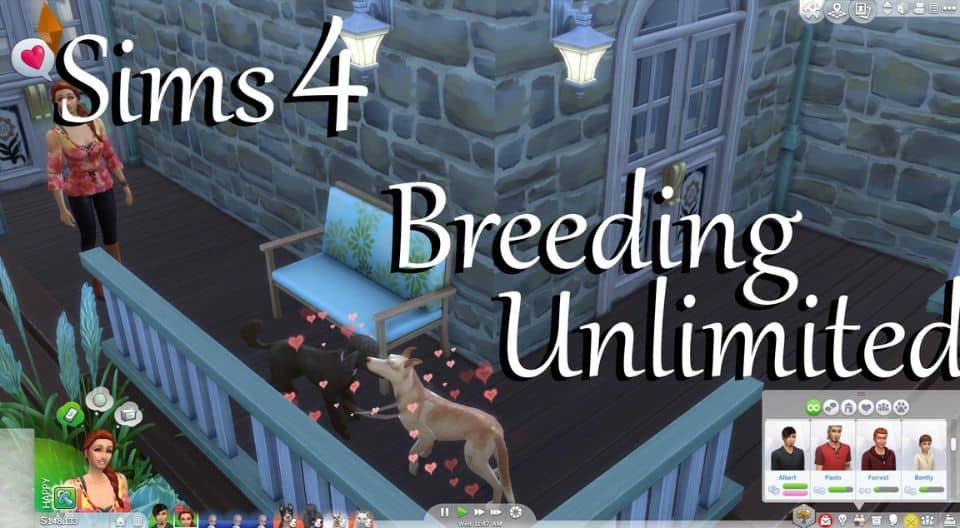 This simple and helpful mod allows your sims 4 pet to breed with animals outside their household.
So if your sim family only has one dog or cat, they could still potentially reproduce.
The mod also removes the game's restriction regarding the delay between breeding cycles.

11. Family Portrait with Pet by SimplyAnjuta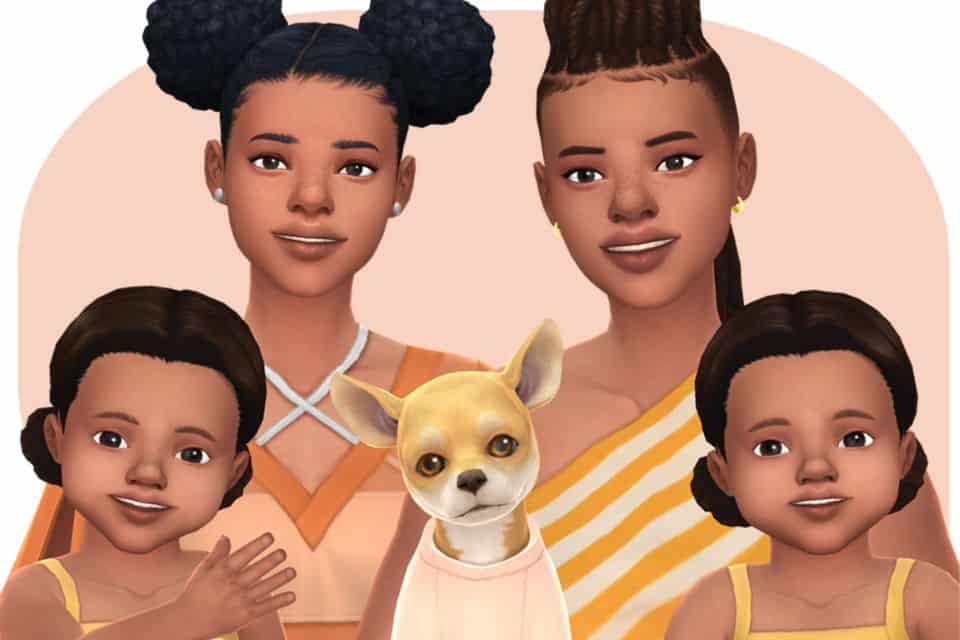 For another beautiful family portrait with your household pet as the star, this Gallery pose pack is for you.
This sims 4 pet mod is for a combination of two adult sims, two toddlers, and any sized dog or cat.
For it to work, you need to make sure that your sims order in CAS is as follows:
Adult – Adult – Toddler – Toddler – Pet
Again, the No More Mirroring mod is helpful for this pet pose mod.

12. Small Dogs Pose Pack by Banana Split Sims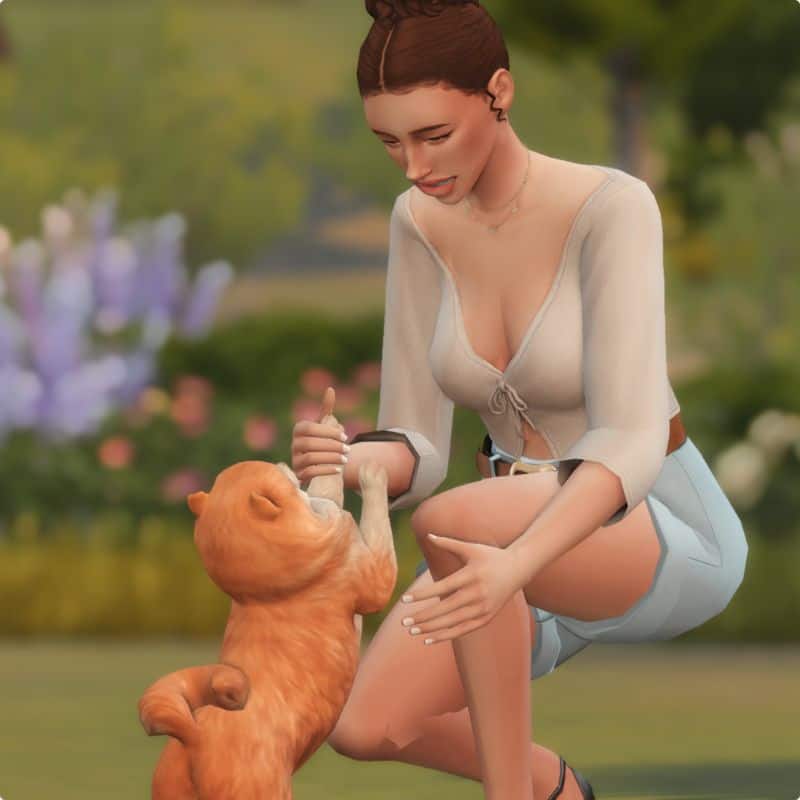 For poses with sims and their small dog, these sims 4 pet mods include five poses to pick and choose.
These pet poses make your fur baby look so precious.
You'll need to place two Teleport-A-Sim objects on the same spot and assign the sim and the doggy to the same pose.

13. Chicken Coop Mod by icemunmun
If you're looking for different kinds of sims 4 pet mods, this chicken coop strays away from typical cats and dogs.
The fully functional chicken coop has 12 color swatches and neat features and interactions.
Once you set up your coop and add chickens to it, you can do a bunch of things like:
Feed the chickens
Checking for eggs and collecting them
Talk to the chickens
Hug and play with the chickens
And more
Interacting with the coop and its chickens will give your sims various buffs and relationship gains.
There are different eggs to collect; your sims could get sick from eating bad eggs.

14. Pet Trait Mods for Sims 4 by Ilkavelle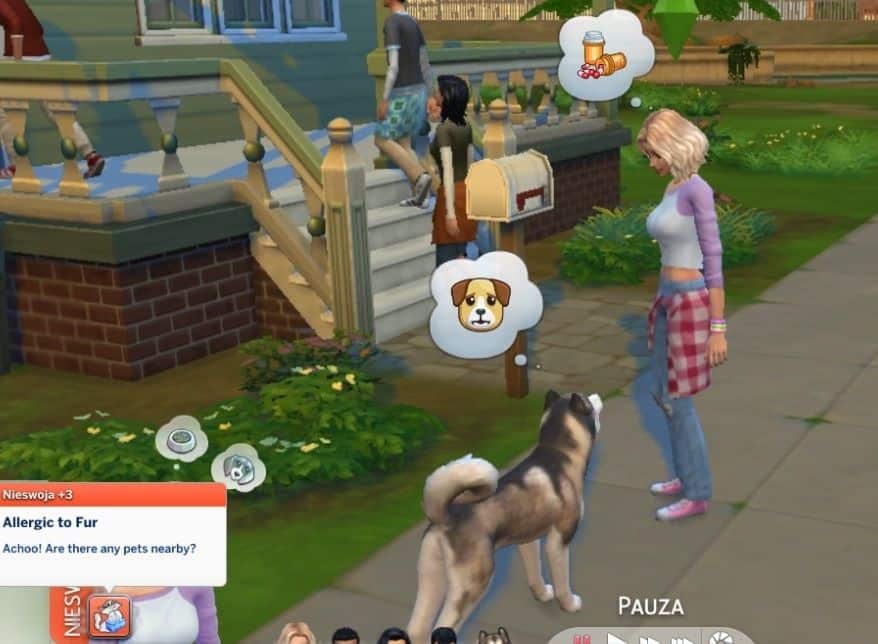 Being around pets is all fun and games, but what if sims are allergic to them or perhaps afraid of them?
With these sims 4 pet mods, you can assign nine pet-related traits to your sims.
These traits include:
Afraid of animals in general
Afraid exclusively of cats or dogs
Allergic to fur
Allergic to cats or dogs
Hates all animal
Hates cats or dogs
To reduce the negative effects of these traits, sims can get the help they need in various forms, such as:
Allergy medication that can be purchased through a computer
Setting appointments for Immunotherapy through the phone
Going to regular Therapy to help sims conquer their fears
You can assign as few or as many of these traits as your CAS trait slots permit.

15. Couple & Pet Pose by Loulicorn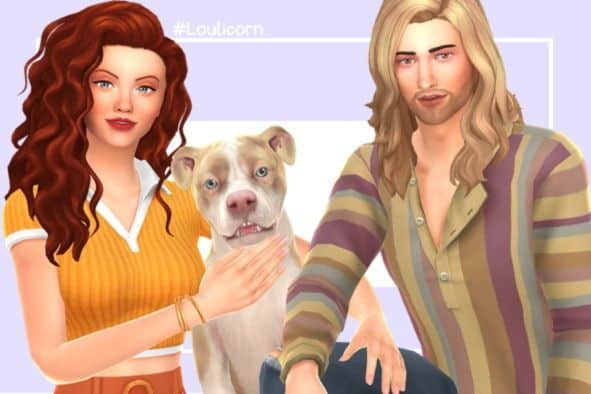 Another beautiful group photo of two sims and their pet dog.
This pose works on large dogs only.
The correct CAS order for this Gallery pose is as follows:
Female Sim – Large Dog – Male Sim
Install the No Randomization Mod or the No More Mirroring Mod to ensure everyone is in the right spot.
You'll find a link for those mods on the download page.

16. Rabbit Hole Veterinary by Zero's Sims 4 Mods&Comics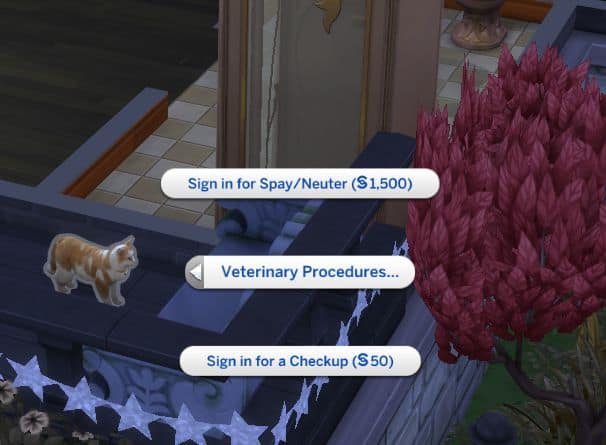 This sims 4 pet mod is about saving your sims the time and hassle of going to the vet clinic.
Using this sims 4 pet mod, you get all the vet procedures straight into the pet's pie menu.
Choosing the More Choices option, then the Veterinary Procedures will send off the duo into the rabbit hole.
This mod renders the Pet Clinic pretty useless, but you can keep it open for fun.

17. Zen Trait Mod for Cats by Simularity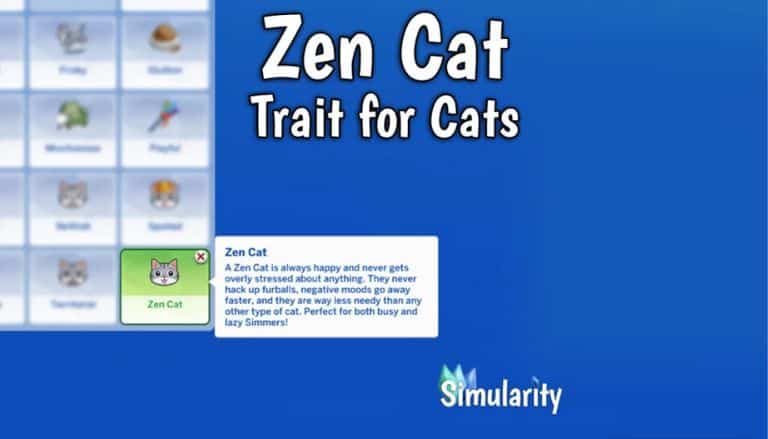 Assigning the Zen Cat trait to your furry buddy has its benefits.
Using this pet personality mod will allow your cat to:
Get rid of negative moodlets faster
Slow down their needs meters
Make them happy most of the time
Prevent them from running away
Prevent coughing up hairballs
Note that you can pick between two sims 4 pet mods.
Both are almost identical, but the second grants a No Death perk to your feline friend.

18. The Purrrfect Poses for Sims 4 by SSIAT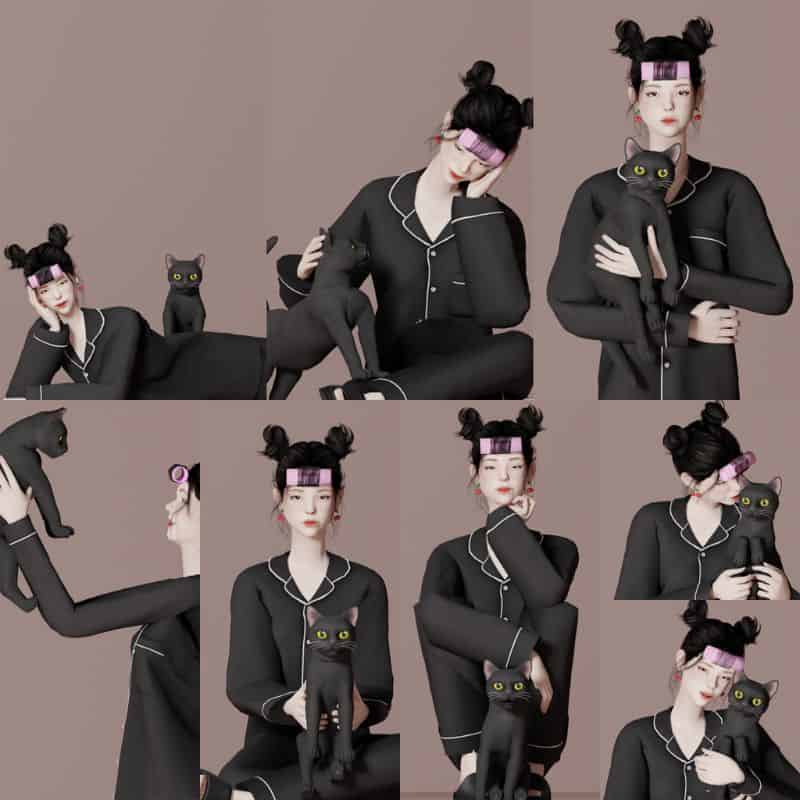 This pack of pet poses offers your sims eight cute ways to take pictures with their cat.
It's a good mix of sitting and standing poses.
There is nothing like capturing special moments between your favorite sims and their pets.

19. Sims 4 Pet Toys Mod by PolarBearSims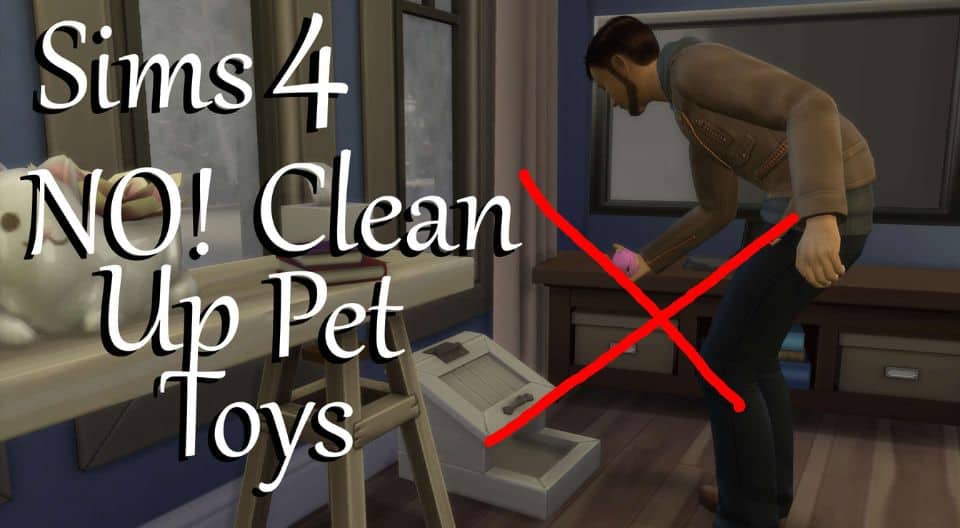 Sims habitually pick up any mess or items lying around unless they have the Slob trait.
This mod will prevent your sims from picking up your pet's toys around the house.
Anyone with cats or dogs knows that in real life, there are always pet toys around the house.
So this pet mod adds a touch of realism to the game with this simple tweak.

20. Playful Family Pose by SimplyAnjuta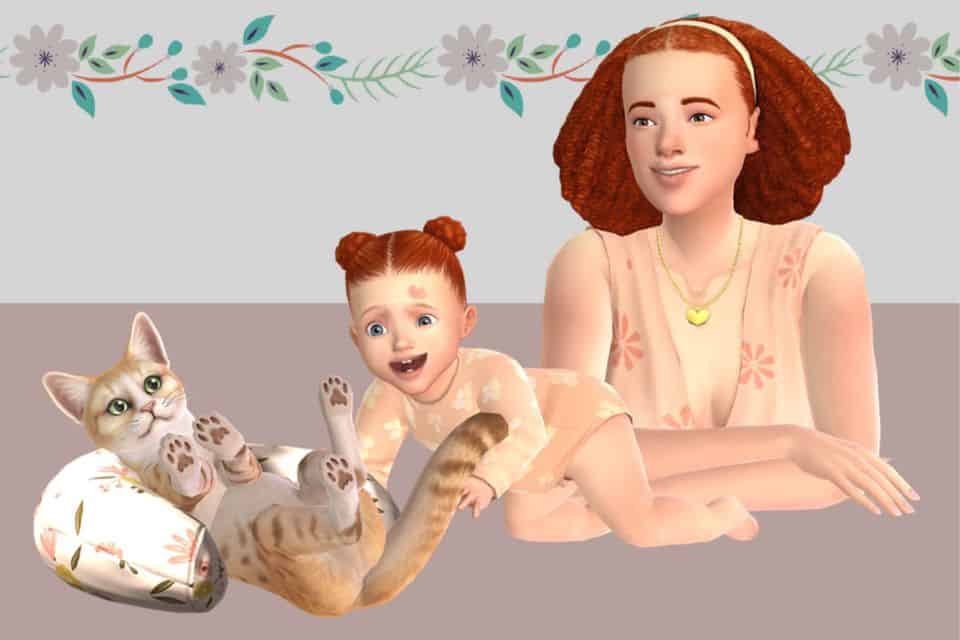 For an adorable and candid-like family photo, this gallery pose does the trick.
You'll get a beautiful floor-level photo with your sim lying down, looking at their infant being playful with the cat.
For the pose to work, make sure your sims are in the following order in CAS:
Sim – Infant – Cat
The older sim used for this picture can be anybody that's aged Teen to Elder.
Don't forget about the No Randomization Mod.

21. Sims 4 Pet Holiday Mod by icemunmun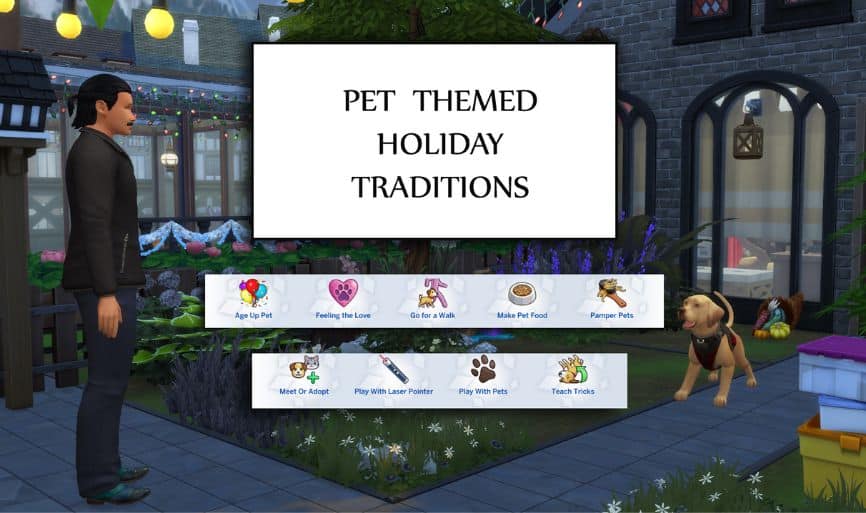 Dedicate a day in your sim's calendar for their household pet.
Set up a new tradition by picking certain activities to do during that holiday.
Some of these actions are:
Cook for your pet
Play with a laser pointer (for cats)
Go for a walk
Teach tricks
And more
Aside from this mod, there are two optional overrides.
The first override allows you to age your pet from an option in the pie menu.
As for the other download, it will enable you to reduce the waiting time between Feel The Love actions.

22. Cat Yoga Pose Pack by Banana Split Sims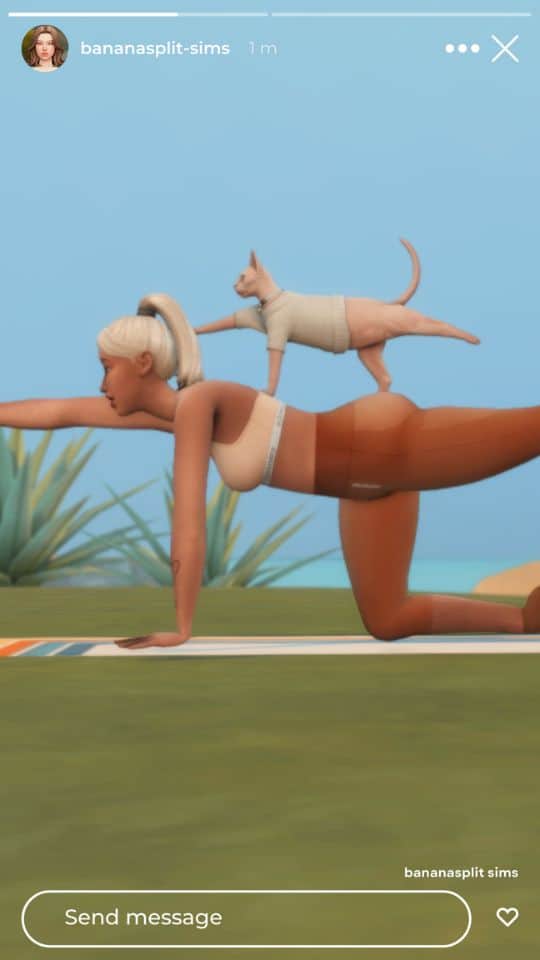 These five cat poses in this set are pretty funny to use.
They are made to be used with an adult female sim and her cat that'll mimic her every move.
In these poses, your sim can execute the selected yoga pose without needing The Sims 4 Spa Day game pack, you just won't have the yoga mat.

23. Pet-Related Aspiration for Sims 4 by Ilkavelle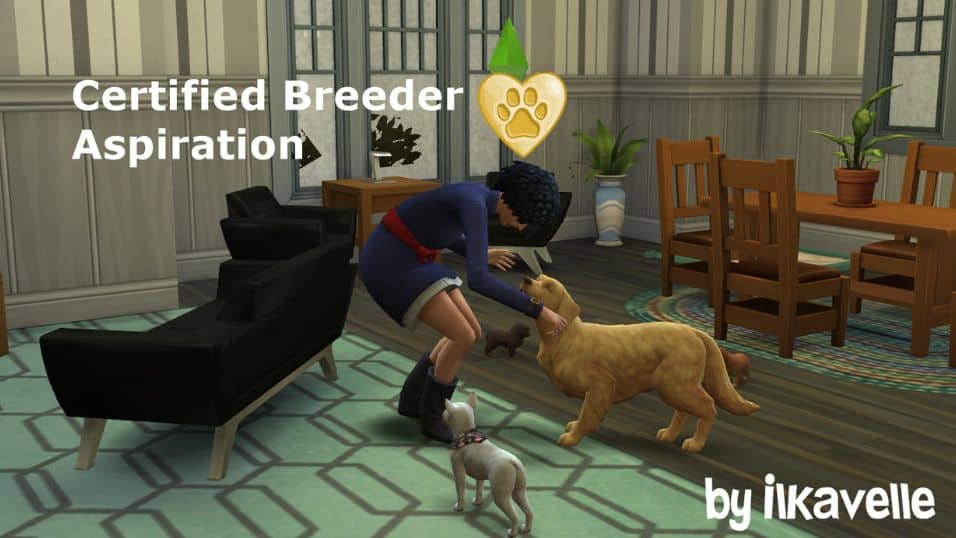 This aspiration mod has a set of objectives that revolves around breeding animals and selling their babies for simoleons.
After clearing all four main objectives, your sims will be awarded the Super Breeder trait.
The trait allows your sims to earn more simoleons when selling the litters.
Sims 4 Pet Mods: Final Thoughts
With these sims 4 pet mods, we hope that you found a few to add to your mods folder.
The Sims 4 Cats and Dogs EP is fun on its own, but having these custom playable pet mods makes us enjoy it even more.
Plus, the best is trying out fun poses to make heartwarming photos of your sims family and their cherished little fur babies.
If you have any questions or suggestions, feel free to leave us a comment below or tag us on Tumblr.
More Sims 4 Mods Lists

And don't forget to share and save this pin for later!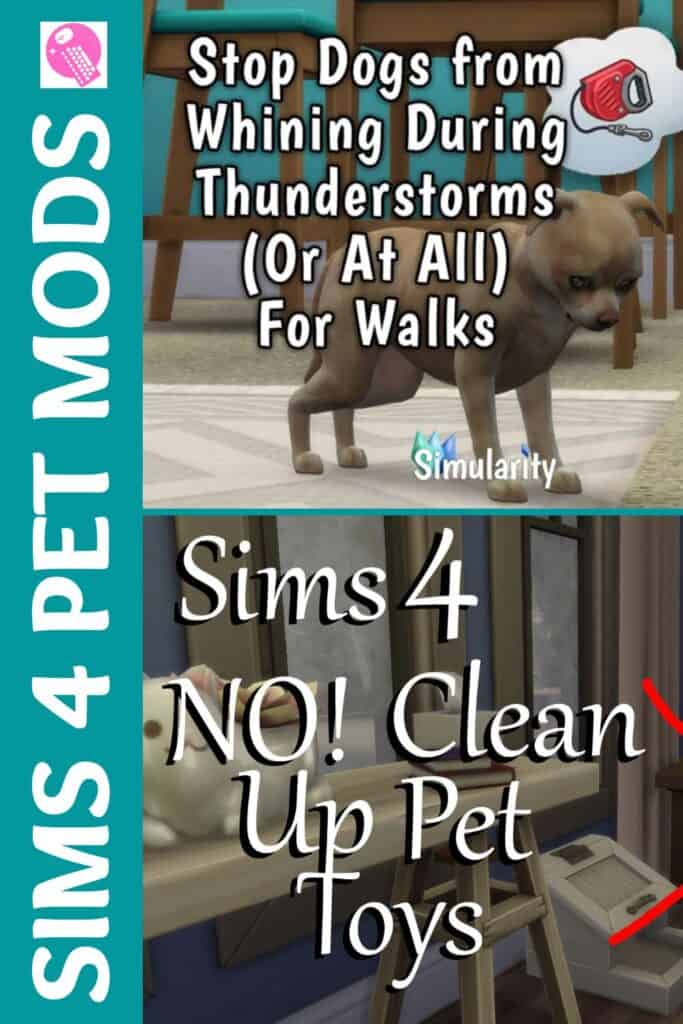 Sims 4 Pet Mods: Unleash The Pawsibilities