Sims 4 Selfie Poses: Strike the Perfect Pose
Do you love taking selfies? Snap up some sims 4 selfie poses to let your sims join in on the fun!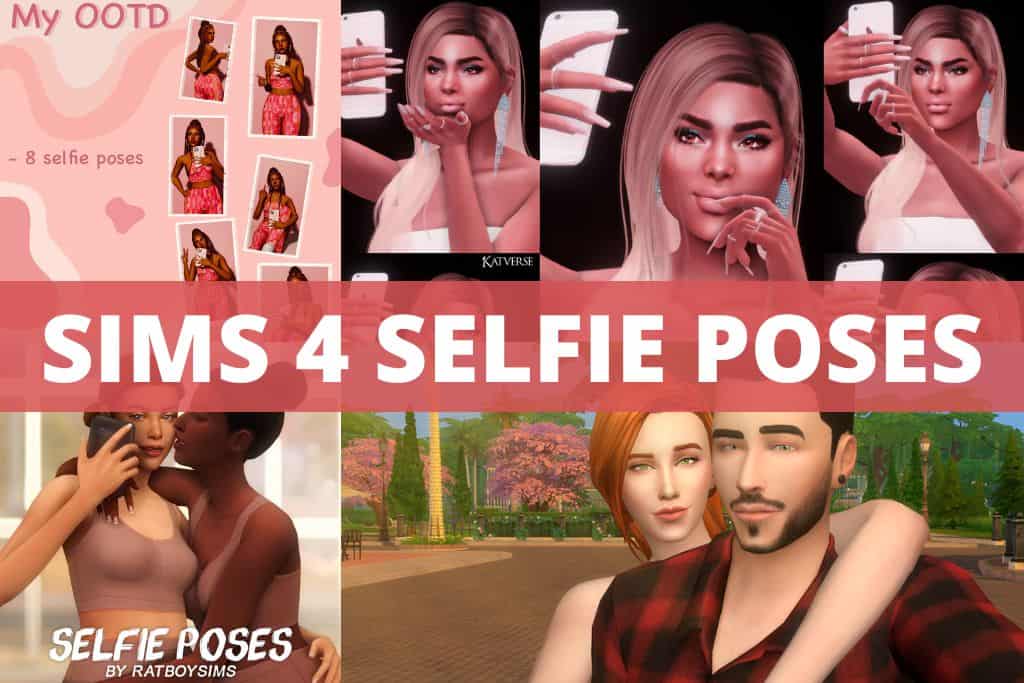 Whether you're into social media or not, selfies are a huge part of today's world.
So it's not too surprising that sims 4 selfie poses exist for our sims to snapshot moments of their day-to-day activities.
From slurping boba drinks to your sims hanging with their BFF, there are fun everyday selfie poses for your sims to try out!
Disclaimer: The following mods are neither endorsed nor affiliated with The Sims, Maxis, or Electronic Arts. Any use of mods (custom content or game mods) should be done with caution and with the knowledge that there may be risks.
Best Sims 4 Selfie Poses
Most of the selfie poses found in this list are for in-game use.
To use these poses (except for #15), you'll need to install two mods to your Sims 4 game:
Check out our How to Use Sims 4 Poses post if you want to learn more about using these two mods.
1. Sims 4 Selfie Poses by chewybutterfly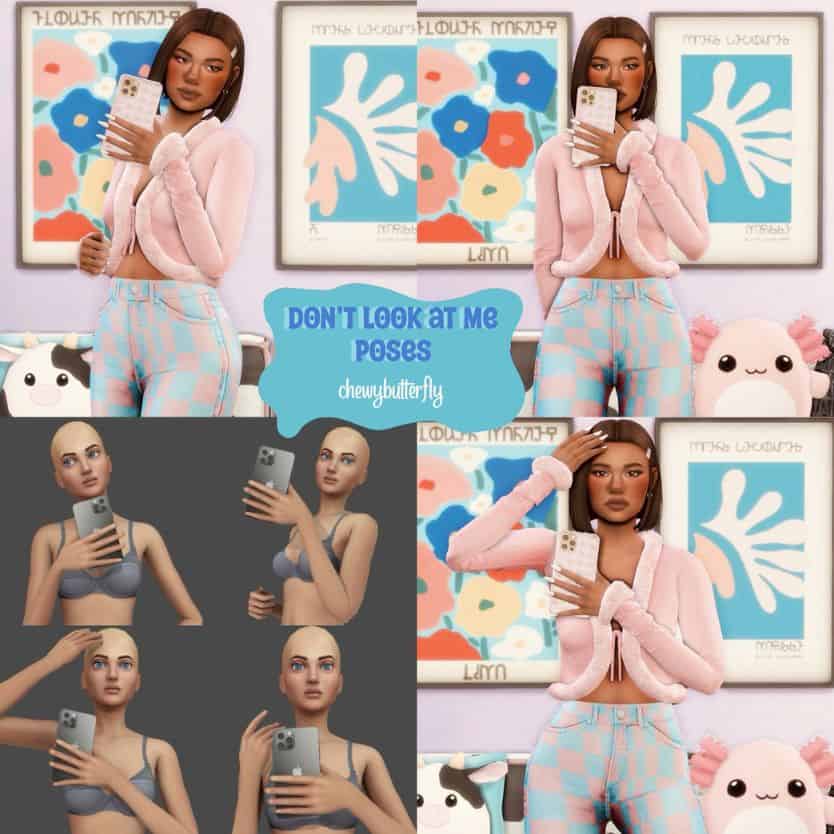 Are you looking for mirror selfie poses?
This set of five poses makes it appear as if your sim is posing in front of the mirror, showing their phone in hand.
They're very casual poses, kinda like any teenager would snap while messing around taking selfie pics.
For this reason, these selfie poses look more realistic and natural.
You'll also need to grab the cellphone linked on the download page below.

2. Soulmate Sims 4 Selfie Poses by Veiga Sims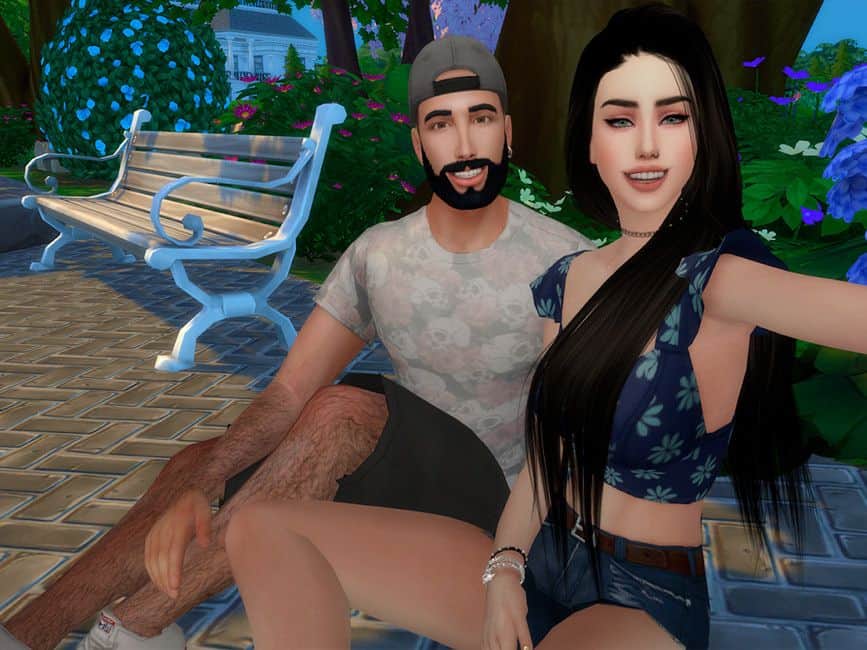 If you want cute selfies of your sims couple, check out these sims 4 selfie poses.
You can pick from four different poses to take adorable shots of your two lovebirds.
Even though they're intended for couples, you can definitely use these in-game selfie poses on two sim friends if you want.
To successfully pull off these poses, you'll need to place the Teleport-A-Sim statue in the same spot.

3. Couples Sims 4 Selfie by ratboysims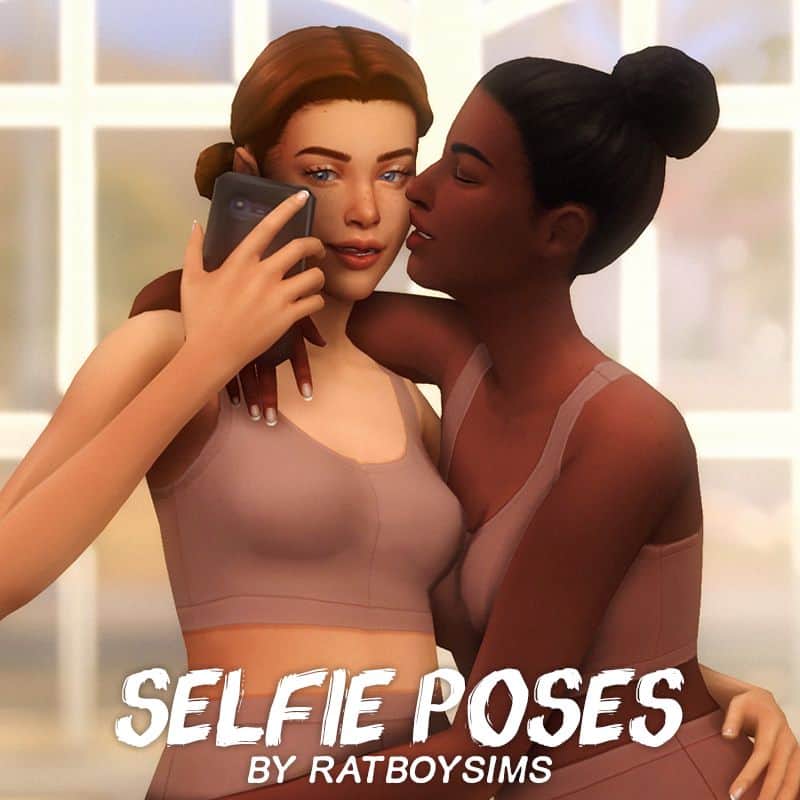 Another option for a couple's selfie pose is this mirror selfie set.
This pack includes four poses of your sim couple taking selfies in loving embraces.
These precious poses capture the closeness of your sims in beautiful ways.
Unlike the picture shown, these are not limited to female sims and can be used with male sims as well.

4. Sims 4 Selfie Mod Pack by Katverse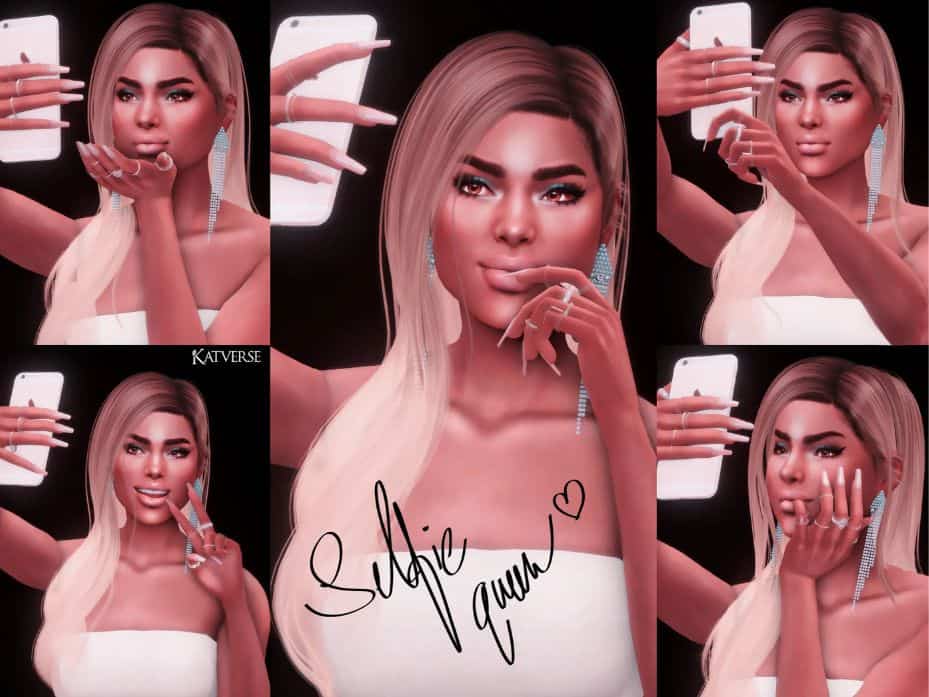 I love these selfie queen pose packs because they make great mirror pictures.
On top of this, there are two versions of these selfie poses.
One is for in-game use, and the other is for use in CAS under the Active trait.
Grab some fresh CAS backgrounds if you want to take pictures while using the CAS screen.
For these sims 4 selfie poses, you'll need the iPhone cc that is linked on the download page.

5. Sims 4 Sitting Poses by FlowerChamber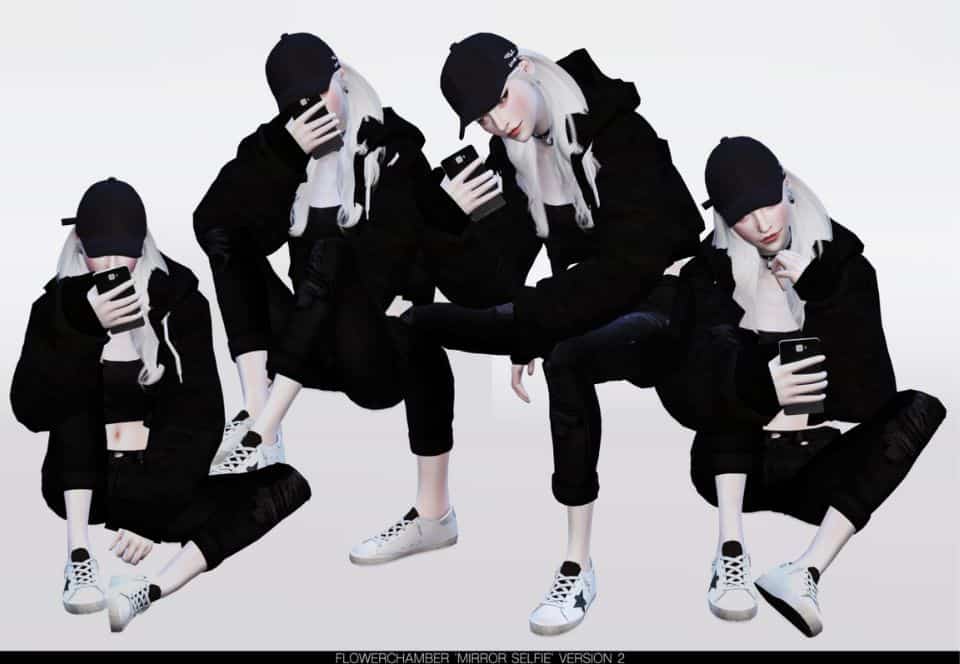 For more variety of mirror-styled self-portraits, grab this sims 4 selfies pose pack.
This collection has a bunch of either standing or floor poses, for a total of 20 poses.
The creator has also included the CAS version, which would be under the Loves Outdoors trait.
Make sure to grab the two downloads for the phone accessory.

6. Sims 4 Mirror Selfie Poses by narokissims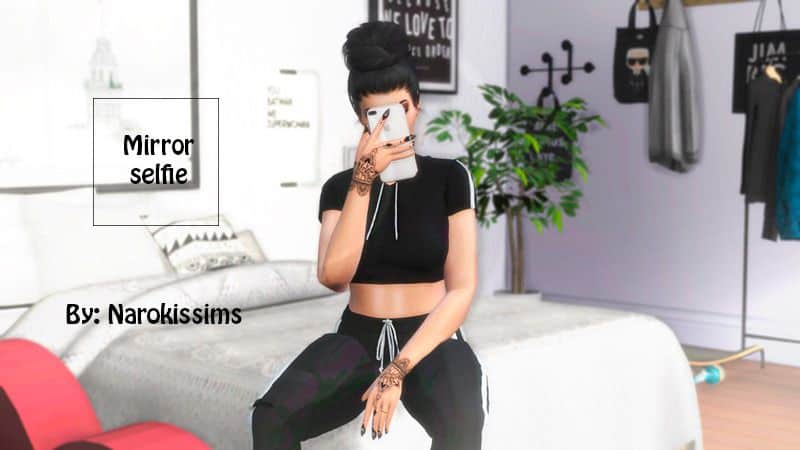 This pose pack reminds me of those classic social media gym selfies where you just see a cellphone and someone posing.
There are three poses in this pack which are all sitting ones.
To pull these off, you'll need to place the teleporter directly on top of an object like a bed or a chair.
I like using these poses because they're so natural for today's day and age, where so many people post selfies like this.

7. Sims 4 Selfie Pose Pack by Beta_ae0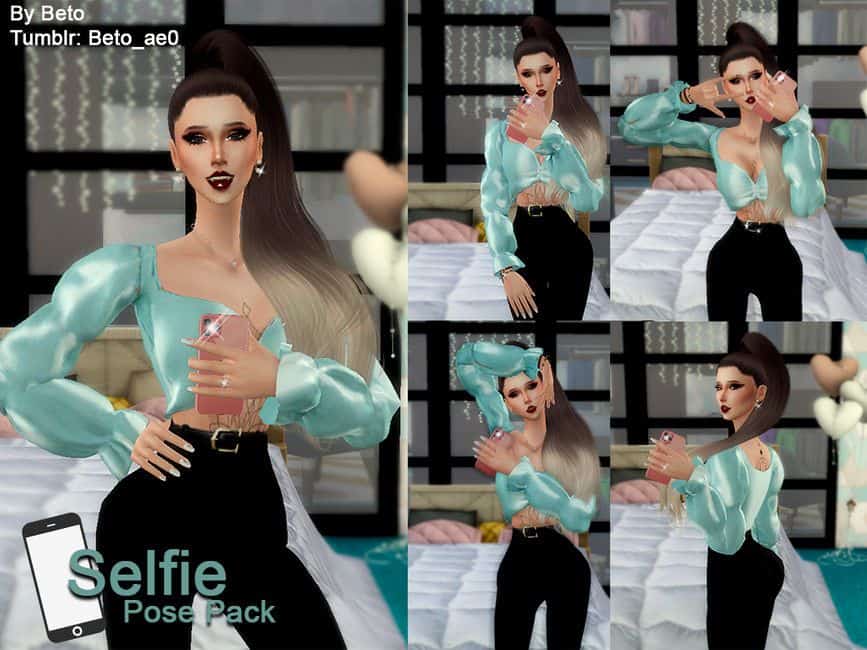 Try out this set of six in-game sims 4 selfie poses for additional mirror selfies.
There are five standing poses and one sitting.
This pack features mostly stylish frontal shots and one cute side shot.
The creator has included an iPhone cc link on the pose's page.

8. Love Selfie Sims 4 Poses by Lisle Store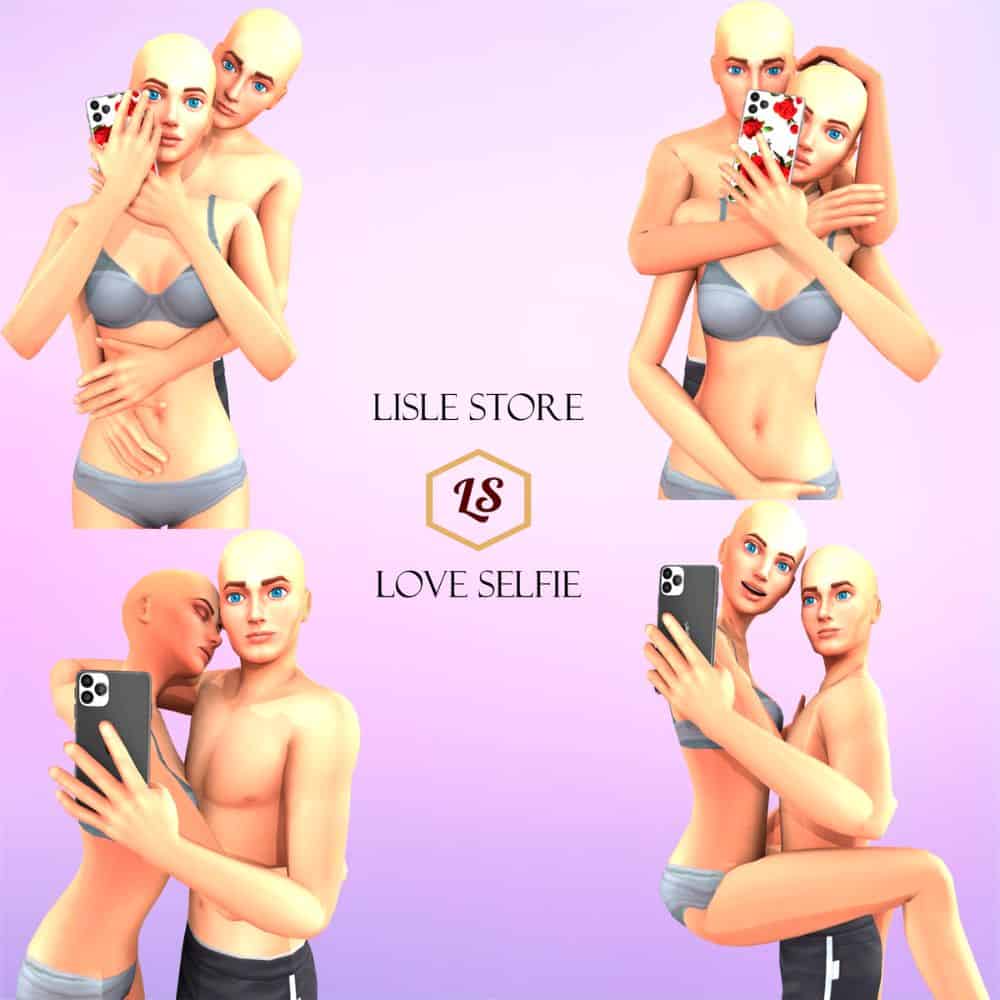 Another great option for your sims couples is this set of four selfie poses that make amazing pictures.
Snap some cute and loving poses of your favorite couple.
If you like stylish phone cover designs, check out the cc download linked by the creator.

9. OOTD Sims 4 Selfie Poses by chewybutterfly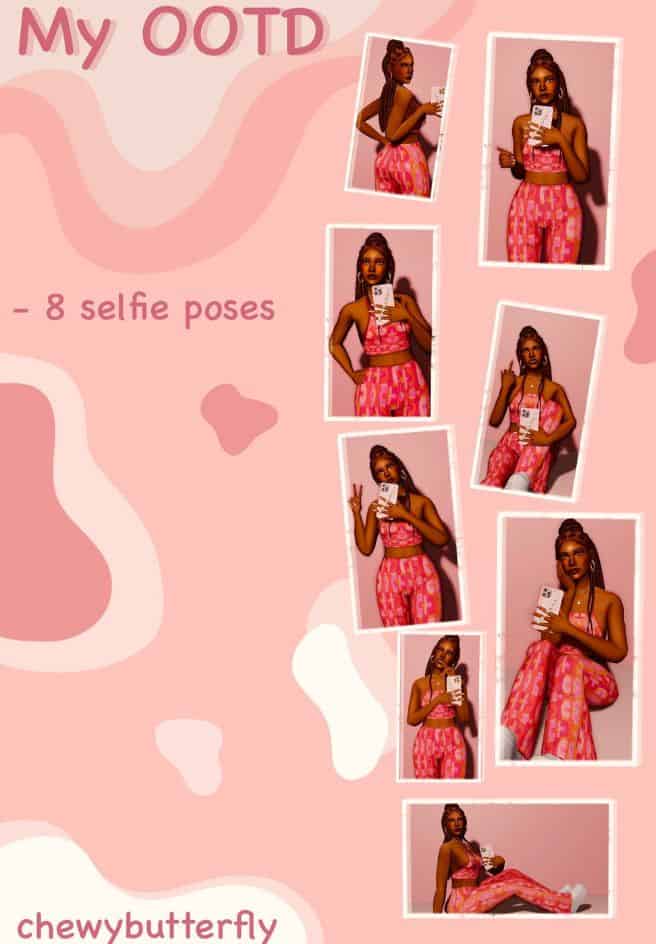 If you're looking for more casual mirror selfie poses, this one has eight fun poses that your sims can use.
They're a mix of standing and sitting selfie poses.
In between poses, you may need to switch hands for your phone accessory, depending on the chosen selfie stances.
Grab the included phone cc to get better pictures, which will work best for these poses.

10. Sims 4 Selfies for Couples by Veiga Sims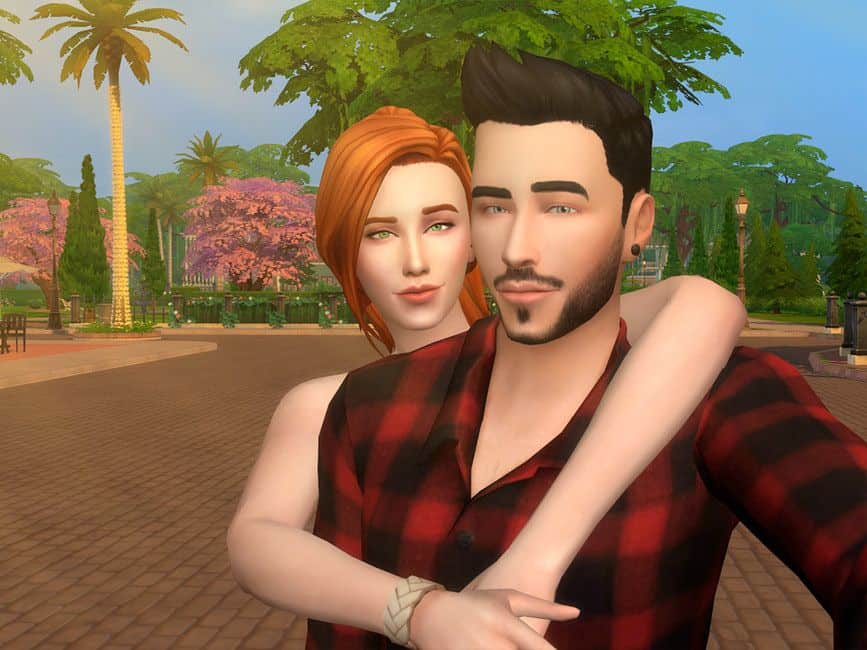 This sims 4 selfie poses pack is one of my favorites for couples.
There are only three poses, but they're so cute and personal.
If you pair this pose pack with GShade presets to add a blurred background, the pictures will come out amazingly.

11. Pregnant Sims 4 Selfie Poses by Katverse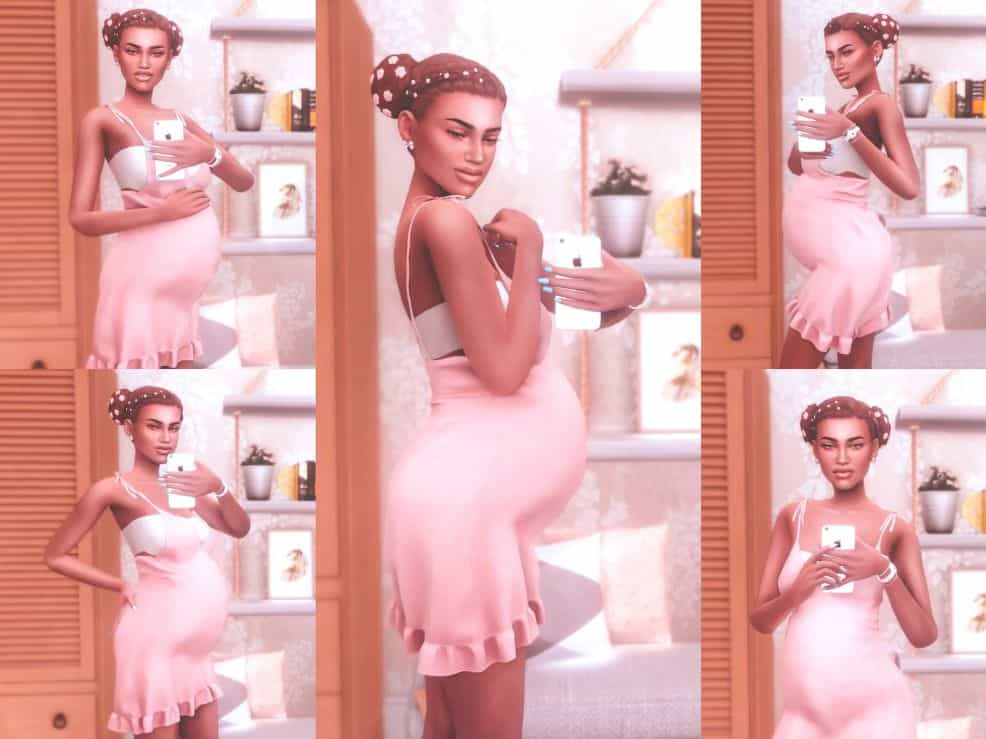 This pregnancy selfies pose pack is the perfect way to show off your baby bump in the form of a selfie.
You can choose from among five gorgeous poses of your pregnant sim.
You can also use these poses on the CAS screen if you want.
They can be found under the Perfectionist trait.
The phone accessory for in-game selfies should go in your sims' left hand but in the right for CAS selfies.

12. Casual Sims 4 Selfies by YaniSim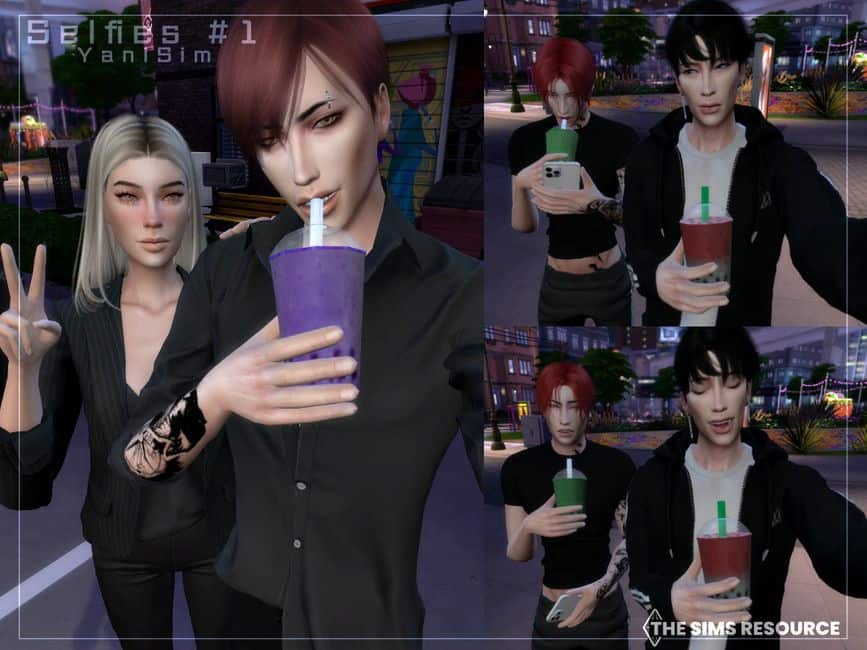 If you're looking for casual, candid shots of your sims, check out this sims 4 selfie poses set.
With these group poses, your sim can capture your sims enjoying a nice bubble tea in good company.
There are three group selfies in this pack, each having two poses, one for sim A and one for sim B.
For a successful pose, place two Teleport-a-Sim statues in the same place.
Make sure to grab the Pearl Milk Tea custom content linked in the Required tab.
Once installed, you'll find it under the Ring category.

13. Baby Selfie Sims 4 Poses by Beta_ae0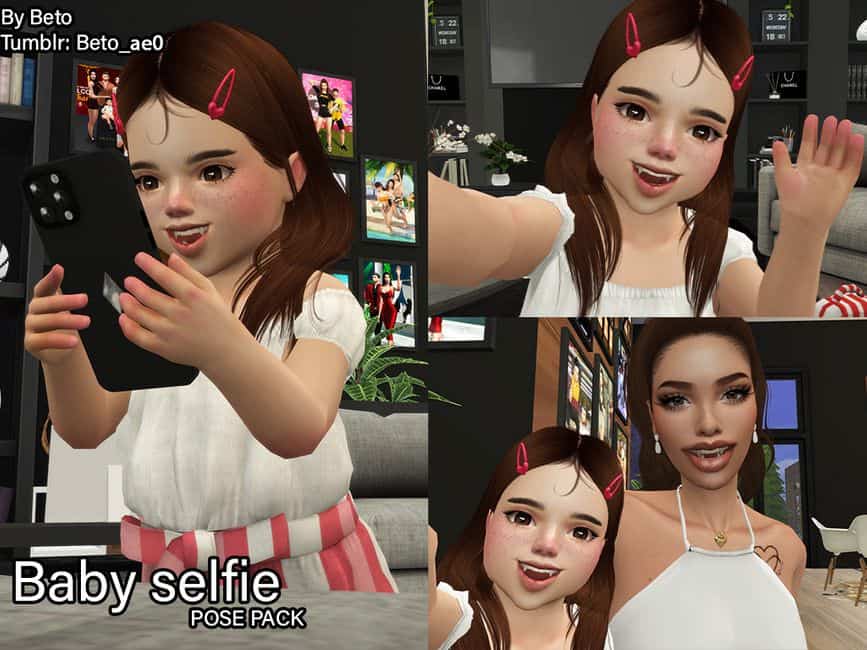 Grab this adorable selfie-taking toddler pose if you want a nice family selfie.
We've all seen this moment when a baby grabs mommy or daddy's phone to play with the camera.
This set has six poses, but only three are for toddler selfies.
Most of these selfies include a second sim that can consist of either parent for that lovely family snapshot.

14. Selfie Poses for Sims 4 by rebouks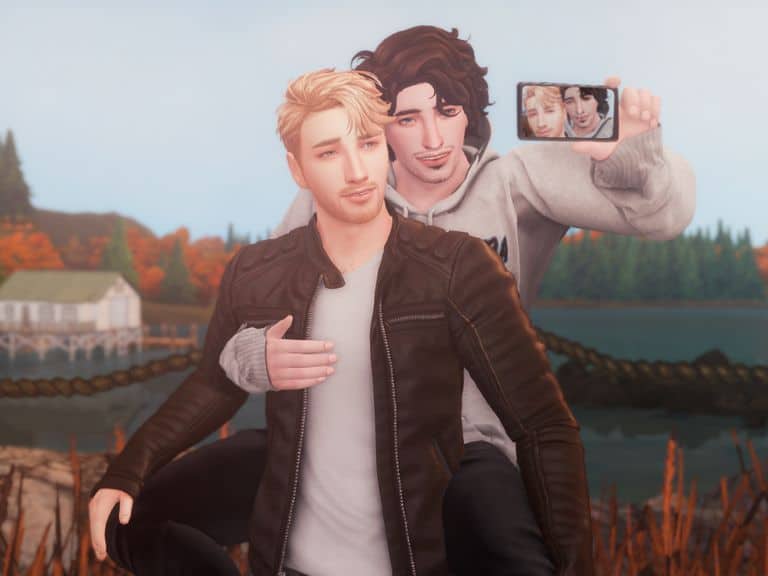 These sims 4 selfie poses are a little different from the rest found in this list, which is what I like about these mods.
In these couple poses, you can see a preview of the picture on the phone for some of them, which is a nice touch.
This collection has six poses for great picture moments with your sims' significant other or BFF.

15. Sims 4 Selfie Override by Katverse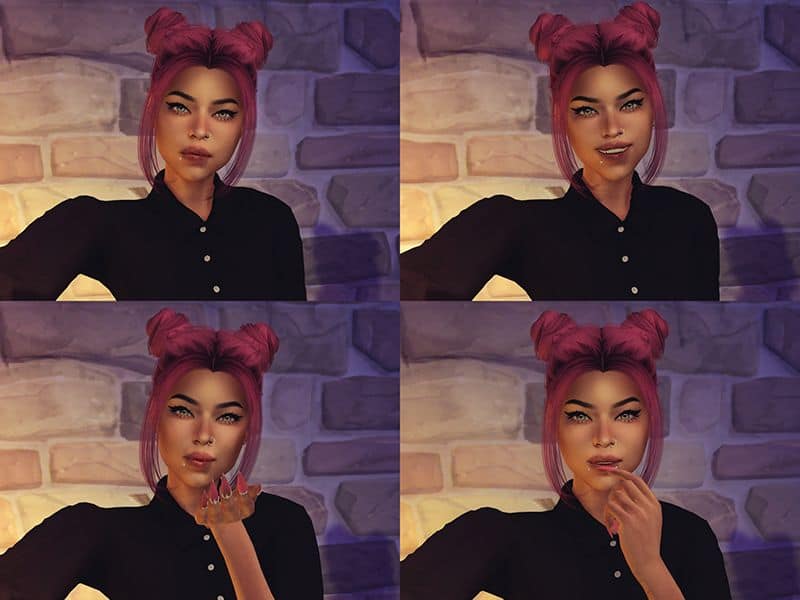 These selfie override poses are a great way to bring something new to the game without using the pose player.
This mod adds new selfie poses in replacement of the game's default ones.
So when using your in-game phone to take selfies, you'll get these fun new ones instead.
Four poses come with this selfie mod, and they can be used by any sims aged teen and up.
Sims 4 Selfie Poses: Final Thoughts
These sims 4 selfie poses are a perfect way for your sims to express themselves through the art of self-photography.
Whether opting for selfies in front of a mirror, candid shots, or snapshots with a loved one, there's a selfie for everybody.
If you have any questions or suggestions, feel free to leave us a comment below or tag us on Tumblr.
More Sims 4 Poses

Don't forget to share and pin this post for later!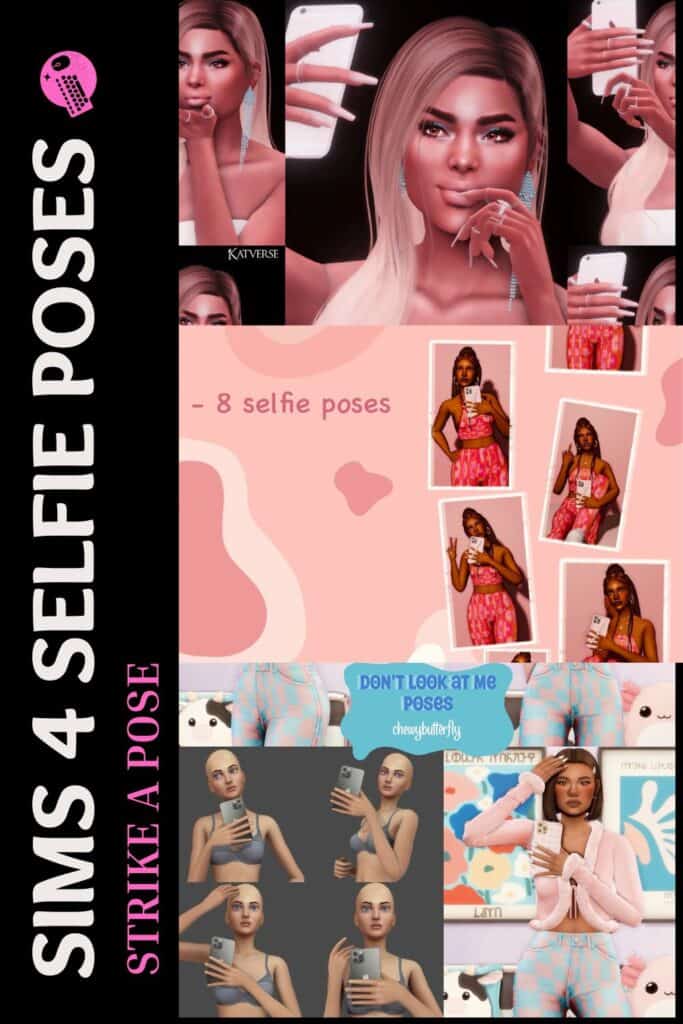 Sims 4 Selfie Poses: Strike the Perfect Pose