17+ Cozy Little Sims 4 Cribs CC for Infants
Find the perfect bed for your sim family's infants among our collection of sims 4 cribs cc.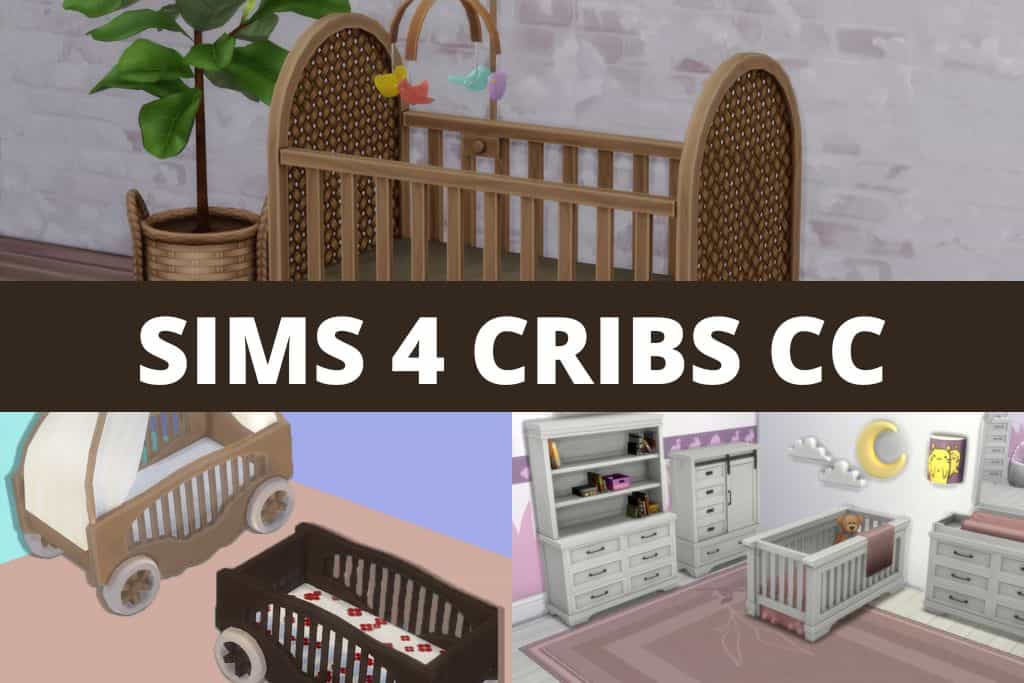 With infant gameplay on the rise, you definitely need some new sims 4 cribs cc for your little ones.
Since infants can't do much, they at least need a cute and comfortable crip to relax and sleep.
This collection of sims 4 cribs cc has a nice variety of cribs and bassinets for newborns and infants.
There's a style that will fit nicely for your baby sim and their new nursery.
And if you need more infant custom content, don't forget to check out our other posts linked at the bottom.
Disclaimer: The following mods are neither endorsed nor affiliated with The Sims, Maxis, or Electronic Arts. Any use of mods (custom content or game mods) should be done with caution and with the knowledge that there may be risks.
Sims 4 Cribs CC
From rounded light-colored cribs to squared darker-toned ones, with put together the latest cribs to hit the sim's community.
Except for one design, the rest of the cribs are compatible with the infant update, so there is plenty to choose from.
1. Sims 4 Bassinet Custom Content by Charly Pancakes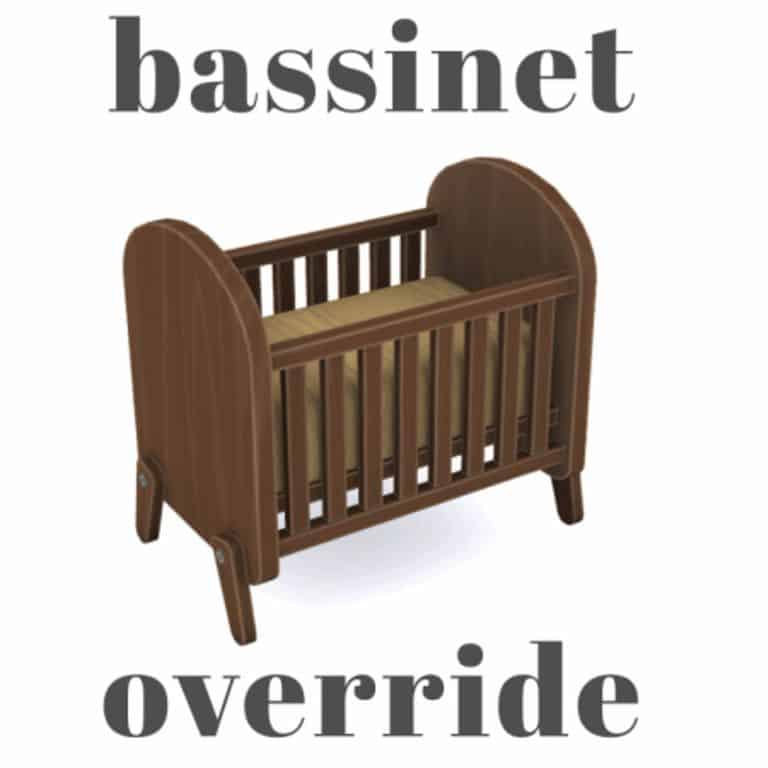 This bassinet cc was made to replace the game's default baby crib.
It only comes in four swatches, but that's ok because they all look great.
Ensure you have the invisible crib mod installed for it to work, which you will find linked on the downloads page.

2. Little Roof Sims 4 Crib CC by RoseaMarie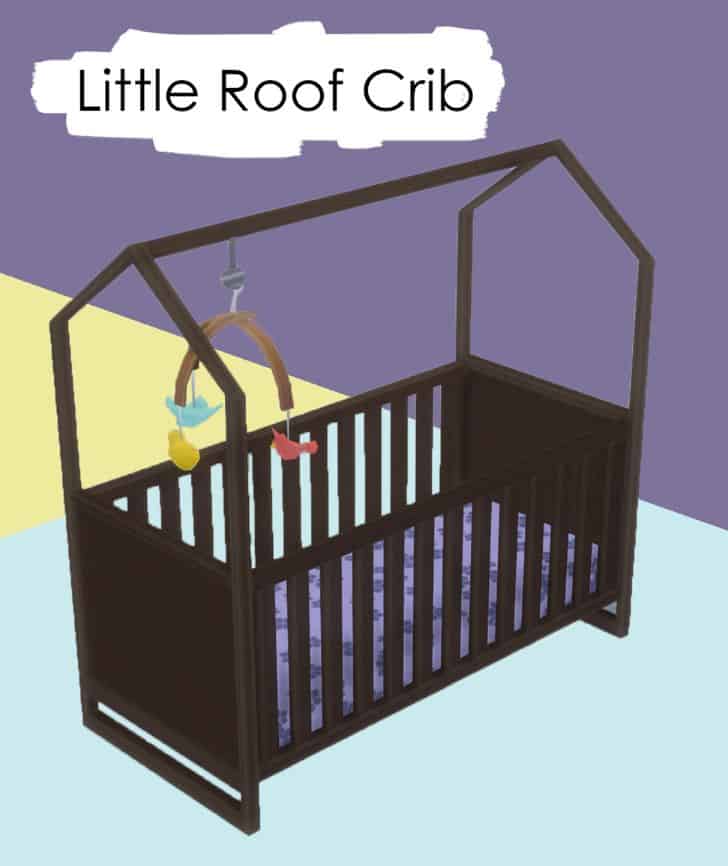 This cute crib has a frame to make it look like it has a little roof.
There's also a bird mobile hanging from the roof frame.
This crib is available in nine swatches, three colors for the crib itself, each with the same three swatches of mattresses.

3. Sims 4 Infant Cribs CC by awingedllama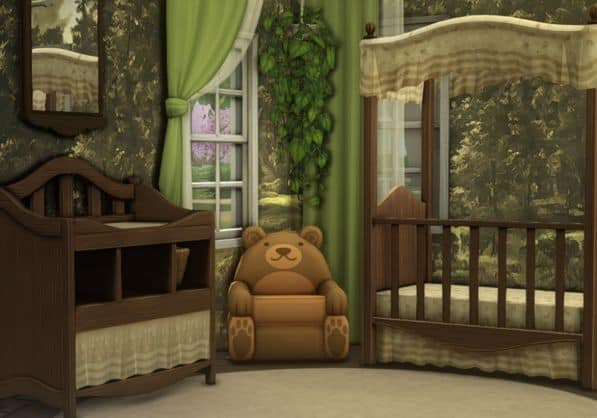 This collection is for a whole set of infant furniture cc.
It includes three changing tables, one diaper bin, two sims 4 cribs cc.
The canopy crib pictured above would look great in any classical, elegant home.

4. Sims 4 Cribs CC for Infants by Pink Baddie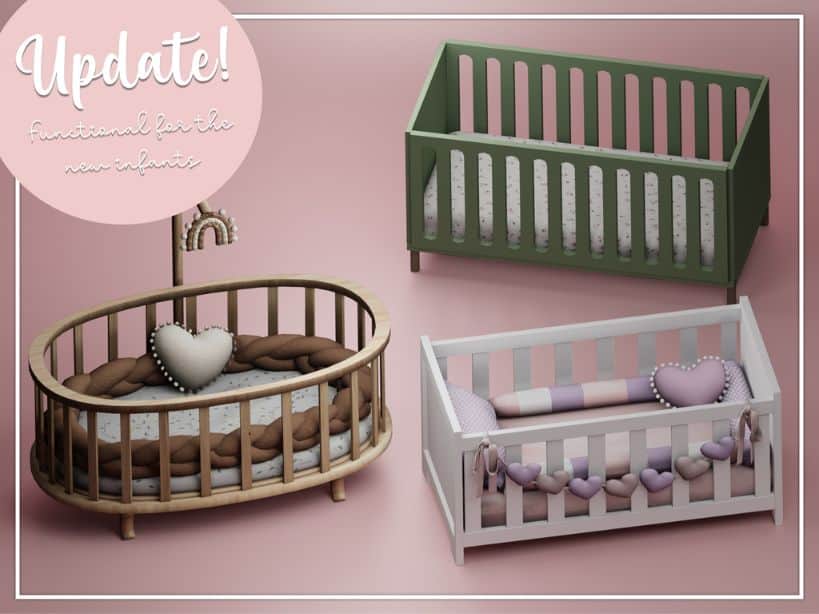 This infant crib pack features 3 functional cribs; one round-shaped bed and two squared ones.
The round Boho crib has a very original design compared to the typical rectangular infant beds.
You will also find the links for the older newborn files on the download page.

5. Sims 4 Cribs Recolors by Milk&Honey Boutique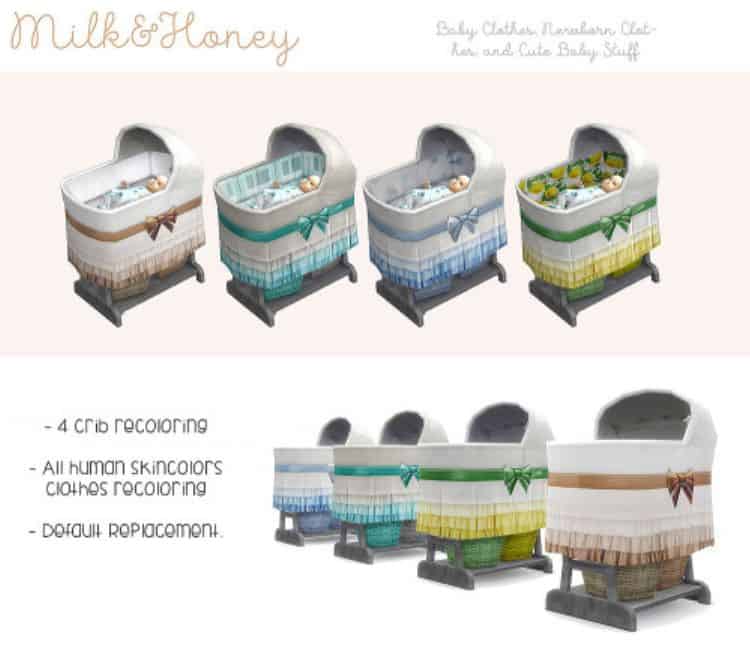 This crib cc has two files, but you can only install one at a time.
One of the files replaces the game's crib offering four color options.
The second file provides the same but also allows you to recolor your sims baby's clothes.

6. Freja Sims 4 Crib CC by myshunosun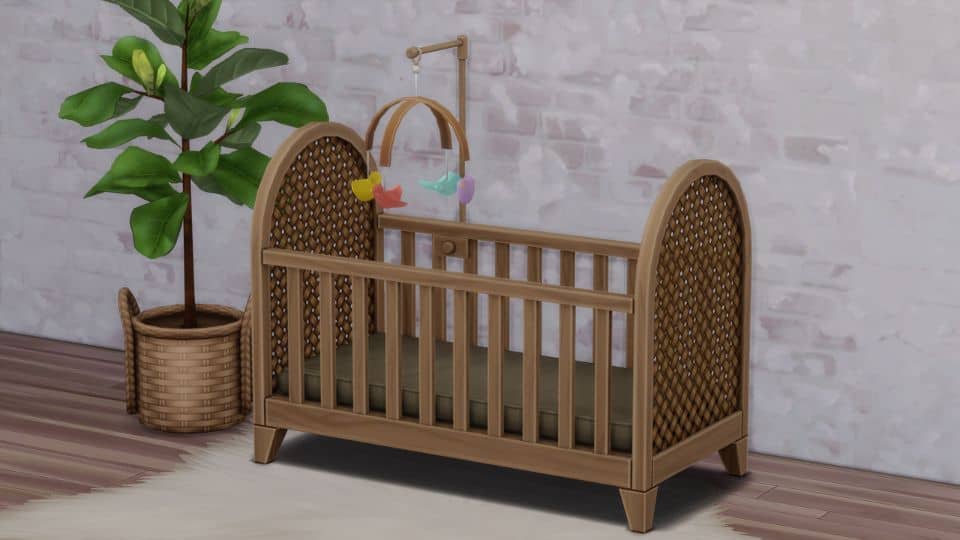 While this crib is already featured in our infant cc post, linked at the bottom of this article, it needed a spot here too.
This functional sims 4 crib cc features rattan-style details, giving off hot weather or tropical vacation vibes.
It has 26 non-default color swatches, which would blend in with any nursery baby room's colors.

7. Tui Infant Crib for Sims 4 by Kiwisim4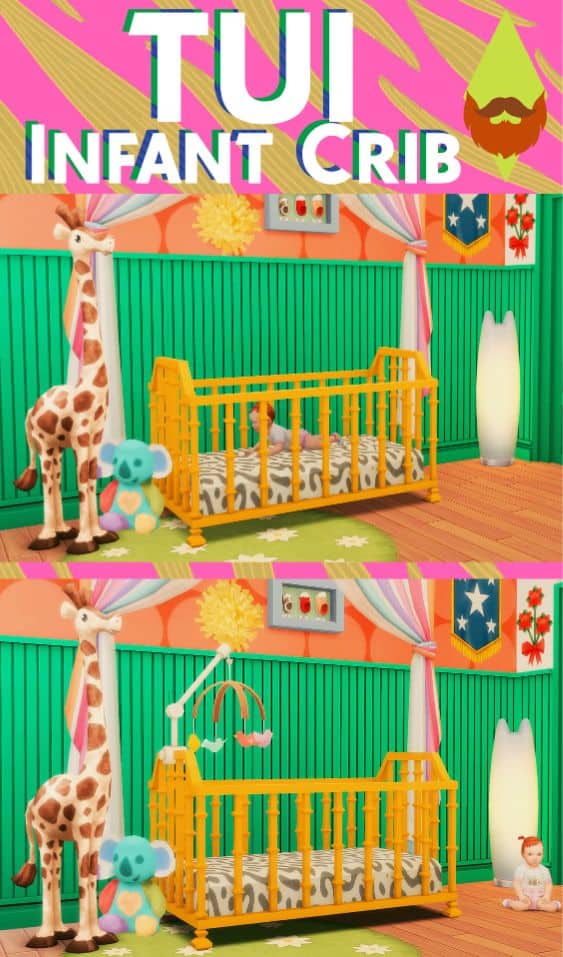 You'll love this bamboo-styled baby's crib, especially if you have a safari-styled room.
This sims 4 crib cc comes in 15 swatches and an equally interesting animal print mattress.

8. Sims 4 Cribs CC Set by Severinka_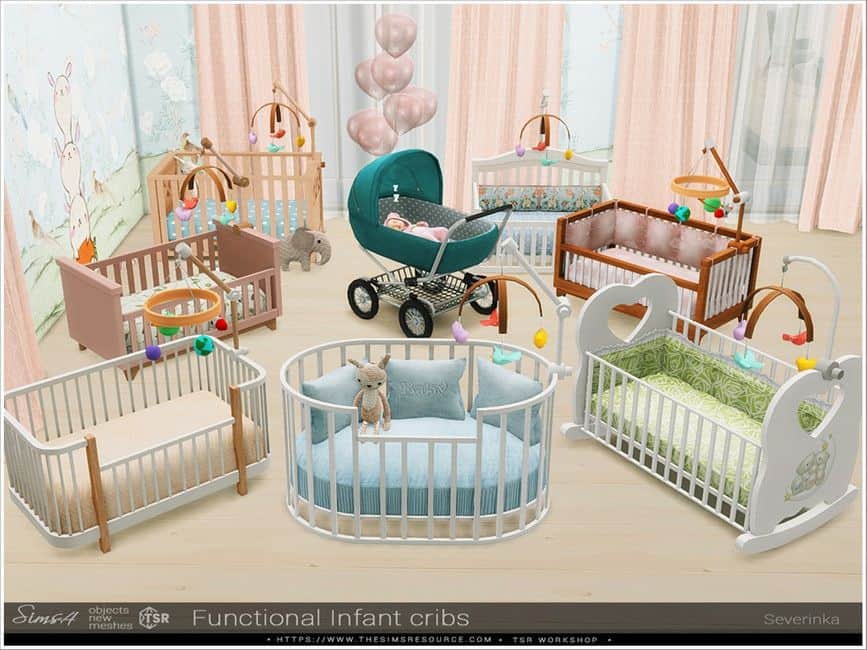 This collection of functional sims 4 cribs cc contains eight baby cribs and one stroller-style crib.
Each infant bed model has its array of swatches to go well with the nursery decor you've picked.
You'll need to download and install the creator's Invisible Crib mod to use the stroller crib.
That crib mod allows your sims to place their little tots in any infant cc crib.

9. Sims 4 Infant Cribs CC by Syboulette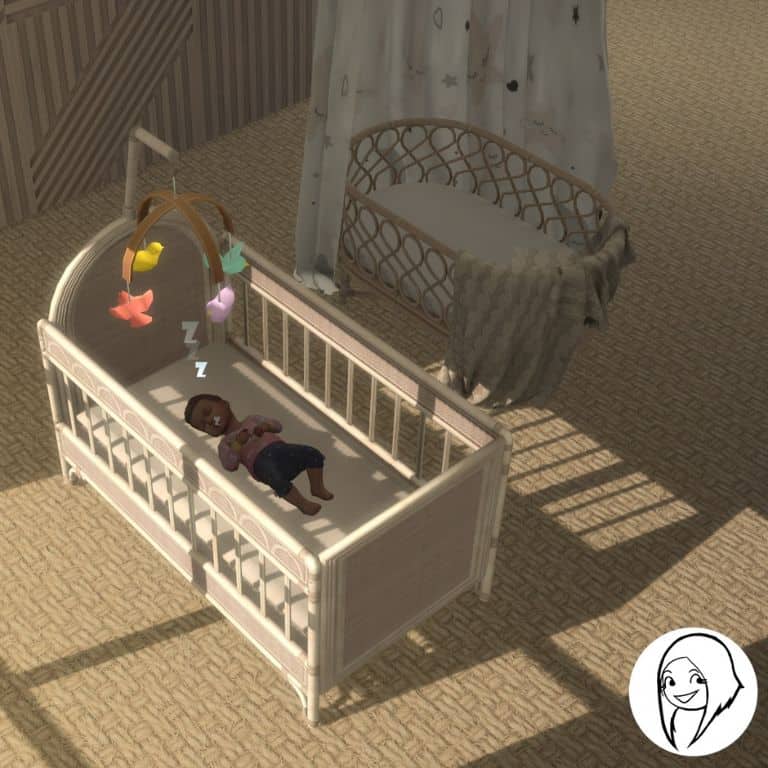 These sims 4 cribs cc offers an updated version of the creator's Coraline and Helios sets.
These two cribs no longer work with the invisible crib and are exclusively just for your sims infants.
I absolutely love the rattan Helios crib and its detailing.

10. Sleigh Crib CC for Sims 4 by RoseaMarie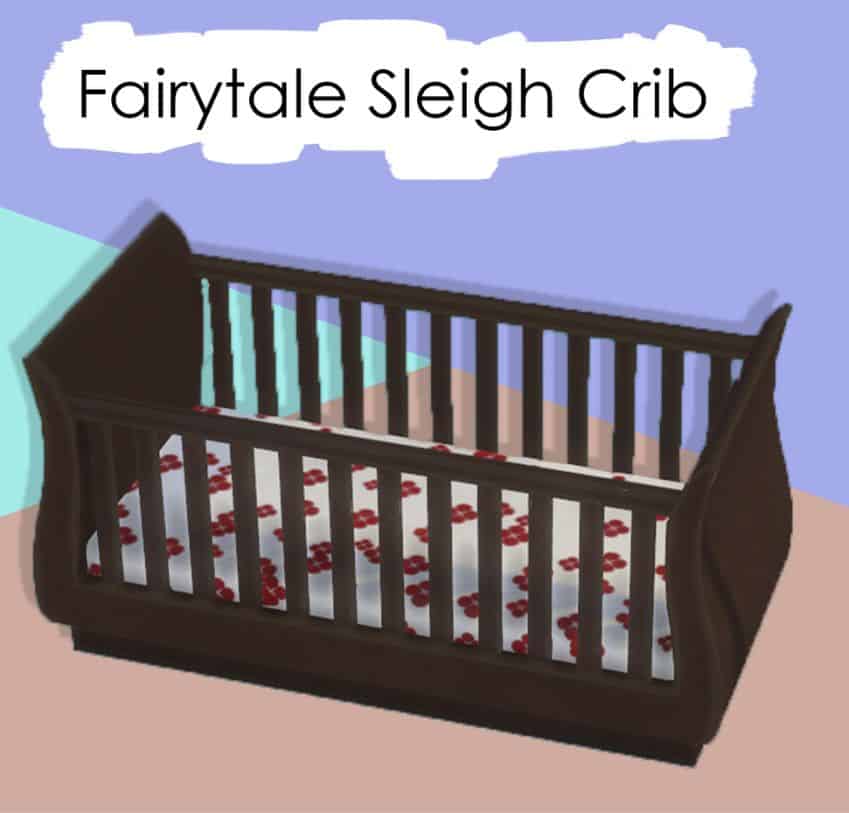 This baby crib cc is all about a sleigh-shaped infant bed.
It comes in three colors for the frame and has six swatches for the mattress for 18 swatch combos.

11. Animal Abounds Sims 4 Crib CC by Savannah987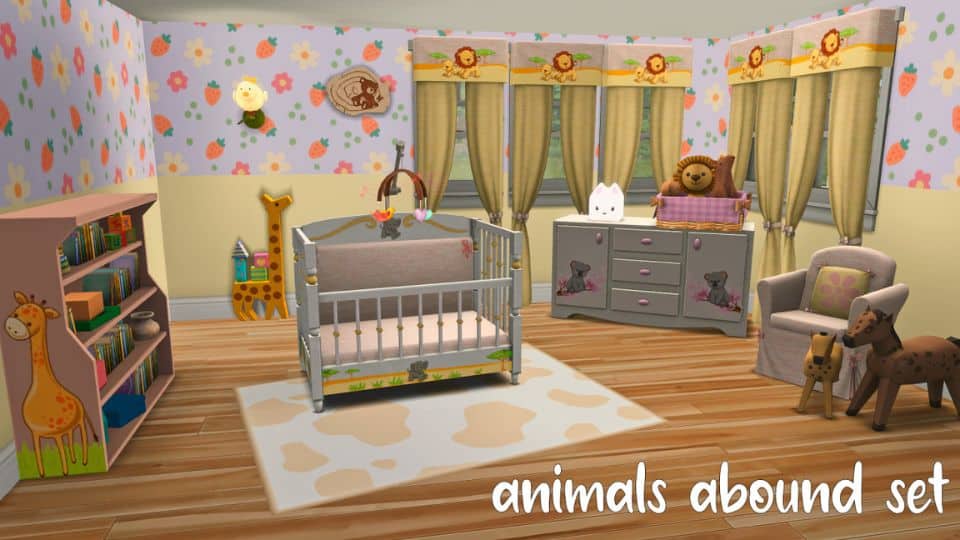 If you want an animal-themed baby's room, this collection has many items, including a beautiful nursery crib.
The set contains 22 items where, two of which are cribs.
The panda crib comes in three swatches, while the wilderness crib comes in four.
Both of these sims 4 cribs cc are fully functional for infants.

12. Sims 4 Bassinet CC by Nightingale Sims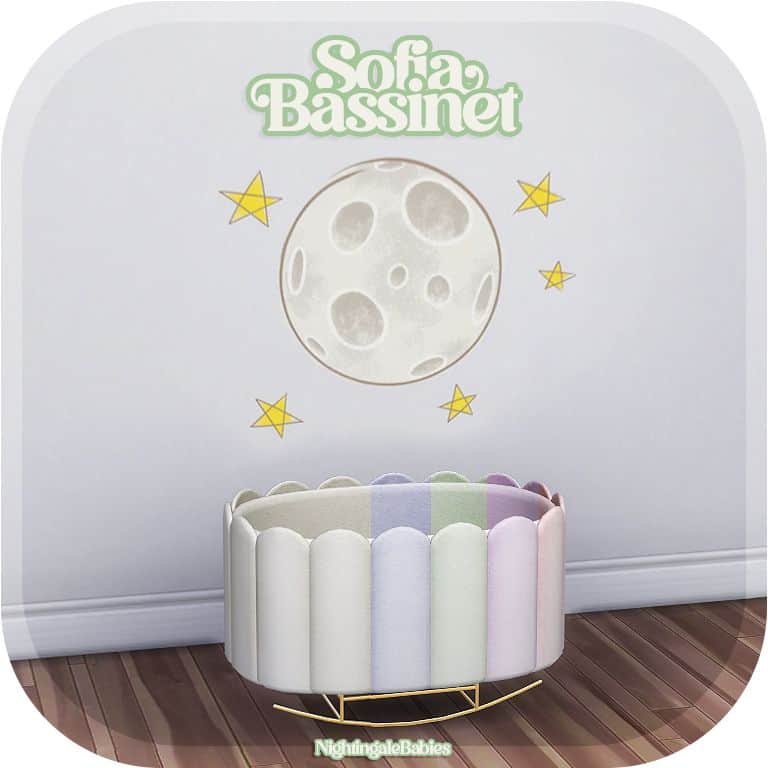 This cc is for a cute oval-shaped bassinet that can be added to your infant's nursery room.
That bassinet comes in five colors and is purely decorative.
The creator also plans on creating a decorative version for newborns, so you can keep an eye out for that.

13. Sims 4 Baby Crib by Nordica-sims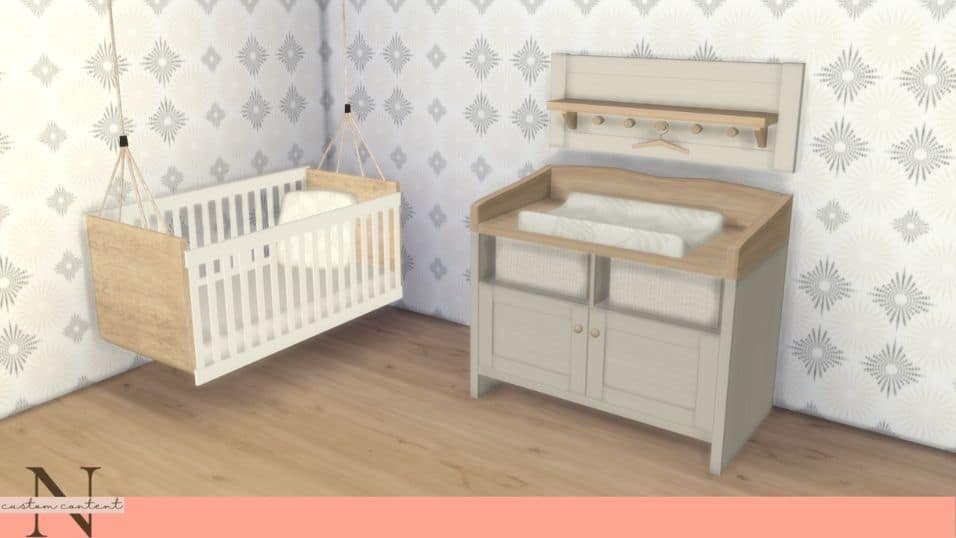 The BOHO collection is a three-piece set of baby furniture.
It includes a bookshelf, functional changing table, and hanging crib.
The hanging crib comes in seven swatches and is upgradeable by adding a mobile to it.

14. Jenny Sims 4 Crib CC by Severinka_
This set is for Scandinavian-style furniture for your infant's room, including a decorative cradle or crib.
If you want to lay your infant in the crib or on the changing table, just install the Invisible Crib mod linked on the Recommended tab.
The crib comes in 8 stylish swatches.

15. Simply Crib CC for Sims 4 by TheKalino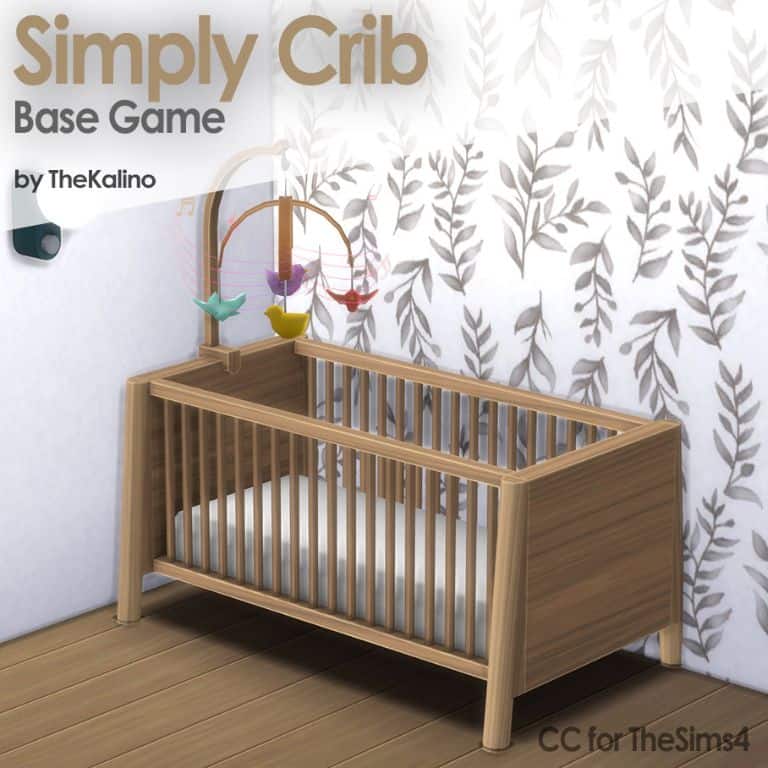 For a modern-looking crib, this one is fully infant-compatible and comes in 12 colors.
This custom content makes a fine addition to any contemporary home.
It's also simple and elegant.

16. Functional Sims 4 Cribs CC by RoseaMarie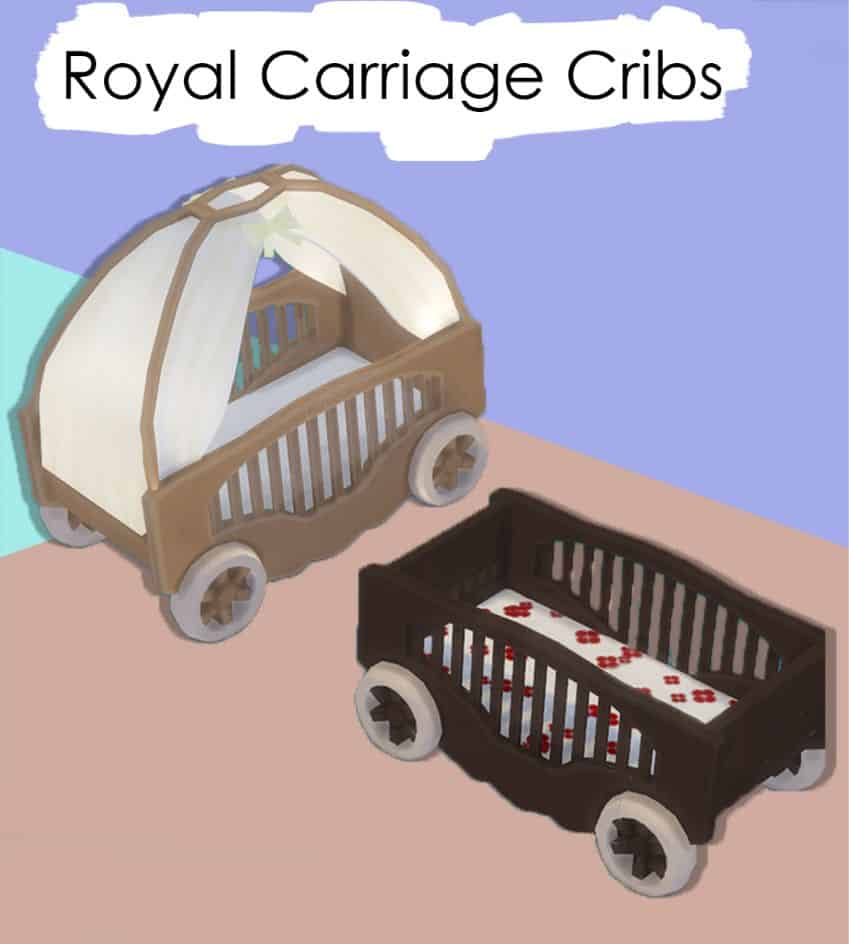 For fun and original-looking cribs, this set offers two carriage-style beds for your little tots.
Both models are the same, except one has a canopy on top.
You can add a mobile to both models.
They come in three colors for the crib and a variety of combos for the mattress and canopy bow details.

17. Johanna Sims 4 Crib CC by Taurus Design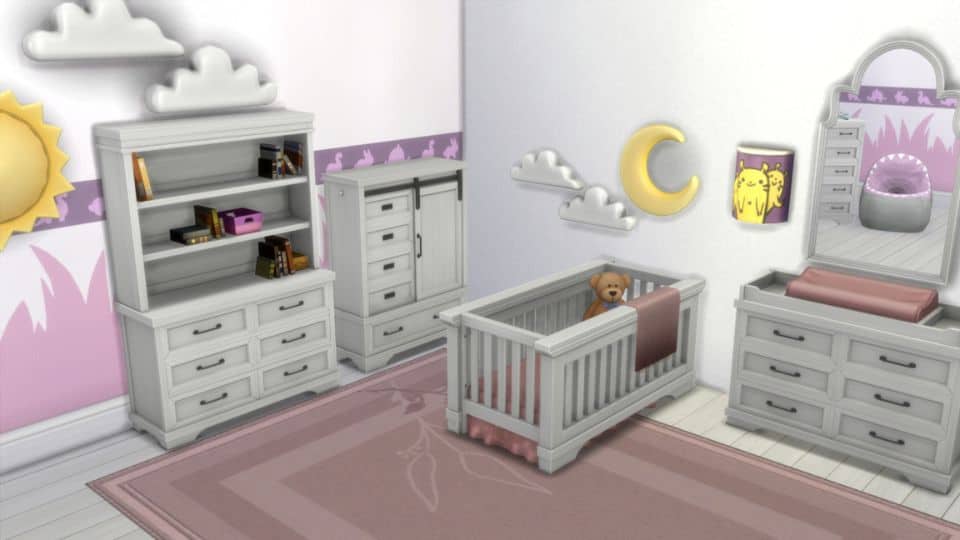 The Johanna collection contains 30 nursery furniture pieces, including
Two cribs
Dresser
Nightstand
Mattress for infants
Deco baby monitor
Nightstand and more
Both cribs have a great selection of 30 swatches.
If this set interests you, note that it's scheduled for a public release on April 21st. Stay tuned.

18. Lullaby Sims 4 Crib for Babies by myshunosun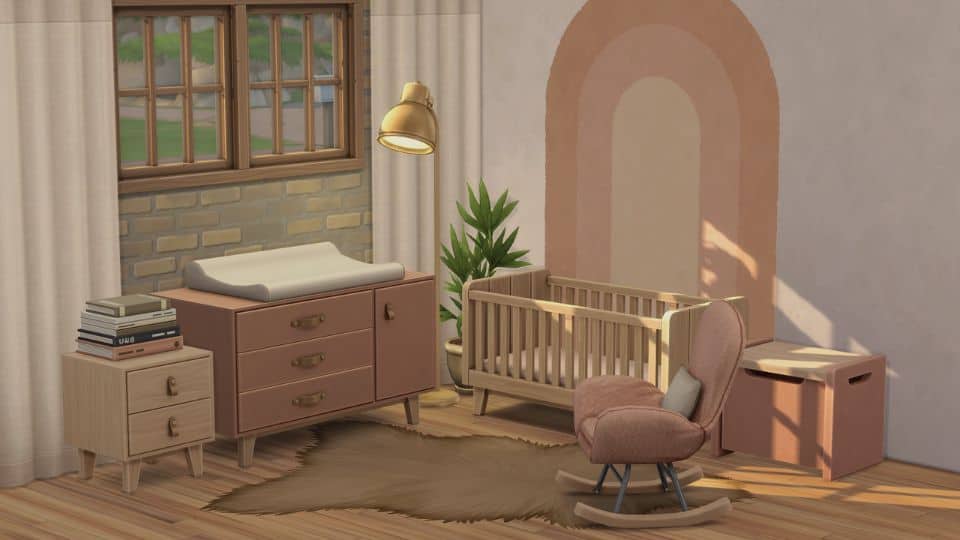 For a retro-styled infant crib cc, you can grab the one included in the Lullaby Nursery set.
The infant crib comes in 17 swatches, perfect for a growing family in the 1970s.
Speaking of the 70s, it's a good piece of furniture if you're doing the TS4 Decades Challenge and your household is in that era.

19. Sims 4 Crib Override by awingedllama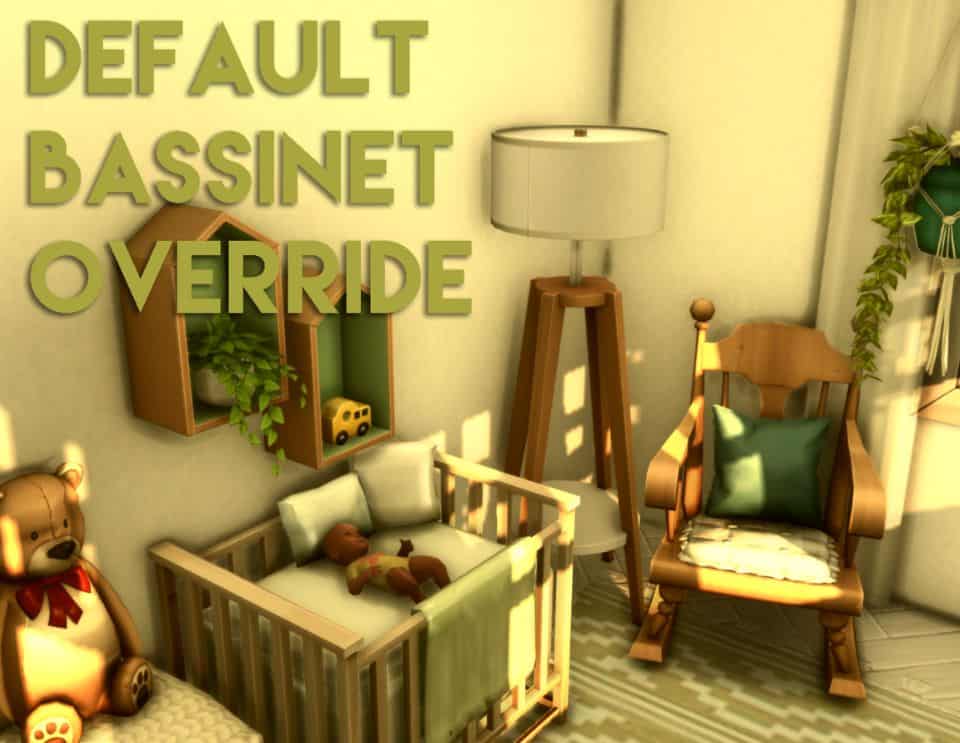 This crib cc mod replaces the game's default bassinet with this maxis match one.
It offers three wood color tones: white, pine, and dark oak.
Each color has its individual file, and you can only install one at a time.
Sims 4 Cribs CC: Final Thoughts
Going through this list of sims 4 cribs cc, we hope you have found a few cc to add to your collection.
Whether you are looking for something contemporary or retro, there's a crib that'll fit any home style.
If you have any questions or suggestions, feel free to leave us a comment below or tag us on Tumblr.
And a quick reminder to share and save this pin for later!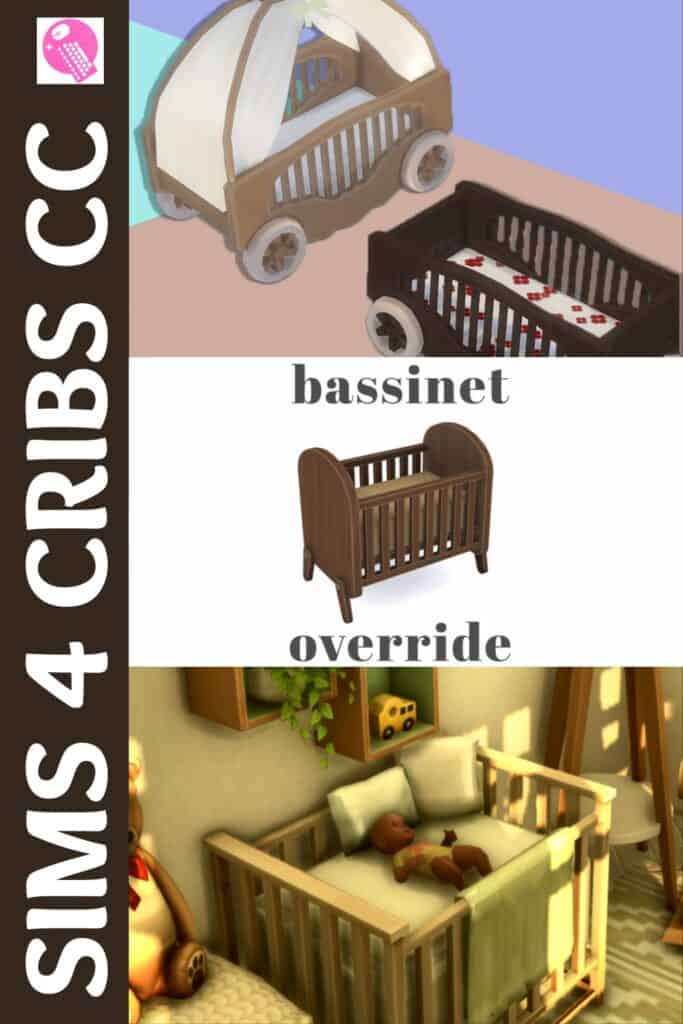 Other Sims 4 Custom Content Lists


17+ Cozy Little Sims 4 Cribs CC for Infants