49+ Sims 4 Infant CC For The Cutest In-Game Babies
Grab some new sims 4 infant cc to go along with the infant's free base game update!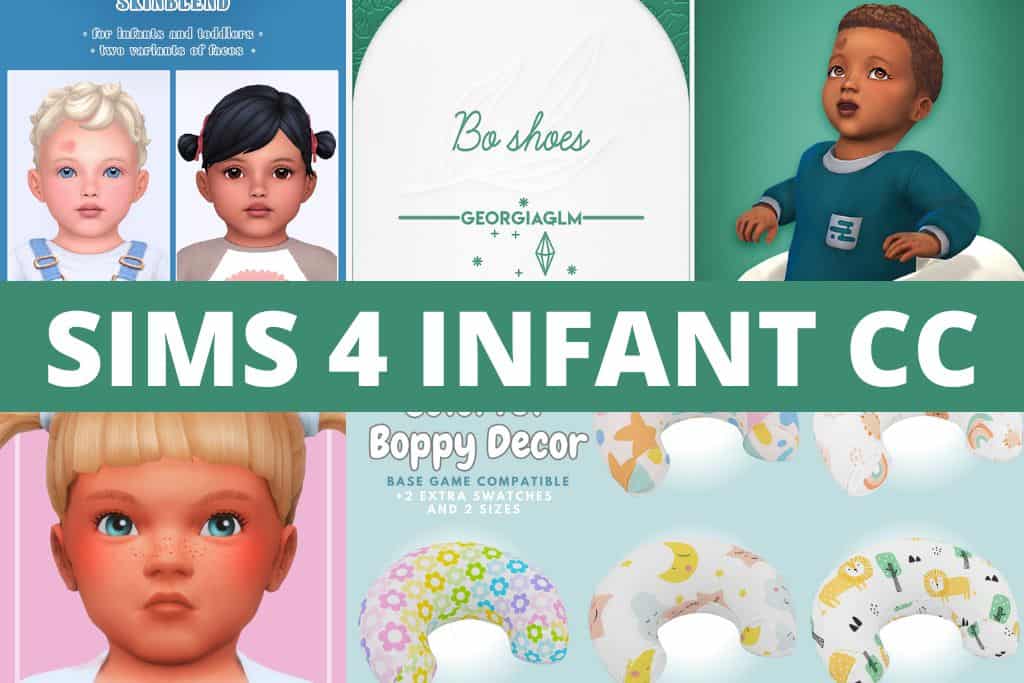 With the latest infant update, I've been anxiously awaiting all the new sims 4 infant cc, recolors, and more.
Thanks to the amazing creators in the sims community who have been working so hard, many pieces of custom content are ready to share.
I've compiled a mixed list of sims 4 infant cc clothing, shoes, hair, genetics, furniture, and everyday infant items.
Oh, and in case you need more infant hair or infant mods, you can check out these posts afterward;
Disclaimer: The following mods are neither endorsed nor affiliated with The Sims, Maxis, or Electronic Arts. Any use of mods (custom content or game mods) should be done with caution and with the knowledge that there may be risks.
Best Sims 4 Infant CC
All the following pieces of custom content should be base game compatible but will require the Infant update.
1. Sims 4 Infant CC Recolors by Maytaii

This infant cc set comes with three pieces of clothing for your tiny tots.
You will find a cute sweater, a pair of jeans and some comfortable leggings.
The socks are available in 20 swatches and will look adorable with a new pair of custom-content shoes.

2. Sims 4 Infant Socks by Giulietta Sims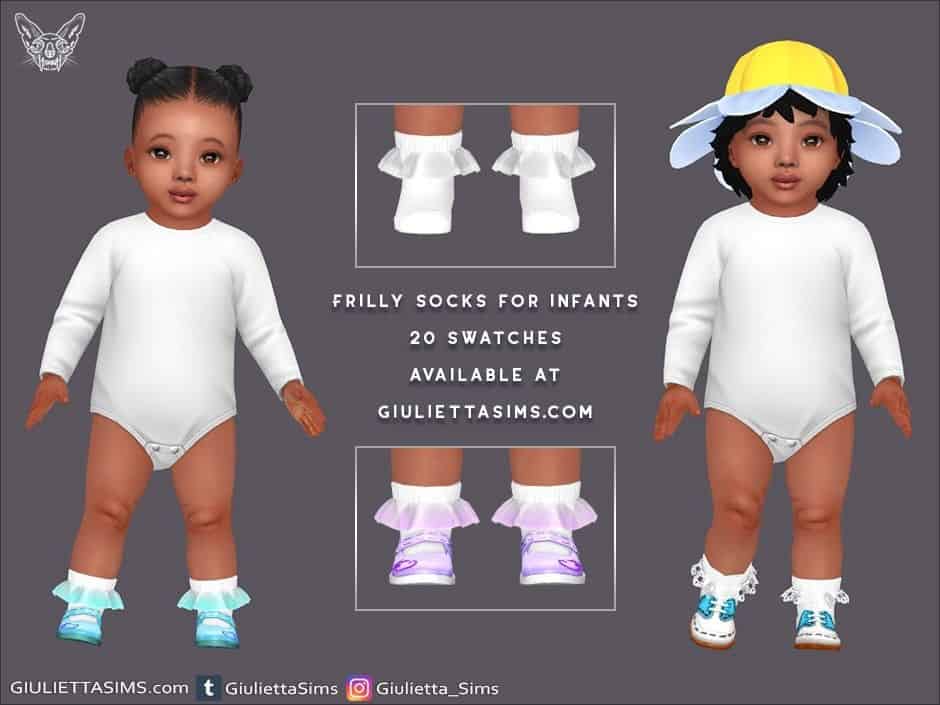 Grab some frilly socks for your little infant sims.
These sims 4 infant socks come with ruffles along the ankle and are available in 20 swatches to mix and match will all your infant outfits.

3. Infant Pacifier for Sims 4 by Powluna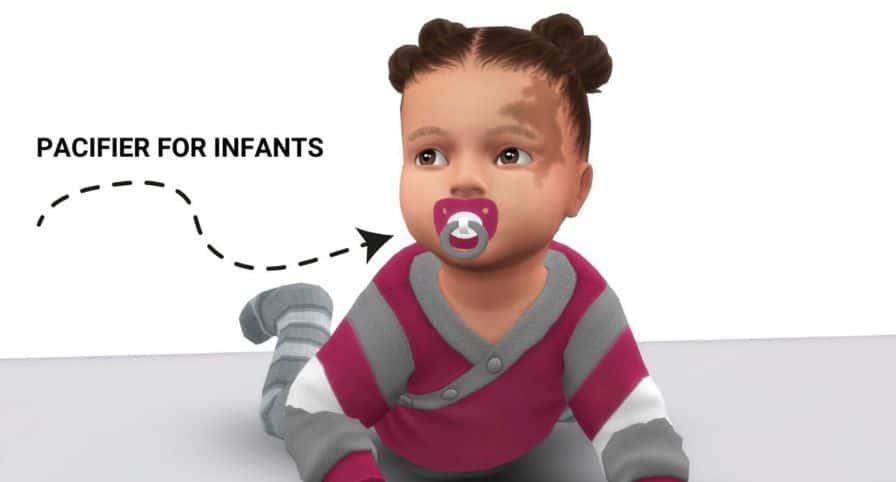 Which infants don't love their pacifiers?
These low poly unisex pacifiers are available in 36 swatches and have two versions.
You can find these sims 4 infant pacifiers in the glasses and necklaces sections.

4. Sims 4 Infant Comic Eyes Updated by Joliebean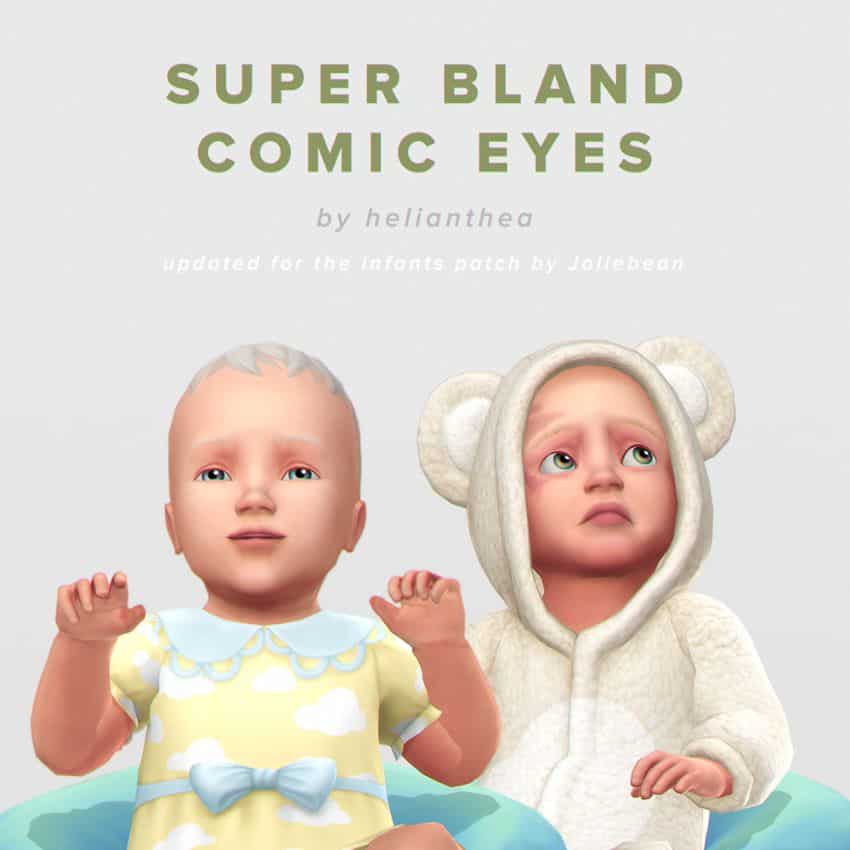 This update brings the Helianthea bland comic eyes to your sims 4 infants.
You can grab the default eyes and non-default eye swatches.
There is also an infant update for the Bland Black Eyes by teanmoon included in this set.

5. Infant Hair for Sims 4 by Ravensim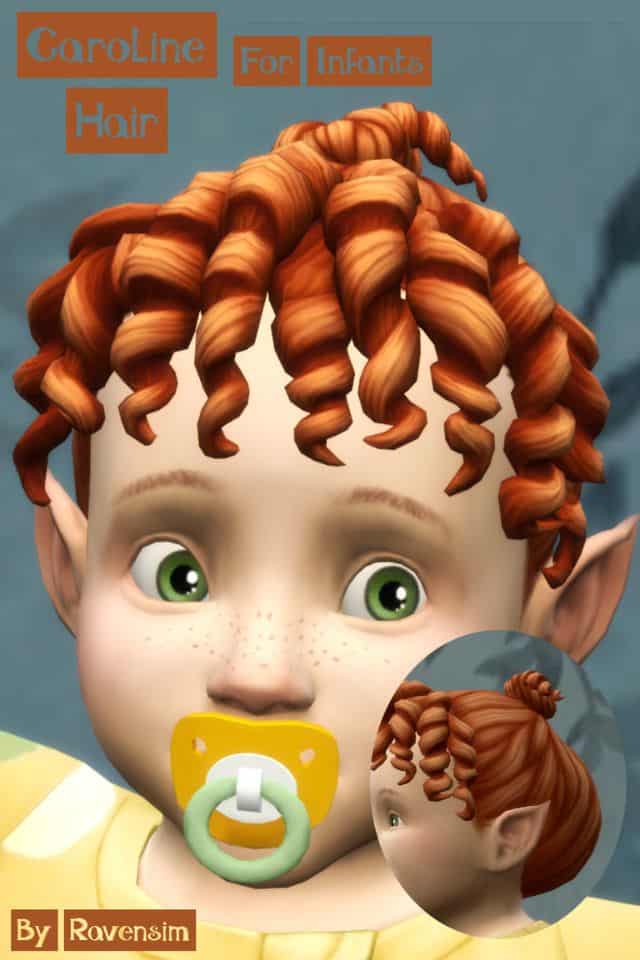 Give your infant sims a little updo bun and a curly fringe with adorable ringlets.
This Caroline hairstyle is available in 15 swatches and is compatible with hats.

6. Sims 4 Infant Skin Details by Chewybutterfly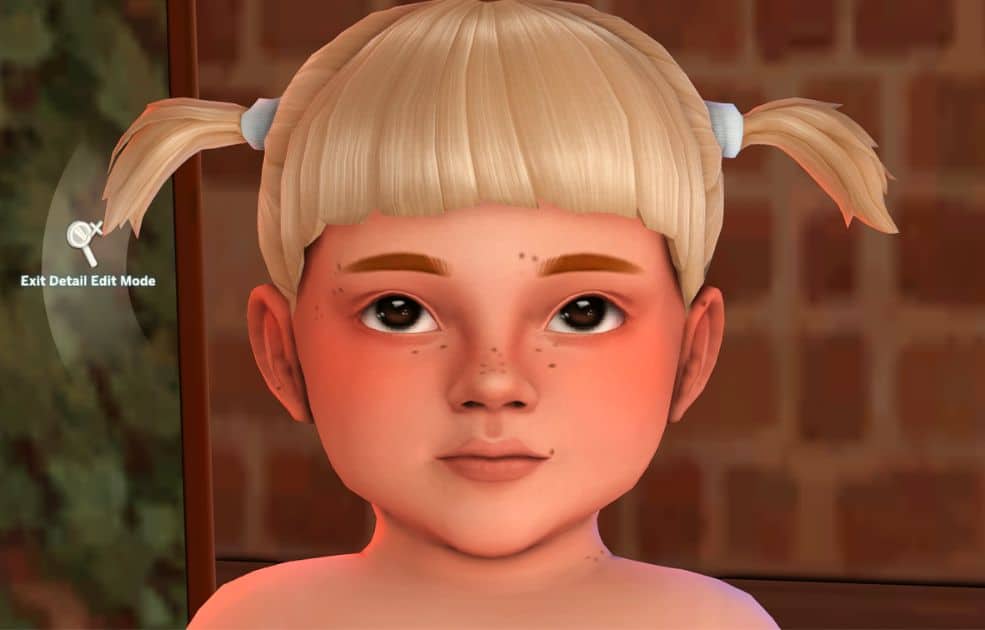 This set of updated files is for infant skin details.
You can add a sprinkling of light freckles, face, and beauty marks to your infants.
There are multiple swatches available for the face and body moles.

7. Sims 4 Infant Crib CC by myshunosun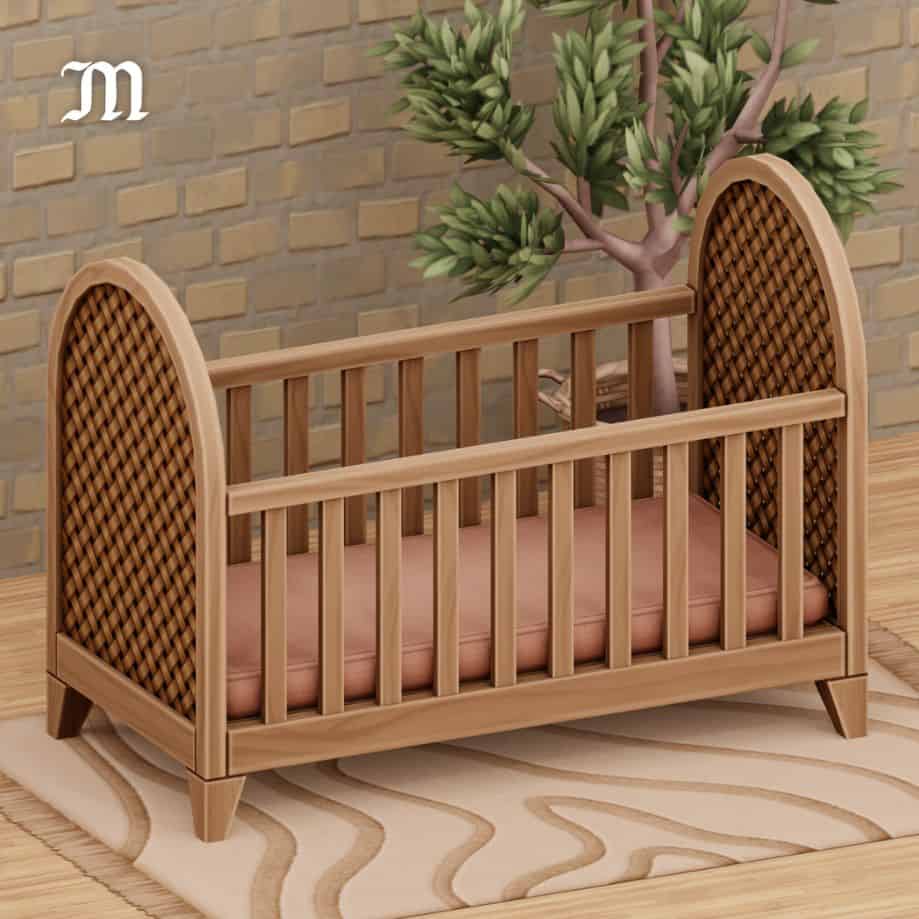 Grab this new and improved wooden crib for your infants.
Let your little ones get a good night in this fully functional crib which comes in 26 swatches.

8. Sims 4 Infant Nursing Pillow by Simbeeez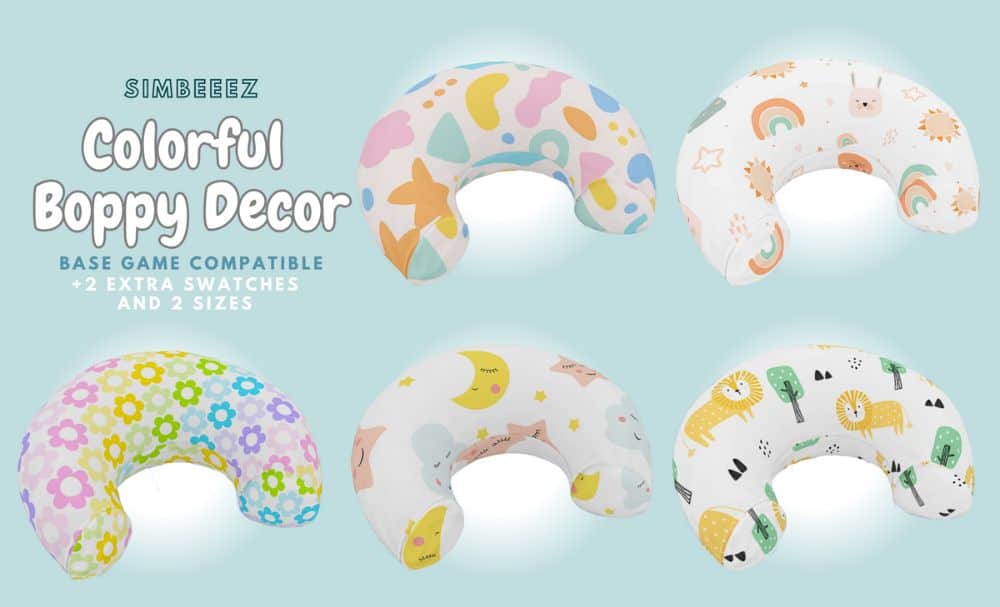 These boppy pillows are super popular in real life, and it's not different for your sims infants.
This set of colorful pillows comes in fun decorative swatches, including flowers, lions, rainbows, and the nighttime moon and stars.
There are 7 patterns in total, and these infant pillows also come in 2 different sizes.

9. Sims 4 Infant Outfit Set by littletodds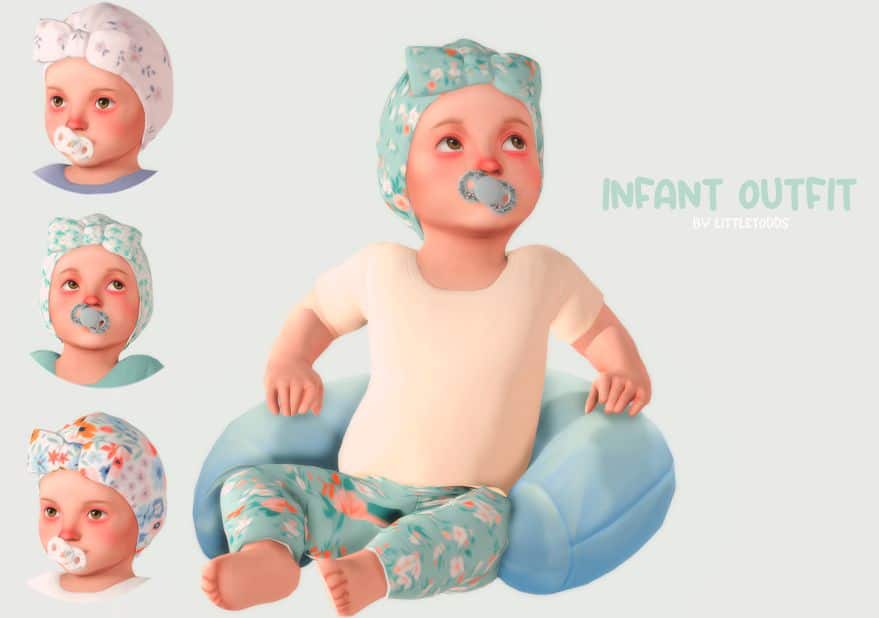 This 3-piece sims 4 infant cc outfit is so darling.
It comes with a short sleeve shirt, colorful leggings, and a matching hat with an incorporated bow at the front.
There are 4 swatches for each clothing piece.

10. Sims 4 Infant Skinblends by Northern Siberia Winds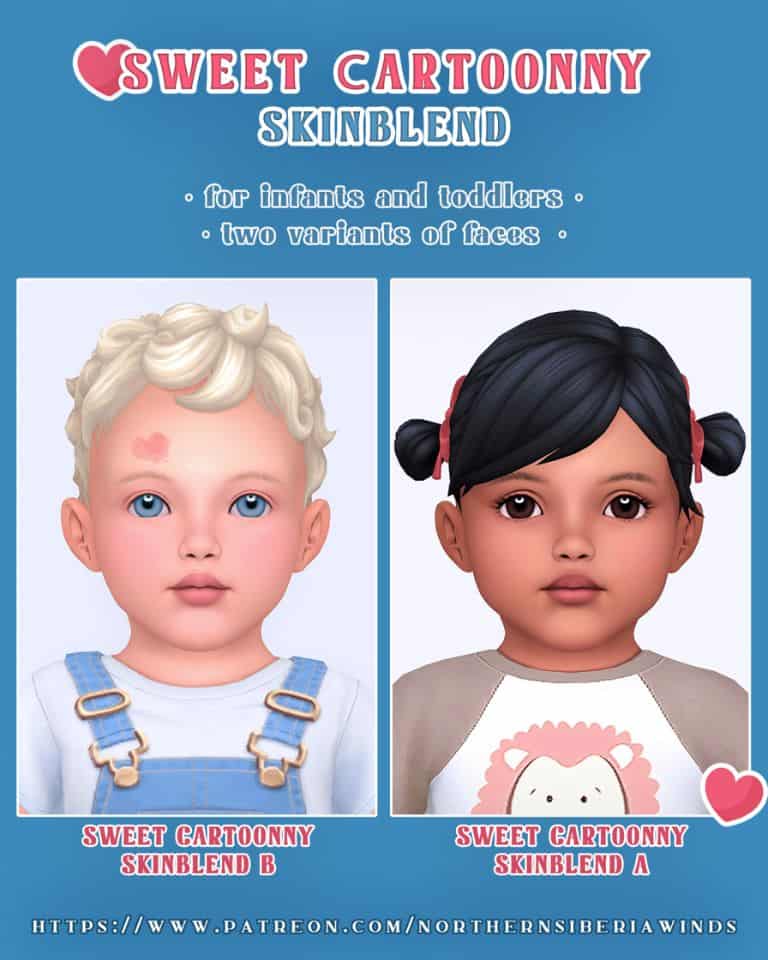 This small set of sims 4 infant cc has two skinblends for your smallest family members.
Both skinblends focus on a smooth cartoony finish, giving your infants a close maxis match feel.
You have 5 overlay swatches for the skinblends, ranging from light to dark tones.
You can also opt for the standard or HG mod-compatible file downloads.

11. Sims 4 Infant CC Jeans by JellyPaws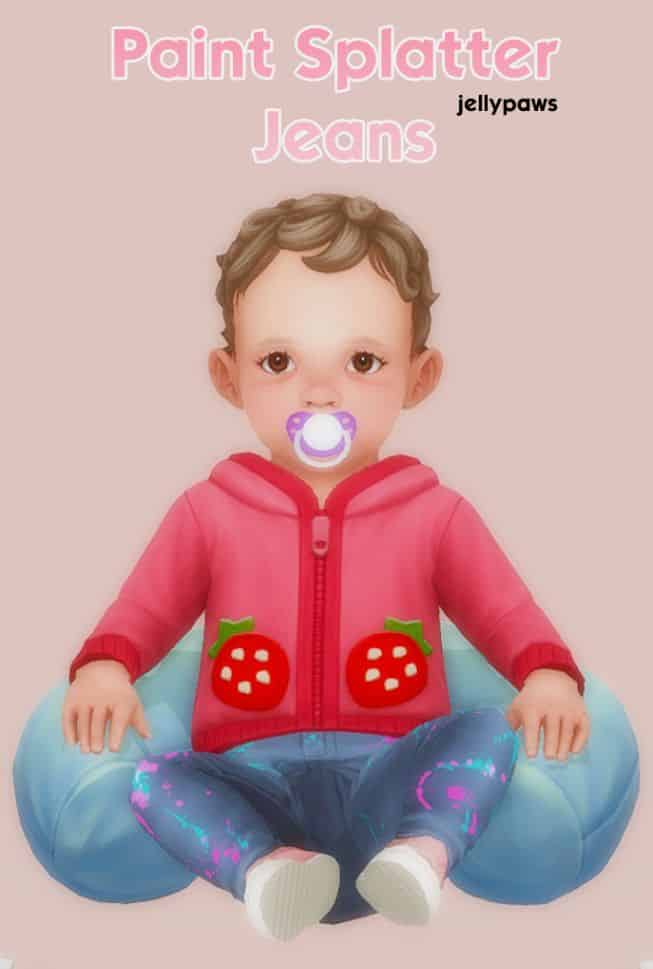 Almost everyone loves a good pair of jeans; your infants are no exception.
These tiny pair of jeans are covered in artsy paint splatter, and you have 3 swatches to try on your tots.

12. Sims 4 Infant Skin Details by Twisted-Cat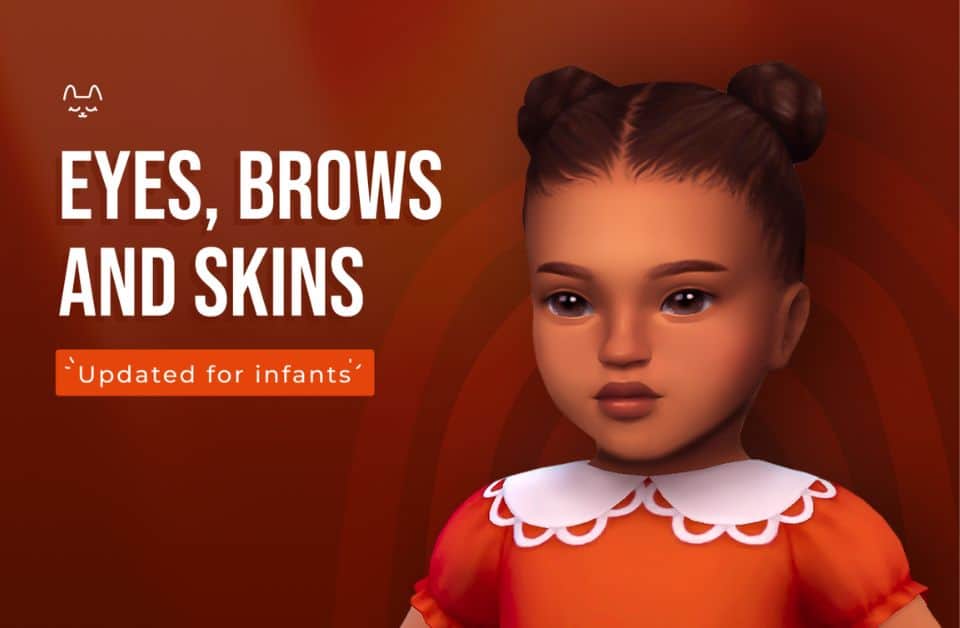 This cc set by Twisted-Cat has infant updates for eyes, skins, and brows.
There are 2 sets of eyes (comet and faded eyes), 3 skins, and 7 options for your infant brows.

13. Rosie Infant Shoes CC by Georgiaglm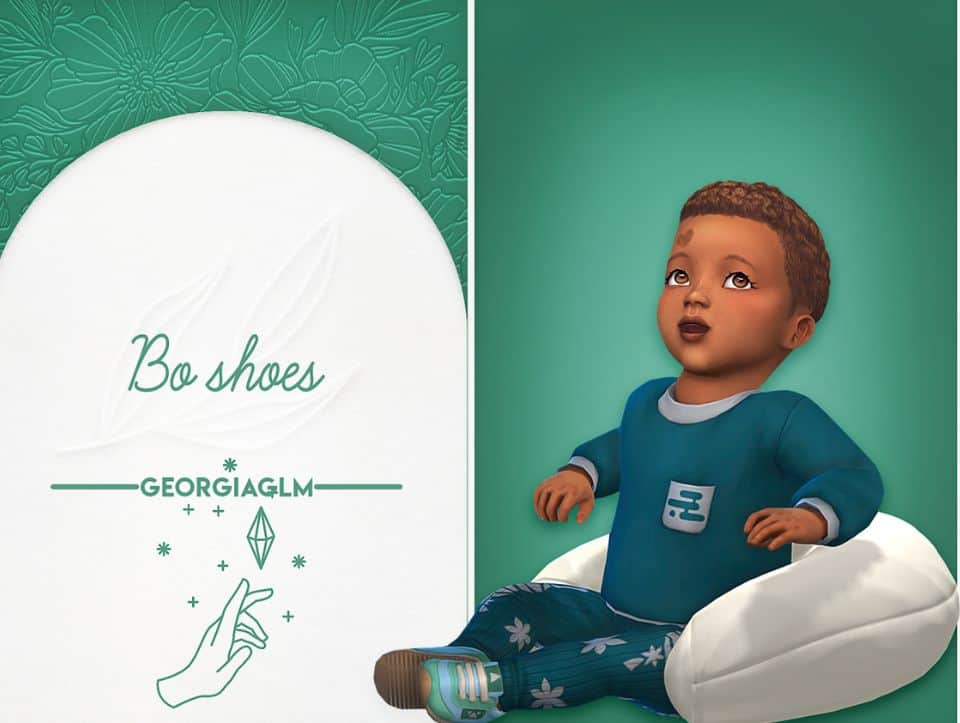 Get your sims 4 infants their first pair of runners-style shoes with tiny laces.
These adorable shoes will easily complement any casual outfit and come in 10 maxis match color combinations.

14. Sims 4 Infant bath Seat by Simbeeez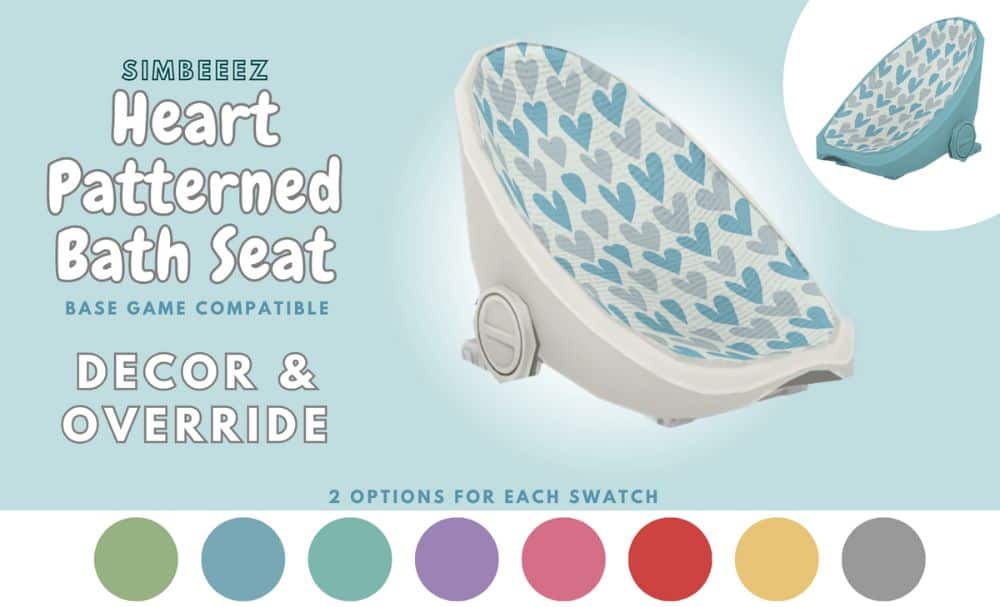 Are your infants due for a bath?
What's more convenient than this infant bath seat to help your sims parents with their new duties?
These bath seats have a patterned heart inner fabric and 16 color swatch options.

15. Infant Pajama Recolors for Sims 4 by Maytaii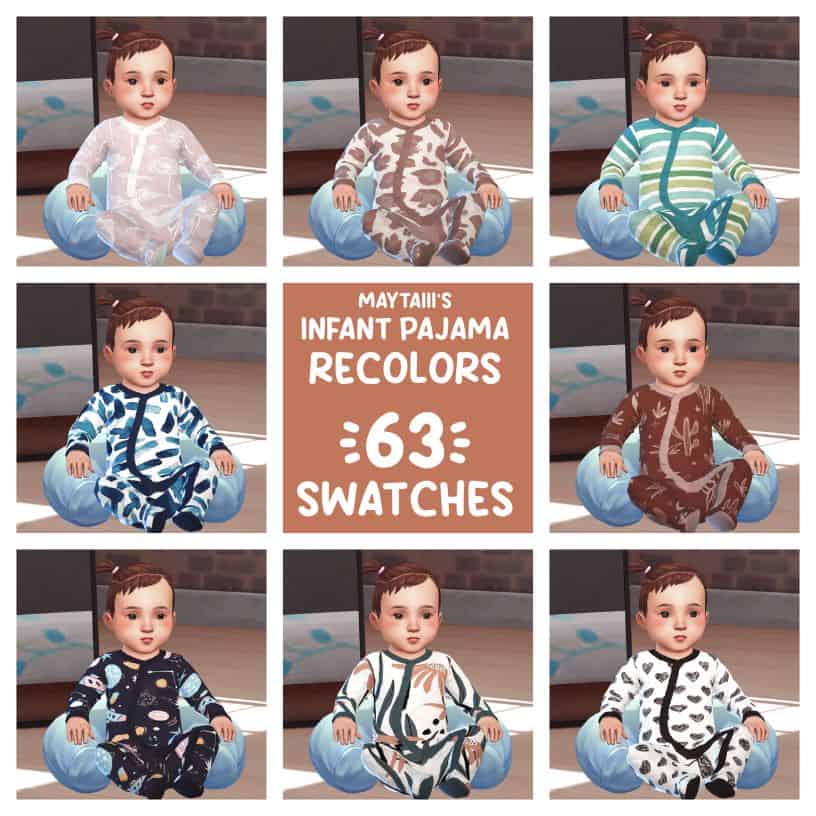 All sims 4 infants need some jammies to rock at nap time, and this set of 63 recolors has all the swatches you could ever need.
These stylish pajamas have footies attached and come in a variety of patterns.

16. Infant Face Paint for Sims 4 by Twisted-Cat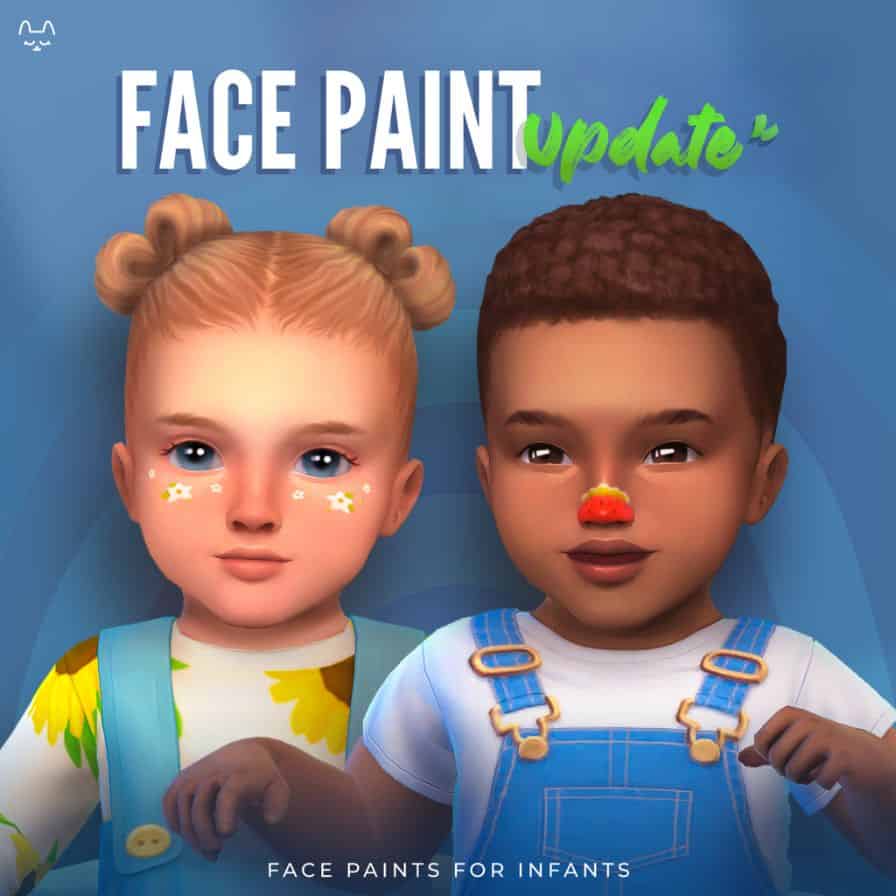 This double set of infant updates includes face paint for your little ones.
You can grab the updated file for the crossings set inspired by animal crossing.
You also have the option of the flower cheeks, which has flower scattered near the under-eye area.

17. Sims 4 Infant Teeth CC by Yooniesim
This set of sims 4 infant cc teeth is one of my favorite new pieces of custom content.
There are 12 sets of infant's teeth ranging from gums only to different upper and lower teeth swatch options.

18. Sims 4 Infant Makeup & Genetics by Pralinesims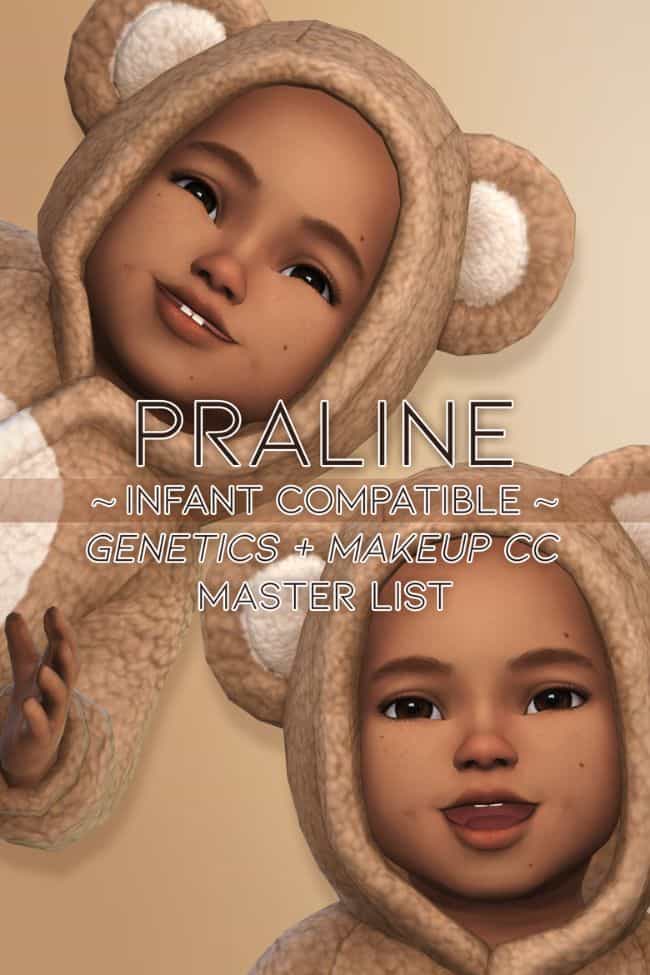 Pralinesims has updated a ton of files for your sims 4 infants, including multiple makeup cc options and genetics.
There are over 40 file updates, so browse through the titles to see which of your favorites custom content files you want to redownload.

19. Sims 4 Infant Lashes by JellyPaws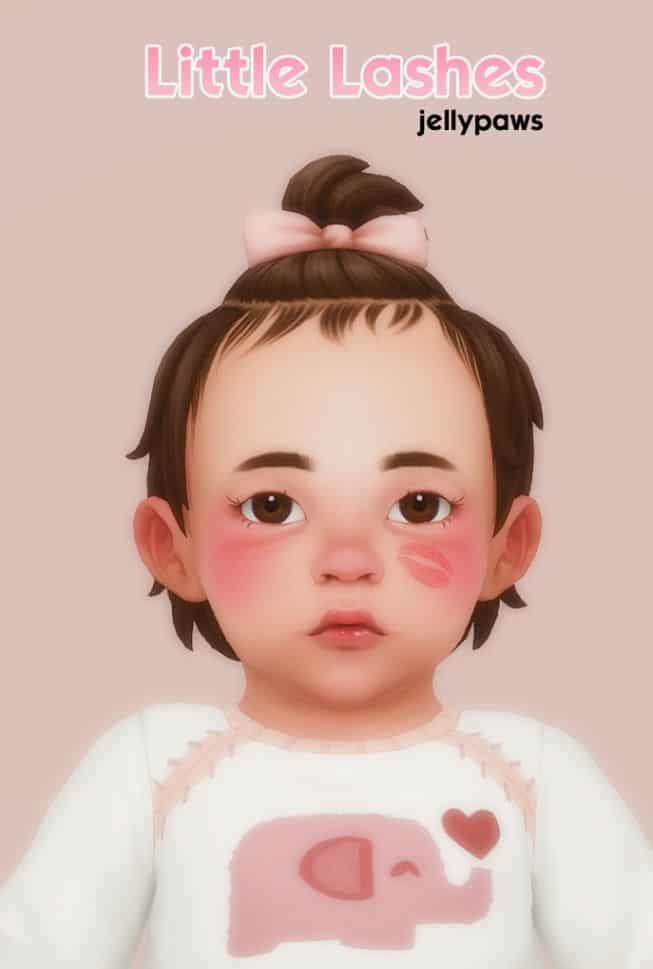 This piece of infant custom content adds little whisps of delicate lashes to your sims infant eyes.
These lashes are not overwhelming and beautifully compliment a young infant's face.
You'll get just a touch of lashes, mainly focused on the outer edges of the eyes.

20. Arlo Infant Socks by Georgiaglm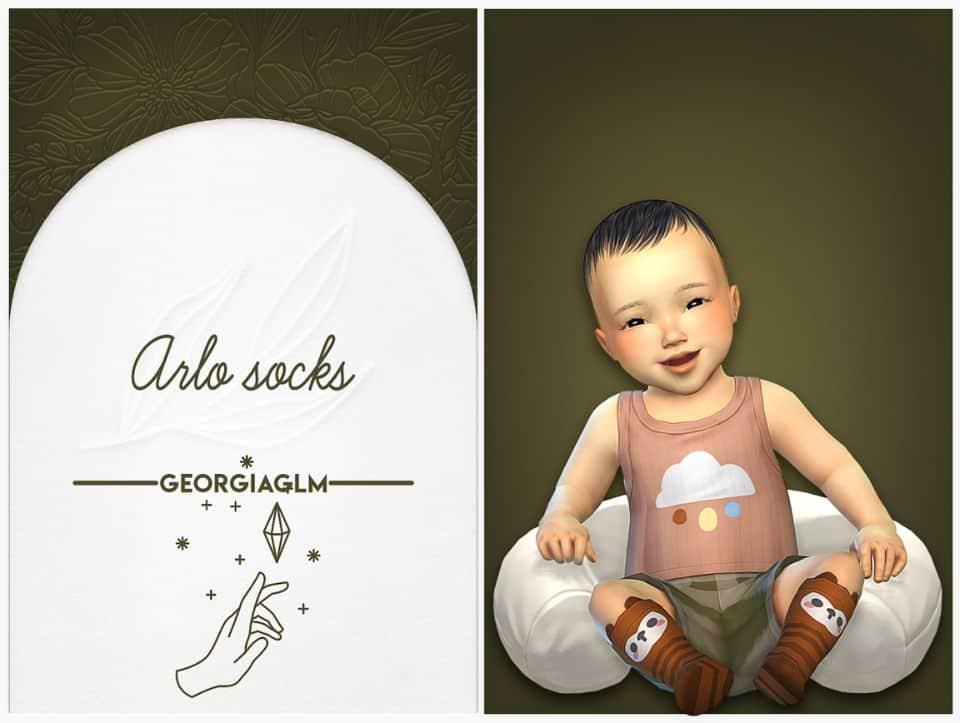 These three-quarter-length infant socks will add a cute touch to any infant's outfit.
With their adorable animal prints, your sims 4 infants will be the talk of the town.
There are 12 watches, including bears, pigs, and cats.

21. Sims 4 Toddler Outfit by littletodds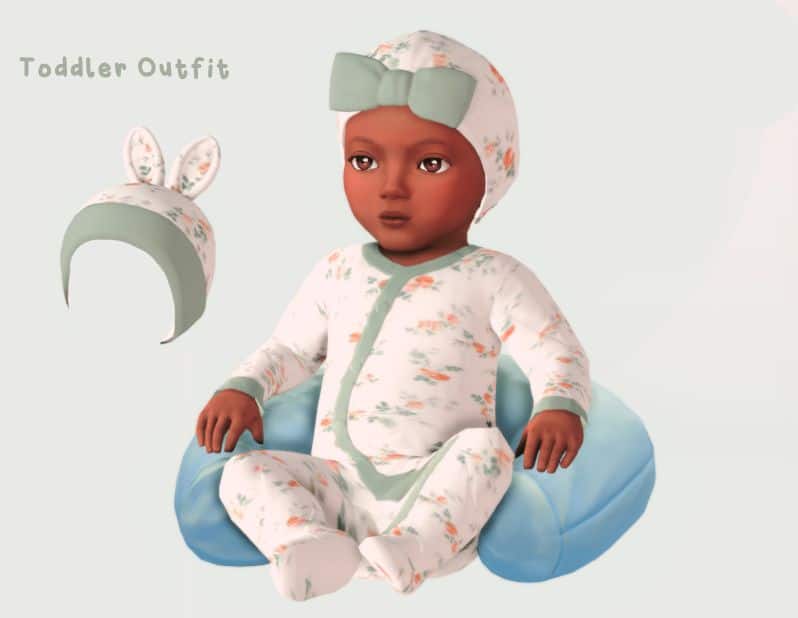 This infant outfit comes with a full sleeve and footed pajama-like piece.
There is only one swatch for this outfit which has a delicate floral design with a light green trim.
You can also opt for the matching bunny-eared hat or the bow version.

22. Sims 4 Infant Playmat by Simbeeez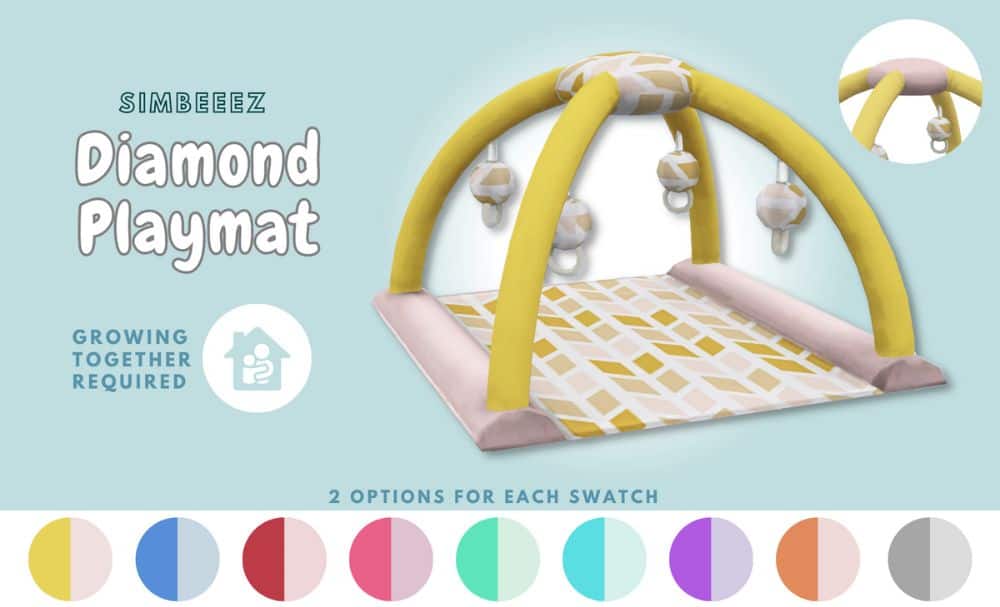 Every little infant deserves a new playmat to enjoy their tummy time activities.
This playmat is all about diamond-shaped patterns and matching hanging toys.
There are 9 color swatches and 2 options for each color combo.

23. Sims 4 Infant Clothes by Powluna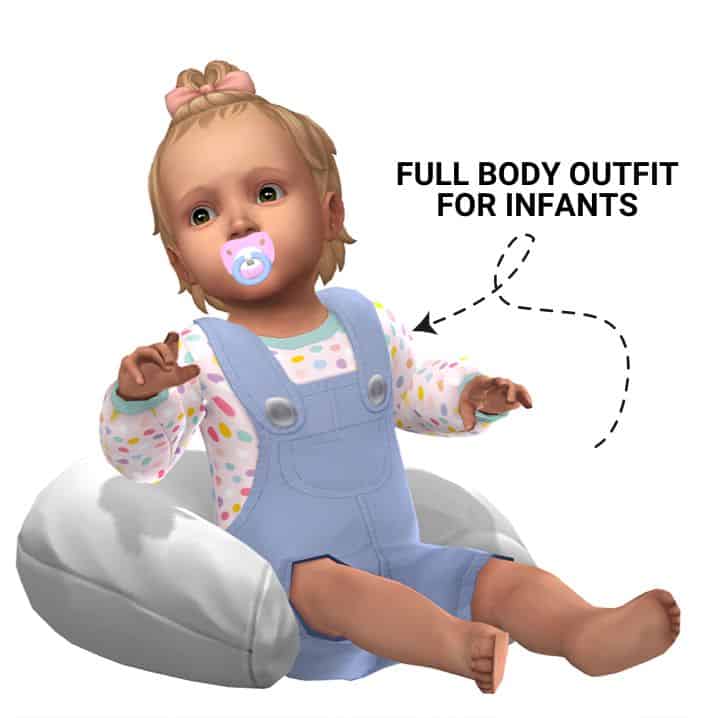 I love a good pair of overalls, and this version looks super cute on my sims 4 infants.
These overalls are the length of shorts and come with a long sleeve top underneath.
There are 32 swatches, including solids shirt options and more colorful patterns.

24. Sims 4 Infant Hair CC by Ravensim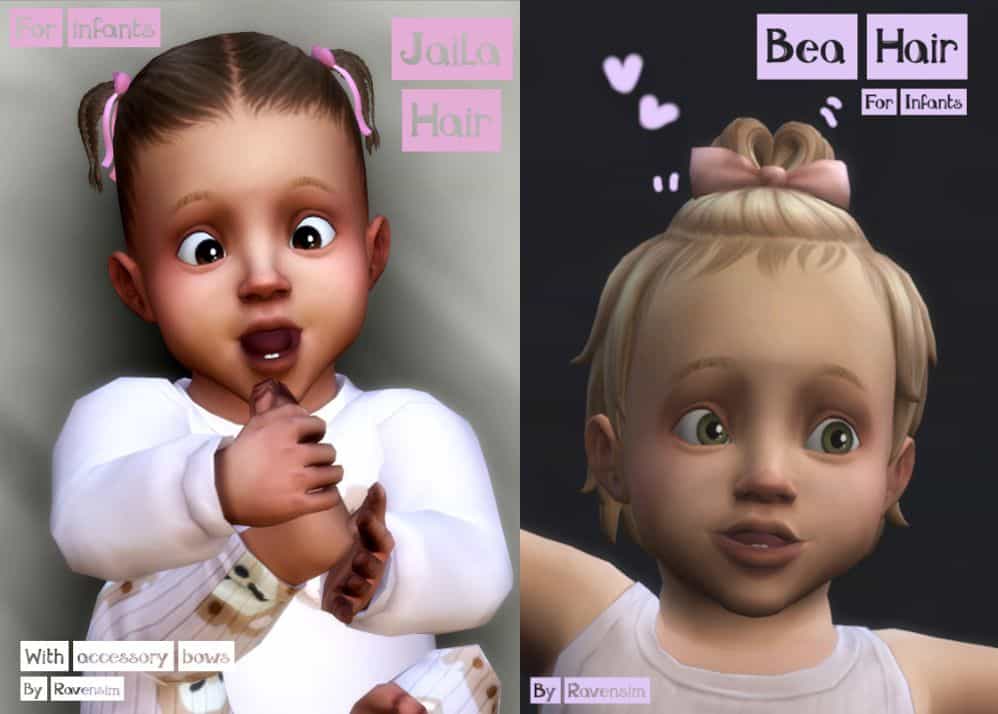 This set of custom content includes two hairstyles for your little ones.
You can grab the braided pigtails or the little bowtie updo.
There are 15 hair colors per hairstyle and 16 swatches for the accessory bow.

25. Sims 4 Daisy Hat for Infants by Giulietta Sims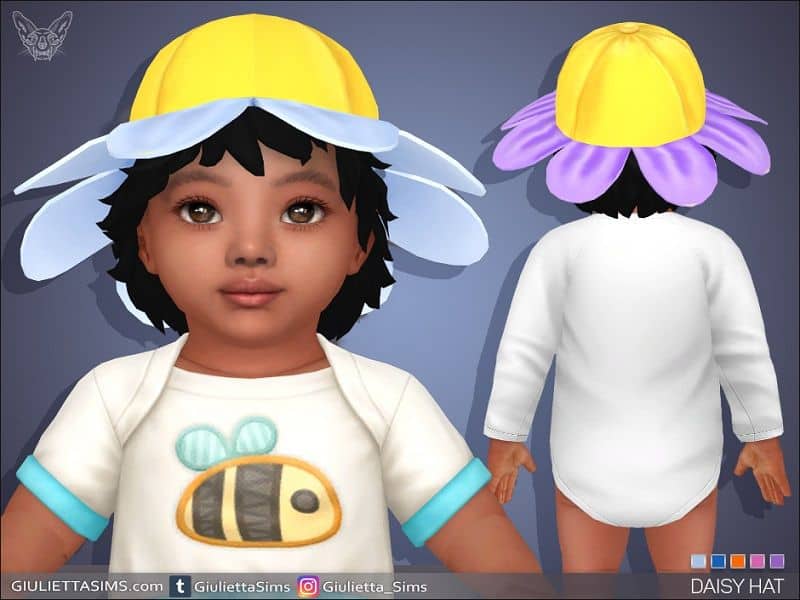 Get ready for the summer season with this adorable daisy hat for infants.
There are 6 swatches to enjoy, and your human sims, aliens, mermaids, and vampires can use this infant hat.
You also have the option to grab this hat on your toddlers too.

26. Infant Contacts for Sims 4 by sims3melancholic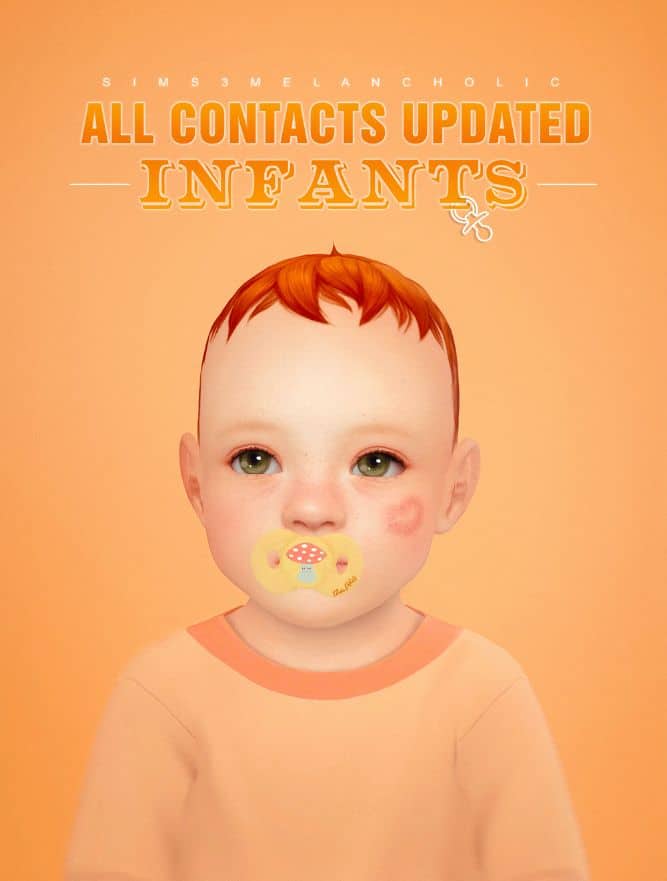 This set of sims 4 infant cc updates includes 92 eye contact options.
You can also use these contacts with sliders.
You will also find updates for blush, eyelashes, and highlight options for your infants.

27. Sims 4 Bunny Beanie Set by Simbeeez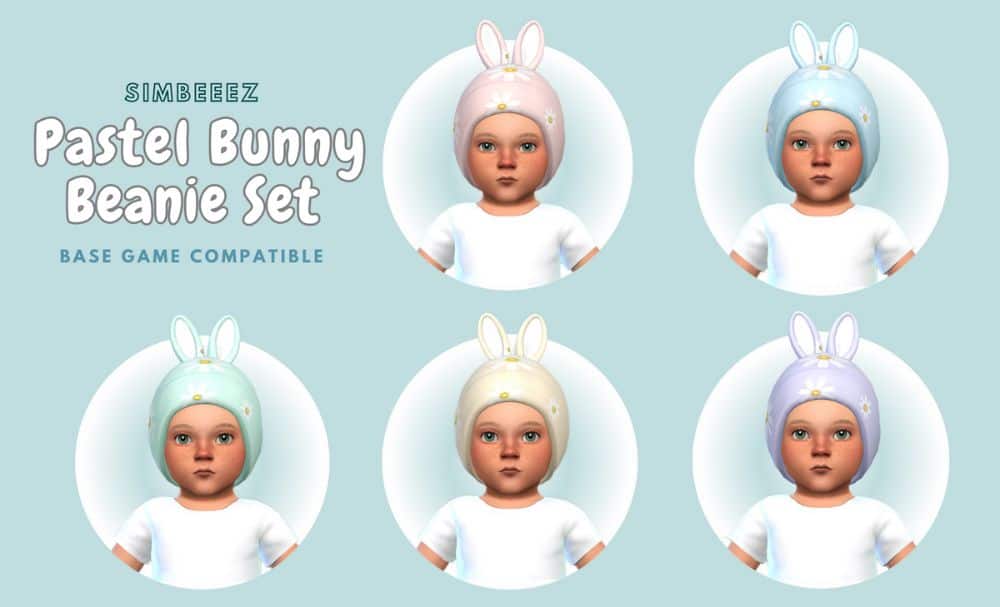 This adorable bunny beanie set is another cute find for your sims 4 infants.
Your infants can enter the easter season with their new favorite pair of bunny ears.
There are 5 pastel swatches, each with a daisy design.

28. Infant Sims 4 Genetics Set by sims3melancholic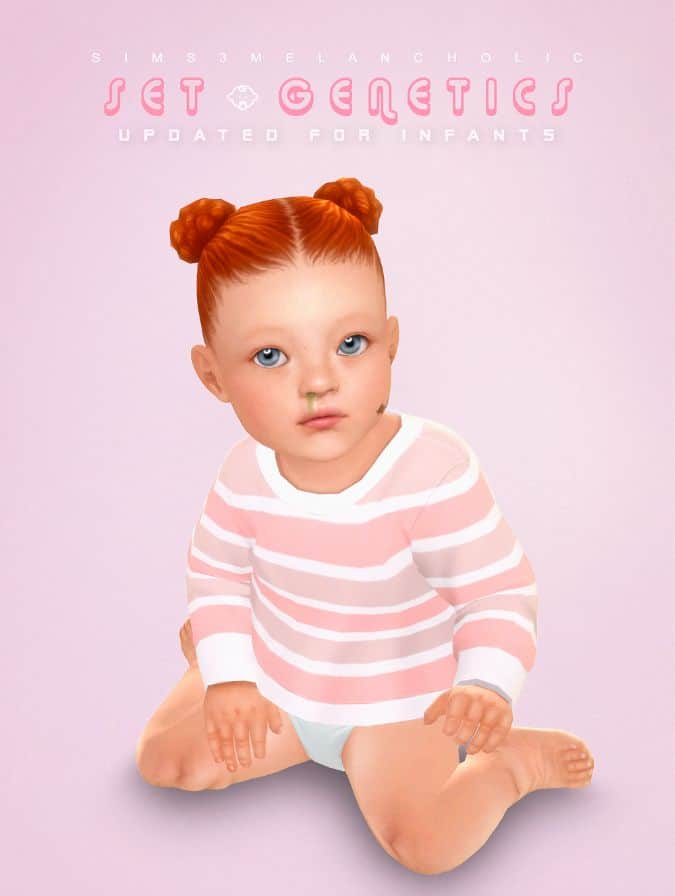 If you are already a fan of the snot custom content in the past, you will be happy to know if now available for your infant sims.
But this set of genetics is not limited to boogers; you will also find baby skin options, birthmarks, freckles, moles, and lip kisses.

29. Infant Polka Dot Outfit by littletodds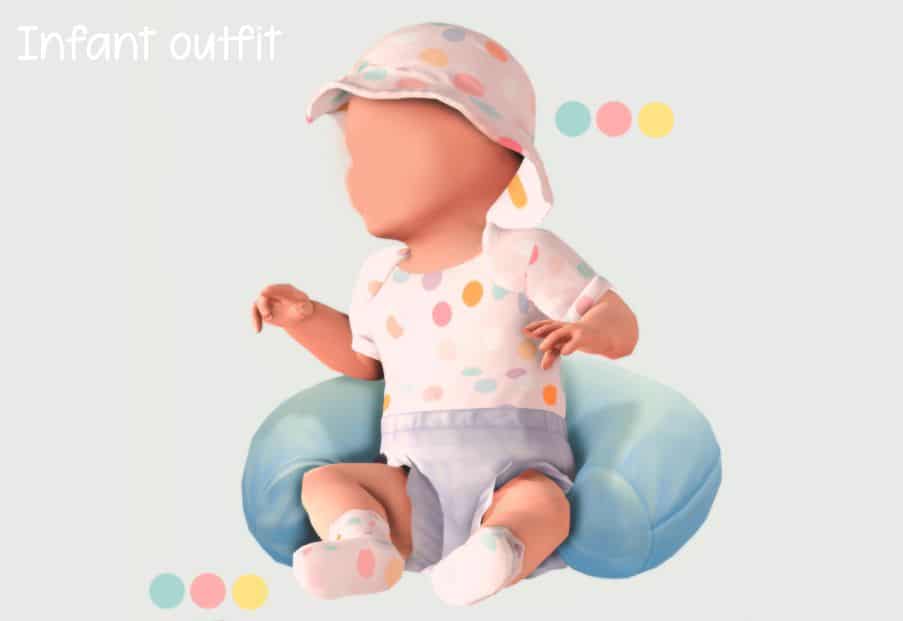 I came across another cute custom content outfit for infants, and this one is all about polka dots.
This outfit comes with a top and shorts combo, a summer cap, and socks.
The outfit has only one swatch, but the hat and socks have 4 color options.

30. Sims 4 Infant Hairstyles by Ravensim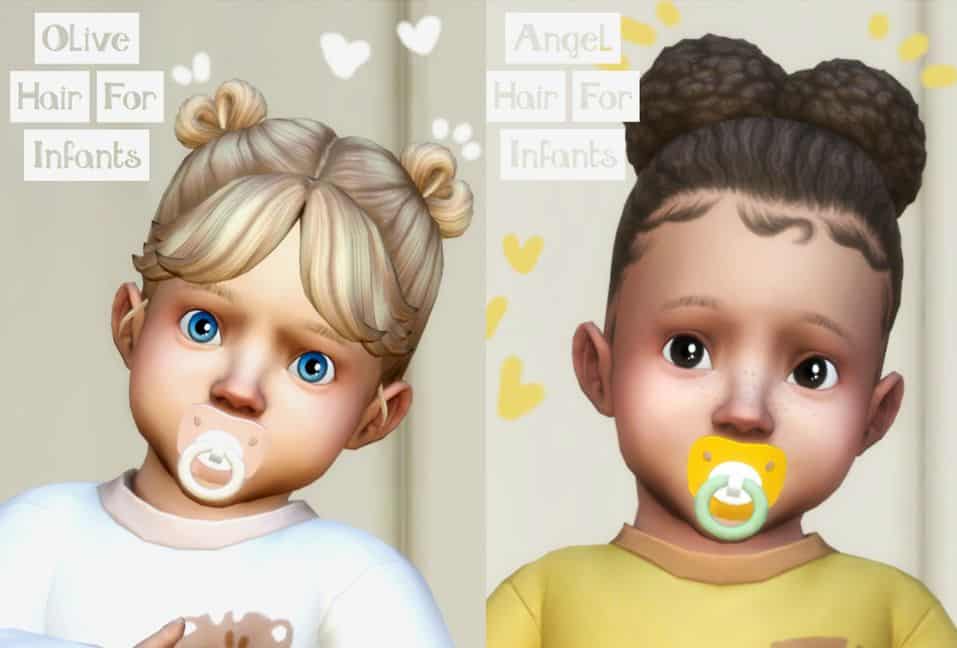 Grab these new hairstyles for your little infants.
Both focus on pompoms, one with bangs at the front and the second style with a smooth back look and combed baby hairs.
Both sims 4 infant hairstyles come in 15 colors.

31. Sims 4 Infant Romper by Joliebean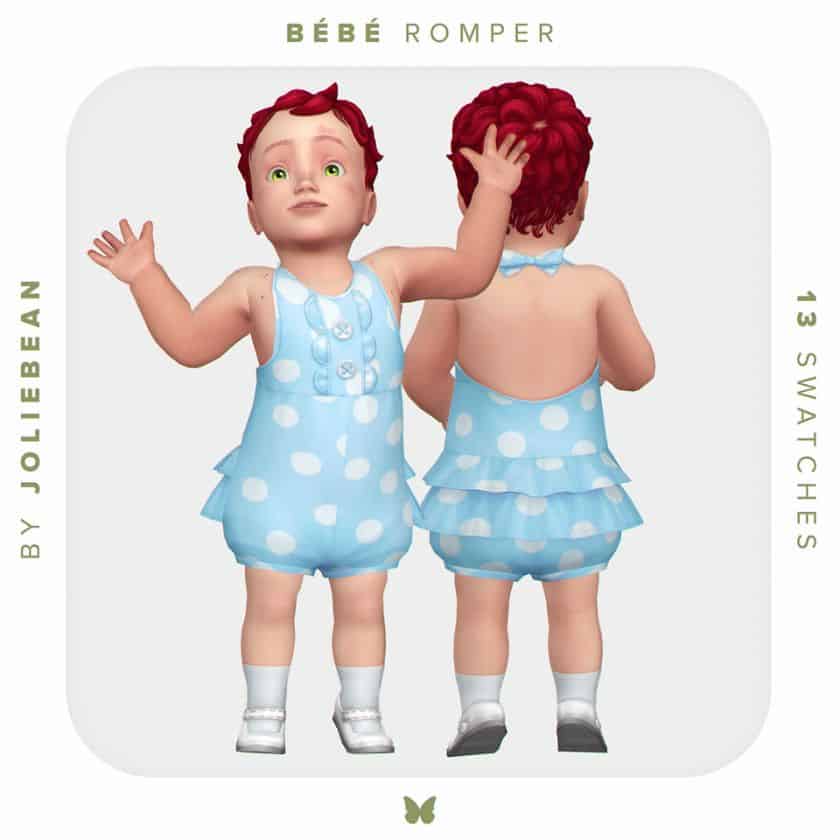 Snag the perfect rompers for your tiny tots with this halter neck polka dot design.
There are 13 swatches to style, and you can pair this romper with the frilly socks listed at #2 and the shoes right down below.

32. Sims 4 Infant Shoes CC by Georgiaglm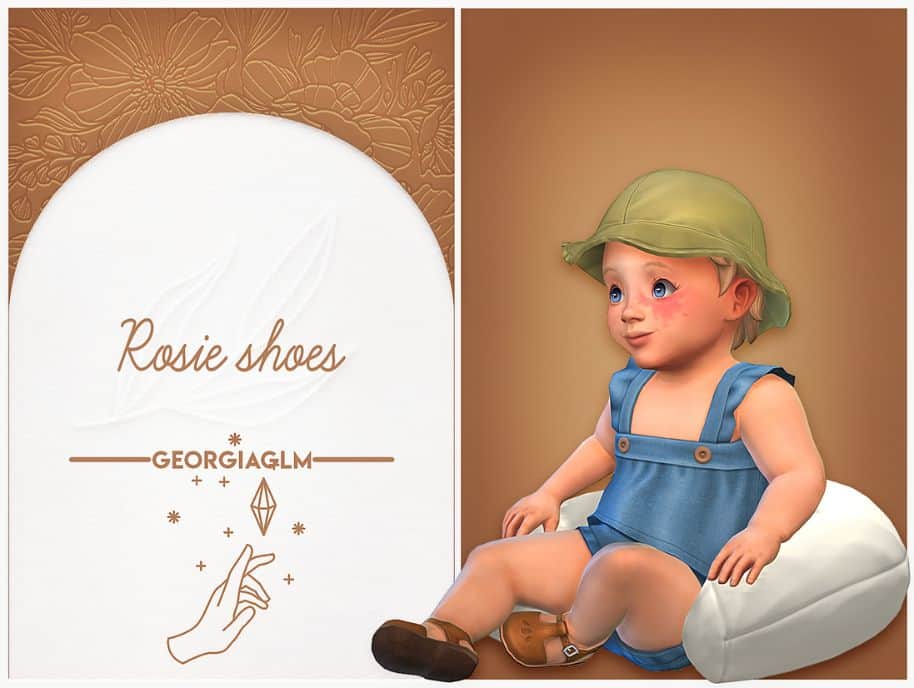 These perforated leather-style Mary Jane shoes are ideal for the spring and summer seasons.
With 12 color options, you can easily pair these shoes with almost any infant outfit.

33. Infant Freckles for Sims 4 by TheBlondeSimmer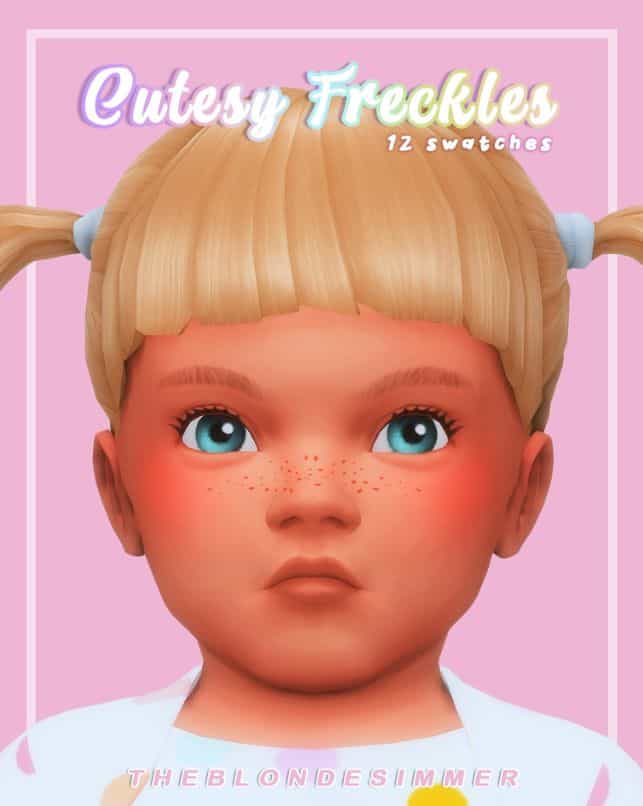 Add a sprinkle of freckles across your infant's nose and the start of their cheeks.
There are 12 swatches, and the creator also provided versions for the (blush, freckles, forehead, and crease) categories but only place one at a time.

34. Sims 4 Infant Pigtails by Yooniesim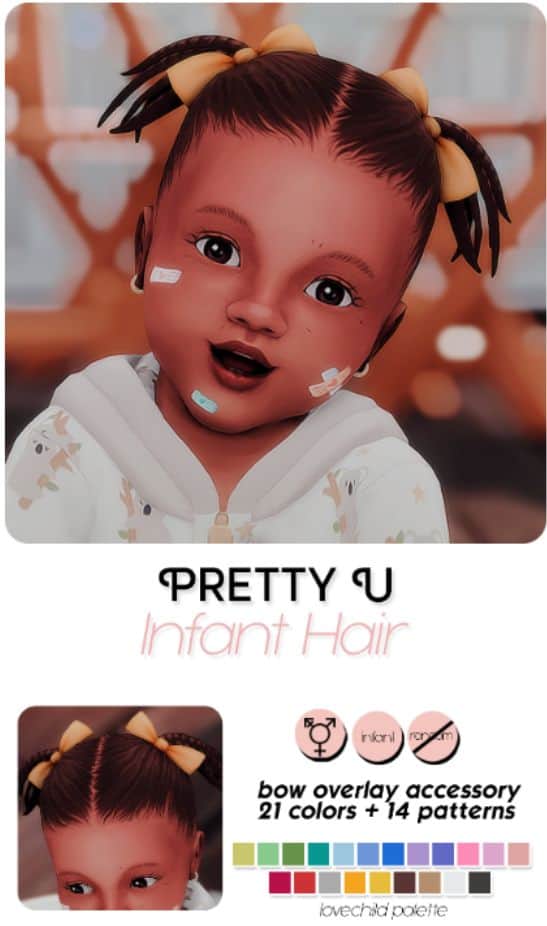 Here we have another toddler hairstyle but with a bow overlay.
The combed-back pigtails are braided and come in 15 colors.
For the bows, you can choose between 21 colors or 14 patterns.

35. Sims 4 Infant CC Patch by Northern Siberia Winds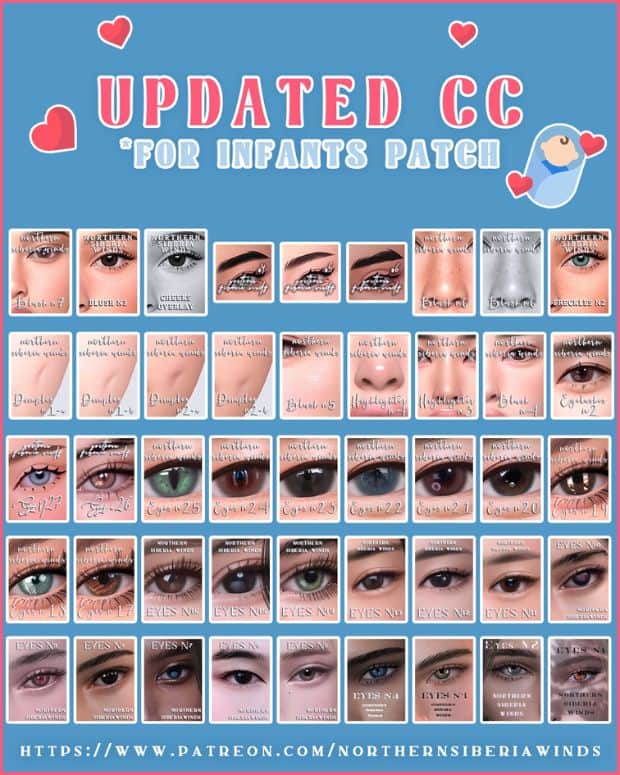 Northern Siberia Winds also did a huge infant update for their custom content.
You will find a mix of everything you need to customize your infant faces, including eyebrows, blush, freckles, dimples, eyes, and more.

36. Infant Heart Surgery Scar by JellyPaws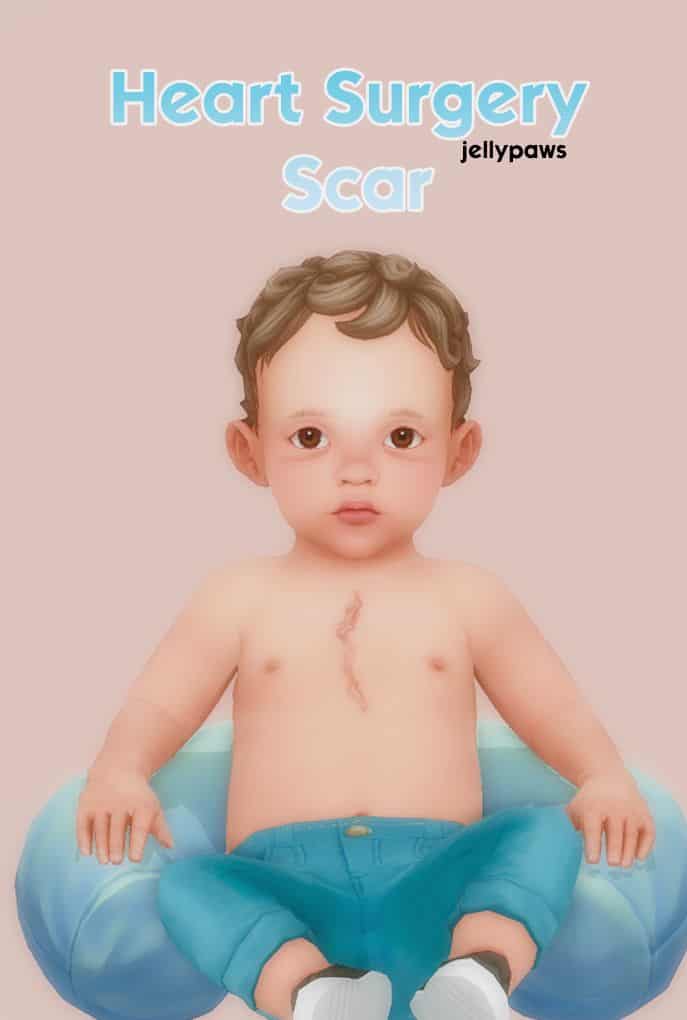 This infant heart surgery scar brings so much realism to the sims 4.
While I hate to think of any infants in discomfort, this custom content scar allows simmers to create realistic in-game infants that represent them.
There are two scar swatches available.

37. Sims 4 Infant Changing Table by Simbeez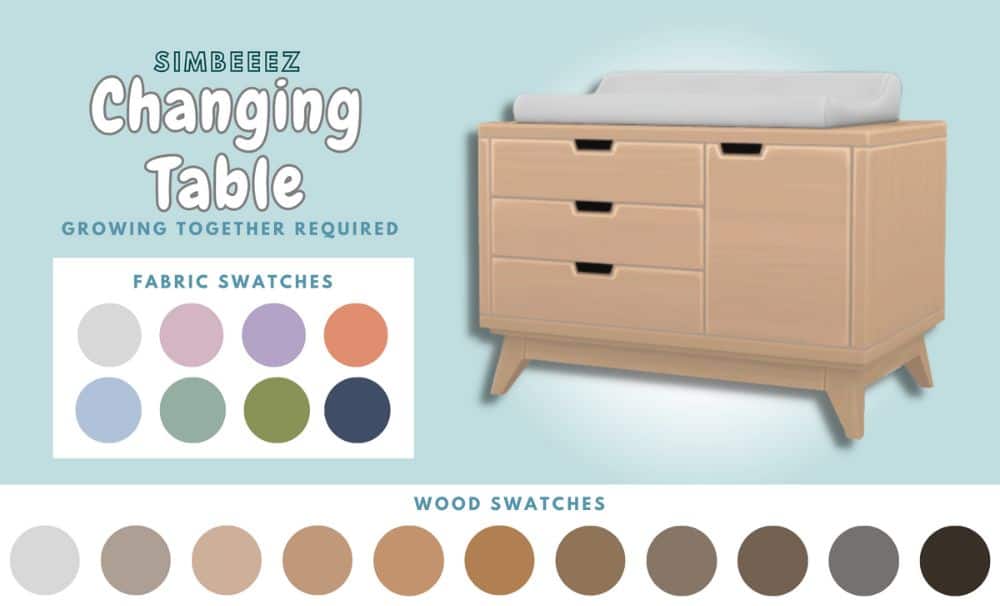 This new contemporary changing table will fit nicely in any nursery room that has a wooden theme.
There are 11 wooden tones and 8 color options for the fabric portion.
This changing table does require the Growing Together expansion pack.

38. Sims 4 Infant CC Sweatshirt by TheSimAllie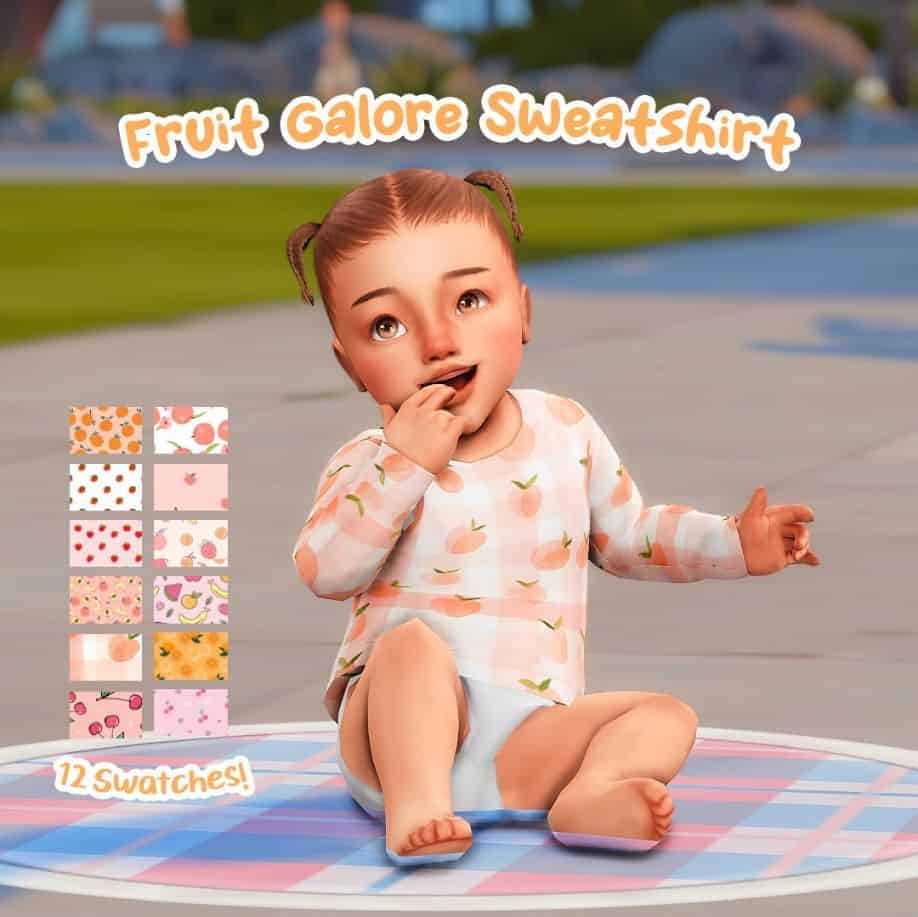 A whole bunch of fruit inspires this cute sims 4 infant cc sweatshirt.
There are 12 adorable swatches to try out, including;
Oranges
Peaches
Cherries
Mixed fruit
Strawberries and more

39. Sims 4 Infant CC Strawberry Pacifier by JellyPaws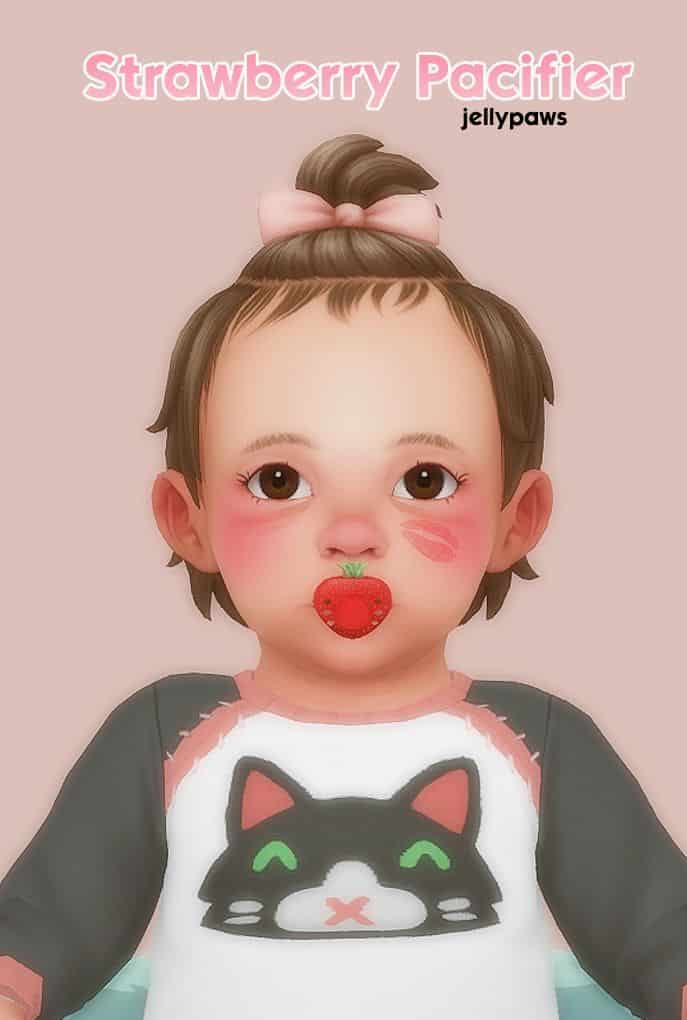 Following the heels of the fruit sweatshirt above, why not complete the look with this adorable strawberry-shaped infant pacifier?
Only one swatch is available for this pacifier cc, but you can't go wrong with it.
The strawberry even has a little greenery at the top of the pacifier.

41. Infant Hoop Earrings for Sims 4 by GiuliettaSims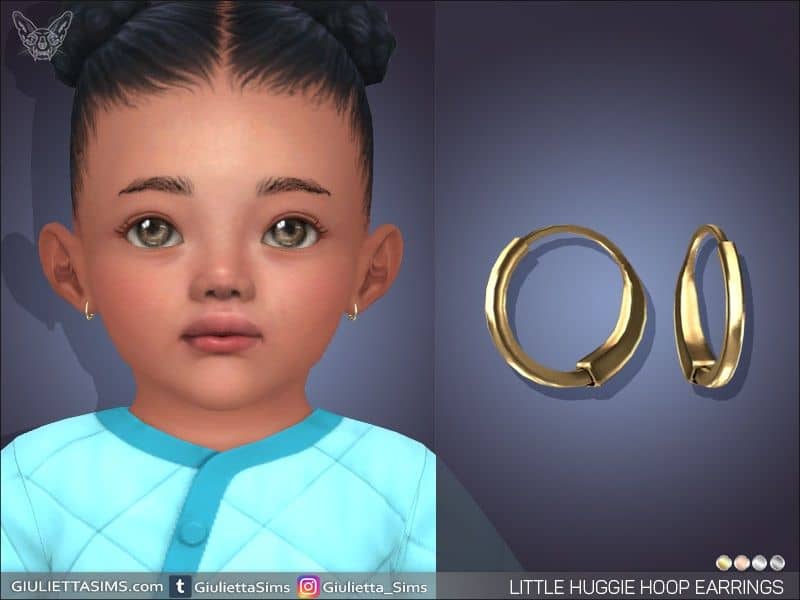 These darling little hoop earrings will compliment any outfit on your sims 4 infants.
These infant earrings come in 4 metal tones and are available for humans and occults (mermaids, aliens, and vampires).

42. Sims 4 Infant CC Fantasy Ears by ILKI sims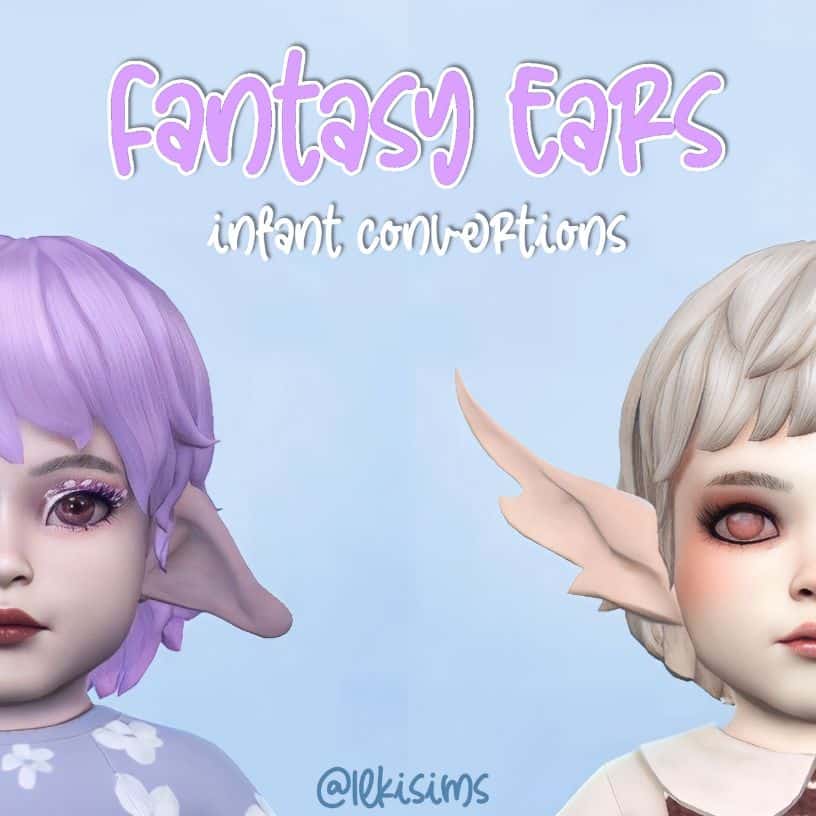 Need some new ears for your occult infants?
This set of infant ear recolors comes with 7 different ear types, including Fantasy Ears and a pair of Elf ears.
Depending on the ears you select, you need to grab the necessary meshes linked on the download page.

43. Sims 4 Infant Feeding Tube by JellyPaws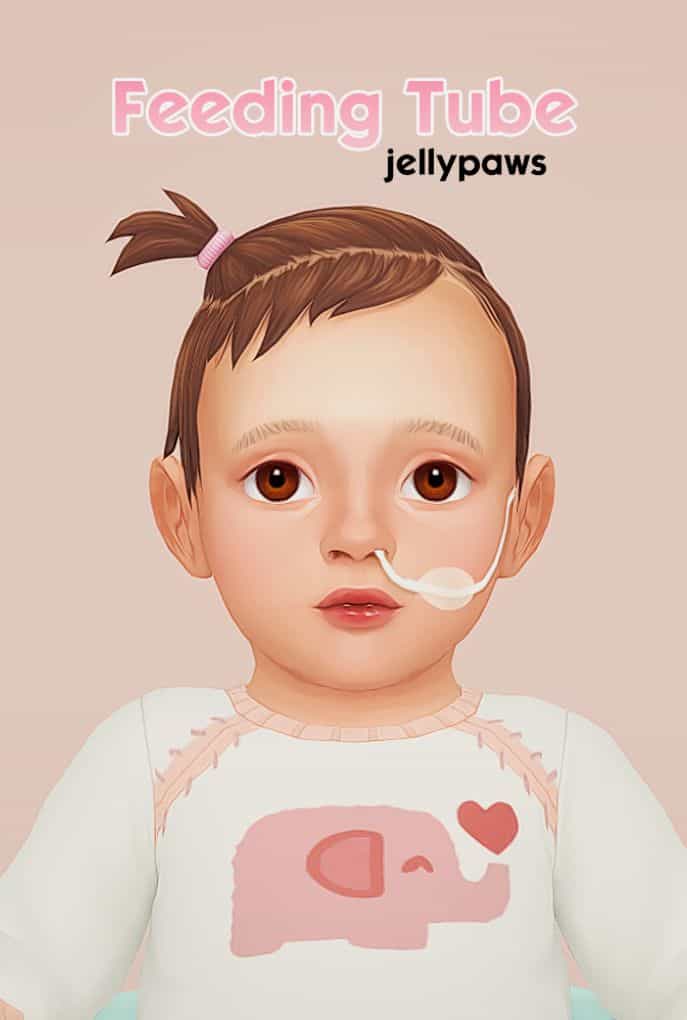 Here we have another medical cc item for your tiny tots.
This feeding comes in one swatch with a simple white tube and medical tape.
While the feeding tube can be used for infants, it also works for any age group.
You will find this sims 4 infant cc in the facepaint category.

44. Sims 4 Infant CC Eyelashes by Kijiko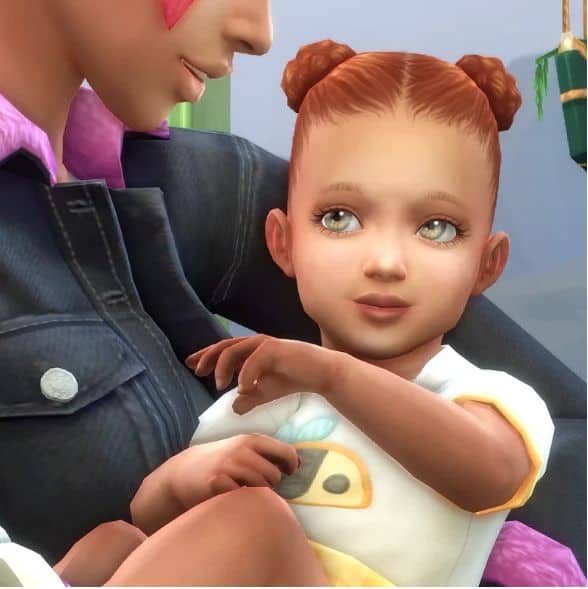 Kijijo eyelashes are some of the most popular custom content out there, so I'm sure many of us were patiently waiting for infant lashes.
These infant 3D lashes work for all genders and are available in 5 colors.

45. Sims 4 Cat Pacifier for Infants by GiulietteSims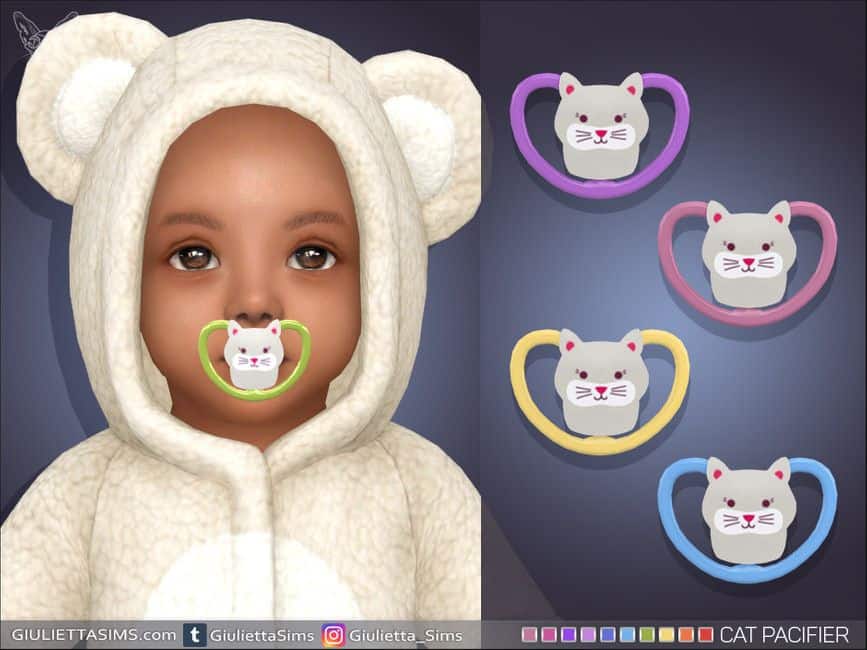 These sims 4 infant cat pacifiers can't get any cuter.
Your infants will look adorable with these colorful feline-inspired pacifiers.
There are 10 color options to try, and you will find these infant pacifiers in the brow ring category.

46. Infant CC Cow Onesie for Sims 4 by TheSimAllie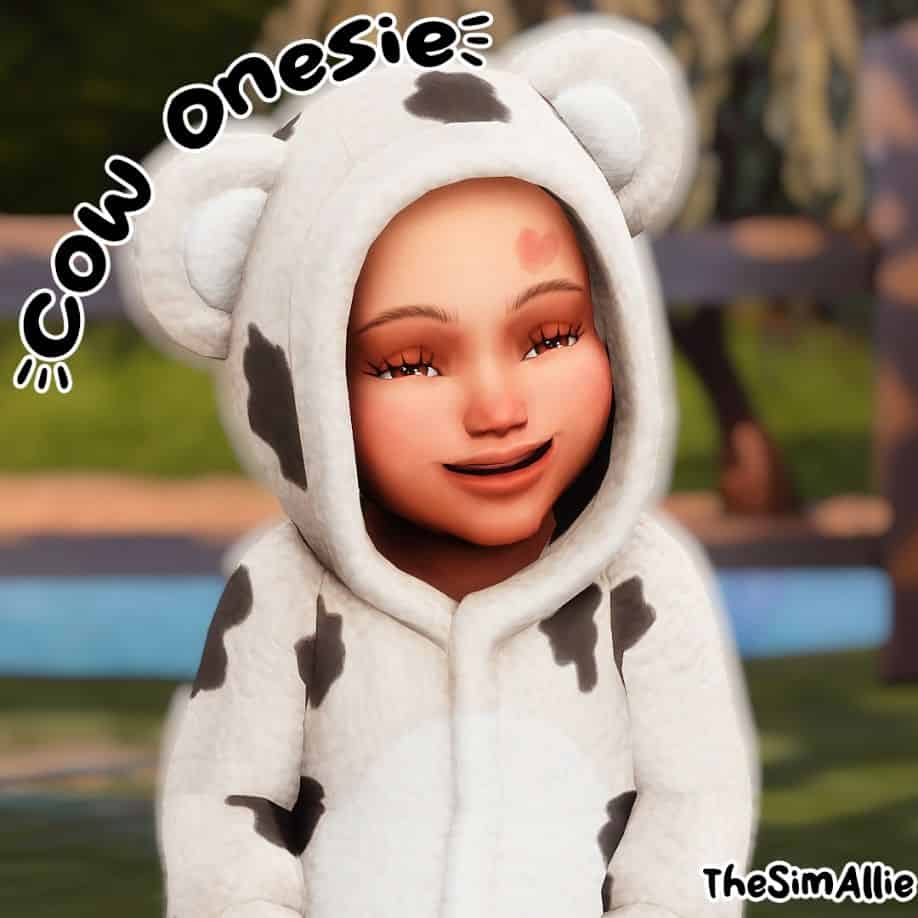 This adorable onesie recolor adds some fun to the classic design.
Your sims 4 infants can crawl around in these cow pattern onesies all day.
There are 3 cow print swatches to enjoy.

47. Sims 4 Infant CC Hat Conversion by ILKI sims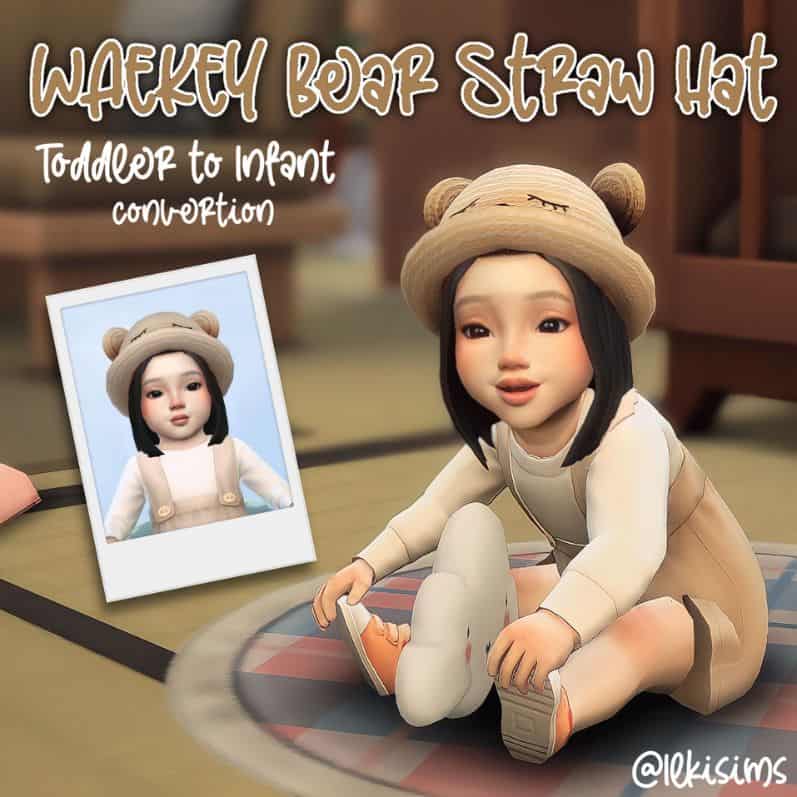 Here we have a quick straw bear hat conversion for your sims 4 infants to style with their favorite outfits.
You will need to grab the original mesh linked on the download page.

48. Sims 4 Infant CC Furniture by Around the Sims 4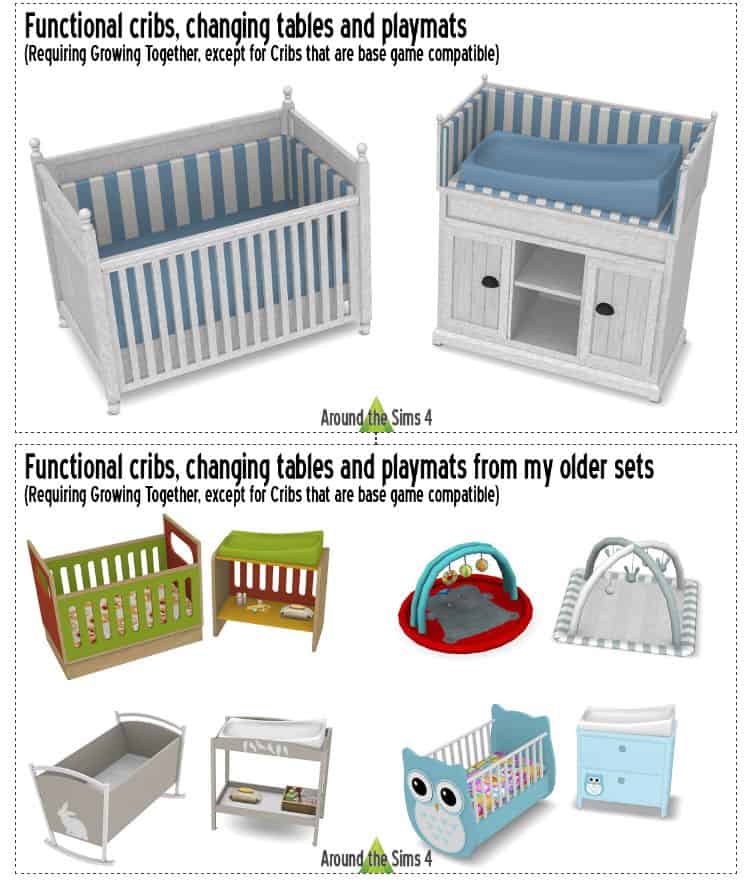 This collection comes with a bunch of furniture pieces for your infants.
You will find cribs, changing tables, and playmats.
I love the owl theme crib; it's super cute.
Except for the cribs, the remaining pieces will require the Growing Together EP.

49. Sims 4 Infant Clothing Recolors by Maytaii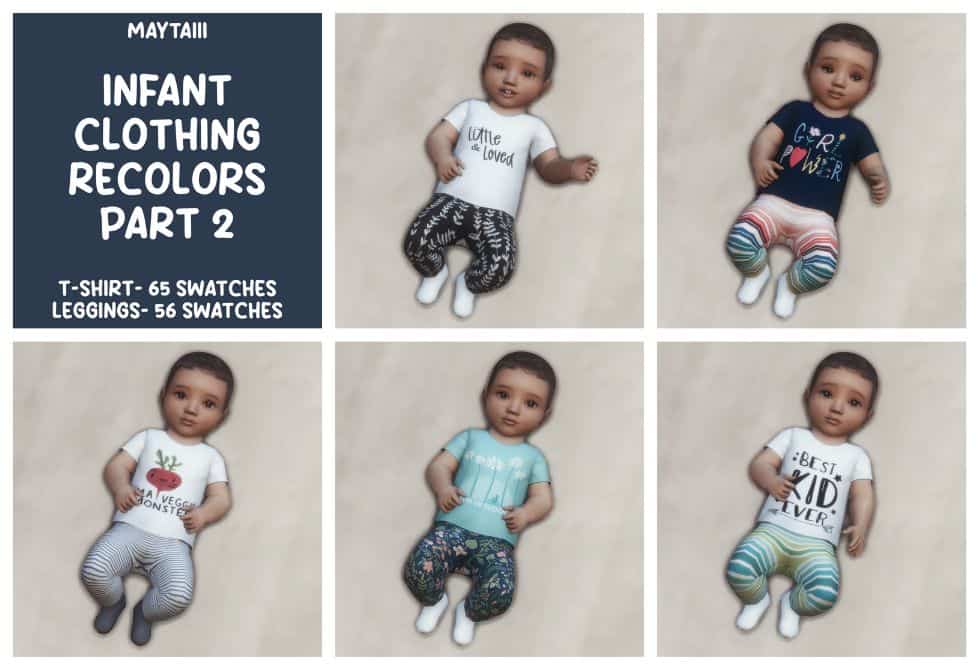 This set of sims 4 infant cc clothing recolors comes with 65 swatches for the t-shirt and 56 swatches for the leggings.
Mix and match the swatches to create stylish casual outfits for your infants.

50. Sims 4 Infant CC Floral Set by TheSimAllie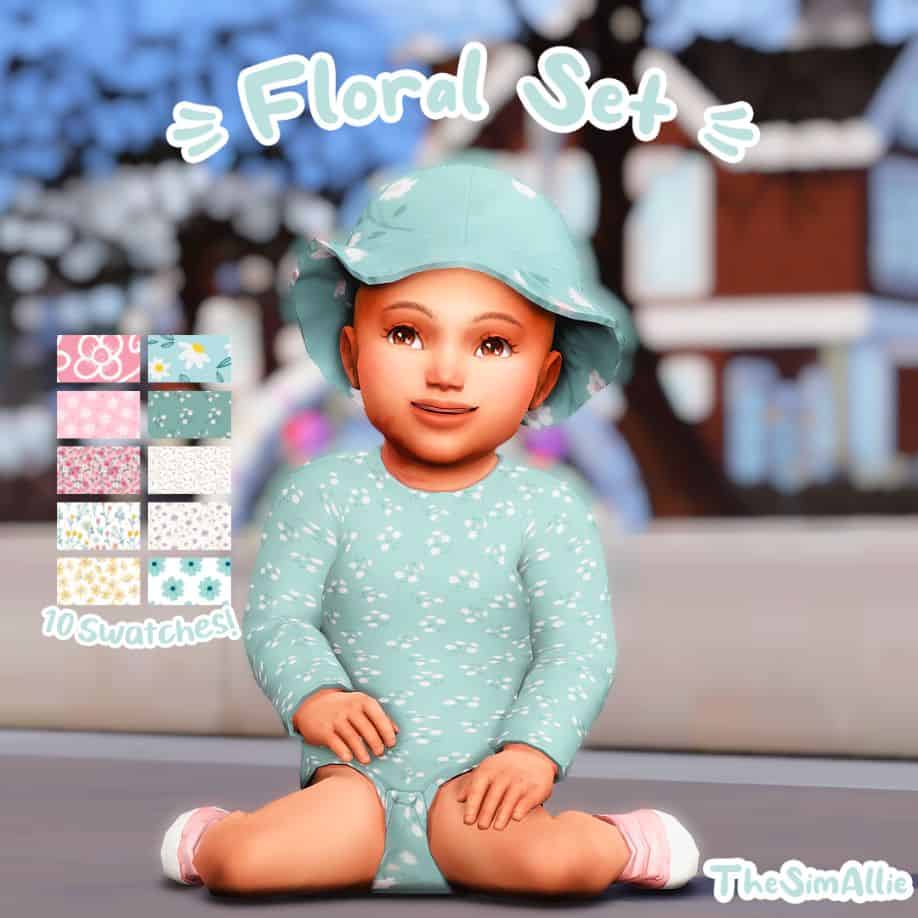 I love an outfit with a matching hat, and this set of floral infant clothing comes with a onesie and hat.
There are 10 floral swatches included, some with smaller and larger flower designs.

51. Sims 4 Infant Highchair by RoseaMarie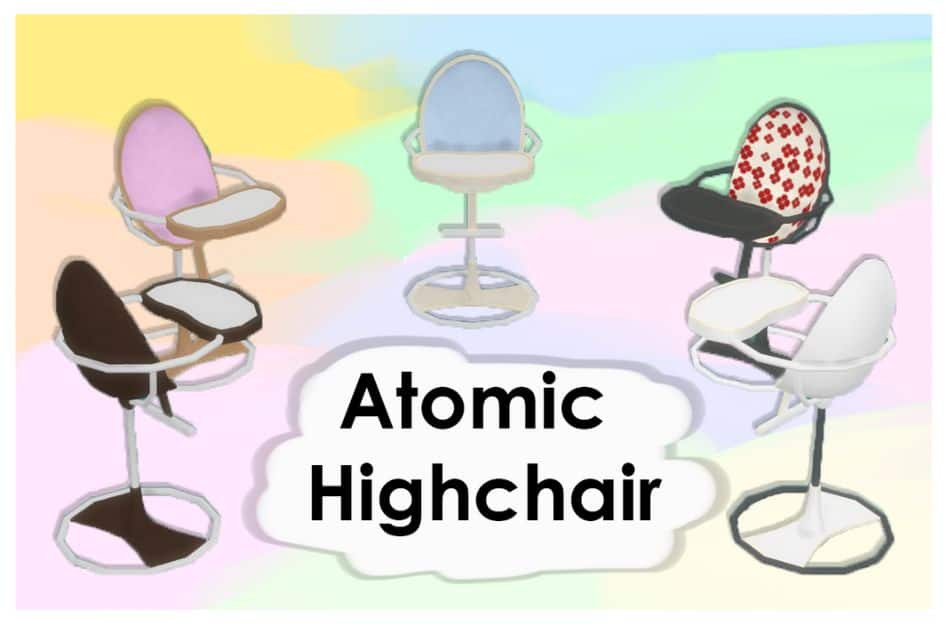 Bring some style to feeding time with these atomic infant custom-content highchairs.
The highchair comes in 25 swatches, and this custom content can be used for infants and toddlers.
Sims 4 Infant CC: Final Thoughts
I hope you found some new sims 4 infant cc pieces to add to your new collection.
With so many custom content updates available and new creations, your infants will be as cute as they can be.
As new infant cc becomes available, I'll update this post with some of the best pieces to be released.
If you have any questions or suggestions, feel free to leave us a comment below or tag us on Tumblr.
More Sims 4 Custom Content

And don't forget to share and save this pin for later!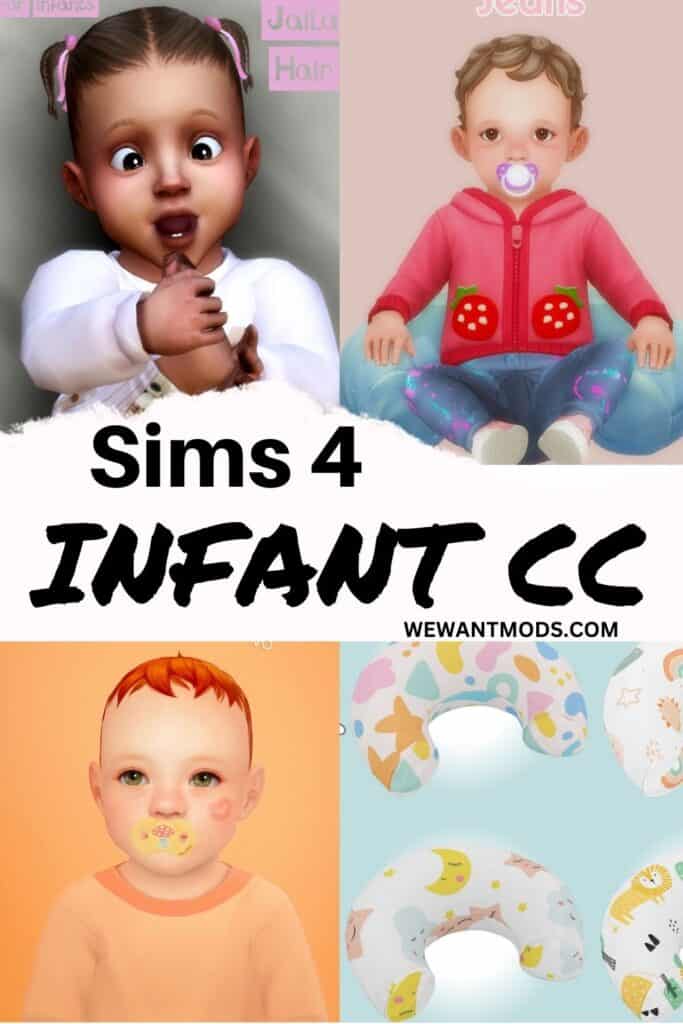 49+ Sims 4 Infant CC For The Cutest In-Game Babies