21+ Sims 4 Infant Skin Details: Transform Your Tots
Customize your infants with this collection of sims 4 infant skin details.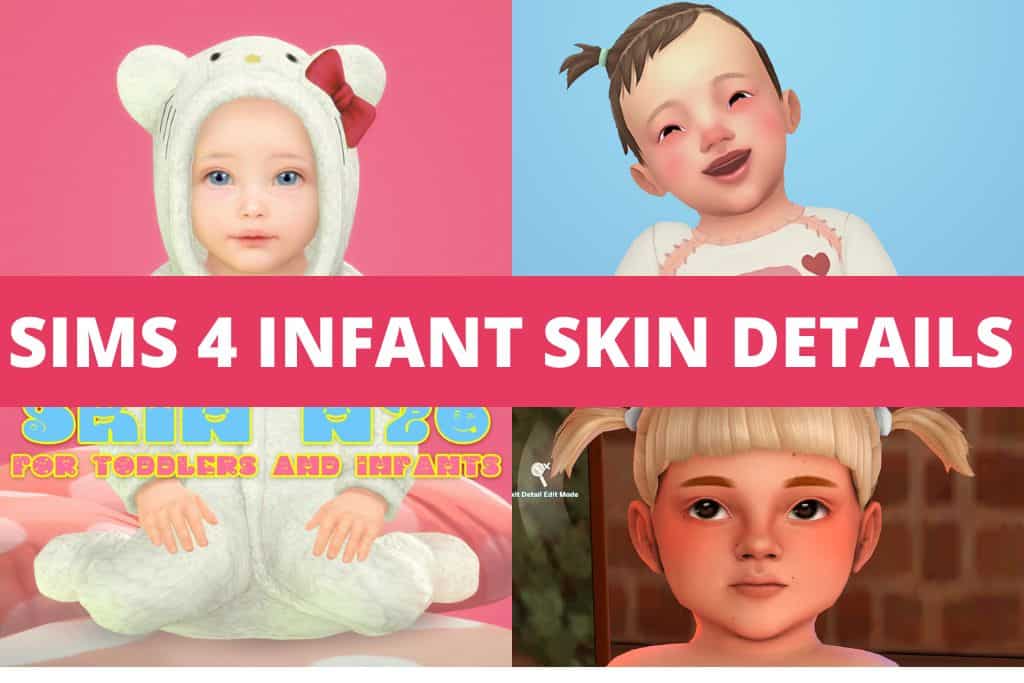 When it comes to customizing your sims, skin details play a huge role in getting the final look right.
Whether you want to change your infant skin tone or add a unique birthmark, you can find all the custom content you need.
And once you are done here, you can find more skin details in our Sims 4 Infant CC post.
Disclaimer: The following mods are neither endorsed nor affiliated with The Sims, Maxis, or Electronic Arts. Any use of mods (custom content or game mods) should be done with caution and with the knowledge that there may be risks.
Sims 4 Infant Skin Details
Below you will find a mix of skin details, including infant skins, overlays, moles, freckles, eyelashes, brows, and I even threw in some eyes too!
1. Sims 4 Infant Birthmark by JellyPaws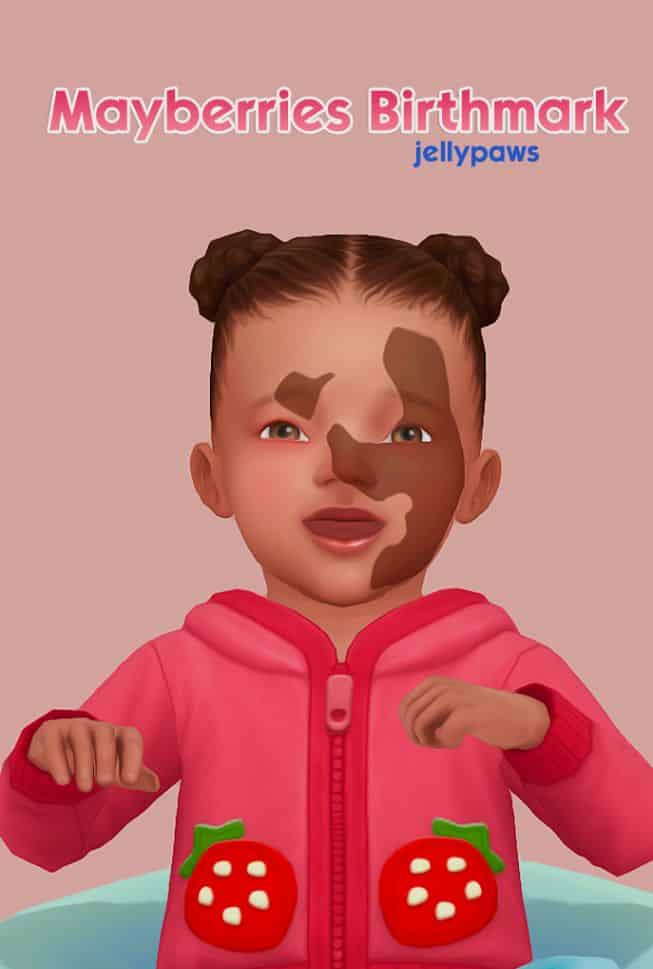 Starting off strong with our list of sims 4 infant skin details is this large facial birthmark.
The birthmark has an almost E shape and will cover a large portion of one side of your infant's face and carry over the nose and other eyebrow.
There are 6 birthmark swatches, changing up the color tone of the skin detail.

2. Infant Eyelashes Conversion by Nessassims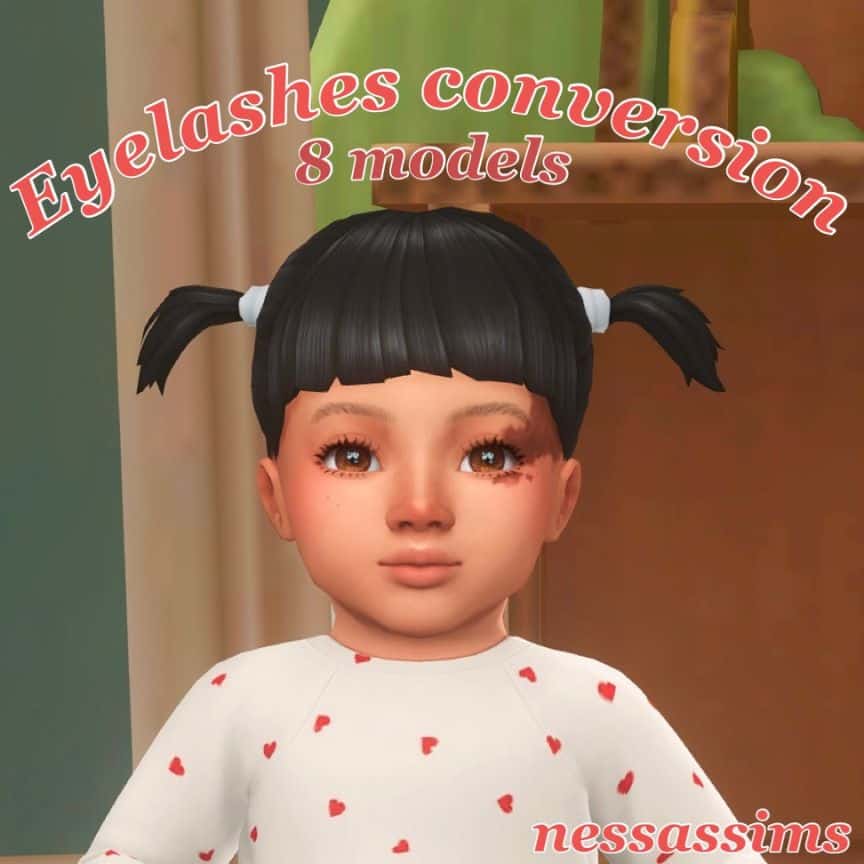 Find your favorite eyelashes for your sims 4 infant with this set of 8 models.
You can opt for a more clumpy lash look or a different level of eyelash density; try them out to find the best fit.
Each of the eyelashes comes in 10 color swatches and can be found in the Eyeliner category.

3. Sims 4 Infant Brow Conversion by Oatberrytea
This conversion set focuses on your infant's eyebrows.
These short and fuller brows are ideal for your infants' smaller chubby faces.
There are 9 hair color swatches to try out on your tiny tots.

4. Aqua Trigger Eyes for Infants by Miss Ruby Bird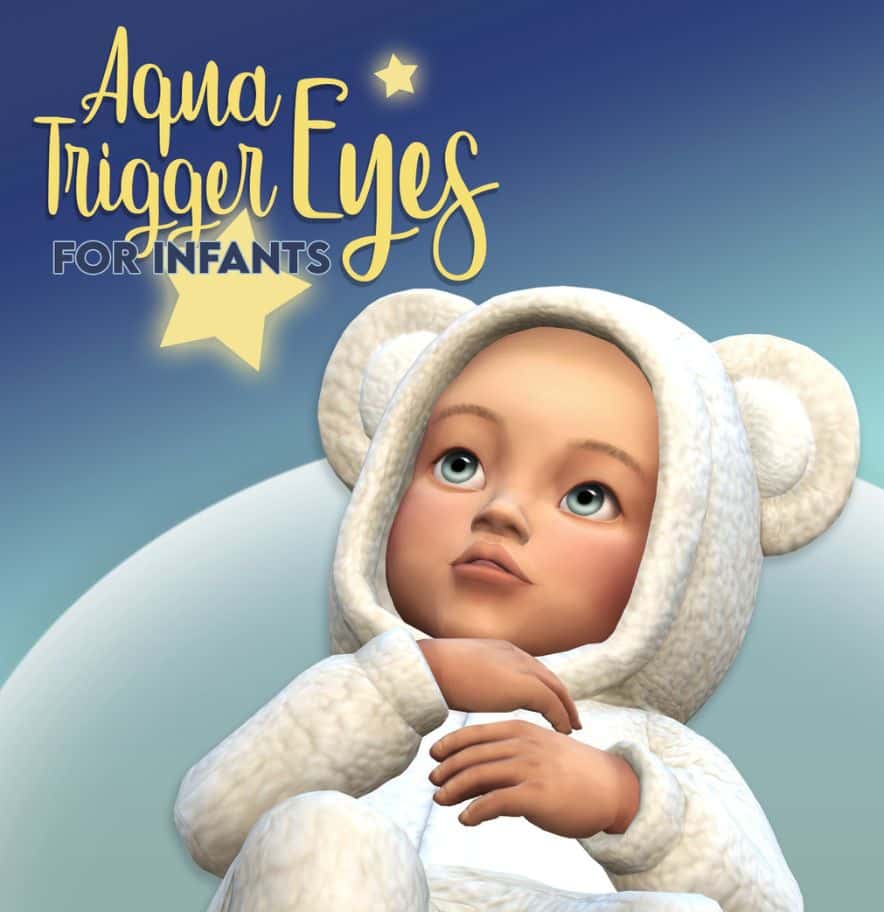 These beautiful aqua trigger eyes have been updated for infants.
You can grab the default eyes (both the default and overhaul versions).
The vampire default eyes are not available at this time, and some other changes apply to give the download page a good read before proceeding.

5. Infants Skin & Lip Conversion by JellyPaws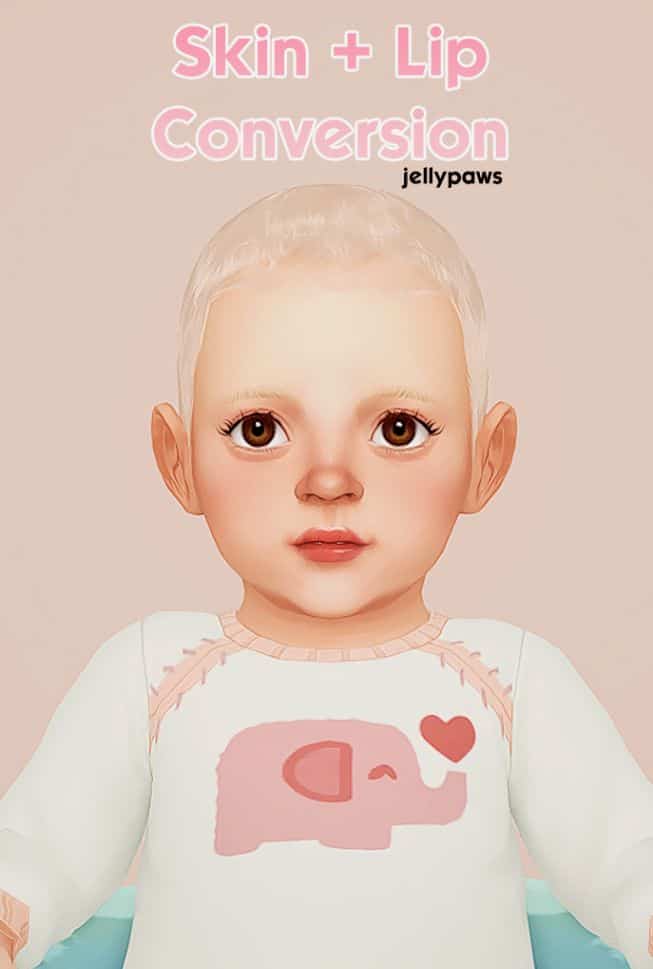 This sims 4 infant skin details set has lip gloss and a skin overlay.
There are 2 swatches for the gloss; a pink option and a more orange tone swatch.
The skin overlay adds nice shading throughout the face and some lovely under-eye details.

6. 2D Infant Lash Set by Chewybutterfly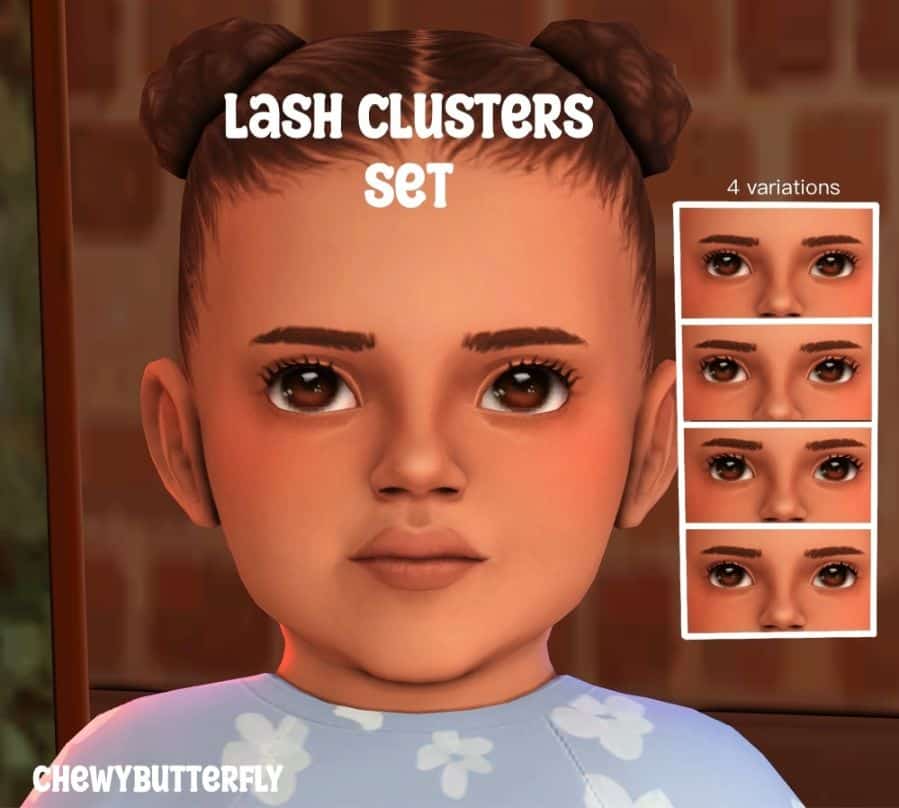 These maxis match sims 4 infant lashes come with one set of lashes in 4 variations.
The eyelashes are only on the top lash line and vary in lash density.
While these eyelashes were made for infants, they are enabled for everyone.

7. Infant Highlighter for Sims 4 by JellyPaws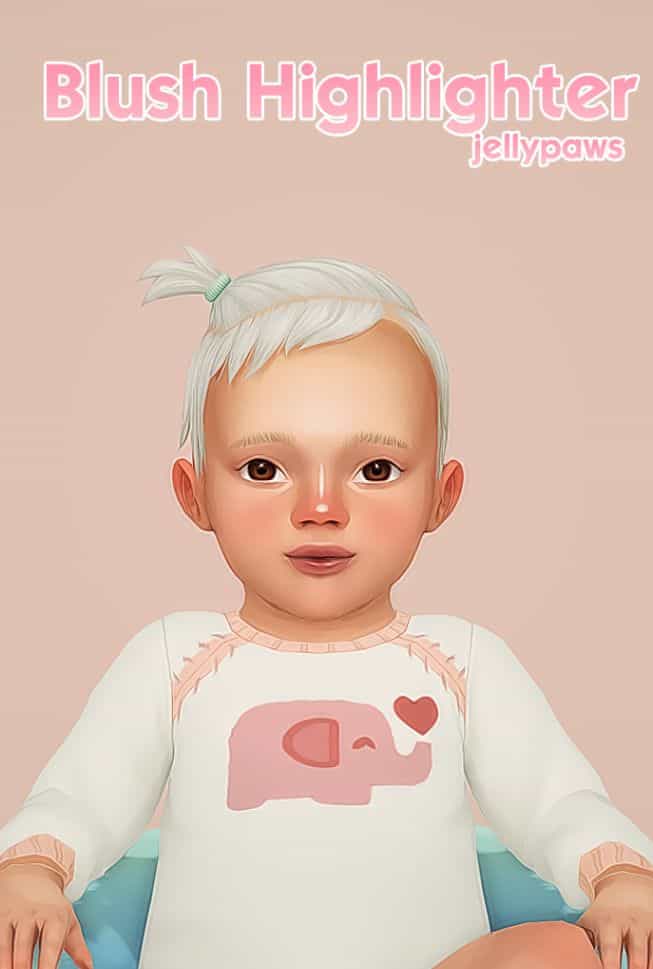 When it comes to sims 4 infant skin details, this highlighter and blush set is one of my favorites.
Your little tots will get a nice touch of brightness down their nose bridge and tip.
You'll notice the blush on the nose, cheeks, ears, fingers, elbows, and knees.

8. Infant Vitiligo CC by Melichryses & Tiny Simmer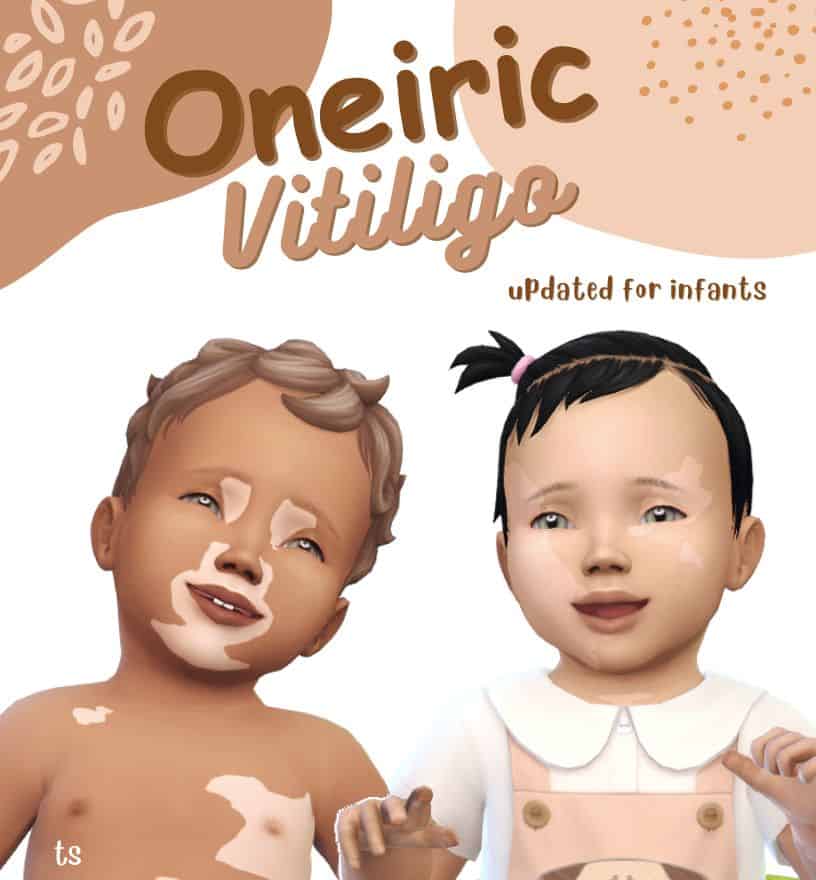 I was so happy to see this vitiligo sims 4 infant skin detail by Melichryses has been updated by Tiny Simmer.
This set has plenty of vitiligo placements and color swatches to find the perfect selection for your infants.
Since vitiligo can affect the skin in many ways, seeing so many swatches is nice.

9. Infant Collission Eyes by Roiskelappa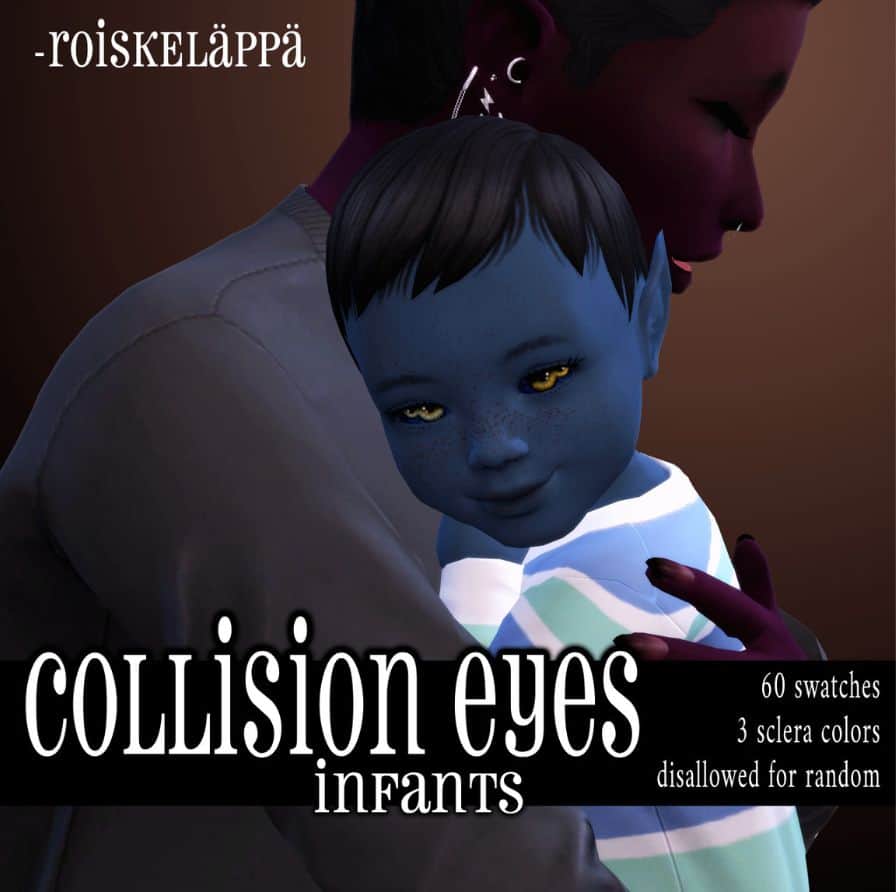 These collision eyes are super unique; they are some of the most interesting eyes I've come across.
These double eyes come in 60 swatches and 3 colors for the sclera.
You will find the right eye in the facepaint category and the left eye in the skin detail section.
You can even style your infants with heterochromia collision eyes.

10. Infant Genetics & Makeup by Pralinesims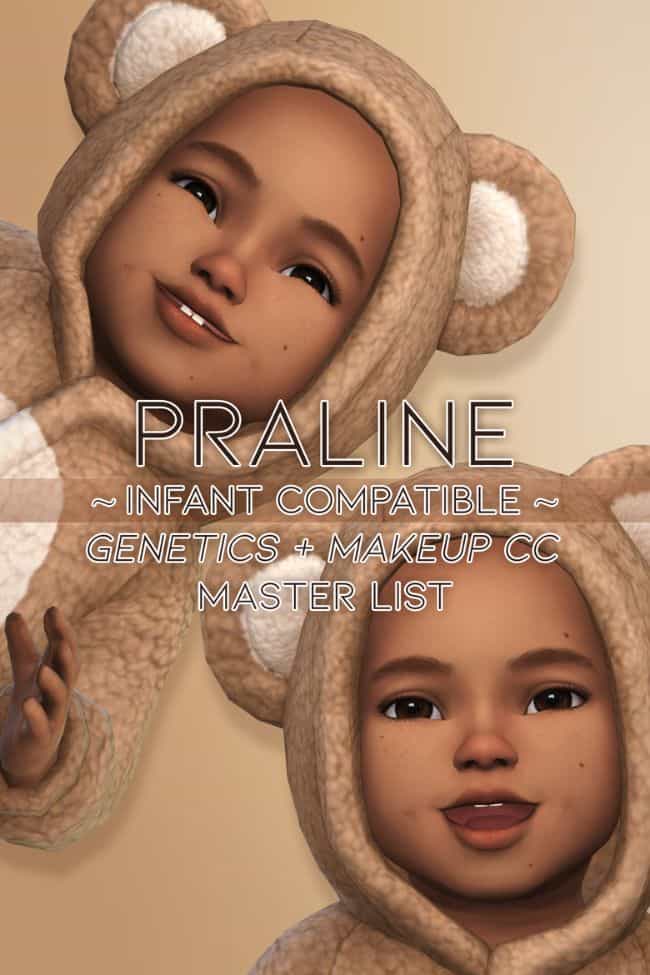 This list of infant updates was featured in our infant cc post, but it definitely needed a second appearance.
Pralinesims updated all her appropriate custom content for infants; you can find all your favorites in her master list linked below.
This collection features her genetics and makeup cc packs.

11. Sims 4 Infant Eyes by Oatberrytea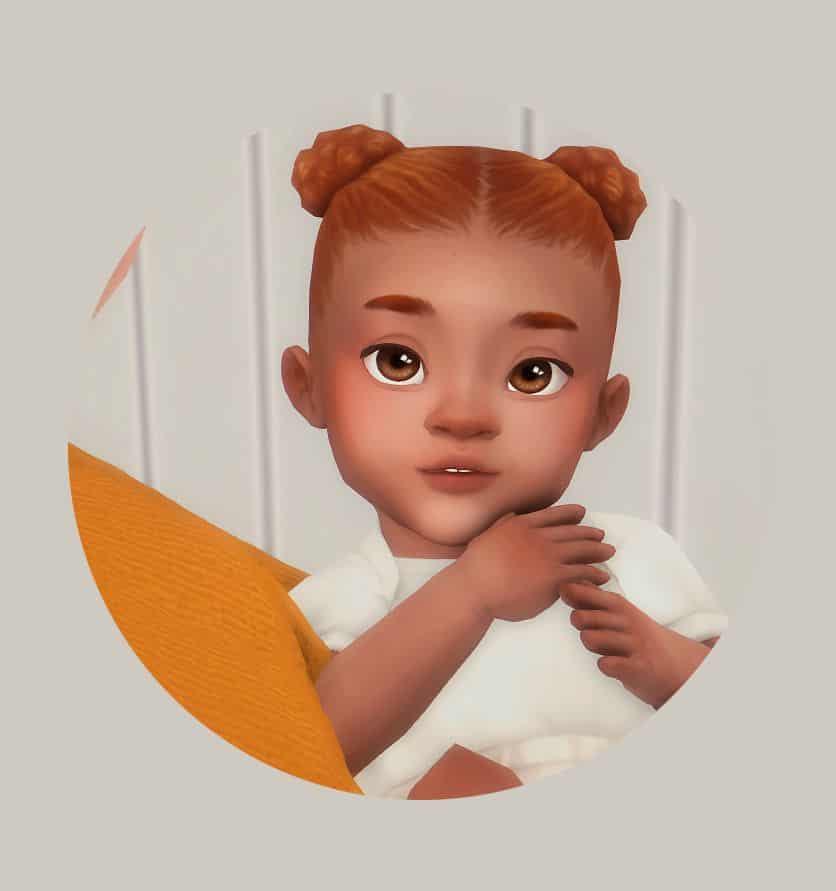 Give your sims infants these large beautiful soulmate eyes.
The default eyes have been updated for the Natural or Natural 2.
You can also snag the custom non-default versions;
Alien
Vampire
Berry
Mermaid
Natural
Natural 2
Human-Add-On
Both the default and non-default files are separated on the download page.

12. Infant Freckle Skin Details by JellyPaws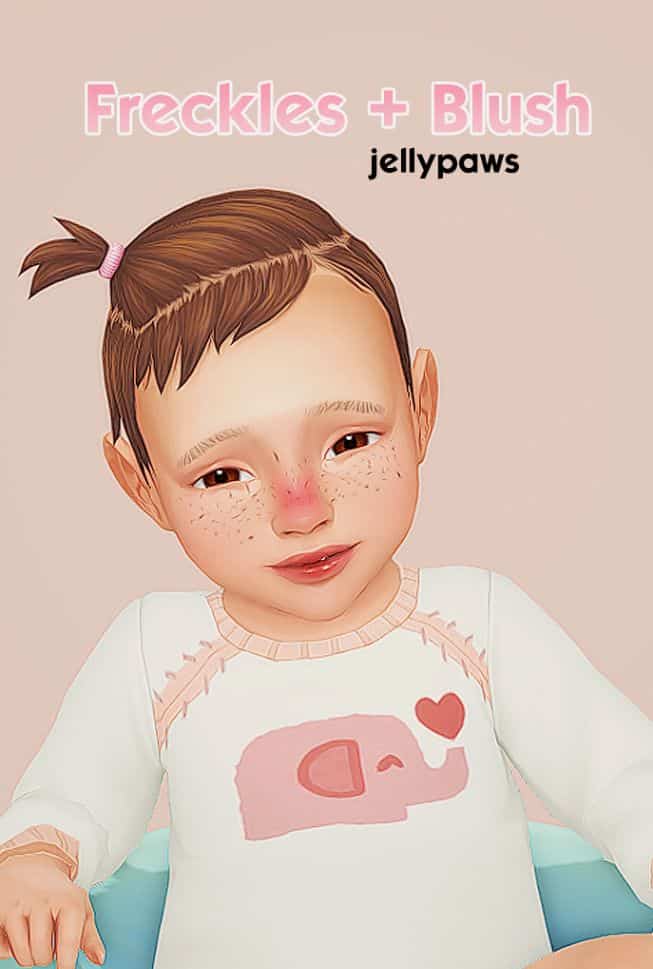 This sims 4 skin details set gives your infants a sprinkling of freckles across their cheeks and nose bridge.
Your infant's nose will be rosy from the blush, which comes in 2 swatches of pinkish-red.

13. Infant Puppyface Overlay & Blush by Serawis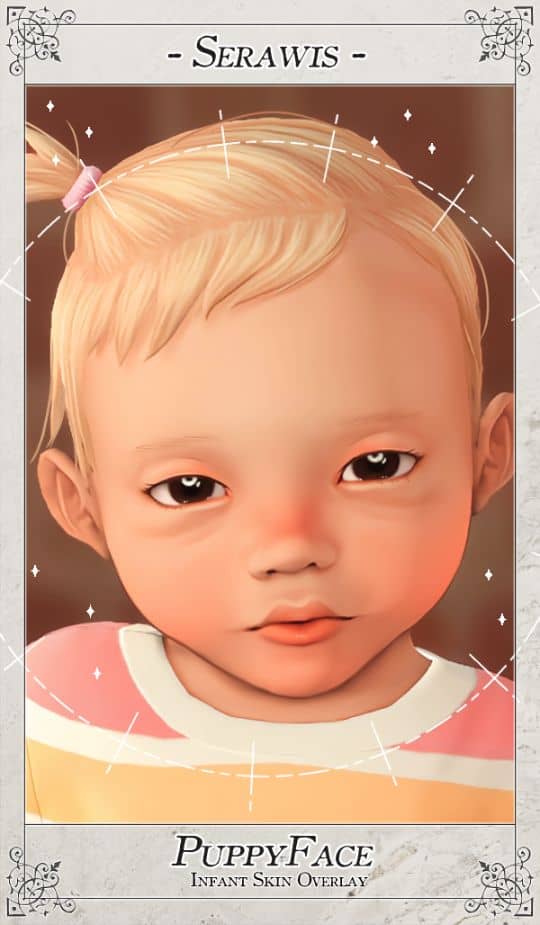 Give your infants the puffy face of youth with this sims infant skin overlay and blush set.
If you add the blush as well, your infants will have blush on their eyelids across the bridge of their nose, cheeks, and chin.

14. Skinblend & Blush for Infants by Chewybutterfly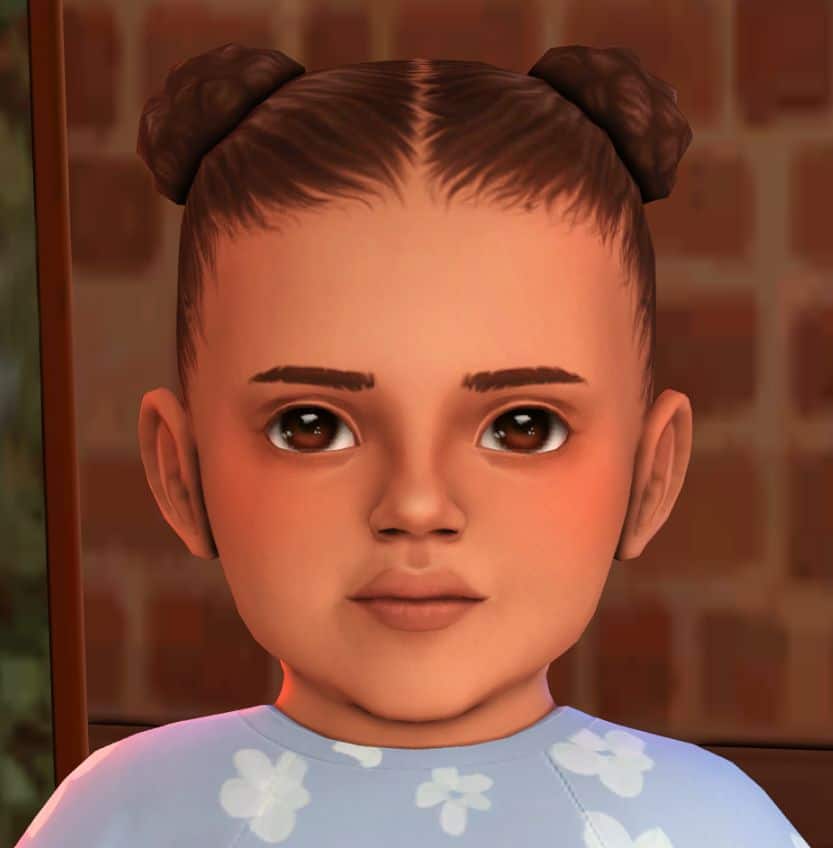 Sims 4 infant skin details set comes with a blush and skinblend.
The blush comes in 8 swatches that cover the cheeks with a touch over the nose bridge too.
The skin blend adds nice shading and dimension to your infant's face.

15. Sims 4 Infant Non-Default Skin Conversion by JellyPaws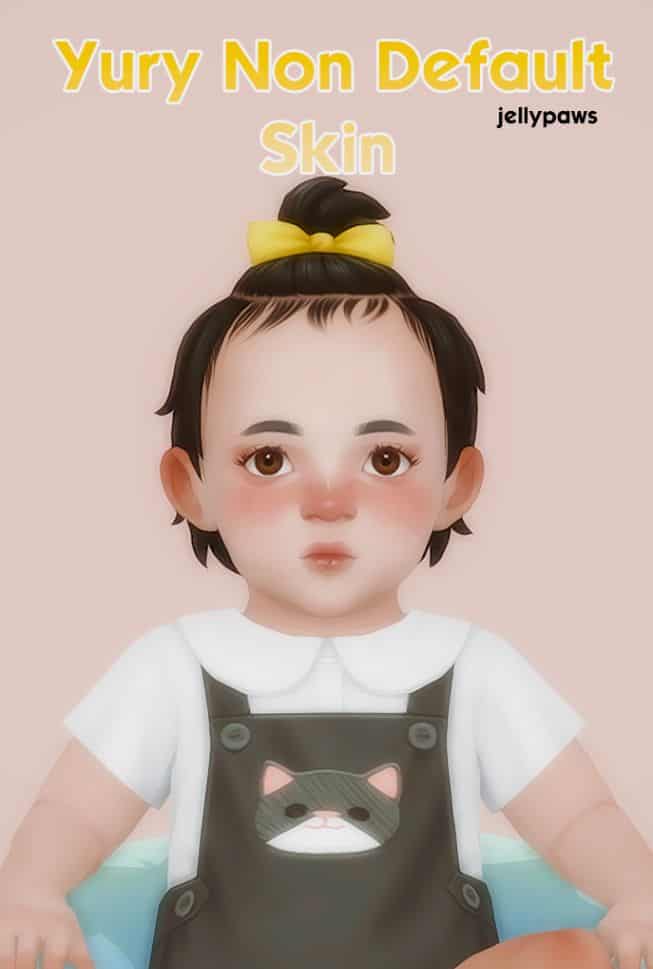 This infant non-default skin conversion will definitely give your infants a unique look.
There are 4 swatches available, each giving your infants a new skin tone with a sweeping cluster of reddish freckles across their cheeks and nose.

16. Infant Skin Moles & Freckles by Chewybutterfly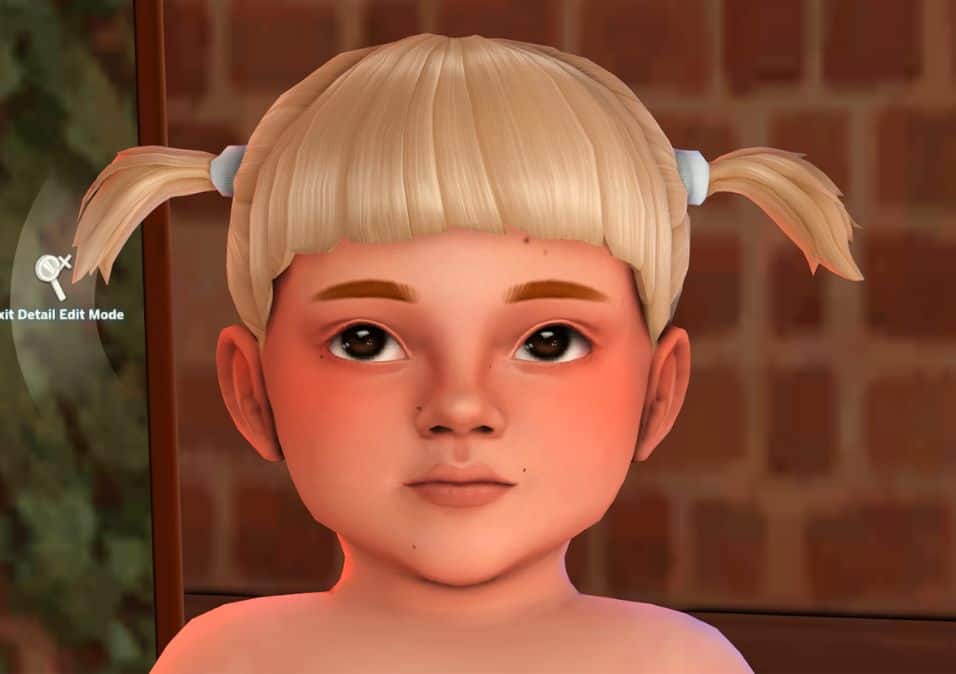 This set of sims 4 infant skin details comes with freckles, face, and body moles.
Add some unique skin details to your infants with this custom content.
There are different swatches available for both the face and body moles.

17. Sleepy Blush Skin Detail by Jelly Paws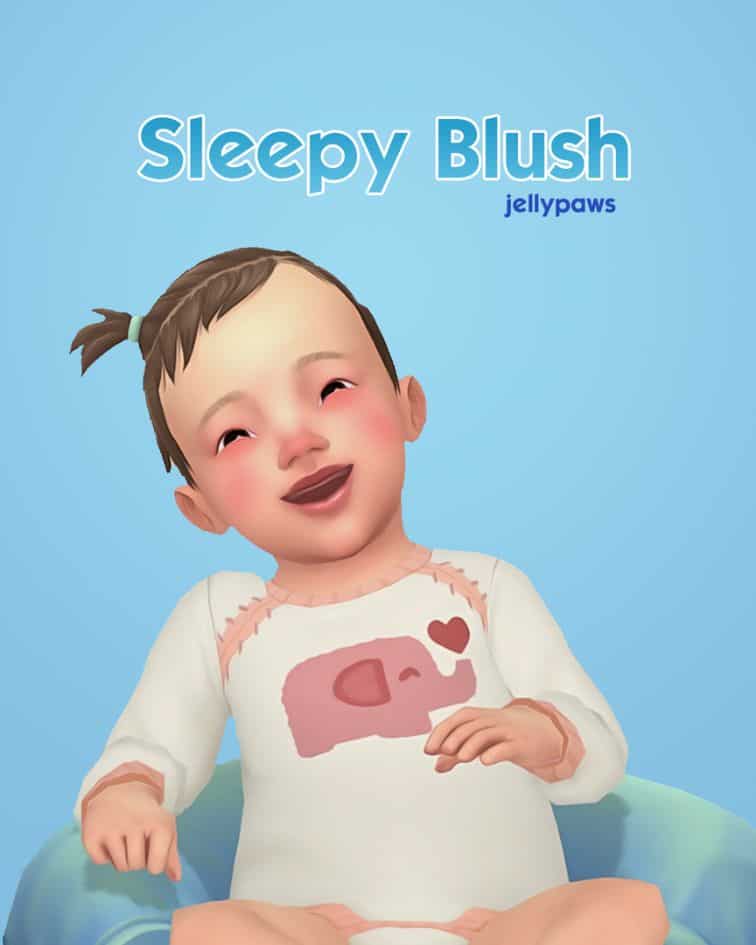 Add a cute touch of warmth to your infant's face with this blush skin detail.
The blush will appear on your infant's eyelids, under their eyes, nose, and parts of their cheeks.

18. Sims 4 Infant Skin Set by ThisIsThem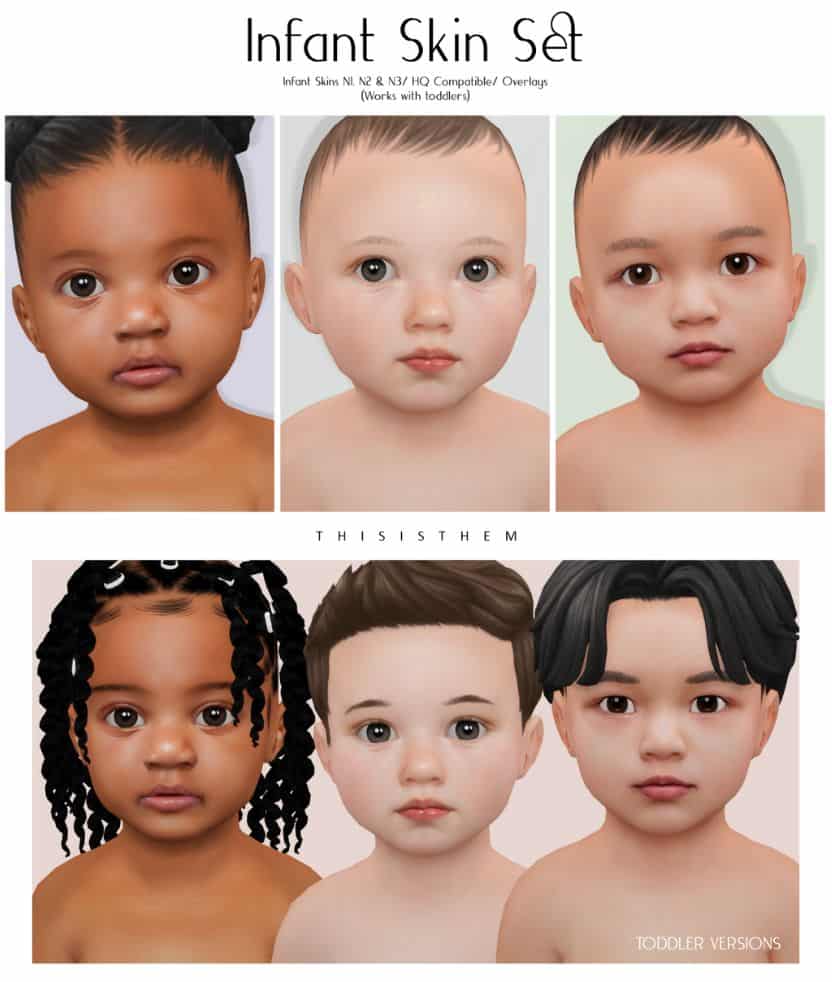 These infant skins are exceptional; the realistic life-like details they will add to your infants are amazing.
This set is one of my favorites, from the beautiful skin tones to the delicate under eyes creases.
Each skin comes with 35-45 swatches and the overlays in 3-4 swatches.

19. Sims 4 Infant Genetics by sims3melancholic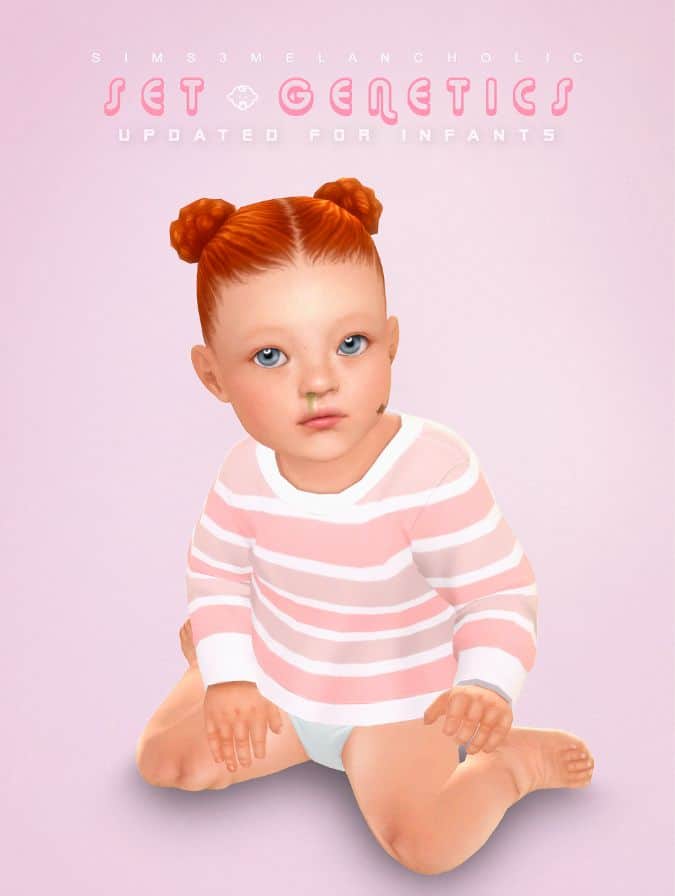 This set of infant updates gives you access to some of your favorite sims3melancholic pieces.
You will find a mixed variety of genetics that were updated for your little ones, including;
Moles
Baby skins
Face masks
Skin overlays
Birthmarks
Freckles
Lip kisses

20. 3D Infant Lashes for Sims 4 by JellyPaws
This set of 3D infant eyelashes will give your little sims a complete set of thick lashes.
There are 4 swatches; two have upper and lower eyelashes, and the others have top lashes.

21. Sims 4 Infant Skin Details by Obscurus-sims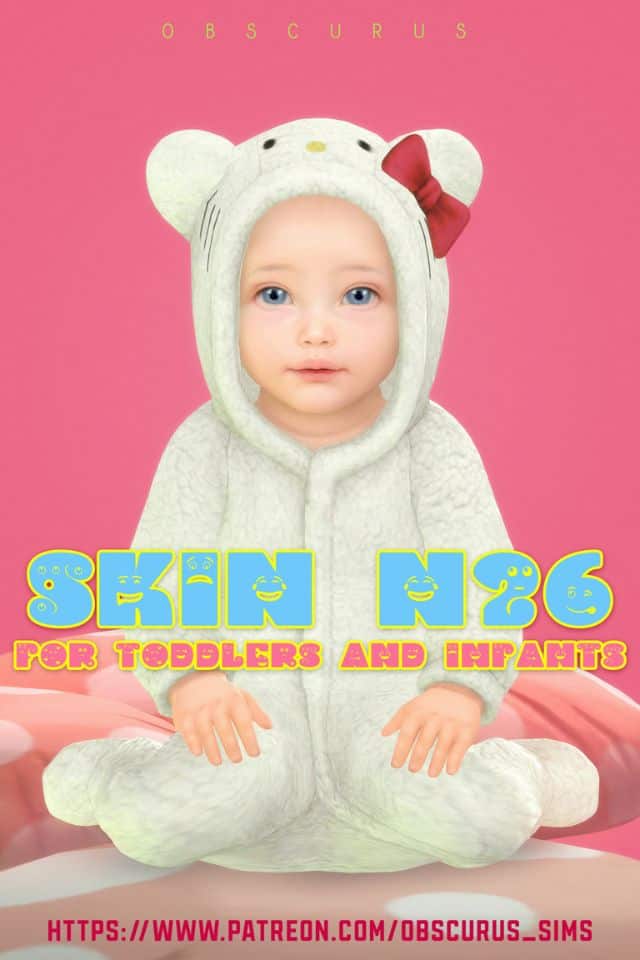 This set of skins is currently available for infants and toddlers.
It includes 2 different skins with 24-51 swatches and a set of eyes with 100 color choices.
The eyes are available for all ages.

22. Infant Face Overlay by JellyPaws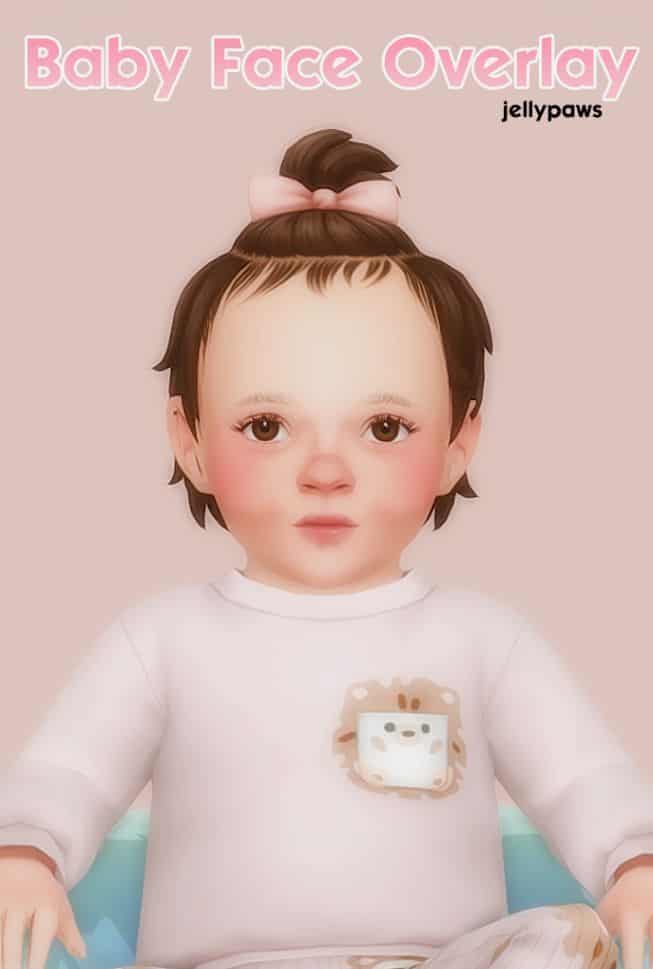 This sims 4 infant skin overlay gives your little ones a sweet baby face.
Your infants will get an upgrade with nose shading, cheeks and mouth details and a touch of face shine.
There are two swatches included in this overlay set.
Sims 4 Infant Skin Details: Final Thoughts
With sims 4 infant skin details, you can transform your basic EA infant into a unique sim.
From moles, and freckles to skin overlays, find the perfect combinations of skin details for your little tots.
If you have any questions or suggestions, feel free to leave us a comment below or tag us on Tumblr.
More Infants Custom Content Lists

And don't forget to share and save this pin for later!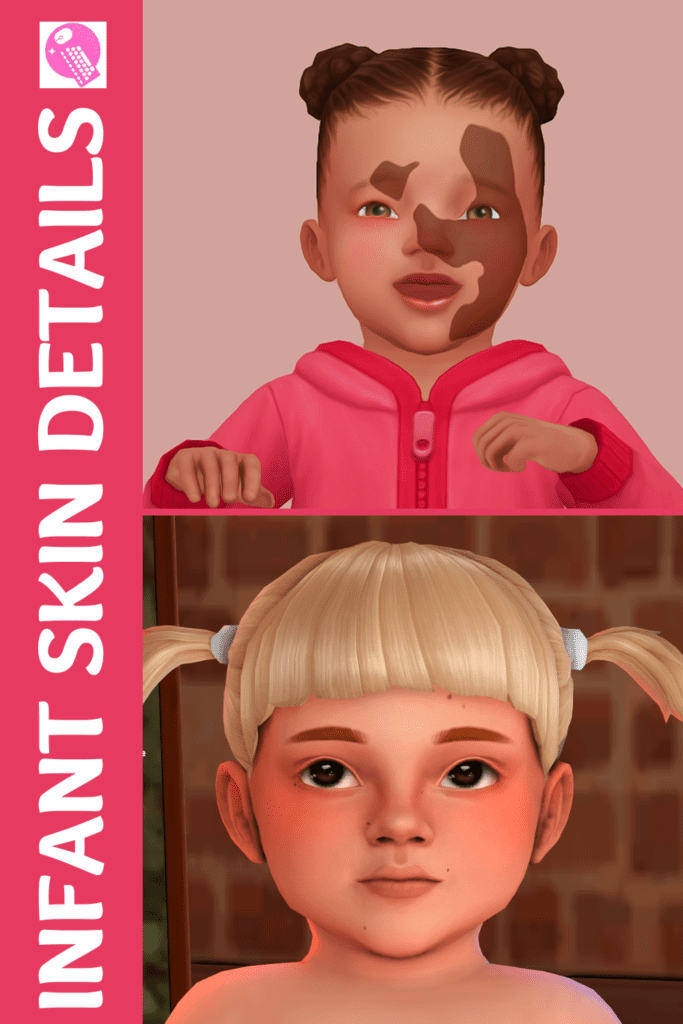 21+ Sims 4 Infant Skin Details: Transform Your Tots