25+ Sims 4 Infant Poses For The Cutest Photos
Find the latest sims 4 infant poses with this collection of fantastic pose packs.
I'll be honest, with the latest infant update, I was not expecting so many sims 4 infant poses to become available so quickly.
But the Sims community always delivers, so I decided to restructure some articles.
I've moved all the amazing infant poses into their own dedicated post below.
You will find a mix of sims 4 infant poses, including some adorable solo infant packs, infant-sibling poses, family poses, and some with pets too.
And if you need more infant content, we also have these helpful resources;
Disclaimer: The following mods are neither endorsed nor affiliated with The Sims, Maxis, or Electronic Arts. Any use of mods (custom content or game mods) should be done with caution and with the knowledge that there may be risks.
Best Sims 4 Infant Poses
To use these poses, you'll need to install two mods:
Check out our How to Use Sims 4 Poses post if you want to learn more about using these two mods.
1. Sims 4 Infant Pose Pack by rebouks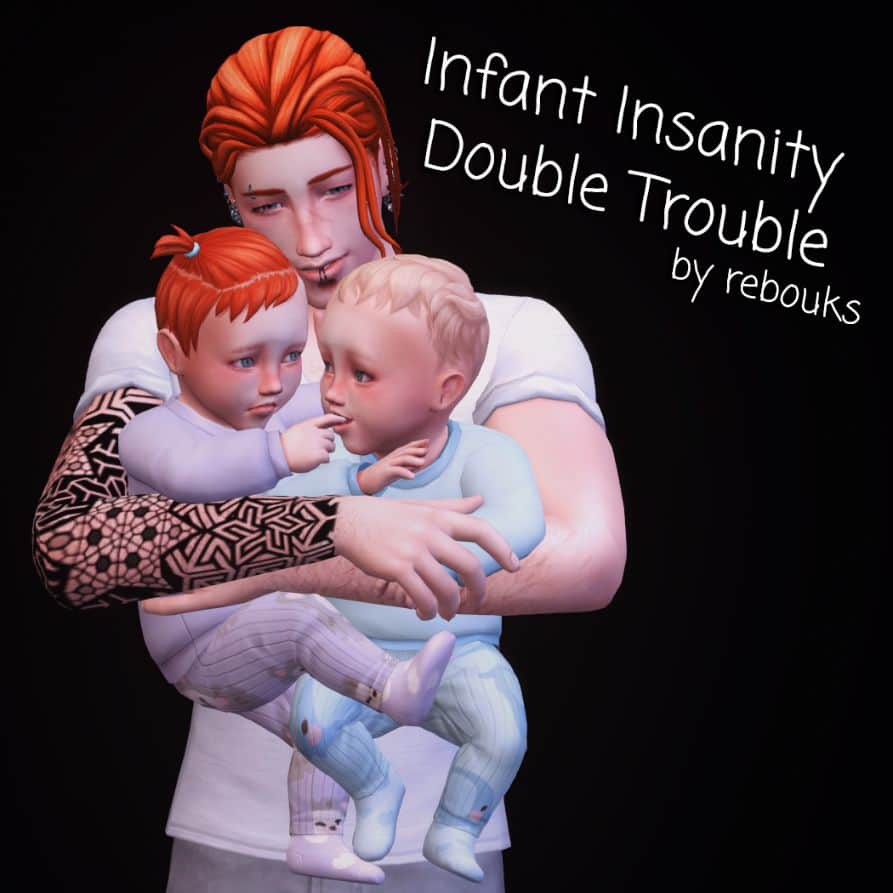 Enjoy twice the cuteness with this set of sims 4 infant twin poses.
There are 17 poses to try out, including a mix of the twins posing together, with a single parent, or as the whole family.
I especially love the poses where the sims infants are playing together.

2. Sims 4 Infant Carried Poses by Blackpanda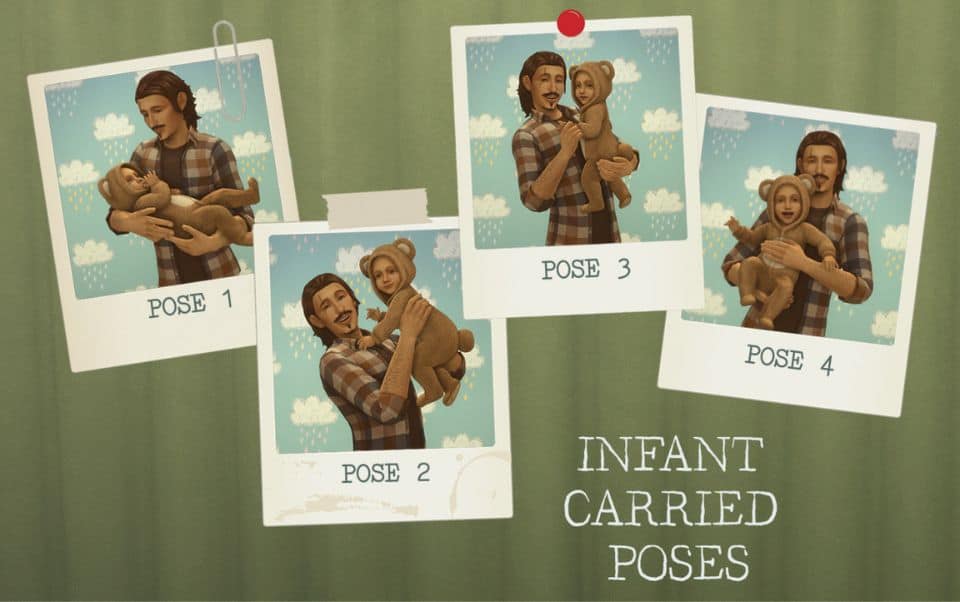 This small set of infant poses captures your baby sim being carried around by their favorite adult.
There are four in-game poses to try out, each centered on cute, tender moments between your infant sim and parent.

3. Sims 4 Mommy & Me Infant Poses by Chewybutterfly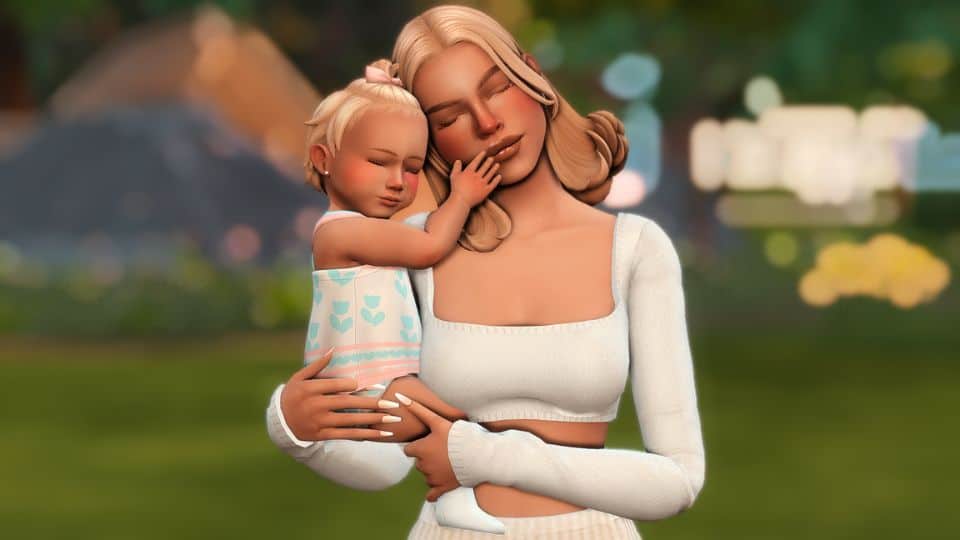 This three-piece pose set focuses on your sim mommy and infant enjoying a special moment together.
Each of the 3 poses centers around the sims mom holding her infant, either casually, staring at each other, or hugging.

4. Sims 4 Infant Naptime Poses by rebouks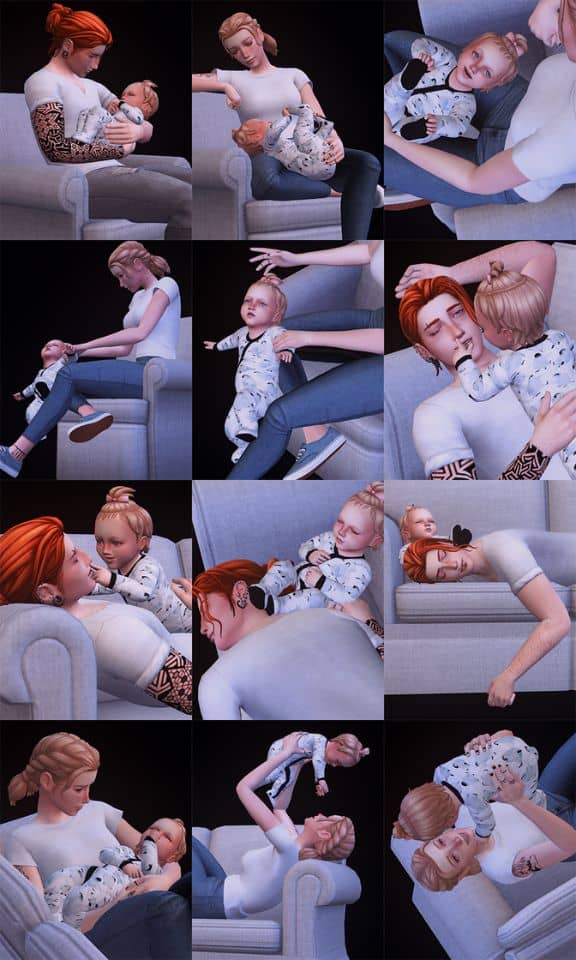 With infants come the realities of parenthood.
This sims 4 poses pack contains 16 poses centered around naptime and the attempts to get your sim infant to sleep.
Each of the poses contains one infant and one adult sim.
Some nice candid family photos are awaiting in this pose pack.

5. Sims 4 Mom's Kisses Pose Pack by SamsSims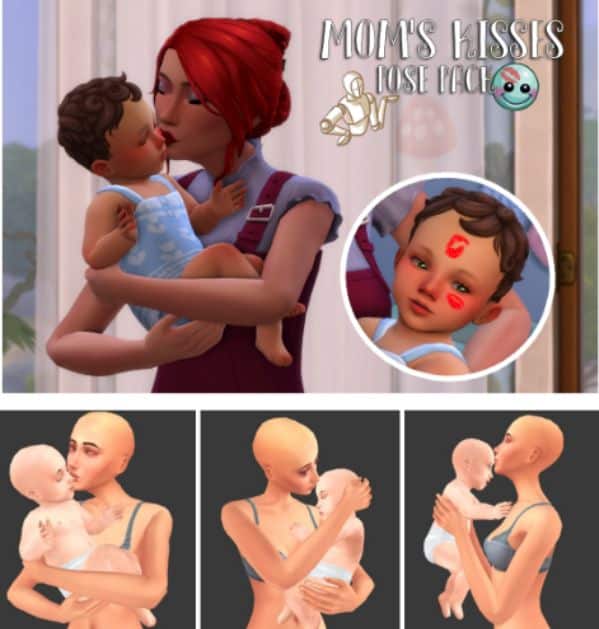 This infant pose pack comes with 8 poses to capture some sweet family moments.
These poses are for an adult sim (gender neutral) and one of your newest sims infant.

6. Sims 4 Solo Infant Poses by BlackPanda
While I love all the family-style poses pack, it's nice to see a solo pack for infants too.
This set comes with 7 in-game solo infant poses where your tiny tot can be the show's star.
Each pose captures your sim infant in various sitting and lying positions on the floor.

7. Infant Sims 4 Family Poses by Chewybutterfly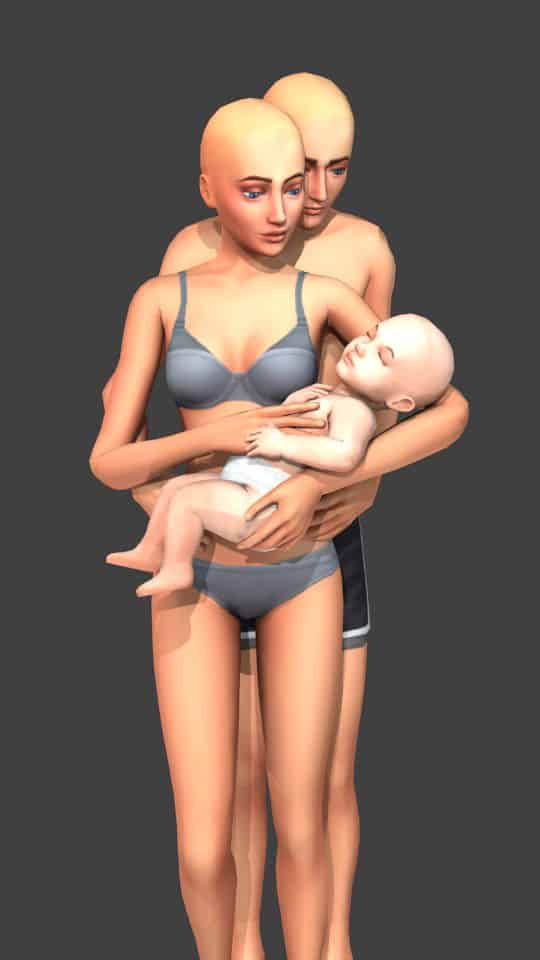 Here we have another sims 4 infant pose pack for the family, pets included.
There 3 infant poses to try out;
An infant and toddler pose
An infant and small dog pose
An infant & female adult frame (there is the option to add a male frame)

8. Single Sims 4 Infant Poses by Acha-Sims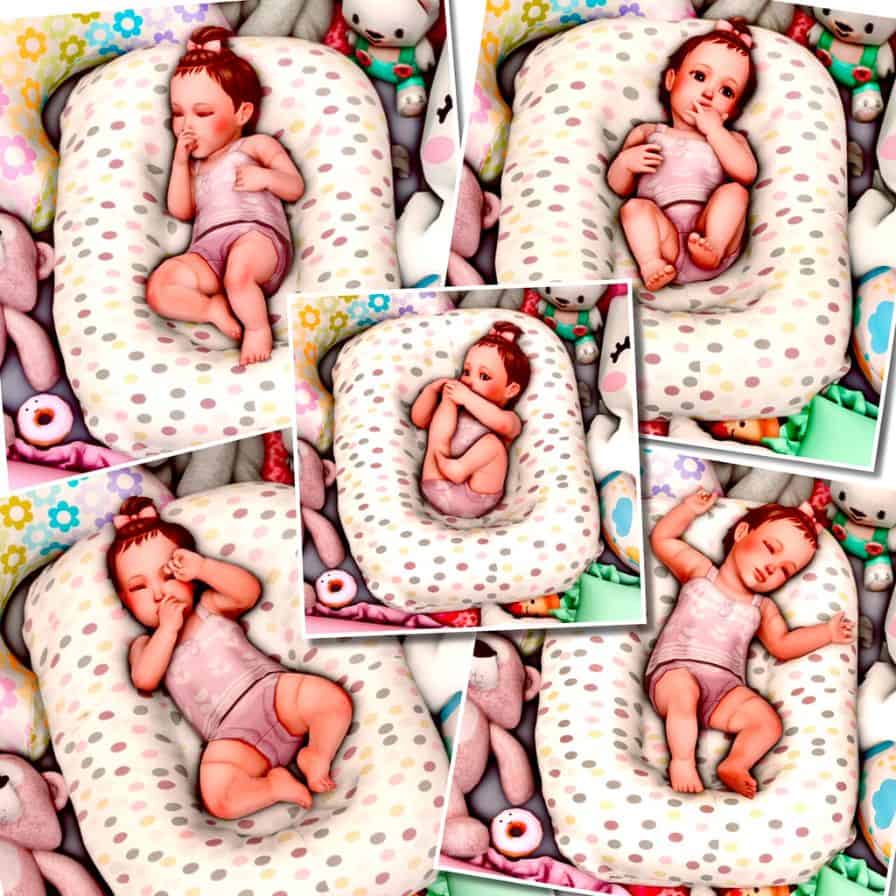 This infant poses pack focuses on your little bundle of joy.
There are 10 solo sims 4 infant poses to try out, all with your little one lounging, playing, or resting in their little puff bed.
These infant poses are perfect for capturing those precious moments.

9. Sims 4 Infant Family Poses by JJ Poses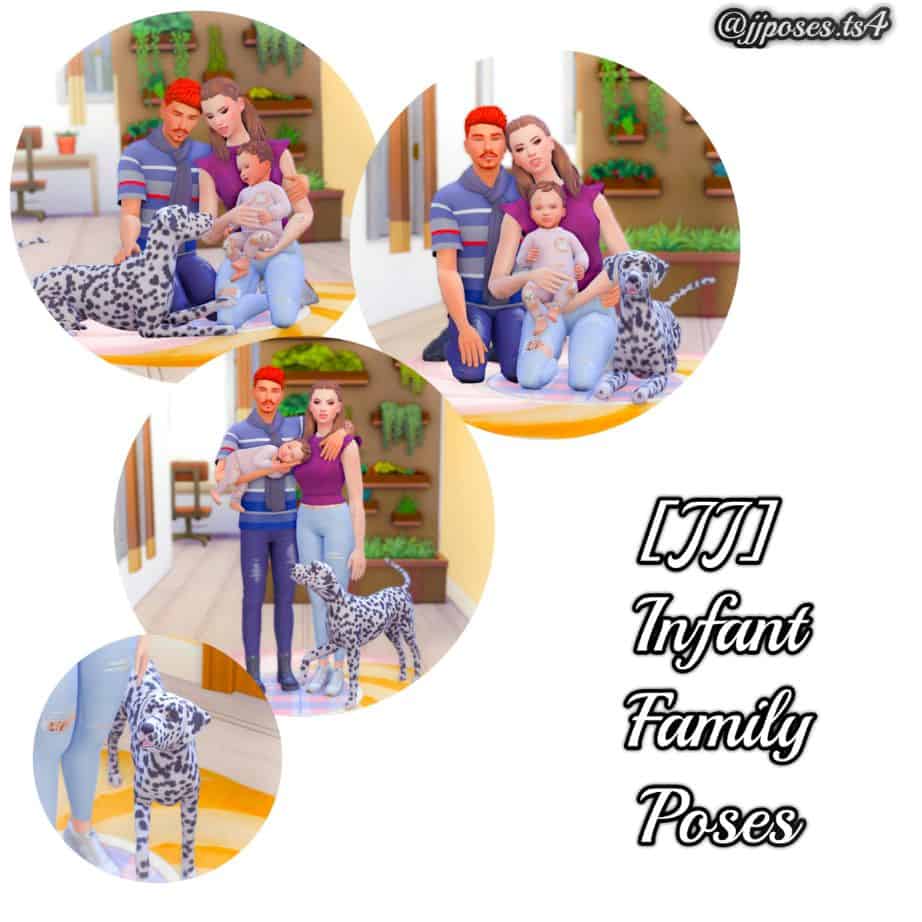 I adore pets, so I'm always happy to see them appear in pose packs.
With this set of sims 4 infant poses, you can now snap the perfect images of your complete little family.
Nothing beats a family portrait of your infant and favorite puppy together.

10. Infant & Female Poses by Pwoohiesims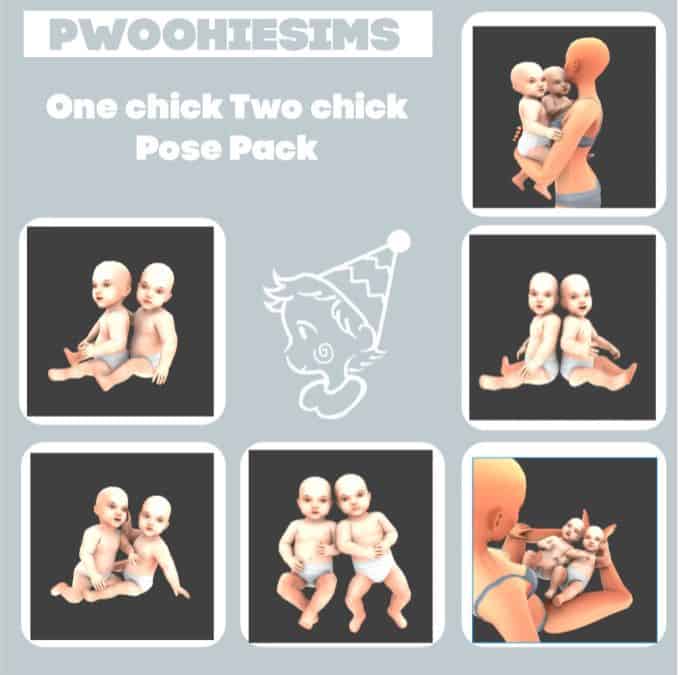 This pose pack includes poses for your sims 4 infants and a female sim.
There is a combination of fun-loving poses between your infants and other poses of them being held by the female.

11. Sims 4 Infant Feeding Time Poses by rebouks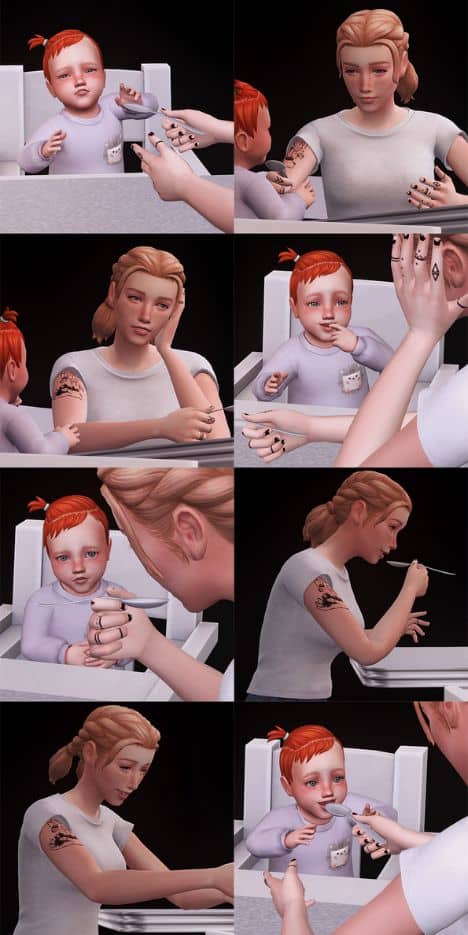 Rebouks has been on a roll creating so many incredible infants pose packs to capture different moments of their lives.
This mealtime set is no different and has the perfect poses to snapshot your sim feeding their infant.

12. Infant Photoshoot Poses by Banana Split Sims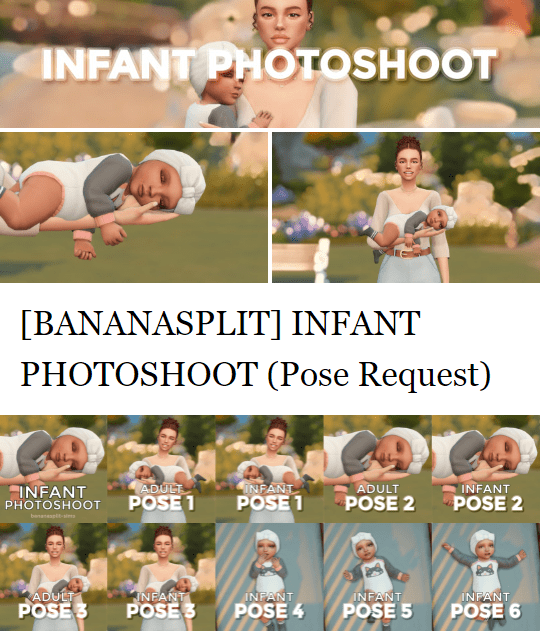 This sims 4 infant pose pack is all about those classic photoshoot poses.
I love the poses where the infant rests on your sims arm; those are exactly like the newborn pictures people have in real life.
This set will give you the most adorable pics to place around your sim's home.

13. Through Years Pose Pack by SamsSims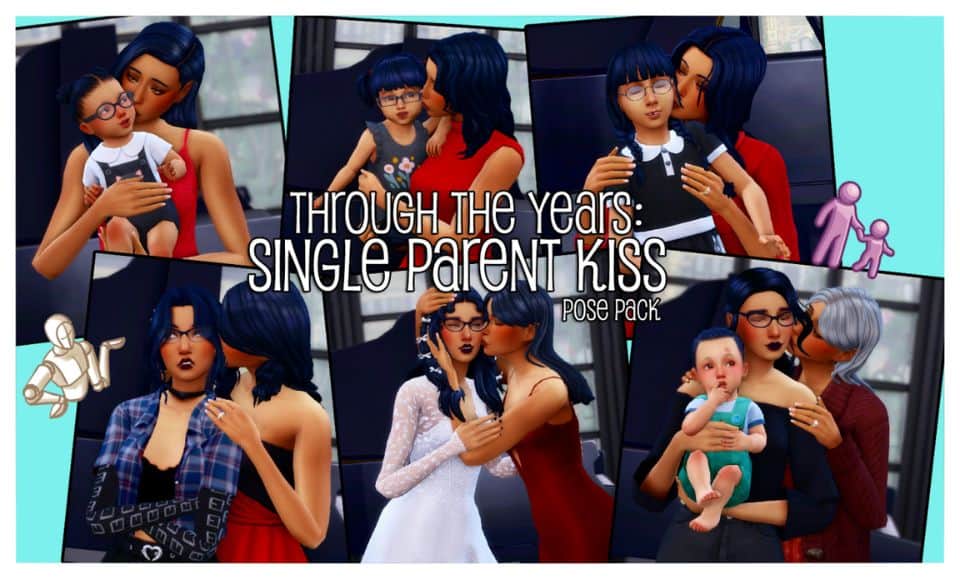 This sims 4 pose pack focuses on the whole family.
There are 6 different pose combos to capture all those special moments;
For your infants, there are two poses to try out;
1 sim parent and infant
1 sim infant, parent, and grandparent

14. Sims 4 Infants Pose Packs by Acha-Sims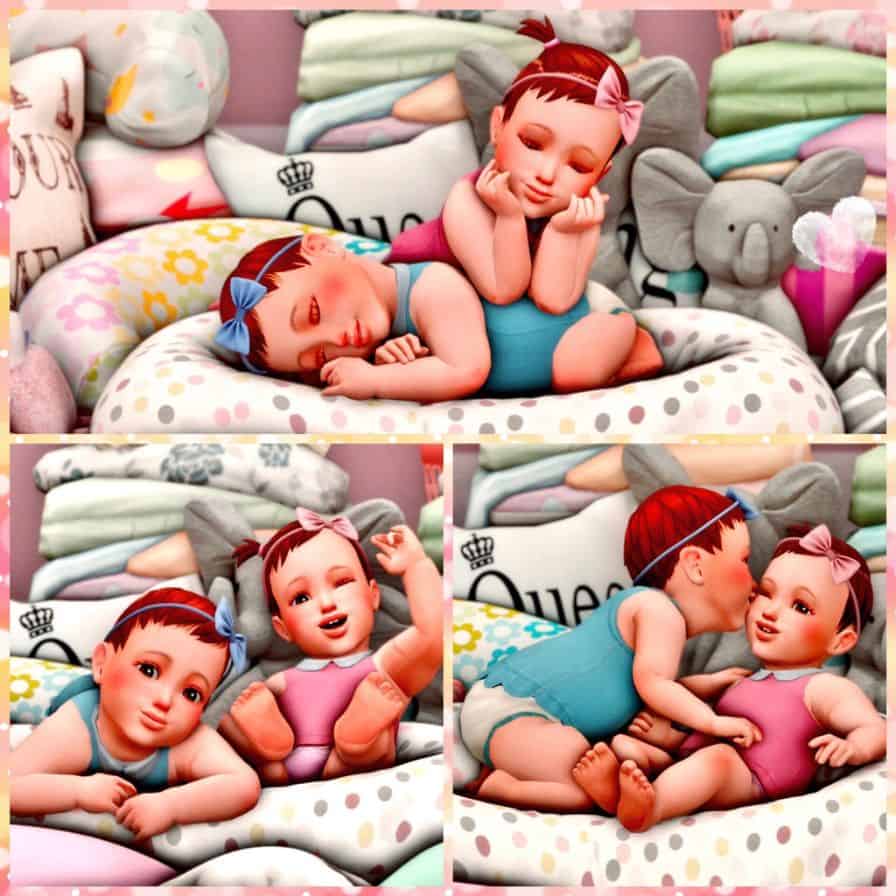 Capture your little sim infants enjoying some playful moments together.
Whether playing as siblings or as best friends, this pack of 6 poses is one of my favorites and has a great mix of fun and loving poses.

15. Sims 4 Siblings Pose Pack by Pwoohiesims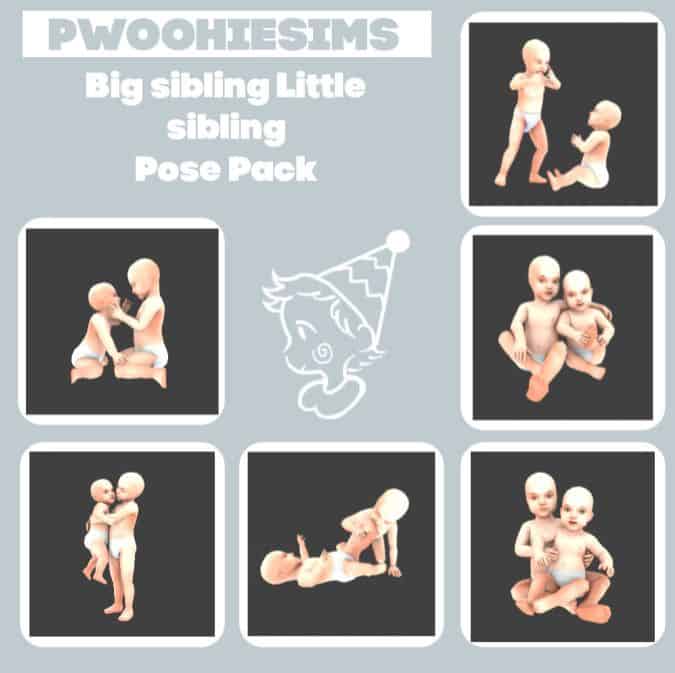 Does your sims family include an infant and a toddler?
I've found just the right pose pack to capture all your infant and toddler fun with them playing and being adorable together.

16. Sims 4 Infant Posepack #1 by Couquetts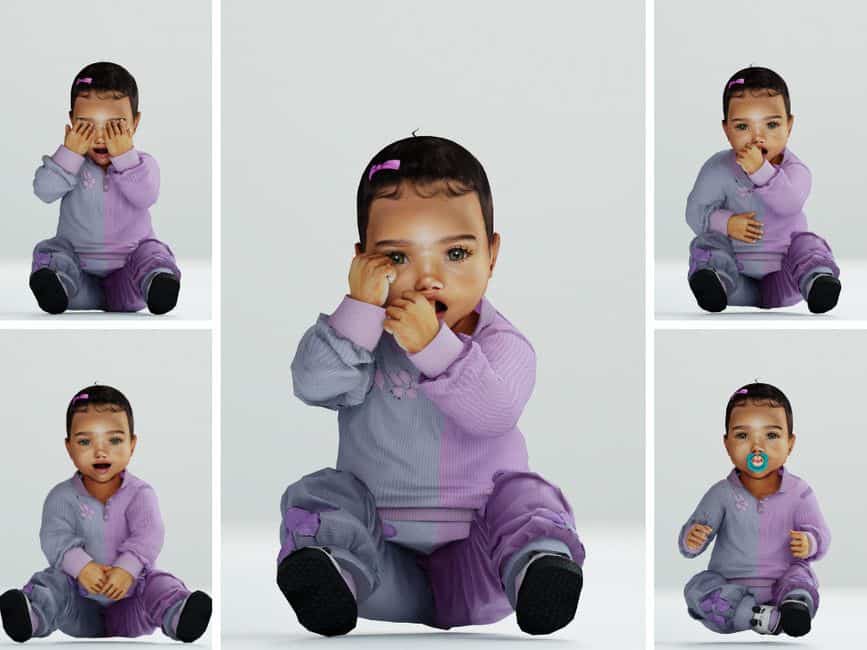 These solo infant poses are just the cutest, providing the perfect opportunity for candid-style screenshots.
Snapshot your little infants sucking their thumb, playing peekaboo, and just being adorable.

17. Sims 4 Infant Portrait Poses by JJ Poses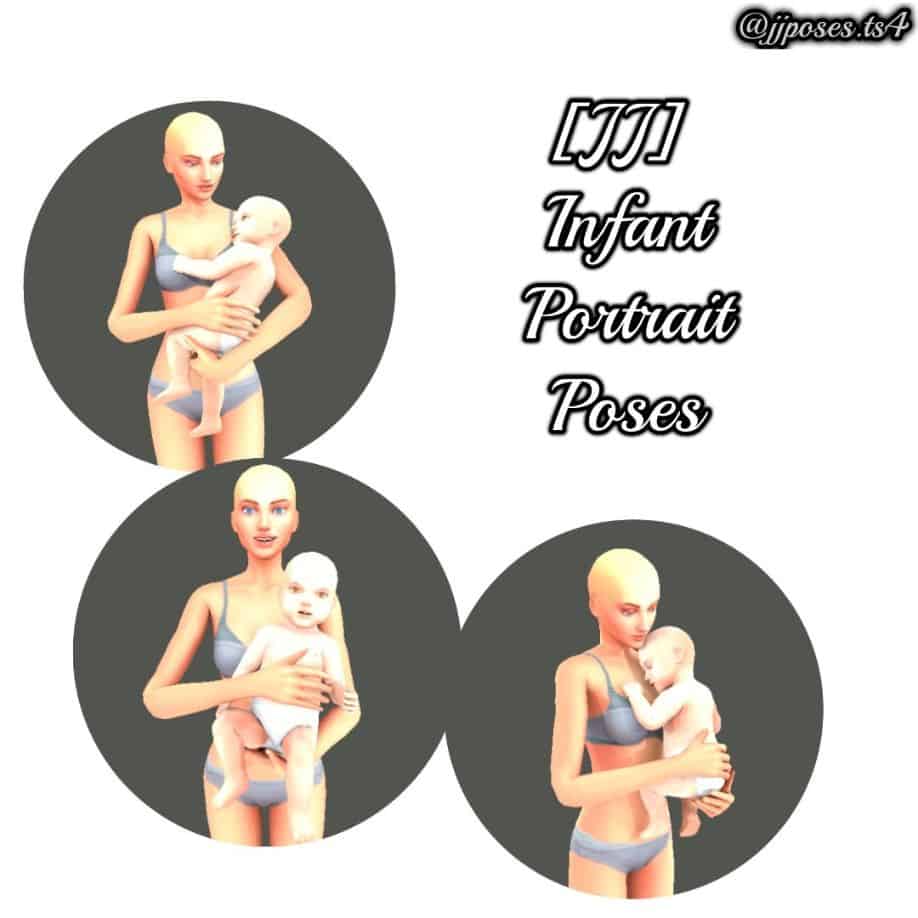 Snap some new screenshots of your sim adult and infant with some adorable portrait poses.
These infant poses focus on your little one enjoying one-on-one time in their parent's embrace.

18. Infant Walking Poses for Sims 4 by rebouks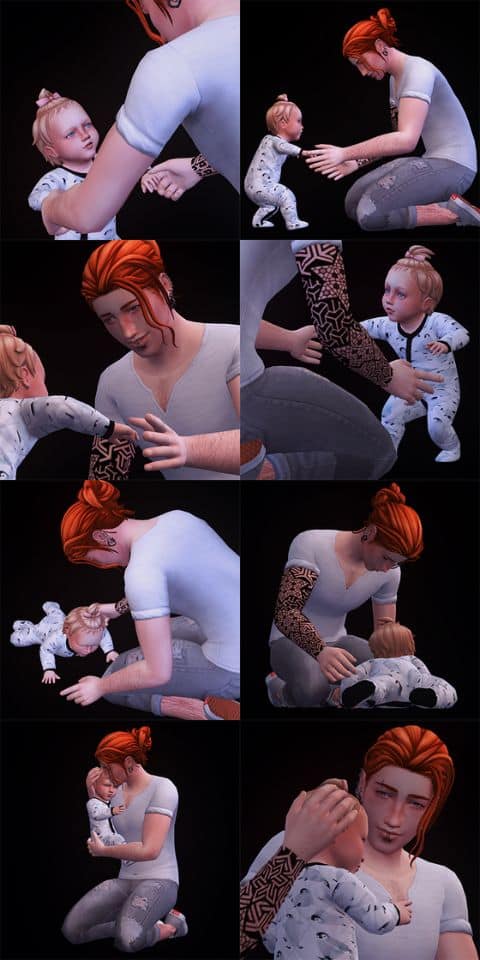 This sims 4 infant pose pack is super sweet, focusing on your infant's attempts at walking.
I love that it has all the different stages, from the walking attempt to the fall and the being comforted poses.

19. Sims 4 Infant Morning Poses by StarrySimsie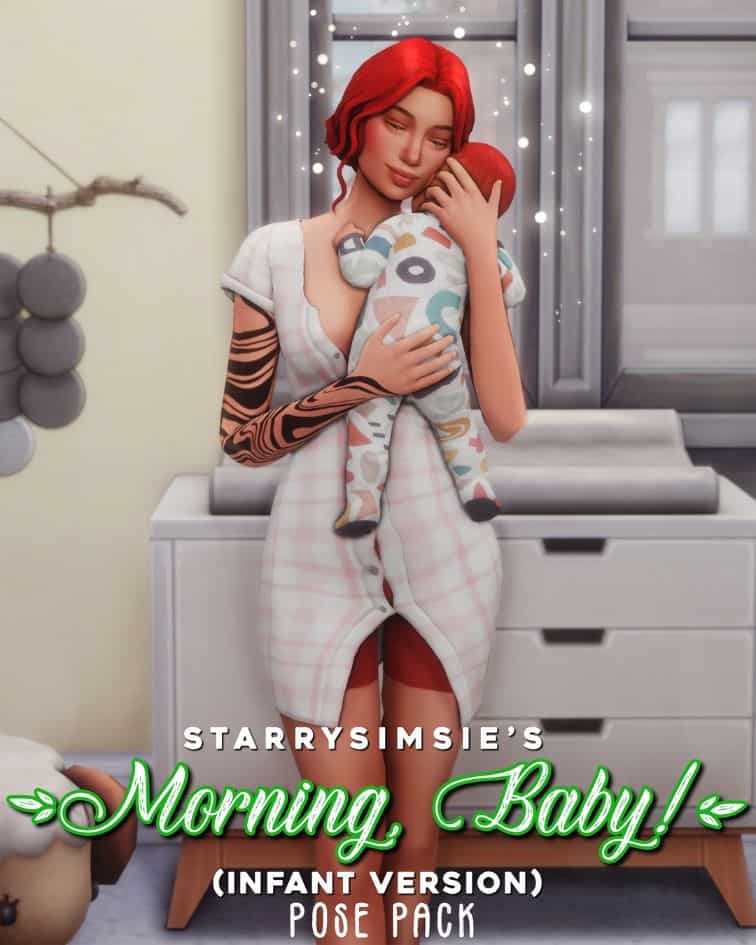 These sims 4 infant poses focus on your adult sim and infant's morning routine.
There are 10 poses, each capturing different moments of your infant's morning.
Snapshot your adult sim gazing down at their infant to them cradling their little one in their arms.

20. We Love You Infant Family Poses by JJ Poses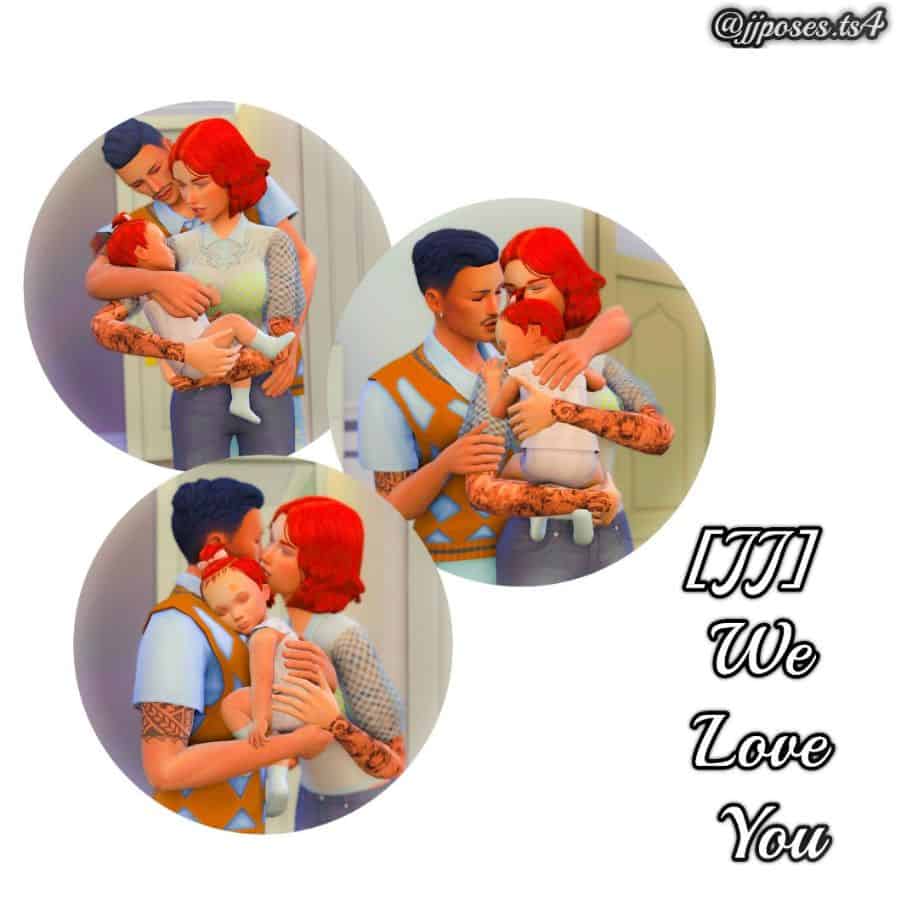 Capture the love between your favorite sims couple and their little infant.
These 3 poses focus on the loving embrace of your sims happy family while their infant sleeps comfortably in their arms.

21. Infant Family Poses for Sims 4 by rebouks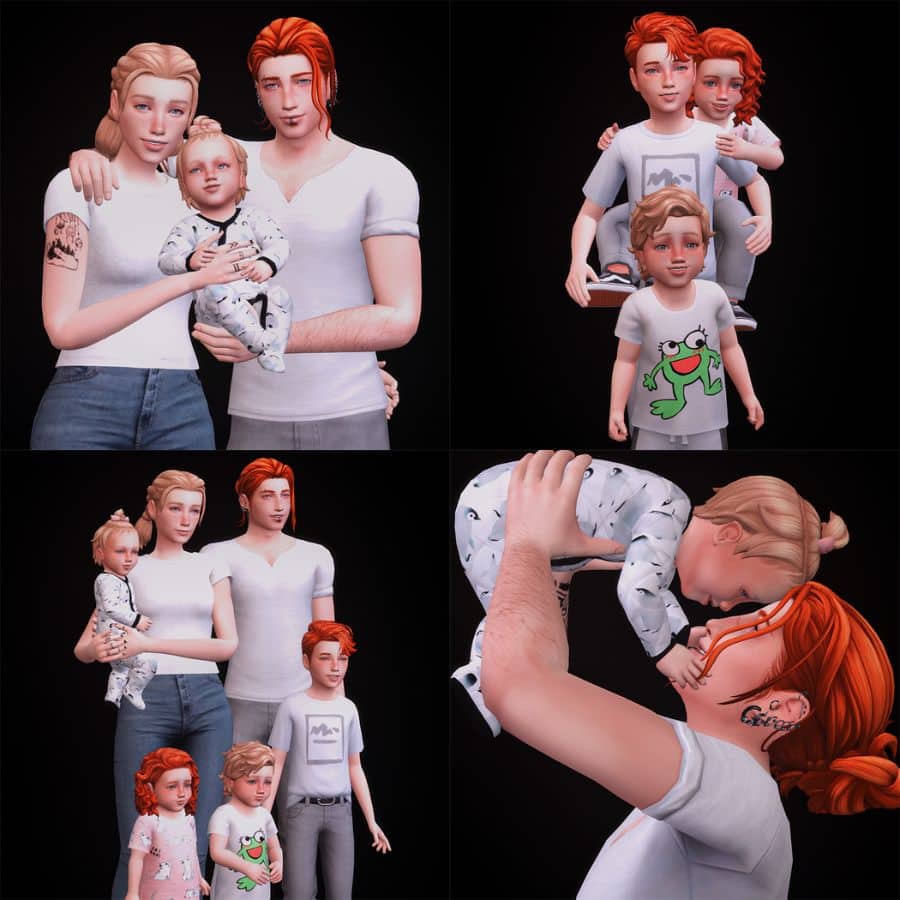 This sims 4 infant pose pack focuses on the whole family.
The poses included a mix of your infant sim with their parent(s) and other poses, including their older siblings.

22. Infant Pose Pack for Sims 4 by KatVerse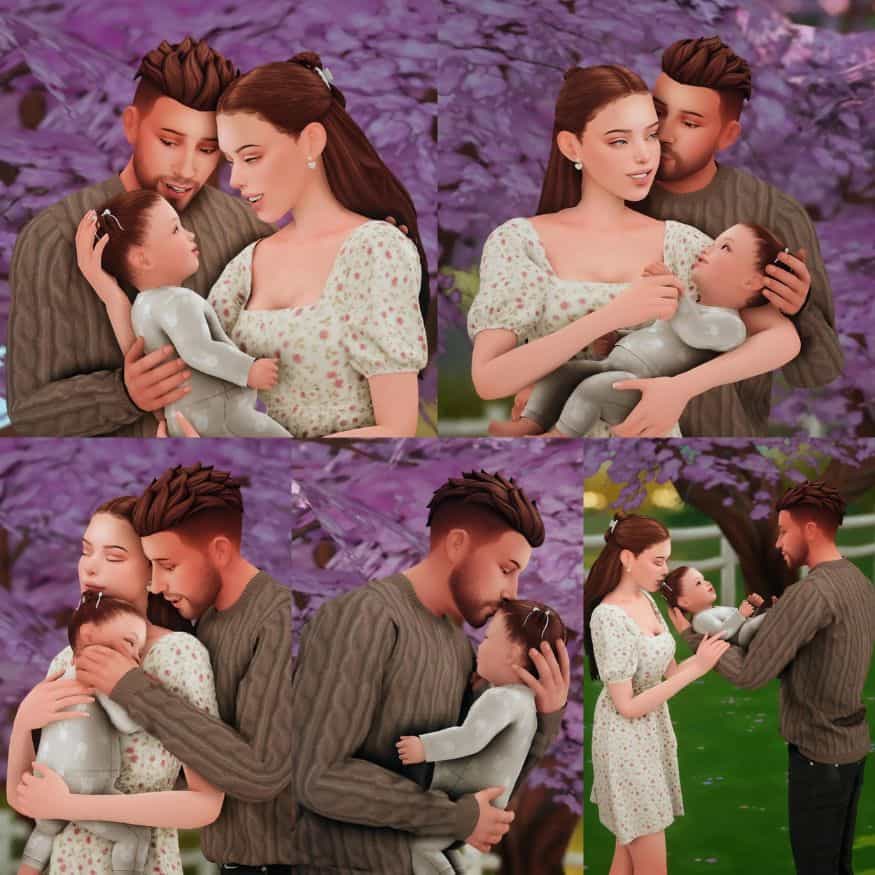 This pack of sims 4 in-game infant poses comes with 5 different poses for two adult sims and one infant.
These infant poses really focus on family time and are ideal for classic portraits.

23. Sims 4 Solo Infant Poses by Pwoohiesims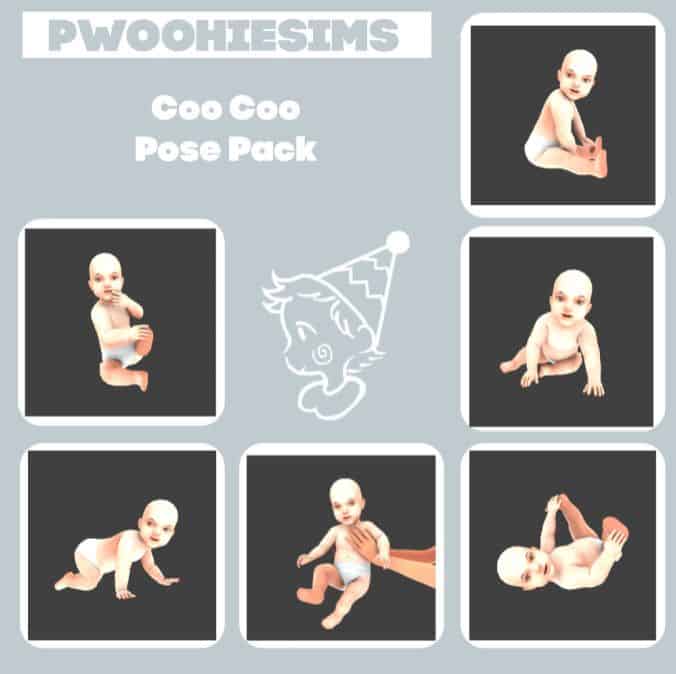 I found another sims 4 solo infants pose pack, and this set is just as cute as the others.
Snapshot your tiny tot crawling on the floor, playing with their toes, and just being an infant.

24. Sims 4 Infant Gallery Pose by Simply Anjuta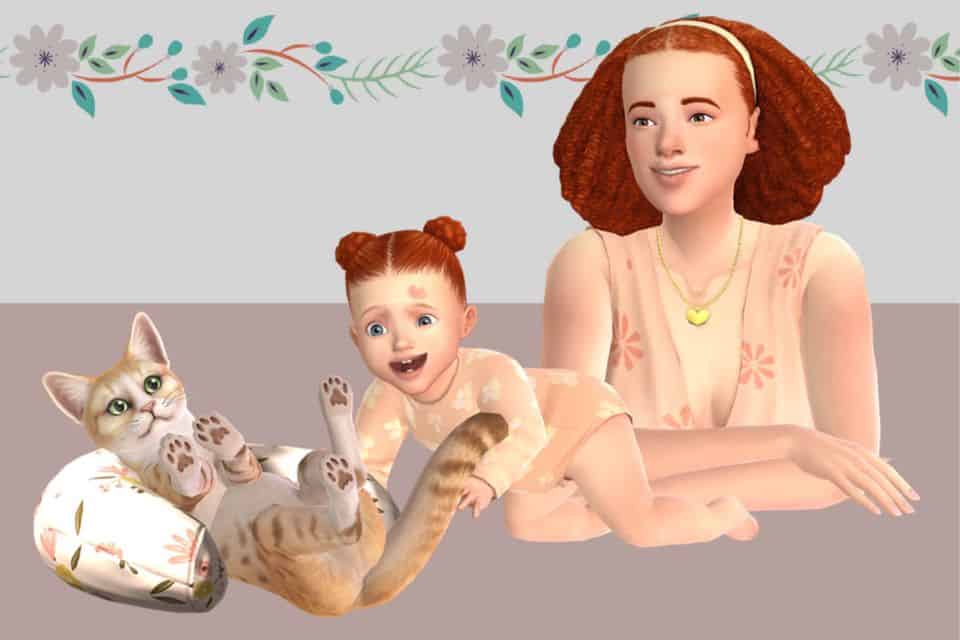 I adore seeing my sims youngins playing with pets, and this infant pose captures that special moment.
There is one sims 4 infant gallery pose to try out for your infant, a teen+ sim, and your favorite household cat.

25. Sims 4 Infant & Toddler Poses by Acha-sims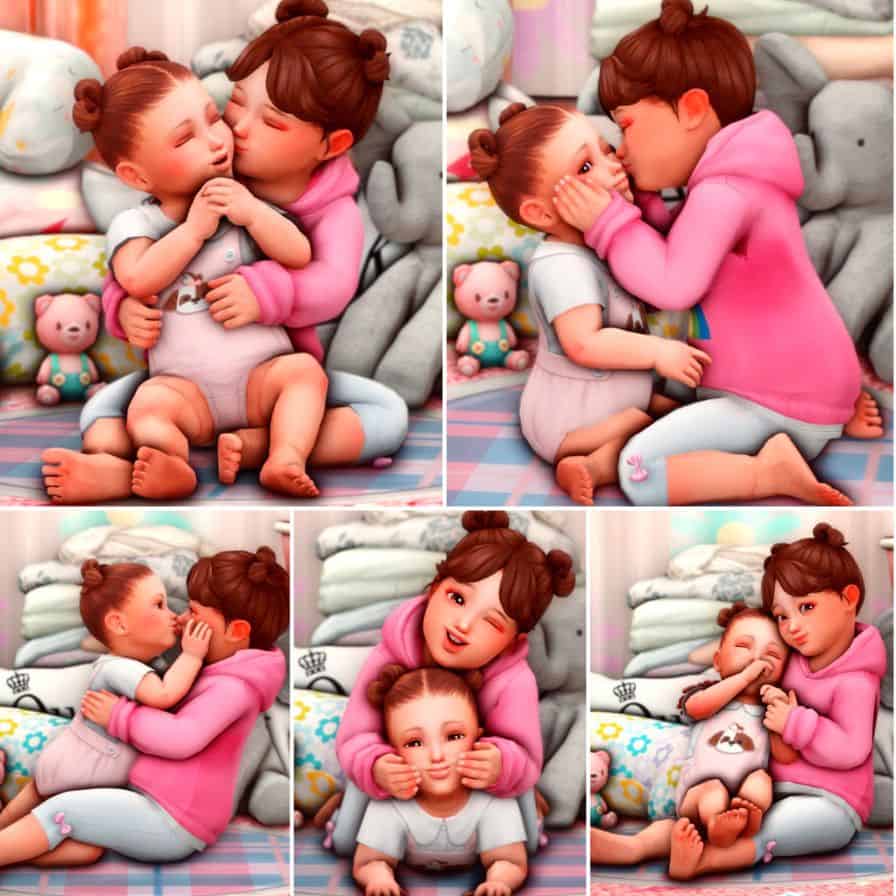 Acha-sims came out with another beautiful set of infant poses; this pack focuses on your infant and toddler playing together.
There are 10 poses for pairs included, each capturing unforgettable moments between siblings.

26. Easter Infant Family Poses by ParisSimmer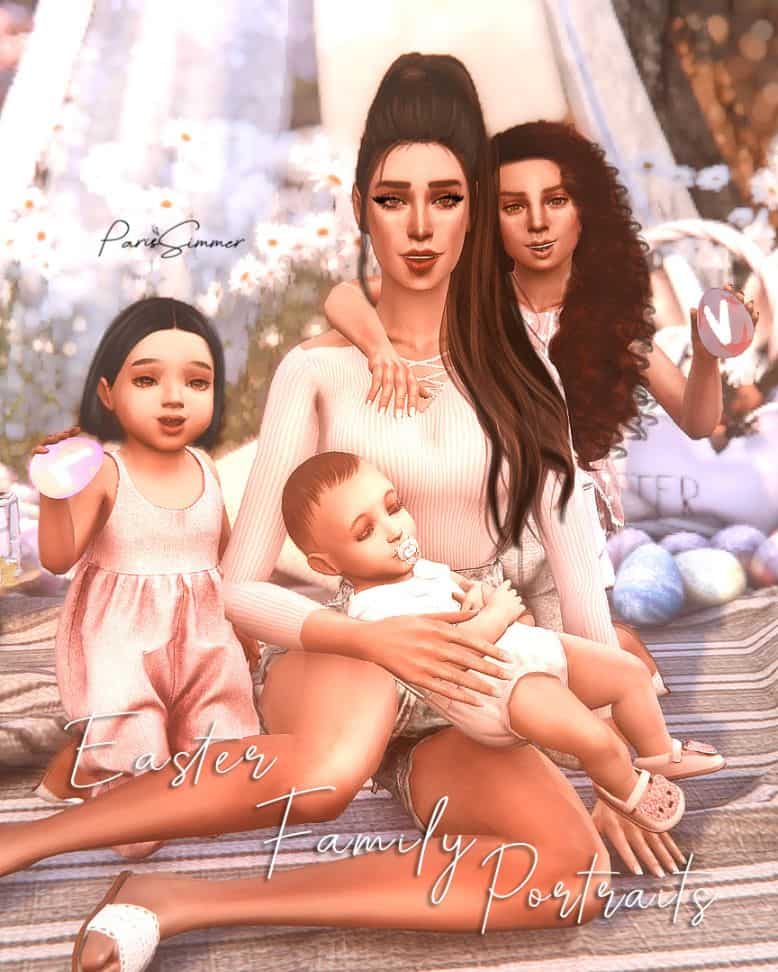 This sims 4 infant pose pack is all about Easter family portraits.
There are 7 groups poses, including options for an infant, toddler, child, and adult(s).
Snap some new pictures to frame for your sims living room.

27. Infant Poses With Cat for Sims 4 by rebouks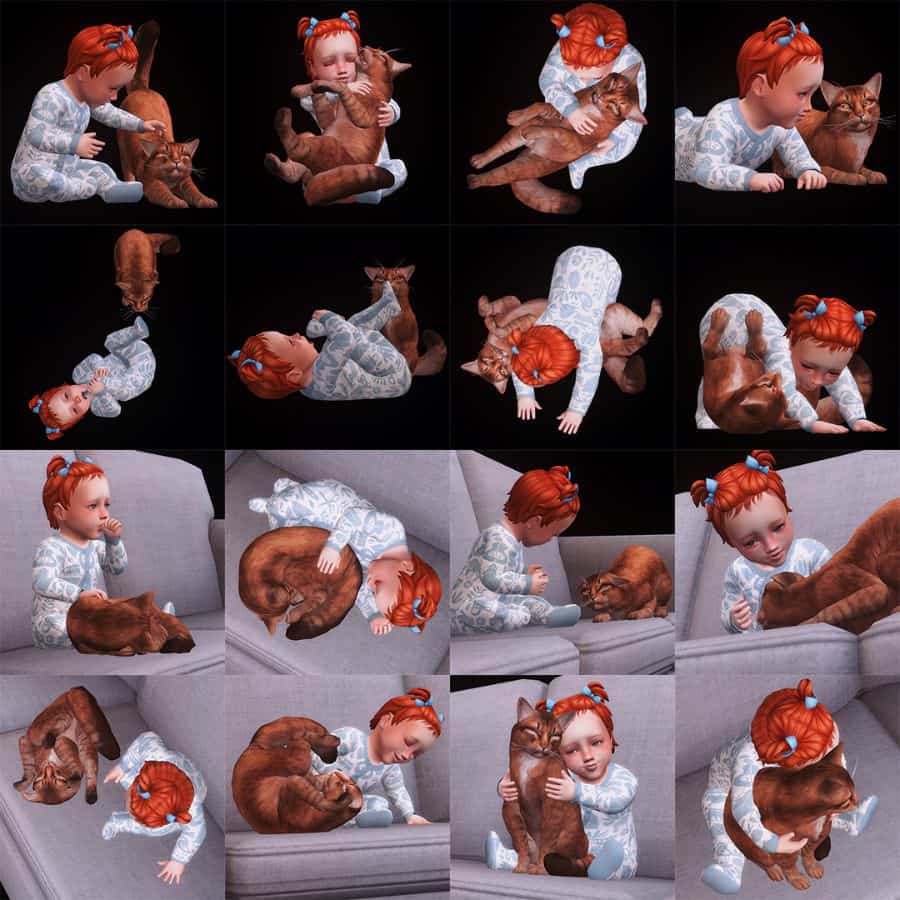 So I found another pose pack for infants and cats.
This set of sims 4 infant poses has 20 different poses to try.
Your tiny tot can share special moments lounging, hugging, playing, and napping with their favorite feline.
Sims 4 Infant Poses: Final Thoughts
These sims 4 infant poses are a perfect way to capture some keepsakes of your littlest household members.
Whether opting for infant solo poses or snapshots with the whole family, the final results with be memorable.
If you come across any new sims 4 infant pose packs you think we should share, leave us a comment below or tag us on our Tumblr.
More Sims 4 Poses

And don't forget to pin and save this post for later!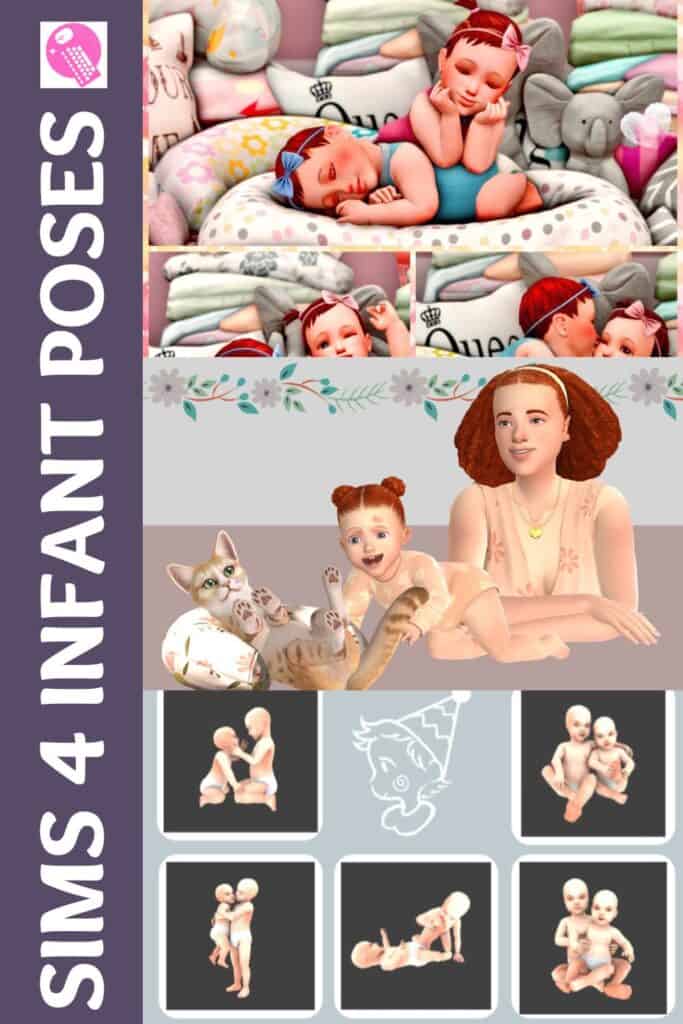 25+ Sims 4 Infant Poses For The Cutest Photos