19+ Stylish Sims 4 Infant Hair CC Downloads
Style your newest babies with this collection of sims 4 infant hair cc.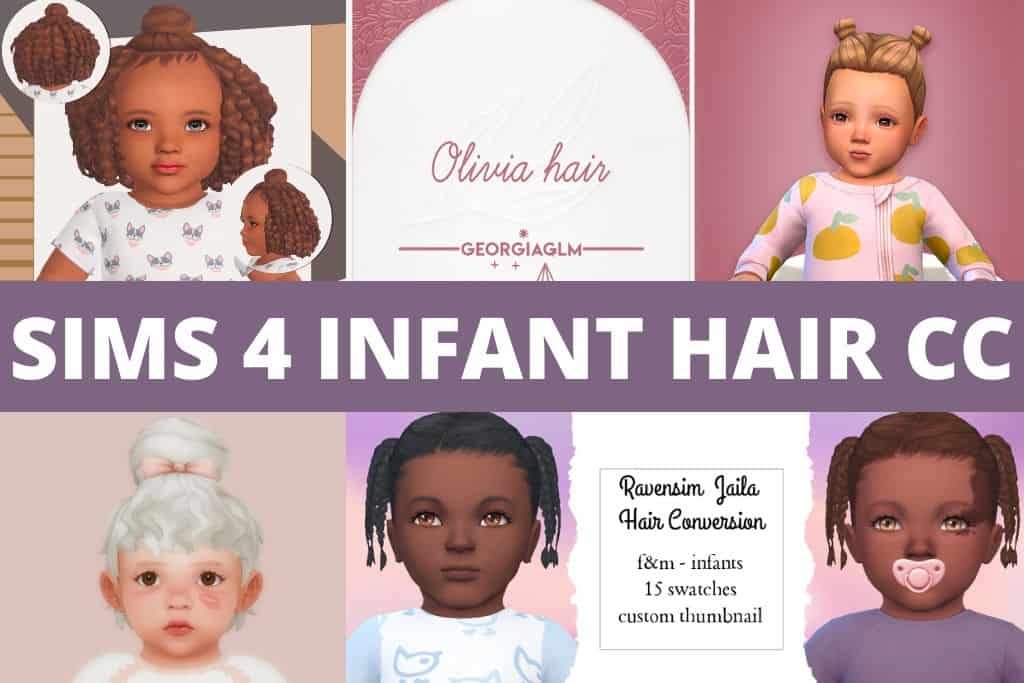 With the newest infant update, we are all rushing to assemble the most helpful custom content lists.
Today we are focusing on infant hair cc because hair can greatly impact your sim's final look.
And while I'm sure you will find some great infant hairstyles below, you can also find some extra hair options listed in our Sims 4 Infant CC post.
Plus, we also have the following infants posts;
Disclaimer: The following mods are neither endorsed nor affiliated with The Sims, Maxis, or Electronic Arts. Any use of mods (custom content or game mods) should be done with caution and with the knowledge that there may be risks.
Best Sims 4 Infant Hair CC
From hair buns to blunt bangs, we've rounded up a diverse collection of infant hairstyles for you to try out.
1. Sims 4 Infant Hair CC Conversions by Shysimblr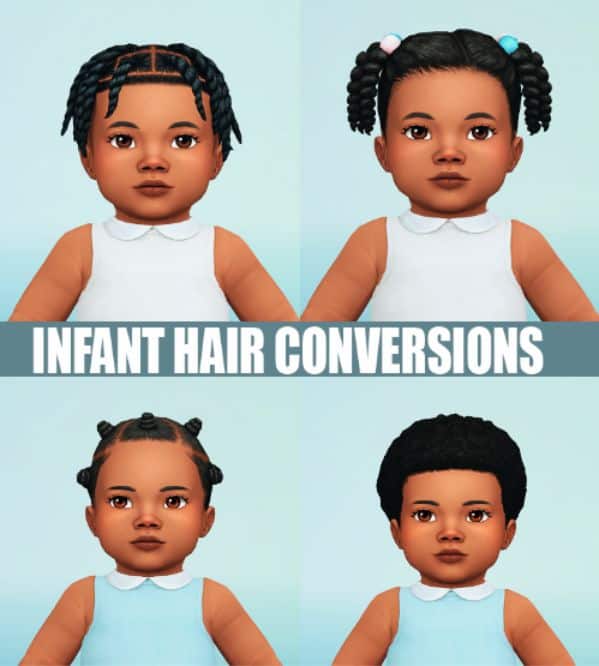 This set of 4 infant hair conversions has got your little tots covered with the cutest hairstyles.
Each of these hairstyles provides a shorter look, including adorable Bantu Knots, hair twists, and more.

2. Infant Curly Hair CC for Sims 4 by Kiara Zurk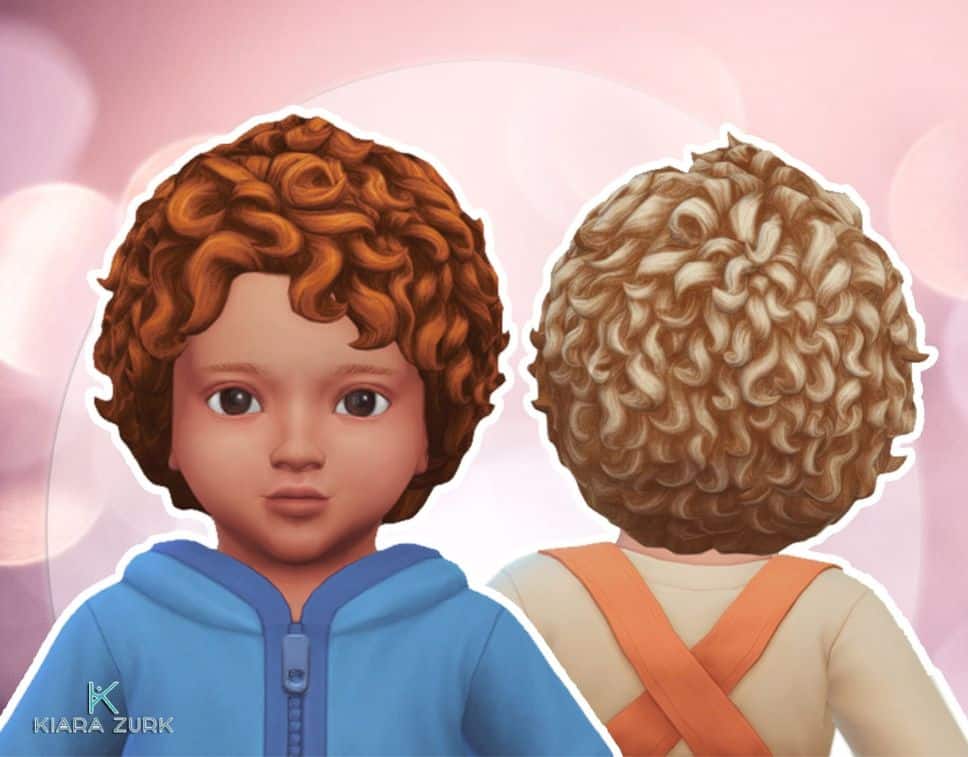 Give your infants a full head of curly hair with this custom content hairstyle.
This hair cc comes in 15 colors and provides a cute curly look with some twisted curls at the front.

3. Reggie's Sims 4 Infant Hair CC by Birksche's Simsblog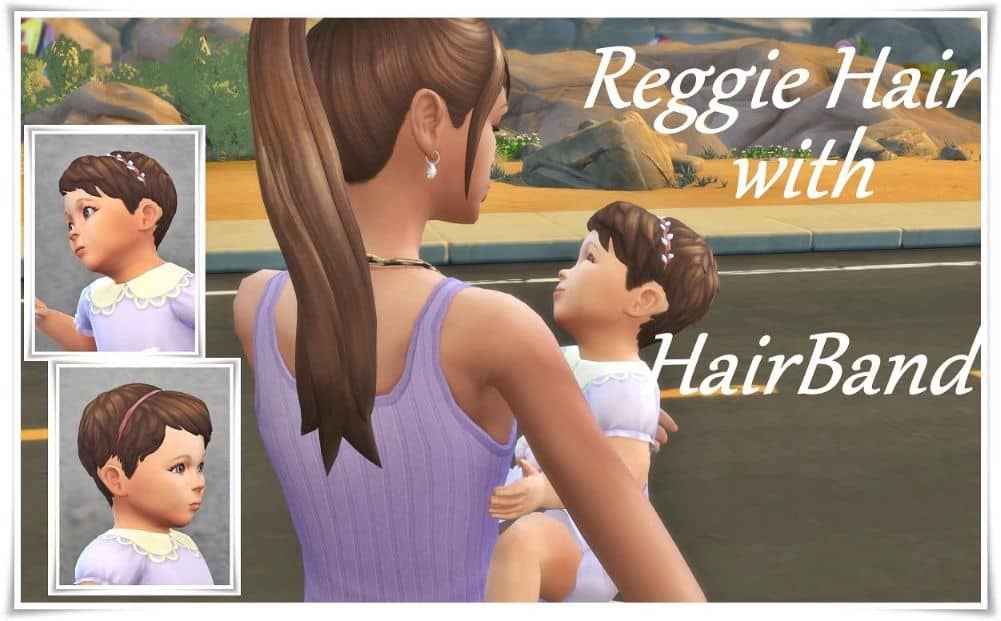 This cute hairdo is on the shorter side, but it lets your infant's features be center stage.
This hairstyle comes in 15 color swatches and with a hairband too.

4. Sims 4 Infant Hairstyles by RavenSim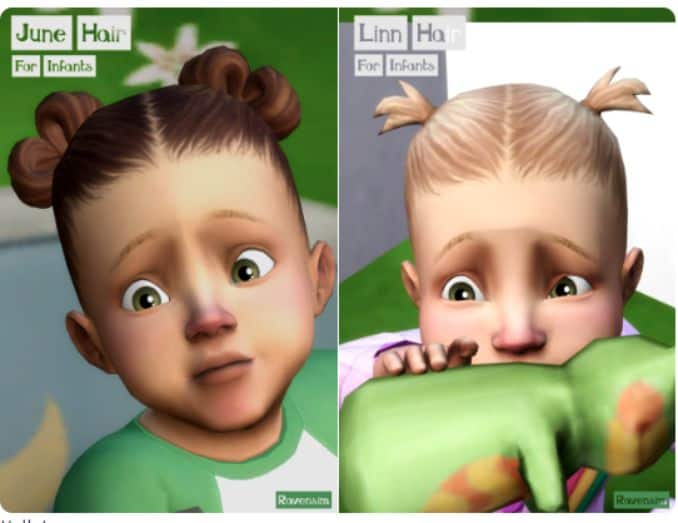 This set comes with two infant hairstyles, both of which have 15 color swatches.
You can opt for short mini straight-hair pigtails or two-loop buns.

5. Sims 4 Infant Hair Conversions by mikrosimsmos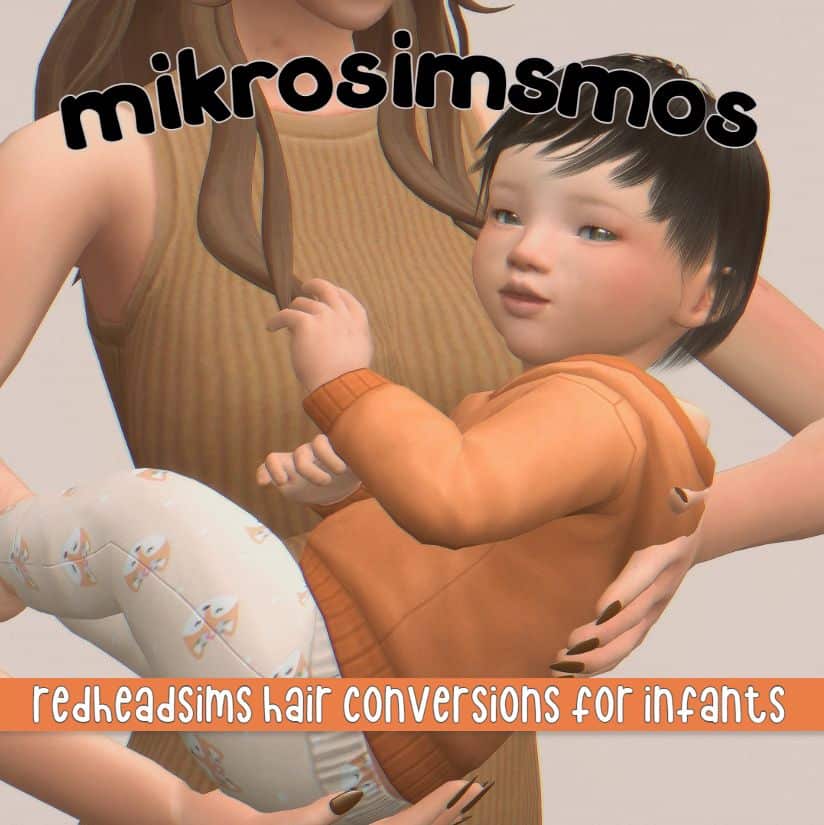 This set of infant hair conversions comes with 6 hairstyles focused on smooth, straight hair.
The more masculine hairstyles have longer bangs, side swept, and one has a wide side part.
The other two hairstyles are an updo pigtails style.

6. Laya Sims 4 Infant Buns by Cecesimsxo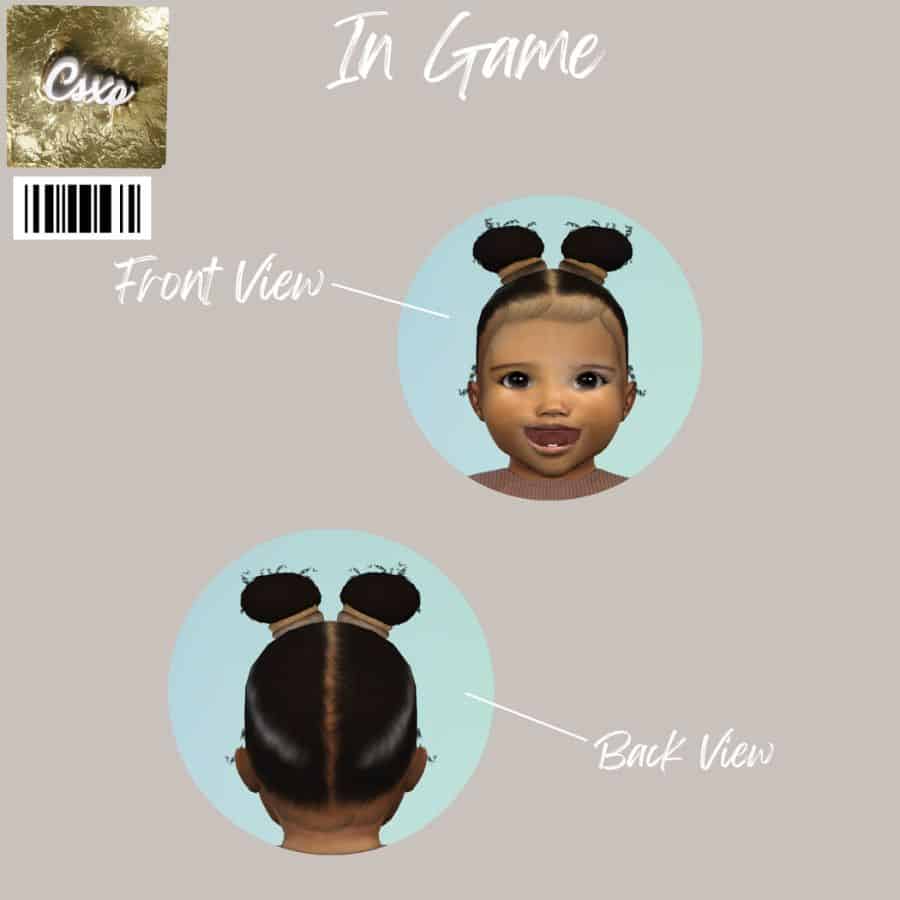 This cute hairstyle has a straight-down part and two high buns with hair bands.
There are light baby hairs around the temple and little whips of hair around the ears and atop the buns.
The hair comes in 8 swatches, and the bands come in 21 colors.

7. Infant Braided Hair Conversions by NekoChan-Simmer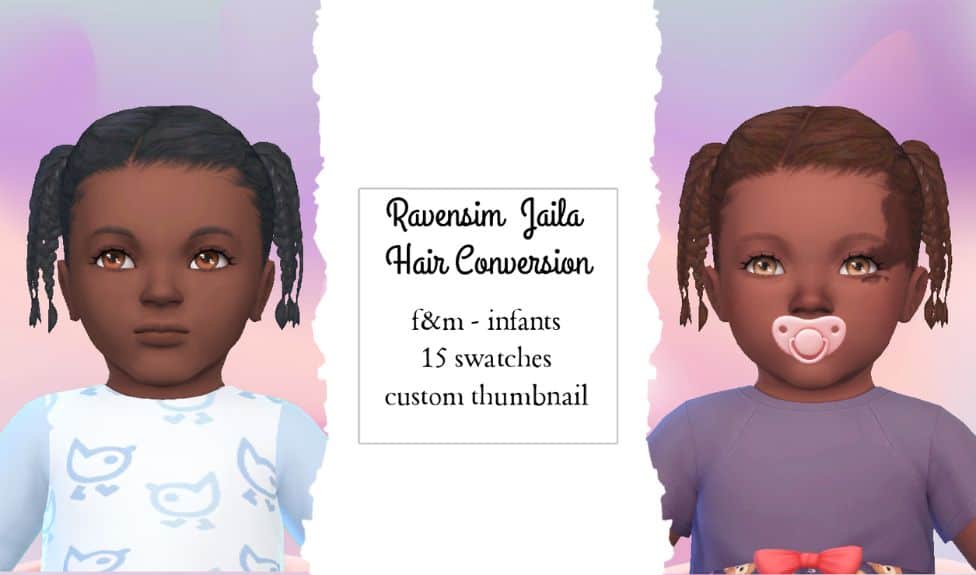 This sims 4 infant hair cc works for both frames on your tiny tots.
Your little sims will get a side part and pigtails but this time with small braids.
There are 15 color swatches to try out.

8. Sims 4 Boo Infant Hair by JellyPaws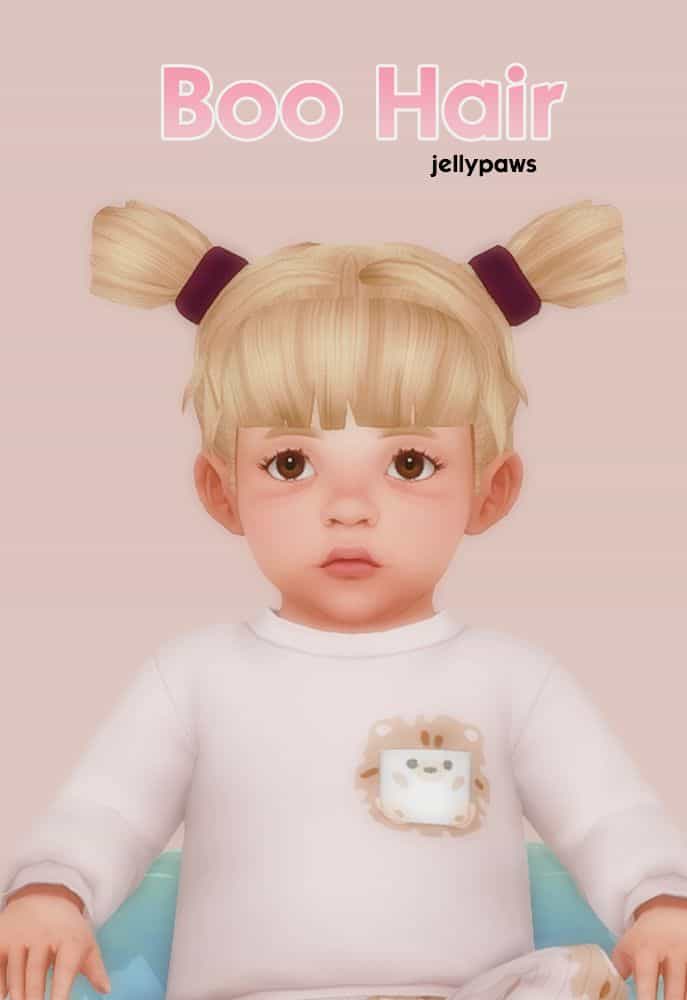 This infant hairstyle is once again focused on pigtails, but this version has blunt ends, ideal for a sim family with pin-straight hair.
Plus, bangs always add a cute little touch to infant hairstyles.

9. Infant Curly Hair Conversions by Shysimblr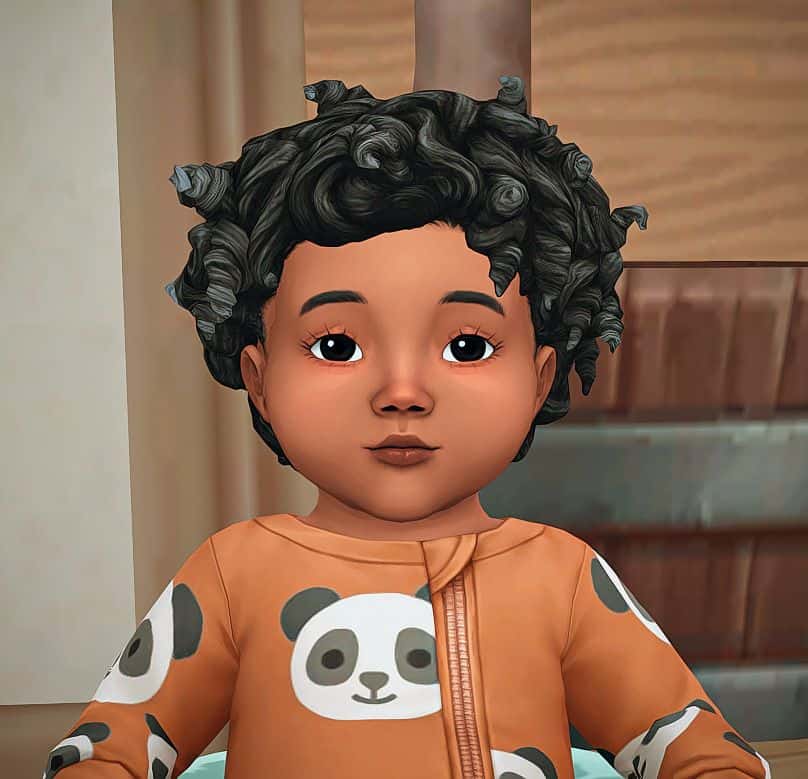 This set of infant hair conversions comes with 3 curly hairstyles, which are some of my absolute favorites.
You get the twisted curled look above, another Bantu Knots hairstyle, and a baby fro.

10. Sims 4 Straight Infant Hair Bob by Kiara Zurk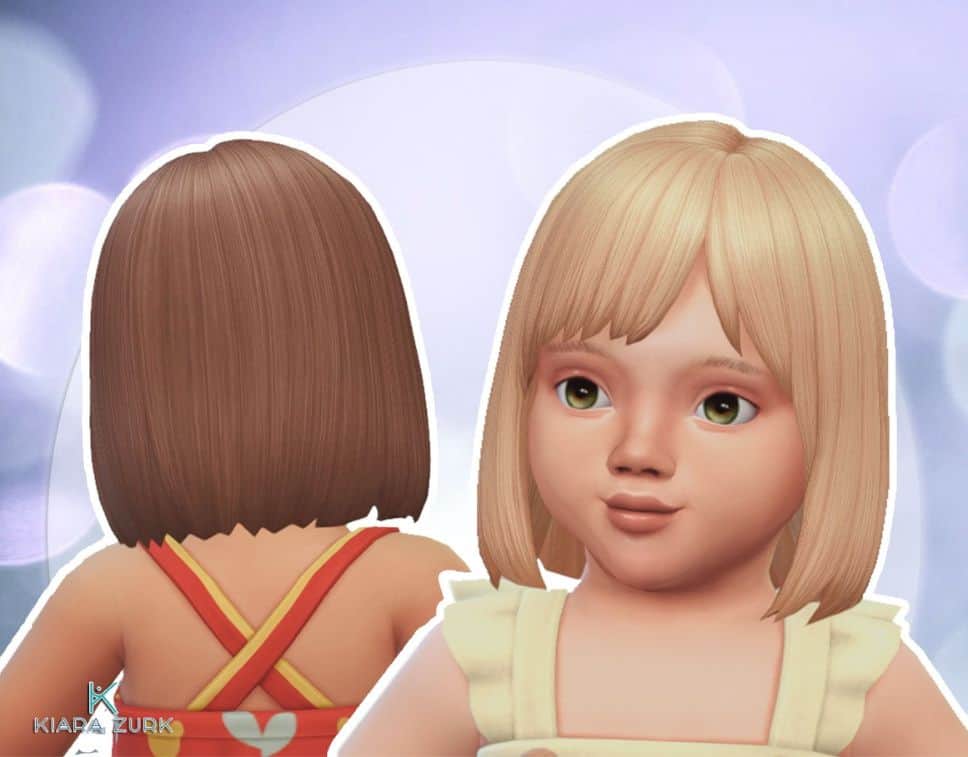 The classic bob haircut will always be a go-to hairstyle, and it's not different for your infant sims.
This bob has smooth, silky-like hair and bangs with pointed tips, available in 24 swatches.

11. Sims 4 Infant Hair Buns by JellyPaws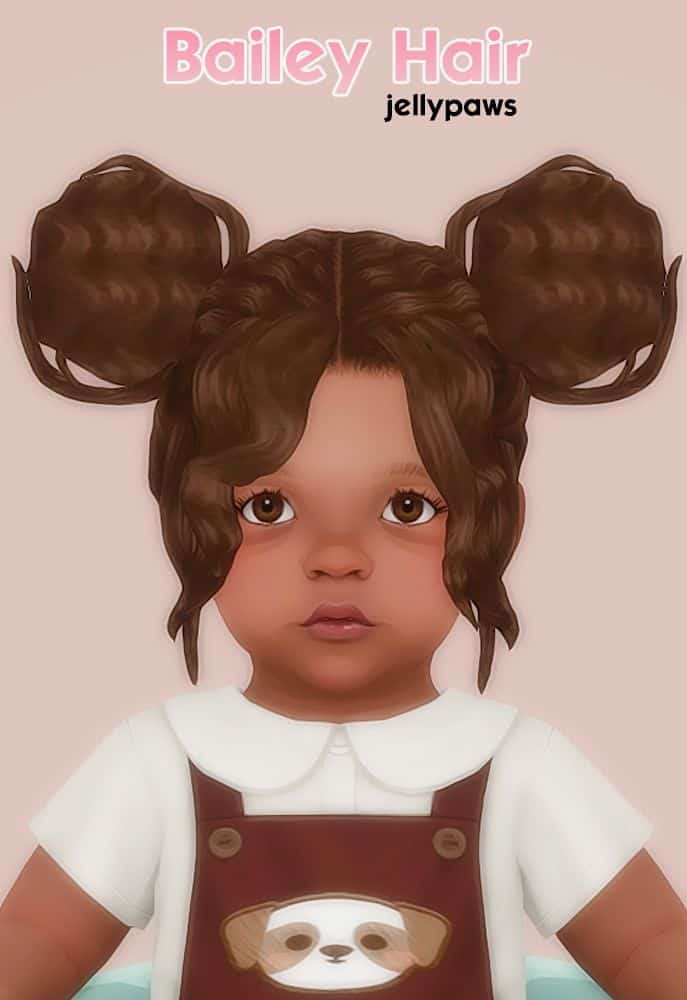 This hairstyle is one of my new favorite sims 4 infant hair cc pieces.
This hairstyle reminded me of a classic messy female bun but with twice the fun and added cuteness.
The loose strands and long bangs add to the charm.

12. Sims 4 Infant Spiky Hair CC by Servotea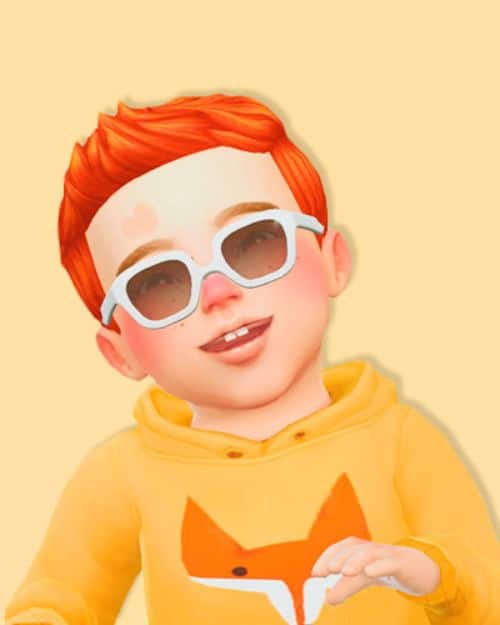 Your littlest sims deserved a fresh and clean cut too, and they get just the thing with this short and style spiky infant hair cc.
Pair this hairstyle with the hippest clothes, and your sims infant will be the talk of the town.

13. Olivia Sims 4 Infant Hair CC by Georgiaglm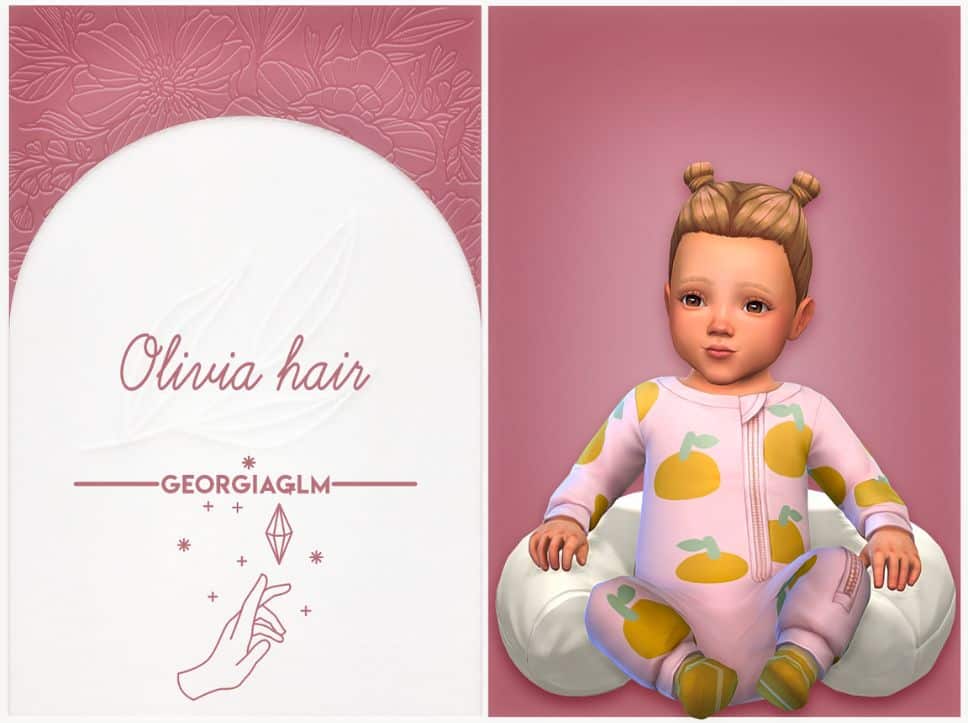 Here we have another hair buns hairstyle because it's a practical and adorable look for infants.
This hairstyle has a smooth combed-back look with no bangs or loose strands and comes in 15 swatches.

14. Sims 4 Infant Baby Hairs by Maytaiii

This simple hair custom content set is all about baby hairs.
There are three sets of baby hairs to try out, each giving your infant sims different details around the forehead.

15. Hailey Sims 4 Infant Hair CC by JellyPaws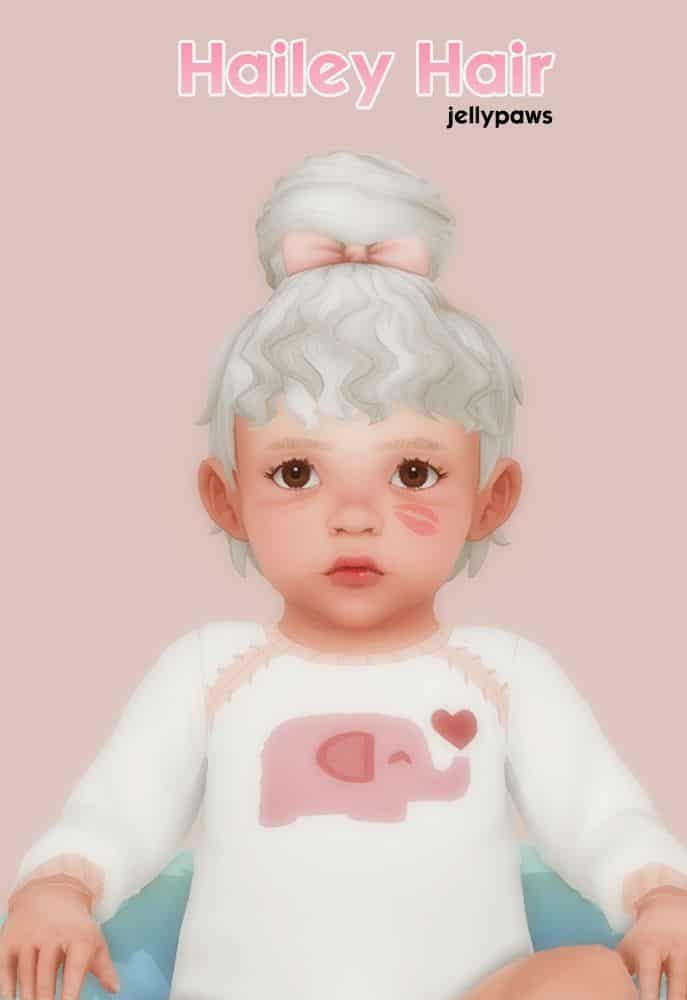 Give your little tots a top bun and cute wavy bangs with this sims 4 infant hair cc.
This adorable hair bun has some excellent volume and comes with a bow to give your sim a little extra style.

16. Sims 4 Curly Fro for Infants by XxBlacksims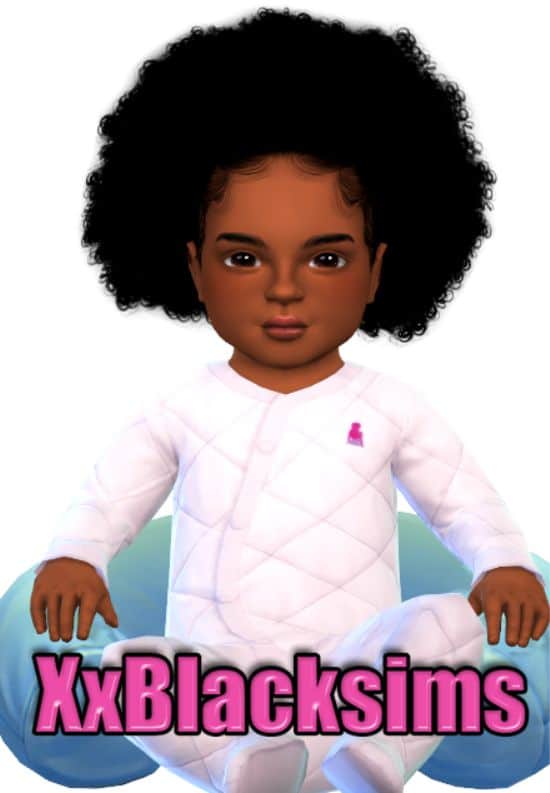 This beautiful hairstyle focuses on giving your sim infants some incredible volume.
With its textured curls, this fro has a beautifully rounded shape, and you can see all the curl details around the edge.

17. Sims 4 Infant Ponytail by Birksche's Simsblog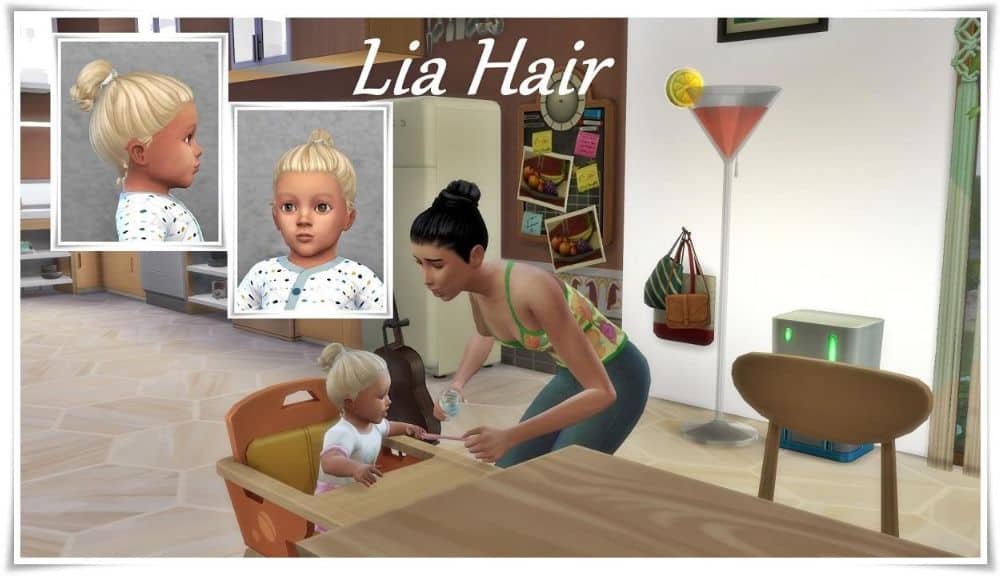 With its combed-back look, this infant hairstyle reminds me of the hair listed at #13, except this hair is in a ponytail instead of buns.
There are also a few loose whisps of hair towards the base of the head.

18. Sims 4 Curly Infant Hair CC by SimwithShan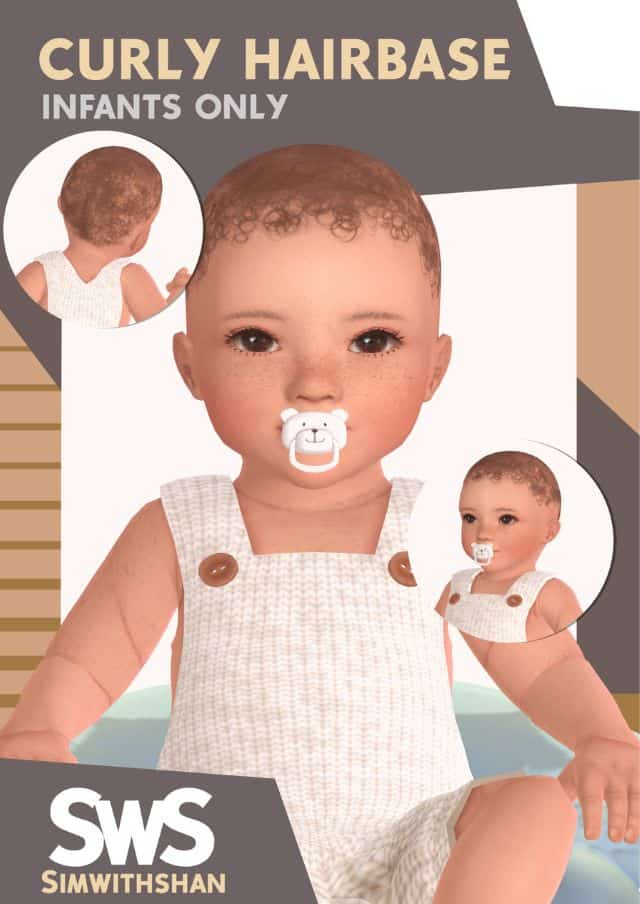 I love the natural look of this infant curly hairbase.
This type of infant hair cc does a great job of providing a natural hairstyle for your infants.
The defined curls around your infant's hairline add the perfect little touch to this hair.

19. Infant Hair Buns for Sims 4 by Peachibunnii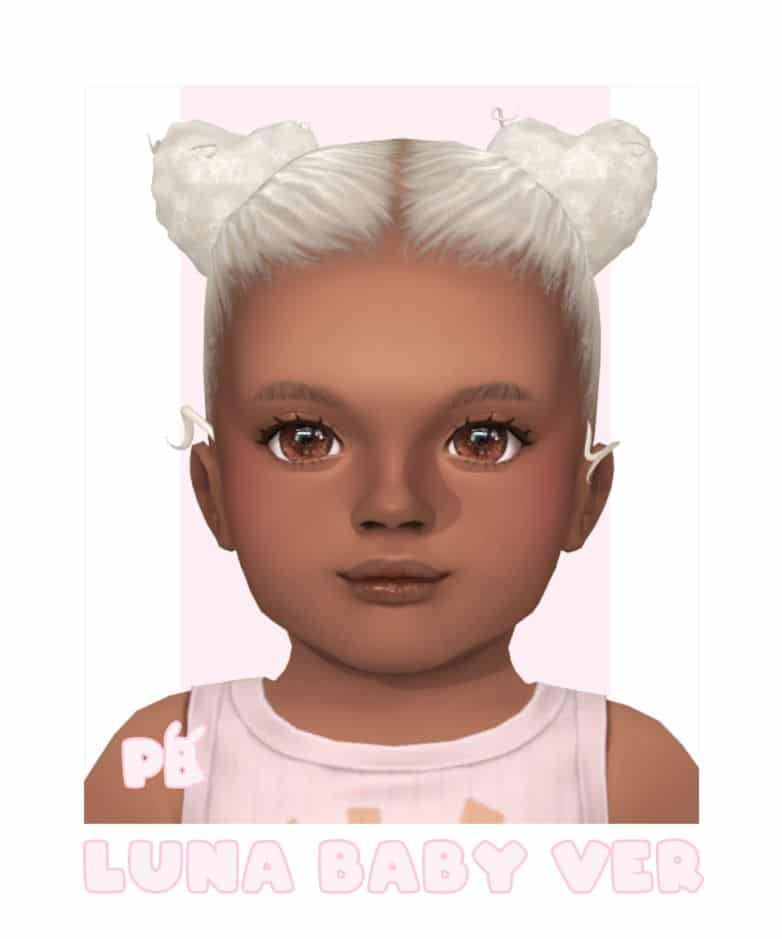 This adorable infant hair custom content not only gives your infants hair buns, but they come with a subtle heart shape.
The little wisps of hair around the ears add a sweet touch to this hairstyle.
You get the 24 EA colors and an extra 15 swatches, and I especially like the platinum blond color above.

20. Jada & Avery Infant Hairs by RavenSim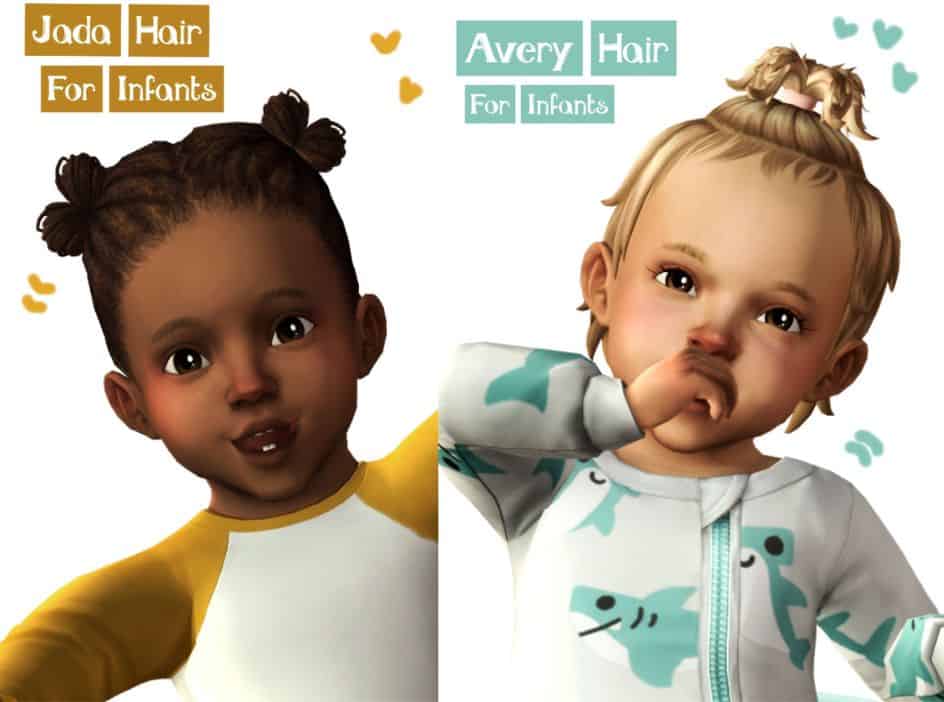 RavenSim has created two more infant hairstyles, the Jada and Avery.
Both hairstyles will give your little ones an adorable look, from the texture hair mini buns to the semi-updo high-top ponytail.
Sims 4 Infant Hair CC: Final Thoughts
We hope you've found some new favorites with this collection of sims 4 infant hair cc.
I'm sure more hairstyles will become available soon, so we will update this post with more custom content as it comes out.
If you have any questions or suggestions, feel free to leave us a comment below or tag us on Tumblr.
Other Sims 4 Custom Content Lists

And don't forget to share and save this pin for later!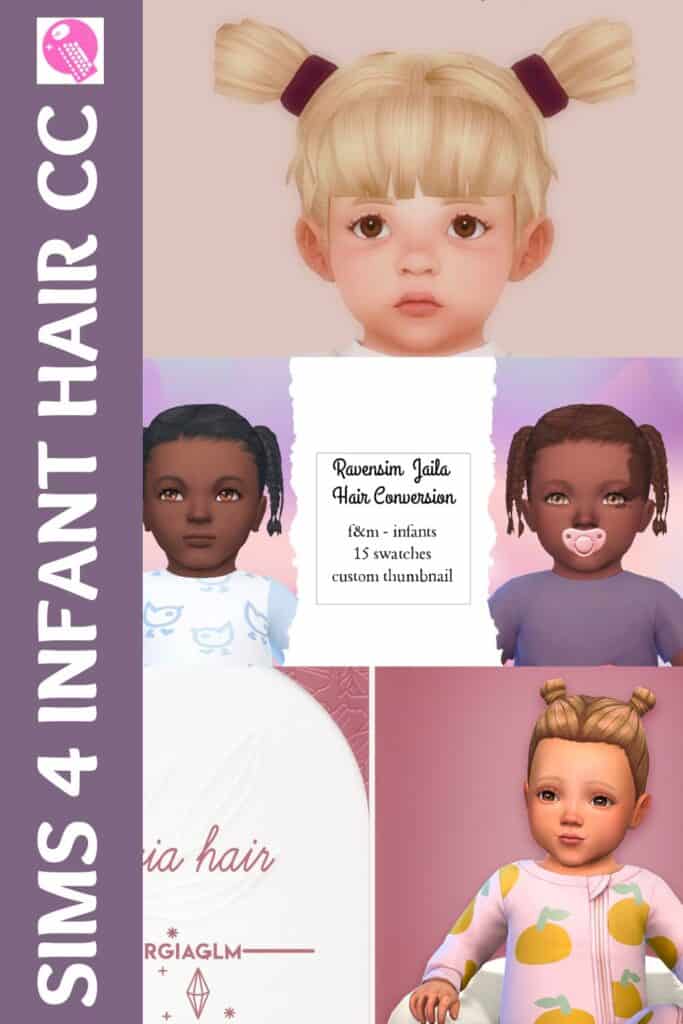 19+ Stylish Sims 4 Infant Hair CC Downloads