27+ Stylish Sims 4 Curly Hair CC
Find your new favorite sims 4 curly hair cc with this collection of fresh hairstyles for the whole family.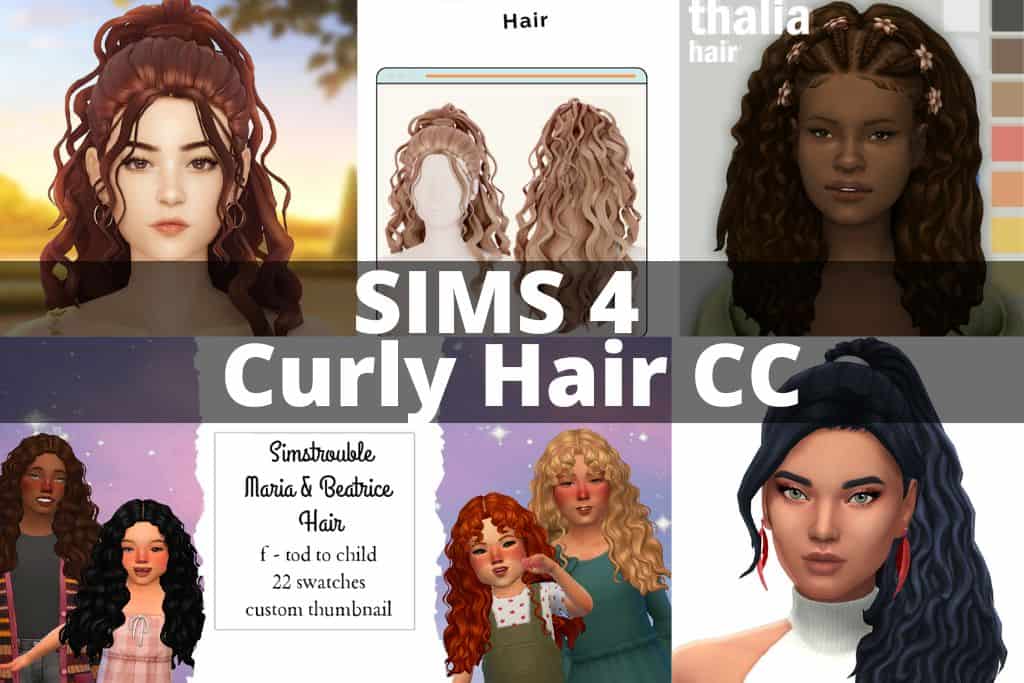 Whether you grew up with a full head of curls like me or enjoy living vicariously through your sims, you're sure to love these sims 4 curly hair cc.
All these curly hair mods are base game compatible thanks to all the fantastic sims 4 custom content creators.
Since curly hair comes in loose to tight curls and short to full-length locks, we've assembled a mix of curly hairstyles for everyone.
And when you're done here, check out our collection of Sims 4 Hair CC for even more hair mods.
Disclaimer: The following mods are neither endorsed nor affiliated with The Sims, Maxis, or Electronic Arts. Any use of mods (custom content or game mods) should be done with caution and with the knowledge that there may be risks.
Best Sims 4 Curly Hair CC
From hair bobs to long flowing curls, we've included a blend of toddlers, kids, and adult curly hair cc.
1. Nalani Sims 4 Curly Hair CC by greenllamas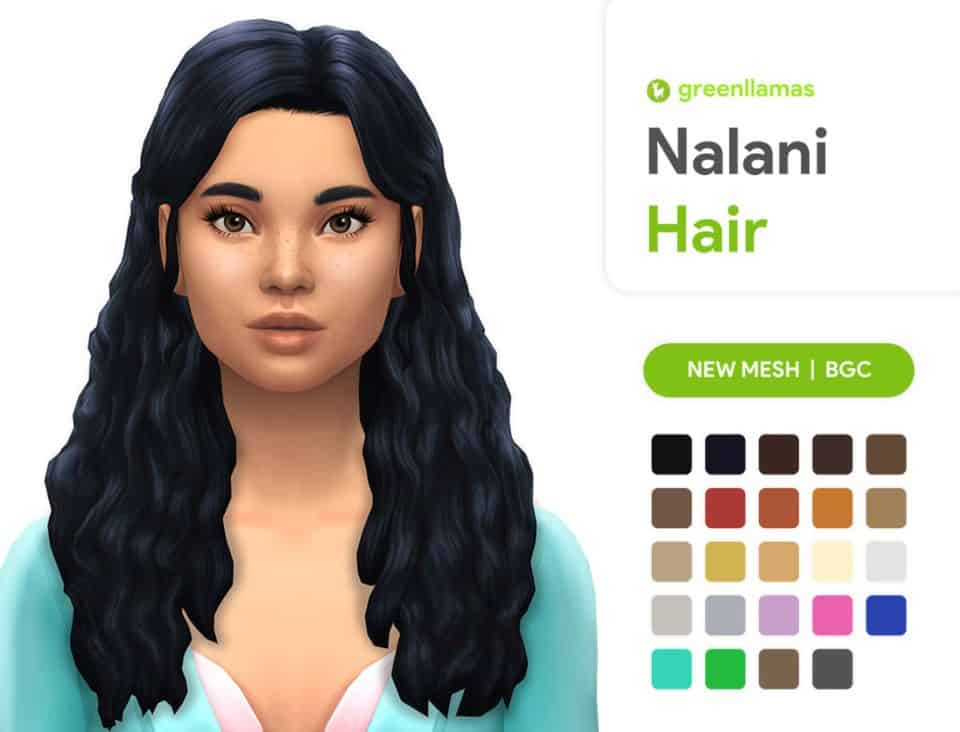 Smoother on the top and curly on the bottom, the Nalani hair is a fuss-free everyday hairstyle.
Hat compatible and available in 24 swatches for your female sims.

2. Mirra Sims 4 Curly Hair by GoAmazons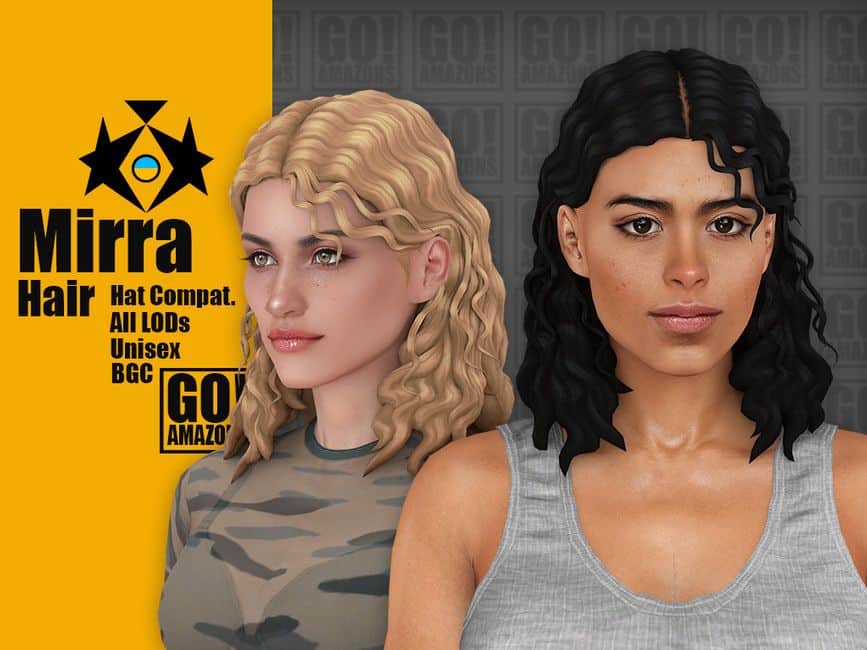 This unisex shoulder-length custom-content curly hair is a great casual hairstyle.
I like the 3 strand details at the front; it's one of my new favorite hairs.
Available in 28 EA swatches and for teens to elders.
This curly hair can also be paired with your favorite hats.

3. Sims 4 Short Curly Bob by Simstrouble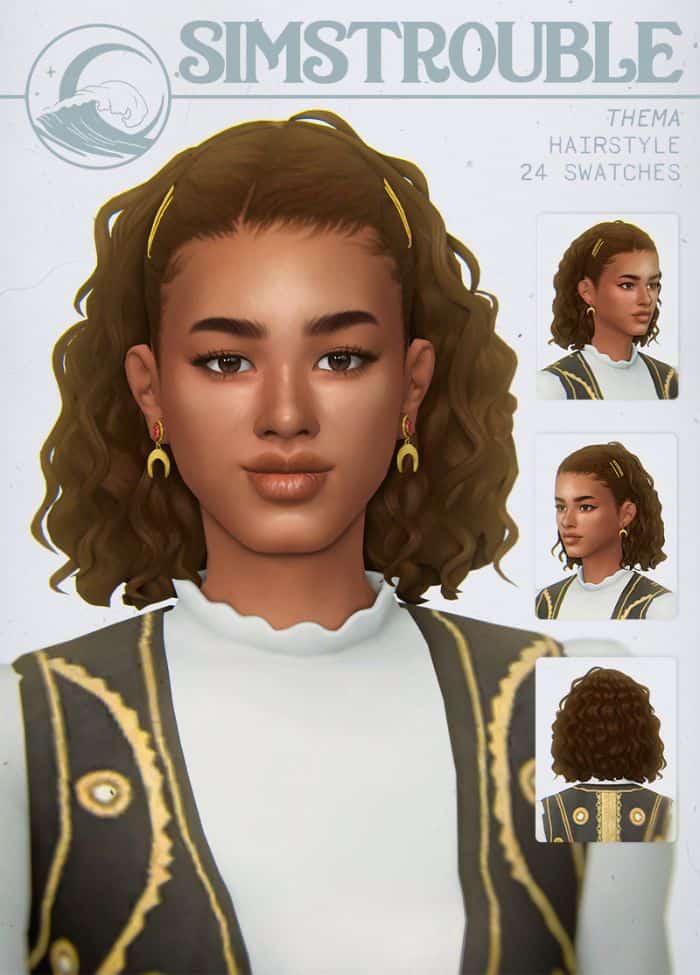 This adorable curly hair bob screams prep school; it's the perfect hairstyle to compliment any schoolgirl outfit.
The Thema hairstyle comes in 24 colors.
You can also get the file for the hair clips, which comes in 23 swatches and can be found in the Hat category.

4. Sims 4 Male Curly Hair CC by Wistful Castle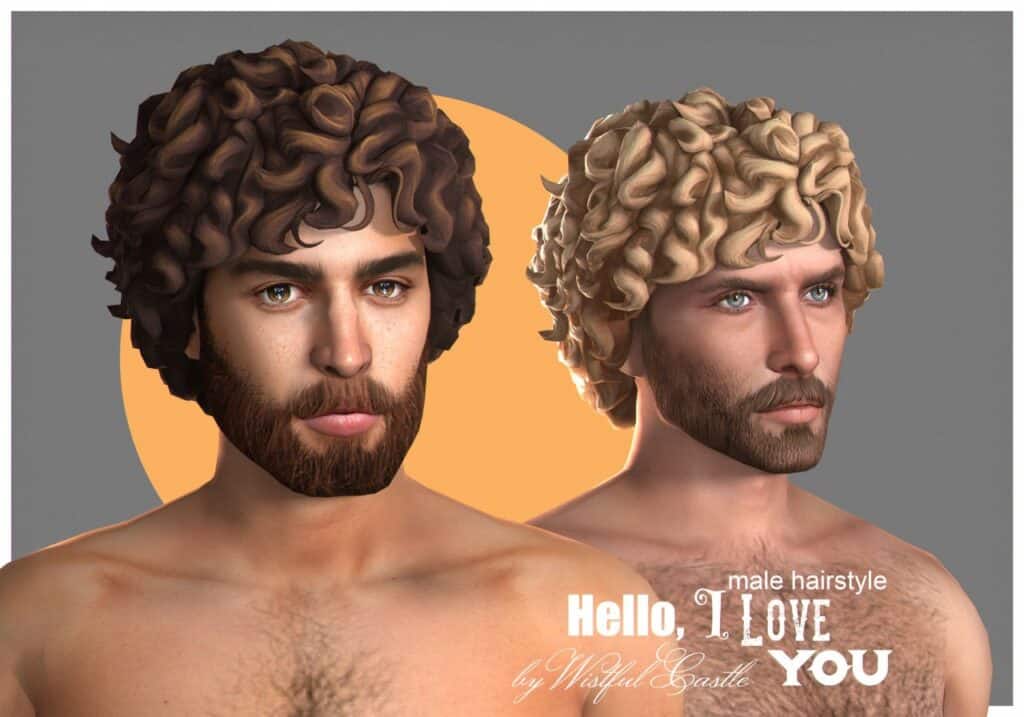 I love the look of a full head of male curly hair, and this custom content delivers on the volume.
With beautifully detailed curls, this male curly cc goes so well with a beard or mustache look.
Find your favorite color swatch from the list of 28 colors.

5. Sims 4 Curly Child CC Pack by NekoChan-Simmer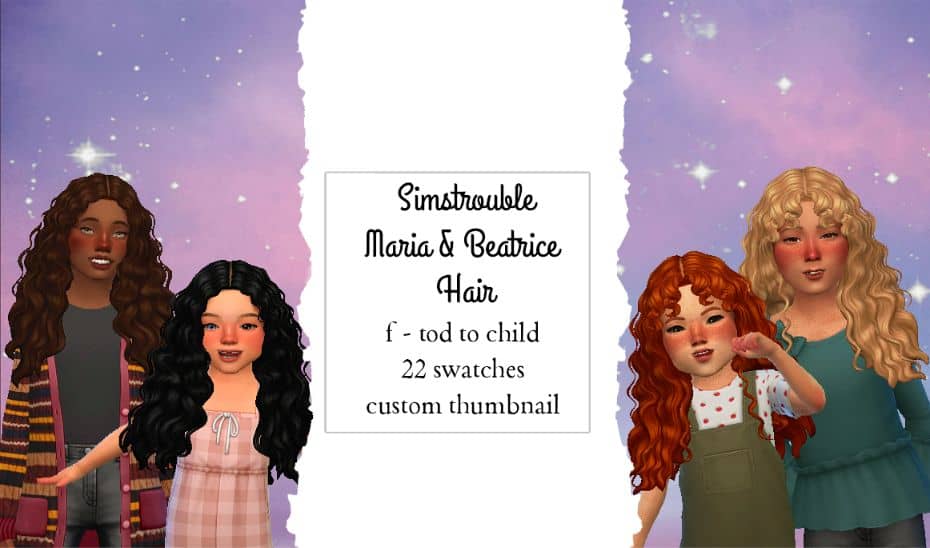 This Simstrouble hair conversion set has two curly hairstyles available for toddlers and kids.
You can choose between the Maria or Beatrice hairstyles.
Both hairstyles give your young sims long beautiful curly hair, the main difference being with or without bangs.
Both hairs are available in 16 swatches.

6. Sims 4 Curly Hair CC Female by okruee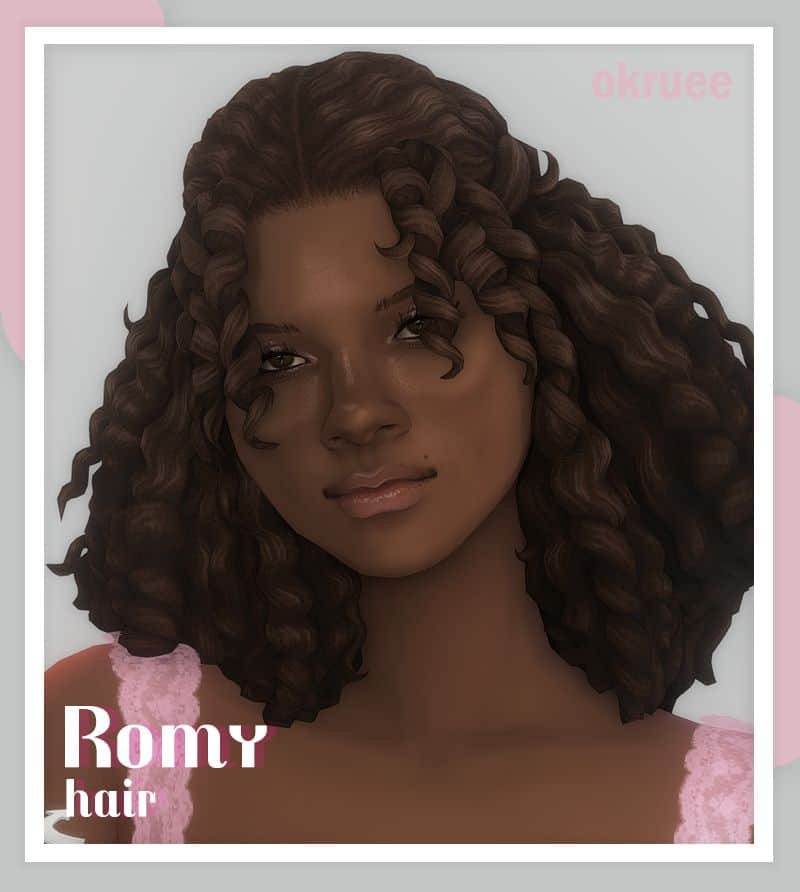 If you are looking for thick tighter curls, this Romy hair cc is your best choice.
Just reaching above the shoulders, this hairstyle comes with mid-length curly bangs and a slightly tied-back look.

7. Sims 4 Ombre Curly Hair CC by aharris00britney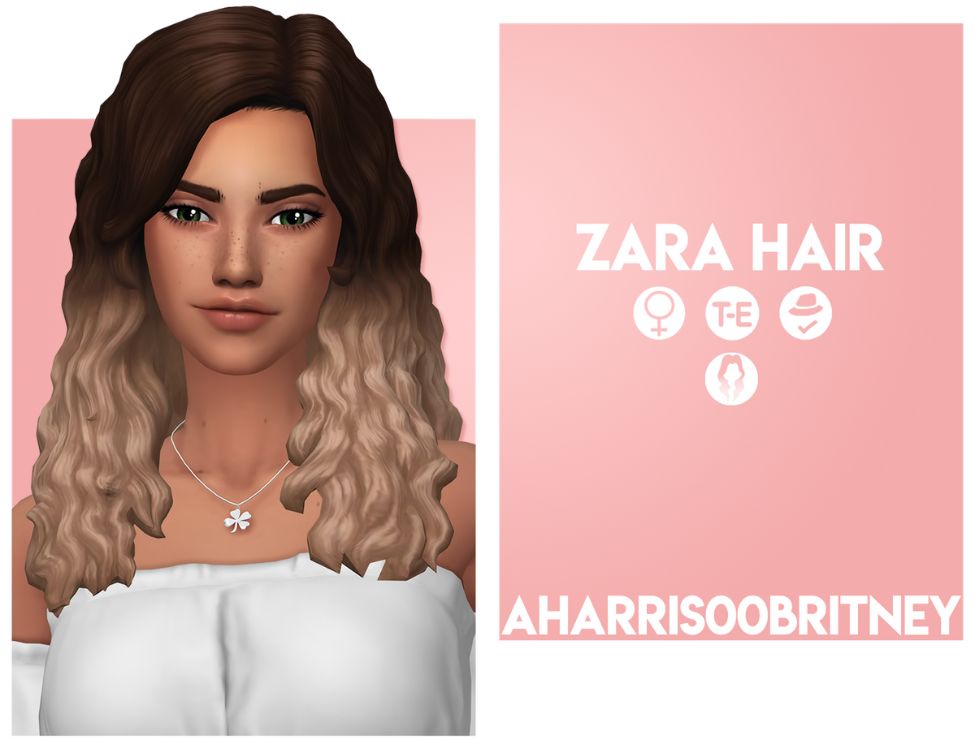 This ombre Zara hair gives your standard curly hair a fun twist.
You can stick with classic blonde or brown ombre hair or go for something bright and colorful, like light pink tips.
Either way, this curly hairstyle is stylish and fun.

8. Men's Sims 4 Curly Hair by okruee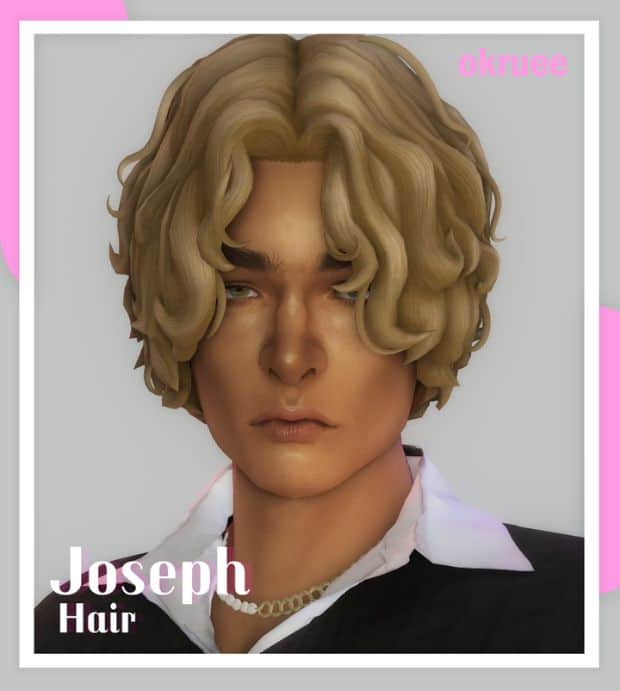 For some reason, these softer blond curls give me California surfer boy vibes, but they can be styled any way you like.
Available in 24 swatches and works for both frames. You can opt for the standard or no-strands cc file.

9. Sims 4 Curly Half Updo by Simstrouble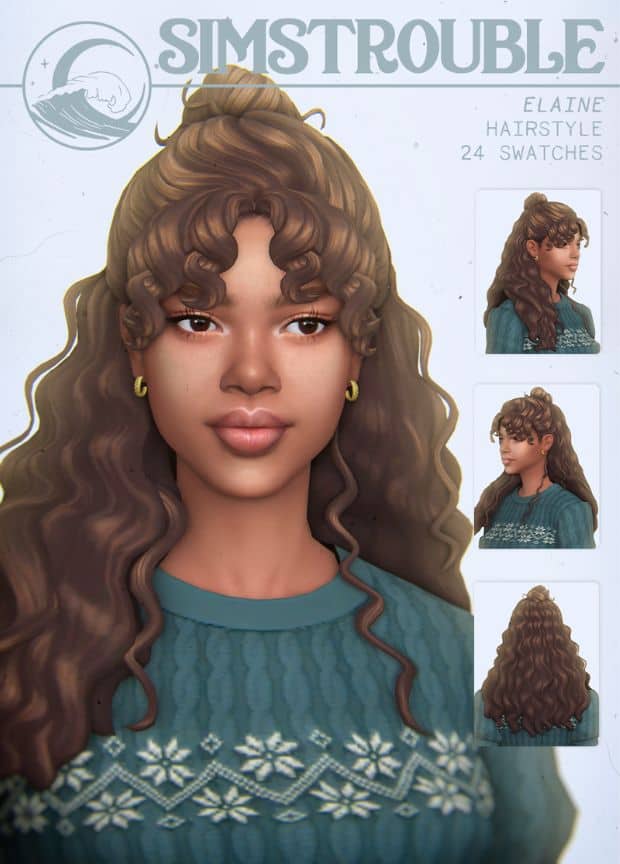 With its defined curly bangs and top knot bun, this Elaine curly hair cc is both practical and stylish.
You also opt for the decluttered version, which has fewer loose strands.
Both curly hair cc files come with 24 swatches.

10. Sims 4 CC Curly Hair With Bangs by okruee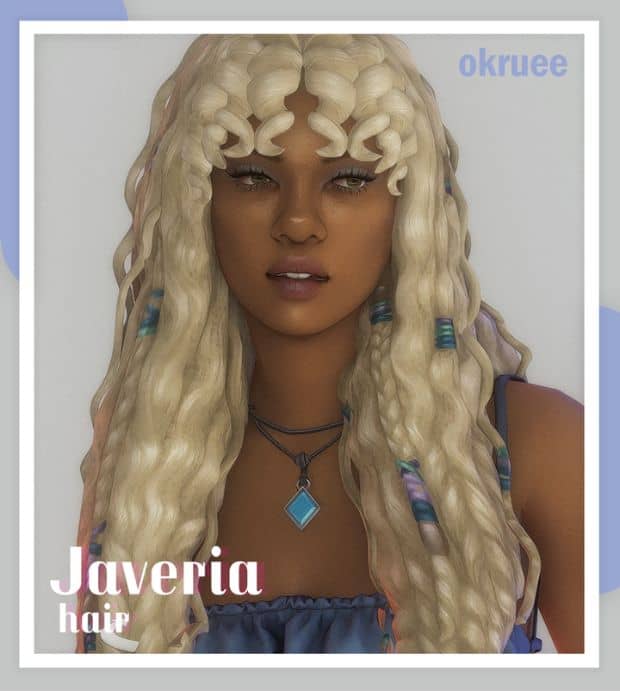 While this long curly hair cc comes in 24 different swatches, I love this silver blond hair color.
With the small braids and beaded details, you can use this curly hair for the perfect hippie look.
You have the option of the regular hair or a without-strands version.

11. Short Curly Sims 4 Hair CC by GoAmazons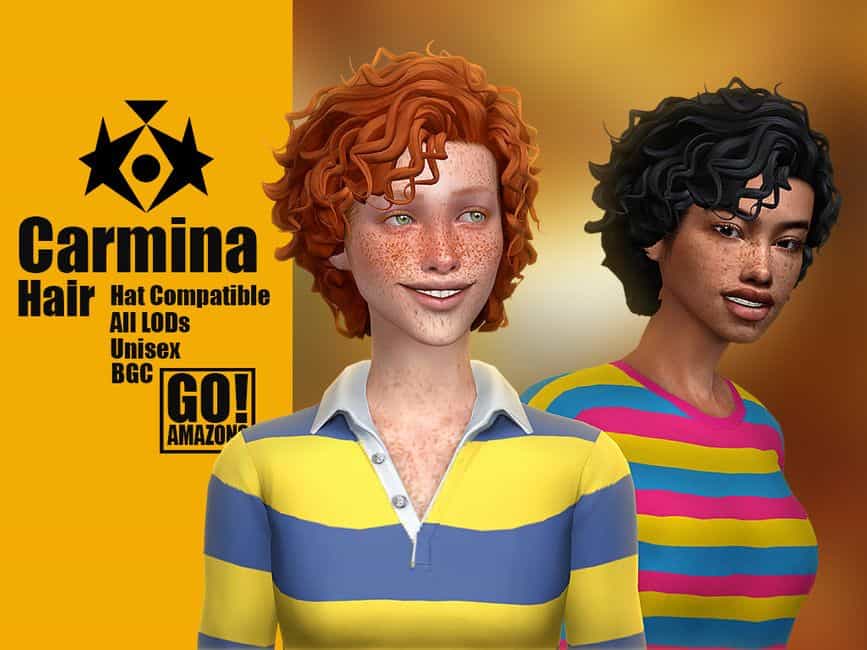 Whether for a young teen heading to school or an adult seeking a casual hairdo, these medium-tight curls work for everyone.
Short hairstyles are great, and this cc is unisex and works for teens to elders.

12. Sims 4 Kids Curly Hair CC by JohnnySims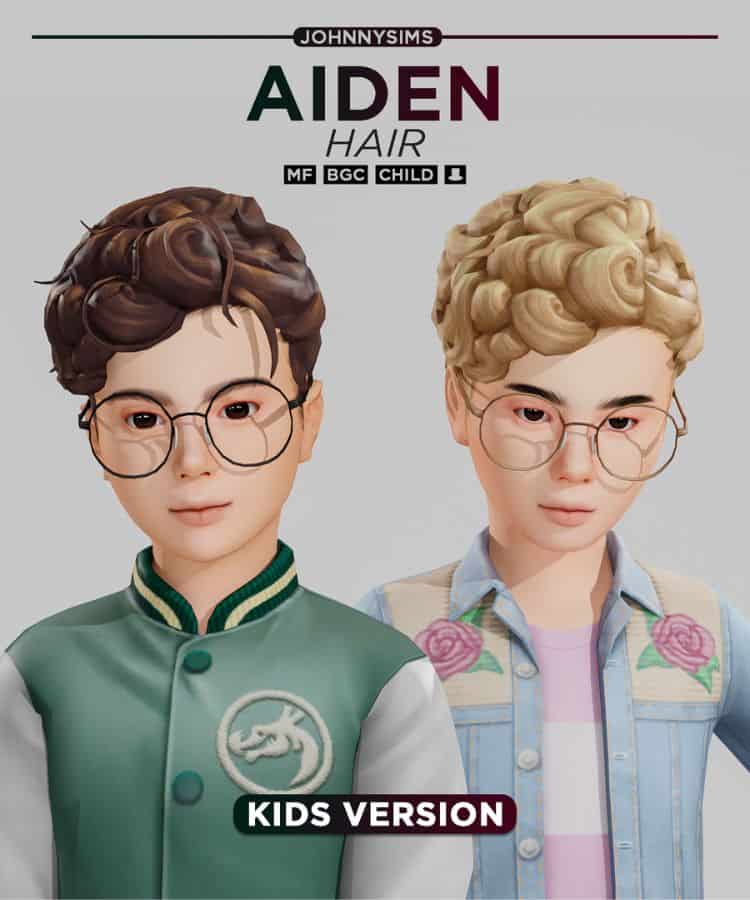 While you may have already seen the Aiden hair in our kids cc collection, it's one of our favorites so we've included it here too.
It's the perfect short kid's curly hair with lovely rosette-style curls at the front.
You can choose the version with or without hair strands.

13. Unisex Sims 4 Short Curly Hair by ice-creamforbreakfast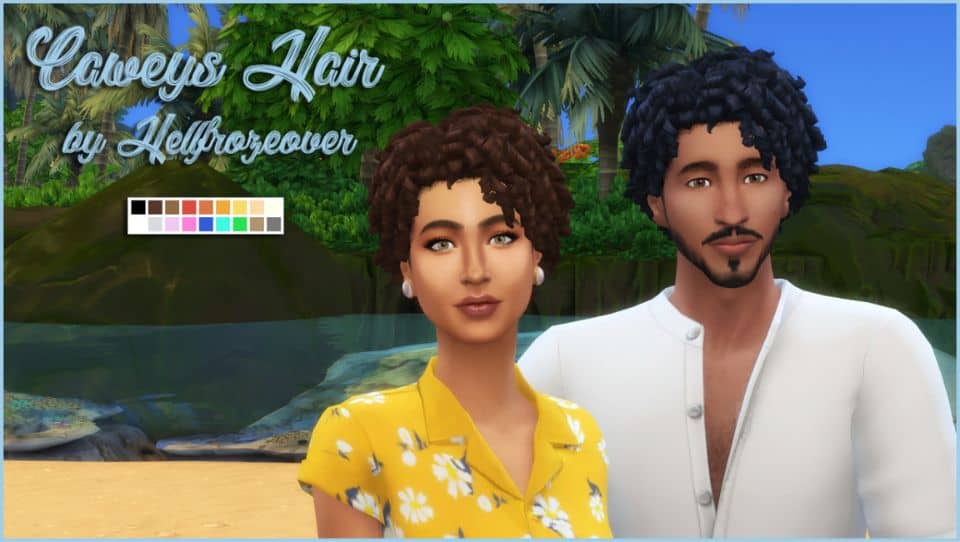 Here we have another great unisex hairstyle, with short tight curls to frame the face.
You have 18 EA color swatches to choose from.

14. Sims 4 Toddler Curly Hair Conversion by NekoChan-Simmer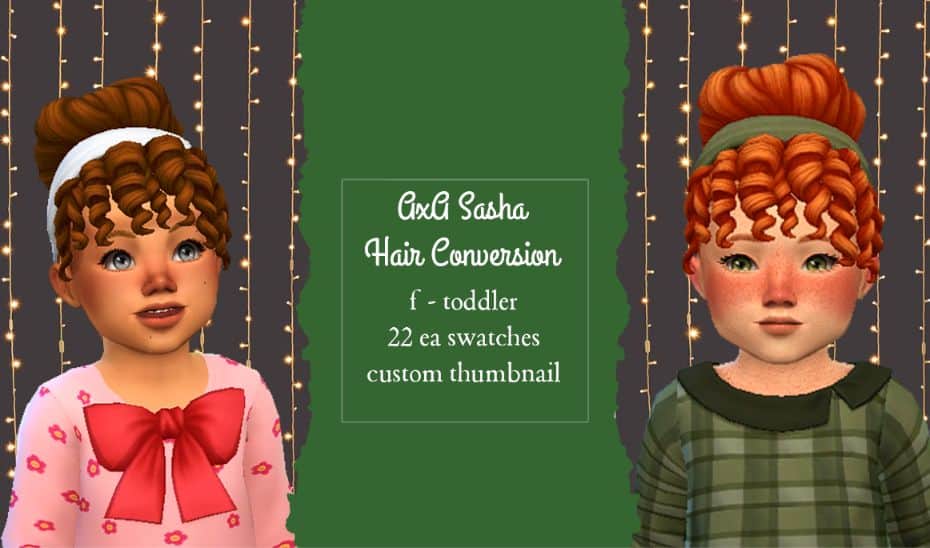 We have another hair conversion, the AxA Sasha Hair, for a female toddler.
This adorable hairdo puts your toddler hair in a bun with beautiful curly bangs at the front.
There are 22 swatches to find the perfect color.

15. Male Sims 4 Hair CC Pack by Wistful Castle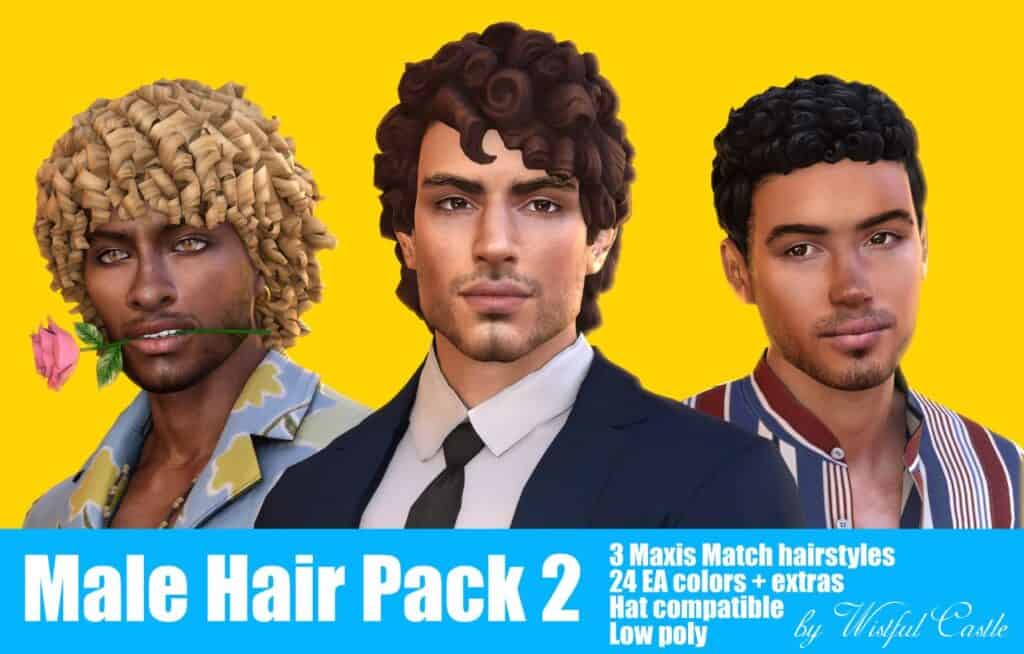 Need more male sims 4 curly hair cc options?
This pack of 3 curly hairstyles gives you a short, medium, and longer length option.
Each hair cc comes in 28 swatches so that you can style each sim with the perfect hair color.

16. Sims 4 Curly Hair with Bow by aharris00britney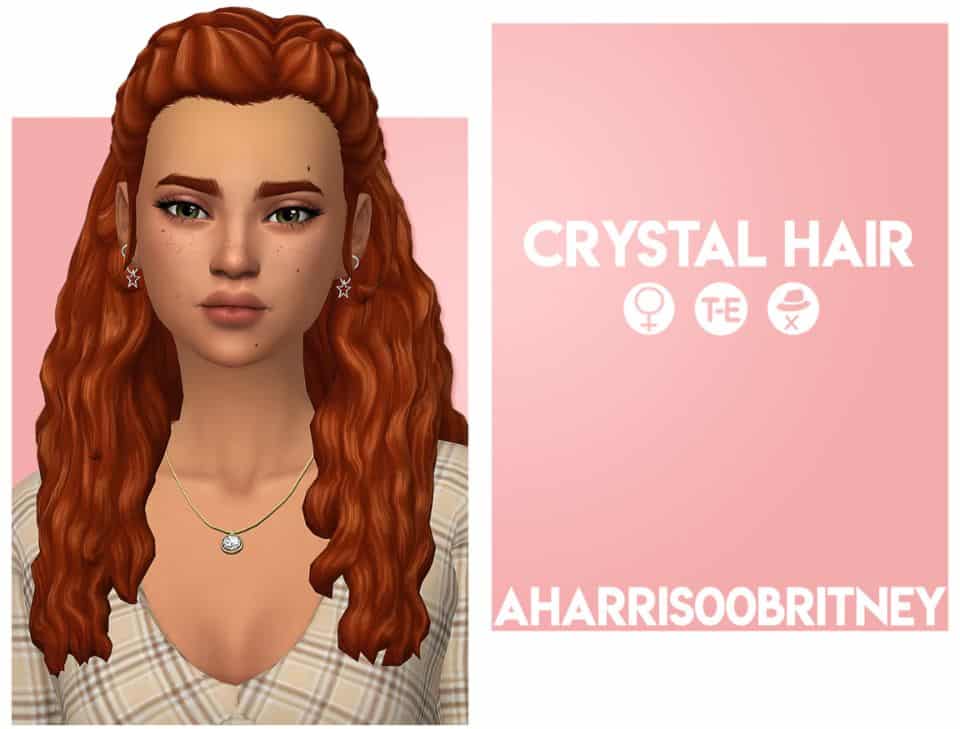 Nothing complements the look of loose, soft curls more than a contrasting hair bow.
This Crystal hair comes in 24 EA colors, and the accessory bow is available in 30 swatches.

17. Sims 4 Curly Ponytail by greenllamas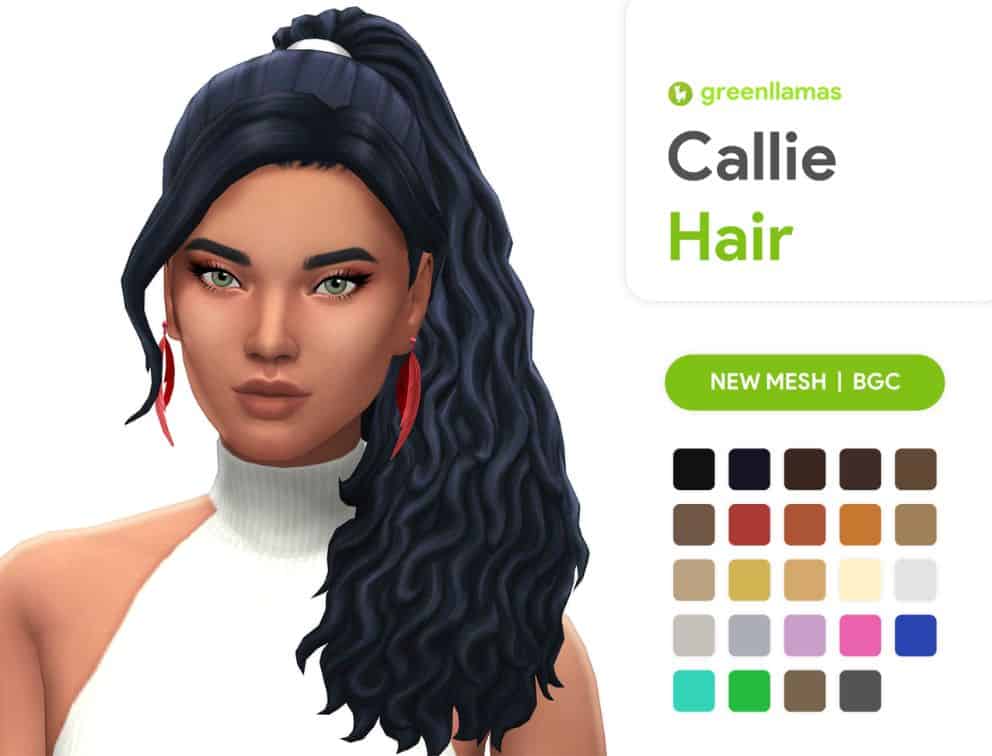 Growing up as a curly hair kid, a ponytail was one of my go-to hairstyles.
Sleek ponytails are not only practical, but they also help smooth out the top half of your hair.
You can enjoy this ponytail in 24 colors, and it's also hat compatible.

18. Thalia Sims 4 Curly Hair by okruee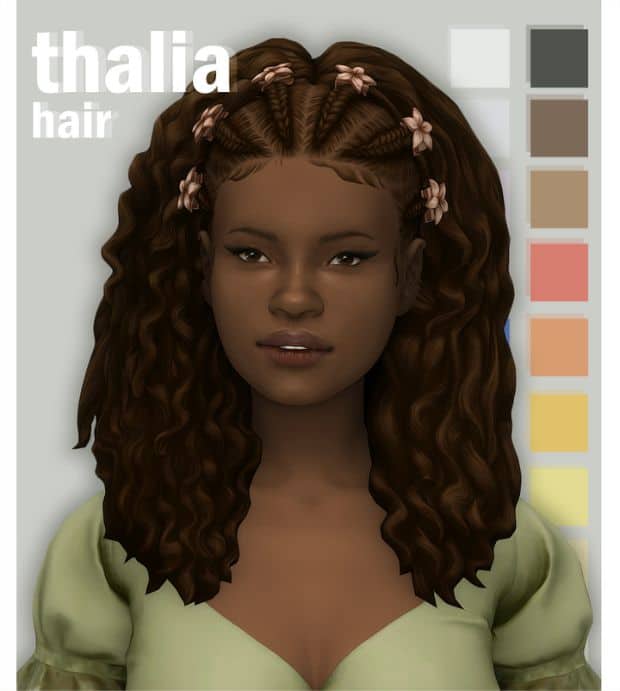 This beautiful curly hair cc comes with half-head cornrows with long loose curls.
Each cornrow has a flower hair clip at the end. While the clips are built into the hair cc, you can also change up their color with an overlay.
You'll find the hair clip overlay colors in the hat category.

19. Sims 4 Hair Conversion CC by NekoChan-Simmer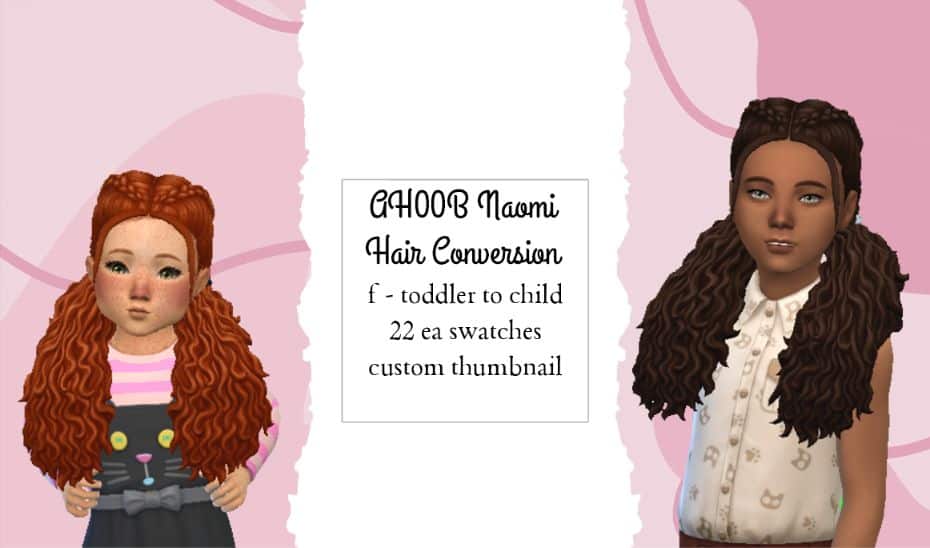 This beautiful hair conversion of aharris00britney's Naomi hair is perfect for toddlers and children.
These long curly pigtails with top braids come in 22 swatches.

20. Flora Sims 4 Curly Ponytail CC by Dogsill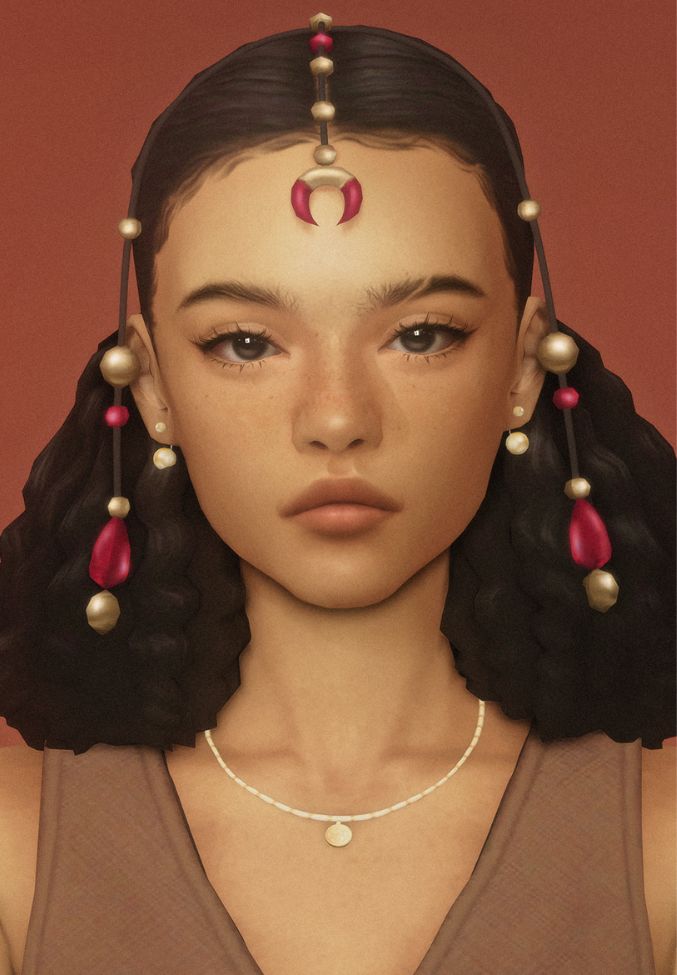 The curls on this hairstyle are so beautifully thick that it actually looks like a half up-do instead of a ponytail.
This simple ponytail with hair parted down the middle comes in 24 colors.
You can also pair this curly hair with your sim's favorite hat.
For an accessorized look, you can opt for 8 different colored beaded headpieces in the hat category.

21. Seraphim Sims 4 Male Hair CC by Wistful Castle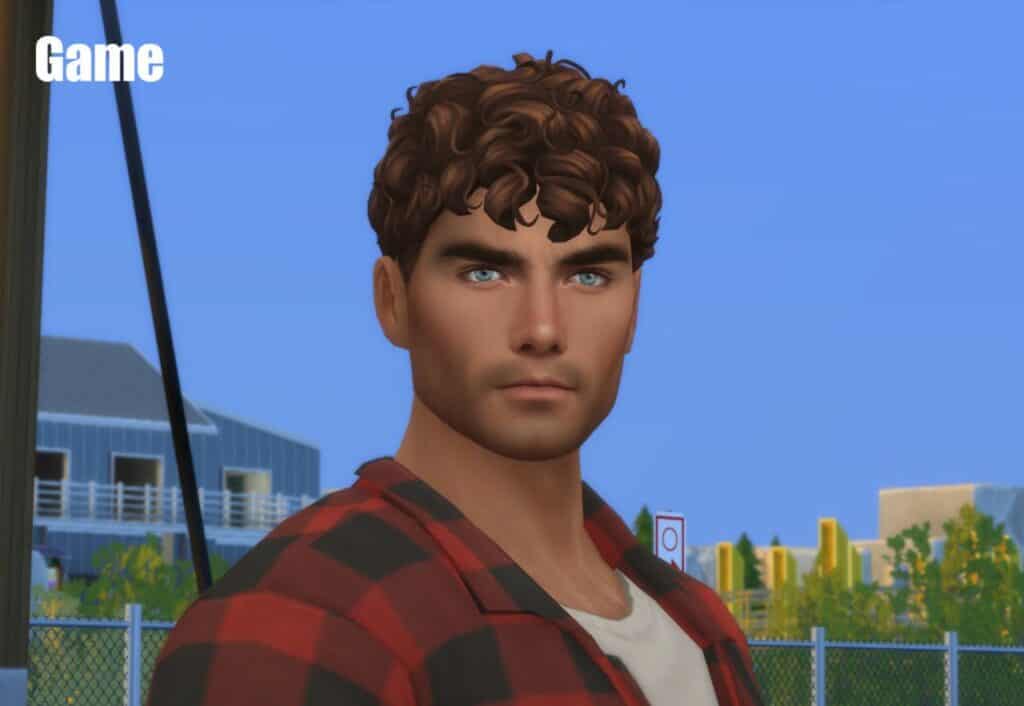 While this sim lured me in with his John Stamos look-alike blue eyes, I also really liked the short curly hair he's sporting.
From dark black to a gorgeous redhead, pick your favorite swatch from the list of 28 colors.

22. Sims 4 Short Curly Hair with Braid by wondercarlotta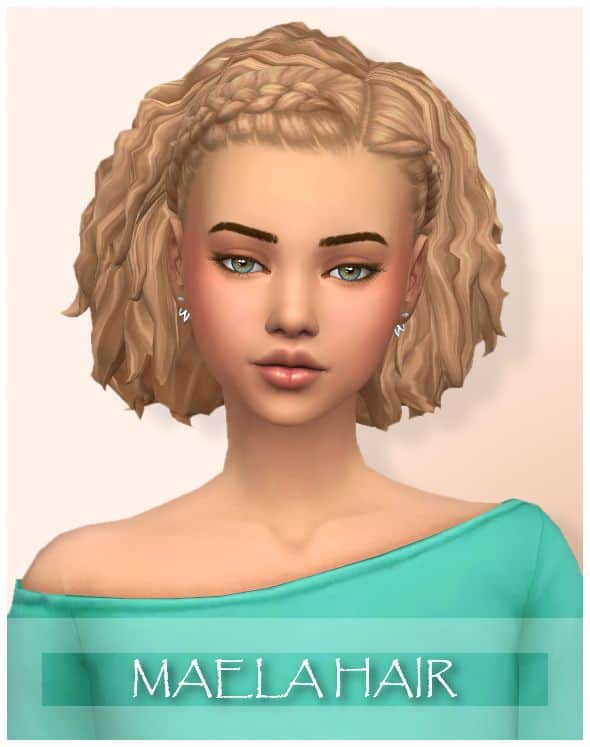 This short curly hair with a side part and braids is super cute and trendy.
I love using this hairstyle on my teen sims, but it is also a great hair option for any adult too.
Hat compatible and available in 24 colors, it's one of my favorite older pieces of custom content.

23. Sims 4 Thick Curly Hair CC by Simstrouble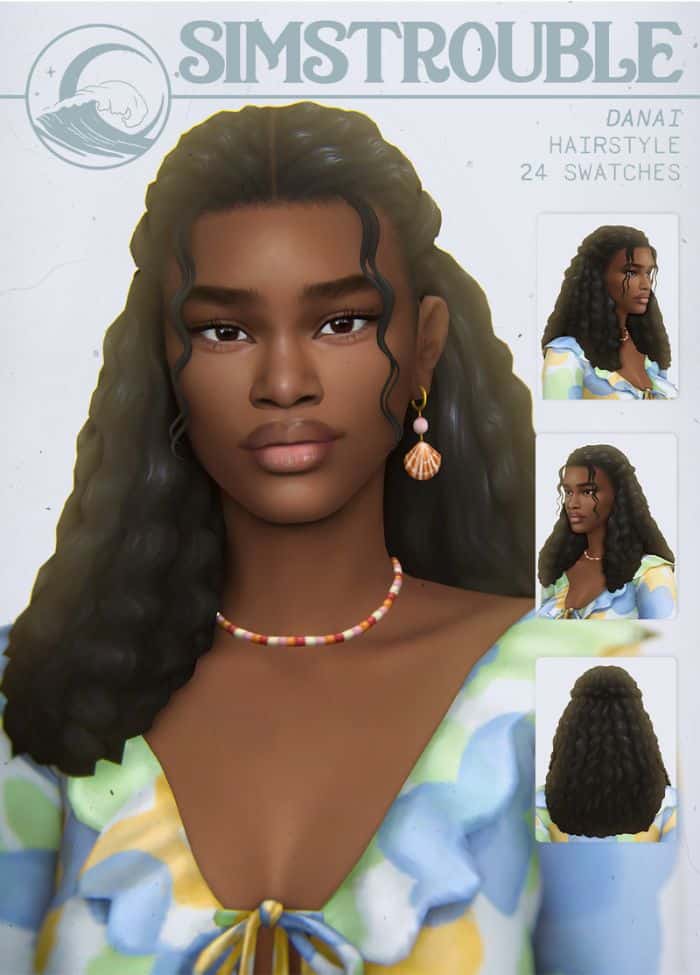 You can't go wrong with the Danai shoulder-length thick luscious curls.
With its simple hair twist at the back, it's an easy yet pretty curly hair cc.
Hat compatible, you can opt for one of two versions of this hair.

24. Sunset Sims 4 Long Curly Hair by The Kunstwollen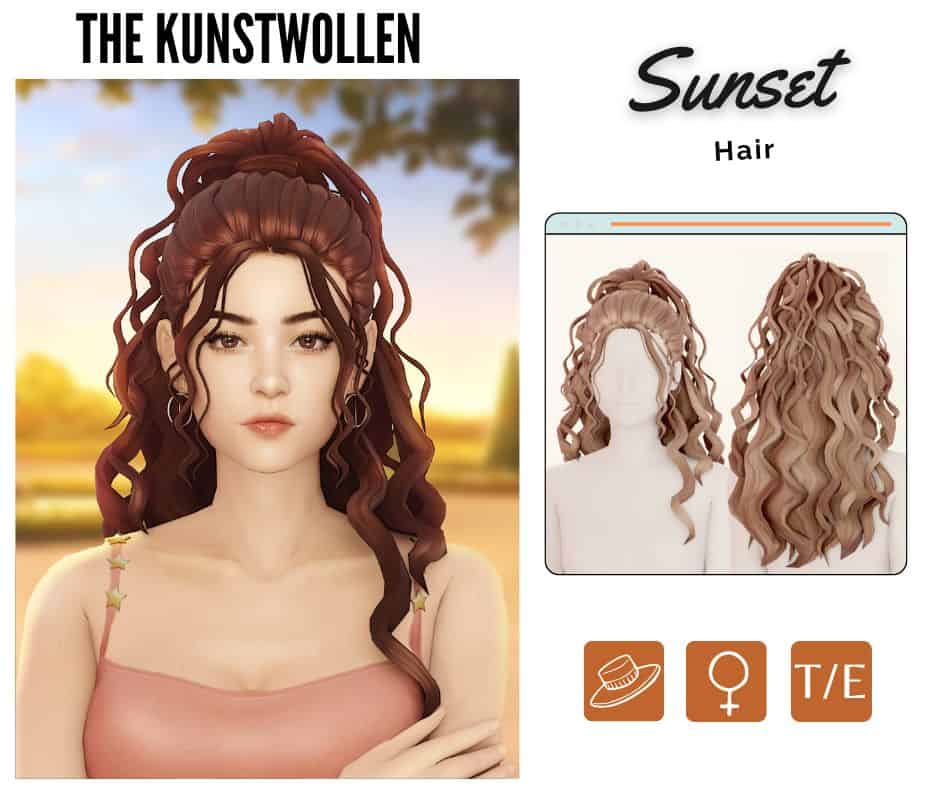 Another favorite curly hair cc is this half up-do with long loose curls.
It's a busy hairstyle with many face-framing strands, but that's why I like it so much.
Available for teens to elders, this cc is hat compatible too.

25. Sims 4 Short Curly Bob by okruee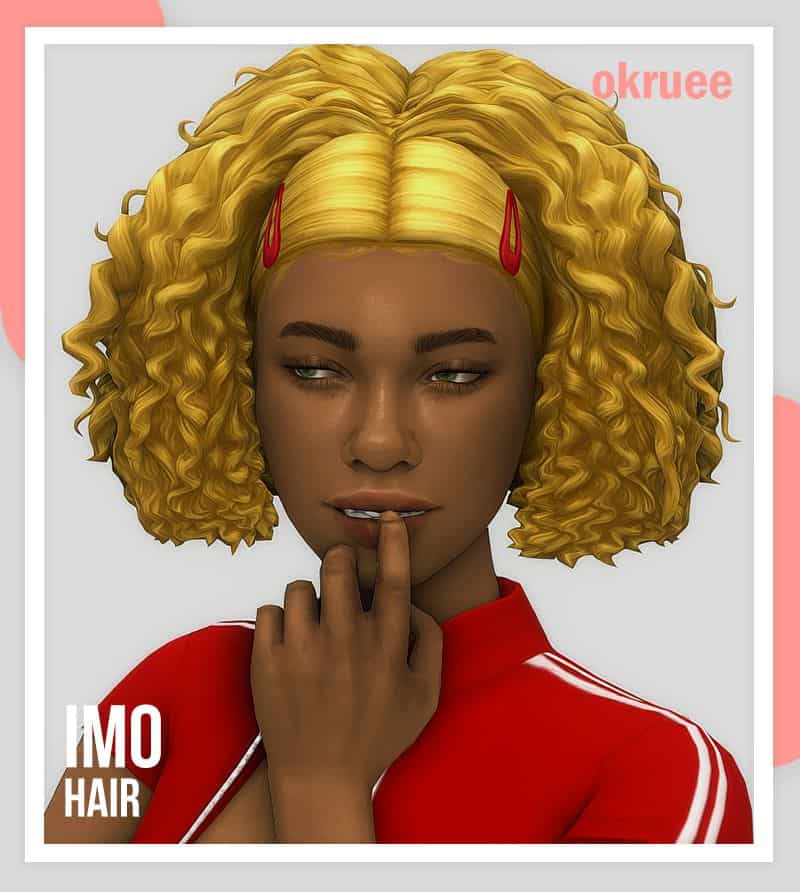 We all need a curly hair bob in our cc folder, and this voluminous IMO hair with the parted front is more on the unique side.
It's available in the 24 EA colors, and you can opt for the hair clips in the hats category.

26. Sims 4 Long Wavy Hair by GoAmazons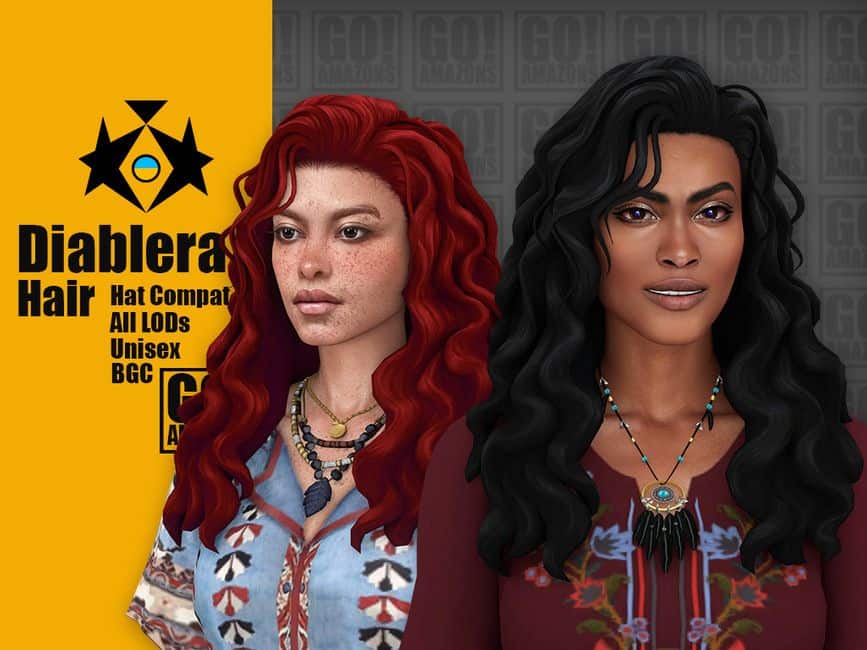 There is often a fine line between wavy and loose curls, and this long curly hairstyle fits the bill.
Available in 32 swatches, this is a beautiful piece of custom content with long curly hair.

27. Sims 4 Shaved Curly Hair CC by Feral Poodles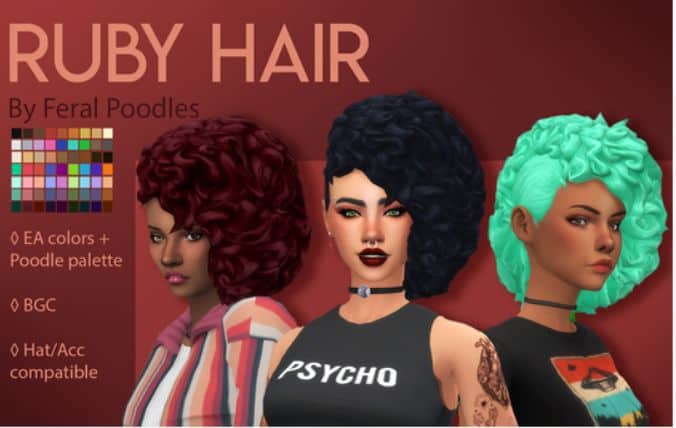 This half-shaved curled hair cc is both edgy and stylish.
Perfect for your favorite punk sims outfit or grunge look.
Available for teens to elders, you have 63 swatches to pick from.

28. Sims 4 Curly Hair Set by aharrisbritney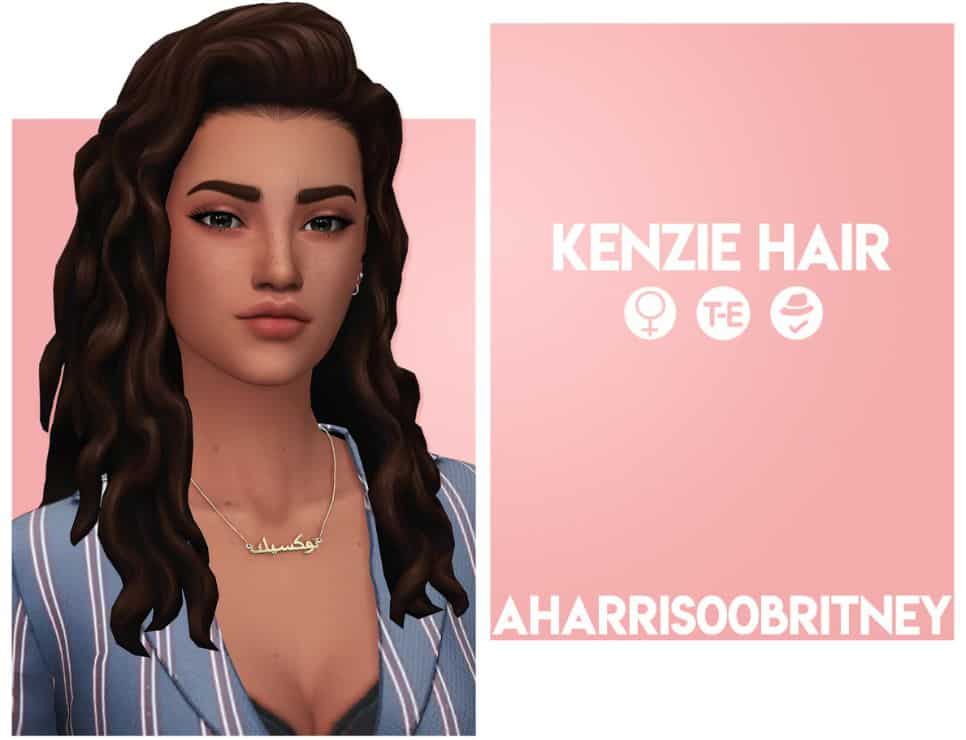 Ok, so I decided to end this curly hair collection with this mini set of hairs.
It's just a set of four hairstyles listed together, but Kenzie and Paige have wavy to curly hair.
Plus, you might love the extra hairstyles too!
Sims 4 Curly Hair CC Thoughts
We hope you found some new sims 4 curly hair cc to fill your custom content folder.
By trying out different styles of curly hair, you can find the best hairstyles for your sims.
If you find any other curls hair mods that you'd love for us to feature, please leave a message below or message us on Tumblr.
Other Sims 4 CC Lists

And don't forget to share and pin this collection for later!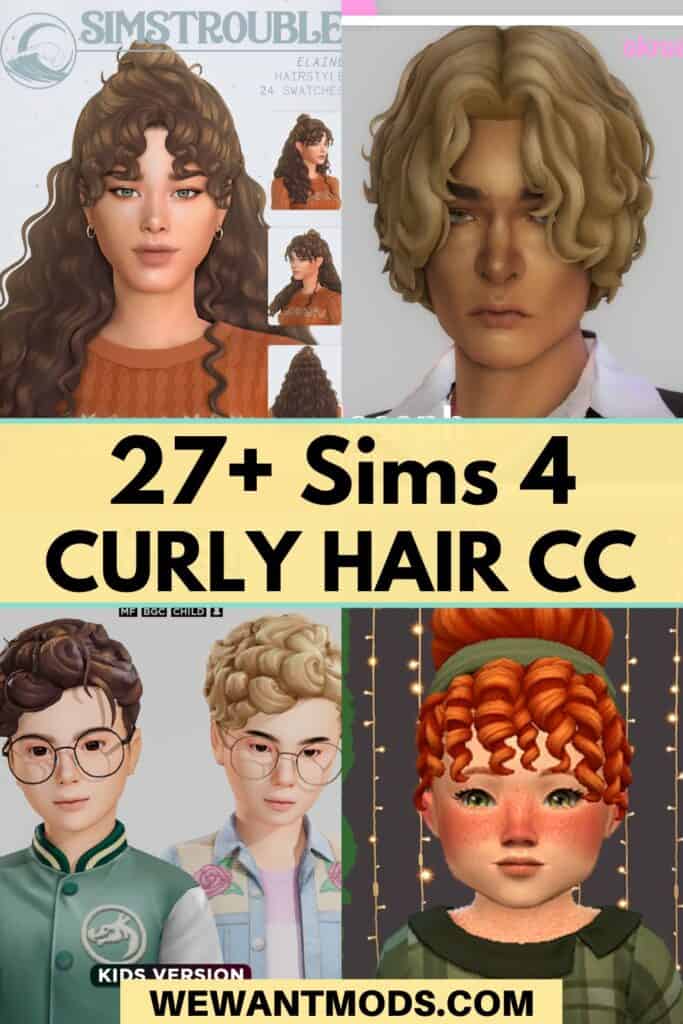 27+ Stylish Sims 4 Curly Hair CC