27+ Creative Sims 4 Tattoos
Need some new base game compatible sims 4 tattoos?
We've put together a great list of male and female sims 4 tattoo cc so your sims can best express themselves!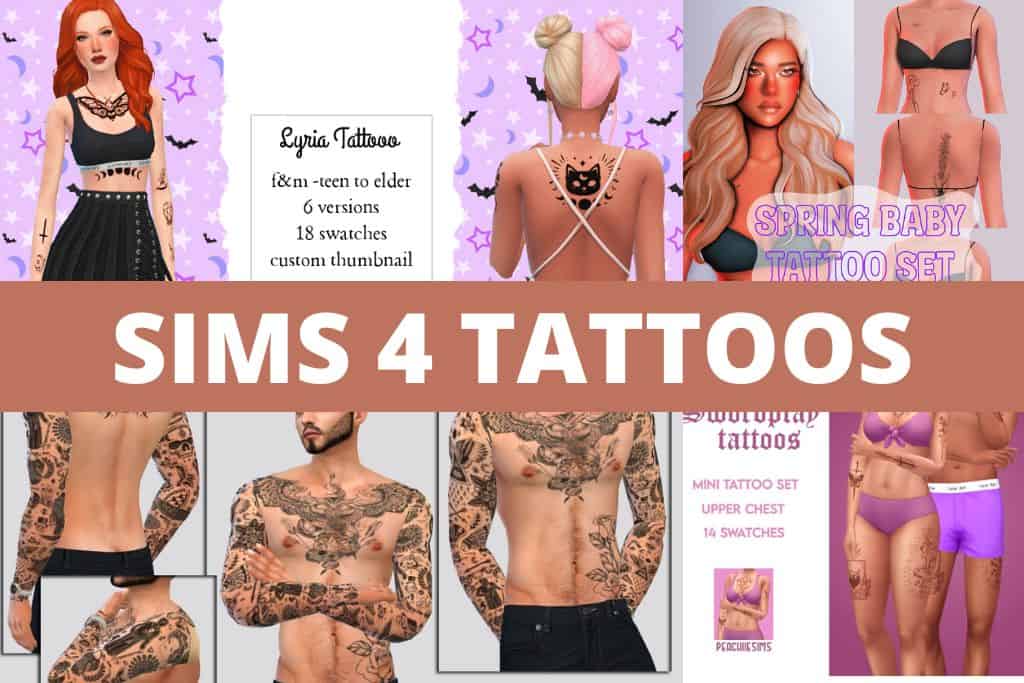 Whether you're into smaller delicate tattoos or dark and spooky pieces, there are tattoos for every style.
You can opt for a full-body tattoo set or mix and match together the perfect set of tattoos to suit your individual sims.
Let's look at some of the best sims 4 tattoos currently available.
Oh and if interested, we also have a great list of sims 4 piercings cc.
Disclaimer: The following mods are neither endorsed nor affiliated with The Sims, Maxis, or Electronic Arts. Any use of mods (custom content or game mods) should be done with caution and with the knowledge that there may be risks.
Sims 4 Tattoo CC
Many of the tattoos below are unisex, but you will also find female and male-exclusive sims 4 tattoos.
Try out some different styles to discover your new favorites.
1. Spring Baby Sims 4 Tattoos by chewybutterfly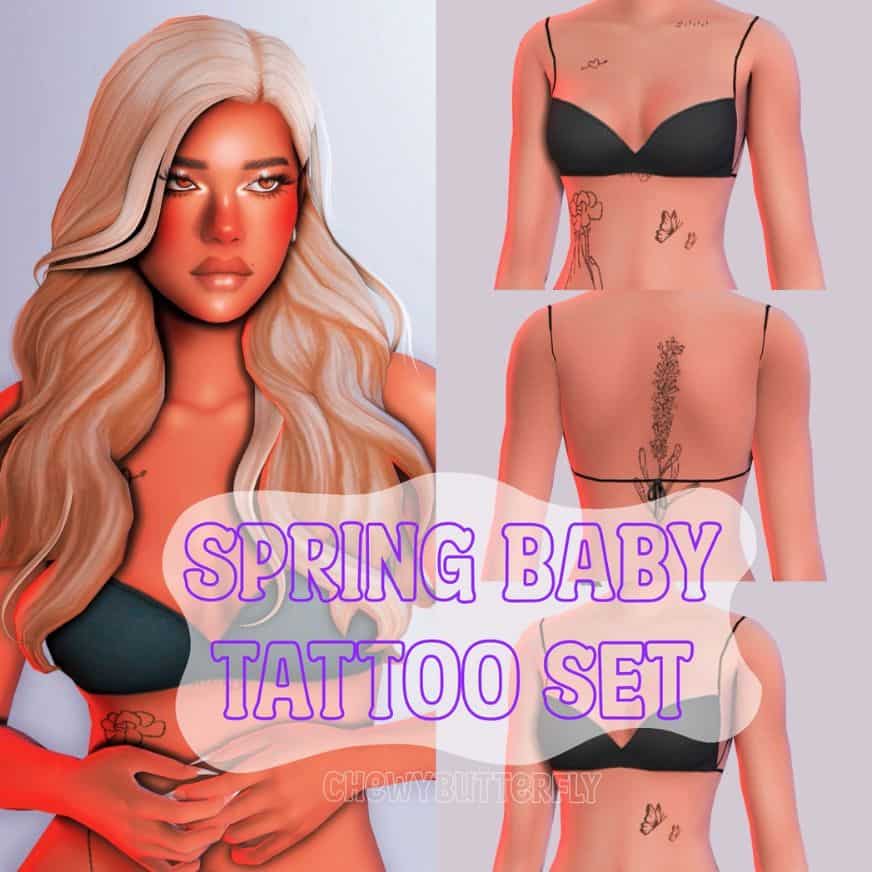 This spring-inspired tattoo set has a lot of delicate female tattoos, from butterflies to a large wildflower on the back.
Combine your favorite tattoos with two convenient CAS locations.

2. Sims 4 Daylily Tattoo Set by Simsnectar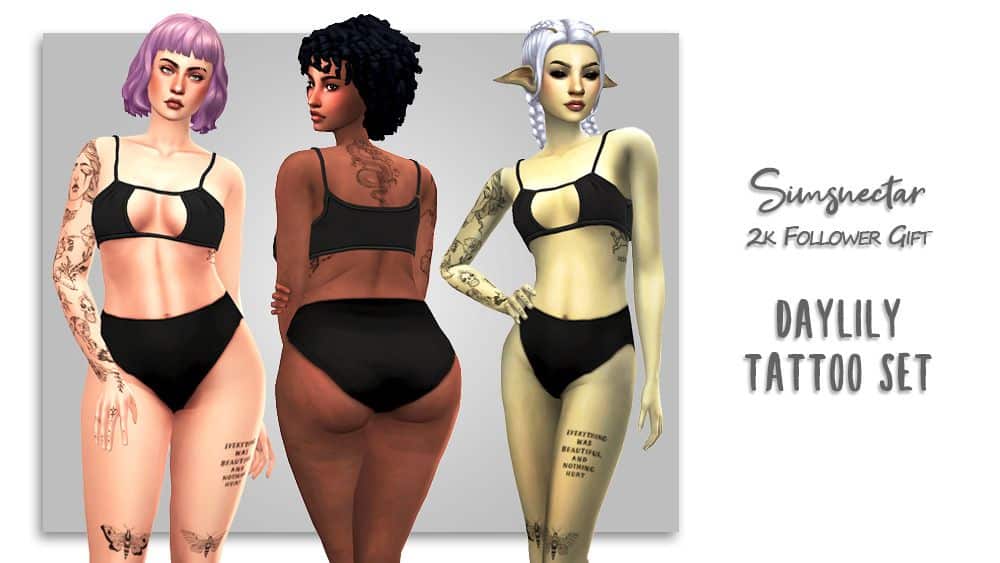 Within this 8-piece set, you will find exciting swatches like the large Medusa arm and knee butterfly tattoos.
There is also a nice large dragon tattoo that will go on your sims back.

3. Nocturne Sims 4 Tattoos by peachiiesims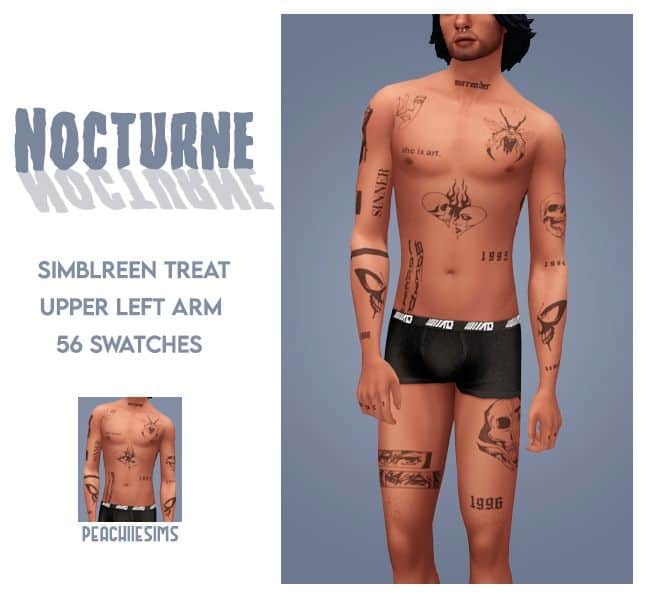 While this large set of sims 4 tattoos works for your female sims, its primary focus was for males.
There are 56 different swatches, with 47 individual tattoos and a mix of 9 full-body, arm, and leg tattoos.
From snakes, skulls, and butterflies, nocturnal life is the inspiration for this set.

4. Unalone Sims 4 Tattoo by Merakisims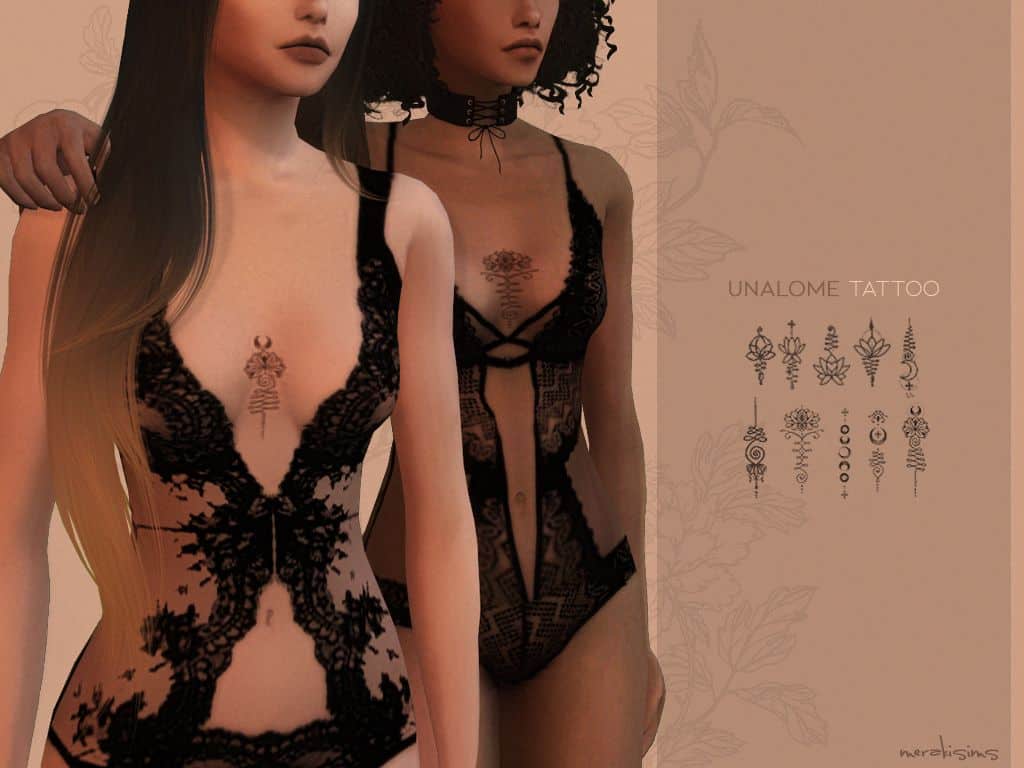 This tattoo set is one of my favorites; the medium size breast bone tattoos look amazing.
Available in 10 swatches, these tattoos work for males and females, but the placement tends to look best on females.

5. Mixed Sims 4 Tattoos by Hishel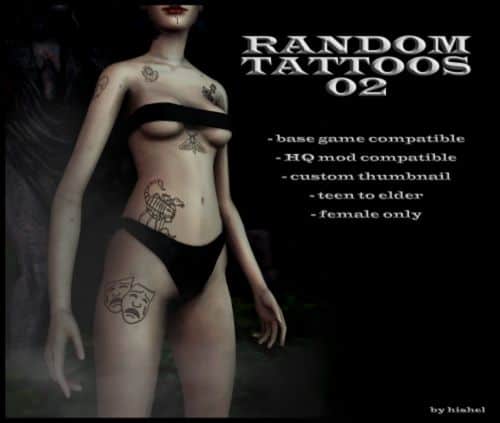 As the name describes, these are a mix of random tattoos.
There is only one swatch, so all the tattoos will be placed on your sims.
There's also a spider and a large skeleton holding a Grim Reaper scythe sword that goes on the neck and upper back.

6. Sims 4 Ear Tattoos by IzzieMcFire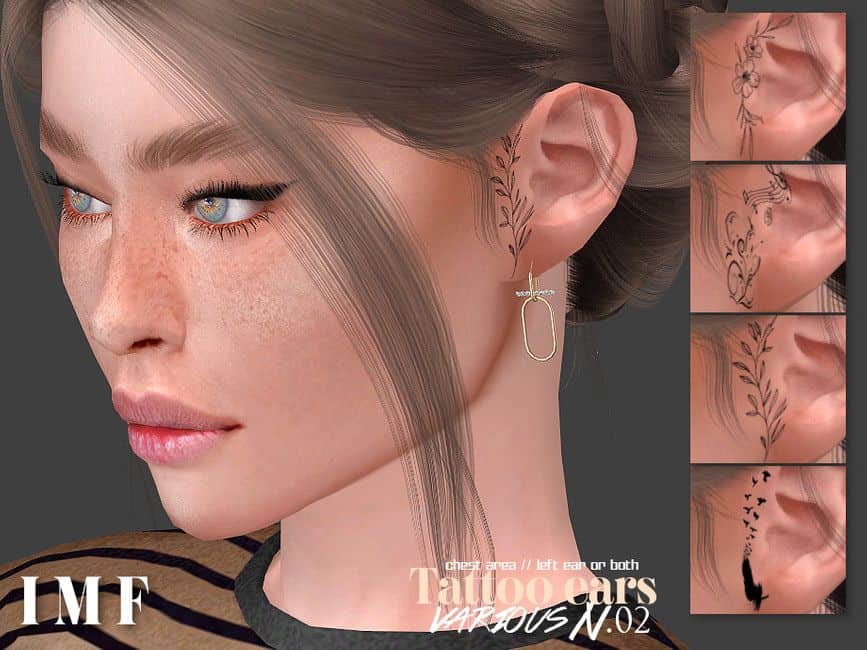 These ear tattoos are the perfect option for your female sims looking for delicate tattoo options.
There are 4 swatches that you can place on both ears or just your sim's left ear.
The dainty leafy branch tattoo is my choice.

7. Sims 4 Simlish Tattoos by peachiiesims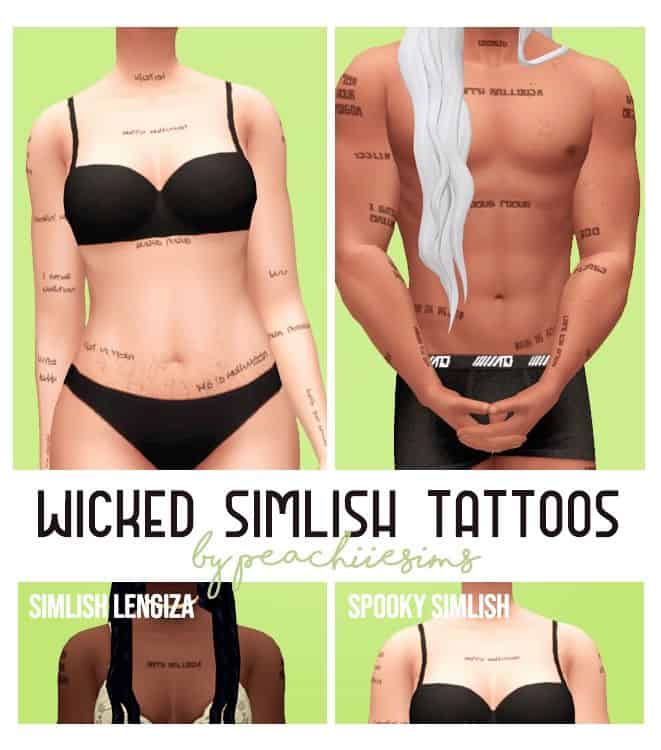 This is a simple set of Halloween-inspired simlish tattoo phrases.
There are 28 tattoos and 4 entire body and arm tattoos.
You can opt for either spooky simlish or simlish lengiza fonts or grab the merged file for both.

8. Right Ear Sims 4 Tattoo CC by Liliili-sims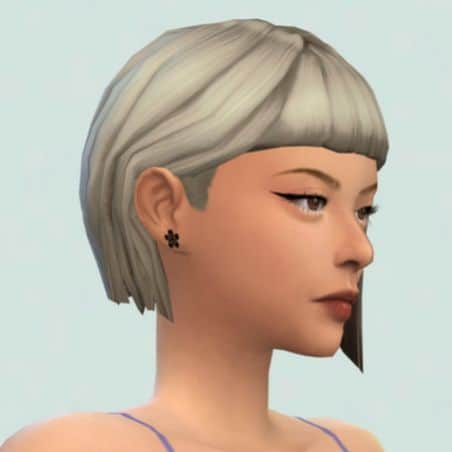 This is another delicate-looking ear tattoo.
This type of tattoo will fly under the radar and almost look like earrings from a distance.
There are 9 tattoo designs, including a flower, star, lightning bolt, and an eight-note musical symbol.

9. Full Sleeve Sims 4 Tattoos by demondare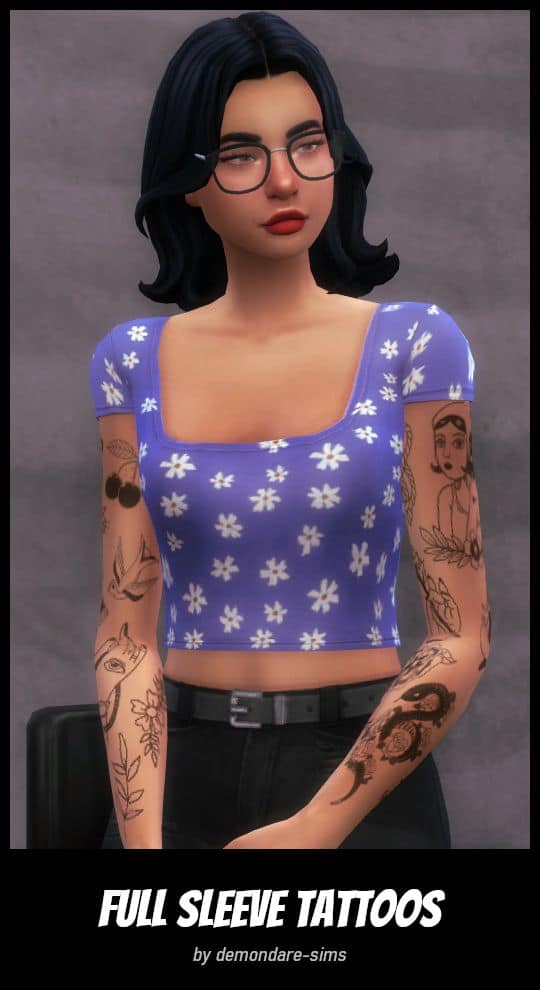 This is a 3-swatch tattoo set; you can get full sleeves on both arms or just the side you prefer.
The tattoos mix of everything from cherries, birds, flowers, snakes, hands, and more.

10. Sims 4 Swordplay Tattoos by peachiiesims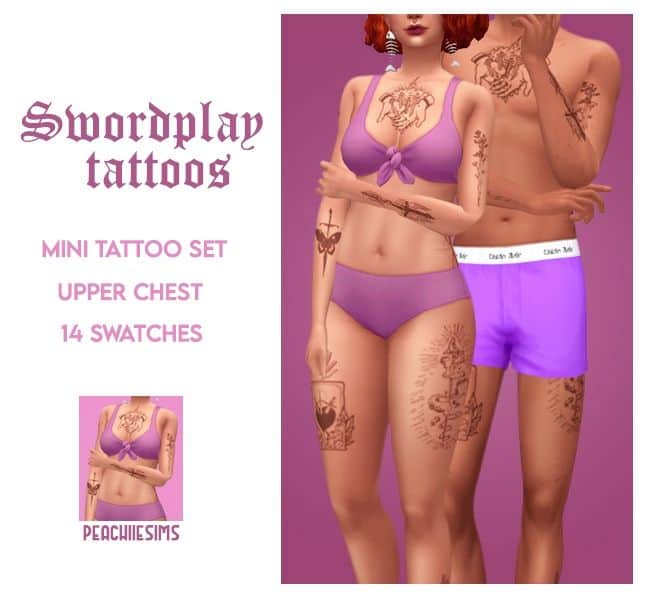 If you are into swordplay, this is the sims 4 tattoos set for you.
You have 14 great sword-inspired tattoos that will cover your sim's upper chest, calf, and thigh area.

11. Demons Sims 4 Tattoo Set by lotuswhim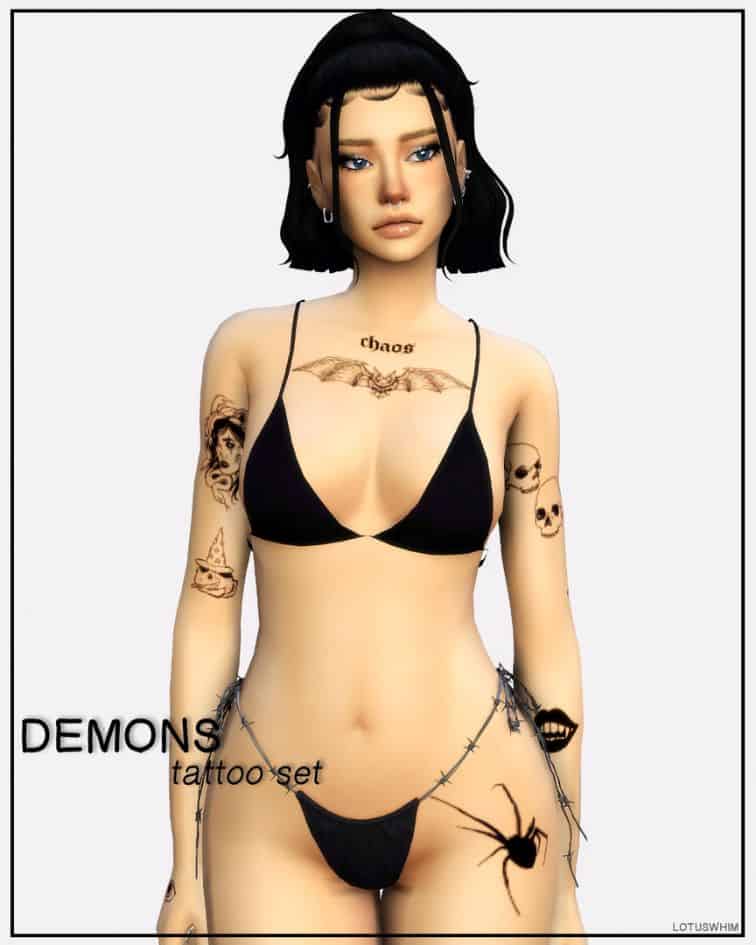 Have a love of skulls, you'll likely enjoy the party skull tattoo; it's a fun twist on a generally dark tattoo.
I also really like the massive spider tattoo, which extends up from the pelvic-hip area.
You can choose a full-body tattooed look or select your favorite cc tattoo from the swatches.

12. Male Sims 4 Tattoo Pack by McLayneSims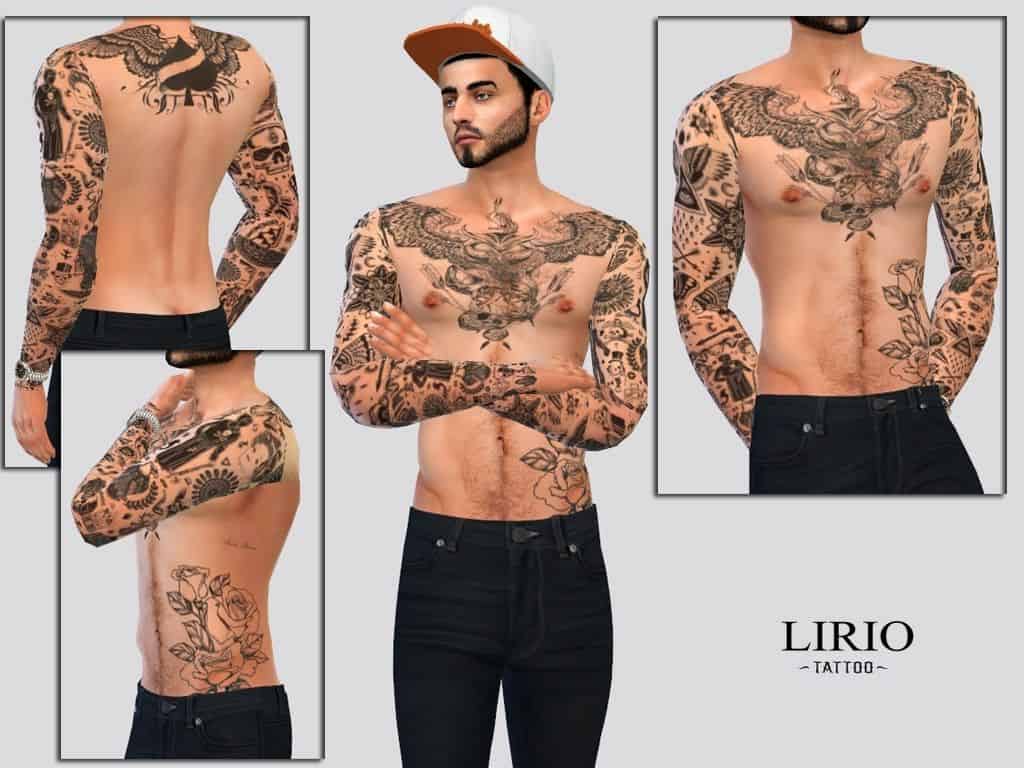 If you've been hunting for male-focused tattoos, this mega pack of 25 tattoo sets is perfection.
Each set of sims 4 tattoos in the pack has its style and list of tattoos; you will definitely find something of interest.

13. Domino Sims 4 Tattoo CC by lotuswhim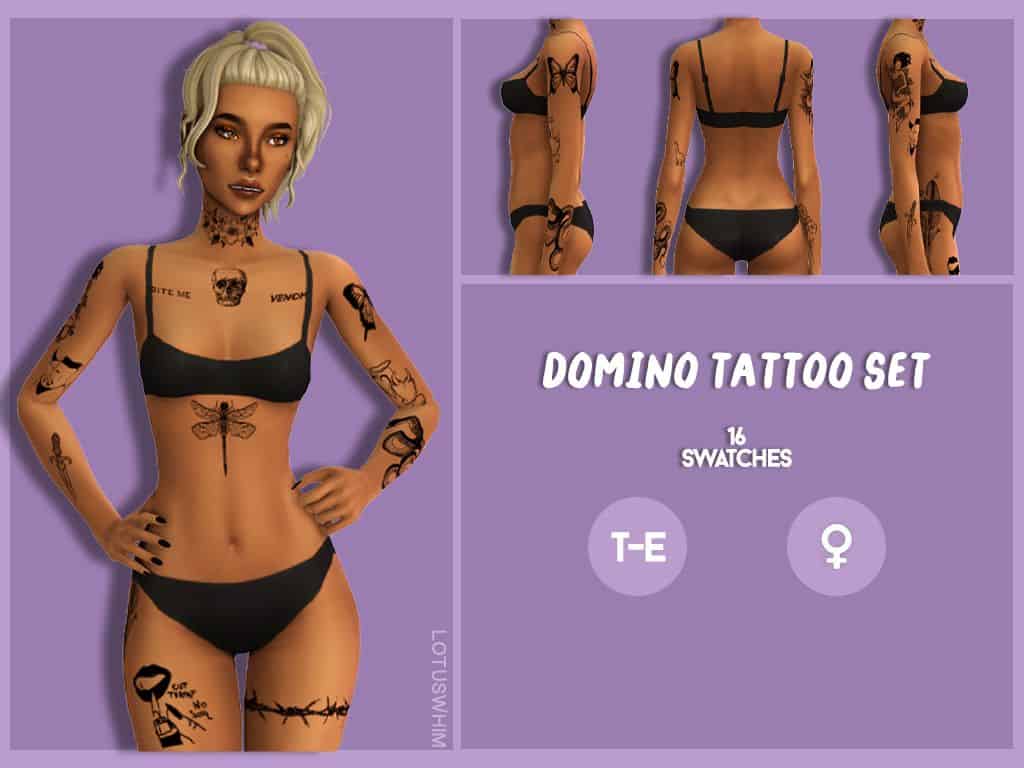 These female tattoos come with a complete set of body tattoos, or you can mix and match your preferred pieces.
There are 16 tattoo options that mix items like a skull, bobwire thigh wrap-around tattoo, Brachiosaurus, sword, and a large feather.

14. Sims 4 Pride Hearts Tattoo by NekoChan-Simmer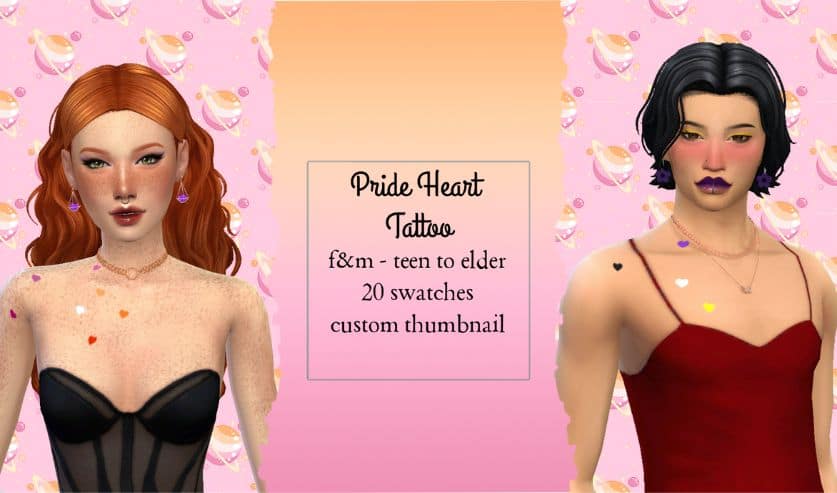 This prides heart tattoo comes in many color swatches with mixes of two to three colors.
The last swatch goes down onto both shoulders. This tattoo cc is available for both female and male sims.

15. Youngbloods Sims 4 Tattoo Set by Simsnectar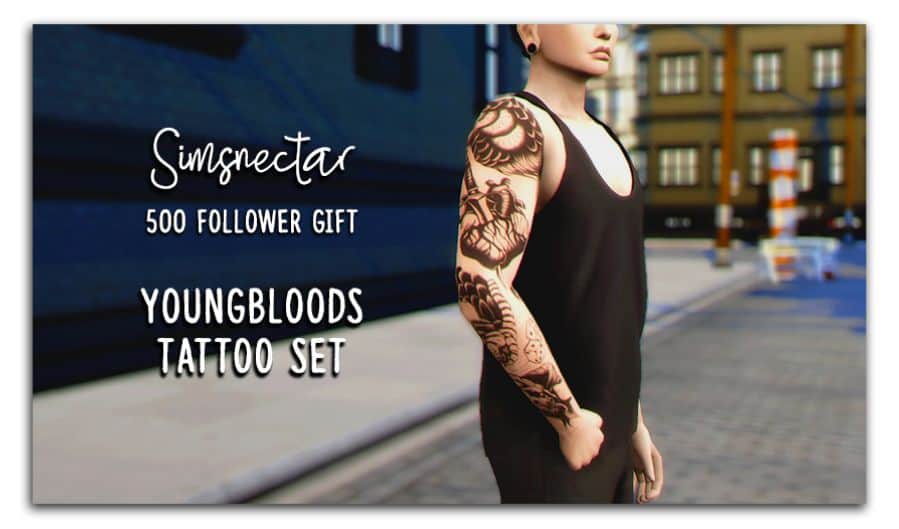 This small 3-swatch tattoo set covers the whole arm, or you can choose only the upper or lower half.
While I'm no snake expert, the most significant component appears to be a rattlesnake.
There is also this great heart and dagger tattoo.

16. Sims 4 Flora Tattoos by chewybutterfly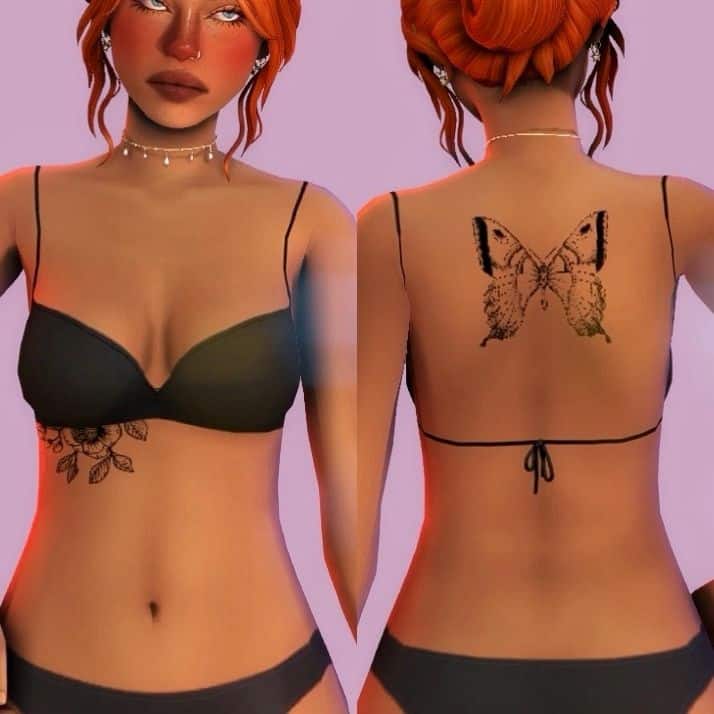 This small set comes with 2 tattoos that can be paired together or used individually.
You get a large upper back butterfly tattoo or a floral underboob tattoo.

17. Sims 4 Wild Wood Tattoo Set by Simsnectar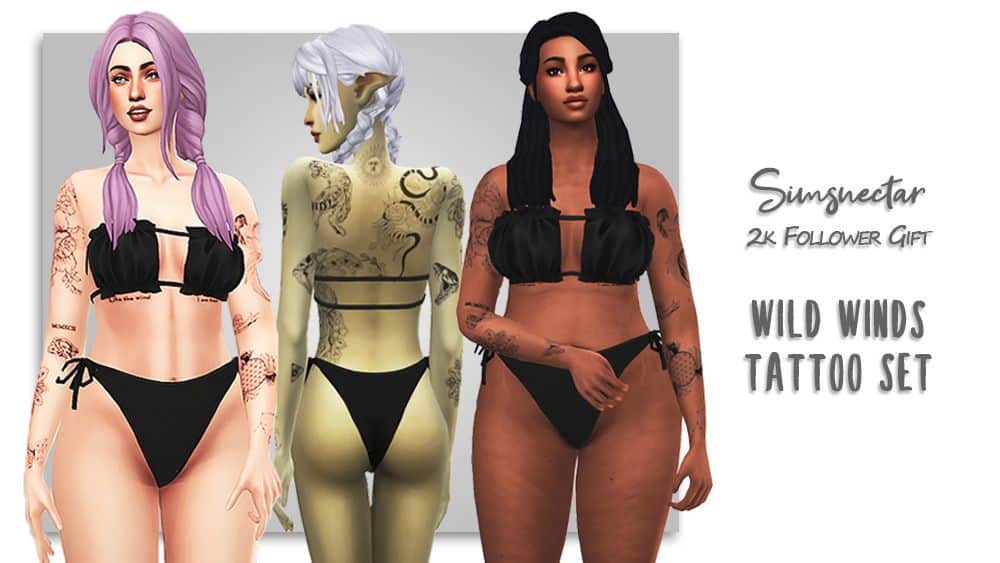 This set of 4 swatches mix of flowers, dragons, tigers, and women.
Opt for a full-body look or just the back or individual arm tattoos.

18. Sims 4 Tattoo Fingers by IzzieMcFire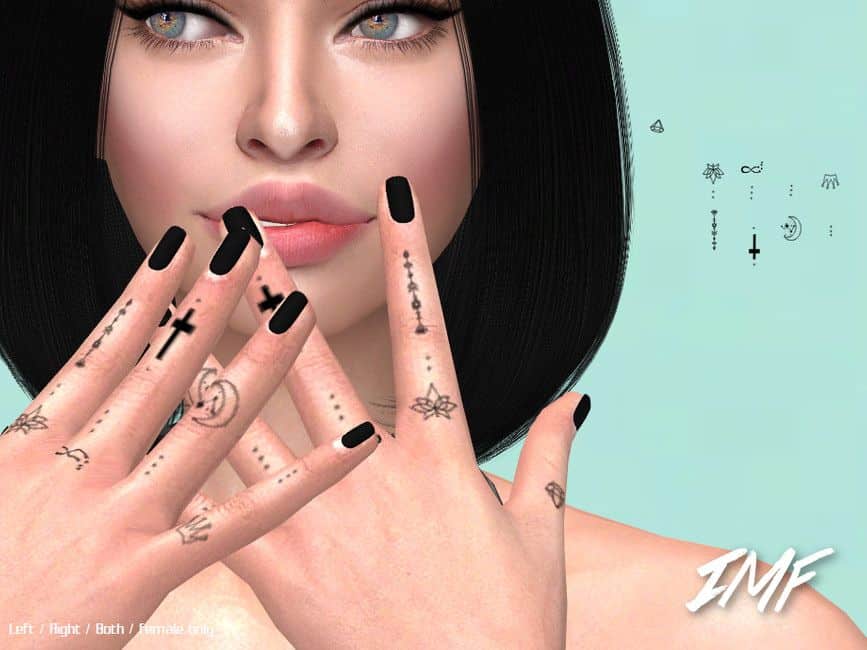 These tattoos remind me of celebrities with many small hand tattoos on their fingers.
It's a collection of crosses, diamonds, half moons, and other cute little designs, perfect for a touch of edge.
Available on individual hands or both sides.

19. Galactic Garden Sims 4 Tattoos by peachiiesims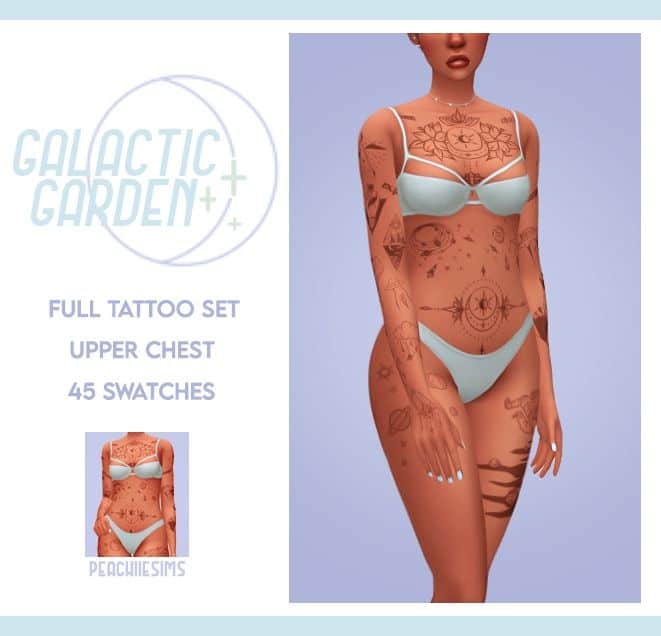 This set's name is self-explanatory; you will find a mix of galactic-inspired tattoos.
You'll see stars, planets, aliens, a space cadet, some simlish text, and more.
There are 41 individual tattoos and 4 full body-arm tattoo options.
You can try these on both your male and female sims.

20. Sims 4 Spook Tattoo Set by kiwitrait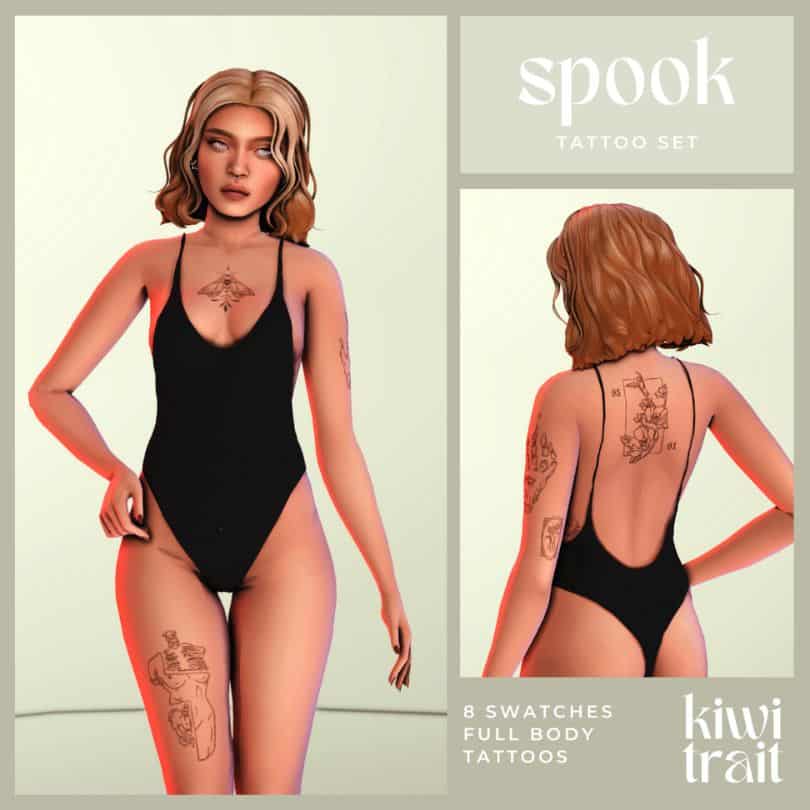 This Spooky tattoo set leans heavily on the darker side.
The decomposing hand is gripping, but the headless cadaver tattoo is even more intriguing.

21. Trash Boy Sims 4 Tattoos by Simsnectar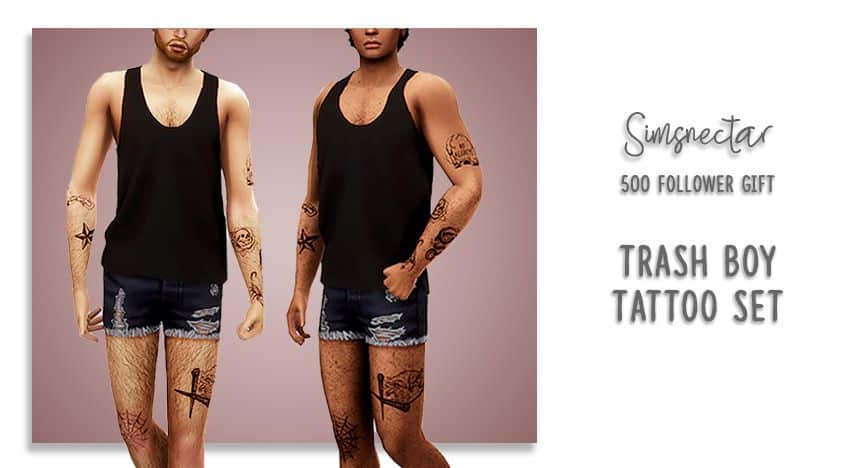 This collection of tattoos comes in one swatch, dispersed on the arms and legs.
Suitable for male sims, young adults to elders.

22. Sims 4 Caffeine Mini Tattoo Set by peachiiesims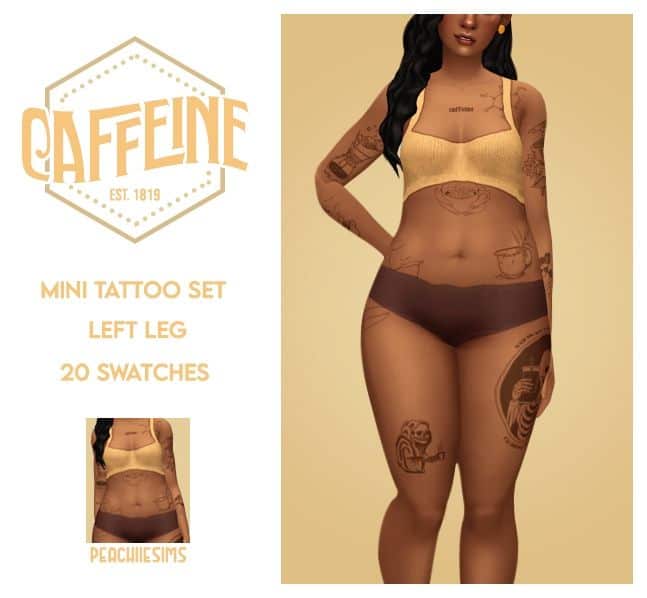 Are you addicted to coffee?
Coffee is my first thought of the day, so I had to pick this fantastic set of caffeine-inspired tattoos.
And the skeleton with his iced coffee is my favorite tattoo of the set since many of us feel lifeless before our first cup of the day.

23. Sims 4 Dieter Tattoo CC by McLayneSims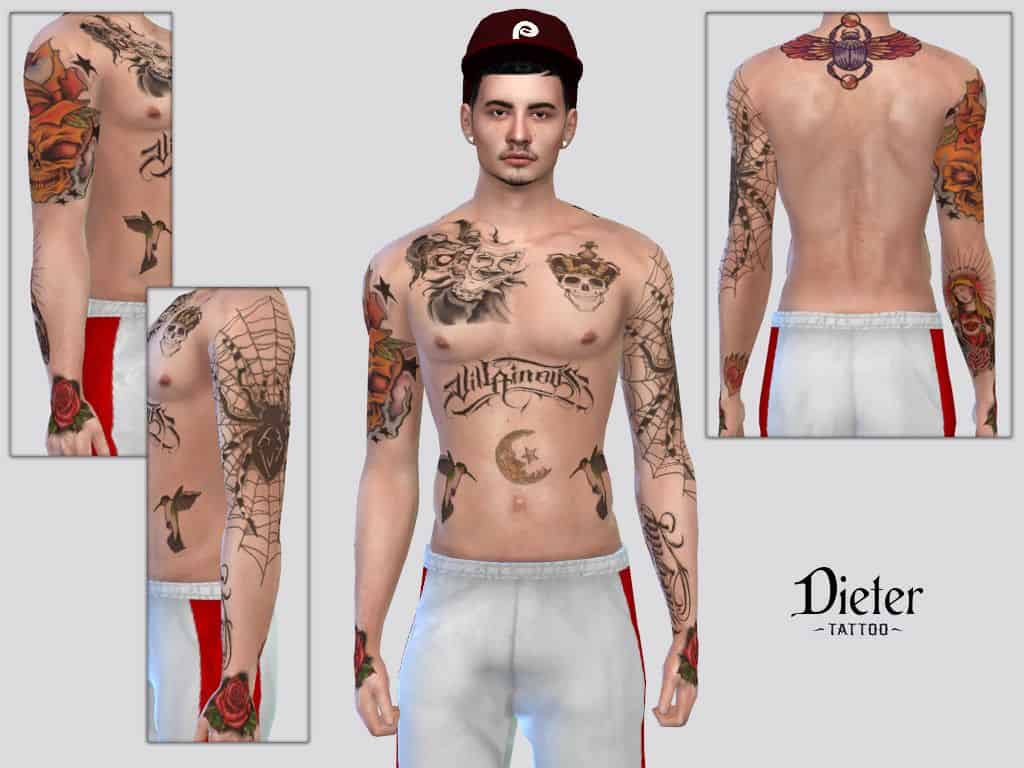 This Dieter male tattoo set is one of my favorites.
There are 4 tattoo combinations, but the complete set is my go-to.
The massive arm spider-web tattoo and demon-theater mask tattoos are amazing.
I'm also a massive fan of everything ancient Egyptian, so I love the large scarab tattoo on the back.

24. Sims 4 Lyria Tattoo by NekoChan-Simmer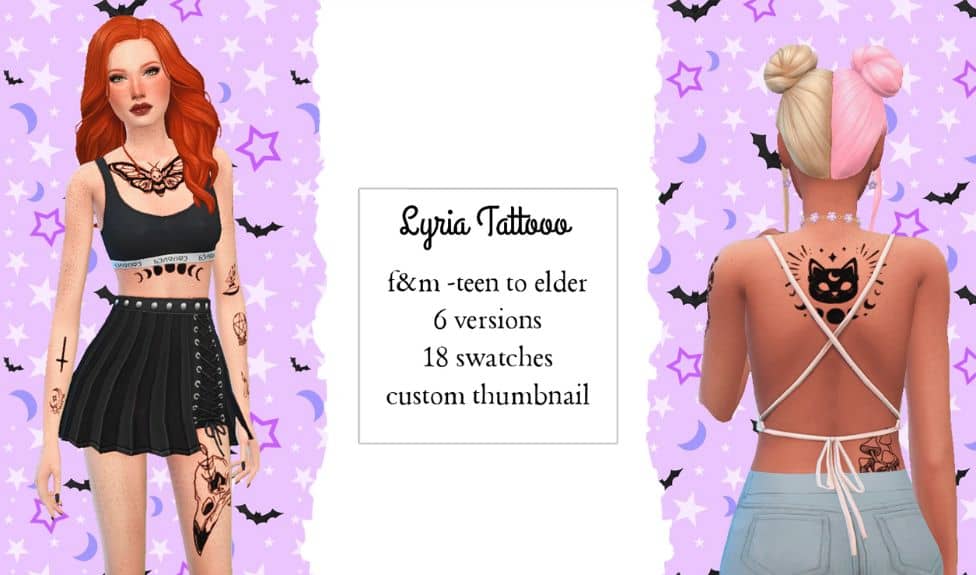 The Lyria sims 4 tattoo set comes with 18 swatches and 6 convenient locations, so you can add a nice variety of individual tattoos.
You can also choose the swatch will all 18 tattoos.
Available for both frames, from teen to elder.
Don't forget to check out the Hello Kitty style back tattoo, it's gorgeous.

25. Angel Sims 4 Tattoo Set by kiwitrait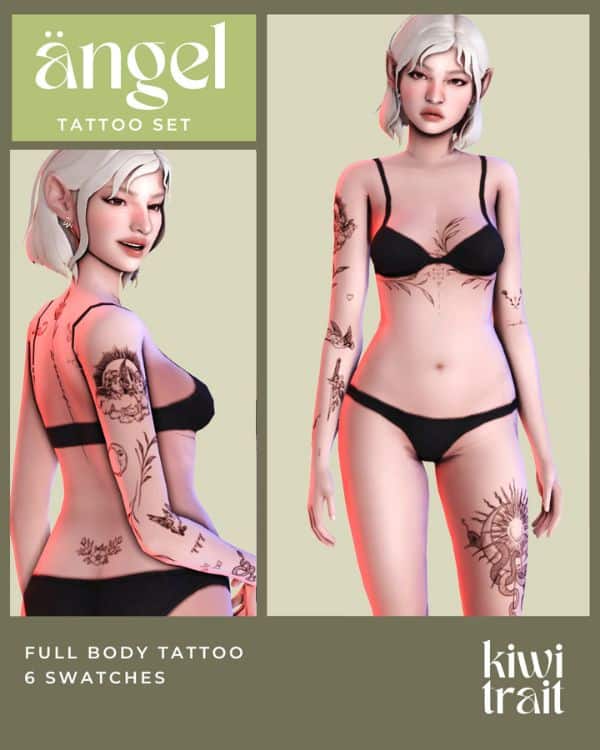 This set has beautiful designs, from the cherubs on the upper arm and the flower stem on the upper back.
My favorite piece has to be the curved leaves around the upper breast.
Available for both your male and female sims.

26. Sims 4 Cyborg Tattoos by bbpeaxh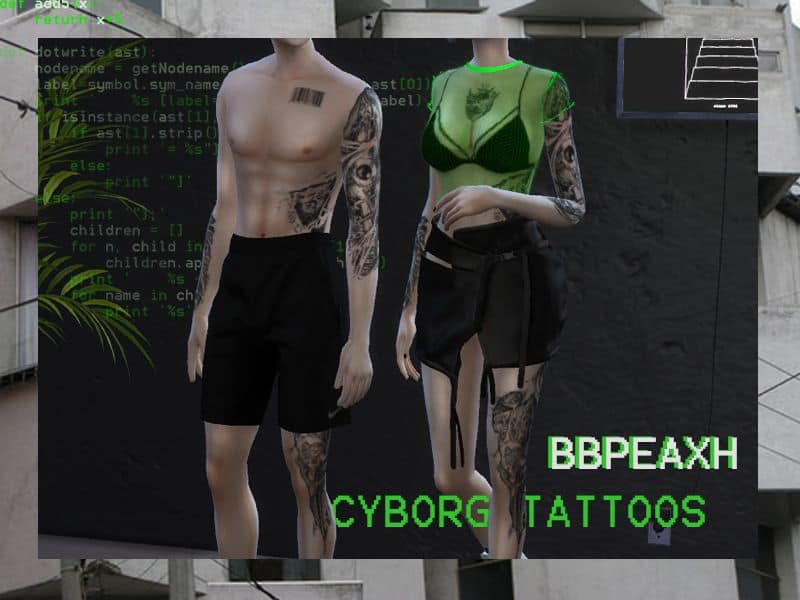 While I'm not a Trekky by any means, I can appreciate the mechanical details of the Borg's outer shell.
This tattoo set includes 6 swatches (one full body) of detailed cybernetic body tattoos.

27. Sims 4 Mirabelle CC Tattoos by chewybutterfly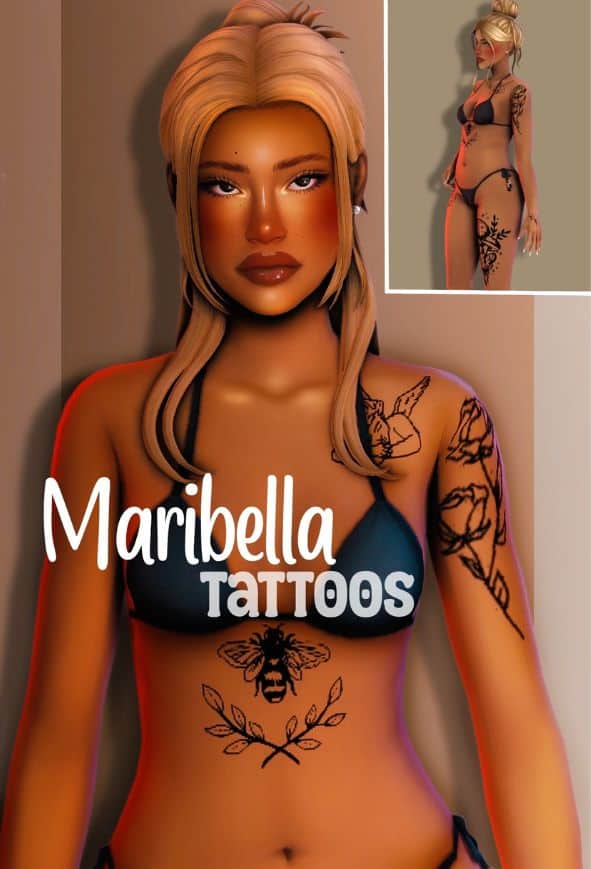 This is another set of 8 beautiful tattoos that work for males and females.
You'll find 3 different locations in the tattoo category to mix and match to your preference.

28. Sims 4 Meicrosoft Tattoos by Cubersims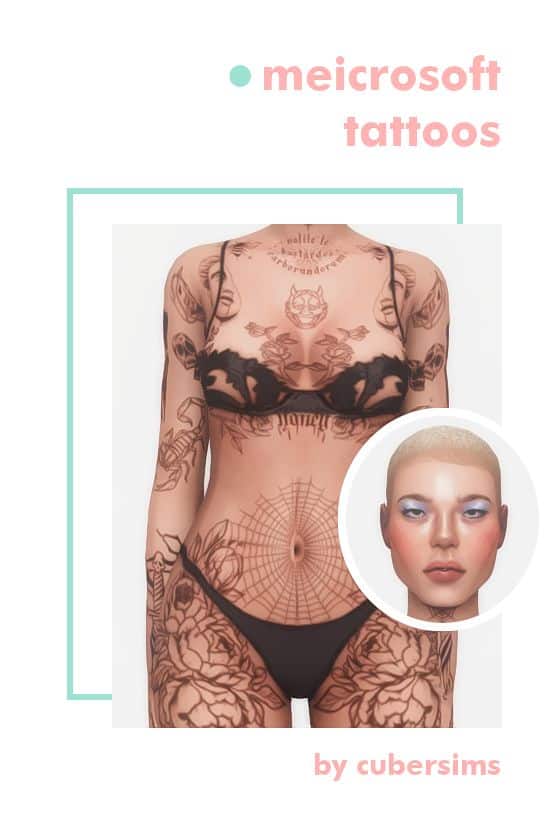 I personally haven't come across many sims 4 tattoos that offer a variety of opacities, but this set comes with 10.
While the creator mentioned these tattoos might look weird on masculine frames, they look fine on my male sims.

29. Halloween Sims 4 Tattoo CC Set by kiwitrait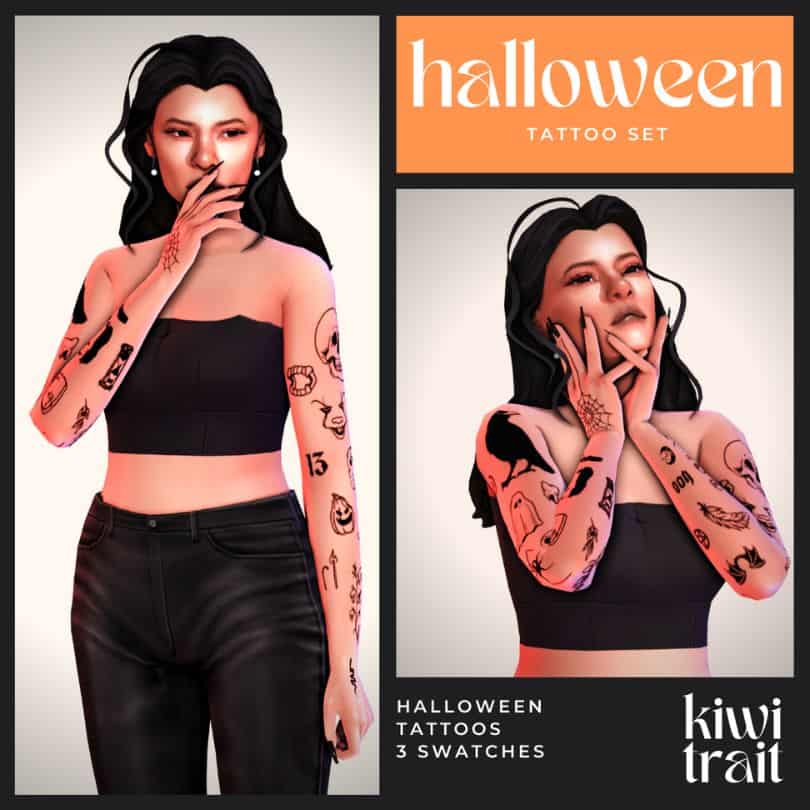 Whether you're a fan of Halloween or not, we can all appreciate some spooky designs.
The large crow in itself is excellent, but there are a bunch of fun, festive Halloween tattoos in this set.
You can opt for both sleeves or either arm.
Final Thoughts on Sims 4 Tattoos
From tattooed fingers to bull body displays, we hope you found some sims 4 tattoos to fill your cc folder.
By trying out different styles of tattoos, you can find the best creative fit for your sims.
If you find any other custom content tattoos, you'd love for us to feature, leave a message below or message us on Tumblr.
Similar CC Articles

And don't forget to share and pin this collection for later!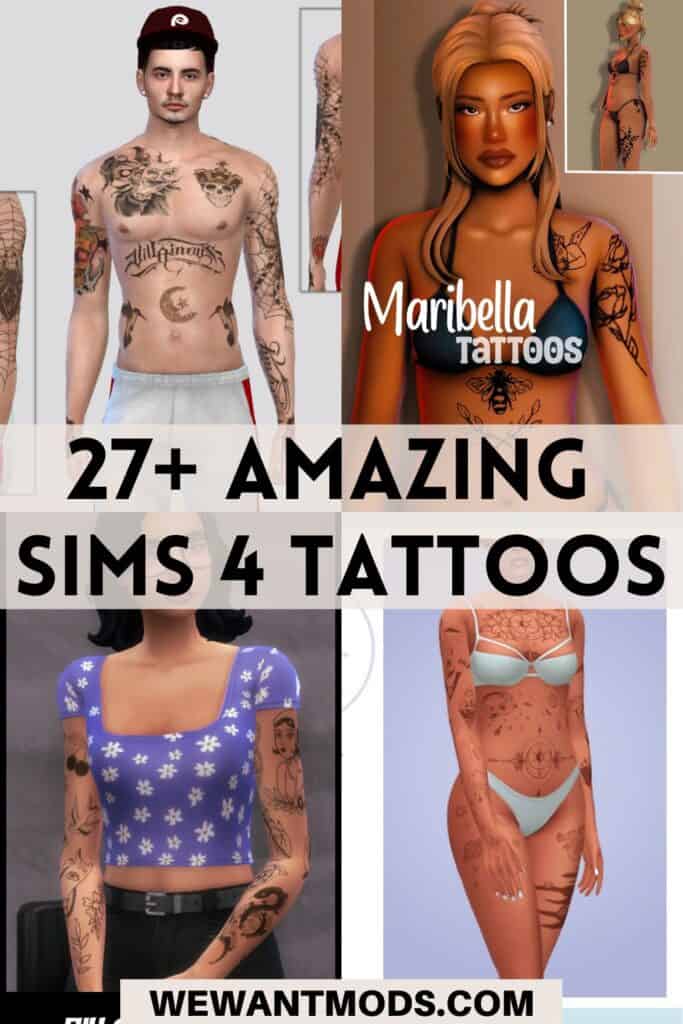 27+ Creative Sims 4 Tattoos