27+ Sims 4 Goth CC: Unleash Your Sims' Dark Side
Need a little darkness in your sims household?
Grab the latest sims 4 goth cc to create the perfect gothic look for your sims.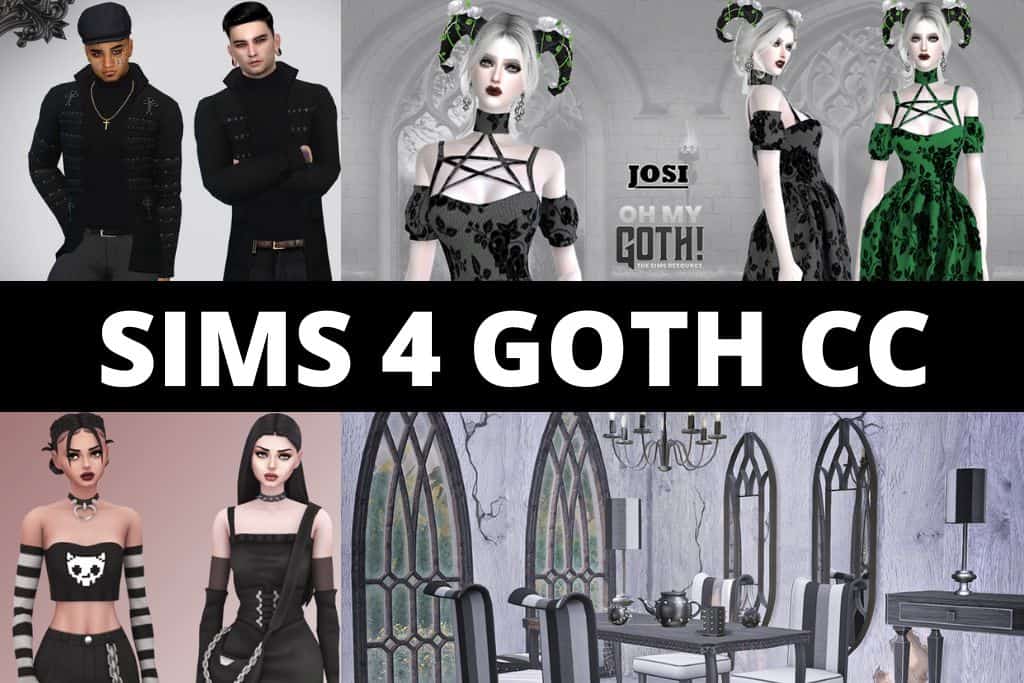 When it comes to the goth subculture, I don't claim to be an expert, but I do enjoy creating my version of goth sims on occasion.
Goth has been around since the early 1980s, and whether you're fully into goth rock or simply enjoy the esthetic within your sims game, we've got you covered.
I found some great gothic fashion pieces and other interesting custom content creations.
And while I know some people don't like TSR, their exclusive collections are a great way to find fantastic cc in one spot.
The Oh My Goth! collection is no exception and delivers some amazing options.
Now, let's take a look at some of the best goth cc finds!
Disclaimer: The following mods are neither endorsed nor affiliated with The Sims, Maxis, or Electronic Arts. Any use of mods (custom content or game mods) should be done with caution and with the knowledge that there may be risks.
Best Sims 4 Goth CC
Below is a mix of sims 4 goth makeup, clothing, shoes, furniture, and decor options to create a complete goth experience.
1. Sims 4 Darkness Rose Chocker by WisteriaSims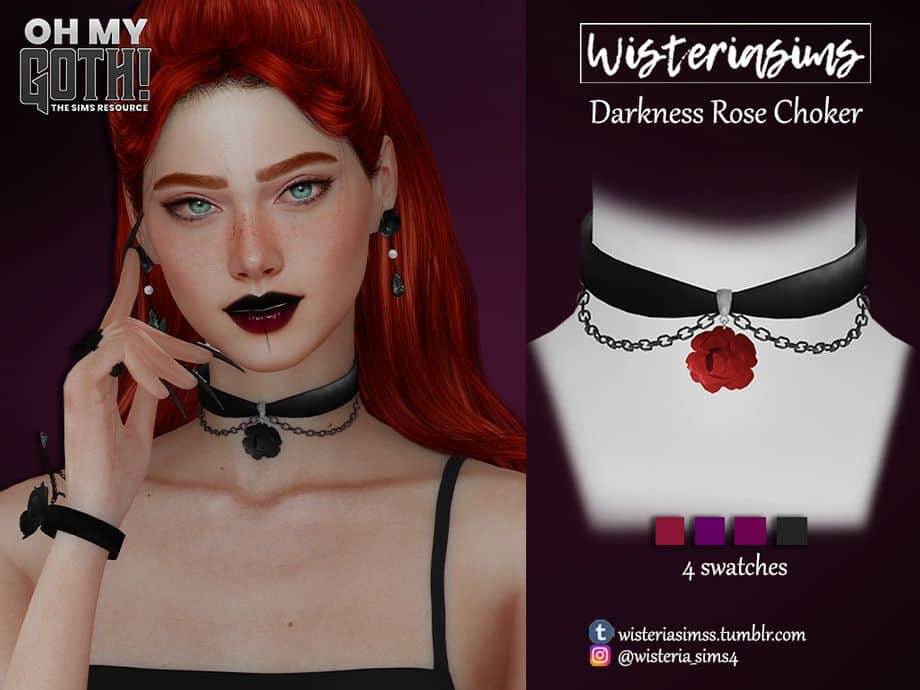 Grab this rose chocker for your sims today.
This necklace has a leather-looking neck strap, a looped chain, and a rose pendant to complete the look.
The pendant is available in 4 swatches, including black, to have an all-black look aside from the metal chain.

2. Sims 4 Goth Functional Candles by Soloriya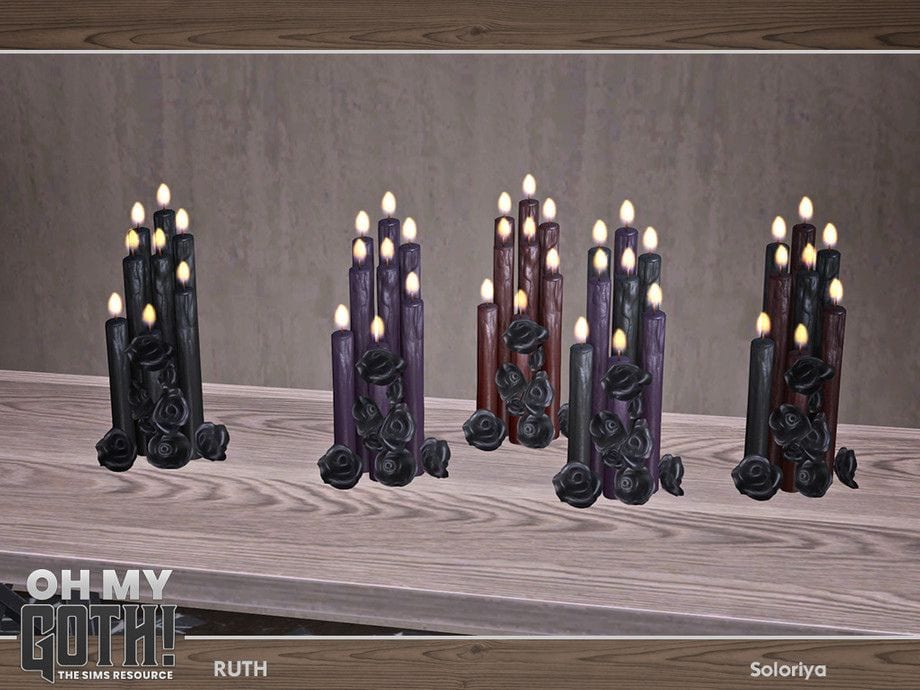 Add some ambiance to your sims home with this set of sims 4 goth candles.
These functional candles come in 5 darkish color variations, adding the perfect mood to your sims goth home.

3. Sims 4 Goth CC Hat by EvellSims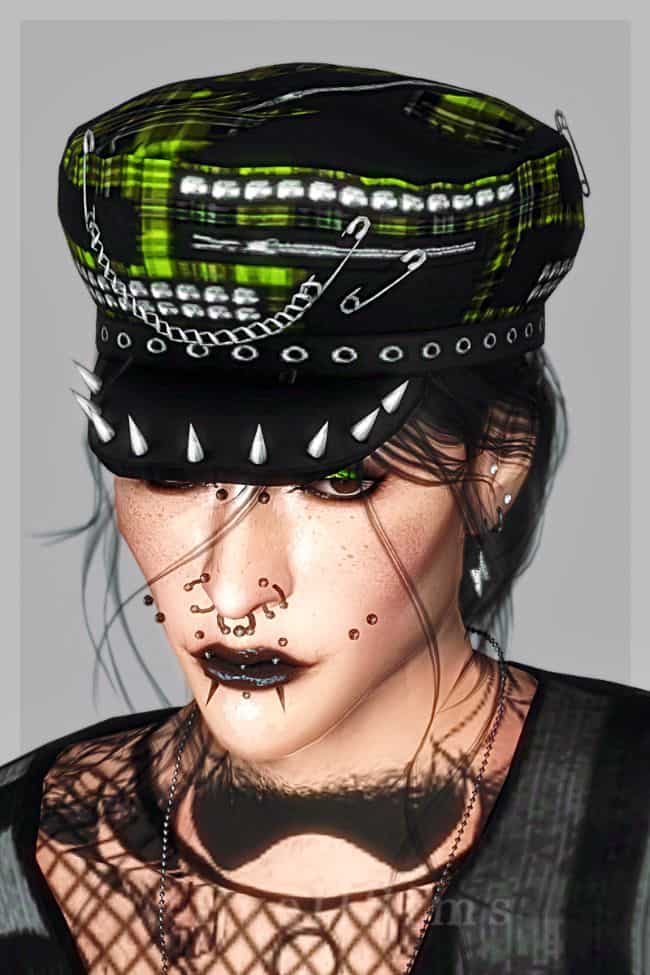 This newsboy-style hat comes with all the spikes, chains, and safety pins your goth sims could want.
The hat is available for both your male and female sims aged teen to elder and comes in 15 plaid swatches.
There are two versions of the hat, the difference being how low they sit on your sim's head.

4. Sims 4 Gothy Eyes Makeup by Drac Varian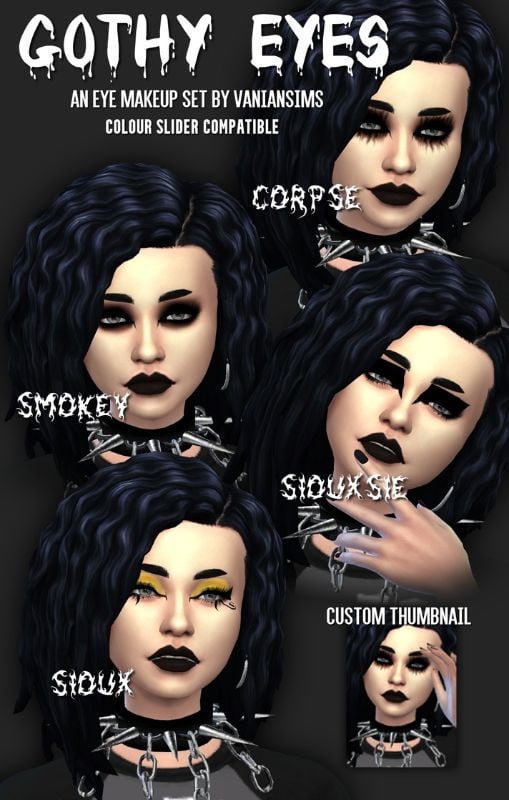 Nothing beats a dramatic eye look, and this sims 4 goth cc set lets you style your sims with 4 different eye looks.
The set includes 4 eye makeup looks, including a smokey eye and the very goth-looking Corpse cc option.
This custom content is compatible with the color slider.

5. Sims 4 Goth Makeup Set by HauntedTrait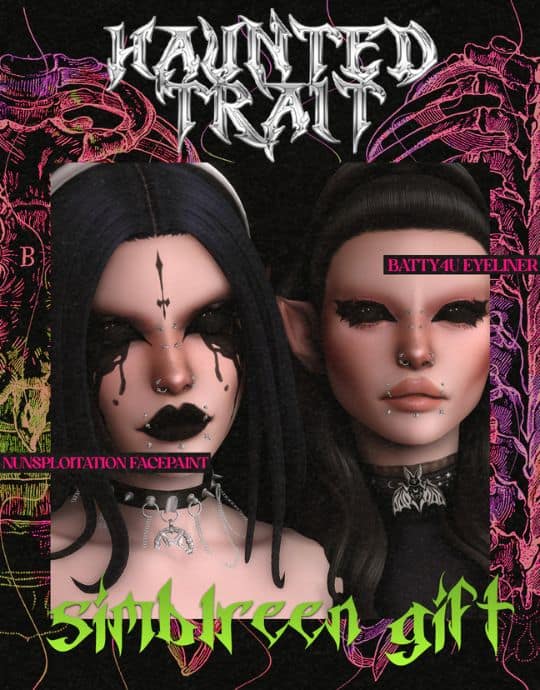 Continuing with more goth makeup options is this Batty4U eyeliner, which gives your sims bat-like eye makeup.
The eyeliner has 14 swatches, including thinner and thicker options and some bat face stamps.
You can also opt for the facepaint, which has 7 swatches and variations, including the eyes, lips, and nose.

6. Sims 4 Male Gothic Outfit CC by DanSimsFantasy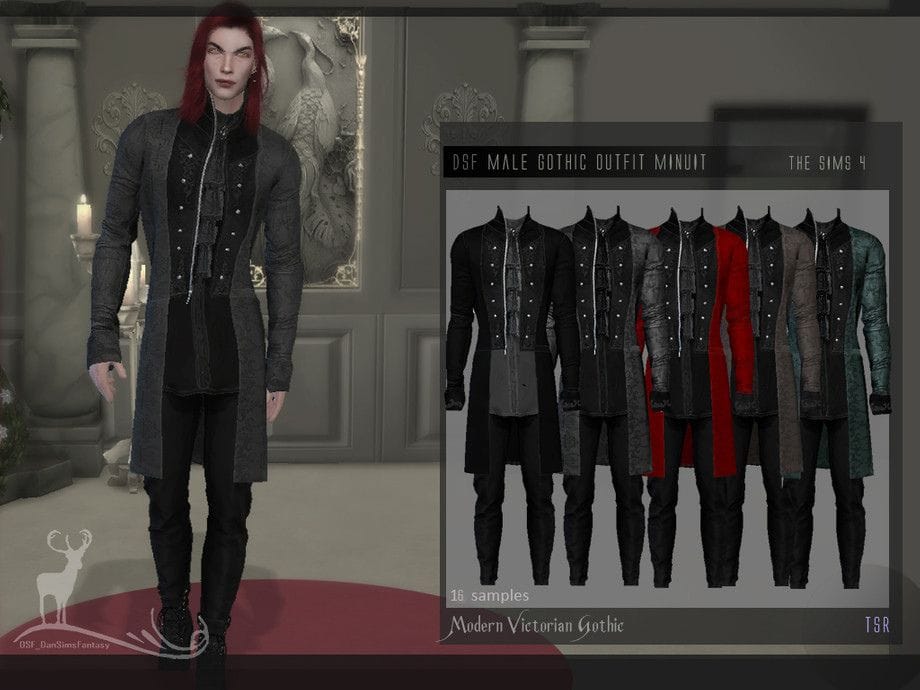 This sims 4 goth cc set includes a complete outfit for your male sims: the three-quarter length gothic trench coat, shirt, and fitted pants.
This men's outfit comes in 17 color swatches, including some darker options and some swatches with pops of color.

7. Goth Crop Tops for Sims 4 by Helsoseira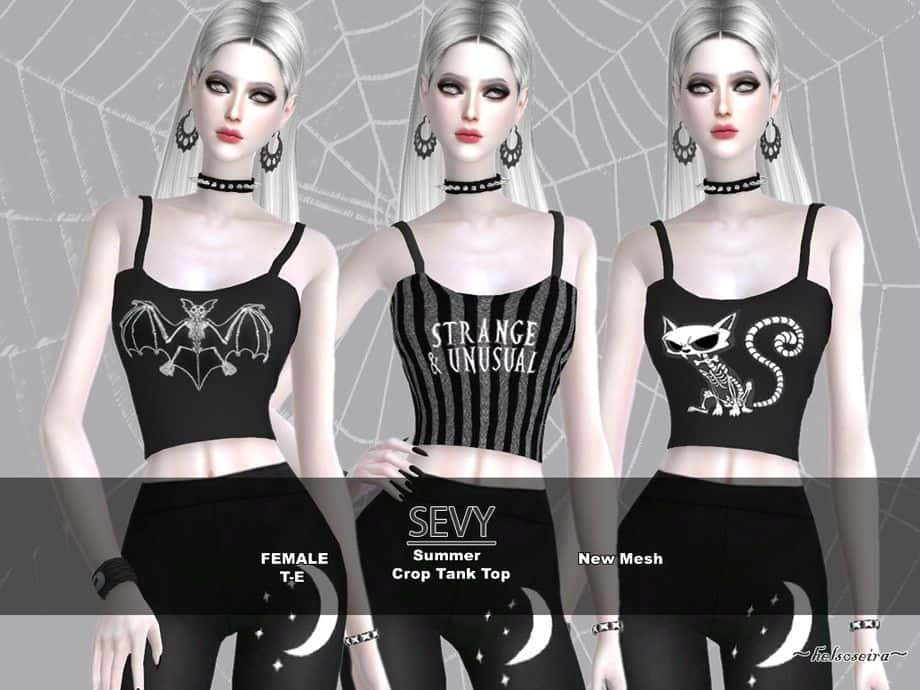 Need some goth summer crop tanks for your female sims?
This set of sims 4 goth cc has 10 swatches of crop tanks that pair great with skirts or pants.
The swatches include different graphics from bats, cats, the moon, and more.

8. Sims 4 Goth Men's Shirt by McLayneSims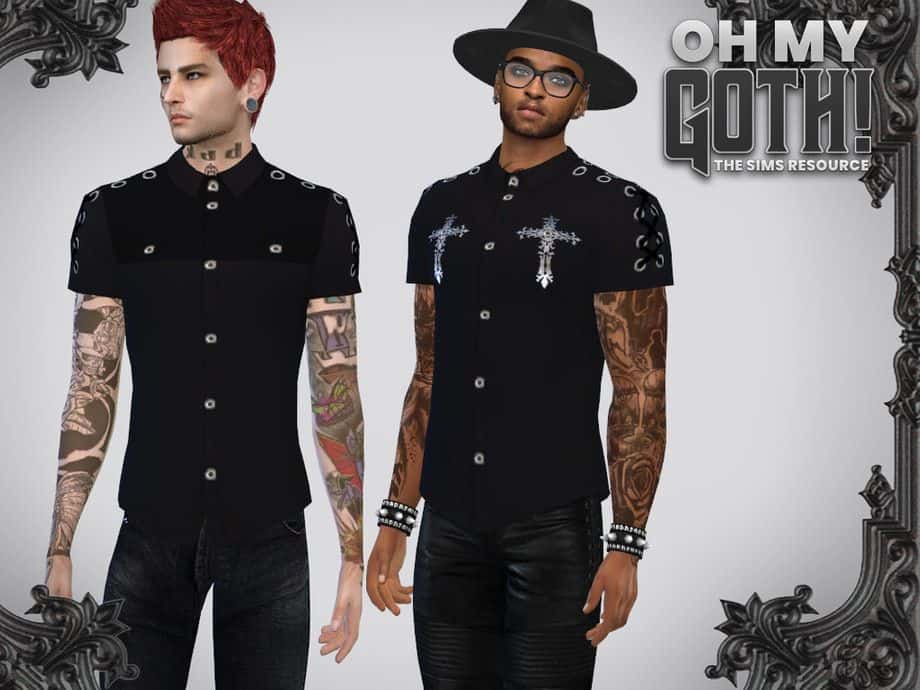 This sims 4 goth custom content piece adds some essentials to your sims closet.
Your male sims can all do with a black short-sleeve shirt, and this custom content piece comes in 4 swatches, including crosses as details.

9. Sims 4 Goth Bracelet by WisteriaSims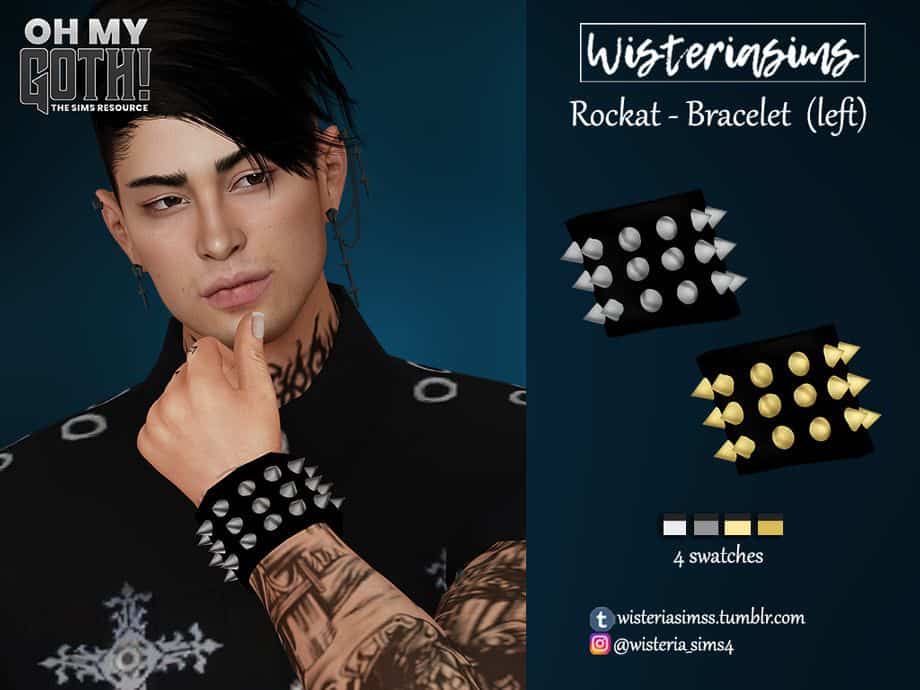 Add spikes and studs to your sims accessories collection with this goth Rockat bracelet.
This bracelet is for your male sims aged teen to elder and comes in 4 swatches, changing up the spikes and stud colors.
You can find this custom content in the Bracelet category for the left wrist.

10. Dusk Diva Collection for Sims 4 by Madlen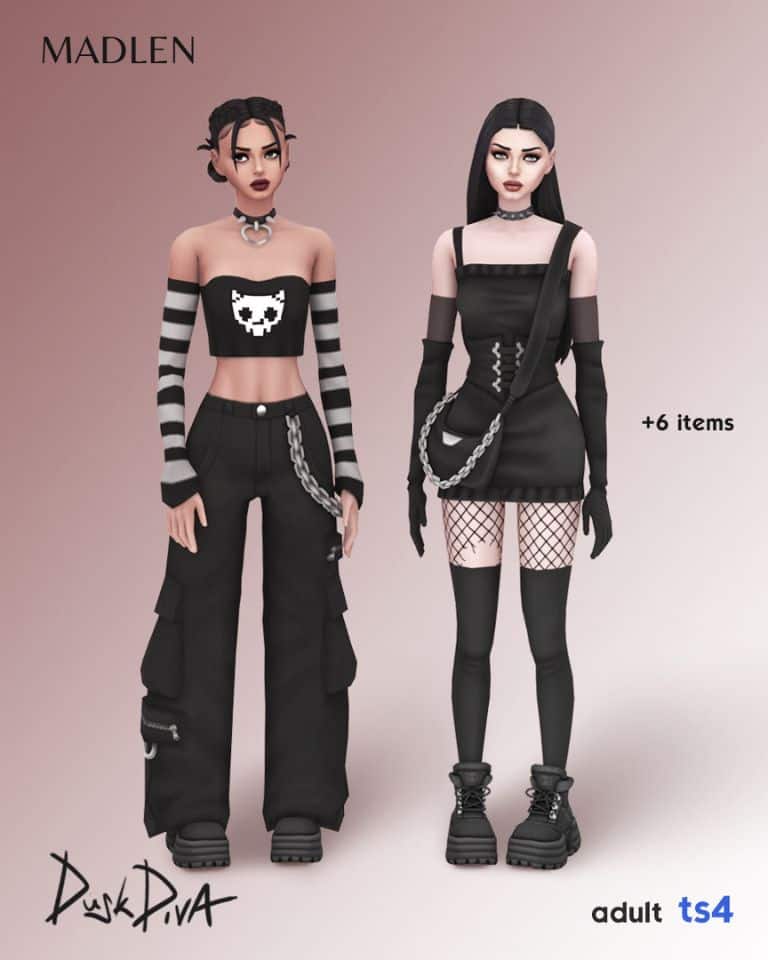 I love the pieces in this sims 4 goth cc set because you can easily mix and match them with many other items.
The set includes the following designs;
A spiked chocker
Thigh high socks
Baggy cargo-style pants
Tight dress (with & without gloves)
You can also grab the chunky black Dusk Diva shoes here.

11. Sims 4 Clade Goth Eyeshadow by RemusSirion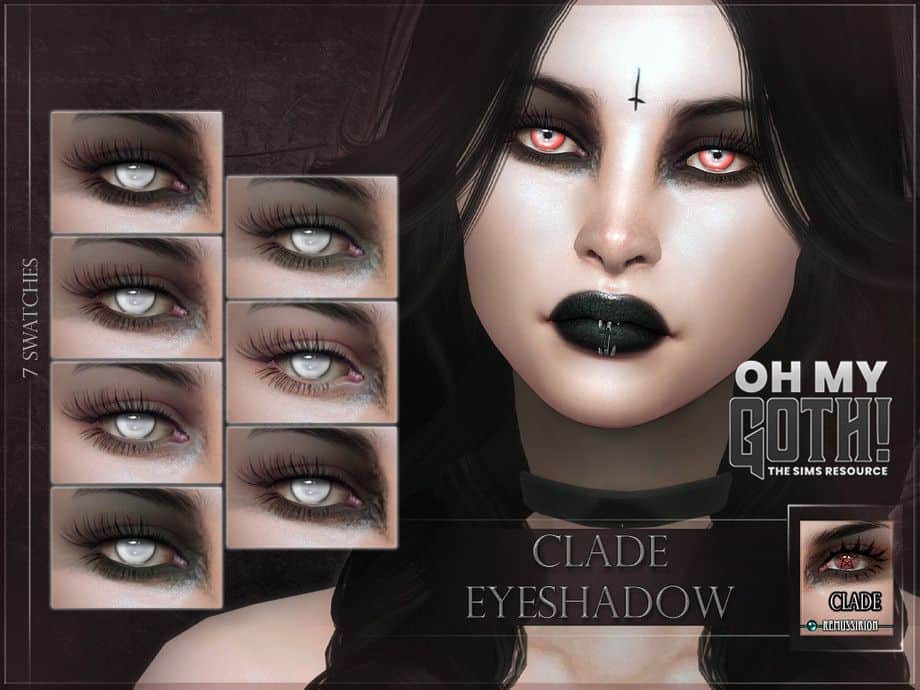 This sims 4 goth cc eyeshadow is on the messier side and makes me think of coal eyeshadow or black watercolors.
You can add a streak of black eyeshadow starting past the tear ducks and going upwards, or you can opt for a full-eye look.
There are 7 different swatches to play around with.

12. Edgy Goth Hair Custom Content by Kamiiri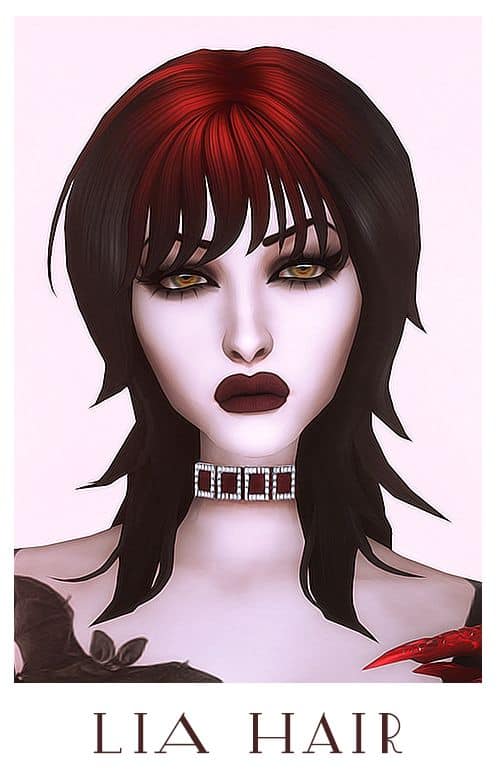 While not technically labeled as a goth hairstyle, this layered hair cc is a great option.
And while you're grabbing the Lia, you can also check out the other hair and clothing pieces included in the collection for some of your other sims.
The Eden tights look amazing and pair perfectly with a short black shirt.

13. Female Gothic Outfit by DanSimsFantasy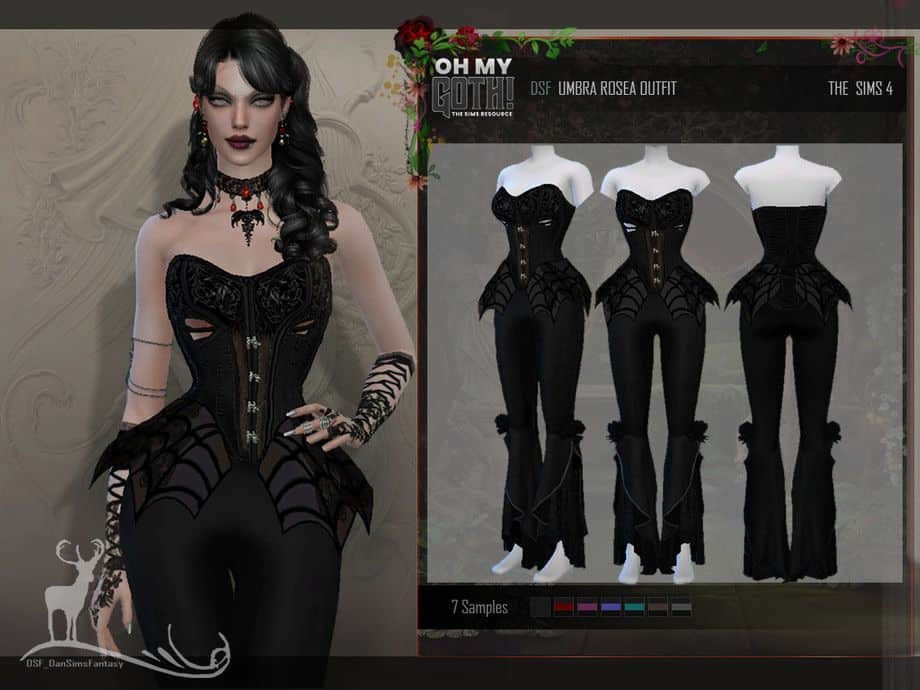 This set is similar to the male gothic outfit listed at #6, but this version is for your female sims.
The outfit includes a tight corset with tight pants that flare somewhat at the bottom and have rose details near the knees.
The translucent screen is fitted at the waist, reminding me a little of bat wings in their shape and design.

14. Sims 4 Goth Makeup CC by Lady Simmer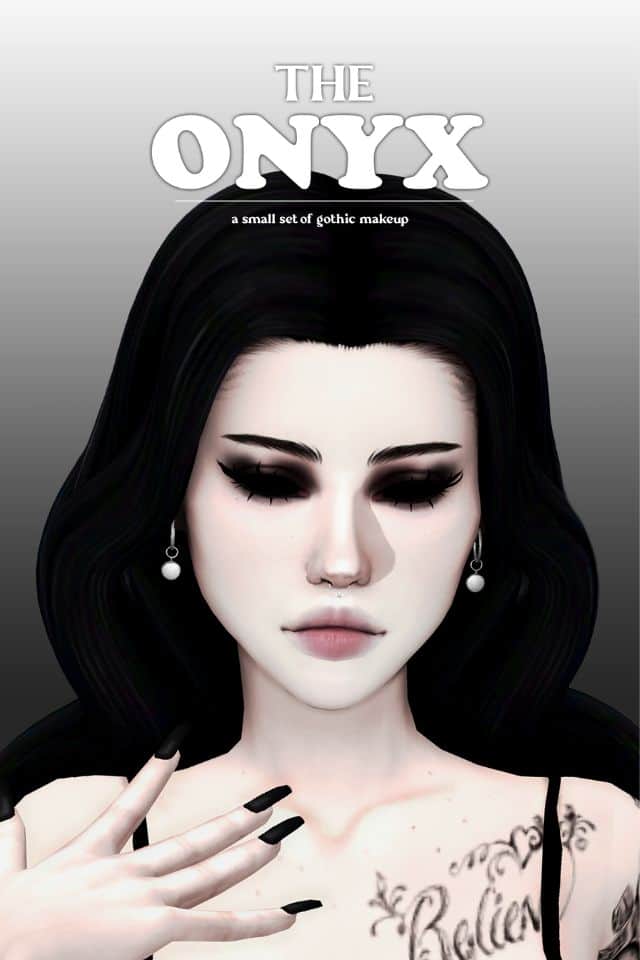 For this sims 4 gothic makeup set, you can opt for white or black solid eye colors.
You also have the choice of 3 eyeshadow swatches on the smokey side.
The lipstick custom content has 4 swatches; the primary color focuses on the center of the bottom lip.

15. Sims 4 Gothic Home Decor by Soloriya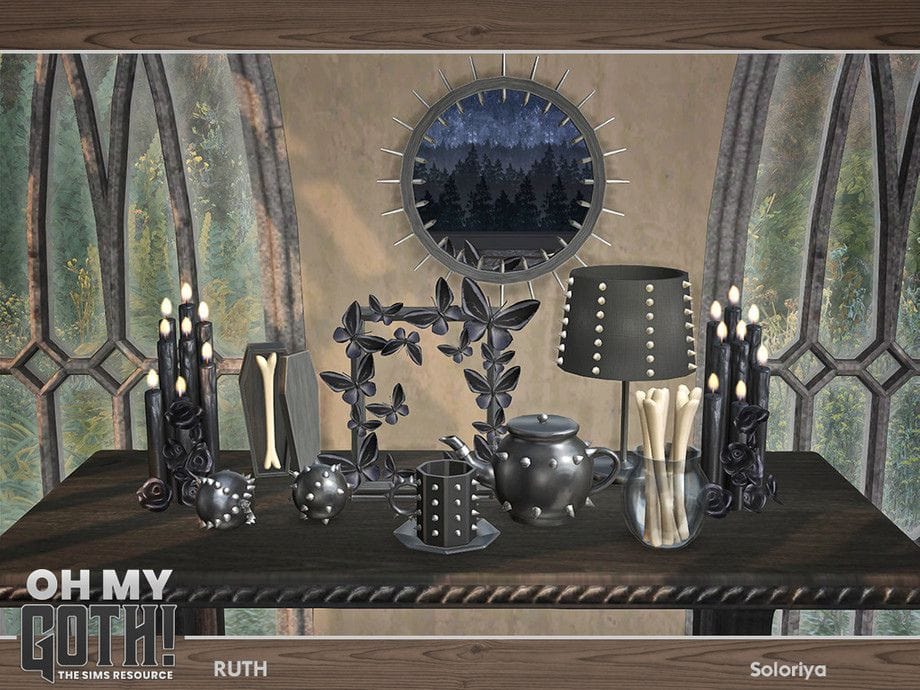 Add more goth decor to your sims home with this collection of decorative and functional pieces.
The set includes 10 objects;
A spiked cup
Functional candles
Bones in a coffin
Bones in a jar
A teapot
Table light
Butterfly frame
Wall mirror
This sims 4 goth cc collection is available in 3 color palettes (black, purple, and deep red).

16. Sims 4 Riot Pants by EvellSims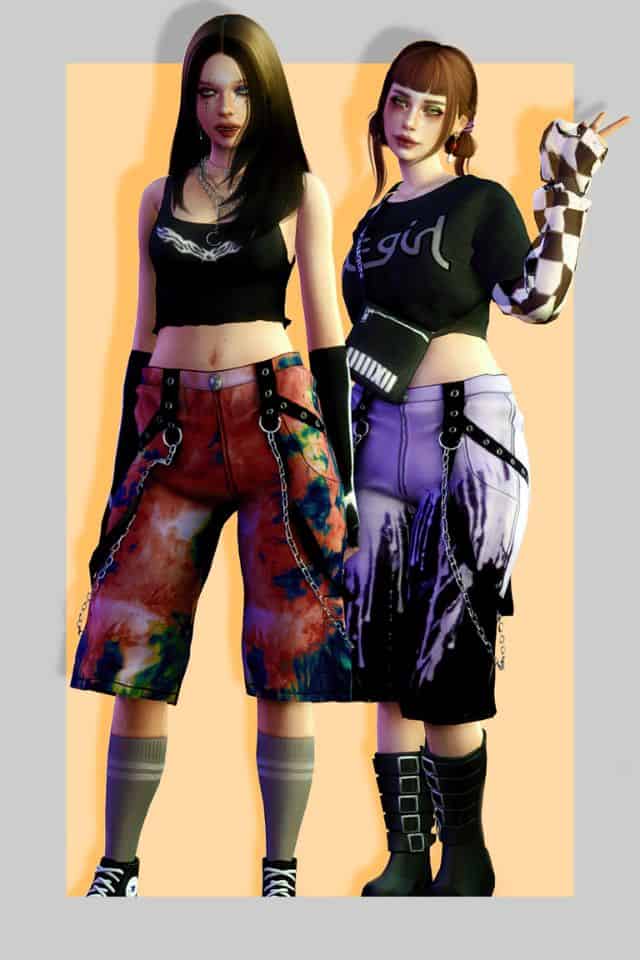 These Bermuda-length shorts are the perfect pair of casual loose shorts to add to your sims pile of essential clothing pieces.
The shorts come in 25 color swatches, each styled with hanging suspenders, stubs, and chain details.

17. Sims 4 Goth Pancho Jacket by McLayneSims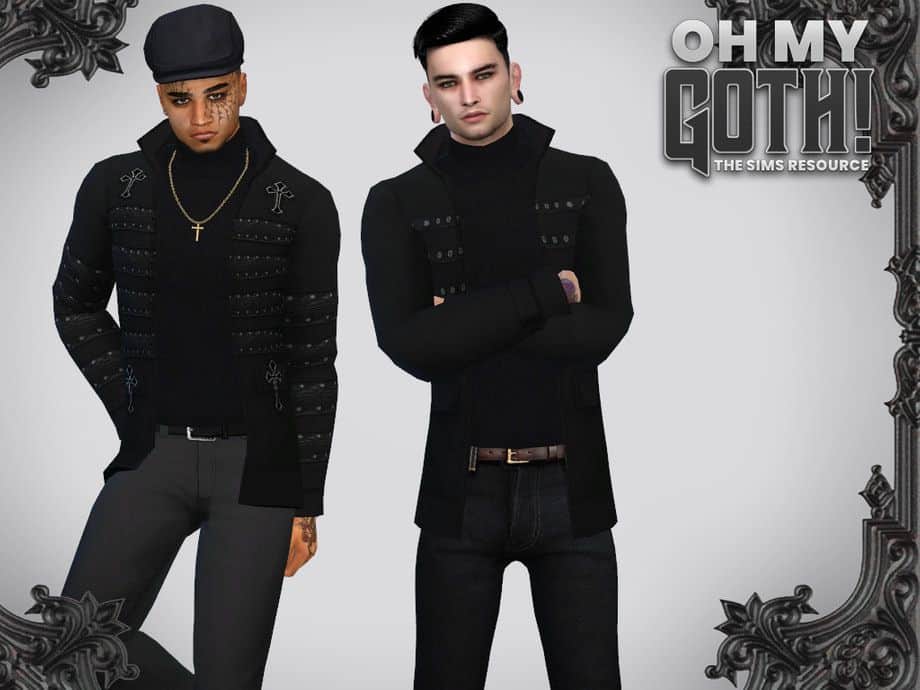 This modern goth jacket will add some great style to your male sims.
There are 3 swatches for this jacket: a simpler design with central studs on the front.
The second swatch is a mix of studs and buckles, and the third is heavily studded and has crosses.

18. Female Clothing Goth Set by Blue Craving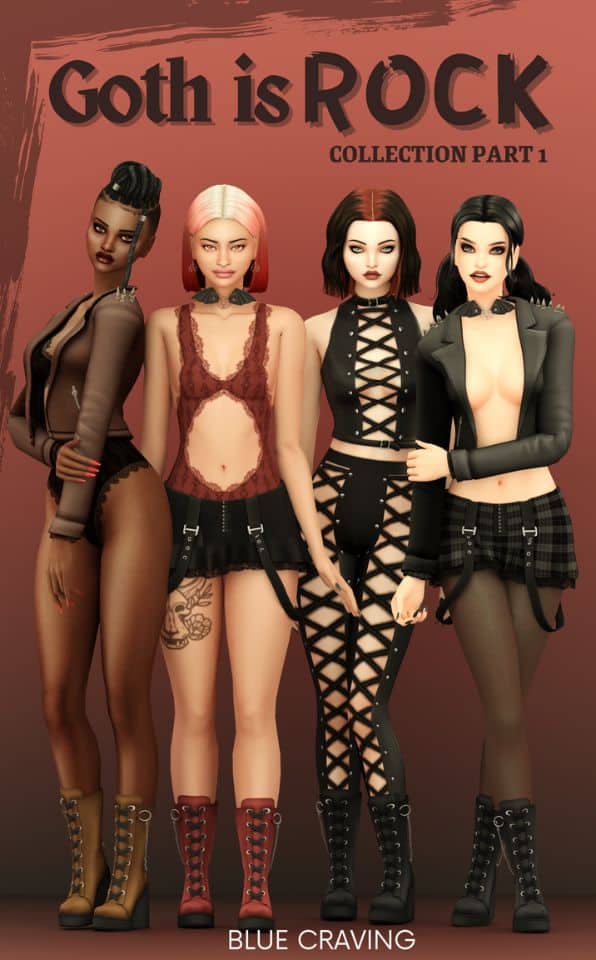 Part 1 of Blue Craving's goth cc collection comes with 7 unique pieces to create exciting goth looks.
The pack includes a cropped leather jacket with spiked shoulder details, a crisscross latex top, and matching latex pants.
You will also find a lace bodywear piece, a short pleated skirt with hanging suspenders, calf-length boots, and pentagon jewelry.

19. Sims 4 Goth CC Shoes by Regina Raven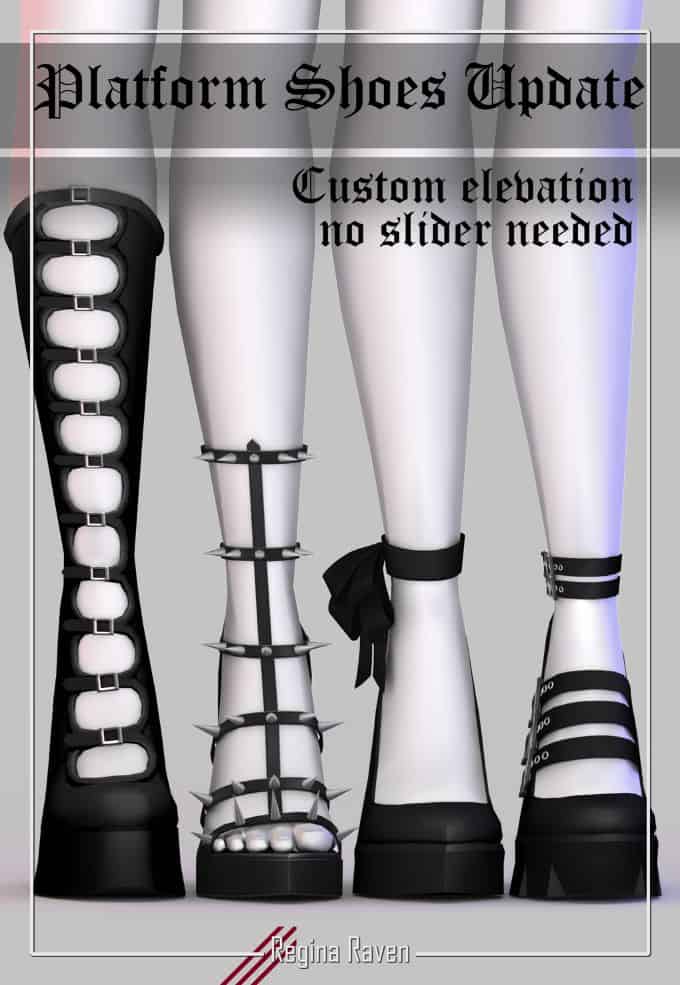 Our sims can never have enough shoe options, and while chunky shoes are great, this collection of platforms heels will work with so many outfits, too.
This set includes 4 pairs of shoes; I especially love the spiky heels and knee-high platform boots.

20. Goth Tights for Sims 4 by Mellosakicc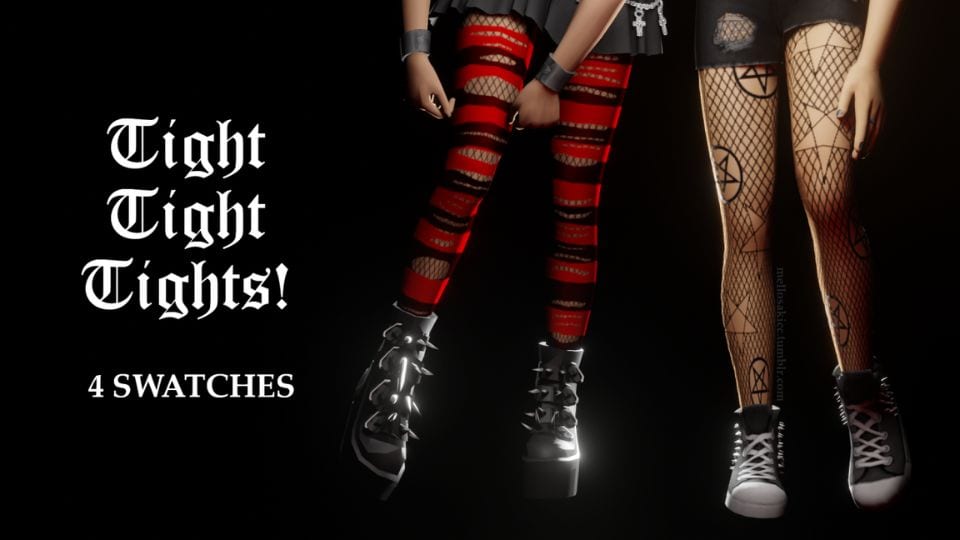 This small set of tights includes 4 swatches to mix and match.
There are two netted versions, the pentagram swatch and one with skeleton bones.
Pair these tights with some black spiky shoes, and the look is complete.

21. Oh My Goth Pentagram Dress by Helsoseira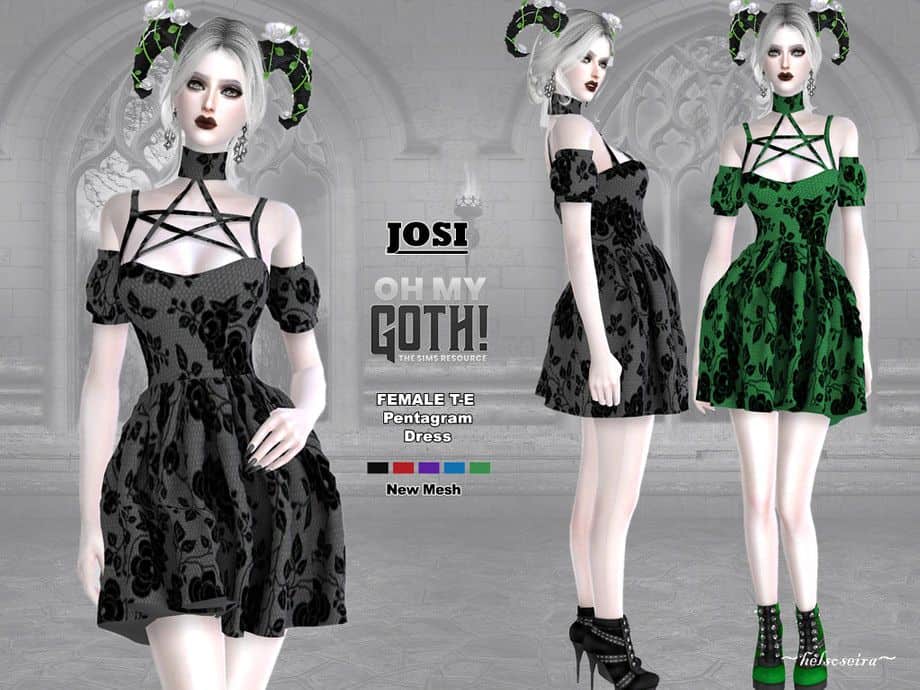 This sims 4 goth cc dress blends dark and sexy with a touch of sweet floral details.
The cap sleeve mini dress goes great with heels or can even be paired with some goth-style boots.
Plus, for some added darkness, the color details of the dress form a pentagram design.

22. Sims 4 Goth Dining CC by Soloriya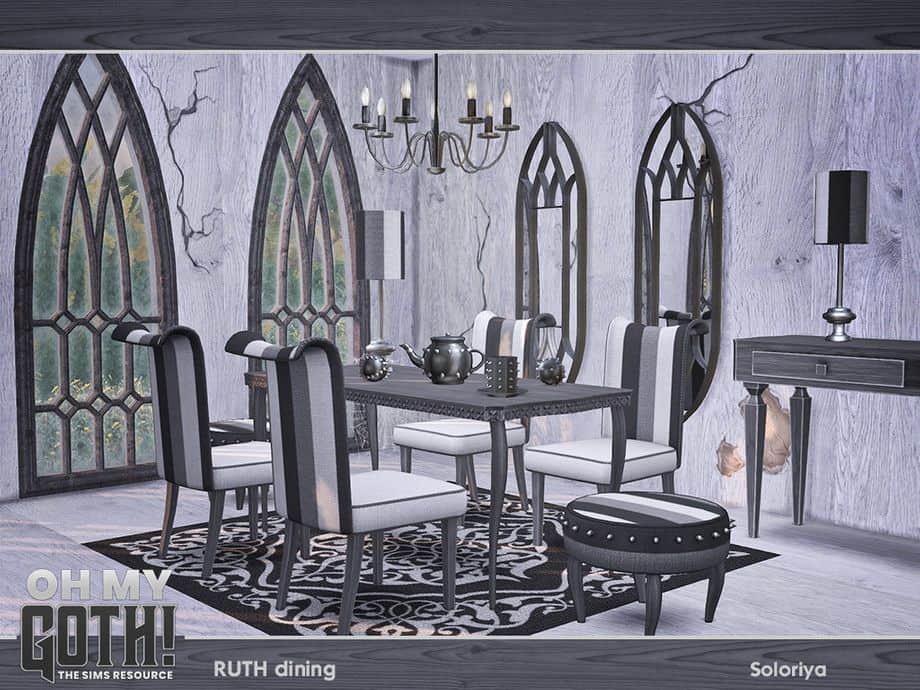 This goth dining set includes everything you need to create the perfect dining experience for your goth sims.
The collection includes;
A large wall mirror
Ceiling lights
Striped dining chairs
Rectangular dining table
Hallway table
Table lamp
Round pouf
Square rug

23. Goth Bedroom Custom Content Set by Sixamcc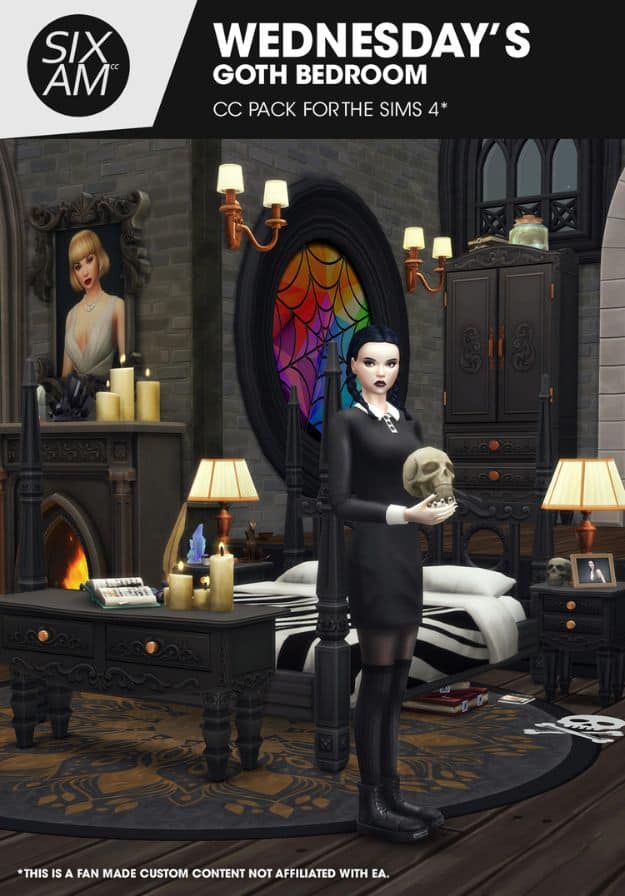 Snap up this sims 4 goth cc bedroom set inspired by Wednesday.
This custom content pack includes a couple of bed and seating options.
You will also find a cozy fireplace, a dresser, a rug, paintings, a skull sculpture, lamps, and table options.

24. Sims 4 Gothliner Kit by StrifeWife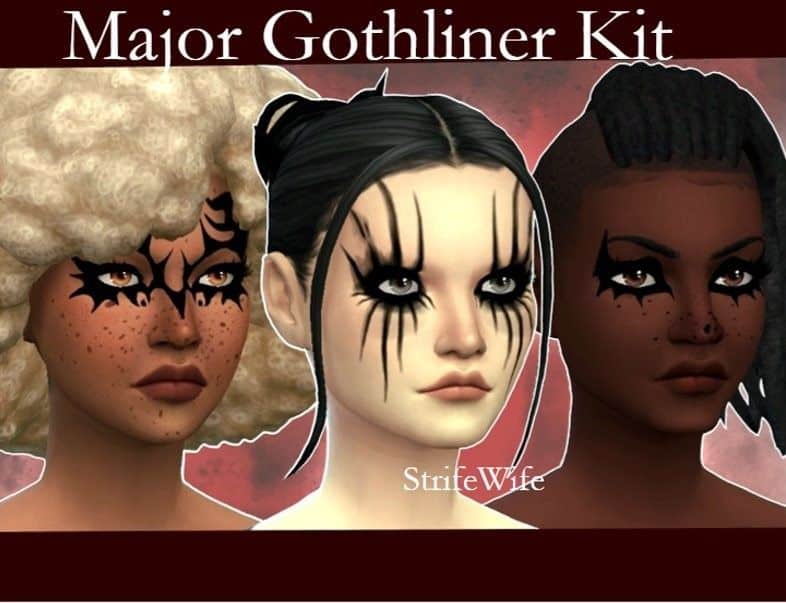 Add some unique goth eyeliner looks to your sims with this makeup set.
There are various eyeliner options, including a thicker liner and exciting and interesting eyeliner designs.
The middle eyeliner above is the most dramatic swatch and will look amazing with a fully decked-out goth outfit.

25. Elder Goth CC Set by Liliili-Sims4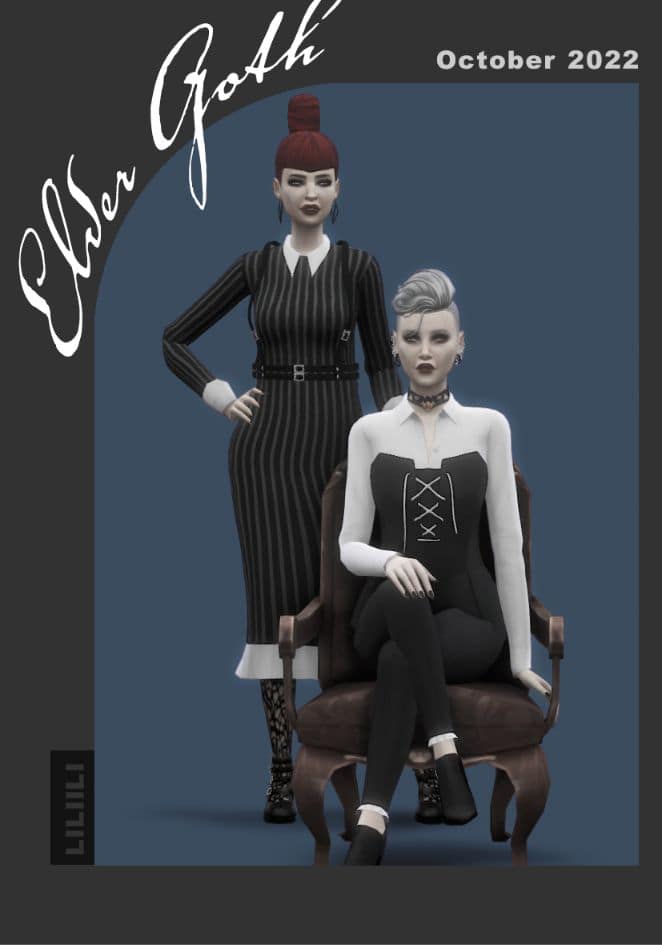 This Elder Goth set includes some great custom content pieces for your female sims, and the short Beverly hairstyle above works for your male sims, too.
The set includes:
Two hairstyles
A pair of tight skinny pants
A striped dress
Three top options (two of which have suspenders)

26. Male Leather Trenchcoat by SimmieV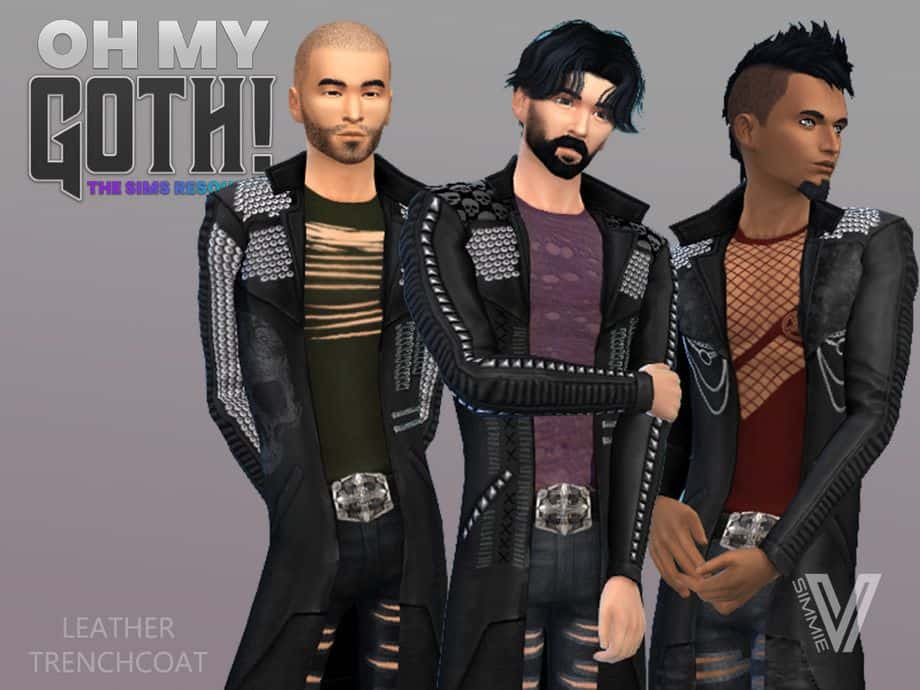 This edgy leather trench coat has all the details you could want in a classic goth jacket (metal studs, safety pins, zippers, and dangling chains).
This trench coat comes in 8 designs, giving each sim a chance to be unique.

27. Goth Tattoos CC Set by Mellosakicc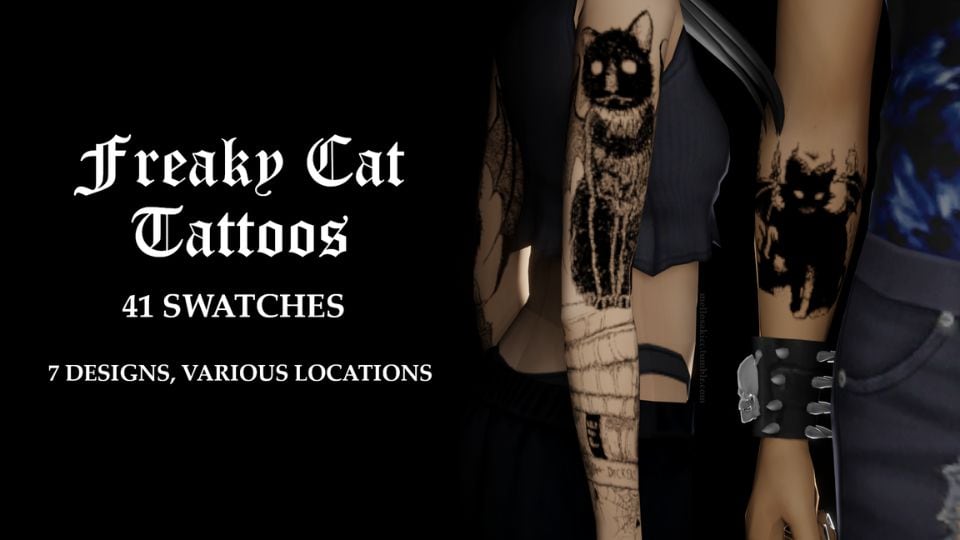 Need some gothic tattoos for your sims?
This tattoo set comes with 41 cat tattoo swatches, which include 7 designs and multiple locations.
You can get black cat tattoos throughout your sim's body from chest to thighs.
These tattoos are for your male and female sims aged teen to elder.

28. Goth Rock CC Collection by Blue Craving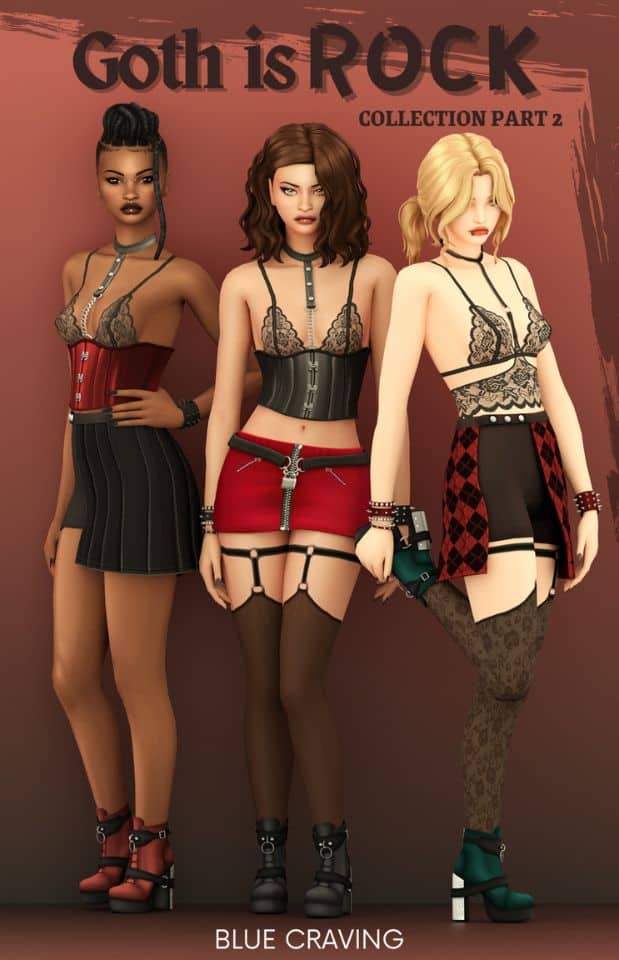 With the second part of the Goth collection, this pack includes another 8 custom content pieces complimenting the first set.
The collection includes leather bracelets with stud and spike details and a leather hoop necklace.
My favorite items are the lace top and locked corset; you will also find a half-pleated skirt and a naughty padlock skirt.
To complete your sims goth look, you can opt for garter stockings, chunky ankle-length boots, and piercings.
Sims 4 Goth CC: Final Thoughts
When it comes to sims 4 goth cc, you can mix and match the pieces to put together an entirely gothic look or blend in an object or two depending on your sims style.
Whether your sims prefer expressing themselves through their clothes or enjoying a complete gothic experience, the cc exists to create the world you want.
If you have any questions or suggestions, feel free to leave us a comment below or tag us on Tumblr.
And don't forget to share and save this pin for later!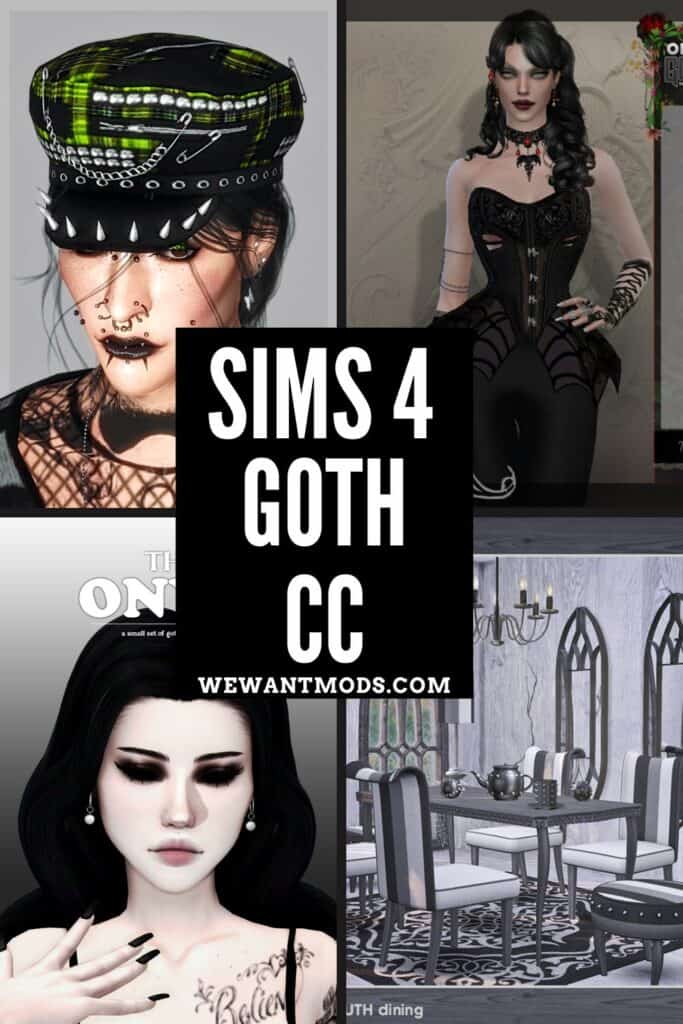 Other Sims 4 Custom Content Lists
27+ Sims 4 Goth CC: Unleash Your Sims' Dark Side