27 Sims 4 Horse Poses: Capture Your Horses Adventures
Use this collection of Sims 4 Horse Poses to capture all your latest horse ranch adventures.
Poses are a fun part of the sims 4 gaming experience, especially if you love keeping keepsakes of your sims.
There are so many types of poses, from selfies to infant poses, but today we will focus on sims 4 horse poses.
We've combined a mix of single, couple, and group horse poses to use with your cutest stallions and mares.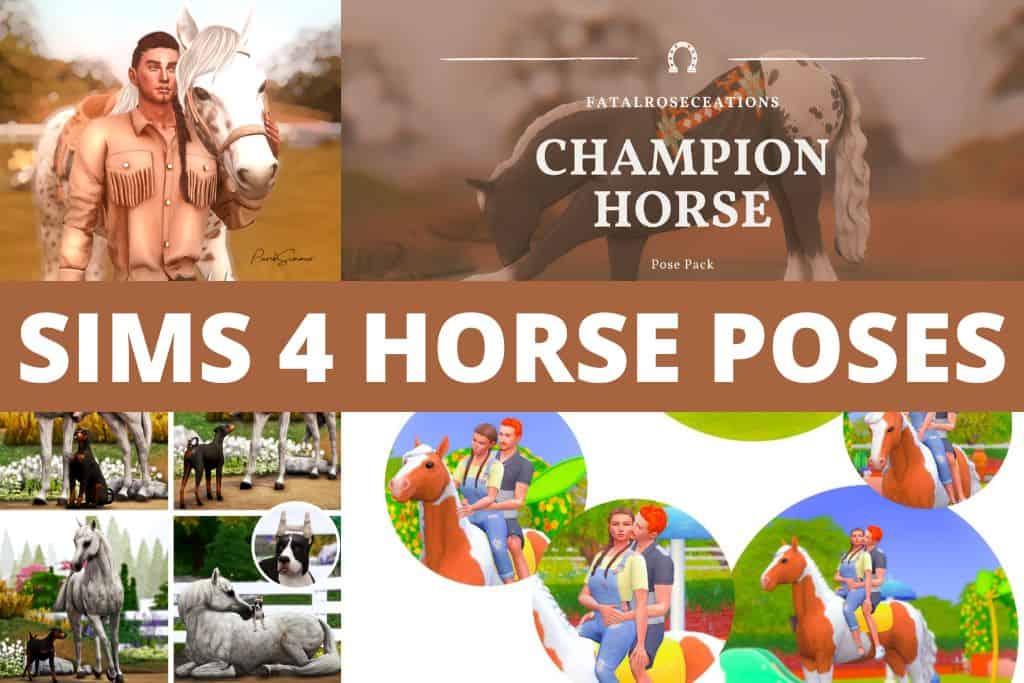 And once your done with this post, you can check our list of the newest Sims 4 Horse Ranch Mods.
Disclaimer: The following mods are neither endorsed nor affiliated with The Sims, Maxis, or Electronic Arts. Any use of mods (custom content or game mods) should be done with caution and with the knowledge that there may be risks.
Best Sims 4 Horse Poses
From solo poses to couple poses, the list below includes a variety of sims 4 horse poses.
To use these horse poses, you'll need to install two mods to your Sims 4 game:
You can also refer to our Sims 4 Poses Guide if you need help getting started.
1. Sims 4 Bestie Horse Pose Pack by KD89_3Dstudios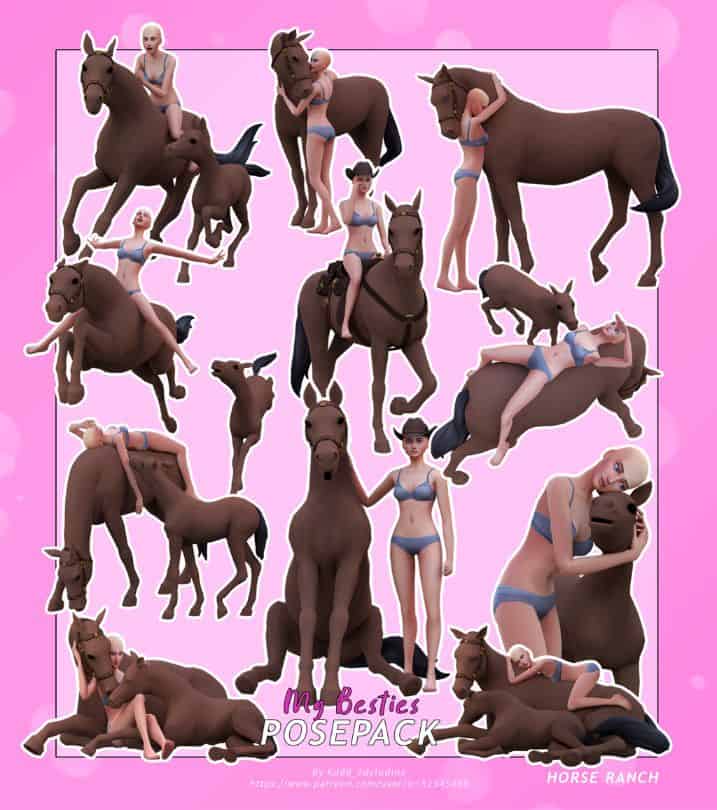 This adorable besties pack has 10 poses between your sim and newest horses.
Take a mix of screenshots of your sim riding or lying down on their horse, or simply lounging around together on the ground.
Have a new foal on the farm? Capture some tender moments between your sim, their mare, and foal.

2. My First Pony Pose Pack by Snarky Witch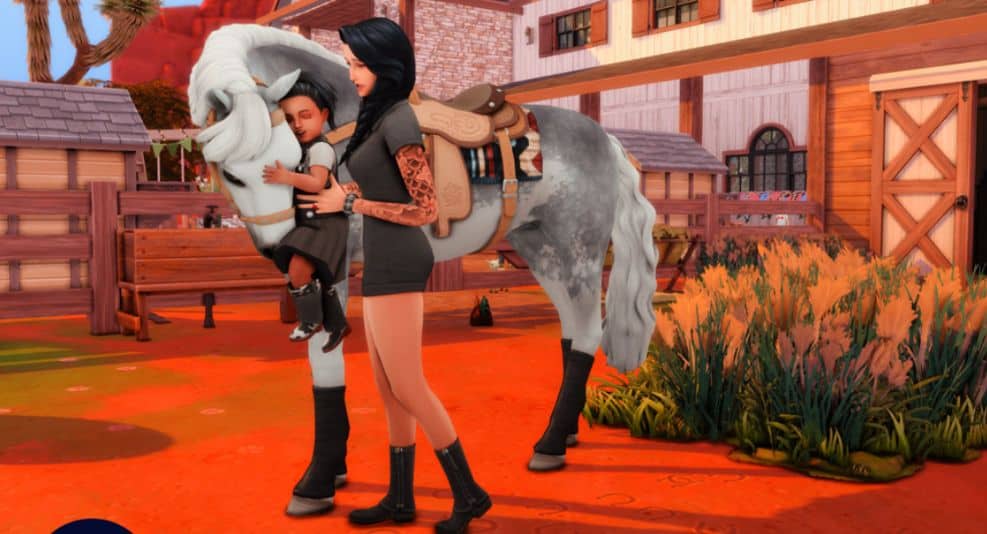 After multiple simmer requests, Snarky Witch kindly updated their deco horse pack to work with the Horse Ranch EP.
This horse pack includes 10 poses (the original 9 and one bonus pose with an infant).
The infant sim meeting their horse is such a sweet pose.

3. Sims 4 Dressage Poses by CCAColdcloud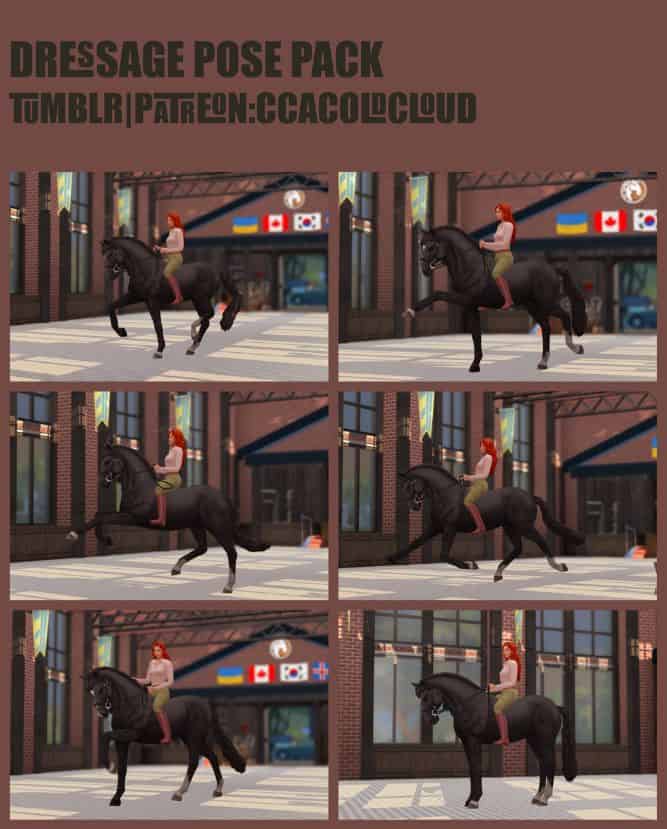 If your thoroughbreds are heading into a competition, you'll want some screenshots to remember those important moments.
This pack of sims 4 horse poses focuses on dressage horse riding from a beat, a trot to a canter.
You can also find version 2.0 of the dressage pose pack here.

4. Sims 4 Champion Horse Poses by Fatal Rose Creations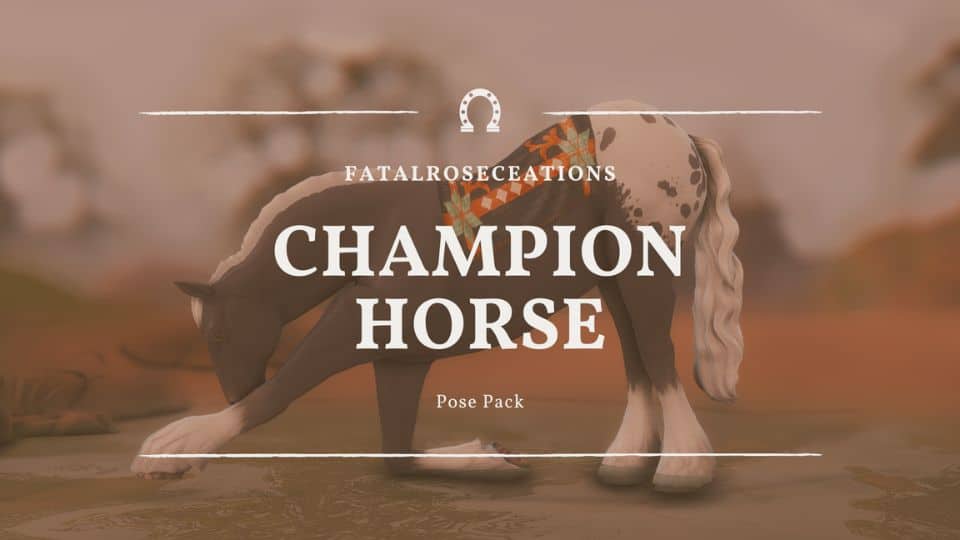 These sims 4 horse poses showcase your horses beautifully, from two-legged poses to kneeling gracefully.
The pack includes 6 poses which in CAS replace the Brave trait.

5. Liberty Horse Pose Pack for Sims 4 by CCAColdcloud
This liberty poses pack focuses on capturing your beautiful thoroughbred in playful and graceful poses.
These poses will make great pictures to display around your sim's newest ranch house.

6. Sims 4 Simstagram Horse Poses by Elfily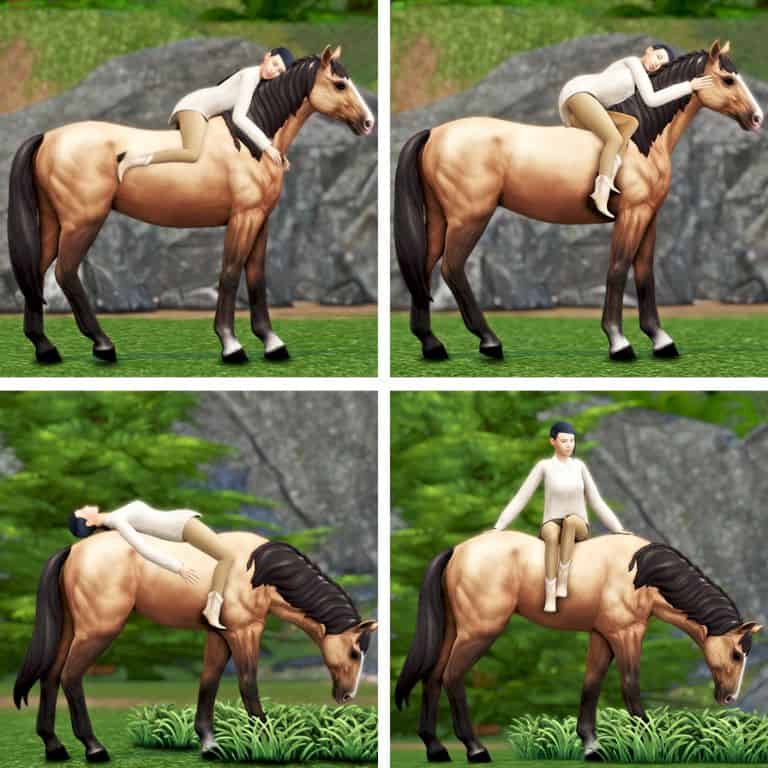 Although I'm kind of scared of horses, I've always dreamed of having this kind of relationship with one.
This pack of sims 4 horse poses lets your snapshot your sim relaxing and enjoying time with their horse.
Whether leaning backward on their horse's back or snuggling up against its mane, these poses are all about bonding.

7. Sims 4 Horse Riding Poses by JJ Poses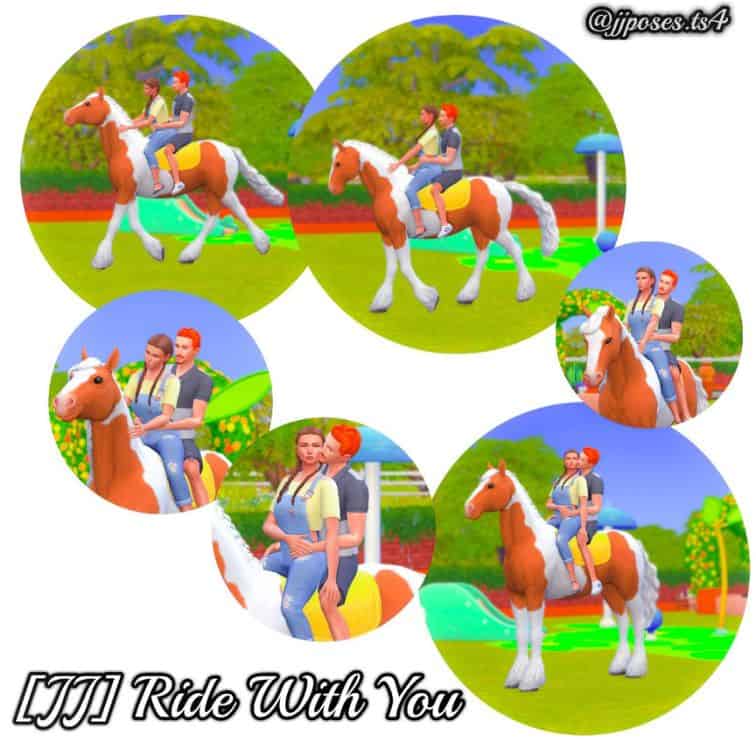 Send your sims on a horse riding date and screenshot all their romantic moments together.
With their arms holding their date close, your sim couple will sit back to the chest on the horse.
The pack includes both stationary, trot, and canter poses with your sims mounted.

8. Giddy Up Horsie Pose Pack by ParisSimmer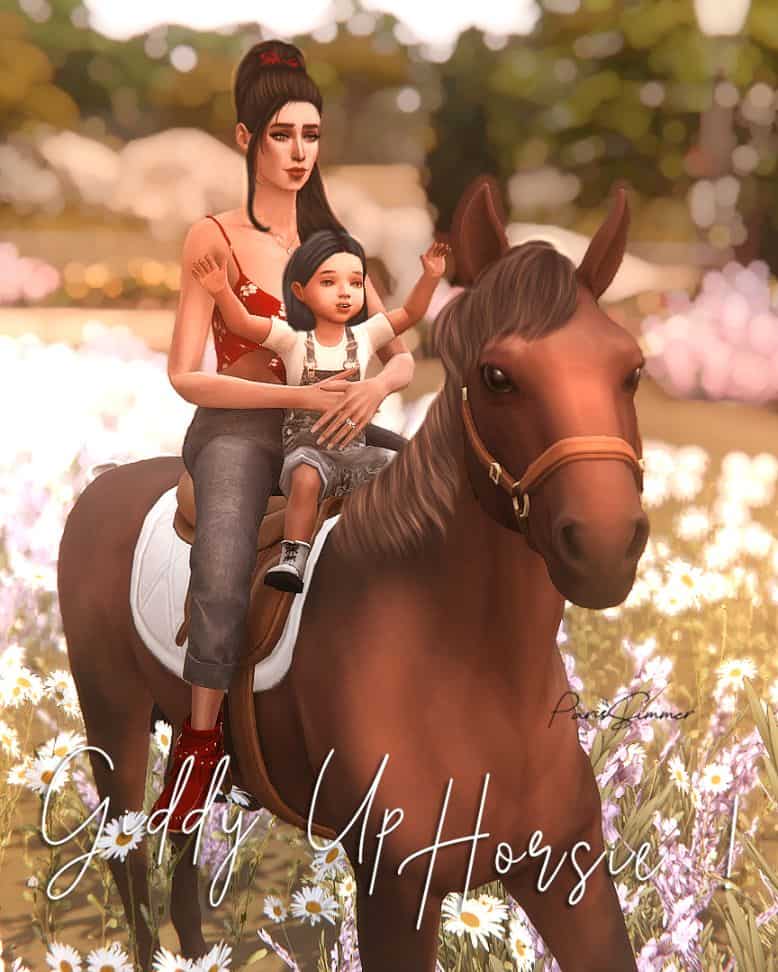 This set of 7 beautiful horse poses captures the sweet moments between your young sims and their horse.
From cautiously meeting their horse to their first mount and riding around the ranch, these horse poses will create beautiful keepsakes.

9. Horse Poses for Sims 4 by Uiako's Poses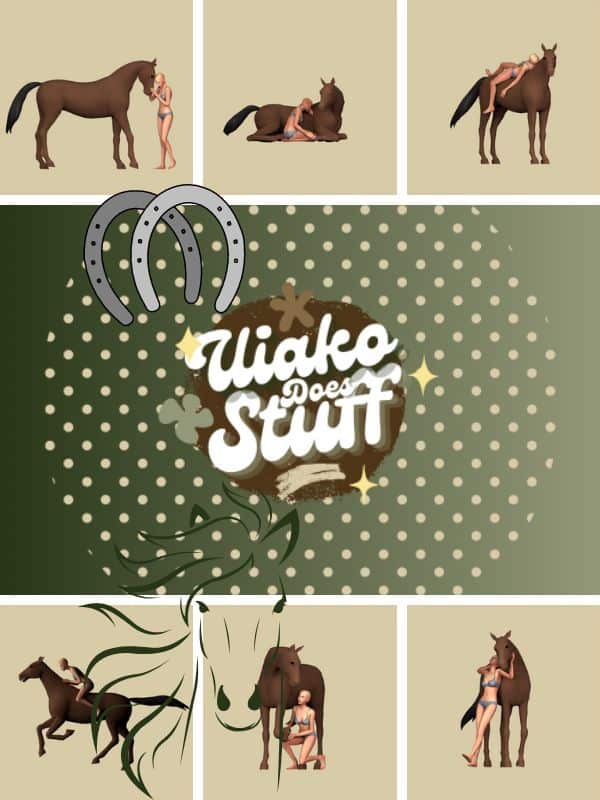 This pack of 6 sims 4 horse poses is for your sim and their newest steed.
The poses include a mix of your sims standing with their horse, riding, lying on, and leaning on them.

10. Howdy Pose Pack for by KD89_3Dstudios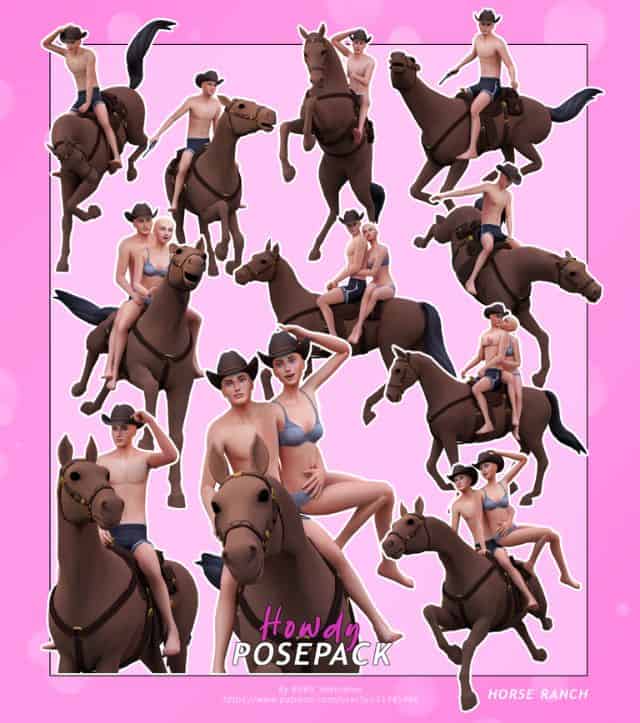 This set of horse poses is a great western pack focused on cowboy poses.
There are 10 couple poses in this pack, and I especially love the cowboy horse bucking options.

11. Sims 4 Horses & Dogs Poses by Elfily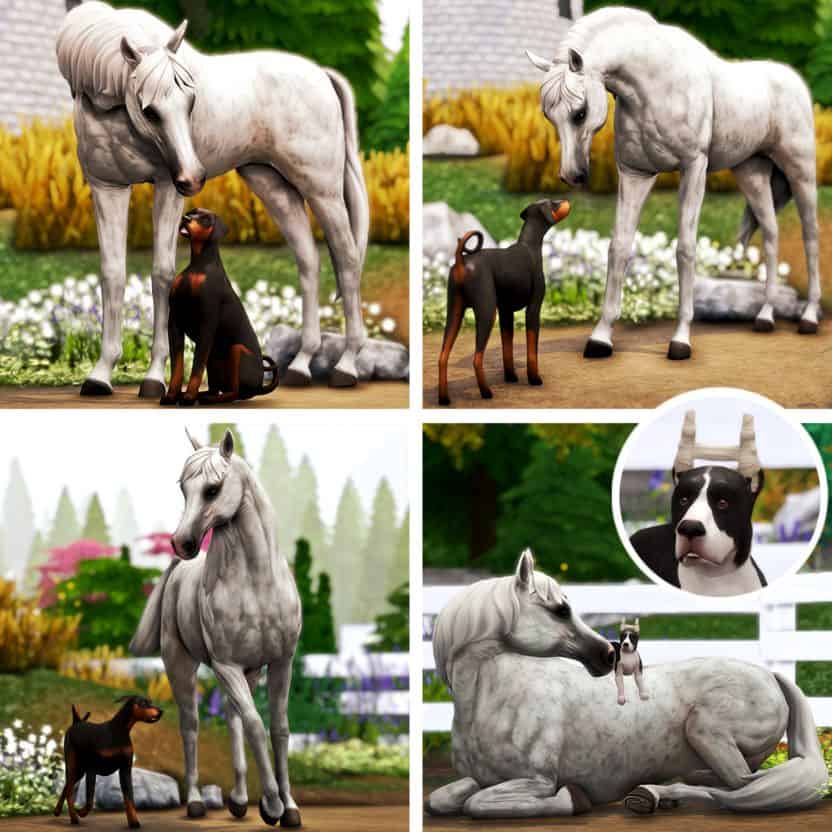 What's cuter than dogs and horses bonding and hanging out on a ranch?
This pack of poses includes 4 poses for horses, 3 for large dogs, and one for your smallest furry friends.
12. Sims 4 Pasture Horse Poses by CCAColdcloud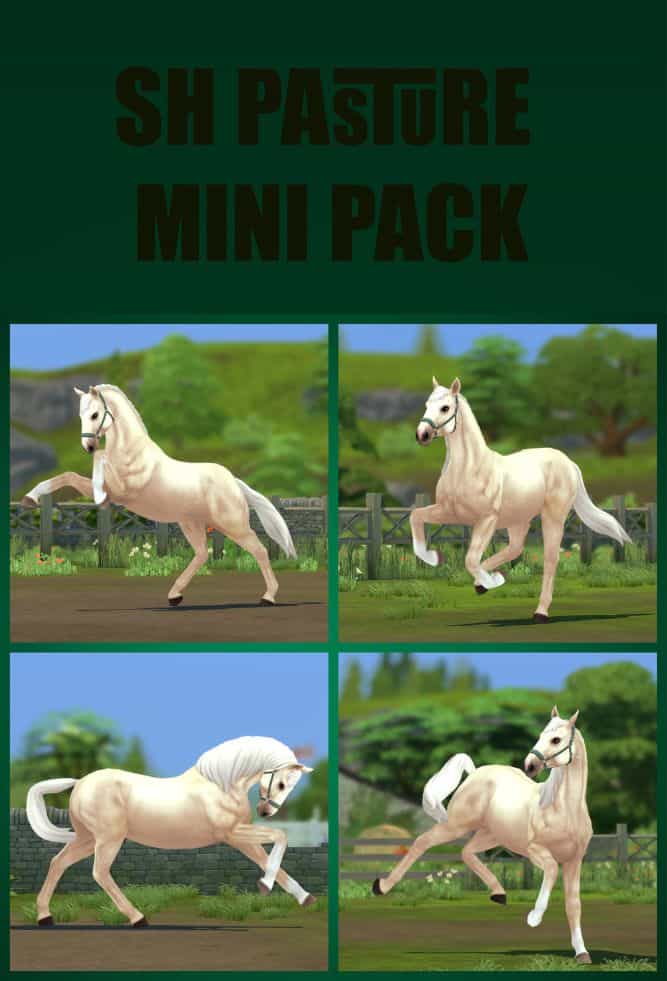 Grab this mini pack of sims 4 horse poses and capture your mares and stallions frolicking on the pasture.
It's just a cute little pose pack focused on your horses enjoying their free time on the ranch.

13. My First Horse Poses by Simsulani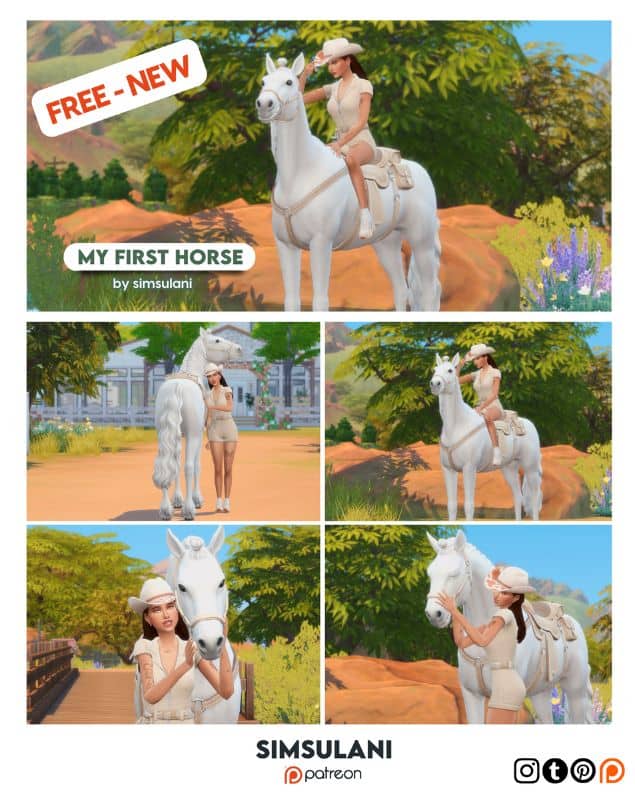 This set of horse poses seems perfect for a photoshoot between your sim and their new horse.
Every sim needs to get to know their horse, and this pose pack explores the initial meeting to the first ride.

14. Sims 4 Horse Photoshoot by CCAColdcloud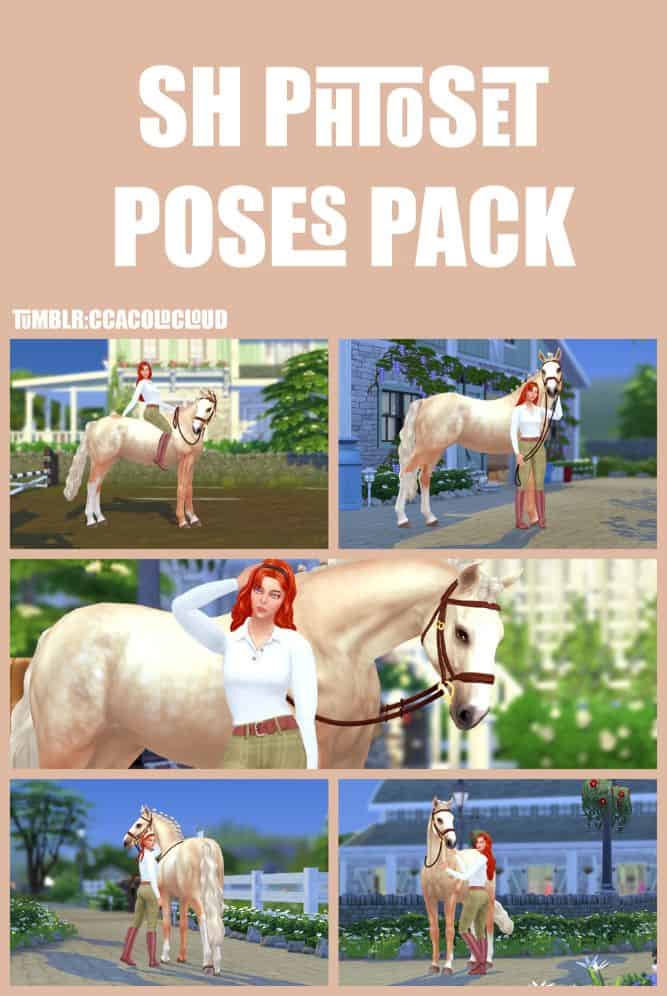 Snap a pic of your sim and their horse with this pack of photoshoot-style poses.
Your screenshots will capture your sim modeling their best angles for the camera with their horse as the cutest "prop".

15. Honest Work Horse Pose Pack by Snarky Witch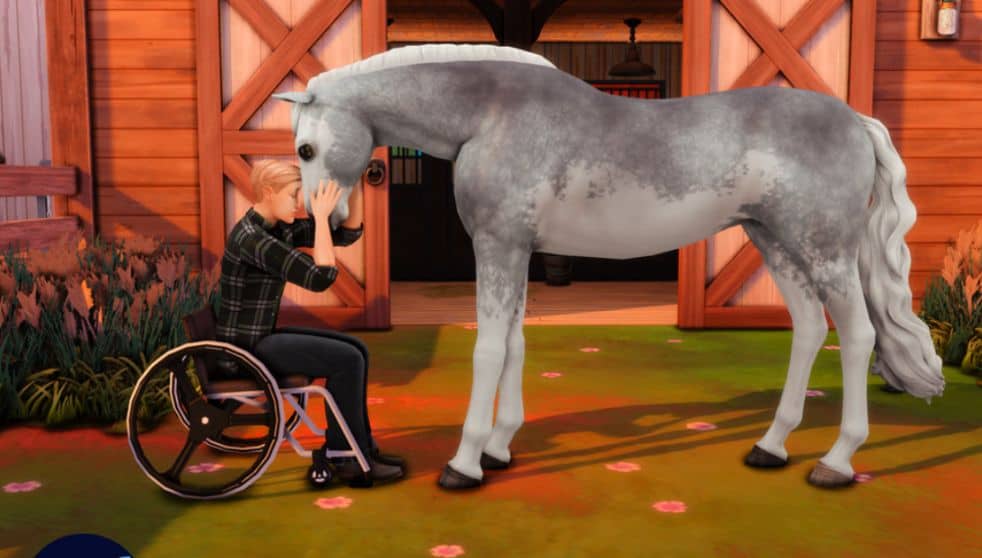 The sims 4 is all about bringing realism to the game, so I was extremely pleased to see this set of wheelchair horse ranch poses.
These poses focus on your sim's hard work on the ranch while requiring a wheelchair.
The pack includes 6 single poses, 1 group pose, and 6 couple poses, primarily for your sim and their horse.
Although these poses are intended for wheelchair users, they can still be used with a chair or other seating options of the same height.

16. Sims 4 Horse Whisperer Poses by ParisSimmer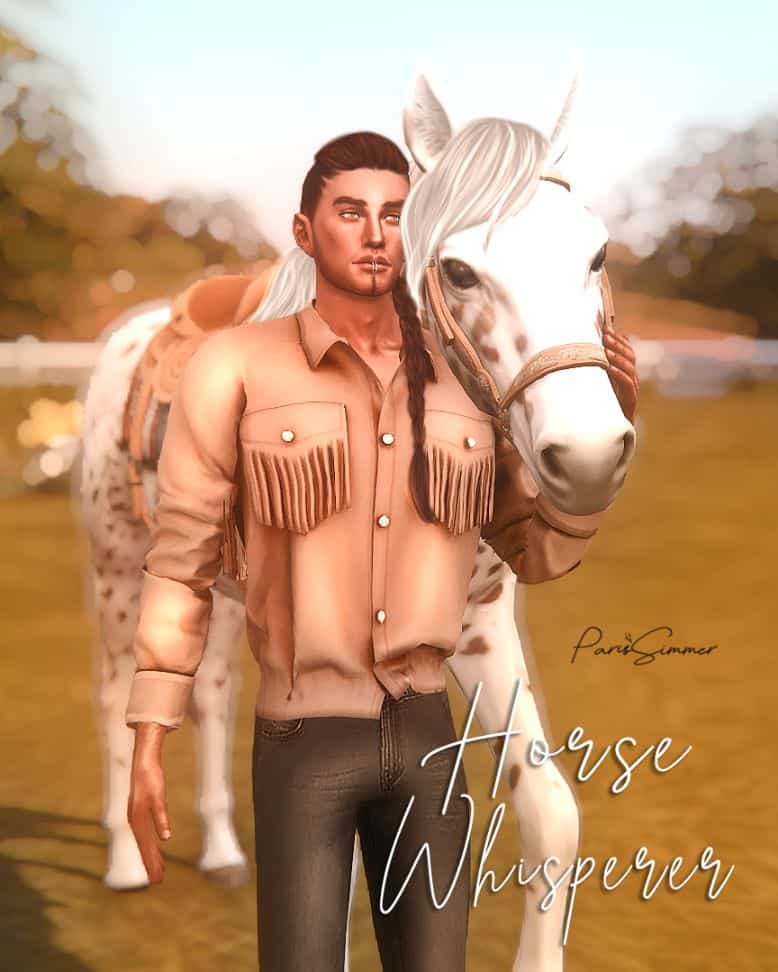 If you believe people can communicate with animals, then this horse whisperer poses pack has the perfect selection of poses.
The pack includes 10 poses focused on your sim and horse bonding through tender and unspoken communication.

17. Horse Life Pose Pack for Sims 4 by KD89_3Dstudios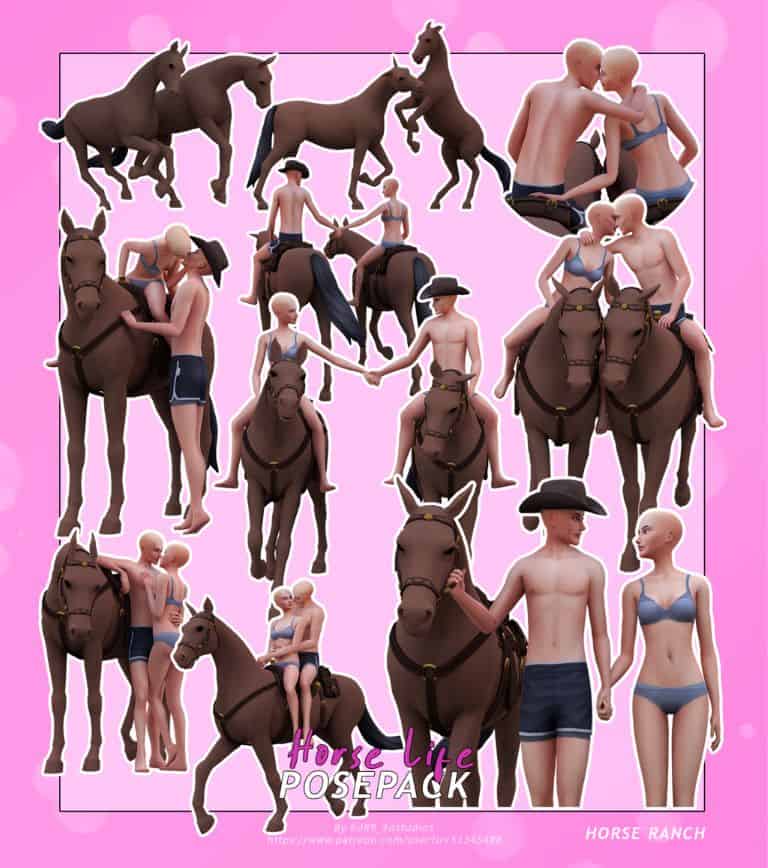 This sims 4 horse pose pack includes a mix of couple and horse poses.
Take some sweet snapshots of your sim couple enjoying a pasture ride or their horses playing together in the field.

18. Sims 4 Horse Poses by Evermore Stubs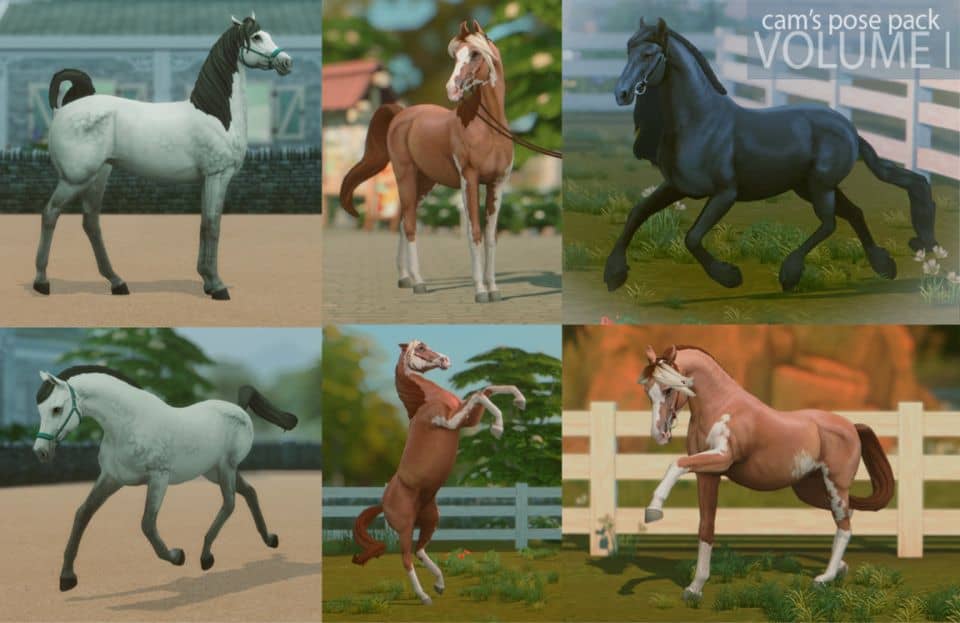 This set of horse ranch poses features 6 poses centered on Arabian-focused poses.
From rearing to a trot and gallop, you can snapshot your beautiful Arabian horses in all their glory.

19. Young Horse Pose Pack by CCAColdcloud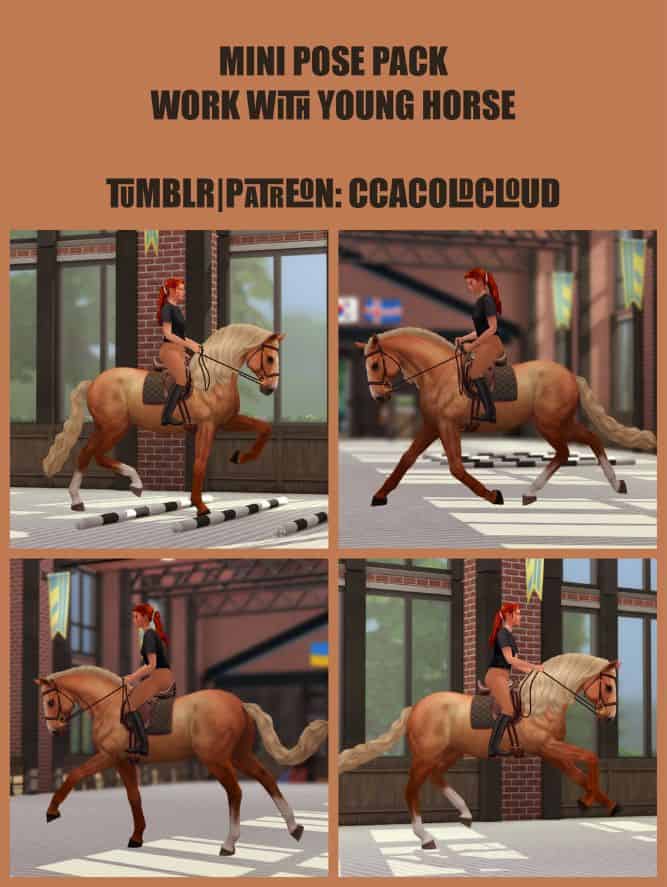 Does your ranch have some younger horses making their arrival?
This pack of sims 4 horse poses focuses on your sim training a young horse so they can be ready to win future competitions.

20. Sims 4 TreadMill Pose Pack by Simmisstrait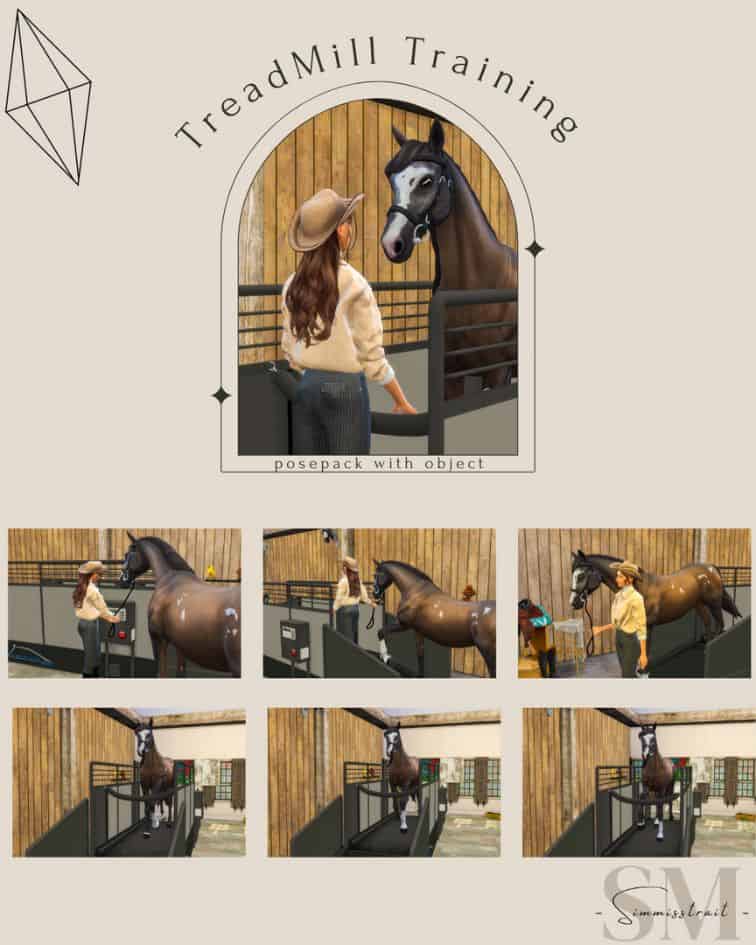 This pack of sims 4 horse poses is for taking pictures of a horse training on a treadmill.
Among the seven poses included, three are for a horse only, and the other four are for a horse and a sim.
You can get the setting and the treadmill cc through some links provided on the poses' page.
21. Sims 4 Jumping Posepack by Turkeywitch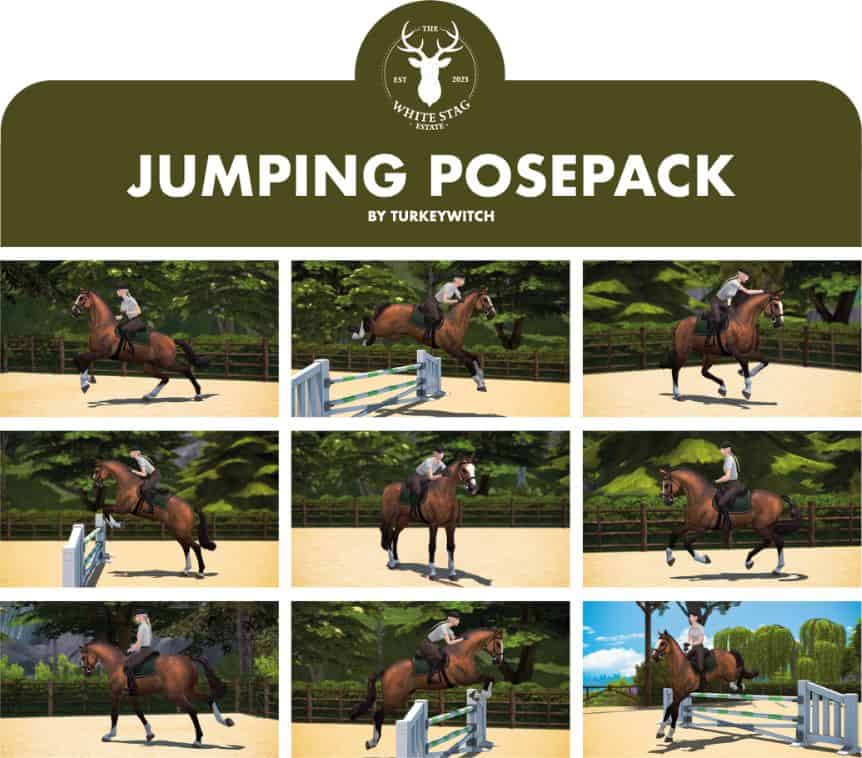 If you're interested in taking pictures of your sims 4 horse jumping over obstacles, this pose pack is for you.
This set has nine poses of your sims riding their horse on an obstacle course.
There are five poses of your horse trotting around the training ground, with four others jumping over pole obstacles.

22. Sims 4 Gallery Poses for Horses by Coyoteeth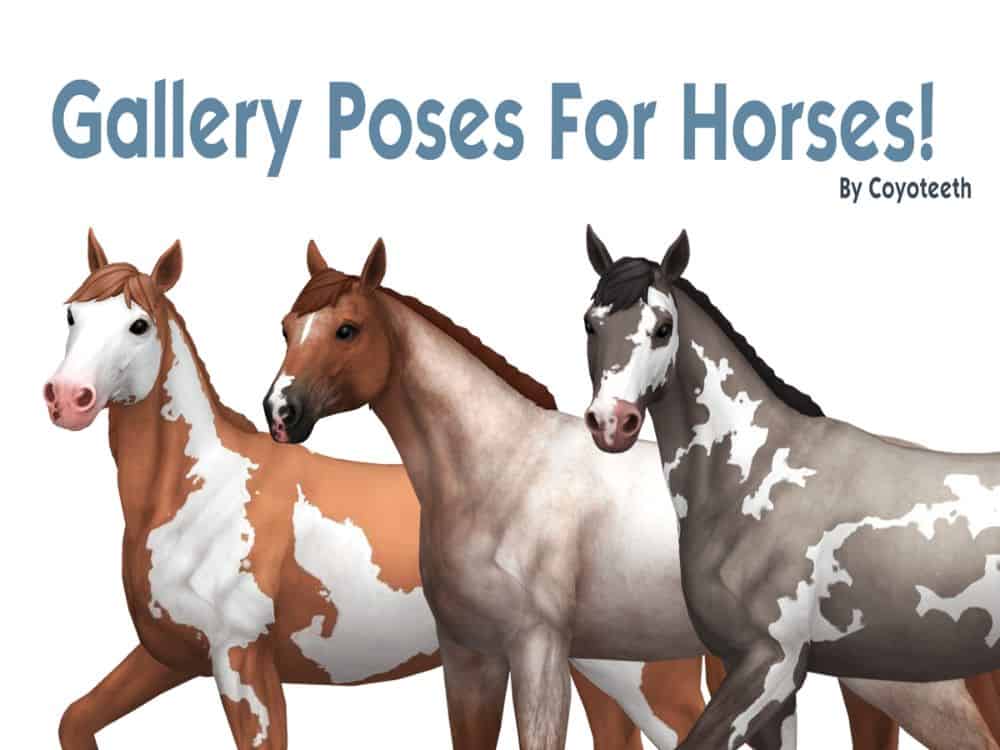 There are few options when it comes to gallery poses for horses.
This set of sims 4 horse poses includes three beautiful Gallery poses that offer better options than EA's default ones.
Among these horse poses, one is shown standing while the other two are shown in motion.

23. Sims 4 Horse Tales Pose Pack by ParisSimmer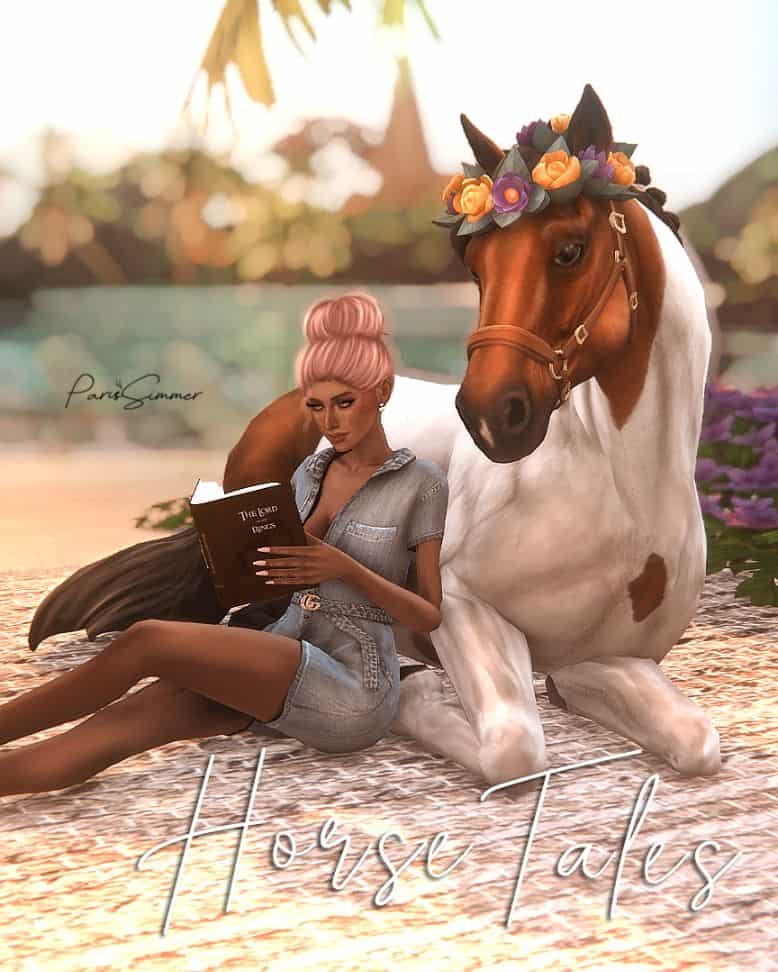 This set has eight poses is of your sims reading a book alongside their horse.
The first pose has your sims standing by their horse, and as the poses go, your sim is sitting on the floor with the horse lying next to them.
If you want to get the book item, there's a cc with many cover swatches.
You can pick titles like Harry Potter, Hunger Games, and more among these swatches.
The book cc is linked on the sims 4 horse poses's page.

24. Sims 4 Foal Poses by Hey Jewel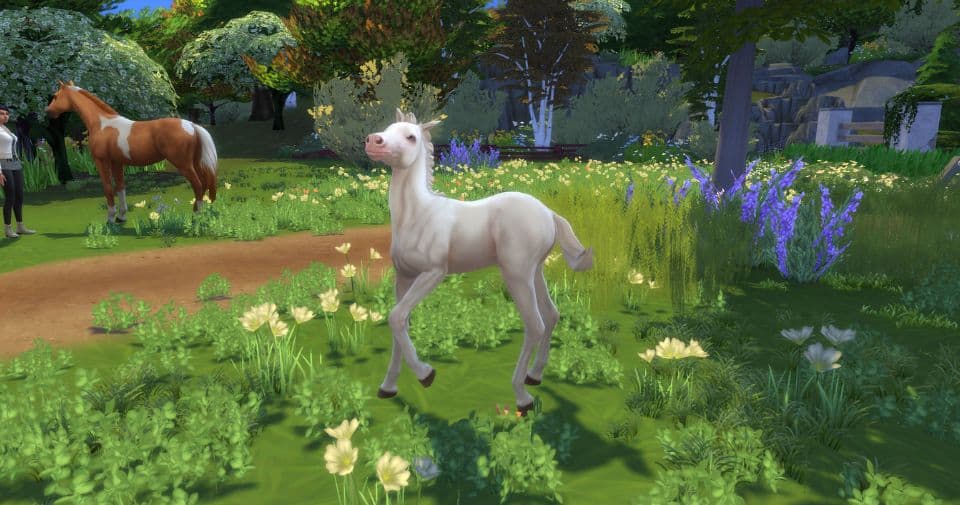 Do you want to take adorable pictures of your ranch's foal?
This set includes eight poses for your little horses trotting around in all their cuteness.
There is a mix of standing and in-motion poses and one more pose where your foals get acquainted.
I like the running pose because it reminds me of the Mustang car logo.

25. Reining Horse Pose Set by Hawthornestables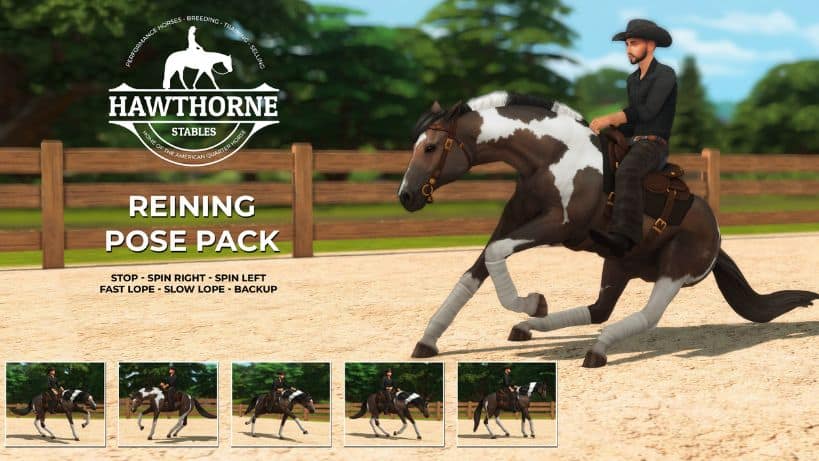 If you want to take pictures of your horse in action, you'll love this set that shows your sims and their horse in a reining exercise.
This sims 4 horse pose pack has 12 poses, of which you have six for your sims and six others for their horses.
Your horse will be shown doing cool-looking maneuvers like sliding, spinning, and loping.

26. Gorgeous Horse Poses by CCAColdcloud
With this set, you get seven pose options for your sims and their horse for great-looking pictures.
There are a few options for your horse in reverence, rearing, spinning, lying down, jumping, or simply horsing around.

27. Bonding with My Horse Pose Pack by Simmisstrait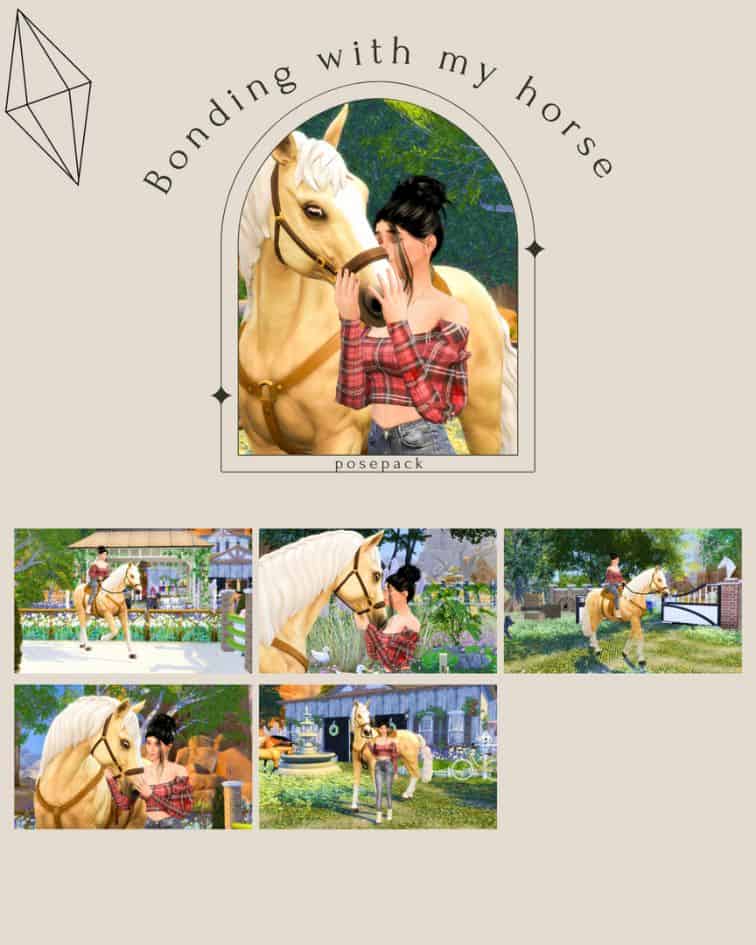 The six horse poses included in this set are so heartwarming you can feel the closeness between the horse and their sim.
In these poses, you'll see your sim riding their four-legged friend, posing, and kissing their horse.
Also, if you love the cute scenery from the images, you'll find the creator of the lot linked on the download page.
Sims 4 Horse Poses: Final Thoughts
These sims 4 horse poses let you snapshot your sim with the sweetest horses.
Whether lounging in the grass or galloping in the fields, have fun trying out different horse poses for the perfect screenshots.
If you have any questions or suggestions, feel free to leave us a comment below or tag us on Tumblr.
And don't forget to share and save this pin for later!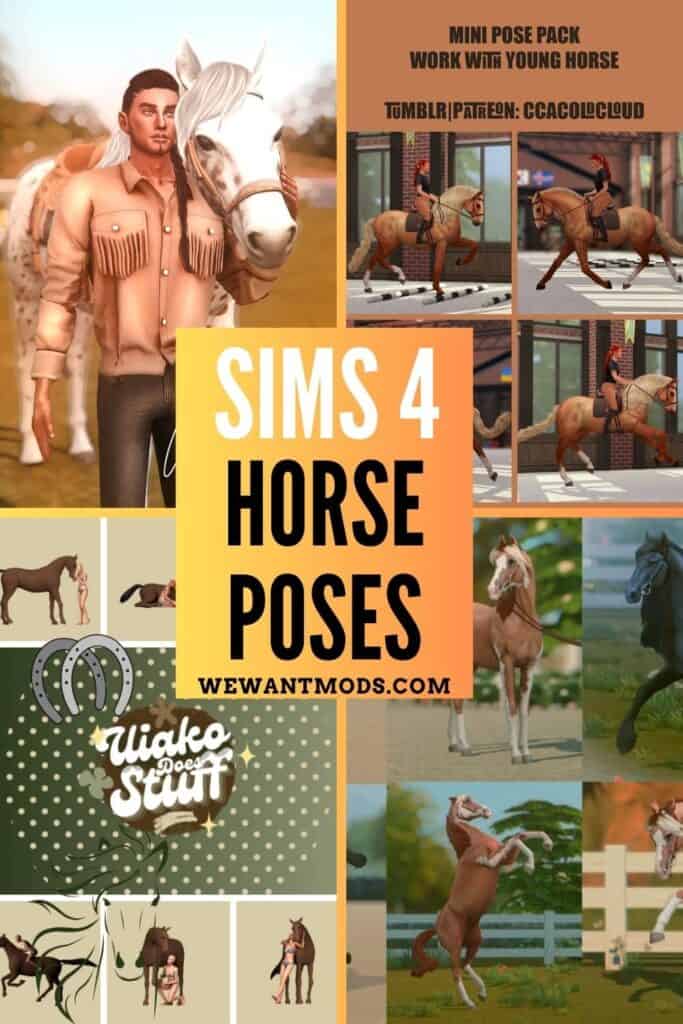 Other Sims 4 Custom Content Lists
27 Sims 4 Horse Poses: Capture Your Horses Adventures