30+ Best Sims 4 CAS Background Mods (Updated 2023)
Need a new sims 4 CAS background to change things up?
We've put together a great list of CAS backgrounds; there is a little something for everyone.
Did you get tired of your sims posing in front of the same blue screen?
Luckily, there is a quick and easy way to change up your Sims 4 CAS background.
Let's review the basics so you find your new favorite backdrop from our convenient listicle below.
And you can also check out our list of Sims 4 Loading Screens too!
Disclaimer: The following mods are neither endorsed nor affiliated with The Sims, Maxis, or Electronic Arts. Any use of mods (custom content or game mods) should be done with caution and with the knowledge that there may be risks.
How to Install Sims 4 CAS Background
Here's a quick recap on how to install CAS backgrounds and other mods.
Download your sims 4 CAS background onto your computer
Unzip the compressed file (if applicable)
Place the content into your game's mod folder
Restart your game
If you are new to using poses, check out our easy step-by-step poses guide to using CAS poses in Sims 4.
Note: You cannot have more than one CAS background in your mods folder at the same time.
The background file in your mods folder will replace the default blue CAS background.
If you have two or more background CC, they will clash and not work.
The Best Sims 4 CAS Background
Below you'll find all types of custom CAS backgrounds; city life, summer beaches, snowy landscapes, and simpler solid color backgrounds.
You're sure to find your new favorite backdrop.
1. Sims 4 CAS Background Pack by NekoChan-Simmer
Wanting to step away from the standard EA color altogether, this pack of cas backgrounds brings you some moon and anime options.
You'll find 6 cas backgrounds, a couple of focus on the moon and vibrant color skies, and the third option contains flowers with a black background.
The remaining 3 backgrounds are anime style, with a more city life focus.

2. Sims 4 Photogenic CAS Backgrounds by Annett
This set of five sims 4 CAS backgrounds offers a variety of sceneries.
They all make great options for your sim to pose in, from backdrops to an empty brick room.
My favorite is the studio illustrated above. It makes it like your sim is at an actual photo shoot.

3. Beach Pier Sims 4 CAS Background by Katverse
This background brings your sim outdoors on a lovely beach pier during a hot sunny day.
This scenery is perfect if you want to show off your summer clothing or beachwear.

4. Boho Style Sims 4 CAS Background by blissfulkissessxx
This bohemian-styled dressing room background reminds me of a downtown loaf apartment.
This set features neutral colors, patterned carpet, wood, wicker, and plush furniture. It's simplicity at its best.

5. Sims 4 Attic Room CAS Background by Gmentes
This attic bedroom with basic decor has a lovely rustic feel with its brick walls and gable ceiling.
This room is an excellent option for your teenage sim seeking privacy from their younger siblings.

6. Starlight Sims 4 CAS Background by Nordica-sims
This background has a gorgeous galactic-inspired backdrop, with great starlight beaming behind your sim.
This background is an excellent option if you want to replace the game's default blue create-a-sim background for something more vibrant.

7. Various Room Background CC for Sims 4 by Annett
This set of CAS backgrounds has nine home background options, including modern settings, homey rooms, and even seaside backgrounds.
These backgrounds are ideal for snapping screenshots of your sims in their daily home life.

8. Sims 4 Rainbow CAS Background by Busra-tr
This custom content is a bright, gorgeous backdrop to be used as a sims 4 CAS background.
It's colorful and fresh. This CAS mod looks great for any sim and is much better than the standard blue.

9. Brick Sims 4 CAS Background by Katverse
A stark contrast to the previous backdrop, this CAS background is all about whitewashed brick and matching light hardwood floors.
With these neutral colors, your sims outfits will definitely pop through.
I tend to style my sims in ripped jeans or grungier looks when pairing their outfits with a brick background.

10. Sims 4 Nature CAS Background by Shasims
This set of green sims 4 cas backgrounds brings such a fresh element to CAS.
You can opt for the softer, lighter colors or choose from the darker swatches like sage and juniper.
My favorite color has to be the eucalyptus which is not far off from being a pastel tone.

11. Sims 4 Black & White CAS Backgrounds by Katverse

When it comes to CAS backgrounds, it's nice to have some staple color options available as needed.
And what's more of a staple than black and white backgrounds?
Each of these solid color backgrounds will allow your sims to be the center of attention and let their outfit designs shine through.

12. Old School Sims 4 CAS Background by Littledica
This custom sims background set contains six variations with a fresh look to the classic CAS screen from the older sims games.
All variations of this background are the same, except for a different color palette.
I enjoy having the mirror at the back, as it shows the backside of your sim without having to rotate them.

13. Sims 4 White Loft CAS Background by Katverse
I adore this bright loft setting; it makes your sim pop more because of all the white surroundings.
It's simple, elegant, and beautiful. The downtown skyline adds the perfect touch.

14. Coffee Sims 4 CAS Backgrounds by Shasims
Is anyone else obsessed with coffee?
This set of 6 cas backgrounds has every tone of coffee cas backgrounds you could want, from lighter cappuccino to full choco delight.
These backgrounds are perfect for fall-time outfits you want to screenshot.

15. Sims 4 Dressing Room CAS Backgrounds by Annett
CAS is all about creating and styling your sims to reflect your creative vision.
Nothing is better to show off your sims 4 outfits than a dressing room.
This set of 9 fancy and modern-looking dressing rooms is the perfect collection of backgrounds to try on and take pictures of your sim's various outfits.


SIMILAR POST: 23+ Superb Sims 4 GShade Presets Downloads

16. Sims 4 Home CAS Background by Gmentes
I like this modern white living and kitchen area photo as a CAS background.
Your sim blends well with the décor, creating overall casual at-home pictures.

17. Rose Gold Sims 4 Cas Background by Lovable Lucy
This rose gold abstract CAS background is one of my favorites.
I find it pairs so well with modern cc clothing pieces.
Given the background shapes, it also matches well with geometric patterned swatches and pastel-colored clothing.

18. Island Sims 4 CAS Background by Blissfulkissessxx
This beautiful background has your sim on a footpath surrounded by tropical greenery.
This setting is great for showing off your summer or lightweight clothing line for those hot summer days.

19. Sims 4 White Studio Background CC by Busra-tr
Another great find is this empty neutral-colored studio CAS background.
The lighting hitting the back wall makes it look like a professional photo shoot with a brick backdrop.
Have fun posing with your sim using this sims 4 CAS background.

20. Pink Sims 4 CAS Backgrounds by NekoChan-Simmer
So I can't help but love pink!
Pink is soothing, especially when the color palette leans toward dusty rosy tones like the CAS background set.
You can opt for a solid pink background or bricks or opt for an outdoor pink CAS background like the pink trees, sky, or moons options.

21. Sims 4 Summer CAS Backgrounds by Katverse
This CAS mod pack includes five different hot summer beach-inspired backdrops.
Each background has vibrant tropical colors, which generally makes for great pictures.
Choose this set to show off your bathing suit's custom content or other stylish beachwear.

22. Spotlight CAS Backgrounds for Sims 4 by Annett
Time to take the stage and hit the spotlight with this set of twelve Sims 4 CAS backgrounds.
There are all different types of spotlights that serve only one purpose, and that is to make your sim the star.

23. Marble Sims 4 CAS Background Set by Katverse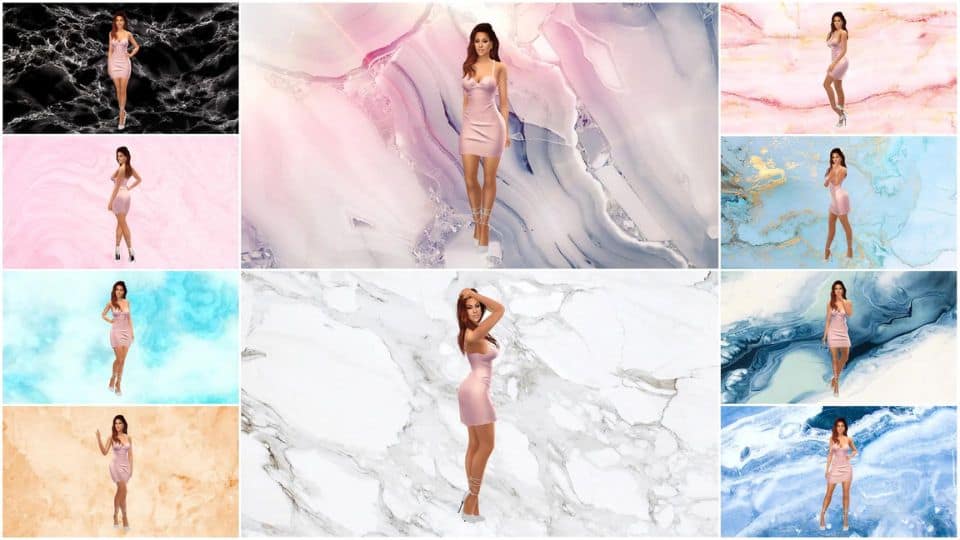 Marble is not just for your sims kitchen countertops.
These marble-inspired cas backgrounds are so pretty.
I'm especially a fan of the blue marble swatch, which has traces of gold running through it.
Depending on the outfit choice, your sim will blend right in with the background, or you can pick a contrasting option to have them pop.

24. Brown Sims 4 CAS Backgrounds by Lovable Lucy
This is one of my favorite CAS background sets; it's 3 basic colors that fall within a neutral brown color palette.
Great for showing off your fall-time clothing options, neutrals, and prints.

25. Spring Forest CAS Background by Nordica-sims
This beautiful custom content sims 4 background makes your sim like they're on a stroll through a forest.
This springtime-inspired scenery makes it the perfect backdrop for your spring clothing collection.

26. Sims 4 Mediterranean CAS Background by Kmi00
Do you love Mediterranean countries?
Why not bring the Mediterranean to your TS4 game with this exquisite sunset scenery?
This backdrop reminds me of this amazing hotel in Mykonos, Greece.
This CAS background is so beautiful that it will only make gorgeous pictures of your sim.

27. Sims 4 Abstract CAS Backgrounds by Annett
This set of sims 4 CAS backgrounds is a fun set of backdrops for your create-a-sim screen.
You get to pick from seven different abstract-looking designs.
If you love music, you will want the sound-meter visuals, as shown above.
I like this background the most, but they're all cool-looking, especially the Matrix-style background.

28. Stars & Colors Sims 4 CAS Background by Katverse
This background CC is so pretty. I love the brighter pastel colors, and the stars add a nice touch to the whole thing.
This set will have your sims standing out and make really youthful pictures.

29. Peach Sims 4 CAS Backgrounds by Shasims
Nothing compliments a fun and creative outfit better than a bright and pretty background color.
This set of 9 cas backgrounds takes its inspiration from peaches.
You can't go wrong with these colorful, mostly orange-pink color options.
The bonbon and coral are two of my favorites; they really brighten up the background.

30. Sims 4 Winter CAS Background by Busra-tr
This winter wonderland-styled CAS background is ideal for those who love the cold holiday season.
Give something warm for your sim to wear, then send it out in the cold, snowy weather using this charming scenery.

31. Snowy Sims 4 CAS Backgrounds by Katverse
While I'm much more of a beach and water girl, my sims love to ski.
And when they hit the slopes, they need to be sporting their hottest gear.
But you also need some beautiful snowy CAS backgrounds to set the scene, and this Komorebi CAS set comes with 8 options.

And those stunning skies with the late afternoon sunset are just so nicely done.
Sims 4 CAS Background: Final Thoughts
Switching up your sims 4 CAS background can really take your CAS poses to the next level.
And downloading and adding a new CAS background is super easy to do.
We hope you found some new favorite backdrops to try out.
Other Mods Articles

30+ Best Sims 4 CAS Background Mods (Updated 2023)