19+ Edgy Sims 4 Piercings CC
Do you need some fresh body piercings for your sims?
We've assembled a creative list of sims 4 piercings cc for the ears, face, and body.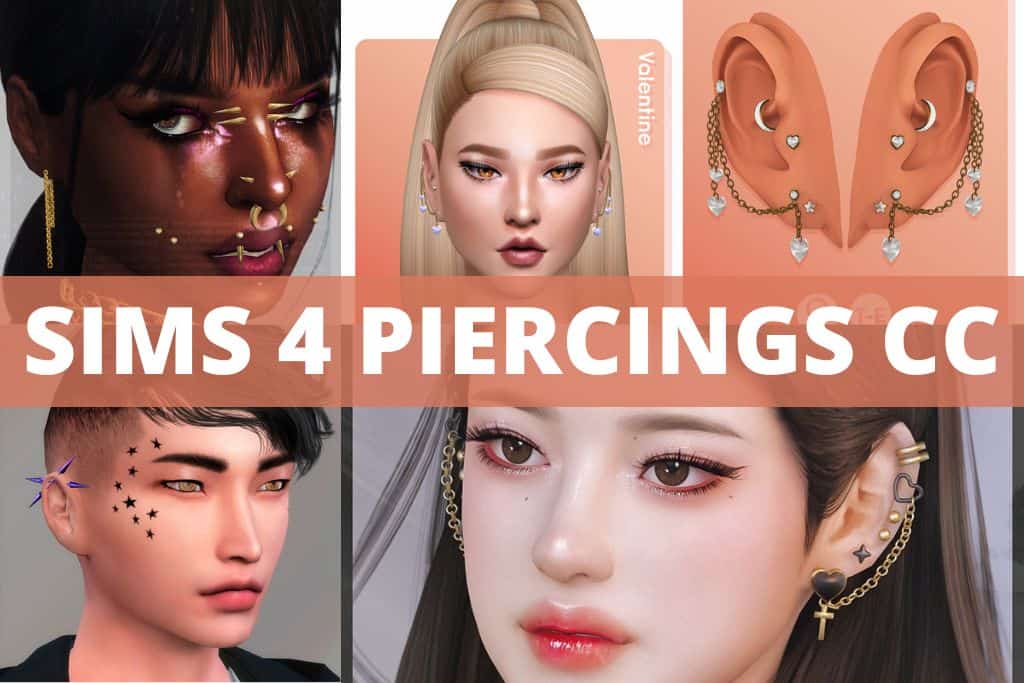 Piercings are a fun and edgy way to express ourselves.
Both me and Jenny have dabbled in some fun facial piercings growing up.
But I'll admit I leave the more adventurous piercings to my sims, though.
From septum to navel piercings, there are sims 4 piercings cc for almost all preferences.
We've compiled an assortment of styles, and you'll hopefully find some new pieces to fill your cc folder.
Disclaimer: The following mods are neither endorsed nor affiliated with The Sims, Maxis, or Electronic Arts. Any use of mods (custom content or game mods) should be done with caution and with the knowledge that there may be risks.
Favorite Sims 4 Piercings CC
In this listicle, you'll find some of our favorite pieces of custom content piercings and some new cc we've enjoyed discovering.
Add the perfect finishing touch to your sims' appearance by giving them ears, noses, or lips piercings.
Happy browsing.
1. Thunder Sims 4 Piercings CC by Pralinesims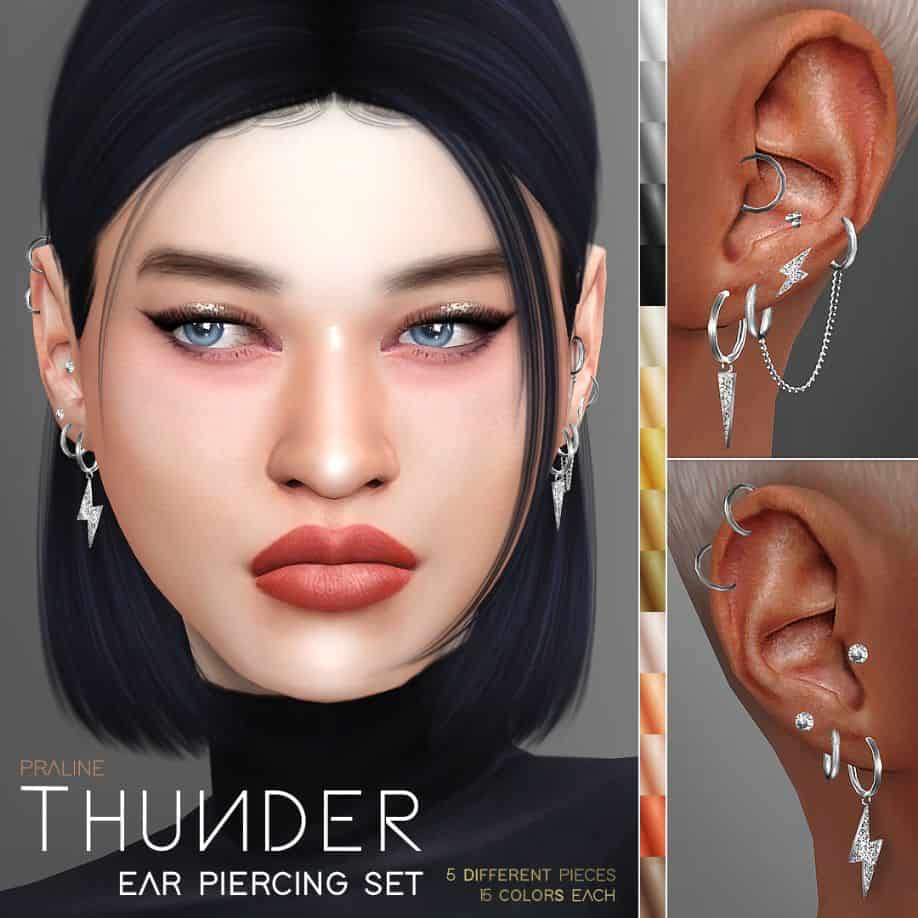 Take lighting to the next level with this thunder-themed earring set.
With this collection of ear piercings, you get to pick from 5 combinations:
Lightning pendant on both ears
Straight lightning bolt pendant on both ears
A lightning pendant on one ear and a straight bolt on the other
Mixed piercings for each ear
Mixed piercings for each ear as #4 but flipped
These accessories can be worn by males and females aged teens and up.
You can choose from an array of 15 colors for the metal portion of the earrings.

2. Sims 4 Helix Piercing CC by Suzue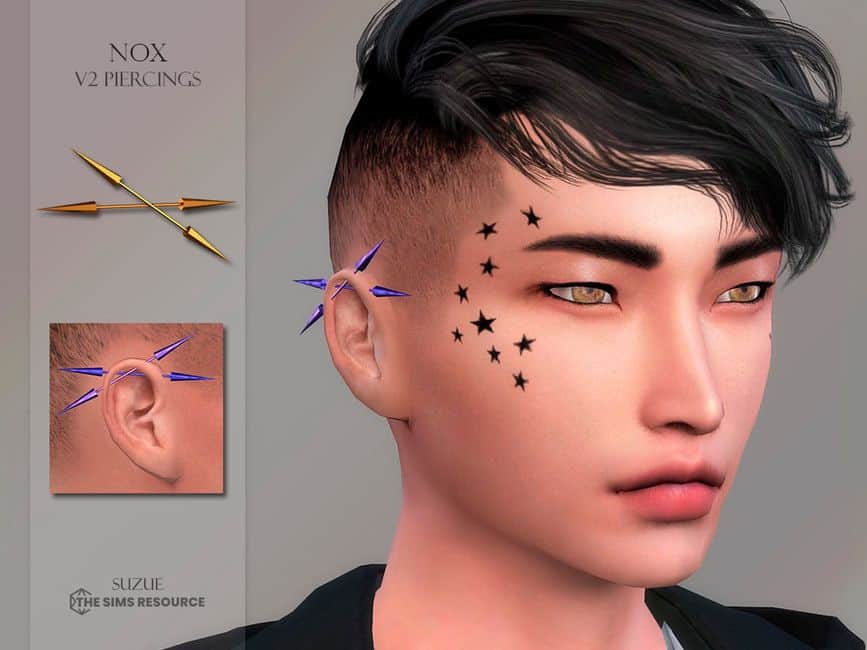 I love how cool this spiked barbell piercing looks.
It's for the helix part of the ear, and they are set in a crisscross pattern, available in ten swatches.
They're made unisex, so your teen sims would look great wearing these piercings, whether in maxis match or HQ.

3. Unisex Sims 4 Piercings CC by bloodmooncc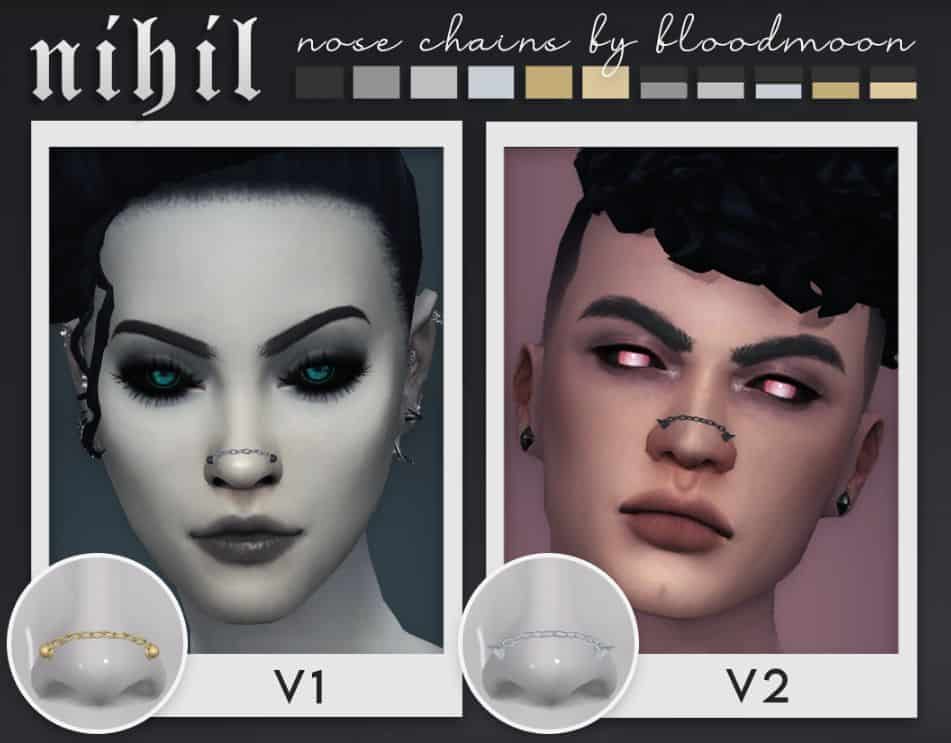 If you're looking for a nose piercing different from the classic nose ring, you need to get this piercing cc.
It's a lower nose chain piercing with a chain accross the bridge that links both ends with either balls or spikes.
This nose piercing comes in 11 swatches and would go well with more goth or vampire-themed sims.

4. Female Nose Piercings CC for Sims 4 by Giulietta Sims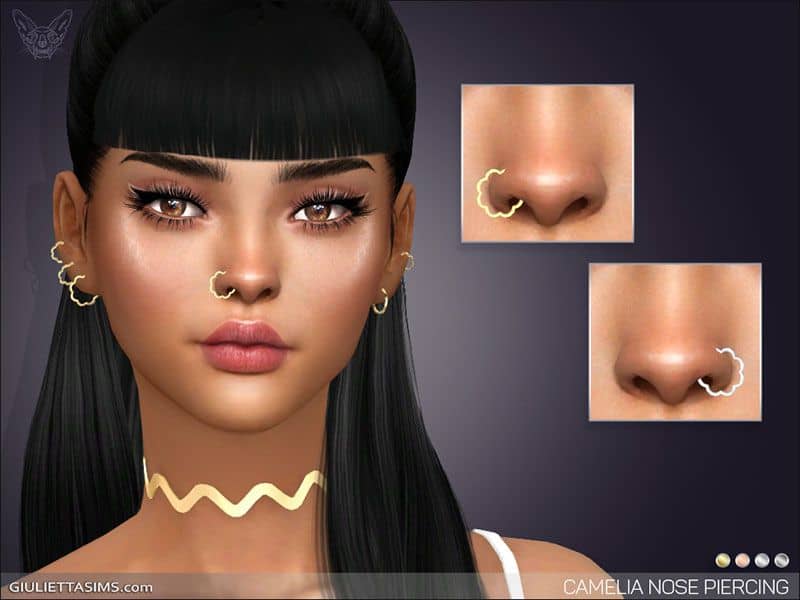 This cute nose ring piercing is for your female sims.
Your sim can wear this little accessory with a lovely dress or more casual wear, and look fabulous.
There are two cc files to download, one for each nostril.
You can use this piercing cc on either side of the nose or both.
There are four swatches available for each version.
If interested, you can find matching earrings on the cc page.

5. Exile Piercing Mods by Pralinesims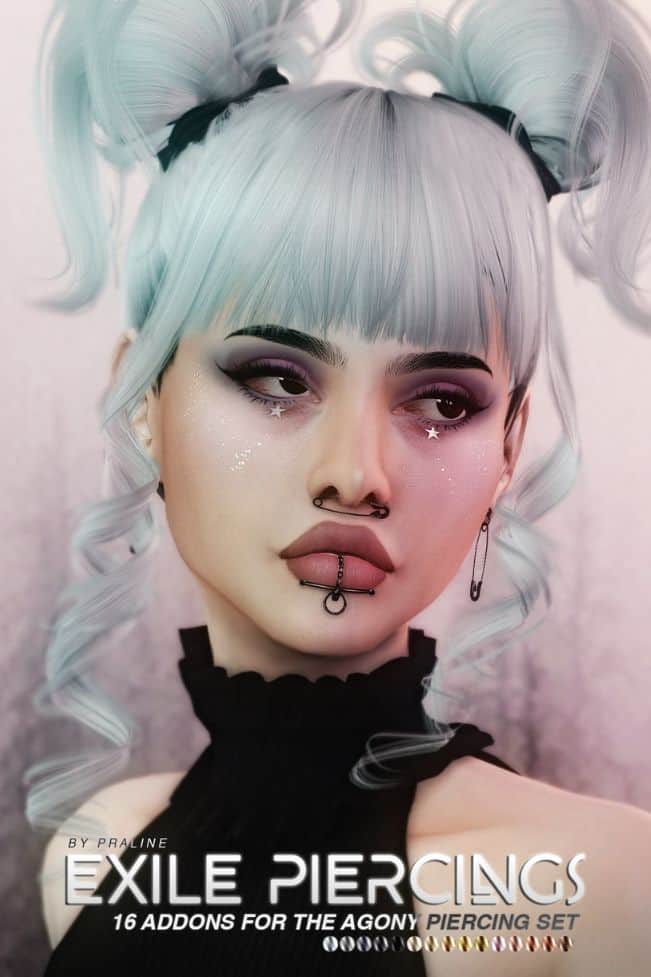 I loved this set of sims 4 piercings cc when I first saw it.
Using safety pins as decorative pieces for facial piercings is super creative.
This piercings set is actually an add-on to the Agony Ear Piercing Collection linked on the download page.
In this set which contains two files, you get 16 variations that change up the number and size of the safety pins.
Among these piercings mods, 12 are for the ears, and the rest are for the nose, including the septum.
You get 15 colors for sims of both genders, ages teen to elder.

6. Sims 4 Ear Piercings CC by euno sims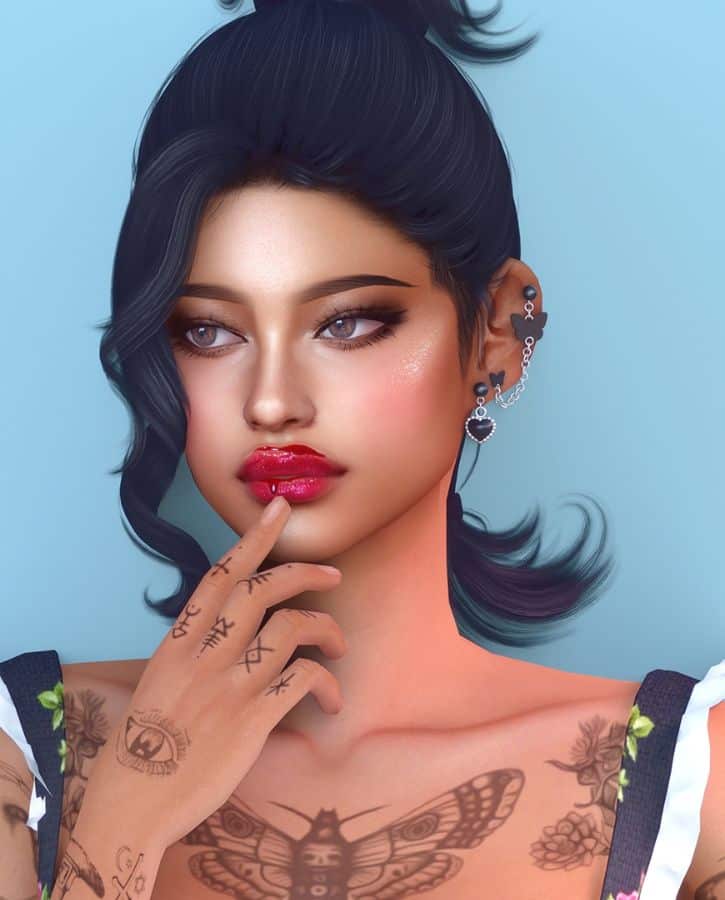 These earrings are the perfect girly girl piercings.
They will fully decorate both ears with a butterfly chain and heart pendant.
This set has four colors: black, two blues, and pink.
I recently used the pink version of this ear piercing cc on my sim, and she looked adorable.
The creator has also included an ear preset to adjust your sims' ear size to fit nicely with the piercing.

7. Sims 4 Nose Piercing CC by Pickypikachu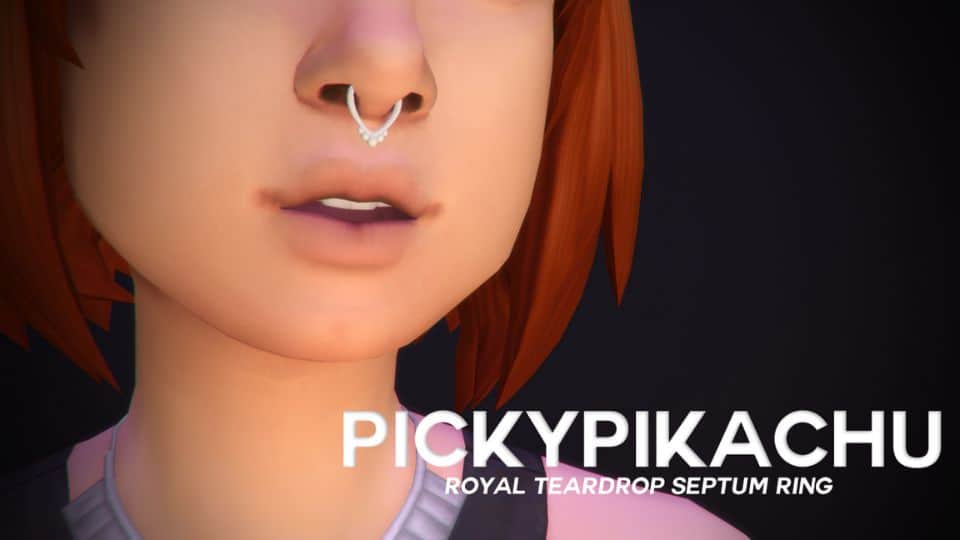 This sims 4 piercing cc is another great find for people looking to add a teardrop-shaped nose ring to their sims.
The jewelry piercing is available in four colors, and I can picture it on my sims wearing a dress and leather-style jacket.
This septum ring piece can be worn by any sims, as long as they are aged teens to elders.

8. Valentine Sims 4 Piercings CC by EnriqueS4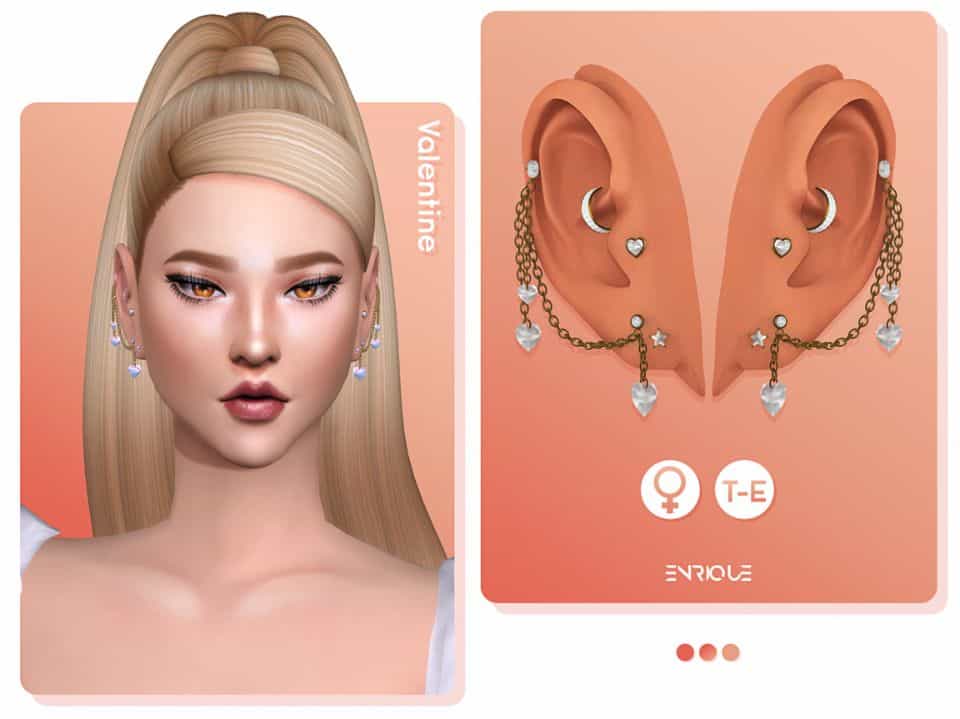 This pack of sims 4 piercings cc is the kind of jewelry that would go well with the teardrop nose ring listed above.
They are heart-shaped, which is be perfect for any occasion.
There are four versions of these sets of earrings:
Original: full ear cuff earrings on both ears with smaller pieces on the inner part
V1: small tragus and daith earrings with a heart pendant on the lobe for both ears
V2: one ear gets the original version, and the other ear gets V1
V3: the same as the V2 option, except the options, are reversed on each ear
The piercings come in either gold or silver settings.
For either option, you can choose between 20 swatches for the stone pieces.

9. Sims 4 Piercings Pack by soloriya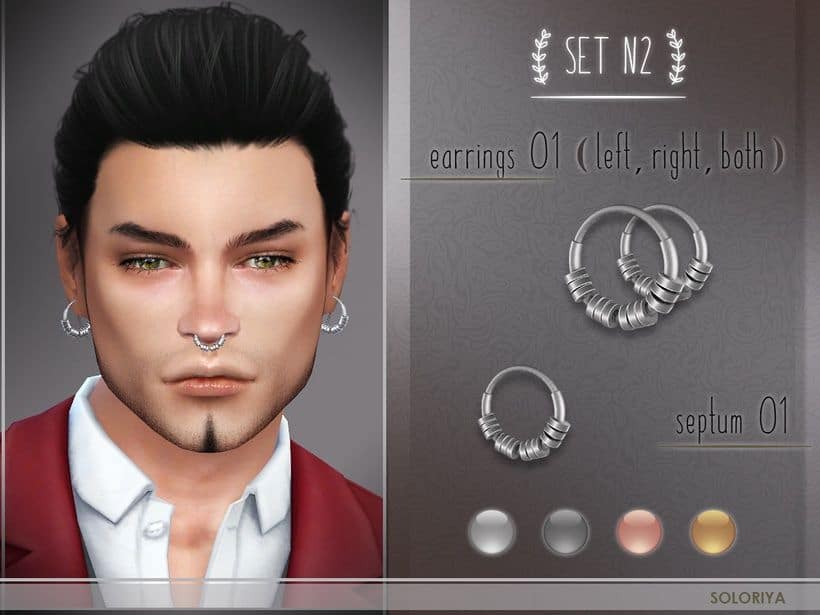 This collection of sims 4 piercing accessories is an excellent addition to any sim but looks especially great on my male sims.
There are three designs available in four colors.
The septum ring and earrings are separate, so one cc can be used instead of the other or both simultaneously.
You can choose to have the earrings on different ears or on both.
You cannot mix and match designs for earrings on each ear, but you can for the nose ring.

10. Sims 4 Lip Ring CC by Pralinesims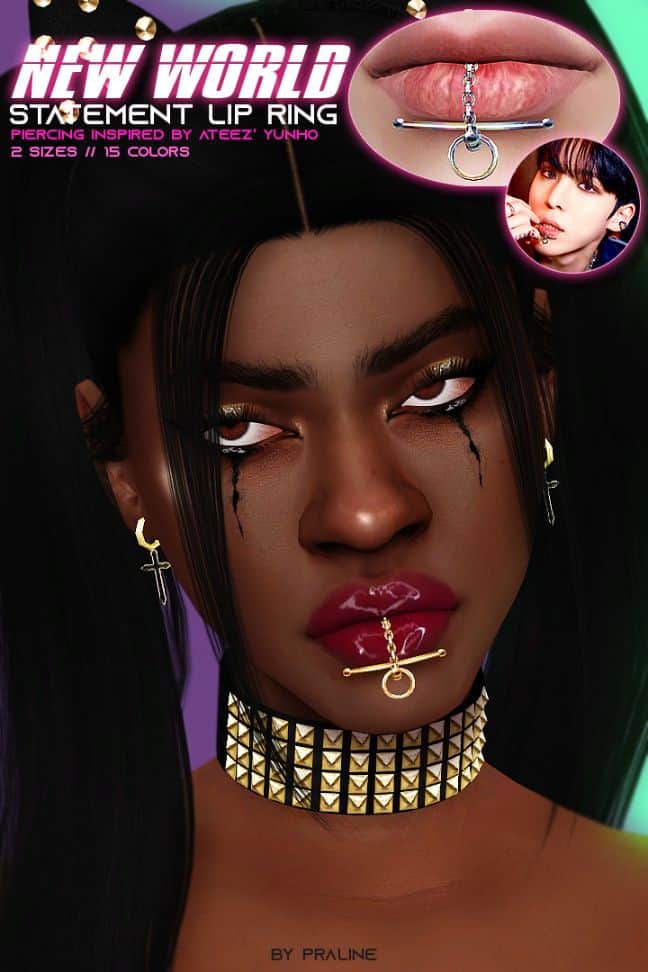 This set of sims 4 piercings cc was super intriguing to me because I'd never seen anything like it in person.
The piercing has a chain across the bottom lip and a horizontal bar along the lower lip.
It's a fun accessory to use on any sim and quite frankly looks super cool.
Depending on what suits your sims best, you can opt for a small or larger piece.
This cc piercing comes in 15 colors and can be worn by teens to elders of both genders.

11. Sims 4 Unisex Nose Piercings by weepingsimmer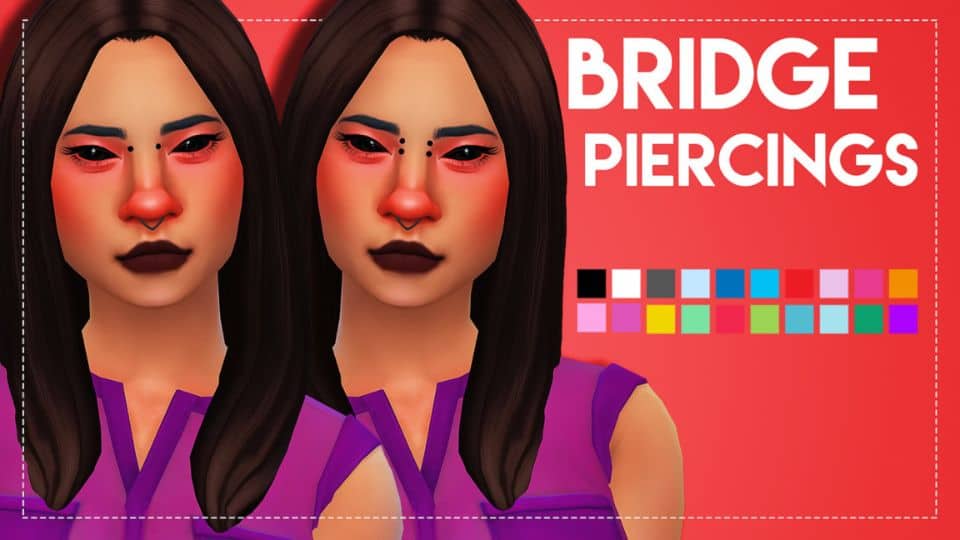 If you want a bridge piercing for your sims, look no further, this one is for you.
You can opt for the single or double version of this nose jewelry cc, each having the same 20 color variations.
It's a simple maxis-match accessory, but it goes a long way on how good it looks on your sim.

12. Sims 4 Nose Ring CC by Giulietta Sims
I found another septum ring piercing that looks quite lovely on my teen sims.
This nose ring cc with the word love displayed in the middle of your sim's face passes on a positive and uplifting message.
This love-inspired nose ring comes in 4 swatches.

13. Monroe Sims 4 Piercings CC by Leah Lillith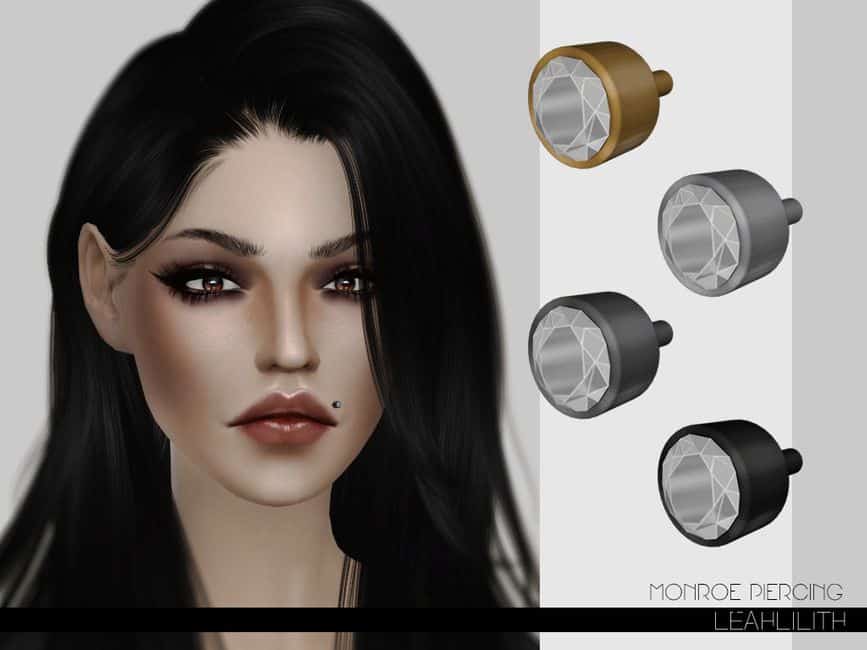 If you want to make your female sim look sexier, try this Marilyn Monroe-inspired piercing.
This cute and subtle dot stud is located on the upper lip corner, the same spot as Marylin's famous beauty mark.
It's available in gold, black, and a couple of grays.
Although both genders can wear it, it looks more natural on a female sim.

14. Plug Collection for Sims 4 Piercings by Pralinesims
Do you want more plug-styled piercings?
This set of sims 4 piercings cc includes a great variety of plug earrings.
You can choose five sizes that suit your sim's face or style better.
Each size comes in four colors: black, white, dark gray, and light gray.
For the larger-sized plugs, your sims earlobes will need to be expanded.

15. Sims 4 Belly Button Piercing Pack by Suzue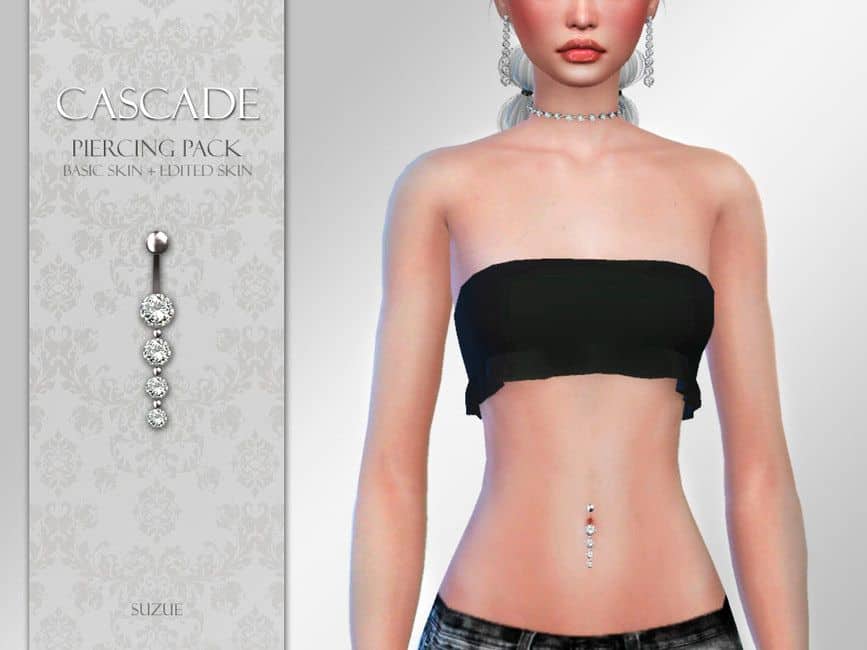 You can't have a list of must-have sims 4 piercings cc and not include belly button rings.
This belly piercing will make your female sims look super cute with this four-stoned pendant-styled piece of jewelry.
This body piercing comes in two versions, which are the same but located at different heights.
So you should pick the one that is better aligned between the two.
The stones come in white/clear or blue and are placed on a silver or gold stud.
This navel piercing cc is definitely one of my favorites.

16. Sims 4 Heart Piercing CC by euno sims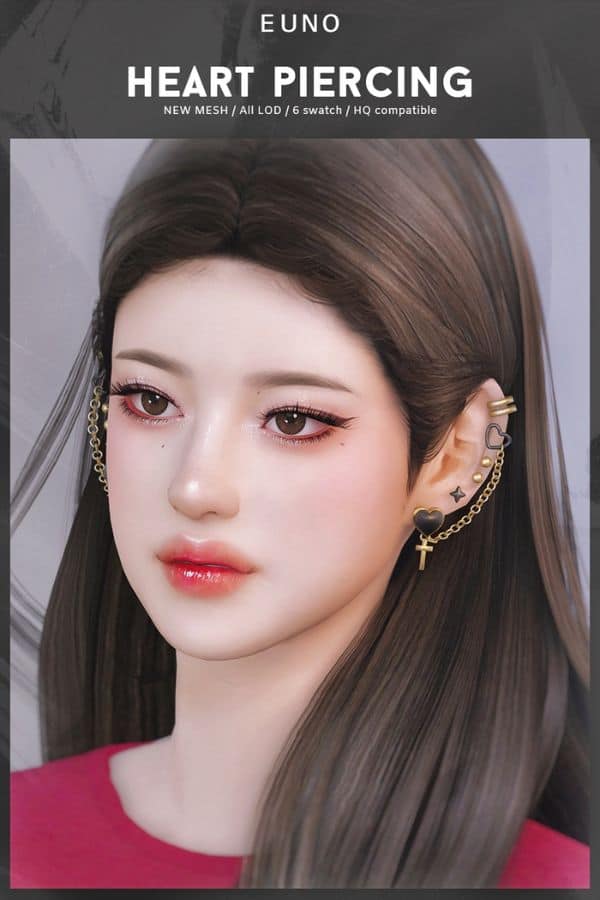 These custom content ear piercings are another pretty option for cuff earrings.
The creator has included a couple of ear presets for better alignment with this earring mod.
The presets will be found in the Ear category, and the cuff earrings will be under Piercings.
You get six swatches, two that come in gold color and the other four in silver.

17. Exe Sims 4 Piercings CC by Suzue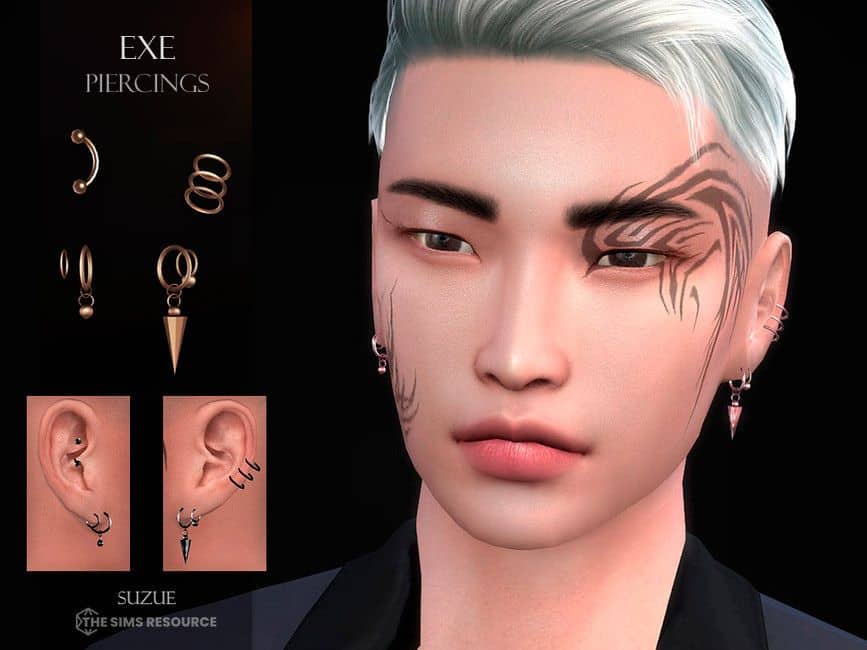 With this custom content, you'll have different piercings on each ear.
On the sim's right side, you get a stud in the rook area and a few earrings on the lobe.
On the left are various earrings on the lobe and three rings serving as helix piercings.
It works well on males or females in any of the eight swatches.

18. Sims 4 Smiley Ring CC by Pickypikachu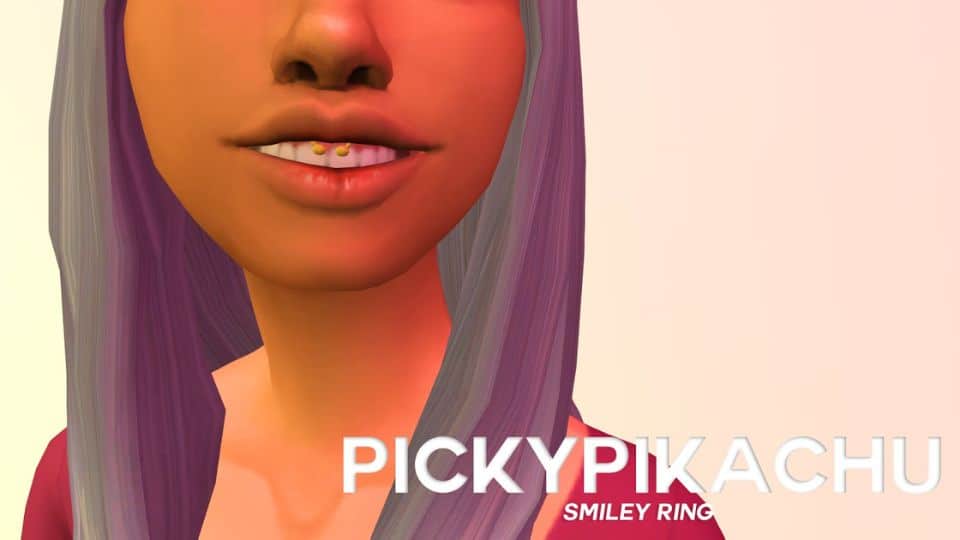 Ok, so while I wouldn't have the courage to get this in real life, my sims can totally sport this mouth piercing.
The smiley ring accessory comes in four colors and can be used on any sim teens, young adults, adults, or elders.
If you want to make your sim stand out from the crowd, this lip frenulum piercing cc is a sure thing.

19. Sims 4 Facial Piercing Mods by EvellSims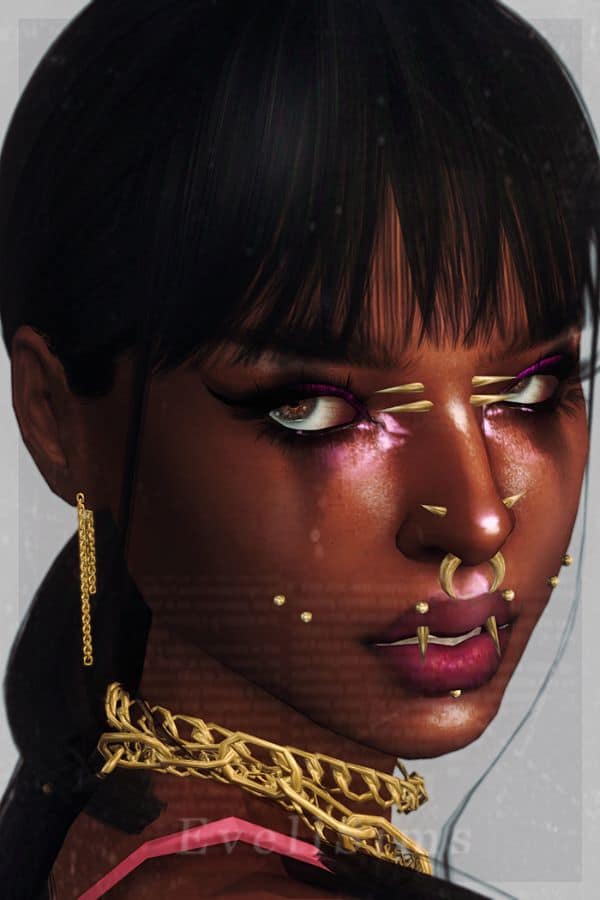 For the piercing fanatics, you can make your sim go over the top with these two versions of facial piercings.
With both versions, you get snake bite piercings on either the top or bottom lip.
You get dot stud cheek piercings for both, but where they differ is mainly on the nose.
You have a few septum and double-bridge piercings, but you can opt for either dotty or spiky extremities.
These piercings are great for hardcore goth-styled sims, and both piercings sets come with 5 swatches.

20. Oracle Sims 4 Piercings CC by bloodmooncc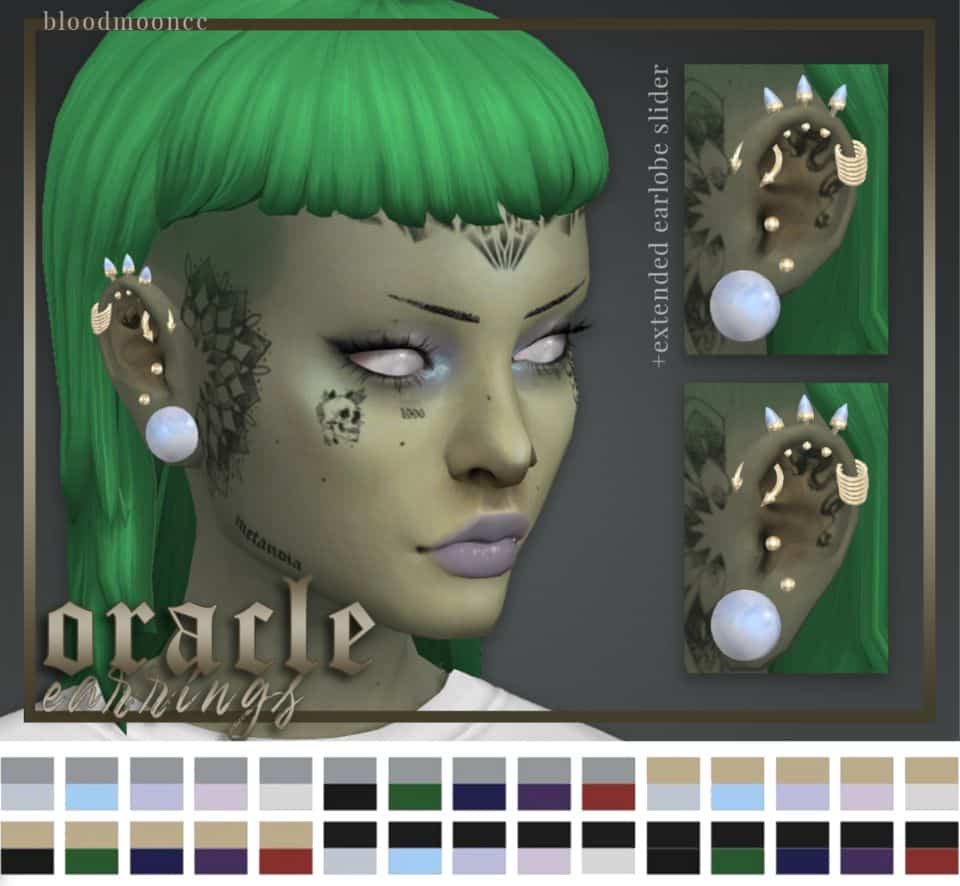 I find this pack of unique-looking piercings perfect for my sim sirens!
This arrangement of different ear piercings looks so badass with the spikes on the top part of the ear.
The added plug element for the lobe mixes in well with the rest.
On top of that, there are a significant amount of swatches to pick and choose from, with 30 total.

21. Sims 4 Piercings CC Collection by Pralinesims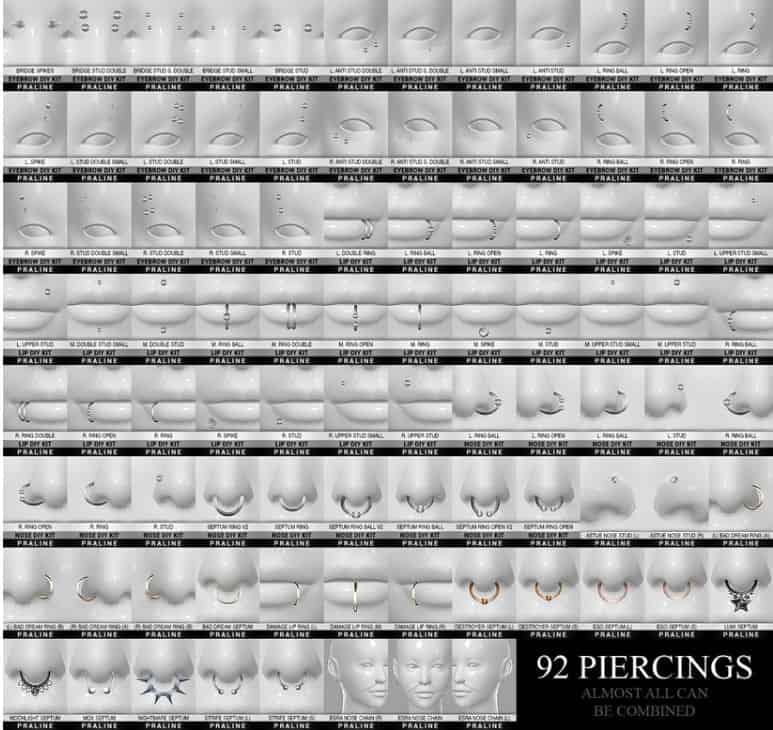 This collection of sims 4 piercings cc is the cherry on top.
It's the motherlode, and I'm not talking about the money cheat code here.
Thanks to the ever-amazing Pralinesims, you get a tremendous variety of piercings that can be mixed and matched.
There are several piercings cc for the nose bridge and septum.
You get many other lip piercing mods, some eyebrow piercings, and around the eyes.
The best thing to do is to play with them, test them out and see what you like.
Because there are so many, it's overwhelming, but in such a good way.
Final Thoughts on Sims 4 Piercings CC
We hope you enjoyed our selection of sims 4 piercings cc and found a few pieces to add to your mods folder.
Whether you're looking for a sweet butterfly ear pendant or an edgier nose septum, there's a piercing cc for everybody.
If you have any questions or suggestions, feel free to leave us a comment below or tag us on Tumblr.
Other Sims 4 Custom Content Lists

And don't forget to share and pin this collection for later!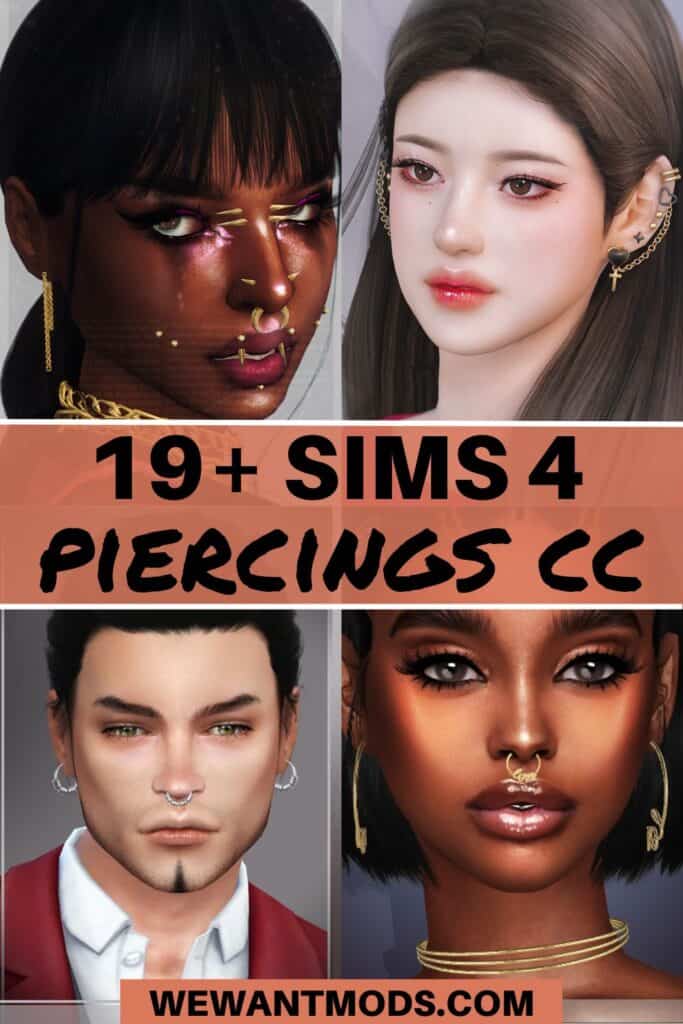 19+ Edgy Sims 4 Piercings CC