Best Sims 4 Nails CC [20+ Creative Designs]
From bachelorette parties or relaxing spa days, we've put together a great list of sims 4 nails cc for any occasion.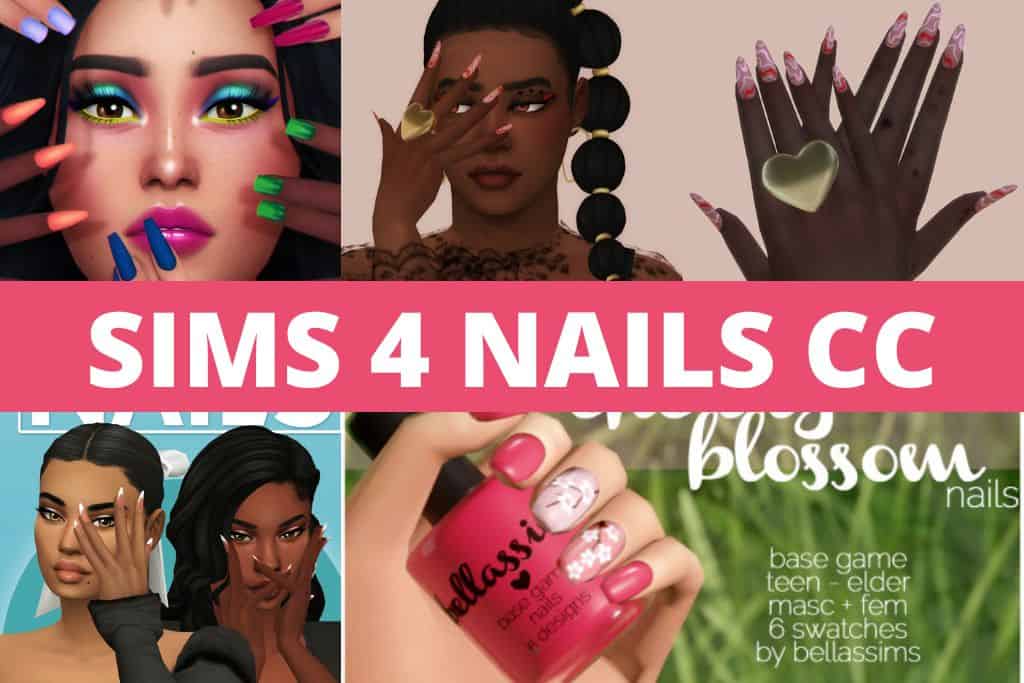 Beautiful fingernails can make all the difference when completing a look or complementing a specific style.
Whether your sims are into goth or prefer more floral designs, there are so many pieces of sims 4 nails cc to discover.
Since it's nice to switch things up from short nails to full-length acrylics, I put together various nail cc options for you.
There are two files in the list below that need The Sims 4 Spa Day game pack.
But everything else is completely base game compatible.
Disclaimer: The following mods are neither endorsed nor affiliated with The Sims, Maxis, or Electronic Arts. Any use of mods (custom content or game mods) should be done with caution and with the knowledge that there may be risks.
Stylish Sims 4 Nails CC
Whether you're into the classic french tip or more almond-shaped nails, you'll find a variety of nail cc styles below.
1. Jelly Sims 4 Nails CC by Bellasims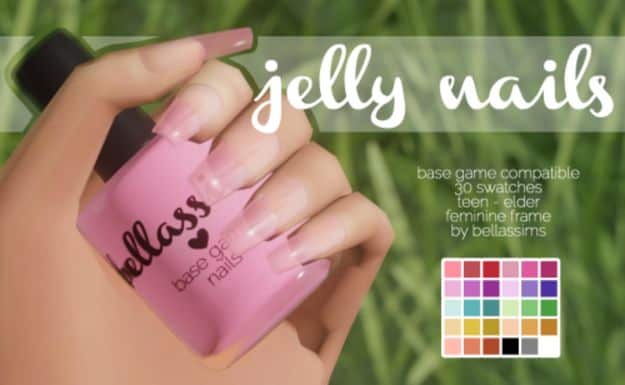 These jelly-inspired nails are one of my favorite pieces of nails cc, especially the lighter color polishes.
They have an ideal length to them and are semi-transparent, like jelly.
You'll find these jelly nails in the Fingernails category, and they are available for feminine frames in 30 swatches.

2. Sims 4 Short French Nails CC by XURBANSIMSX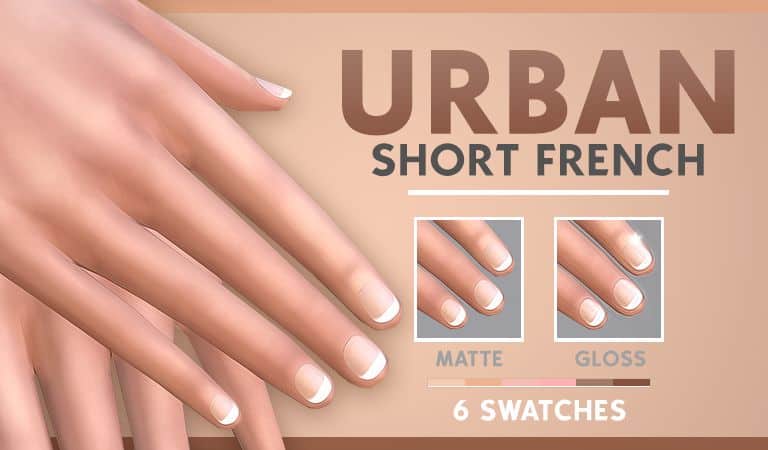 I love french tip nails, and this short version is a must-have for a busy sim on the go.
A clean and manicured look always adds something special, even for sims who prefer a casual style.
This french manicure comes with 10 skin tone color swatches, and you can opt for a gloss shine or matte finish.

3. Female Sims 4 Nails by CandySim4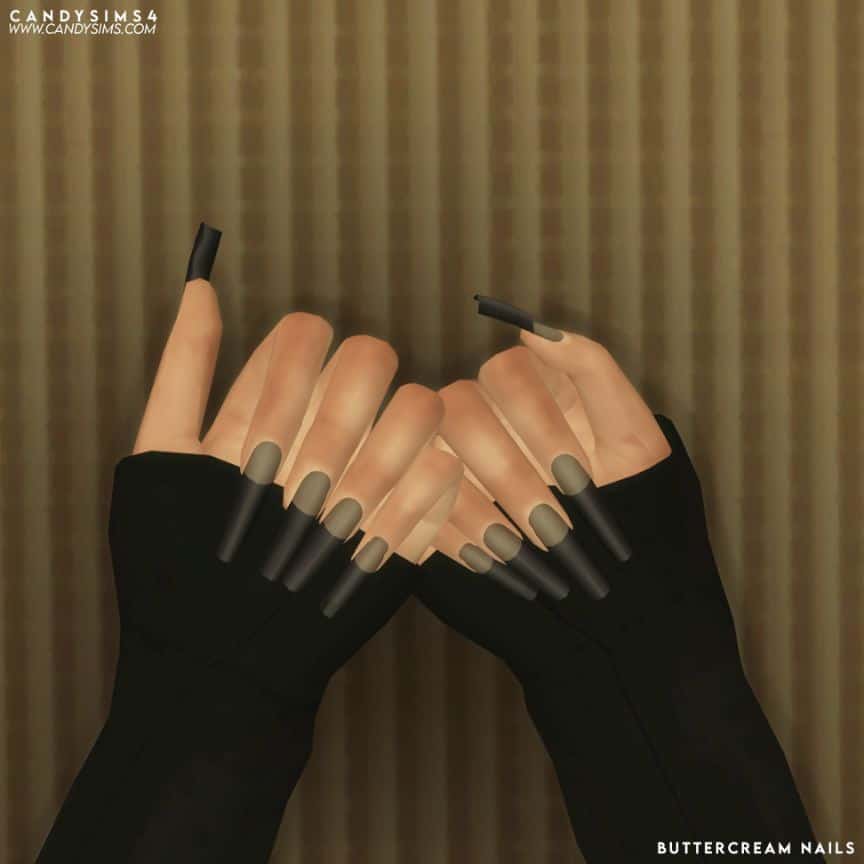 If you prefer longer nails, these buttercream nails are just the thing.
These sims 4 nails are a cross between the creator's Candy Nails and Sugar Nails custom content pieces.
Available for your female sims, these nails come in 15 swatches, including 5 black tip options.

4. Reflective Sims Nails CC by Suzue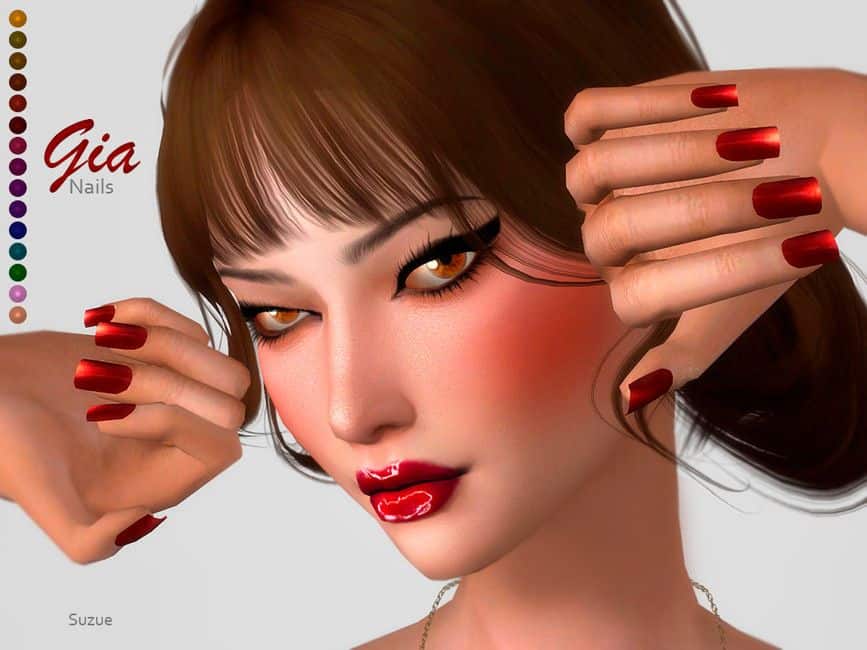 Are your sims getting ready for a holiday event?
These reflective chrome nails are the perfect square-tip nails to jazz up the night!
Available in 15 beautiful colors, you'll find these nails in the ring category.

5. Short Sims 4 Nails by kissyck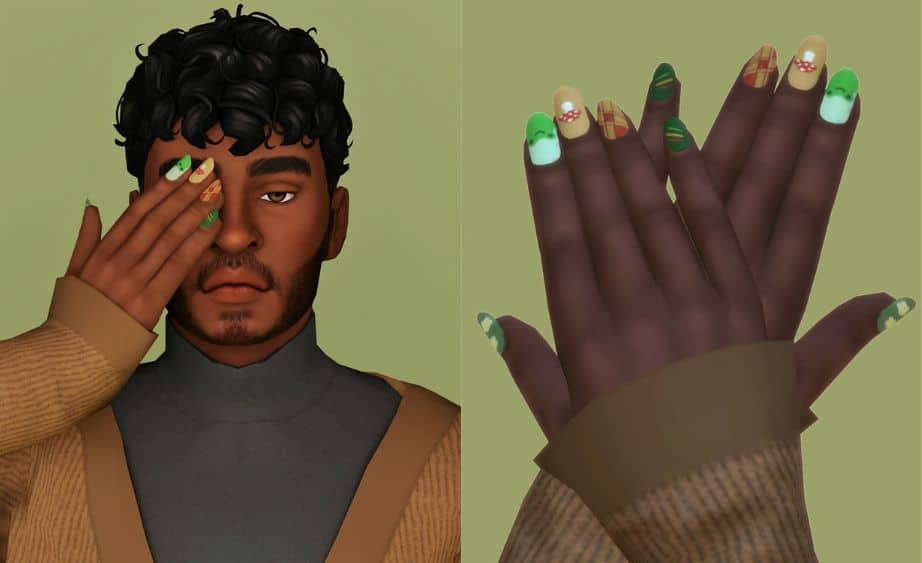 I love a set of assorted nail designs, and this custom content comes with 6 fun creative swatches.
From checkers, waves, and flames to smiley faces, strawberries, and the pride flag, there is something for everyone.
There is a separate male and female download file, plus a bonus long nail version.

6. Sims 4 French Manicure Set by Lin' & Sims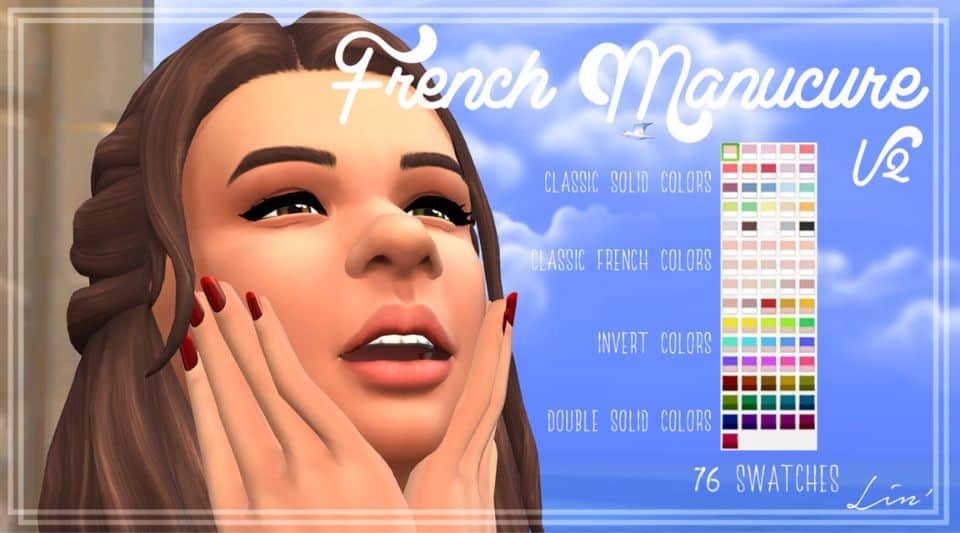 This nails cc is all about french manicures but with a ton of variety and options.
You can opt for the classic french manicure, which has over 15 swatches.
Or you can jazz things up and opt for a solid color paired with white tips.
Want something a little different?
Pick the inverted double-colored nails or double solids for a classic french manicure with a twist.
All in all, you have 76 swatches to play around with and find your favorite look.
7. Rebel Sims 4 Nails CC by Aretha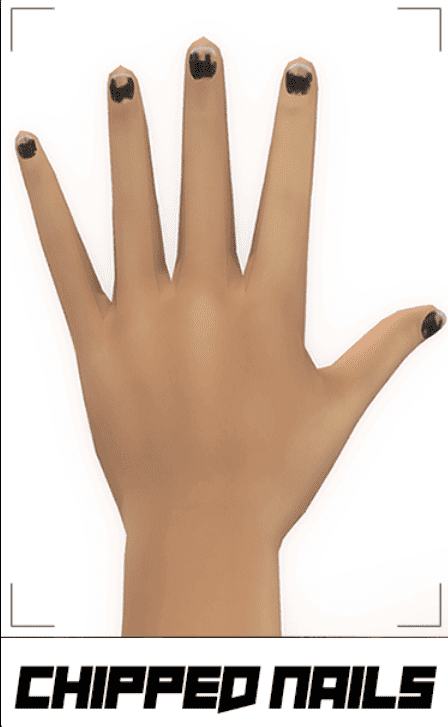 Who else can relate to chipped nails?
I remember a good while back when celebrities were paying salons to recreate a chipped nail look.
To me, chipped nails go perfectly with ripped stockings which is perfect as these sims 4 nails cc come with a whole set of rebel-inspired items.

8. Sims 4 Nails CC Pack by Jolibean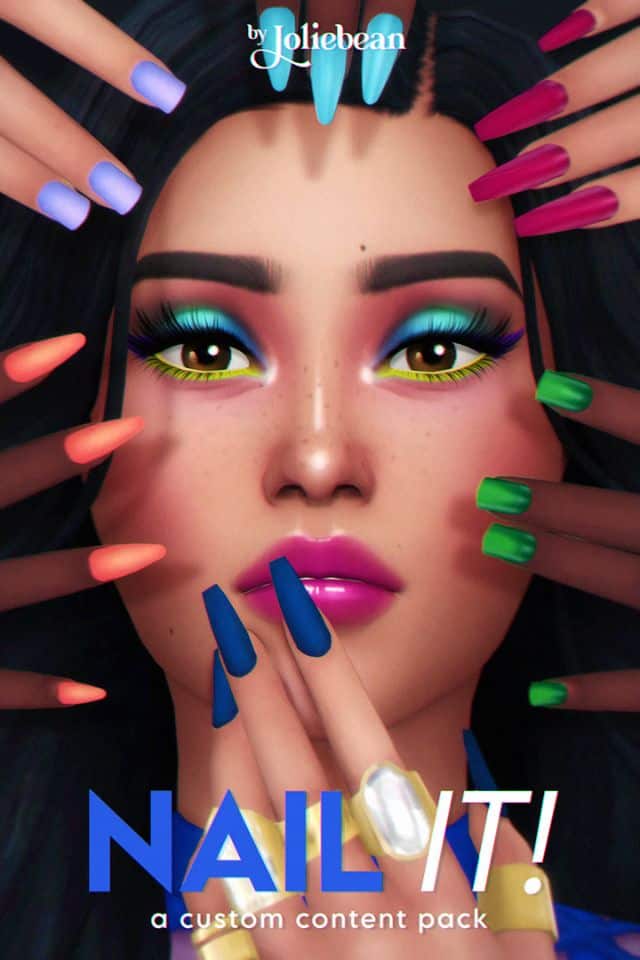 I love a good all-in-one set, and this sims 4 nails cc set is no exception.
Whether your sims prefer almond-shaped nails, a shorter square version, or coffin-tip nails, this nail pack has got it.
You can also choose between a matte or glossy finish on your sims nails and opt to complete their look with a stylish pedicure.

9. Basics Sims 4 Nails CC by isaiah illustrates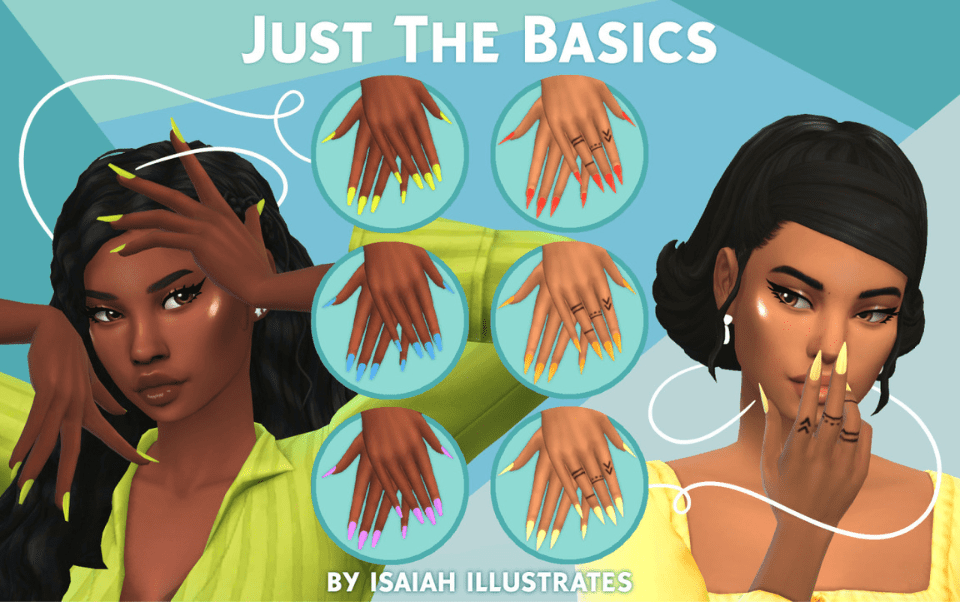 This sims 4 nails cc requires The Sims 4: Spa Day game pack to be installed in your game.
Whether you prefer coffin or stiletto shapes nails, this set of recolors comes with both options.
You'll find 25 solid basic color swatches for these pointy nails, which come with either a matte or glossy finish.
Available for teens to elders.

10. Sims 4 Teeny Nails CC by kissyck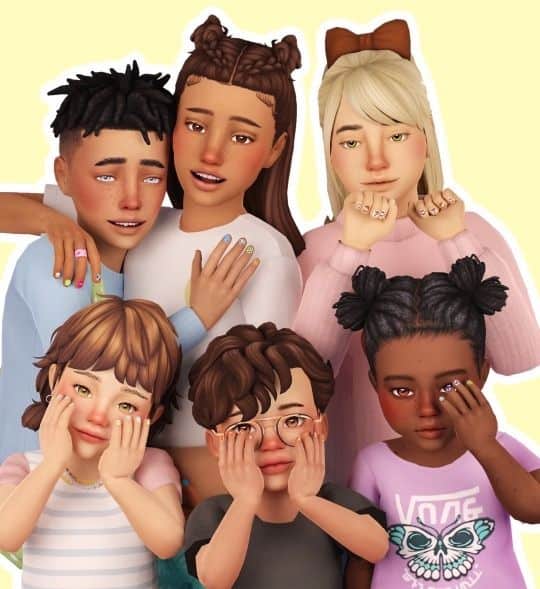 Toddlers and kids are notorious for sticking fingers, but they deserve cute nails too!
This teeny nail set has all the sims 4 nails cc you need to style the smaller members of your household.
Go through the 33 swatches to find the best colorful designs to suit your youngsters.
11. Sims 4 Cake Nails by CandySims4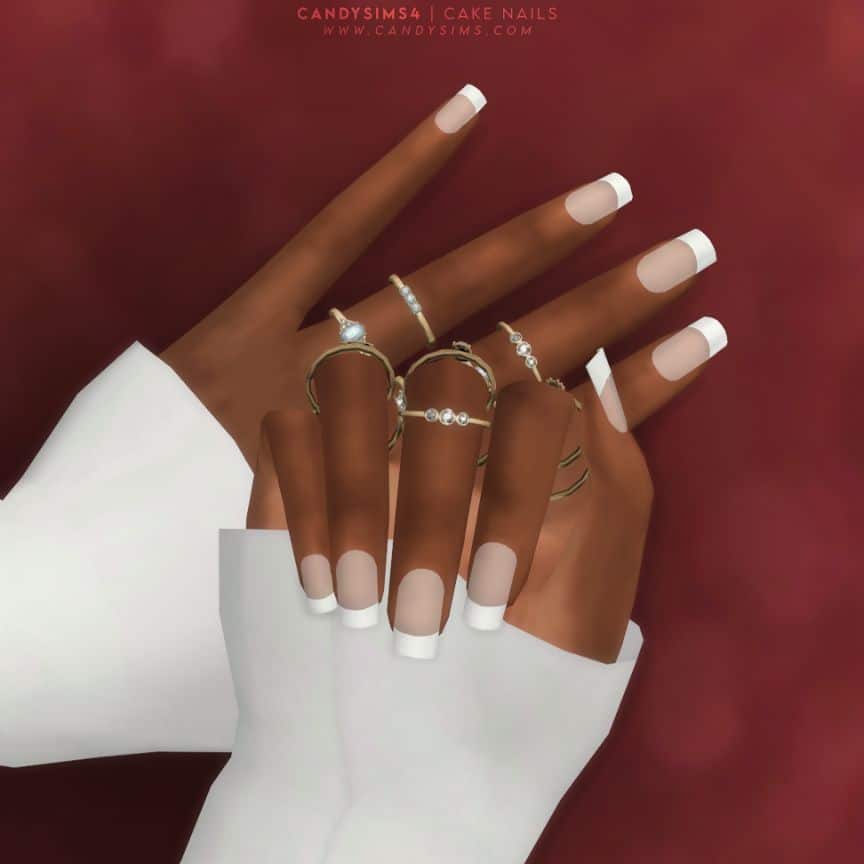 I have another excellent option for french tip nails, but this time, they come with some transparency and darker swatches.
While you can still opt for the classic colors, my favorites are the black tips and darker transparent nail polish.
There are 15 swatches split between 3 color categories to create the best look.

12. Sims 4 Cherry Blossoms Nails by Bellasims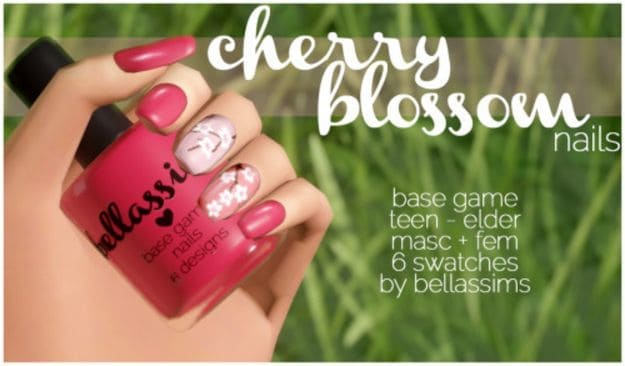 Cherry blossoms are stunning delicate-looking flowers, so it is no surprise these sims 4 nails cc are so pretty with their nail art.
The flowery details and branches are the perfect springtime nails, just as cherry blossoms begin to bloom.

13. Sims 4 Goth Nails by NekoChan-Simmer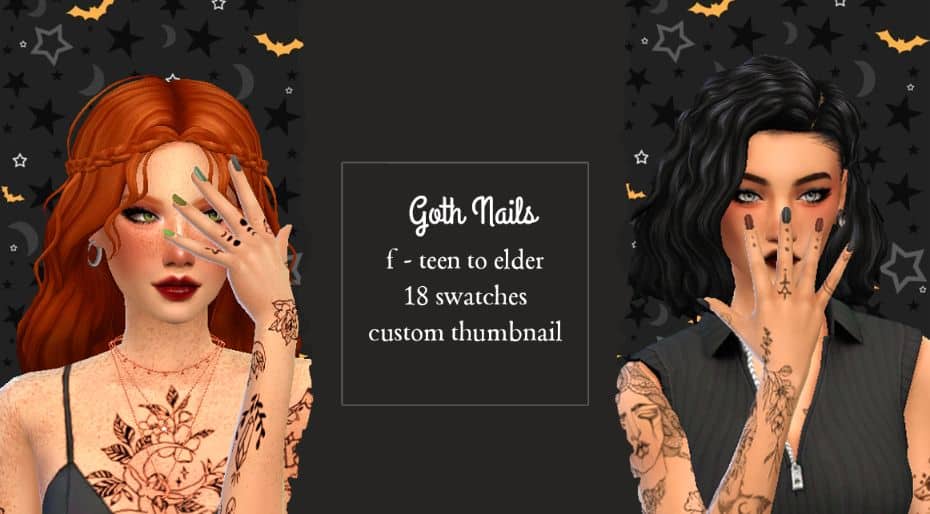 With these goth nails, your female sims will have rounded, shorter nails that are perfect for everyday wear.
There are 18 swatches, which include some solids and mixed-colored fingernail polishes.
You will also find swatches where the lunula (the bottom white part of the nail) is painted separately.

14. Sims 4 Grafik Nails by FrenchieSim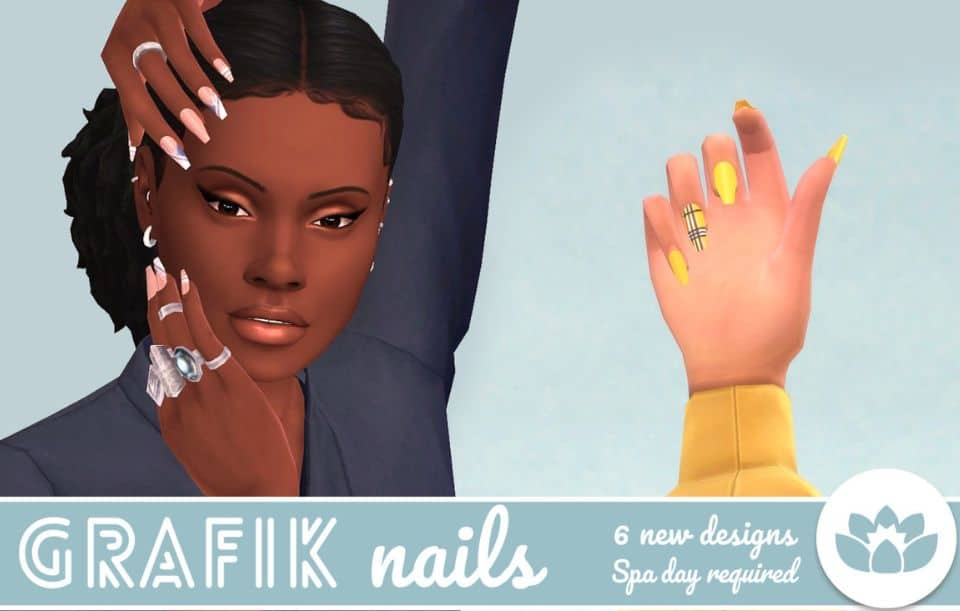 You will need The Sims 4: Spa Day game pack for this nail cc.
There is nothing like a relaxing spa day that ends with a beautiful and modern set of acrylic nails.
This set comes with 6 swatches, including some great designs.
My favorites include the nails of the sim above and the black swatch option.

15. Sims 4 Coffin Nails Collection by oydis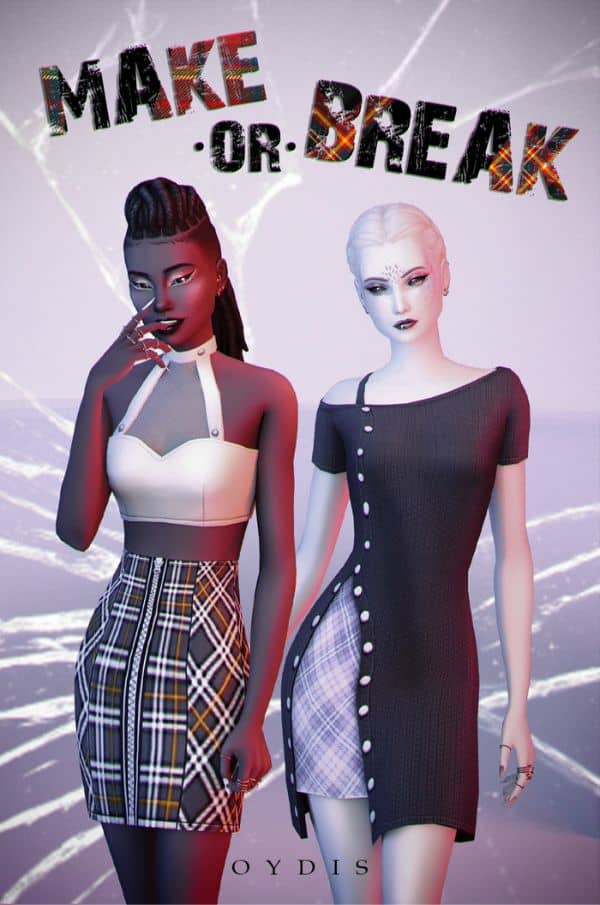 I love a multi-item collection, and this Make or Break collection has everything you need to compliment a new pair of nails.
This set comes with 3 nail cc options (short coffin, long coffin, and stiletto nails) in matte or glossy.
You can also grab rings or earring accessories and clothing pieces too.

16. Sims 4 Mismatched Nails CC by kissyck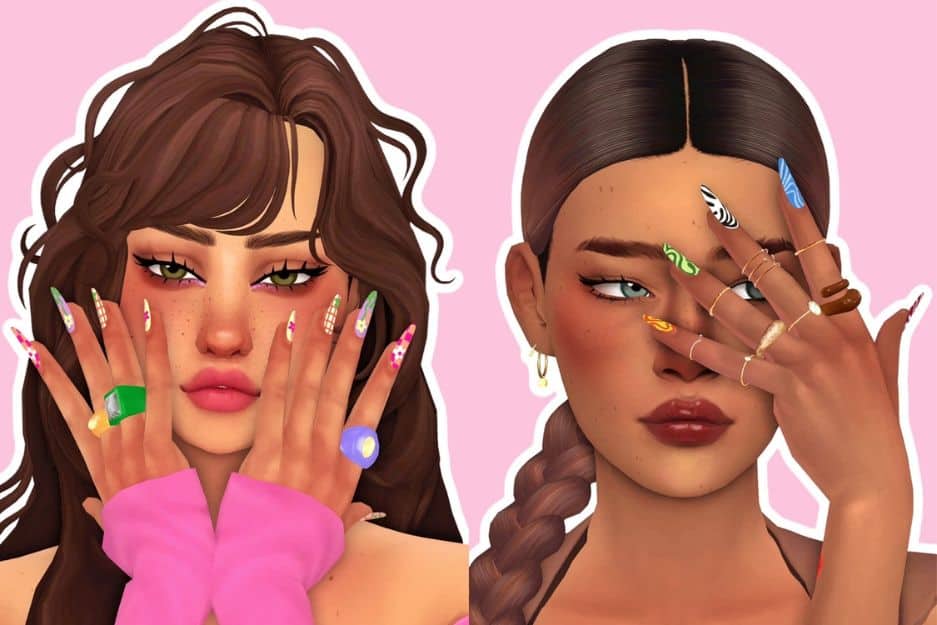 These nails remind me of those listed #5 also by kissyck, but here they are longer almond-shaped nails.
You'll find 6 mismatched nail swatches in both a long and short version.
These cute nails also work for both frames.

17. Almond Sims 4 Nails CC by isaiah illustrates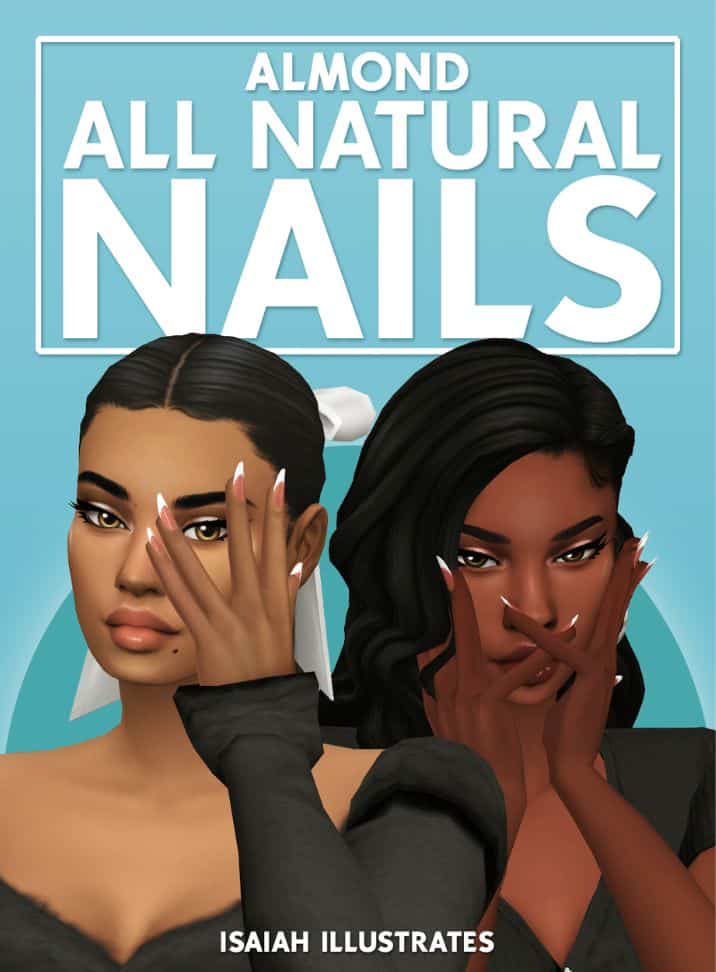 These natural-looking almond-shaped nails come in 3 styles for your sims.
You'll find the classic french manicure with white tips, or you can opt for more natural-looking swatches.
If you prefer black tips, there are 6 swatches of those too.

18. Ribbon Sims 4 Nails CC by MIRO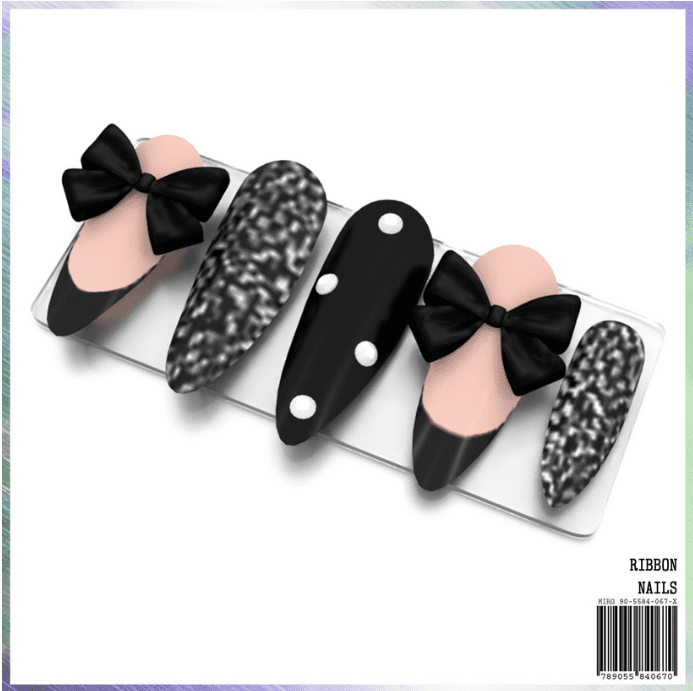 Another of my favorite sims 4 nails cc is this ribbon nail set by MIIRO.
Nails don't get cuter than this custom content set; the ribbons remind me of mini bowties.
And while I love the swatch above, there are also 14 other color options for all occasions.
The darker red option is perfect for the holidays, or one of the pink options is for your sim's bridal shower.

19. Long Natural Sims 4 Nails by Darte77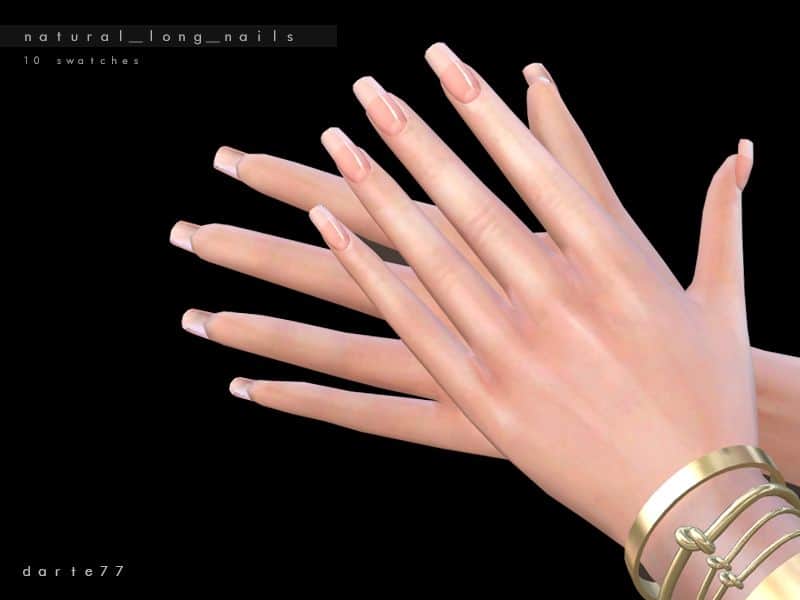 While we've already seen some great natural-looking nails above, this version has rounded tips.
While natural looking, these nails are on the longer side and really looked beautiful on my sim.
They are available in 10 different swatches and are in the ring category.

20. Pride Sims 4 Nails by NekoChan-Simmer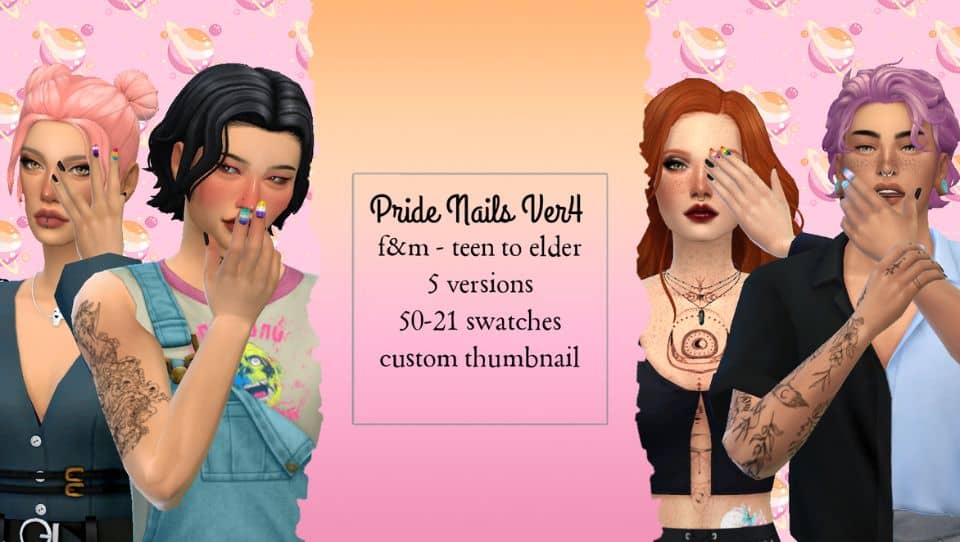 Grab rounded pride-inspired nails for the whole gang with this set of nails cc.
These nails are available for teens to elders and for both male and female sims.
There are 5 versions of the pride nails and up to 50 swatches depending on the cc you select.

21. Valentine's Sims 4 Nails CC by kissyck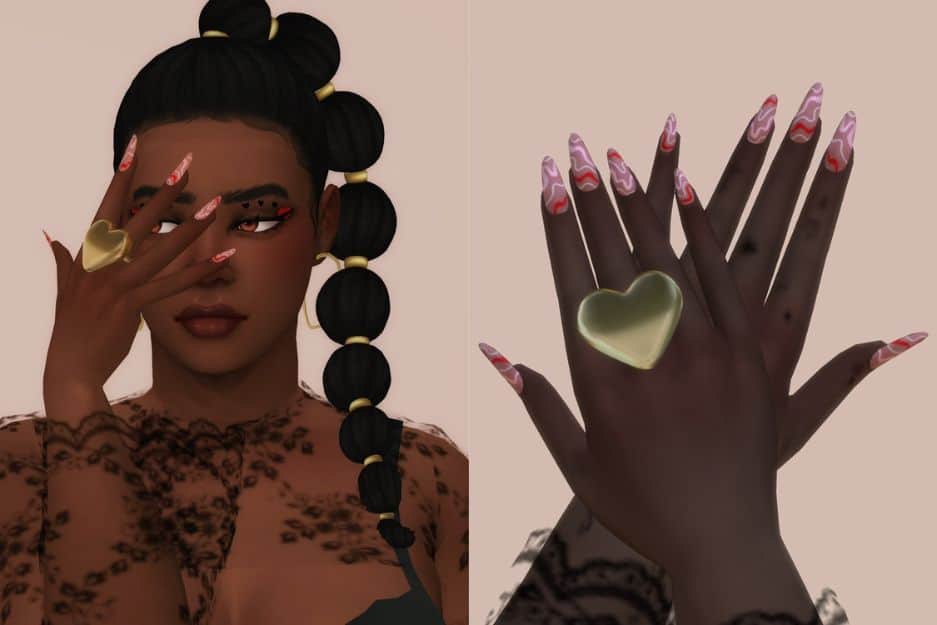 Valentine's day is, of course, the most romantic holiday of the year.
So it's the perfect opportunity to wear some Valentine-inspired nails.
From hearts and ombre nails to french tips with heart decals, there are 4 fun mismatched swatches to enjoy.

22. Sims 4 Christmas Theme Nails CC by Bellassims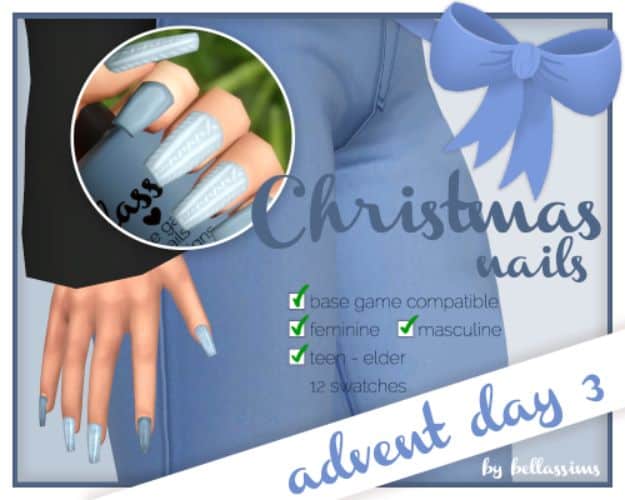 If your sims are really into the holiday season, these Christmas-inspired nails will be just the thing.
With the detailing on some of the fingernails, these coffin-tip nails are beautiful and come in 12 great colors.
Plus, these nails are also available for both male and female sims.

Sims 4 Nails CC: Final Thoughts
We hope you found some stylish and pretty sims 4 nails cc to create the perfect manicure.
From almond-shaped nails to black tip french manicures, there are beautiful custom-content nails for almost every occasion.
If you have any questions or suggestions, feel free to leave us a comment below or tag us on Tumblr.
More Sims 4 Accessories

And don't forget to share and pin this collection for later!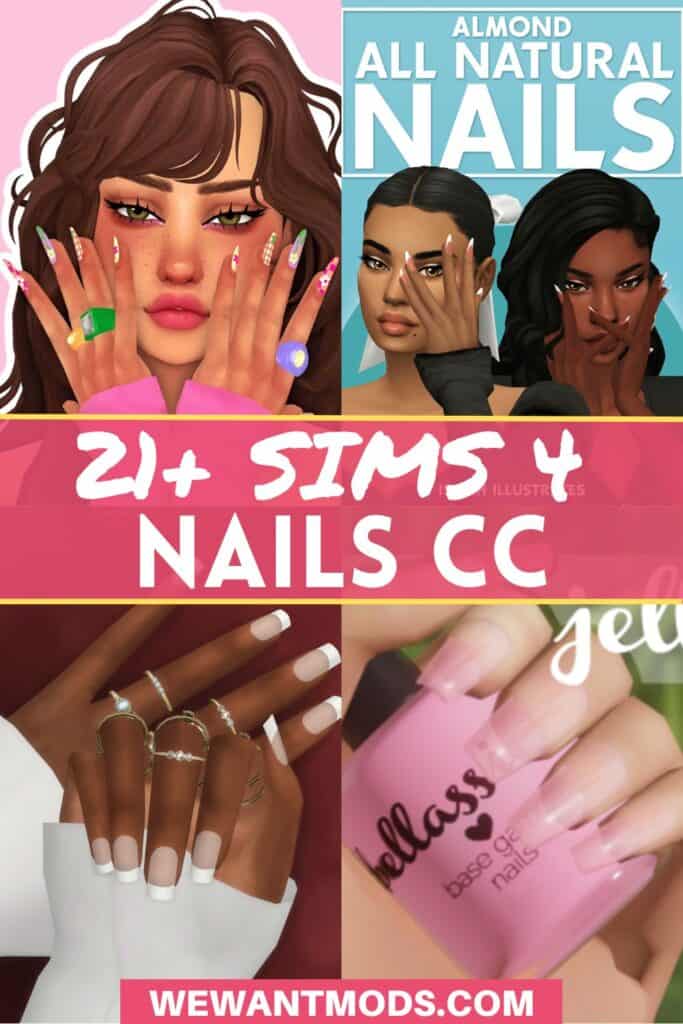 Best Sims 4 Nails CC [20+ Creative Designs]