25+ Sims 4 Skin Overlay Mods & Sims 4 CC Skins
Do you need a new sims 4 skin overlay to change your sims natural glow?
We've put together a great list of sims 4 cc skins for you to pick from.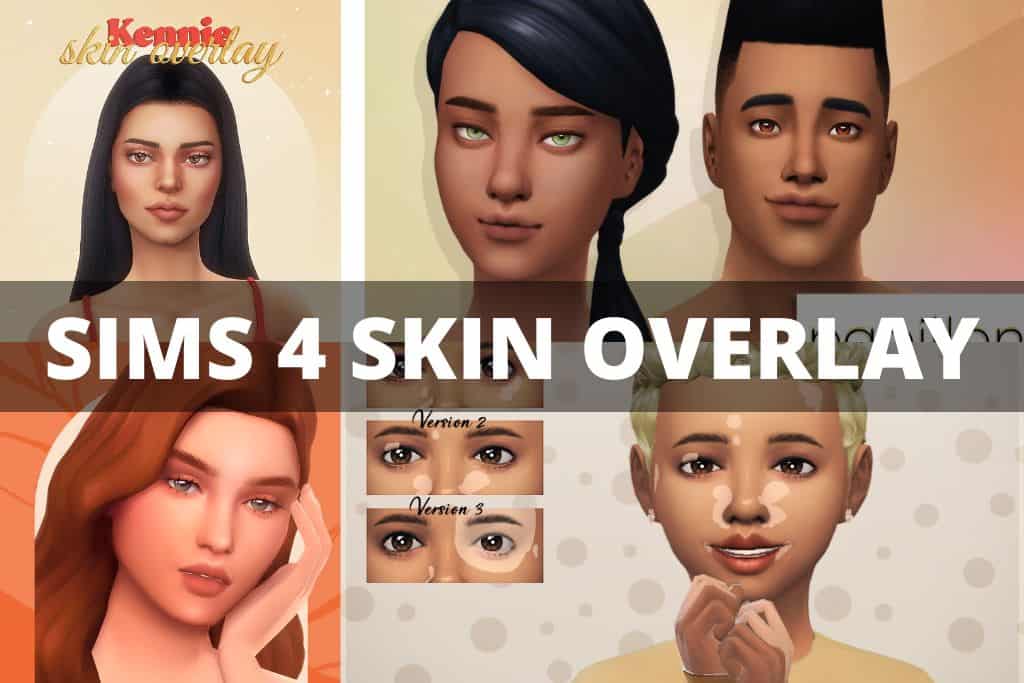 Whether you're into maxis match skin overlay mods or prefer alpha overlays, there are plenty of options available for your gameplay.
From kids to your elderly sims, there are custom sims 4 skin overlays to meet all your needs.
And since we all come with different skin types and what I like to call perfect imperfections, I've included some great inclusive options to represent those differences.
Let's take a look at some amazing skin mods.
What Is A Skin Overlay In Sims 4?
If you are new to sims 4 skin overlays, a few terms can be a little confusing (you can skip ahead if you are familiar with skin mods).
5 popular terms are;
Skins
Skin overlays
Skin blends
Default
Nondefault
Let's break that down. In the sims 4 there is a basic default EA skin for all your sims walking around.
When you download a default skin, it will replace the EA skin for everyone.
A non-default skin can be selected through CAS for any specific sim you want.
A skin overlay is like a coating; it goes over your EA skin.
This might make it more matte, highlighted, add contours, add shadows, change the appearance of the skin's texture, and so on.
Depending on the cc, the skin overlay may be a default or nondefault file.
Skinblends are just a mashup of a few skins to create a new custom skin mod.
Disclaimer: The following mods are neither endorsed nor affiliated with The Sims, Maxis, or Electronic Arts. Any use of mods (custom content or game mods) should be done with caution and with the knowledge that there may be risks.
Best Sims 4 Skin Overlays
While most of the cc below are sims 4 skin overlays, you will also find some skins and skinblends.
1. Papillon Sims 4 Skinblend by viiavi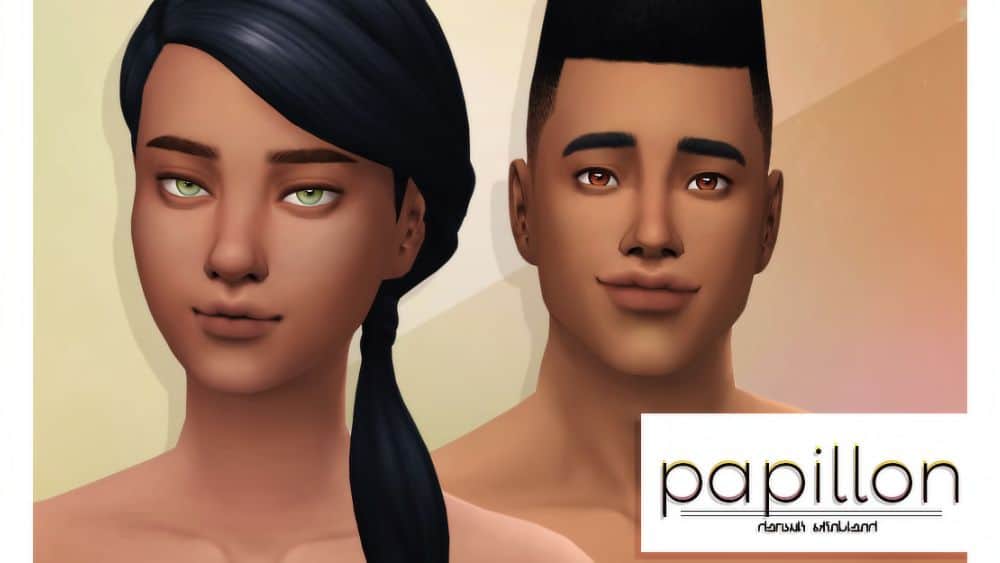 This maxis match skin mod by viiavi is one of my favorites.
While you won't notice dramatic changes with this particular skinblend (that's kind of the point 😉 ), this cc skin adds a perfectly smooth finish to your sims.
Available for all ages and genders.
You can opt for the default or nondefault skinblend, although the nondefault version is only for the face (found in skin details).

2. Sim 4 Male N2 Skin Overlay by Valuka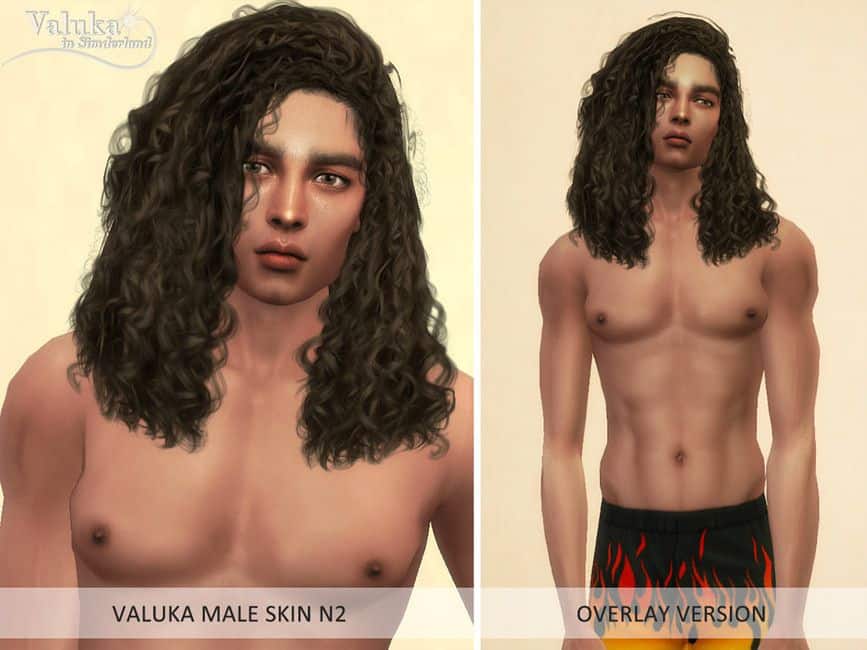 This skin mod makes your male sims skin look like they've been surfing all day.
While the muscles and six-pack are great, the golden sheen makes this skin overlay a winner in my book.
You get this beautiful golden shimmer throughout the skin overlay and a nice subtle sparkle on the lower lash line.

3. Kennie Sims 4 Skin Overlay by Miiko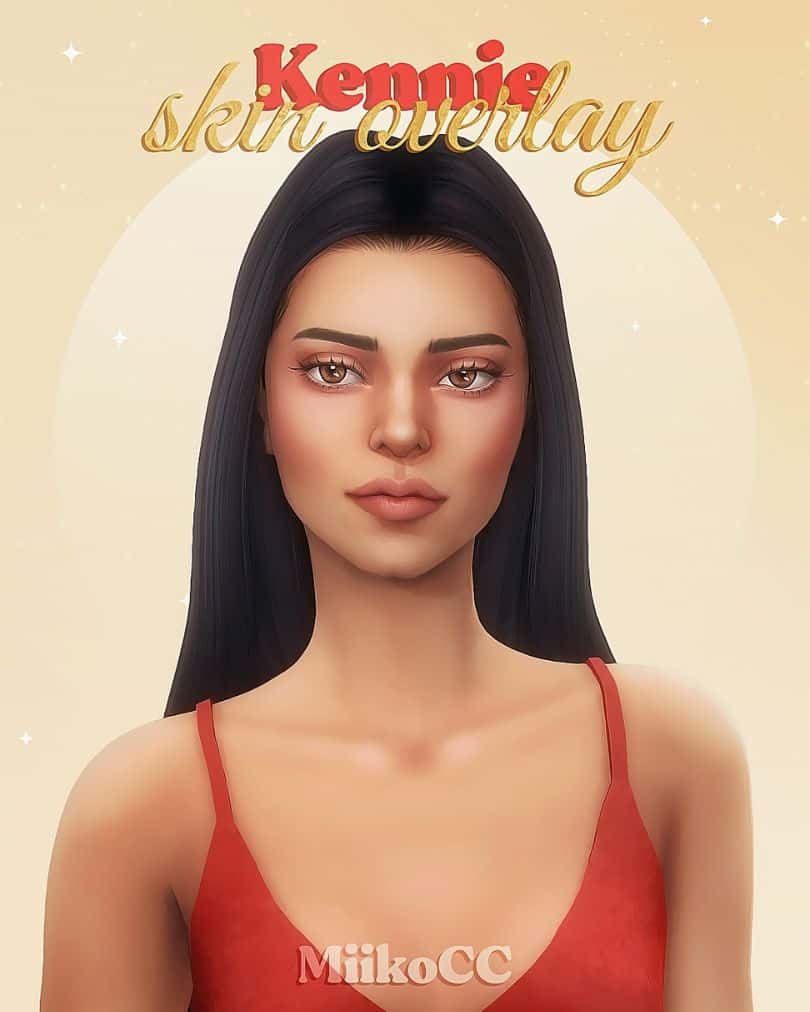 This Kennie skin overlay gives an overall smooth finish, removing those EA smile and necklines.
If your sims workout, you can expect them to lose their defined abs in place for a flat, smooth stomach.
You also get a delicate highlight along the bridge of the nose.
You can select your preferred opacity level (low and max) and whether you want the skin mod to be restricted to your face, body, or overall.

4. Female Vitiligo Skin Overlay by Peachtreees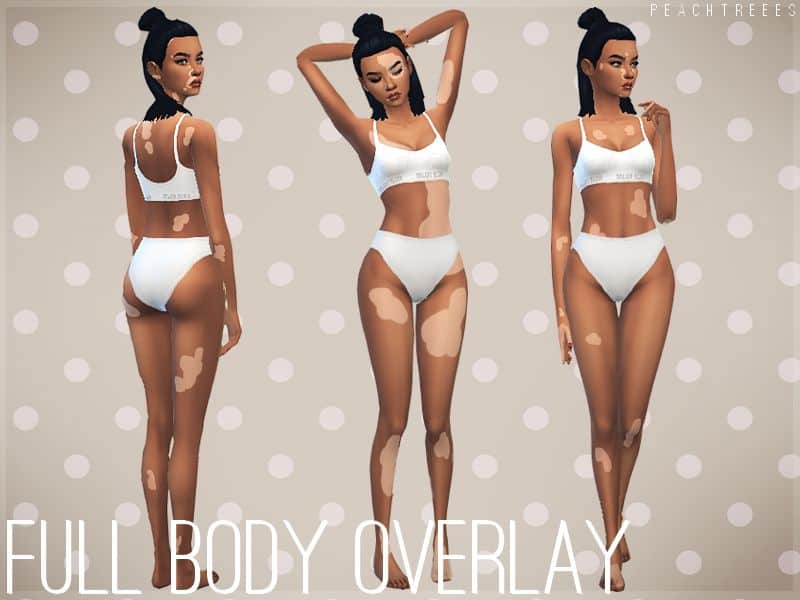 This vitiligo skin overlay by Peachteees is lovely.
Since vitiligo patterns vary in real life, I liked that this skin overlay includes 3 different versions to show possible differences.
This skin mod works for males or females, sims aged between teen to elder.

5. Lueur Sims 4 Face Overlay by Nords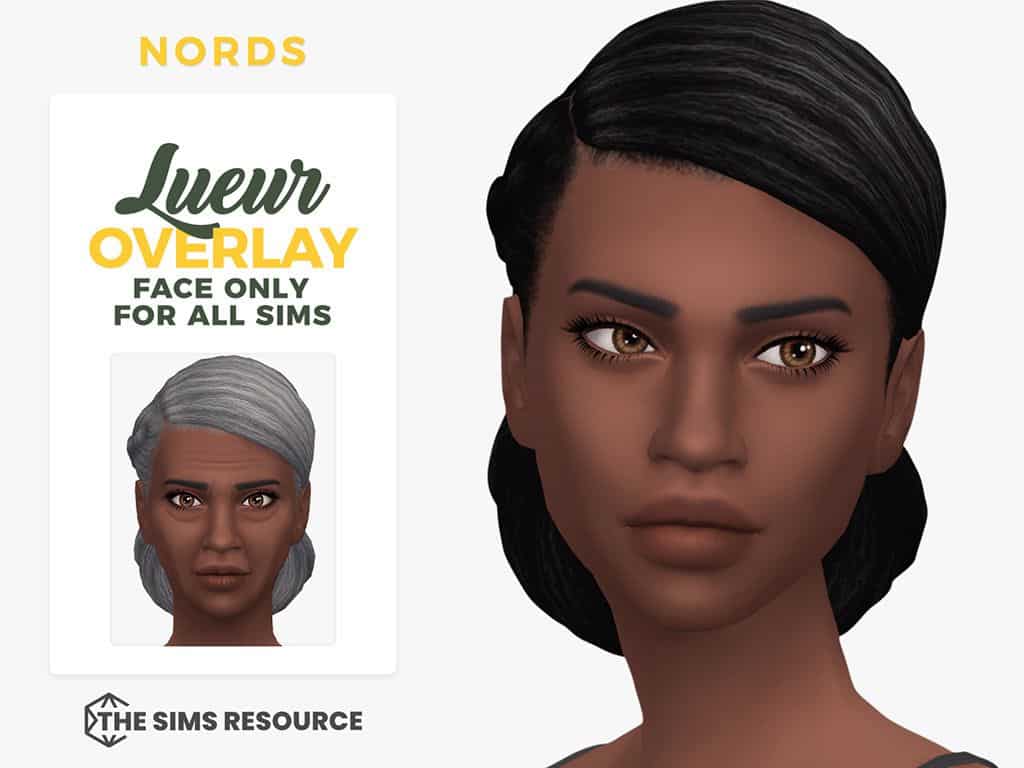 This face-only skin overlay adds great shadow definition and smoothness to your sims.
You have 8 swatches to choose from. Four of the swatches include deep forehead and under-eye wrinkles.

6. Toddlers Skin Mod N4 by sims3melancholic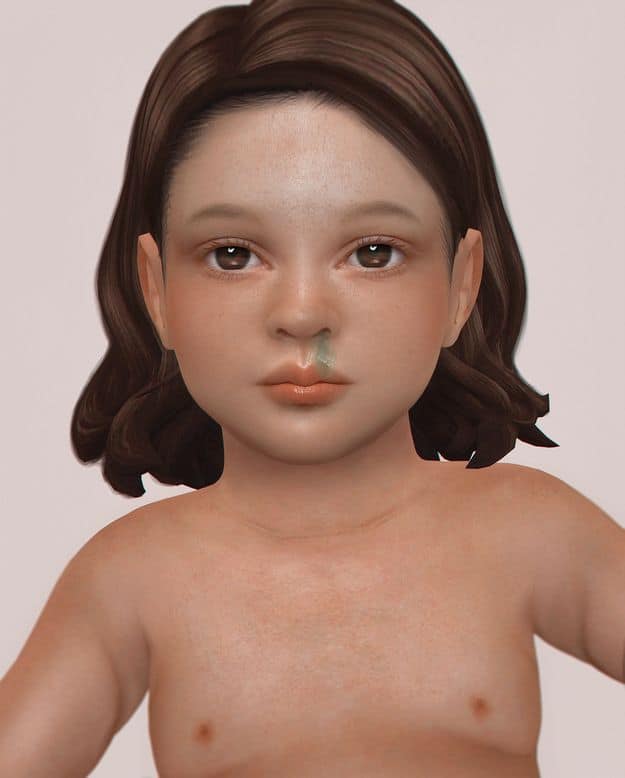 This toddler skin and overlay set brings an excellent realistic finish to your young sims.
Your toddlers will also end up with a delicate set of eyelashes.
If you want some extra fun, there is a snot feature you can add on.
The toddler skin is available in 25 colors, while the overlay comes in 5 colors and can be found in the skin details category.
If you opt for the snots file, you also get 5 options and 10 colors to perfect the perfect snot 😉 and they will be in the accessories section.
While the skin and skin overlay are for toddlers only, the snot can be used on all genders and ages.

7. Cellulite Sims 4 Skin Overlay by Miiko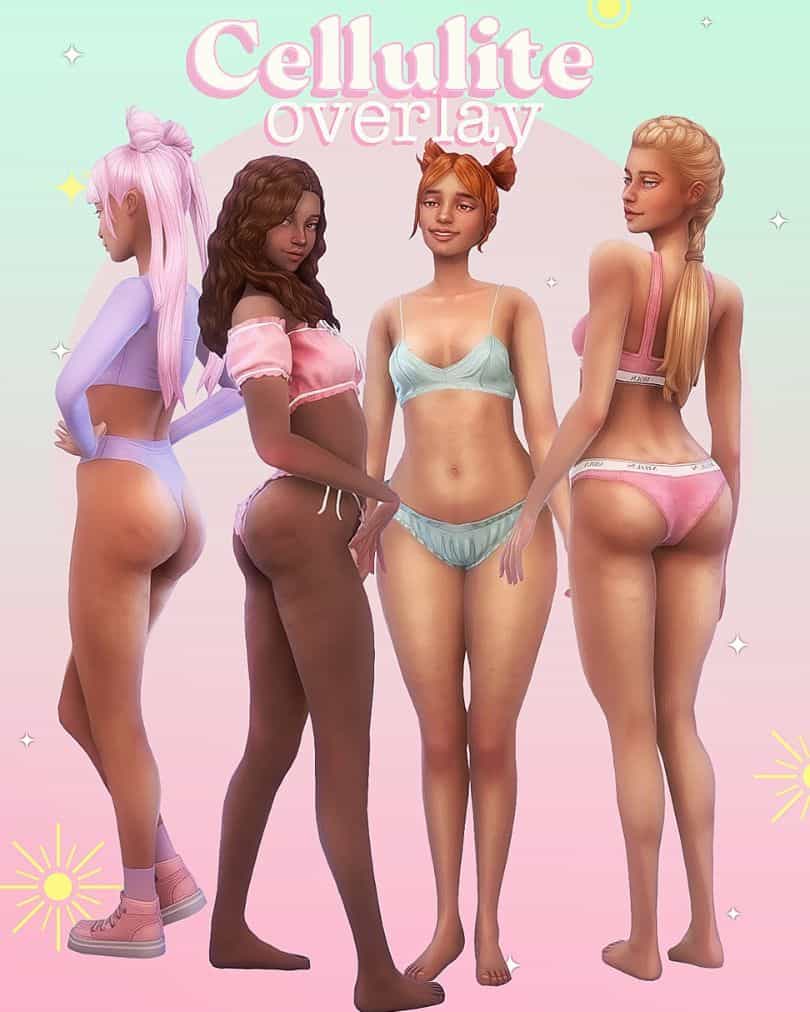 Does anyone else struggle with cellulite?
We can't all have perfect skin, so I always enjoy adding some realism to my gameplay.
This cellulite skin overlay adds body dimples to your arms, stomach, butt, and legs.
You can opt for a strong or subtle effect, the latter only appearing in the legs.
Available for teens and up and for all genders.

8. Sims 4 Freckle Skin Overlay by Nolan-Sims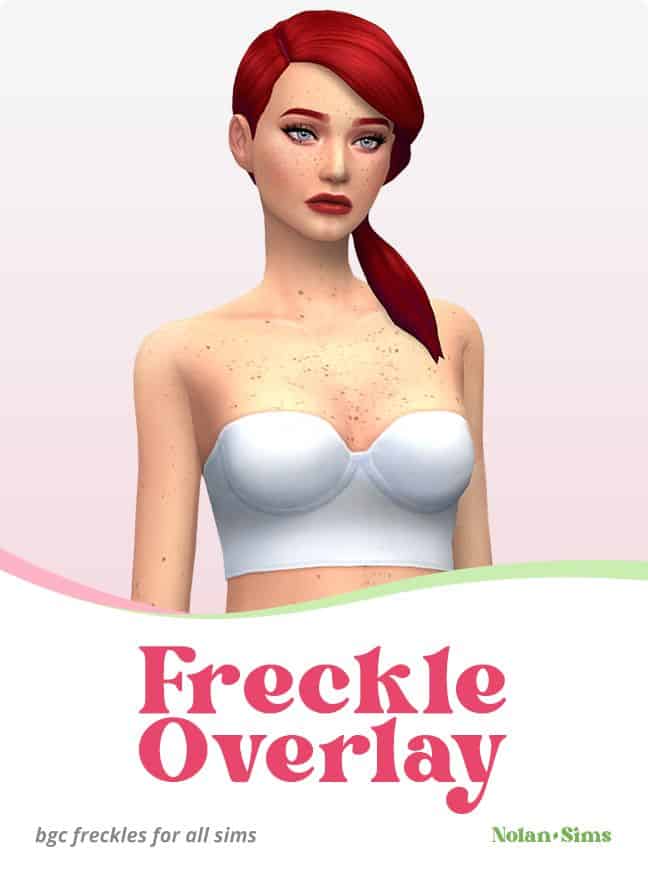 If you are into freckles, then this skin overlay is a must.
You get 12 swatches to play around with, varying in freckled intensity and placement.
If you go for the full thing, the freckles will appear on your sim's face, chest, belly, and knees/upper calves.

9. Sims 4 Evie V2 Default Skin by FrenchieSim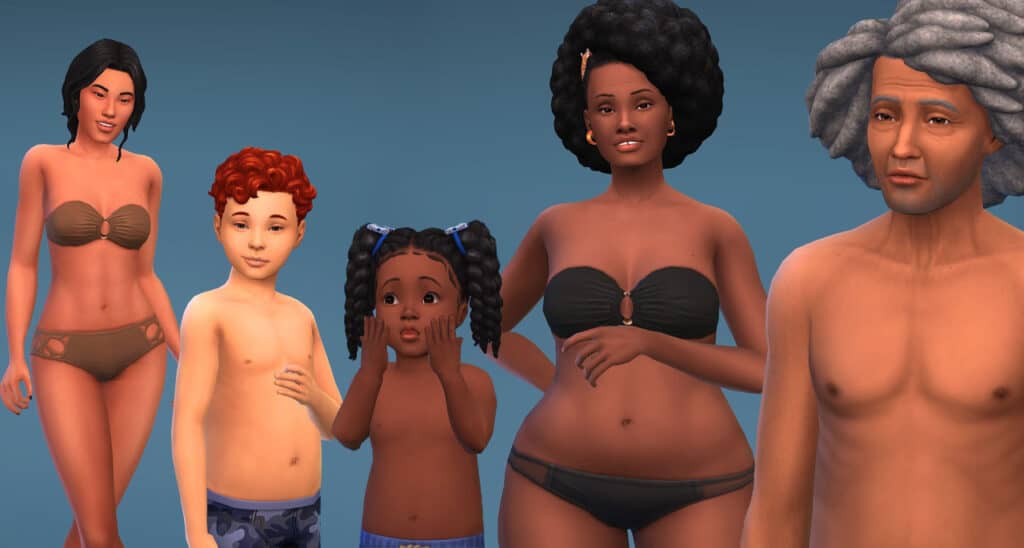 The Evie V2 is a mix of FrenchieSim's Evie V1 and Sihua overlay.
This default skin is more detailed and works for all genders, ages, and a variety of body types.
You can also add the eyebags and nose marks files for some extra details.
I particularly liked the option of my sims having either small or intense eyebags.

10. Sims 4 Spotless Skinblend by Nords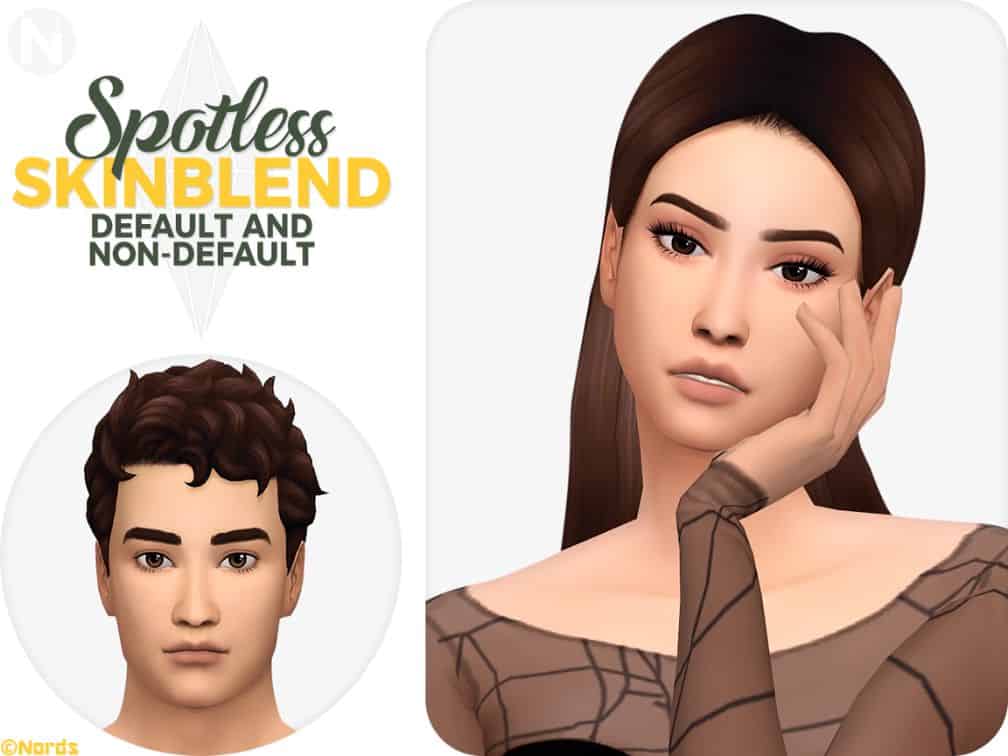 This skin blend really lives up to its name, giving your sims a spotless finish.
You lose all those harsh contours and shadows the EA skin had and are left with a smooth-looking sim.
This skin blend is a default file, you can opt for a nondefault version, but it will be only for your sim's face.
Available for males and female sims and of all ages.
You will find this skinblend in the skin details section (both forehead wrinkles & mouth crease) and also under face paint.

11. Sims 4 Serenity Skin Overlay by MSQSIMS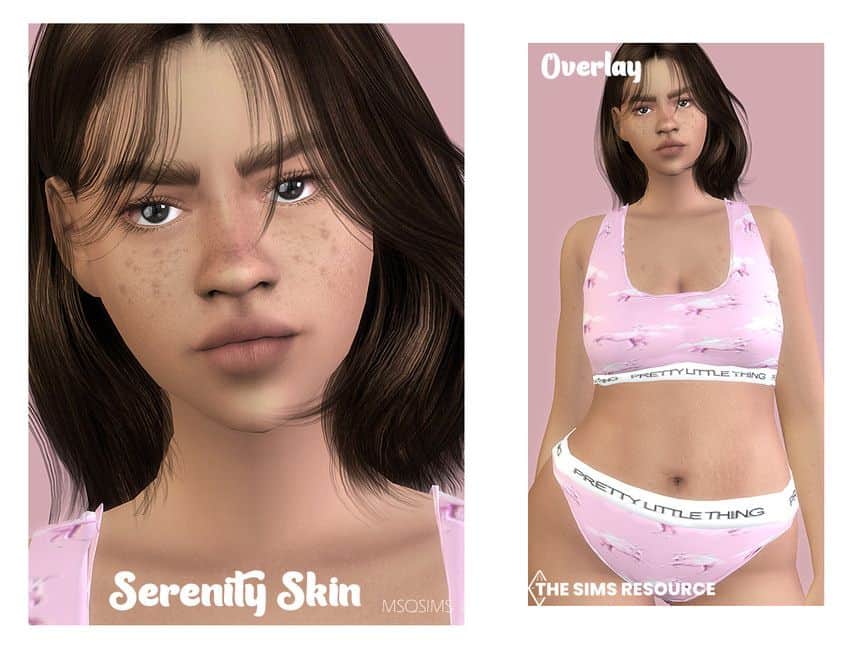 This skin overlay brings a nice touch of skin imperfections to your sims.
Your sims will display freckles, stretch marks, and acne across the face, upper chest, and belly.
Available for female sims from teens to elders, this skin mod is compatible with all skintones and comes in 4 swatches.

12. Sims 4 Mercuria & Tinsel Default Skin Overlays by Lamatisse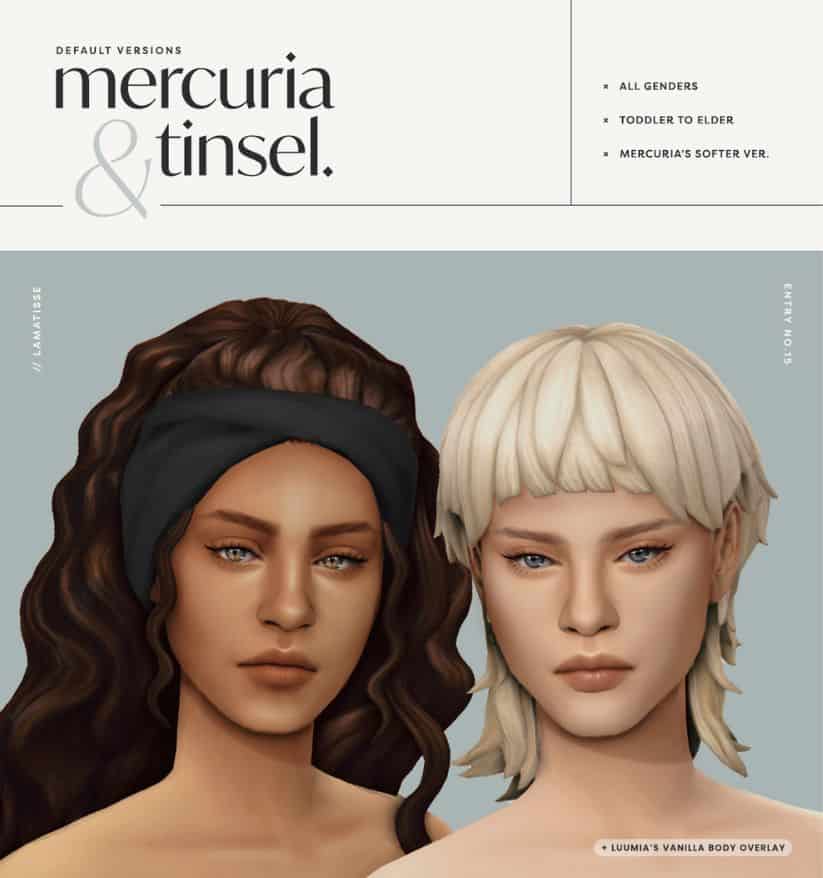 Lamatisse came out with the default version of their popular Mercuria and Tinsel overlays.
The Mercuria adds some great under-eye details and skin tone.
The Tinsel does share some of the eye details of Mercuria; it also covers some of those EA highlights and nose shadows.
With both skin mods, you can opt for wrinkles too.
You can also opt for the nondefault versions too.


Related Post: 27+ Creative Sims 4 Tattoos

13. Lemonade Sims 4 Skin Overlay by TwistedCat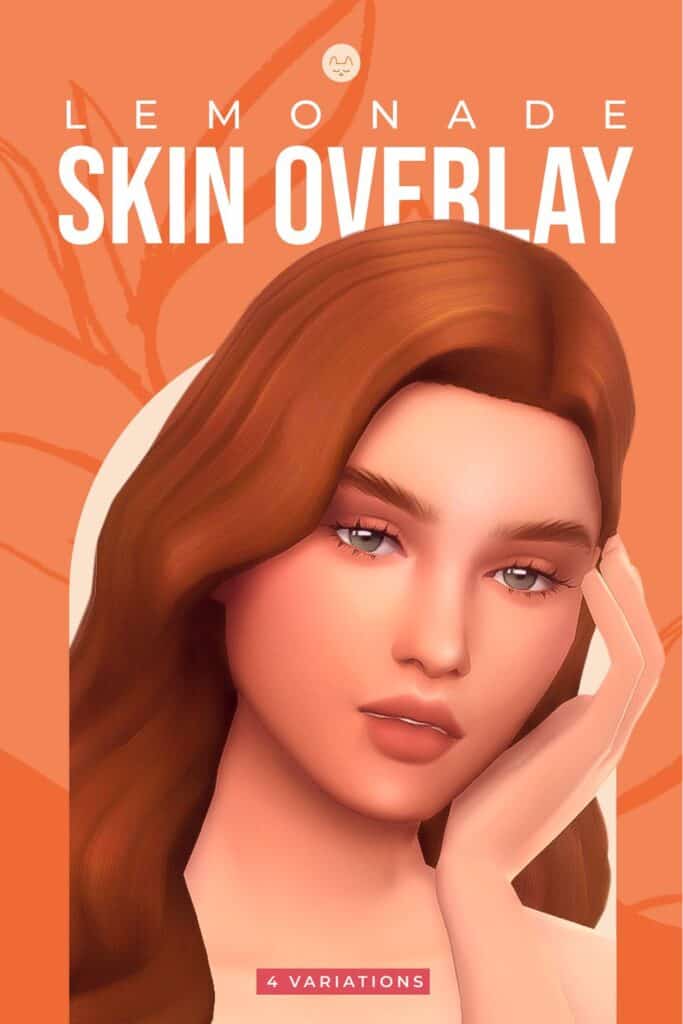 This face-only Lemonade skin overlay is another option for those seeking a smooth finish to their sims face.

You have 4 options to choose from, 2 of which will provide some freckles across the nose, and a couple of options will also give your sims a more notable nose bridge.

14. Sims 4 Edith Skin by MSQSIMS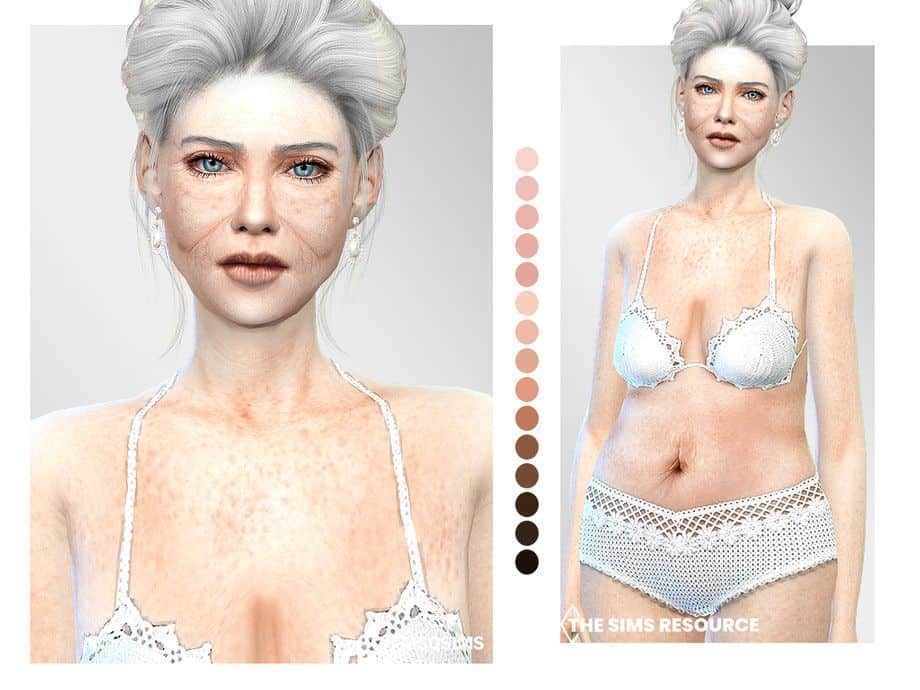 This Edith skin is absolutely stunning; the attention to detail is quite impressive.
From the drooping cheeks, sagging skin around the belly button, and the age spots, this female skin is as realistic as you could ever want for your elder sims.

You get 15 skin colors, varying from light to dark.

15. Sims 4 Alpha Skin by sims3melancholic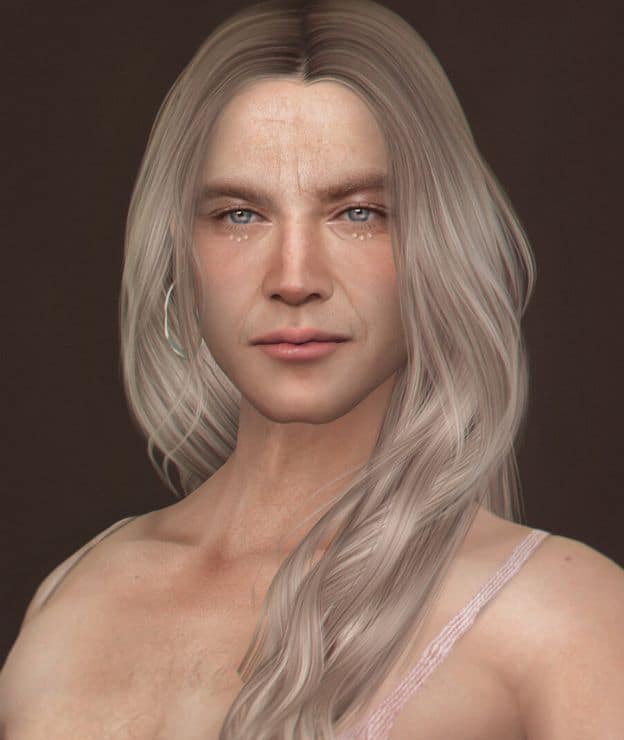 This roman male skin overlay definitely gives me elvish vibes with its subtle highlights.
And when opting for the skin option, some interesting sparkles appear on some of the darker skin tones.
The attention to detail by sims3melancholic is genuinely amazing.
You can expect your male sims to have an extremely lean look with some ribs peeking through.
There are some scars on the inner arms. You also get these great laugh lines and eleven wrinkles on the face.

Available as both a skin or skin overlay in the skin details section.

16. So Creamy Sims 4 Skin Overlay by TwistedCat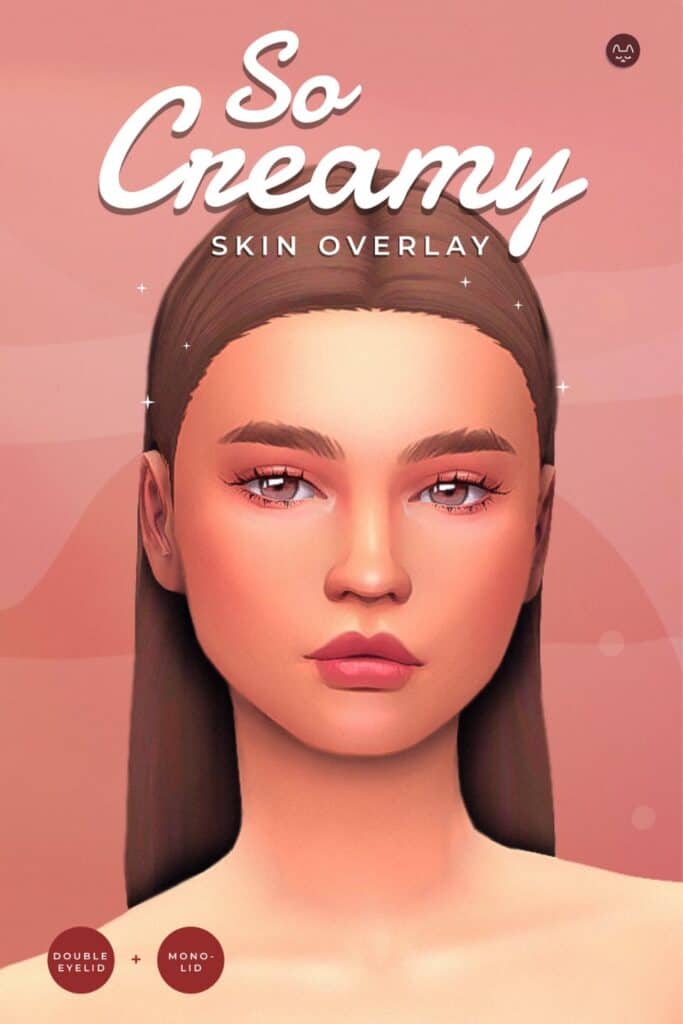 With this beautiful creamy skin overlay, you can expect some of the harsher lines to be smoothed out.
This skin mod comes with 4 eyelid options, including double eyelids or monolids.
Available for all genders and ages and can be found in the skin details section.

17. Serena Sims 4 Skin Overlay by Miiko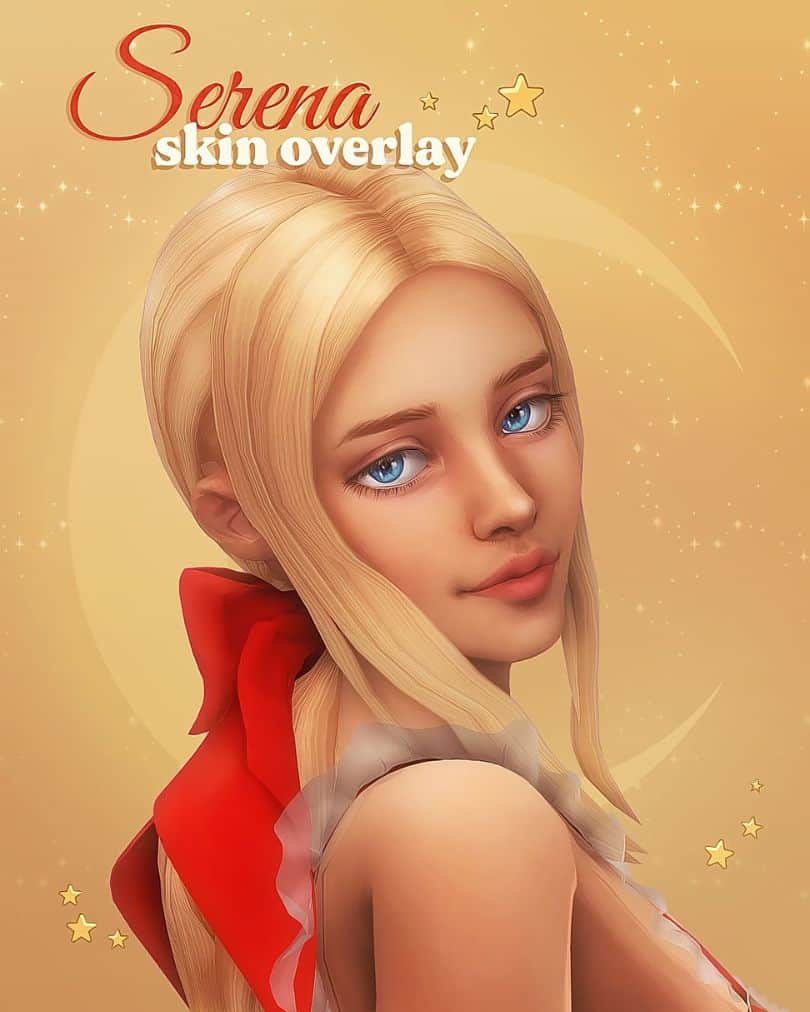 As I've mentioned before, I'm a huge fan of Sailor Moon and anime style, so it's not surprising I love everything Miiko creates.
This Serena skin overlay adds subtle shadows and lines to your sims and just a beautiful finish overall.
You can opt for the complete body overlay or select just the face or body options.

18. Kids Vitiligo Beauty Skin Overlay by peachtreees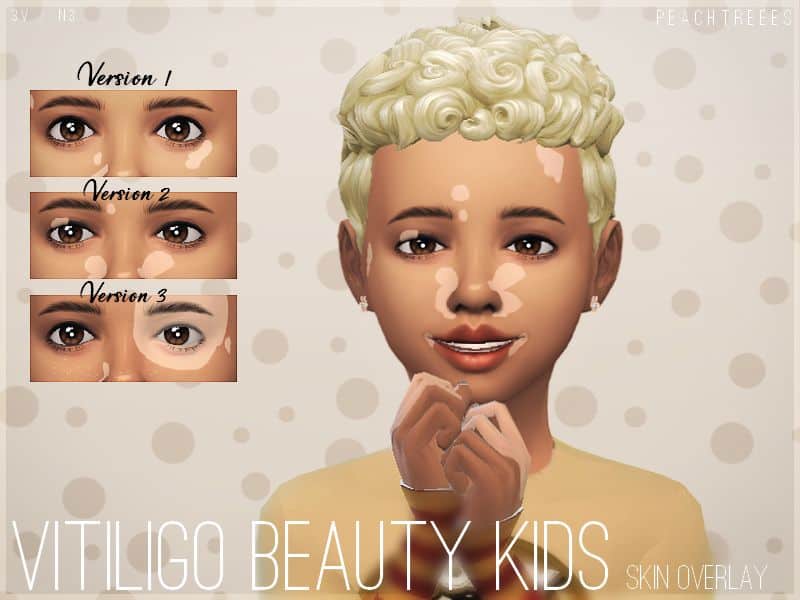 Since the vitiligo skin overlay at number 4 is only for teens and up, I still wanted to include a kids version since vitiligo can start at any age.
This skin overlay works for male or female kids and has 3 versions of the vitiligo details.
You can find the overlay in the skin details section.

19. Sims 4 Alpha Skin Overlay N5 by Valuka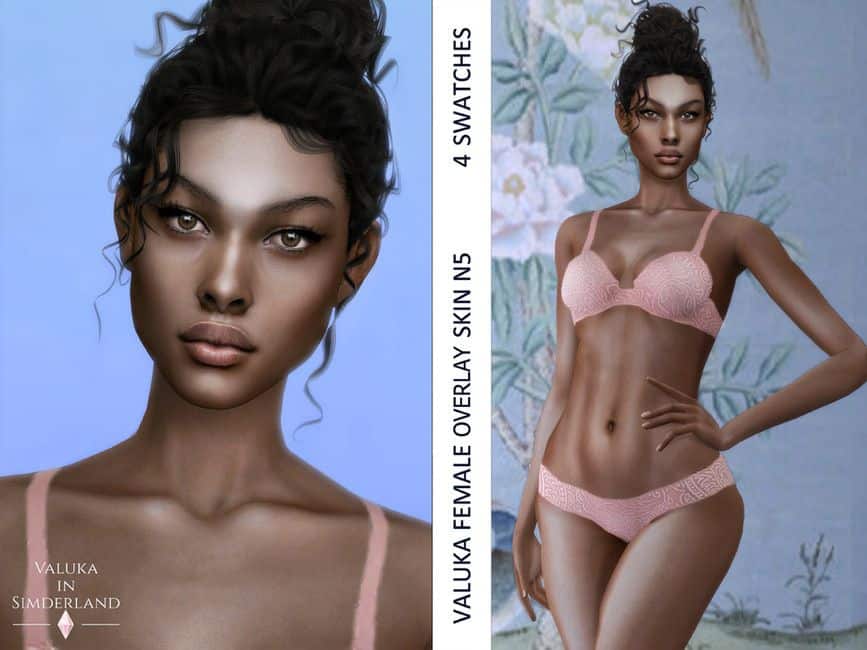 This skin overlay by Valuka is another one of my favorites.
Pick from 4 different brightness levels; your sims will get a head-to-toe glam up.
There are also some beautiful highlights on the nose ridge, cupids bow, lips, chin, and forehead.

20. Sims 4 Enemy Skin Overlay by Miiko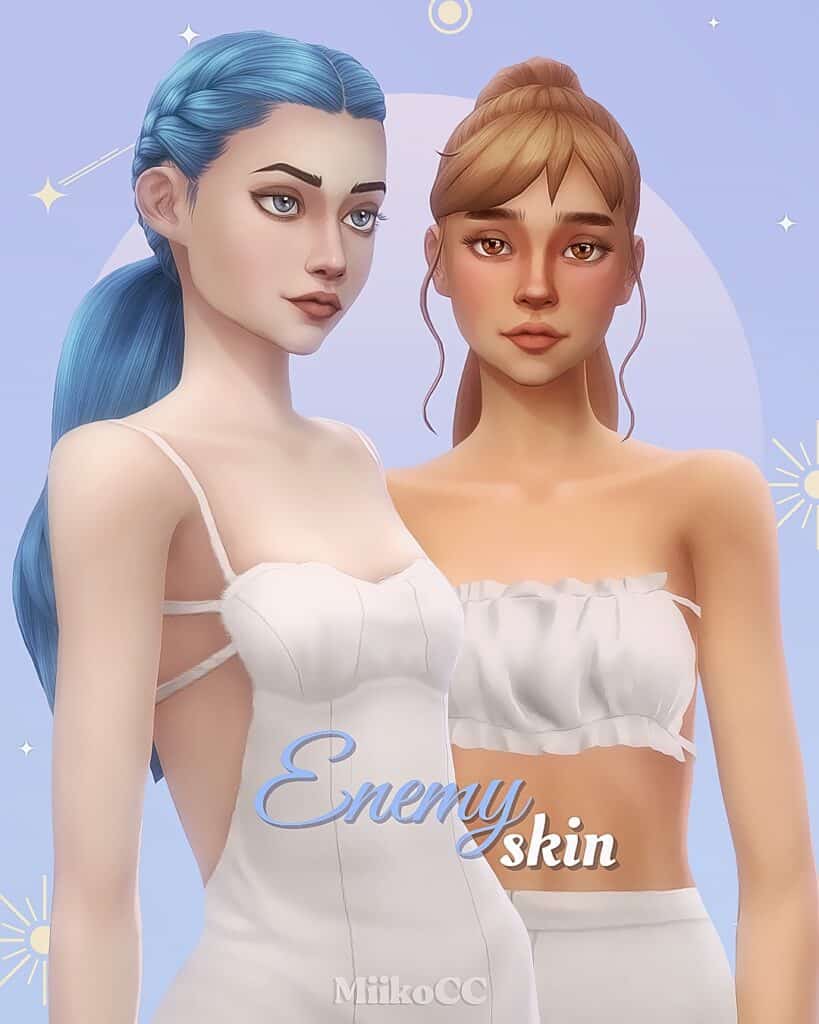 Have fun testing out Miiko's Enemy skin; you can find your favorite swatch with two different versions of face details.
These skin overlays play around with facial features, body shadows, highlights, and your sims will also get pronounced clavicle bones.
You can choose full or soft opacity and limit the overlay to the face or body if you prefer.

21. Sims 4 Lunaria Skinblend by nesurii
This skin blend not only gives your sims a smooth finish but a brightening highlight under the eyes and across the bridge of the nose.
You can opt for the default skin or the nondefault face overlay.
Available for toddlers to elders.

22. Sims 4 Happy Lines Skin Overlay by emmibouquet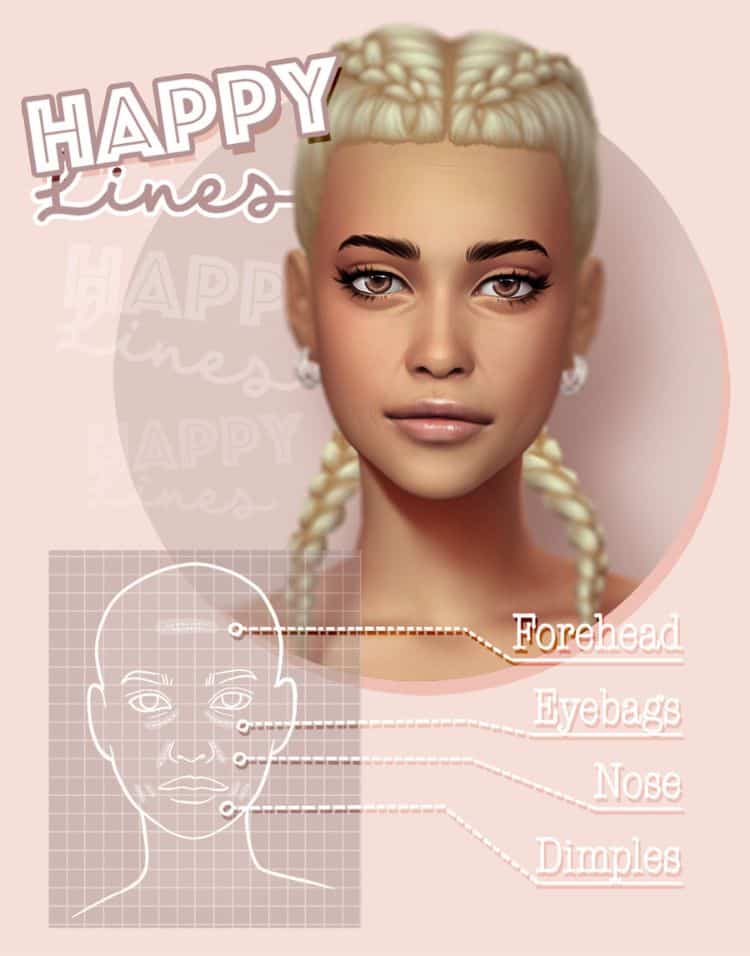 None of us can permanently escape the signs of aging, not even our sims.
Wrinkles can add character to your sims face, and the Happy Lines skin mod provides eyebags, forehead, nose, and dimples lines to your aging sims.

Maybe your sims are just lacking sleep, and eyebags will do; you decide the level of detail.

23. Sunflower Skin Mod & Overlay by Pralinesims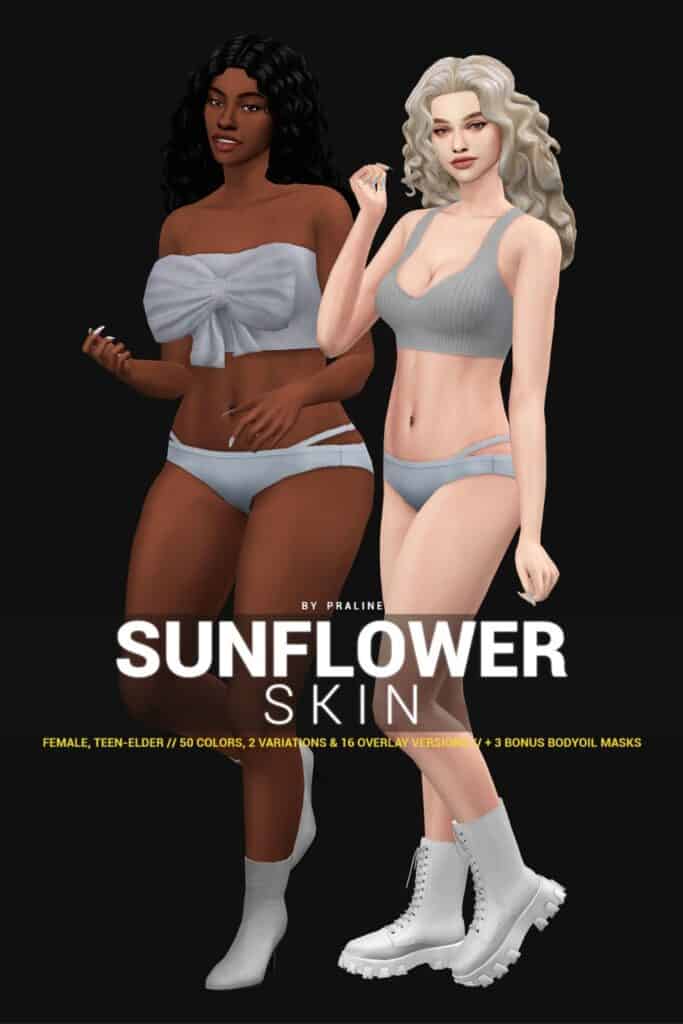 This skin and skin overlay set by Pralinesims has everything you could need in one spot.
You get 50 color swatches for the skin version (including 2 different cleavages).
The overlay skin works with EA swatches and sliders.
You also get different opacity versions and can play around with the eyelids and muscle/weight sliders too.
Be sure to try out the included body oil too.

24. Sims 4 Contouring Skin Details Mod by RemusSirion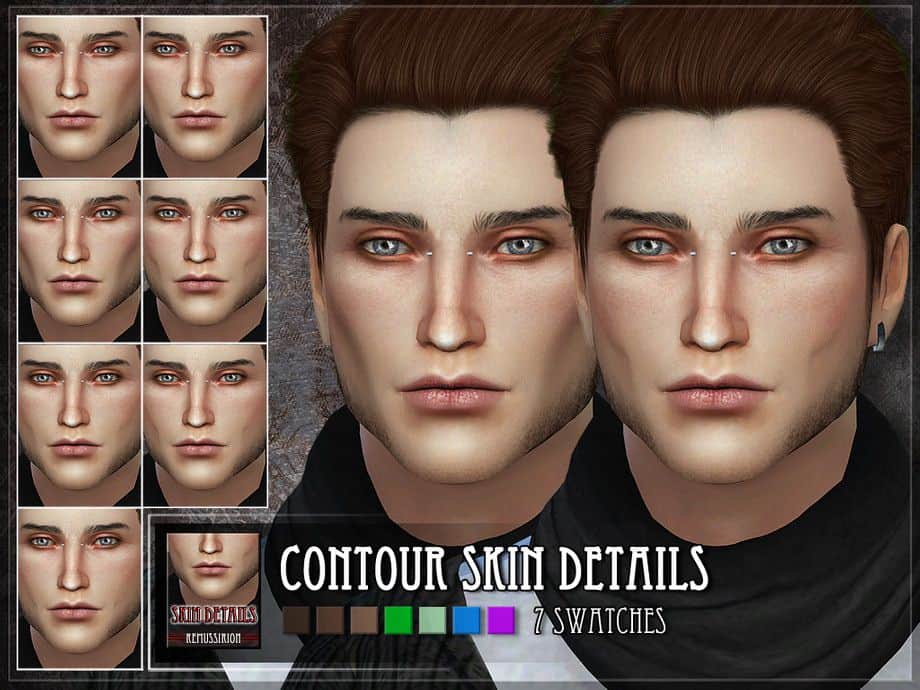 When looking for cc, I often get inspired by the creator's artwork; it often gives me ideas on how I want to try out their custom content on my own sims.
This skin mod totally gives me Edward Cullen vibes.
The contour skin details provide great chiseled cheekbone options for my brooding sims.
Available for all genders and from teens to elders.

25. Sims 4 Johanna Alpha Skin by sims3melancholic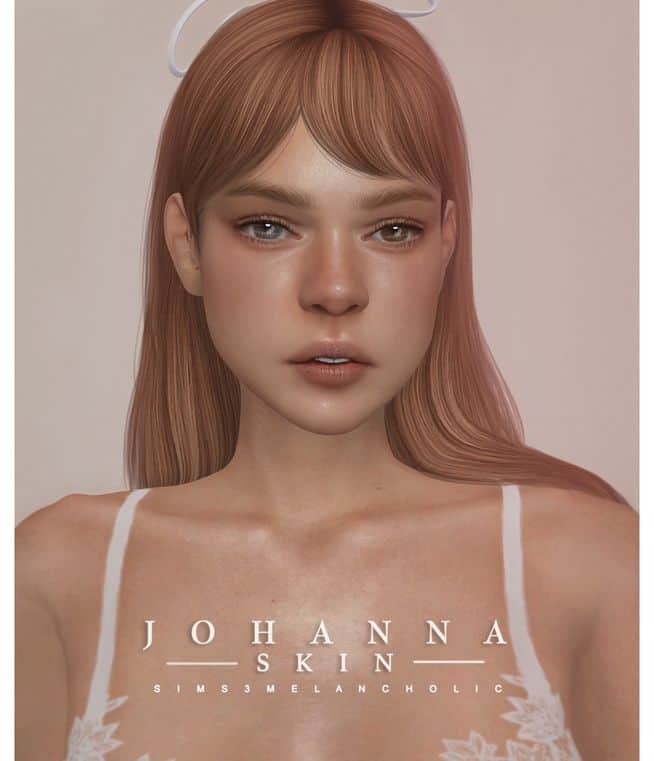 This is another fantastic skin and skin overlay set by sims3melancholic.
As you can probably tell, I really appreciate the realistic look of Alexander's alpha skin mods.
The Johanna alpha skin overlay has this natural sheen to it like your sim just went for a brisk walk or stepped outside in the warm, humid air.
You have 40 skin colors for the skin mod and 10 colors (with 2 options) for the skin overlay.

26. Sims 4 Michelle Skin Set (N5) by PoyoPoyo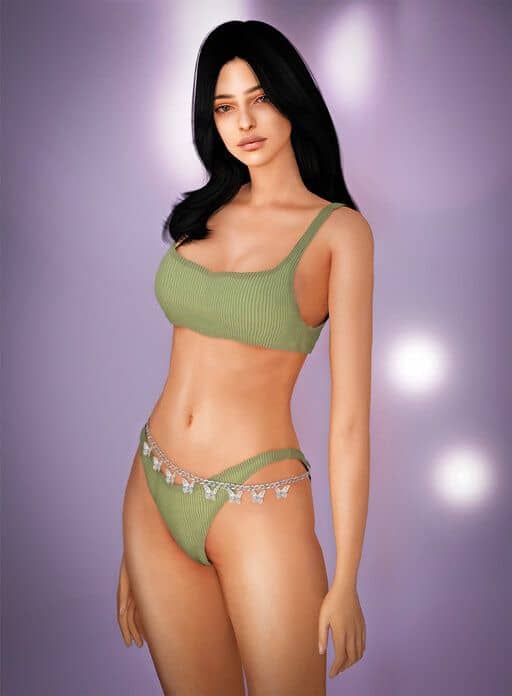 In this skin set, you can opt for the alpha skin, available in 38 swatches, or the skin overlay, which comes with 4 swatches.
Your sims will get beautiful plump lips, a finner nose, some lower lash eyeliner, and overall smoother skin.

Final Thoughts On Using A Sims 4 Skin Overlay
Hopefully, you found a sims 4 skin overlay in the list that spiked your interest.
Skin mods can really add some great dimension to your sims looks.
So try out a variety of mods to find which skin overlays and skins give your sims the best finish.
If you have any questions or suggestions, feel free to leave us a comment below or tag us on Tumblr.

Similar Custom Content Posts

And don't forget to pin this article for later!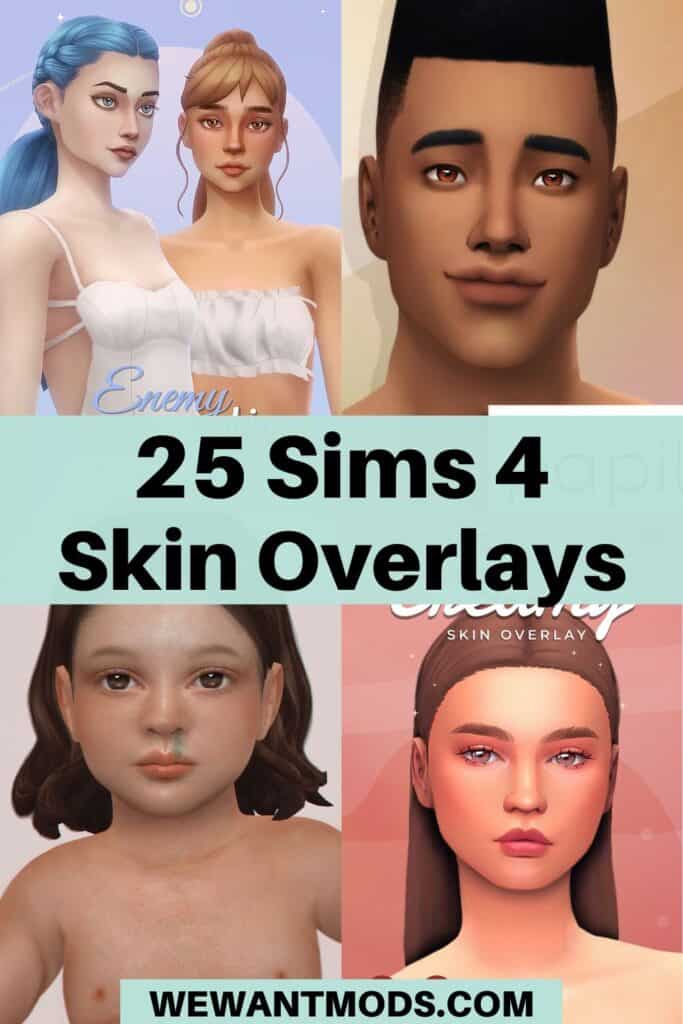 25+ Sims 4 Skin Overlay Mods & Sims 4 CC Skins