20+ Sims 4 Slippers CC: Cozy Designs To Lounge In!
Step into cozy with this collection of Sims 4 Slippers CC!
Are you the type of person to wear slippers year-round?
When it comes to slippers, some people have a whole collection of different designs for each season.
My parents have at least a half dozen models each, from rubber to furry plush slippers, so their feet are never bare.
So I recently was upgrading my sims cc folder and needed some new slippers and decided to put together a mix collection for you, too.
Disclaimer: The following mods are neither endorsed nor affiliated with The Sims, Maxis, or Electronic Arts. Any use of mods (custom content or game mods) should be done with caution and with the knowledge that there may be risks.
Comfy Sims 4 Slippers CC
Below, you will find a mix of different styles of slippers, from warm wool creations to easy open-toe summer options.
1. Furry Slippers CC by Arltos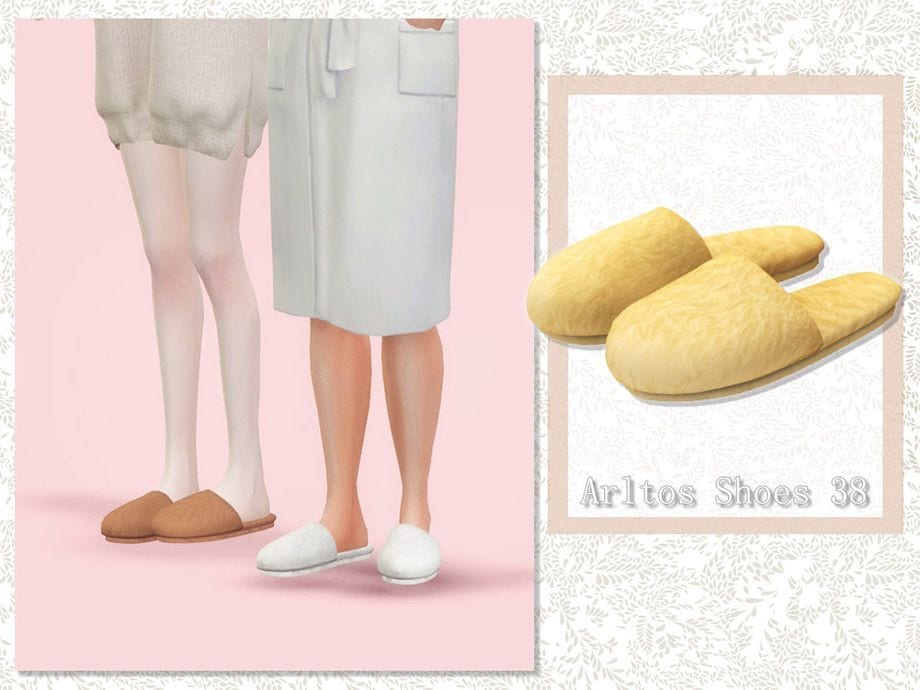 Let your sims slip their toes into cozy furry slippers for the evening.
These open-backed slippers come in 9 colors, including light-colored swatches like white, pink, blue, purple, and beige.
There are also some darker shade options: dark orange, cream, brown, and black, so you can easily match the slippers with your sims favorite pajamas.

2. Holiday Slippers Recolor Set by Miss Ruby Bird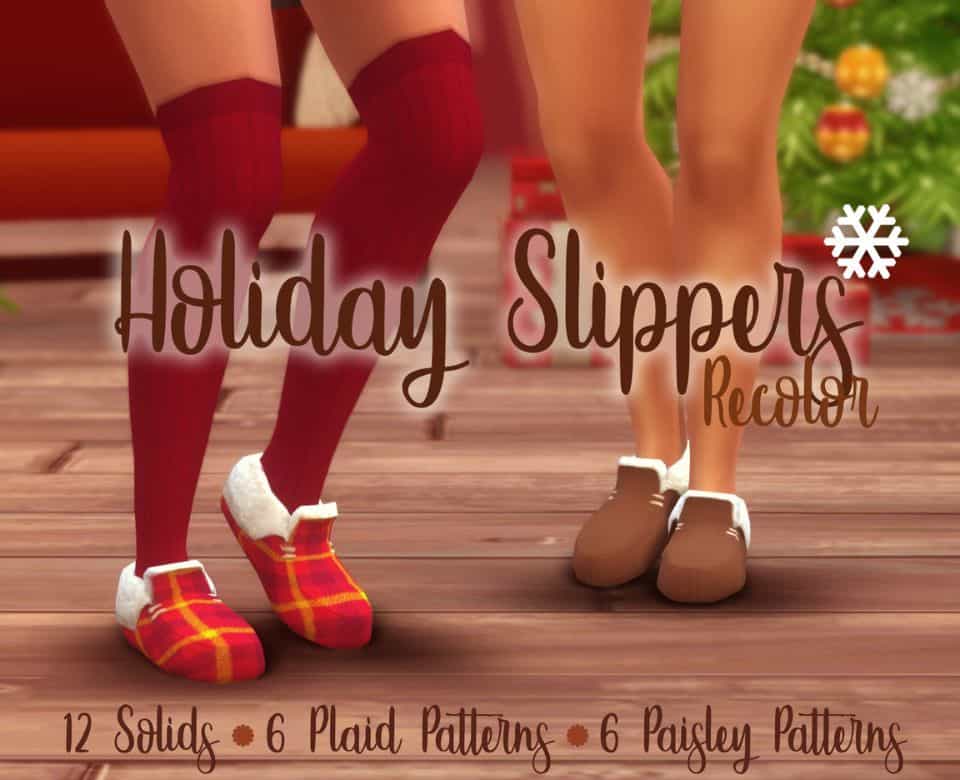 The holidays are that time of year when almost anyone in a colder climate appreciates some comfy, cozy slippers.
Plus, when you add some plaid and paisley designs to slippers, you kick things up a notch, too.
These slip-in slippers have a warm wool interior and come in 12 solid colors, and 6 colorful plaid and paisley patterns.

3. Slip-On Slippers by ShakeProductions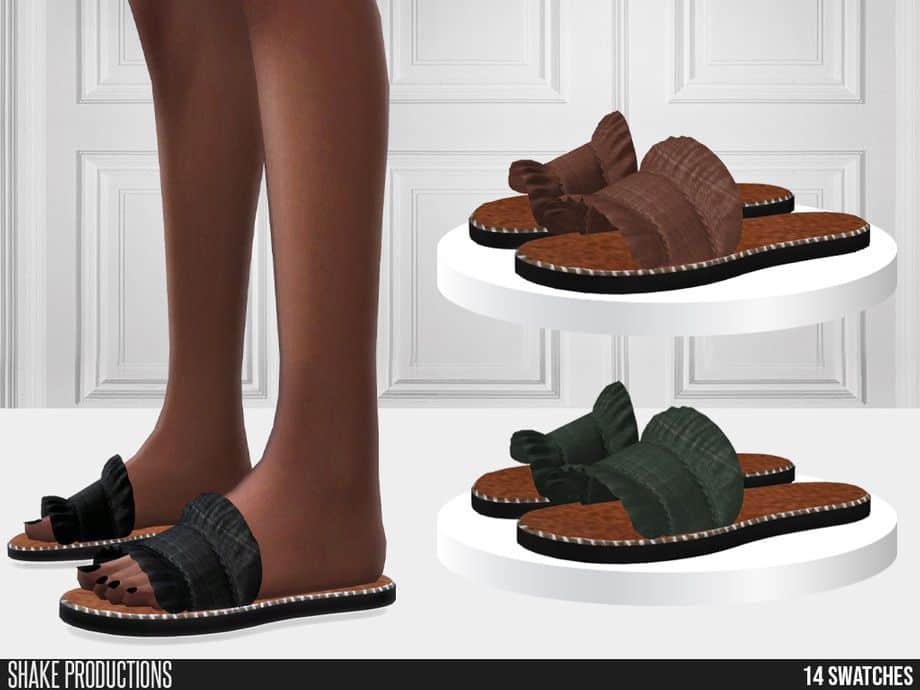 As I mentioned my parents are obsessed with slippers and keep multiple styles around the house, including some similar to these slip-on frilly slippers.
These slippers could easily pass for sandals, making them a more dressy option for everyday home wear, perfect for spring and summer.

4. UGG Coquette Slippers for Sims 4 by MIRO
Warm UGG Coquette slippers make their way into stores every winter, so it's only fair that our sims get a pair, too.
These classic slippers can be worn with pretty much anything your sims like to lounge around in, from nightgowns to leggings.
These sleepers come in solid swatches, including greys, blues, pink, black, green, red, taupe, and beige.

5. Sims 4 Shark Slippers CC by ShakeProductions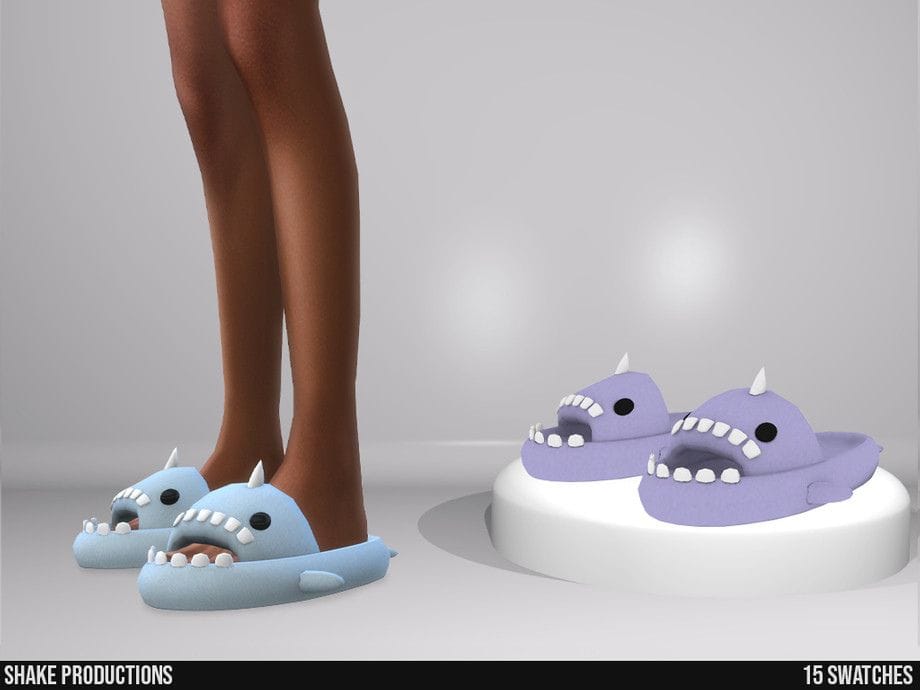 Okay, these slippers are super adorable, and I'm going with the theory that they are sharks.
I love a themed slipper, and these sharks come in 15 swatches, including some light colors like pink, blue, and green.
Do you prefer darker swatches? Your female sims can opt for the burgundy, dark green, black, or purple options.

6. Family Kitty Slippers by SimLaughLove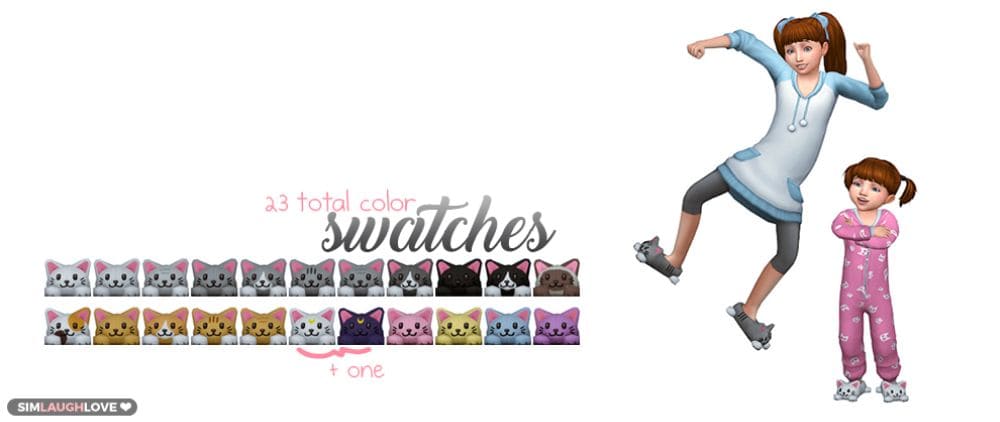 If sharks aren't cute enough, you can style your toddlers to elders in these kitty slippers, which come in plenty of fun swatches.
Plus, if you are a fan of Sailor Moon, you can grab the white or black swatches that come with a crescent moon on the forehead, just like Luna.

7. Men's Tartan House Slippers by SimmieV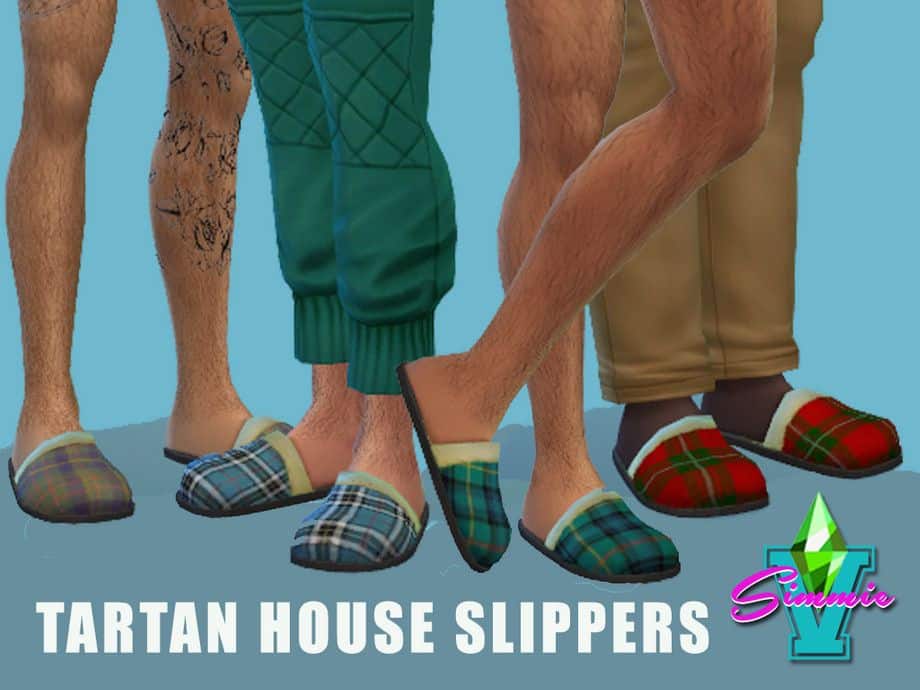 Tartan patterns are a popular design for men's pajamas and slippers, and this set has some classic tartan options.
There are 8 tartan swatches total, including red, blue, green, and beige tartan patterns.

8. Strawberry Slippers CC Set by Jius-sims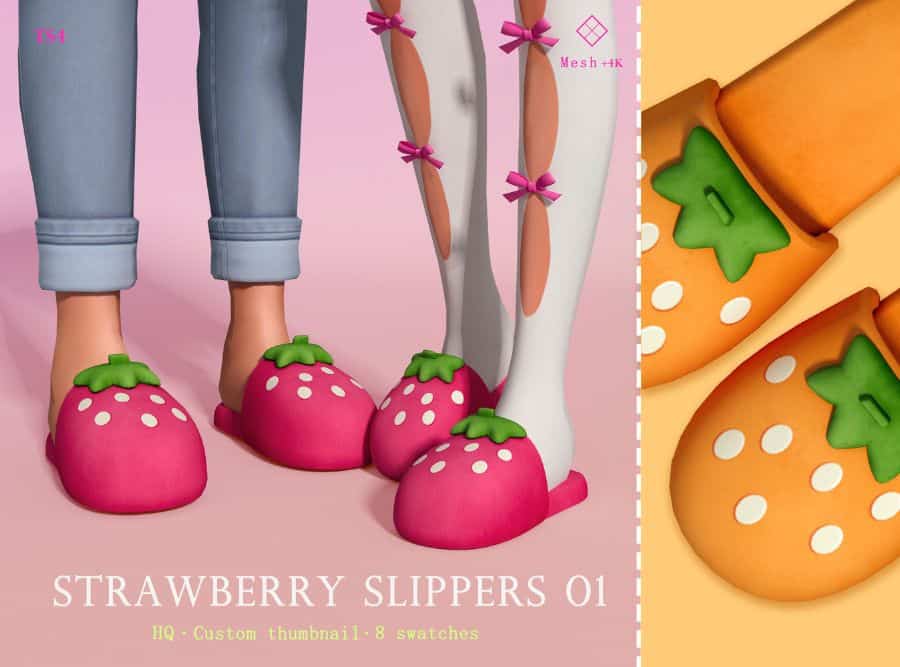 These strawberry slippers are as sweet as they are cozy.
Both your male and female sims can enjoy these slippers, and they are available in 8 bright colors ranging in pink, orange, purple, and red.

9. Sims 4 Warm Slipper Set by Back Track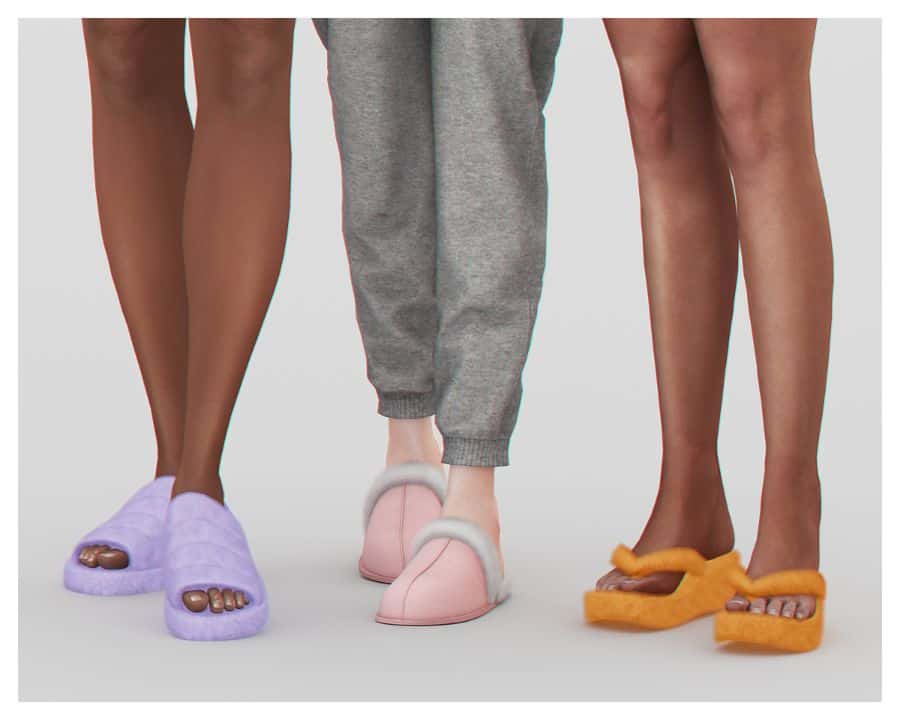 If one pair of warm slippers wasn't enough, you can now pick from three different styles for your sims.
This set of slippers includes a classic slip-on design with wool trim along the top, open-toe slides with a strap at the back, and a platform toe-thong model.
The color swatches for each slipper varies between 10 to 14 colors.

10. Printed Slippers for Sims 4 by Arltos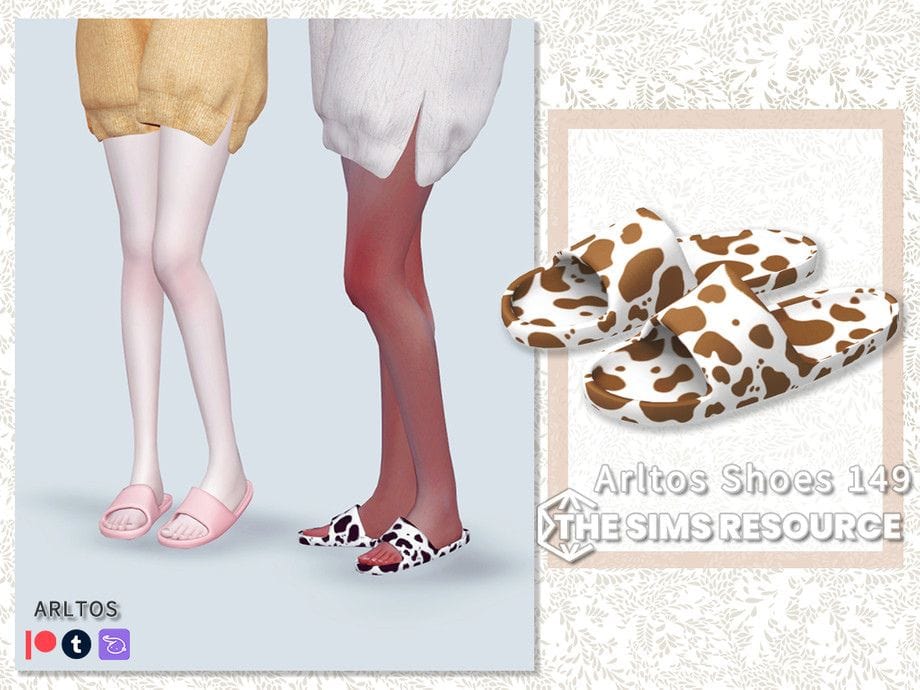 These rubber-like slippers are great for your sims to wear around the house and would also be great for the outdoor pool area.
There are 17 swatches, including 8 cow prints; the rest are light, almost pastel-colored slippers.

11. Toddler Plush Bunny Slippers by MysteriousO0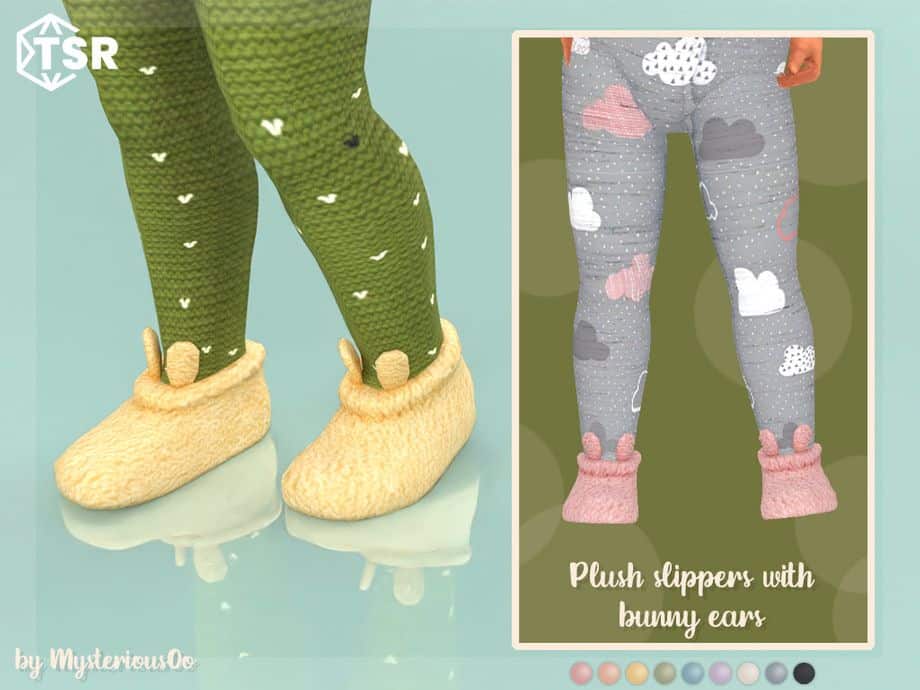 Nothing's cuter than tiny toddler slippers, but add some bunny ears, and you've got yourself the perfect pair.
These plush bunny ear slippers come in 9 colors, including great color options for your male and female tots.
Pair these slippers with some new pajamas, and your toddler's nighttime outfit is complete.

12. Leather Padded Slippers by MIRO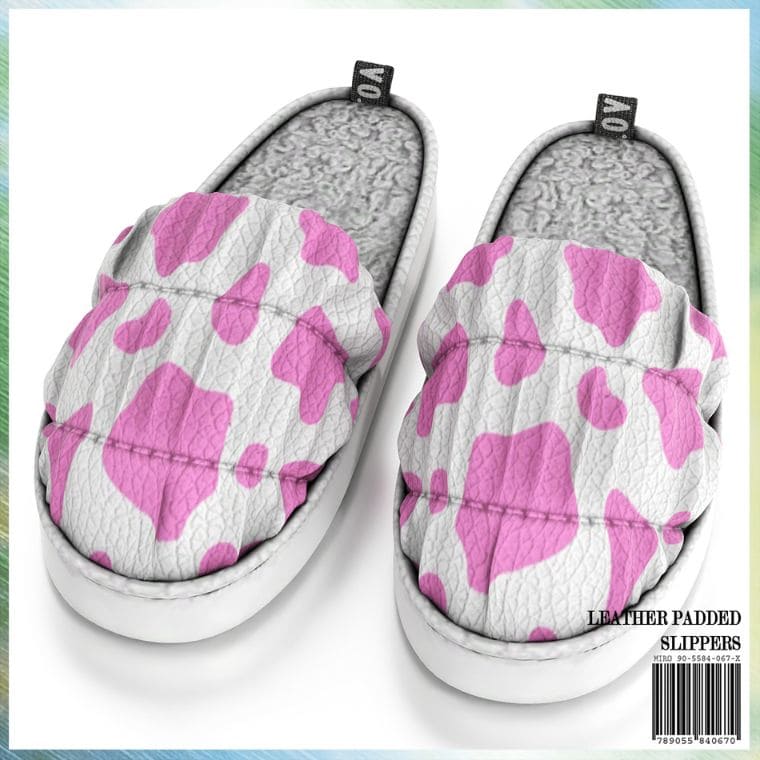 These padded leather slippers resemble regular loafer shoes, and they come in many fun, bright colors to match any of your sims loungewear.
The slippers come in 28 color swatches, primarily solids, but there are a few different animal prints.

13. Toddler Slipper Set by Wildly Miniature Sandwich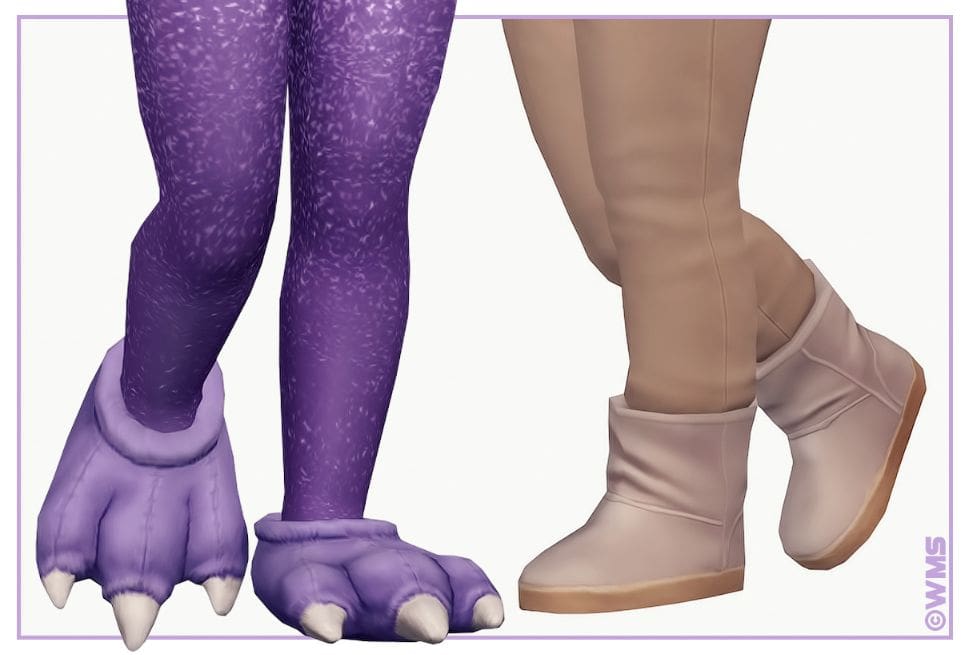 This set of sims 4 slippers cc comes with 3 download files for your sim toddlers.
The little ones can scare their sim parents with dinosaur paw slippers, or you can keep things simple with toddler UGGs.
The UGG slippers come in base color swatches, or you can opt for the file with 55 additional sandwich colors.

14. Slippers & Socks CC by BED & MUSAE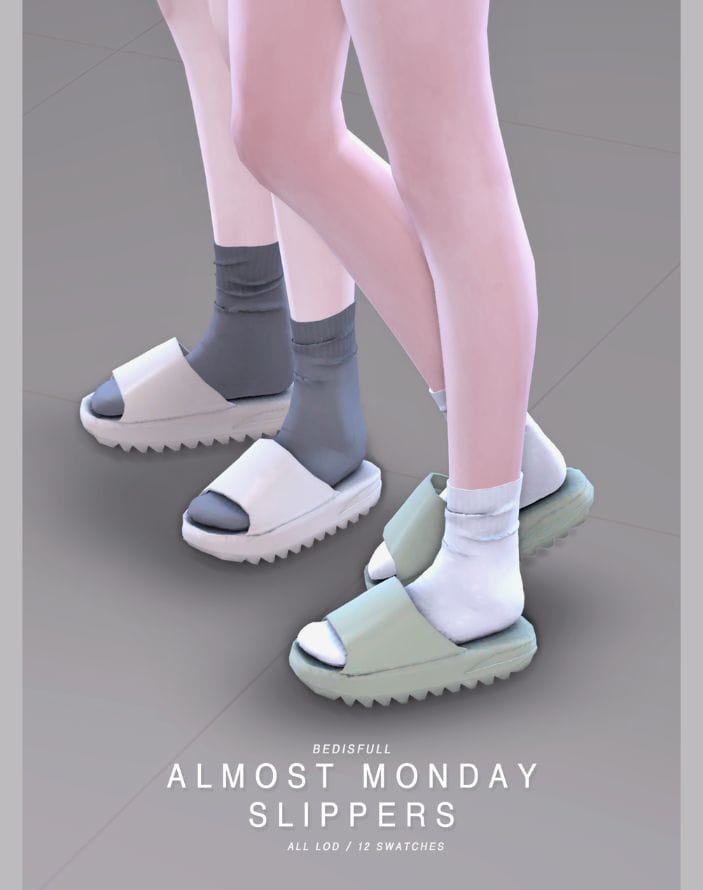 This custom content is ideal for sims who love to pair their household slippers with comfy socks.
Plus, these slippers are not only sleek in their minimalist design but look super cushiony at the bottom with their thicker soles.
There are two download files so that you can grab the slippers with 12 swatches and the sock file with 6 colors.

15. Soft Heart Slippers by MIRO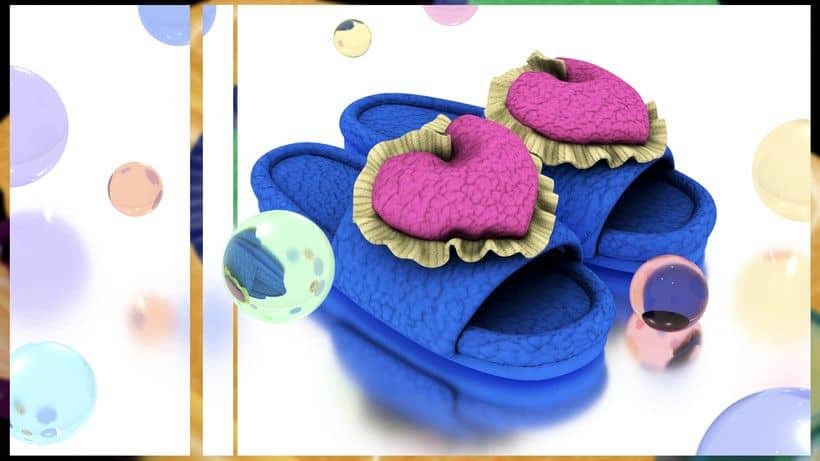 I imagine these heart slippers feeling like clouds of cushions with their fluffy Sherpa wool slip-on design.
Plus, with the heart-shaped toppers, these slippers are comfortable and aesthetically pleasing, too.
I love all the fun swatches, including the rainbow-colored swatch, the animal prints, and vibrant color options.

16. Toddler Bunny Ear Slippers by MysteriousO0
Bunnies are everywhere; these croc-like toddler slippers are so adorable that your toddler won't want to wear anything else.
These little bunnies come in 15 mixed colors, so plenty of options are available depending on your toddler's outfits.

17. Kitty Sims 4 Slippers CC by Arltos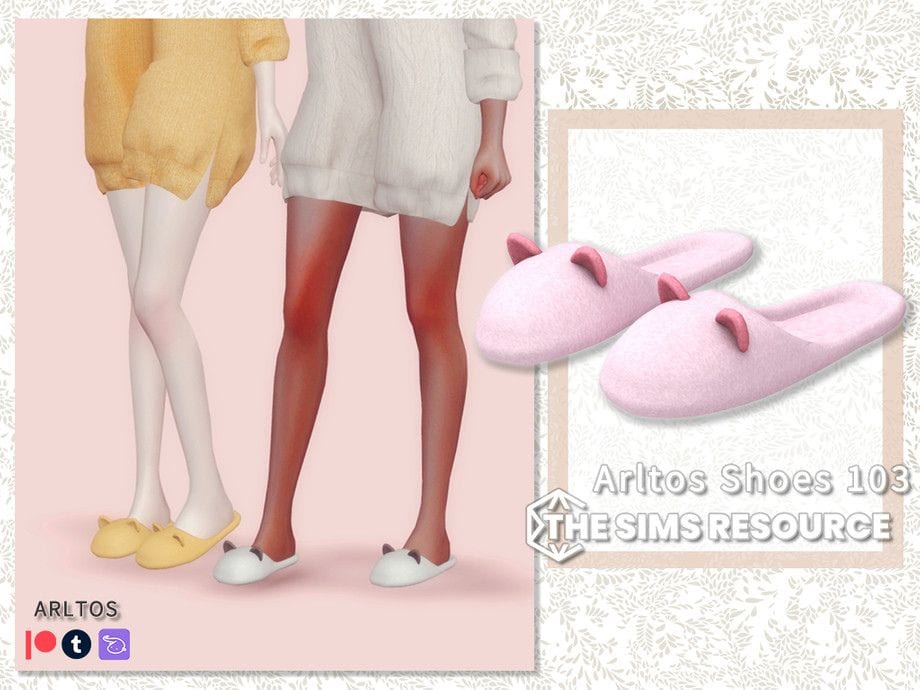 These classic slip-on slippers get a sweet little extra detail with some little kitty ears at the front.
The slippers come in 11 swatches, including 3 two-tone options.
The remaining swatches are solid colors, including light blue, pastel orange, light green, black and white.

18. Men's Plaid Slippers Set by Darte77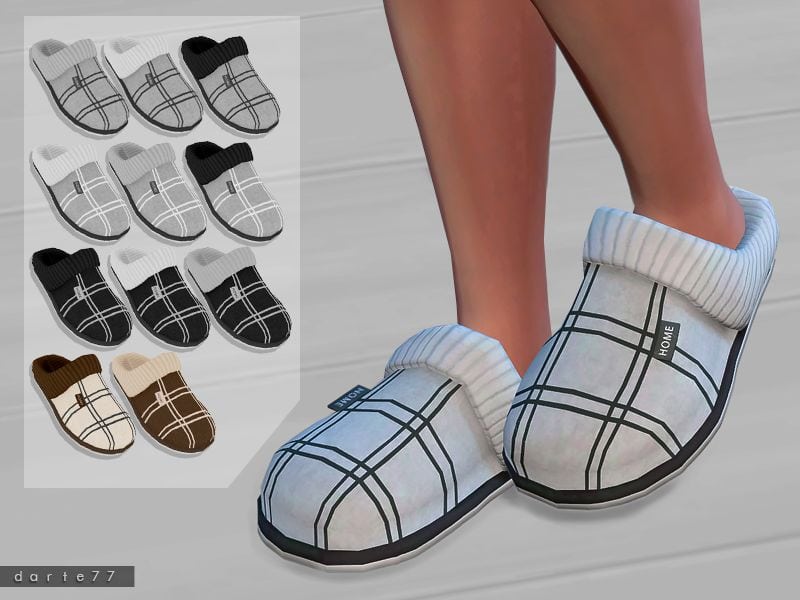 I picture these men's plaid slippers paired with comfortable jogging pants while my sims lounge around the house.
There are 9 swatches in different plaid colors, including plenty of grey options.
This custom content pack also comes with a hooded denim jacket, knit sweater, and a bubble knit sweater you can add to your male sims closet.

19. Female Rubber POSH Slippers by ShakeProductions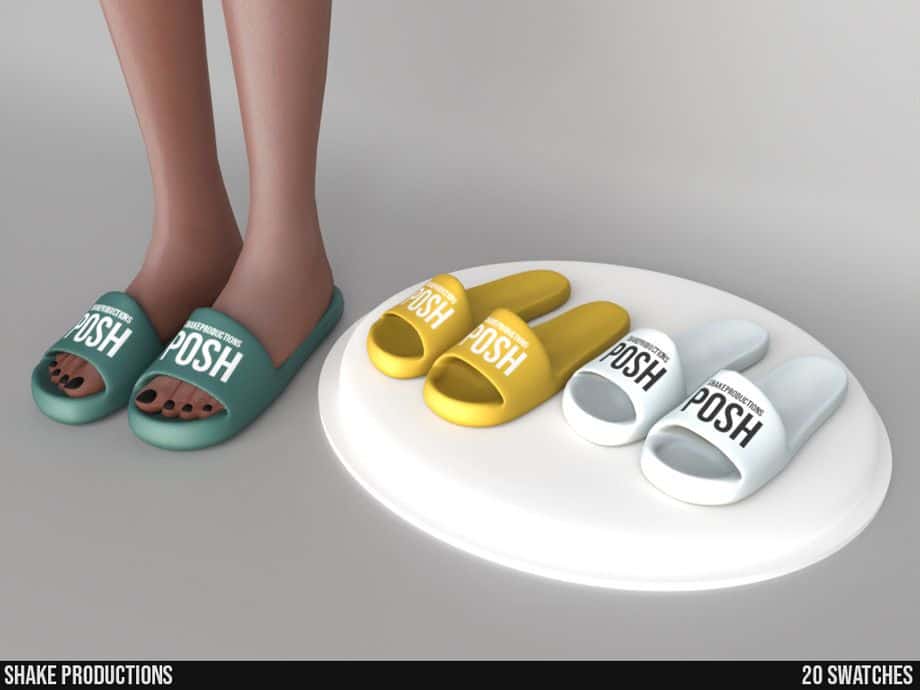 I don't know about you, but I prefer to wear rubber slippers during the summer season when the weather is too hot for a classic plush design.
And I like to pretend my sims have the same preference for open-toe slip-on designs.
These rubber slippers all have the word POSH written on the top and come in 20 swatches (all two-tone).
Each swatch has the writing in white except for the white slippers, which have POSH written in black.

20. Toddler Critter Slippers CC by Jius-sims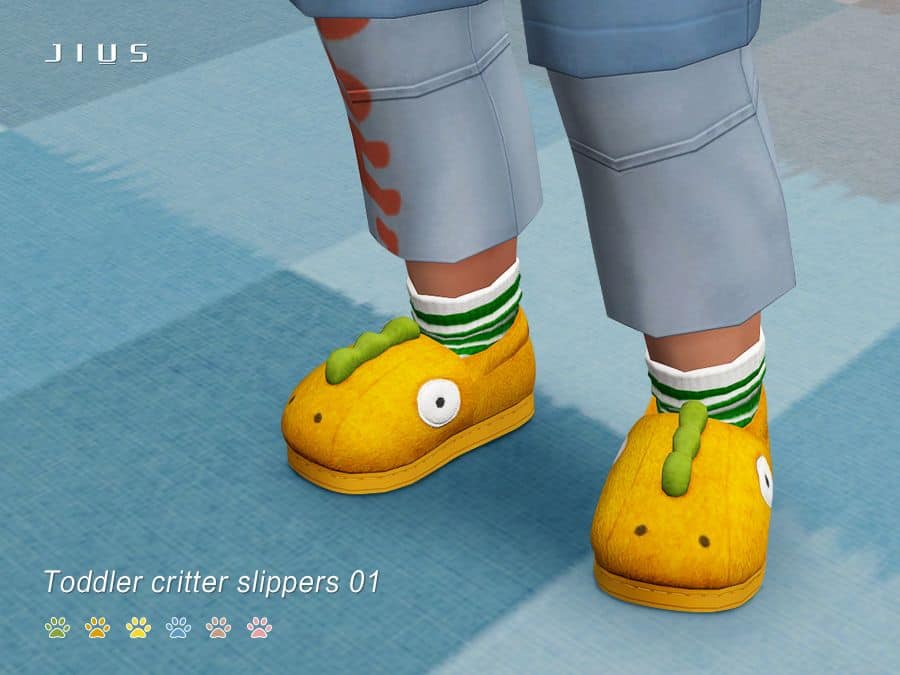 These sims 4 toddler slippers are one of my favorites; I often use them because I love the look of critter feet on my young sims.
The slippers come in 6 fun swatches, letting your toddlers walk around with slippers that remind me of mini dinosaur heads.

21. Slipper Custom Content Set by Madlen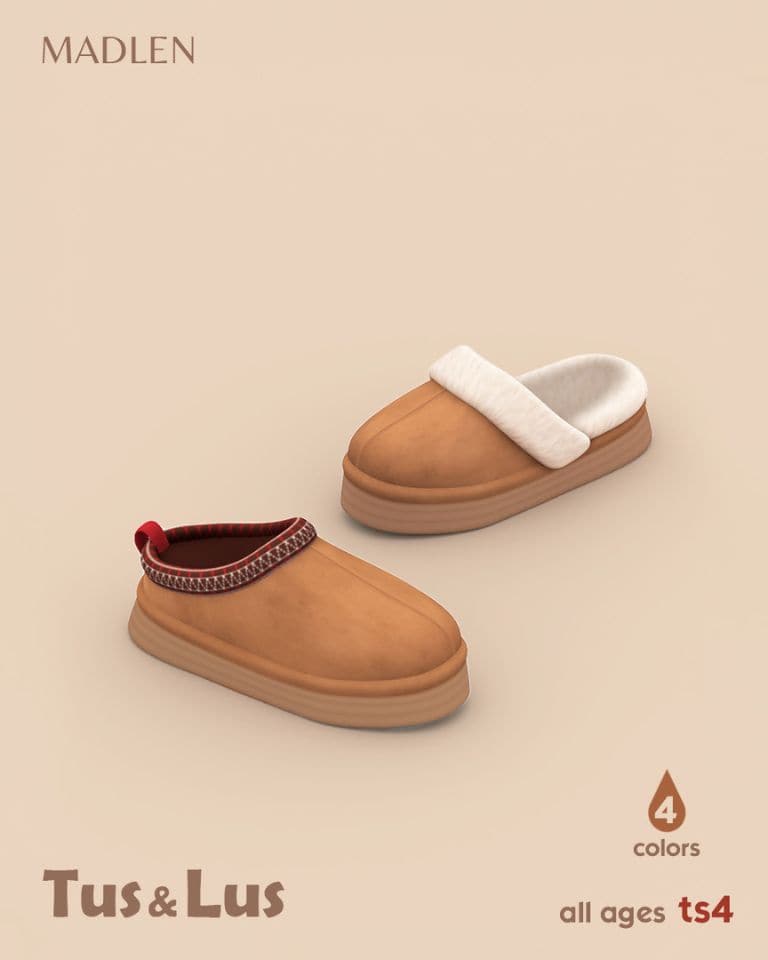 This set of slippers comes with two suede options inspired by classic UGG slipper designs.
Both slippers come with a thick sole and a suede exterior, while the LUS model also has a wool interior.
The TUS slippers have a half slip-on feel, and each slipper comes in 4 swatches.
Sims 4 Slippers CC: Final Thoughts
With this collection of sims 4 slippers cc, your sims are now ready to head into any season with the perfect footwear for lounging around the home.
From rubber slip-on slippers to strawberry designs, there are slippers for every taste.
Grab a new pair of slippers for every set of pajamas your sims add to their closet.
If you have any questions or suggestions, feel free to leave us a comment below or tag us on Tumblr.
And don't forget to share and save this pin for later!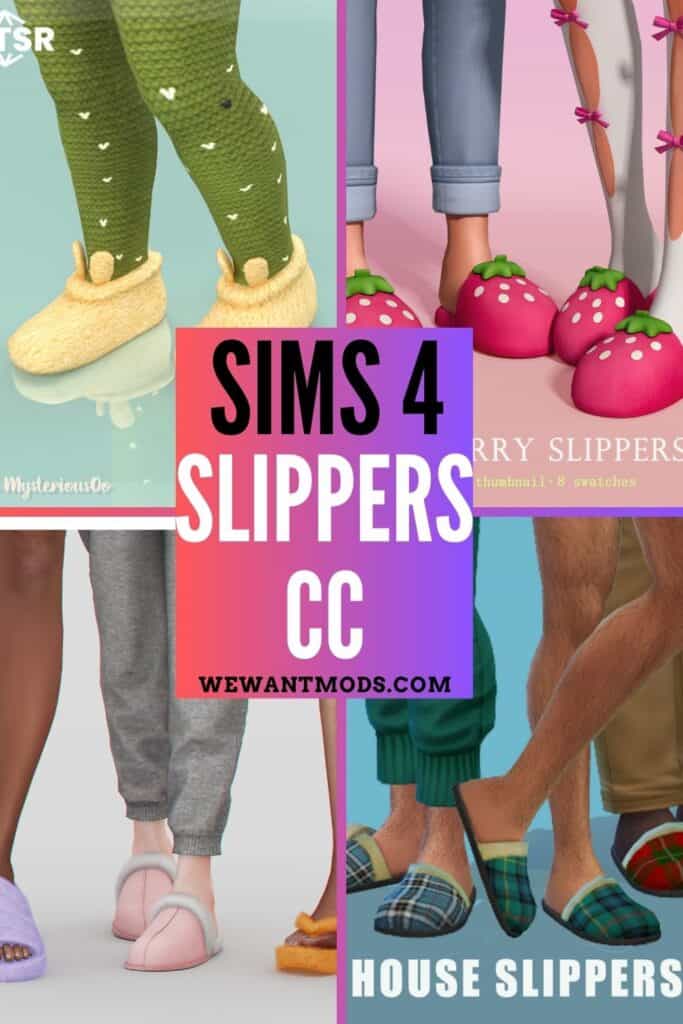 Other Sims 4 Custom Content Lists
20+ Sims 4 Slippers CC: Cozy Designs To Lounge In!