27+ Sims 4 Werewolf CC: A Full Moon Awaits
Style the perfect werewolves from human form to lycans with this collection of sims 4 werewolf cc.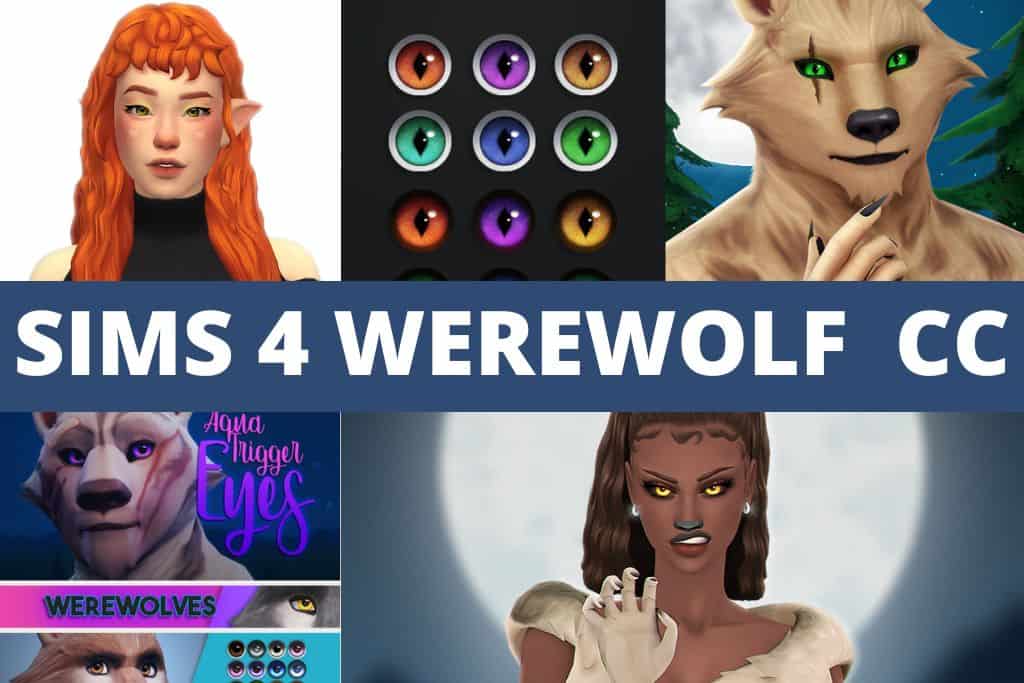 When it comes to sims 4, players are either into occult-theme game packs or not.
I love a good occult theme, and werewolves are no exception.
Since custom content exists for almost everything, we've put together a mixed collection with a couple of mods and pose packs too.
And while I've included some werewolf-inspired clothing below, many of our favorite pieces are in our Sims 4 Grunge CC post.
We also like to mix and match certain pieces from the many Sims 4 CC Clothing Packs we rounded up.
Disclaimer: The following mods are neither endorsed nor affiliated with The Sims, Maxis, or Electronic Arts. Any use of mods (custom content or game mods) should be done with caution and with the knowledge that there may be risks.
Best Sims 4 Werewolf CC
Below you will find sims 4 werewolf custom content, including accessories, clothing, genetics, poses, and mods.
Note: If you are looking for the Somomo content that was linked on Pinterest, the creator has since removed all their content.
1. Sims 4 Silver Bullet Earrings Set by Yooniesim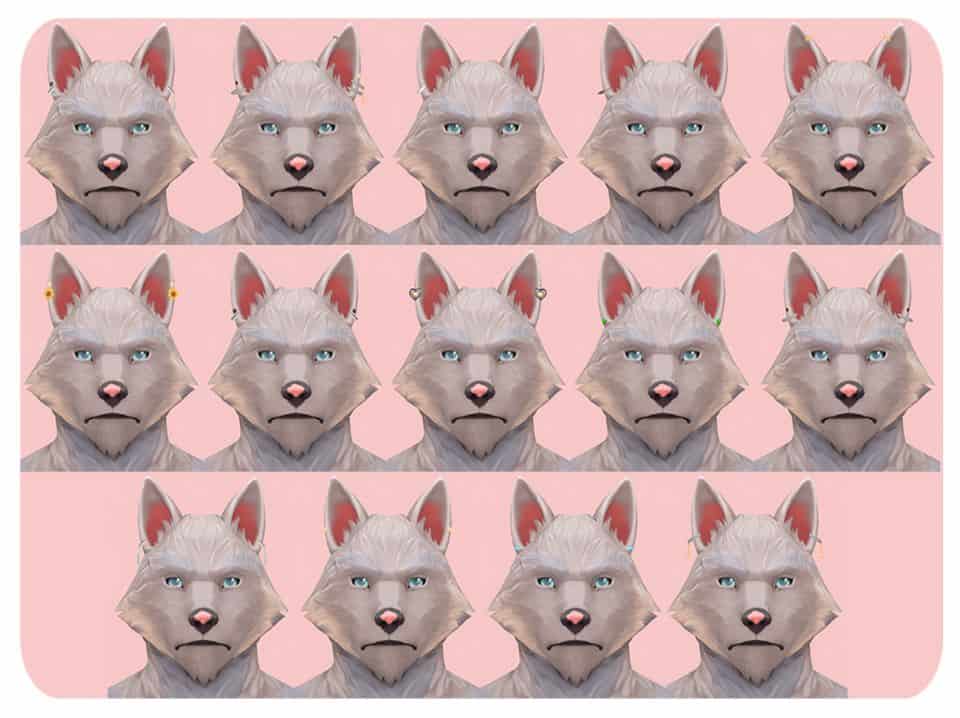 This werewolf earring set comes with 36 designs to try out.
You will find various styles, including hops, spirals, hearts, sunflowers, and more.
These earrings are available for teens to elders and for both frames.

2. Werewolf Mullet CC by NekoChan-Simmer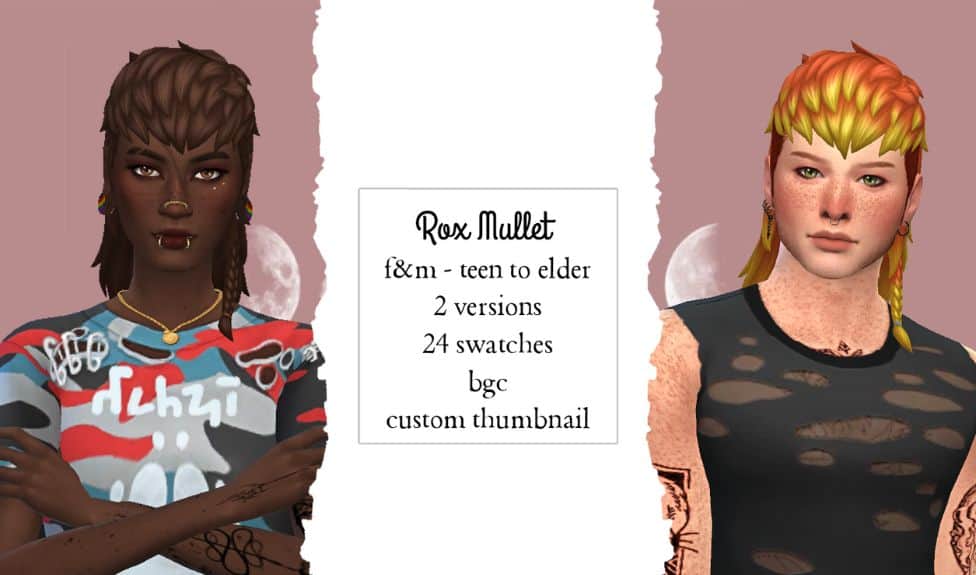 Ahh, the popular werewolf mullet makes its appearance, but this version is base game compatible.
There are 2 versions of this classic style in 24 EA color options.
If you are interested in the kid's version, you can find it here.

3. Sims 4 Alpha Wolf Overlay by Sewer Sims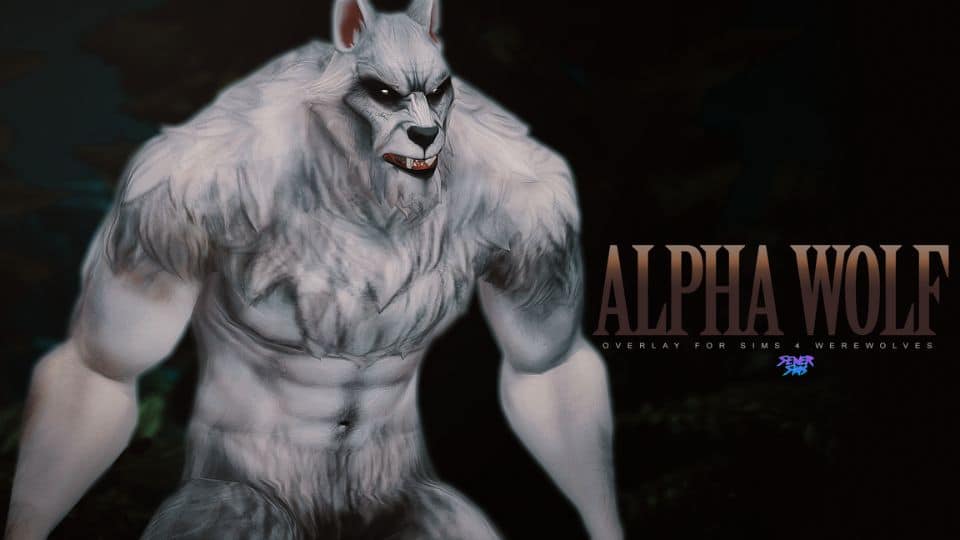 Give your sims 4 werewolves a unique look with this set of werewolf overlays.
You can opt for the full-body overlay or the body-only version, which doesn't affect the face.
There are 7 swatches for the body, including buff, fat, skinny, and normal.

4. Sims 4 Werewolves Clothing Pack by Solistair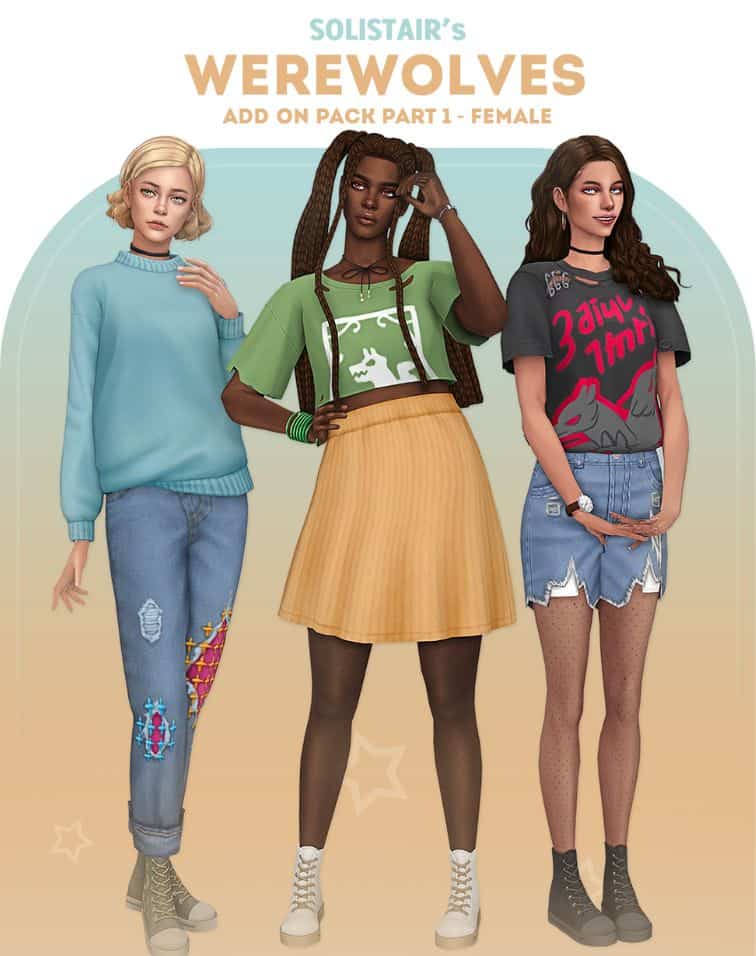 This sims 4 werewolves cc clothing pack is one of my favorites.
It includes a mixed set of casual and edgier pieces to mix and match.
Some of your favorite Werewolf GP clothes have been revisited and turned into new and improved pieces.
You will find 9 tops, 4 bottoms, 1 shoe, and 1 necklace accessory.

5. Ears for Sims 4 Werewolves by Drosims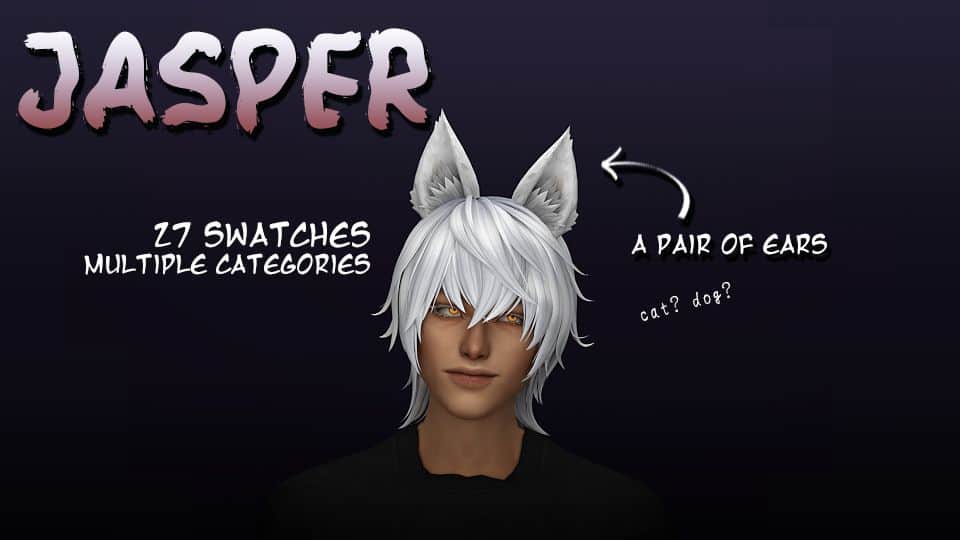 These adorable ears can be used on your sims 4 werewolves.
These pointed ears come in one height and are available in 27 swatches.
There are multiple category locations, but only add one package at a time.

6. Solo Werewolf Poses for Sims 4 by Natalia-Auditore
This sims 4 werewolf pose pack comes with 12 solo poses.
From clutching their chest to clawing the floor, this pack has a great mix of poses to create amazing screenshots.

7. Sims 4 Werewolves Mod by SpinningPlumbobs
This werewolf mod is an excellent addition to your werewolf gameplay.
There is a lot to unfold, so I highly recommend reading through all the details on the download page.
Some of the perks include the ability to blend mod werewolves (now called lycans and gamepack werewolves into hybrids.
But this is just a tiny part of this mod; there is so much to discover.

8. Sims 4 Werewolf CC Eyes by Miss Ruby Bird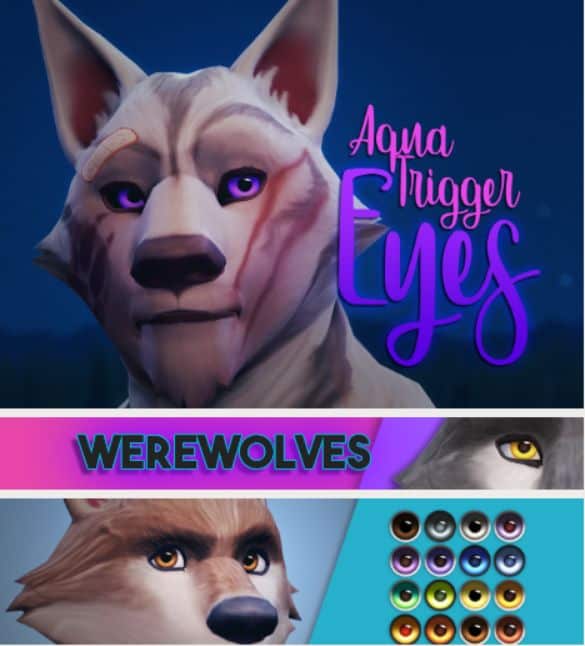 Snag some beautiful eyes with this set of non-default Aqua Trigger Eyes.
I love that this werewolf cc includes both white and black sclera swatches (the white portion of the human eye).
The black sclera adds such a unique look to your sims 4 werewolves.

9. She Wolf Custom Content Set by Simscelebrity00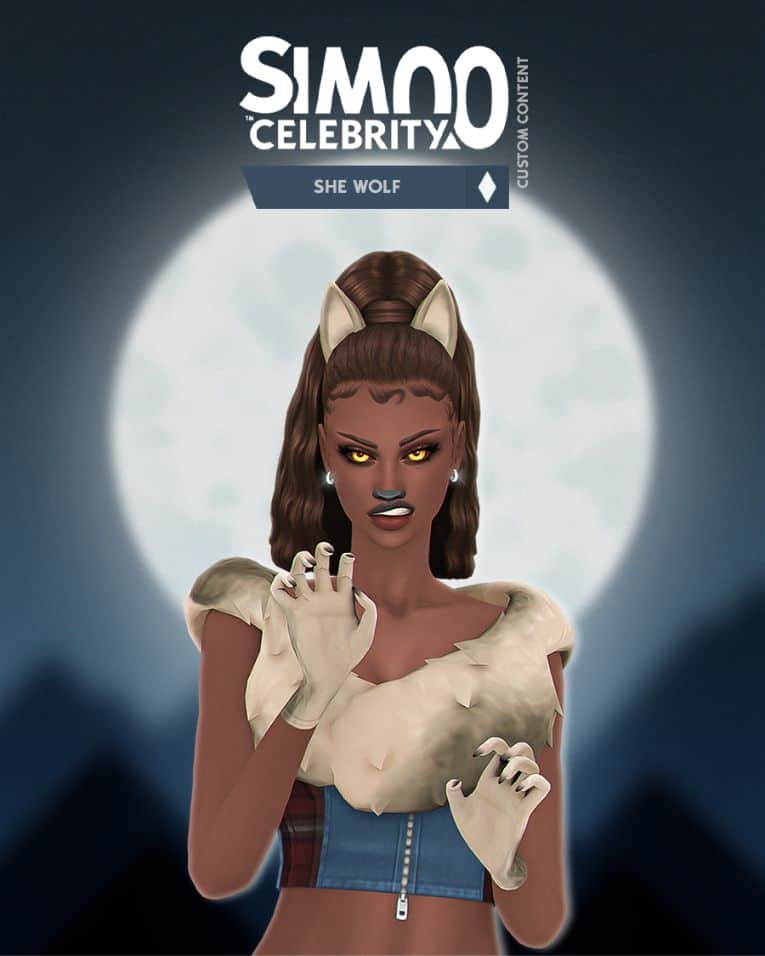 This pack of sims 4 werewolf cc comes with everything your she-wolf needs to look both wolfy and stylish at once.
This werewolves pack includes;
Pointy ears
A high-top ponytail
Wolf-like gloves
Nose and upper-lip facepaint
Fur covered corset

10. Sims 4 Werewolf Default Eye Replacement by Wrixie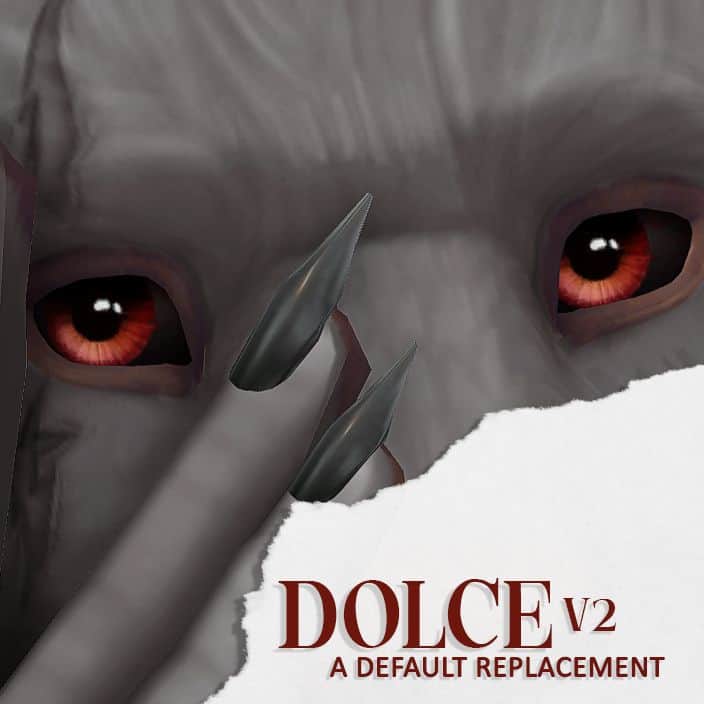 This sims 4 werewolf cc is for default replacement eyes and comes in 17 swatches.
If you prefer a non-default version in a sorbet pallet (72 swatches), you can get that here.

11. Hair CC for Sims 4 Werewolves by Feral Poodles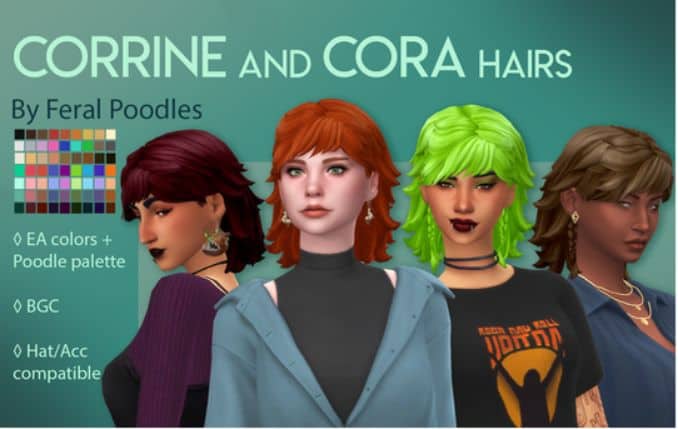 This pack of two custom hairs reminds me of the classic mullet hairstyles but with smoother, longer strands.
The Cora has small braids underneath, and both styles have 63 swatches.

12. Sims 4 Werewolf Jacket by UTOPYA-CC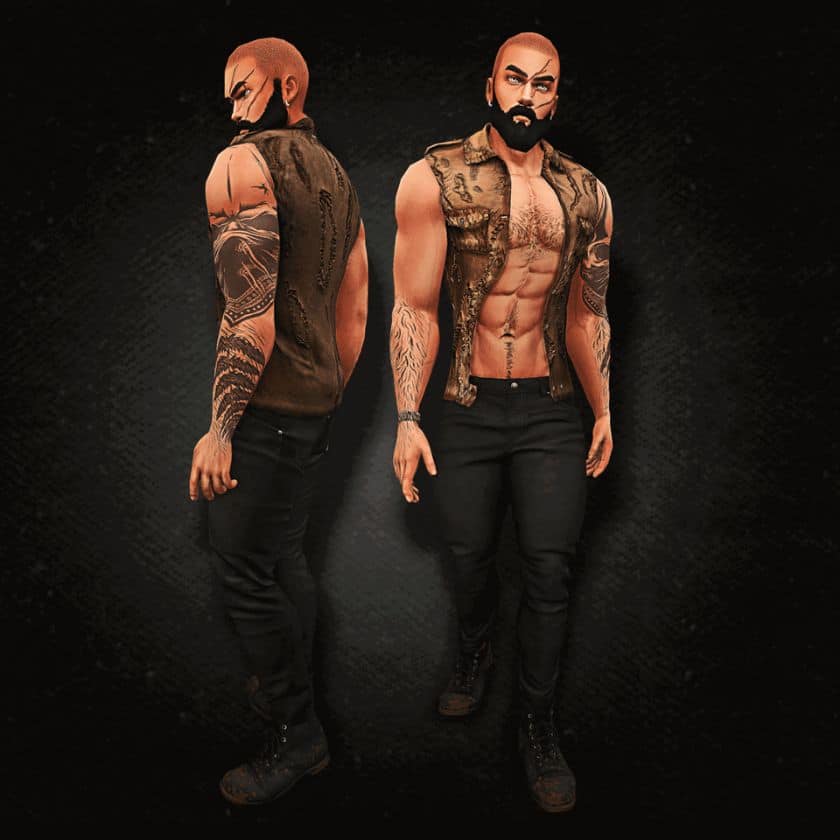 This ripped jacket screams werewolf attire with its ripped and shredded details.
There are 20 swatches to try, each with its own subtle variant of blood texture.
Pair these with your favorite jeans and combat boots to complete the look above.

13. Sims 4 Werewolf Default Eyes by Anonimux Simmer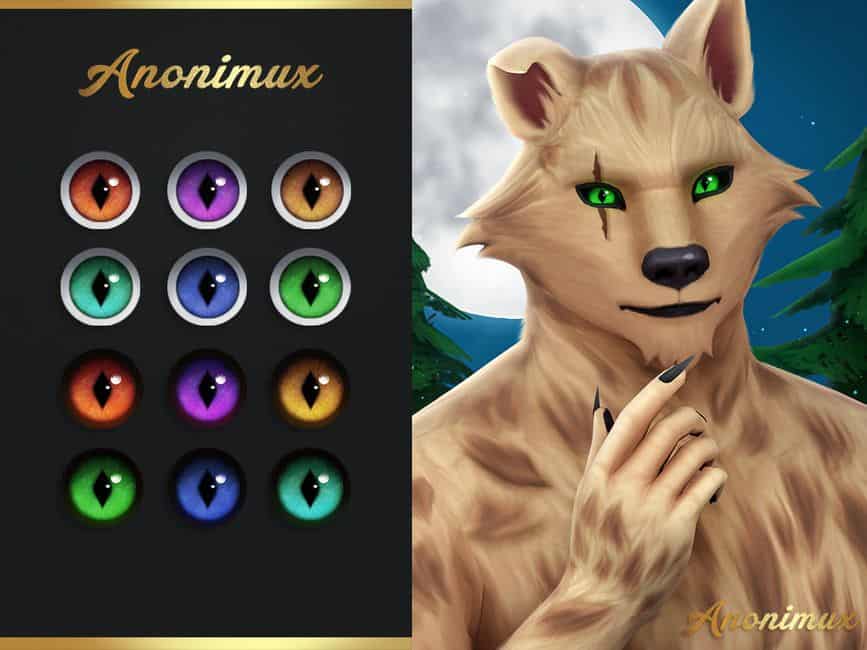 I love the vibrance of these werewolf eyes, which will only work for your sim werewolves (both male and female).
There are 12 mesmerizing eye colors to try out.

14. Sims 4 Werewolf Face Scars by Taraab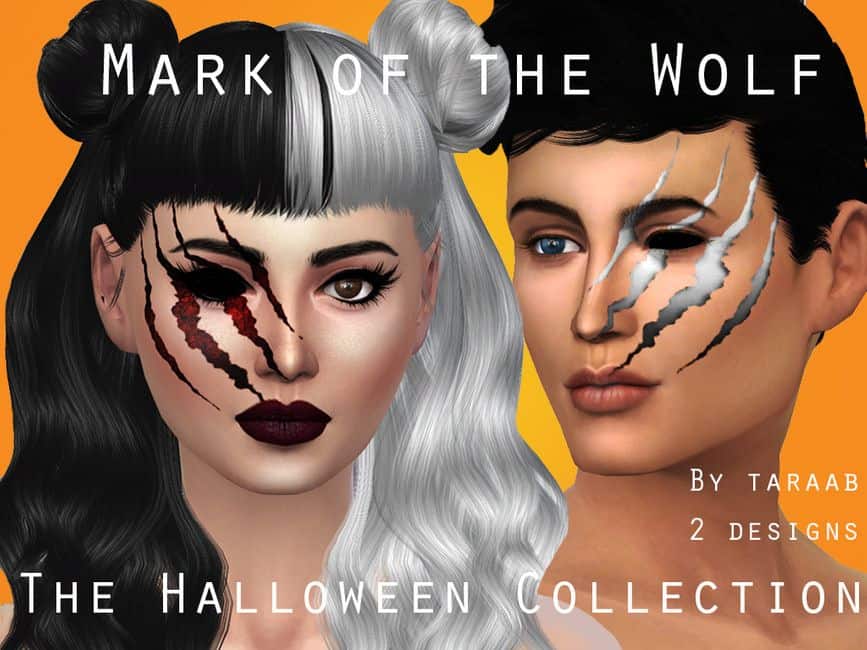 Has your sim been attacked by a werewolf while strolling around the neighborhood?
This custom content has 2 werewolf-like face scratches for both your male and female sims.
You will find the swatches in the eyeshadow and makeup categories.

15. Sims 4 Wolf Ear Accessories by Drosims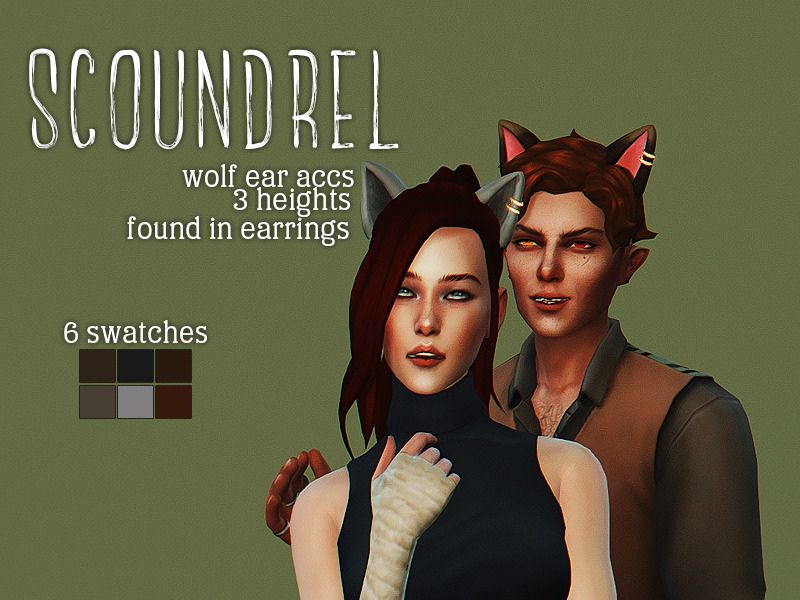 Need some werewolf ear accessories?
This set of sims 4 werewolf cc comes with wolf ears in three heights and 6 color swatches.
You can find this cc under the earrings section.

16. Sims 4 Werewolf Vs. Human Poses by Natalia-Auditore
This sims 4 werewolf pose pack creates a battle to the death between your sims human and werewolf.
There 5 different battle poses to try out and create epic snapshots.

17. Sims 4 Long Werewolf Hair CC by Simandy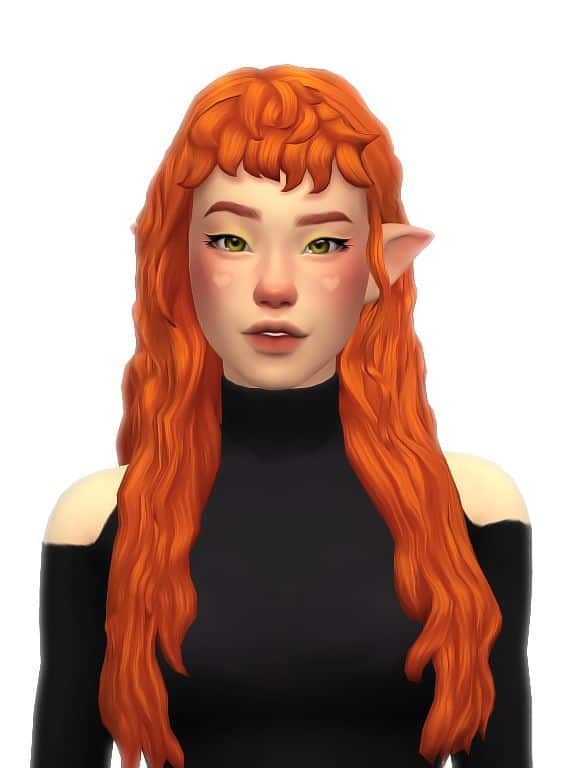 This adorable hairstyle has beautiful long strands and cute choppy bangs similar to the mullet strands.
You can opt for the short bangs or the longer version, and both come with 18 EA colors and 40 puppy crow colors.

18. Sims 4 Werewolf Slider Mod by VecD0e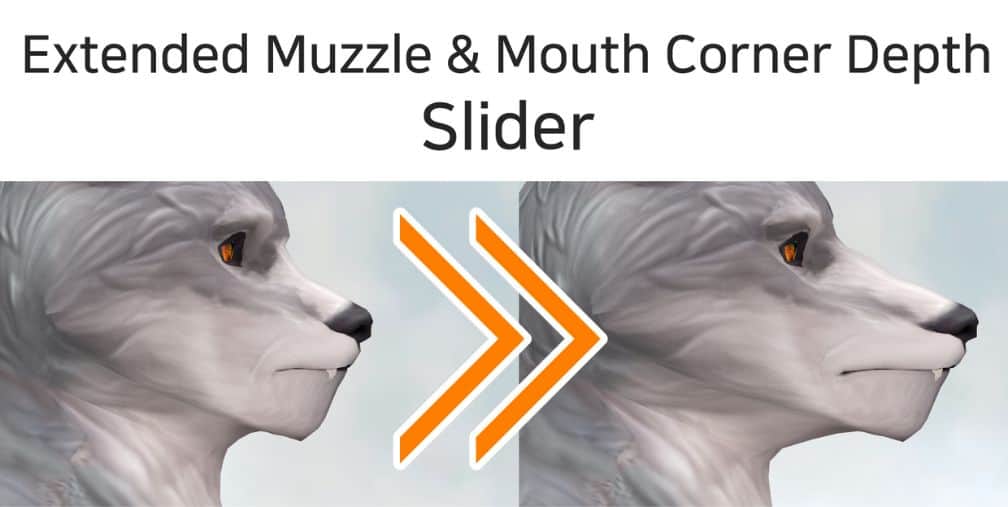 This sims 4 werewolf mod allows you to customize your werewolves even more.
Using this werewolf slider, you can extend the muzzle and the depth of its mouth corner.
There are two mod versions, the basic and the 2X, but only use one at a time.

19. Sims 4 Werewolves Set by s4lilyvalley807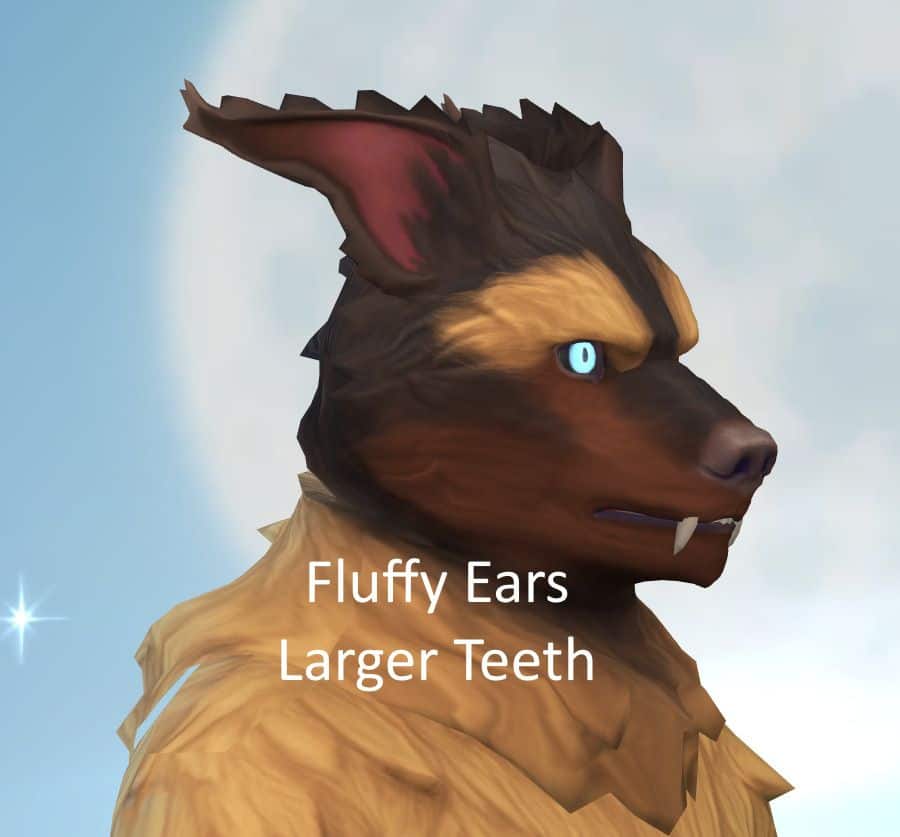 This collection of werewolf custom content also allows you to adjust your werewolf ears, teeth, cheeks, and more.
There are over 15 download files in the package, including droopy ears, underbite, and smoothed check.

20. Moonwood Clothing CC by JujuAwesomeBeans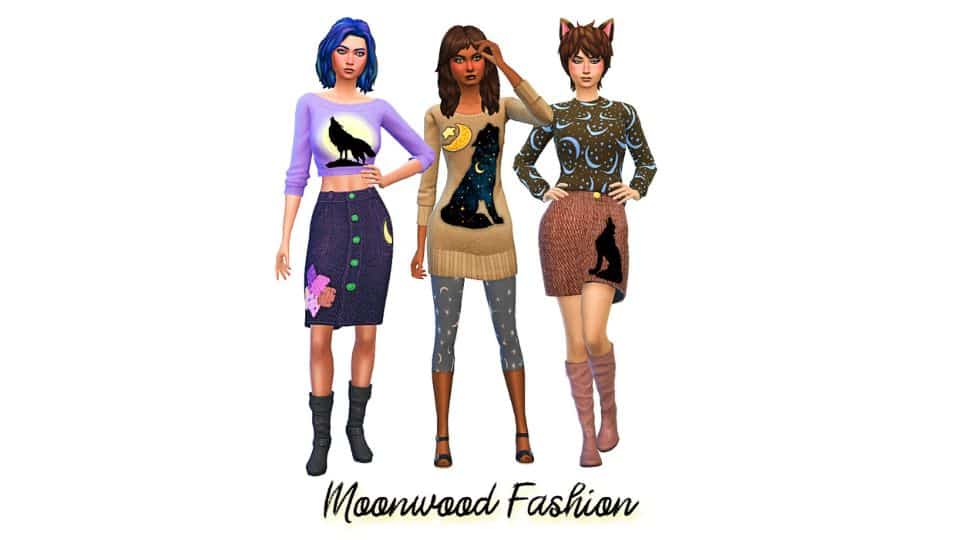 This pack of sims 4 werewolf cc clothing has a nice collection of werewolf-inspired clothing options.
Grab your favorite skirts, leggings, and tops with werewolf and lunar designs.

21. Werewolf Walkstyle Override Mod by SpinningPlumbobs
Give your sims 4 werewolves the walk they deserve using this mod.
Your werewolves will now have a hunch in their stance and run on all flours once they hit beast mode.
Just a quick note that this mod is not compatible with this other werewolf mod by SpinningPlumbob listed at #8.

22. Werewolves Accessories Pack by Lustrousims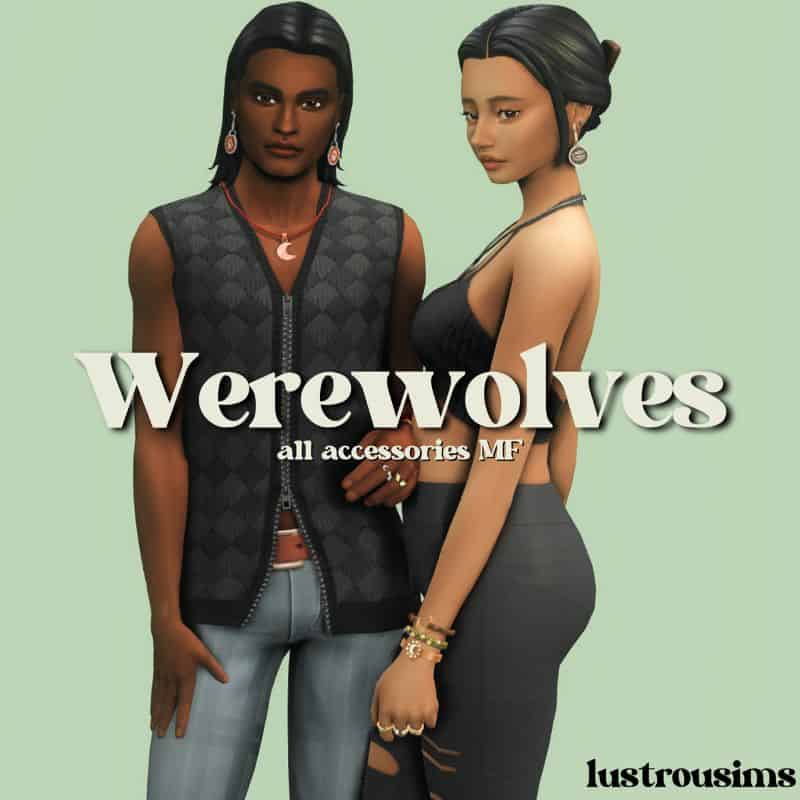 This sims 4 werewolf cc pack is all about accessories for your male and female sims.
There are a variety of items included in this set;
1 bracelet
1 set of earrings
3 rings
2 necklaces
Leggings

23. Sims 4 Full Moon Boots by Trillyke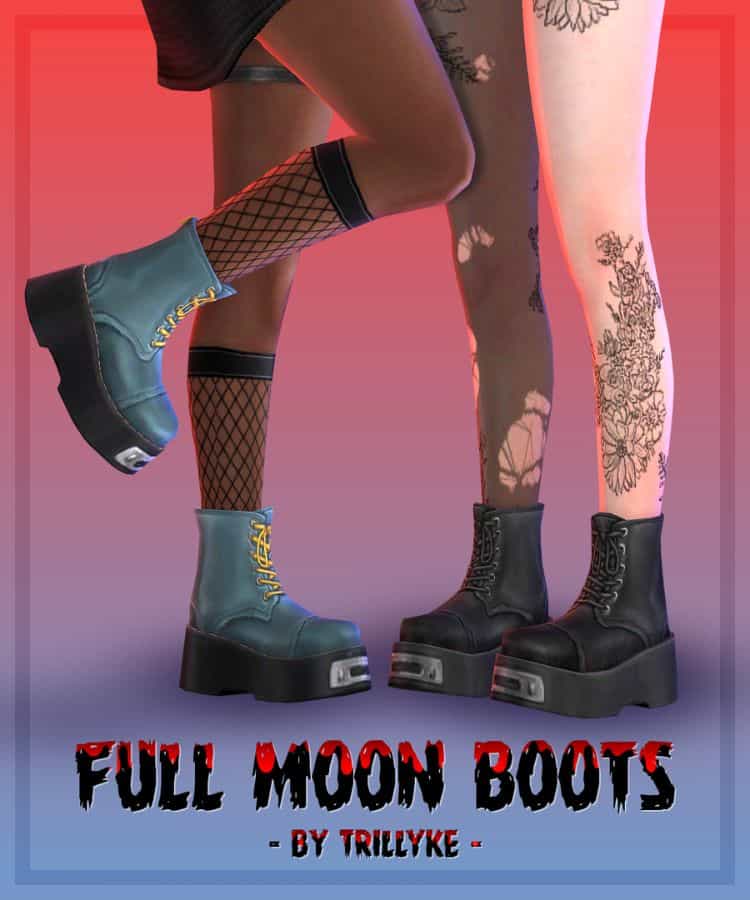 For some reason, combat boots seem synonymous with werewolves.
This pair of full moon boots come in 10 swatches and are compatible for both male and female frames.

24. Werewolf GP Hair CC by Candiysims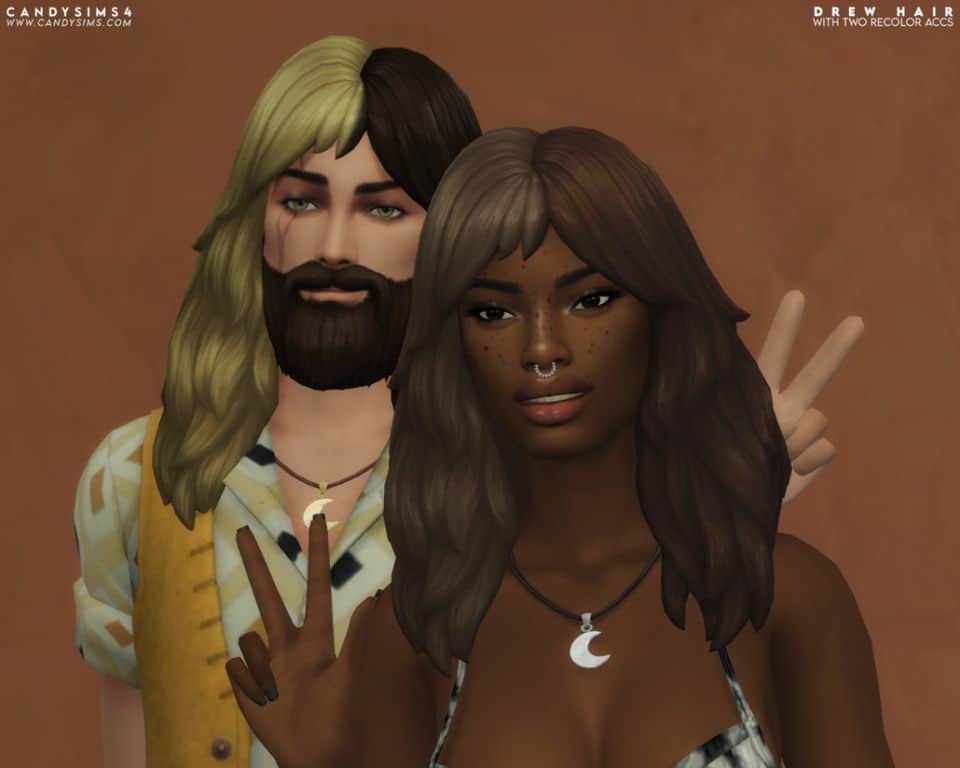 This hairstyle initially came from the Werewolf game pack, but this base game version is more voluminous.
There are two versions of this hair, the standard, and the roots recolor.
Each version has 119 swatches; 24 EA colors, and 95 additional colors.

25. Glowing Eyemasks for Werewolves by NV. Games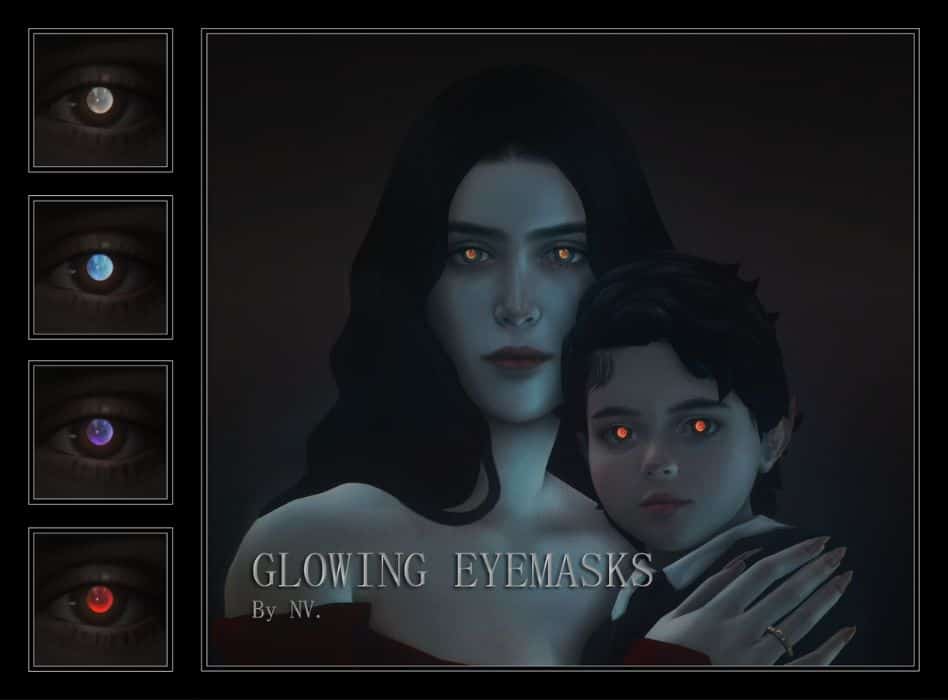 I absolutely love these glowing eye masks; they are perfect for both werewolves and vampires.
Have your werewolf lurking in the trees with bright eyes while they stalk their next victim in the dark.

26. Werewolf Pose Pack by Katverse
This set of solo werewolf poses can be used for both in-game and CAS ( it replaces the loner trait).
There are 5 poses; 3 standing and 2 crouching.

27. Full Moon Ripped Top CC by Trillyke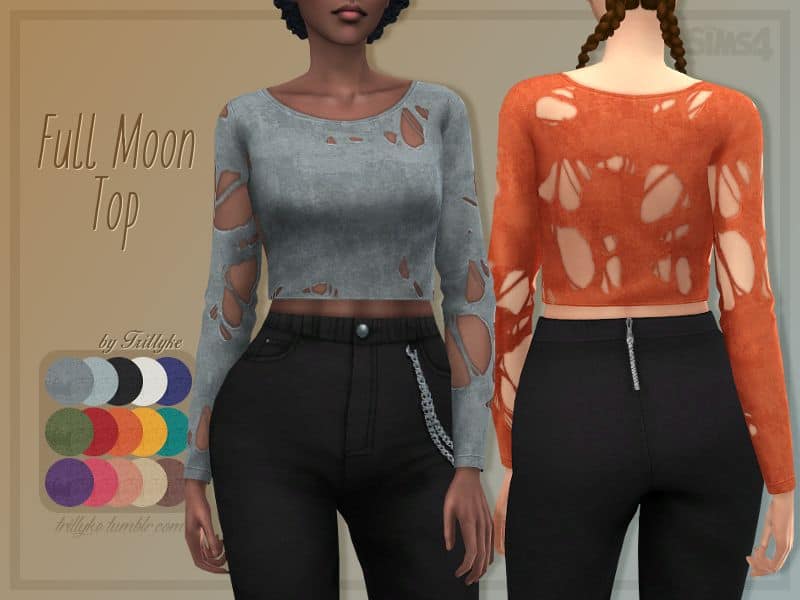 This ripped top remains one of my favorites and is showcased in our grunge cc post too.
This long-sleeve top looks like your sim was in a battle of claws and just managed to walk away.
There are 15 color swatches to style.

28. Wolf Default Skin by Ortelassa Goldstein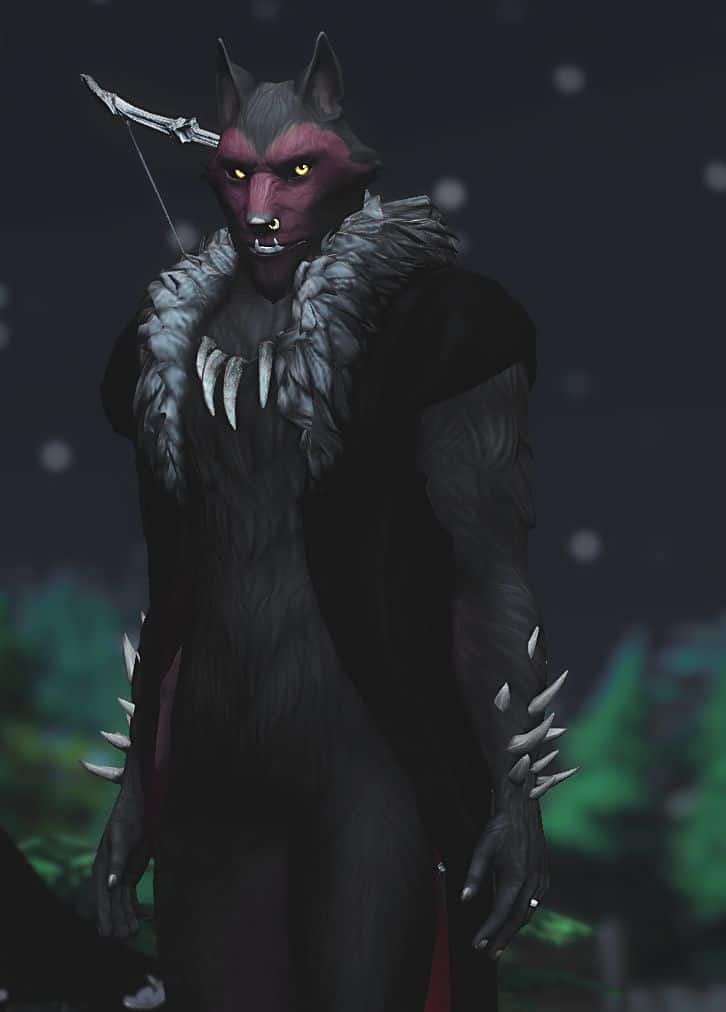 This sims 4 werewolf cc exudes the whole lone wolf vibe.
You can level up your werewolf's look with this default skin.
The extra fur, hand wrinkles, and facial touches add many unique details to your werewolves.

29. Sims 4 Long Werewolf Loose Hair by Shandir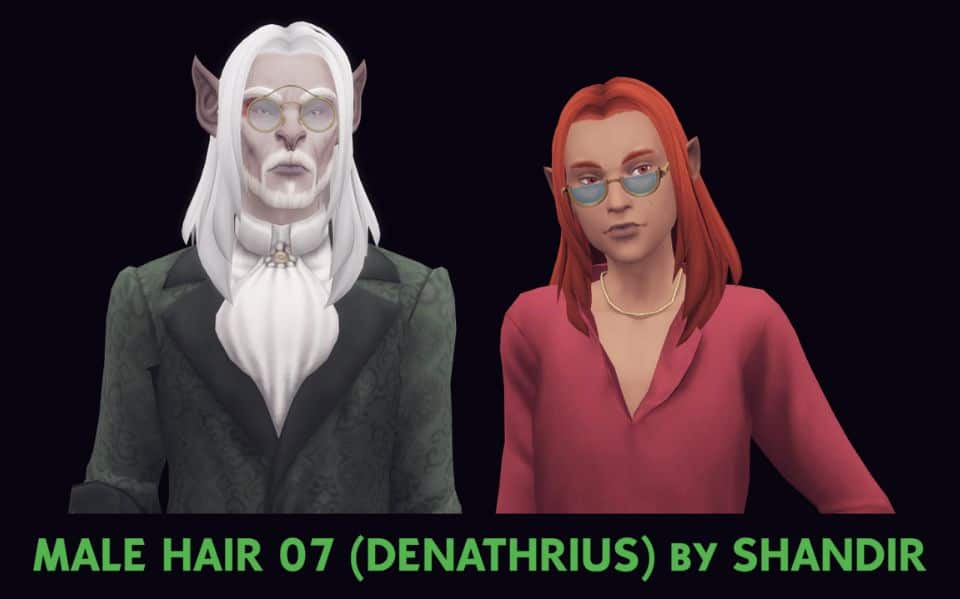 When I first saw this hair cc, I immediately felt it would fit nicely for werewolves.
With its long braided pony and loose strands at the front, it was made to pair with pointy ears.
This hair cc only works on male frames.
Sims 4 Werewolf CC: Final Thoughts
From sims 4 werewolf cc to helpful werewolf mods, you have everything you need to enhance your gameplay.
Werewolves are a fun part of the sims 4 world, so changing things up with new custom content is always fun.
If you come across any exciting wolfy cc, drop us a comment below or message us on our Tumblr.
More Occult Custom Content Lists

And don't forget to share & pin this post for later!

27+ Sims 4 Werewolf CC: A Full Moon Awaits