53+ Best Sims 4 Male CC Pieces [2023]
Find the best list of sims 4 male cc in one convenient spot.
In this men's custom content collection, we've included everything from male clothing to male shoes and male hairstyles.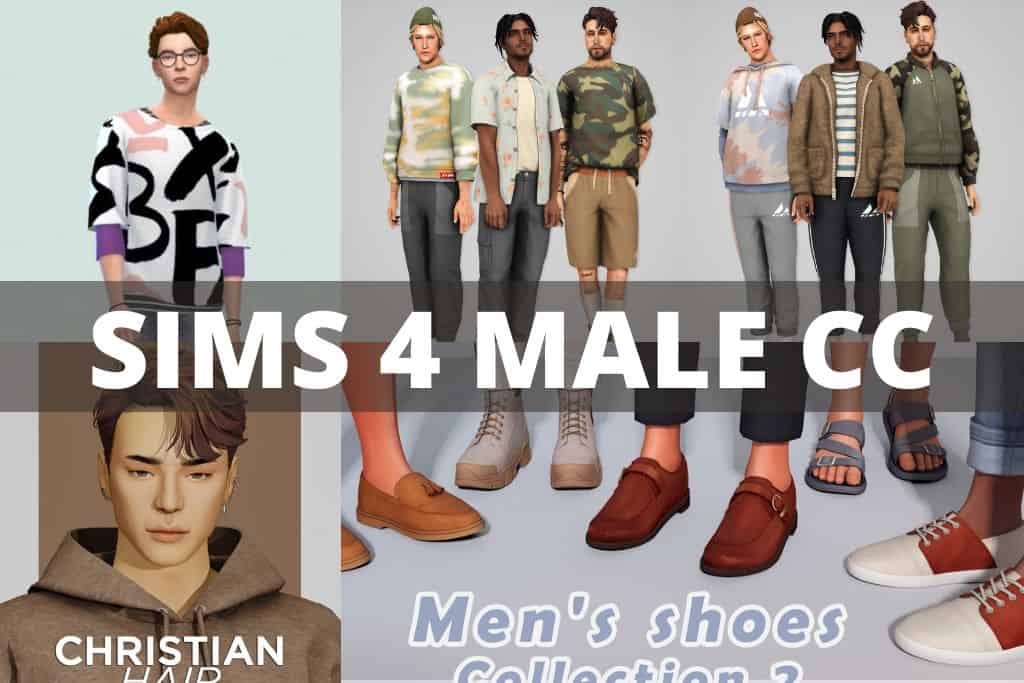 You can mix and match many of the maxis match custom content items in the list sims 4 male cc below.
And while some larger cc packs are included, we do have a list of 33+ Sims 4 CC Clothes Packs for even more men's clothing options.
I put together some of the best sims 4 male cc; the list goes in order by male clothes, male shoes, and male hair.
Have fun shopping!
Disclaimer: The following mods are neither endorsed nor affiliated with The Sims, Maxis, or Electronic Arts. Any use of mods (custom content or game mods) should be done with caution and with the knowledge that there may be risks.
Sims 4 Male Clothes CC
Find your new favorite pieces of male clothing.
In this section, I've included a mix of everything base game compatible; complete outfits, casual male clothing, suits, shirts, and more.
1. Sims 4 Male CC Suit Set by AdrienPastel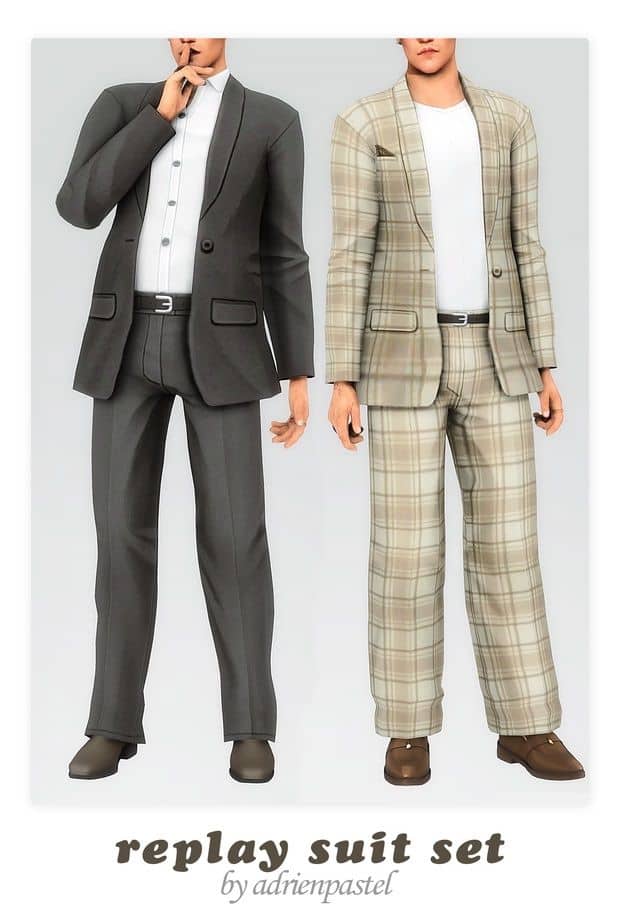 In this 4 piece male cc set, you get two versions of the Replay suit.
While similar in style, the V2 version comes with a high V-neck t-shirt versus a button-up shirt.
The pants are a looser, more relaxed fit.
Available in 18 swatches; some solid swatches and some patterns, such as the Louis Vuitton-inspired swatch.

2. Sims 4 Aquarius Men's Clothing Collection by nucrests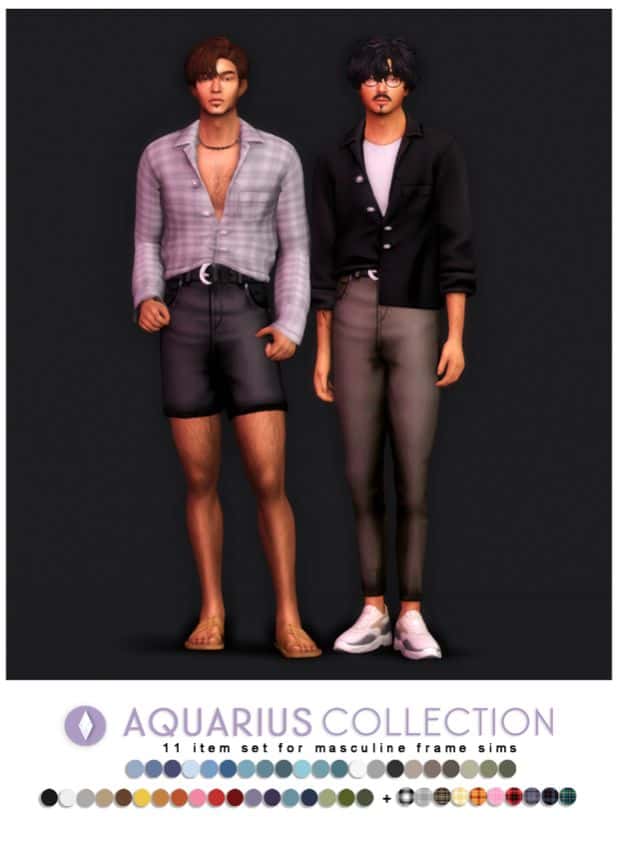 I love casual wear, and this Aquarius collection is the perfect 11-piece set of casual yet trendy everyday clothing.
Your sims will get 4 tops, 5 bottom options, and 2 undershirts as accessories.
As you can see from the swatches above, there are plenty of different colors.
Just pick the right shoes, and you're set.

3. Gentleman's Sims 4 Male CC Set by Marsmerizingsims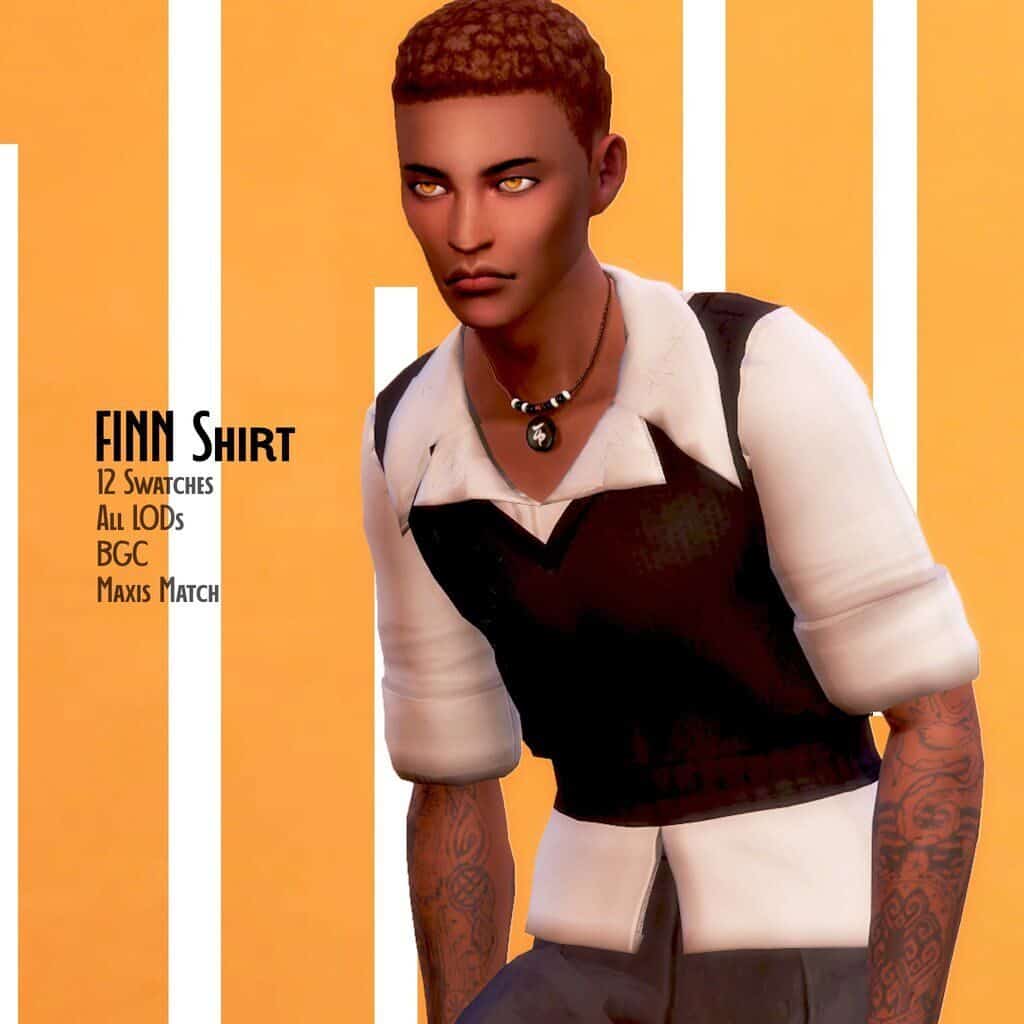 Nothing dresses up a casual outfit faster than adding a stylish overcoat.
Grab your button-down coat and scarf piece.
You can also download the shirt and vest top and high-waist pants.
There are 9 to 12 swatches for each male custom content piece.

4. Wonderer Sims 4 Male CC Pack by Wistful Castle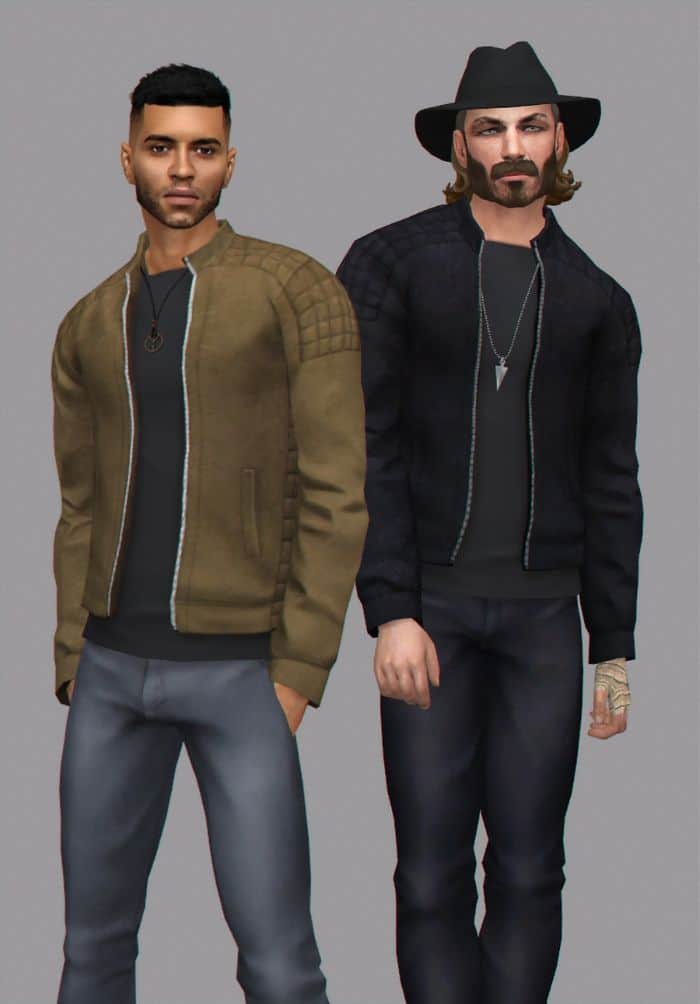 Everyone loves a little country, and the wonderer pack gives off cattle range vibes.
While the cowboy hat, jacket, and jeans form a great country look, you can easily pair these clothing pieces with many other outfits.

5. Insomnia Sims 4 Male CC Jacket by nucrests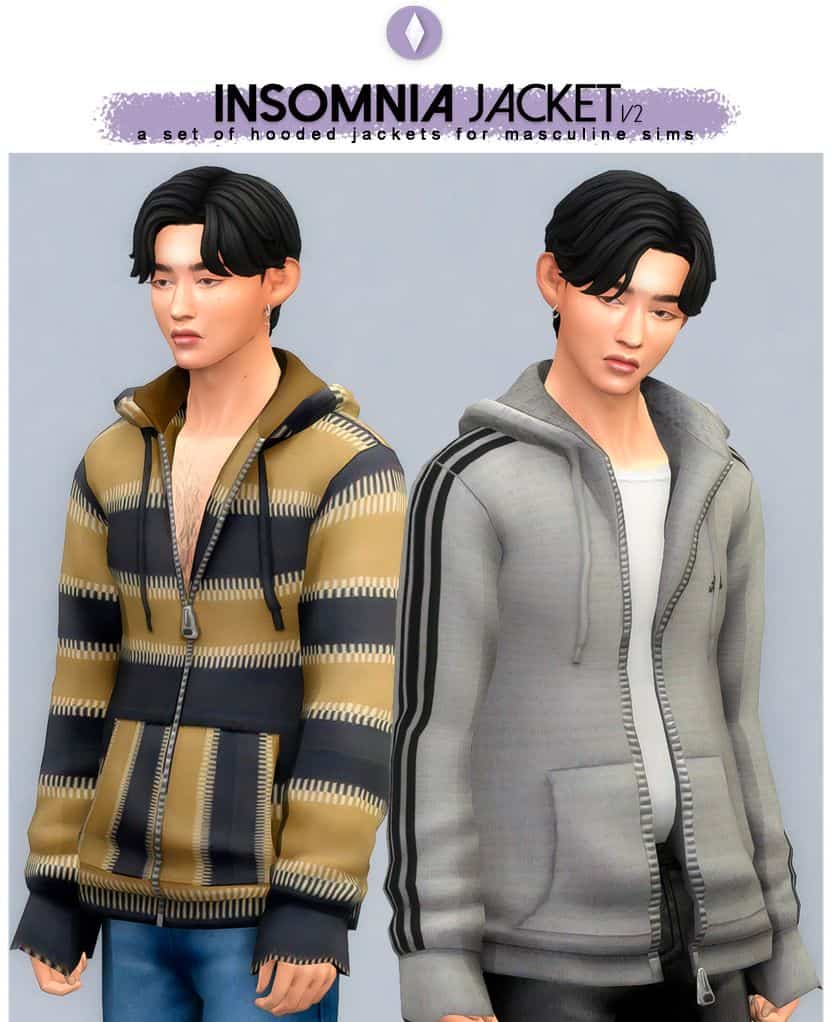 Warm hooded jackets are so comfortable, and these men's zippered versions look comfortable and stylish.
You can either opt for the zipped or unzipped version with or without a shirt underneath.
There are 33 swatches to style, 18 solid colors, 9 striped patterns, and 6 simlish Adidas options.

6. Sims 4 Male Custom Content Pack by Liliili-Sims4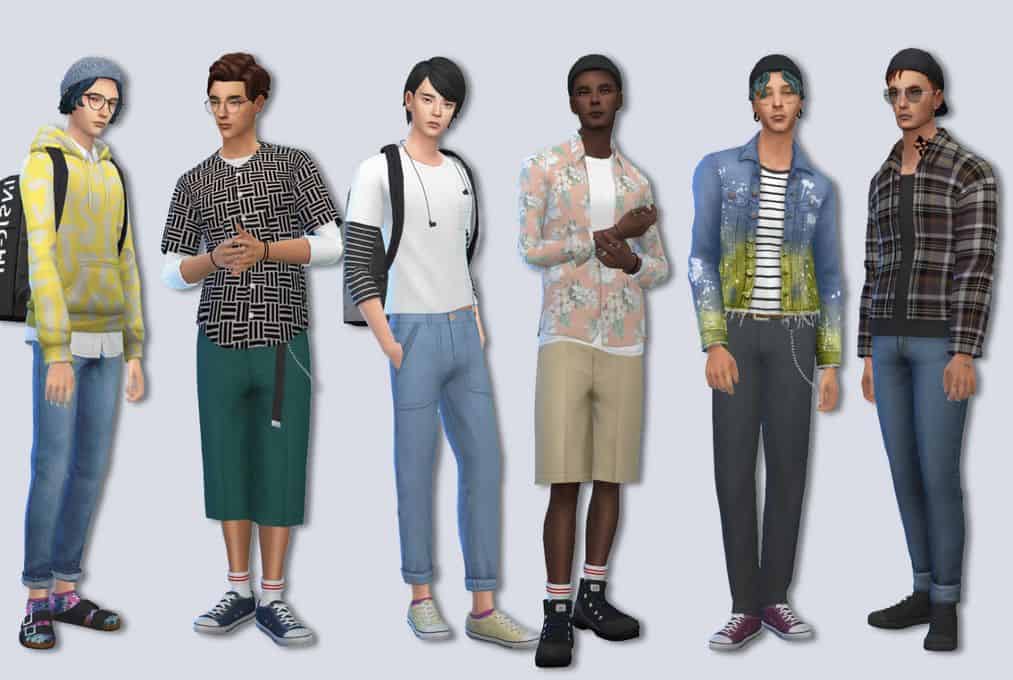 This is one of my favorite sims 4 male cc packs. There is just so much modern custom content in one zip. file.
There are a ton of tops, shirts, jackets, and accessory top options.
You will also get a variety of pants, jeans, joggers, and shorts.
If that wasn't enough, you have your pick of shoes, hats, earrings, accessories like soaks, and a handy camera.

7. Sims 4 Men's Autumn Collection by Saurus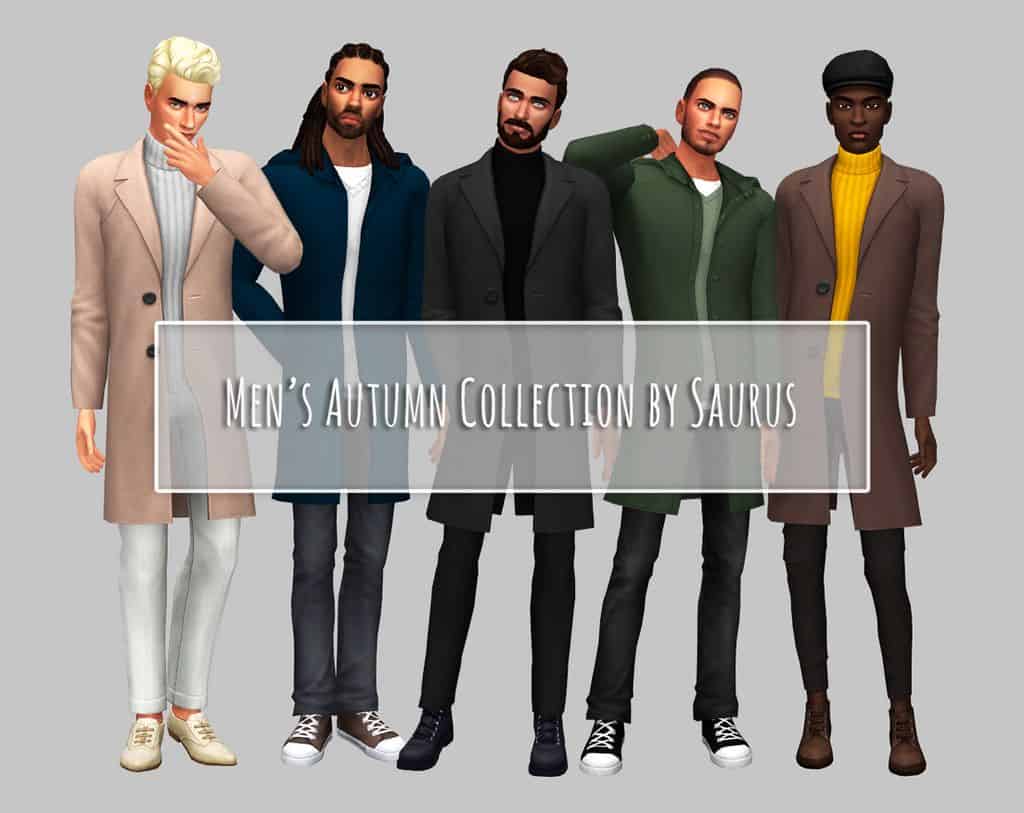 Add a couple of modern and slick overcoats, men's hair, and caps to your cc folder with the Autumn collection.
You can either choose a long overcoat with an incorporated turtleneck or a hooded version of the coat.
The cap is available to your male and female sims and comes in 25 swatches.
The coats and Kent hair are available in 18-20 swatches.

8. Domenico Sims 4 Male CC Outfit by Madlen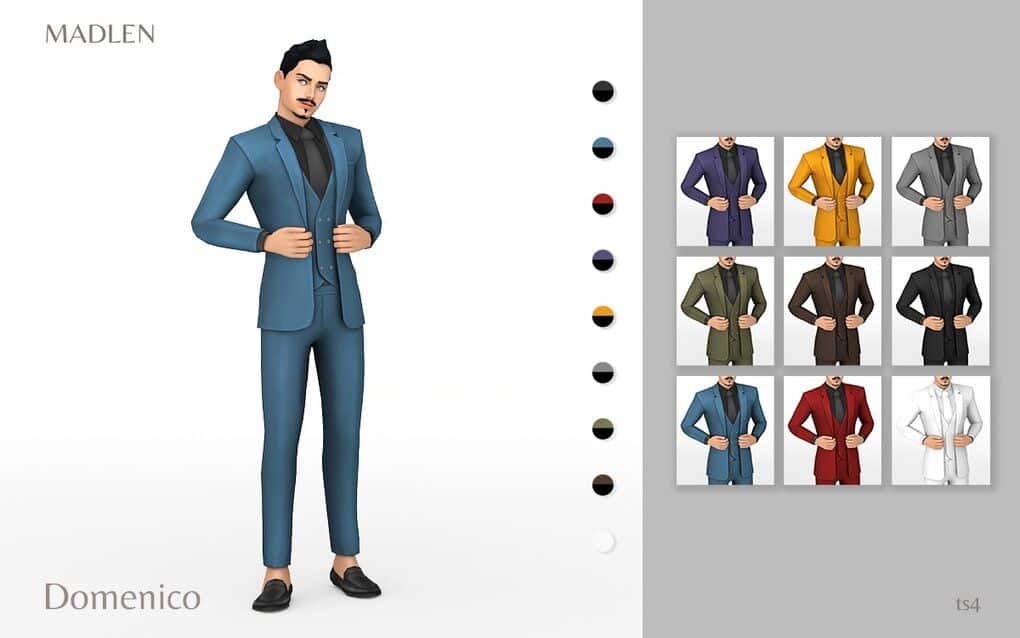 When it comes to suits, nothing beats a slim-fit suit tailored to perfection.
This male cc suit is fully styled for you; with a shirt, tie, vest, suit jacket, and dress pants, your male sims will never look more dapper.

9. Sims 4 Male Leather Jacket Accessory by Darte77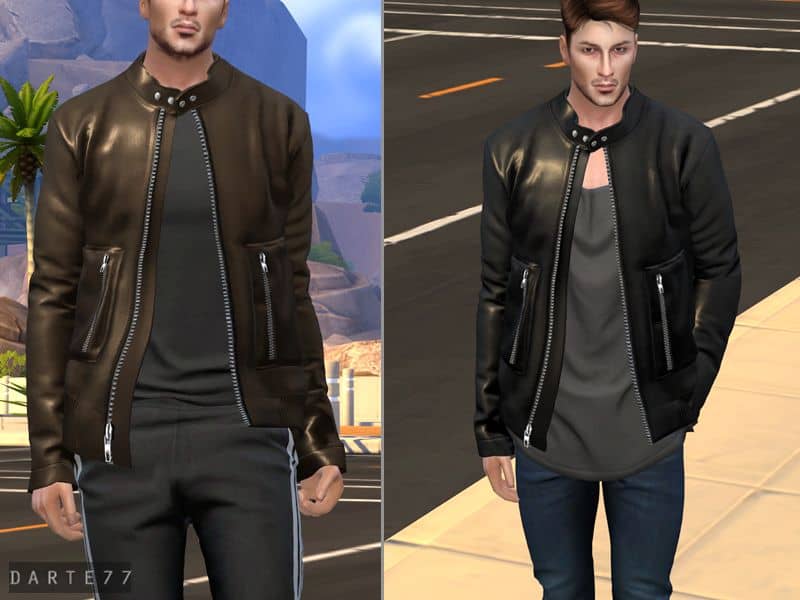 I always appreciate accessories, and this male cc leather jacket accessory piece allows me to layer my sim's looks.
To avoid possible clippings, the cc creator recommends pairing with short sleeve t-shirts, tanks, or plain top meshes.
Available in 4 swatches, you can locate the jacket under the Bracelet category.

10. Sims 4 Male CC Denim Look by Marsmerizingsims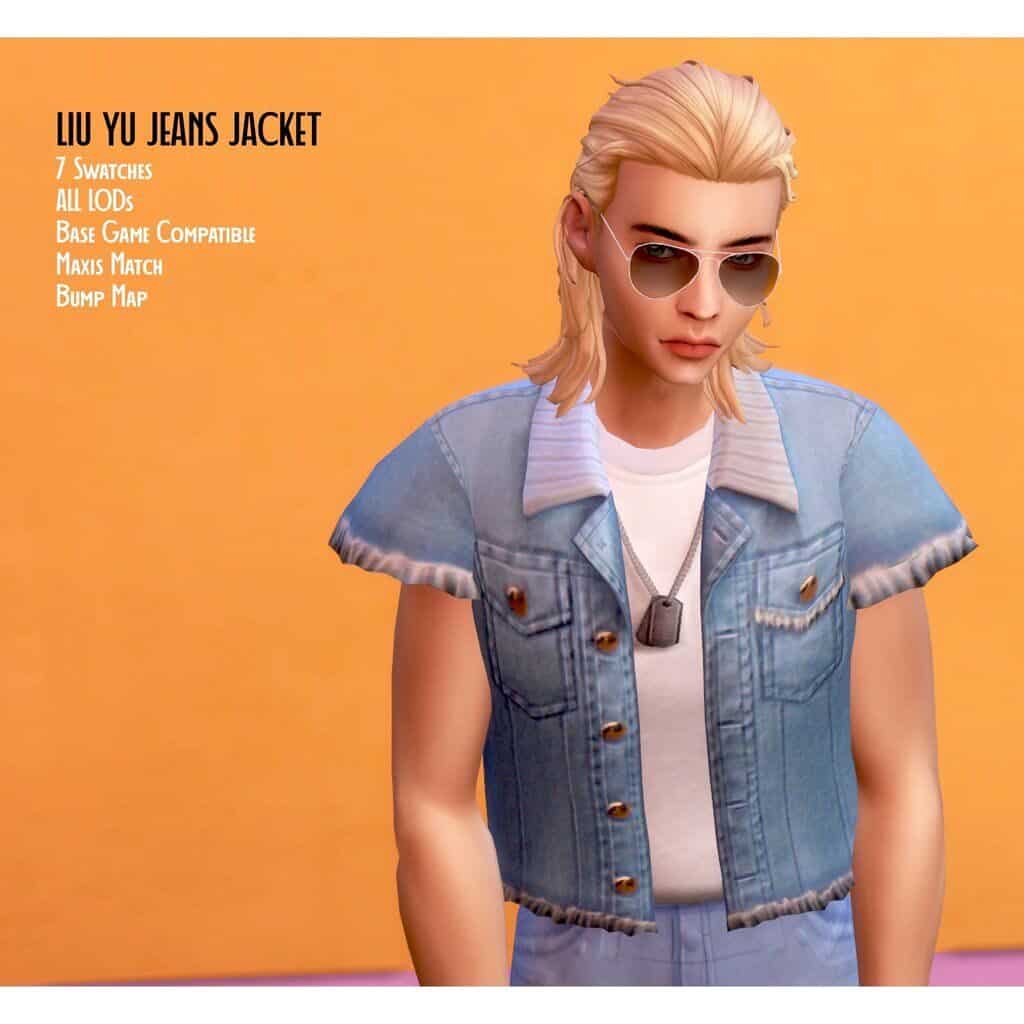 This mixed set has denim pieces for your male and female sims to enjoy.
You can snag the Liu Yu capped-sleeve denim jacket and the Johnny jeans with an attached handkerchief for your male sim.
You have between 7 to 9 swatches for each denim piece.

11. Sims 4 Male CC Pack by Darte77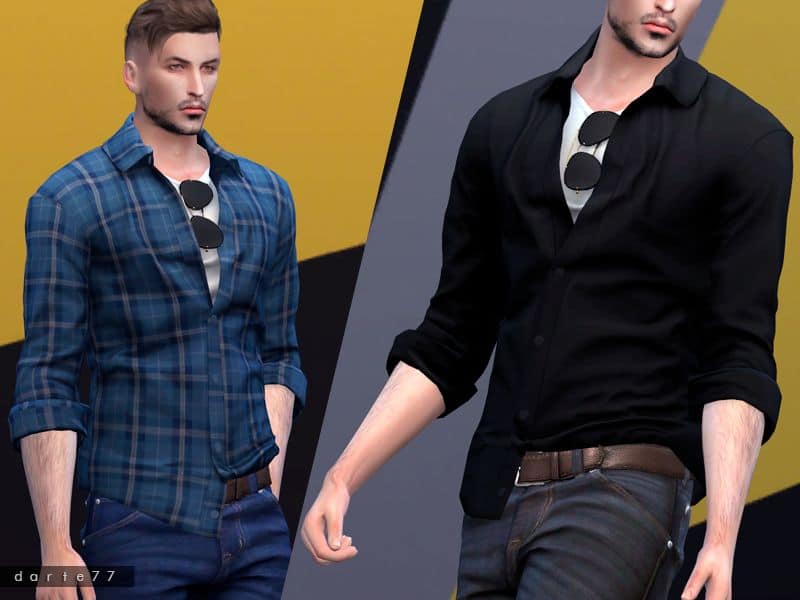 In this mixed female and male cc pack, you'll find a couple of pairs of jeans (with or without a belt).
You can choose two different cargo jackets (belted or oversized).
I particularly like the rolled-up sleeved shirt with sunglasses, but you can grab the sunglasses on their own too.

12. Sims 4 Layered CC T-Shirt by Liliili-Sims4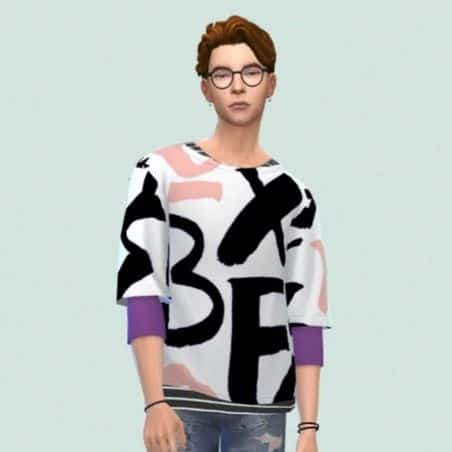 I'm unsure if this layered bold letters shirt gives off more 80s or Japanese streetwear, but I'm here for it.
While I love the above swatch, you can opt for 35 solid color options or 20 patterned swatches.

13. Stay Gold Male CC Collection by nucrests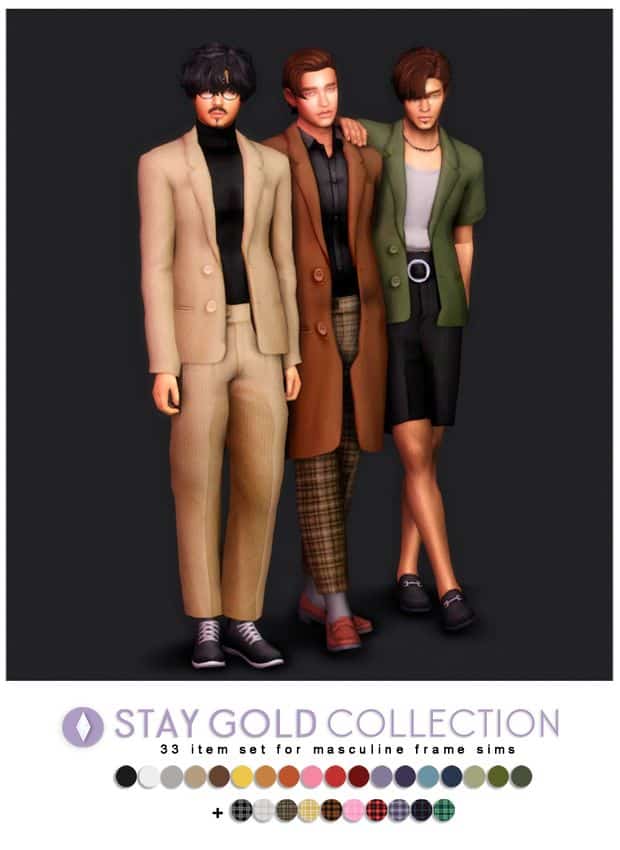 This pack is the revamped version of the original Stay Gold Collection.
This collection includes 33 items for your male sims.
There are 18 tops, 12 bottom options, and 3 overlay accessories.
The key change to the revamped files is that we can now have non-high-waisted bottoms.
You'll also find some new color swatches and patterns.
14. Sims 4 Male CC Tops by Marsmerizingsims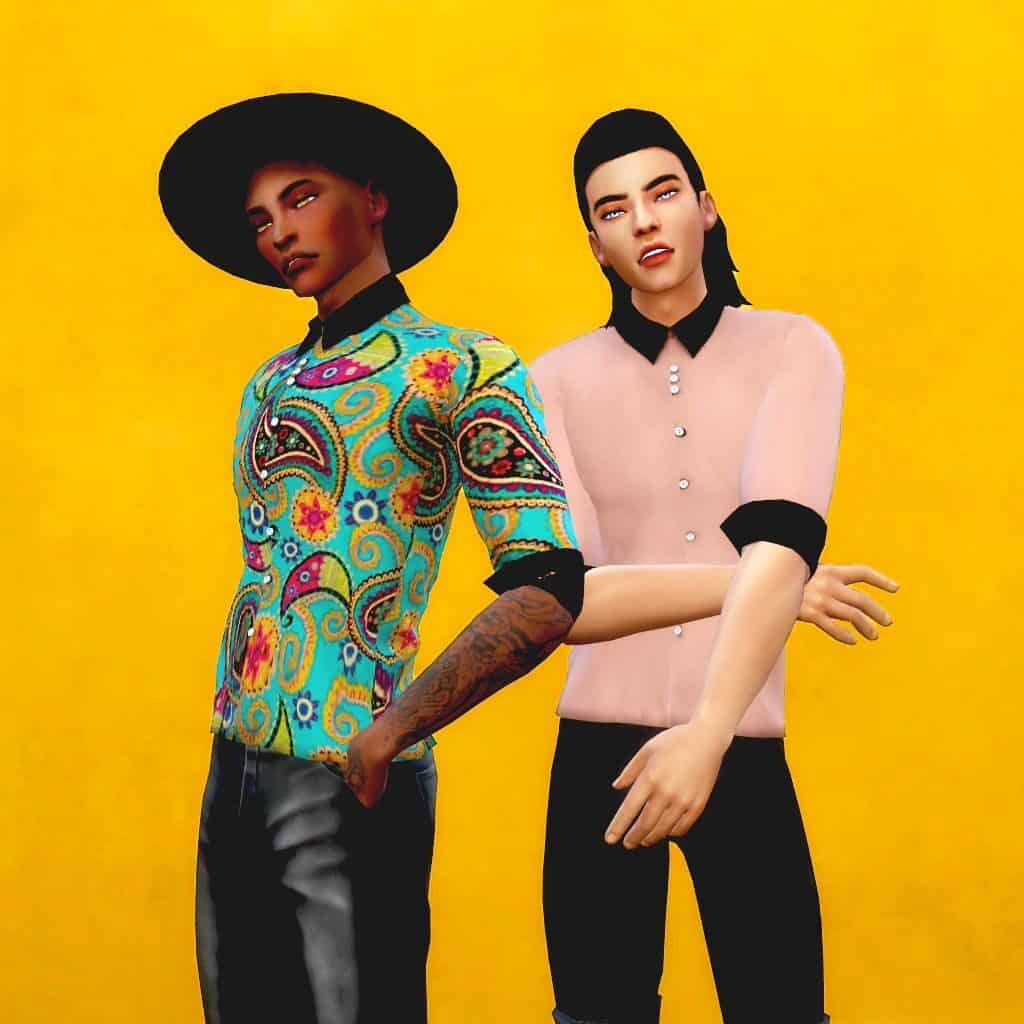 This set of two male custom content tops is how I image my male sims trolling through the streets of Paris.
There is a collared and cuffed shirt or a turtle-neck elbow-length buttoned shirt.
15. Sims 4 Male CC Basics by Saurus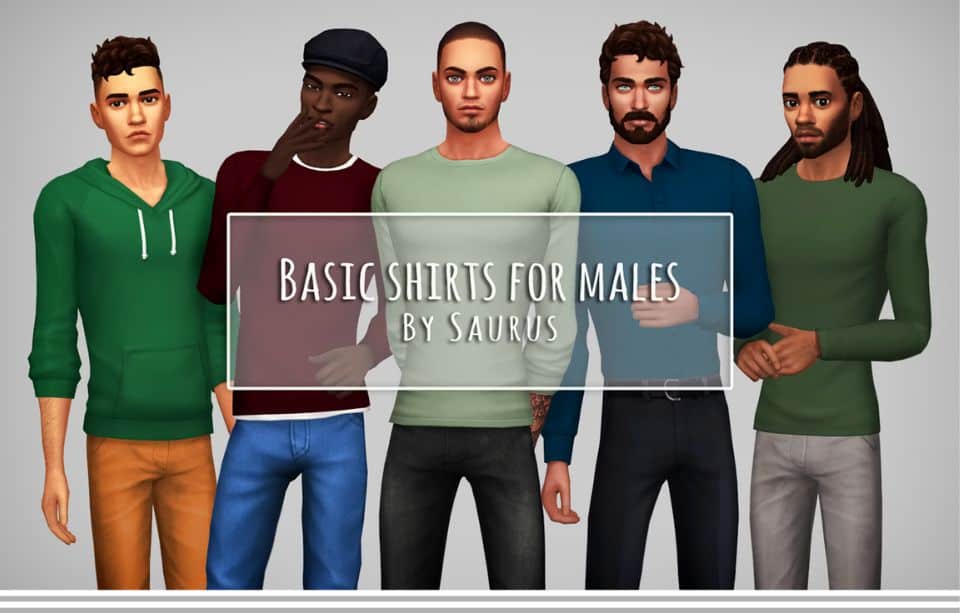 Clothing basics are essential components of any good wardrobe.
This basic shirt set gives us the long-sleeved tops our male sims need.
There are 5 pieces to choose from:
A thermal top
Rolled long sleeve
Rolled-sleeved hoodie
Simple long-sleeve top
A basic long sleeve collared shirt
Each male custom content piece is available in 25 swatches.

16. Sims 4 Male CC Ankle Cut Pants by Solistair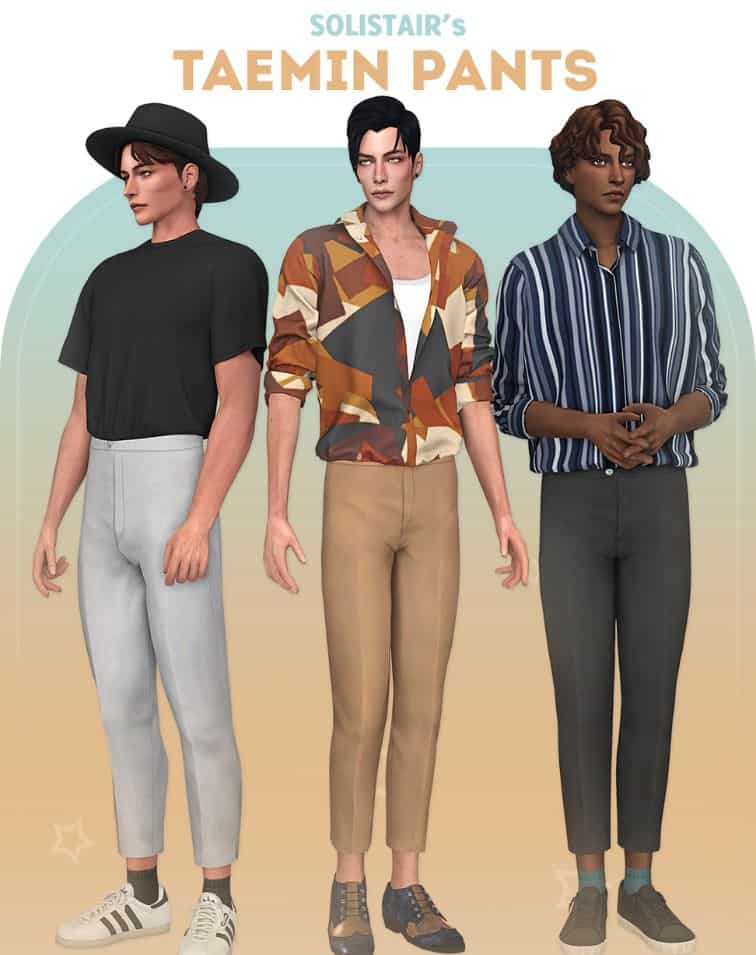 These casual ankle-length pants can be dressed up or down.
Pair with your favorite blazer or simple top; you decide how dressy to style these pants.

17. Sims 4 Denim Jacket & Pants Set by Miro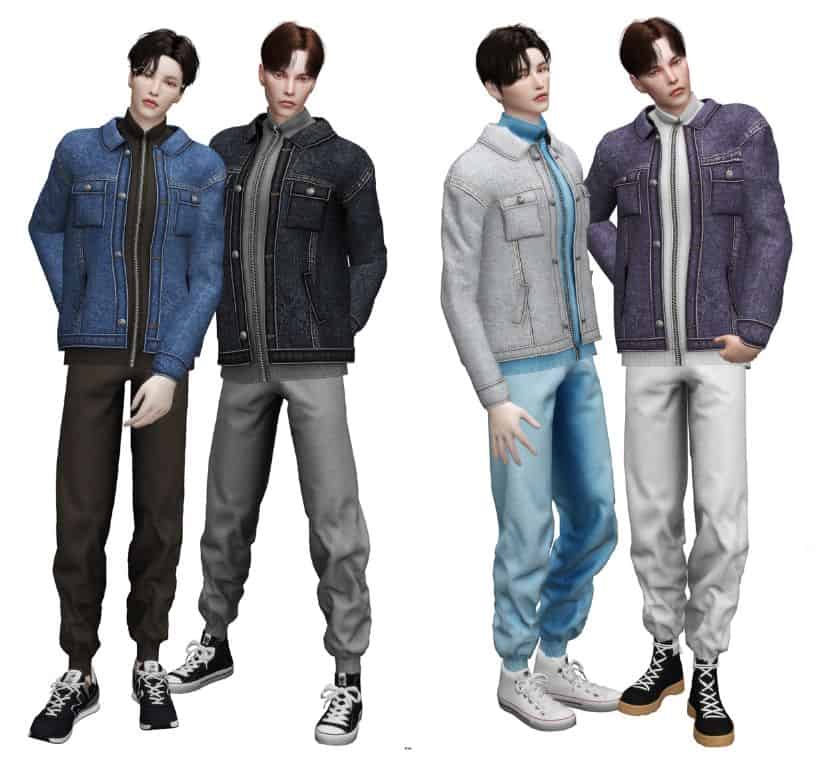 This is just an easy-to-wear casual denim sweater-jackets and jogging pants set.
The swatches are available in the Gloves category.
Pair with your favorite running shoes and accessories.

18. Sims 4 Men's CC Pack by Darte77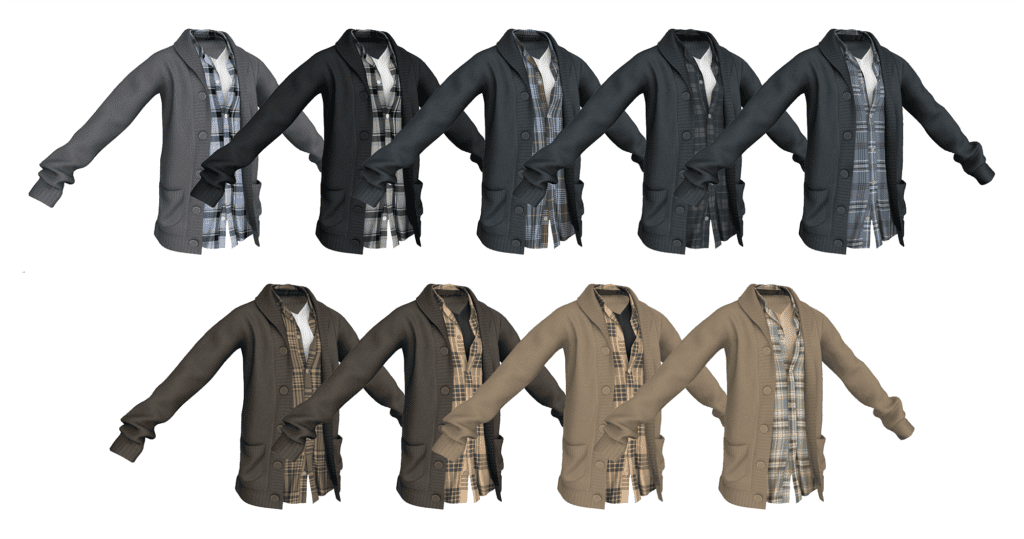 This male cc pack has some useful men's pieces.
You not only get the shirt and cardigan piece above, but the pack also comes with baggy jeans and dad jeans.
Need more? Grab the hoodie-backpack cc, tucked-in t-shirt, or the t-shirt and backpack piece.
Various swatches are available for each piece of male custom content.
19. Sims 4 Male CC Cargo Pants by Solistair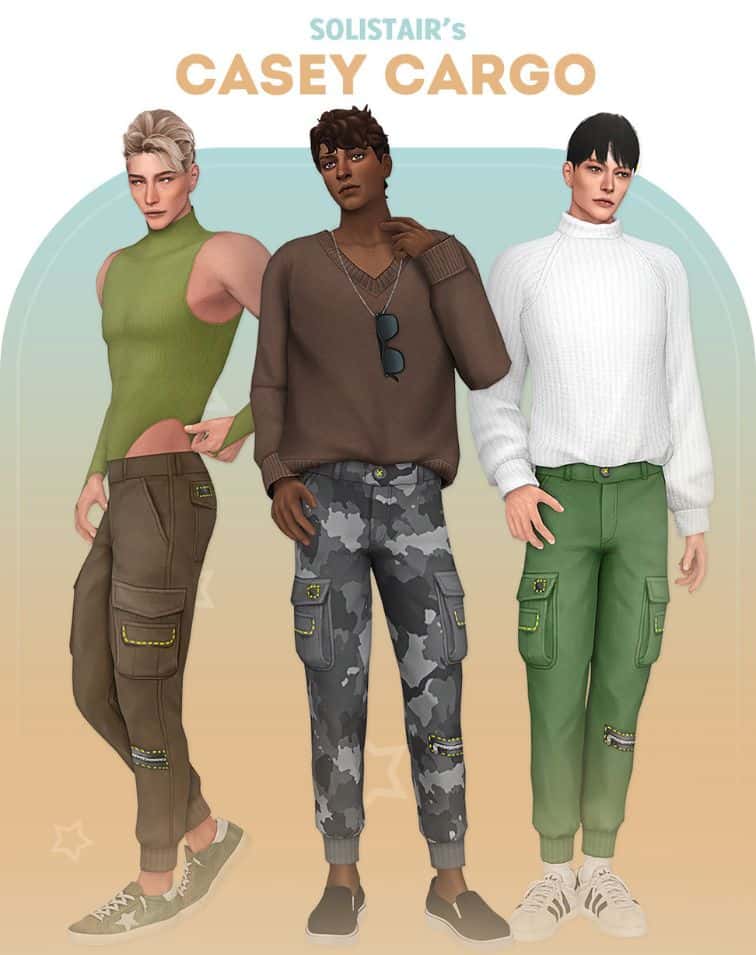 These everyday cargo pants are great for taking your child sim to the park or hitting the country trail.
They have great pockets, stitching, and zip details. Pick a solid color, or opt for a fun patterned swatch.
20. Sims 4 Male CC Suspenders Outfit by Veiga Sims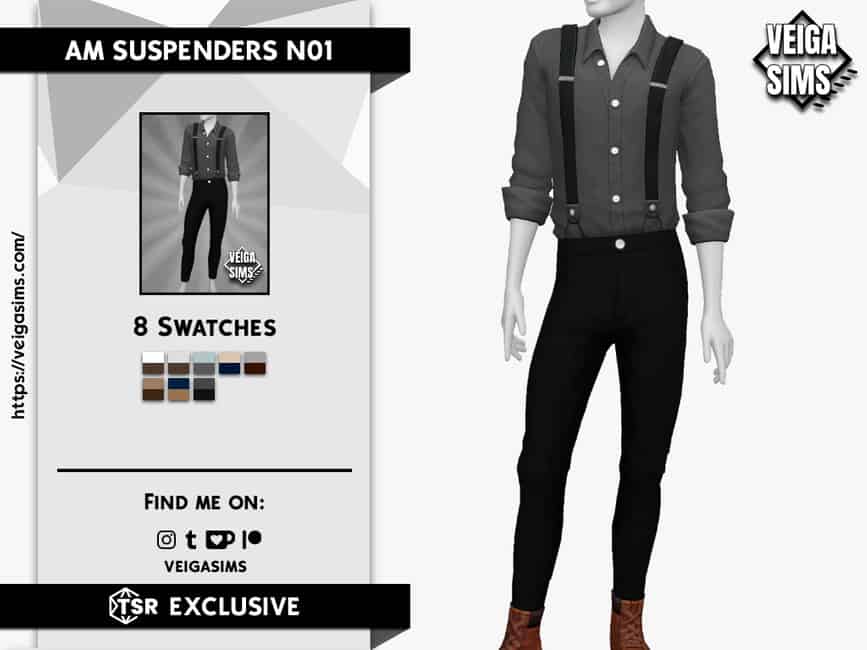 Grab this all-in-one button-down shirt, pants, and suspenders outfit.
I like to call these one click wonders, you just need shoes!
There are 8 color combinations to style your sims in. Pair with some ankle boots to complete the look.

21. Sims 4 First Fits Kit Male Conversion by AdrienPastel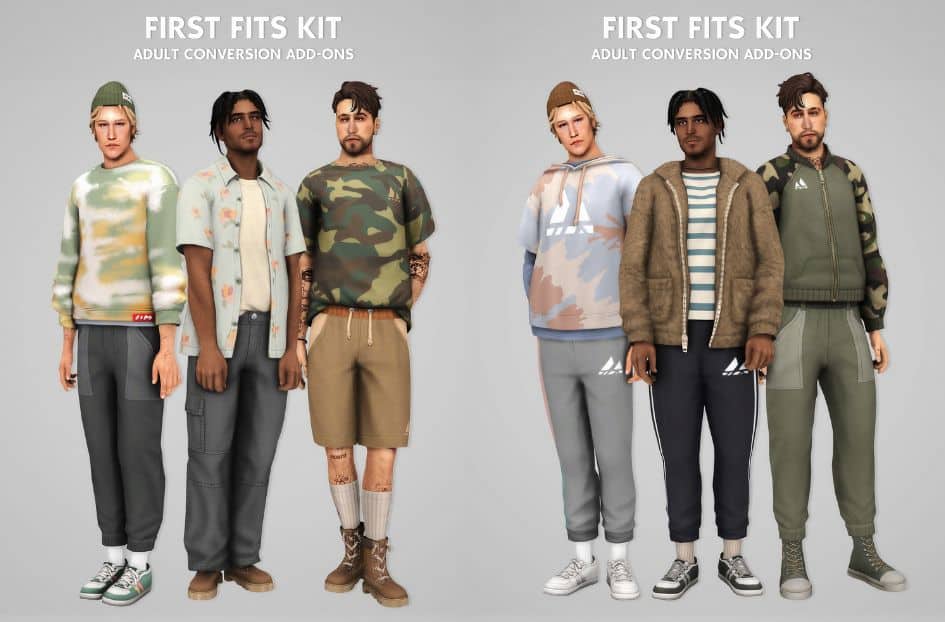 Enjoy this 14-piece pack of converted items that give off adult camping/hiking vibes.
It's a great collection of tops, bottoms, socks, and shoes for your active sims.
Bonus, you don't need the original kit to enjoy these male clothing pieces.

22. Sims 4 Cropped Suit Set by nucrests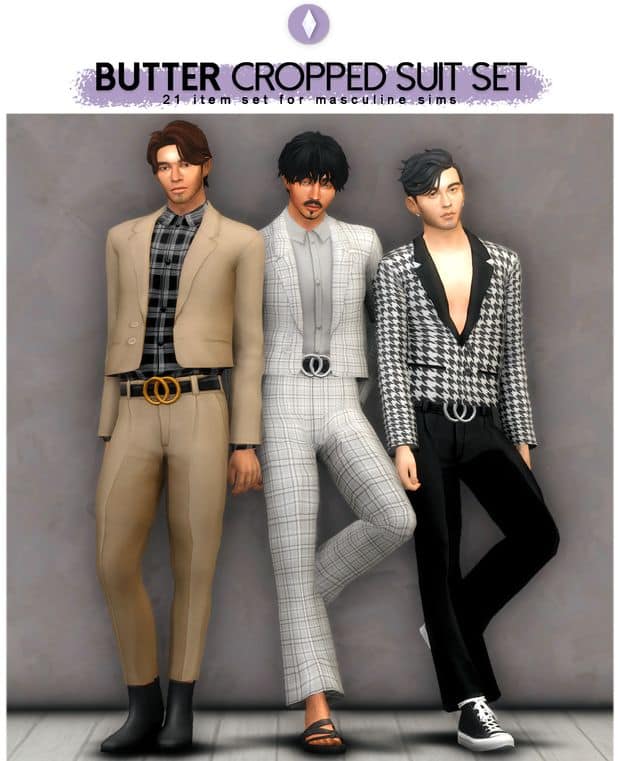 Cropped tops and pants are not exclusive to females; this cropped suit set has both.
This set includes 10 tops, 8 bottoms, 3 overlay accessories, and a mix of solids and pattern swatches.

23. Sims 4 Male Clothes Pack by Wistful Castle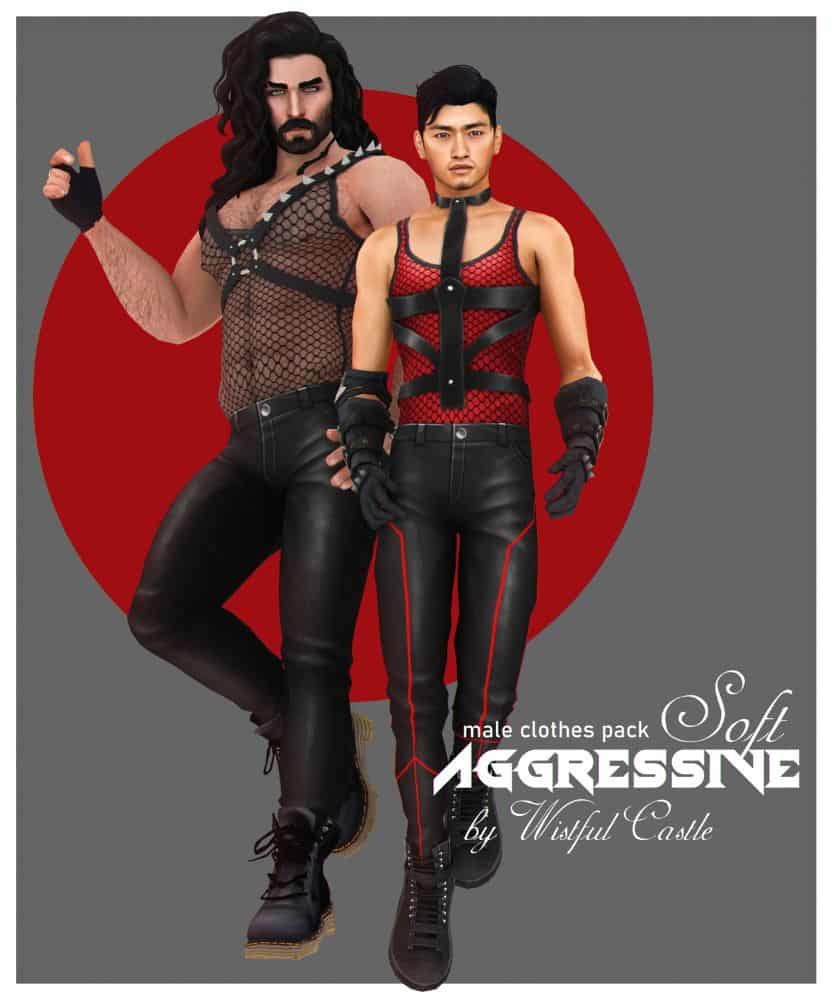 Whether heading to a club, or festival, this sims 4 male cc pack hits on all cylinders.
You have the option of a tank top with multiple sheer swatches and some solid versions (including mermaid scale swatches).
The tight leather pants come in 21 swatches with a fun variety of patterns and some solid color options.

24. Sims 4 Male CC Sweatsuit by nucrests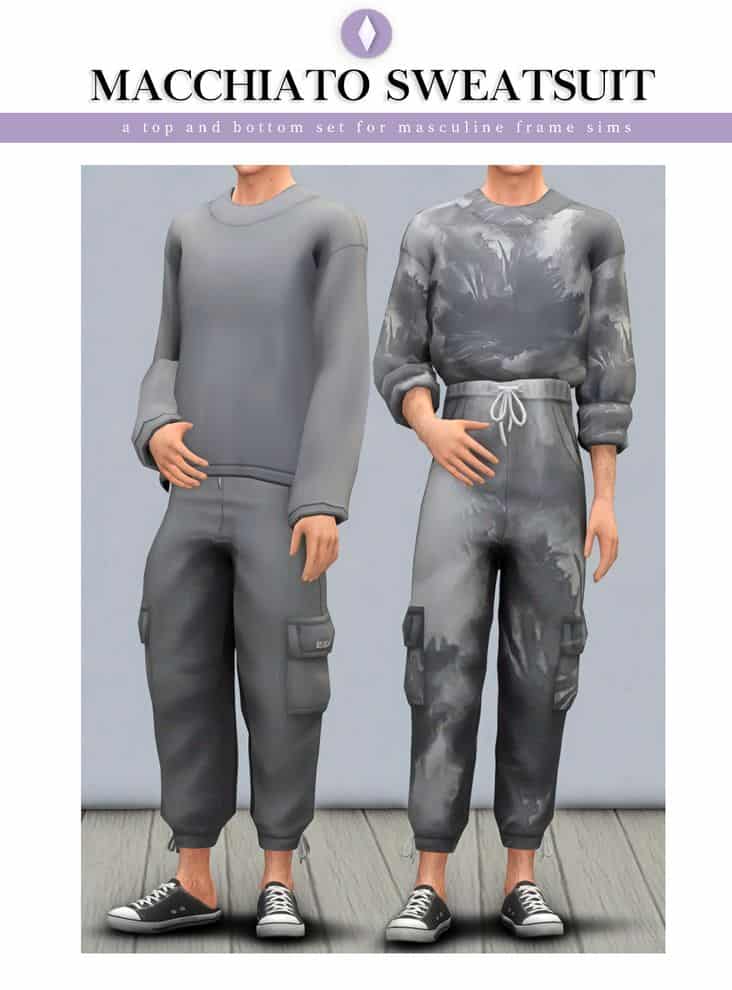 Loungewear is some of my favorites, and these Macchioto sweatsuits fit the bill.
You can opt for either the regular or tucked sweatshirt.
The pants also come in regular and high-waisted versions.
There are 12 solid color swatches and 10 tie-dye options, I love the gray tie-dye swatch.

25. Sims 4 Male CC Accessory Shirts by MadameRia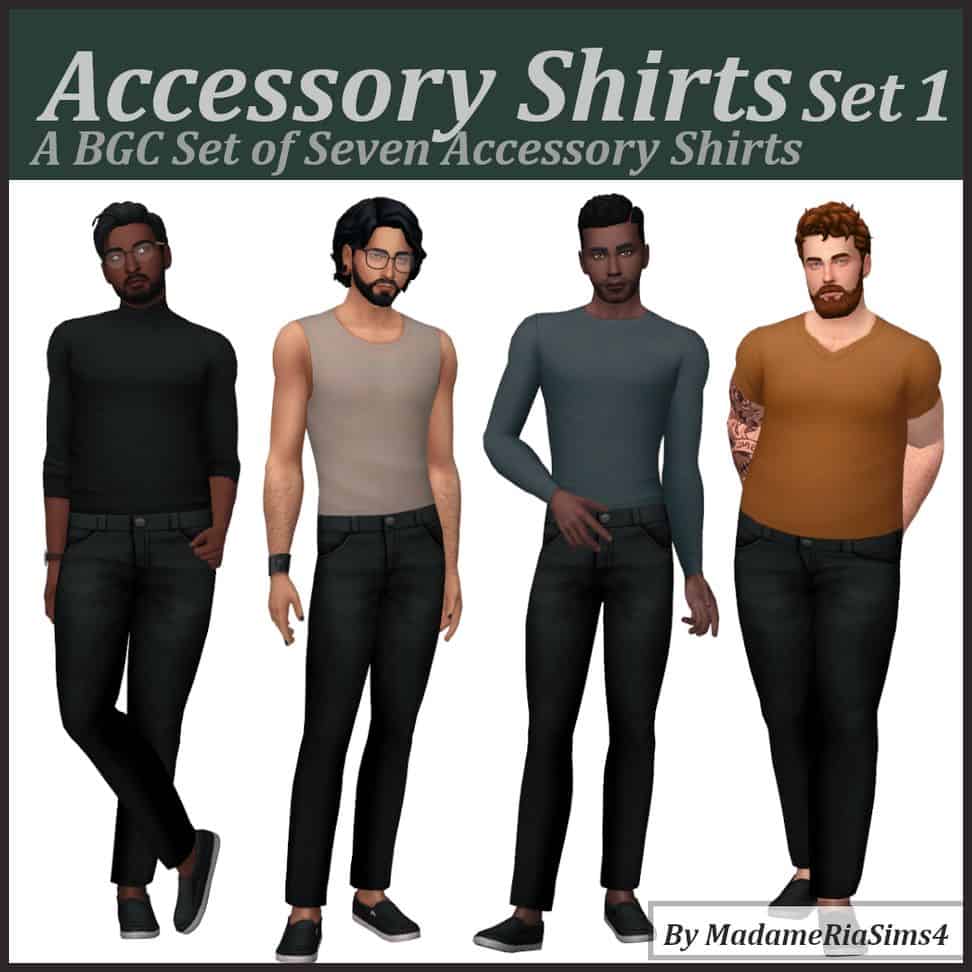 I always jump on accessory files because I love layering clothing pieces when I can.
This set of male cc shirts is just what I needed; 7 different styles of male accessory shirts are available.
From cropped sleeves to long sleeves undershirts, you'll find it.
Each shirt comes in 15 neutral swatches.
You'll find these male shirts under the Gloves category.

26. Sims 4 Male CC Trench Coat Set by nucrests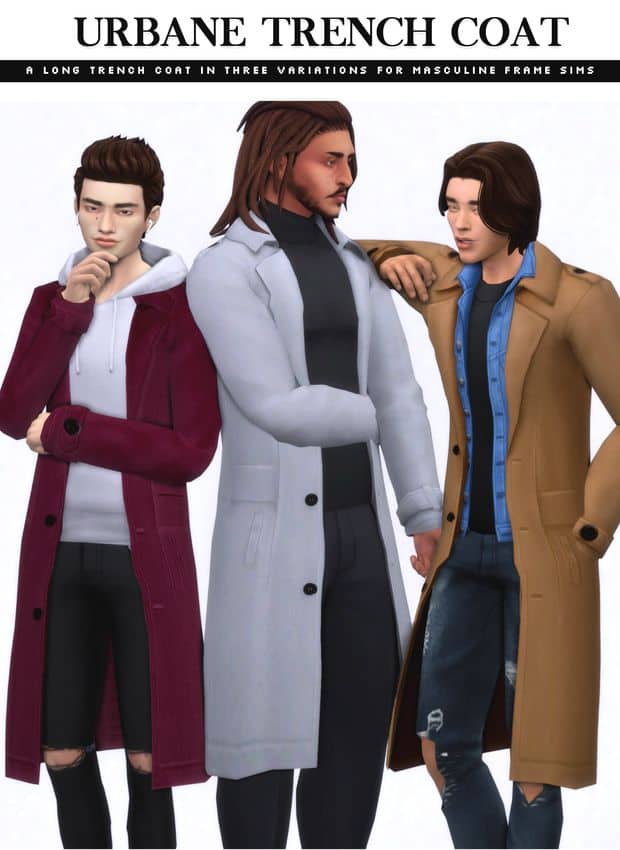 Trench coats have been around for a long time and can dress up even the most basic pair of ripped jeans.
The Urban Trench Coat set services up trench coats in 3 ways; with a hoodie, denim shirt, or turtleneck underneath.
Depending on the trench coat model, there is a mix of 10 color swatches plus velvets or denim swatches.

27. Sims 4 Carhartt Collection by nucrests x simkoos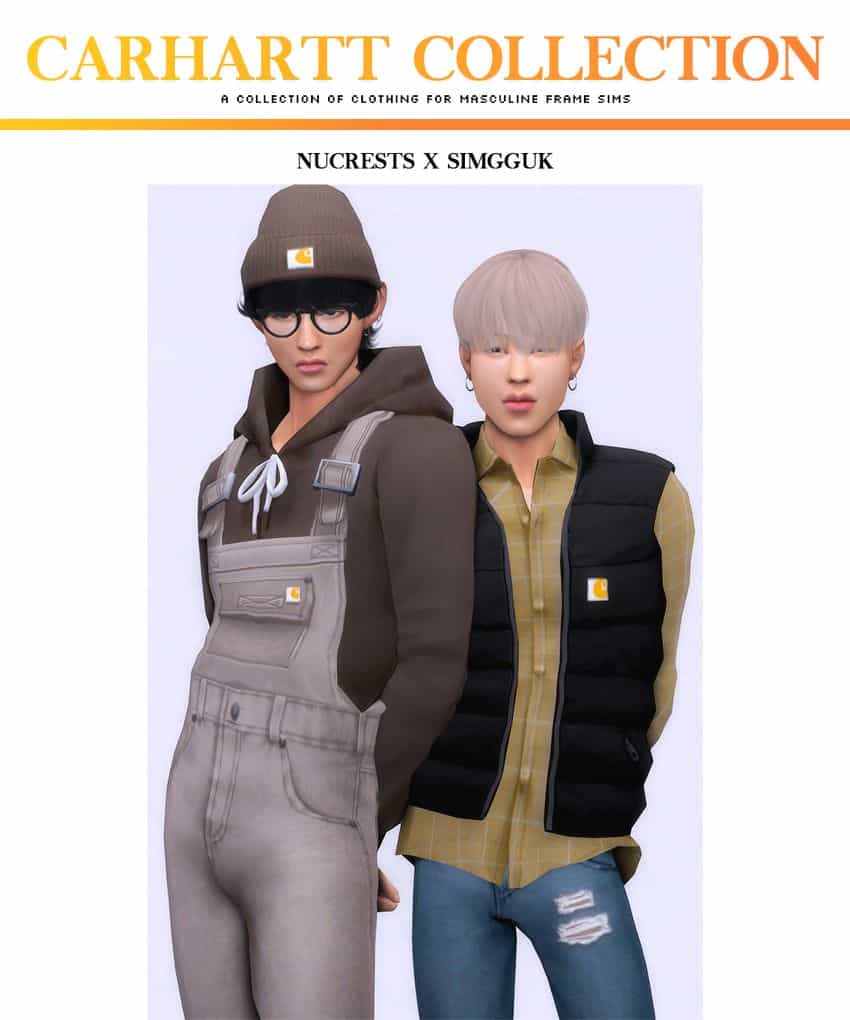 You can always need more warm, casual clothing options.
Pick your favorite way to wear overalls (with a t-shirt, long-sleeve shirt, or hoodie underneath).
If you prefer something other than overalls, you can grab the button-up shirt, which comes styled in 4 different ways.
If you need another basic tee or beanie, those are available too.

28. Cargo Sims 4 Male CC Set by Lazy_Eyelids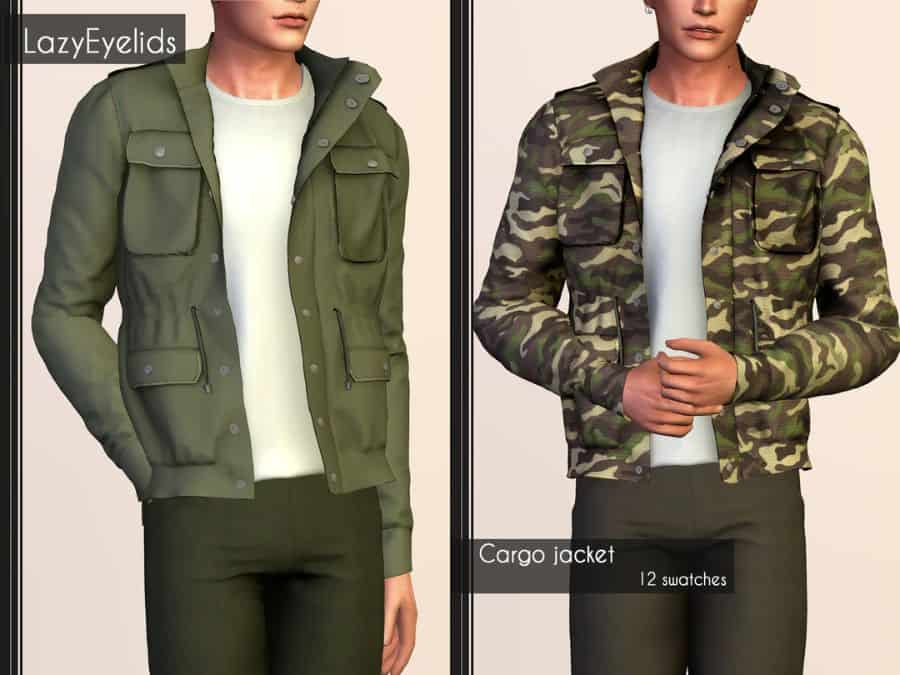 I love curated outfits, so this 3-piece cargo set is an excellent cc find.
The cargo jacket is nicely detailed, with plenty of pockets and snap buttons.
You can complete the look with ankle-tapered cargo pants and simple t-shirt pieces.

29. Caliente Outfit Sims 4 Male CC by CandySims4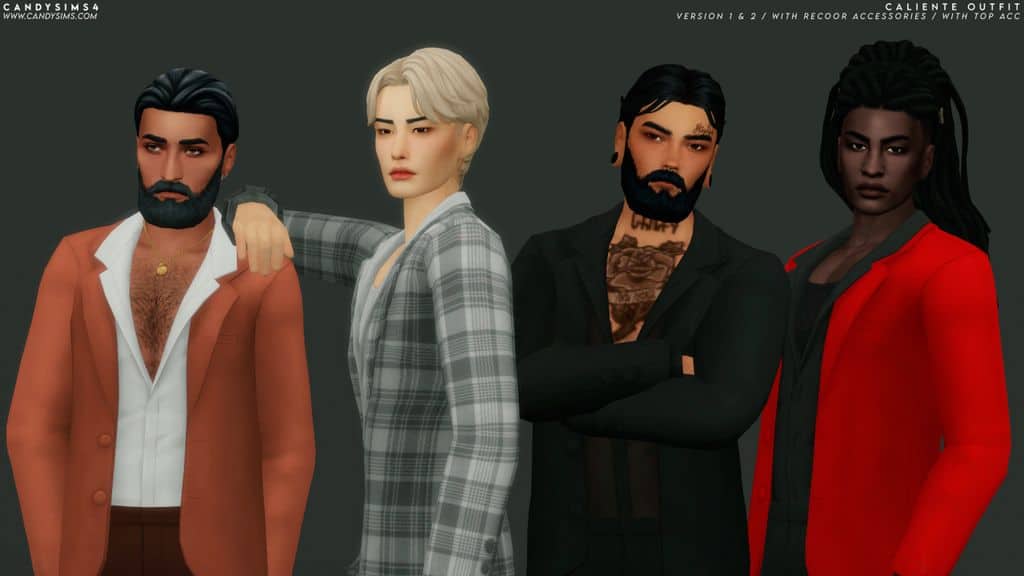 As its name indicates, this hot male cc outfit is destined for your male sims heading out on the prowl.
A few pieces are included; two versions of the caliente suit, an accessory top, and a few additional recolor accessories (a blazer, shirt, and pants).
Depending on the cc piece, there are 42 to 67 swatches.
30. Plaid Shirts Sims 4 Male CC by MadameRia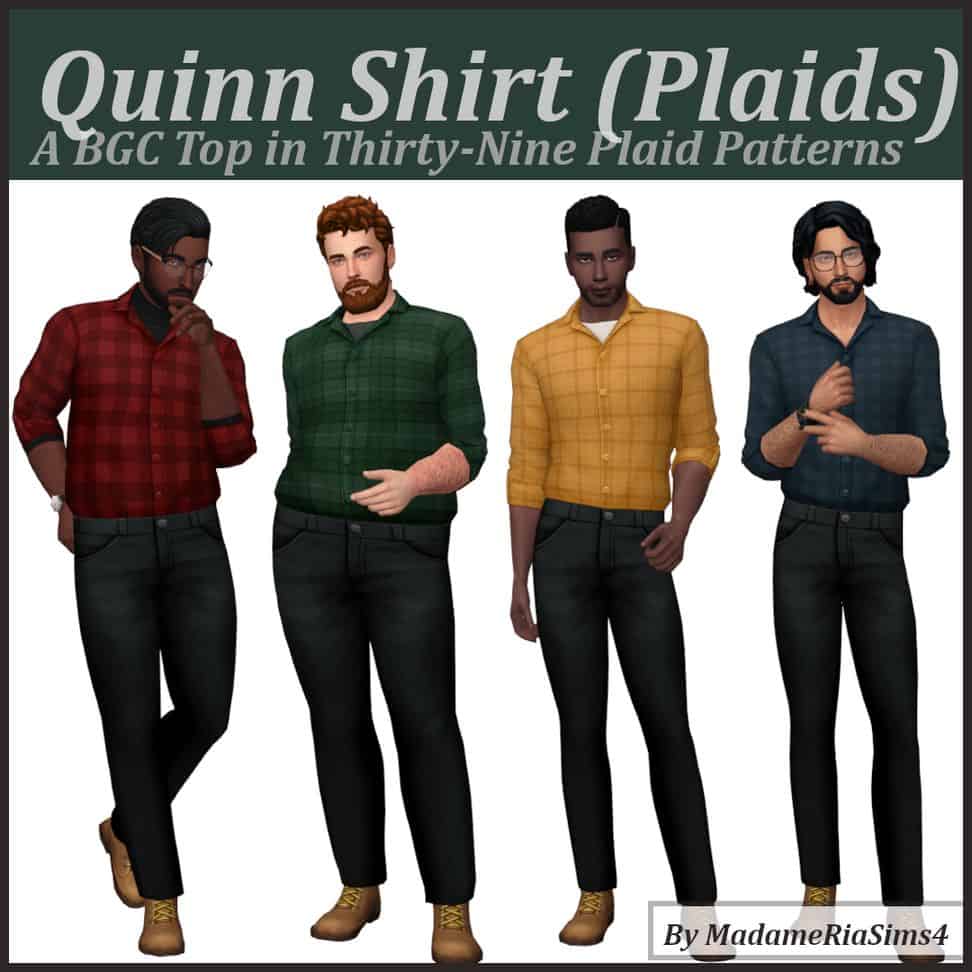 Plaid shirts are practically synonymous with the fall season, so this set of sims 4 male cc shirts is perfect.
There are 39 different plaid swatches (light and dark plaid); you really can't ask for more variety than that!
31. Sims 4 Male CC Denim Set by Solistair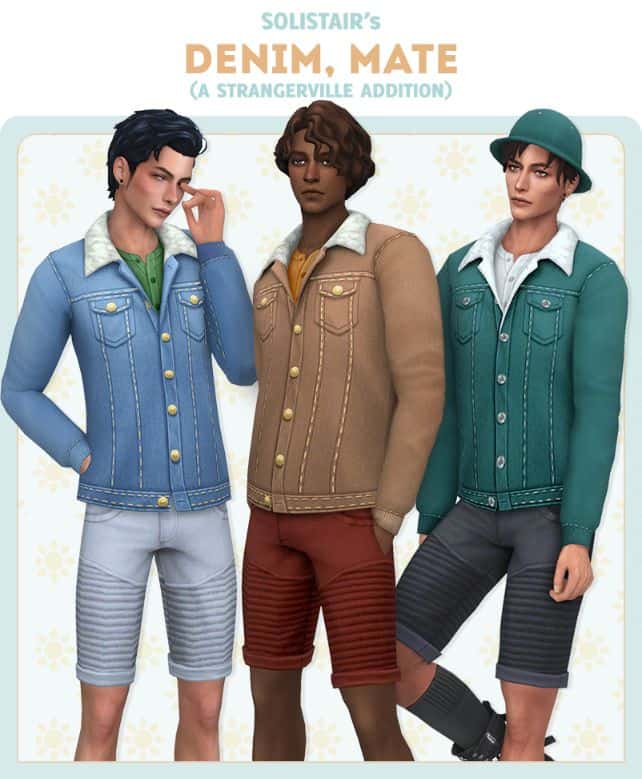 This dedicated denim mini set comes with 5 pieces of custom denim content.
There is a denim jacket and shorts with two different color palette file options.
You can also grab the shirt recolor from the Glove category.

32. Sims 4 Male CC Set by Trillyke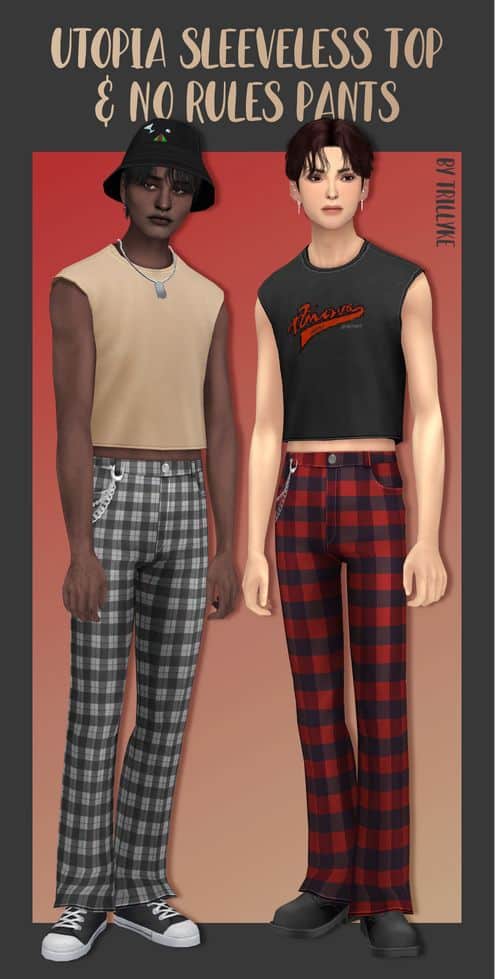 These men's sleeveless cropped tops are ideal for your more laid-back sims.
Paired with the no rules pants, the look the complete.
You can grab the chain accessory from the Gloves section.
There are 30 swatches for each piece of male cc clothing, which include some interesting shirt graphics and pant designs.

33. Vampire Male CC Set by Wistful Castle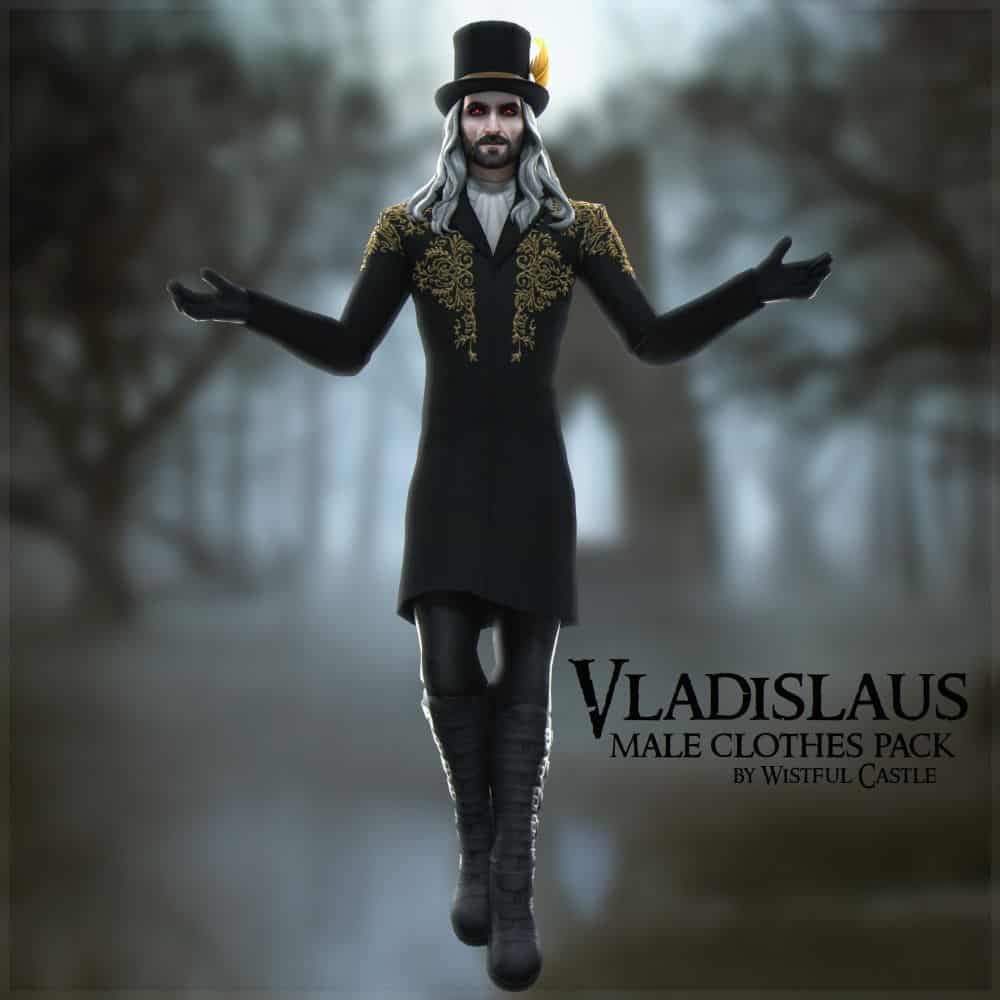 If you are a fan of Bram Stocker's Dracula, then this male cc pack is for you.
Besides the epic buckle boots and feathered top hat, the top coat is the true gem in this set.
The Vladislaus outfit reminds me so much of Gary Oldman's clothes in Dracula.
The outfit comes in 32 swatches, and while the solid color options are great, the swatches with detailed embroidery are stunning.

34. Sims 4 Male Danger CC Collection by nucrests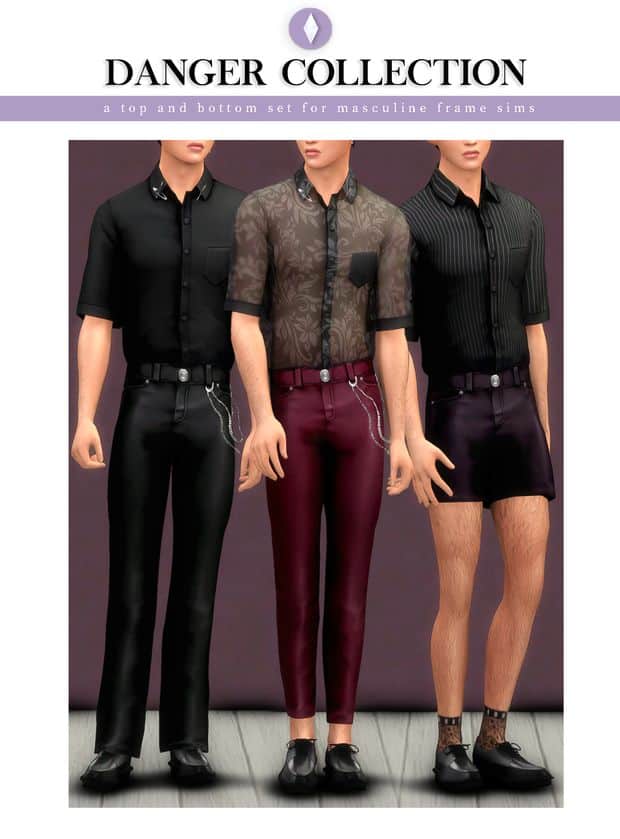 Are your sims heading to the bar looking for some Saturday night fun?
This mini set includes some great leather pants and leather shorts.
The pants are available in both slim-fit and skinny-fit versions.
Depending on how edgy your sims are willing to be, you can opt for the sheer or regular-style shirt.
Complete the look with safety pins and chain accessories.

35. Sims 4 Men's Biker Jacket CC by Darte77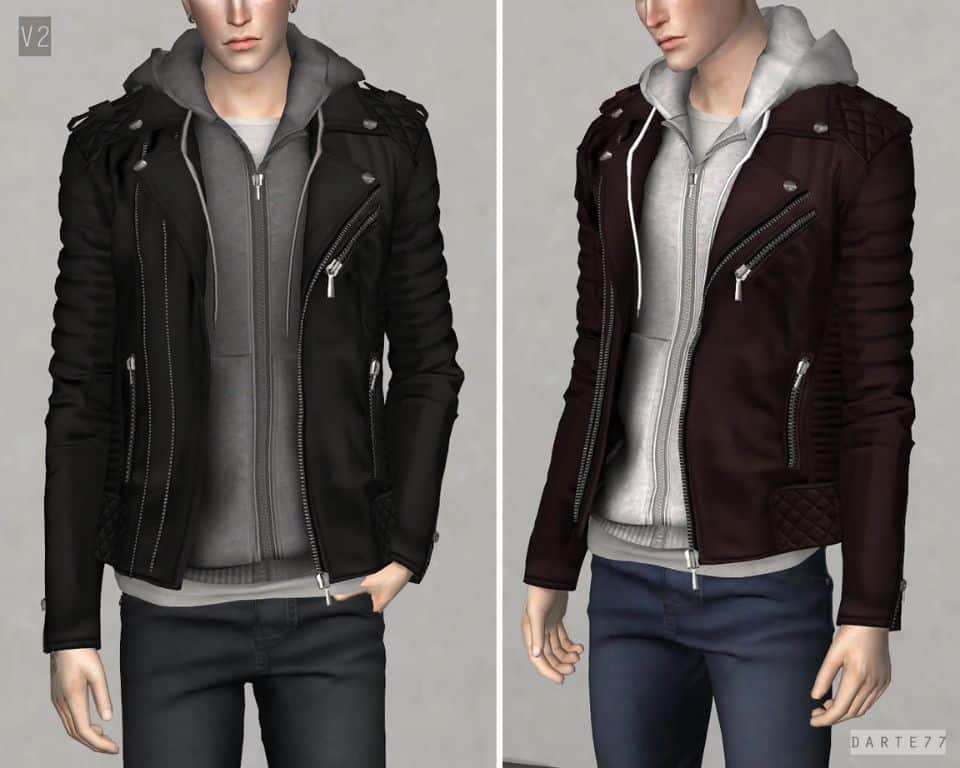 While I'm not a motorcycle fan, I love an edgy biker jacket.
This male cc motorcycle jacket has great rushing and zippered details.
The jacket, sweater, and undershirt pieces are available in 33 color combos.

36. Lotario Sims 4 Male CC Shirt by Joliebean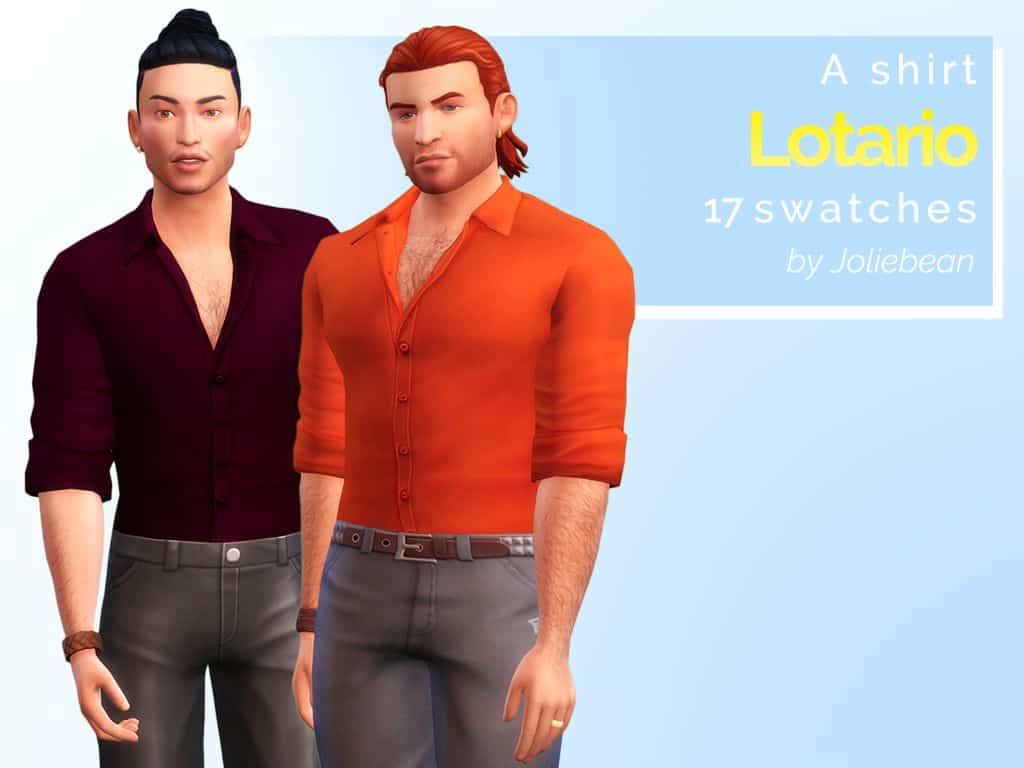 If you love a little male chest hair visible on your sims, this Lotario shirt is your go-to.
This male shirt gives off effortless masculinity with its deep V-neckline and rolled-up sleeves.
Pair with your favorite pants and shoes, and your male sims will be the talk of the night.

37. Casual Sims 4 Male CC Pants by Darte77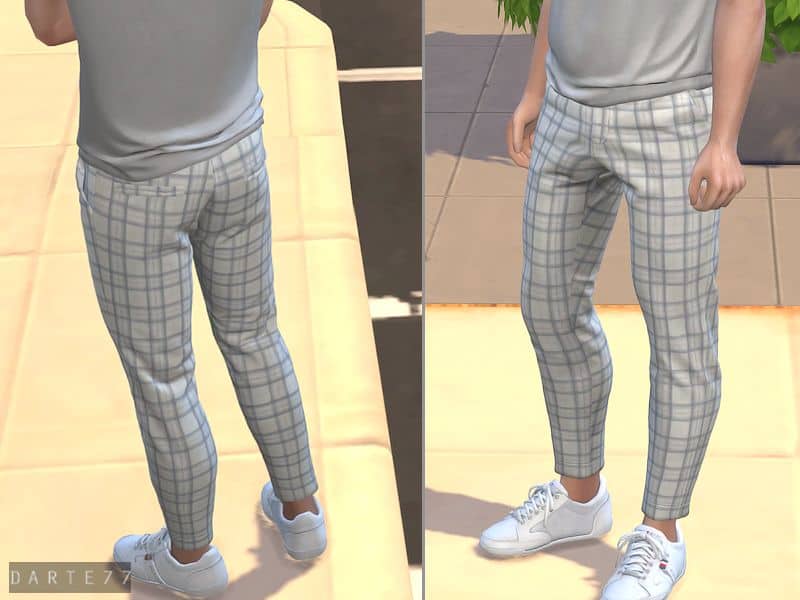 Nothing pairs better with loafers or white sneakers than a pair of well-fitted ankle-length pants.
These casual men's pants come in 12 swatches; a mix of solids and patterns, the upside-down triangle swatch is my favorite.

38. Sims 4 Male Cardigan Set by nucrests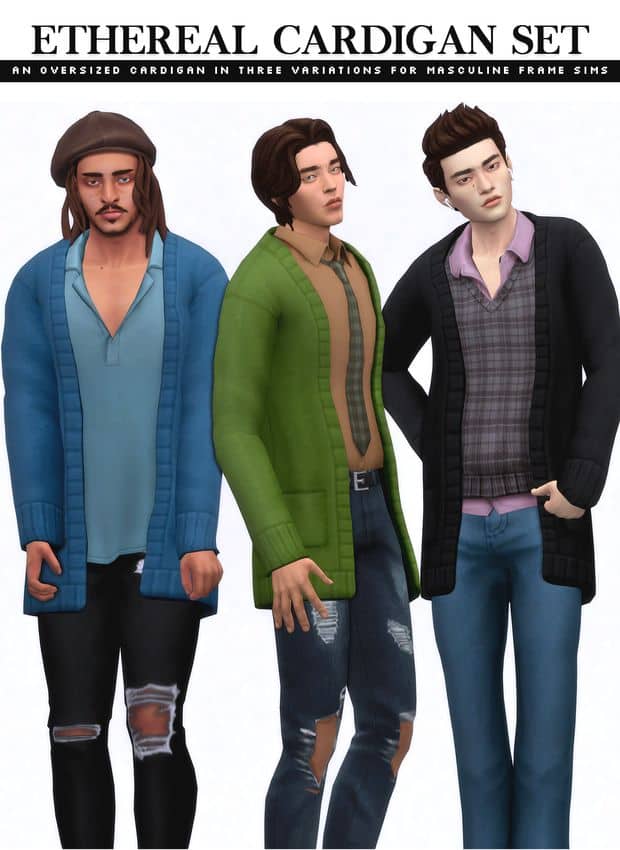 Pair your favorite pants or jeans with this mini cardigan set by nucrests.
Opt for a more casual look with a basic collared shirt and cardigan combo, or grab the tie or sweater vest for a more dressed-up look.

39. Sims 4 Male Beanie by Darte77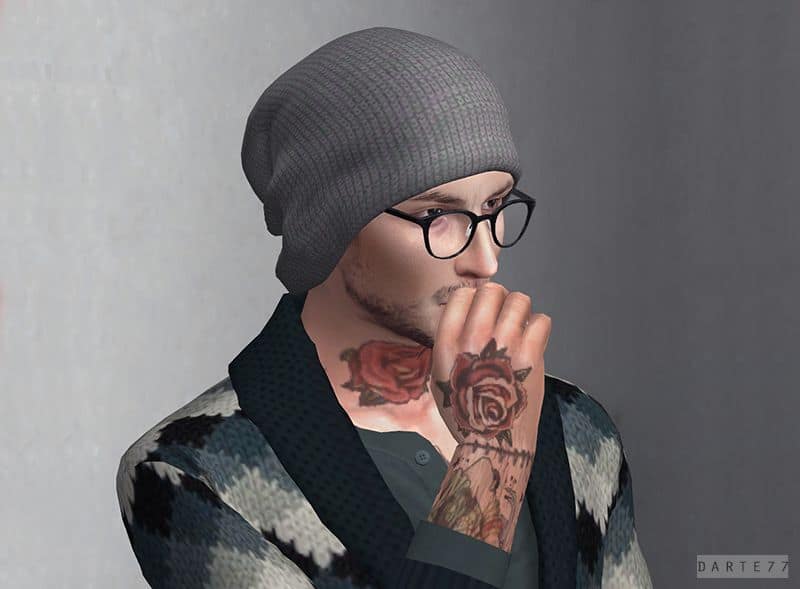 Complement any male sim's casual, laid-back look with this simple beanie.
This custom content is self-explanatory; the beanie is available in 15 swatches.

40. Sims 4 Men's Bathing Suit Recolor by ReMaron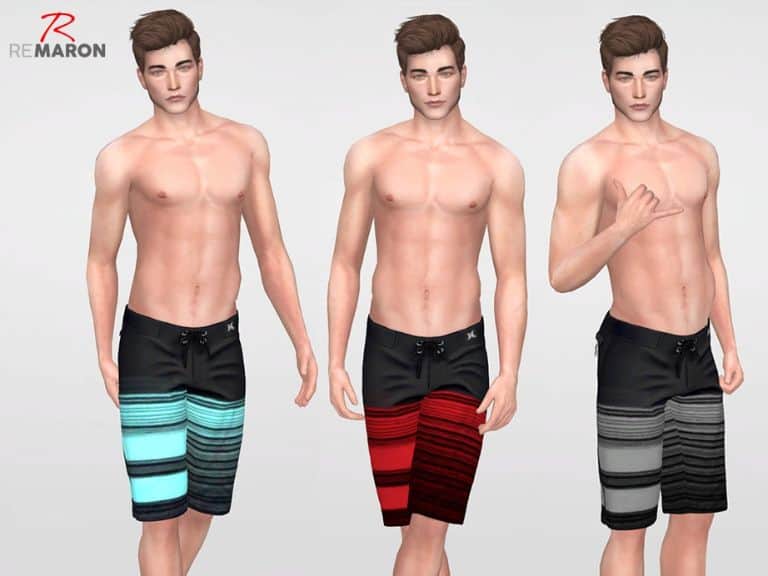 Everyone needs a good pair of swim shorts for their next sims vacation.
These knee-length trunks are a recolor of the Darte77 original.
You have 9 recolor swatches in this recolor.


41. Robe Sims 4 Male CC by Standardheld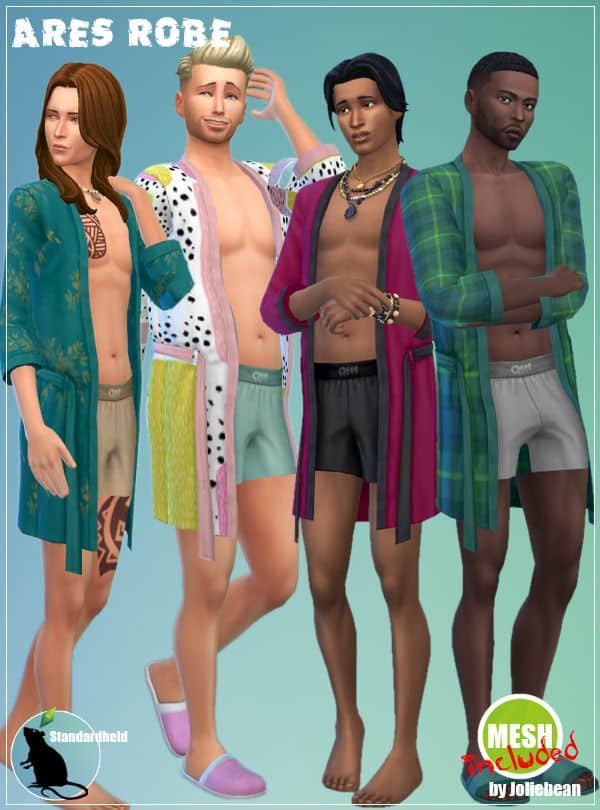 Everyone needs a good robe, and your sims are no exception.
Be sure to go through the swatches; there are so many to choose from, with 56 solid colors, 40 country swatches, 27 EA, and 30 fun patterns.
There are plenty of classic patterns like plaid and argyle in the country file.
The pattern swatches, however, are my favorite; they are colorful and fun, and they're something for everyone's creative side.
42. Sims 4 Male CC for Halloween by Madlen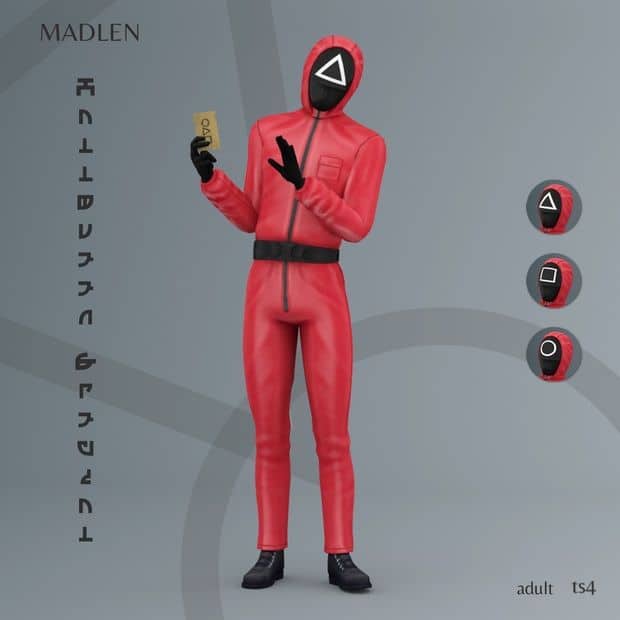 If you are a fan of Squid Game, then this show-inspired Halloween costume is made for your sims.
This classic Squid Game costume is available for both male and female sims.
You'll find the mask separately in the hats section.

Sims 4 Male Shoes
They say you can judge a man by his shoes. What style of shoes is your male sim wearing?
Here are some of our favorite sims 4 male shoes custom content that will complement the perfect outfit and define the man.
43. Collection of Sims 4 Male Shoes Part 1 by Jius-sims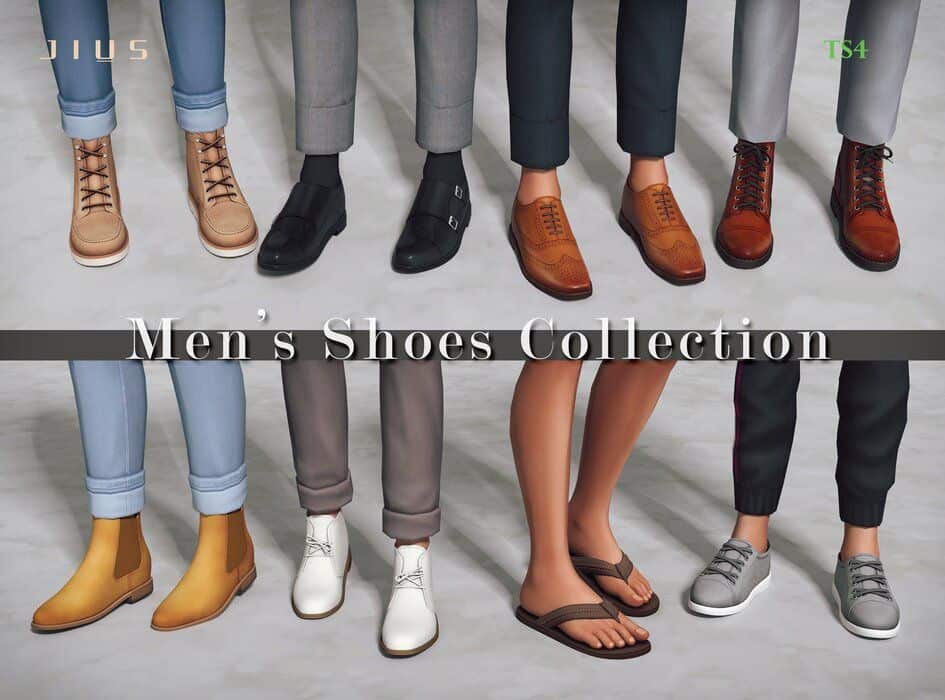 In this first part of the men's shoe collection, you get 8 pairs of shoes.
This mix includes casual ankle boots, lace-up boots, dressy shoes, low-top sneakers, and some leather flip-flop sandals.

All shoes come in 7-12 color swatches.

44. Sims 4 Male Converse Shoes by Serenity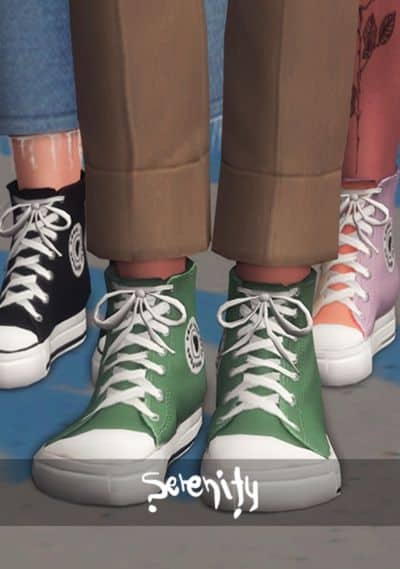 Who doesn't love Converse shoes?
Converse are great casual shoes and pair well with so many outfits.
These custom content shoes come in 30 swatches, even some unique styles like the zebra fur swatch.
And though we are searching for male cc, these Converse shoes are also available for females too.

45. Sims 4 Male CC Sneakers by Trillyke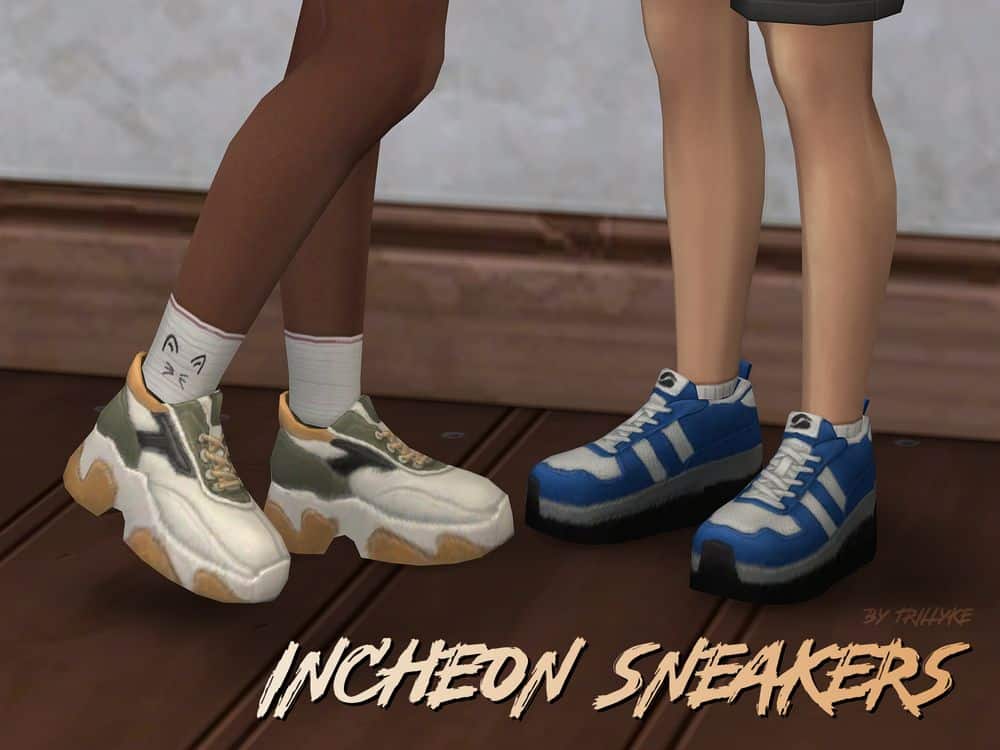 This set comes with two different sneakers available to both genders.
You can opt for regular sneakers or the higher platform style.
The male cc sneakers are available in 13 and 17 swatches.

46. Classic Oxford Sims 4 Male Shoes by Madlen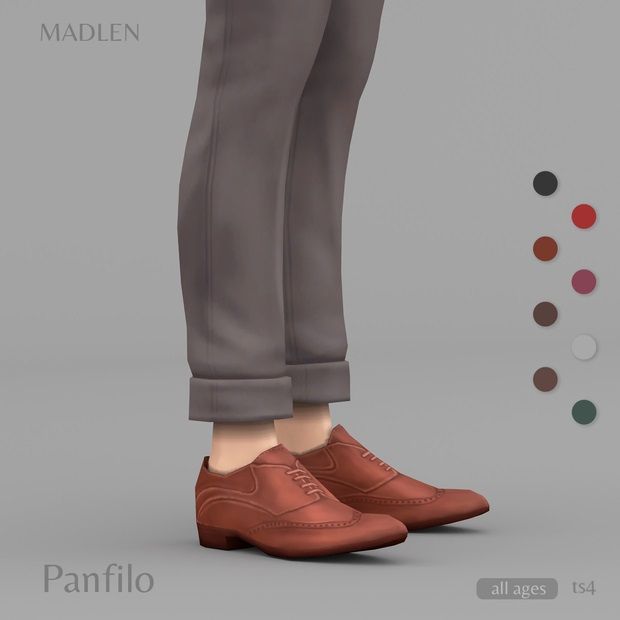 These classic male shoes are an everyday staple for busy businessmen.
These shoes are available in 8 swatches and can be used by male sims of all ages.

47. Sims 4 Male CC Shoe Collection Part 2 by Jius-sims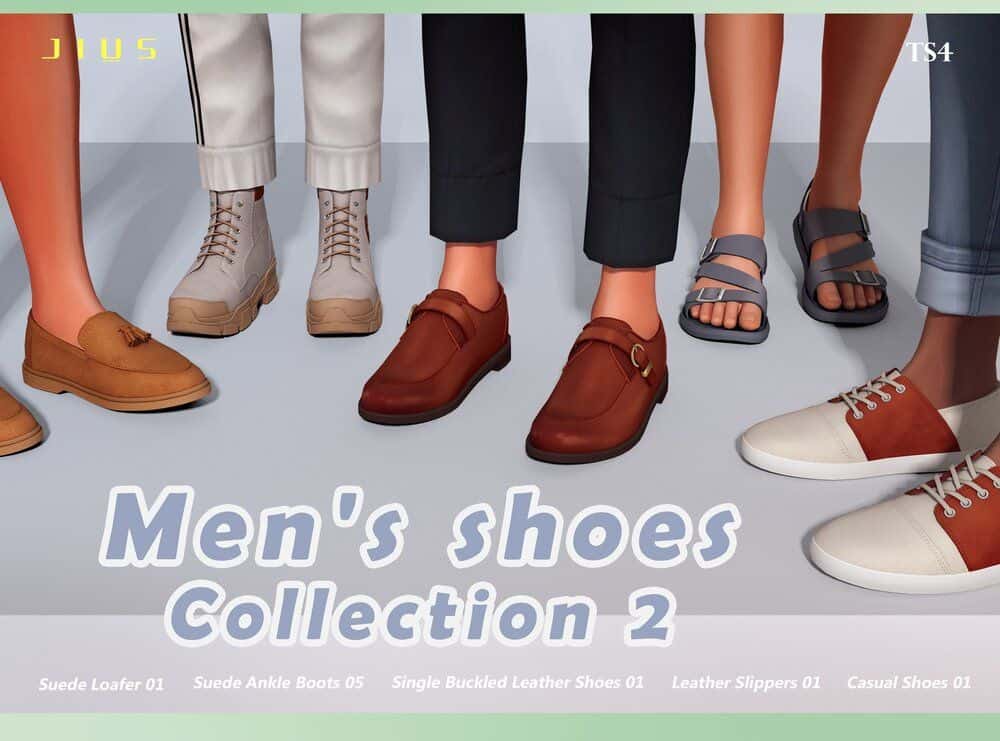 The second part of the men's shoe collection has 5 new pairs of male shoes.
This set includes more casual shoes, sandals, and boots.
The two-tone laced Ked's style shoes are my favorite.

48. Stretch Chunky Male CC Boots by Miro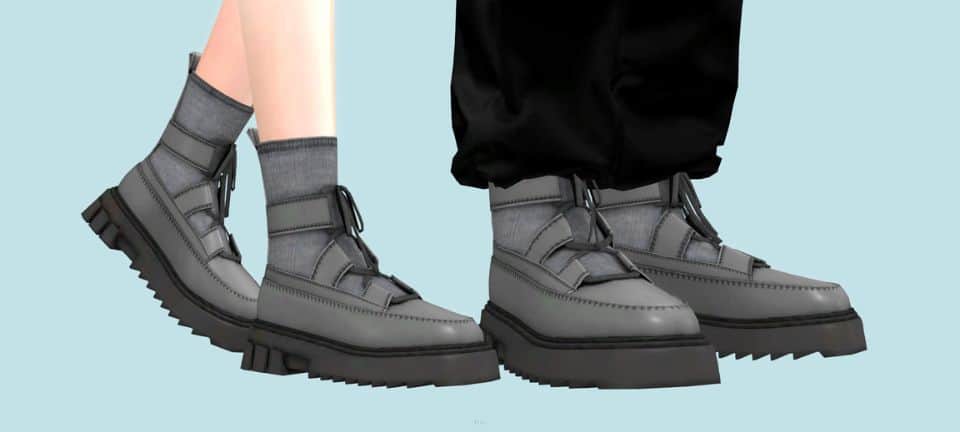 Pair these laced-up stretch chunky boots with your favorite cargo pants, or add so edge to your tight skinny jeans looks.
Available in 15 swatches, including a few pastels but mostly dark swatches.

Sims 4 Male Hair CC
From short to man bun to dreads, hairstyles bring style and character to any sims.
Here are some of our favorite sims 4 male hair cc pieces.
49. Carl Sims 4 Male Hair by JohnnySims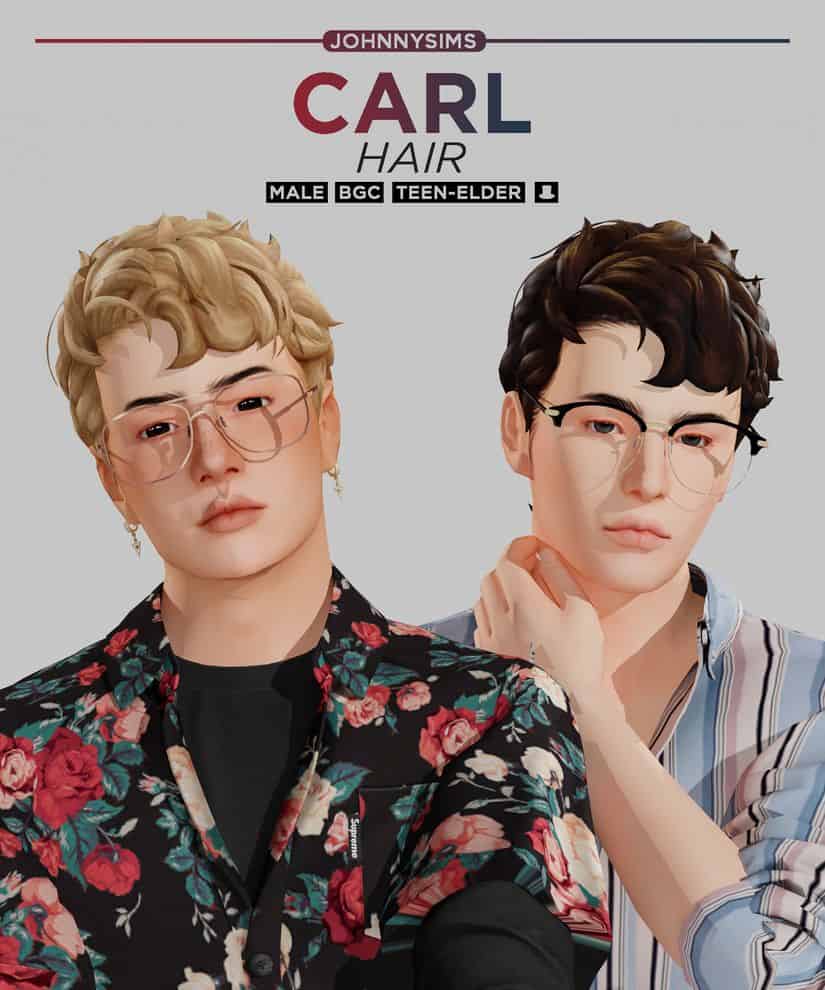 While technically not curly hair, there is definitely some curl to this short men's hairstyle.
This effortless Carl hair comes in two different versions: with or without strands.
There are 24 swatches to pick the perfect shade of hair.

50. Sims 4 Male CC Hair Bun by simstrouble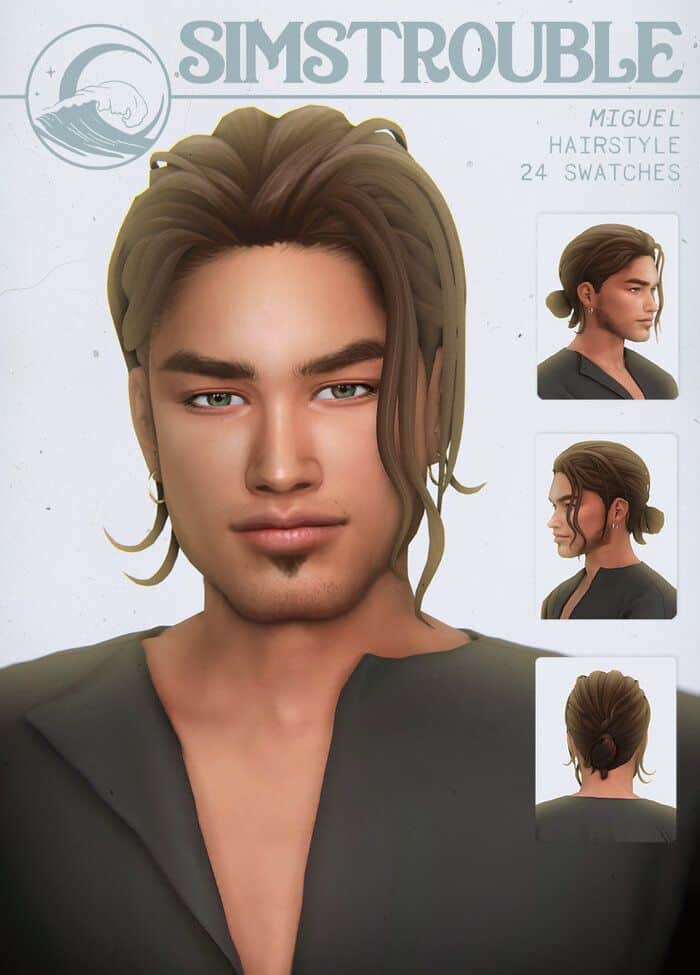 This sims 4 male hairstyle inspired by Antonio Banderas has to be one of my all-time favorites.
Who doesn't love a casual male bun with loose hair strands? This haircut oozes sexiness.
There are two versions to choose from; V2 has the hair tied a little tighter and with fewer loose hair strands.

51. Sims 4 Male Dreads Hairstyle by simstrouble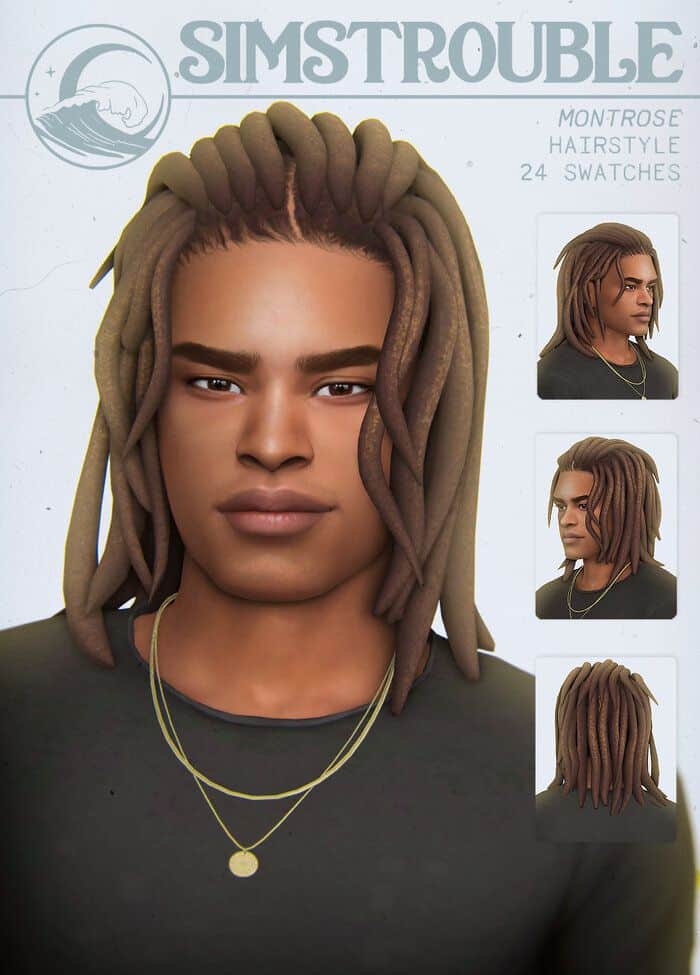 These shoulder-length dreads have such beautiful details; Simstrouble always delivers on hair cc.
Modern and stylish, this hairstyle is available in 24 swatches.

52. Sims 4 Male Hair Set by JohnnySims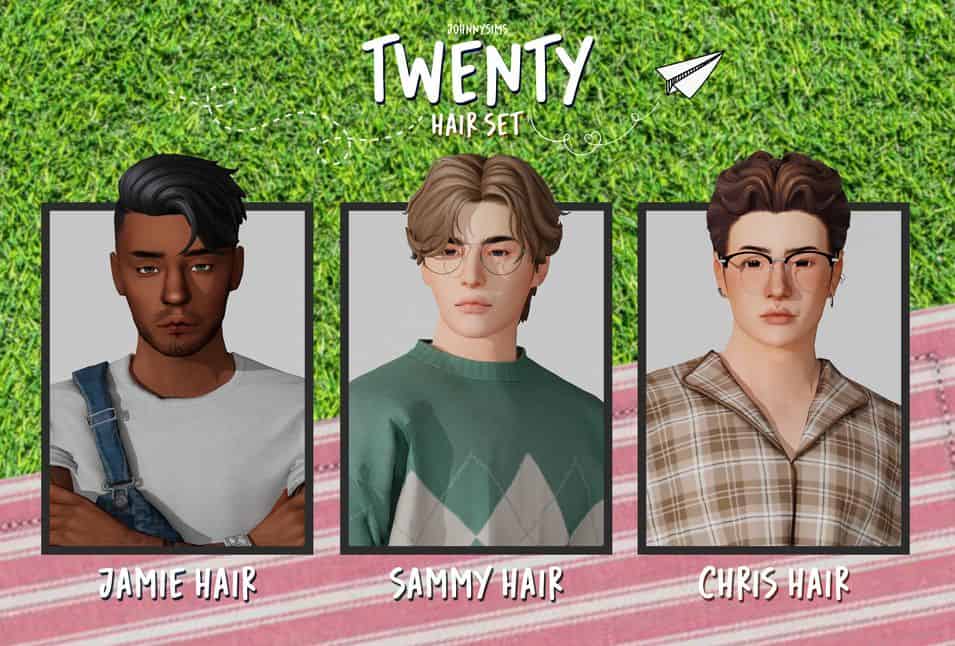 This set of sims 4 male cc hairs comes with 3 short hairstyles for your sims.
You can also choose the same hairstyles for your female sims; grab the correct file on download page.
Each hairstyle comes in 24 swatches. Sammy's hairstyle also comes with or without strands.

53. Sims 4 Male CC Afro Hair by Sheabuttyr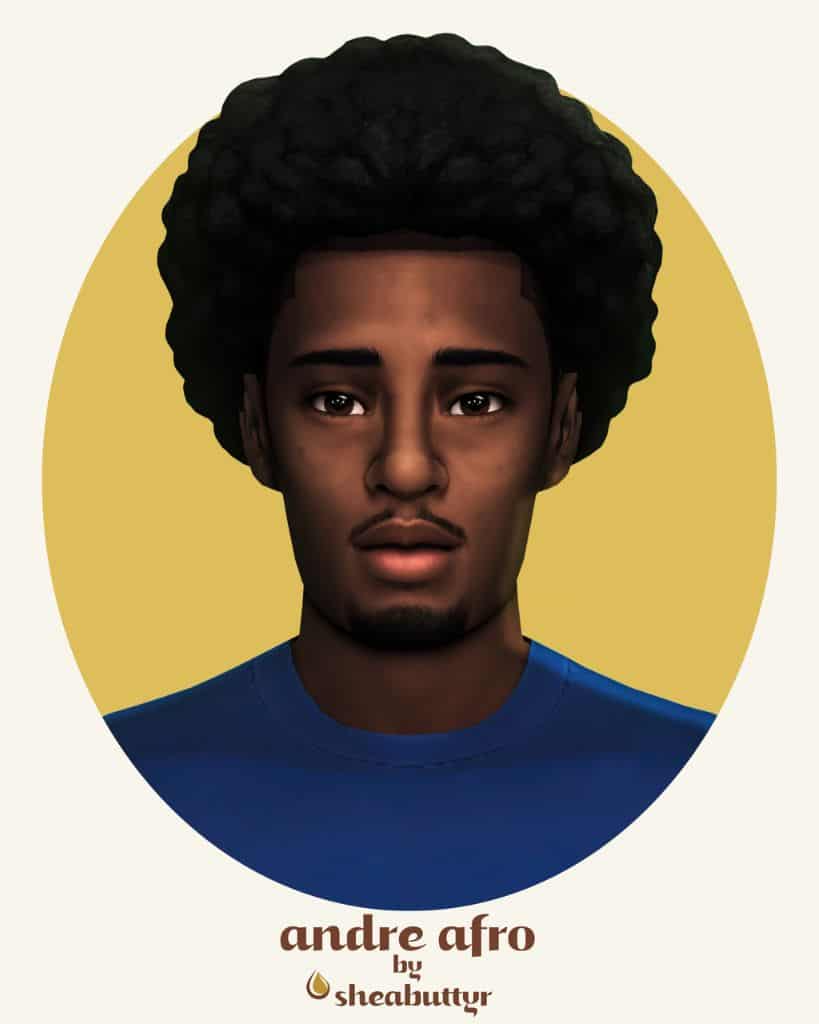 If you are searching for Afro-textured hair, this male cc hairstyle by Sheabuttyr is your new go-to.
With such a perfectly shaped afro, you only need to pick your favorite swatch from the 24 available colors.

54. Marco Sims 4 Male Hair CC by simstrouble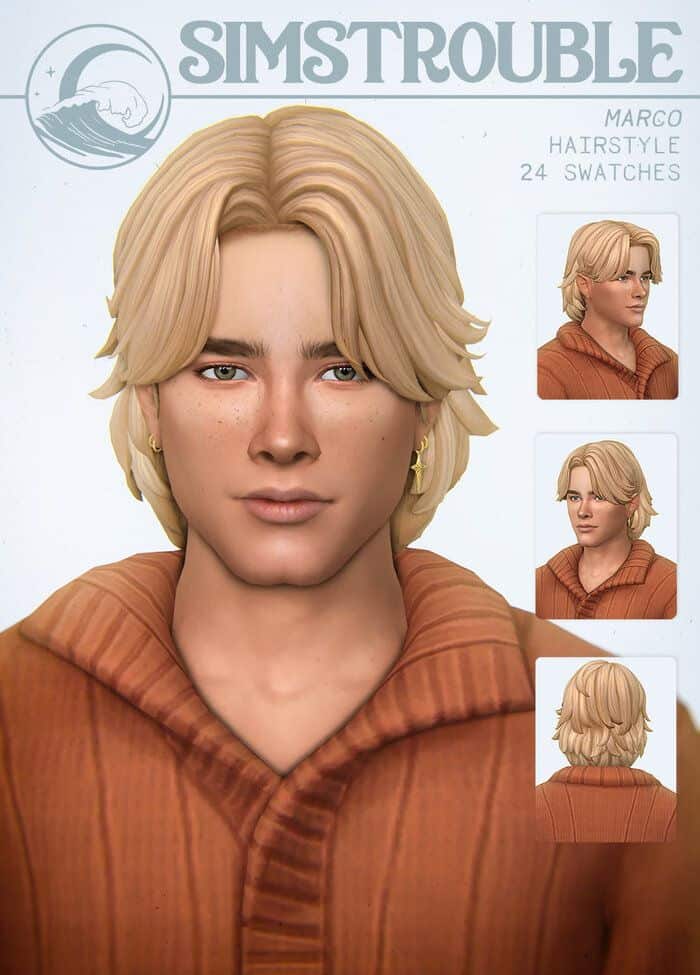 This male hair cc gives off an all-American boy look.
Your sims will get a classic middle part with layered strands giving decent length towards the back.

55. Christian Sims 4 Male CC Hair by JohnnySims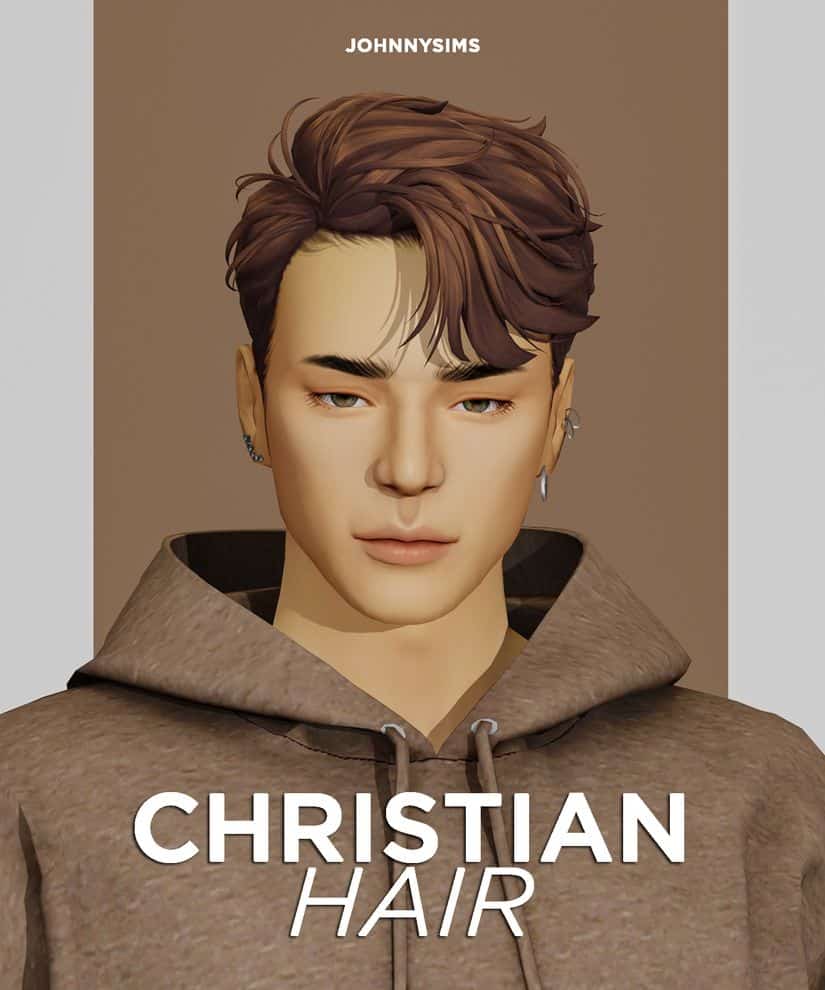 I love the deep side part on this Christian male hair cc.
The hair is so beautifully detailed that you get the illusion of movement just by looking at it.
You also have the option of downloading this cc hair for females.

Sims 4 Male CC Thoughts
I hope you found some new sims 4 male cc pieces to add to your collection of custom content downloads.
There is so much custom content out there that we picked out some of our newest favorites.
If you come across any other interesting pieces for me to check out, feel free to send us a link in the comments below or tag us on Tumblr.
More Sims 4 CC Posts

And don't forget to share and pin this collection for later!
53+ Best Sims 4 Male CC Pieces [2023]