50+ Sims 4 Toddler CC Pieces (2023 List)
Find the best list of sims 4 toddler cc in one convenient spot.
We've included everything from toddler clothing, hairstyles, and accessories in this collection of sims 4 toddler cc.
Toddlers play a fun role in the world of sims 4.
And toddler clothes are just so cute; it's always nice to find the best outfits to dress them up in.
I found a bunch of FREE maxis match custom content so your toddlers can be the most stylish and adorable tots on the block.
This curated list of sims 4 toddler cc goes in order with toddler clothes, toddler hair, and some fun toddler accessories.
For toddler shoes and hair, we have an entire Sims 4 Toddler Shoes CC and Sims 4 Toddler Hair CC posts dedicated to those.
Some of the following toddler pieces can also be used for kids.
And if you need infant and kids cc, we've got you covered too!
But we do have an entire list of Sims 4 Infant CC & Sims 4 Kids CC for your to enjoy.
Plus, some of the kids pieces are toddler friendly too!
Disclaimer: The following mods are neither endorsed nor affiliated with The Sims, Maxis, or Electronic Arts. Any use of mods (custom content or game mods) should be done with caution and with the knowledge that there may be risks.
Sims 4 Toddler Clothes CC
Find your new favorite pieces of toddler clothes below.
In this section, I've included a mix of everything base game compatible; complete outfits, dresses, onesies, and more.
1. Sims 4 Toddler CC Overalls by Pixelunivairse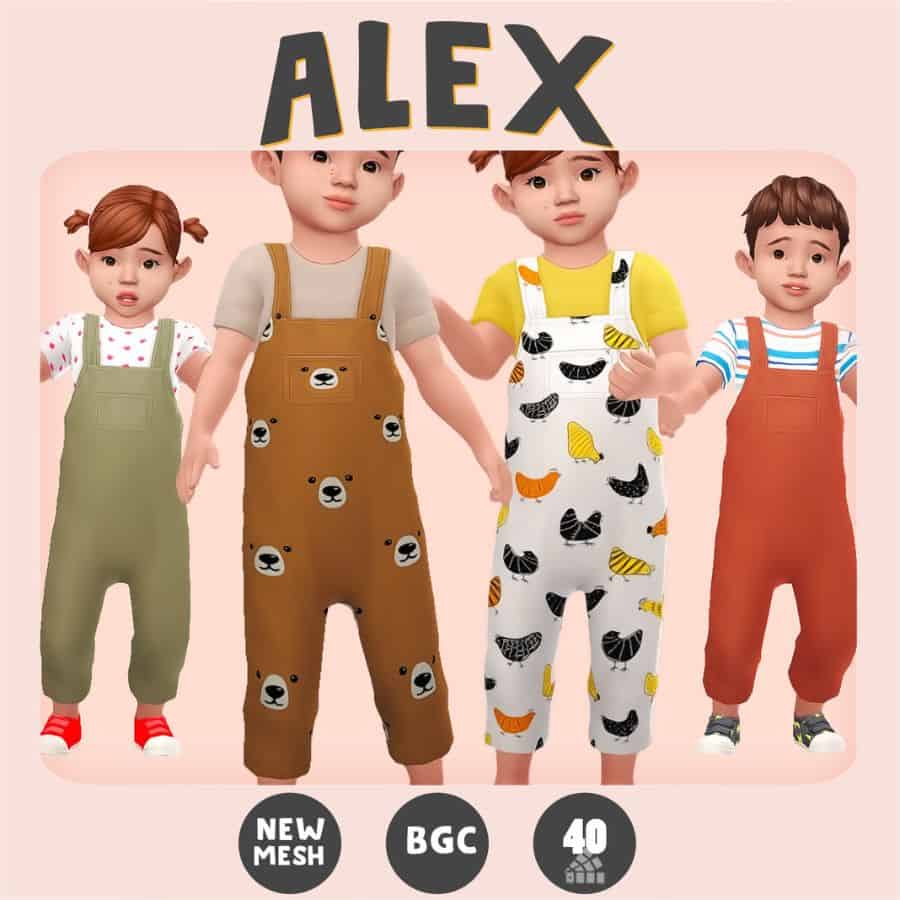 These toddler overalls are one of my favorite outfits.
You get 40 different swatches to play around with, including pineapples, dinosaurs, boats, flowers, and more.

2. Sims 4 Dinosaur Toddler Set by PowLuna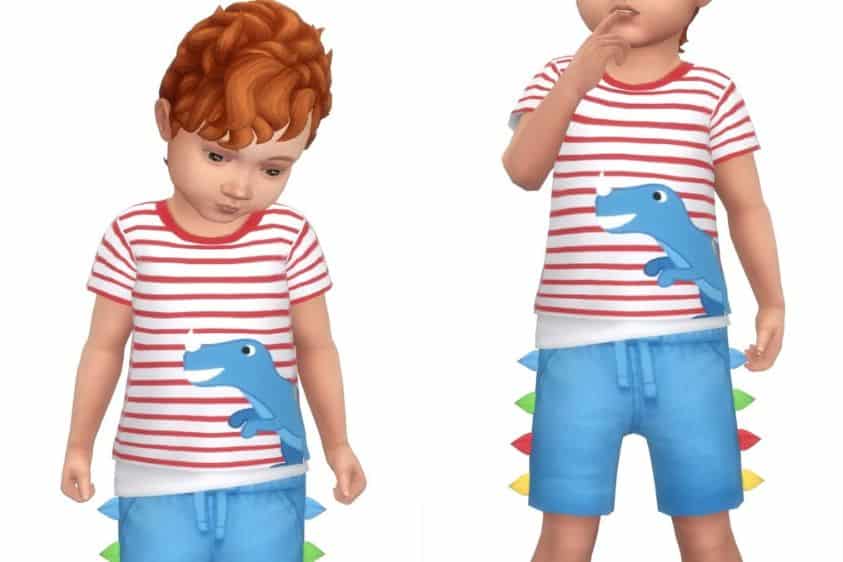 This dinosaur outfit is the definition of super cute.
And those dinosaur scales coming down the shorts' sides are a unique touch to this toddler cc outfit.
This set is available in 12 colors, including purple, pink, and yellow/green.

3. Sims 4 Toddler CC Romper by Onyx Sims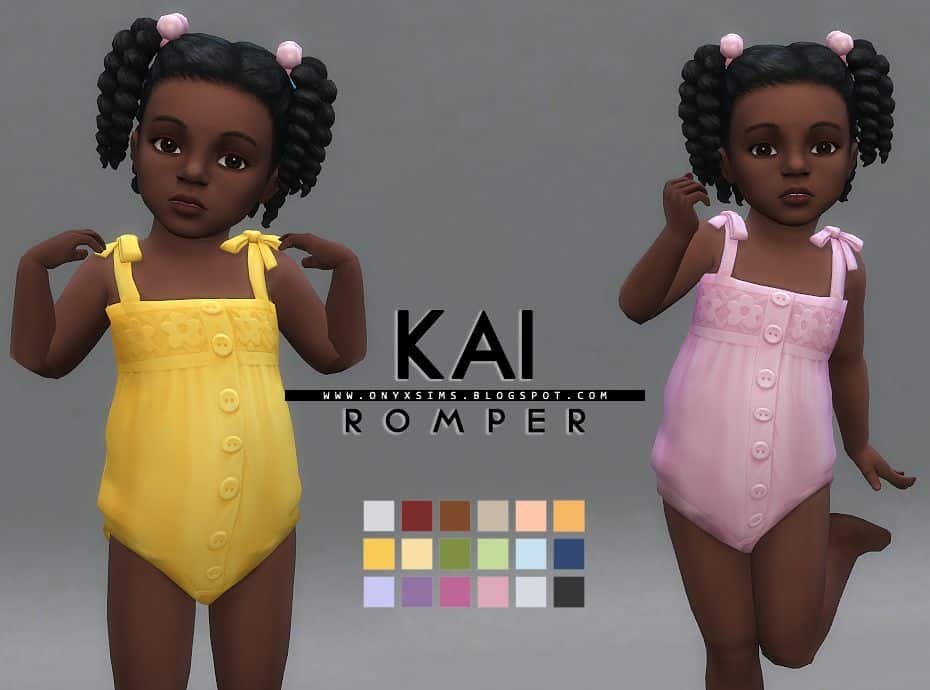 I love a good onesie, and this toddler girl's onesie is darling with its lace detailing at the top.
The bows at the shoulders are also a nice detail.
You can choose your favorite colors from the 18 available swatches.

4. Mix Bloomers Sims 4 Toddler CC by Tillie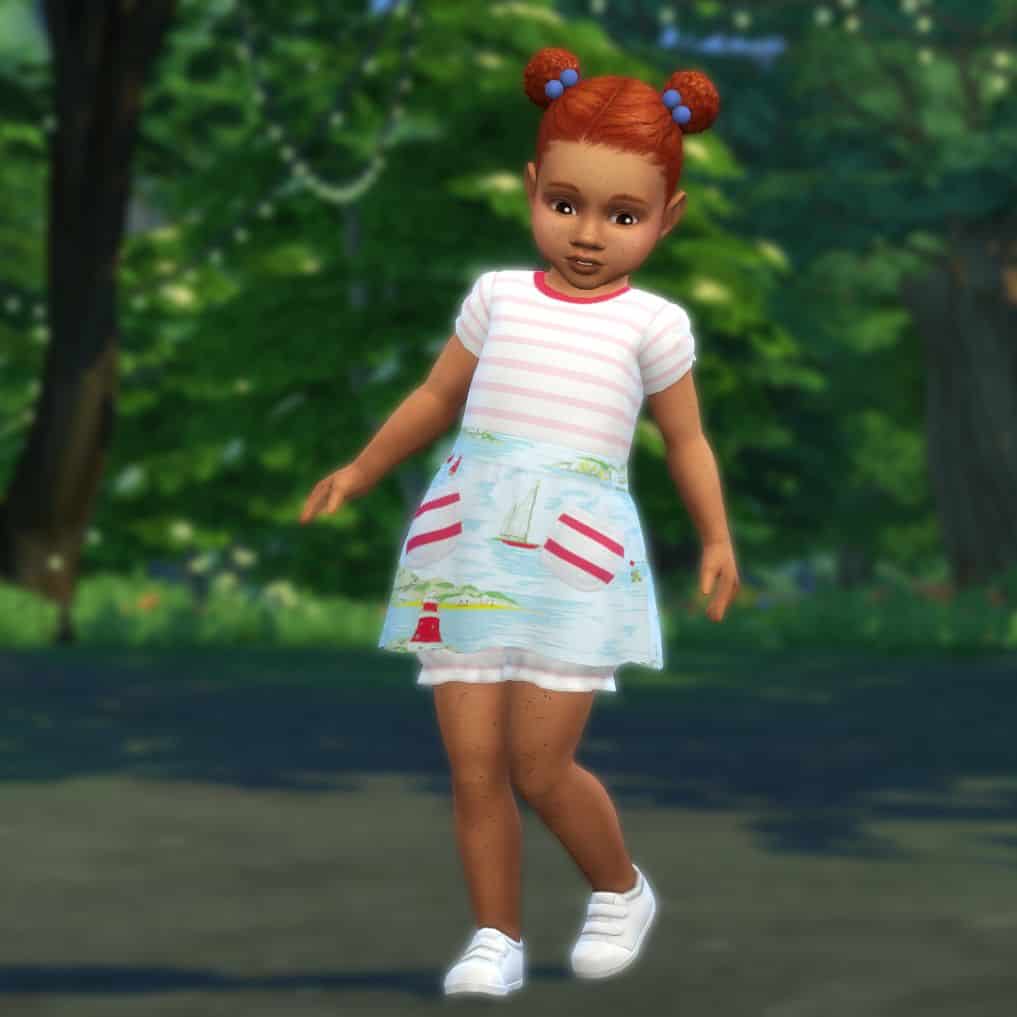 This girl's toddler dress with frilly bloomers peeking out from the bottom is the perfect summer outfit.
You can opt for the nautical theme dress with stripes, a lighthouse, and a sailboat or the lines and yellow polka dot style swatch.

5. Sims 4 Toddler CC Mara Set by PowLuna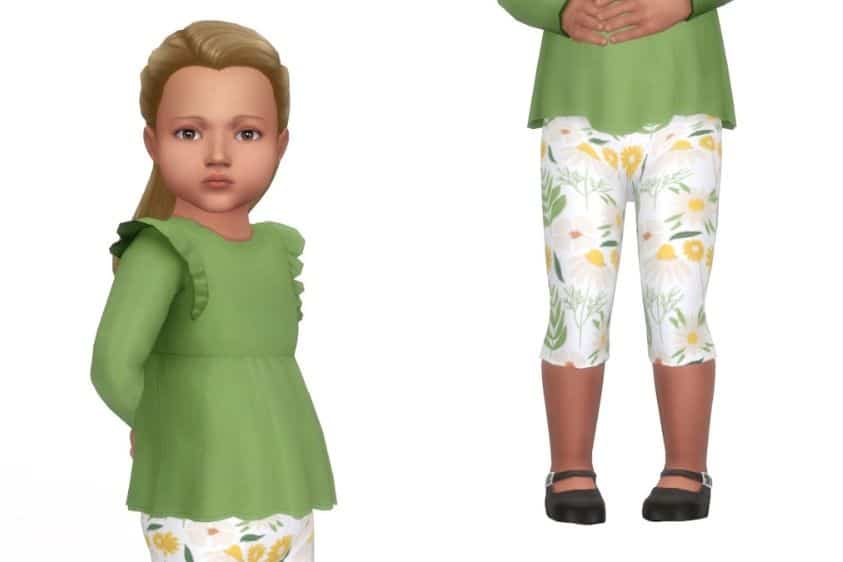 This toddler set is classic leggings and a frilly shirt kind of outfit.
One of the things I appreciate about PowLuna's work, you tend to get so many options within one custom content file.
With these swatches, you have 16 different outfits; the legging options are so diverse.
We have florals, geometric, giraffe, leopard, strawberries, birds, donuts, and other choices.

6. Sims 4 Toddler Hamish Outfit CC by Georgiaglm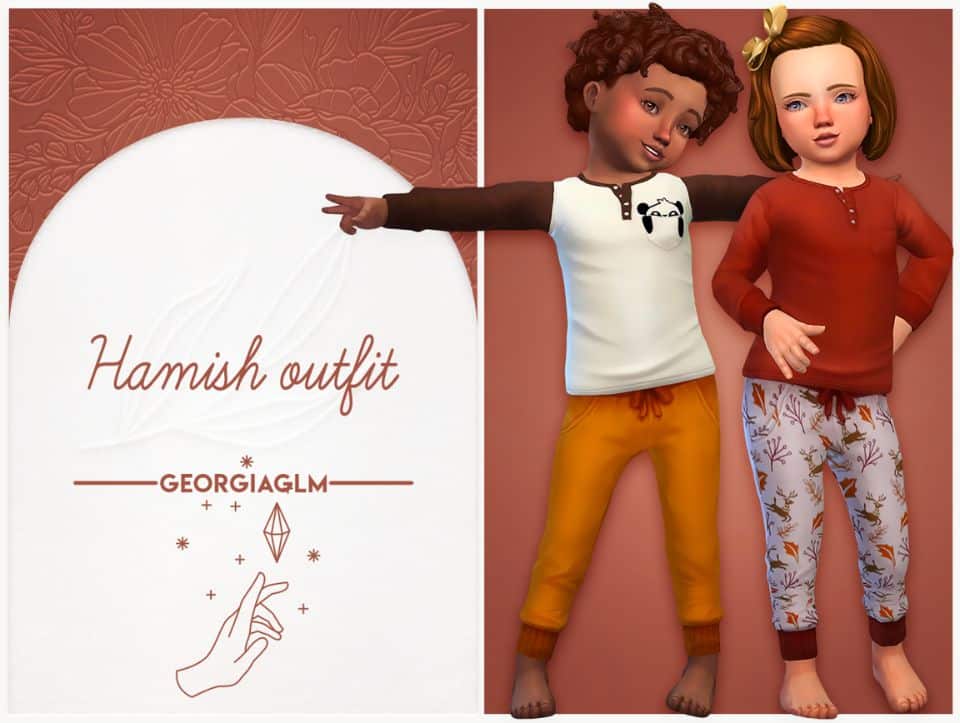 This Hamish toddler outfit gives me autumn-holiday vibes with its earthy tones and those raindeers and leaves on the pants.
There are 10 swatches in total, including some without patterns and others with stripes, plaid, and even snowflakes.

7. Sims 4 Jeon Toddler Set by Onyx Sims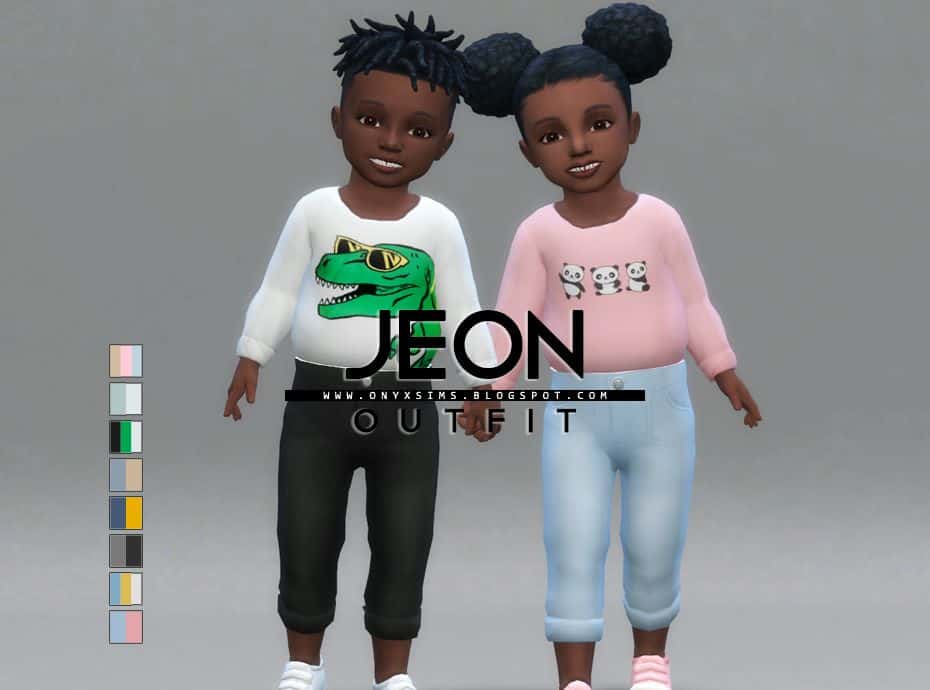 Who doesn't love a long sleeve graphic top and some cuffed jeans to complete their outfit?
Add some adorable toddler-style converse shoes and your tots are ready to run around the yard.
Available in 8 presets, including the dinosaur and panda swatches above.
You can also choose from other swatches, such as Pikachu, flowers, smiley faces, and even a skull.

8. Sims 4 Toddler Rainy Days Set by PowLuna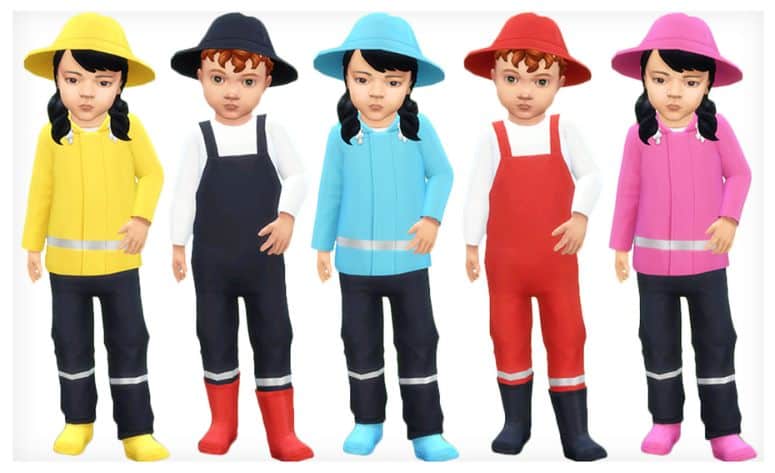 There is just something special about toddlers and kids splashing around in the rain.
With this rainy days pack, you can opt for either the rain cap, rain pants, overalls, rain boots, jacket, or the entire set of rain gear.
Each piece of toddler cc comes in 10 different swatches.

9. Sims 4 Toddler CC Cardigan by Georgiaglm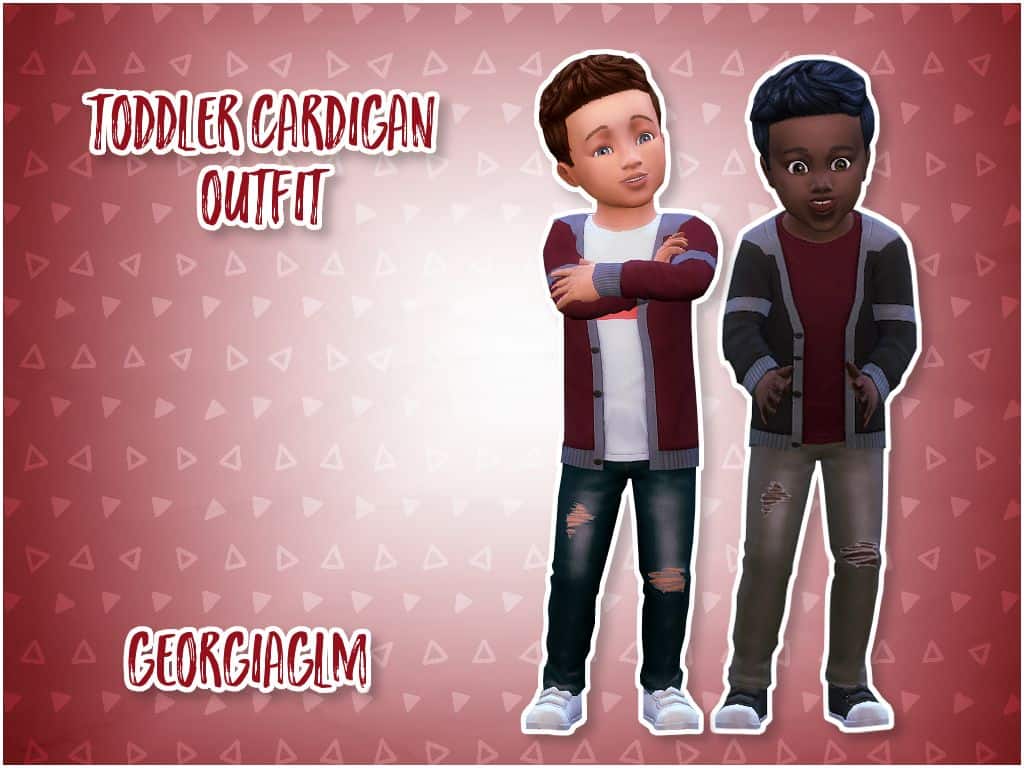 This is a great unisex toddler cc outfit.
I tend to prefer complete outfits since it's super convenient, and everything tends to match well.
The ripped distressed jeans are modern and hip. Plus, ripped jeans always look adorable on toddlers.
Found in the Full Body section, you will find 10 outfit combinations to choose from.

10. Sims 4 Noah Toddler CC by PowLuna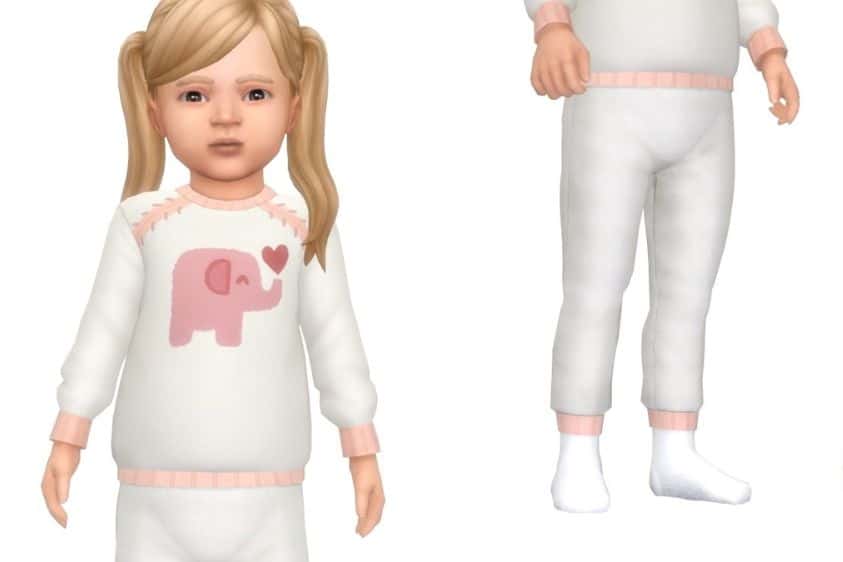 Grab this two-piece sims 4 toddler outfit for your little ones.
The sweater comes in 19 swatches, and the pants with 9 options.
You can have the toddler sweater with or without any front designs, but the pictures are so cute.
There are elephant, frog, bear, and cat designs available.

11. Easter Sims 4 Toddler CC Set by Onyx Sims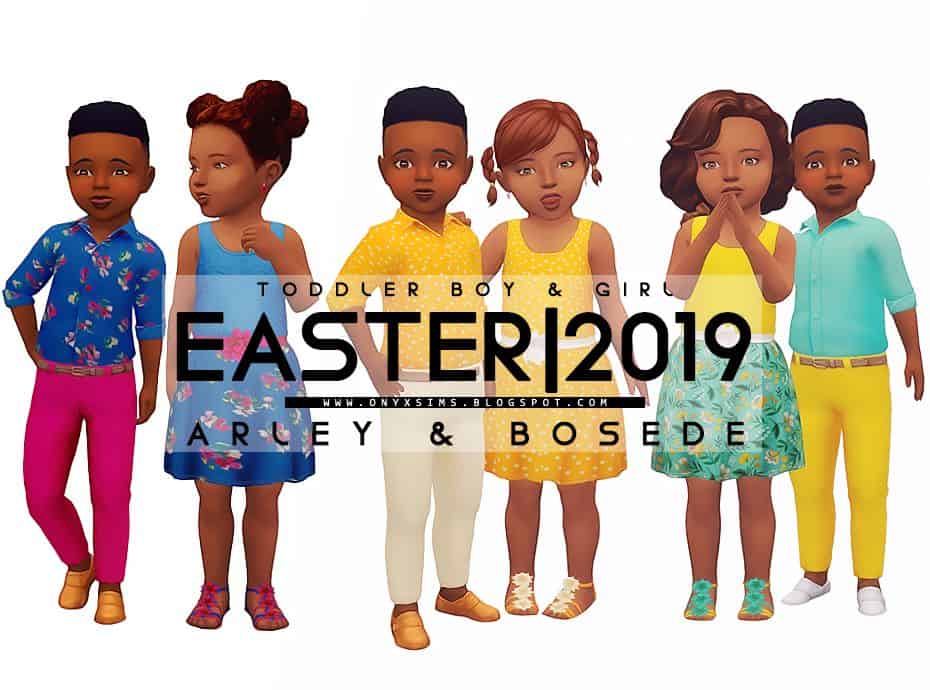 This Easter toddler collection is another of my favorites.
There are so many beautiful spring-inspired colors and patterns to enjoy.
If you opt to grab the sandals and earrings files, don't forget to grab the necessary meshes for those too.
The boy's dress shirt, pants, and belt combo are so well put together; it's perfect for Sunday's best.

12. Sims 4 Toddler Play Date Mini Set by storylegacysims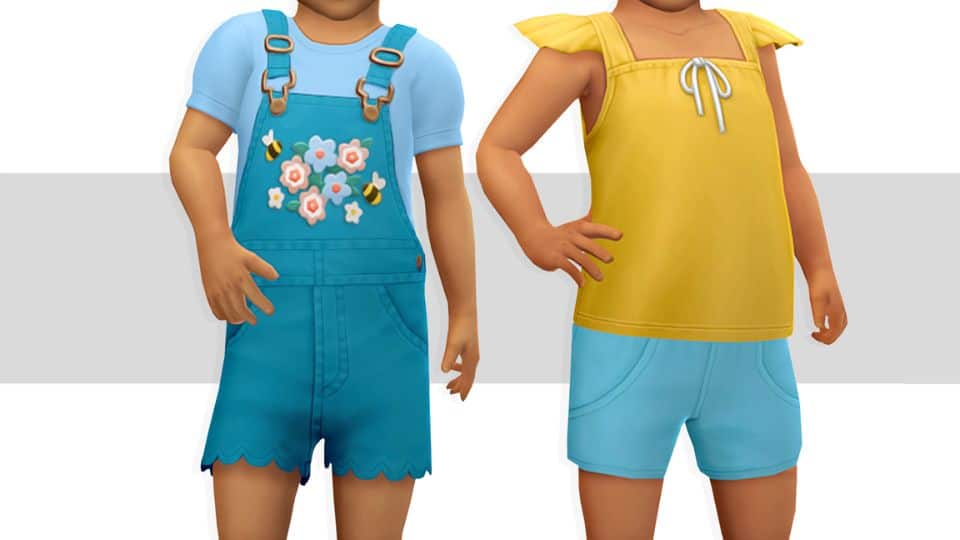 This girl's toddler set includes 3 pieces; the flowery embroidered overalls come in 5 swatches.
The shell top has 10 swatches, and the cotton shorts come in 8 different colors.

13. Girls Toddler Winter CC Pack by Hypergnomesimblr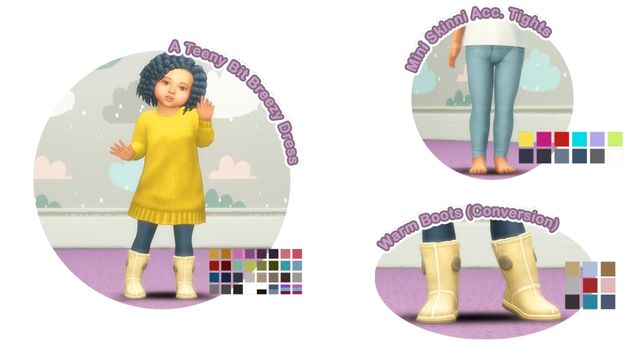 If you enjoy the different seasons in sims 4, this winter set is for you.
Enjoy the breezy dress, which comes in 32 swatches. You'll find this toddler cc under Full Body – Short Dress.
The unisex accessory tights come in 12 colors. The UGG-style boots are also unisex and come in 9 swatches.

14. Toddler Happy Fall CC Set by PowLuna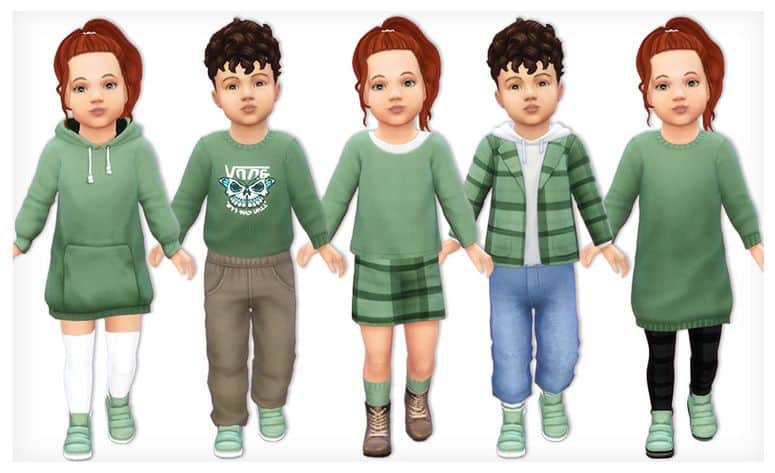 Fall is one of those seasons you either love or hate.
With the end of summer comes those warmer clothing options, including keeping your toddlers nice and toasty.
This sims 4 toddler cc fall-time set includes a jacket, top, sweater, pants, skirt, stockings, tights, and shoes for your toddlers.

15. Sims 4 Girl's Toddler Cat Outfit by Georgiaglm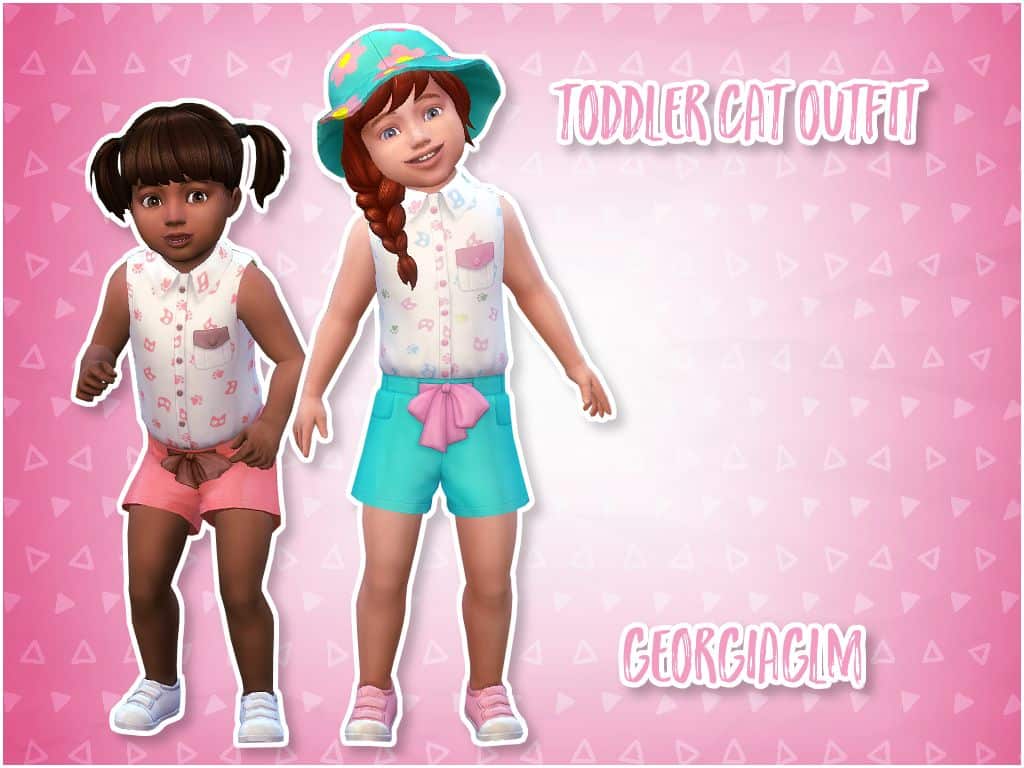 This toddler custom content is dedicated to kitty cats.
You can't go wrong with a collared cap sleeves shirt with cats and cotton shorts with an adorable bow.
Pick your favorite color combination from the 9 available swatches.

16. Sims 4 Toddler CC Dress by PowLuna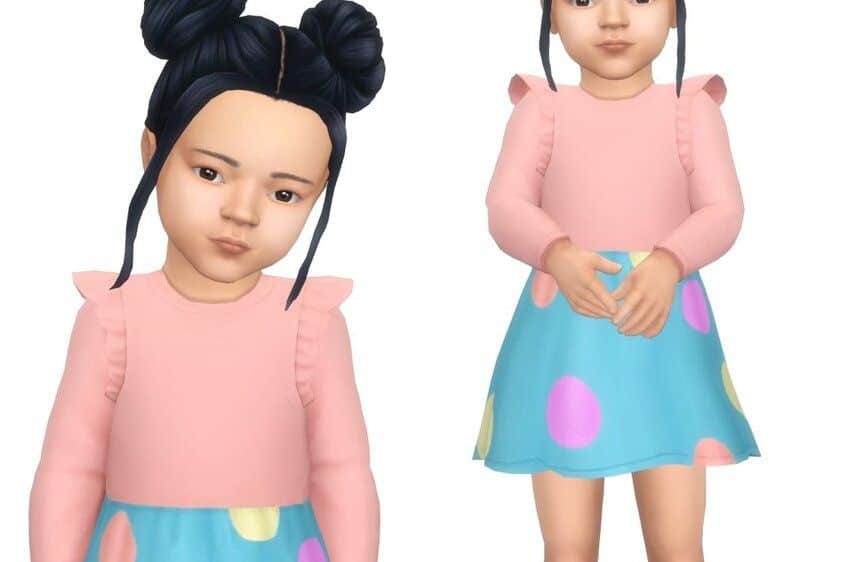 This sims toddler cc dress is another easy go-to outfit.
While the jumbo polka dot swatches are my favorites, the skirt portion of the dress also comes in other fun swatches, such as cherries and flowers.

17. Sims 4 Toddler CC Sweater by Simiracle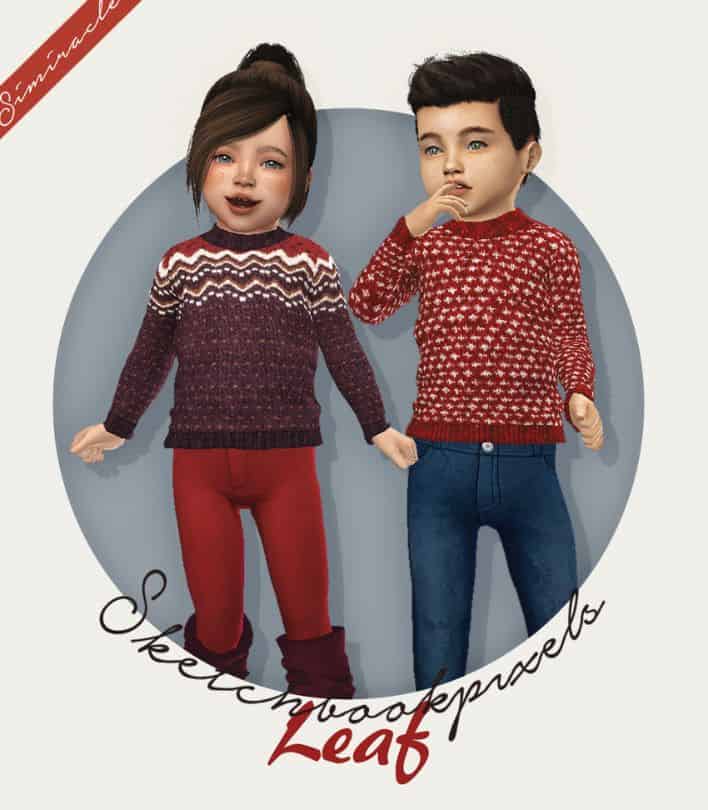 These comfy wool-like sweaters come in many colors, 80 swatches to be precise.
There are 46 solid color swatches, and the rest are a mix of patterns from stars, Christmas lights, polka dots, plaid, snowflakes, and more.

18. Sims 4 Toddler Pants by Pixelunivairse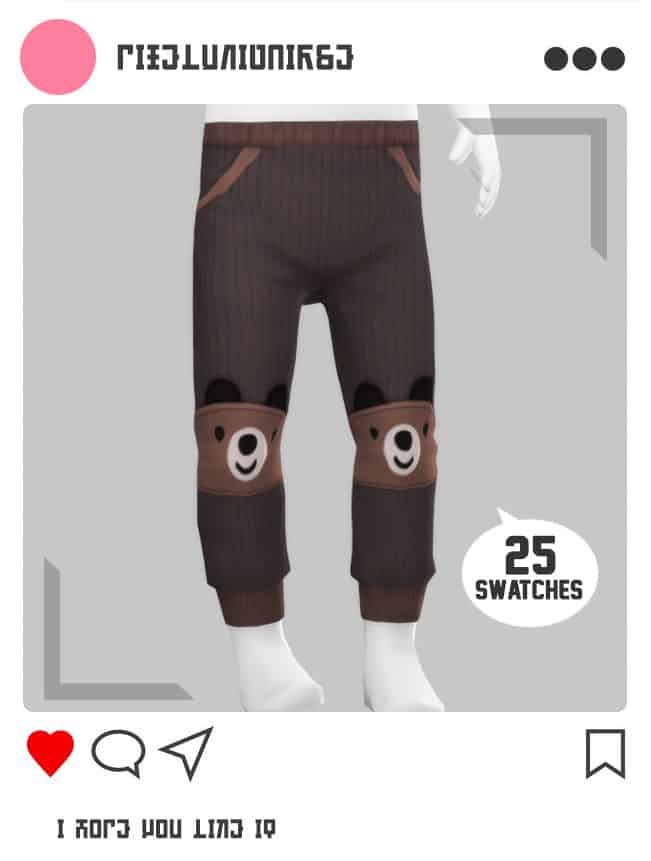 Toddler pants don't get much cuter than these bear patch pants.
These are a simple pair of toddler pants with a tighter part at the ankles and the cutest bear patches at the knees.
Available in 25 swatches, you can pair this toddler cc in so many ways.

19. Sims 4 Boys Toddler Onesie by Puresim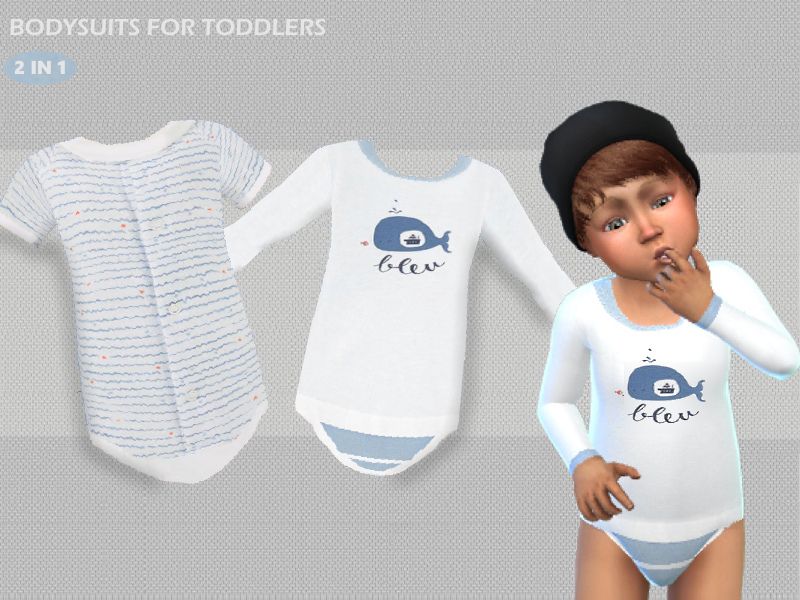 I love a good onesie, and these boys' blue whale and wave onesies are so simple and cute.
Pair with some hip toddler booties to complete this minimalistic look.

20. Sims 4 Girls Beatrix Dress CC by Catastrophesims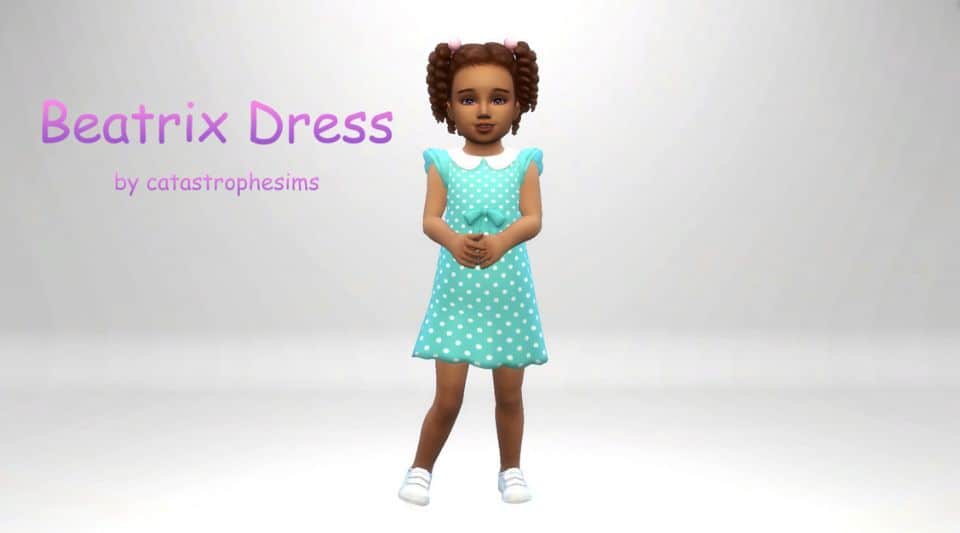 This girl's toddler dress with 15 swatches to dress up your sims.
Great for a day out with the family or a toddler birthday party!


Similar Post: 33+ Best Sims 4 CC Clothes Packs

21. Sims 4 Toddler Leather Jacket by Madlen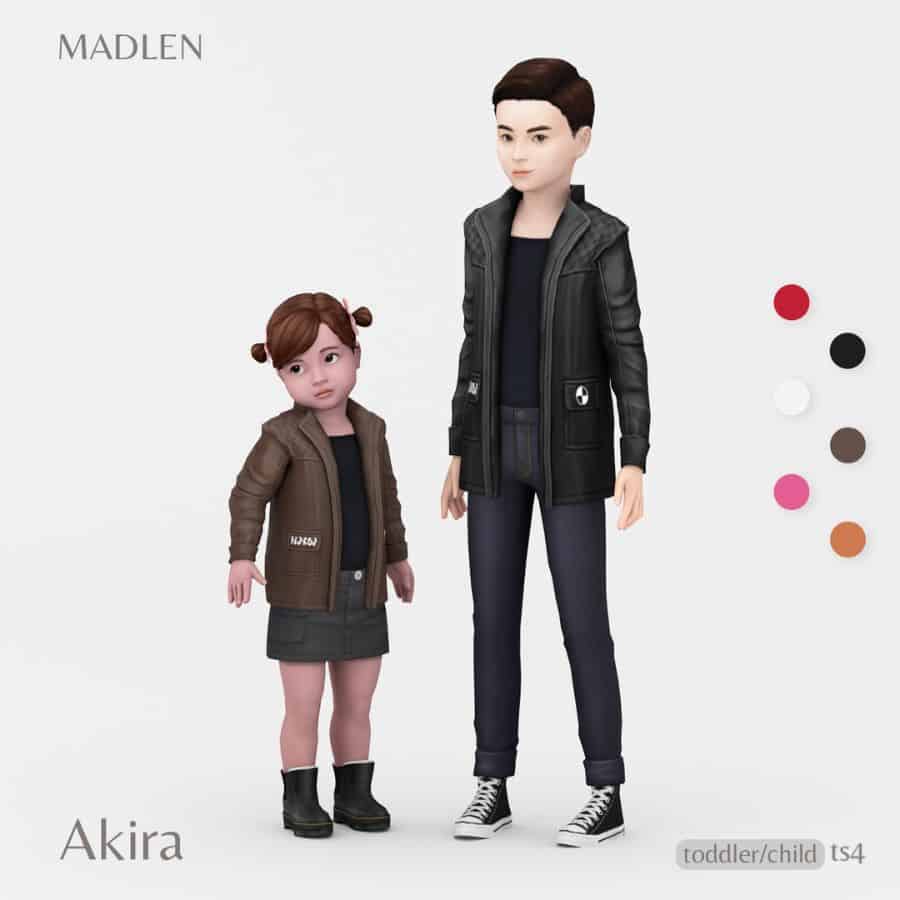 Your toddlers don't need to be teens before they start making fashion statements.
This hip leather jacket comes in 6 stylish colors, which makes coordinating outfits a breeze.

22. Sims 4 Toddler Fashion Set 7 by ShojoAngel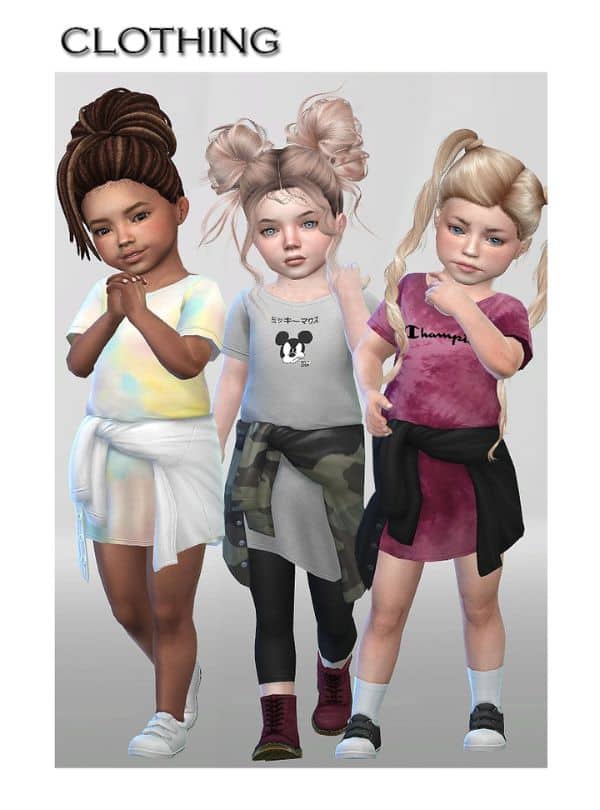 This casual and sporty look is great for your everyday toddlers going to daycare or hanging out during their playdate at the park.
It's available in 16 swatches, but don't forget to grab the required mesh.

23. Sims 4 Strawberry Toddler Romper by Tillie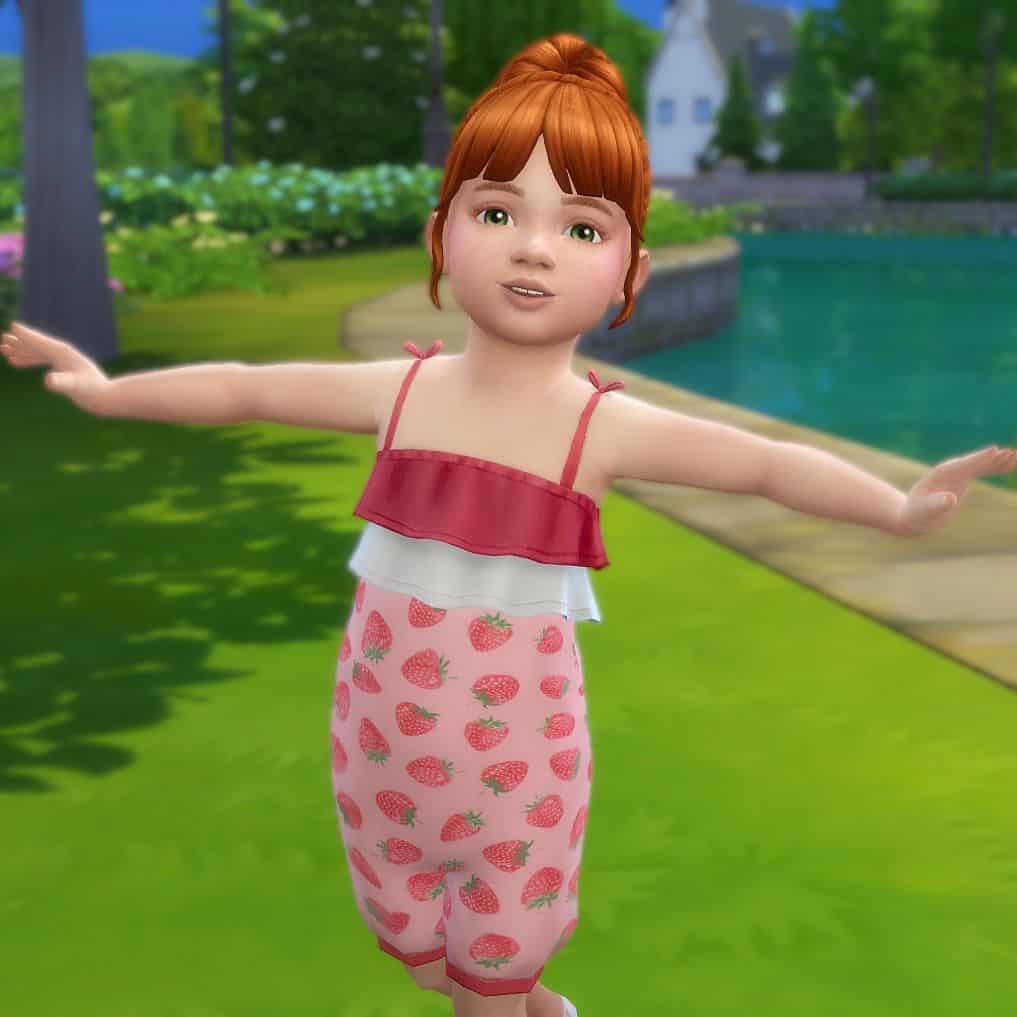 This is the perfect strawberry romper for your toddlers to stroll around in.
With its frilly top and strawberry pants section, this romper is one of my favorite go-to outfits for my toddler girls.

24. Sims 4 Toddler Dress CC by House of Alnwick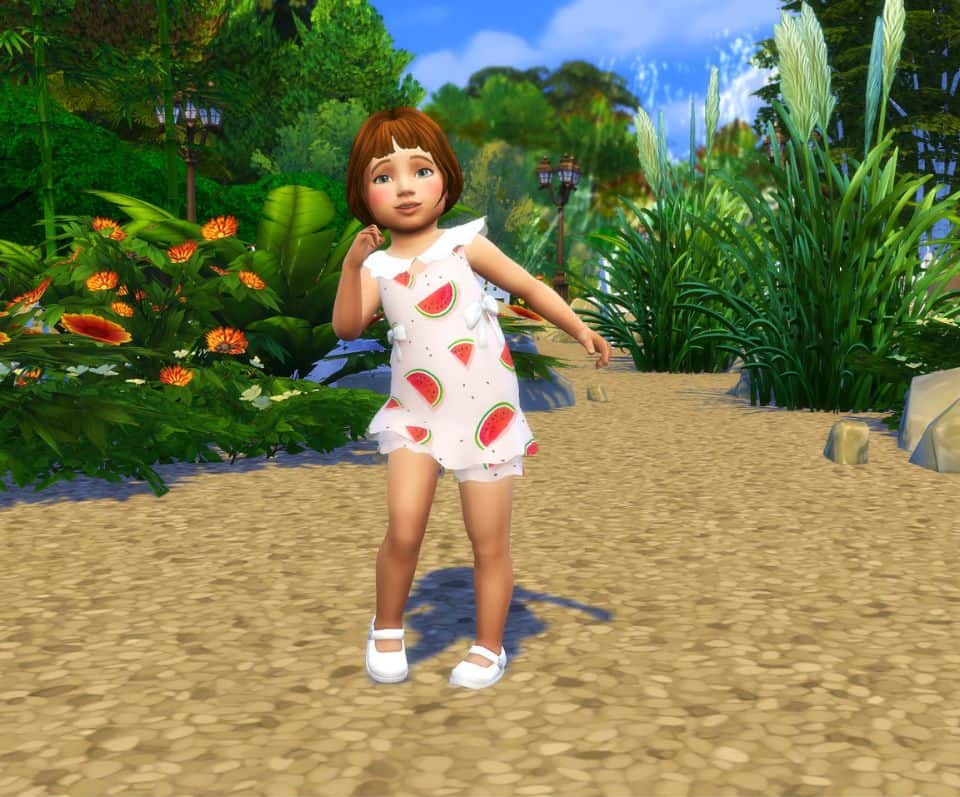 You've got to love this watermelon dress with matching bloomers peeking through the bottom.
But I also adore the lemon and parrot swatches too; there are 10 swatches in total.

25. Sims 4 Boys Toddler Sweater CC by McLayneSims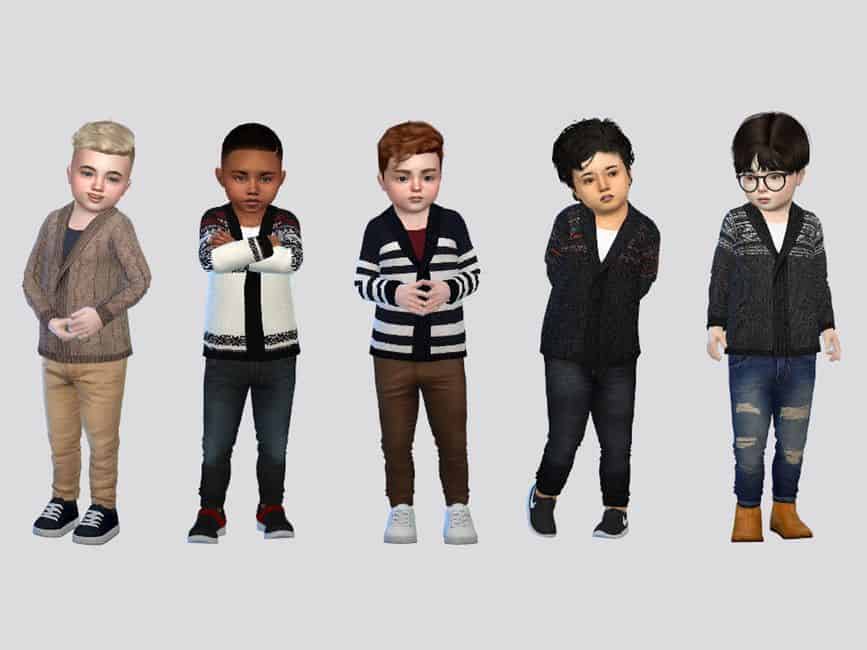 This versatile boys' sweater comes in 10 swatches.
Dress this toddler cc up or down with preppy pants or ripped jeans to complete the look.

26. Sims 4 Toddler CC Cottage Tops by storylegacysims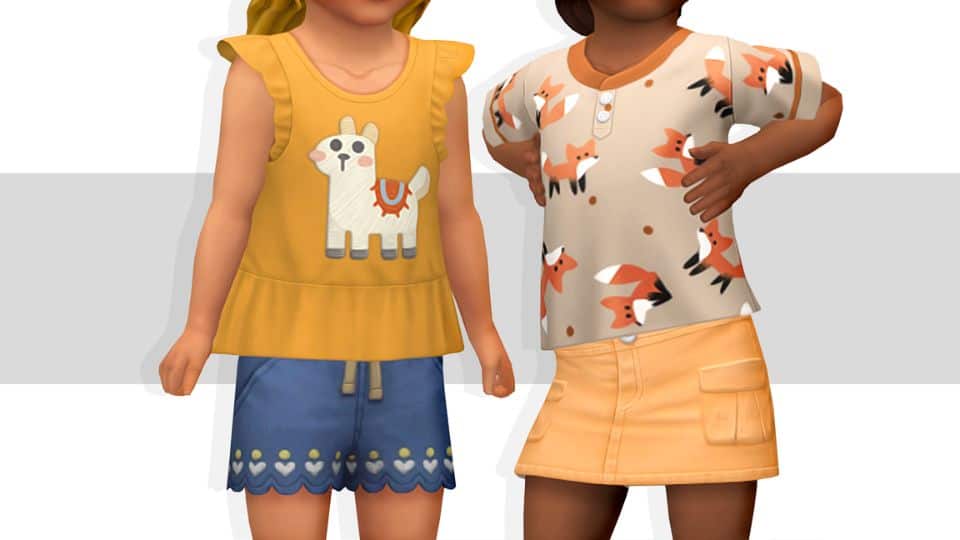 Anyone who knows me knows how much I love llamas and foxes, so these sims 4 toddler custom content tops were right up my alley.
But you can also opt for baby chicks, flowers, camels, or plain swatches.

27. Sims 4 Toddler Fitted Jeans by storylegacysims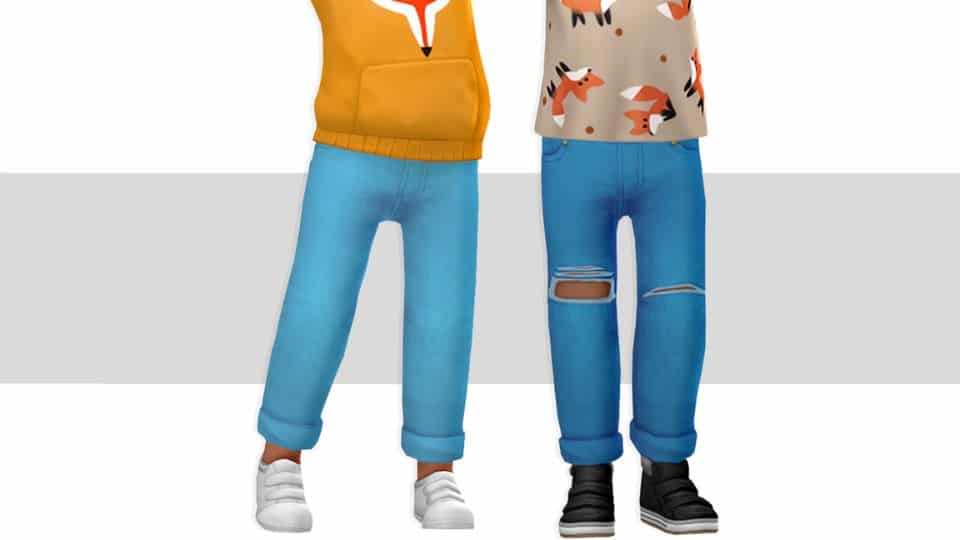 Everyone needs a good pair of fitted cuffed jeans.
Ripped or not, pick your favorite toddler denim jeans, available in 10 swatches per style.

28. Sims 4 Toddler CC Skinny Jeans by storylegacysims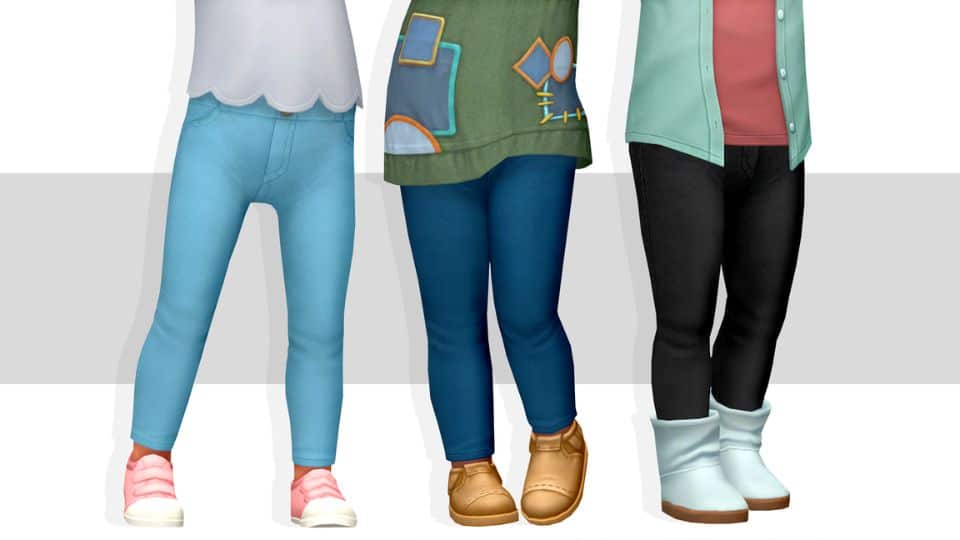 Jeans are a staple in most people's wardrobes, and it's not different for toddlers.
These toddler skinny jeans are easy to style and come in 10 denim swatches.
Pair with your favorite top and shoes; your toddler is ready to hit the daycare scene.


RELATED POST: Sims 4 Toddler Cheats [Stats, Buffs & More]

29. Sims 4 Toddler Onesie Pyjamas by Georgiaglm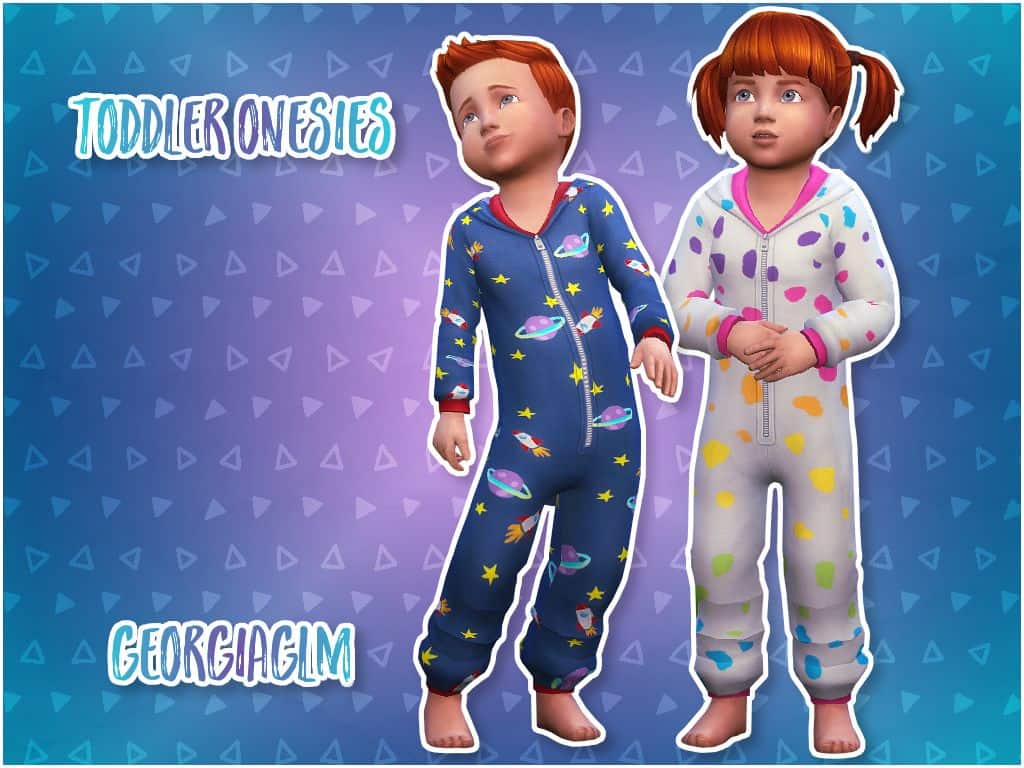 All toddlers need pajamas, and these onesies are a must.
There are some solid options among the 12 swatches.
You can also opt for the planet/spaceship swatch, paint spots, giraffe skin pattern, cat paws, cowboy hats, or cactus design pajamas.

30. Sims 4 Toddler CC Puffer Jacket by Madlen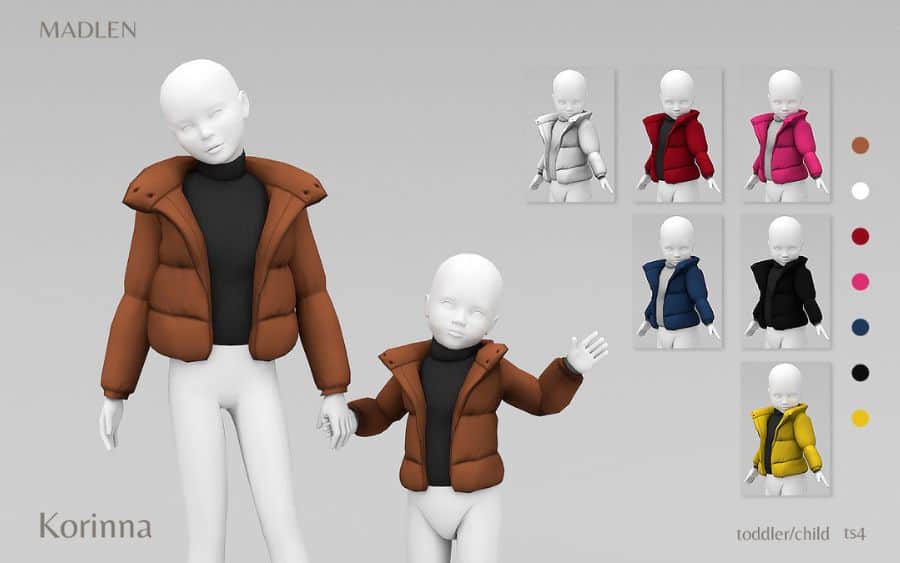 From toddlers to adulthood, we've all owned a puffer jacket at some point in time.
This toddler jacket comes in 7 solid color swatches, including vibrant yellow and fushia options.

31. Sheep Sims 4 Toddler CC Costume by Madlen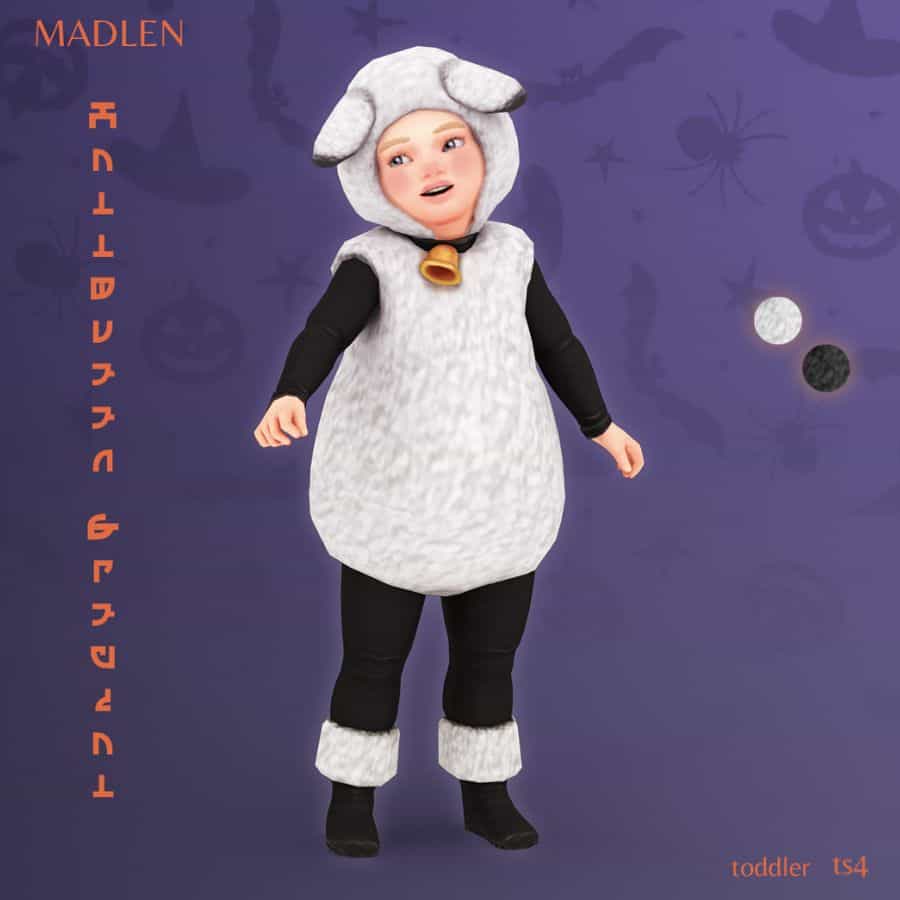 Does anyone else love dressing up for Halloween?
This sims 4 toddler lamb costume is simply adorable.
If you've always felt like the black sheep of your family, then you can choose the black color swatch instead.

32. Sims 4 Toddler CC Halloween Costumes by Pluto-Sims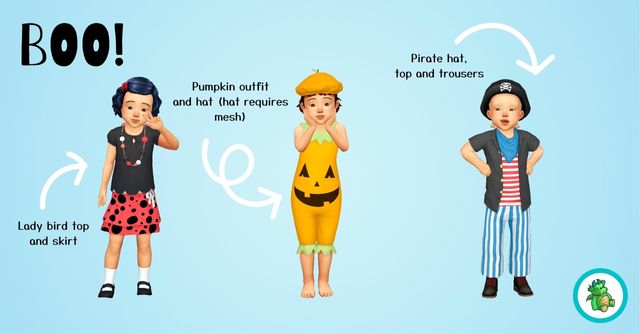 I wanted to include some other toddler Halloween options, and this small pack was perfect.
Dress up your toddlers as a pumpkin, pirate, or lady bird, you decide!

From braids to dreads, hairstyles bring style and character to any sims.
Here are some of our favorite sims 4 toddler hair cc pieces.
33. Sims 4 Alicia Toddler Hair CC by Birksche's Simblog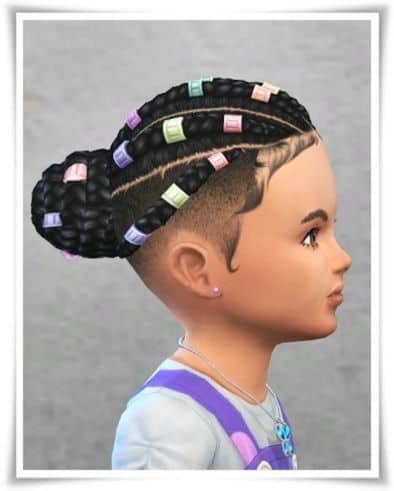 This toddler braided hair with shaved undercut and baby hairs is one of my favorites.
Available in 15 colors, you also get fun hair accessories.

34. Sims 4 Toddler CC Cruz Hair by Georgiaglm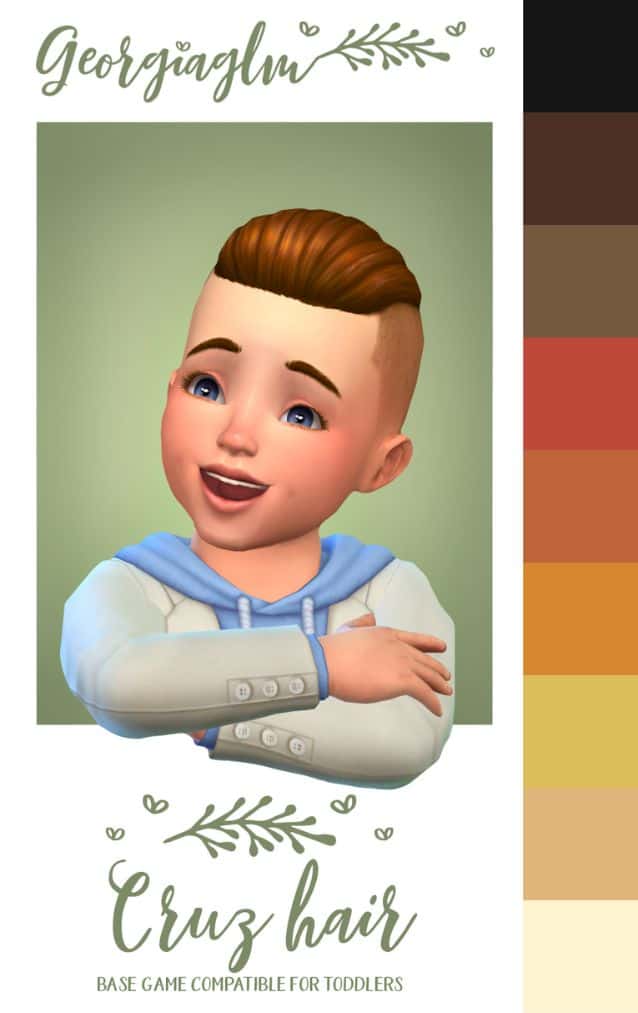 The Cruz haircut is perfect for that stylish toddler sim looking to make a statement.
You get a slick comb back with a shaved undercut. This toddler cc is available in 9 colors.

35. Sims 4 Girls Toddler Hair CC by Ravensim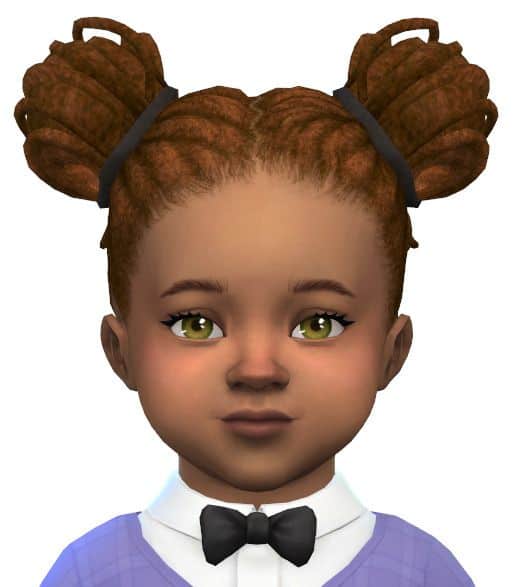 I love a good set of pom poms on my toddler sims, and this textured custom content hair is beautiful.
The details on this Zahra hairstyle are great, and you have 15 colors to choose from.

36. Sims 4 Boys Short Hair by My Stuff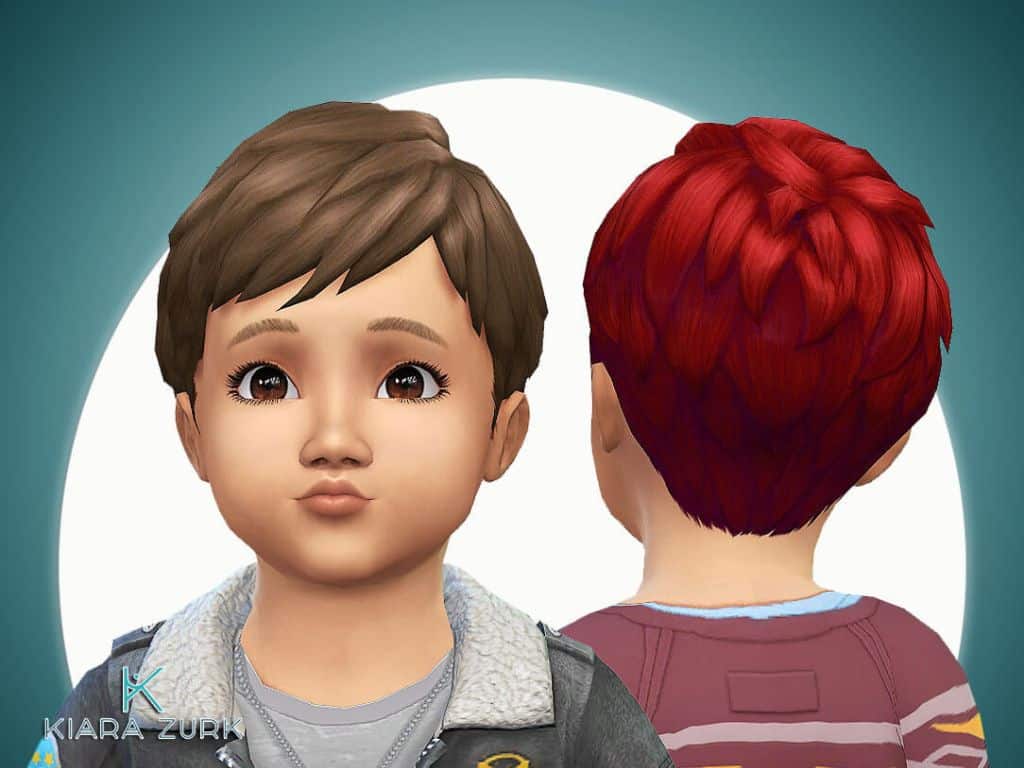 I consider this one of those classic toddler hairstyles.
The sims 4 tends to include a lot of hairstyles with these defined, thick locks of hair, and this piece of cc fits right in.
With 24 colors, you can find the perfect hair colors for your toddler.

37. Sims 4 Girl's Double Braid CC by Georgiaglm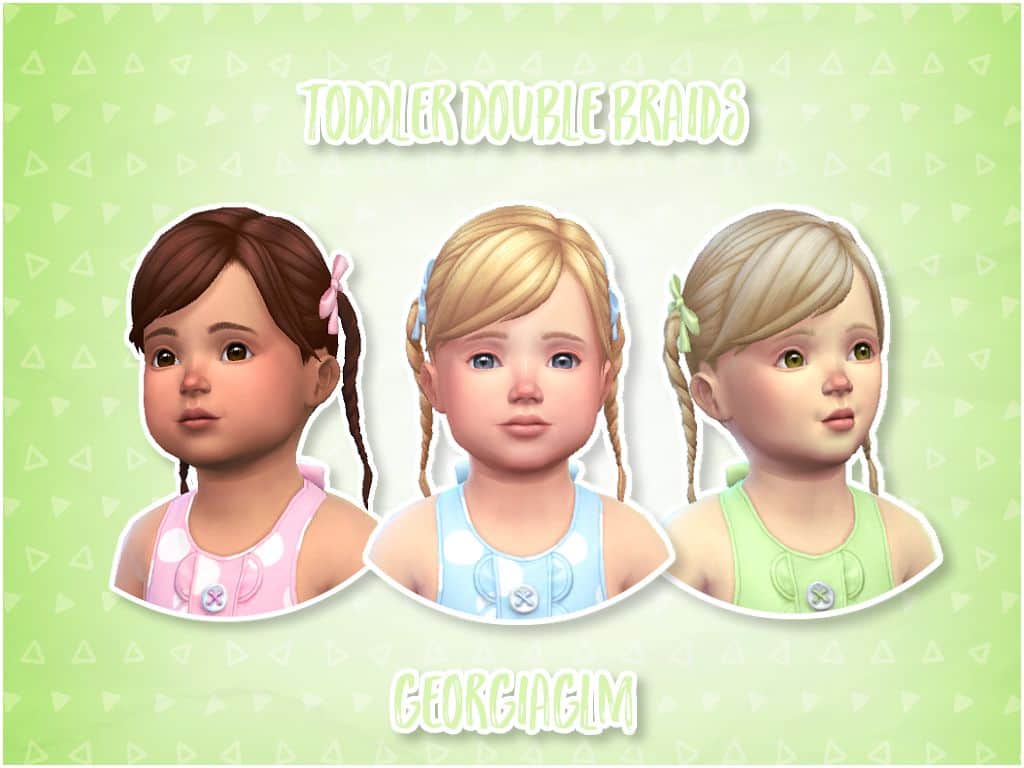 Another classic hairstyle is braids or pigtails.
These toddler pigtails are the perfect hairstyle to compliment any casual schoolgirl outfit.

38. Sims 4 Boys Brandon Hair CC by Ravensim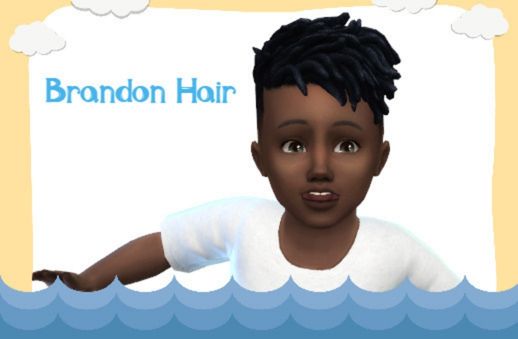 This Brandon toddler hairstyle is stylish and hip.
I particularly like the side-swept look. This toddler hair cc is available in 15 colors.

39. Sims 4 Toddler CC Long Braid by Birksche's Simsblog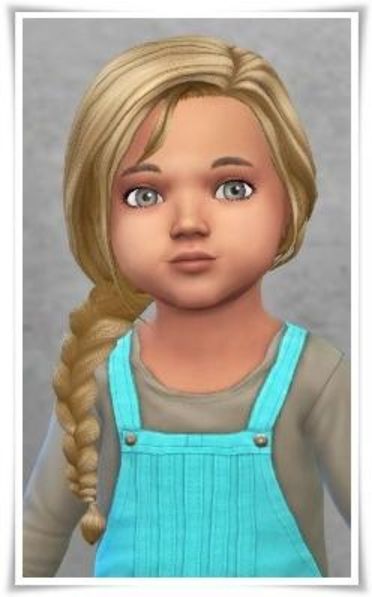 I often sported a long braid as a kid because playtime can get hectic and messy.
This effortless side braid comes in 15 colors for your toddler sim.

40. Sims 4 Delia Hairstyle CC by My Stuff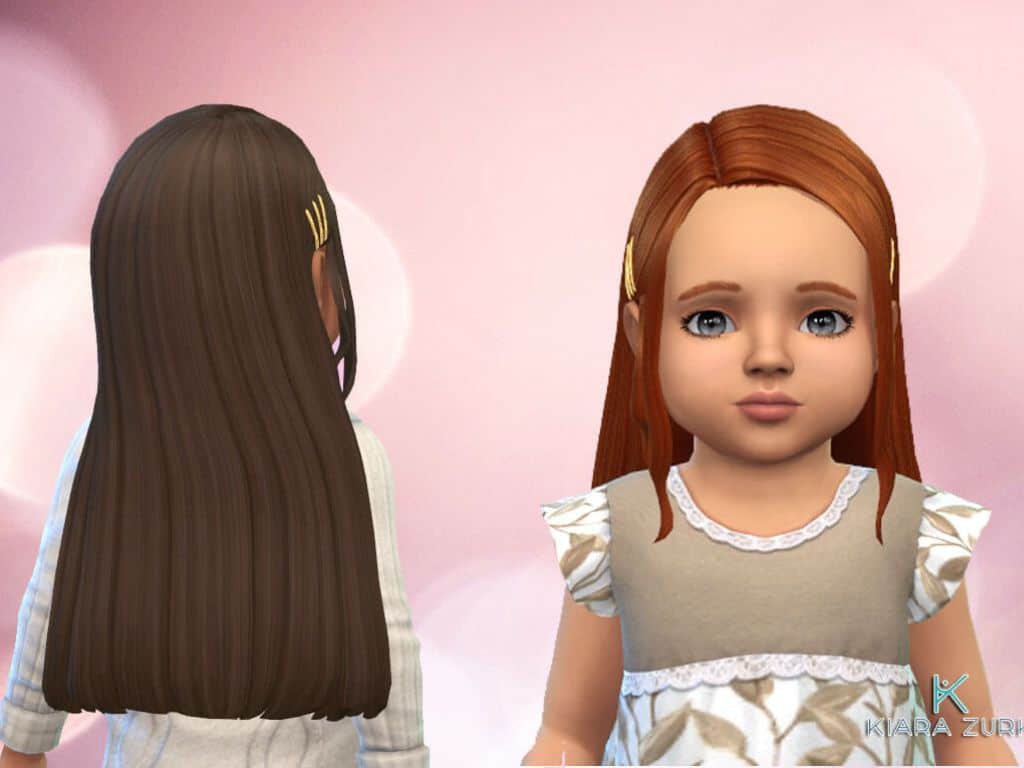 This easy side part, girls' hairstyle, comes with hair clips to keep your toddler's hair tidy and out of their faces while they play.
Pick your favorite hair color from the 24 color options.

41. Sims 4 Toddler Hairstyles by Ravensim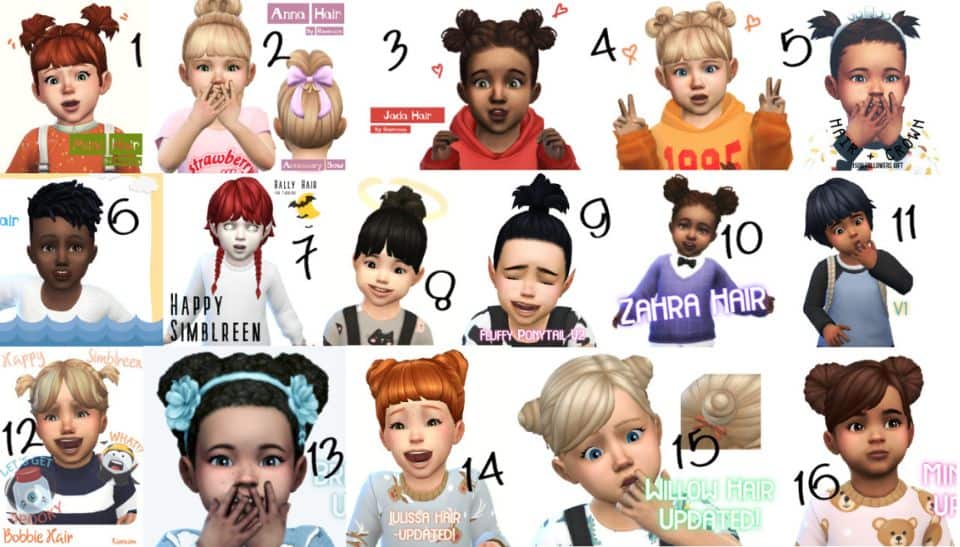 While I showcased a couple of these toddler hairstyles already, I wanted to give you the whole list in case you spot another favorite.
There are a lot of fun and playful girls' hairstyles available in this collection.

42. Sims 4 Toddler Short Crew Cut by My Stuff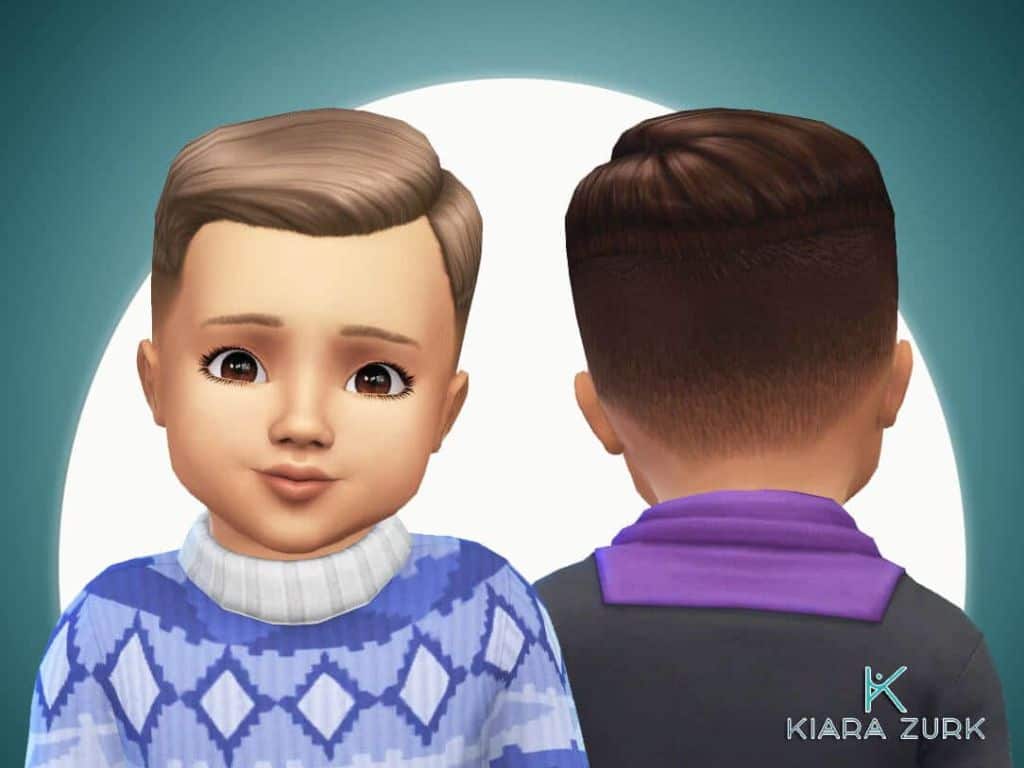 This toddler sim reminds me so much of my friend's son; they have the same side part with the short crew cut.
Find the perfect shade for your toddler from the 24 available swatches.

43. Boys Toddler Hair CC by Birksche's Simsblog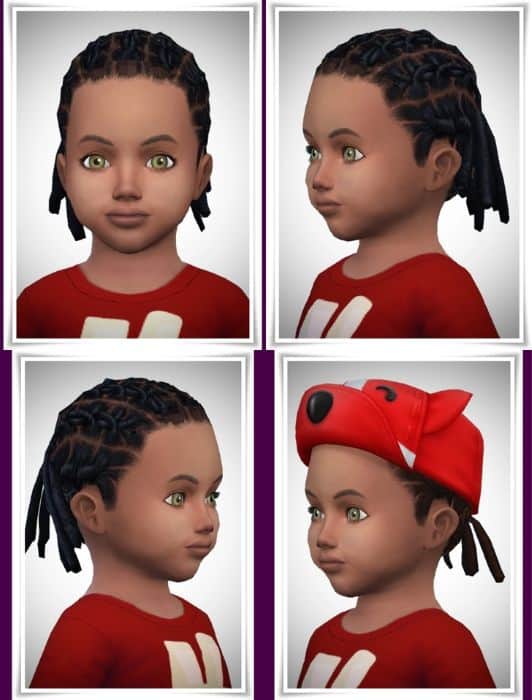 This braided dreads hairstyle is the coolest hairstyle at daycare.
The trendy toddler hairstyle comes in 9 different colors.

This is a mixed category of a few fun pieces to complement your sims 4 toddler creations and clothing.
44. Sims 4 Toddler CC Hat by Madlen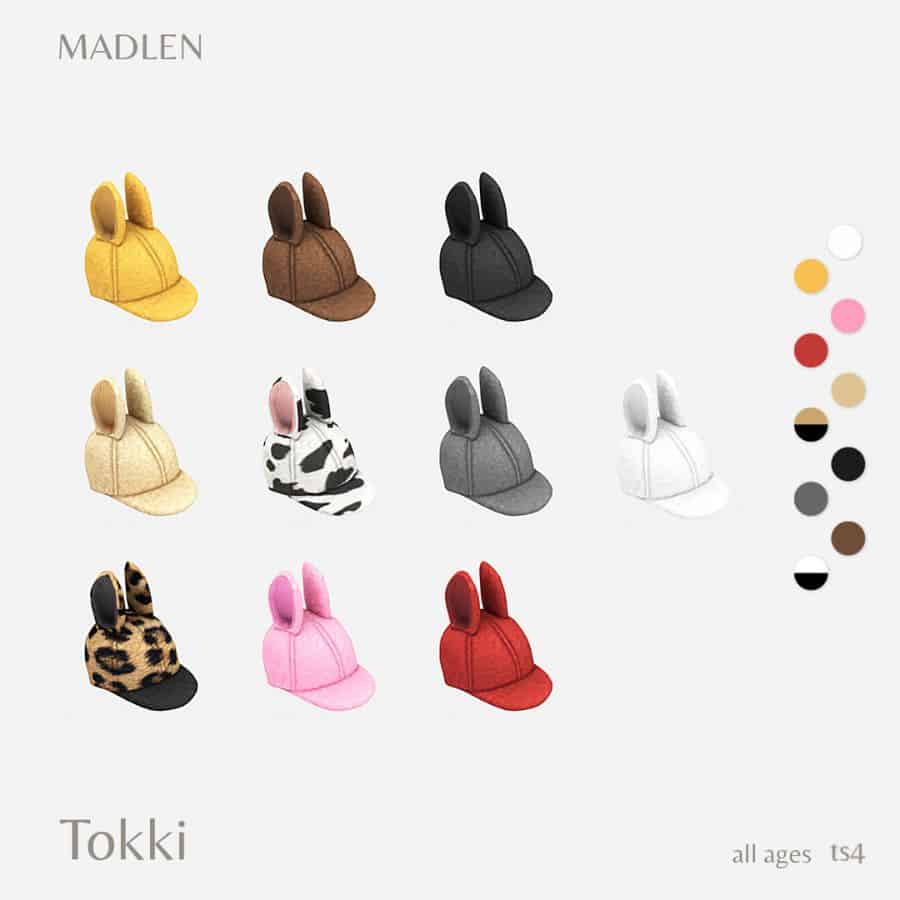 This adorable bunny ears hat by Madlen had to make the list.
Available in 10 different swatches, this hat completes any toddler outfit.

45. Sims 4 Toddler Bunny Slippers by Tillie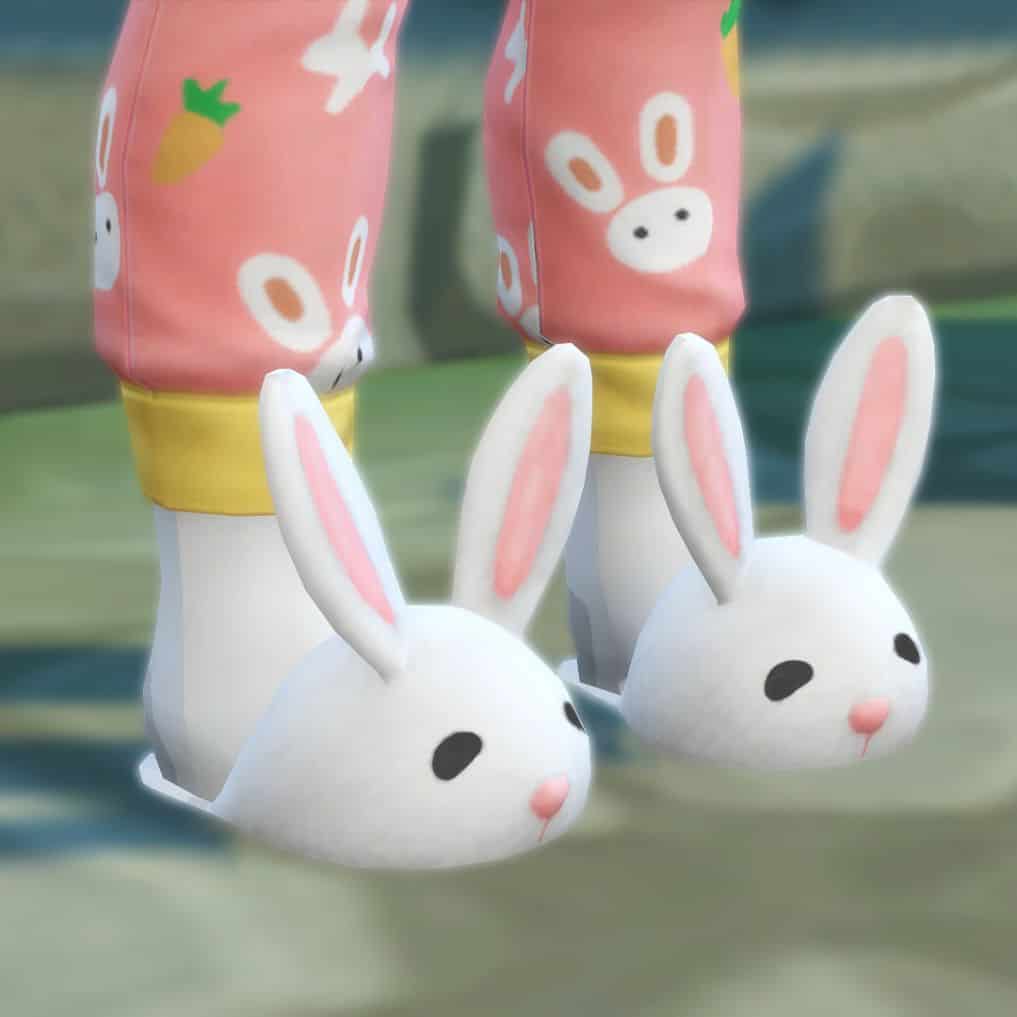 Since we were just discussing bunnies, I figured I'd include some bunny slippers to keep your toddler's tootsies warm.
You can pick between pink, blue, white, or yellow slippers.

46. Sims 4 Toddler Eyelashes by Coffeemoon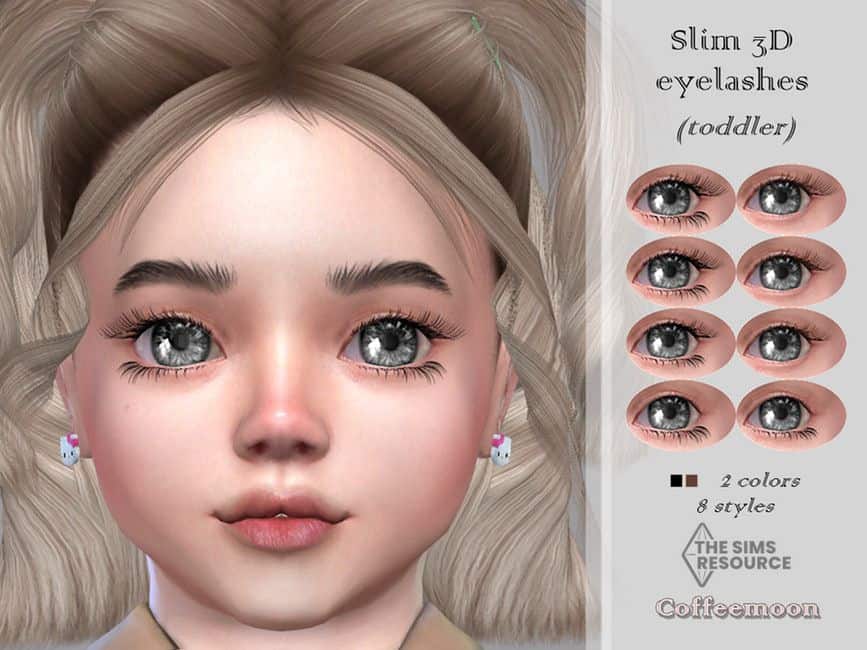 These female toddler eyelashes come in 2 colors and 8 different styles.
Opt for the lash line and lash density that fits your toddler's features.

47. Sims 4 Toddler Kitty Nails by WisteriaSims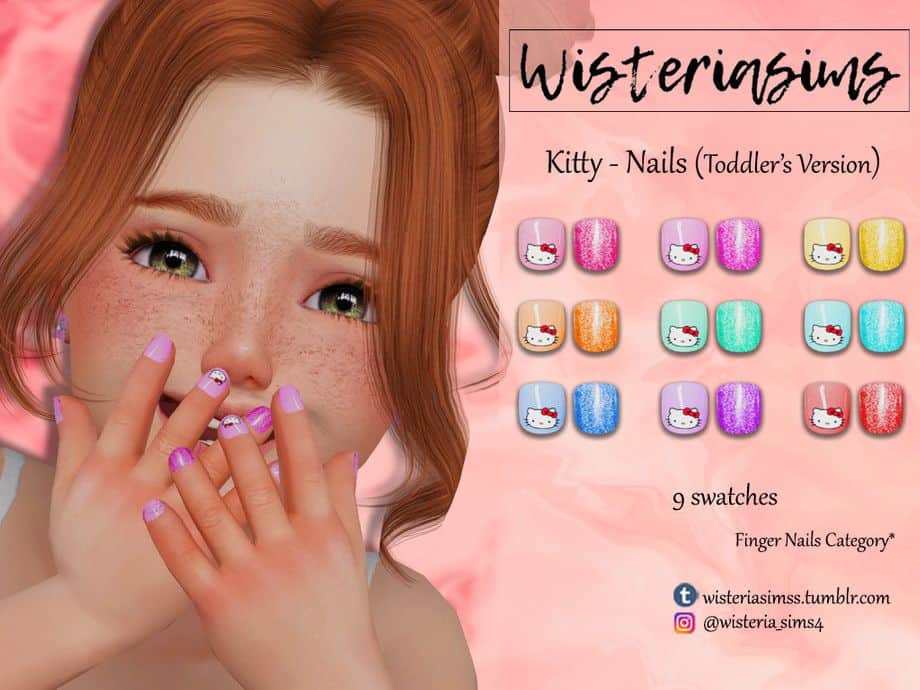 I've heard hair and nails can make or break an outfit.
These toddler kitty nails come in 9 colors, including sparkly and matte nails.

48. Sims 4 Toddler CC Backpack by Madlen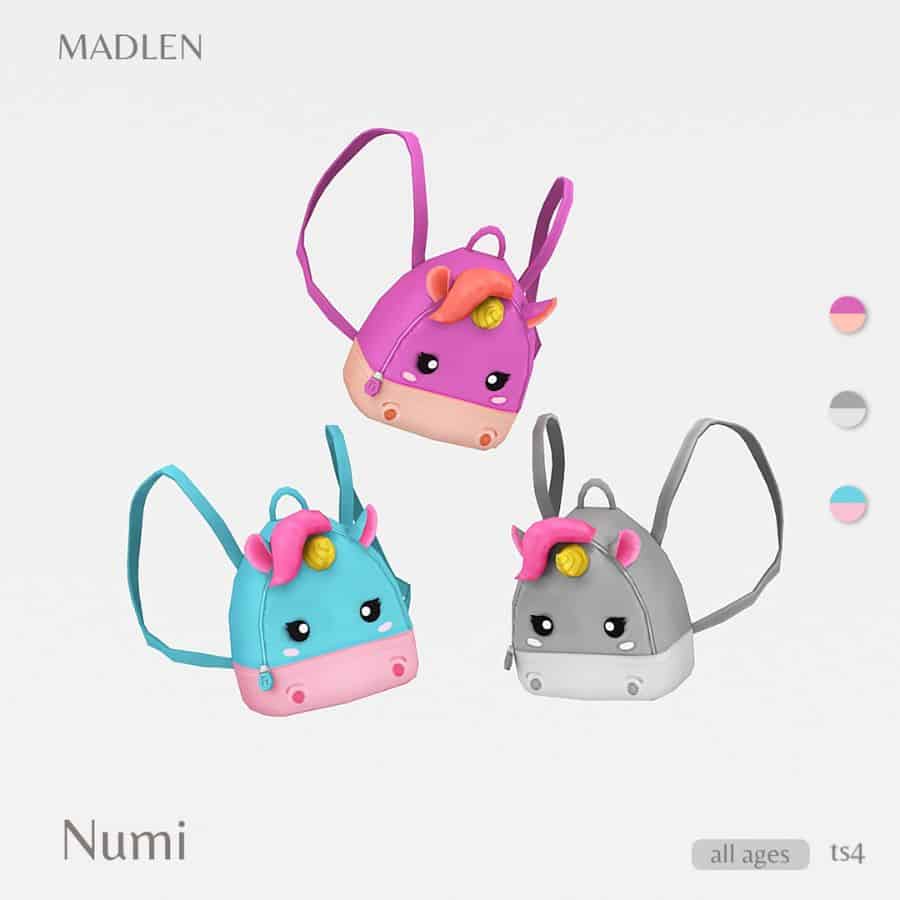 Unicorns tend to be super popular with toddlers and kids, and this unicorn backpack is just so stinking cute.
Not only is this backpack available in 3 colors, but it's also available for all genders and ages, so your adult sims can rock this bag too!

49. Sims 4 Toddler Bucket Hat Recolor by Cloudywhims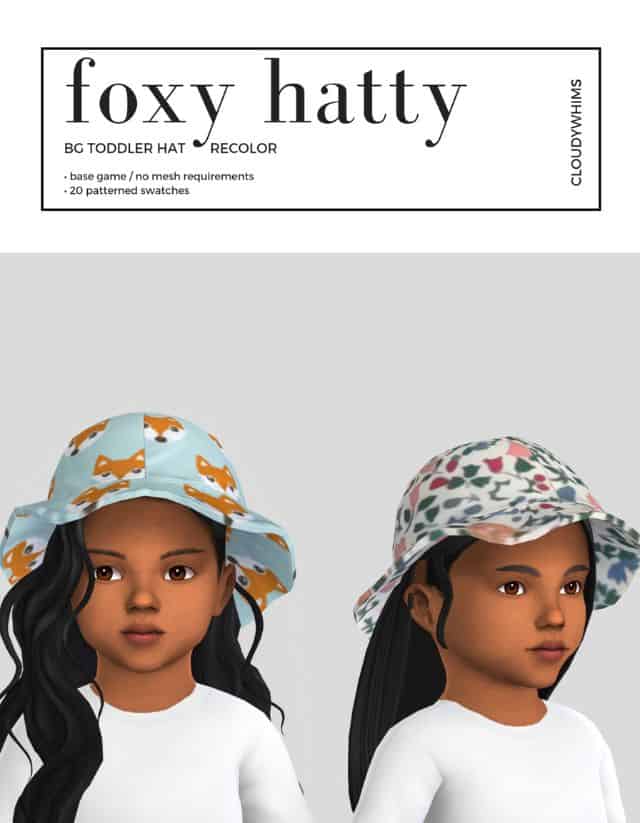 Everyone loves a bucket hat for walks in the park or a sunny day at the beach.
This toddler hat comes in 20 swatches, including the adorable fox pattern, daisies, other flowers, and more.

50. Macaron Toddler CC Earrings by Hypergnomesimblr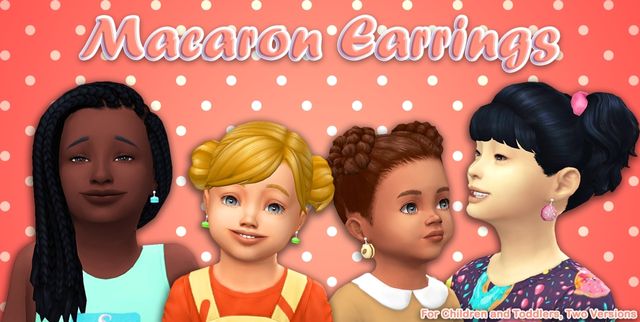 Being the foodie that I am, I couldn't resist including these macaron earrings on this list.
Round and dangling, these dessert-inspired earrings are the sweetest touch 😉 to your toddler's outfit.

51. Sims 4 Toddler Bunny Sunglasses by Giulietta Sims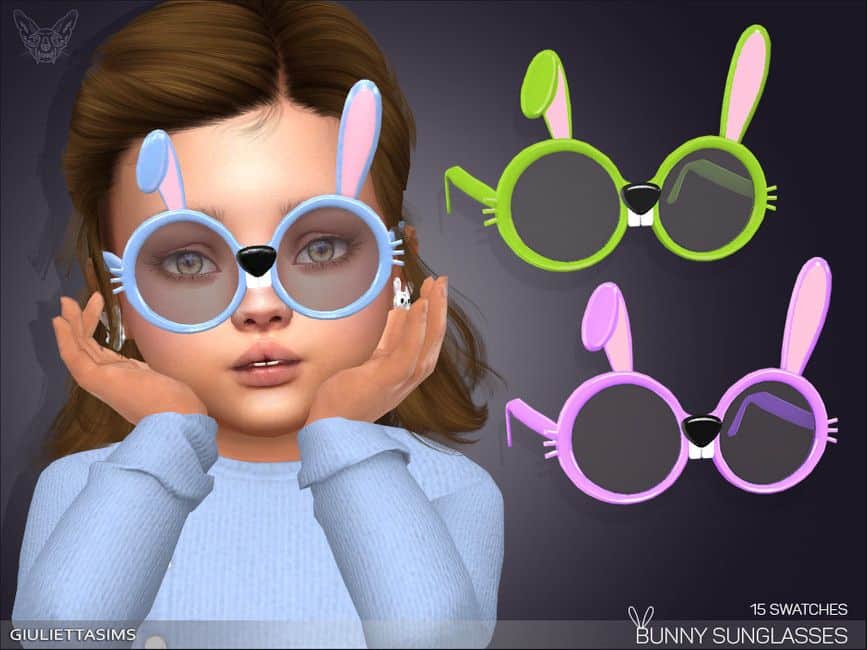 Since we've been on a bunny kick, I figured we'd end this sims 4 toddler cc list with these bunny tooth sunglasses.
Available in 15 swatches, you can also grab the kid's version in the Recommended tab.

Sims 4 Toddler CC Thoughts
I trust you found some new sims 4 toddler cc pieces to add to your custom content folder.
From bear-patch pants to adorable unicorn backpacks, there are too many cute toddler cc pieces to try out.
If you come across any other interesting pieces for me to check out, feel free to send us a link in the comments below or tag us on Tumblr.
And don't forget to pin & save this ultimate list of toddler cc for later!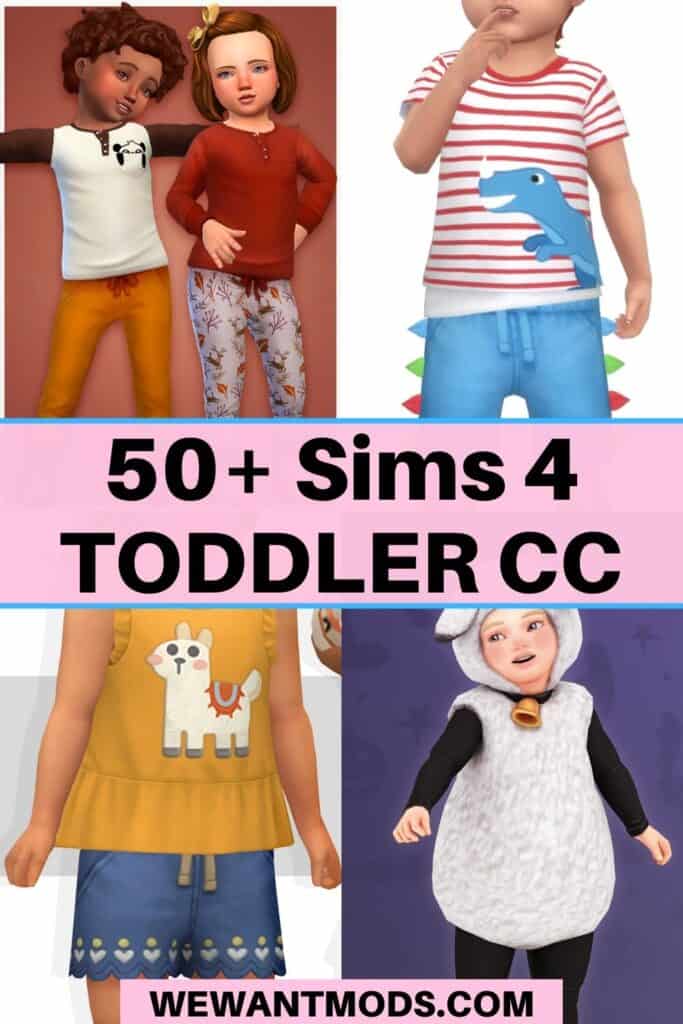 More Sims 4 CC Posts
50+ Sims 4 Toddler CC Pieces (2023 List)