21+ Sims 4 Toddler Shoes CC
Who doesn't love shoes?
With our list of sims 4 toddler shoes cc, you'll have the perfect collection of stylish shoes to complete any look!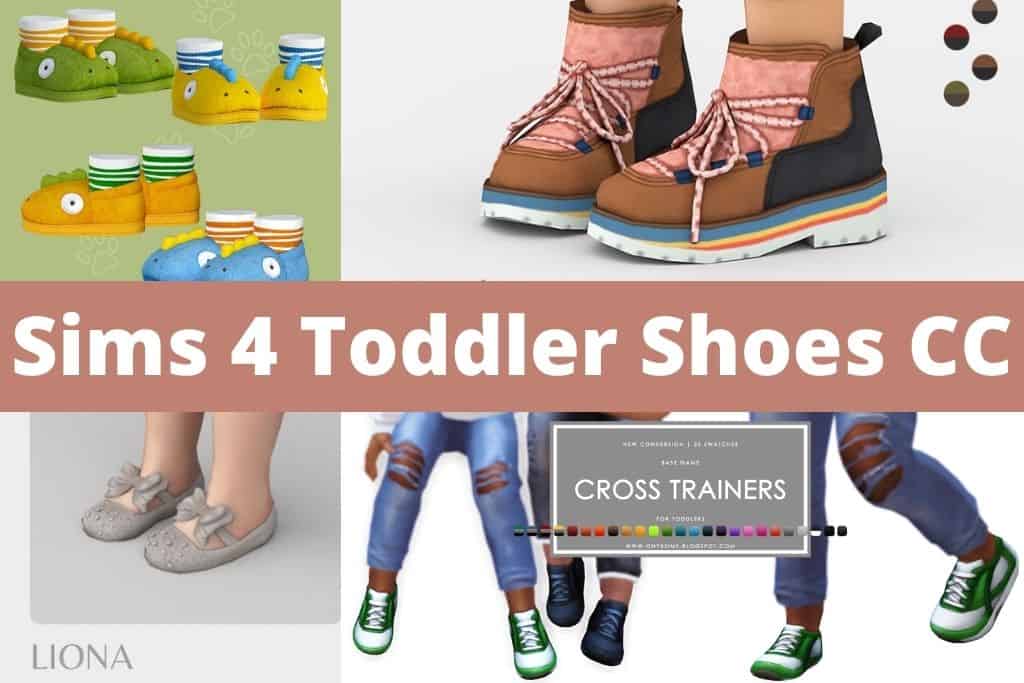 From delicate sandals to hip sneakers and winter boots, even your sims toddlers need to keep their feet in style.
And toddler size makes everything even more adorable.
So we figured we'd put together this quick list of toddler cc shoes to compliment your sim's custom looks!
Plus, these shoes will go great with the Sims 4 Toddler CC clothing options we compiled together.
Need to complete a head to toe look? Check out our collection of Sims 4 Toddler Hair CC too!
Disclaimer: The following mods are neither endorsed nor affiliated with The Sims, Maxis, or Electronic Arts. Any use of mods (custom content or game mods) should be done with caution and with the knowledge that there may be risks.
Best Sims 4 Toddler Shoes CC
We've curated a great collection of toddler custom content shoes.
You will surely find cute and stylish shoes to send your toddler to daycare.
1. Girls Sims 4 Toddler Shoes CC by RobertaPlobo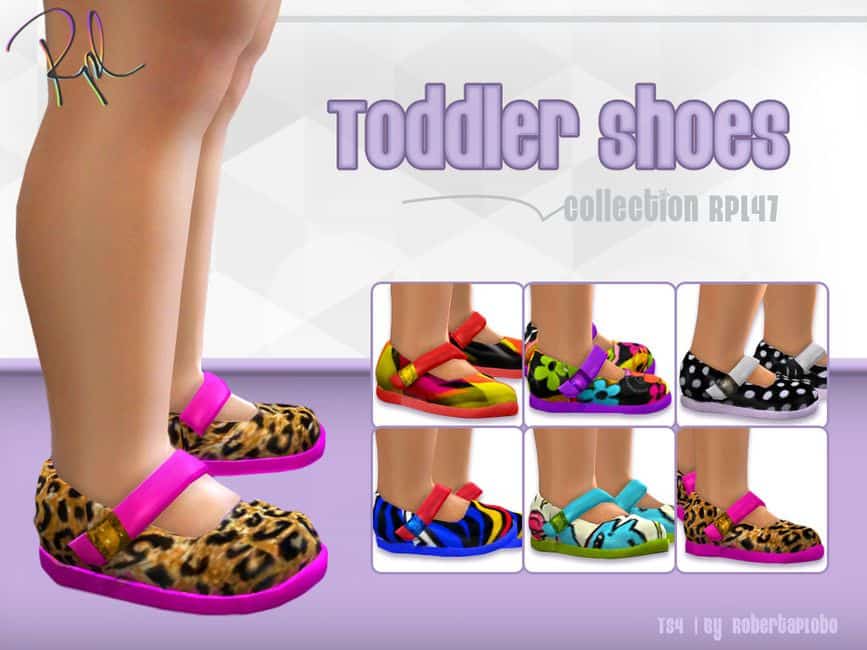 With their vibrant colors and interesting patterns, these female toddler flats are a great summer option to pair with a cute dress or snazzy outfit.
These girly shoes come in the 6 swatches seen in the image and are based game compatible.

2. Sims 4 Toddler Sneakers CC by Onyx Sims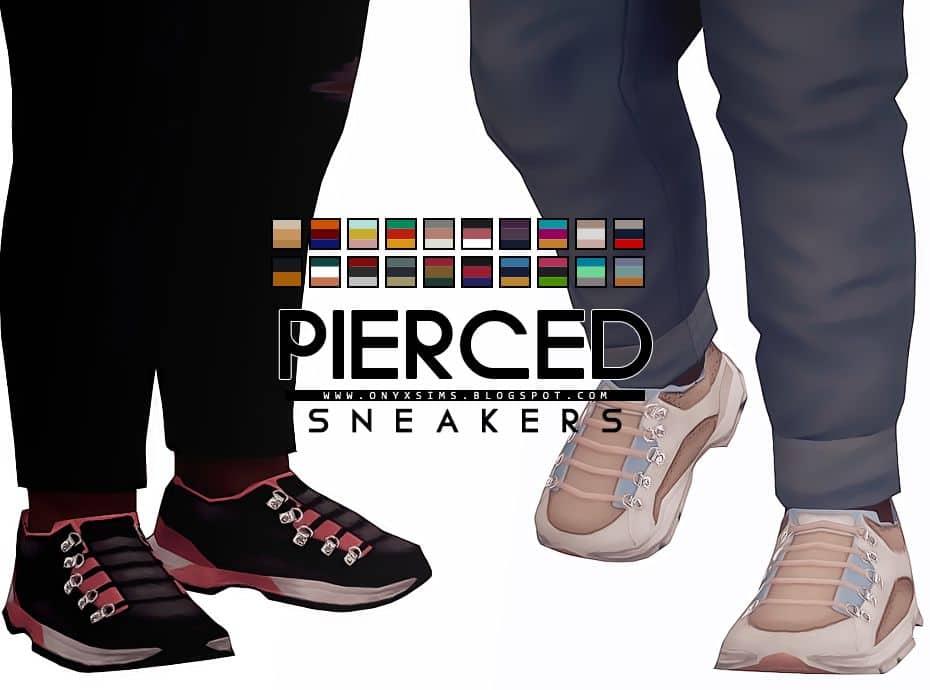 These pierced toddler sneakers are not gender-restricted and are available in 20 different swatches.
These sneakers are cute and casual and perfect for your sim toddler's playdates at the park.
You can also grab a separate file for kids shoes too!

3. Sims 4 Toddler Liona Shoes CC by Madlen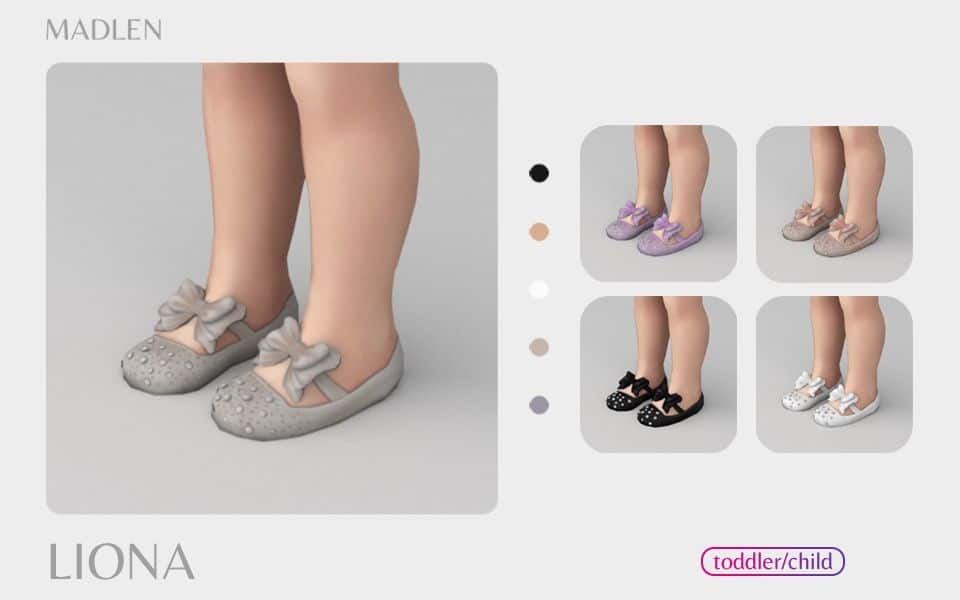 These delicate female toddler flats are my favorite type of shoes for girls.
With the adorable bow and embellished details at the front, these shoes will compliment any girl's dress.
Plus, these Liona shoes also come in easy-to-match colors, making them a staple in my toddler cc folder.

4. Sims 4 Toddler Leather Shoes CC by Remaron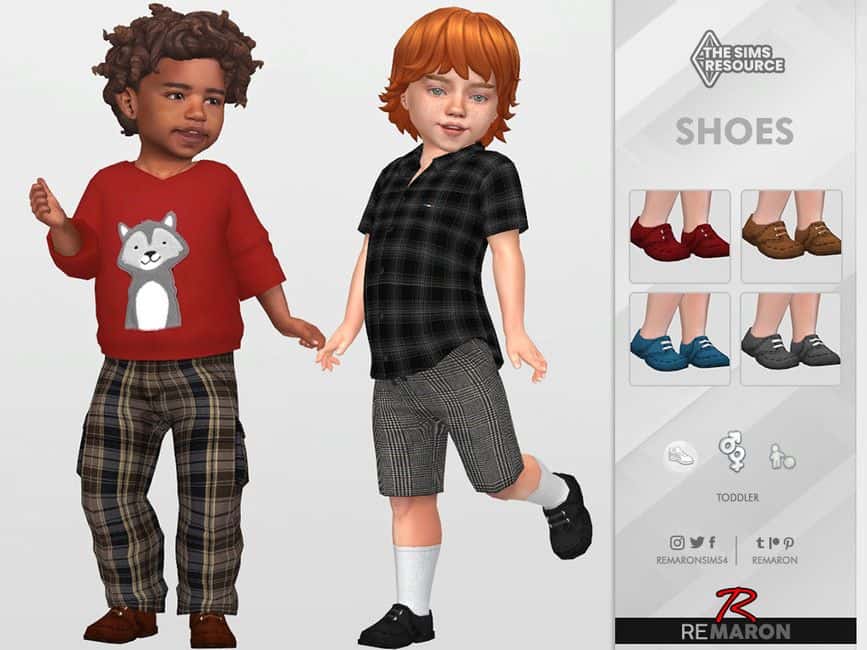 While these toddler leather shoes are available for both sexes, I find these are perfect for so many male toddler outfits.
These laced leather shoes complement a dressier outfit and work well with more casual looks.
These toddler shoes are available in 15 swatches.

5. Miyuki Sims 4 Toddler CC Boots by Madlen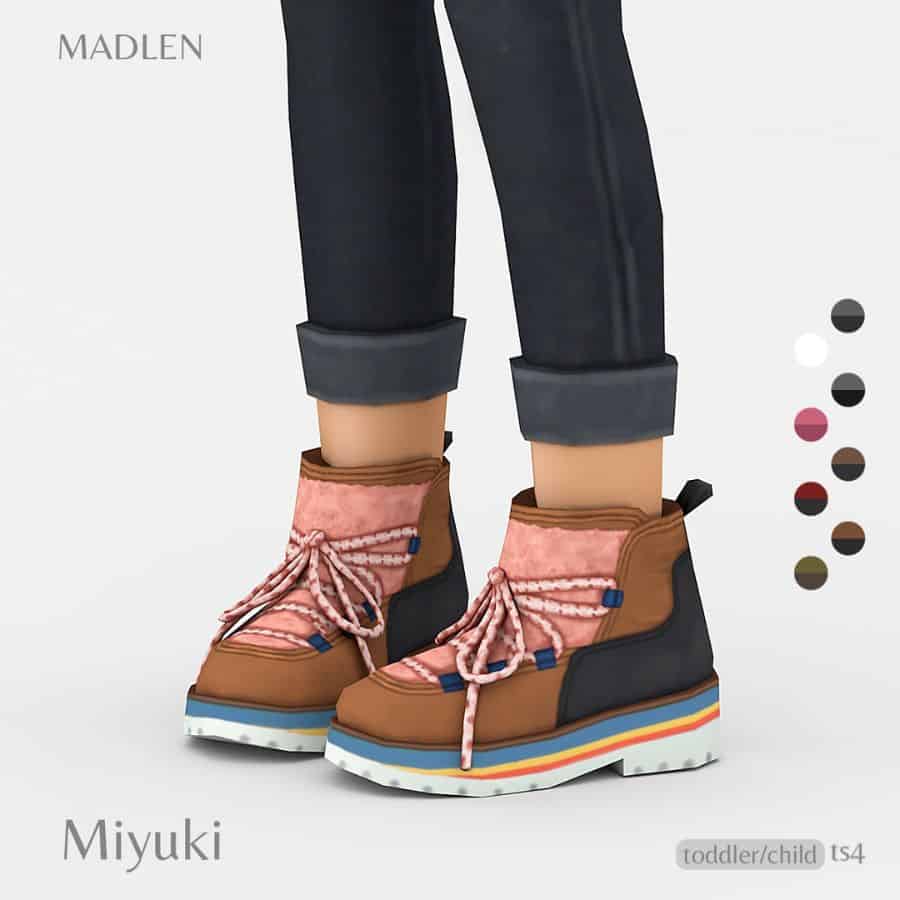 While these multi-color Miyuki boots are listed in our sims 4 kids cc list, I still wanted to include them here because they are super cute.
Ankle boots are perfect for fall, winter, and springtime, so I love to keep these boots around for my toddler sims.
Available in 8 color combinations, your toddlers will look adorable walking around with these laced boots.

6. Sims 4 Toddler CC Sandals by Onyx Sims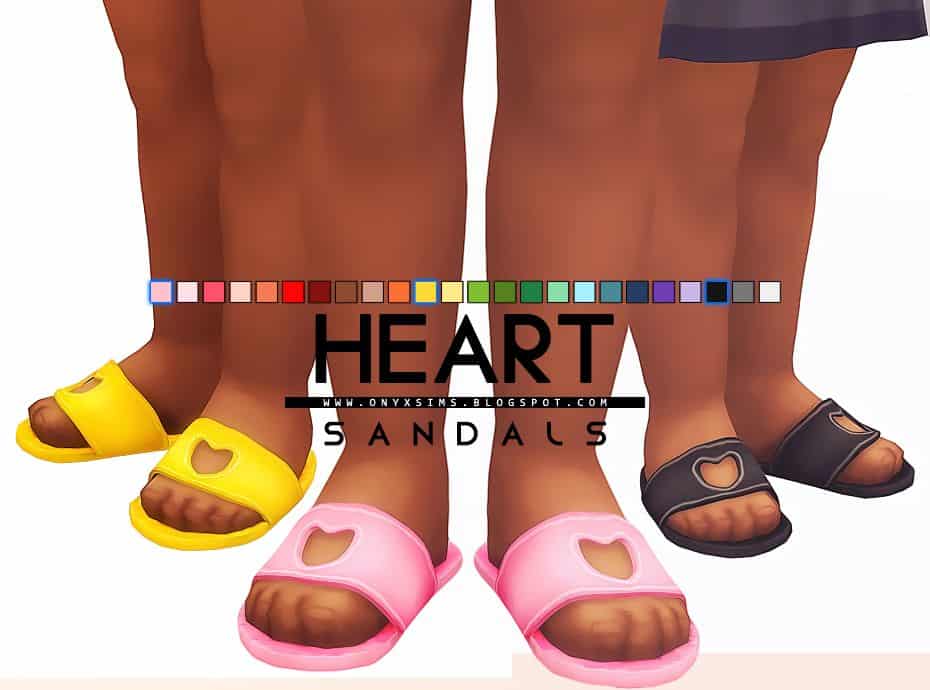 Your toddlers can't hit the beach or the sandpit without some comfortable slip-on sandals.
These slides with their heart cutouts are available for your toddler girls in 24 solid color options.

7. Bunny Ears Toddler Slippers CC by MysteriousOo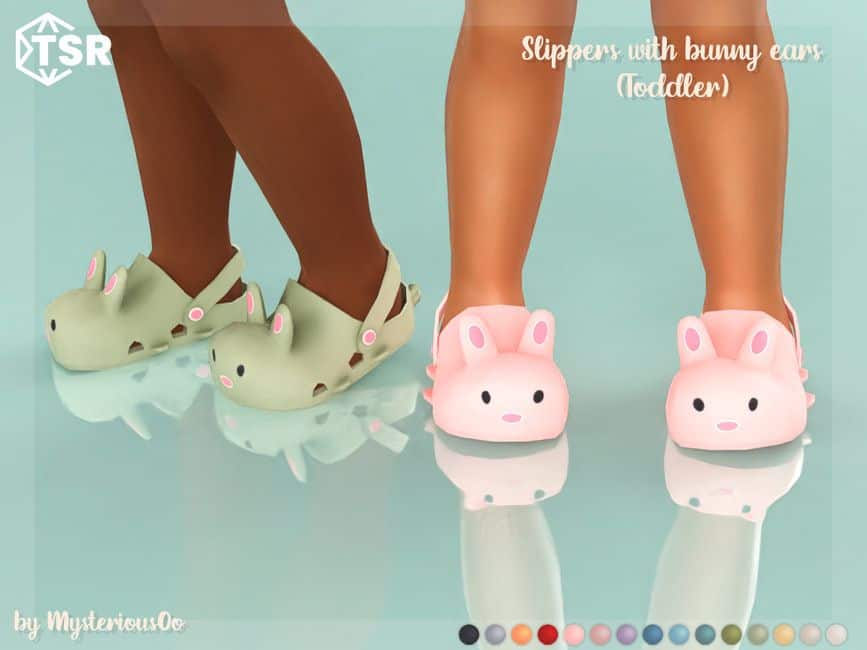 OK, so these crock-style bunny slippers are freaking adorable.
Just imagine your toddler's sims running around in these cuties.
Base game compatible, these slippers come in 18 swatches.

8. Sims 4 Toddler CC Flip Flops by Wildly Miniatures Sandwich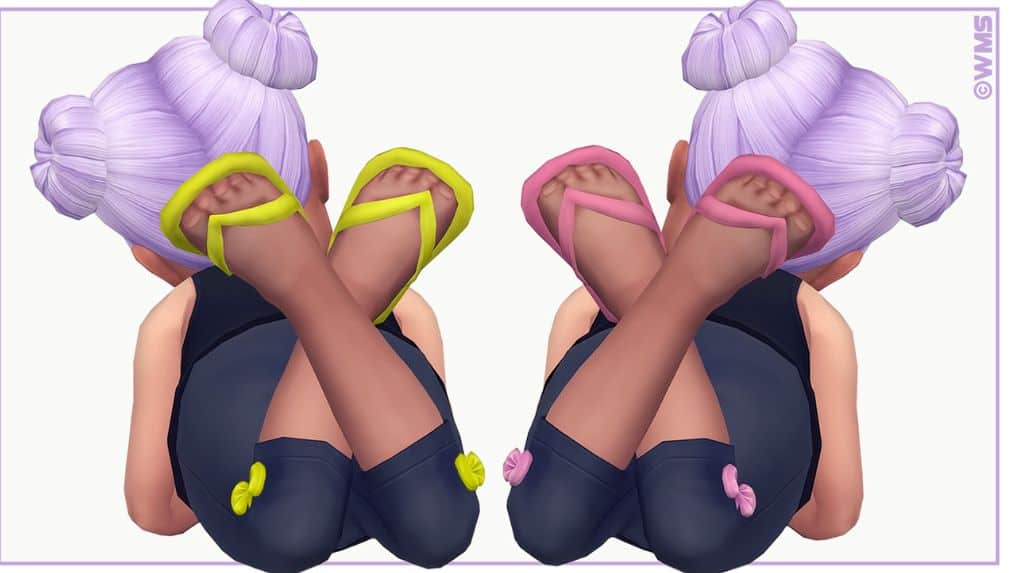 Everyone needs a decent pair of flip-flops, which also applies to your toddler sims!
These summer essentials are available in 2 files.
You can opt for 9 EA colors or the sandwich colors file with 55 color options.

9. Sims 4 Toddler Unisex Sneakers CC by Onyx Sims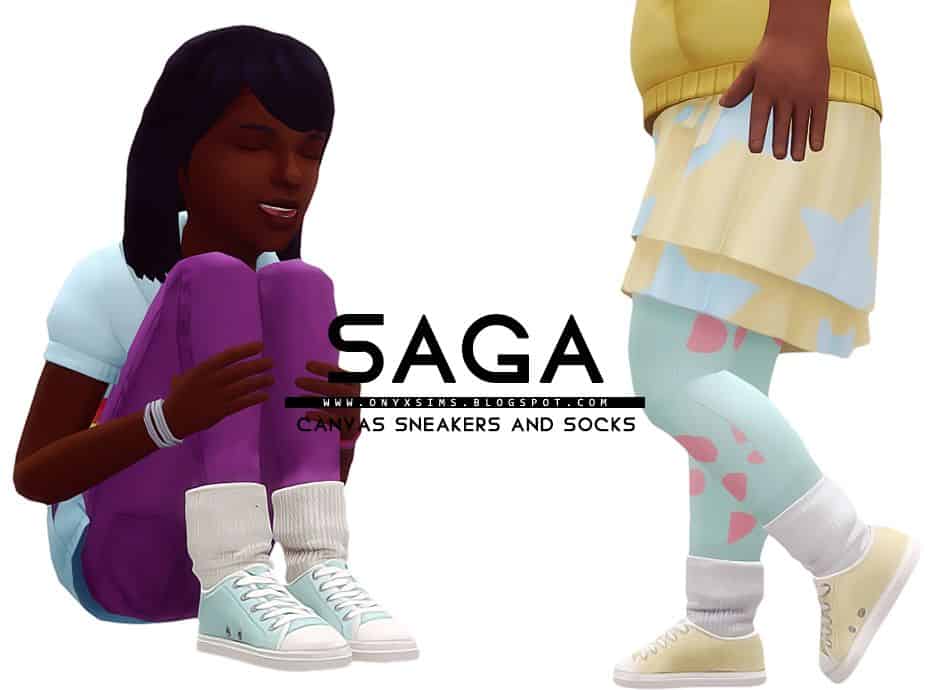 These toddler canvas sneakers and socks work for both sexes and kids too.
You can really pair these toddler shoes with almost any outfit.
The shoe-socks combo works great with dresses, shorts, and pants too.
There are 15 swatches available.

10. Sims 4 Toddler Boots by Madlen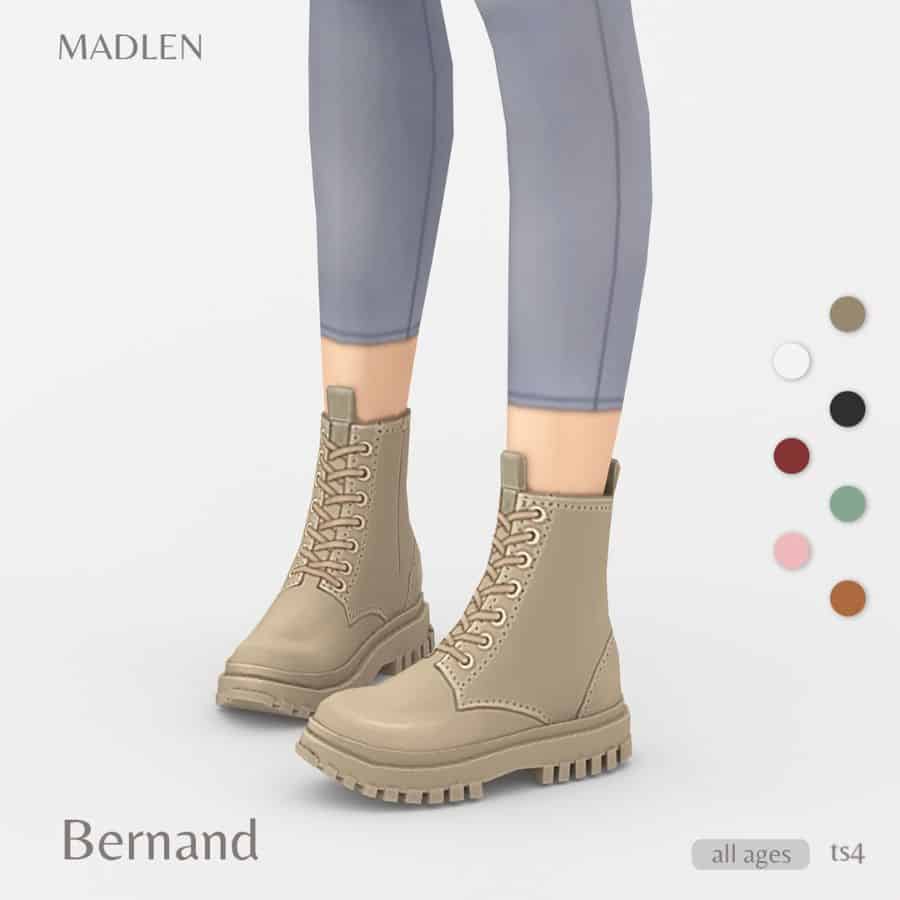 These female-laced boots are available for all ages and stylish to boot 😉 (pun intended).
You have 7 swatches to mix and match with your toddler's outfit.

11. Striped Sims 4 Toddler Shoes CC by Onyx Sims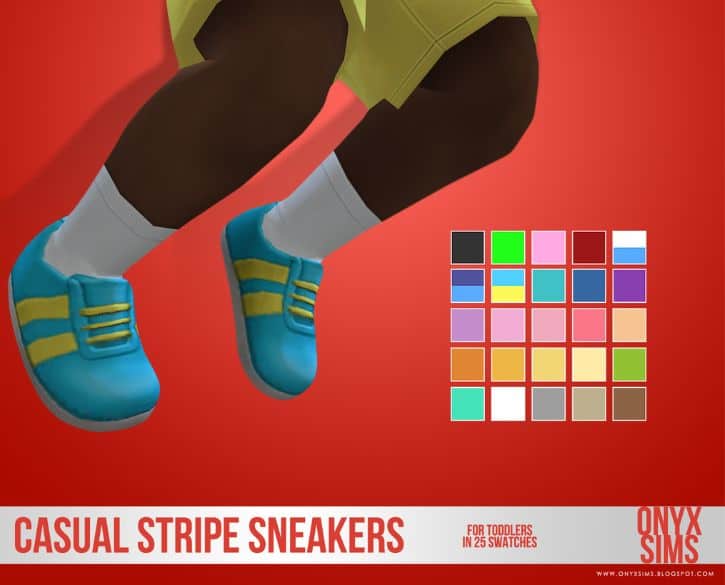 I love a good pair of sneakers, and these vibrant casual striped toddler sneakers fit the bill.
With 25 swatches, there is a little something for everyone.

12. Sims 4 Toddler CC Smiley Shoes by FlyStone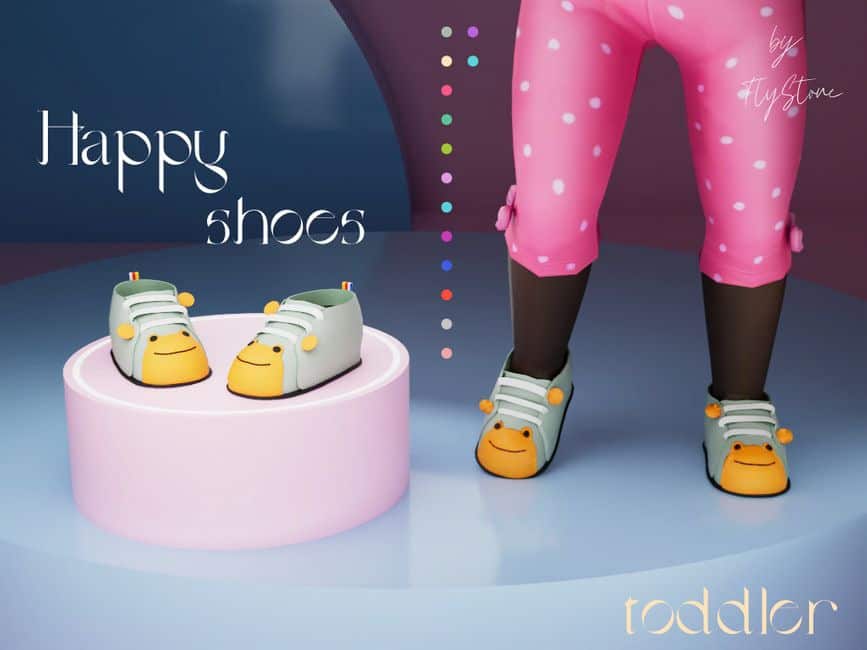 These toddler cc shoes are another of my favorites.
While the design is described as a smiley face, I can't help but see an adorable caterpillar when looking at them.
Pair with a simple dress or casual shorts, and let these toddler shoes be the outfit's star.

13. Sims 4 Toddler Shoes CC by Lyllyan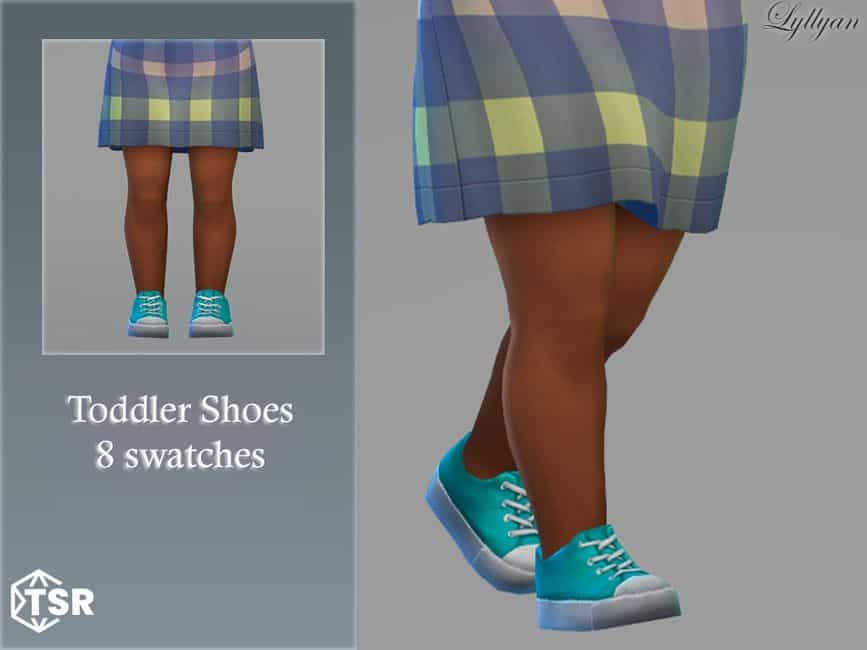 With their chunky platform soles, these laced toddler shoes are great for boys and girls and pair well with casual toddler clothes.
Choose your favorite color from 8 available swatches.


14. Sims 4 Toddler Critter Slippers by Jius-Sims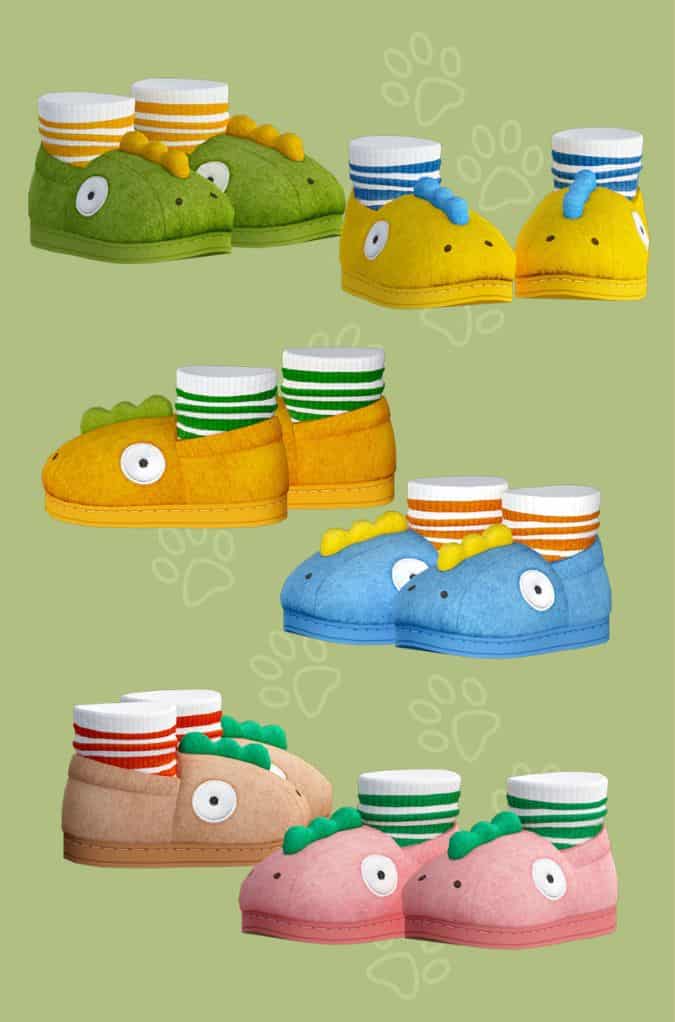 So these toddler critter slippers actually remind me of dinosaurs with their scale-like structures down the front.
Available in 6 colors and for all genders, these toddler slippers are super cute and must-have cc.

15. Converse Sims 4 Toddler Shoes CC by Remaron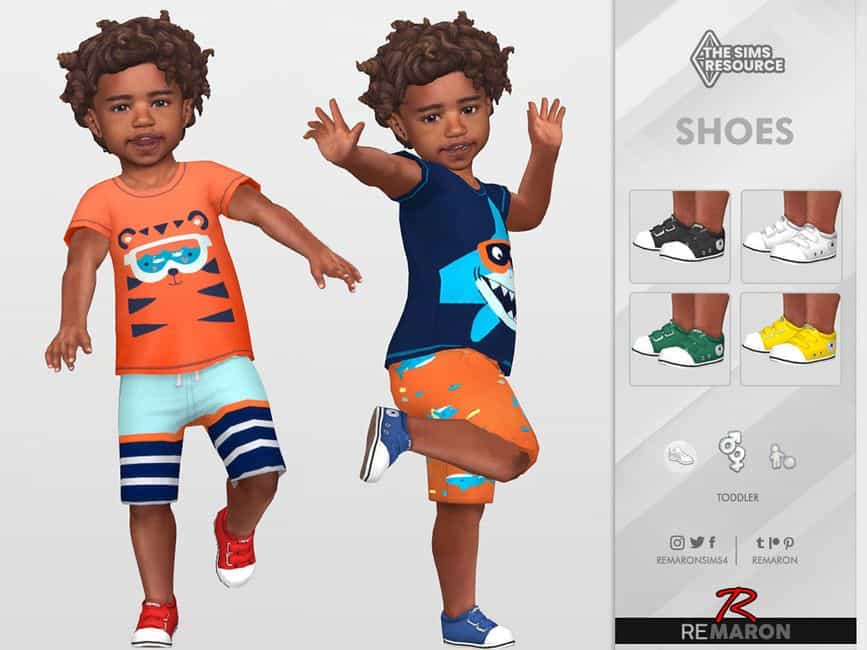 These unisex toddler Converse shoes have velcro-like closures and come in 15 swatches.
I think we've all owned a pair of Converse at some point, so these are a great staple piece for many laid-back toddler outfits.
Plus, Converse shoes also go great with flowy dresses too.

16. Sims 4 Toddler Bow Sneakers by Dissia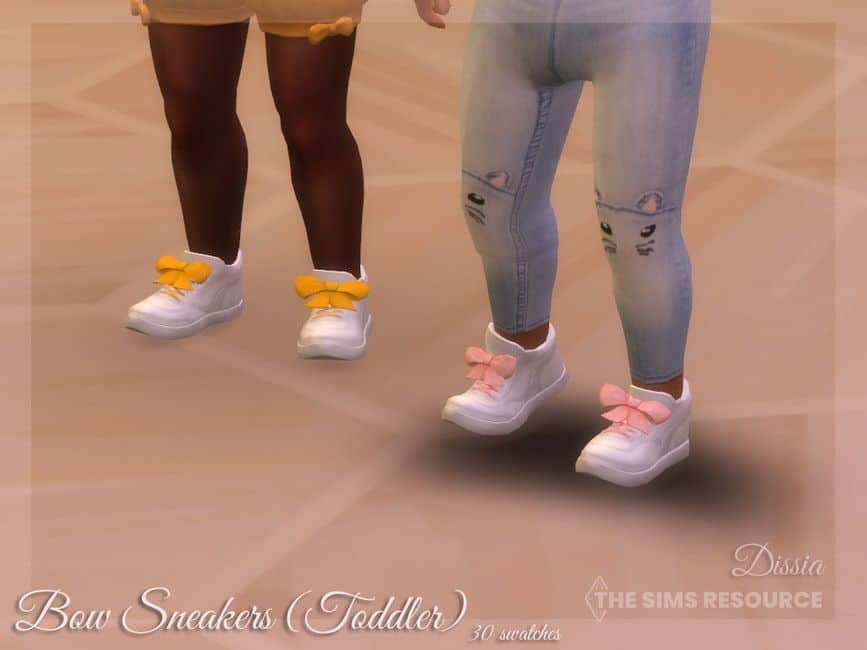 What's cuter than toddler skinny jeans paired with adorable laced sneakers and colorful bows?
Available in 30 swatches, there is a color for every outfit.
These are definitely a fashionable pair of toddler shoes.

17. Puppy Sims 4 Toddler Slippers by Madlen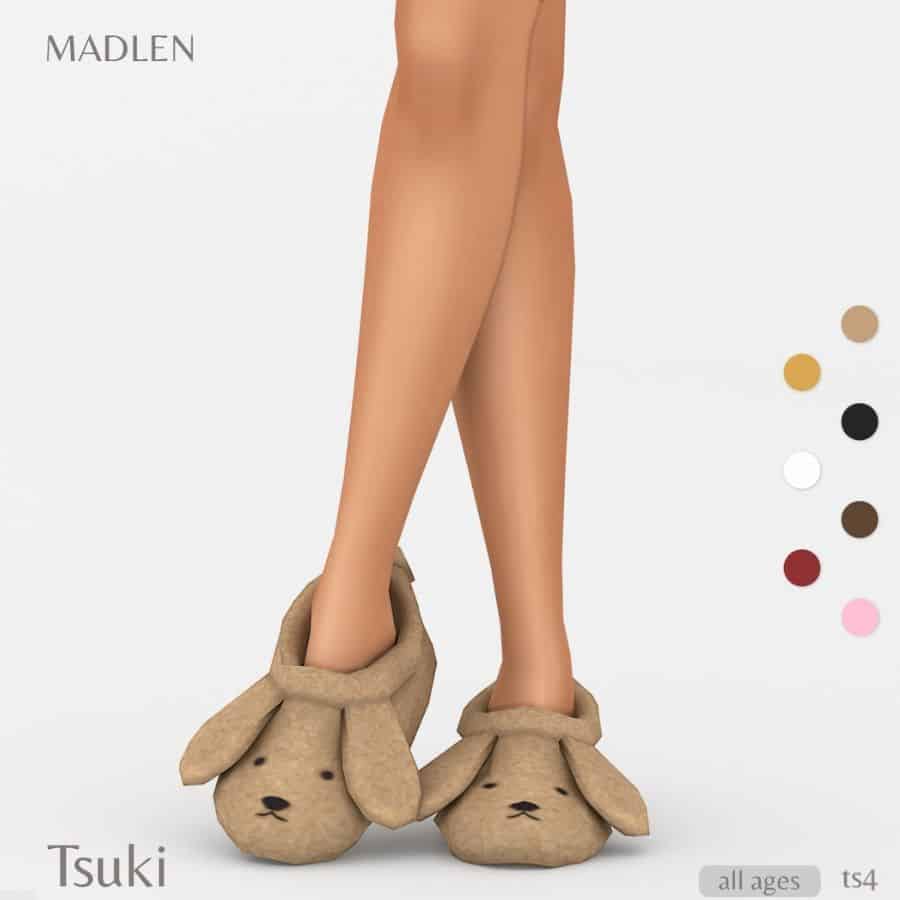 So I found another pair of adorable slippers, but this time in puppy form.
Plus, not only are these available for toddlers, but they are for sims of all ages too.
You can choose from 7 different swatches.

18. Sims 4 Toddler Cross Trainers by Onyx Sims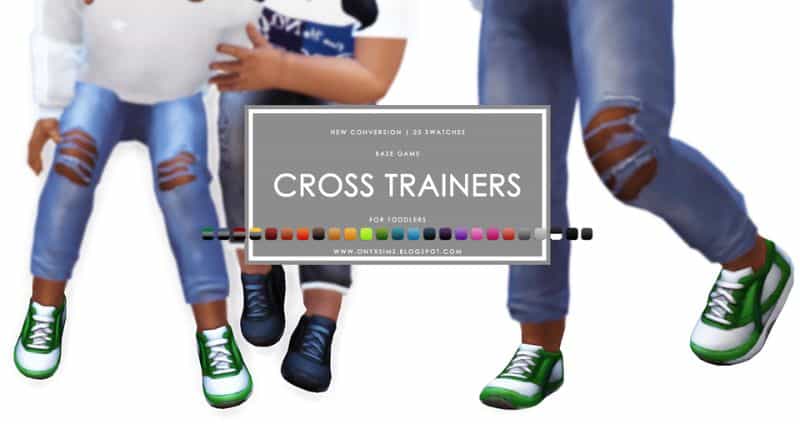 I found these stylish toddler cross trainers perfect for those active toddlers who love running around.
With 25 swatches, you are bound to find the perfect color for every outfit of the week.

19. Female Sims 4 Toddler Trainers by OranosTR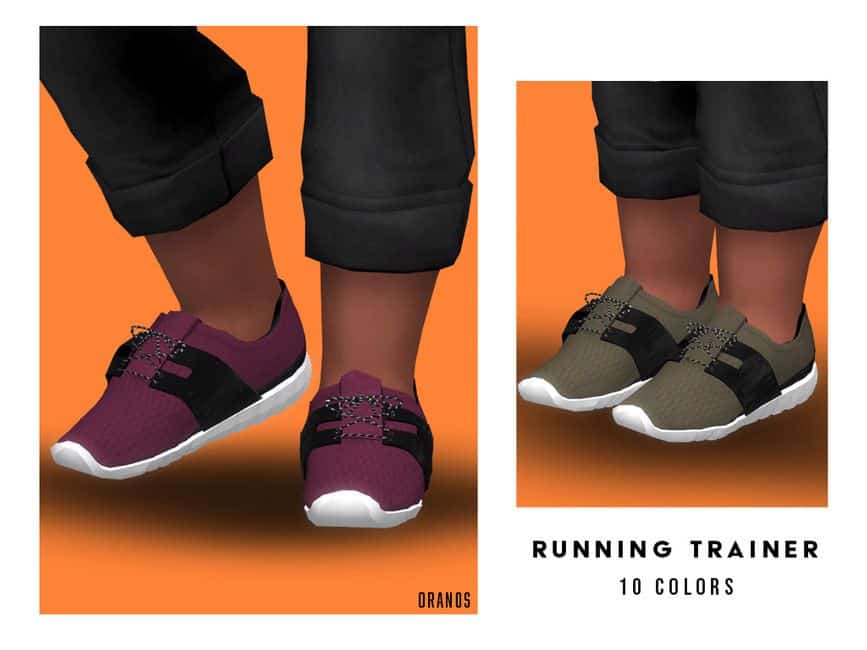 These female toddler trainers by OranosTR are casual yet fashionable enough for a more put-together look.
Pair with some solid color pants and a sweater for a more preppy toddler look.
These sneakers are available in 10 swatches.

20. Toddler Bat CC Slippers by Dissia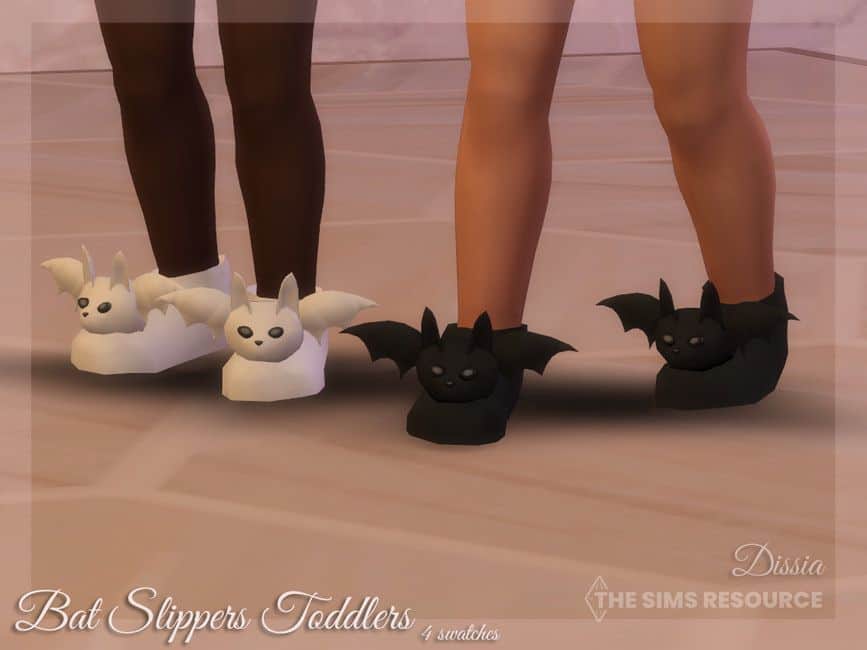 OK ok, these are the last slippers, I promise, but who could resist these sims 4 bat-shaped toddler cc slippers?
These toddler slippers are available in 4 colors, and you can also find the link to the kid's version on the Recommended tab.

21. Sims 4 Toddler Snit Booties by Onyx Sims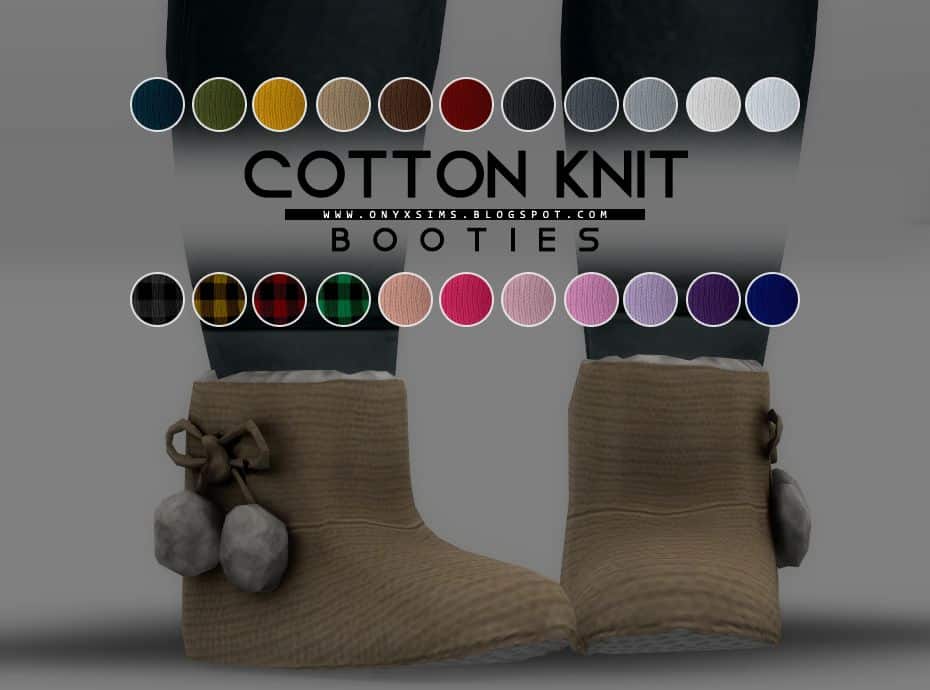 With ankle-length UGGs making a comeback this year, I quickly snapped up these toddler cotton knit booties.
Available in 22 swatches, there are even some plaid swatches to pick from.

22. Sims 4 Toddler Shoes CC With Bows by RobertaPlobo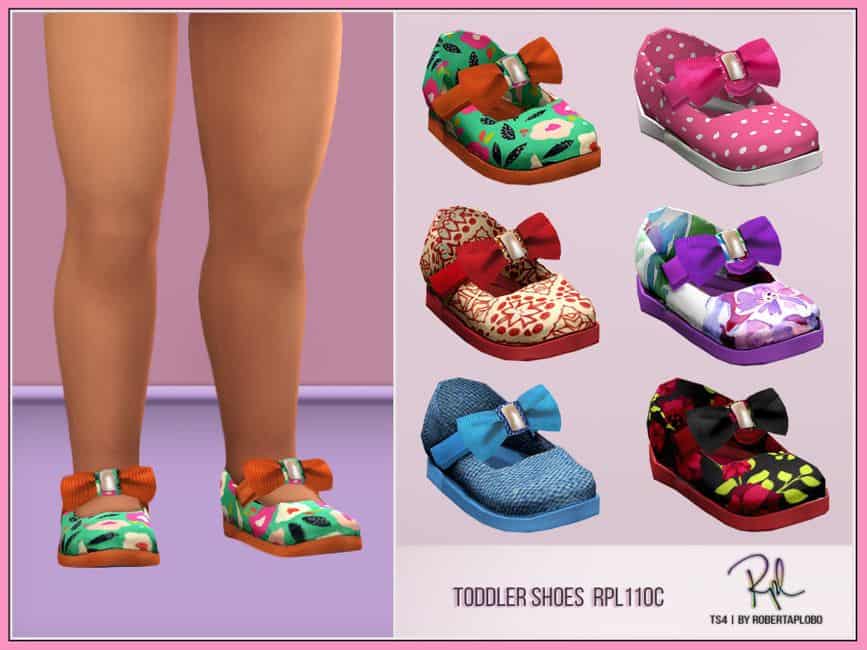 Finishing off this collection of toddler shoes with this adorable set of girls' toddler shoes with bows.
With their diamond embellishments and colorful swatches, these shoes will pair beautifully with your toddler's favorite dresses.
Sims 4 Toddler Shoes CC Final Thoughts
Hopefully, you found new toddler shoes to add to your custom content folder.
Try out some new toddler flats, sneakers, and boots to find your next favorite cc.
If you come across any other interesting pieces for me to check out, feel free to send us a link in the comments below or tag us on Tumblr.
Other Sims 4 Custom Content Articles

And don't forget to share and pin this collection for later!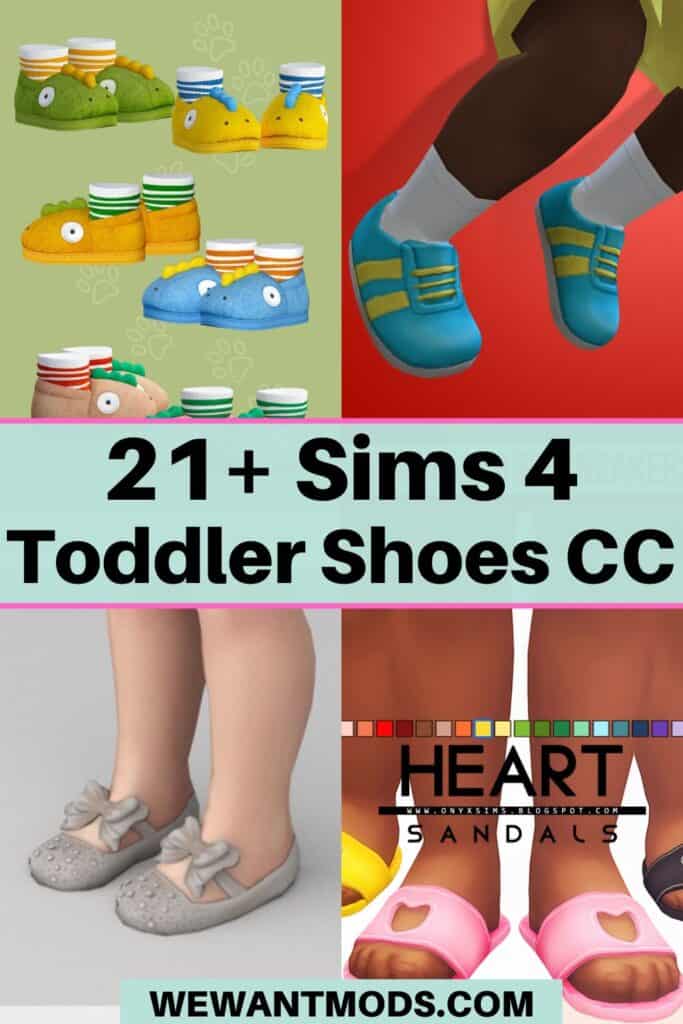 21+ Sims 4 Toddler Shoes CC