33+ Sims 4 Jeans CC: Skinny, Baggy, & Flared Denim Pieces
Get your sims dressed for the day with this collection of stylish sims 4 jeans cc.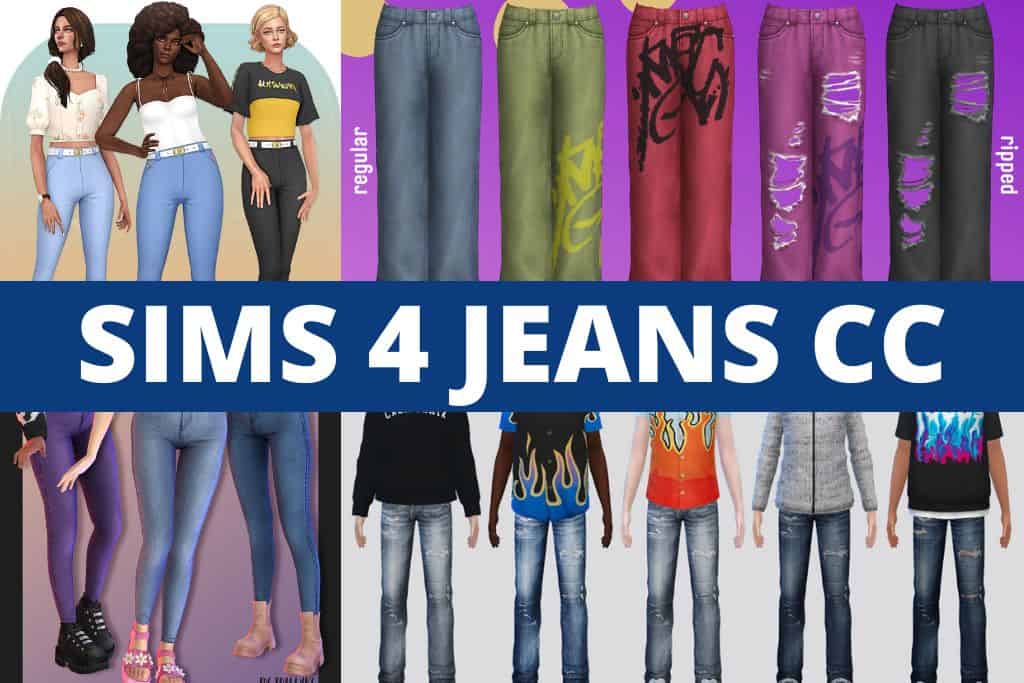 Jeans are a staple in any closet; they are versatile pants you can wear casually or dress up into a stylish or sexy outfit.
But like with most things, various styles of jeans exist, and that applies to custom cosweaterntent jeans, too.
Your sims can go for a more classic jeans fit or keep things comfortable with some baggy jeans or boyfriend's jeans.
Are your sims heading out for a family activity? Get your entire sims family dressed in modern jeans for the occasion.
And what goes better with jeans than a fashionable leather jacket, which you can pick out here?
Modern Sims 4 Jeans CC
Below, we've assembled a mixed collection of female, male, and kids' jeans with different styles from baggy, skinny, fitted, and boyfriend jeans.
1. Eloise Female Belted Jeans by Solistair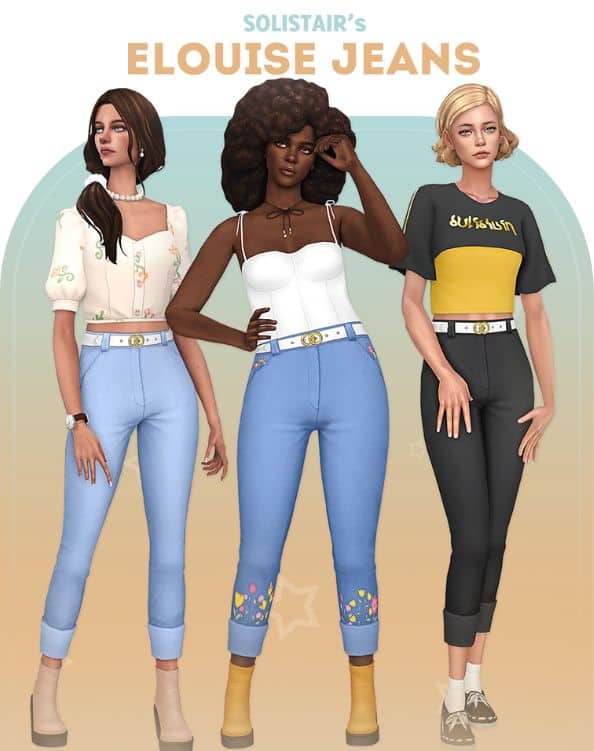 These three-quarter-length jeans are ideal for the spring and summer seasons; they can be worn with shoes, sandals, or ankle boots.
I love the belt detail, and you can also opt for these jeans in a solid swatch or go for deco swatches, which include flowers, leaves, or rhinestones.
There are 13 basic swatches (including various blues, some greys, and black), plus 7 decorative options.

2. Galina Kids Everyday Jeans by Powluna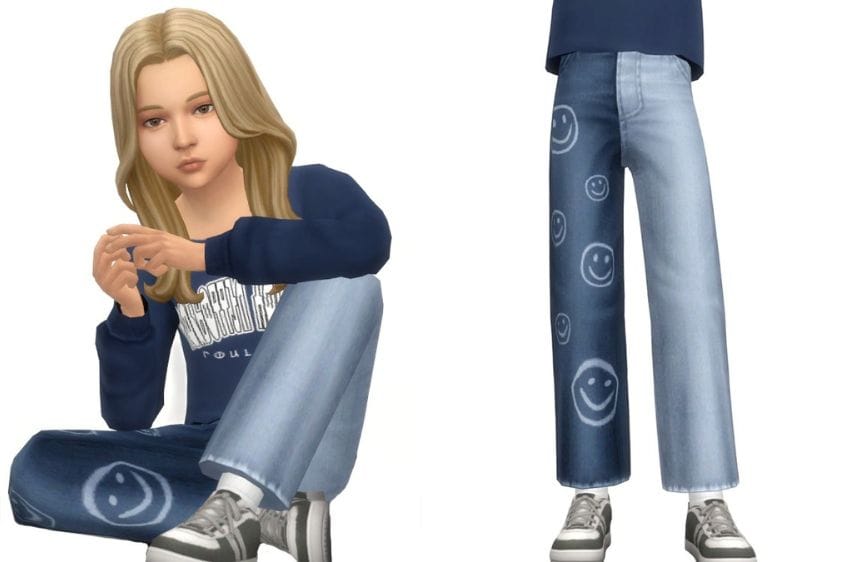 If you grew up playing in jeans and going to cool in your newest blue pair, you'll want to have some jeans options for your sims kids.
These unisex blue jeans have a slightly loose fit towards the lower legs and come in 32 swatches.
The swatches are a mix of solid jean colors and two-tone pants, with a design print on one of the pant legs (stars, flowers, hearts, smiley faces).

3. Boyfriends Sims 4 Jeans CC by Rimings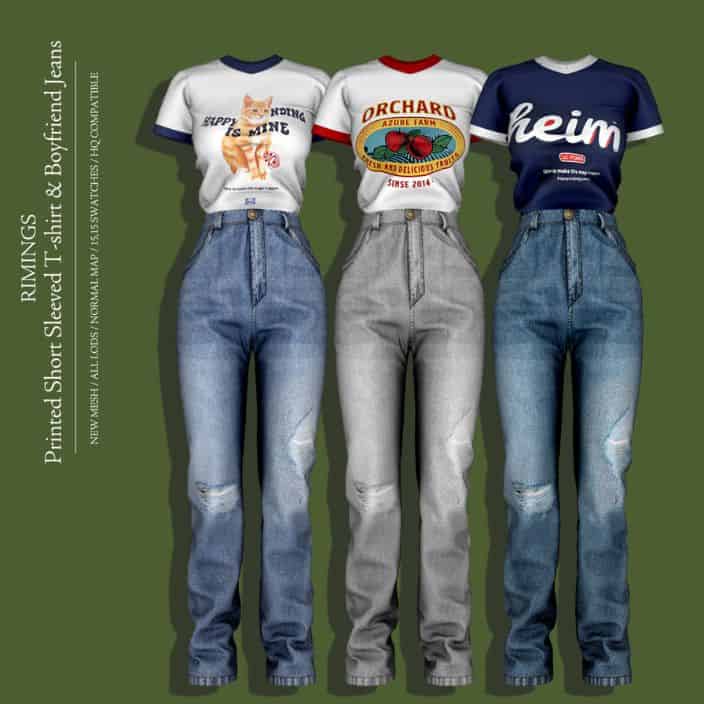 Grab some baggy boyfriend jeans and a printed short-sleeved t-shirt for a casual day around town.
Both cc pieces come in 15 swatches. The jeans have light and dark blue color options and some grey washes.
The t-shirts come in a fun mix of graphics for everyday wear.

4. AxA Denim Jeans Set by Aharris X Ayoshi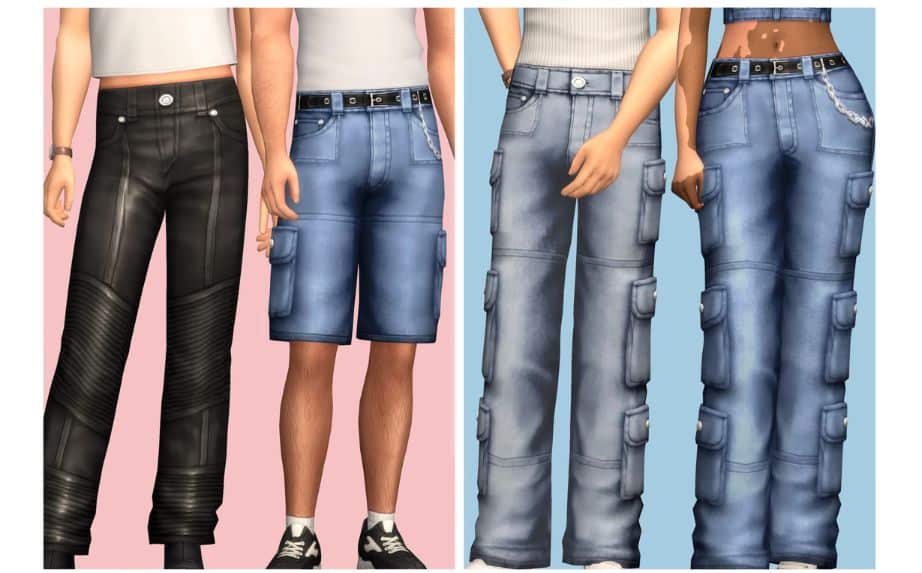 This custom content pack focuses heavily on denim, including some great jeans for our sims and other streetwear pieces to complete their looks.
The Navie and Jake jeans come with large cargo-style pockets down the length of the legs.
These jeans are available in 2 versions; the second style includes a belt and chain.
You can also style your sims in jean shorts, and for your female sims, there are denim legwarmers, a denim bucket hat, jean skirts, and a strapless denim top.
This pack has more pieces to discover, including clothing, hairstyles, and accessories.

5. Denim on Denim Looks by Marsmerizingsims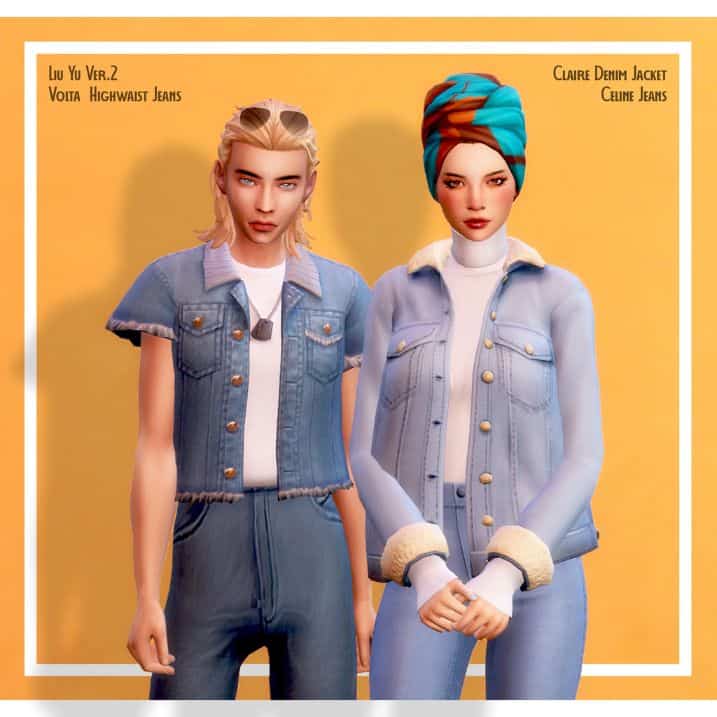 If your sims are looking for a head-to-toe denim look, this denim on denim look has them covered.
For your female sims, there's a pair of jeans and a long-sleeved denim jacket with faux wool along the collar and wrist.
You can get a cropped denim jacket and a t-shirt or the version with the longer shirt underneath for your males.
The male jeans come in two versions; the second includes a handkerchief hanging from the pocket.

6. Aima Graffiti & Ripped Jeans by Jellymoo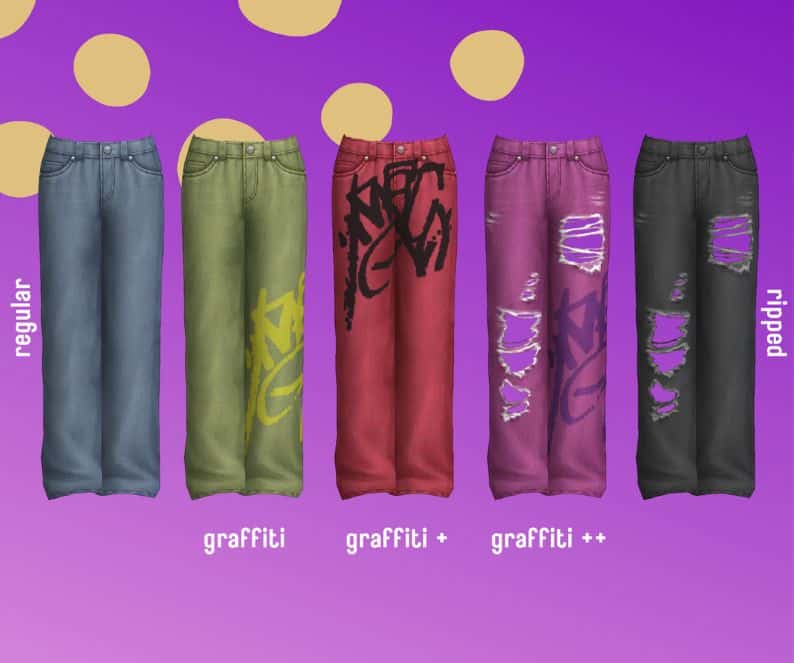 Do you have some edgy sims living in your household?
This set of Aima jeans comes with casual loose-fit jeans, but you can change things up with the graffiti and ripped swatches available.
Whether you want to keep things simple or get the full effect, there are 80 swatches to create the perfect look.

7. Trill Jeans Collection by Nolan-Sims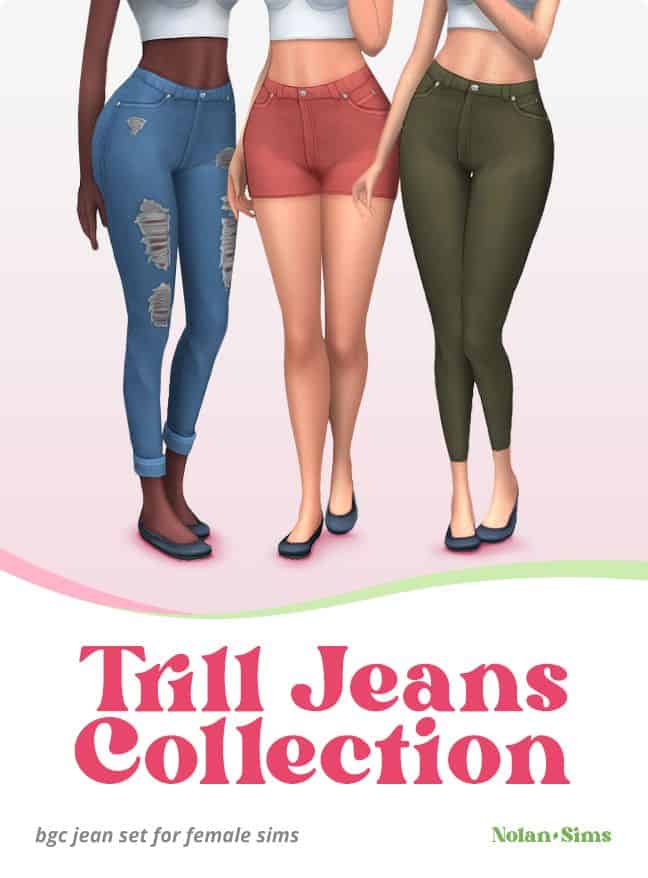 Fill up your sims closet with this jeans collection, including skinny jeans, cuffed jeans, skirts, and shorts.
Multiple download files are available depending on what you need, and you can decide whether you want solid swatches or some extra patterns.

8. Female Denim Clothing Collection by Mossylane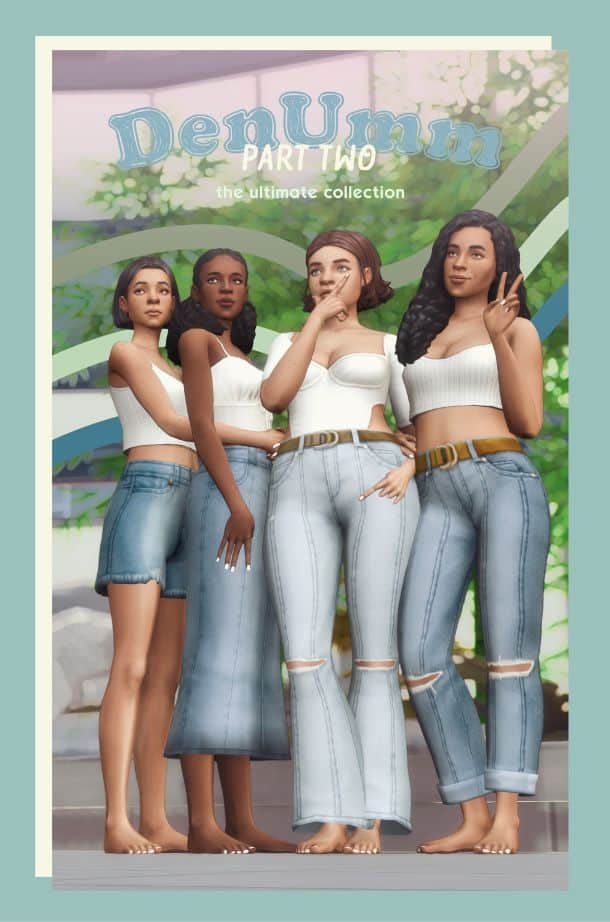 This set of sims 4 jeans includes eight denim pieces for your stylish female sims; 1 denim skirt, 2 shorts, and 5 jeans.
The jeans have a belted and cuffed design, ripped at the knees, and there's a similar pair of flared leg bottoms.
If your sims prefer baggy jeans, there are low-rise and regular pairs of belted jeans, or they can go for the mid-rise string-tied version.

9. Work Hard Skinny Jeans by Trillyke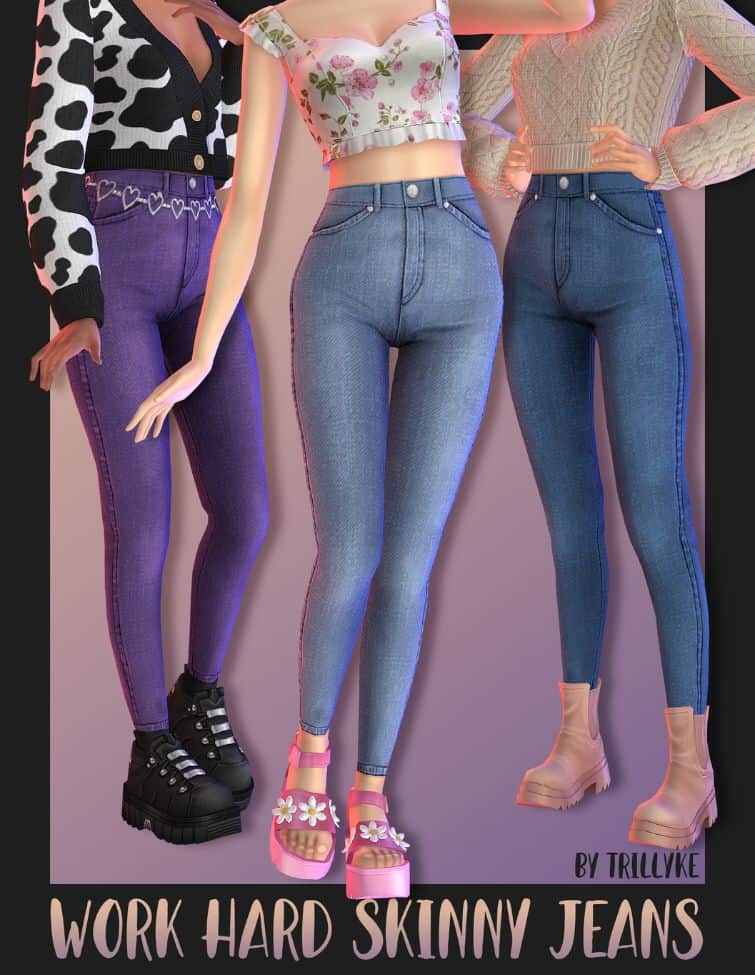 I don't care what anyone says; skinny jeans will forever live in my closet and are a must-have item.
This custom content comes with one pair of classic skinny jeans in 20 swatches, including shades of blues and more vibrant color options like pink.

10. Boys Rayan Denim Jeans by McLayneSims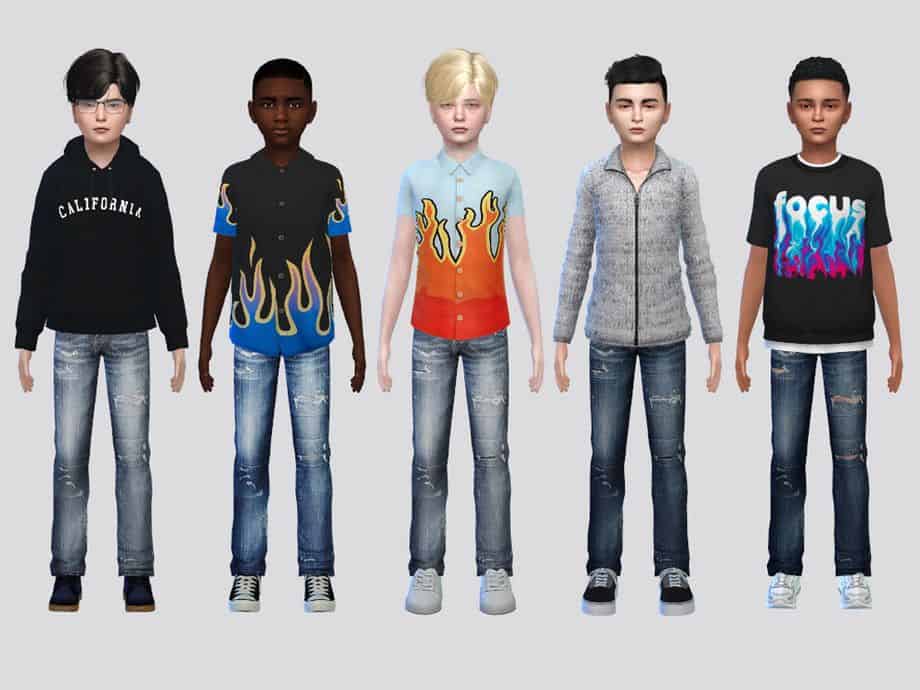 Get your younger sims dressed for the school in these Rayan denim jeans.
These boys' jeans come in 6 swatches and have a great distressed look to them throughout the pants, insuring your sims will be the coolest kids around town.

11. Female Sims Lena Jean Outfit by Kumikya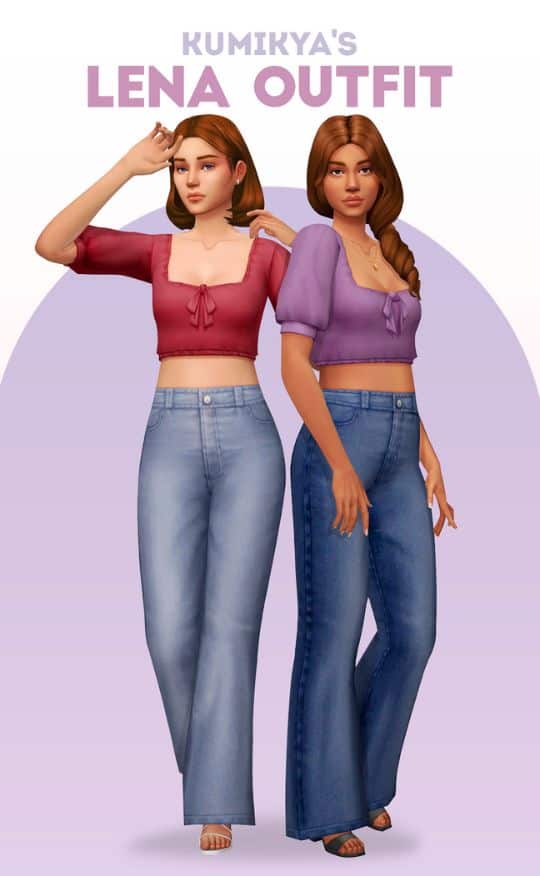 This two-piece outfit is an excellent option for your sims heading on a date or a casual stroll in the park.
The jeans have a loose, slightly flared look, and they pair great with the puff-sleeve crop top, which has a sweet bow detail at the front.
For a date, let your sims slip into some heels or grab sneakers for a casual outing.

12. Flared Jeans With Stars by Guemara Sims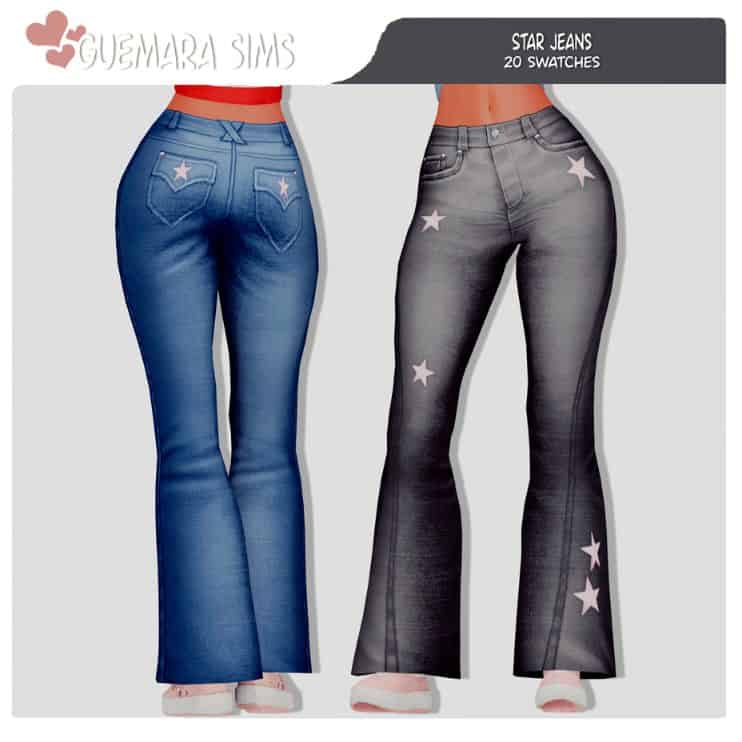 While it's been a while since I've worn a good pair of flare jeans, this adorable pair with star-shaped pink details was too cute to pass up for my sims wardrobe.
These jeans will pair great with your favorite crop tops and then come in 20 colors so you can find the perfect shade.

13. Male Blair Denim Jeans CC by McLayneSims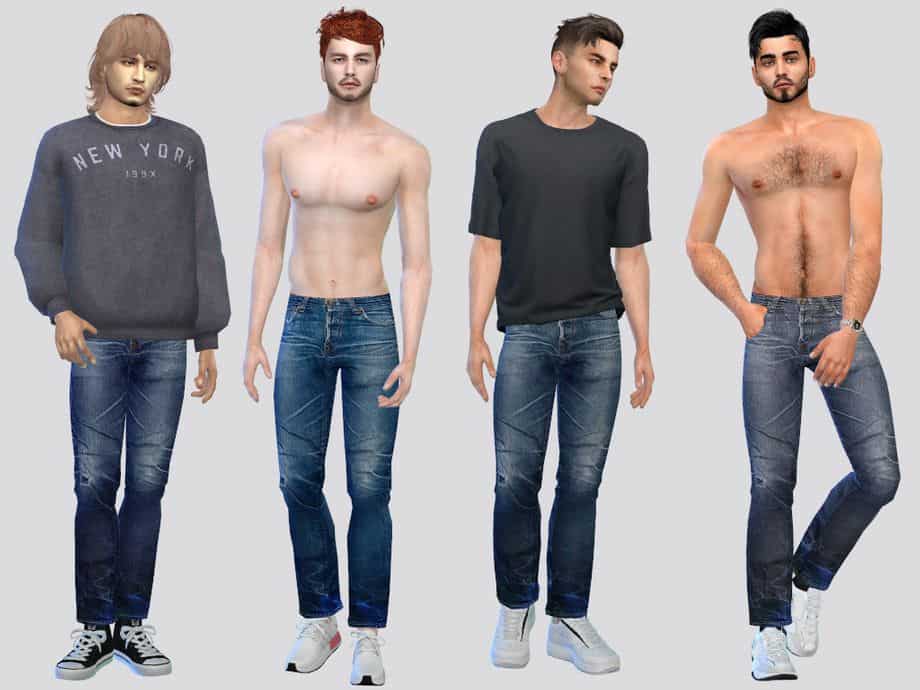 These sims 4 jeans cc are a great everyday option for your male sims to enjoy year-round.
The jeans have an interesting color wash, with the color going darker towards the bottom, and there are some nice streaks of blue near the base.
There are 6 swatches, including blues and some greyer options.

14. Golde Sims 4 Jeans CC by Solistair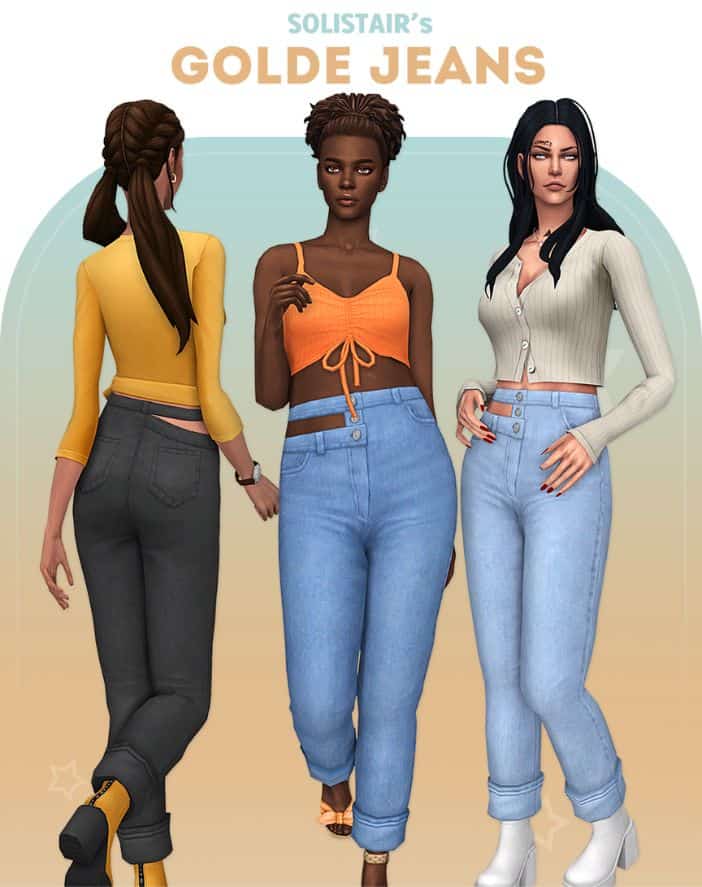 These Golde design jeans are one of my favorites; I especially love the cheeky pop of skin between the second and third buttons, which wraps around the back, too.
These jeans are also folded at the hems, making wearing them with sandals or cute short boots a nice option.
There are 10 denim swatches to try out.

15. Vintage Flared Denim Jeans by Sentate X Trillyke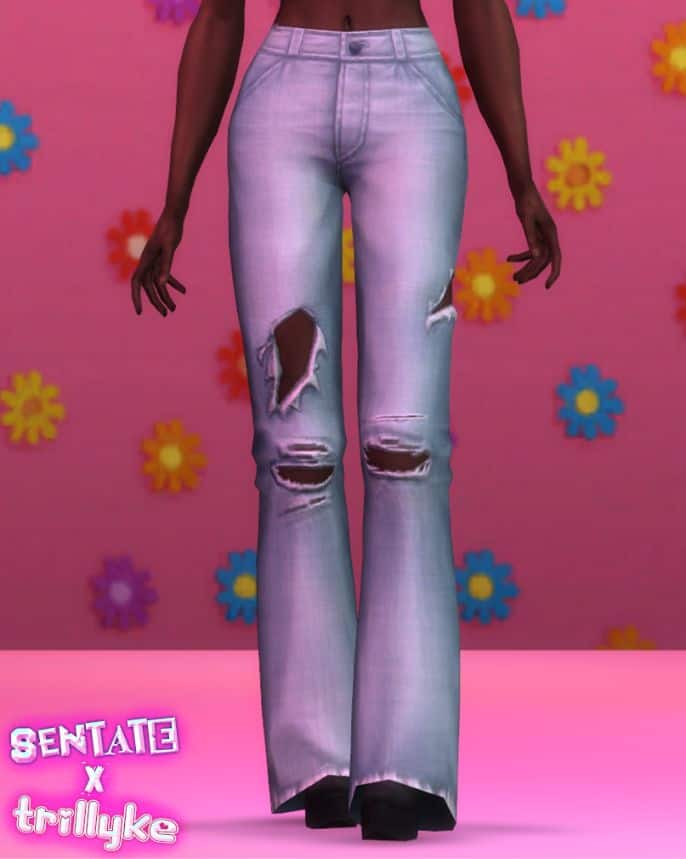 If you are into ripped pants, then you'll love these vintages flared and ripped jeans, which come with deep slits on the knees and thigh area.
These jeans are available in 30 swatches, including some cute patterns, and the pink flower swatch is perfect for adding to your 70s custom content folder.

16. Print Denim Jeans for Sims 4 by Emmi Bouquet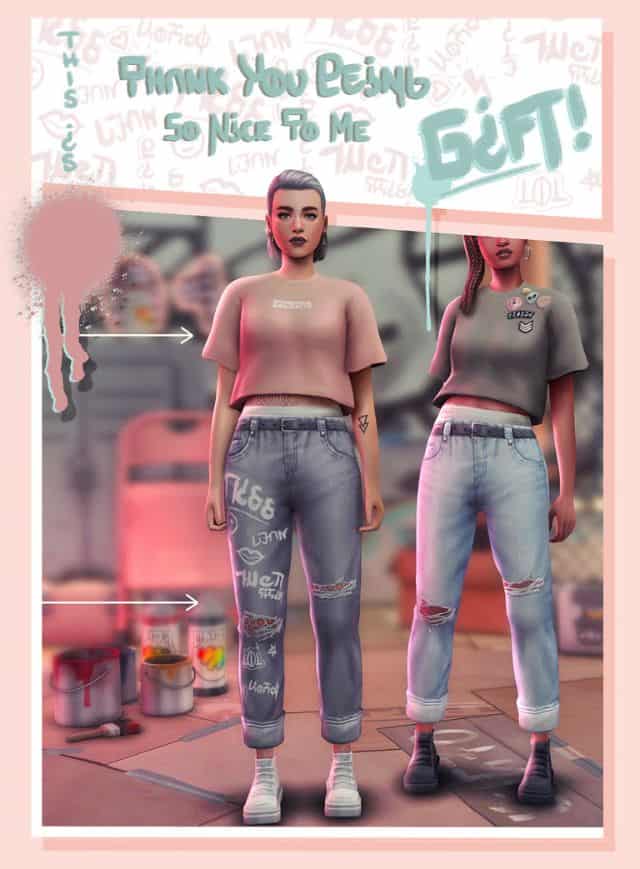 Let your sims express their originality with this pair of sims 4 jeans cc.
These rolled jeans have an excellent streetwear vibe, especially the swatches with the print details.
You will also notice that your sims tighty-whities are sticking out from the top of the jeans.
There are 24 swatches (tears and without) and 8 more, including print and tear options.
You can also get the T-shirt for your sims.

17. Sims 4 Heatwave Jeans by Jellymoo
When I first came across these sims 4 jeans cc, I wasn't sure if they would look as epic as the image, but they have those fantastic Heat Wave colors.
The color vibrancy in these jeans will make them the statement piece in an outfit you put together.
There are 10 swatches, playing up the different heat wave colors, and these jeans will look great with sneakers, a simple t-shirt, or a crop top.

18. Nomad Jeans and Top Set by TwistedCat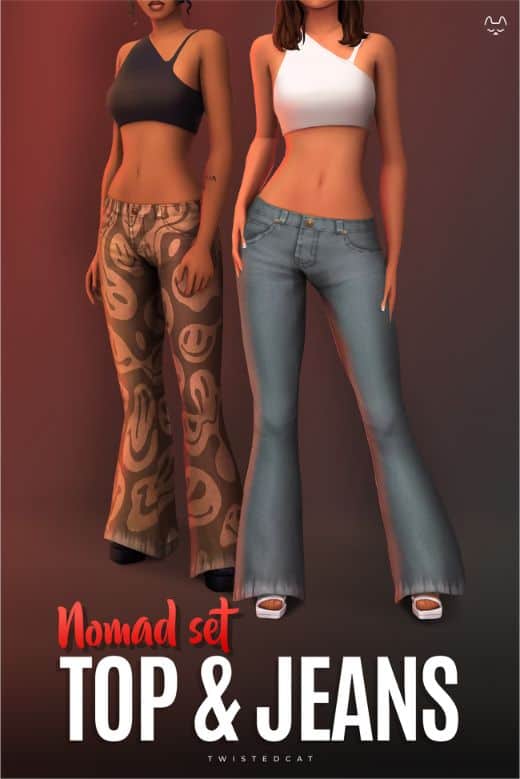 Get your sims ready for the day with this asymmetrical crop top and low-rise flared jeans.
The top comes in 15 swatches, while the jeans have 28 swatches, including solids and two-tone jeans with swirling smiley-face pattern patterns.

19. Male Fitted Rodrigo Jeans by Plumbobs n Fries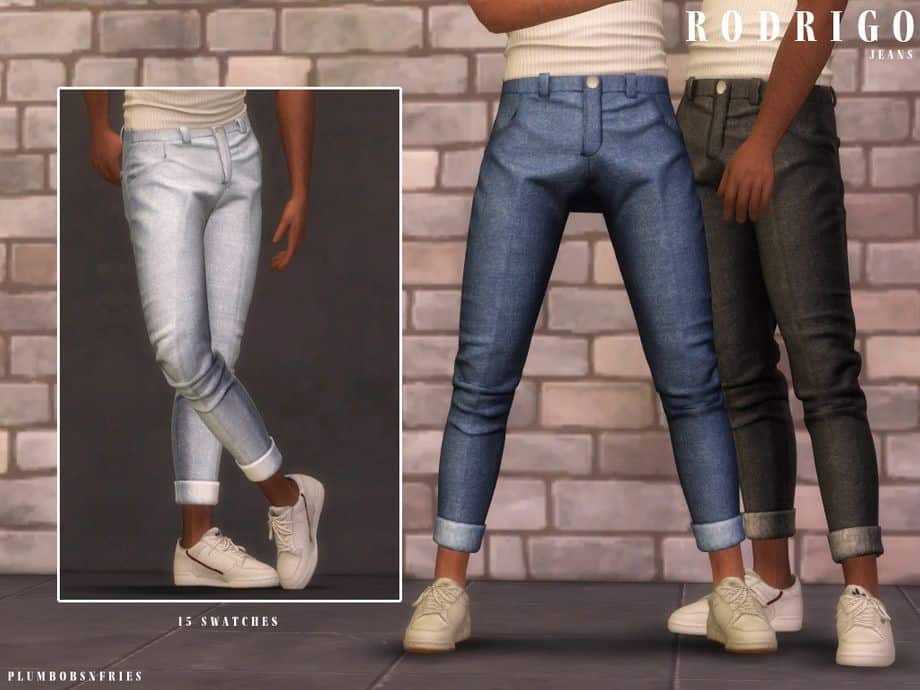 If you have some preppy-style male sims in your household, they will love this rolled-hem, three-quarter-length jean pants.
The jeans are casual and have a more dressy look with the small pant line down the center.
These jeans will look great with some modern sneakers and a short-sleeved shirt.

20. Child Strawberry Jeans Recolor by AlienGirl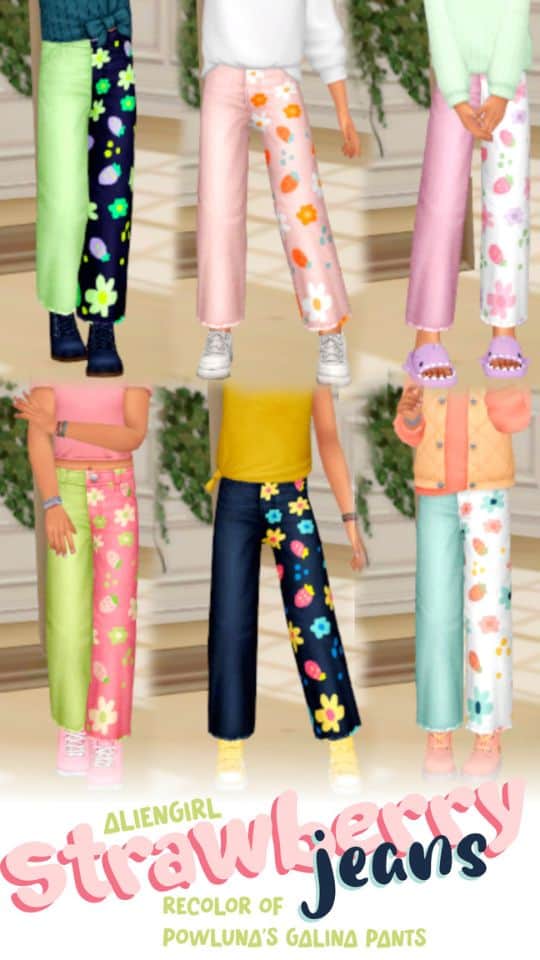 These adorable strawberry recolor jeans are perfect for the spring and summer seasons.
These jeans are recolors of Powluna's Galina pants and are deliciously cute.
There are an impressive 87 swatches, all of which have solid and strawberry-design pants legs.

21. Cropped Belted Blue Jeans by Saliwa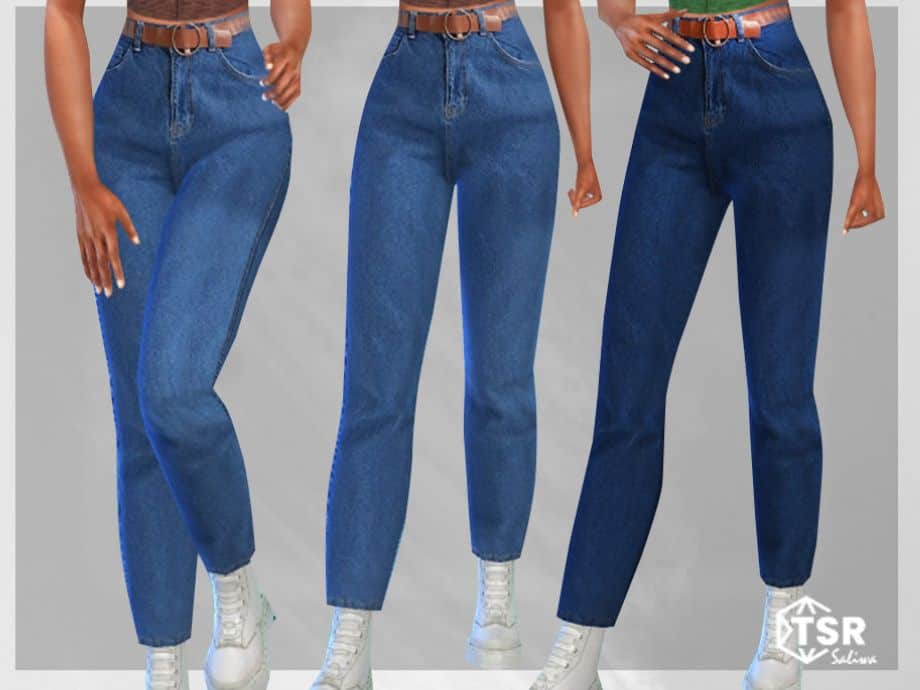 These jeans remind me of jean pants from the 80s with their high-waisted belted design.
If you want to go full-blow 80s, pair these jeans with a comfy sweater and white sneakers.
The jeans are available in 2 swatches, two darker-tone jeans.

22. Belted Half-Bleached Jeans by Kumikya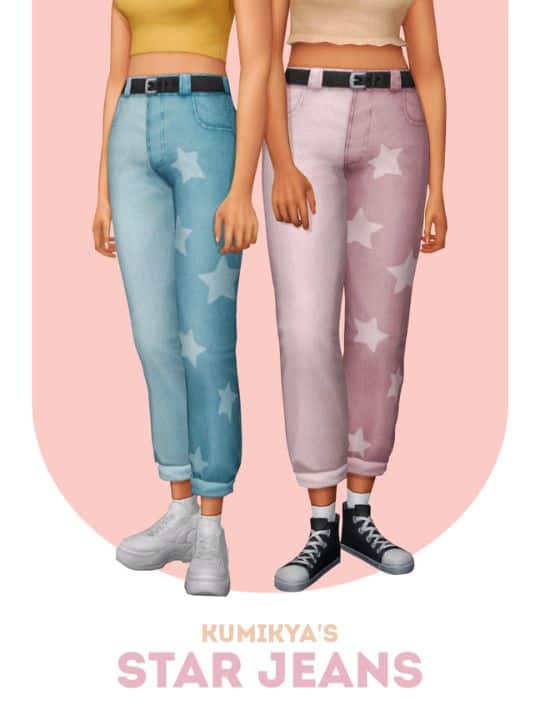 I love it when social media trends trickle down into other areas of our lives, and a bleaching TikTok video inspired these half-bleached jeans.
There are 12 swatches, all half-bleached with cute, bleached stars throughout one pant leg.
The jeans are rolled at the hem and look great with Converse-style sneakers.

23. Maddy Loose Fit Female Jeans by Jellymoo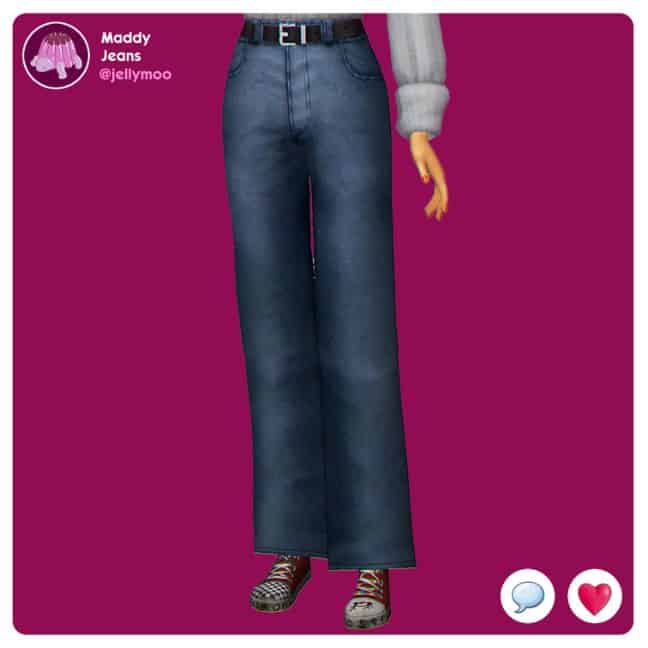 This senior year collection comes with different clothing pieces and 3 different hairs.
The clothing includes these casual, loose-fit belted pants, and although this article is focused on jean pants, you'll probably want the denim shorts, too.

24. Belted Jeans With Flower Prints by Miiko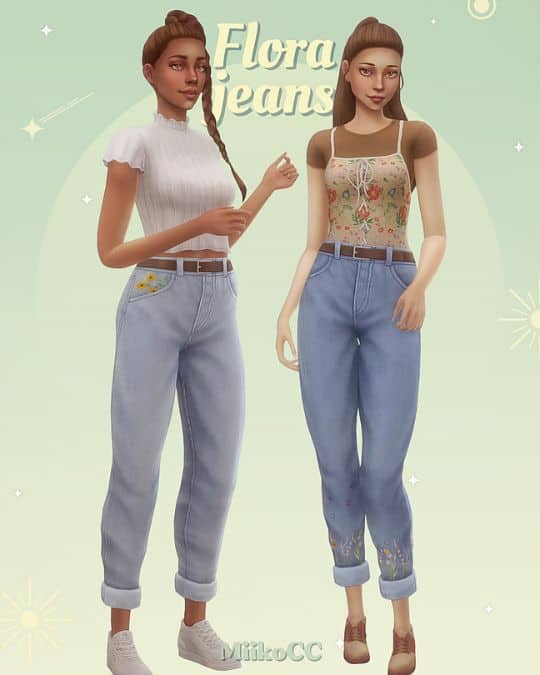 These high-waisted jeans with sweet floral prints are perfect for the spring or summer seasons.
The jeans are rolled at the hem and have flower prints on the front and back pockets.
There is also the option of flower prints and butterflies near the hem of the pants, or you can choose solid flower-free jeans.

25. Baggy Low Waist Denim Jeans by Salad Tomatoes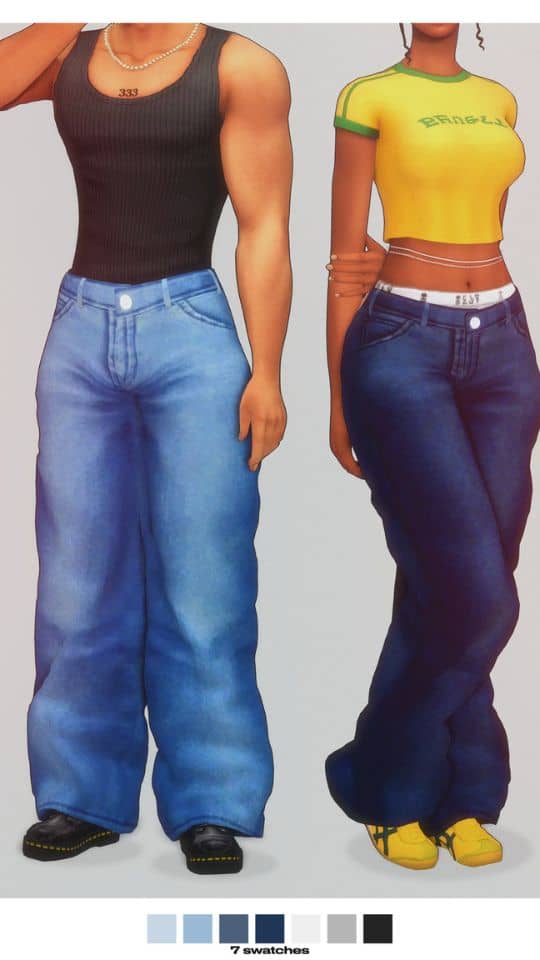 These low-waist, loose, baggy denim jeans were recolored into a more maxis-match style and come in 7 swatches.
The jeans are casual and work well with a fitted t-shirt or cropped sweater.
Style these jeans with a pair of vibrant sneakers for an extra pop of color.

26. Kids Patchwork Jeans by Powluna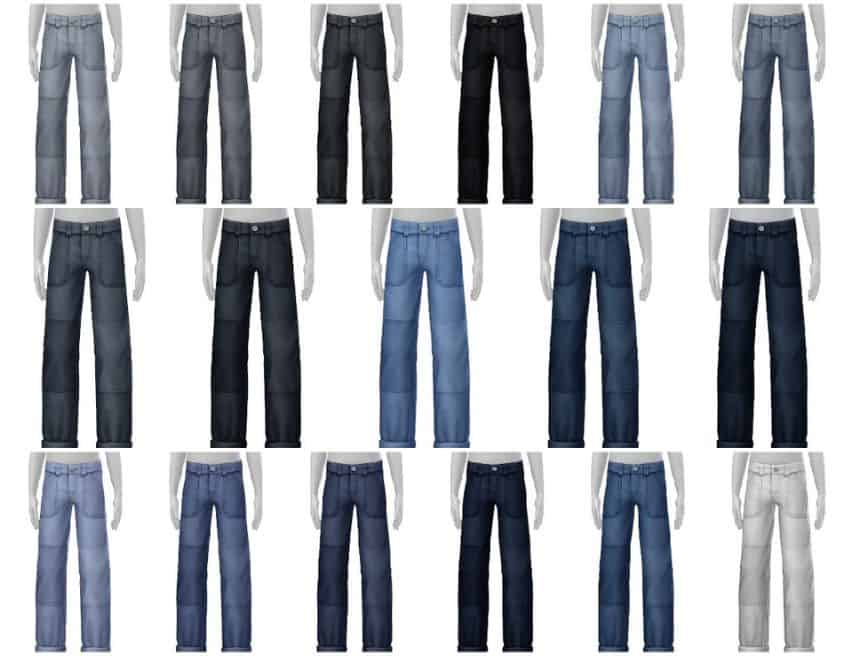 This kid's clothing set includes different pieces for your younger sims, but let's focus on the jeans.
These kids' jeans have a patchwork look with extra stitching and mixed denim tones.
There are 15 denim swatches to try out.

27. N2 Rolled Blue Jeans by ThisIsThem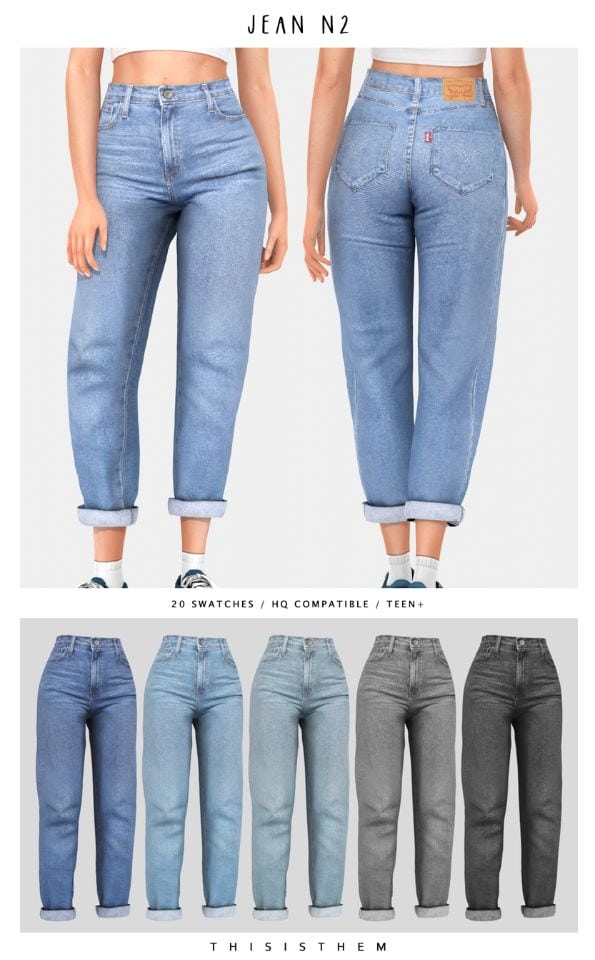 These casual jeans look like a well-fitted pair of three-quarter-length boyfriend jeans.
Rolled at the hem, these jeans are available in 2 swatches and will look effortless with a cozy sweatshirt or fitted top.

28. Play Hard Patchwork Jeans by Trillyke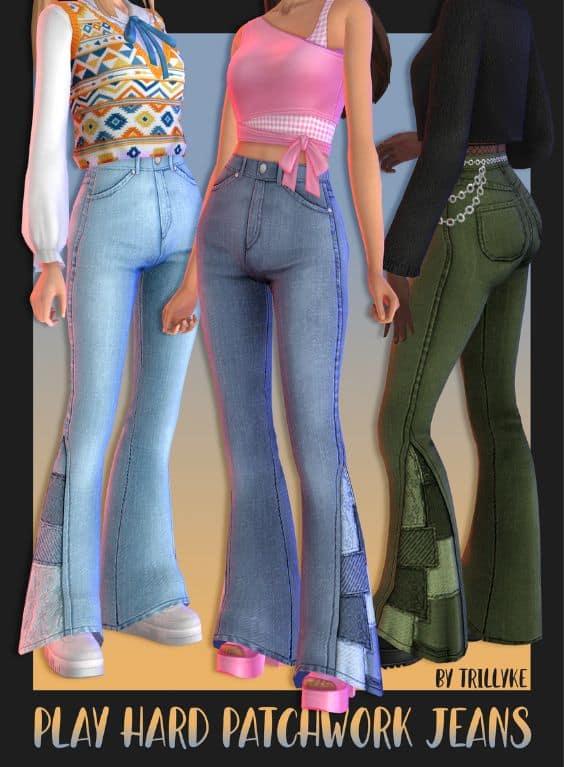 When high-waisted jeans and patchwork blend, you get these cute flared jeans for your female sims.
The jeans come in 20 swatches, which contain a mix of denim colors and fun, vibrant options like red, green, yellow, pink, and purple.

29. Casual Kids Everyday Jeans by Powluna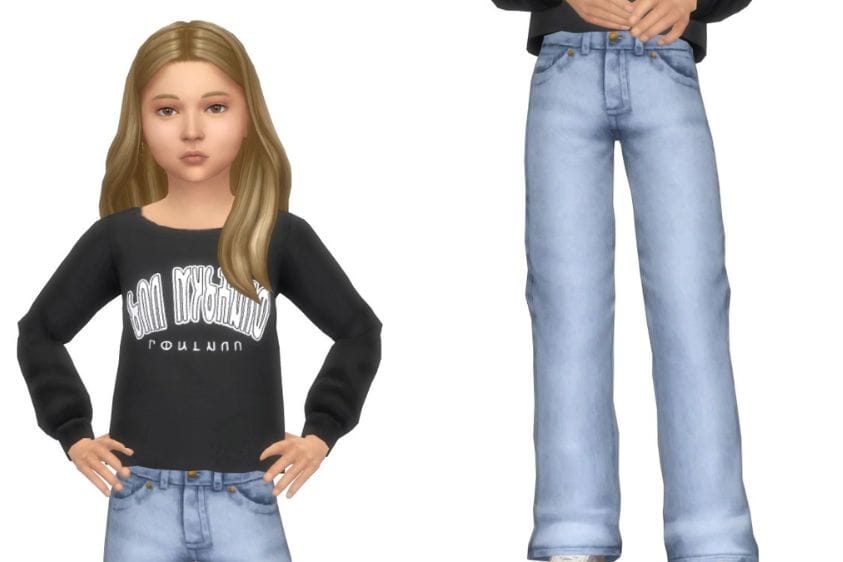 Get your child sims dressed in a breeze with this long-sleeve graphic top and casual, classic blue jeans.
There are 16 jeans swatches, all denim colors of blues, blacks, and greys. While the top comes with 24 options.

30. I Love Denim Skinny Jeans by Nords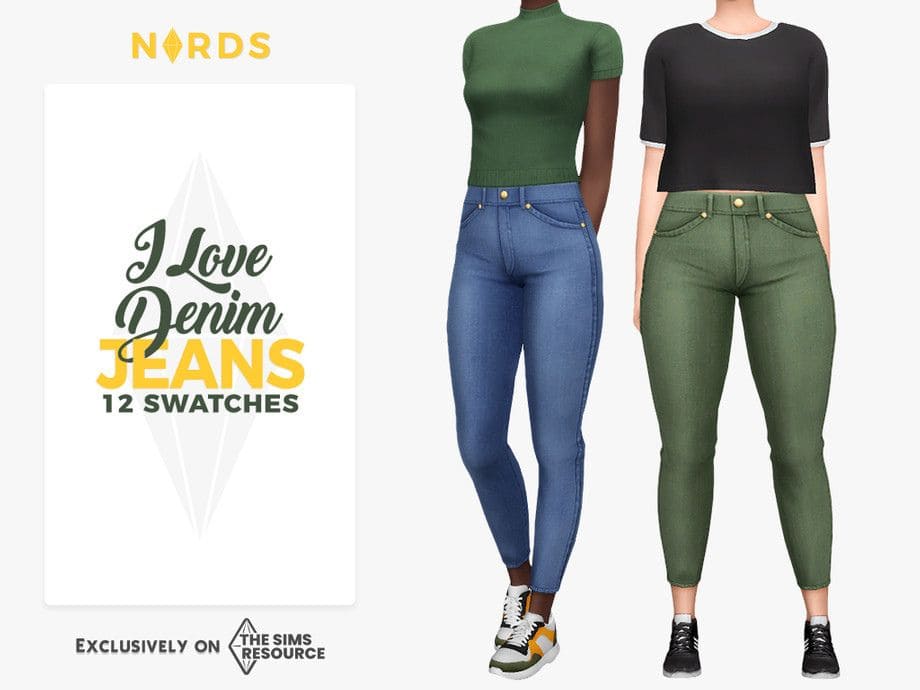 These jeans remind me of some skinny stretch jeans I used to own and still wished I had in my closet.
The jeans have a classic skinny cut and will look great with sneakers or heels paired with your new favorite top.

31. Sims 4 Baggy Boyfriends Jeans by Trillyke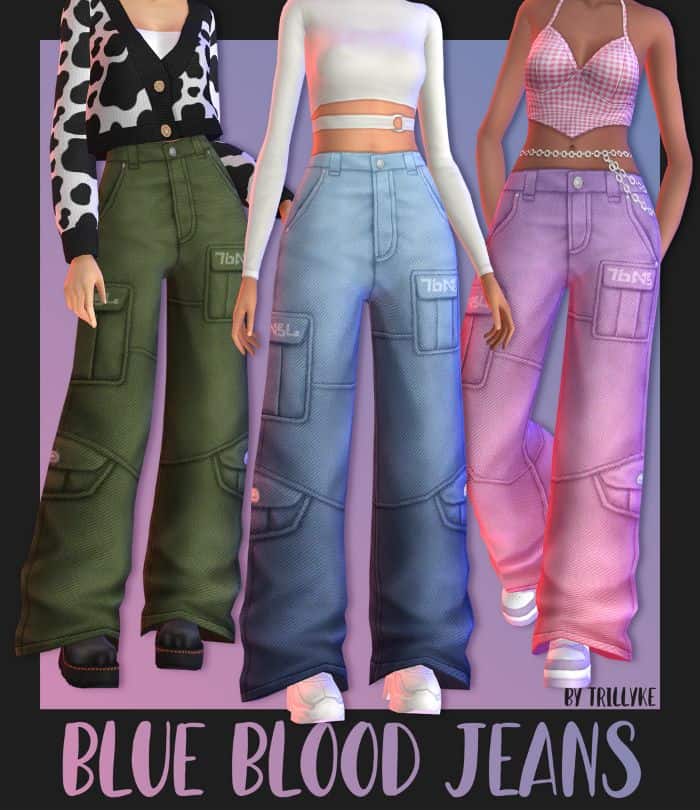 Boyfriend jeans inspire these Y2K jeans, although they also take inspiration from cargo pants.
With their loose fit and plentiful pockets, these jeans are ideal for everyday wear around town.
Your sims can choose between the low-rise or high-waisted version, and I also love the ombre color swatches.

32. Kids High Waisted Skinny Jeans by Georgiaglm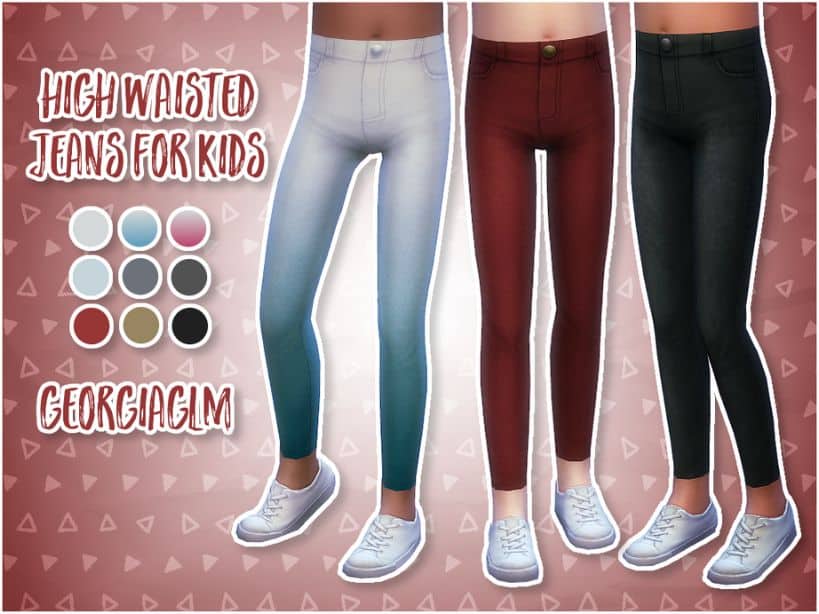 Snap up these high-waisted jeans for your sims kids.
These skinny jeans are a kid's version of the City Living jeans, and they come in 9 swatches.
You will find these jeans in the tights section.

33. Alizee Baggy Denim Jeans by Blue Craving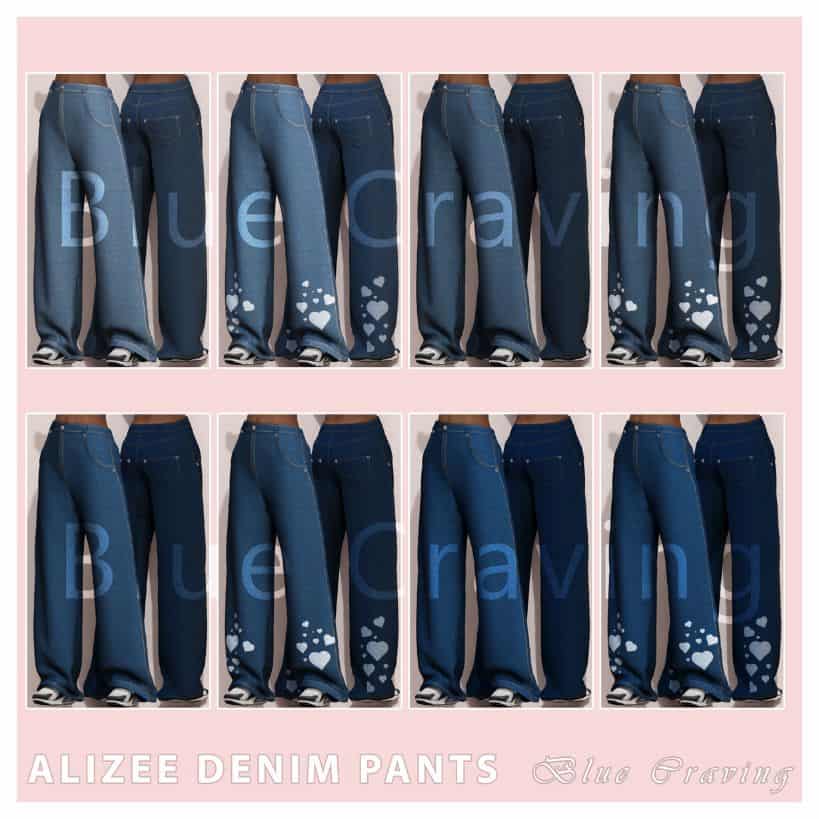 Add some heart details to your sims wardrobe with these baggy Alizee denim pants.
These low-rise jeans come in solid swatches or with a heart pattern on the hem of the pants.
There is a mix of lighter and darker blue denim swatches.

34. Collection of Embroidered Jeans by Marsmerizingsims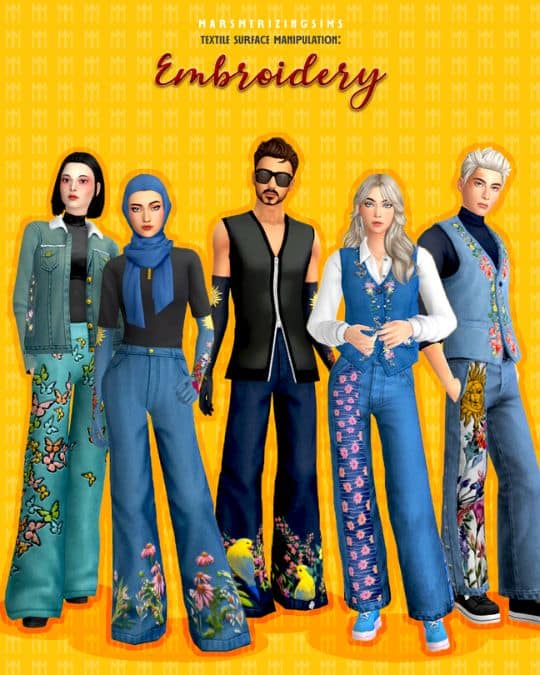 If you love embroidery, you'll love this collection of embroidered clothes.
The collection includes different styles of flared embroidered jeans, jean vests, and gloves.
From flowers to butterflies and birds, the embroidery details are truly unique and create something special for your sims.
Sims 4 Jeans CC: Final Thoughts
With this collection of sims 4 jeans cc, we hope you found some new jean designs to style your sims for different events.
From classic and skinny jeans to the looser boyfriend fit, plenty of denim options are available for each preference.
And if your sims are ready to be adventurous, they can try out some 70s-style jeans or embroidered designs.
If you have any questions or suggestions, feel free to leave us a comment below or tag us on Tumblr.
And don't forget to share and save this pin for later!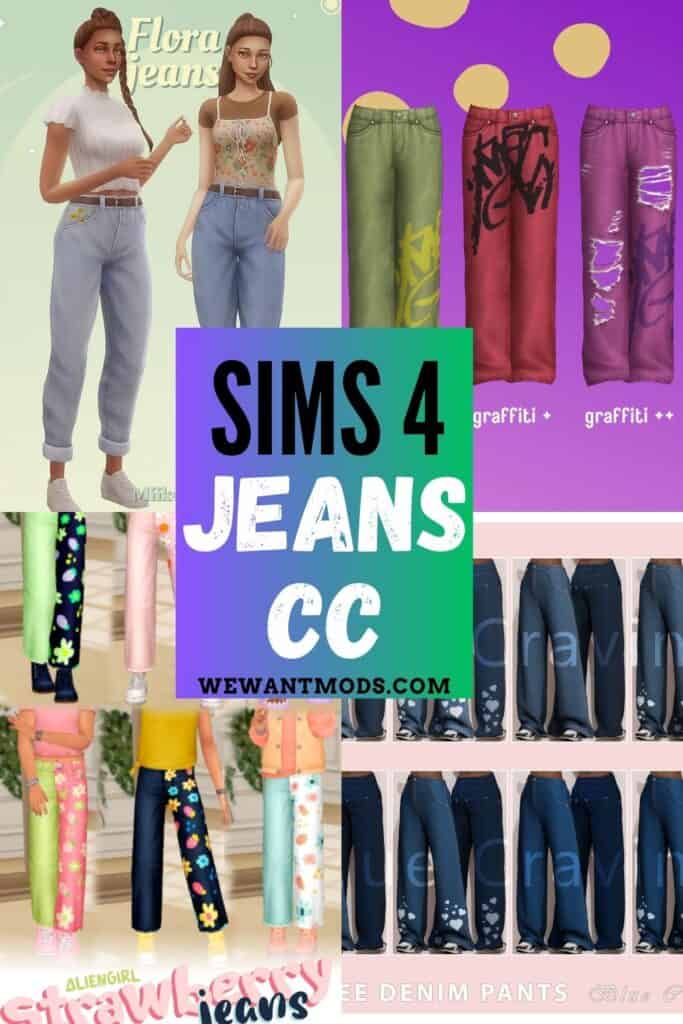 Other Sims 4 Custom Content Lists
33+ Sims 4 Jeans CC: Skinny, Baggy, & Flared Denim Pieces