23+ Sims 4 Swimsuit CC: Step Into Summer
Get ready for your sim's summer vacation with this sims 4 swimsuit cc collection.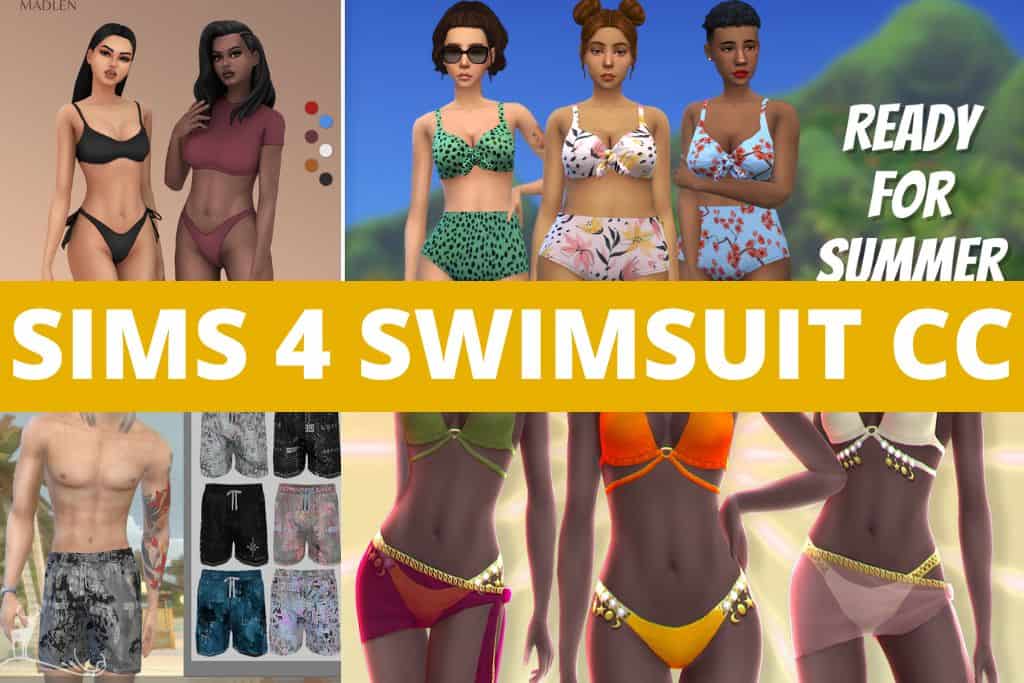 Who doesn't love summer?
Living in a cold climate, I get to enjoy the summer season through my sims.
Swimsuits are a must whether your sims enjoy the summer or vacationing in Sulani with the Island Living EP.
Fill your cc folder with a mix of sexy or sporty swimsuit designs for every occasion.
Now let's get shopping!
Disclaimer: The following mods are neither endorsed nor affiliated with The Sims, Maxis, or Electronic Arts. Any use of mods (custom content or game mods) should be done with caution and with the knowledge that there may be risks.
Best Sims 4 Swimsuit CC
I've included a mix of female one-piece swimsuits, bikinis, male board shorts, and classic swimsuits.
1. Shark Sims 4 Swimsuit CC by Saruin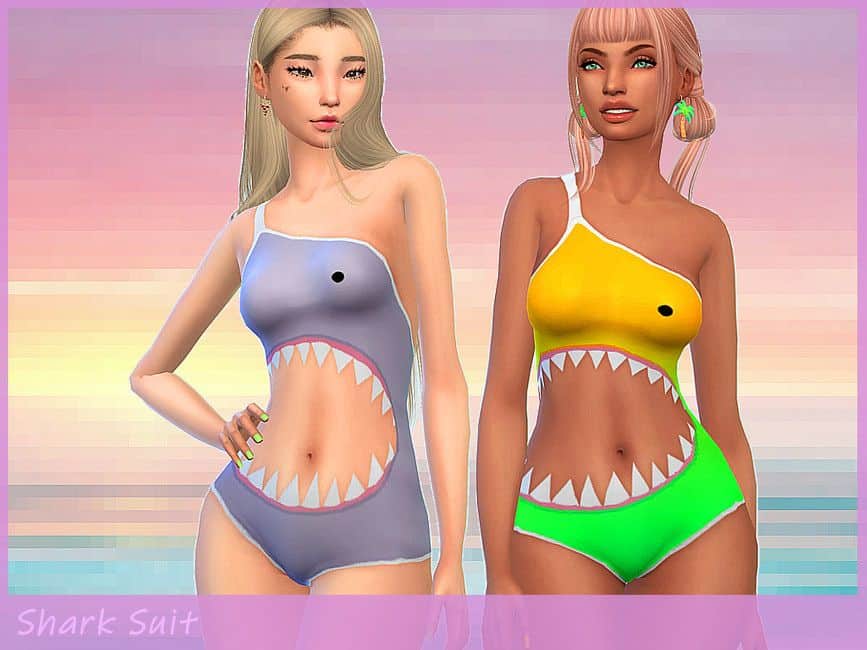 Starting with something fun and unique is this shark design swimsuit.
This one-shoulder one-piece swimsuit has the shark's eye over the bust.
And it almost looks like a shark took a scary bite out of the center of the suit.

2. Sims 4 Two-Piece Swimwear by Busra-tr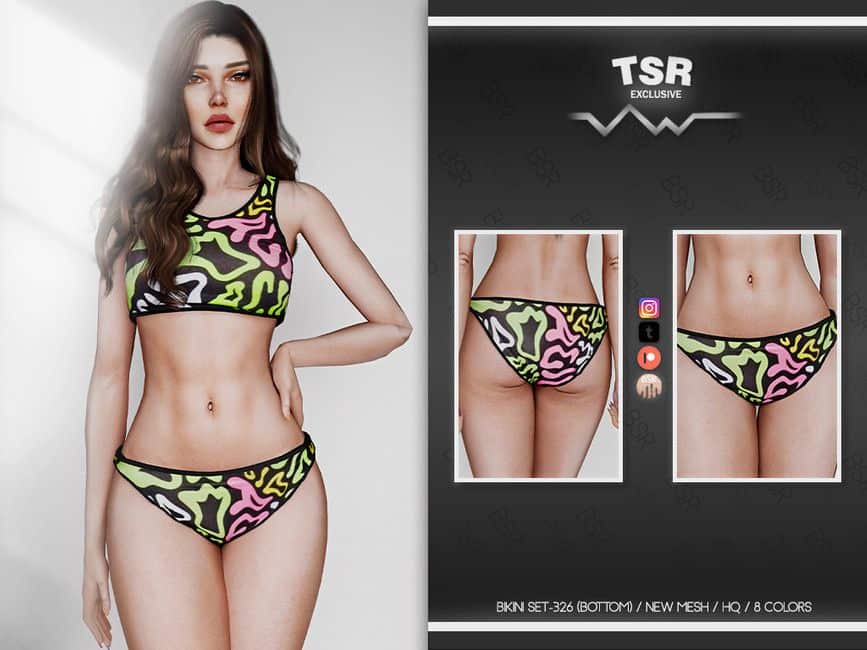 This bikini set is one of my favorites, from the fun 80s pattern to the sports bra-like bikini top.
The bikini set is almost full coverage, with just a little peaky behind showing off.
This beach-ready swimsuit comes in 8 swatches.

3. Bowsi Swimsuit Set for Sims 4 by Dissia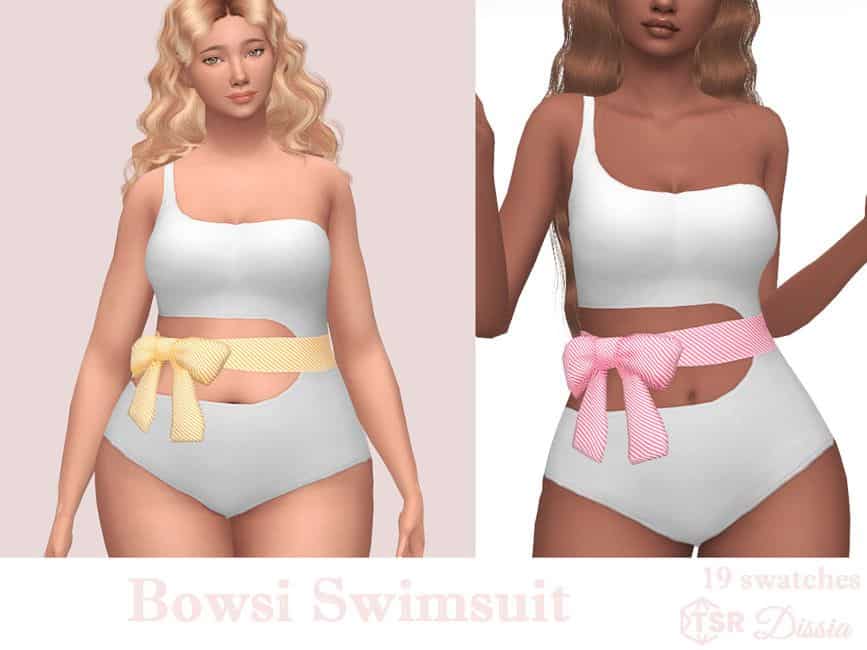 This one-piece swimsuit will show off your sims curves with a large side-part cutout.
Add a striped patterned bow, and this suit adds a cute touch to an otherwise modern design.
This design comes in 19 swatches for your sims.

4. Sims 4 Mens Board Shorts by SimmieV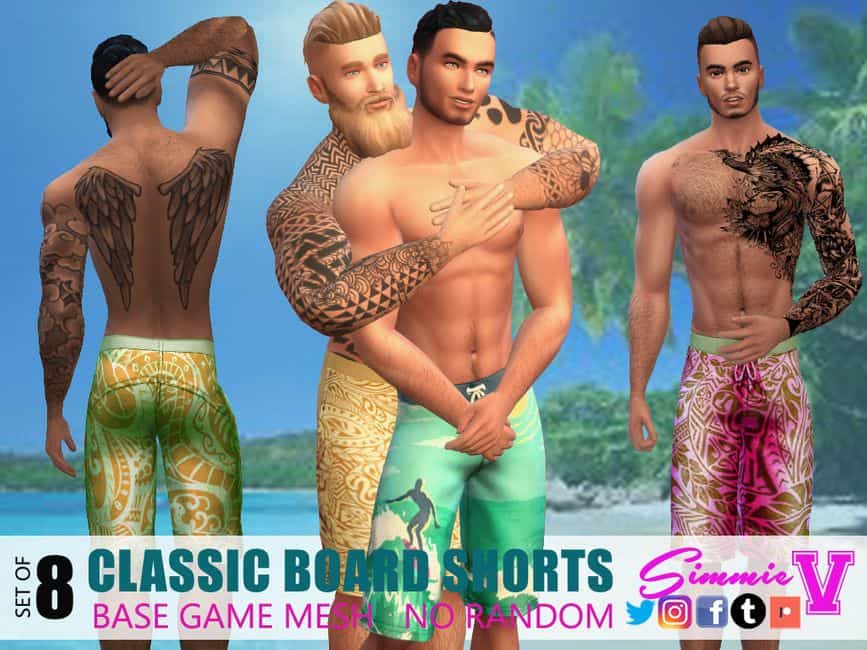 Snap up come men's board shorts for your male sims to hit the pool in style.
This men's swimsuit comes in 8 Island-living inspired patterns, adding a great punch of color to your sims vacation clothes.

5. Sims 4 Swimsuit Pack by Candysims4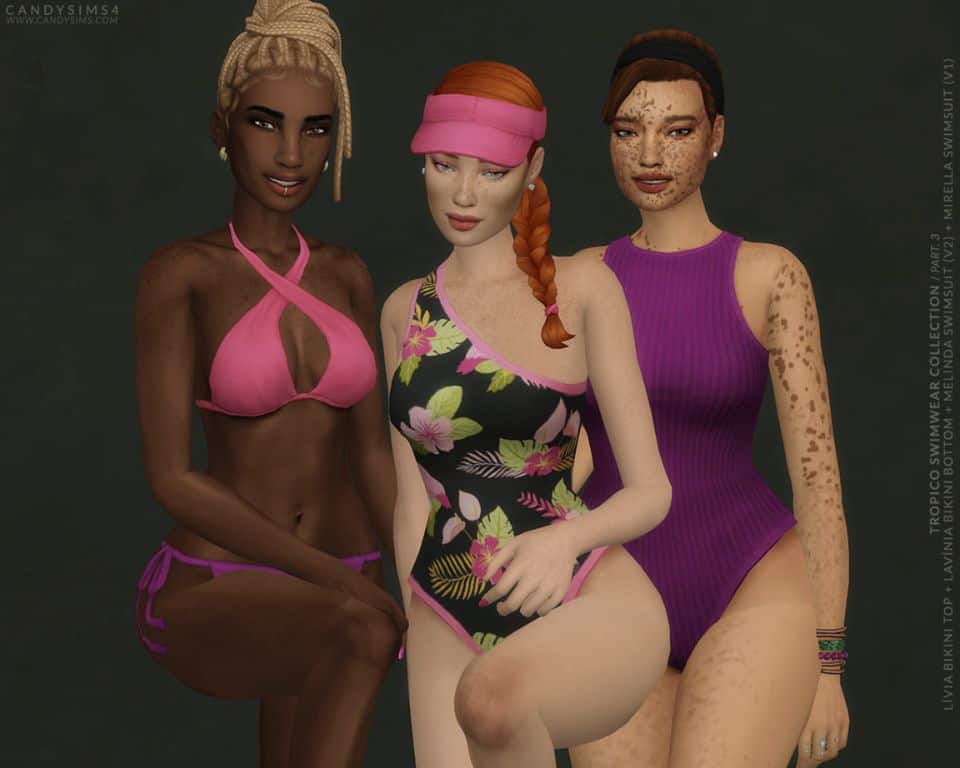 This pack of sims 4 swimsuit cc comes with two on-piece suits and a bikini set.
The bikini set has a fun criss-cross halter top, and string bottoms.
You will find a one-shoulder design with full coverage and a high neck suit for the one-piece swimsuits.

6. Sims 4 One-Piece Swimwear by Louisa_1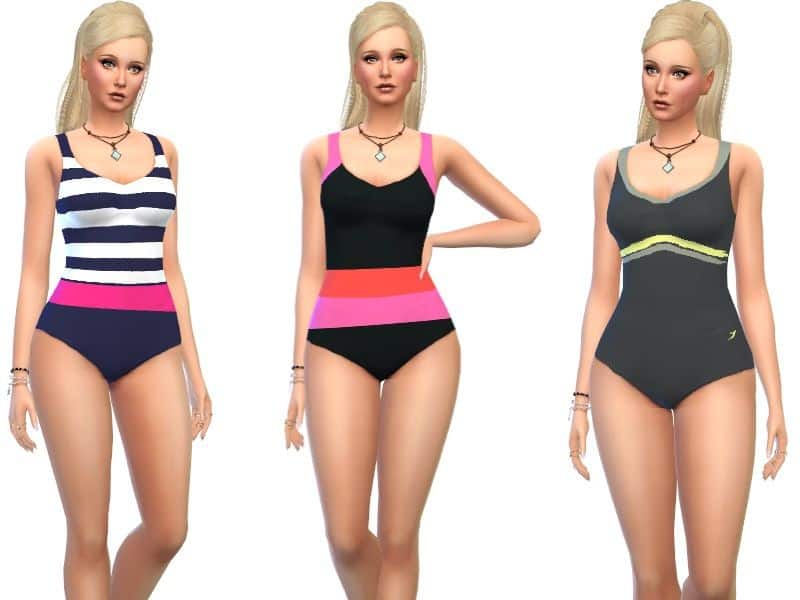 If your sims love being active in the water, a practical swimsuit is just the thing they need.
Available in 6 swatches, these swimsuits come in mostly black with bright pops of color.

7. Male Sims 4 Swimsuit CC by DanSimsFantasy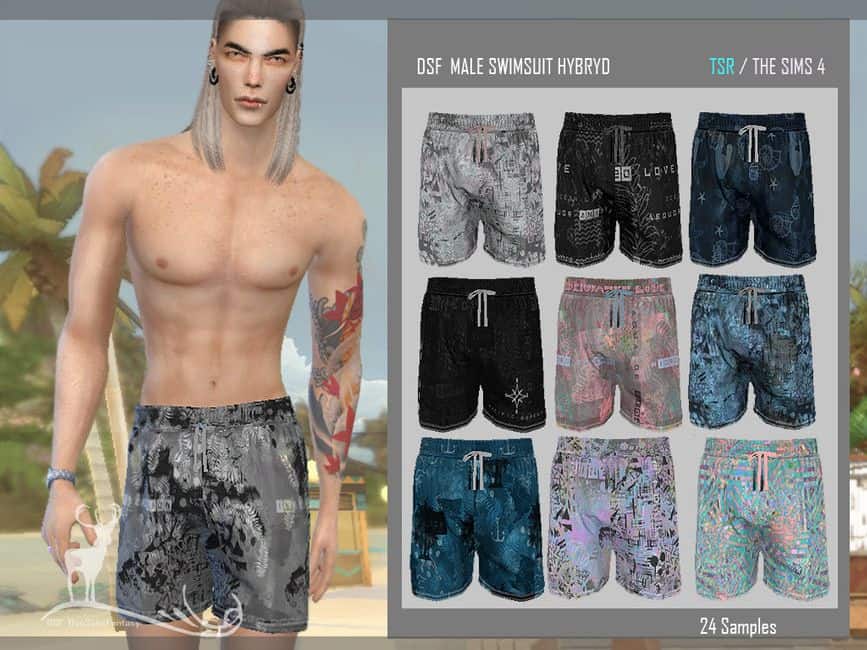 This swimwear set comes with 24 interesting swatches for more men's swim options.
These swimsuits are a more classic swimwear style and are shorter than men's board shorts.

8. Sims 4 Bikini Set by Demondare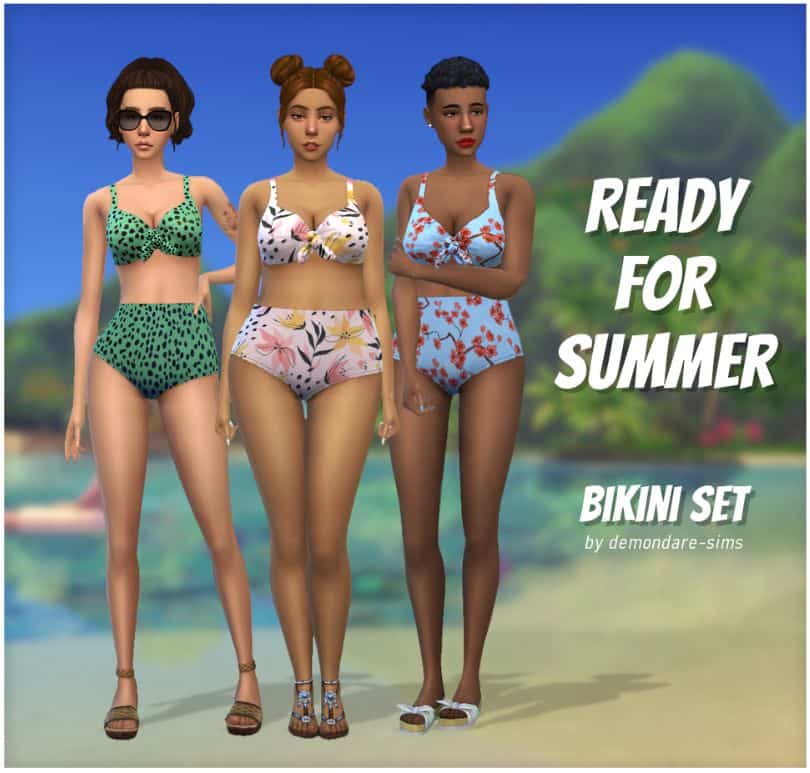 This bikini set is perfect if your sims prefer a high-waisted design.
The bikini bottom will cover your sims belly button, and the bikini top has a bow knot at the center.
This bikini set has 35 colorful patterns, including polka dots, animal prints, flowers, fruits, and abstract designs.

9. Modest Sims 4 Swimsuit CC by Marsmerizingsims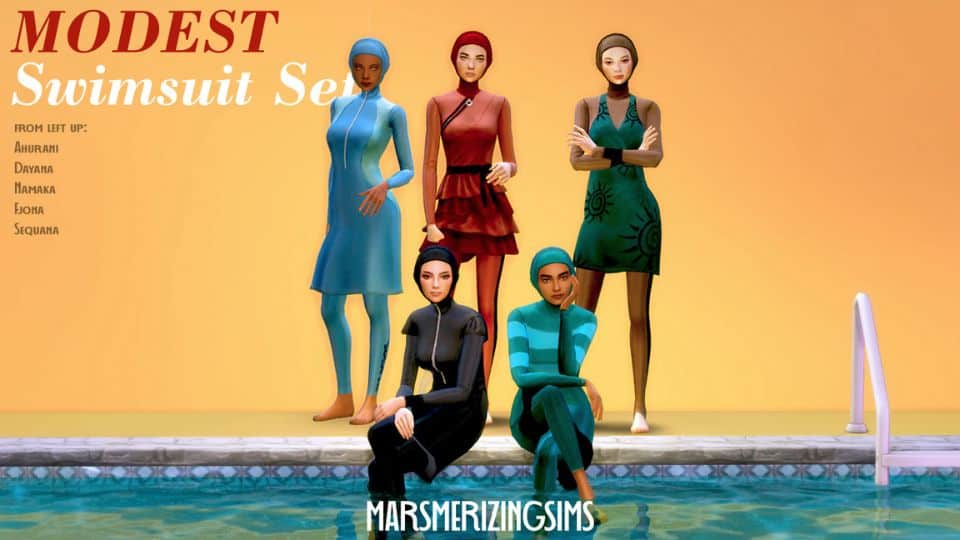 For the modest sims in your household, this swimwear set keeps your female sim covered from head to toe.
There are 5 designs, each changing up the top's details, and I especially like the swim top with the frilly layers.

10. African Ankara Swimsuits by Mama P Sims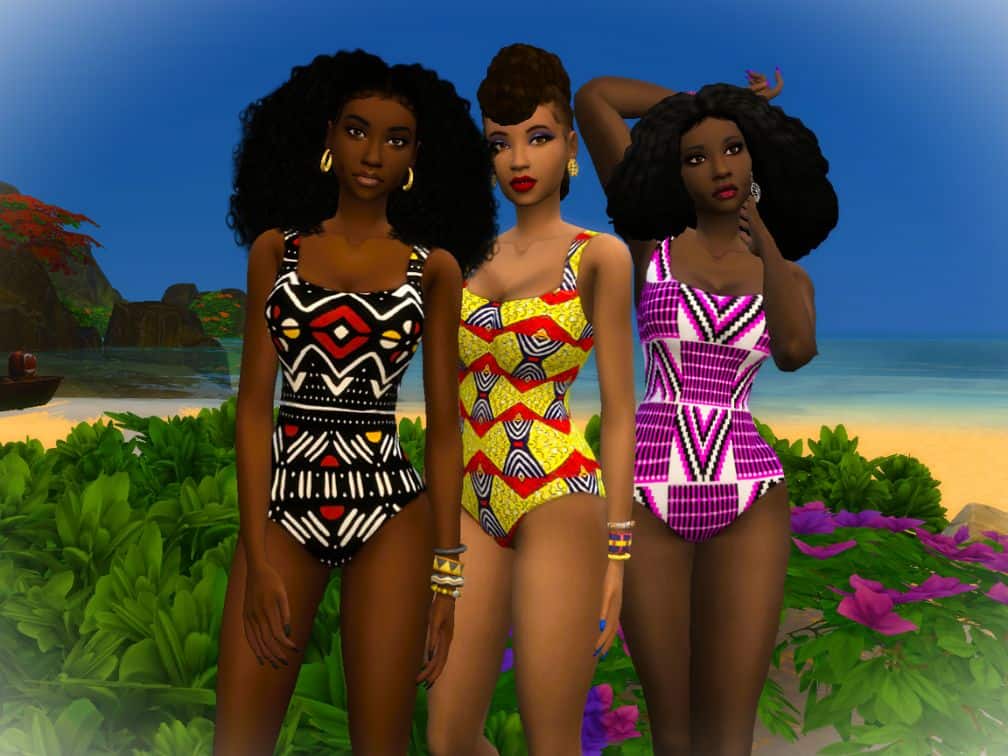 This Moschino Stuff recolor brings African Ankara swimsuits to the game.
This sims 4 swimsuit cc offers gorgeous colors and Ankara patterns for your sims to enjoy.
This custom content feels like a cross between maxis match and alpha cc.

11. Sexy One Shoulder Bikini Set by Madlen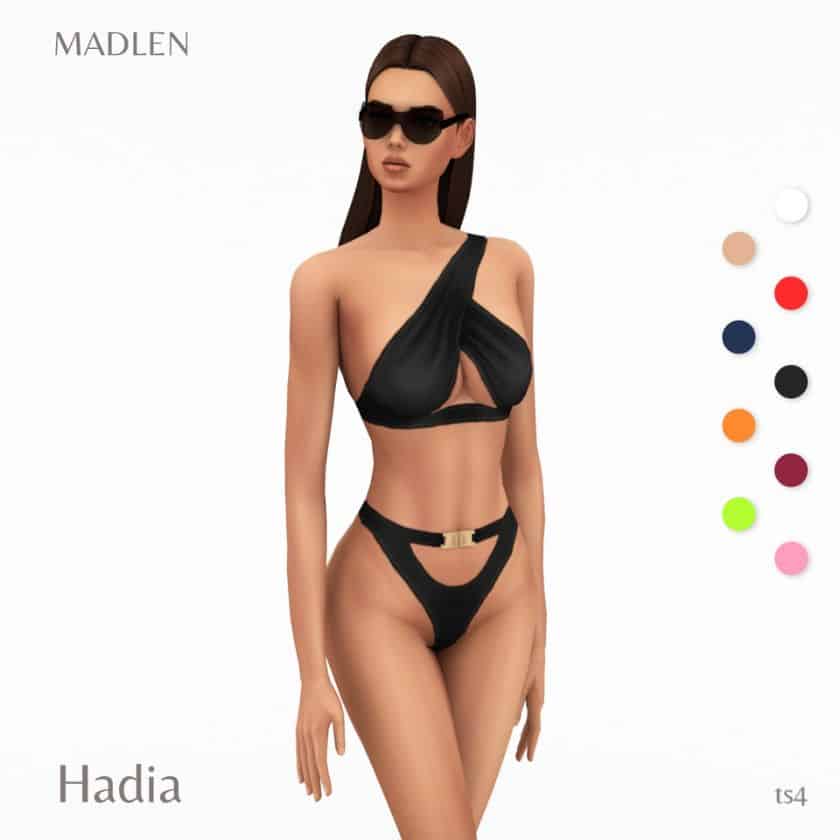 Hot girl summer has definitely started with this daring bikini set.
With the one-shoulder bikini top showing ample cleavage and the barely there bikini bottom, this bikini set is on fire.
I love the gold metal clasp detail on the bikini bottom, and this set comes in 9 color swatches.

12. Colorful Summer Swimsuits by Saliwa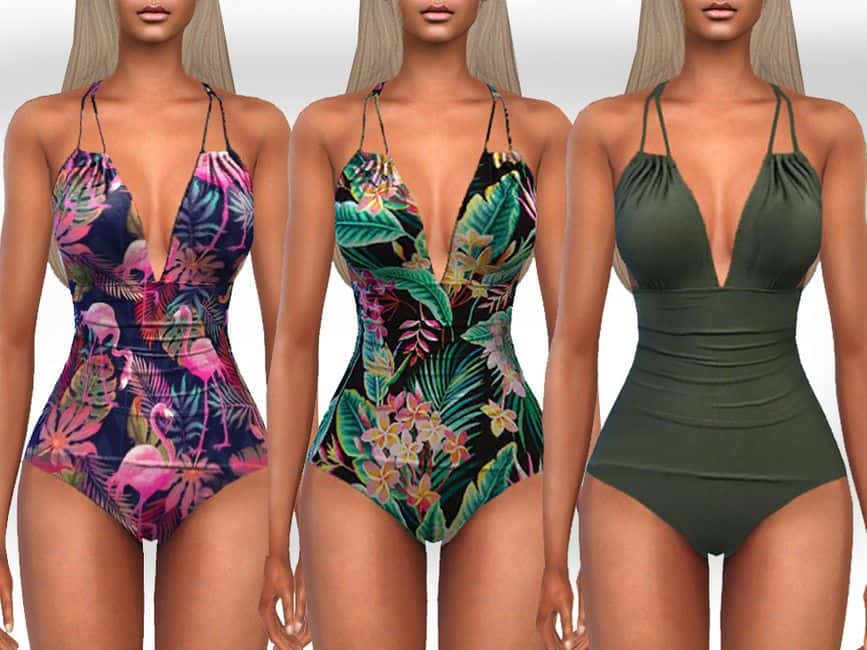 If you prefer tropical patterns for your sims swimsuits, this swimwear set has got 2 swatches for you.
From pink flamingos to leafy tropical plants, these strappy swimsuits are both sexy and practical.
You can also opt for the solid olive color swatch.

13. Strapless Bikini Set by Euno Sims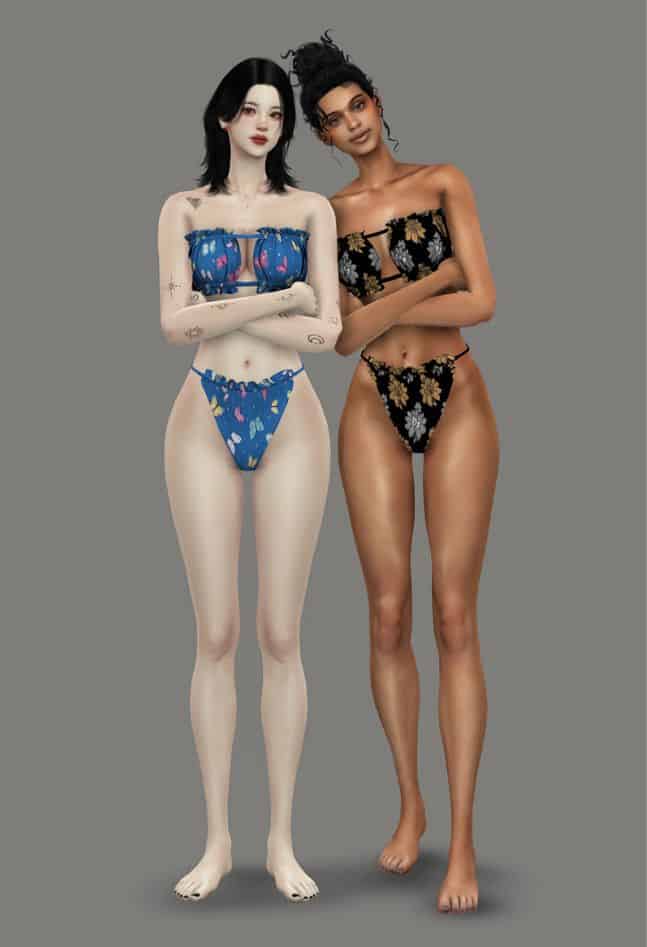 This sims 4 swimsuit cc brings you a strapless bikini set with a high-cut bottom.
The top and bottom have string details, holding the bikini portions together.
This swimwear set includes 25 swatches, including leopard prints, flowers, stripes, polka dots, and cherries.

14. Mens Bord Shorts by McLayneSims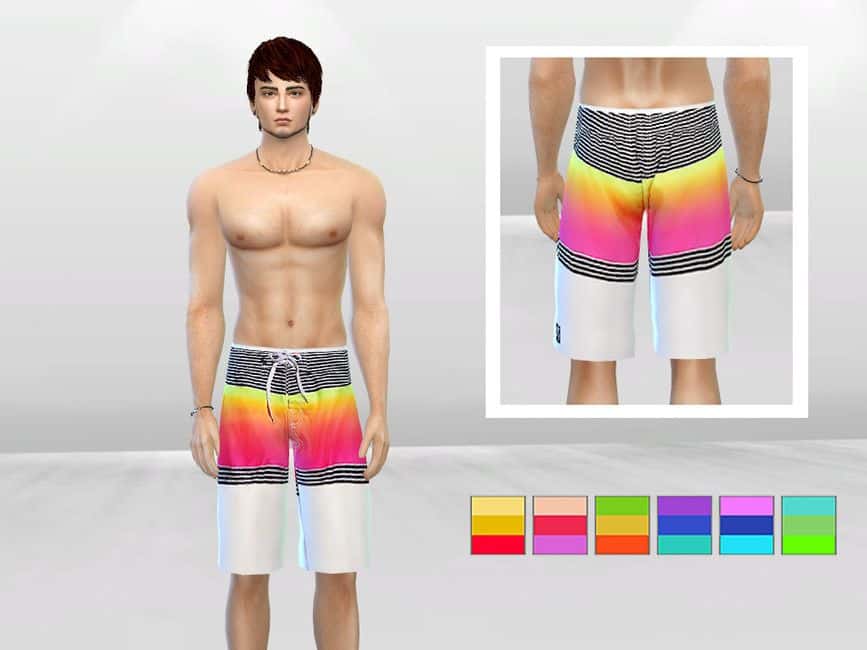 No sim male's summer closet is complete without a colorful pair of board shorts.
These board shorts come in 6 swatches, each mixing 3 bright colors to create fun summer designs.


15. Sims 4 Summer Kiss Bikini set by Guemara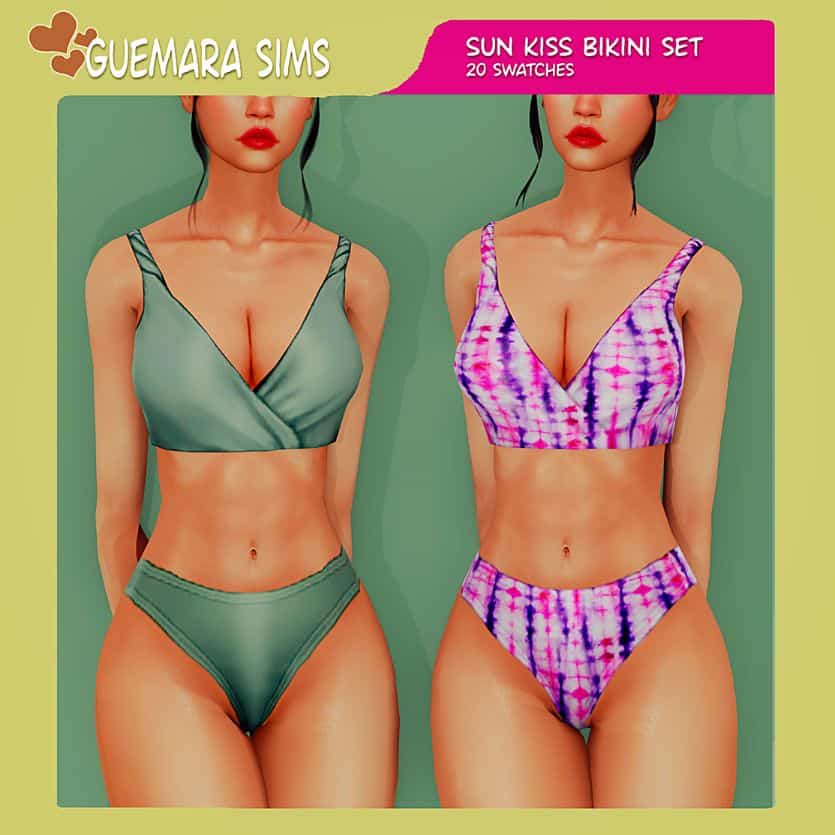 This sims 4 bikini set serves full cleavage with its deep V design.
The bikini bottoms sit on your sims hips and offer more coverage than the bikini top.
There are 20 swatches, including solid color options, flowers, hearts, and other patterns.

16. Sims 4 Seaside Swimsuit CC Pack by Oydis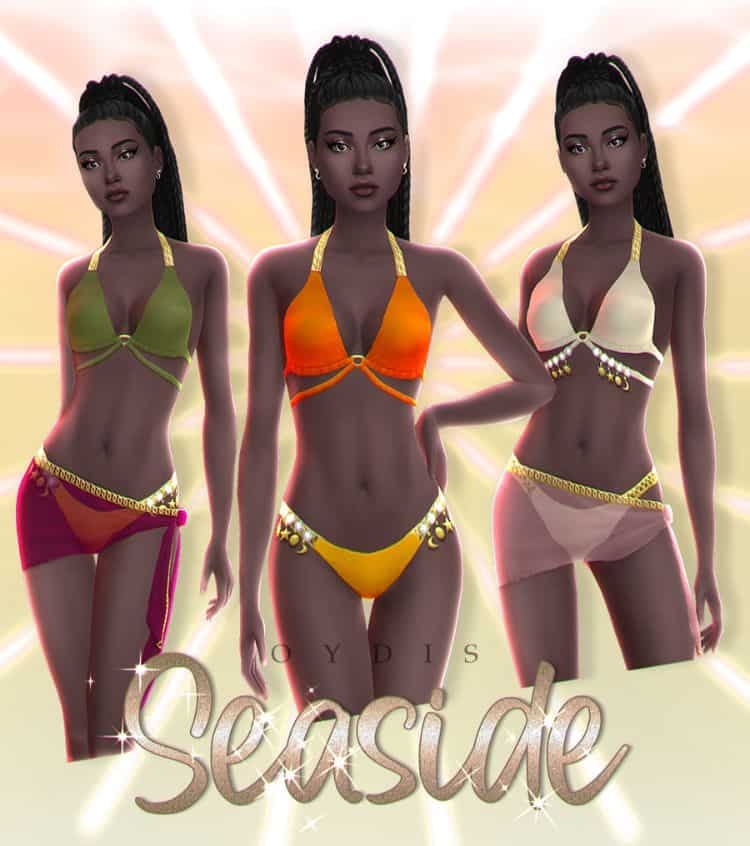 This gorgeous seaside bikini pack is currently available on Patreon early access and becomes public on July 20th.
This pack is perfect for sims who want cute swimwear and to customize their look with accessories too.
Snap up the bikini top and bottom with gold details, or opt for the extra charm accessories.
If you need your sims to cover up a little, they can use the sarong and complete their look with cute earring options.

17. Tropico Swimwear Collection by Candysims4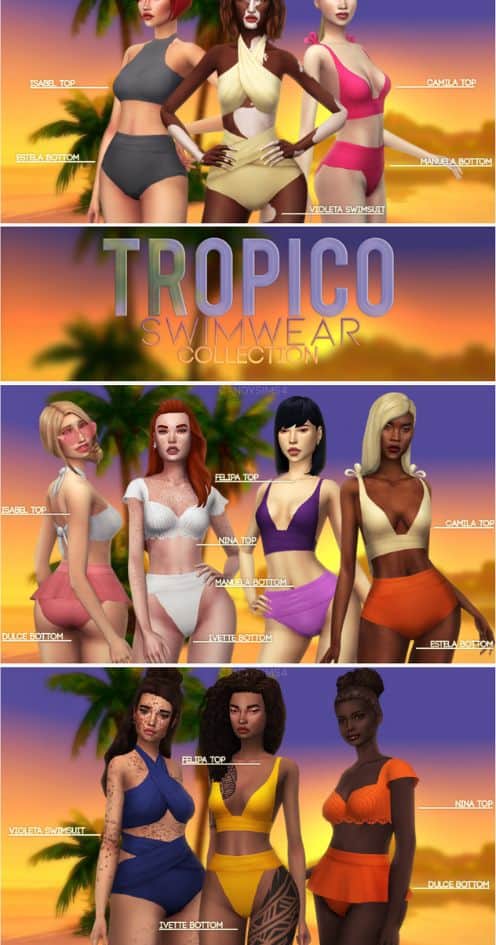 Part 1 of the Tropico Swimswear Collection brings 9 different swimsuit pieces for your female sims to enjoy.
There are multiple bikini top and bikini bottom options and one-piece swimsuit.
And since we all love variety, you can pick from 30 color swatches.

18. Sims 4 Male Swimsuit CC by DanSimsFantasy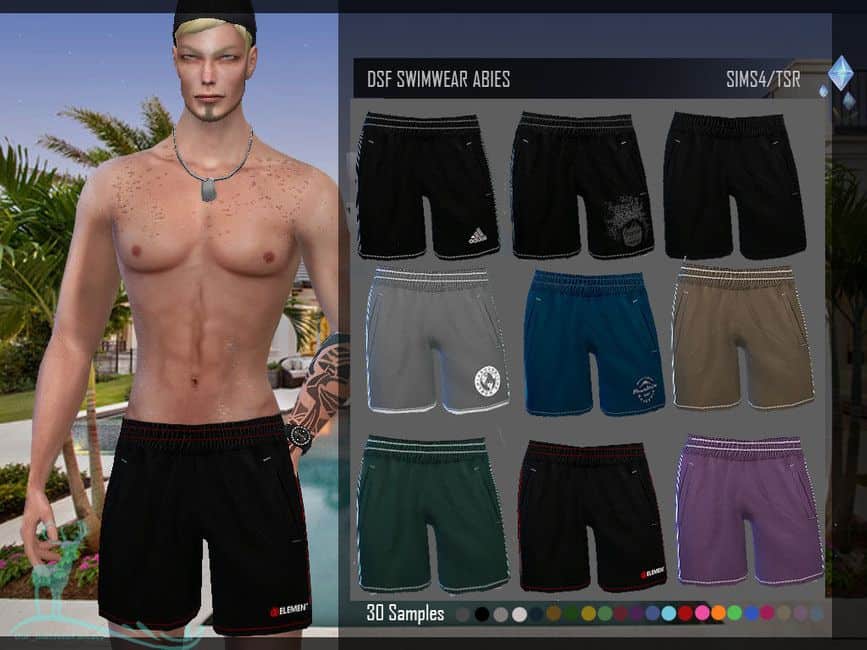 Our male sims also deserve different swimsuit options, and these solid casual beach shorts are a great choice.
These swimsuits come in 30 swatches and can even be used as sports shorts, loungewear, and more.

19. Chanel Swimsuit CC Set by Guemara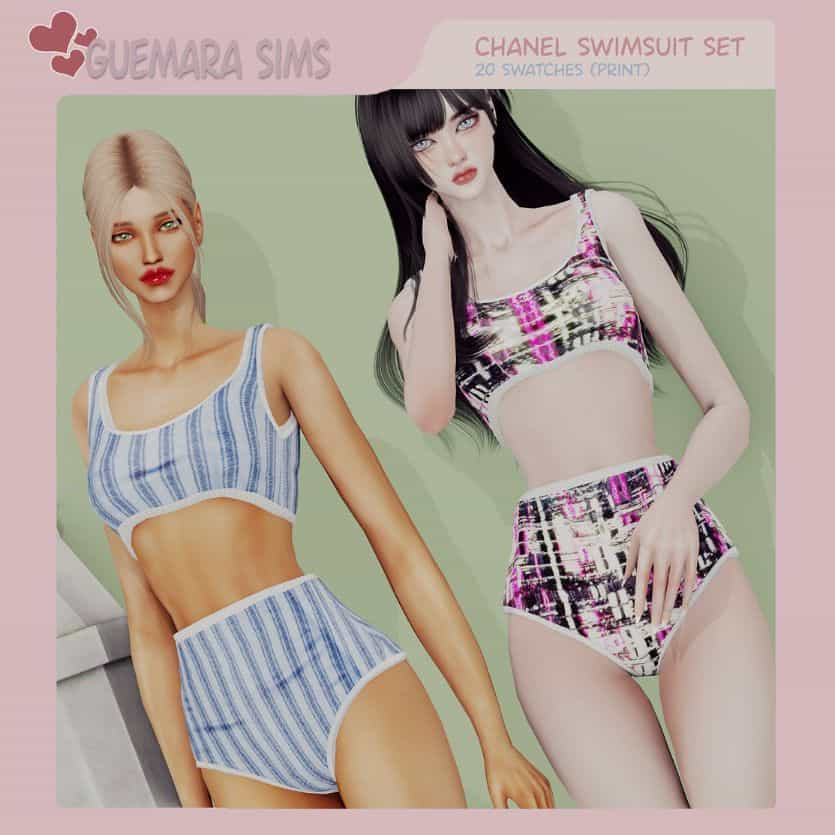 These Chanel-inspired high-waisted bikinis are both stylish and not too revealing.
You can opt for the plain or pattern file, including some adorable Chanel tweed-like swatches.

20. Sims 4 Classic Bikini CC by Demondare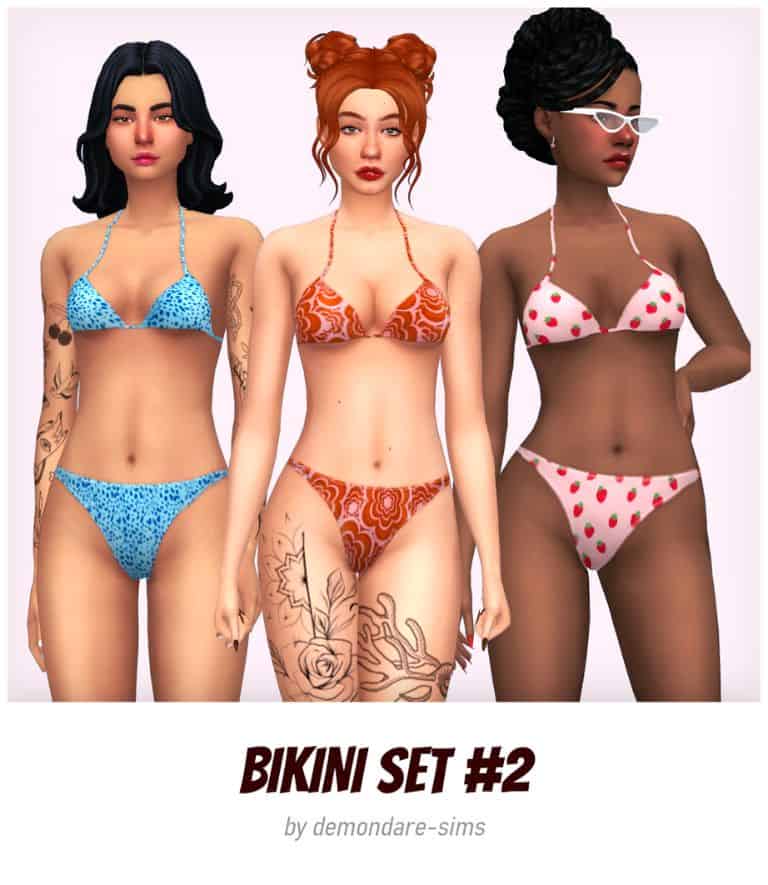 This sims 4 swimsuit cc set offers a classic bikini set with a halter-like top and simple bottoms.
The bikini top will show off your sims cleavage, and this swimwear set comes in 31 swatches.
The adorable strawberry option above is top of my list of favorites.

21. Sims 4 Swimwear Pack by Candysims4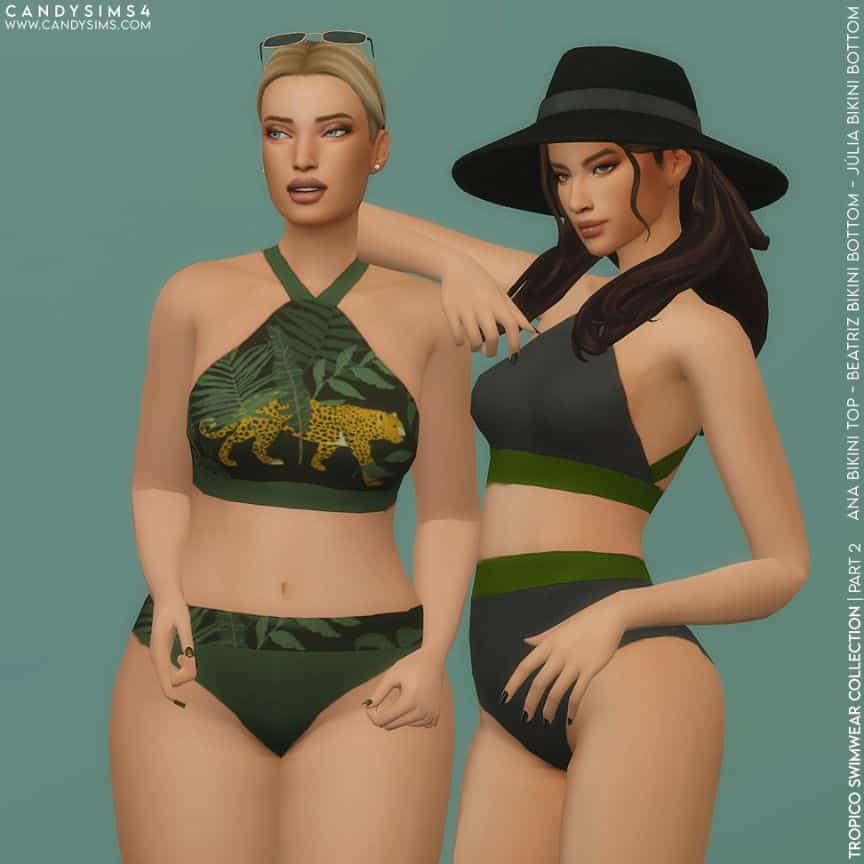 For a mix of bikinis and swimsuits, grab this 4-piece swimwear set.
Your sims will get a full-coverage one-piece swimsuit, a halter bikini top, and two high-waisted bottoms.
There are 64 color swatches available, including 24 patterns, some featuring tropical animals.

22. Sims 4 Swimsuits CC by Madlen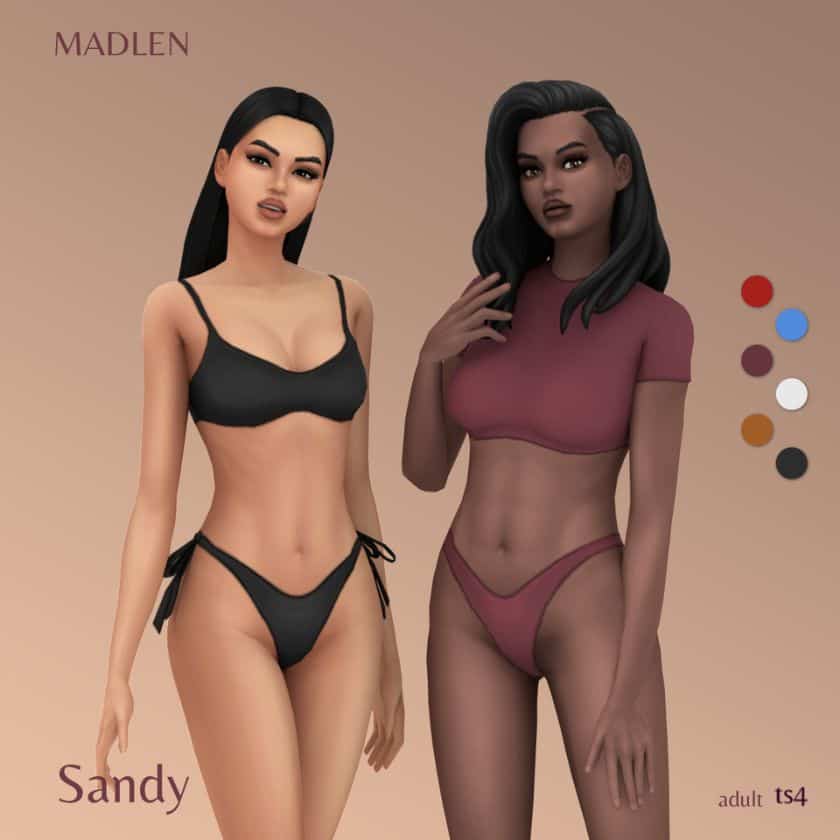 This two-swimsuit pack comes with two types of bikinis inspired by Kim Kardashian's SKIMS collection.
Both bikini bottoms are high cut, and one design has string ties.
The bikini top options include a classic bikini top and a crop top style, perfect for surfing.

23. Sporty Boyshort Swimsuit by Talarian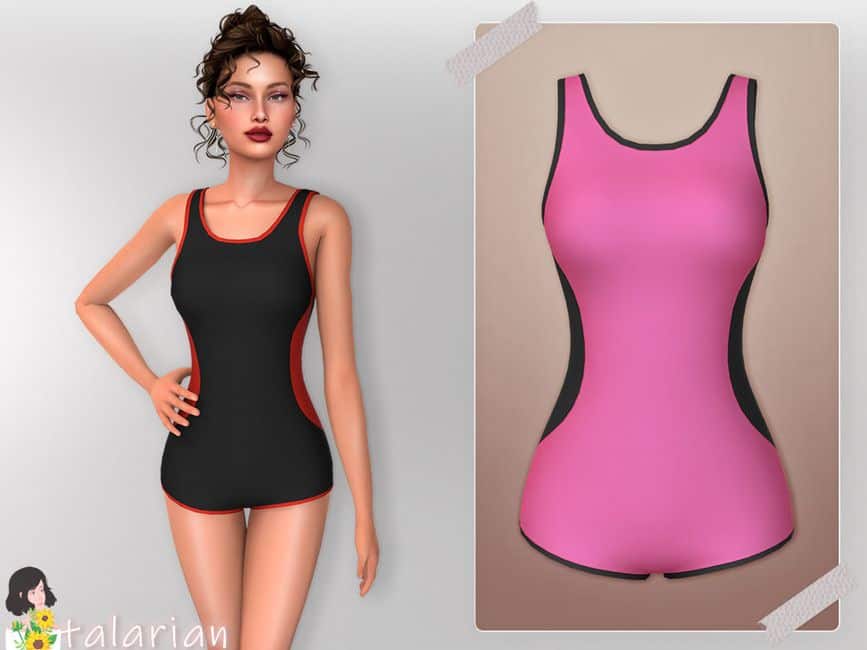 This sporty swimsuit is perfect for an active sim ready to hit the waves.
With its full coverage design, your female sims will be covered in all the right places for their active lifestyle.
The cute boy short design of the suit adds a nice touch.
This swimsuit set comes in 14 colors.

24. Sims 4 COCO Swimsuit CC by Black Lily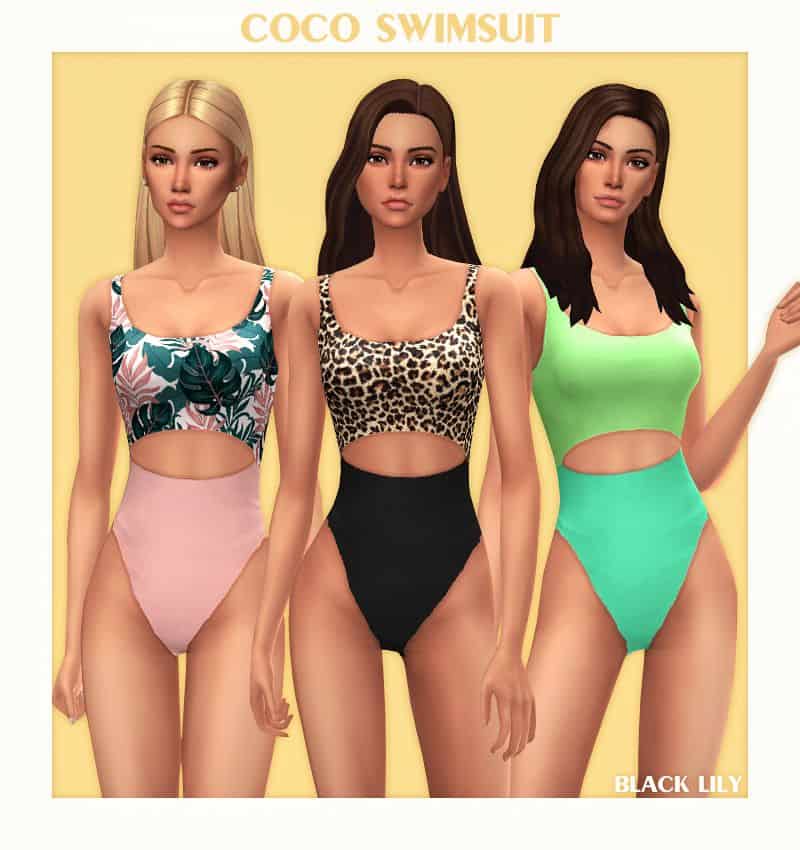 This swimsuit is the best of both worlds, offering the illusion of a bikini but in a one piece swimsuit design.
With a traditional sports bra top, high-waisted bottom, and some skin in the middle, this swimsuit is cute and fashionable.
There are 24 swatches, each offering different top and bottom colors.
Sims 4 Swimsuit CC: Final Thoughts
With this collection of sims 4 swimsuit cc, we hope you found some new favorite pieces for your sims to model.
Enjoy a summer trip like no other with some beautiful swimwear.
Need more summer clothes? Check out our dress cc post linked below.
If you have any questions or suggestions, feel free to leave us a comment below or tag us on Tumblr.
Other Sims 4 Custom Content Lists

And don't forget to share and save this pin for later!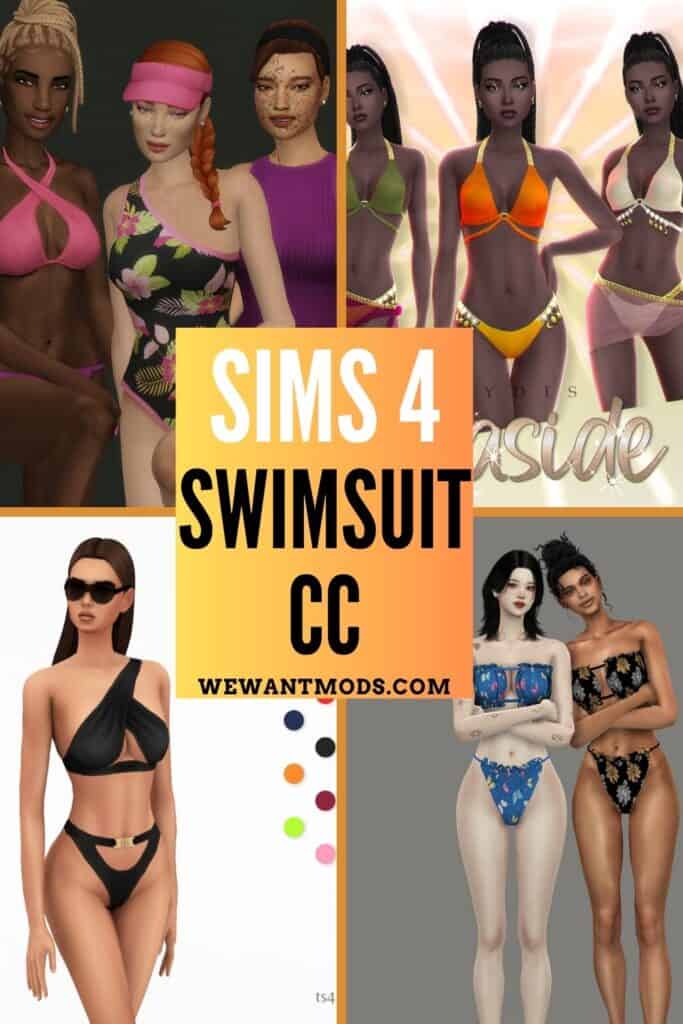 23+ Sims 4 Swimsuit CC: Step Into Summer