71+ Sims 4 Horse Ranch CC: Equestrian Paradise Unleashed
Are your sims ready to hit the range?
Get your sims household into gear with this collection of sims 4 horse ranch cc.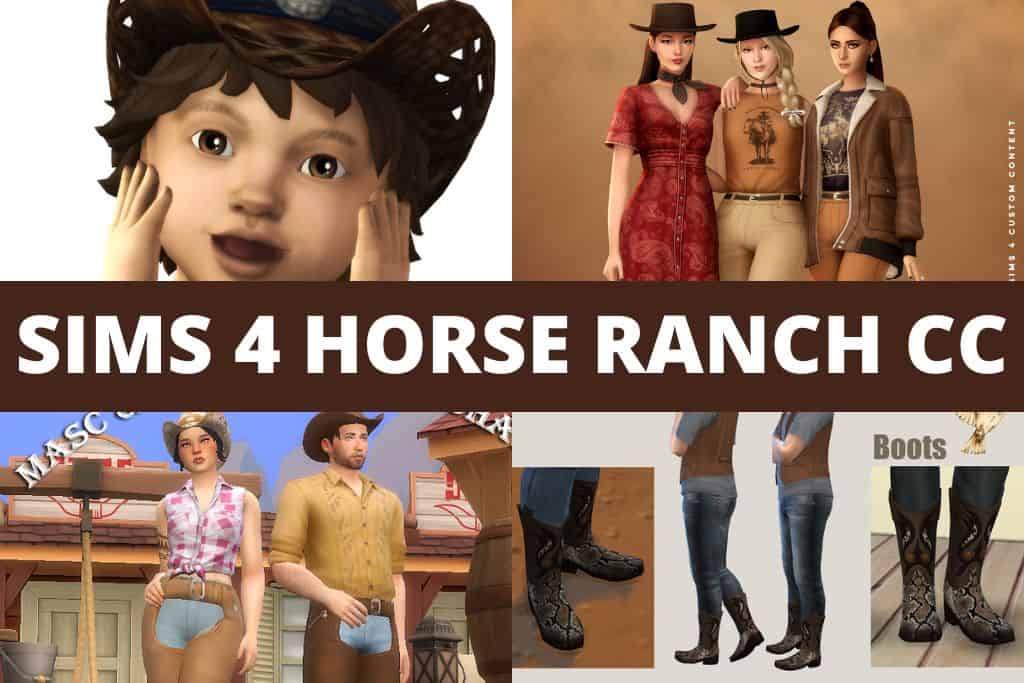 So with the Horse Ranch EP approaching this week, cc creators are already hard at work putting out some fun new pieces.
Some players have been waiting for horses to join the sims 4 for years, so I can only imagine the amazing custom content to come.
For now, I've rounded up (pun intended) some horse ranch cc already available and found some older country cc too.
I'll be updating this post as more custom content becomes available so be sure to check back in.
Note: I'll be updating this post as more custom content becomes available, so be sure to check back in.
You can also check out our other posts for the Horse Ranch EP when you're done here.
Disclaimer: The following mods are neither endorsed nor affiliated with The Sims, Maxis, or Electronic Arts. Any use of mods (custom content or game mods) should be done with caution and with the knowledge that there may be risks.
Best Sims 4 Horse Ranch CC
Below you will find a mix of horse ranch-appropriate clothing, cowboy hats, coybow boots, horse ranch objects, and more.
1. Sims 4 Ranch Shirts Set by Saurus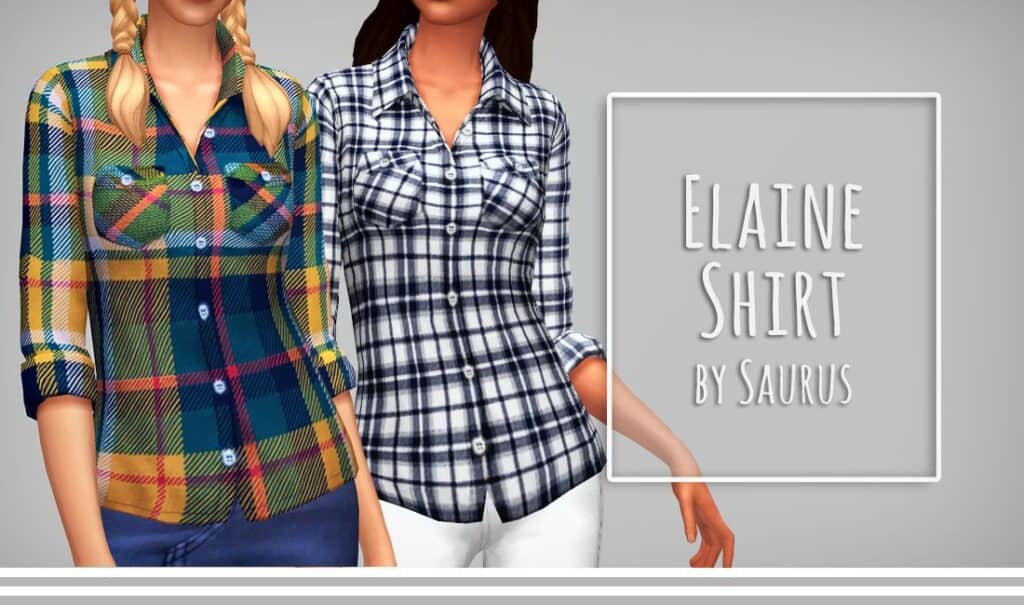 Hard work occurs on a horse ranch, so practical shirts will definitely be in my sims closet.
You can opt for a classic loose shirt or a tied-at-the-bottom version.
Both shirt styles come in beautiful plaids and solid colors, too, with 16-18 swatches.

2. Sims 4 Cowgirl Boots by DallasGirl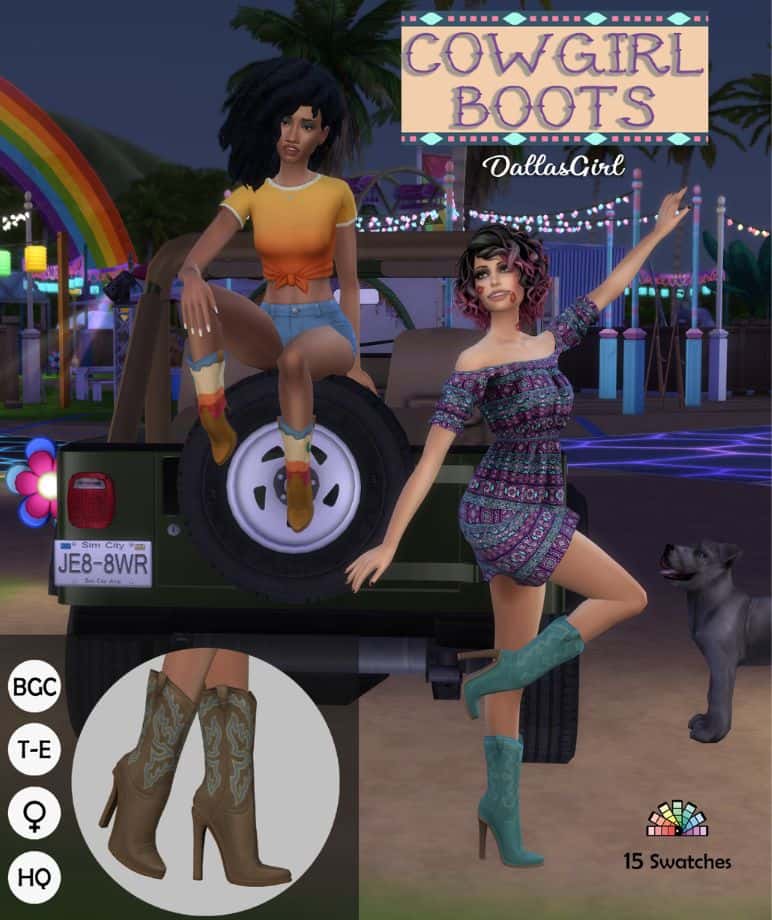 These sims 4 cowgirl boots are on the sexy side with higher and thinner heels.
There are 10 swatches; each swatch has some form of embroidery on the boots, from classic cowboy boot designs to fun cactus plants.
You can download the regular Cowgirl Boots file or opt for the Slider Version.
Check out the creator's description for more information.

3. Free Spirit CC Pack by Joliebean & DallasGirl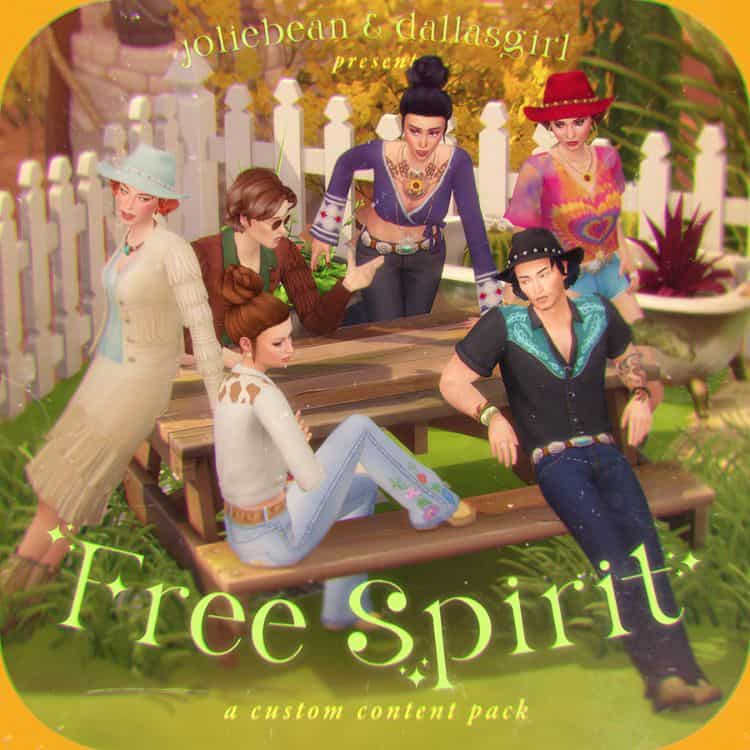 This custom content pack serves Western-Bohemian clothing, shoes, accessories, and hair.
For Jolibean's part, you will find men's country ranch-style clothes, some female boho-country looks, hairs, and a hat.
On DallasGirl's part, we focus on boho crop tops, mini skirts and shorts, jeans, and shoes (cowgirl boots, clogs, and sandals).
4. Men's Cowboy Hats & Boots by Wistfulpoltergeist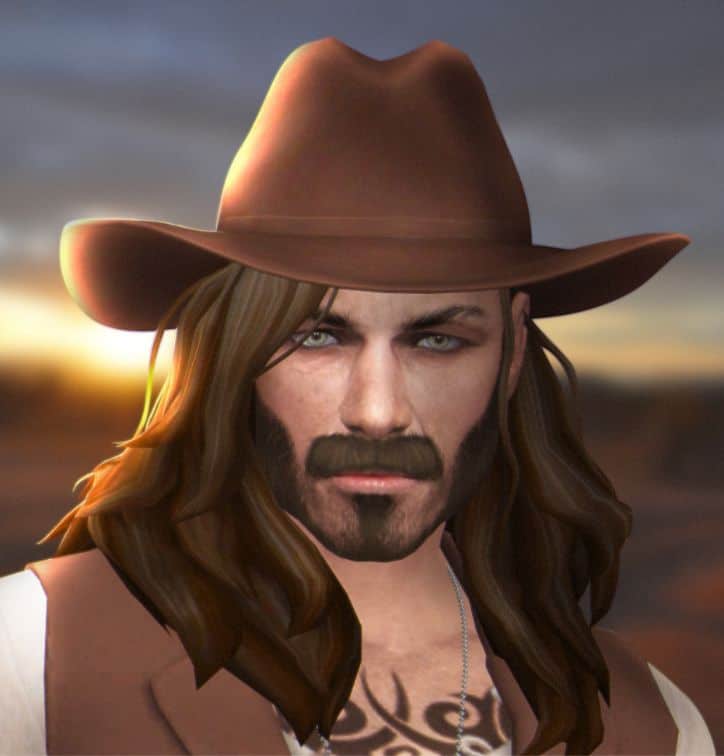 This men's clothing pack includes a mix of pieces, but I'm focused on the manly cowboy hat and boots.
The hat comes in 10 swatches; I especially like the swatches with the different color trim around the hat.
The men's boots come in 9 swatches, each with embroidery and some even scuffed for those hard-working ranch hands.

5. Pink Cowboy Boots by Serenity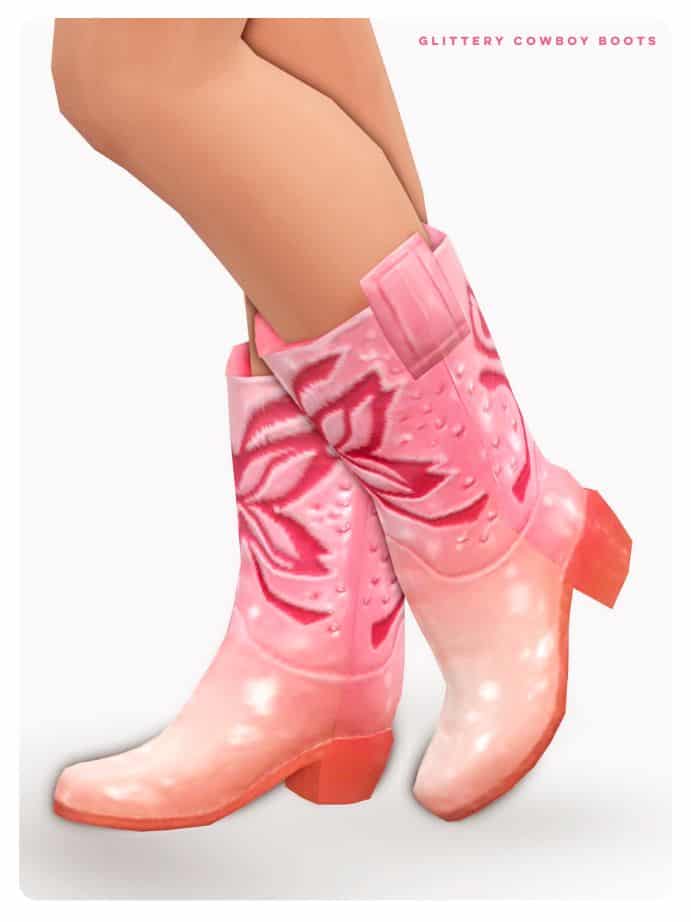 Ok, so this cc pack is focused on Coachella, but I wanted to include it for these amazing pink butterfly cowgirl boots.
You can just grab the cowgirl boots file to add to your new sims 4 horse ranch cc folder.

6. Sims 4 Horse Ranch CC Hay Bales by .Objuct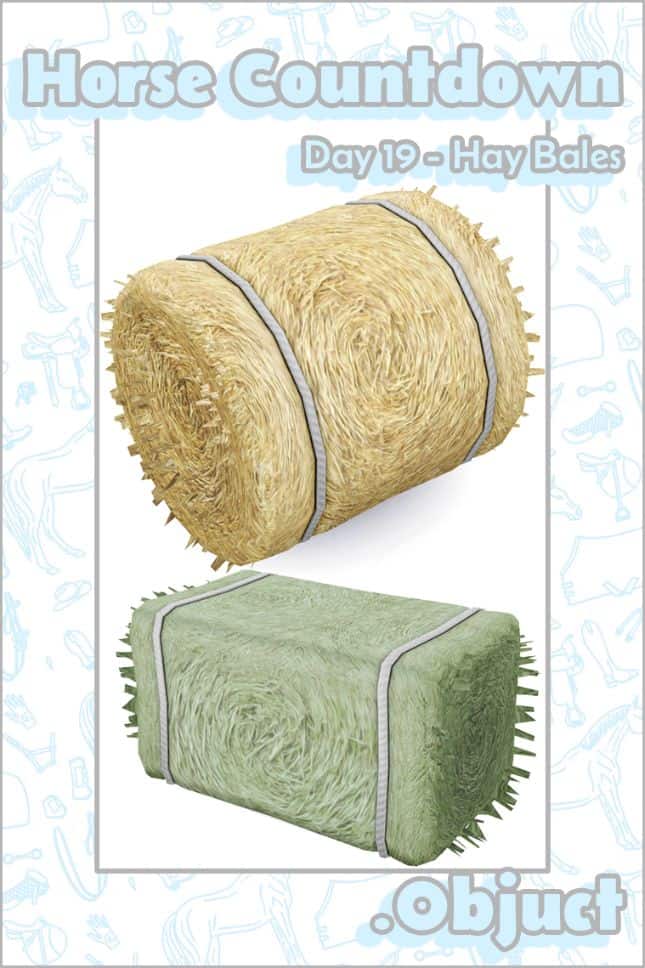 .Objuct has eagerly been awaiting the sims 4 horse ranch EP release and has already created a handful of fantastic ranch life objects.
Snap up some hay bales for your soon-to-be-arriving horses.
You'll find two swatches of hay bales, one for regular hay and another for alfalfa hay.

7. Cowboy Hats Horse Ranch CC by TitusLinde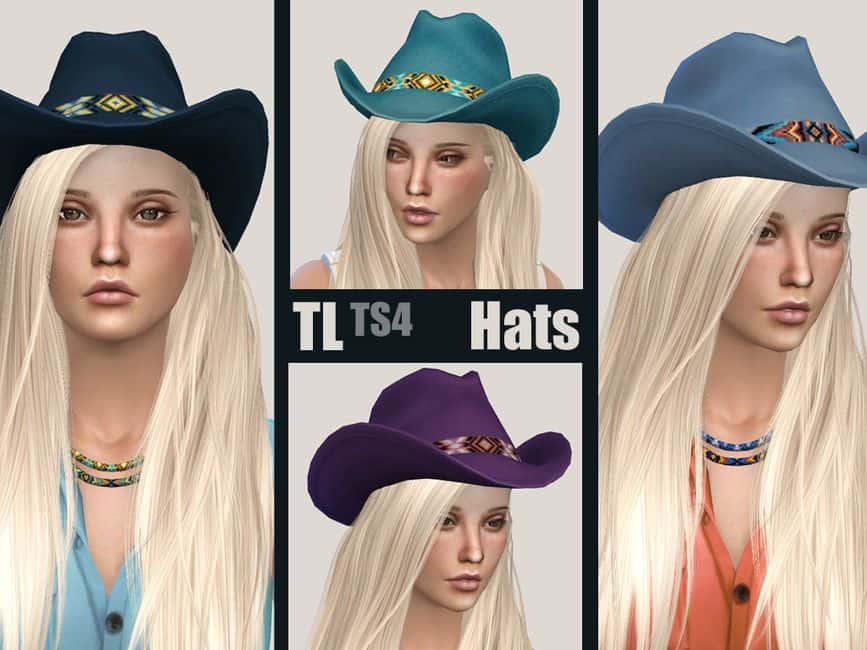 These cowgirl hats include 4 shades of blue inspired by the Texas sky and bluebonnet flowers.
If you are more into green, you can also get some green options that work for your male and female sims.

8. Horse Ranch Chaps by JellyPaws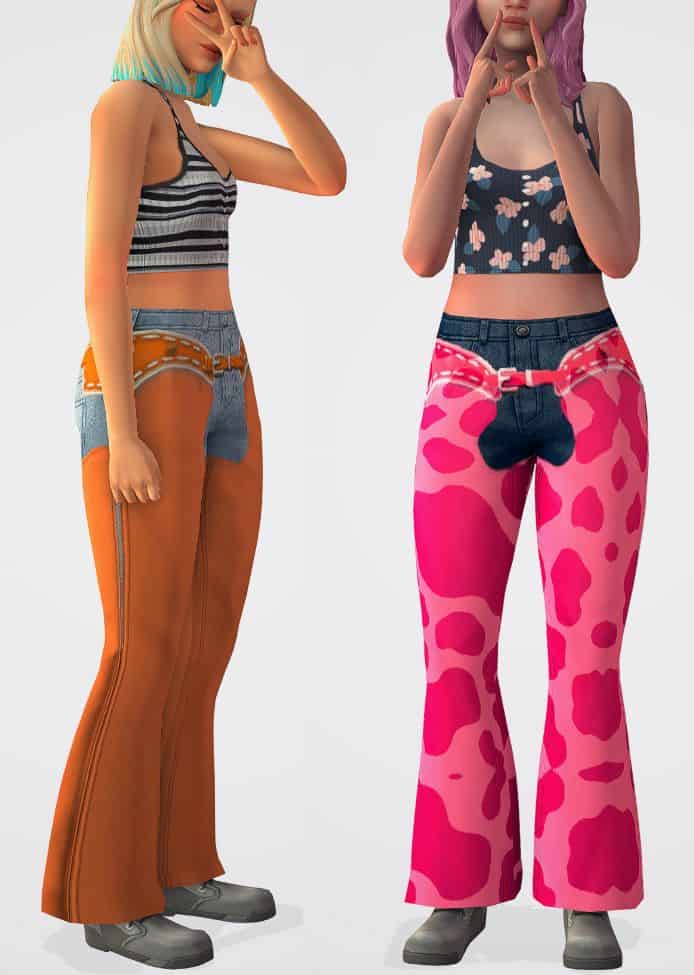 Being a massive fan of the movie Son in Law, I have a fun appreciation for horse ranch chaps.
Protect your sims from thorny brush and other ranch life hazards with some thick leg covering.
Chaps don't need to be boring; this sims 4 horse ranch cc comes in 10 swatches, including the cute pink cow print seen above.

9. Sims 4 Infant Cowboy Hat by RavenSim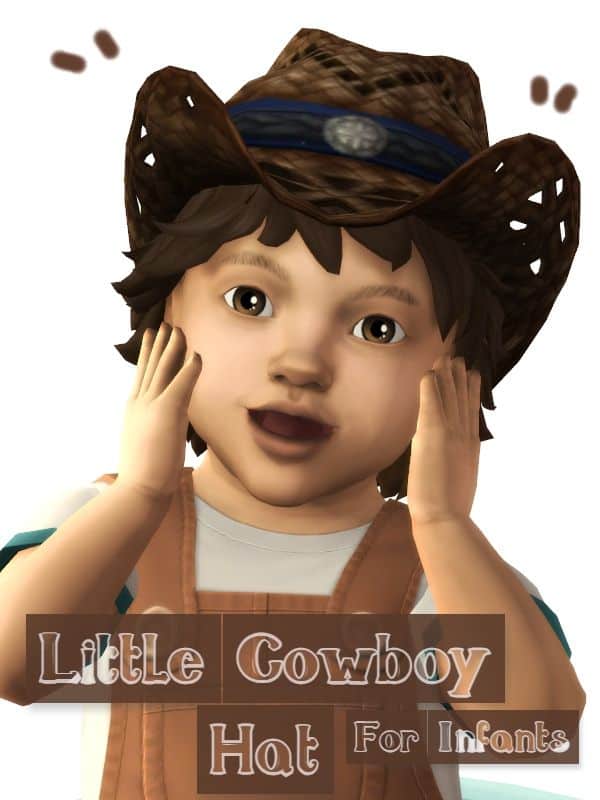 Leave it to Ravensim to create such a cute little cowboy hat for your sims infants.
This straw-like hat works for both genders and has 11 color options to style with your infant's different ranch outfits.

10. Sims 4 Hose Ranch CC Accessories by Darte77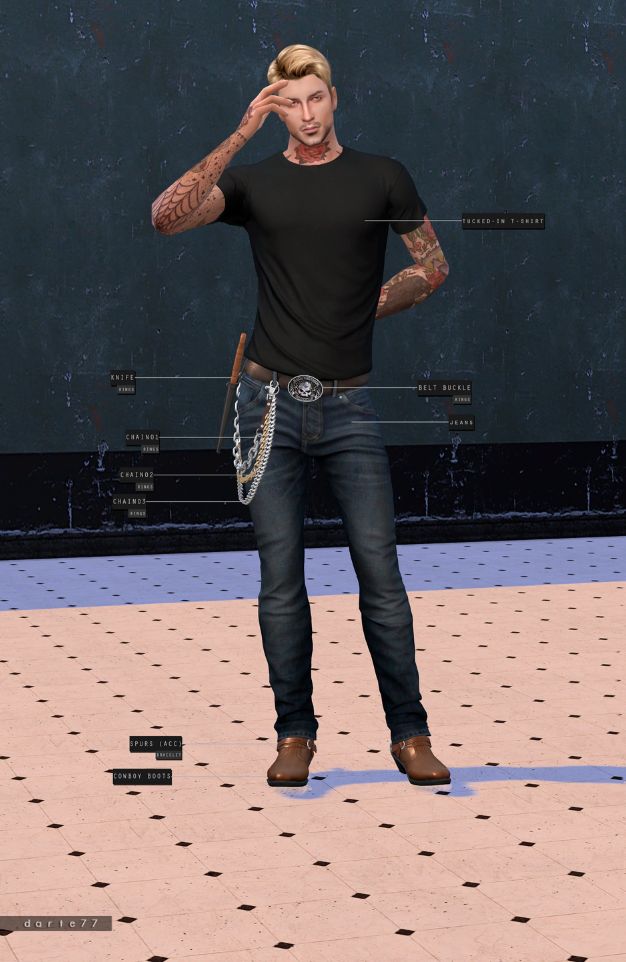 According to Darte77, this custom content pack took a turn from biker to country, and I couldn't be happier.
This cc pack includes some great basics and sims 4 horse ranch appropriate gear;
Cowboy boots
Spurs (accessory)
Bootstrap (accessory)
Knife and leather sheath
Belt buckle
Chains
Belted jeans
Tucked in T-shirt

11. Western Boots for Sims 4 by Charonlee SIMS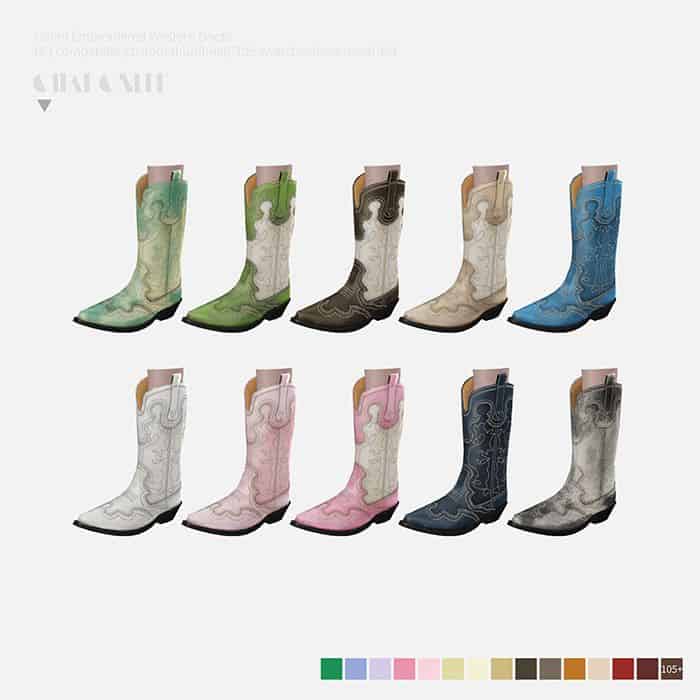 These classic cowboy boots are definitely top on my list of new boots to style on my sims.
Plus, they come in an impressive 105+ swatches, so you won't run out of options.
Each of the swatches showcases the boots embroidered details in different ways.

12. Saddle Pad Rack CC for Horse Ranch by .Objuct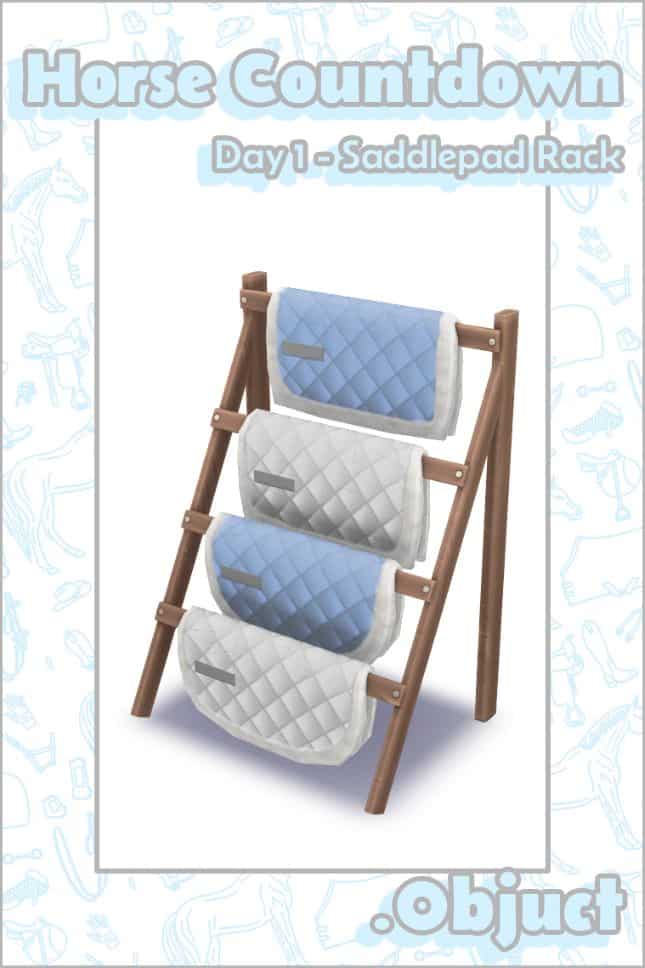 If you're going to have horses, you definitely need this maxis-match saddle pad rack.
After a long day on the ranch, your sims will need to brush down their horses and put away their saddle pad.
The saddle pad rack has 5 wood tones and 5 saddle pad variations, each giving a total of 25 swatches.

13. Sims 4 Horse Ranch CC Pack by Serenity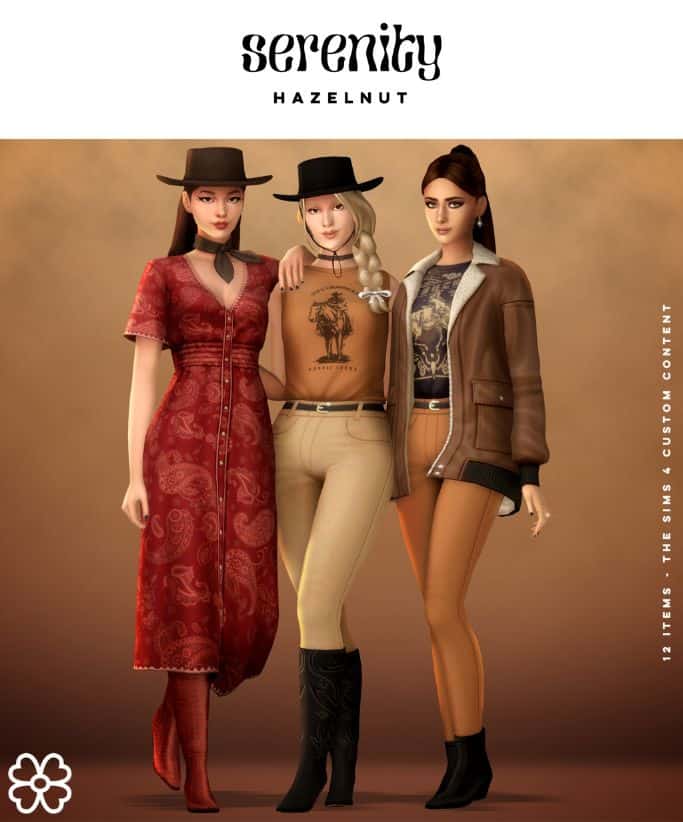 This beautiful 12-piece sims 4 horse ranch cc pack is now available to download.
Ranch living doesn't have to be boring; style your female sims in a warm oversized jacket and drawstring hat.
There's also a tucked capped-sleeve top, form-fitting pants, a loose ranch dress, ankle boots, and cowgirl-style boots.

14. Female Ranch Cowboy Hat by San33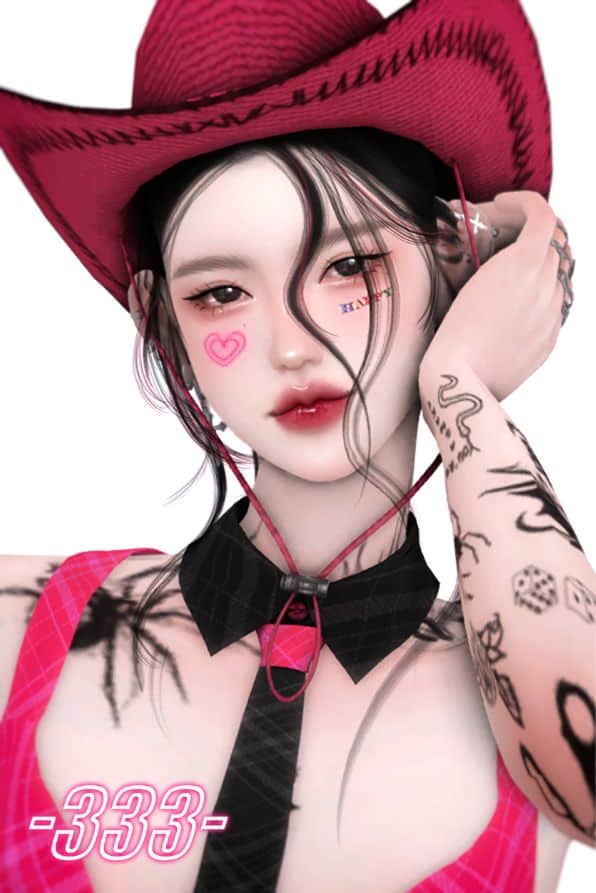 This female cowgirl drawstring hat serves up style and practicality.
The country hat comes in 10 swatches, from bright pink to subtle beige.
Pair this ranch hat with a cute flowy country dress or work clothes.

15. Ranch Hand CC Clothes by Wistfulpoltergeist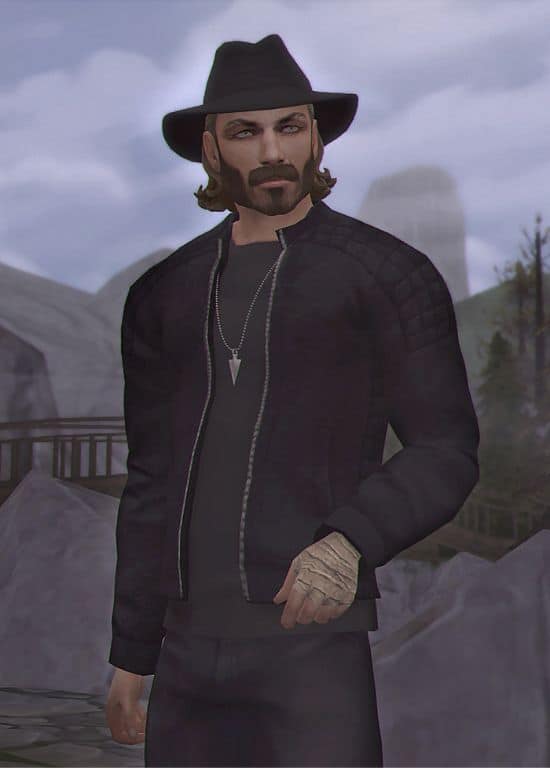 This male clothing pack has everything your ranch hands will need before hitting the range.
The pack includes the Wonderer hat, an unzipped jacket top combo, and belted jeans.
Pair with your favorite cowboy boots to complete the outfit.

16. Unisex Cowboy Boots CC by TitusLinde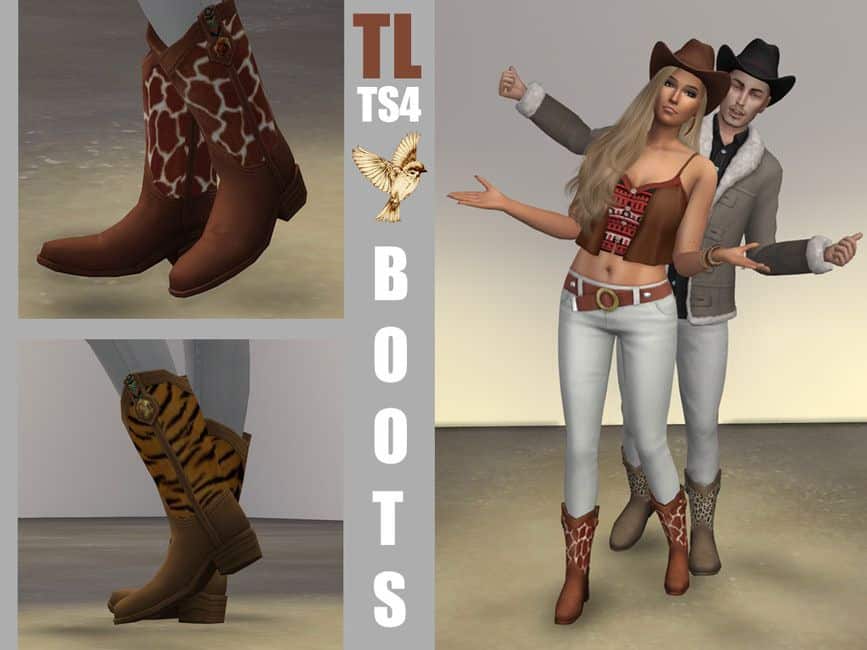 These western boots bring some furry details to an otherwise classic boot design.
There are 5 different fur swatches to choose from, including tiger and leopard prints.
Plus, these boots conveniently work for both your male and female sims.

17. Horse Ranch Grain Storage Bin by .Objuct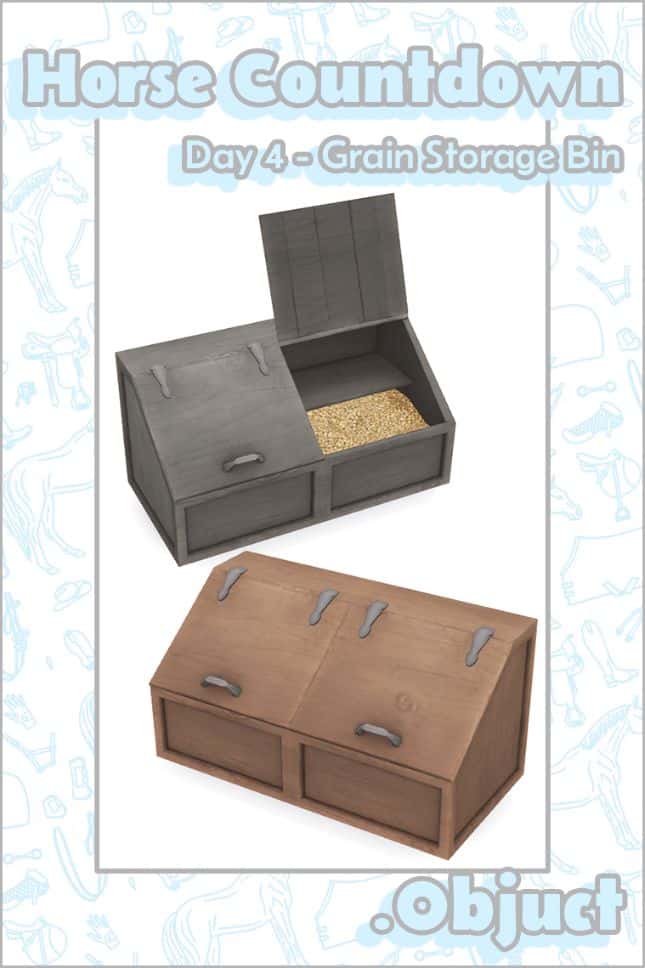 You can't have a sims 4 horse ranch without grain storage bins for all your animals.
Although the Horse Ranch EP will contain a grain bin, this version has two doors.
This storage bin comes in 5 wood colors with a closed-door and 3 open-door versions.

18. Sims 4 Accessory Chaps by Deathpoke1qa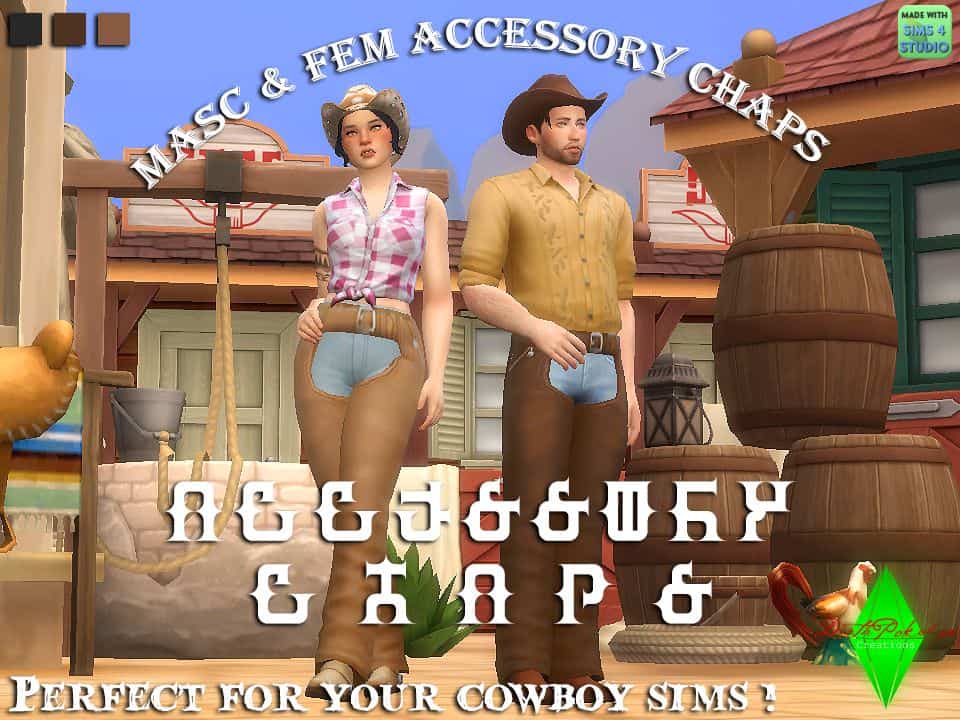 You can never have enough chaps for your cowboys and cowgirls, and this pair comes as an accessory piece.
Pair these chaps over some work jeans or get creative and pair them with some bikini bottoms for a riskier country party look.

19. Sims 4 Stylish Cowboy Boots by Madlen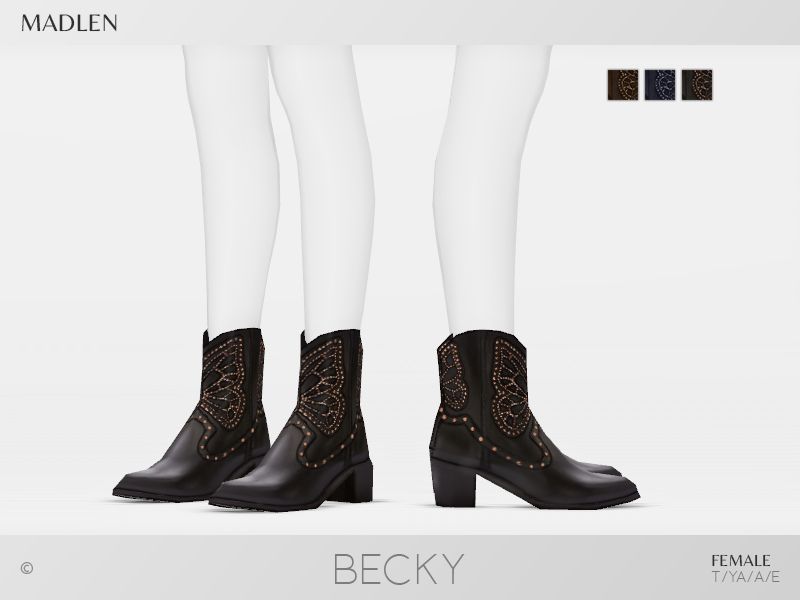 These short cowgirl boots are just the pair of boots you need to style with your sims country dresses.
Reaching just above the ankle, these boots will protect your sims feet from all that horse ranch dirt while still letting them dress in style.
These boots come in 3 dark swatches, each with beautiful embroidered butterfly details.

20. Horse Ranch Mucking Wheelbarrows by .Objuct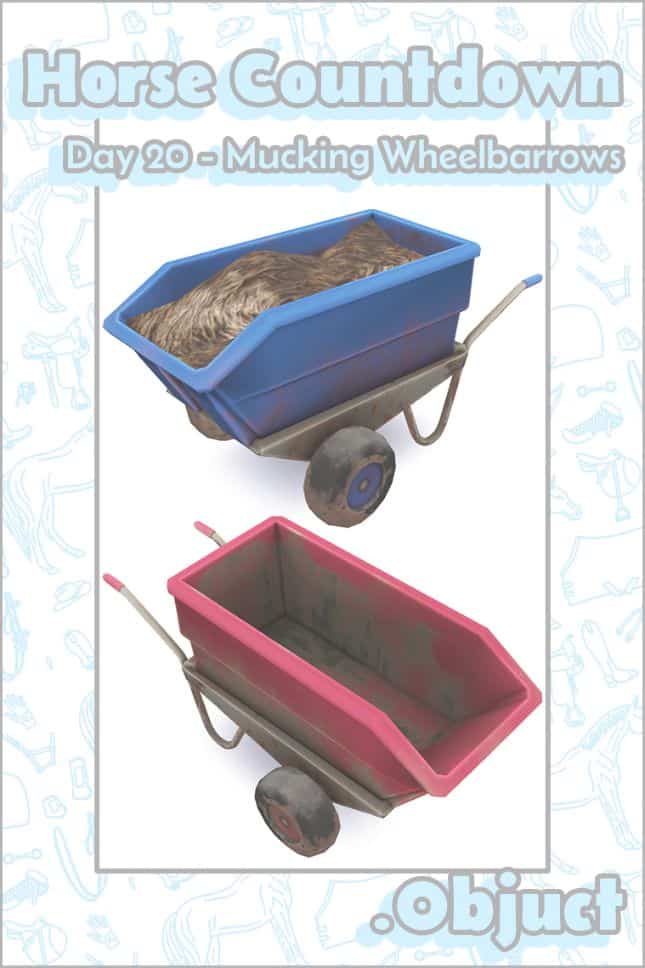 Continuing with the sims 4 horse ranch essentials are these mucking wheelbarrows.
Ranch life isn't clean or easy, so you need the proper equipment to handle all your horses' manure and dirty hay.
There are 10 color swatches, including dirt, hay, and hayless options.

21. Men's Cowboy Shirt for Sims 4 by SimmieV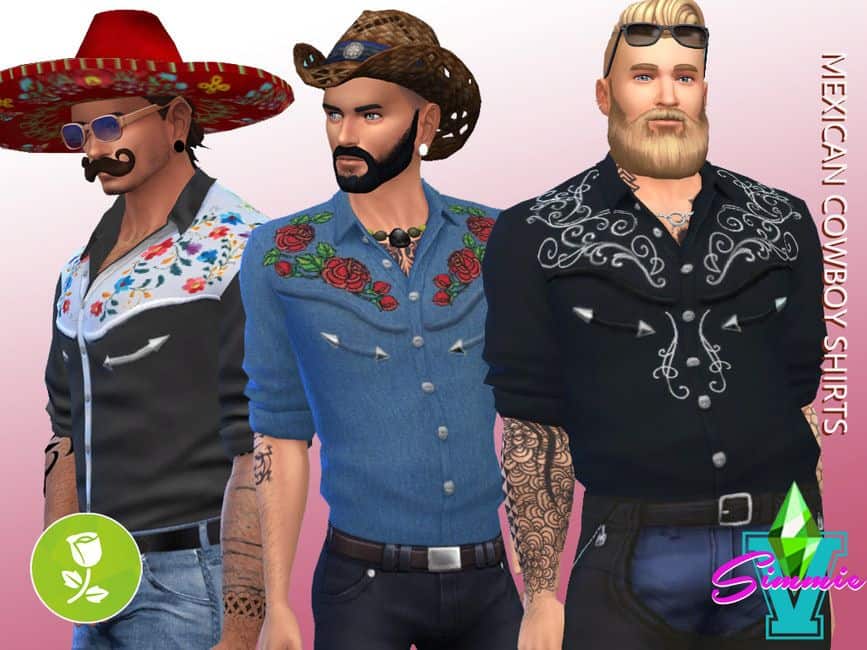 Embroidered details are not limited to your cowboy boots; these men's shirts offer intricate work.
There are 11 button-up shirts with different embroidery styles from flowers and swirls, taking inspiration from Mexican designs.
These men's shirts will be perfect for a date night at the local barn party.

22. Female Dressy Cowboy Boots by Birba32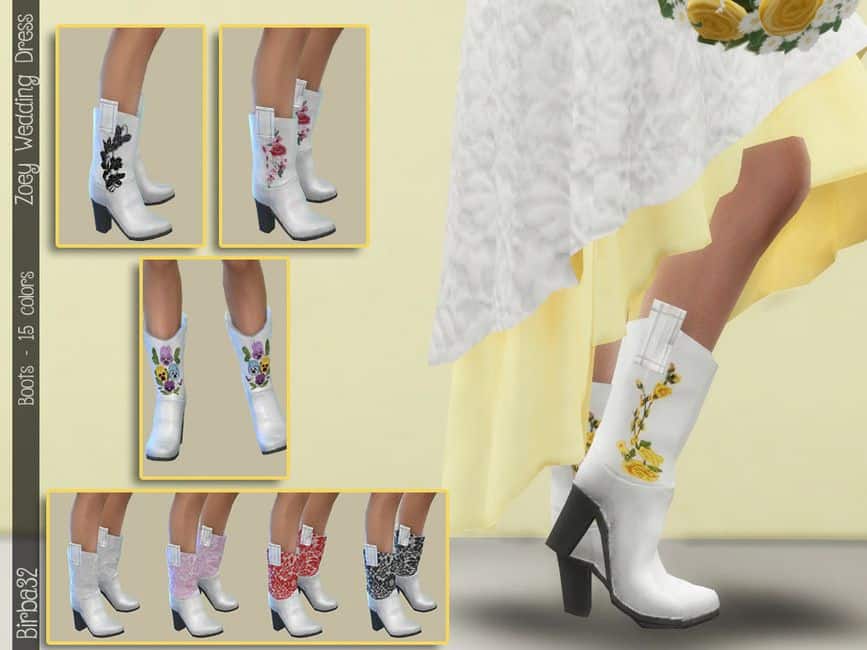 Pick up some beautiful Texas cowgirl boots with heels for your next sims ranch wedding.
These gorgeous white boots come in 10 swatches, including 5 with embroidered flowers and 5 with delicate colored lace.
Nothing completes a country outfit better than some good-looking boots.

23. Sims 4 Horse Ranch Safety Signs by .Objuct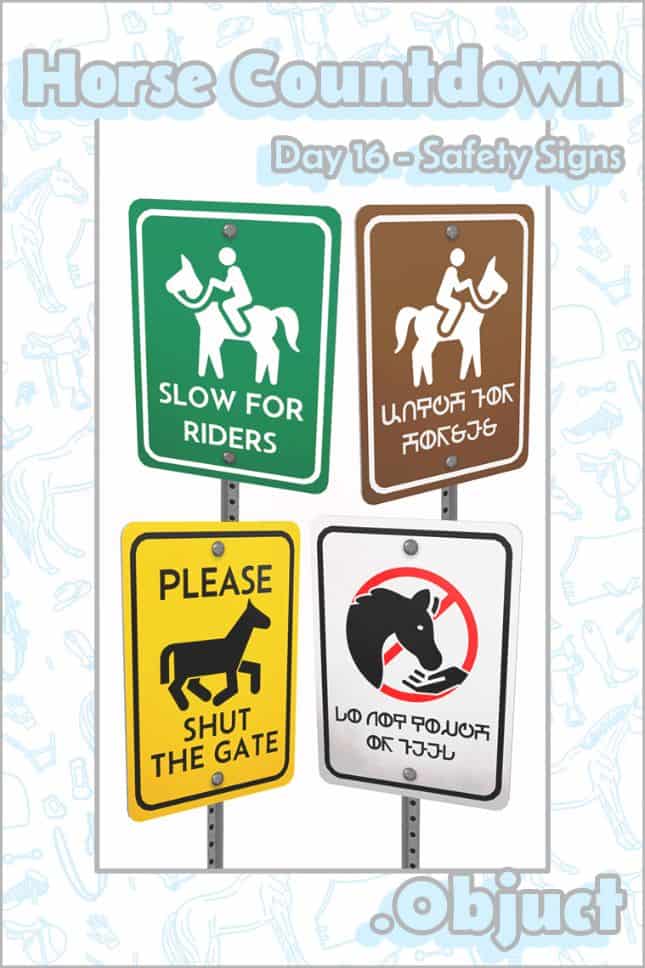 This sims 4 horse ranch cc lets you run your ranch safely with all the appropriate signage.
There are 6 signs available, which include warnings to slow down for horse riders and shutting the gate.
All the signs come in both English and Simlish versions.

24. Men's Snakeskin Cowboy Boots by TitusLinde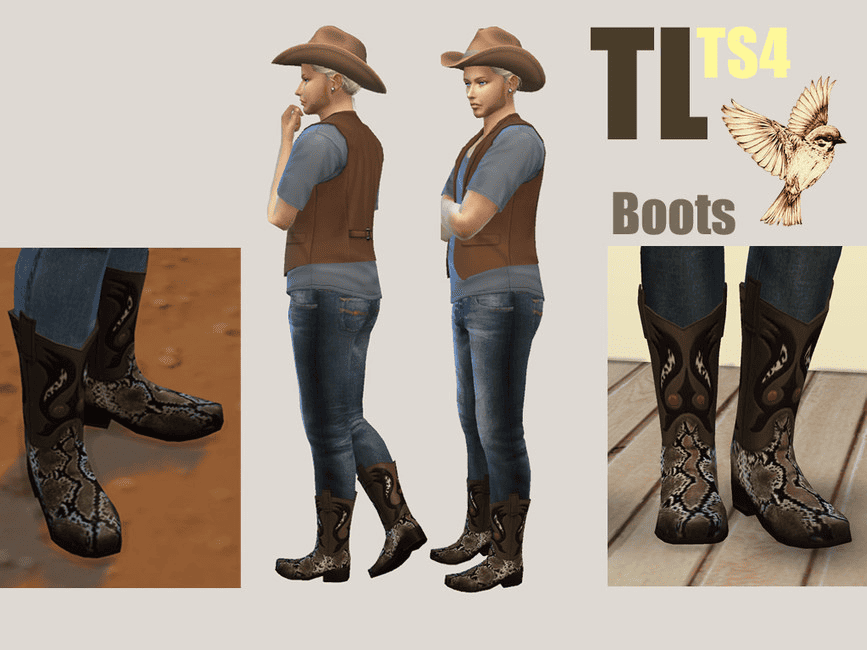 And yes, we found even more amazing cowboy boots; this time, they are made with leather and snake skin.
These cowboy boots will add a great finishing touch to your sims outfits and can be worn casually or more dressy.

25. Sims 4 EquiStyle Saddle Rack by .Objuct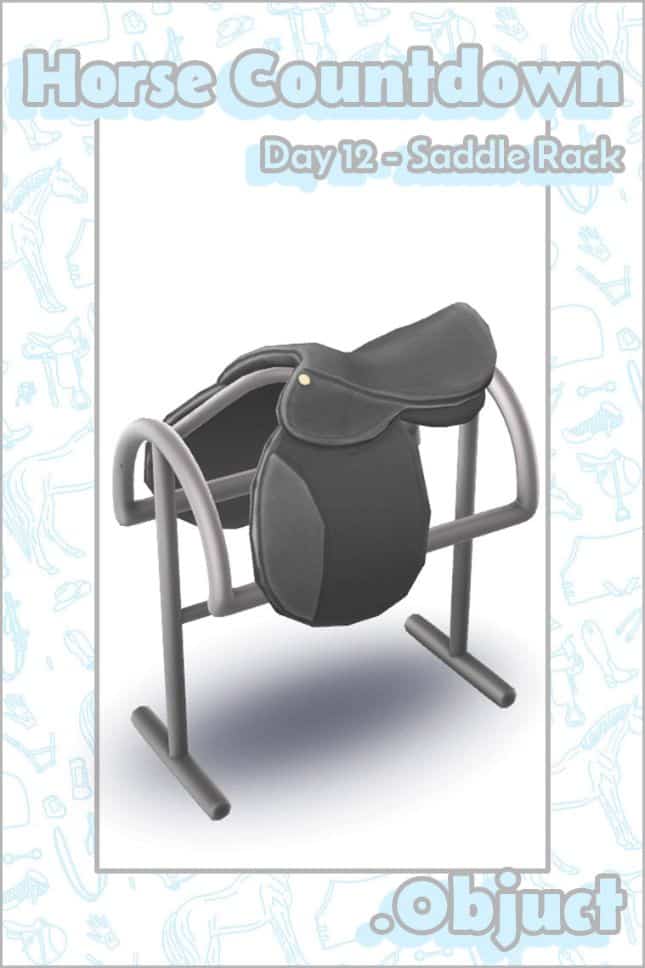 Every horse ranch worker and equestrian needs a saddle rack at the end of the day.
And while the wooden saddle stand provided with the Horse Ranch EP is nice, .Objuct has made an equestrian-style saddle rack.
Plus, this classic style saddle rack has 4 leather textures for the saddle itself.

26. Soulmate Eyes for Horses by Someone-elsa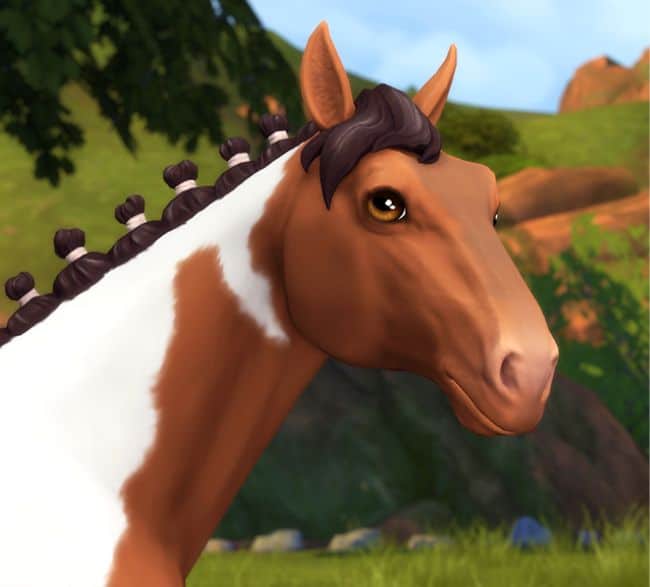 If you're a fan of Soulmate eyes, you'll be happy to know you can now add them to your new favorite horses.
I always enjoy the look of depth these Soulmate eyes give off and the reflective spots.
Plus, the eyes will have opal-shaped pupils for your horses, and they come in 9 swatches.

27. Recolored Horse Ranch Doors by Elbee288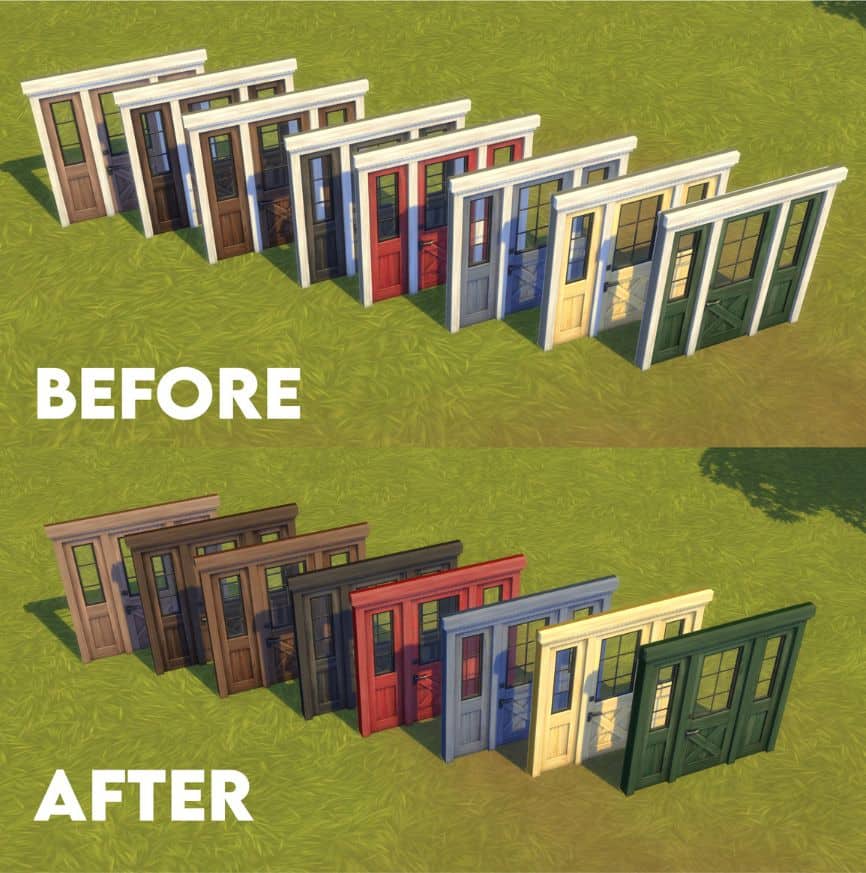 This download is a simple recolor of the horse ranch doors from the Horse Ranch expansion pack.
The ranch doors will lose their white trim, leaving you with 9 solid color swatches.
You can also use the default doors and these recolors together.

28. Sims 4 Horse Ranch Pasture Feeder by .Objuct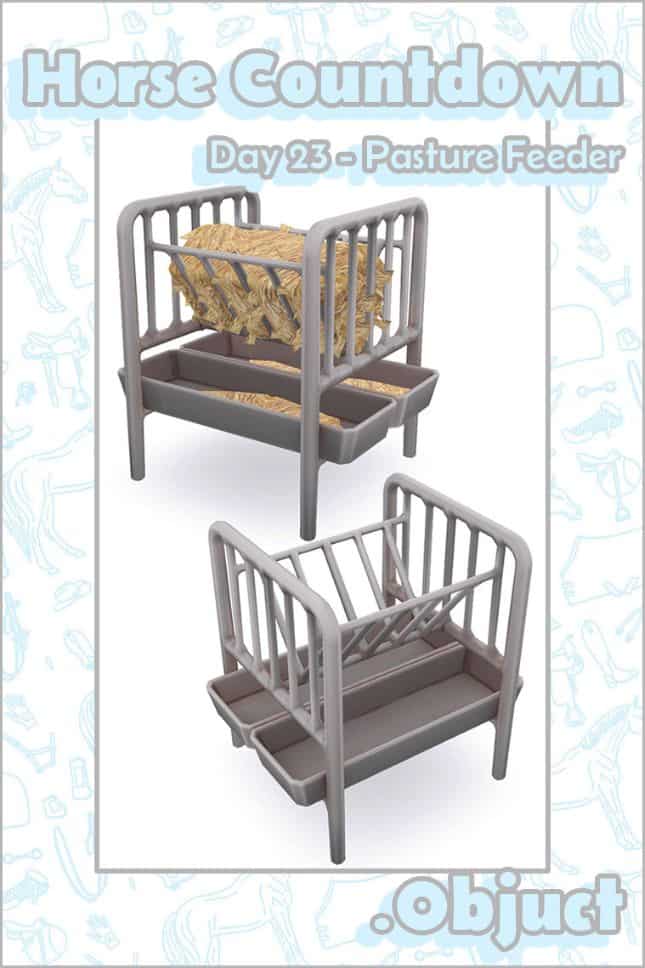 Another horse ranch essential piece is this pasture feeder.
From your horses to the mini goats and sheep, ranch animals often eat from pasture feeders.
This sims 4 horse ranch cc comes with two types of hay, or you can opt for the empty pasture feeder.

29. Sims 4 More Unicorn Sparkles by Vicky Sims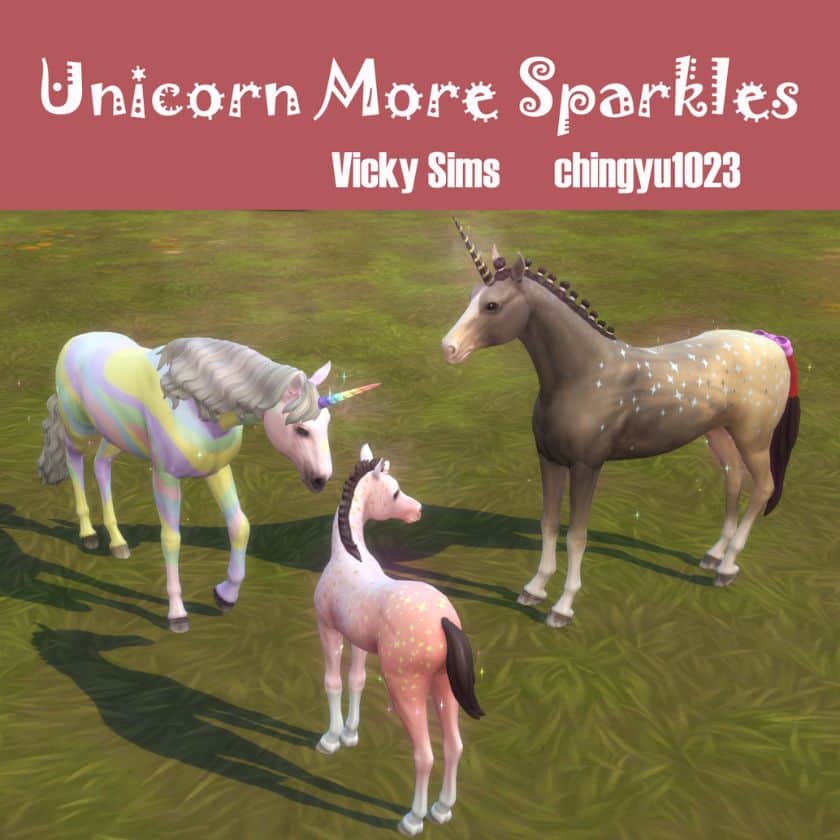 Ok, so this is technically a mod, but I still had to include it in this post.
This simple sims 4 horse ranch mod allows you to add more sparkles to your unicorns.
So if you like a little extra sparkle in your sims lives, this is the mod for you.

30. Sims 4 Horse Ranch Townies by Miss Ruby Bird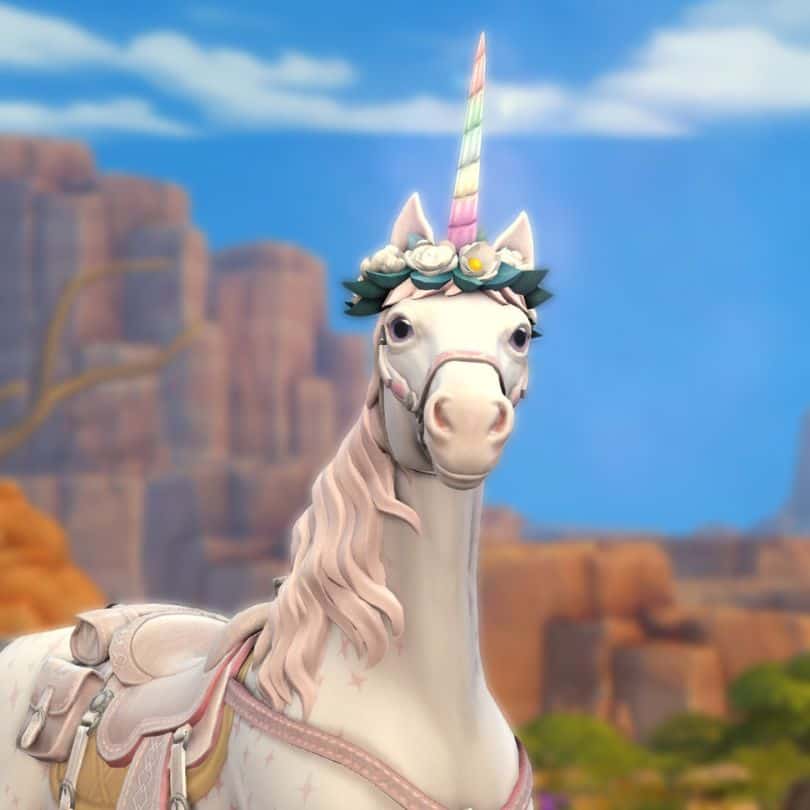 Add some fun new townies and an adorable unicorn to Chestnut Ridge with this pack.
There are 7 townies, from an infant to an elderly female; you can read up on their backstories and traits on the download page.
And we can't forget about the gorgeous unicorn with her light pink mane and sparkles.

31. Horse Ranch Default Overrides by Incandescentsims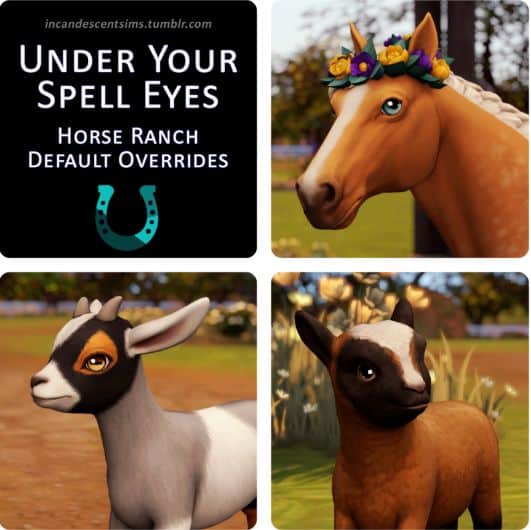 These default overrides bring you Pyxiidis' Under Your Spell Eyes.
All the textures for your new favorite Horse Ranch animals have been replaced.
The eye shine is now gone from your horses, mini sheep, and mini goats.

32. Toddler Horse Ranch CC Outfit by Powluna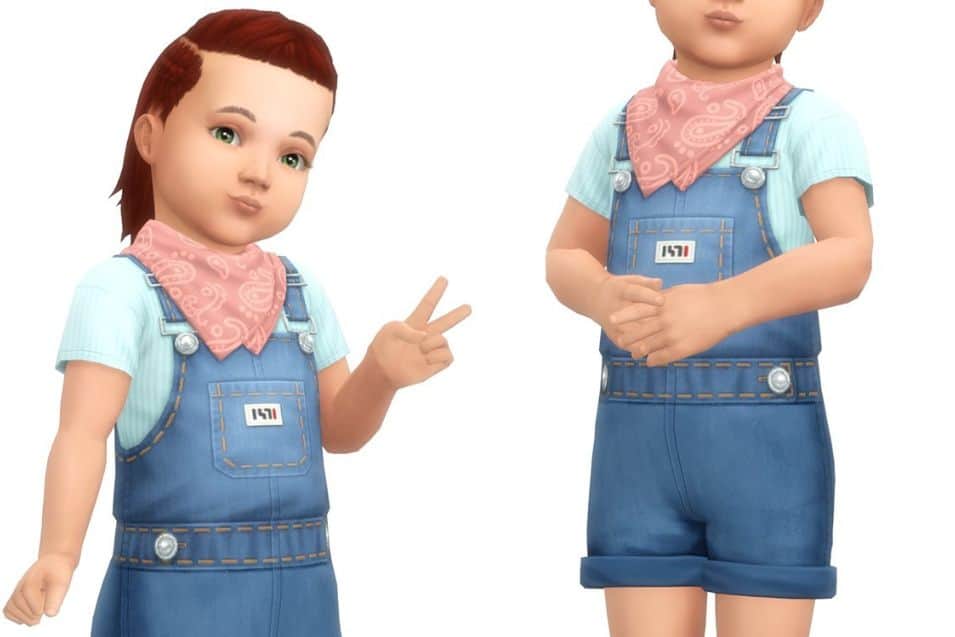 This Rowan full-body outfit will have your sim toddlers dressed for the horse ranch.
The set includes a short-sleeve shirt with folded thigh-high dungarees and a neck scarf for those hot days on the ranch.
There are 12 swatches for this unisex outfit.

33. Chestnut Ridge Rebuild by Peacemaker_IC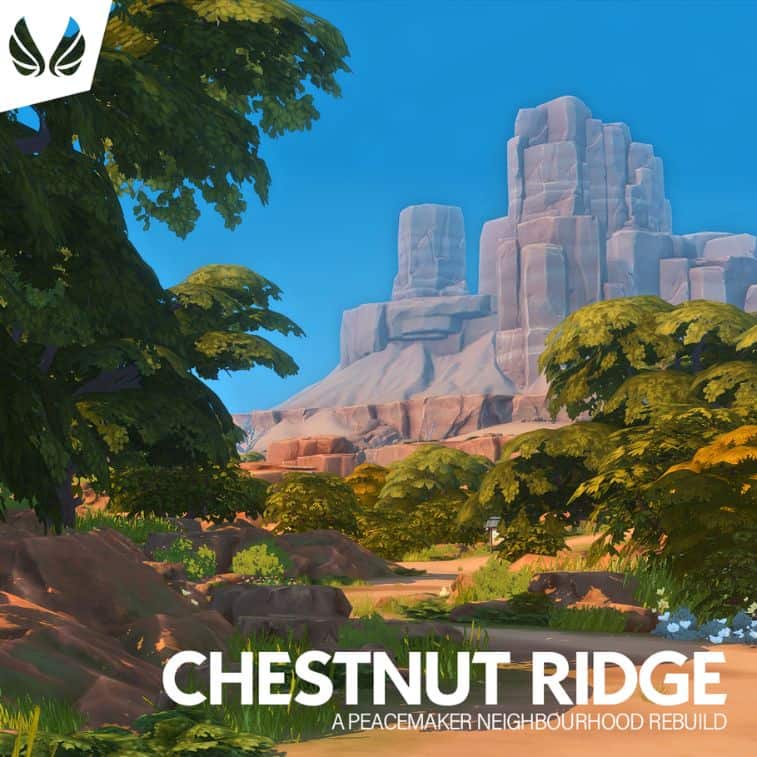 Peacemaker_IC has been hard at work putting together a Chestnut Ridge makeover.
This pack includes 13 lots which you can see outlines on a map on the download page.
The amazing builds include everything from a 2 bedroom and two-bath ranch house to a large 4 bedroom and 5 bath property.
I especially love the look of The Rusty Horseshoe, which is the new dancehall and nightclub.

34. Sims 4 Cowboy Set by JujuAwesomeBeans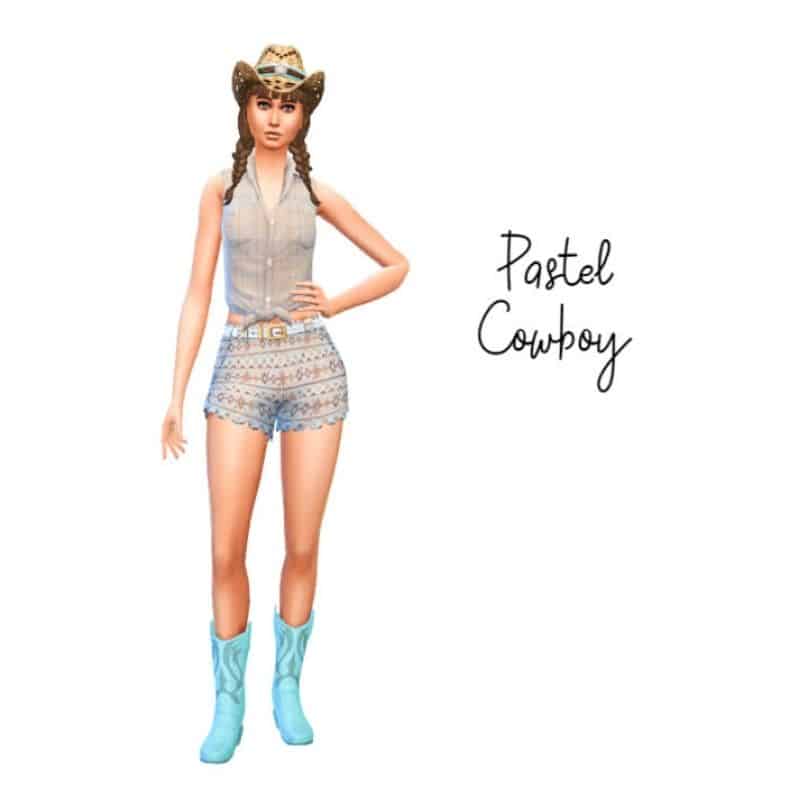 This sims 4 horse ranch cc set includes 3 pieces for your female sims.
This set includes a knotted crop top, scalloped shorts, and cowboy boots.
The top comes in 14 pastel plaid hues, and the shorts in 12 southwestern patterns.
Your sims will have the choice between 13 swatches for their new boots.

35. Sims 4 Horse Ranch Hat by GegeSims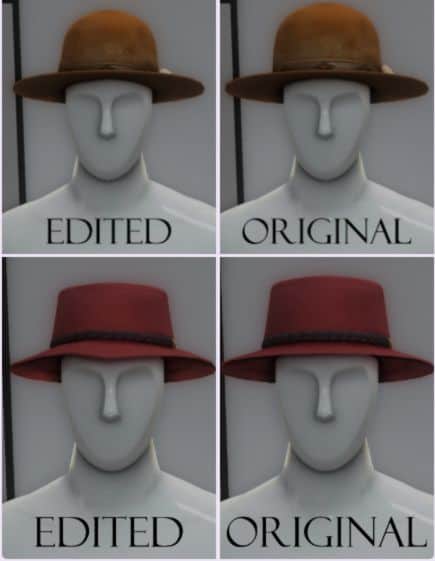 These sims 4 horse ranch hat edits will have your sims hats fitting more normally on their heads.
As you can see in the side-by-side images above, the hats sit a little lower on the heads, giving them a more natural look.

36. Sims 4 Equestrian Pants CC by Windenbro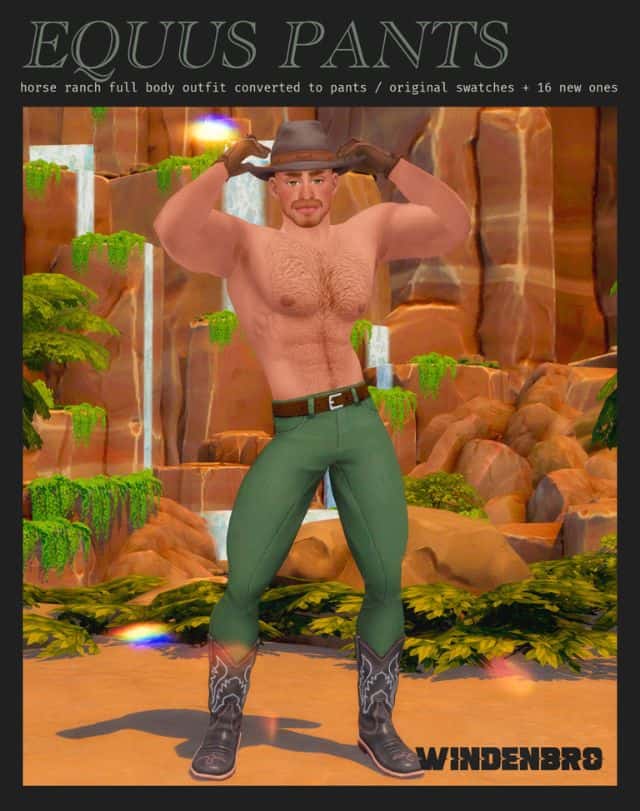 This sims 4 horse ranch cc brings you the pants portion of the full-body outfit in the EP.
Pair these equestrian pants with your new favorite embroidered shirt and cowboy boots to complete the look.
You can style your sims in the original swatches or choose those from the Dimlits color palette.

37. Sims 4 Western Saddle Pads by Doptera-ts4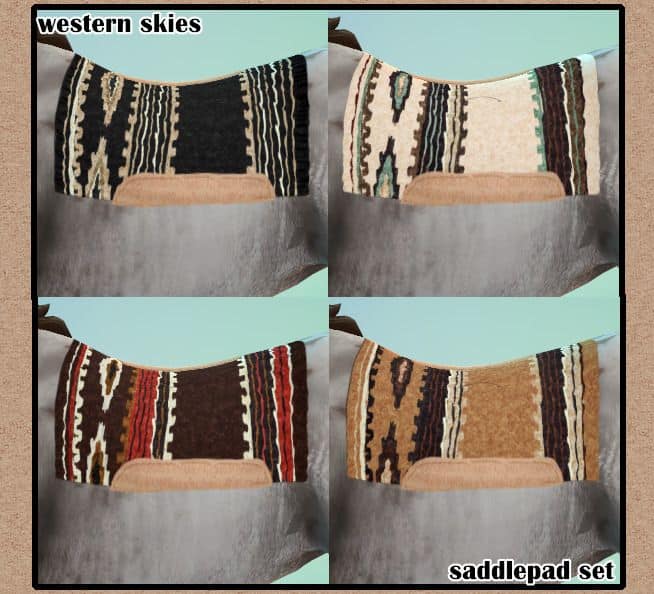 These western saddle blankets are beautiful with their thick woven fabric.
This saddle pad set comes in 4 hand-painted swatches, allowing you to pick the color that best matches your sim's horse.

38. Sims 4 Equestrian Ridding Vest by Luvillia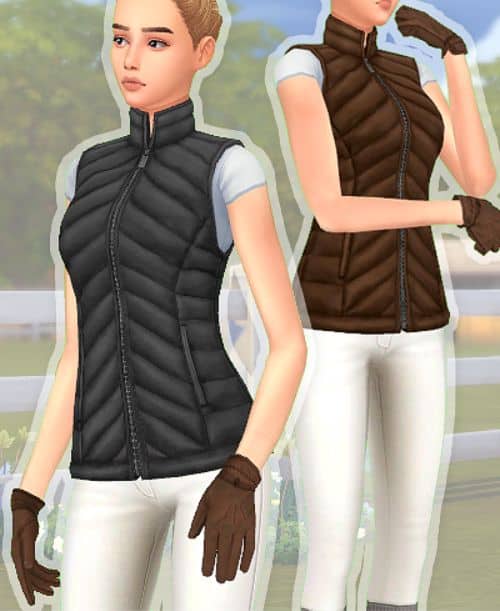 The beauty of the sims 4 is that you can make it your own, and English riding equipment pieces are appearing more and more.
This custom-content riding vest will let your equestrian sims enjoy their ride in style.

39. OREO Hair Swatch for Horses by Doptera-ts4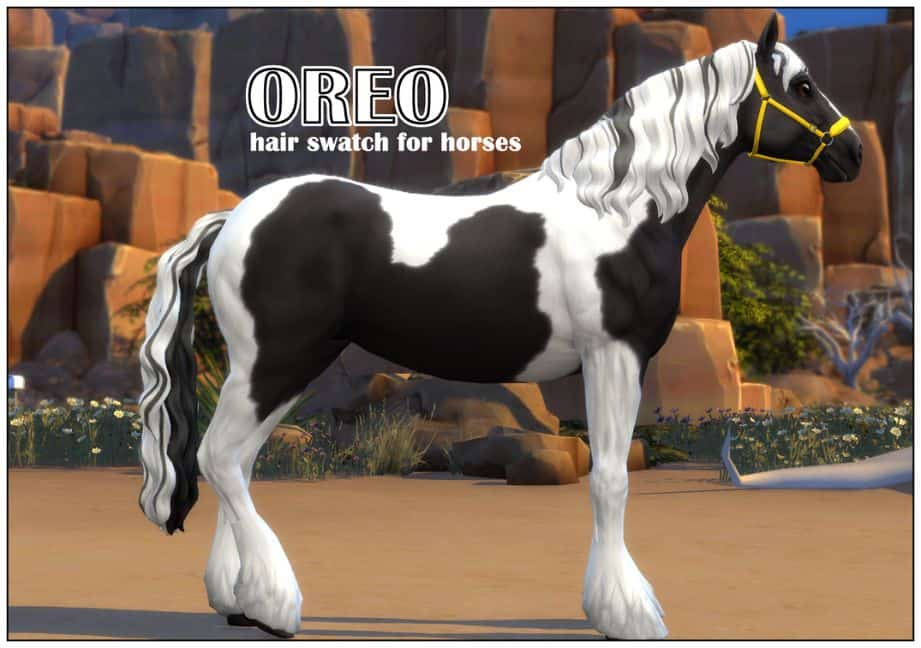 I love how quickly cc creators are coming up with quick fixes to add their favorite customizations to the pack.
If you're a fan of pinto manes, then you'll love this Oreo-inspired hair swatch for horses.
With this cc, you can add black-and-white streaks to the EA manes, forelocks, and tails.

40. Daisy Cowgirl CC Set by Arowen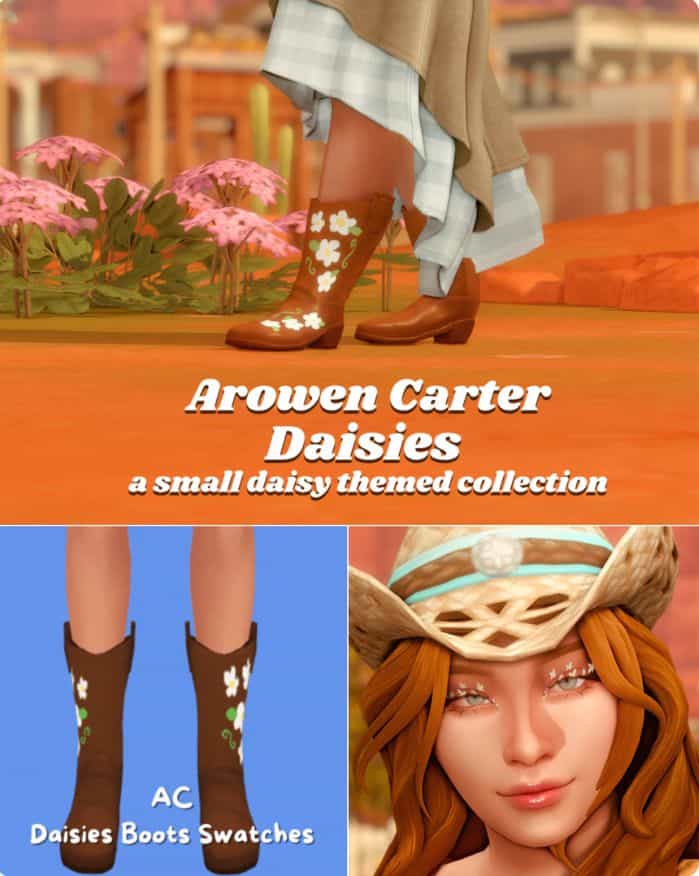 Daisies inspire this cowgirl set, bringing such beautiful little details to the cc pieces.
The 3-piece set includes cowgirl boots, eyeliner and nails.
Since daisies are the theme, you can expect these little flowers to take center stage.

41. Sims 4 English Saddle Pad Set by Doptera-ts4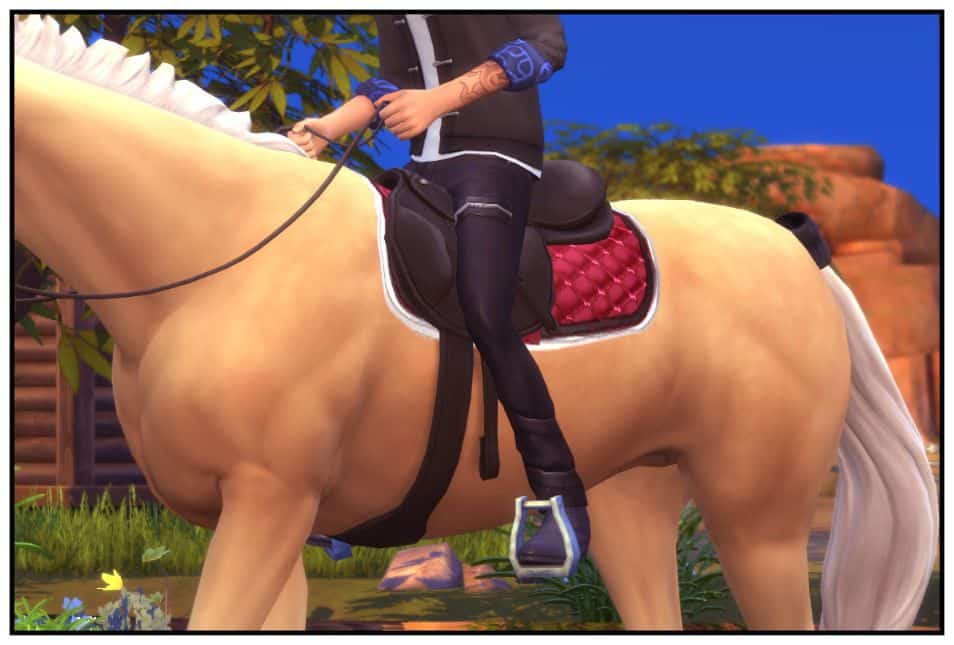 There are plenty of choices regarding saddle pads, and this set focused on classic English quilted saddle pads.
These contoured saddle pads come in 9 hand-painted color swatches so you can once again pick the best color for your horses.

42. Sims 4 Hair & Tail Accessory by .Objuct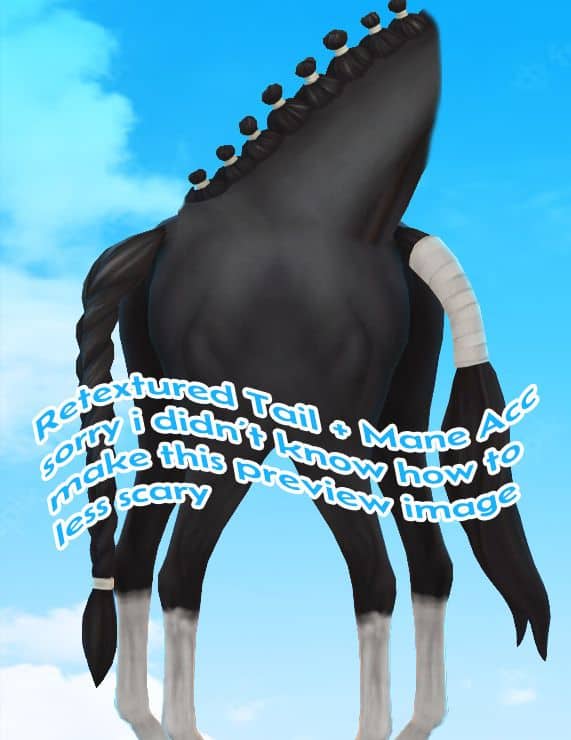 Not a fan of the abundance of red tail wraps options for your horses?
In this sims 4 horse ranch cc, all the hair ties have been recolored to either white or black.
The creator has also retextured the tail wrap to resemble polo wraps which also come in both colors.
Plus, if you prefer a braided forelock, you can grab the download file for that too.

43. Mirror Mirror Default Horse Eyes by Doptera-ts4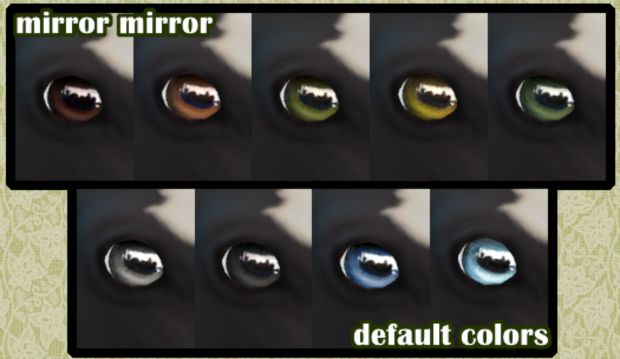 These mirror mirror default horse replacement eyes come with hand-painted eyes.
These eyes have a semi-realistic look with their oval-like iris yet are combined with a glossy finish.
There are 9 EA colors, and you can also find version 2 here, which has 4 heterochromia variants.

44. Horse Default Replacement CC Skin by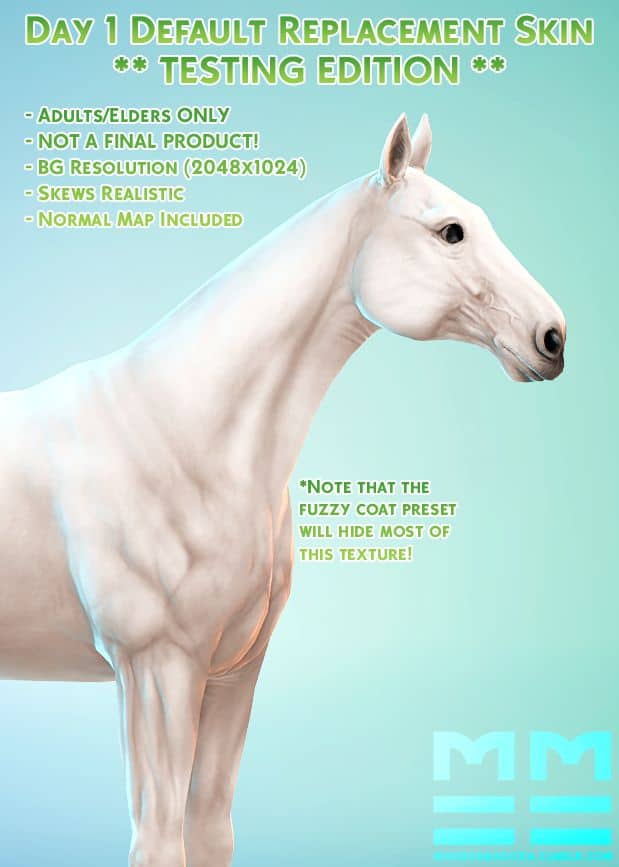 This default replacement skin mod will take your new ranch horses to the next level.
While I think the cartooning Spirit-style horses are freaking adorable, it's nice to have the option of more realistic horses too.
You won't be able to use the muscle slider for your horses when using this mod.
You can use this default skin on adults and elders.

45. Sims 4 Male Equestrian Outfit by McLayneSims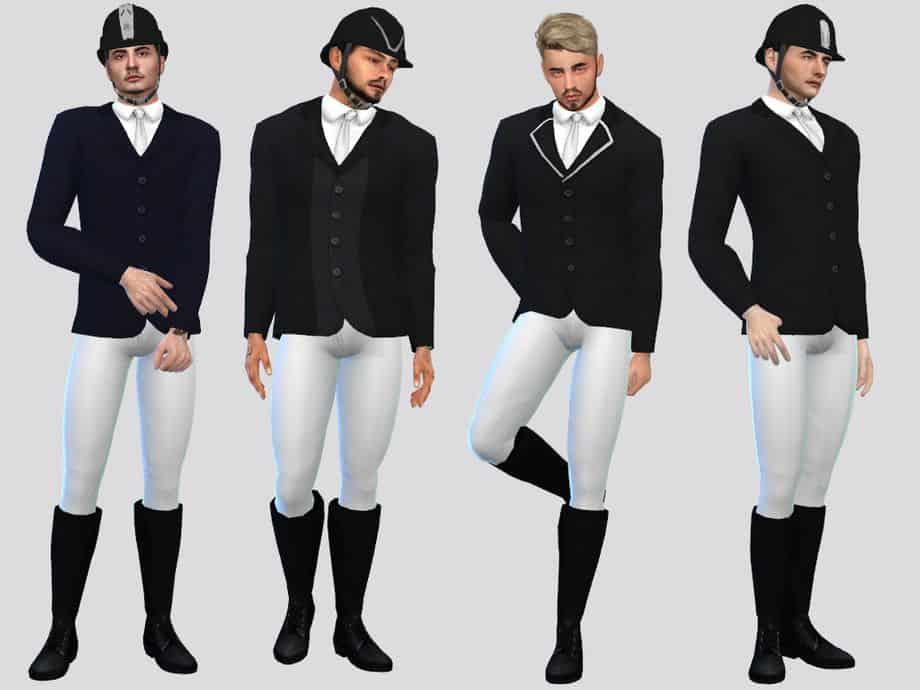 I've seen multiple people on Tumblr hoping for more equestrian items, and I was so happy to find this male outfit.
This cc is one full-body outfit, including a shirt, tie, jacket, pants, and riding boots.
You can also get the kid's equestrian outfit version here.

46. Pink Horse Bridle And Saddle Set by PlatinumLuxeSims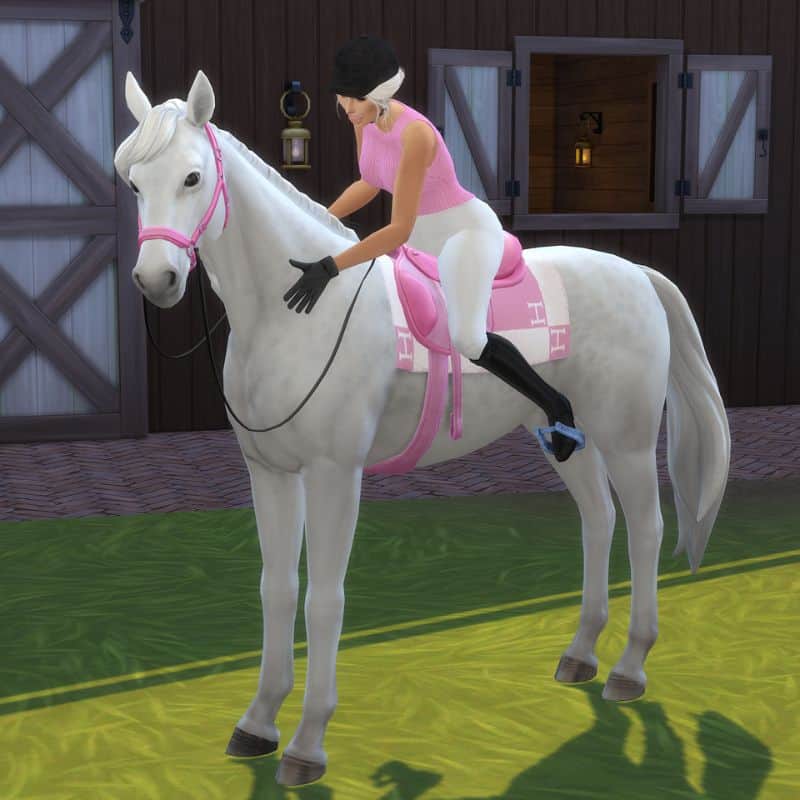 Need some pink on the ranch?
This sims 4 horse ranch cc set includes a pretty pink saddle and bridles for your horses.
This set is perfect for adding to all the trending cowgirl Barbie cc pieces circulating.

47. Dolce V2 Horse Ranch Default Eyes by Wrixie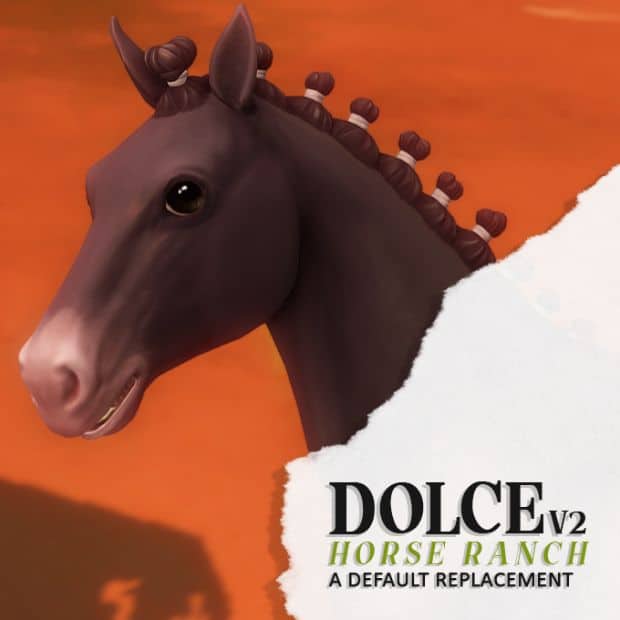 The popular Dolce eyes are now available for your sim horses, mini goats, and mini sheep.
These eyes are available in default replacements and can't be combined with other animal texture replacements.

48. Sims 4 Horse Exercise Blankets by Sirisims4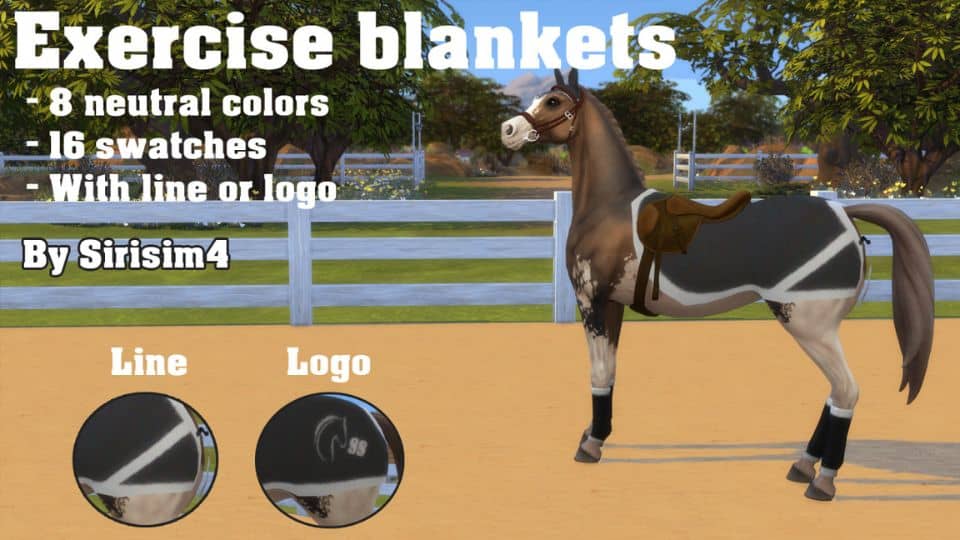 Protecting your horse from the harsh elements is essential; these exercise blankets will do just the thing.
This set of sims 4 horse blankets comes in two models; a horse logo and another with a wide stripe.
Each blanket model comes in 8 colors: white, grey, black, bordeaux, dark green, navy, and purple.

49. Sims 4 Horse Ranch Feed Bags by .Objuct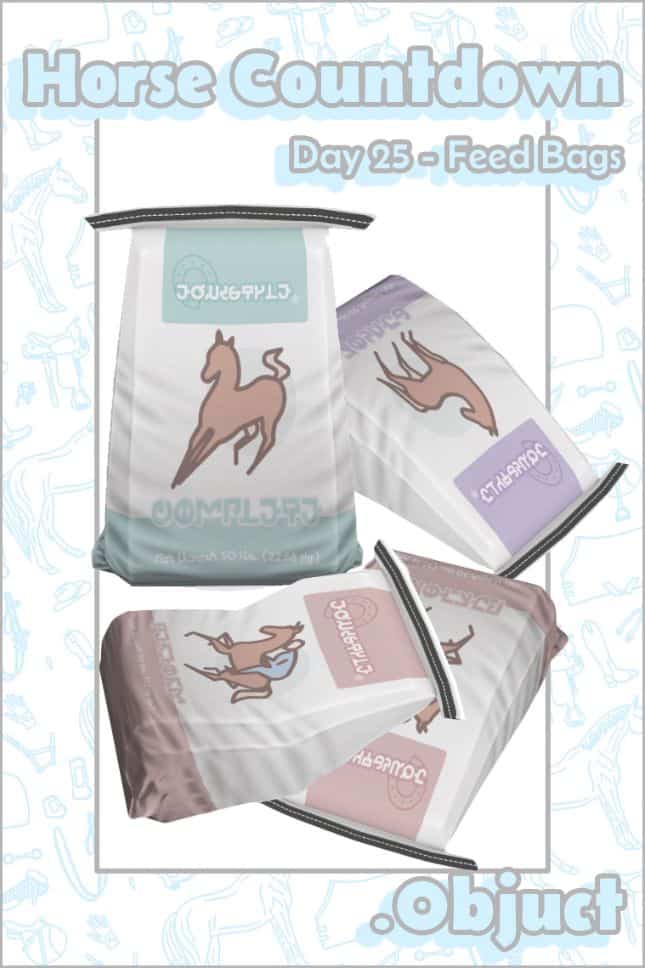 I love these horse feed bags; they are the perfect clutter pieces for a more realistic horse ranch.
You can choose to have them lying flat, upright, or piled up, and they come in 3 different feed types (complete, performance, and senior).

50. Spanish Horse Tail CC by Historysims4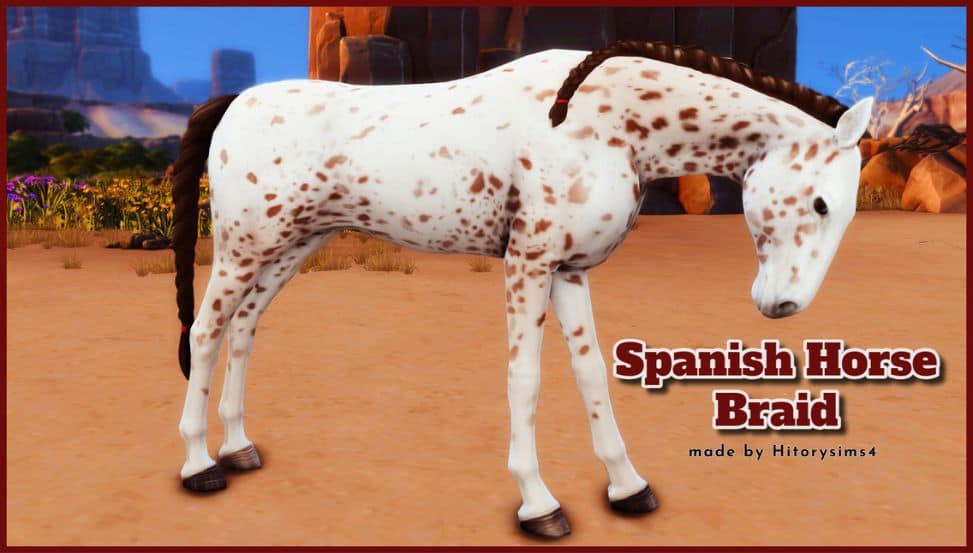 Need a new hairstyle for your sims horses?
This sims 4 horse ranch cc includes a Spanish braid for your horses.
This hair cc is available in the Mane section in the 36 horse color swatches.

51. Western Hitching Post for Sims 4 by Appleisimmer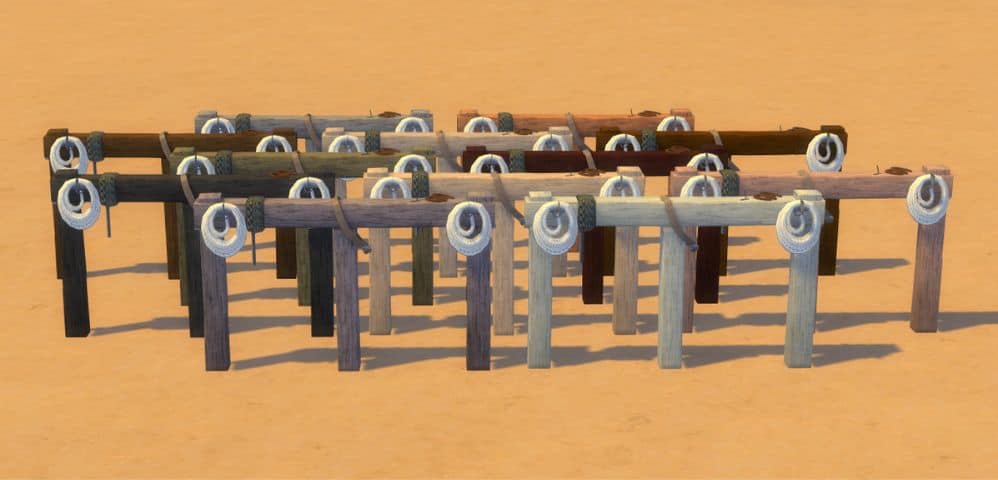 This horse ranch custom content set includes two simple hitching posts.
The Rustic hitching post has 4 small and 4 medium slots.
The Ranch version contains 7 small and 7 medium slots.
You can find these hitching posts by typing "Ranch or APS" and both versions come in 12 swatches.

52. Sims 4 Pequichor Horse Eyes by Rheallsim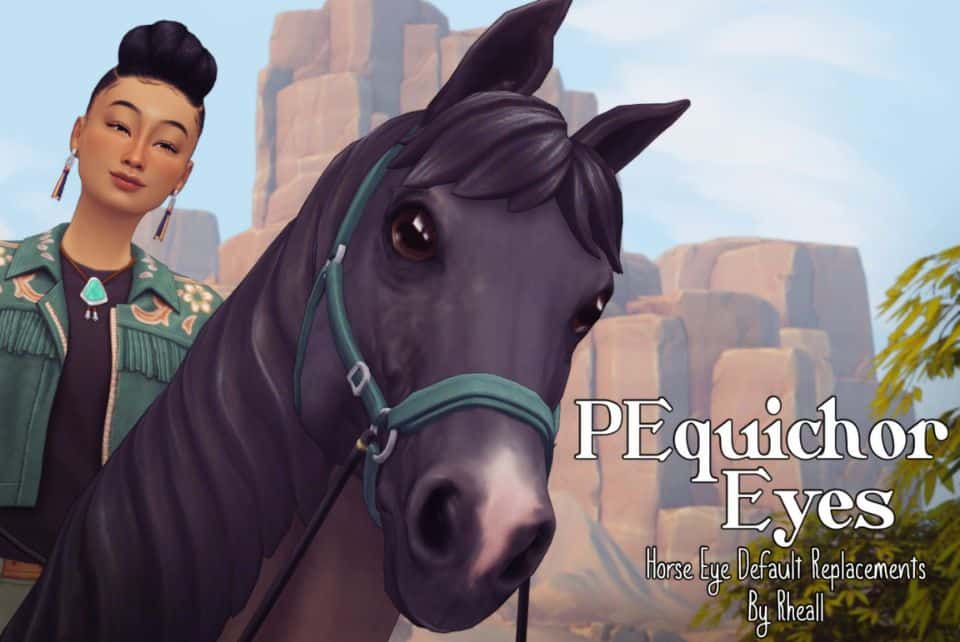 These sims 4 horse eyes are a great blend of realistic horse eyes and cute cartoony effects.
The eyes have some pretty reflective details and will give your sim horses a kind and friendly look.

53. Dot Sims 4 Horse by Cowplant-pizza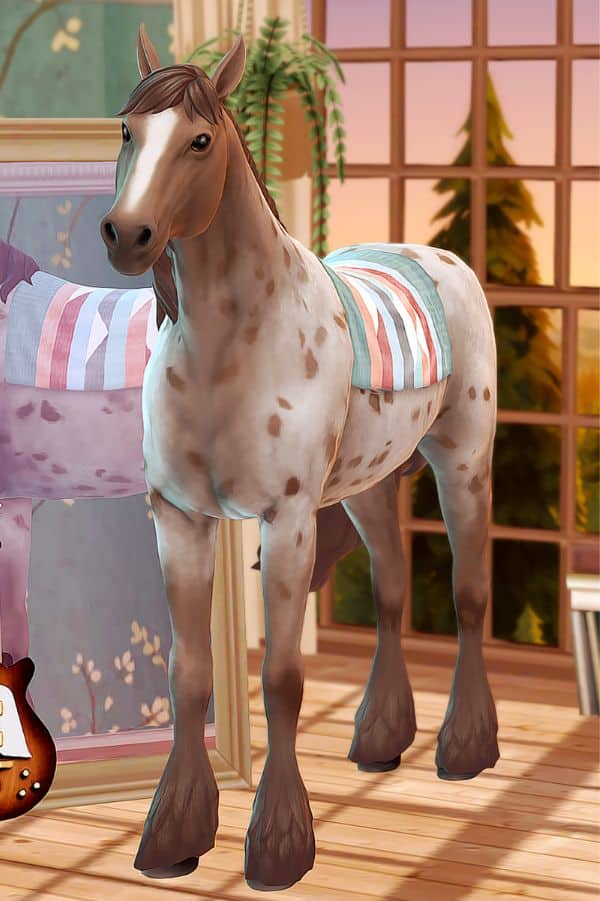 Ok, so Dot is literally one of the cutest horses I've seen circulating so far.
And although she's had a rough beginning, Dot is now ready to be adopted onto a new horse ranch.
Dot's gallery id is: boeybum

54. Sims 4 Snaffle Bridle by Sweetpea's CC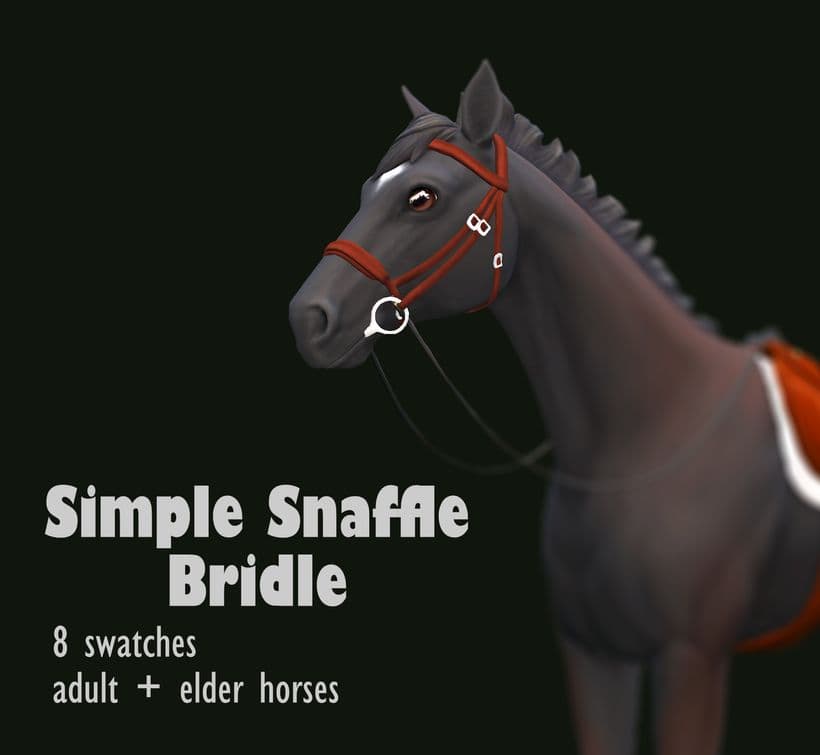 Here we have another simple snaffle bridle for your sims horses, and this version includes 8 color options (4 of which have both silver and gold metal wear).
The reins will attach at the original point, and this bridle works for adult and elder horses.

55. Sims 4 Unicorn Horns by Fatal Rose Creations
While not everyone enjoys unicorns, I'm happy they are part of the expansion pack.
This sims 4 horse ranch cc includes a new shape of unicorn horns.
These horns come in 19 swatches, so have fun trying out this new cc on your unicorns.

56. Sims 4 Riding Leggings by XTC/Fléau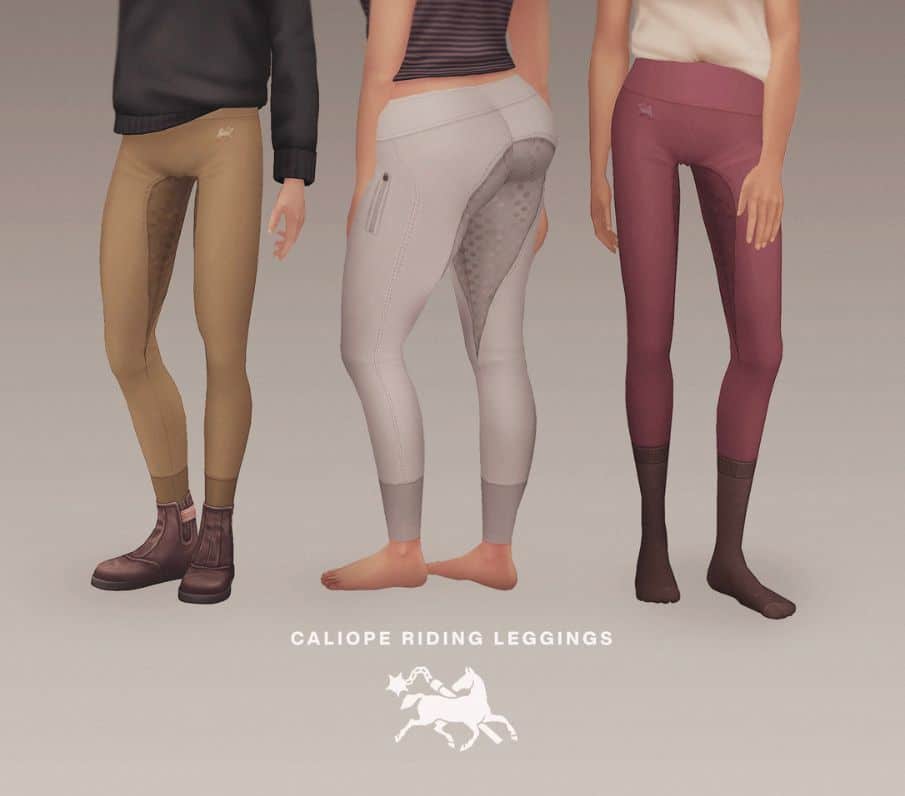 Not all horse riders are into equestrian sets or country clothes; sometimes comfort is essential.
These riding leggings are both practical and comfortable and keep things casual on the ranch.
These leggings come in 12 earth tone swatches and include 3 versions (low waist, high waist for females, and male leggings).

57. Horse Default Replacement Eyes by Bluubun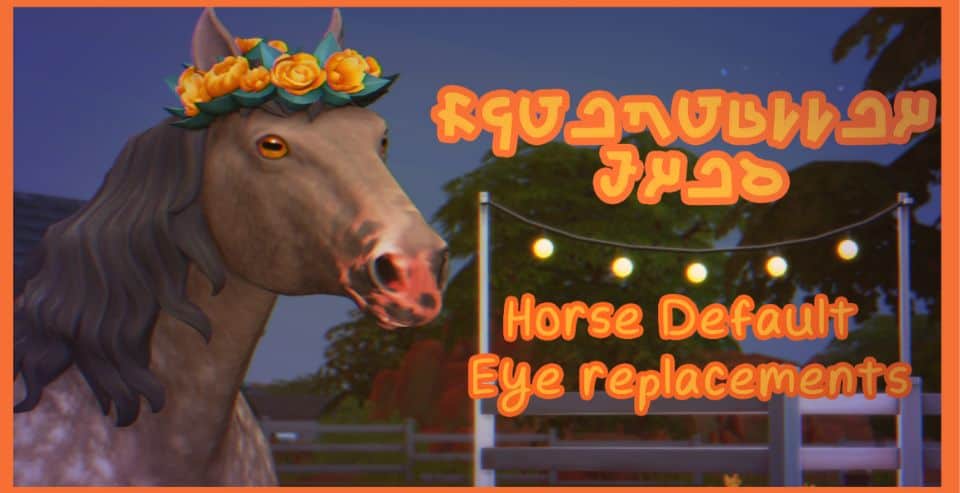 These default horse replacement eyes offer simpler horse eyes with a heavy focus on oval irises.
These horse eyes come in 9 swatches and are an excellent option for simmers searching for more realistic shaped irises.

58. Dakota Vest Shirt for Sims 4 by McLayneSims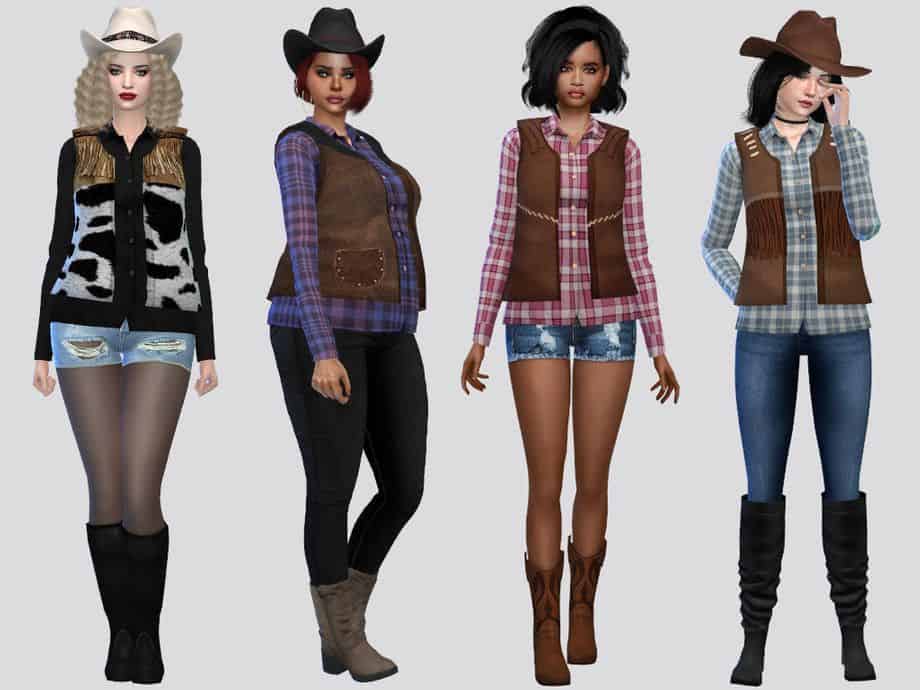 This cc is a simple vest shirt for your female sims, which is perfect for everyday wear on the horse ranch.
This custom content shirt comes in 6 swatches, with the cow print being my favorite.

59. Sims 4 Horse Ranch Water Trough by .Objuct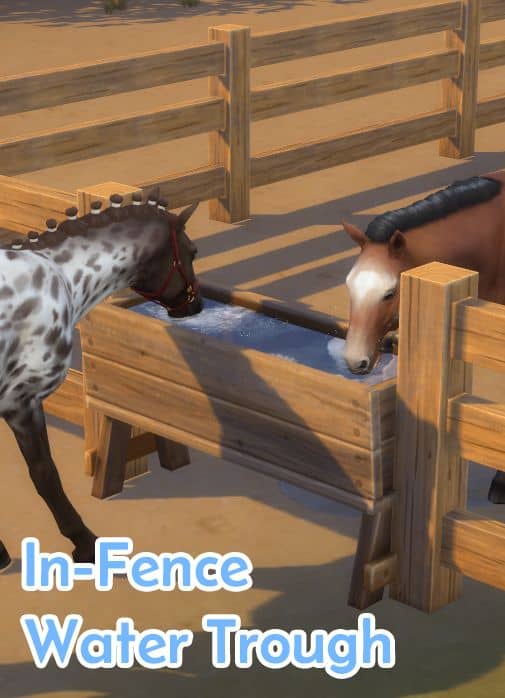 This sims 4 horse ranch edit allows you to add water troughs between pasture fences.
To use the water trough, you will need to create a 2-block hole in your fence.
I recommend reading the creator's description on the download page.

60. Sims 4 Horseshoe Earrings by Feyona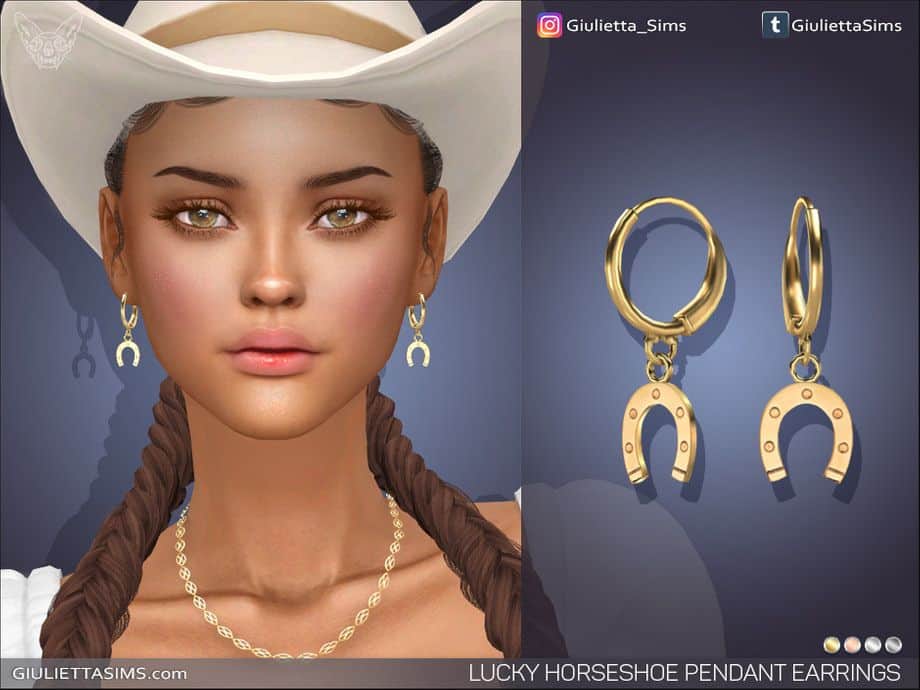 These adorable female horseshoe pendant earrings will complete any horse ranch inspired outfit.
The earrings come in 4 metal colors ( yellow gold, rose gold, white gold, and black plated).
You can also grab the kids and toddler versions linked here.

61. Sims 4 Gradient Horse Hooves by Jellypaws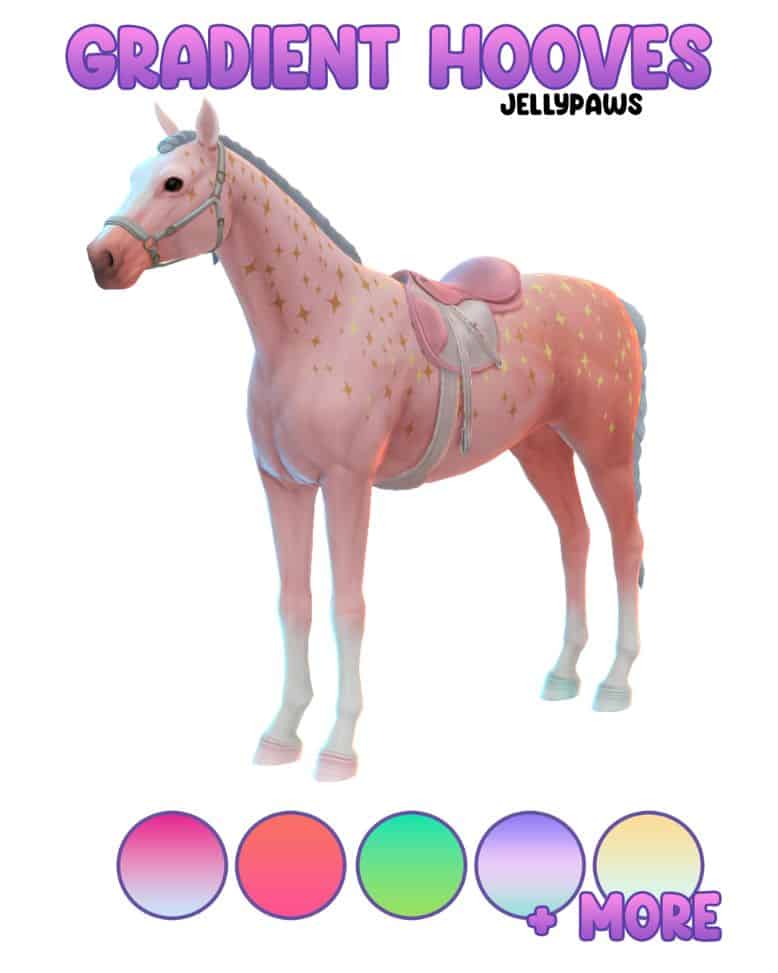 This fun little custom content brings some pretty gradient colors to your horse's hooves.
There are 5+ swatches, and each blends a mix of colors into a pretty gradient, adding a unique touch to your sims 4 horses.

62. Sims 4 Horse Eyelashes by MahoCreations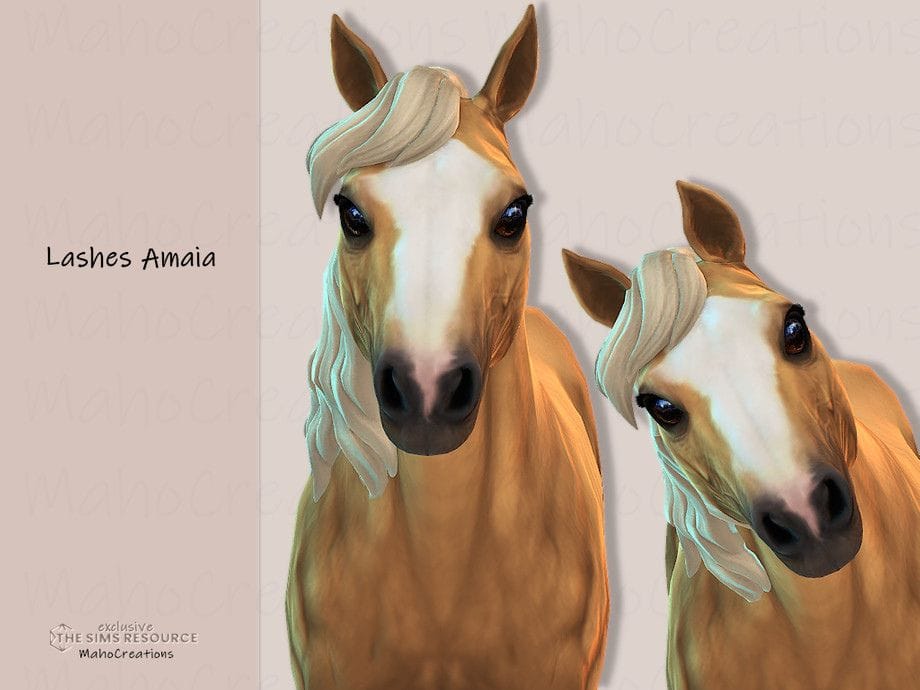 These beautiful Amaia short bushy eyelashes are perfect for your sims 4 horses.
They add a nice fullness to your horse's eyes and come in 7 colors so you can find a great match.
These lashes are available for male and female horses aged teen to elder.

63. Sims 4 Horse Ranch Flower Crown by Nolan-Sims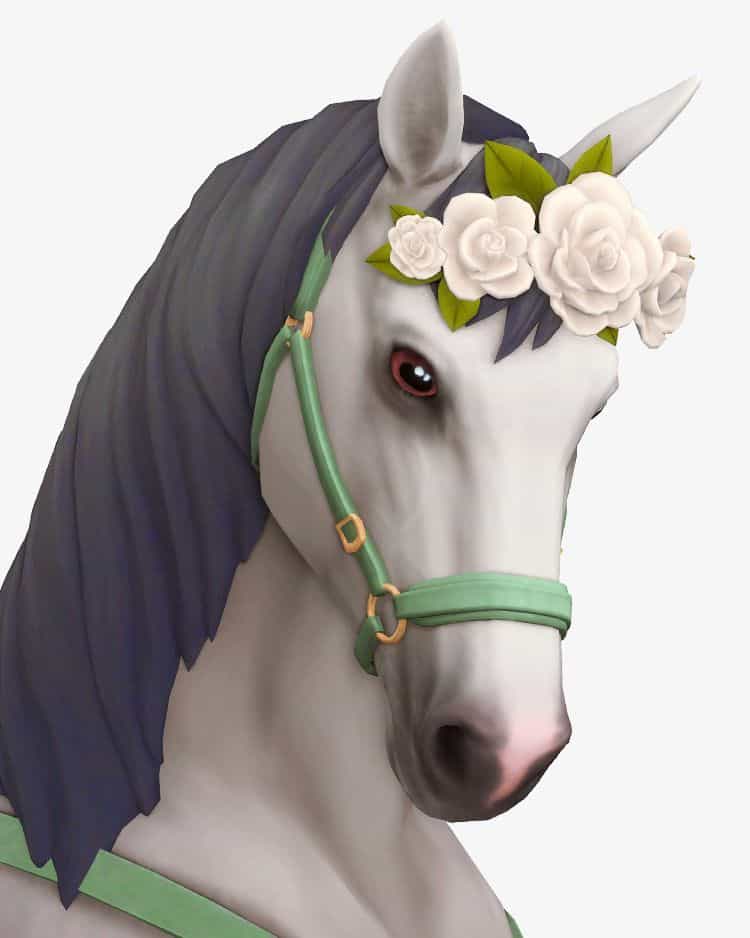 This custom content requires Cat & Dogs EP and the Horse Ranch EP
Are you searching for more flower crown options for your sim horses?
Nolan-Sims has updated the flower crowns to include options for your adorable horses.
There are 2 versions for horses, both high-set and low-set, for the perfect fit for all types of forelocks.
You will also find a variety of swatches for your newest flower crowns.

64. Short Horse Tail for Sims 4 by .Objuct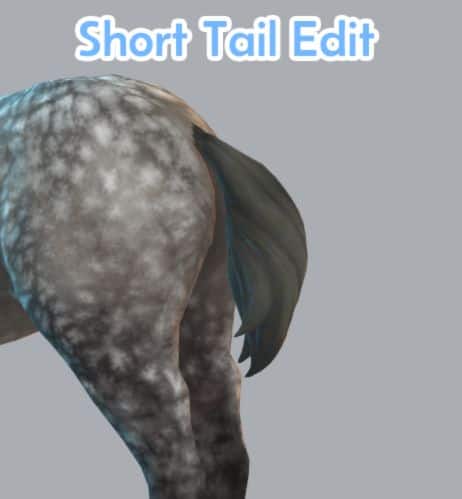 While long horse tails are beautiful and classic, having some variety in our cc folder is always nice.
This sims 4 short tail edit is pretty self-explanatory; your sim horses will have tails on the shorter side.

65. Nectar Barrel Home Bar for Sims 4 by Naunakht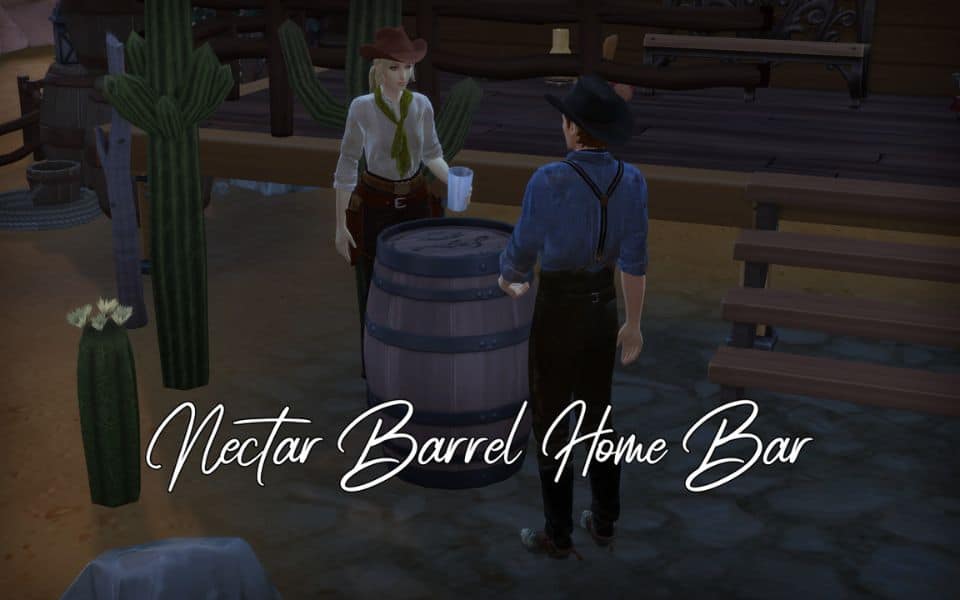 Do you prefer having a functional barrel bar?
This sims 4 horse ranch cc turns the EP's decorative nectar cask into a functional bar.
This bar is made for residential lots; your sims can enjoy their drinks at their in-home rustic bar (no food).

66. Default Heterochromia Horse Eyes by Horsesimblr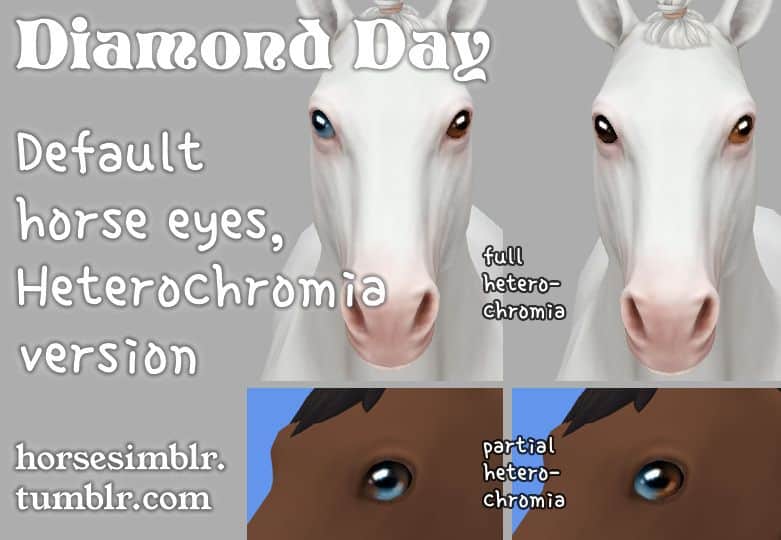 These default horse eyes are all about heterochromia and bring a ton of new blue and brown swatches to your game.
It also includes the default basic replacement colors from version 1 of these eyes.
You can also use version 1 if you prefer eyes without heterochromia.

67. Sims 4 Lemieux Horse Set by Sirisims4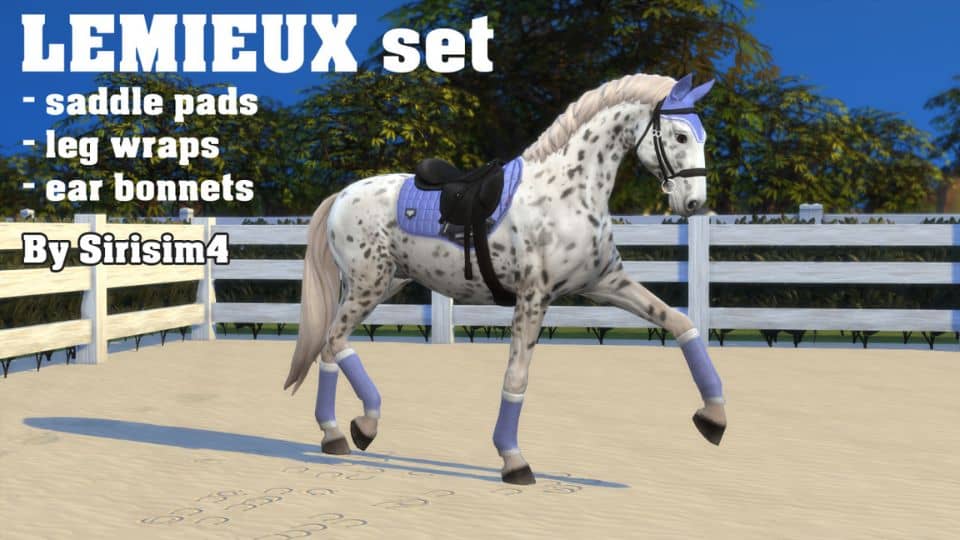 You can't head into a showjumping competition without the proper gear for your horses.
This sims 4 horse ranch cc set includes saddle pads, ear bonnets, and leg wraps for your professional jumpers.
This custom content comes in 8 swatches: peacock, hunter green, dijon, bluebell, mink, mulberry, black, and watermelon.

68. Amaia Lashes for Foals by MahoCreations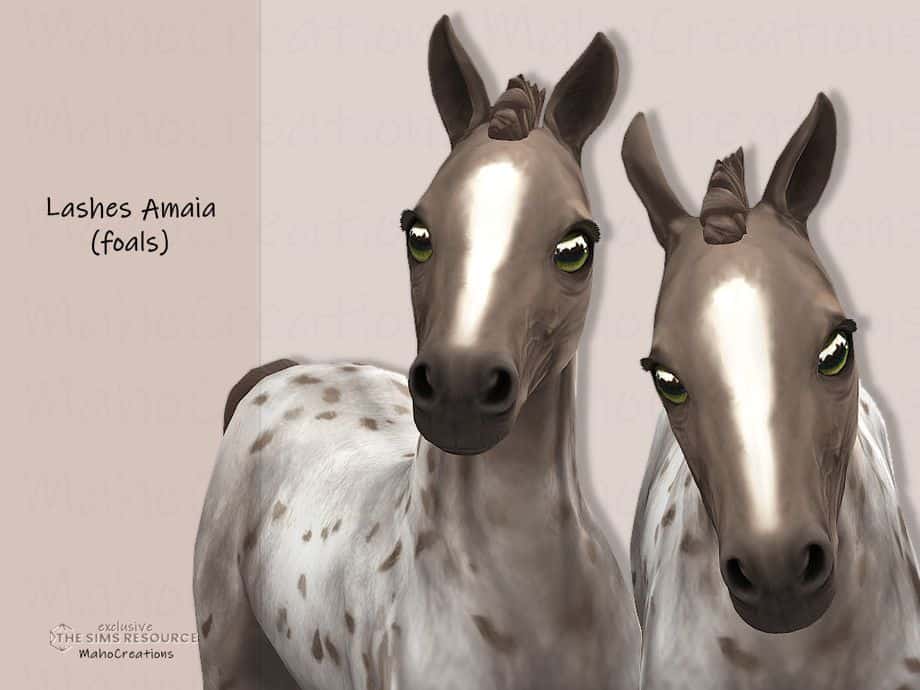 We can't forget your adorable foals; these lashes are reserved for the youngins on the ranch.
These short lashes will add the perfect touch to your foals eyes and come in 7 swatches.
These eyelashes work for male and female foals and can be found in the Outfits section.

69. Sims 4 Countryside Set by Leo Sims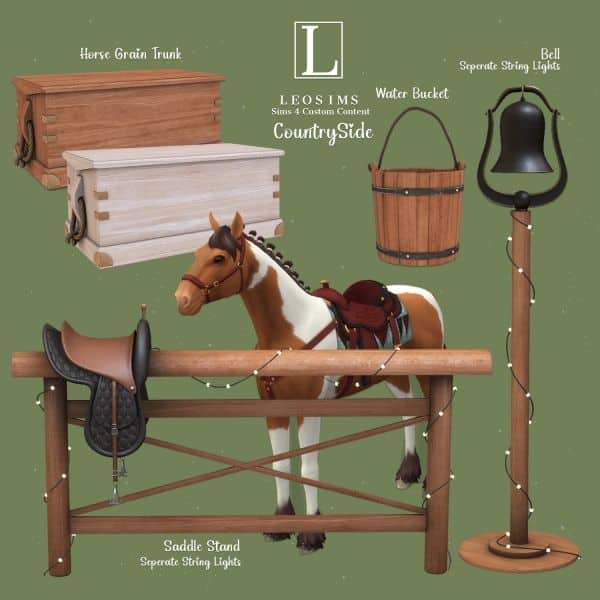 This beautiful wooden collection includes a few great staple pieces for your horse ranch.
You can grab a sleek wooden saddle stand and tall bell with separate string strings, a water bucket, and a horse grain trunk.
This set is currently available on Patreon for early access.

70. Sims 4 Equestrian Clothing by MahoCreations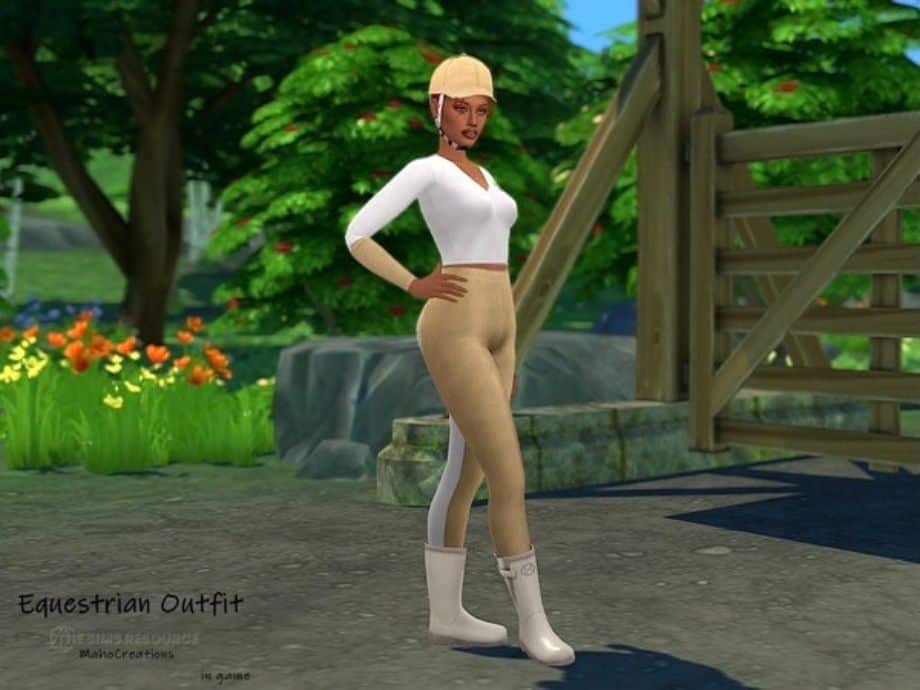 This three-piece equestrian clothing set includes a riding cap, a long-sleeve top, and equestrian pants.
Each of the three custom content pieces comes in 23 colors, and while the link below is for the top, you can find the other 2 pieces in the Recommended tab.

71. Turnout Stuff Set for Sims 4 by .Objuct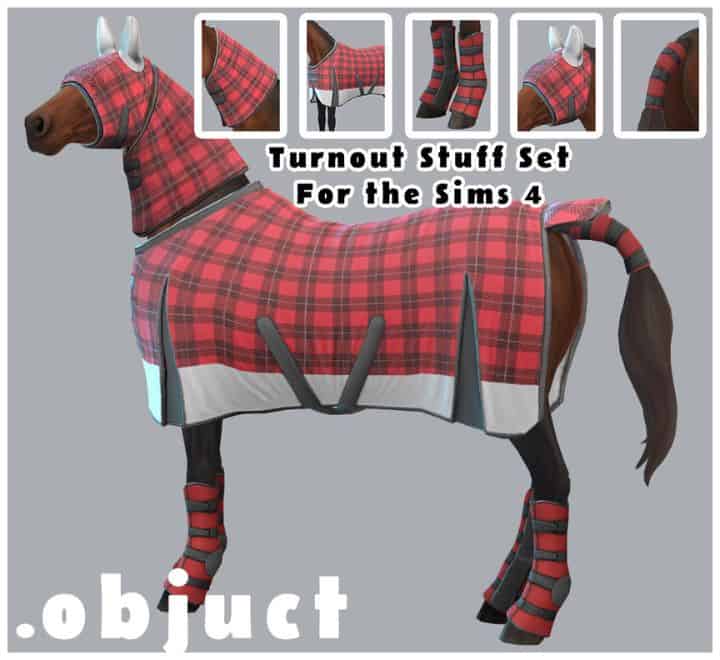 This sims 4 horse ranch cc set includes 5 pieces for your horses; a fly mask, neck rug, tail guard, boots and rug.
There are 3 variations with 10 colors, and the set includes some dirty swatches.
Here are the custom content locations:
Tail guard is under the Tail Accessory slot
Boots under the Legwrap slot
Neck Rug under the Hat slot
Rug under Saddle slot
Fly Mask under the Bridle slot
This cc set is currently available on Patreon for early access until August 31st.

72. Shyla Lashes for Sims 4 Horses by MahoCreations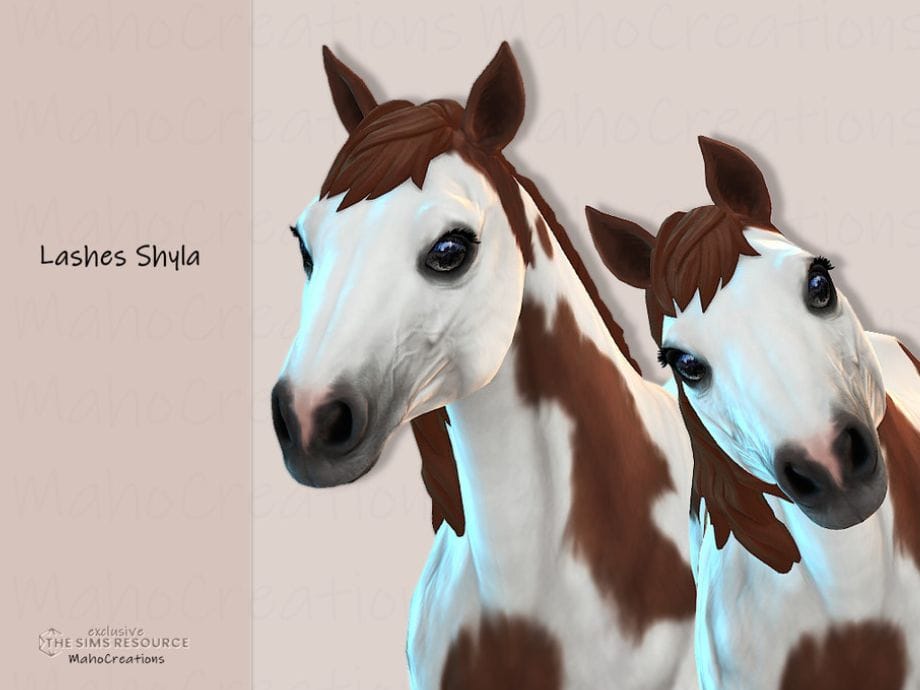 I found these longer eyelashes for your sims 4 horse ranch horses, and they are adorable and come in 7 colors.
These lashes work for teen to elder horses (both male and female), and you can find them in the Hats section.
Sims 4 Horse Ranch CC: Final Thoughts
We can expect plenty of sims 4 horse ranch cc with the new expansion pack.
From clothing options, recolors, and farm objects to customizing your horses, it's exciting to think of all the upcoming possibilities.
If you have any questions or suggestions, feel free to leave us a comment below or tag us on Tumblr.
Other Sims 4 Custom Content Lists

And don't forget to share and save this pin for later!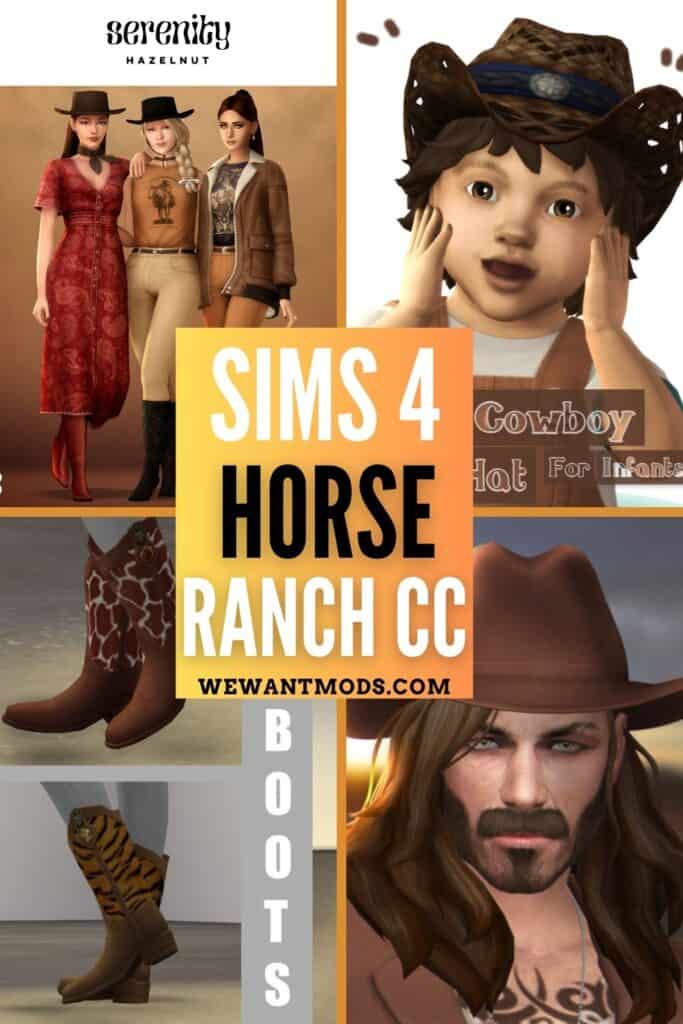 71+ Sims 4 Horse Ranch CC: Equestrian Paradise Unleashed!